Black Knight Sword of Rage | TWIPY Pinball Awards | Texas Pinball Festival Recap | Pinball Connectivity | Yellow Brick Road WOZ

— This Week's Top 5 Stories —
1. Black Knight Sword of Rage
We should see Steve Ritchie's next game officially revealed today – Black Knight Sword of Rage! Pics leaked on Pinside, you can check them out here! Rumors are that Tim Sexton is on code, Kevin O'Connor is the artist and a soundtrack is by the band Scott Ian of Anthrax. Stern sent out a teaser video to their Insiders which ended up on Pinside – check out the video here!
---
2. The LIVE TWIPY Pinball Awards at Texas Pinball Festival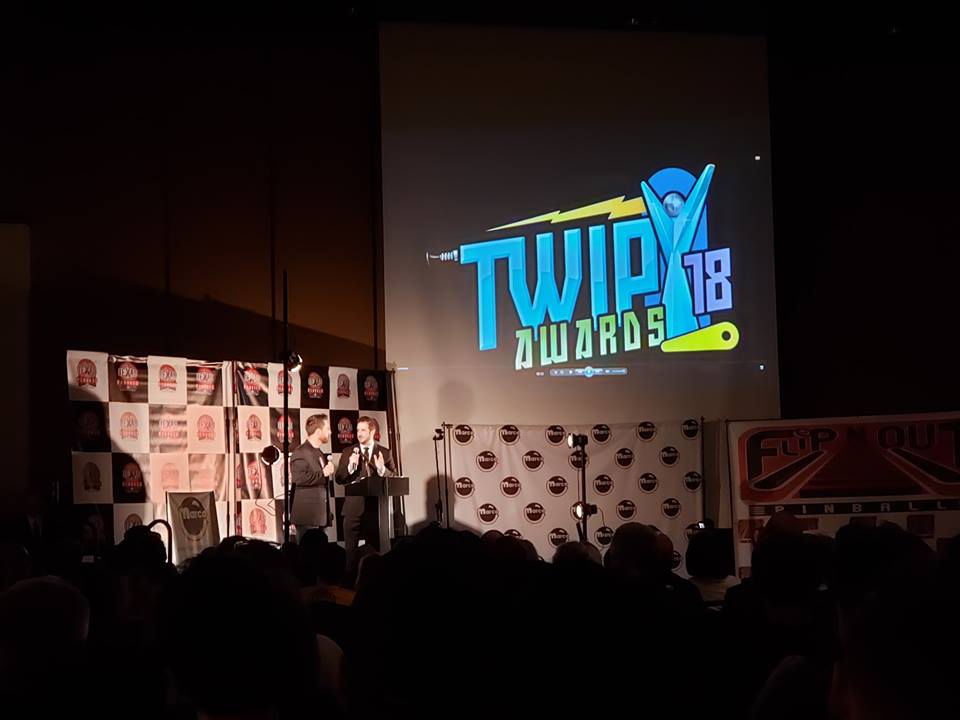 The TWIPY Pinball Awards took place Saturday night at the Texas Pinball Festival! It was an INCREDIBLE show that celebrated the hobby and all of the CREATORS in pinball. It was my personal favorite moment of doing This Week in Pinball for the last couple years, and I want to give a HUGE THANK YOU to all of the volunteers that came together to make this show what it was. You can check out the full show here:
2018 TWIPY Pinball Award Winners (SPOILERS!)

| | |
| --- | --- |
| Best Music and Sound Effects | Iron Maiden |
| Favorite Home Brew Pinball Machine | Nightmare Before Christmas |
| Best Callouts | Deadpool |
| Favorite Pinball Tournament/Competition | Pinburgh |
| Best Toys and Gimmicks | Pirates of the Caribbean |
| Favorite Pinball Mod of 2018 | Pin Stadium |
| Best Theme | Deadpool |
| Favorite Pinball Location | Logan Arcade |
| Favorite Pinball Convention | Texas Pinball Festival |
| Best Lightshow | Pirates of the Caribbean |
| Favorite Pinball Publication | Pinball Magazine #5 |
| Favorite Pinball Website | Pinside |
| Best Theme Integration | Pirates of the Caribbean |
| Favorite Pinball Twitch Streamer | Dead Flip |
| Best Artwork | Iron Maiden |
| Favorite Pinball YouTube Channel | Straight Down the Middle |
| Best Rules | Iron Maiden |
| Rookie of the Year | Keith Elwin |
| Best Animations and Display | Pirates of the Caribbean |
| Favorite Pinball Podcast | Kaneda's Pinball Podcast |
| Best Playfield Gameplay and Layout | Iron Maiden |
| Game of the Year | Iron Maiden |
We are already looking forward to (hopefully) doing a TWIPY Pinball Awards show next year, and we thank all of you in the pinball community that voted and watched and took part in this special event! We'll have a full recap of the results posted either Thursday or Friday.
---
3. The Texas Pinball Festival Recap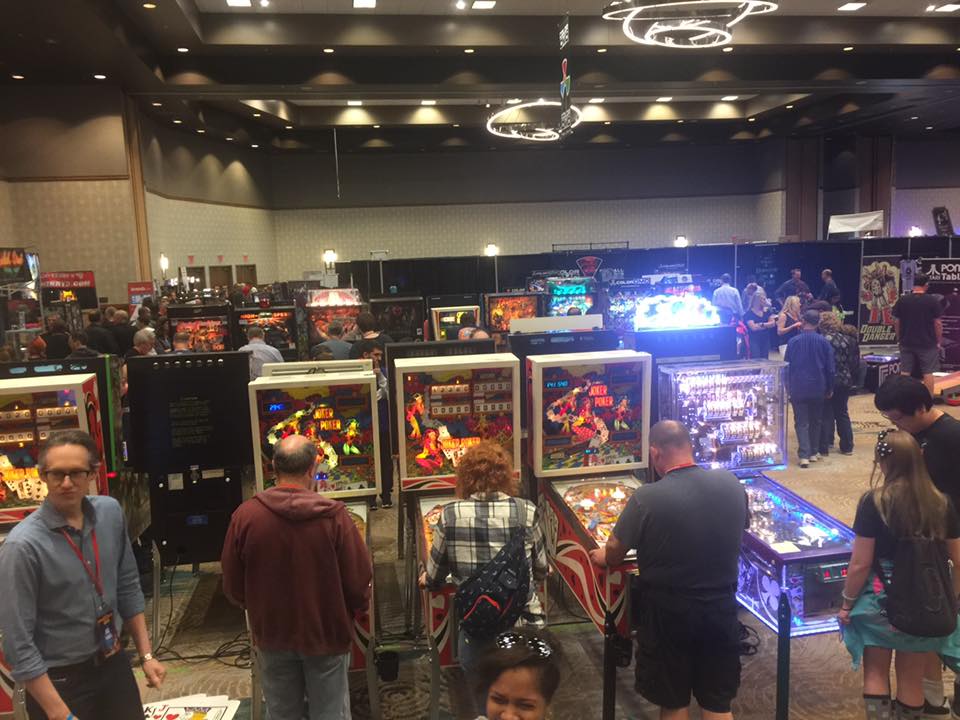 The Texas Pinball Festival had nearly 500 pinball machines, a bunch of seminars, some reveals, and more! Check out all the seminars here!
We had a bunch of podcasts covering all the happenings at Texas Pinball Festival, here are just a couple:
Pinball News and Pinball Magazine Podcast Interview Ed Vanderveen of TPF and Gerry Stellenberg of Multimorphic
Slap Save Pinball Podcast is joined by Ken Cromwell, Bill Webb, Zach Meny, Christopher Franchi, John Borg, Bowen Kerins, and Jack Danger – on this episode, Bowen discusses a new hire for Spooky Pinball: "They felt like they needed some more ideas, and now we're getting those ideas for this game, for the future, from myself…Spooky is also bringing on Eric Priebke, who did Cactus Canyon Continued…[he] will also be a programmer. And we'll both be working under Scott Danesi for his next game."

Because of the busy weekend, we're not going to be able to break everything down for you just yet – but stay tuned! And check out the Pinside thread on the Texas Pinball Festival for more pics and info!
---
4. The Future of Pinball Connectivity
This is something that is not being talked about nearly as much as it should be! Soon we will all be looking at a significant jump forward in the connectivity of pinball machines.
Dwight Sullivan joined our friend Jeff Teolis on Pinball Profile last week, sharing the following:
On Stern connecting to the internet:
We have lots of plans for 2019 and I can't wait for everybody to see it…I'm not just talking about titles, I'm talking about innovations. George [Gomez] also announced it…we're going to try to connect games to wi-fi. We're going to try to bring the internet to people's basement through pinball…it is more than you know. More than I know. I'm not trying to foreshadow anything, we have dreams and you will start seeing some of those come true and we'll just see where it goes. We think it is bigger than we know, and we'll just see what doors open up because pinball machines are connected to the internet…Just to be clear, wheels move slowly. We're planning on the whole wi-fi thing, it'll probably start happening in 2019, 2020 will be better, 2021 will be even better, and so on.
Our friends Ken and Bill of the Special When Lit Pinball Podcast discussed internet connectivity on a recently podcast as well:
Ken: I wanted to talk about network connectivity for pinball machines and get your feelings…now obviously to get a pinball machine to connect online opens up a bunch of different doors. And I was curious as to what you guys think the benefits – or maybe the lack thereof – there would be in regards to network connectivity with pinball machines?
Bill: You bring this up and just talking about this reminds me of NBA Fast Break, how you could link two games together and be able to play. I'd like to see some of that down the road…head to head competition…I think that would be real cool to be able to play across the world, with someone that has the same game. And either you're playing together to trying to defeat the game or competing against one another.
…
Ken: What I think the basic model for connectivity – online competition – is you look at your Golden Tee machine, Golden Tee Live, and especially in the home market. You can take your Golden Tee 2018 or 2019, and at any point you can connect and you're thrown into a tournament of 20 players. And they just keep filling up and they never stop, and you play your game and at the end you see where you ranked amongst 20 players. To be able to do that with pinball, maybe you get people in groups of 5, and I've got an AC/DC pinball machine lets just say, and I go into tournament mode, and I play my game. I wait for five more people to play their game, and I see where I ranked in that little tournament. I think that is huge. Assuming by pressing a tournament button, all the rules stay the same.
Connectivity with pinball machines is something that will have a tremendous impact on this hobby in the near future!
---

---
5. Wizard of Oz Yellow Brick Road, Cosmic Carnival, and Celts
There were a couple reveals at the Texas Pinball Festival – first, Jersey Jack Pinball revealed the new Yellow Brick Road Edition of Wizard of Oz: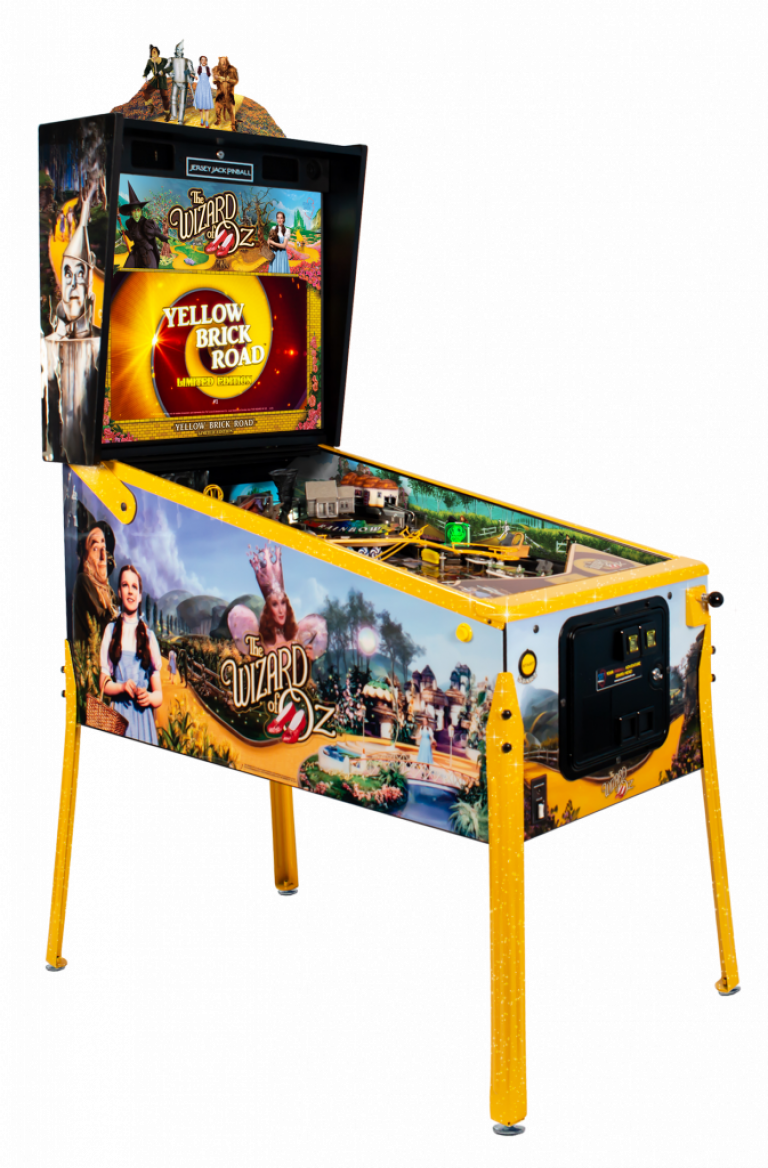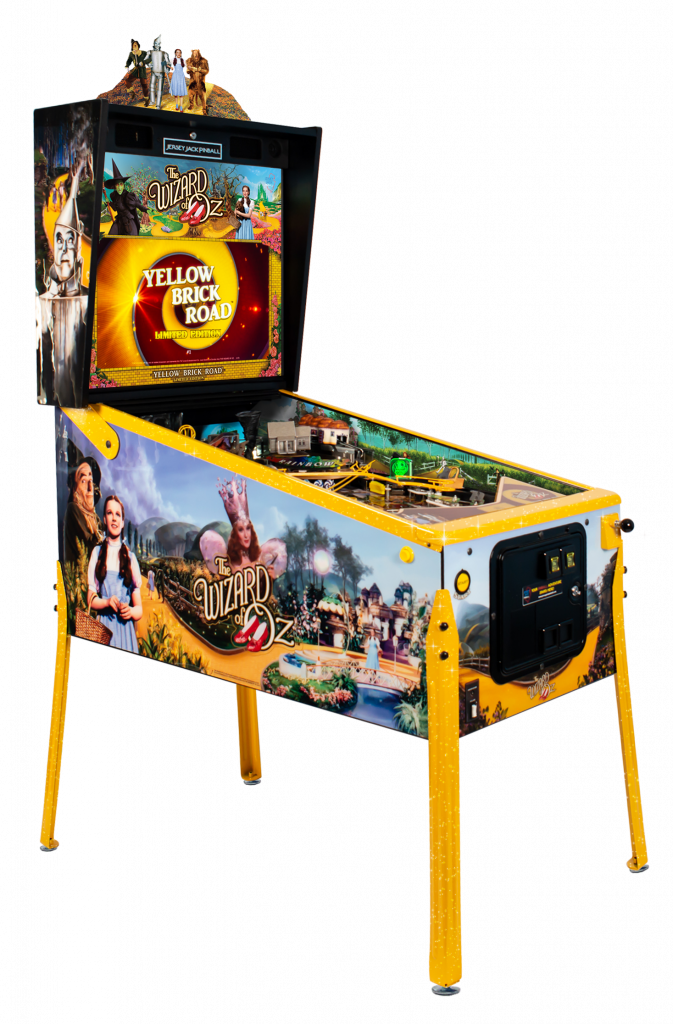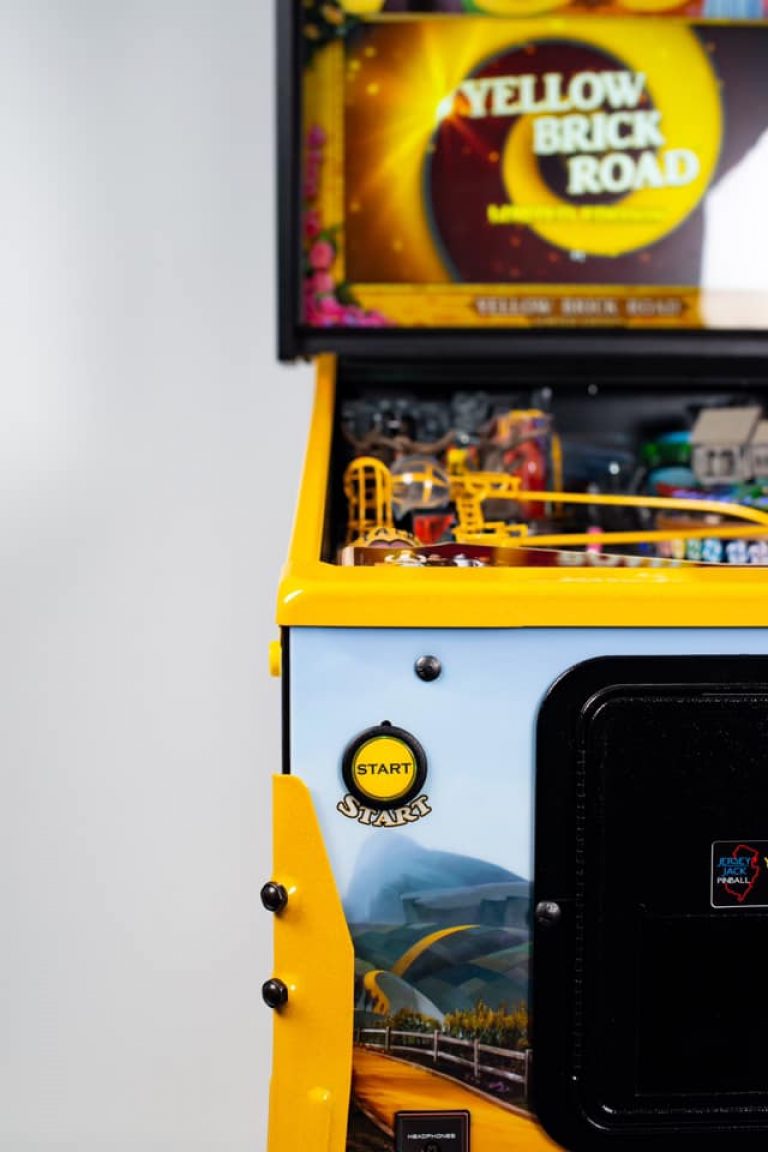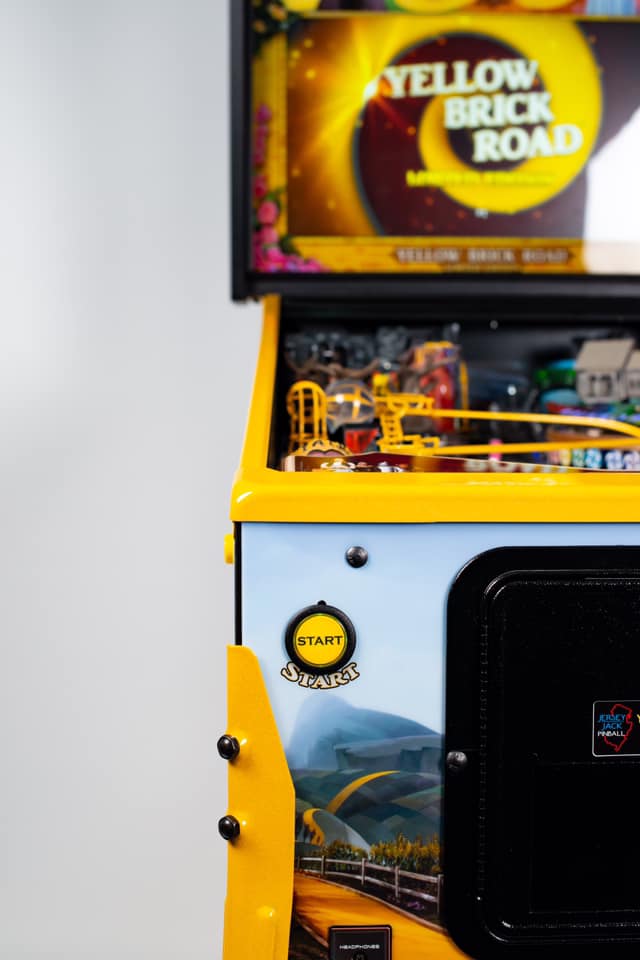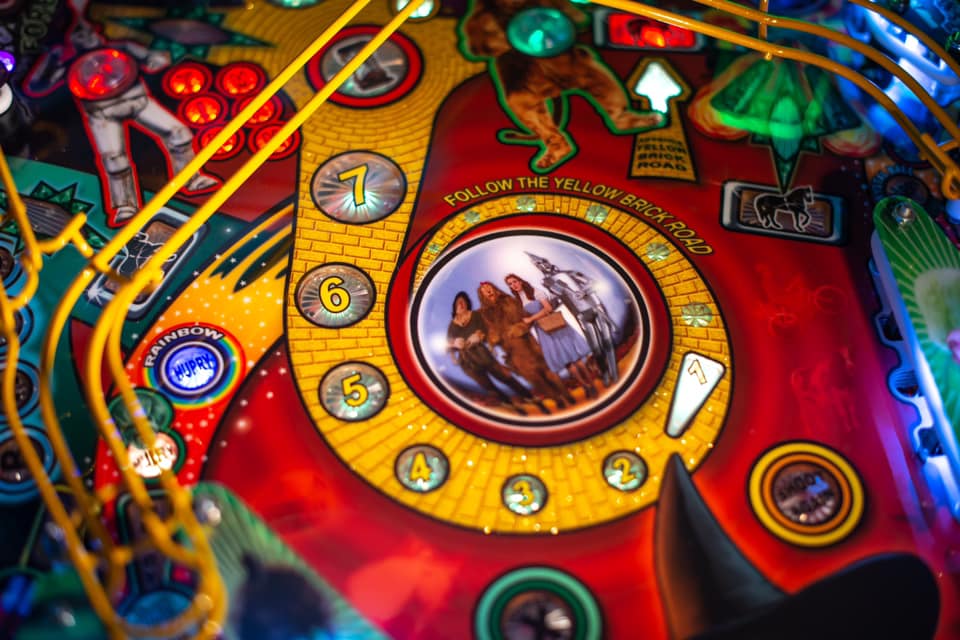 The game is supposed to be limited to 500 units, with 200 units being produced this year. The cost is $11,500. You can find out more details here.
Suncoast Pinball showed off their beautiful creation, Cosmic Carnival – check it out!
Haggis Pinball also revealed Celts at the Texas Pinball Festival – check it out!
---

This week we talk rumors of Black Knight Sword of Rage (ok that is a bit outdated since it leaked), What is Brian Eddy Working on, and share rumors of Jurassic Park.

Get access to this info plus get free shirts and swag from TWIP and get free entries into the monthly drawings and help keep TWIP going by signing up on Patreon at the $20 level.

Identify the pinball machine pictured below for a chance to win a limited This Week in Pinball Lapel Pin! Drawing will be held monthly!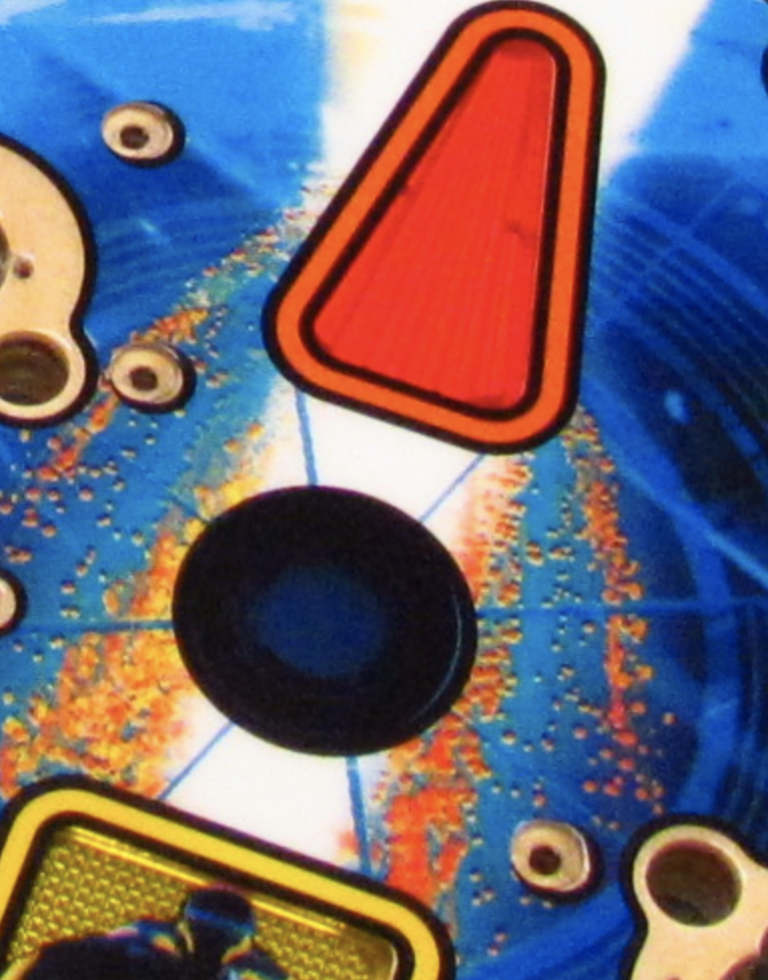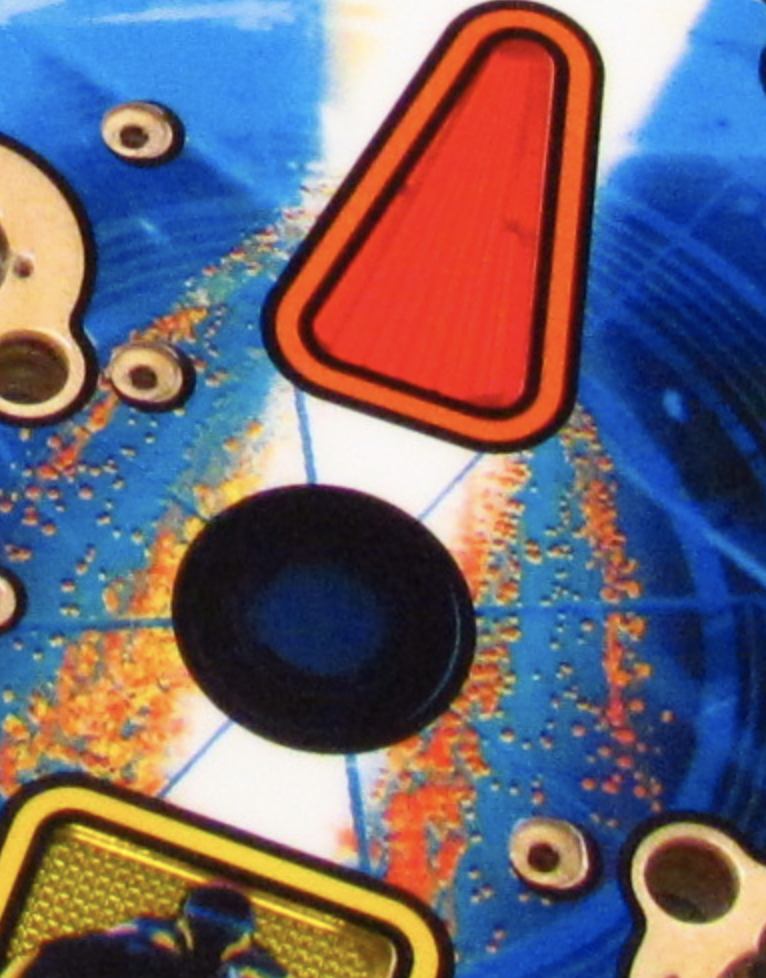 Last Week's answer: Pirates of the Caribbean (Stern)
Email guesses to thisweekinpinball@gmail.com, correct answers will be entered into the drawing for the limited TWIP Lapel Pin!
CONGRATS to Kevin Peterson who won the February Lapel Pin!

— Presented by —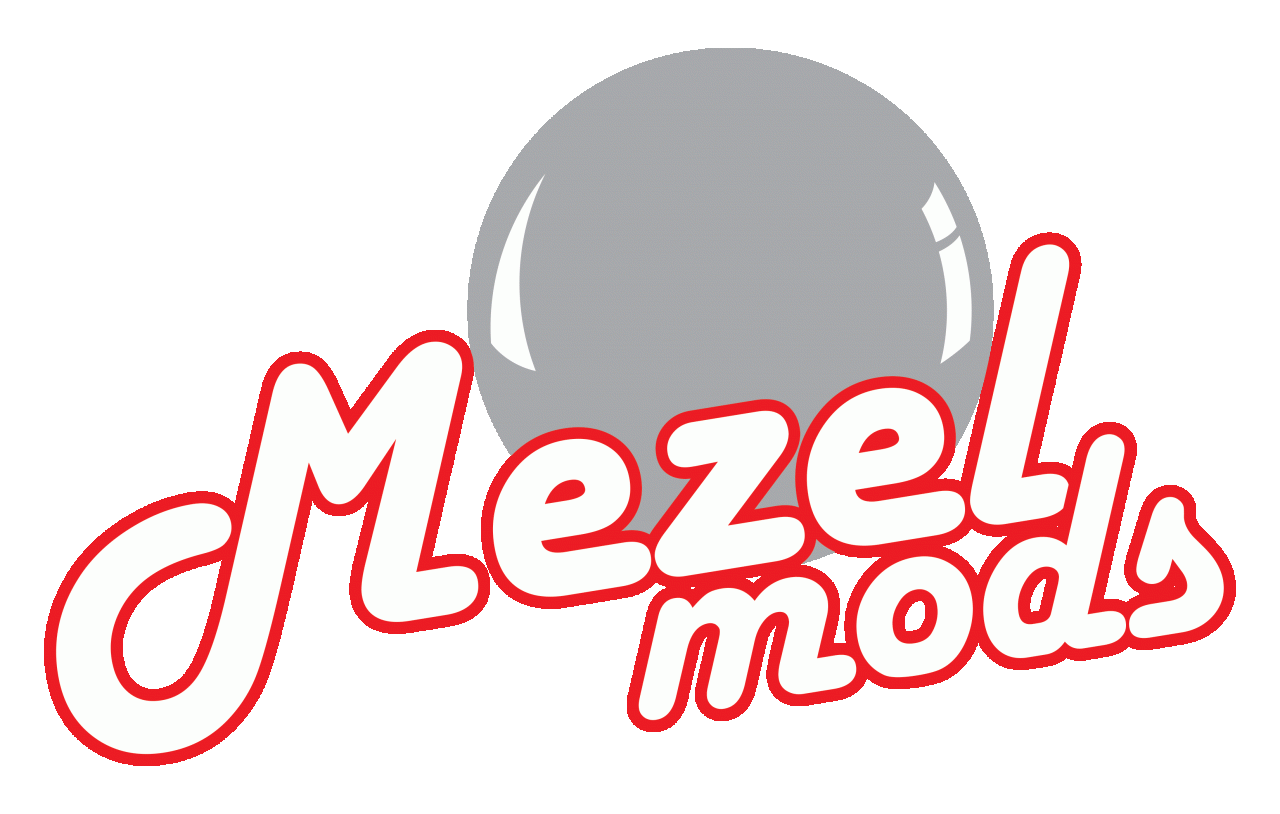 This Week's Mod of the Week is the Dialed In Pop Bumper Building from Mezel Mods!
Bring this classic building from the game to life on the playfield- the Dialed In Pinball Pop Bumper Building! The building is our first interactive Dialed In product! RGB lighting illuminates with pop bumper action and in attract mode. Compatible with all versions of Dialed In! See it in action!

Black Knight Sword of Rage
The Munsters
Primus (contract game)
The Beatles (Ka-Pow)
Deadpool
Jurassic World
Elvira 3 (confirmed)
Stranger Things
James Bond
Superman '78
Beetlejuice
Godzilla
Pirates of the Caribbean
Dialed In!
Hobbit
Wizard of Oz
Willy Wonka
Guns N' Roses
Toy Story
Monster Bash Remake
Attack From Mars Remake
Medieval Madness Remake
Cactus Canyon Remake
Theatre of Magic Remake
Big Bang Bar Remake
Alice Cooper's Nightmare Castle
Total Nuclear Annihilation
Jetsons (contract game)
Dominos (contract game)
Rob Zombie's Spookshow International
Scott Danesi Second Game
Licensed Title
Magic Girl
Retro Atomic Zombie Adventureland
Fire and Brimstone
2 Dennis Nordman Unlicensed games
Alice in Wonderland
Other Manufacturers
More

Team Pinball: The Mafia

Circus Maximus: Kingpin, Python's Pinball Circus

Homepin: Thunderbirds

Suncoast Pinball: Cosmic Carnival

Great Lakes Pinball: Exposé

Haggis Pinball: Wraith, Celts

Pinball Brothers: Queen?, Barry Oursler's Original Theme?, Playboy?

Dutch Pinball: Bride of Pinbot 2.0, Bride of Pinbot 3.0 (on hold), The Big Lebowski (production/legal issues)

Silver Castle Pinball: Timeshock

Phénix Pinball: Goblin Contest

Pinball Adventures: Punny Factory, Sushi-Mania, First Class

Disclaimer: Any articles, interviews, or mentions of pinball manufacturers or pinball products is NOT an endorsement.