Last Day to Enter PS5 and ColorDMD Giveaway | Stern Drops Code | Stranger Things: Podcast and Stream | deeproot: PinAccess App, Cached Website Info, Speculation | Interview with PaperFlock | More Alien Teasers | New White Water Translite | Pinball Hall of Fame Update | Dolly Parton wants your Pinball Machine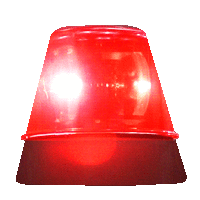 Last Day to Enter to Win a PS5 or ColorDMD!
Get your entries in by 8pm Eastern!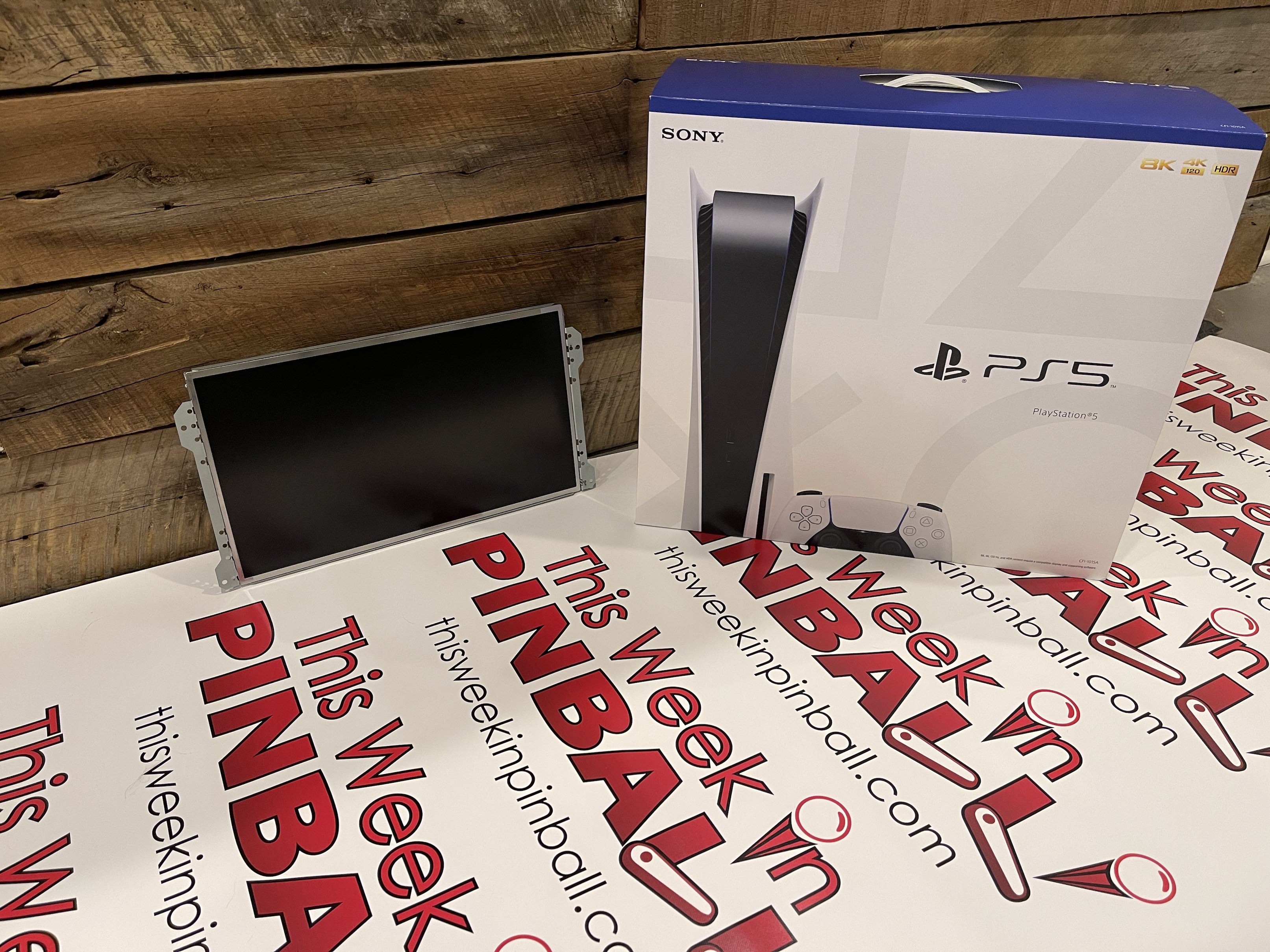 ---

— QUICK HITS —
Stern Pinball Drops Code, Release Updates for Stranger Things
Last week Stern Pinball dropped new code for Stranger Things, Avengers Infinity Quest, and Black Knight: Sword of Rage – check it out!!
Alongside the code drops, Stern had set up some cool stuff with Stranger Things – first off, 50 games of Stranger Things will include a limited autographed trading card – check it out!!
Second, the Stern Insider Pinball Podcast host Nate Shivers was joined by "lead programmer Lonnie Ropp, associate game developer Mike Vinikour, and lead game designer Brian Eddy discuss their journey to 1.0"!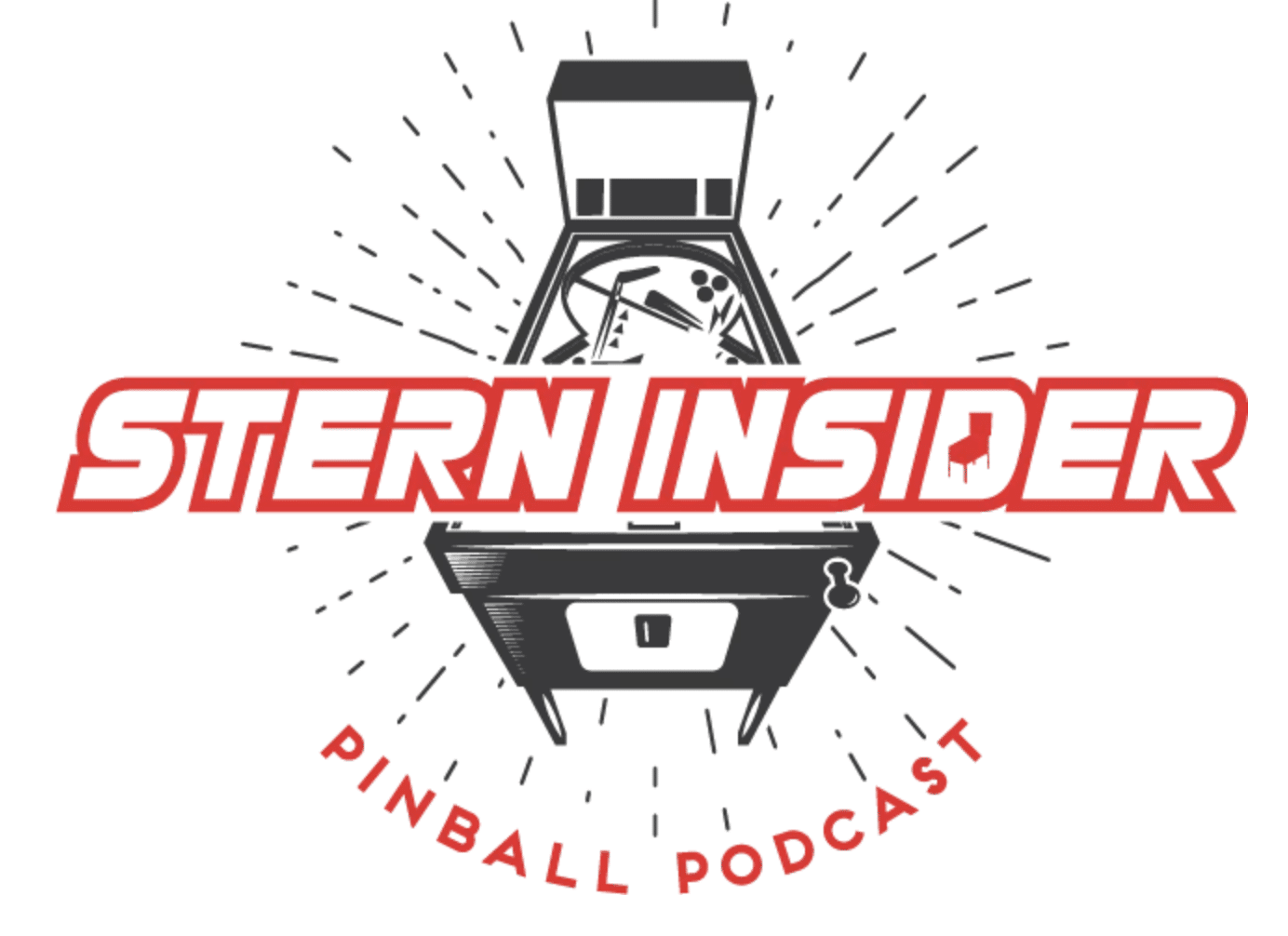 Click here to sign up for a free Stern Insider account to get access to listen!
Finally, with Stranger Things reaching 1.0 code, Sean Astin – AKA Bob Newby Superhero on Stranger Things – teased a stream with Dead Flip to show off the new 1.0 code!
It's gonna be okay. Remember, Bob Newby, Superhero. Special 1.0 Stranger Things stream with @DeadFlip TONIGHT at 6pm CT with the design team! Special giveaways throughout the night so tune in live! https://t.co/mdhM94vkvA #BobNewby #StrangerThings #DeadFlip @SeanAstin pic.twitter.com/ge93ttUblw

— Stern Pinball (@sternpinballinc) November 25, 2020
Some from the Stern team joined Jack Danger on stream, including Mike Vinikour on Zoom and Brian Eddy in the chat answering questions. You can check out the stream of the new code here!
---
TWIPY Pre-Voting Starts Tomorrow!
Speaking of Sean Astin – The TWIPYs are coming up!! During last year's TWIPYs, Sean was the presenter for Best Rules, which was won by Jurassic Park.
We have a lot of awesome things planned for this year to make this the pinball event of the year!!
The main TWIPY voting period will be held in January as always. As with last year, we'll do a pre-voting period so the pinball community can decide which nominees will be included in the drop downs for the write-in categories, such as favorite streamers, podcasters, mods, etc. This helps provide voters with a better voting experience in January and saves time when compiling the votes so the TWIPY Committee and others can spend more time focusing on creating the event.
PRE-VOTING for the TWIPYs starts tomorrow and runs through Thursday, December 10th. These will be write-in votes, and they will determine the drop down selections for the January voting. The number of drop down selections will vary by category and determined by the TWIPY Committee.
More information will be coming this afternoon regarding this year's TWIPY Pinball Awards, and the pre-voting ballots will go live tomorrow morning!
---
Last Week's Poll Results
---
deeproot Pinball: PinAccess App, Cached Website Info, Speculation
Last week Pinsider @blueberryjohnson dug up quite a lot of information on deeproot Pinball looking at cached websites and source code of web pages. Click here to view the deeproot Pinball thread on Pinside filtered by posts made by @blueberryjohnson, and you can check out everything he posted.
One of the items he found was the PinAccess App, which is beta version app available on the iPhone App Store and can be found here.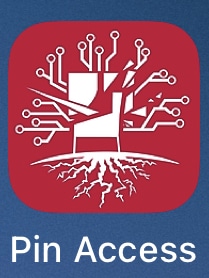 Here are a few screenshots: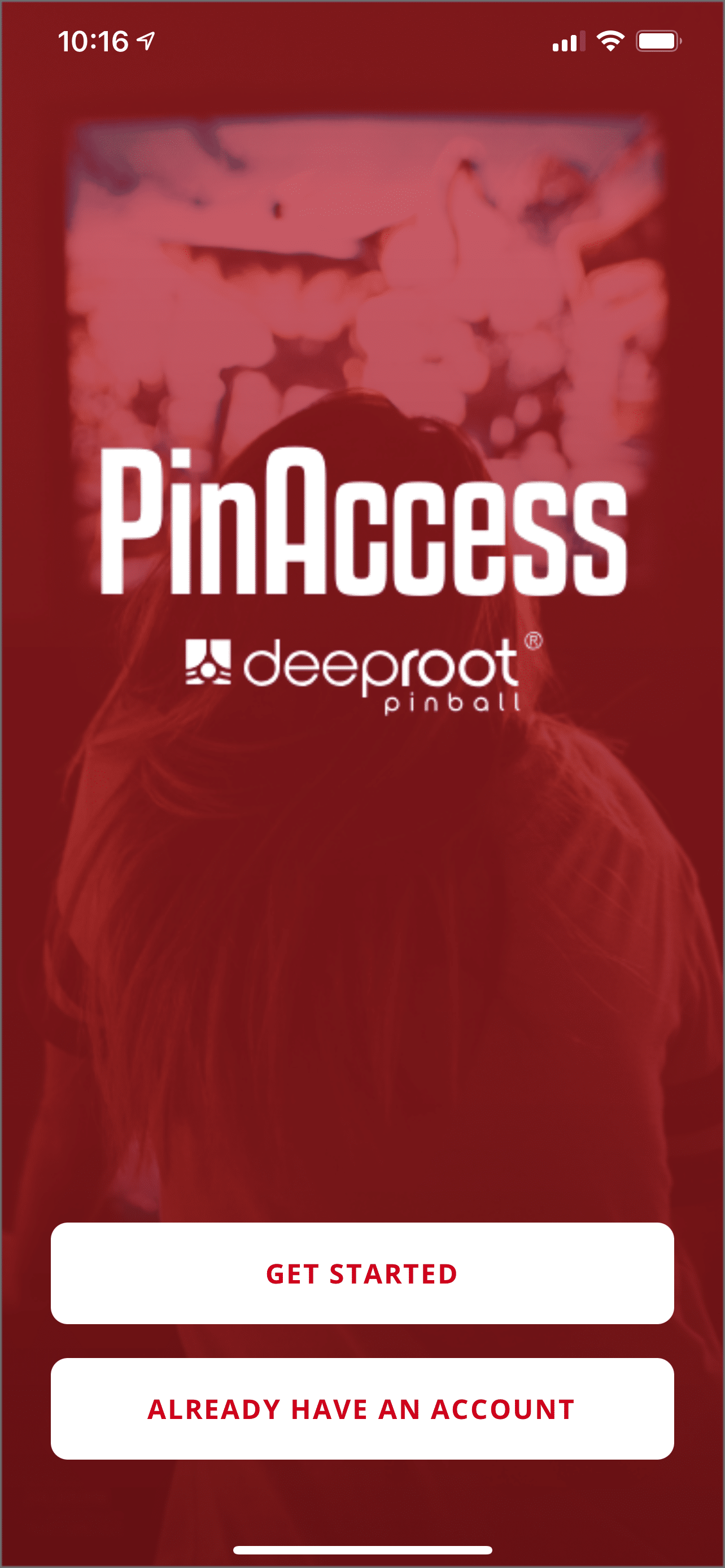 PinAccess Screenshots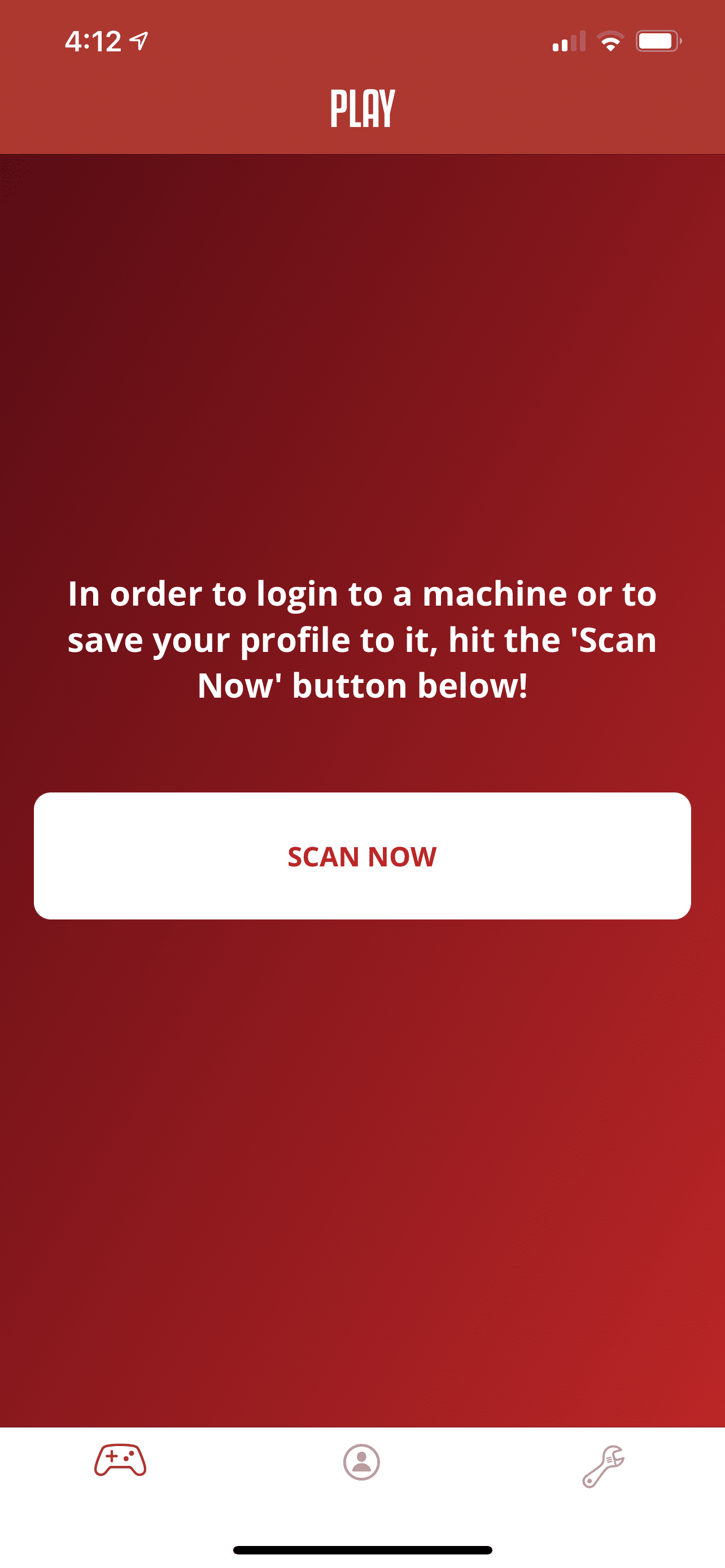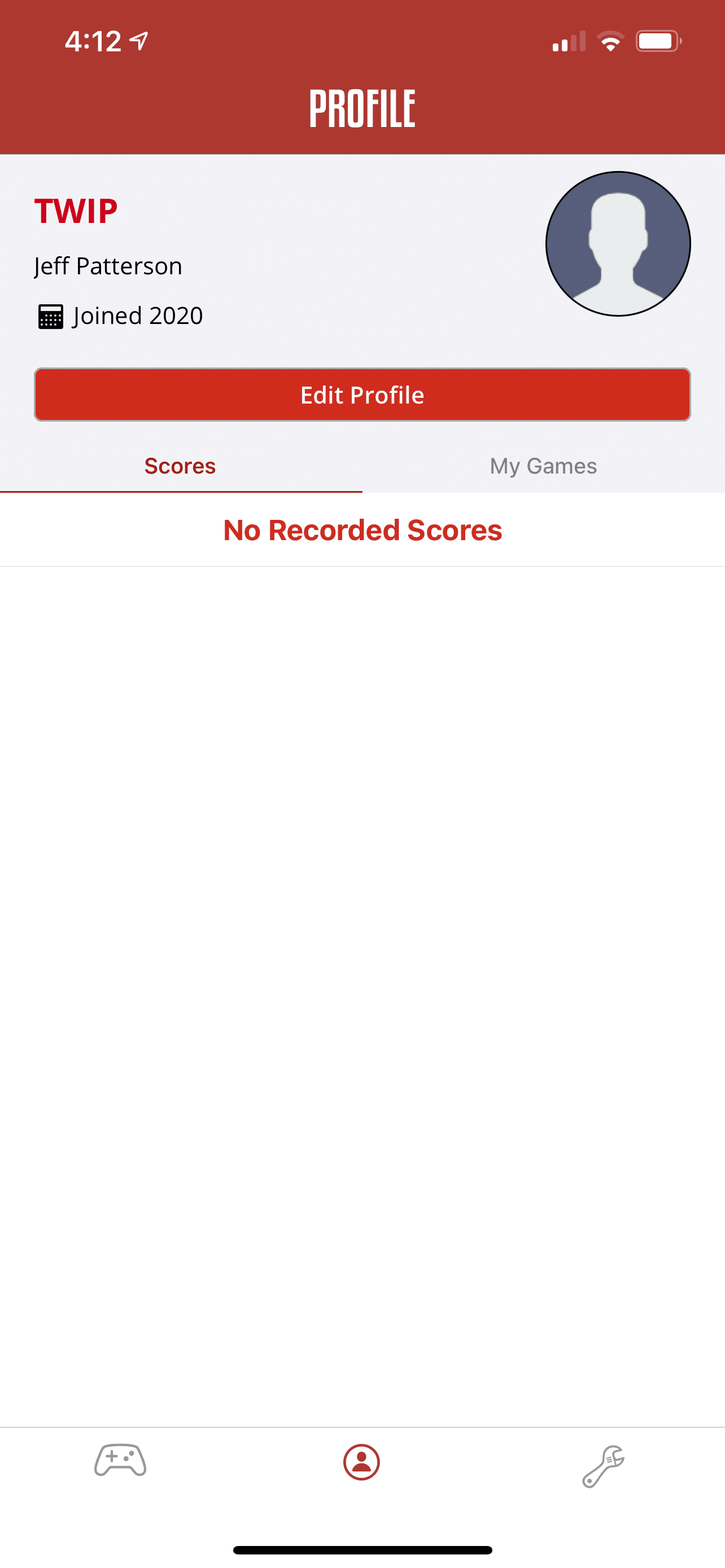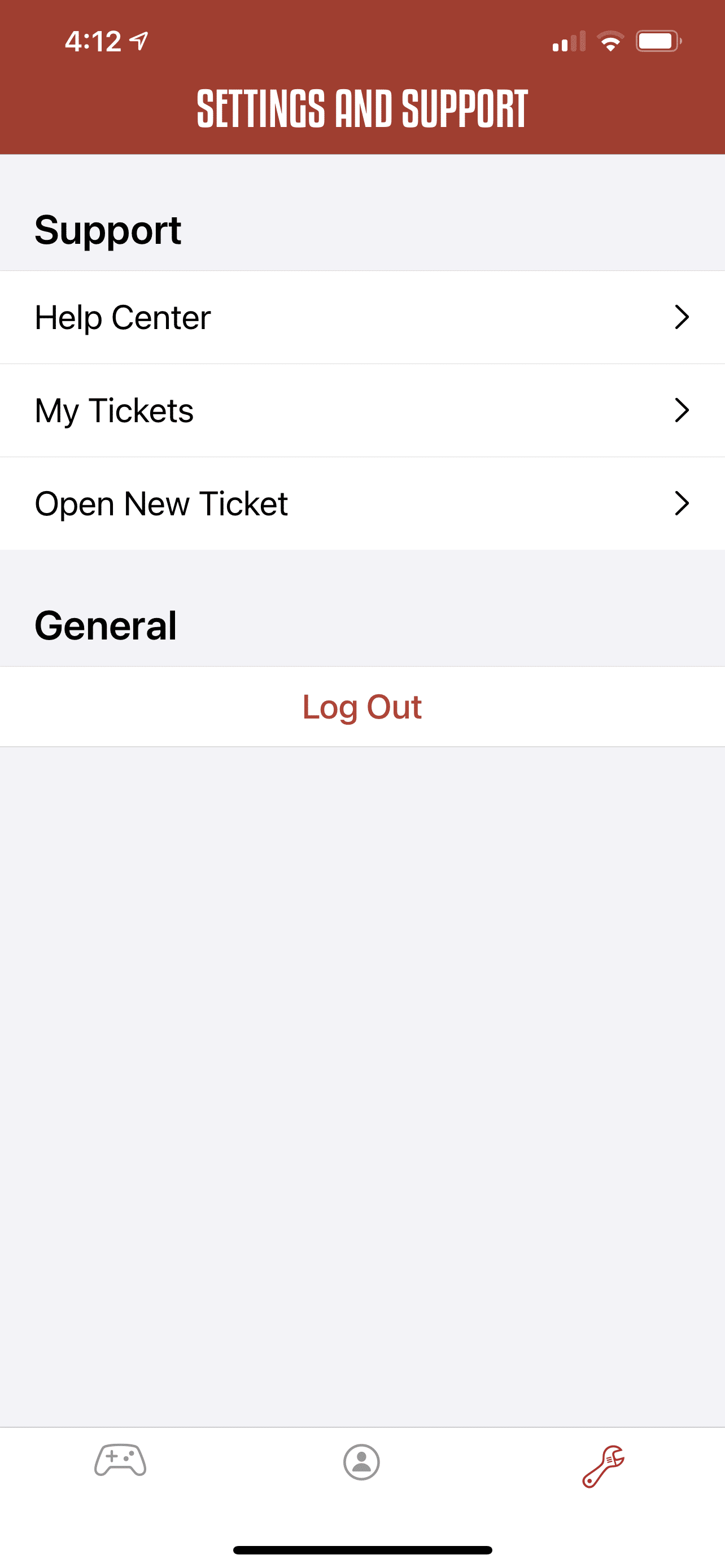 blueberryjohnson posted some interesting information that was found regarding rootAccess – a subscription program from deeproot which "offers limited and exclusive content and access to deeproot insider information and downloadable content ("DLC")" and was listed at $49.99 per month or $549.99 annually. Click here to view that information.
blueberryjohnson also posted information from the source code on one of the deeproot pages that lists some (possible) pricing information on Retro Atomic Zombie Adventureland, including a base price of $4,999, and the topper for $200. Click here to view that info.
**PLEASE NOTE: None of this information has been announced or confirmed from deeproot Pinball, so some (or all) of the prices and information could be placeholders or have changed. But it is all worth noting!
---
The Super Awesome Pinball Show: Matt from Back Alley and PaperFlock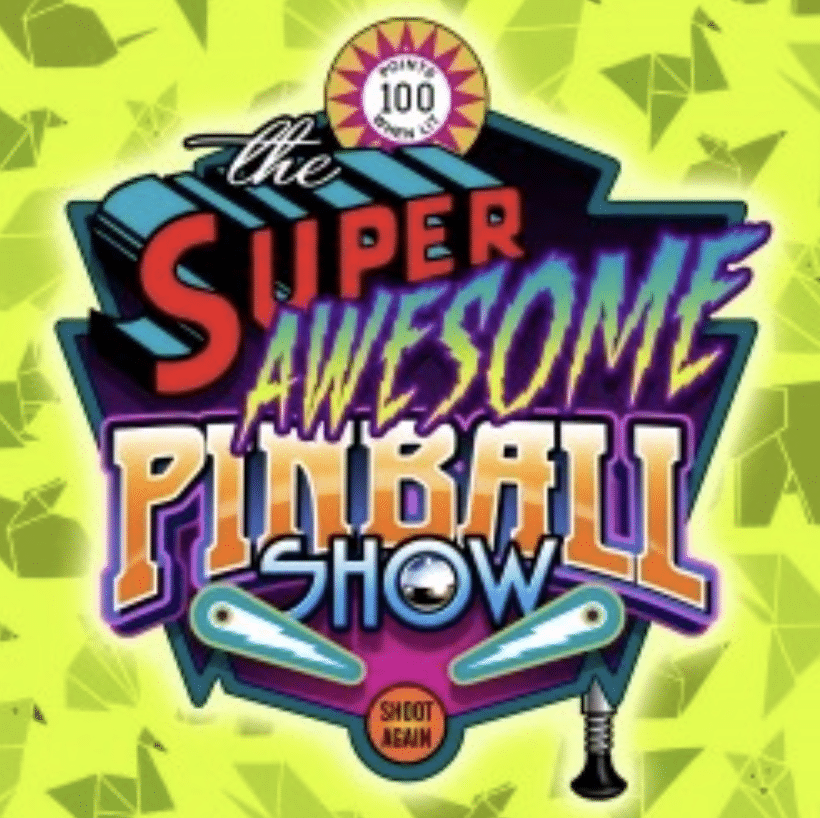 The Super Awesome Pinball Show were joined by Matt Riesterer from Back Alley Creations as a cohost. Later they were joined by Joe and Dameon from Paperflock to discuss the Stern 30th Anniversary book!
Matt discusses his work in pinball and how he creates pinball sculptures, mass production, the favorite sculpts/mods he has done, the difficulty he had with the Hobbit sculpts, shares that he's currently working on 3-5 games, talks the future of mods, and much more.
Joe and Dameon from Paperflock discuss how they got into pinball, how Paperflock started, approaching Stern, talking to Jody Dankburg and how this project started, Gary Stern's hesitancy to use them, hurdles they faced such as Stern photos that they couldn't use that they thought they could, communication issues, they discuss the people they interviewed, that there were 91 games included, the challenge of finding the NBA and NFL machines, the shipping price increases, talk about wanting a publishing company to distribute this book in the future, that they plan to start shipping in the next week or two, and much more.
Check out the full podcast here!!
TSAPS also started teasing a show where Gary Stern and Christopher Franchi discuss their differences and try to make amends…keep an eye for it soon!
---
Pinball Brothers Tease Alien Pinball

Pinball Brothers continue to tease Alien Pinball:
And now for something completely different… pic.twitter.com/GTh6MvvaVd

— Pinball Brothers (@PinballBros) November 25, 2020
>
Seen that part before… pic.twitter.com/gAtrU9pr3L

— Pinball Brothers (@PinballBros) November 28, 2020
TWIP is working to lineup and interview with the Pinball Brothers – stay tuned!!
[NOTE: we're not 100% certain this is a real account, but they set up a website, Twitter account, Facebook account, Instagram account, and have been sharing things almost daily with almost no response since around October 10th…so if it is a spoof account they are persistent!]
---
Flyland Designs: New White Water Translite
Today, Flyland Designs will be announcing their newest creations – a White Water Alternate Translite and White Water art blades – check them out!!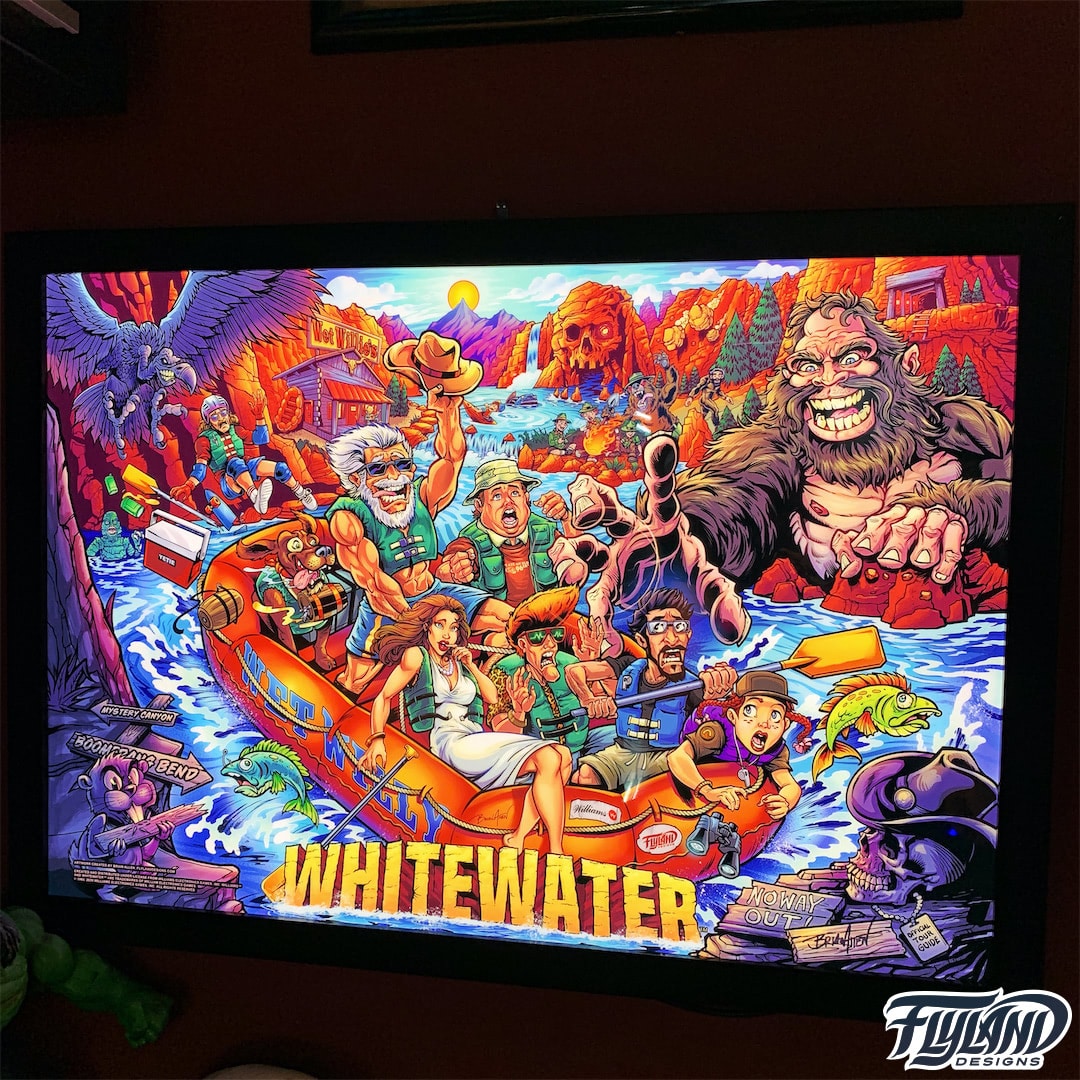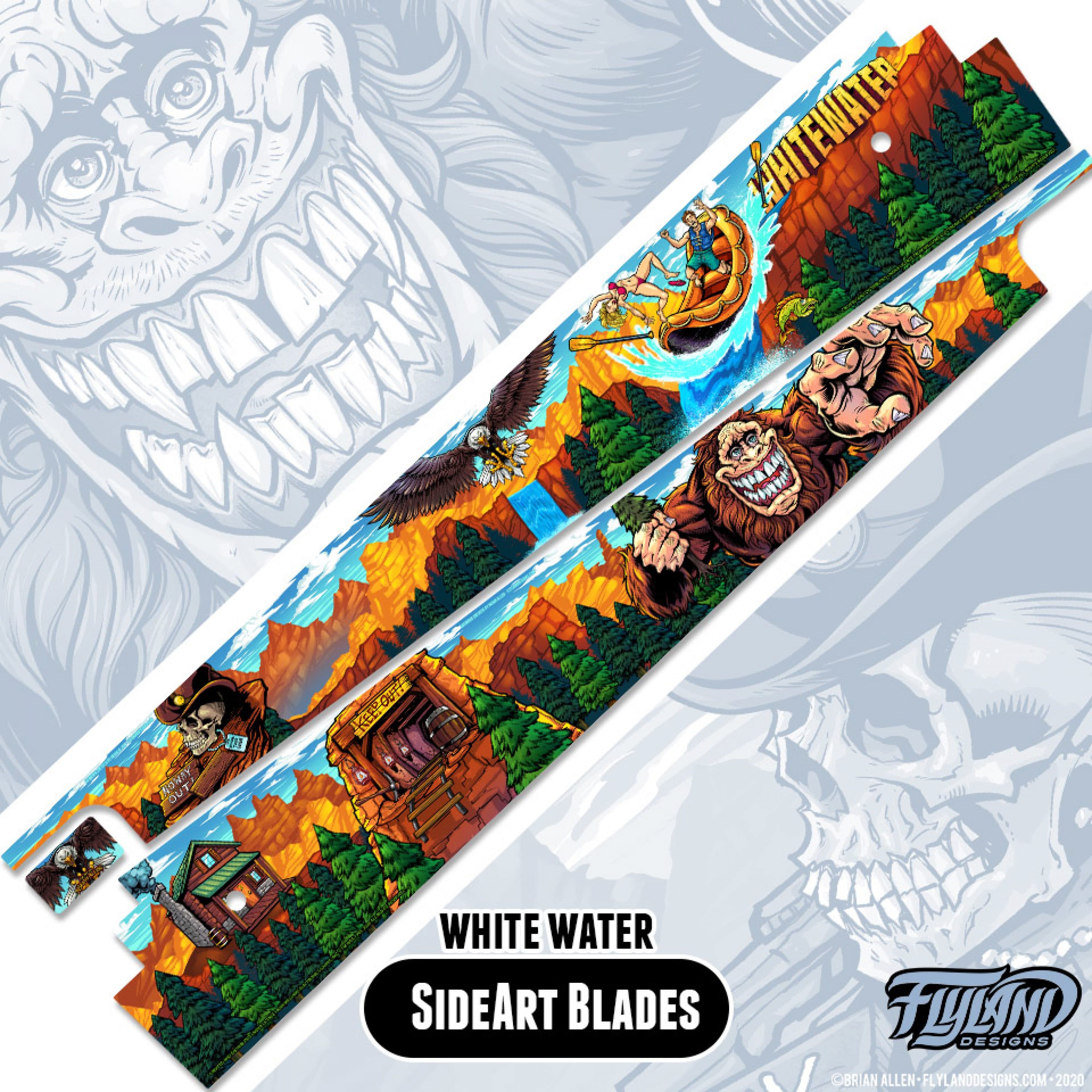 From Brian Allen, the creator of these new licensed designs:
New White Water Alternate Pinball Translite Artwork created by Brian Allen, officially licensed from Williams!
I'm proud to present the artwork for my Alternate White Water backglass and Translite! This is my most time-consuming and detailed design yet, and for me, the most challenging so far. The original artwork and composition was already perfect, so I decided to pack it with new characters, activity, and nods to other games.
I had a lot of requests to make Big Foot have a larger, uh, footprint in the design. I took that pretty literally and drew him as a giant monster emerging from the rocks!
There are tons of Easter Eggs in this design. Look for the Creature from the Black Lagoon, the woman in the white dress from Attack From Mars, Dr. Dude, and a cameo from the No Good Gofers varmint. There's even a nod to some outdoors movies, like Deliverance, and "The Great Outdoors." I also made an effort to sneak in a few humble bows to the artists behind the original backglass here and there.
I also made sure to include the "Whitewater" title text, per request from fans (this was missing on the original Translite).
I also created a set of matching Side Art Blades that fit all Whitewater machines.
You can see the Backglass, Translite, and Side Art Blades on my website:
https://www.flyland-arcade.com
Also available as a Vinyl Banner or signed Art Print!
Translite Version:
Reverse-printed on flexible but firm Translite material. New thicker material!
Double-layered ink, and white silk-screened backing to make the colors really pop.
Measures 26.5″x 18.375″ to fit in ALL White Water pinball machines
Also fits Lit Frames lightboxes.
Signed by the Artist
Limited Edition 1/8" Thick Acrylic Backglass Version:
LIMITED TO ONLY 200 ever.
Reverse-printed on a 1/8″ thick translucent acrylic backglass (not a thin Translite).
Double-layered ink, and white silk-screened backing to make the colors really pop.
Measures 27″x 18 7/8″ to fit in ALL White Water pinball machines
Also fits Lit Frames lightboxes.
Comes with a certificate of authenticity signed and numbered by the artist.
Side Art Blades:
Officially licensed from Williams/Bally
Printed on thick Matte White Opaque Air Egress/Perm, high-quality vinyl.
The Air-Egress vinyl adhesive we use makes for easy and forgiving installation.
Printed with vibrant, fade-resistant colors.
Laminated with a scratch-resistant protective coating.
Fits ALL Williams White Water pinball machines:
Die-Cut hole in each blade to accommodate backbox hinge bolt for easy installation.
---
Pinball Hall of Fame Update
For when we are all traveling again!
---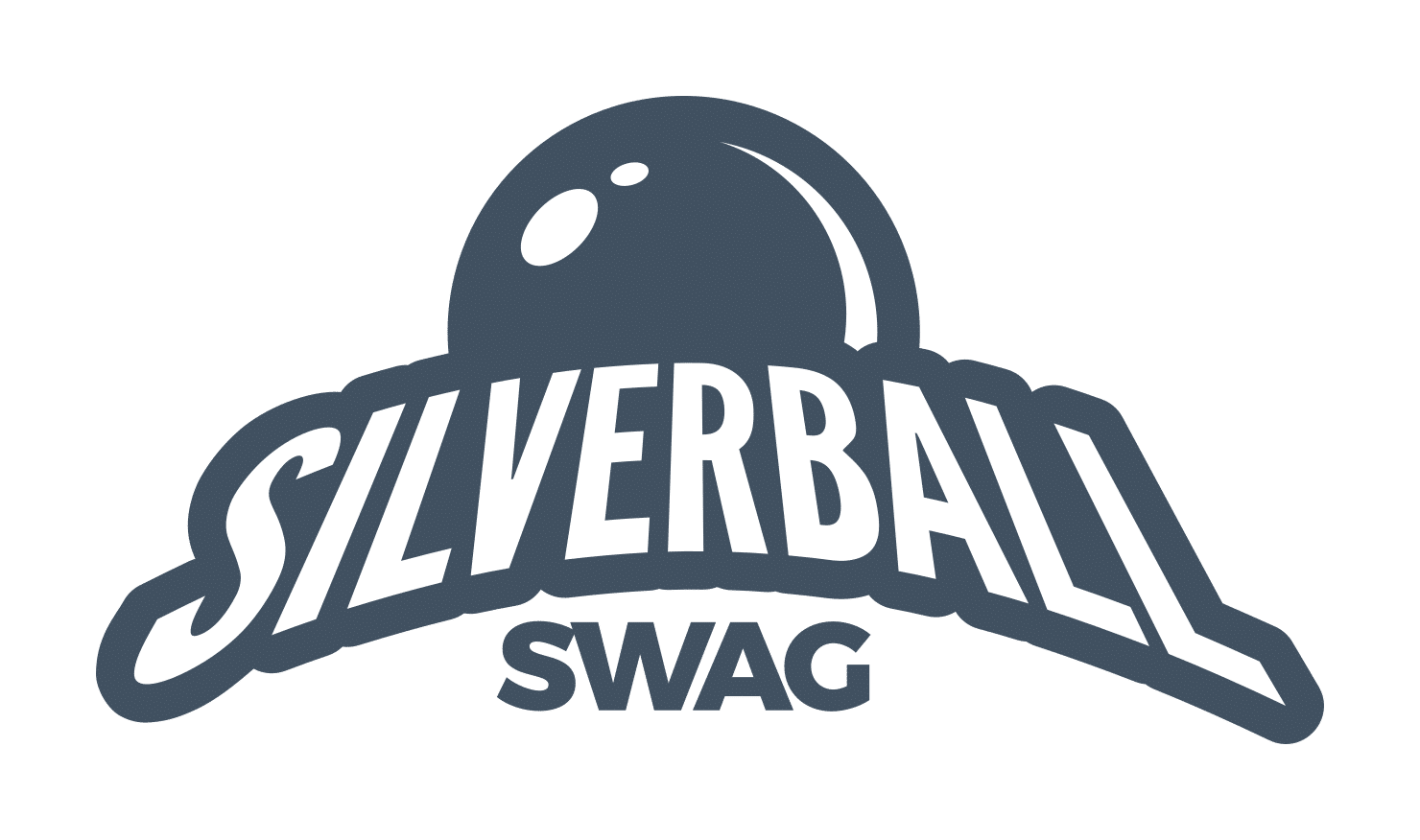 We still have a huge sale from LAST YEAR on stock we ordered for the Texas Pinball Festival – order this week to guarantee delivery by Christmas!!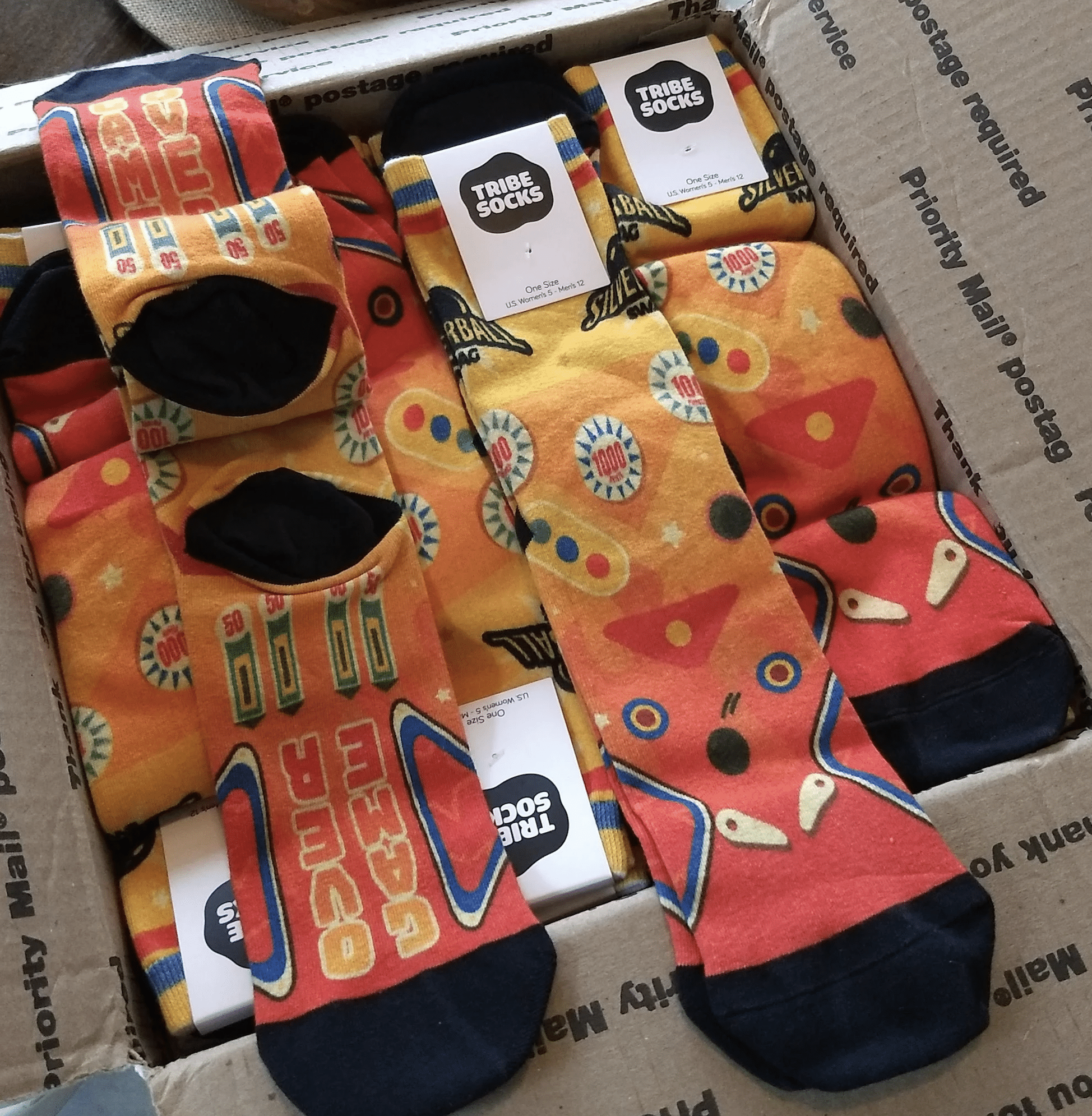 ---

— Cool and Crazy Stuff —
Dolly Parton Wants Your Pinball Machine
She is awesome, check it out!!
---
Other Quick Hits:
Happy birthday Robert Mooney, Kaite Martin, Steph the Pinball Princess, and Ryan C!
---

Other Manufacturers
More

Team Pinball: The Mafia

Circus Maximus: Kingpin, Python's Pinball Circus

Homepin: Thunderbirds, Chinese Zombies

Suncoast Pinball: Cosmic Carnival

Great Lakes Pinball: Exposé

Haggis Pinball: Wraith, Celts

Pinball Brothers: Queen?, Barry Oursler's Original Theme?, Playboy?

Dutch Pinball: Bride of Pinbot 2.0, Bride of Pinbot 3.0 (on hold), The Big Lebowski (production/legal issues)

Silver Castle Pinball: Timeshock

Phénix Pinball: Goblin Contest

Pinball Adventures: Punny Factory, Sushi-Mania, Ninja Mania, First Class, Canada Eh!

Disclaimer: Any articles, interviews, or mentions of pinball manufacturers or pinball products is NOT an endorsement.