Rick and Morty Sells Out | Punny Factory | Updates on JJP Wifi | Spooky Fang Club Details | American Pinball Prototypes | PinballSTAR Bought a Church | Multimorphic Self Playing | Bowen Save

— What Else is Happening in Pinball —
Rick and Morty Sells Out
Well that was quick. Rick and Morty sold out of 750 units in just a few hours yesterday! If you haven't watched this video yet, you should – this is where Charlie goes through a lot of the features of the game:
Here are just a few pics that were shared by Spooky: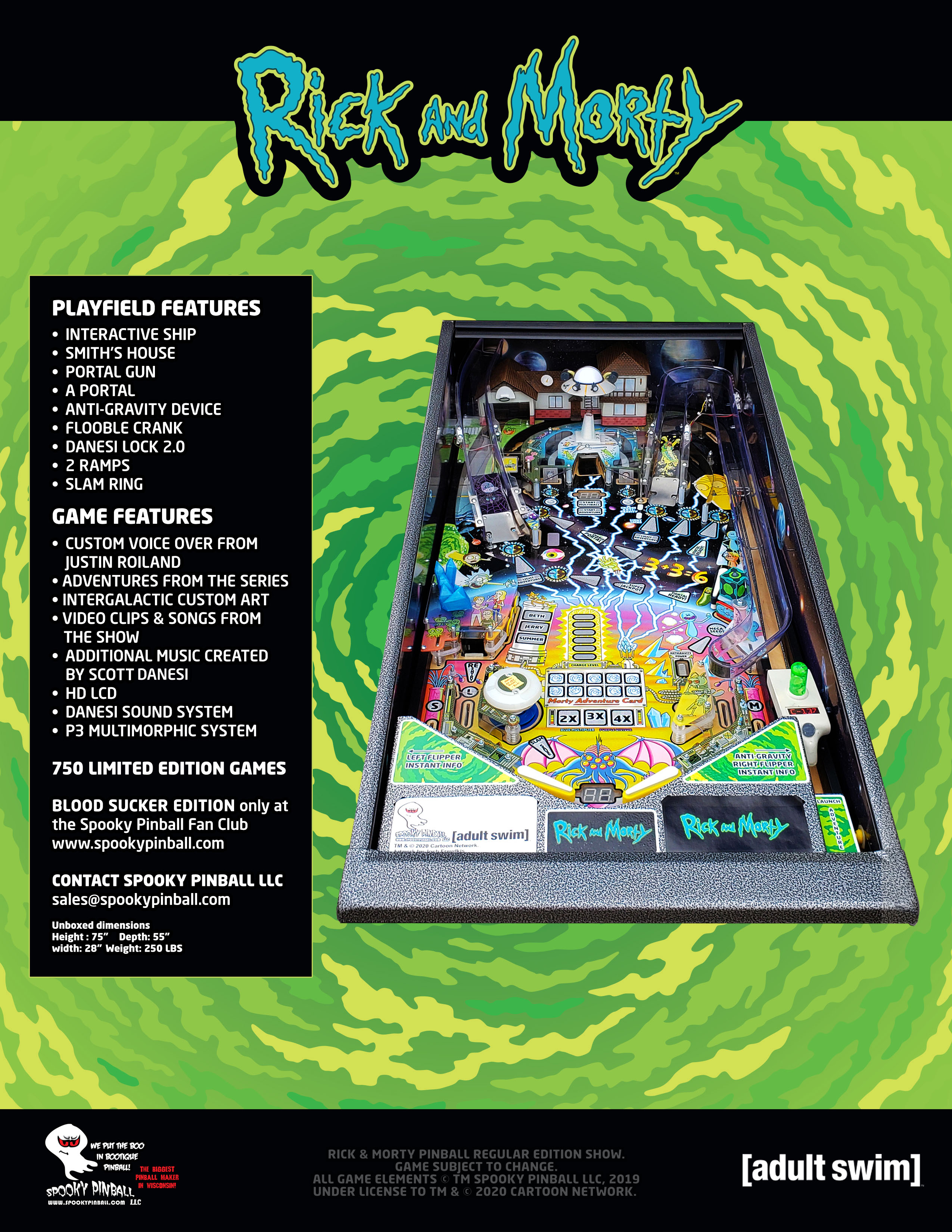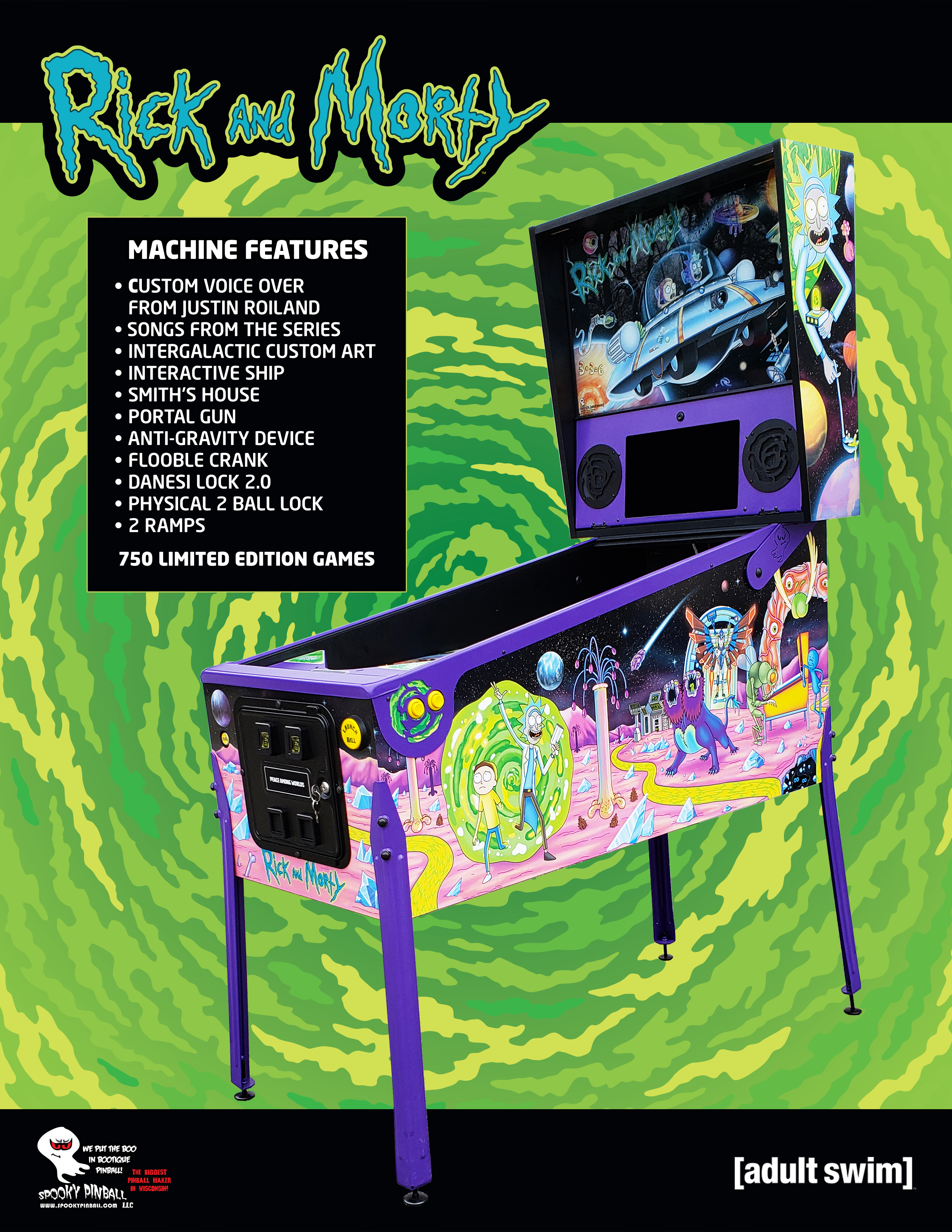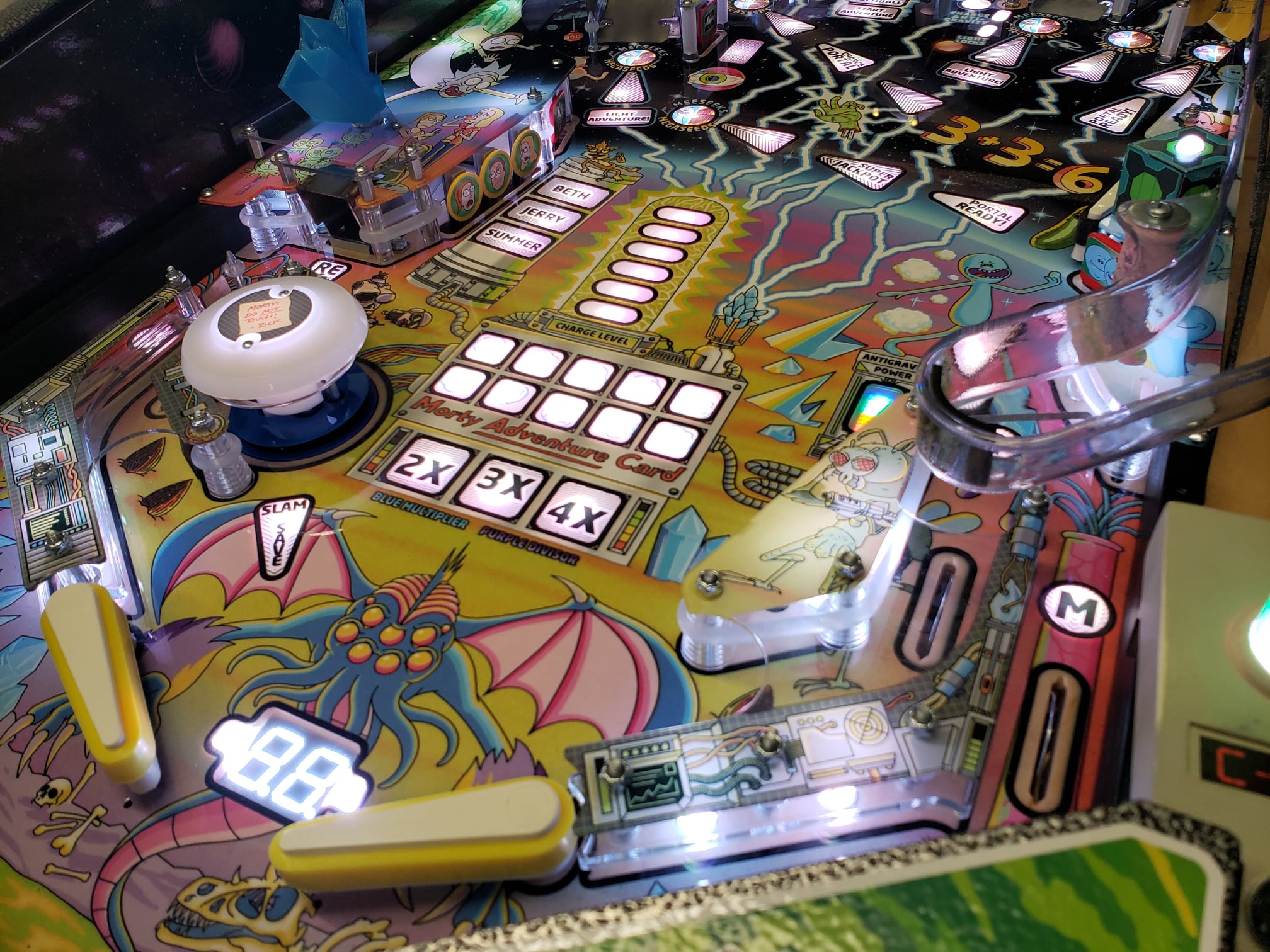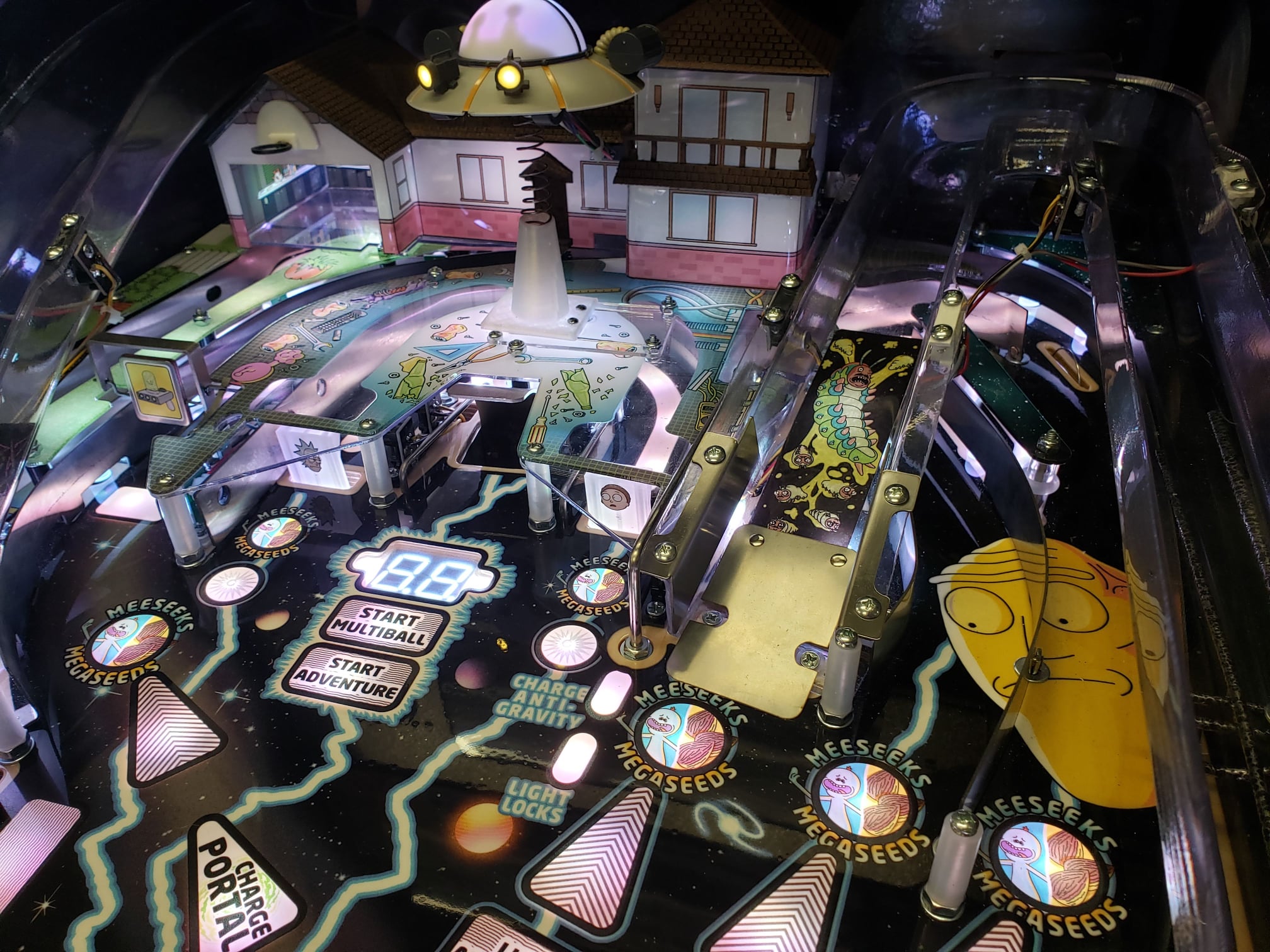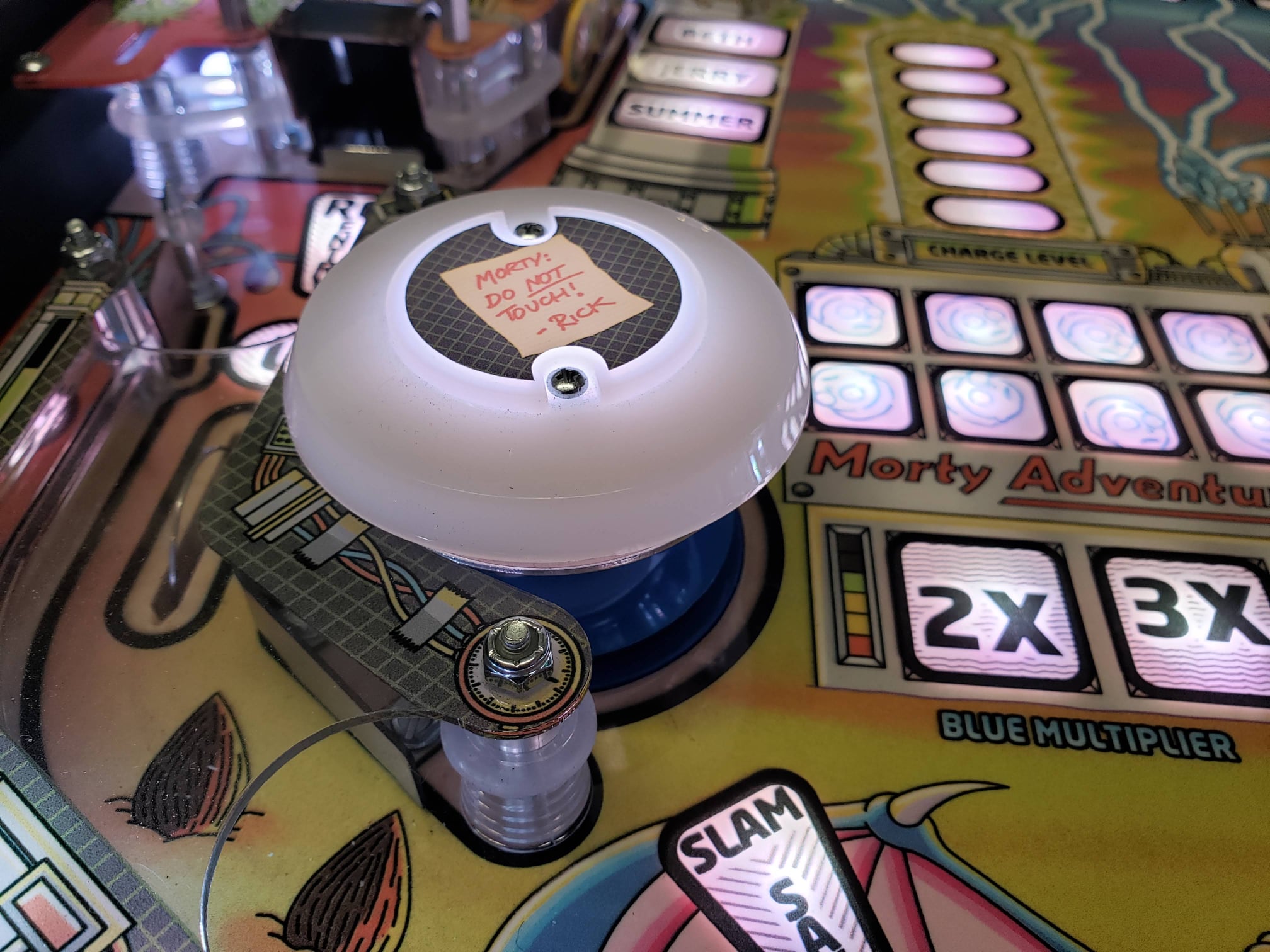 We are working on a DEEP DIVE into this machine that we hope to have out shortly – stay tuned!!
---
Pinball Adventures Reveals Punny Factory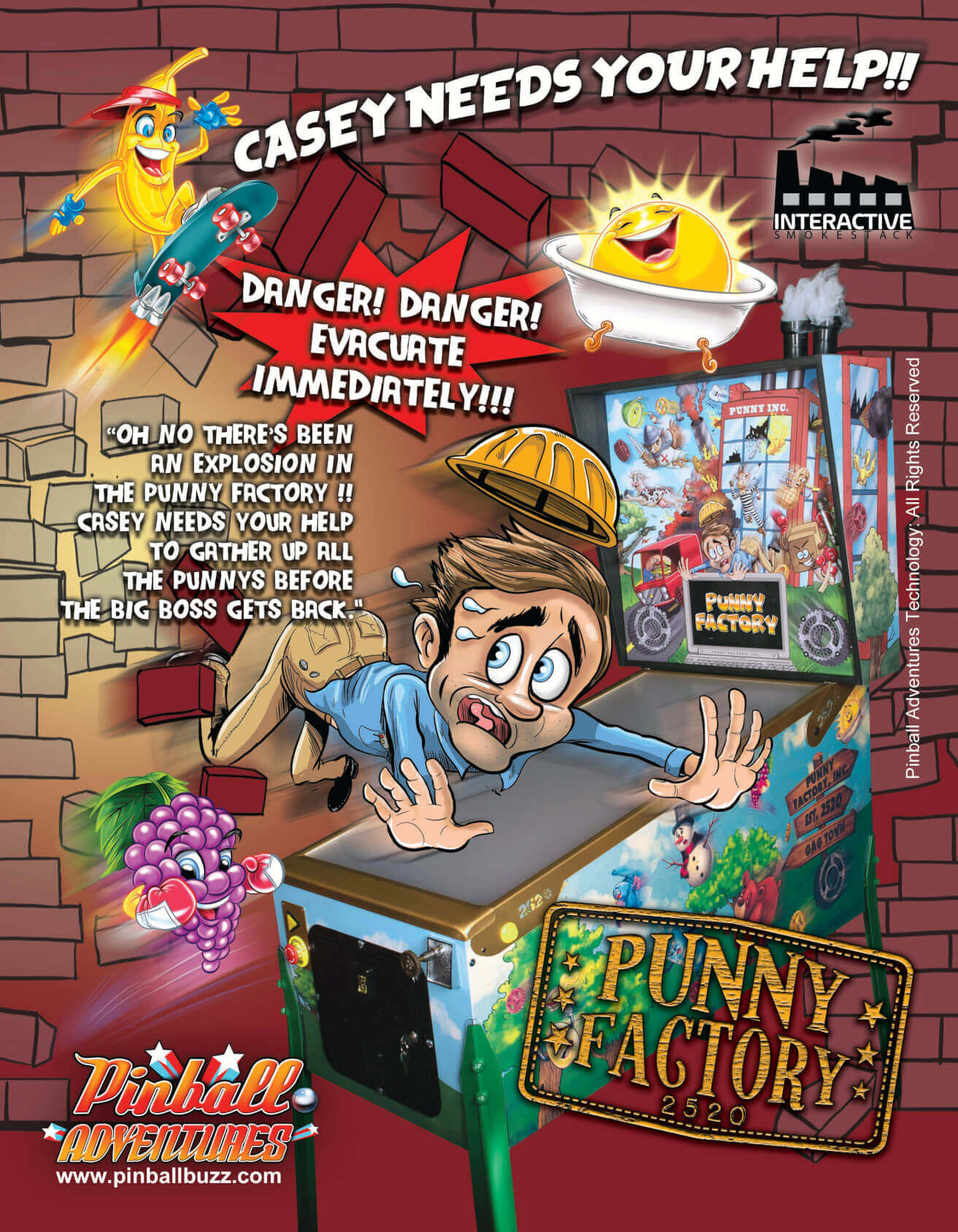 Our friends at Pinball News revealed images of Punny Factory pinball from Pinball Adventures! The game is a single-level game, and according to the Pinball News article, plan for manufacturing has not yet been determined. Check out the article and pictures here!
---
Buffalo Pinball: Updates on Jersey Jack Pinball Wifi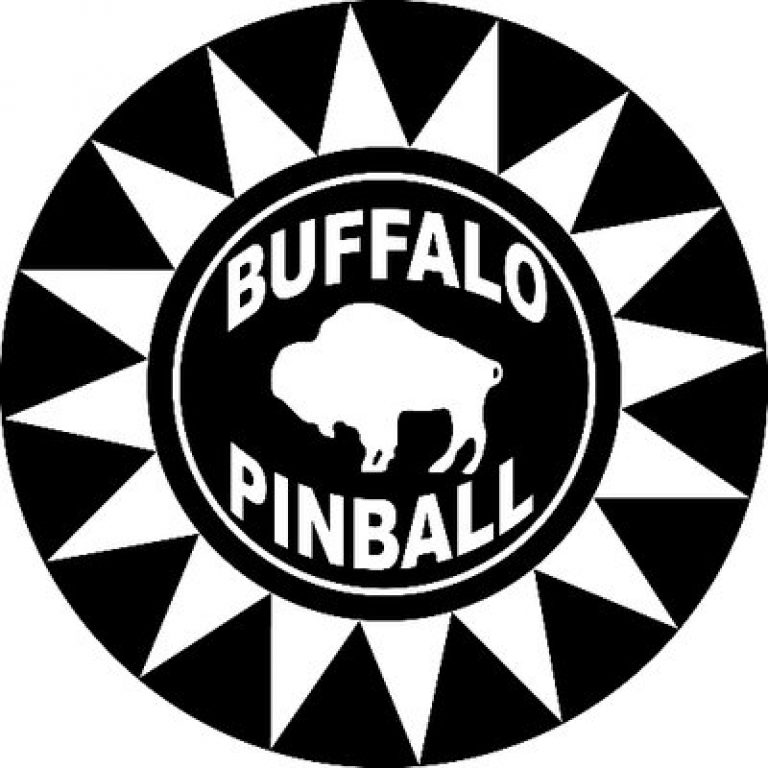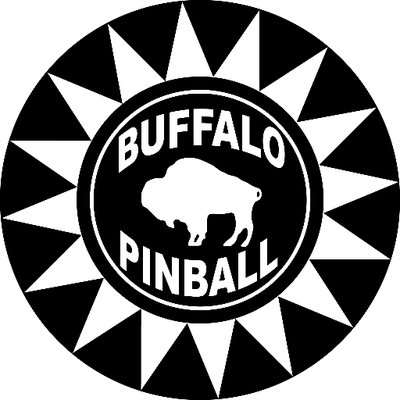 Our friends at Buffalo Pinball talked Jersey Jack Pinball Wifi on their most recent Bro, Do You Even Talk Pinball? podcast – here are just a few highlights from Kevin Manne:
"Jersey Jack is rolling out Wifi capabilities…basically internet capabilities for your pinball machines. They're starting out with the ability to do updates over it. They started out with Wonka, then they did Pirates, Dialed In, Hobbit, and Wizard of Oz. So now all the games have support for it…what you do is you have to download an old-school update that you install first. And once that is installed, it adds a menu system to your pinball machine that gives you network capabilities, you can select your network, log in, test your connections…once you're connected, you can go in and check for updates. If it finds an update that you're not on, just push the start button, it will ask do you really want to install that, say yes…and you're good to go."
Check out the full podcast here!
---
Spooky Pinball Shares More Details on Fang Club


Our friend Luke at Spooky Pinball gave some more details on the Spooky Fang Club on this Pinside post:

The confirmation number from fang club purchase means nothing. Someone please pin this to the top so people can reference it.
1. When you join the fang club you get a care package of spooky gear with some stuff non members cant even buy that is worth your money alone.
2. All emails in the Fang Club memberships will get a warning email that includes the time of sales opening, with a link to our website where you can purchase the game.
3. NON Fang Club members will not receive this email or be able to buy the game until 2 weeks later! THIS IS A HUGE VALUE.
4. Being in the Fang Club does NOT guarantee you a game it DOES guarantee you a 2 week head start on non members however!
5. Their is a chance the game could sell out quickly! In this case non members may never even have a chance to buy and even Fang Club members who do not get to the website quick enough could miss out if per say it did actually sell out that fast.
6. If the website sells out do not give up. Start calling distributors who will be able to sell there allotments at the same time as direct from spooky sales.
7. We understand some people may not be able to get the game. Maximize your chances by being a member and placing your initial payment as quickly as possible after release. If you do not get the game get ahold of us as we will put you on a list in case there are back outs or spots for sale.
8. YES we will show the game before we actually open sales. We don't believe in selling a game the customer can not see first.
9. We cannot release sales until cartoon network approves our date. We are ready and waiting.
10. All Blood suckers games will be completed before any standard games. This is part of the value but more is included in the package and will be shown before launch. All Blood Suckers colors and features will not be available for purchase to add to your standard EVER. They are exclusive to the Blood Suckers Edition. Do not order a standard and expect to upgrade. Order what you want the first time. Purely cosmetic Edition no loss of gameplay features.
11. All of the typical spooky "Add-Ons" such as Direct print clear coated cabinet (Butter), knocker, shaker, etc. will be available however will not be online. We will email you or call you a few weeks before your game goes on the line! AT THAT TIME you will be able to purchase the add-ons for your game. None of these alter your initial payment and will reflected on your final bill.
12. Previously taking "Add-On" orders at the time of purchase led to hundred of people changing their mind (sometimes more than once) about what they wanted before the game made it to the line. Also left time for record mistakes to be made on our end.
13. YOU WILL be able to purchase the Blood Sucker game or Standard version from the website as long as they are not out of stock.
14. Last but not least i doubt cartoon network will allow us time to put a whole gameplay stream together but we will get video of the ball rolling through features and show video and call outs as they are obviously a huge part! Full pictures of entire game also.
Hopefully this answers most of the questions! Trying to read them all but there are ALOT.

– Luke, Spooky Pinball
---
American Pinball Selling Prototype Games
Check it out if interested!
---
New Pinball Product Alert: Truelevel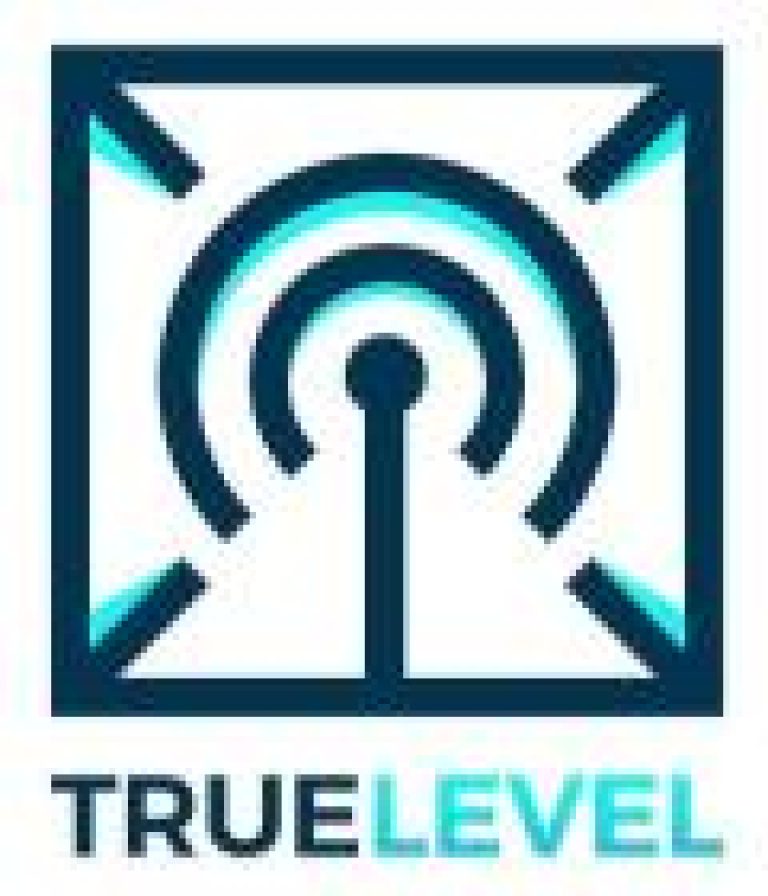 An interesting new product, called Truelevel, was introduced on Pinside from Pinsiders wolfmarsh and wildertronix last week! Here are the notes from this post on Pinside:
It's a small, usb powered device that you stick on your playfield (typically under the apron) that will help you setup the pitch and roll of your machine properly. We've been torture testing them with the fine folks at Abari Game Bar in Charlotte, NC.
The device easily mounts with 3M command strips under the apron.
We've also written a phone app that lets you interact with the device via Bluetooth Low Energy (BLE). The app is open to everyone, not just owners of Truelevel.
The idea is if you are a player and go to an arcade where Truelevel is installed, you can check to see if the pins are set up properly with a simple red/green indicator of their status, as seen below.
**CURRENTLY THE APP IS ANDROID ONLY, iOS VERSION COMING SOON (Q1 2020)**
If you are the owner of the device, you'll have set a PIN number that allows you access to the owners screen where you control the settings and get the raw readouts from the device
We've put a limited initial run of the devices up for purchase on the storefront at: https://www.savepointvideogames.com/
The app is available in the Google Play Store: https://play.google.com/store/apps/details?id=com.savepointvideogames.truelevel
**REMEMBER, CURRENTLY THE APP IS ANDROID ONLY, iOS VERSION COMING SOON (Q1 2020)**
Thanks for reading and remember to look for the "Truelevel Installed" sticker so you can use the app!
Check out some pics here!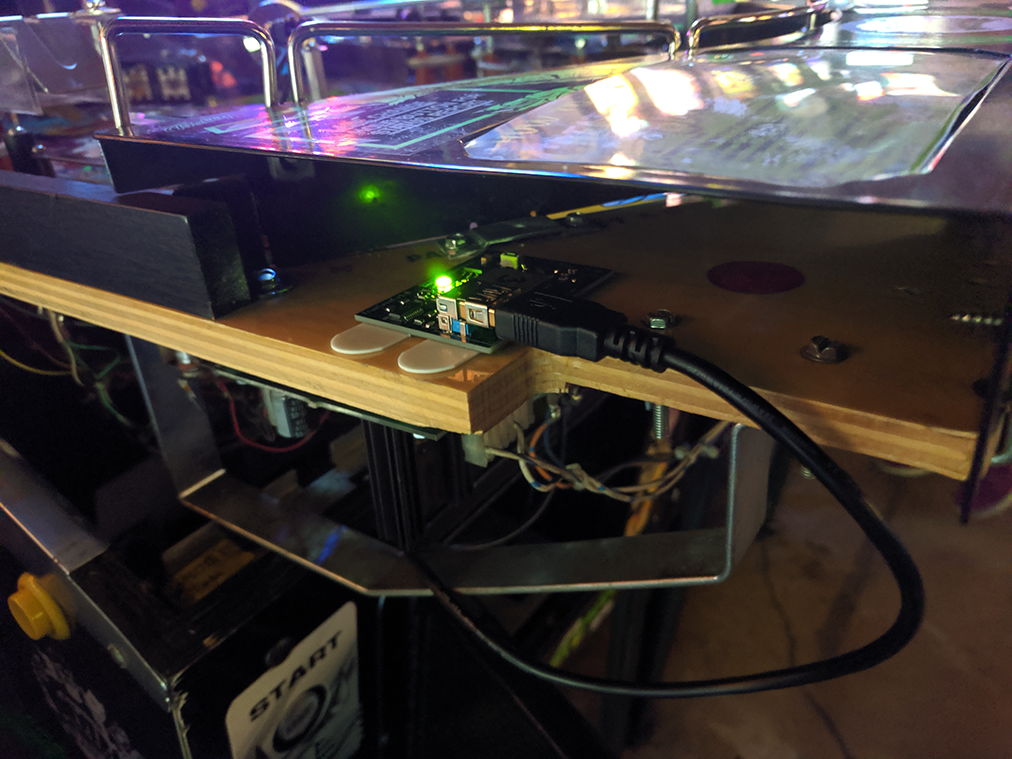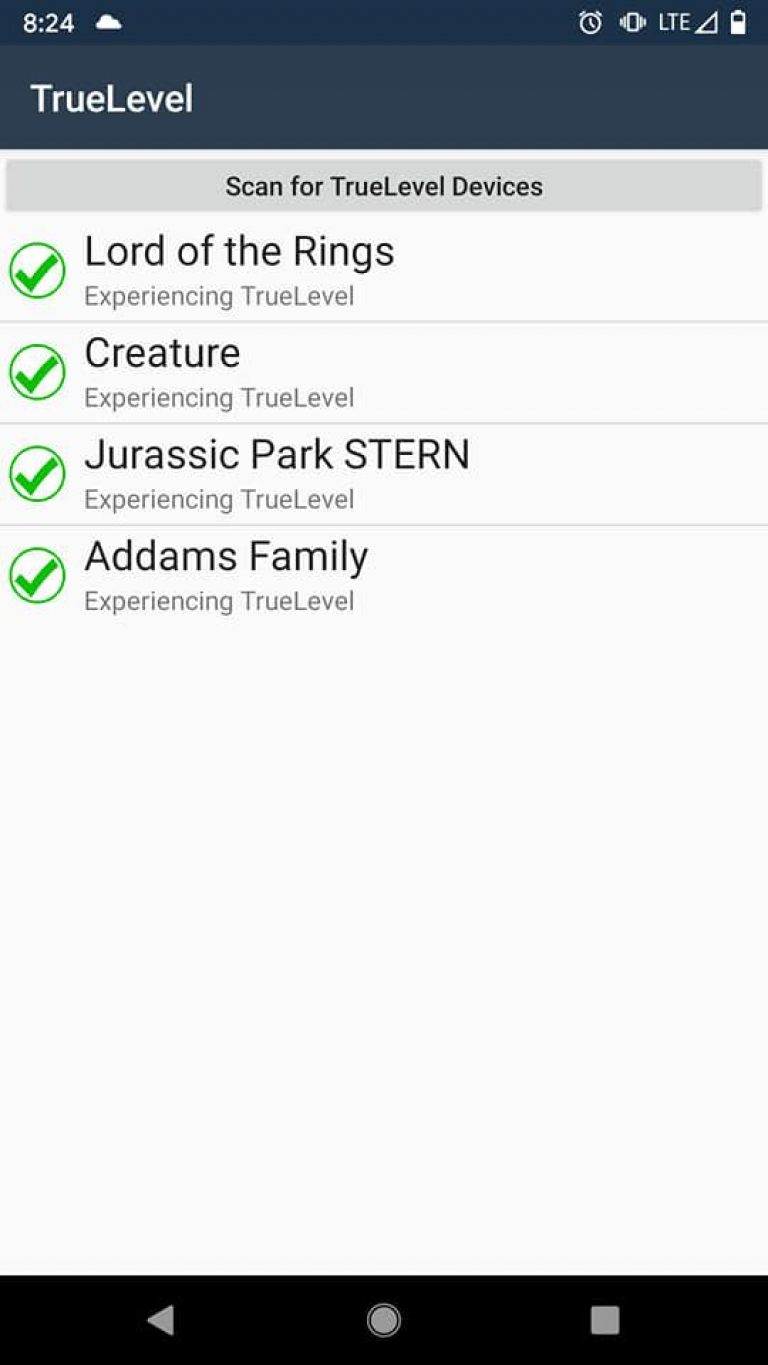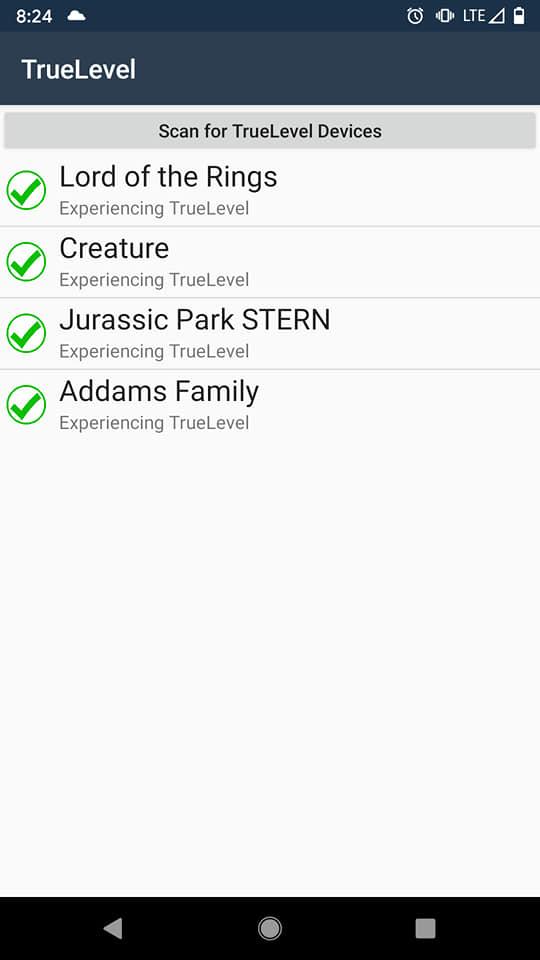 ---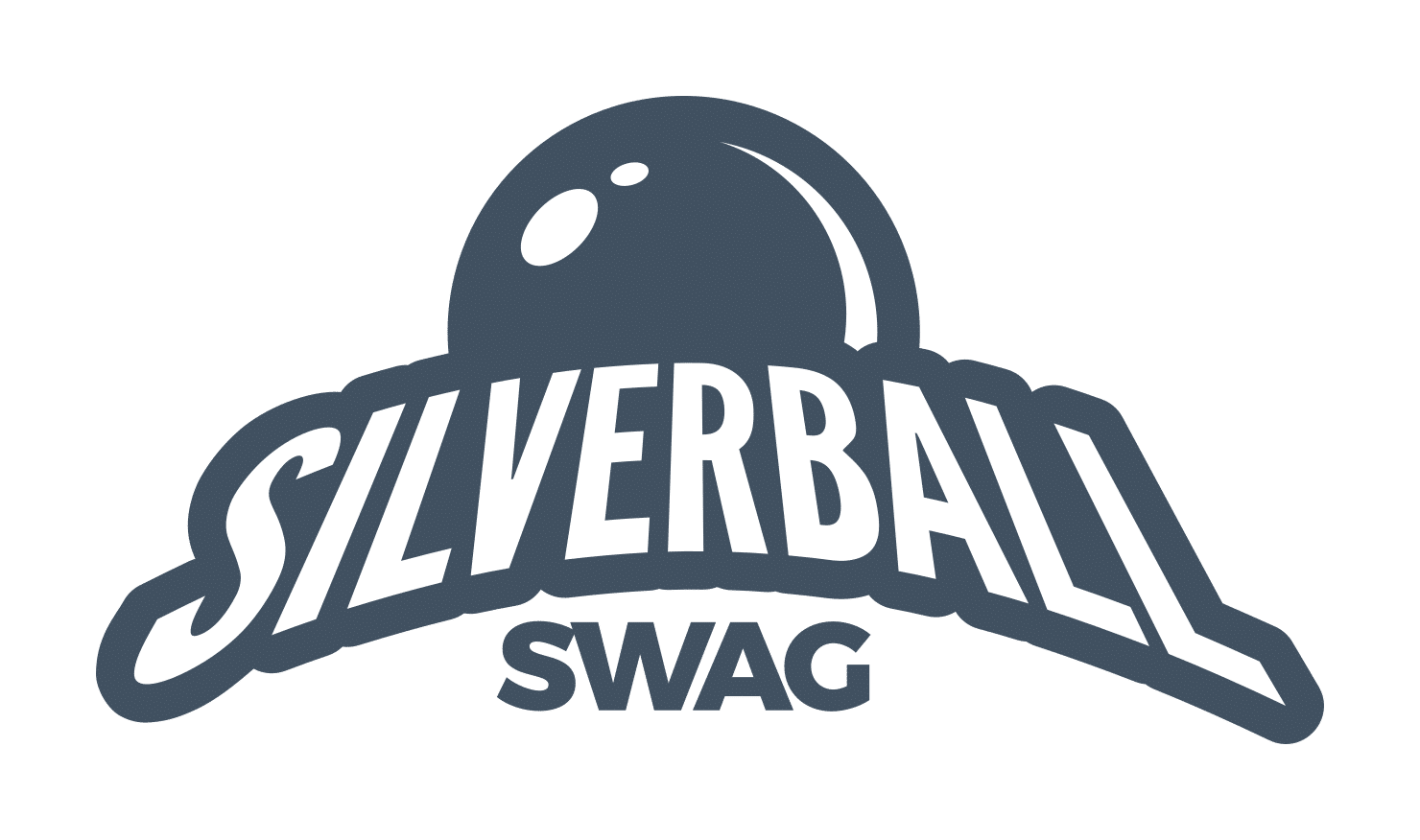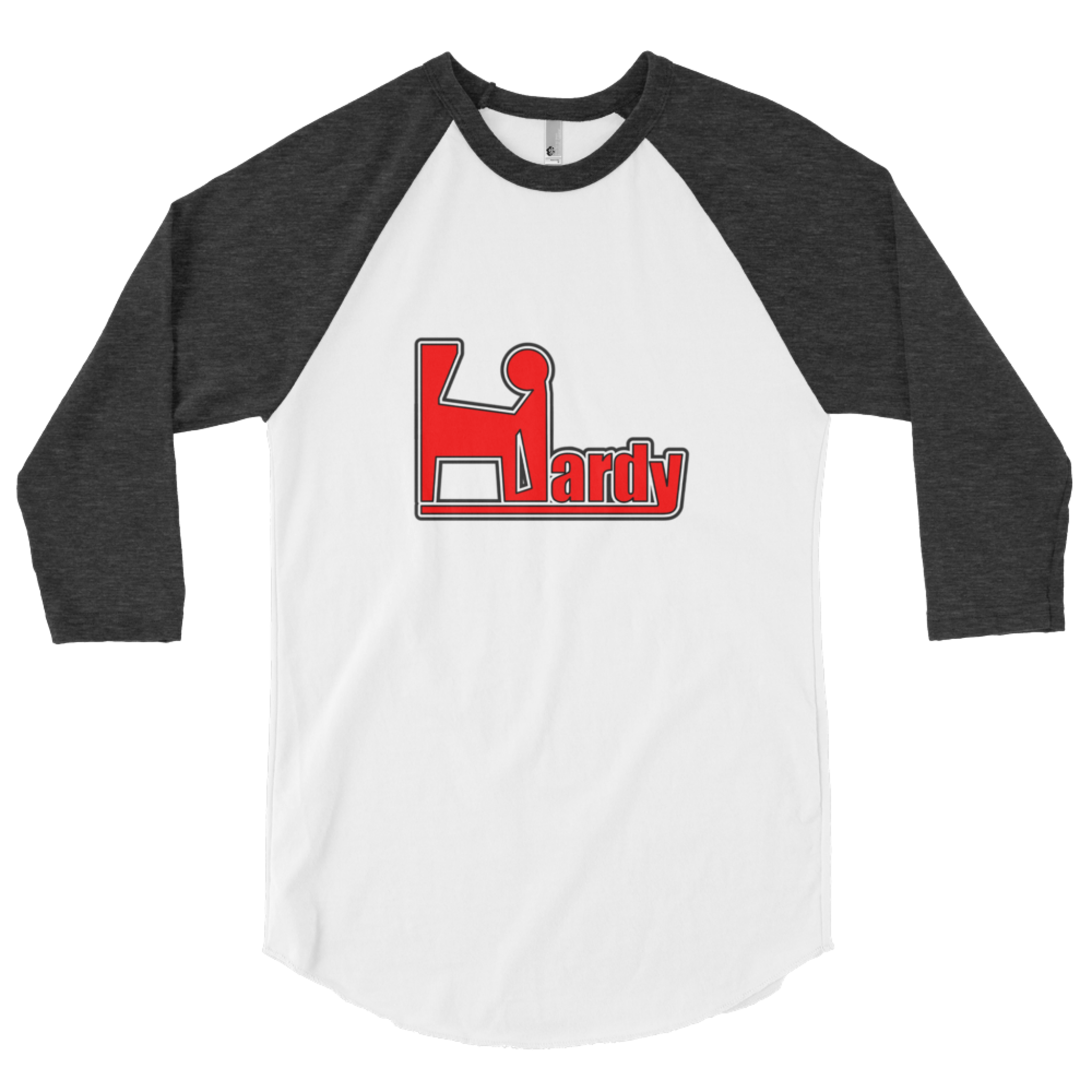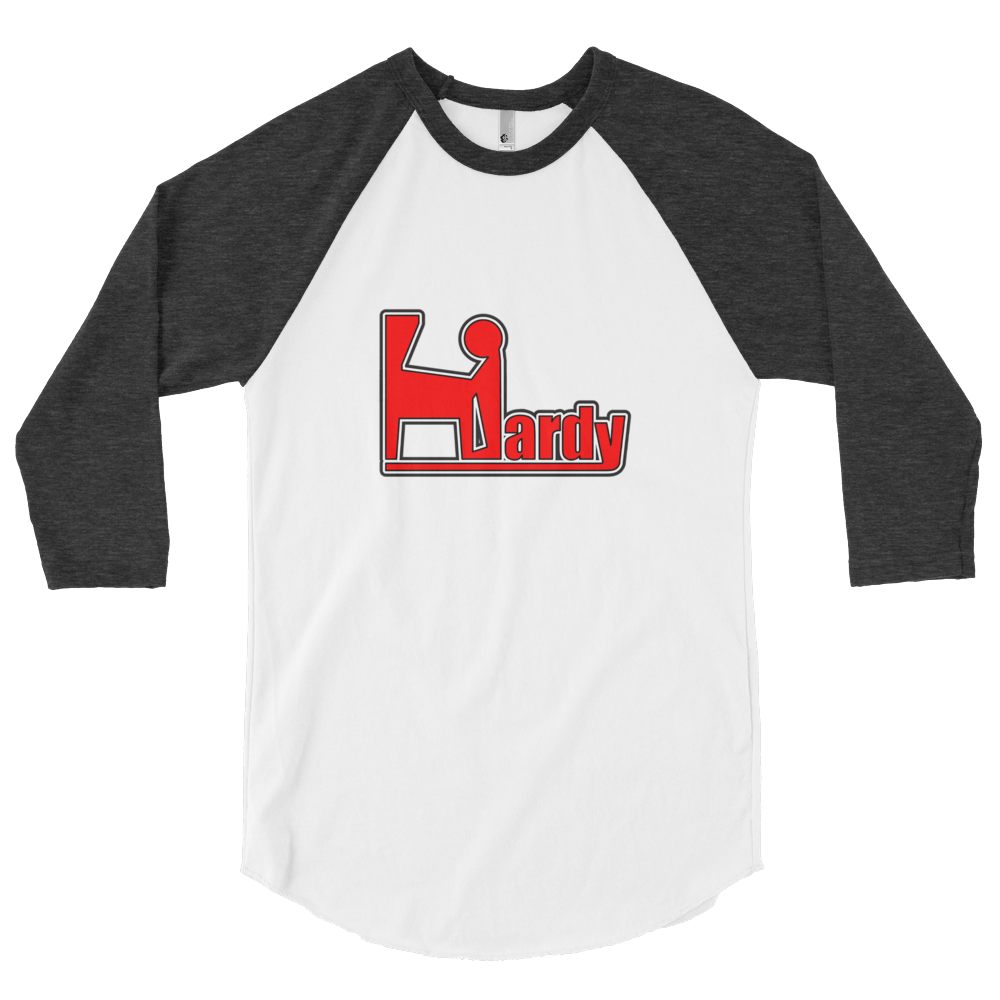 — Cool and Crazy Stuff —
PinballSTAR Bought a Church
---
Multimorphic Self Playing Pinball Machine
---
Bowen Kerins Makes Insane LEFT Side Death Save
---

— End of Post Bonus —
Happy Birthday Eric Smith!
RIP Dan Ferguson
---
Disclaimer: Any articles, interviews, or mentions of pinball manufacturers or pinball products is NOT an endorsement.