George Gomez talks | David Thiel Interview | A Plethora of code | Ghost Pinball | Slap Save Podcast | Ben Heck salty | Diamond Beatles on location | Naked Grouse Whiskey Pinball
NOTE: Since next Monday is Christmas Eve and next Tuesday is Christmas Day, there will be no TWIP next week! We'll be back on 12/31!! 🙂

— What Else is Happening in Pinball —
George Gomez Facebook Live
George Gomez was asked questions by people on Facebook last week! Here are a few interesting excerpts:
Q: When is your birthday and does anything special happen in Deadpool on that day?
Gomez: My birthday is June 1, and you never know because Deadpool is – that kind of game. Make sure you set your clocks!
[Editor's note: Hey, George Gomez and I share the same birthday!!]
Q: How does a license become a game? Is it because the designer wishes to make a game using said license, or that the right holders hold some sort of bid or offer to make a game with said license?
Gomez: Licensing is a complex animal. It is a very difficult thing – what I mean is – a couple things happen. All of the key elements of the company – marketing, sales, product development – all have a say in what the license is…we have to make successful games. We try to pick what we think are licenses that address all of you guys in terms of what you're interested in. We try to pick broad themes that cover all the basis. Every once in a while we do niche stuff – for example, maybe not everyone is a fan of a particular rock band or a movie…we try to create a variety in the licenses that we pick, and we try to create themes that are very popular with the audience. it is very important to me as the guy running product development because I personally feel – I want to work on licenses that I like, that I am passionate about, because you're going to get the best stuff from me when I'm passionate about what I'm working on. So it is very important for the design team to be into the themes and licenses that they're working on. So it is a combination of factors.
Q: Love to hear what direction the "story" will go in with such great writers involved in [Deadpool]. Have the LE at home and enjoying it even with current code. Any ideas what's going to be added in the future?
Gomez: You're definitely going to get a couple more multiballs…weapons are going to be more significant. You may see some of that fairly soon, we have a little bit of work to do yet. There is going to be an uber super duper wizard mode that you're going to see.
Check out the full video here!
---
Buffalo Pinball: David Thiel Interview
Our friends at Buffalo Pinball interviewed David Thiel on their most recent Bro, Do You Even Talk Pinball? episode! Some of the interesting stories he shares includes:
Check out the full video below!
---
A Plethora of Code
We saw a bunch of code updates last week! Check them out:
Pro Tip: if you wait to update/install until after the holidays, you can use the updates as the reason you had to erase your brother-in-law's high scores after he visits.
---
The Band Ghost Wants a Pinball Machine
Tobias Forge, the front man of the band Ghost, shared in an interview last week he wants a Ghost-themed pinball machine to be made. An excerpt from the interview includes:
Tobias Forge has told Philadelphia's 93.3 WMMR radio station that his "biggest wish right now" is to make a GHOST-branded pinball machine. "I love pinball," he said. "And from the amount of characters that we have, that's a little bit more my focus right now. Just knowing that I wanna make a pinball machine with finally enough fodder to make that now… It's a long way to the top if you wanna have a pinball machine."
Check out the full article/interview here!
---
New Podcast Alert: Slap Save Pinball Podcast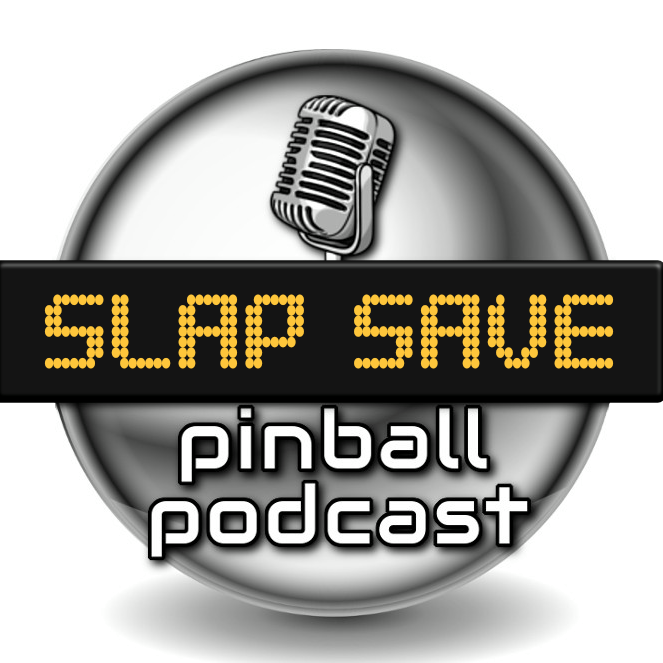 We have a new podcast in town! The Slap Save Pinball Podcast just launched their podcast recently, and had their first "real" episode last week. Check it out here! The show is described as: Two regular guys who just happen to love pinball and also own microphones. Join us on our journey!
They have a 24/7 voicemail and comment line that you can call at 314.529.1875, and their email address is slapsavepinballpodcast@gmail.com.
So check them out on your favorite podcast listening app, and throw them a Like on Facebook!
---
Ben Heck Salty Towards Spooky
In the drama section of TWIP, our friends at ausretrogamer recently mentioned the Spooky Pinball documentary, Things that Go Bump in the Night in a tweet:
…but Ben Heck was clearly not impressed with the documentary…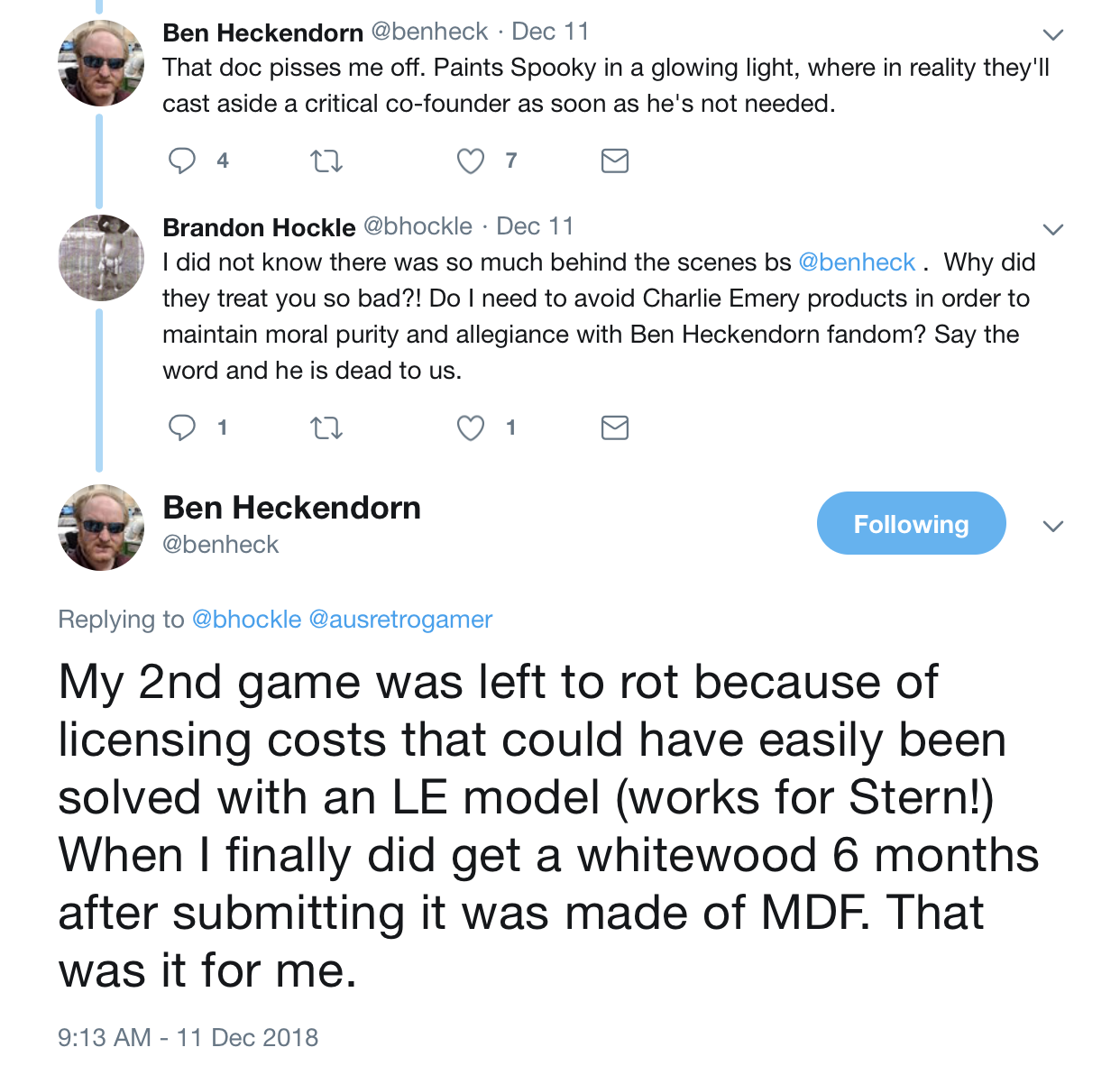 ---

— Cool and Crazy Stuff —
Beatles Diamond Edition at Sunshine Laundromat
The very expensive Beatles Diamond Edition is on location at Sunshine Laundromat in Brooklyn with an entertaining note where the pricing card is usually located: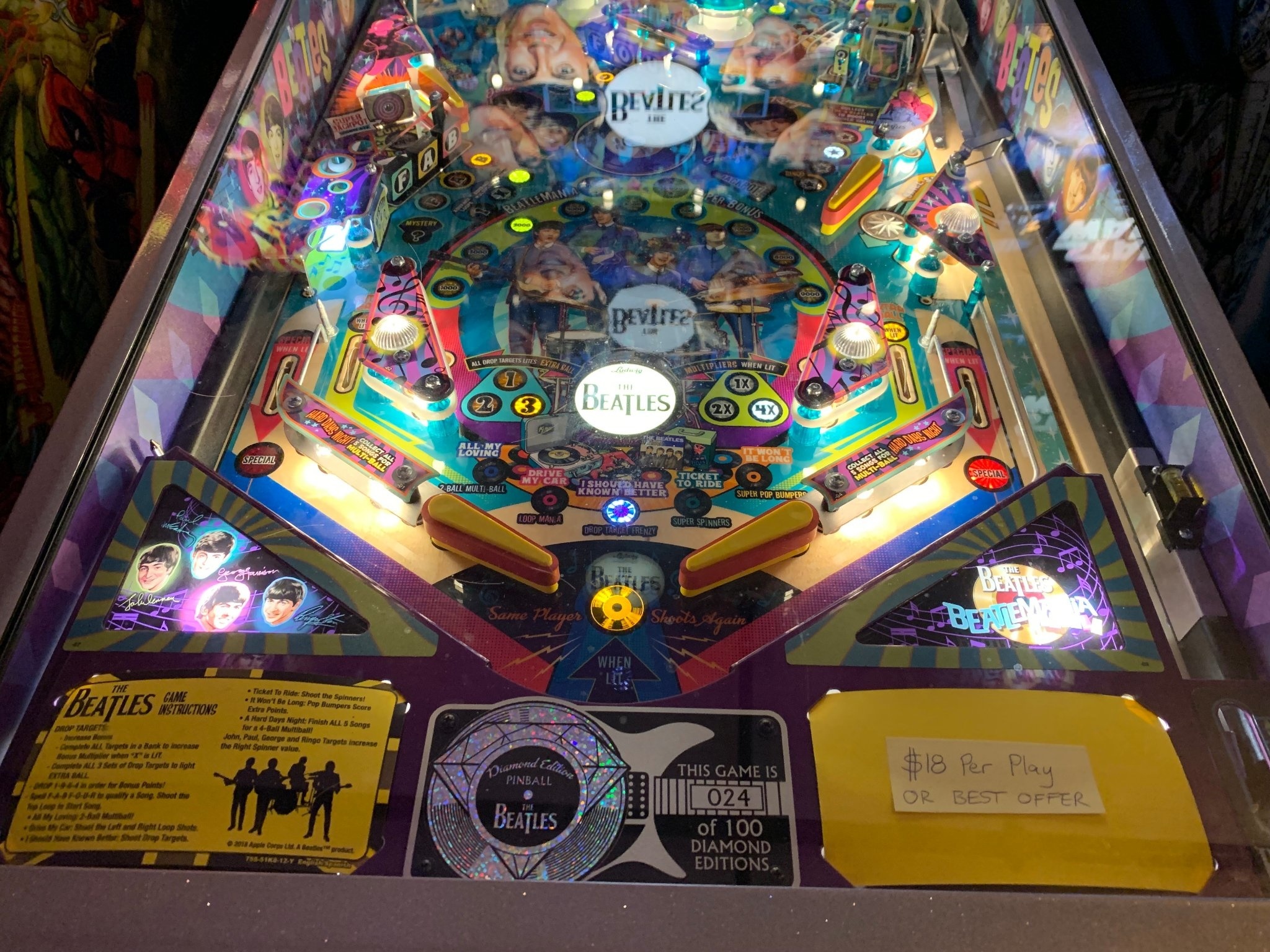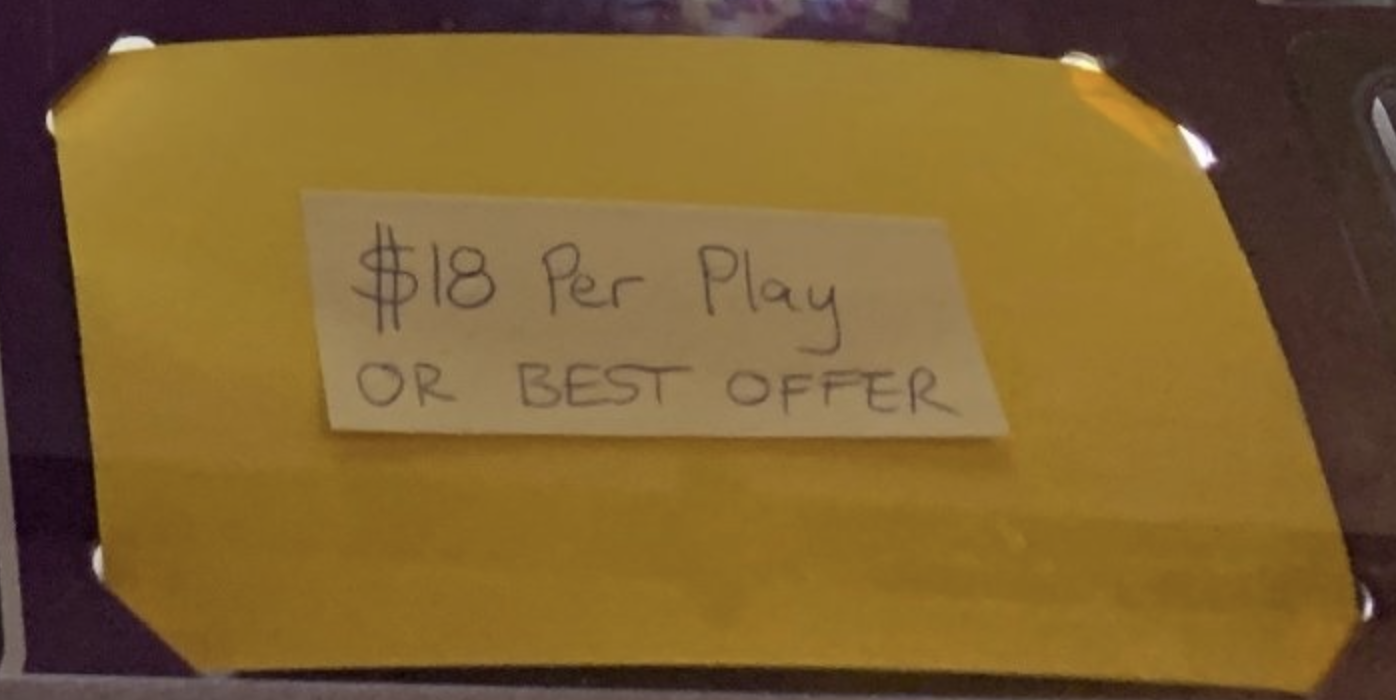 Special thanks to TWIP Supporter Adam Schwartz for the pictures!! (And please note that it is actually only $1 to play 🙂 )
---
Naked Grouse Whiskey Pinball
Thanks to our friends at Pinball Press for this one – it is a rethemed Rolling Stones which is now Naked Grouse Whiskey Pinball:
---

— End of Post Bonus —
Happy birthday Eric Smith (Titan Pinball)!!
The Spooky Pinball Team is in Tokyo…
Get alerts for new posts from This Week in Pinball – follow us on Facebook, Twitter, or sign up by email: