The Scoop
Star Wars Gameplay
At long last we got some gameplay footage of the new Star Wars Pro pinball machine. Dead Flip went to the Stern Factory and streamed the first showing which can be viewed here, and this weekend the game was at Pintastic, which was it's first public showing. For TWIP's initial thoughts on the machine, click here.
Pintastic Silverball Rumble
Congrats to Eric Stone who won the Pintastic 2017 Silverball Rumble. Stone, ranked 27th in the world, beat out Phil Birnbaum (37th) who finished second, Tim Sexton (47th) who finished third, and Alberto Santana (52nd) who finished fourth. Check out full results here.
Alien and The Big Lebowski Updates
Over the weekend, both Heighway Pinball and Dutch Pinball sent out production updates. Both seemed to be positive updates, so fingers crossed that these companies are headed in the right direction and games will soon be being built and shipping. You can read Heighway's update by clicking here, and Dutch's update here.
Spooky Pinball Updates
In case you missed it, Things That Go Bump In The Night: A Spooky Pinball Story is now available to the public. To rent or buy this documentary, or to watch a trailer, click here. Also from Spooky – last week the new Rob Zombie code was released. This update includes new modes, new speech, new animations, and new sub modes.
Coast2Coast Pinball Podcast is Back
After a long hiatus, Coast2Coast Pinball studios have released two podcasts in the last week and a half. It's great to have Nate Shivers (and Theresa) back on the airwaves. If you'd like to check it out, here is the Coast2Coast website or check them out iTunes or your favorite podcast player.
ColorDMD new release
ColorDMD, the pinball mod that will increase your happiness in life by 12-15%, should be releasing a new title very soon. Speculation is that it is The Adventures of Rocky and Bullwinkle and Friends. Stay tuned! Checkout ColorDMD here.
Pinball Arcade new release
Pinball Arcade released Wipe Out, the Gottlieb machine from 1993. The hint in their newsletter seems to indicate that Firepower II will be their next release. To learn more, check out their website by clicking here, or download the Pinball Arcade app onto your phone or tablet.
What'd we miss? Have an announcement for next week? Email us at thisweekinpinball@gmail.com
Pin of the Week
FIREPOWER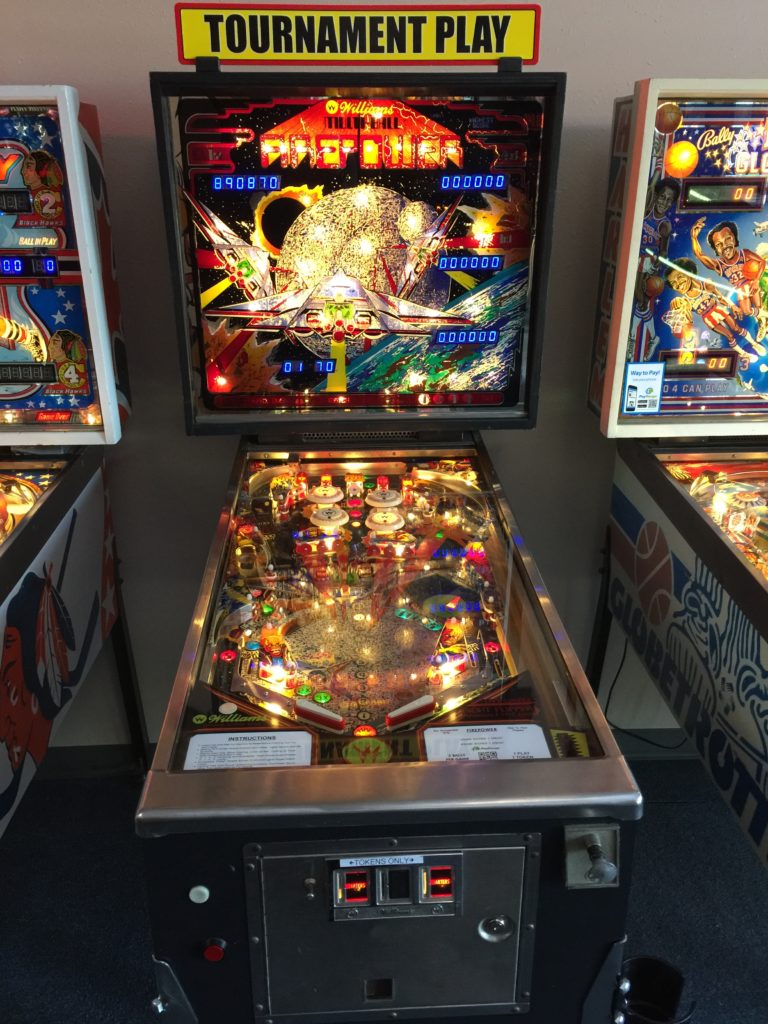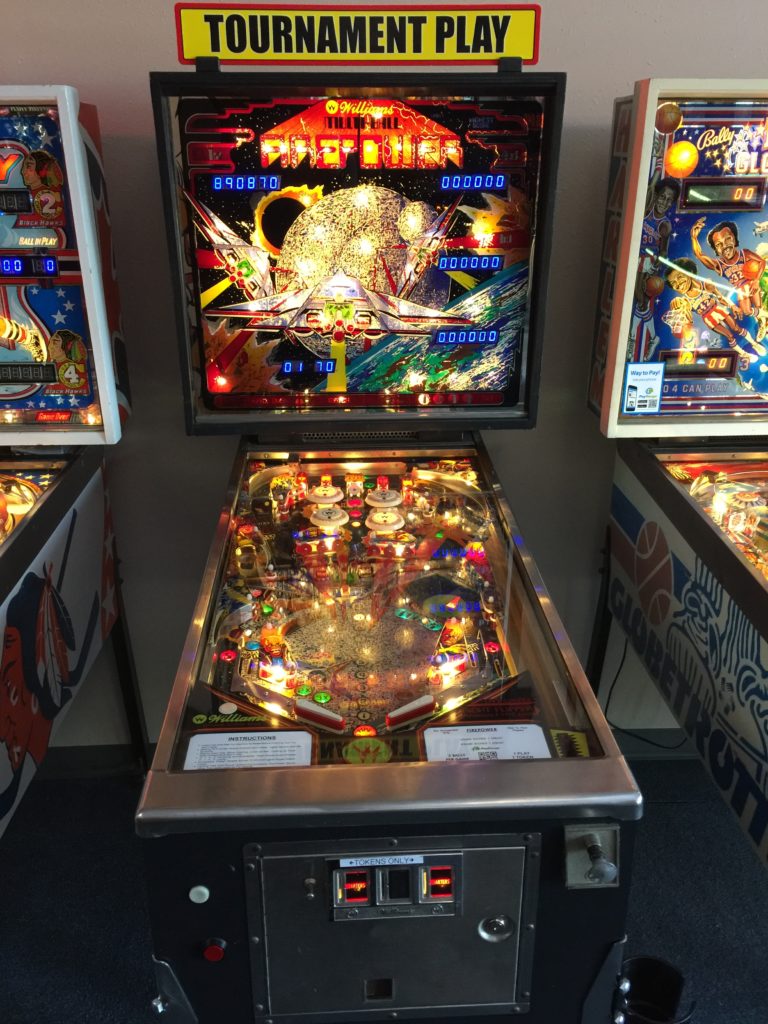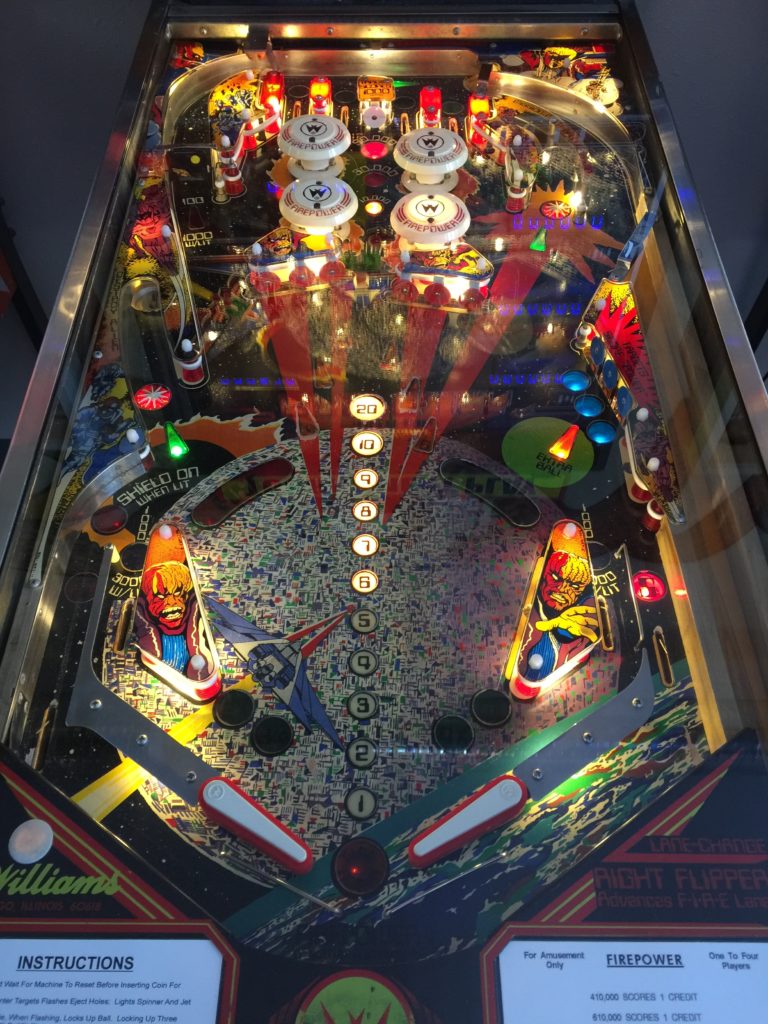 Interesting notes about Firepower:
"Firepower was the first solid-state electronic pinball to feature 3-ball Multi-Ball, as well as "Lane Change." This feature allows the player to control the lamps of the topmost rollovers utilizing the right flipper button." – Wikipedia
"It was the second Williams pinball to talk (Gorgar being first), and the voice is from the God of pinball himself, designer Steve Ritchie ("the King of flow")!" – firepowerpinball.com
"The first playfield animation. This "countdown to multiball" animation was innovative and amazing in 1980. It was also near the limit of the electronic and computational capacity of the hardware." – pinside.com
Manufacturer: Williams
Display: Digital
Players: 4
Flippers: 2
Ramps: 0
Release date: February 1980
System: Williams System 6
Design: Steve Ritchie
Programming: Eugene Jarvis
Artwork: Constantino Mitchell
Mechanics: John Jung
Sound: Eugene Jarvis
Voices: Steve Ritchie
Production run: 17,410
Website of the Week
"PinTips is a place for pinball players to share short playing tips. Players vote on the best tips so you can always see the best tips at the top." Over 1500 tips on over 350 pinball machines!
Have a site we should check out or want your website featured? Send an email to thisweekinpinball@gmail.com with the URL and a short description and we'll include it.
Welllll, Lets See What We've Got Here
Identify the pinball machine pictured below for a chance to win a gift card to Pinball Life!


Hint #1: Magic is not in the title
Hint #2: World traveller
Email guesses to thisweekinpinball@gmail.com, correct answers in July are entered into the drawing for a gift card to Pinball Life!
____________________________________________________________________________
Upcoming Games and Rumors
Stern Pinball
Most Recent Titles
Aerosmith
AC/DC Vault Edition
Star Wars (shipping soon!)
Announced/Confirmed
Rumors of Future Titles
Guardians of the Galaxy?
Iron Maiden?
Spooky Pinball
Most Recent Titles
Rob Zombie's Spookshow International
Dominos
Jetsons
Announced/Confirmed
Total Nuclear Annihilation
Alice Cooper's Nightmare Castle
Ben Heck's game
American Pinball
Most Recent Titles
Dutch Pinball
Most Recent Titles
Bride of Pinbot 2.0
Bride of Pinbot 3.0 (on hold)
The Big Lebowski (production issues)
Jersey Jack Pinball
Most Recent Titles
Wizard of Oz
The Hobbit
Dialed In (now shipping!)
Rumors of Future Titles
Pirates of the Caribbean?
Toy Story?
Chicago Gaming/Planetary Pinball
Most Recent Titles
Medieval Madness Remake
Attack From Mars Remake
Rumors of Future Titles
Monster Bash Remake?
Big Bang Bar Remake?
Cactus Canyon Remake?
Heighway Pinball
Most Recent Titles
Full Throttle
Alien (production issues)
Rumors of Future Titles
P3 (Multimorphic)
Lexy Lightspeed (coming soon)
Cannon Lagoon (coming soon)
Cosmic Cart Racing (coming soon)
Homepin
Thunderbirds (coming soon)