Stern Announces AC/DC Luci Premium Vault Edition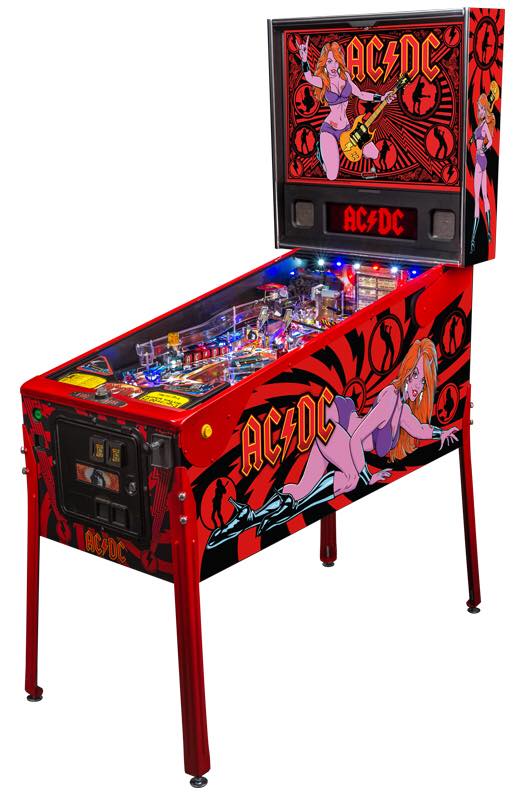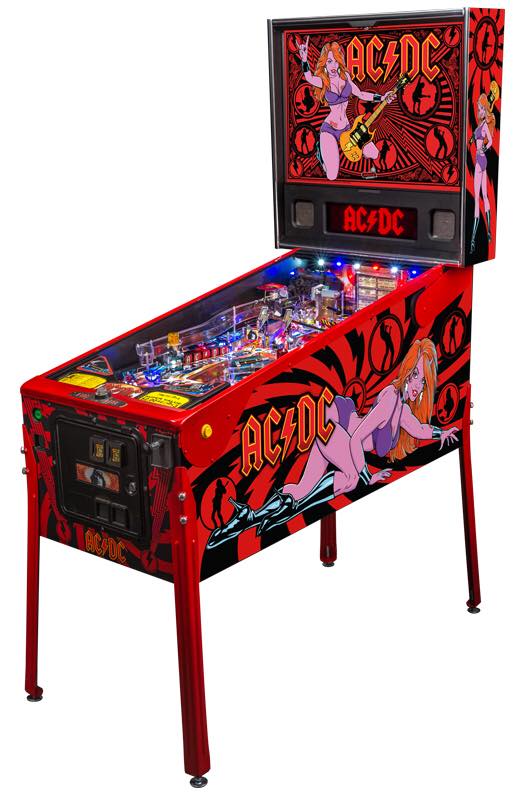 Rumors of an AC/DC Luci Premium Vault Edition started swirling last Thursday after a website in Germany posted one for sale. On Friday, Stern confirmed this information on Facebook, stating:
"SHE'S BACK! Back by popular demand, Stern announced at the EAG show in London that a small production run of AC/DC Luci Premium Vault edition games will be available in mid-February.
Most of you remember the dynamic cabinet, translite and mini-playfield art package. Please see the attached photos.
Luci game play and rules remain the same that Steve Ritchie, Lyman Sheats and their team created for popular AC/DC Premium.
Luci has the 12 great AC/DC hits from our AC/DC games.
Luci's price is the same as the standard AC/DC Premium Vault released last year.
As the market continues to grow. Vault titles are a great way to capture new end-users attention and sales."
---
TWIPY Pinball Awards Show Results
Did you miss the TWIPY Awards? You can watch the show on Twitch with all the comments and bantering here, or check out the video below:
(Note: there is a section from 16:00-22:00 where the audio cuts out because Twitch mis-identified a section as containing copyrighted material (which in the appeal process to retrieve the missing audio))
---
Straight Down the Middle: a pinball show
The time and effort that Zach and Greg have put in for the TWIPY Awards has been ridiculous and VERY much appreciated. They have spend dozens and dozens (and dozens) of hours on creating the video montages, preparation, ideas, phone calls, emails, text messages, etc. in working to make a great show for the TWIPYs. And it is for the love of pinball and the pinball community.
HUGE thanks to Zach and Greg from Straight Down the Middle: a pinball show (YouTube, Twitch, Facebook) for all their hard work and efforts to make the show a very special and fun event!!
---
IFPA State Championship Series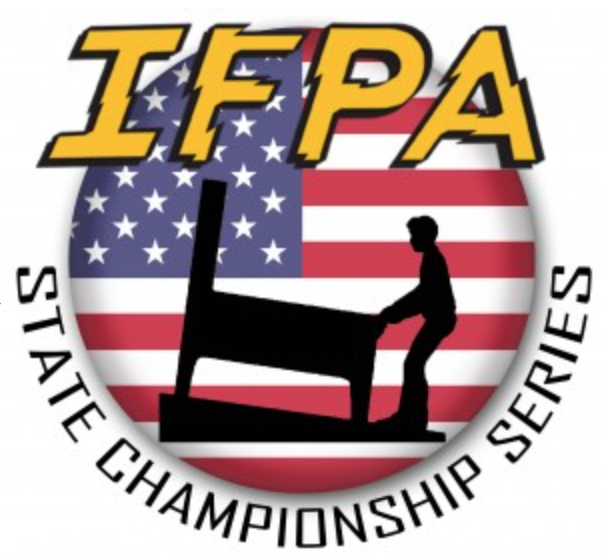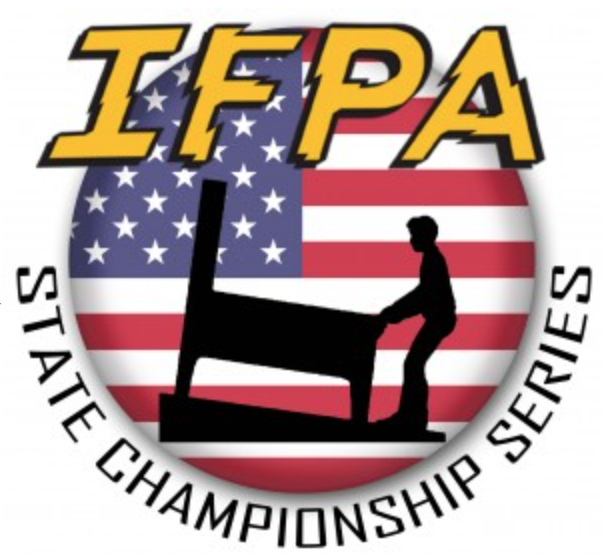 The US State Championship Series happened last weekend! 43 states plus Washington DC held their finals on Saturday, January 20th. Congratulations to all the winners!! Check out a list of (most of) the winners here!
The State Champions are now qualified to compete for the US National Championship in Las Vegas, Nevada on Thursday, March 1st. The winner of the National Championship wins a new in box Stern Pro Pinball machine! For more details on the National Pinball Championship, click here.
---
EAG Expo 2018 Report – Pinball Magazine
Super Pinball Pong Pong Bar – New Machine!
Jonathan Joosten from Pinball Magazine posted a huge update from EAG Expo which took place in London January 16th-18th. Read the full update here. As part of the update by Pinball Magazine, they mention seeing an advertisement from Wee Chin Electronic Machinery which appeared to show a pinball machine in a head to head style cabinet, similar to 1983 William's Joust.
Pinball Magazine reached out to Wee Chin Electronic Machinery, and posted an update with more details on this machine. Click here and scroll near the bottom of the article to read the details. One of the details is that Wee Chin Electronic Machinery plans to be in booth #605 at the Amusement Expo in Las Vegas at the end of February, and plan to demonstrate the game at that show! Check out a picture of the machine here.
---
deeproot Pinball Update – Three New Designers, the Five Days of deeproot, More
This Week in Pinball previously released an interview, backstory, and general timeline of deeproot Pinball, a company that is looking to become a major pinball manufacturer:
This Thursday, we have another EXCLUSIVE with deeproot which will include:
New hires, including three additional experienced pinball designers
The Five Days of deeproot: schedule and more details
Updates for Zidware customers and submitting questions to be answered on an upcoming podcast
Follow up interview with Robert Mueller of deeproot Pinball
Visit This Week in Pinball for all the info on Thursday.
---
Pinball Bulbs – advertisement
Pinball Bulbs SALE: Visit Pinball Bulbs and enter promo code "ThisWeek15off" to save 15% off everything on the site!
That includes their Mini Virtual Pinball Machine, which comes loaded with:
Pinball FX2
Pinball Arcade
Ikaruga and Proycyon (shooters)
Visual Pinball – MAME (ROMs added by user)
Customer front end so no computer or technical skills needed
Full online support fort your specific machine
Real Analog Nudge
Click here for more info and pricing, and watch the video below to check out more about this machine!
---
Bible Adventures Pinball Update
Have you heard of Ben Heck? He is a tech hobbyist and regarded by many as an all around genius. He is the host of The Ben Heck Show on Youtube (check it out here). He also came up with the concept and game design for Spooky Pinball's first game – America's Most Haunted!
Have you heard of the Bible Adventures Pinball idea? Ben Heck has been talking about it for years – here is a long Pinside thread about it. No one knows exactly how serious Ben Heck IS about actually going forward with the idea, but last week he posted this picture with the caption "LET THERE BE FOAM CORE!" He also posted that he'd like to have the following toys in the game:
"Rotating scoop (as pictured) Holds 3 balls and can eject them at any angle"
"Crumbling walls of Jericho (rear orbit)"
"Samson above pops shaking pillars (that might change the path of ball on ramp shots)"
"Some part of the PF that cracks open and reveal a path for Exodus MB"
Who knows how far this somewhat controversial pinball project will go – we'll keep you updated!
---
American Pinball Production Begins/Resumes
American Pinball shipped a few games at the end of 2017, but then things were pretty quiet shipping-wise for a couple weeks. This week American Pinball posted the following on Pinside:
"…games are again leaving the factory. A few have left and about a dozen more are ready. There are another half dozen that went through inspection today [Friday] and will be packed up tomorrow (Saturday) and a half dozen waiting for spots to open up in the inspection area…"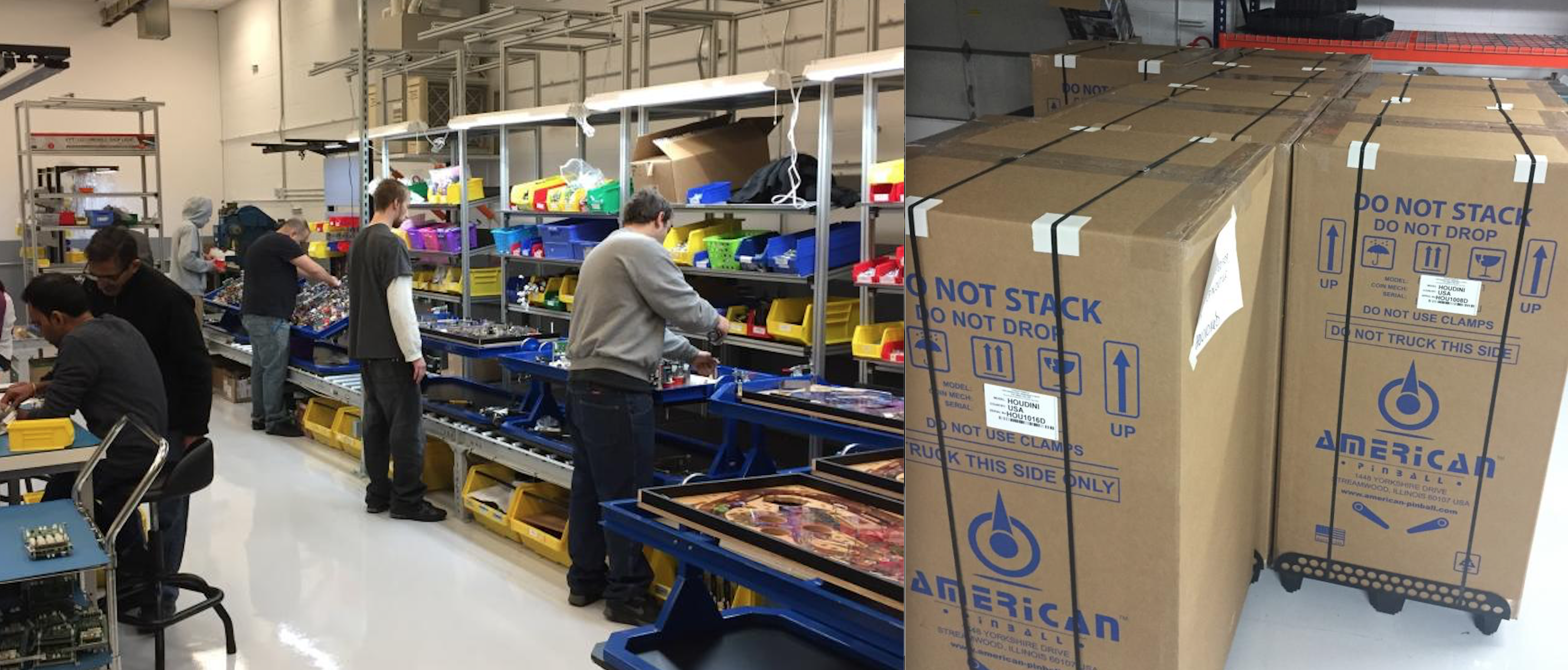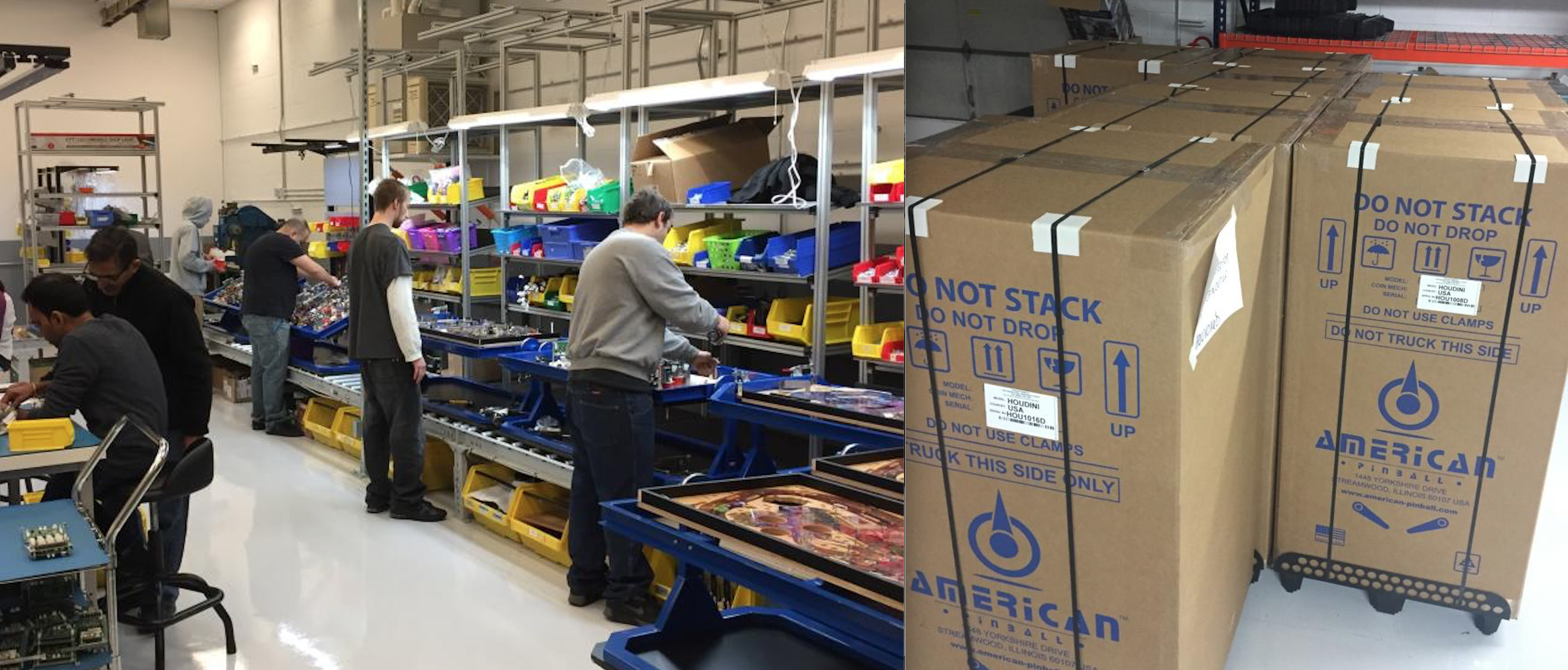 For previous TWIP coverage of Houdini, check out our Houdini DEEP DIVE here, and our interview with playfield designer Joe Balcer here.
We saw the first Houdini unboxing video from Zach with Straight Down the Middle: a pinball show (YouTube, Twitch, Facebook) – check it out below:
Speaking of Straight Down the Middle: a pinball show, Zach and Greg went up to the American Pinball factory last week and plan to be posting a full review including a machine overview with Joe Balcer and Josh Kugler – check it out on their YouTube channel soon!
Finally, here is a Houdini stream from Zach on one of the very first production Houdini machines – check it out!
---
Zombie League All Stars and All Star Baseball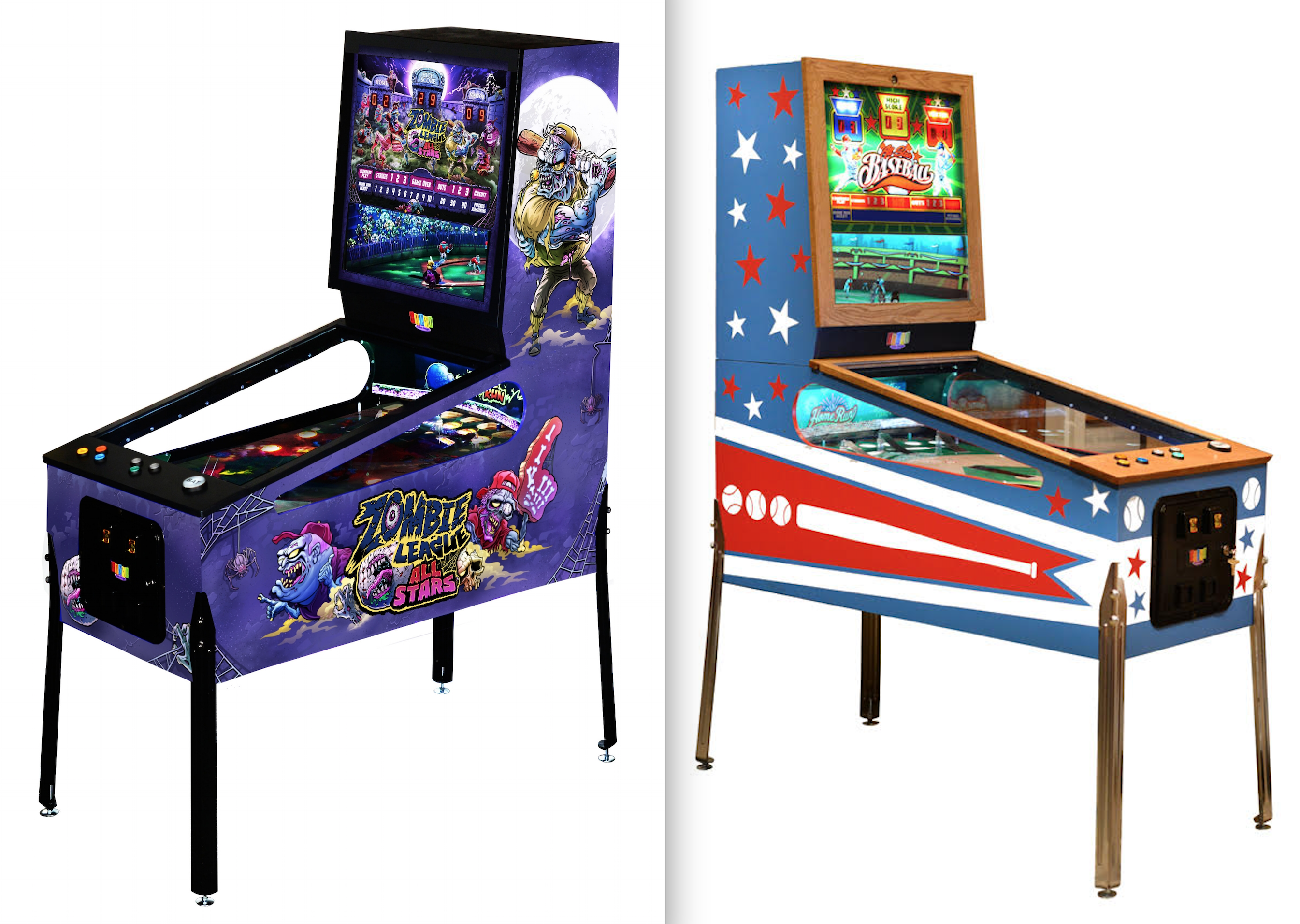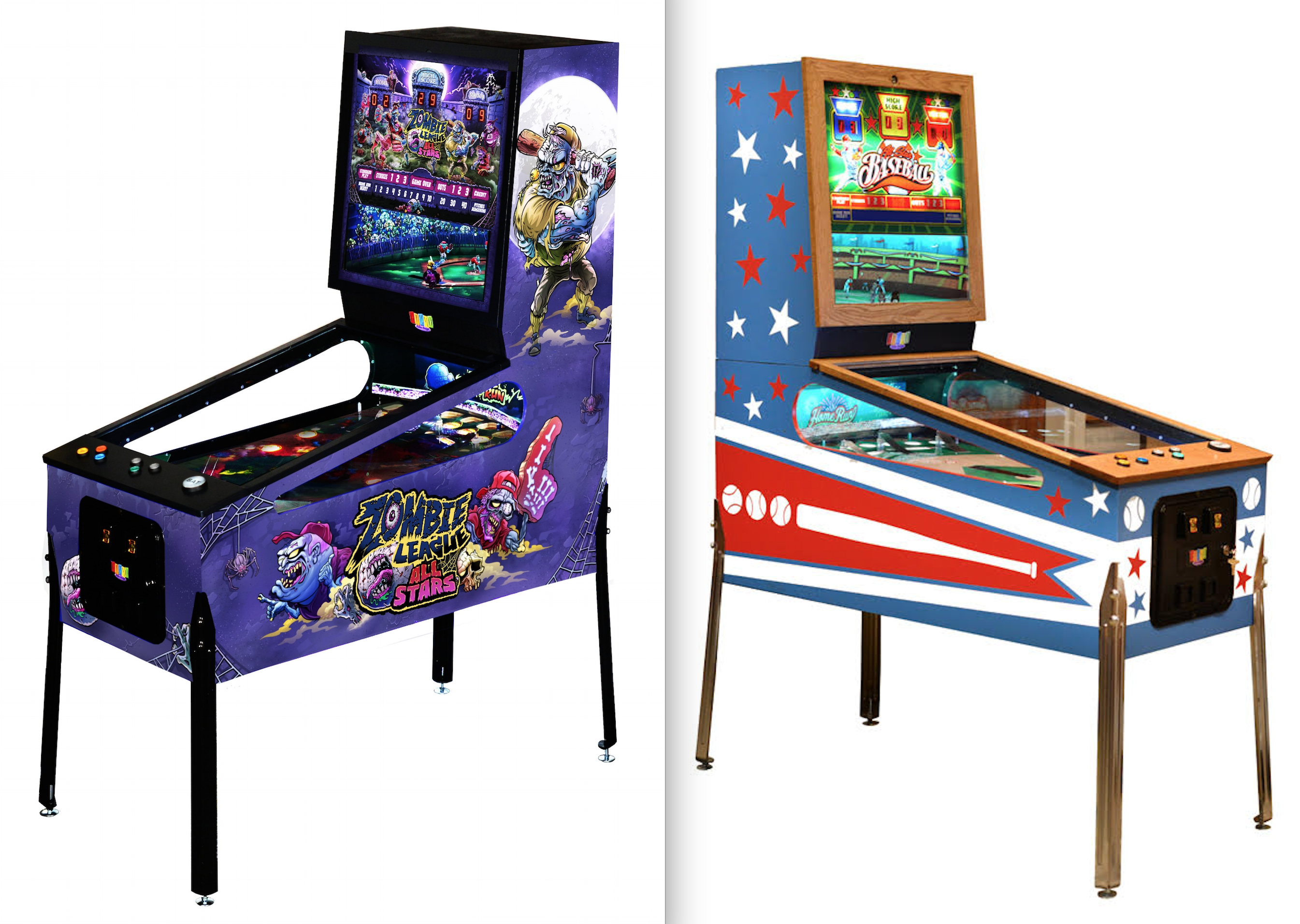 Zombie League All Stars and All Star Baseball are new pitch and bat games from Gizmo Game Design and manufactured by Valley Dynamo. All Star Baseball started shipping in December and Zombie League All Stars are supposed to ship this month. For more details on these machines, click here!
---
Tron VE Rumors
Here at TWIP we hear many rumors from a lot of different sources, and we try to sort through them to figure out which are credible and which are not. Either way, when things are rumors they are labeled as such. Last week we heard a few rumors surrounding a possible Tron Vault Edition:
RUMOR: Tron VE may implement an LCD screen instead of the Dot Matrix Display of the original Tron
RUMOR: Tron VE is not on the radar for at least 24 months
As mentioned about, these are rumors that seem to be credible, but are still rumors.
---
Victory Laps – End of Post Bonus
---
MATCH! – Next Game…What is Coming Up on This Week in Pinball
Around the Playfield with Head 2 Head Pinball coming tomorrow 🙂
As mentioned above, an exclusive with deeproot Pinball is coming on Thursday
In the coming weeks, we'll have a thorough "beginner's guide" to virtual pinball buy a guest poster

Get alerts for new posts from This Week in Pinball – follow us on Facebook, Twitter, or sign up by email:
Confidential Information – TWIP Policy
We do NOT share any confidential or "off the record" information without permission from the source of the info, either publicly on the TWIP website or to podcasters, etc.
Have a scoop or anonymous rumor? Email us at thisweekinpinball@gmail.com
---
Upcoming Games and Rumors
Stern Pinball
Most Recent Titles
Aerosmith
AC/DC Vault Edition
Star Wars
Guardians of the Galaxy
AC/DC Luci Vault Edition <-NEW
Announced/Confirmed
Rumors of Future Titles
Deadpool?
_______ VE?
The Munsters?
Iron Maiden?
The Beatles?
Jurassic World?
Pulp Fiction?
New Ka-Pow Title?
Steve Ritchie Unlicensed?
Keith Elwin Game?

Spooky Pinball
Most Recent Titles
Rob Zombie's Spookshow International
Dominos (*contract game)
Jetsons (*contract game)
Total Nuclear Annihilation (*contract/house game)
Announced/Confirmed
Alice Cooper's Nightmare Castle
Ben Heck's game

American Pinball
Most Recent Titles

Dutch Pinball
Most Recent Titles
Bride of Pinbot 2.0
Bride of Pinbot 3.0 (on hold)
The Big Lebowski (production issues)

Circus Maximus
The Pinball Circus Remake
Kingpin?

Silver Castle Pinball
Jersey Jack Pinball
Most Recent Titles
Wizard of Oz
The Hobbit
Dialed In
Pirates of the Caribbean
Rumors of Future Titles
Toy Story?
Willy Wonka?
The Muppets?

Chicago Gaming/Planetary Pinball
Most Recent Titles
Medieval Madness Remake
Attack From Mars Remake
Rumors of Future Titles
Monster Bash Remake?
Cactus Canyon Remake?
Big Bang Bar Remake?
Theatre of Magic?

Heighway Pinball
Most Recent Titles
Full Throttle
Alien (shipping)
Rumors of Future Titles
Queen?
Barry Oursler Licensed Theme
Barry Oursler UnLicensed Theme

P3 (Multimorphic)
Lexy Lightspeed
Cannon Lagoon
Cosmic Cart Racing

Homepin
Thunderbirds (coming soon)

Phénix Pinball

Deeproot Pinball
Retro Atomic Zombie Adventureland?
Alice in Wonderland?
Magic Girl?
Houdini?
**TWIP dreams of the day
Harry Potter Pinball
will be added to these rumors. Ms. Rowling, I'd be willing to ride the Knight Bus without taking dramamine if you approve this!

Get alerts for new posts from This Week in Pinball – follow us on Facebook, Twitter, or sign up by email: