The Scoop
Pirates of the Caribbean by Jersey Jack Pinball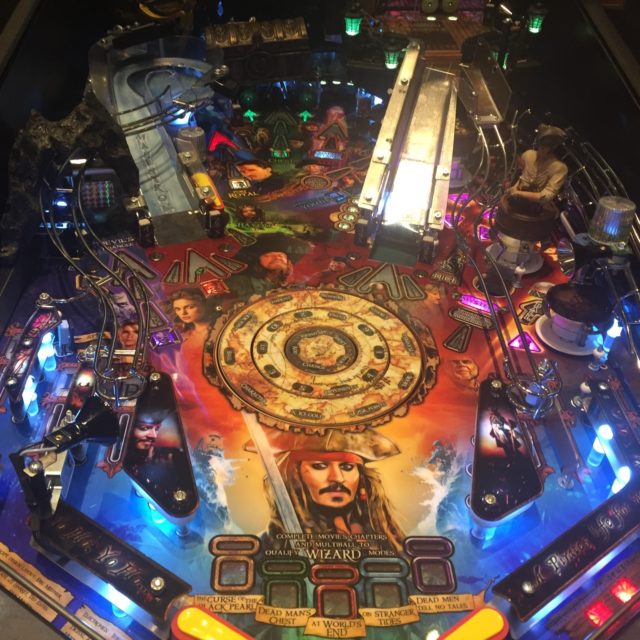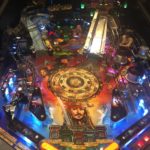 At the fireside chat at Expo on Thursday evening, Jersey Jack Pinball announced their newest creation, the Pirates of the Caribbean. The machine is packed with toys and features, including:
A Black Pearl upper playfield ship that rocks back and forth like you're on the open water, and features a loaded cannon which fires your pinball to sink the enemy ship. Check out the upper playfield in action here.
Three spinning discs in the middle of the playfield that have varying speeds, are multi-directional and can "stop on a dime". Not only does it effect your ball path, it also grants you awards including plundering other players points or pinballs. Check out the discs here and check out this fun chaotic sequence which shows how much it can effect ball path.
A 4.3 inch display on the apron that uses Captain Jack Sparrow's compass to tell you the best shot in the game at all times.
The Davey Jones Chest, which opens and closes and is a physical ball lock for three balls.
The Maelstrom/Whirlpool ramp where you sink balls on the ramp to start a multi-ball.
Links to more coverage:

Houdini by American Pinball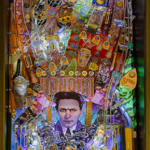 American Pinball announced some changes and some new information regarding their upcoming machine, Houdini:
Lighting was added down by flippers with theater inspired spotlights
Part of plastic ramp was removed and made it a wire form
The stage marquee playfield mini lcd was revised
Refined Catapult is now firing with upper 90% success rate, and they're trying to implement "smart learning" in the game to record and learn from a miss
Custom side blades will be available as an add-on
Magic glass is being developed to compete with invisiglass/pdi, likely will be available as an add-on
Shaker kit will be developed and available as add-on
Set up for initial 1,000 units
Weight of game 275 lbs. boxed
90 day all inclusive warranty, 1 year warranty on monitors
Parts available to buy direct and through distributors
USB updates at coin door
Next game will be unlicensed
Thanks to Pinsider Skins for the above updates on Houdini. For the flyer and full list of features, click here. Seems like it is time for a tutorial and lengthy stream of this machine!

Steve Ritchie Working on Unlicensed Theme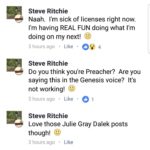 According to Pinball News, during his presentation on Friday evening, Steve Ritchie said his next theme would be unlicensed. This comes after the Stern Pinball designer recently commented on Facebook: "I'm sick of licenses right now. I'm having REAL FUN doing what I'm doing on my next!" This is interesting as Gary Stern has mentioned in the past plans to stick with licensed themes. With the recent buzz around Total Nuclear Annihilation and Dialed In, it will be fun to see what Steve Ritchie and Stern Pinball have in store for us!

Pinball News Expo Coverage
Speaking of Pinball News, if you want in-depth Expo coverage, you need to check out the daily reviews from Martin and the team at Pinball News. The main page is here, and check out the daily reviews with tons of pictures and info on everything Expo:

Other Expo News
A few other Expo items to note:
The Outside Edge Hardtop: a new product introduced at Expo which is not a new playfield or a thin decal, but an alternative way to fix up a playfield with a durable rigid overlay hardcoat. For more info, click here.
Batman 66 Code Update: a new release will be coming soon (0.80?) which will complete the major villains and add other content, but there is no timeline on when the game/code will be completed.
Dutch Pinball Update: Dutch Pinball introduced their new contract manufacturer, XYTECH Modules Technologies.
Pinball Magazine Publications: Jonathan Joosten spoke of two upcoming publications, issue #5 of the Pinball Magazine, and a book called Pinball Road Trip. Keep an eye on the Pinball Magazine website for more info going forward.
Pinball Wizards book: Adam Ruben spoke about his book called Pinball Wizards: Jackpots, Drains, and the Cult of the Silver Ball. To order the book from Amazon, click here.
Congrats to Keith Elwin, Zach Sharpe, and John Replogle on finishing the Expo Flip Out tournament first, second, and third respectively!

ColorDMD Releases
ColorDMD, which will instantly increase your happiness in life by 12-15%, announced releases for Star Trek, World Cup Soccer, and Godzilla. Check out the teaser video for the long awaited Star Trek ColorDMD here. To buy, visit ColorDMD.com.

Multimorphic Launches Redesigned Website
Check out Multimorphic's newly redesigned website here. According to their newsletter, "Features and functionality of the new site will continue to grow over time to enhance customer experiences with the full P3 ecosystem. Current major features include product overviews, our new online store, and a customer support portal, which provides information about the P3, documentation and tutorials for using and maintaining it, and an issue tracking system for customer support and feature requests."

Alien Shipping?
CoinTaker has reported that 21 Alien pinball machines have landed in port and should be in their warehouse this week. Retro Arcade out of Sweden is reporting that seven Alien machines should be arriving to their facility this week as well. TWIP will update this next week as hopefully customers can pick up their machines.

Get alerts for new posts from This Week in Pinball – follow us on Facebook, Twitter, or sign up by email:
Have a scoop or a juicy anonymous rumor for next week? Email us at thisweekinpinball@gmail.com
---
Upcoming Games and Rumors
Stern Pinball
Most Recent Titles
Aerosmith
AC/DC Vault Edition
Star Wars
Announced/Confirmed
Rumors of Future Titles
Guardians of the Galaxy?
Iron Maiden?
Jurassic World?
Deadpool?
Pulp Fiction?
New Ka-Pow Title?
Steve Ritchie Unlicensed?

Spooky Pinball
Most Recent Titles
Rob Zombie's Spookshow International
Dominos (*contract game)
Jetsons (*contract game)
Total Nuclear Annihilation (*contract/house game)
Announced/Confirmed
Alice Cooper's Nightmare Castle
Ben Heck's game

American Pinball
Most Recent Titles

Dutch Pinball
Most Recent Titles
Bride of Pinbot 2.0
Bride of Pinbot 3.0 (on hold)
The Big Lebowski (production issues)

Circus Maximus
The Pinball Circus Remake

Silver Castle Pinball
Jersey Jack Pinball
Most Recent Titles
Wizard of Oz
The Hobbit
Dialed In
Pirates of the Caribbean <<NEW!
Rumors of Future Titles

Chicago Gaming/Planetary Pinball
Most Recent Titles
Medieval Madness Remake
Attack From Mars Remake
Rumors of Future Titles
Monster Bash Remake?
Big Bang Bar Remake?
Cactus Canyon Remake?

Heighway Pinball
Most Recent Titles
Full Throttle
Alien (production issues)
Rumors of Future Titles

P3 (Multimorphic)
Lexy Lightspeed
Cannon Lagoon
Cosmic Cart Racing

Homepin
Thunderbirds (coming soon)

Phénix Pinball

Deeproot Pinball
Retro Atomic Zombie Adventureland?
Alice in Wonderland?
Magic Girl?
**TWIP dreams of the day Harry Potter Pinball will be added to these rumors. Ms. Rowling, I would be willing to play fetch with Fluffy if you approve this!
Get alerts for new posts from This Week in Pinball – follow us on Facebook, Twitter, or sign up by email: