The Scoop
More Details on Alice Cooper's Nightmare Castle
On the Spooky Pinball Podcast last month, Charlie revealed some of the details of the goals/rules of their upcoming machine: Alice Cooper's Nightmare Castle. From Charlie: "The premise is – as you're going into Alice's castle, you're battling all the monsters that live there and Alice is the overlord so-to-speak, directing them to attack you. And all the Alice songs have to be earned which is unique in a music theme." Last week the Kaneda's Pinball Podcast interviewed Ben Heck, and we found out some new info (listen to the Alice Cooper portion of the interview here):
There are nine monsters to battle
You traverse the castle to get to the monsters
Along the way you collect items or skills
You can take different paths and select what monster you want to fight, you can select how you get to the monster
There are different rooms in the castle, all the rooms have different items in them
Get to the monsters to hear the songs in the game
Ben is trying to make a very deep ruleset
Ben is writing custom speech for Alice Cooper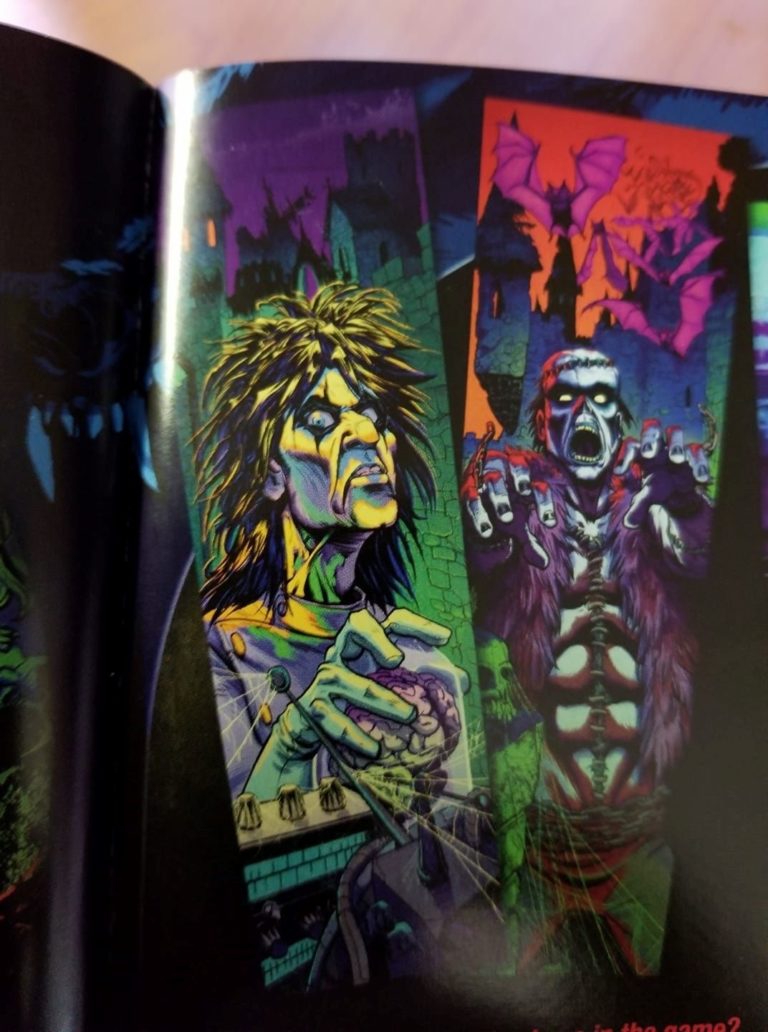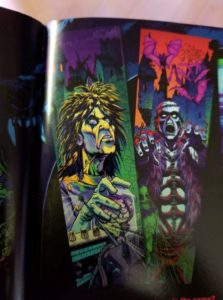 Charlie also mentioned in this video that the Alice Cooper game will be at the Texas Pinball Festival in March of 2018. Previously, the Rue Morgue magazine included an article that appeared to show the side art for the game for the first time. Click the image to the left to view. The article also showed possible flipper toppers (click here to view). Spooky previously released the translite art (check it out here), and they put out a video trailer for the machine which can be viewed here. Looking forward to this machine's full reveal!

Homepin and Pinheck System
A large part of the Ben Heck interview mentioned above with Kaneda's Pinball Podcast dove into a controversy surrounding Homepin using Ben's Pinheck system without attribution, and the legality of it's use. Homepin is the company that is developing a Thunderbirds pinball machine in China, and Ben noticed Homepin was using the audio/video system from America's Most Haunted, which was Spooky Pinball's first released pinball machine. Last week Homepin said they have "taken ideas" from many different systems. Listen to the full Ben Heck interview here.
New Ka-Pow Title Timeline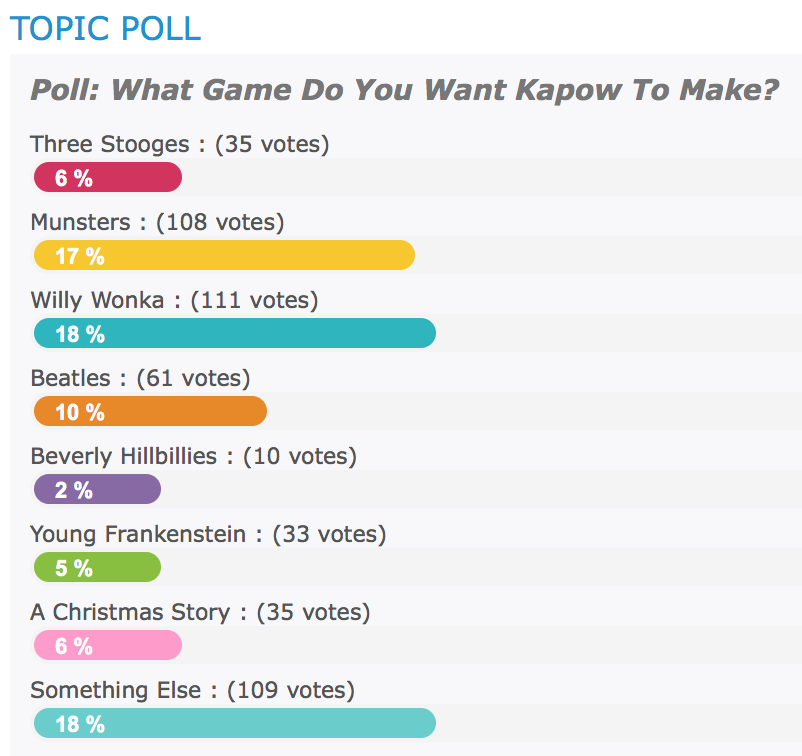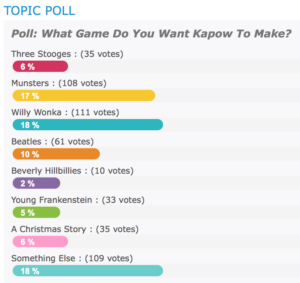 The first Ka-Pow inspired pinball machine was Batman '66, and there has been a lot of speculation on what their second title will be and when it will be announced. During the banquet at Expo there was a pre-filmed video from Ka-Pow pinball and Joe Kaminkow. During that video it was announced that the next KaPow title would be announced next year at Expo. As far as what the theme will be, we do not know yet. However, we may get a clue as last year Ka-Pow created an online survey to ask which title people want to see. While we do not have the results from that poll, the same poll was posted on Pinside – you can review the results in the thumbnail to the right. Looking forward to seeing what title they'll have next year!

Magic Girl Stream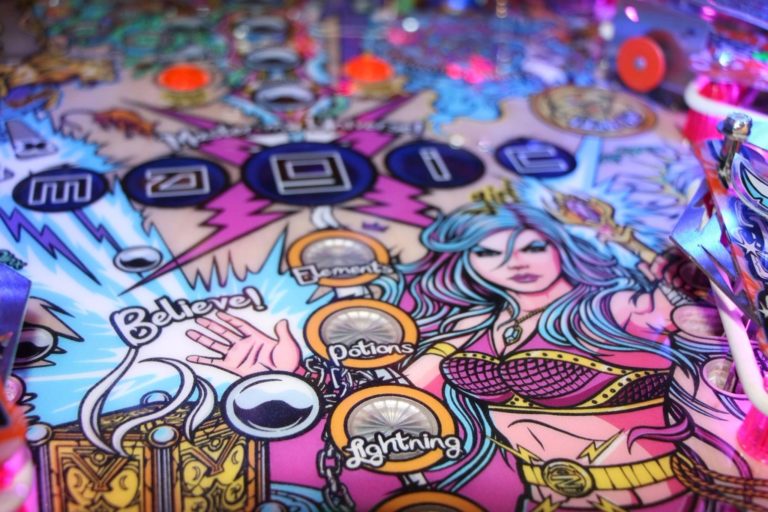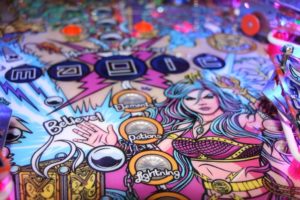 Last week, Martin and Ryan from the Head2Head Pinball Podcast (website, Facebook) streamed the Magic Girl pinball machine on their Twitch channel. You can view the entire stream here on YouTube. This Week in Pinball wrote an article showing some of the highlights and features of the machine with many clips from the stream and pictures of Magic Girl. Check out the article here. It includes additional information from Pinsider Applejuice, who worked on the code for Magic Girl. It also includes a statement from deeproot pinball on the possibility of Magic Girl being mass produced. Finally, it includes this amazing ball plunge that led to the shortest ball time of the year (and possibly of all time), as the ball goes straight from the plunger to the drain, check it out here.

First Heads-Up Pinball Championship – October 28th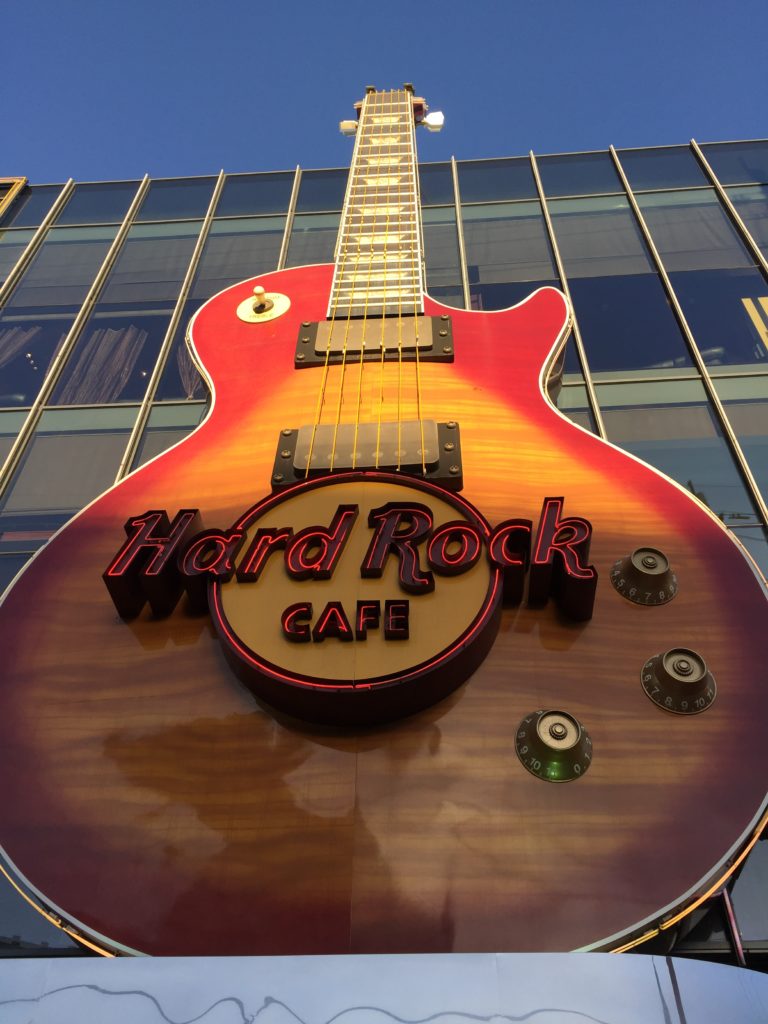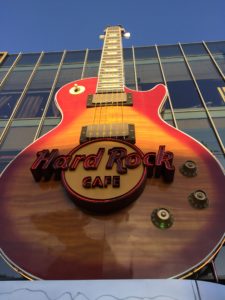 This week is the IFPA's first Heads-Up Pinball Championship, which will be held Saturday, October 28th at the Hard Rock Cafe in Las Vegas, Nevada. Click here for an overview of the tournament. The format is exciting and new: the matches will consist of Head-to-Head Challenges being played out simultaneously on two different machines of the same title, and whichever player completes the challenge first is declared the winner for that game. Challenges will be played on Stern's Star Wars, Aerosmith, and Ghostbusters. Click here for a list of challenges in each game, and click here for the current list of participants which includes Andrei Massenkoff, Karl DeAngelo, Trent Augenstein, and Tim Sexton. The event will be livestreamed on Karl DeAngleo's Twitch channel here. The winner gets a brand new Stern Aerosmith Pro pinball machine!


Proof of Aliens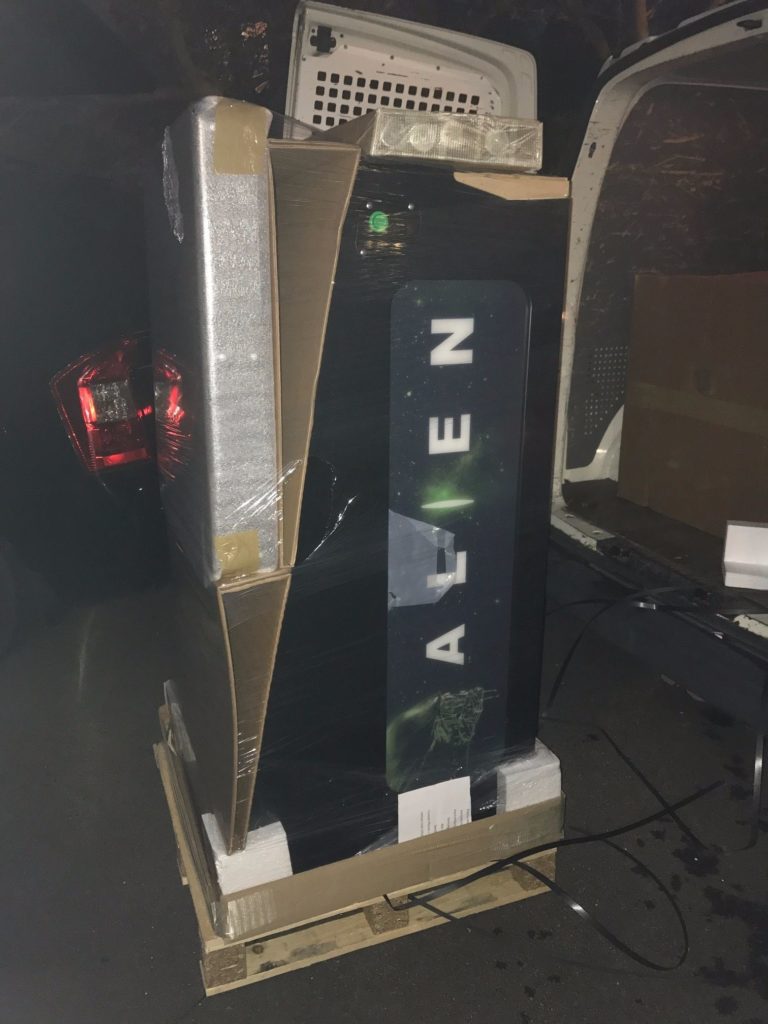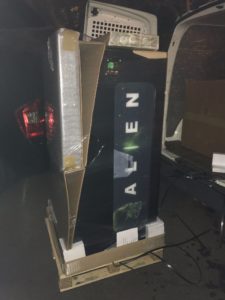 Aliens exist! After weeks of conflicting reports of when Heighway Pinball was shipping Aliens, both CoinTaker in the USA (website) and Retro Arcade in Sweden (website) had Alien machines that arrived in their facilities, and some of those are now in the homes of Alien owners. Retro Arcade received seven machines, and CoinTaker received 21 machines. The picture on the right shows an Alien being unboxed from Retro Arcade!

Bowen Kerins – New Tutorial and More
A new tutorial from Bowen Kerins was released this week on the PAPA YouTube channel – Theatre of Magic (check it out here!). To check out Bowen's other tutorial videos, click here. Want more tutorials? Support Bowen by contributing here.
A few weeks ago Bowen was interviewed on the Pinball Players Podcast (Facebook, Podcastgarden). Did you know Bowen was a contestant on Who Wants to Be a Millionaire? He also has worked with other games shows behind the scenes. He also discusses his epic save in PAPA 13 – view the save on YouTube here. Check out the full interview here.
Huge thanks to Bowen Kerins for being such an integral part of the pinball hobby and for all things he does for the pinball community, we appreciate you Bowen!!

Dutch Pinball Updates – Xytech, ARA, Early Achievers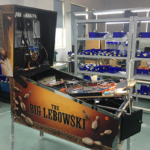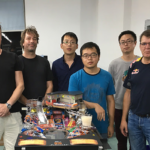 After introducing their new contract manufacturer, Xytech, at Expo last week, Dutch posted their pinball newsletter. You can read it in full here. This Week in Pinball reached out to Dutch Pinball to ask if there was any communication or lawsuits happening between Dutch Pinball and their former contract manufacturer, ARA. TWIP was told there had been no contact between Dutch Pinball and ARA since April. TWIP also asked DP if there was a certain number of new orders that need to be received to guarantee funding of the earlier pre-orders, and we were told DP would "probably need some new orders to fund Early Achievers pre-orders". It appears the games will be manufactured in China, and Dutch's plan is to complete the engineering samples this month and then start up regular production, with the hopes of delivering the first The Big Lebowski's by the end of the year.

Code Drops: Star Wars and Total Nuclear Annihilation
Two code drops happened this week – first, Stern released Star Wars v0.93. To see what was updated, click here for the Pro and here for the Premium and LE. Total Nuclear Annihilation was also updated this week – to see the list of updates for TNA, click here.

Get alerts for new posts from This Week in Pinball – follow us on Facebook, Twitter, or sign up by email:
Have a scoop or a juicy anonymous rumor for next week? Email us at thisweekinpinball@gmail.com
---
Upcoming Games and Rumors
Stern Pinball
Most Recent Titles
Aerosmith
AC/DC Vault Edition
Star Wars
Announced/Confirmed
Rumors of Future Titles
Guardians of the Galaxy?
Iron Maiden?
Jurassic World?
Deadpool?
Pulp Fiction?
New Ka-Pow Title?
Steve Ritchie Unlicensed?

Spooky Pinball
Most Recent Titles
Rob Zombie's Spookshow International
Dominos (*contract game)
Jetsons (*contract game)
Total Nuclear Annihilation (*contract/house game)
Announced/Confirmed
Alice Cooper's Nightmare Castle
Ben Heck's game

American Pinball
Most Recent Titles

Dutch Pinball
Most Recent Titles
Bride of Pinbot 2.0
Bride of Pinbot 3.0 (on hold)
The Big Lebowski (production issues)

Circus Maximus
The Pinball Circus Remake

Silver Castle Pinball
Jersey Jack Pinball
Most Recent Titles
Wizard of Oz
The Hobbit
Dialed In
Pirates of the Caribbean
Rumors of Future Titles

Chicago Gaming/Planetary Pinball
Most Recent Titles
Medieval Madness Remake
Attack From Mars Remake
Rumors of Future Titles
Monster Bash Remake?
Big Bang Bar Remake?
Cactus Canyon Remake?

Heighway Pinball
Most Recent Titles
Full Throttle
Alien (shipping) <<New!!
Rumors of Future Titles

P3 (Multimorphic)
Lexy Lightspeed
Cannon Lagoon
Cosmic Cart Racing

Homepin
Thunderbirds (coming soon)

Phénix Pinball

Deeproot Pinball
Retro Atomic Zombie Adventureland?
Alice in Wonderland?
Magic Girl?
**TWIP dreams of the day
Harry Potter Pinball
will be added to these rumors. Ms. Rowling, I'd hang out with Lupin on the night of a full moon if you approve this!
Get alerts for new posts from This Week in Pinball – follow us on Facebook, Twitter, or sign up by email: