— This Week's Top 5 Stories —
1. Deadpool Pinball Revealed
Last week, Stern Pinball announced their newest creation, Deadpool Pinball!! Check it out: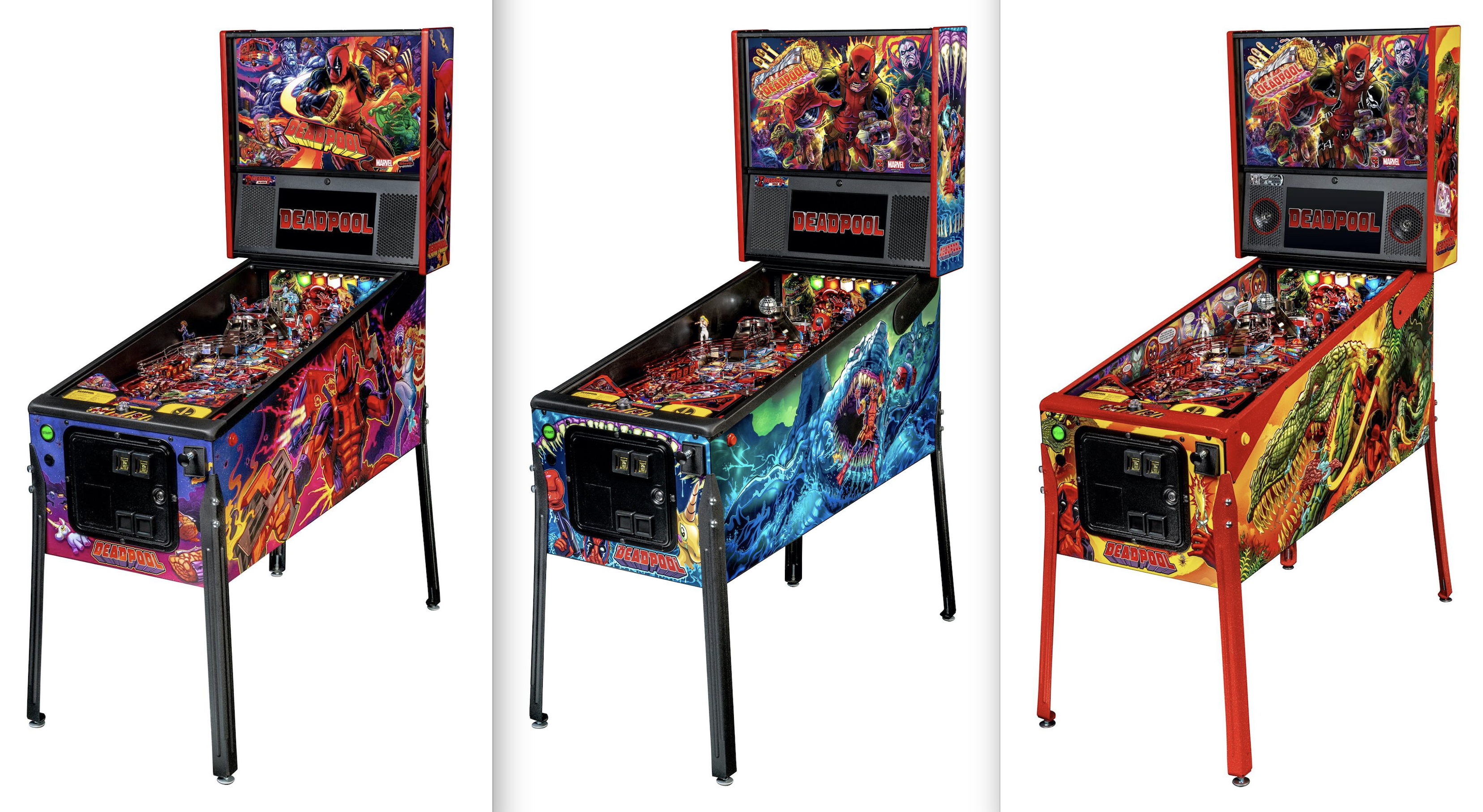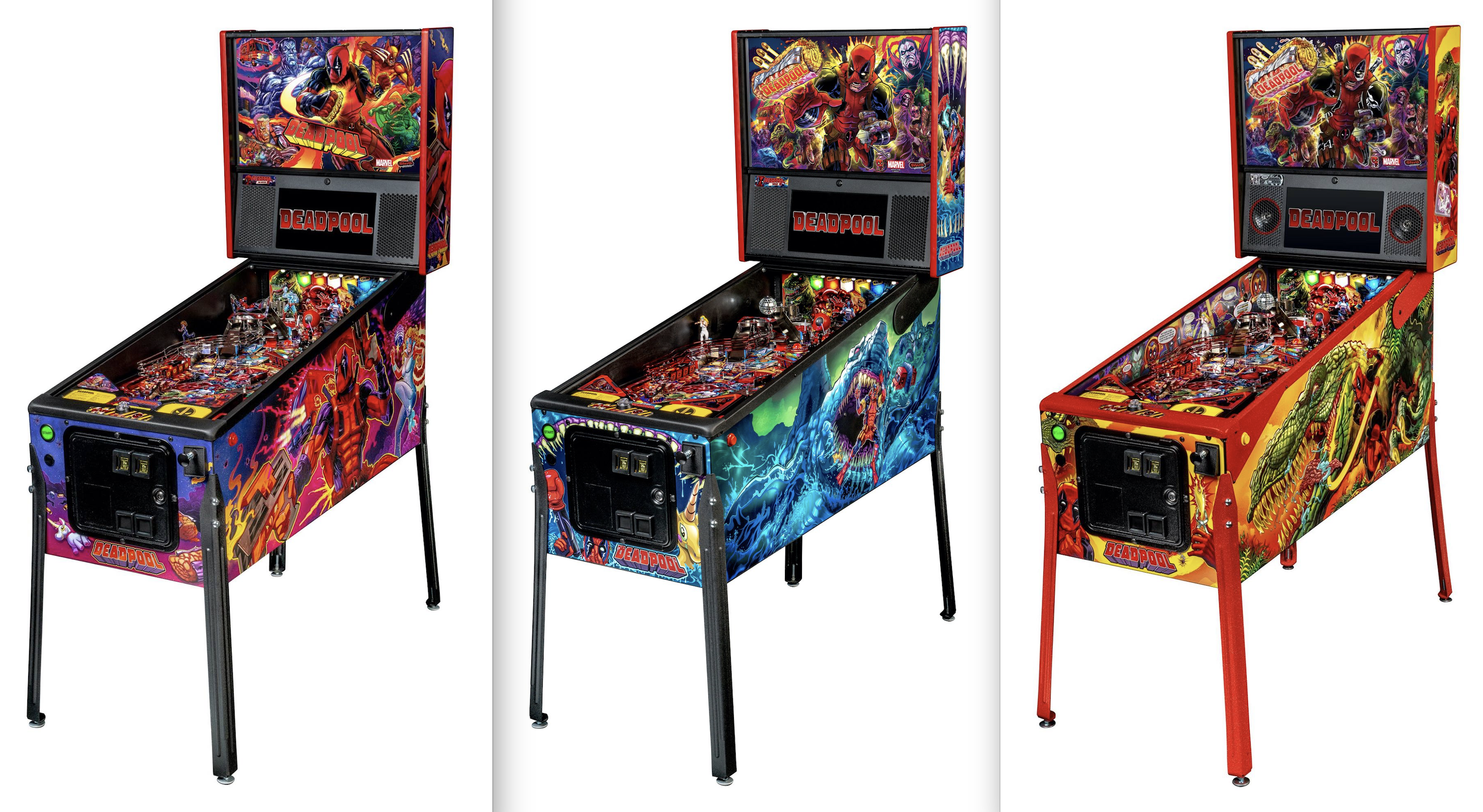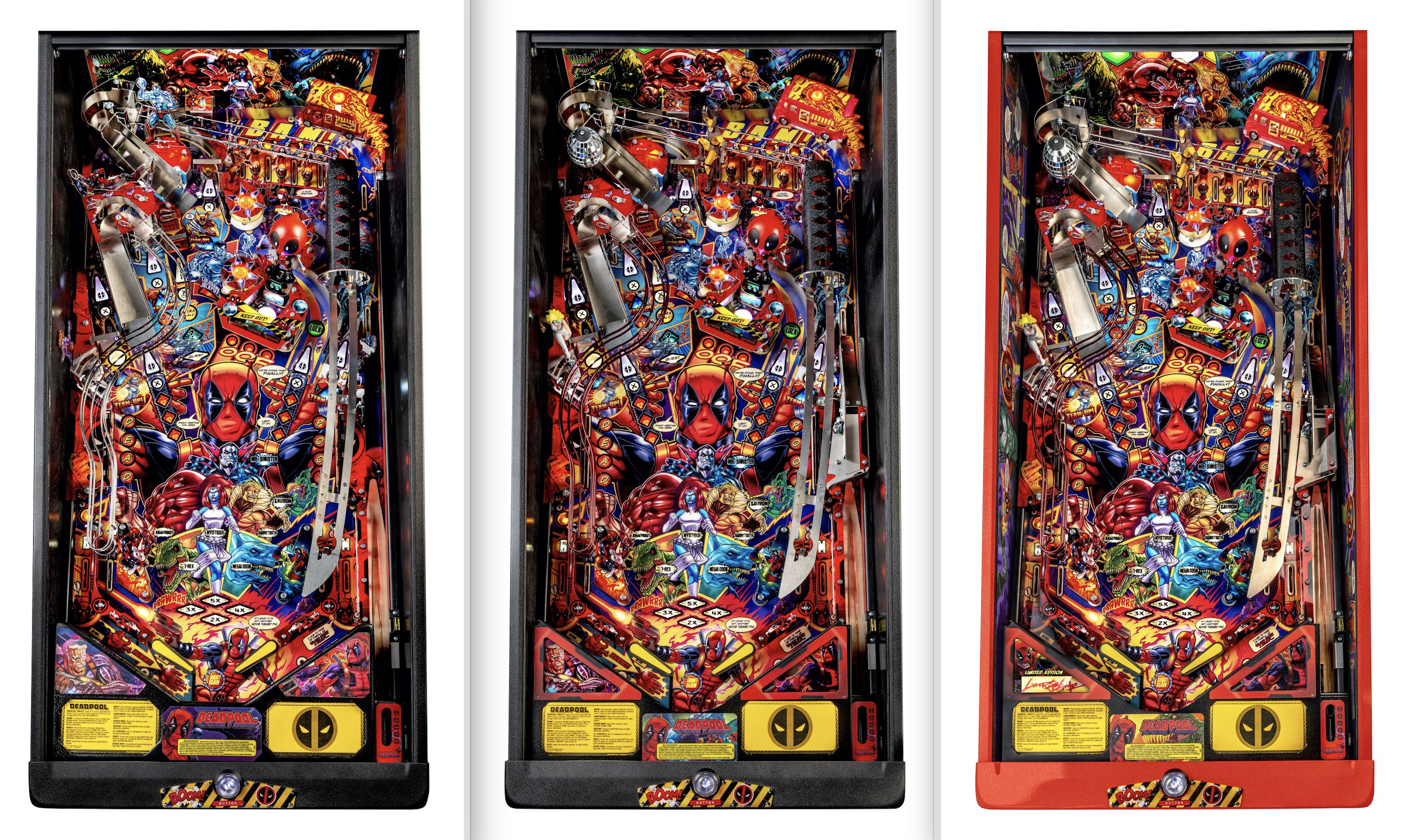 ---
Deadpool Overview
This Week in Pinball will do a Deep Dive into this game soon once we have some more gameplay video. But here are some of the basics of Deadpool.
According to the Stern Pinball website:
"Deadpool" is known as the "Merc with a Mouth" because of his talkative nature & is notorious for his outrageously funny offbeat humor which is featured throughout the game. Players will be immersed in the Deadpool universe, teaming up with iconic X-Men characters Wolverine, Dazzler, Domino, and Colossus as they battle against infamous villains Juggernaut, Sabretooth, Mystique, Sauron, and Mr. Sinister. Players will also tag along with Deadpool on his time machine quests as he battles against the T-Rex and the Megalodon.
Who's Who:
Design: George Gomez
Software: Tanio Klyce
Artwork: Jeremy Packer (AKA Zombie Yeti)
Animation: Chuck Ernst
Script Writer: Brian Posehn
Voices

Deadpool: Nolan North
Lil' Deadpool: Brian Huskey
Dazzler: Jennifer Lafluer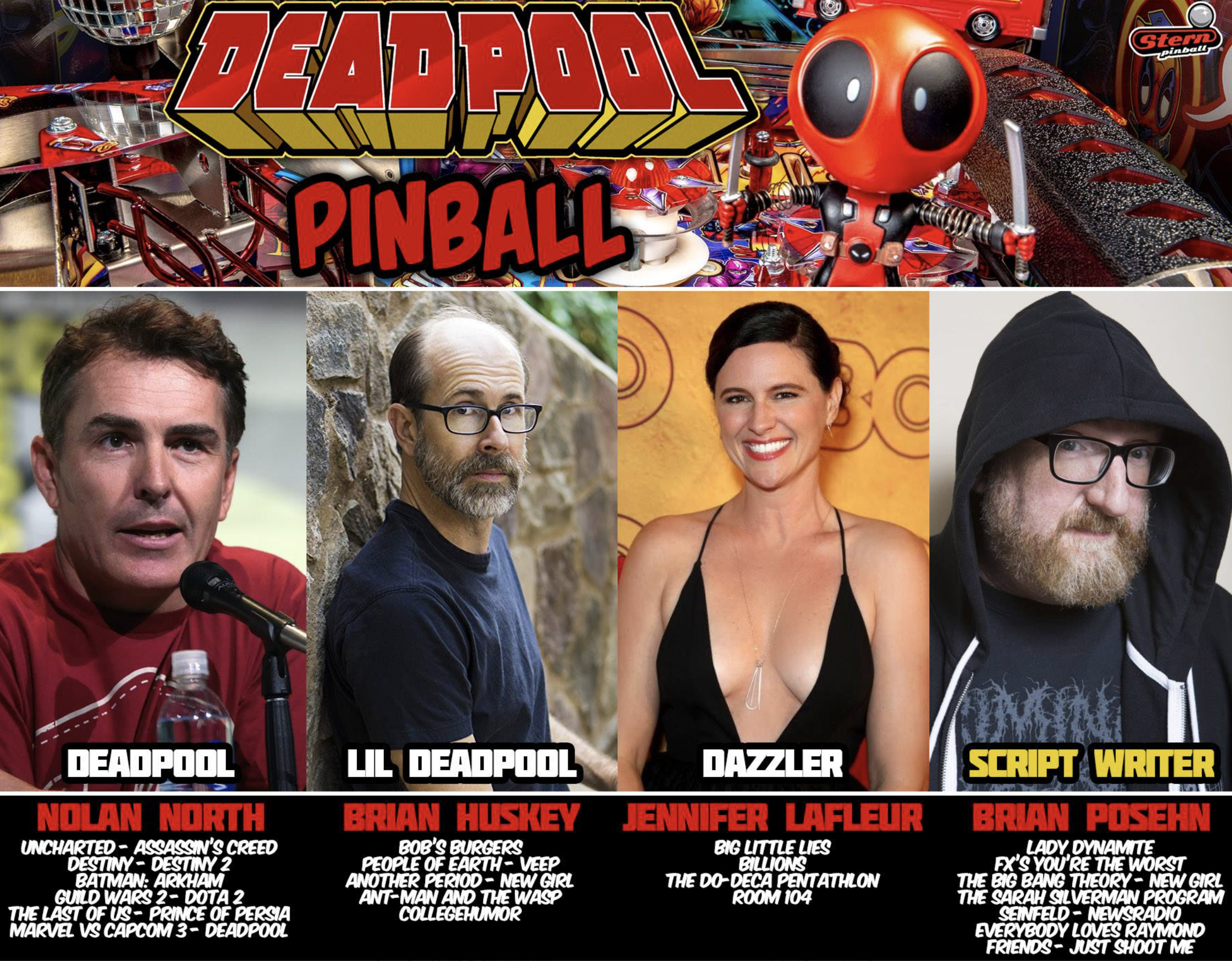 ---
Features on All Models:
Well known actor Nolan North stars as the eccentric voice of Deadpool
3-bank drop target with a ball lock that's guarding a custom molded Lil' Deadpool bash toy target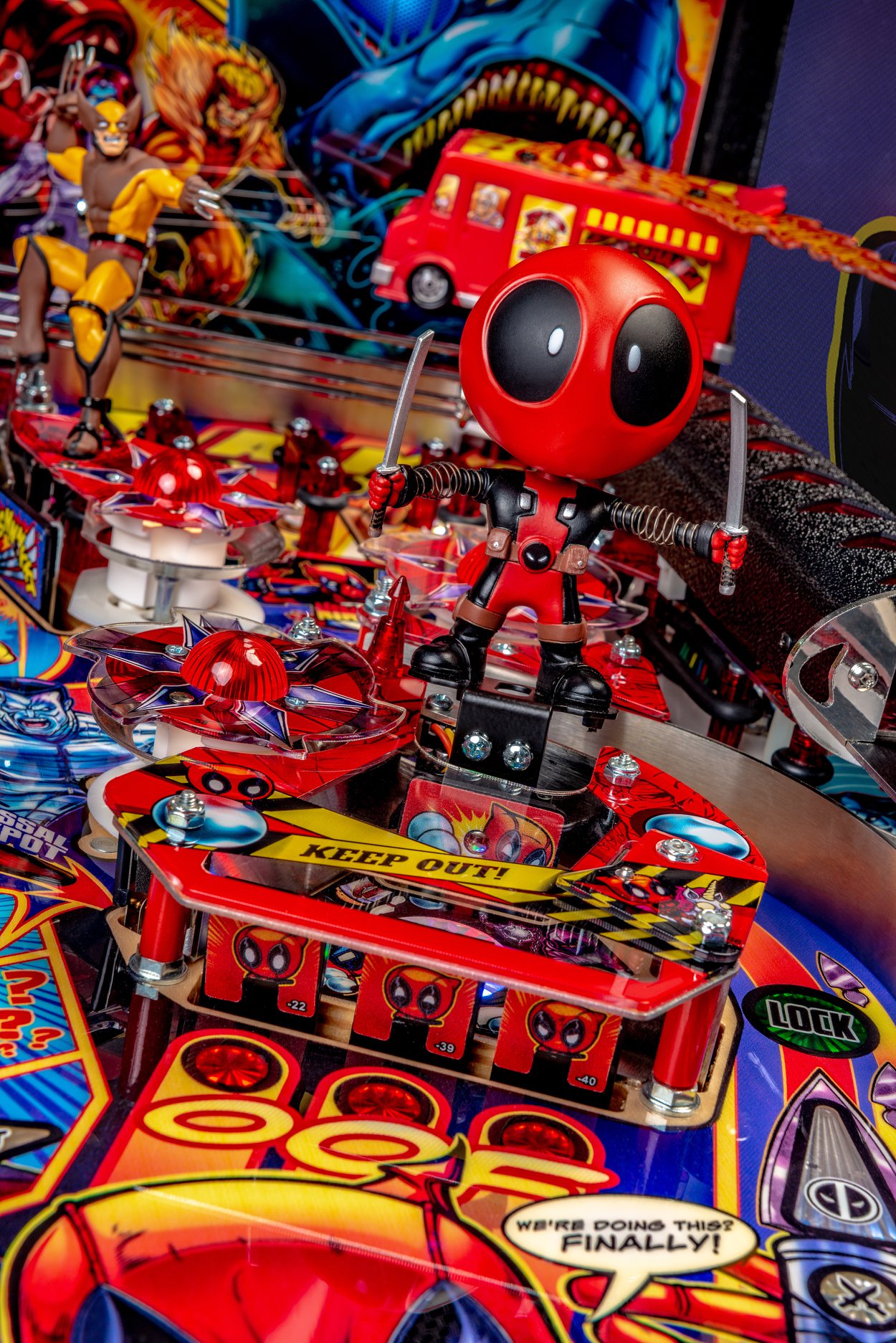 Two stainless steel and wireform ramps with a Katana Sword ramp return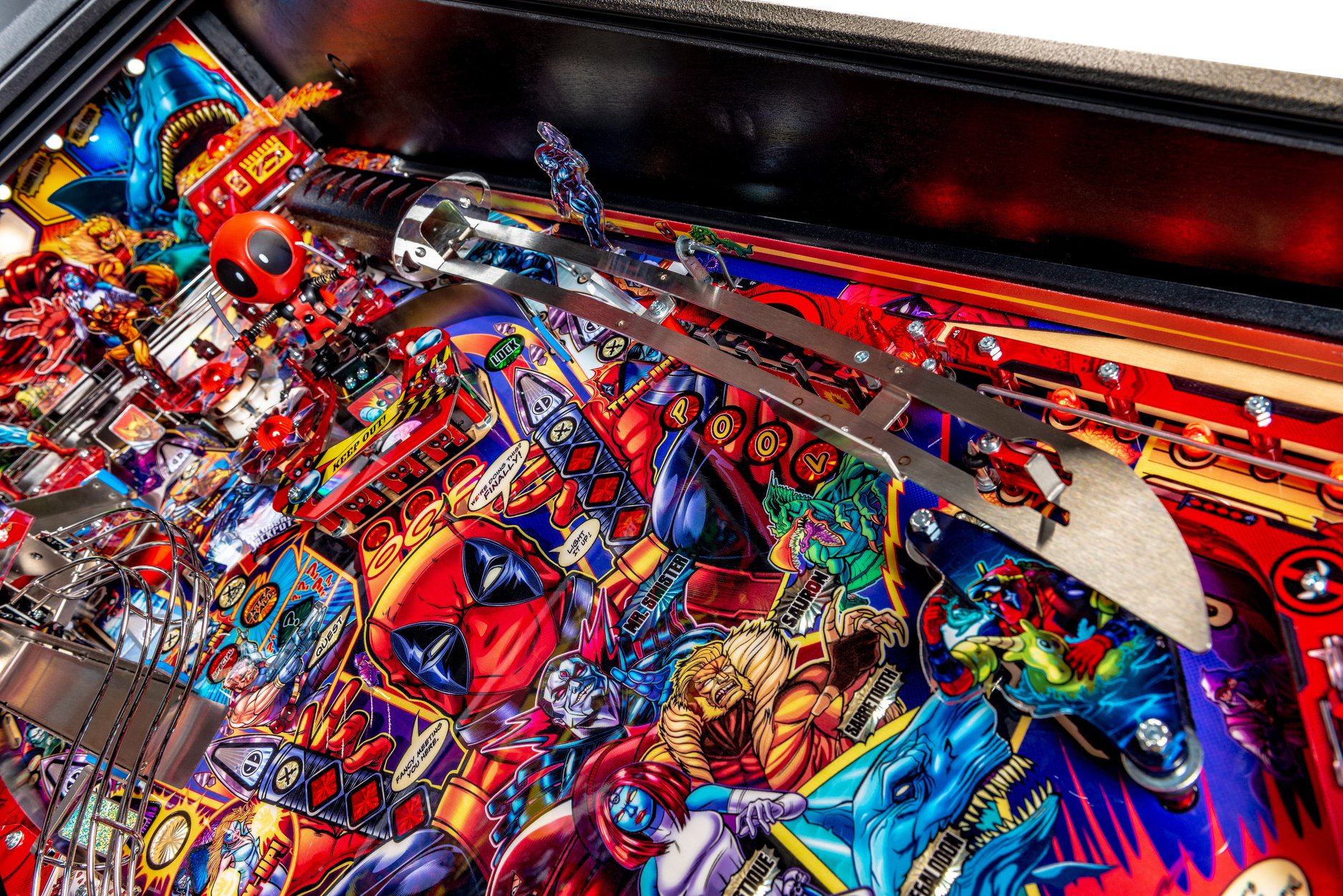 Soundtrack featuring 11 original tracks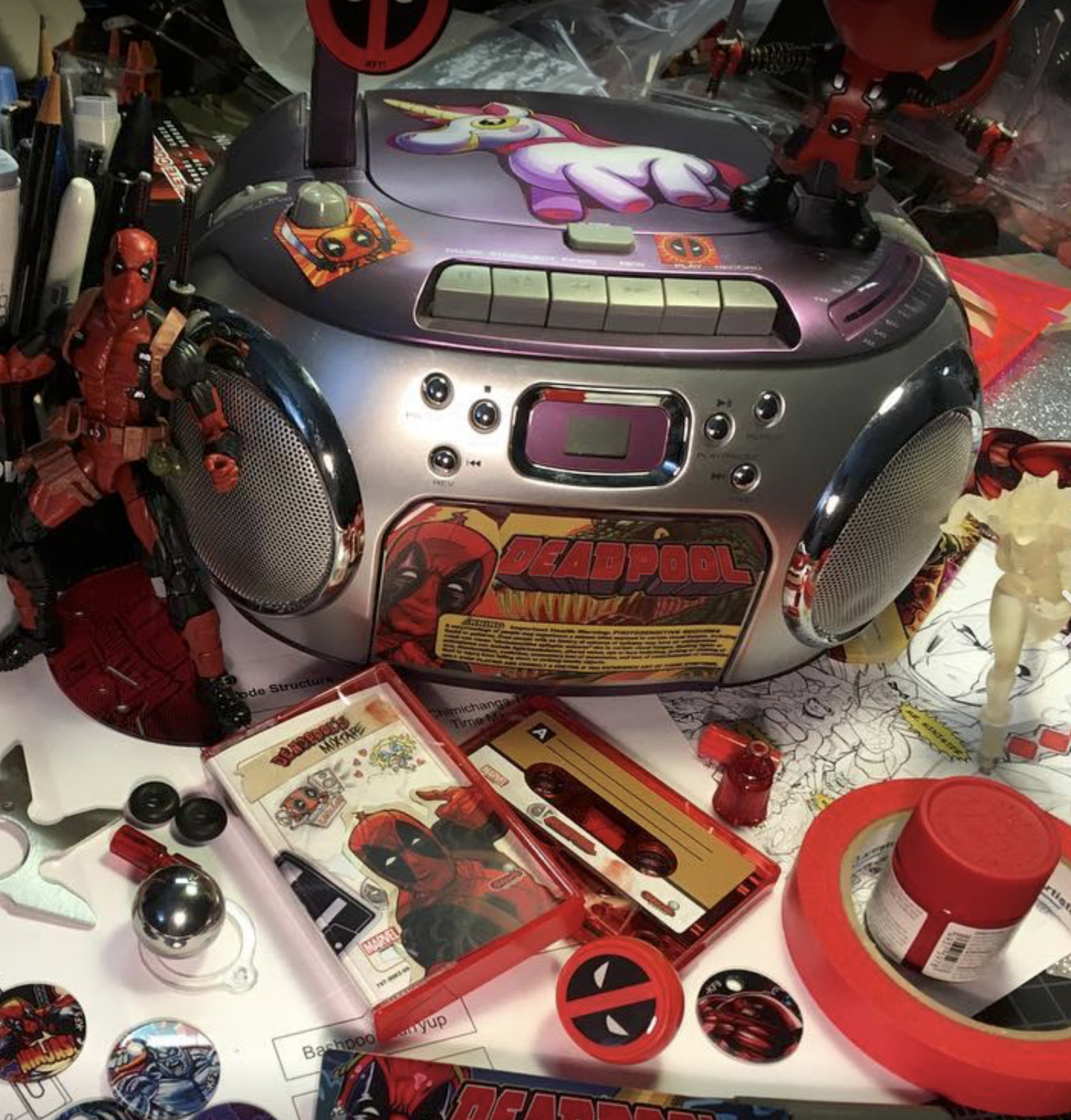 Two flippers
Two spinners
Features on Premium and Limited Edition Models:
Additional 8 drop targets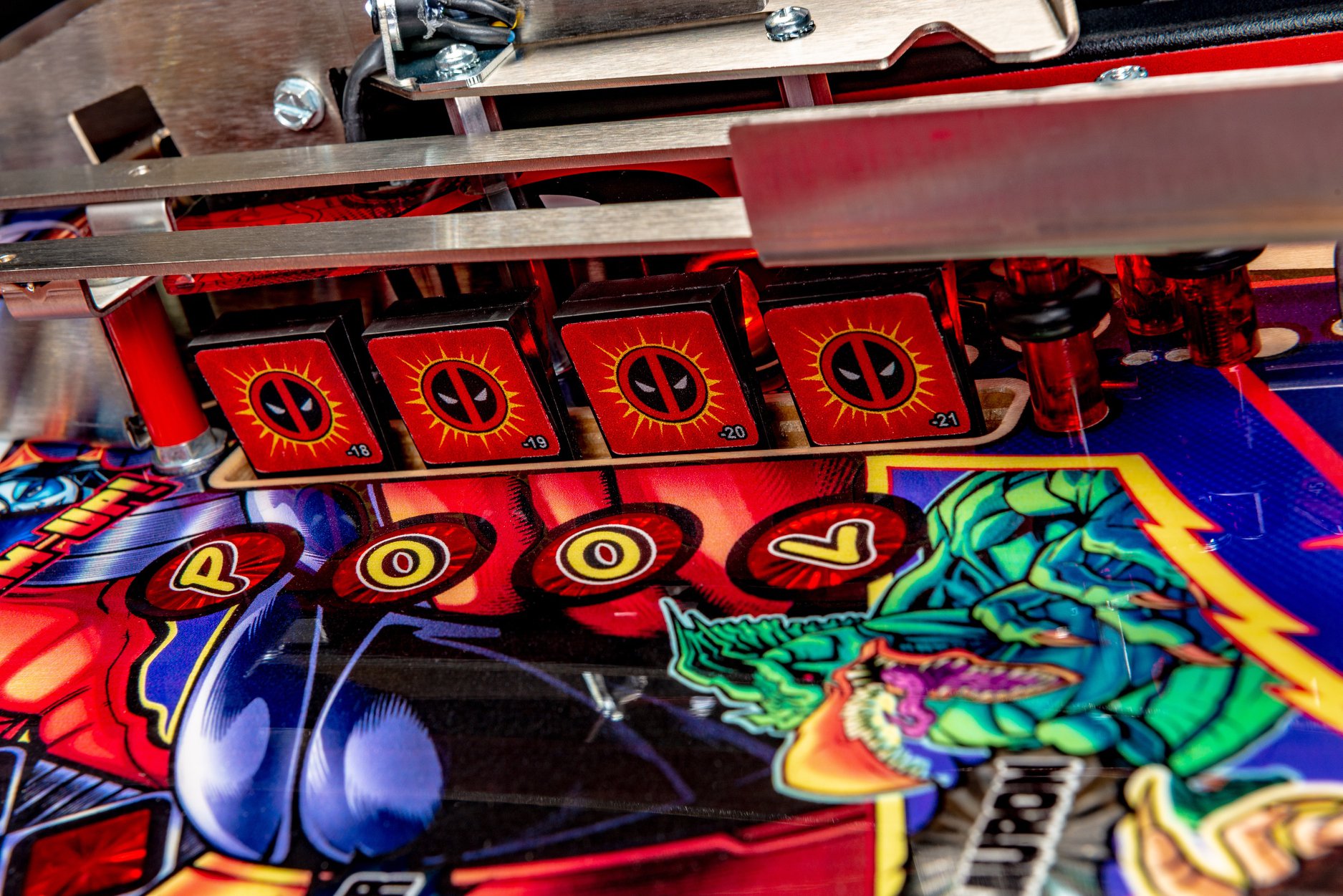 Motorized disco ball with disco illumination effects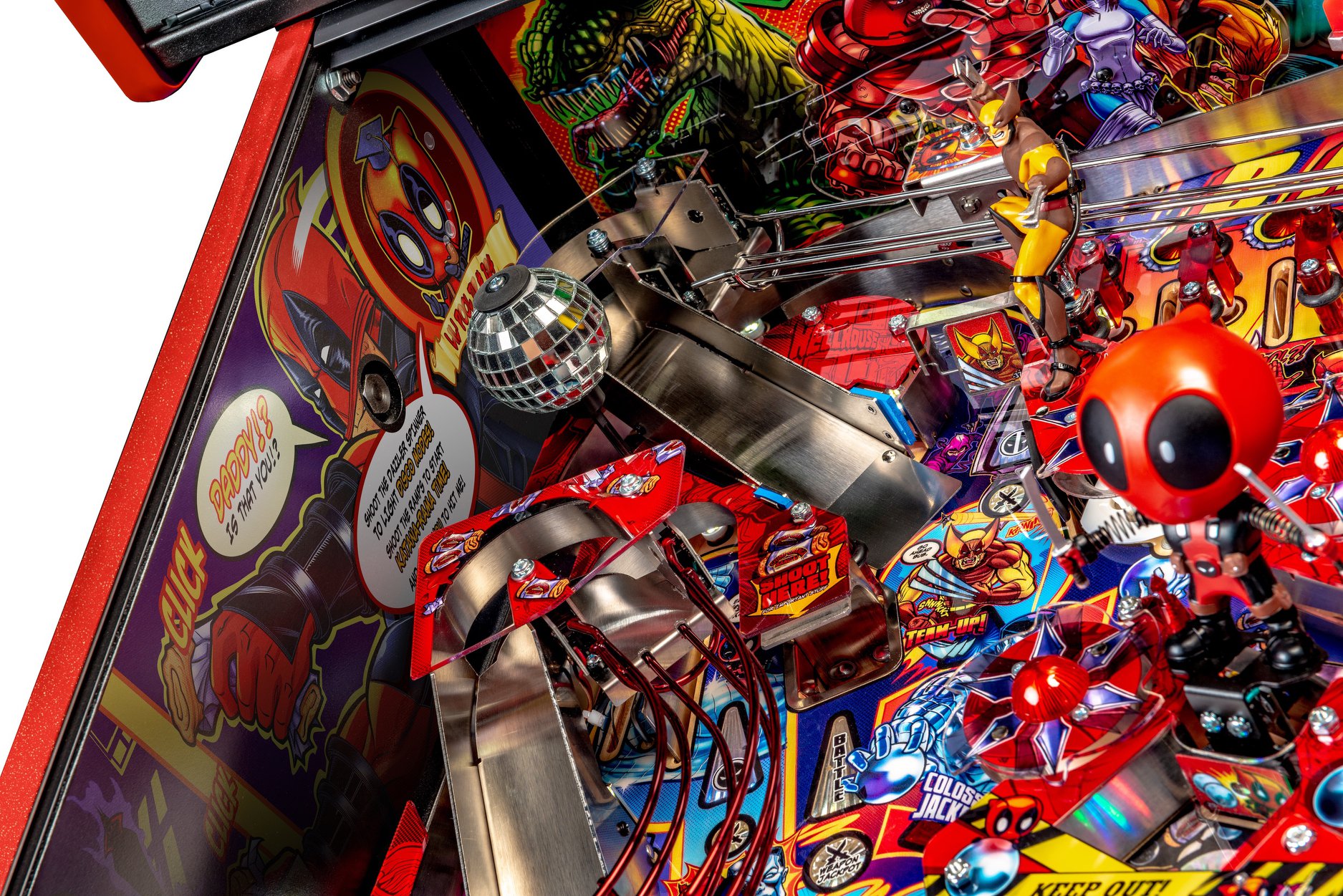 Custom molded Wolverine and Dazzler action figures, custom molded chimichanga truck time machine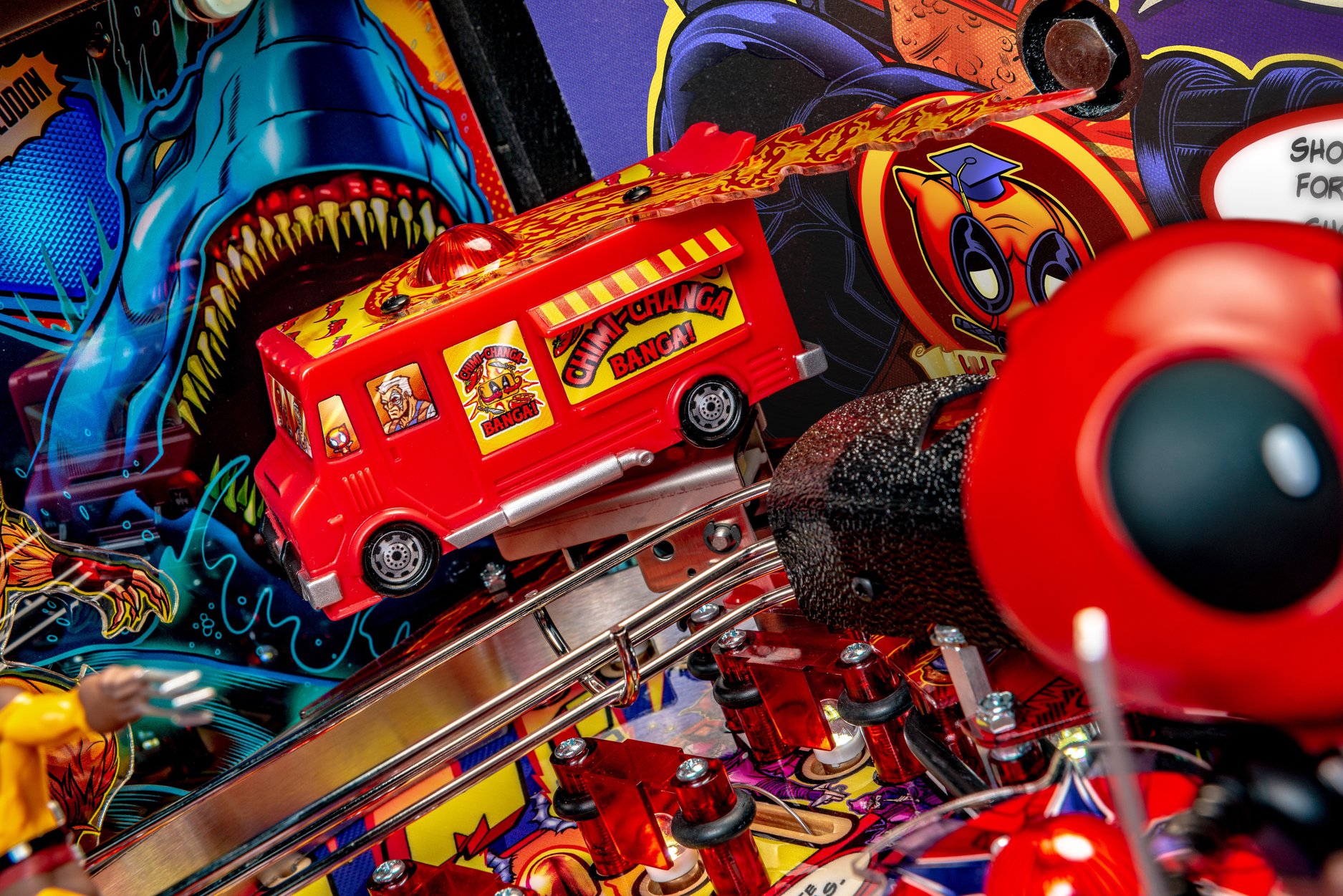 Actuated up/down ramp that feeds the right flipper from the left orbit, keeping the action continuous and fast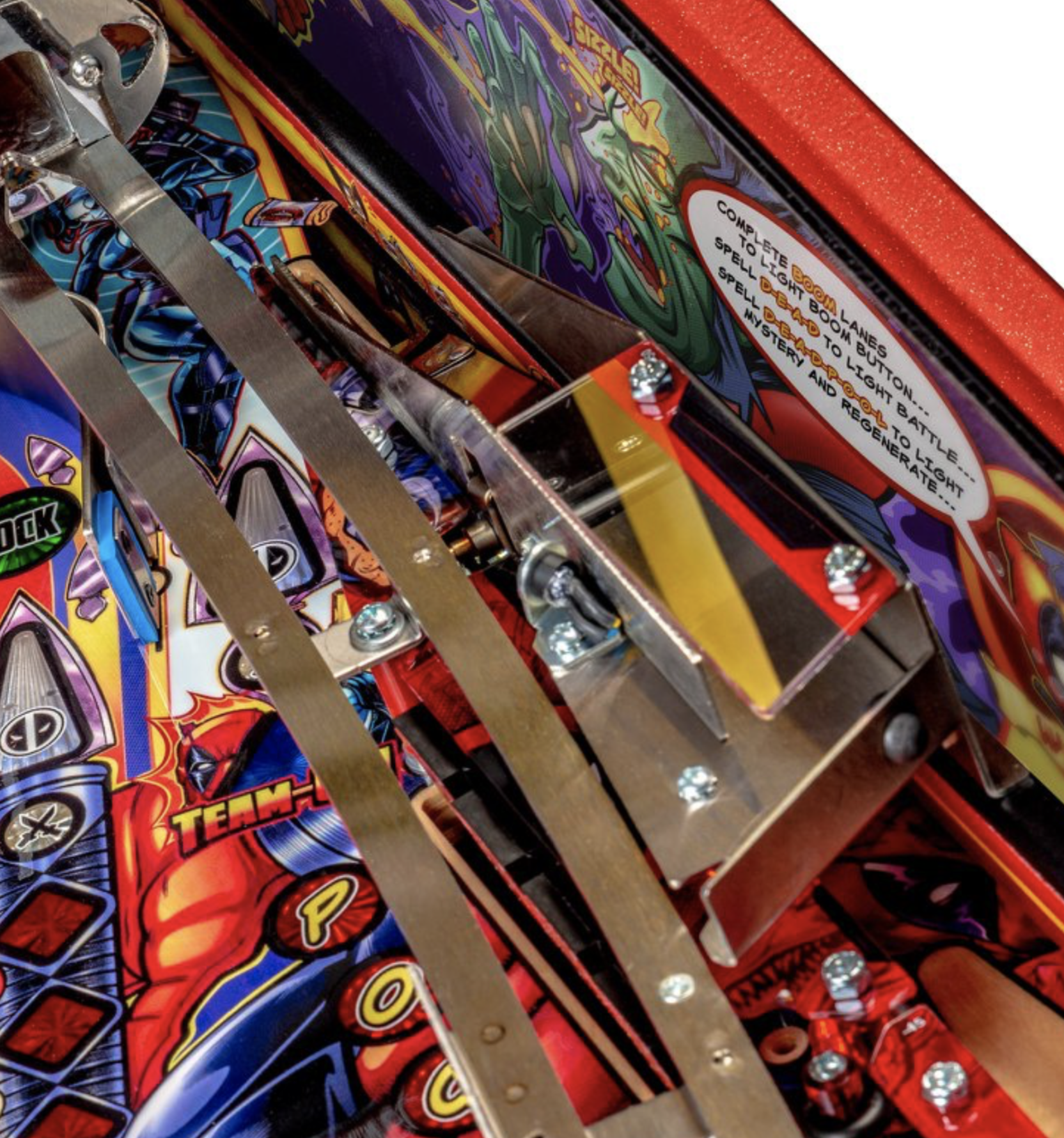 Custom "Deadpool's Mix Tape" cassette featuring 11 original music tracks with sleeve art by Zombie Yeti (Premium Only)
Features on Limited Edition Models: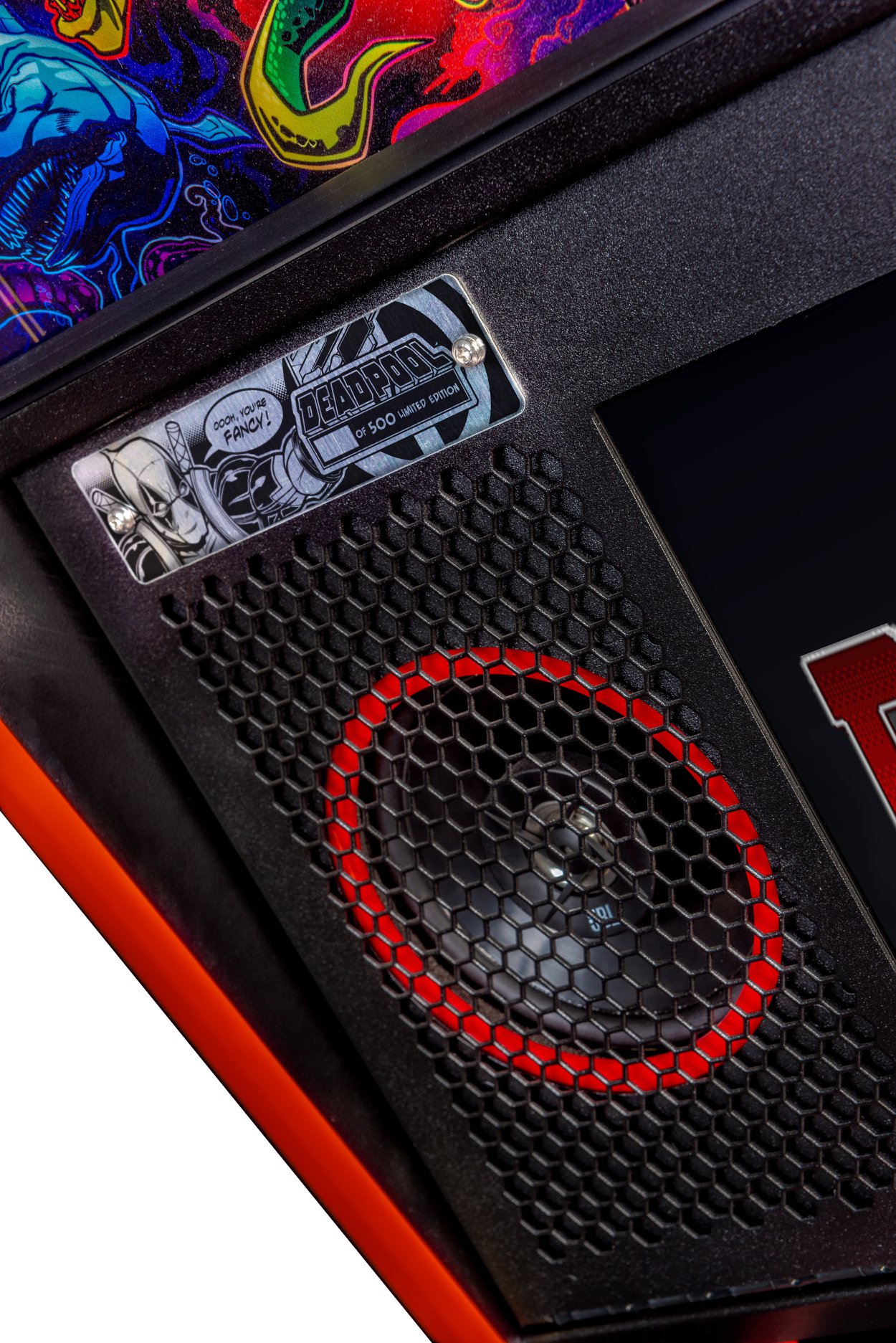 Anti-reflection pinball glass
High powered speaker system
Illuminated speaker rings
Mirrored backglass
LE Exclusive art blades
Powder coated trim
Shaker motor
12" Vinyl LP featuring 11 original music tracks with cover art by Zombie Yeti
---
Rules: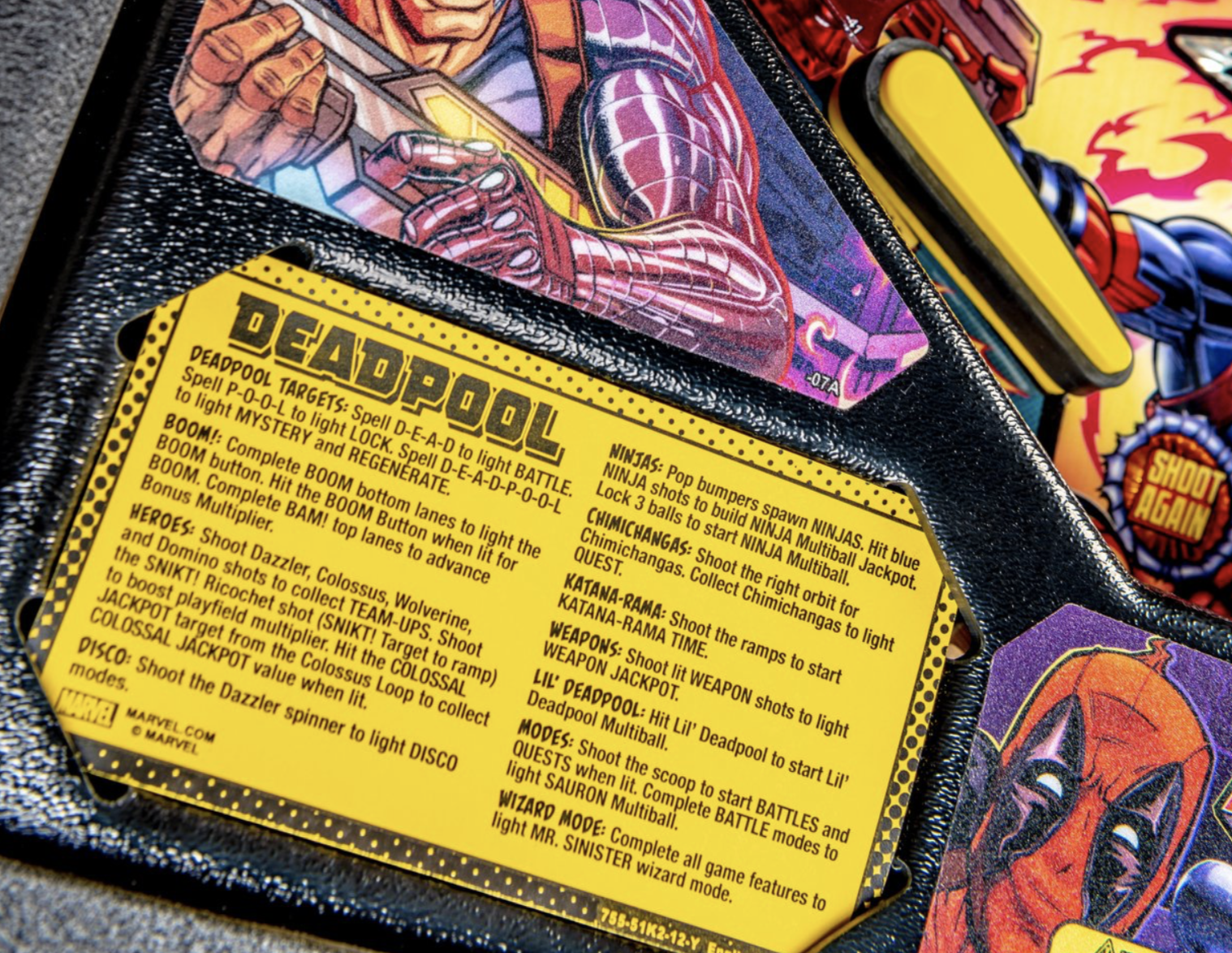 We'll learn more about the rules as we move forward and watch the streams, but here are a few basics:
Modes:

Shoot Scoop to start Battles and Quests when lit

Battles: Light Battle by spelling D-E-A-D on the Deadpool targets
Quests: Shoot right orbit for Chimichangas, collect Chimichangas to light Quest

Shoot Dazzler spinner to light Disco modes
Mr. Sinister Wizard Mode: Complete all game features to light this mode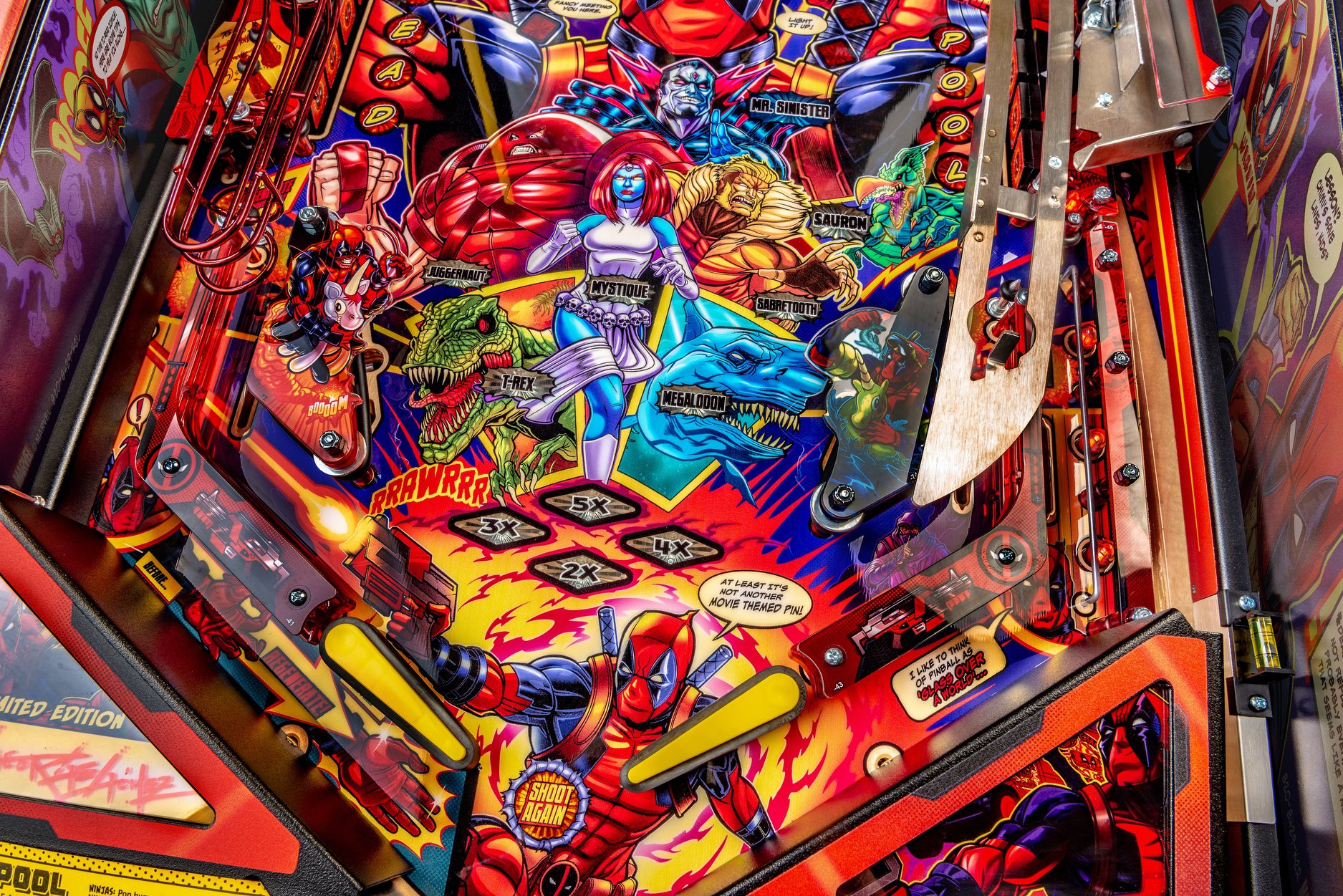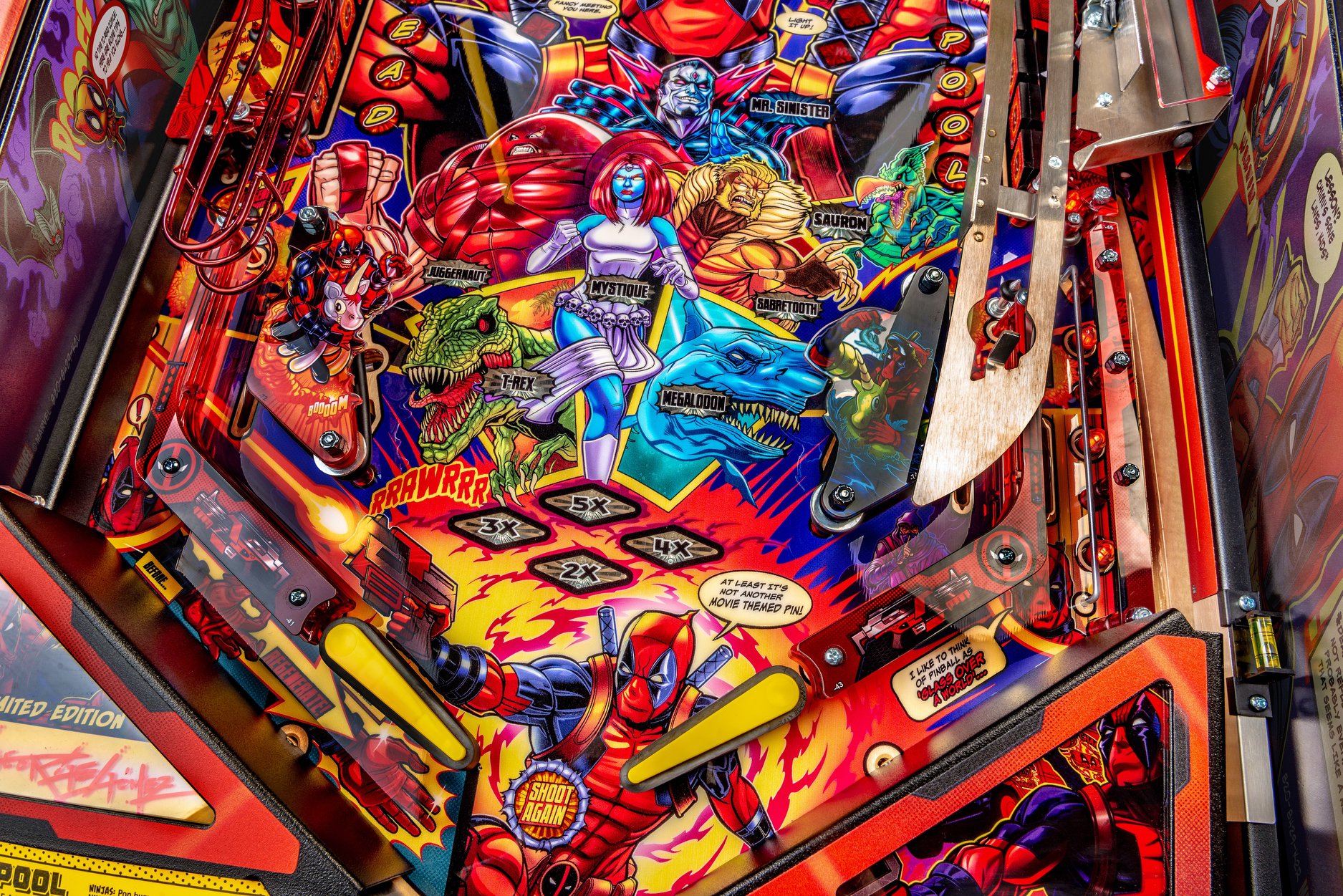 Multiballs:

Ninja Multiball: Lock three balls

Light Lock by spelling P-O-O-L on the Deadpool targets

Lil' Deadpool Multiball: Hit Lil' Deadpool to start
Sauron Multiball: Complete Battle modes to qualify Sauron Multiball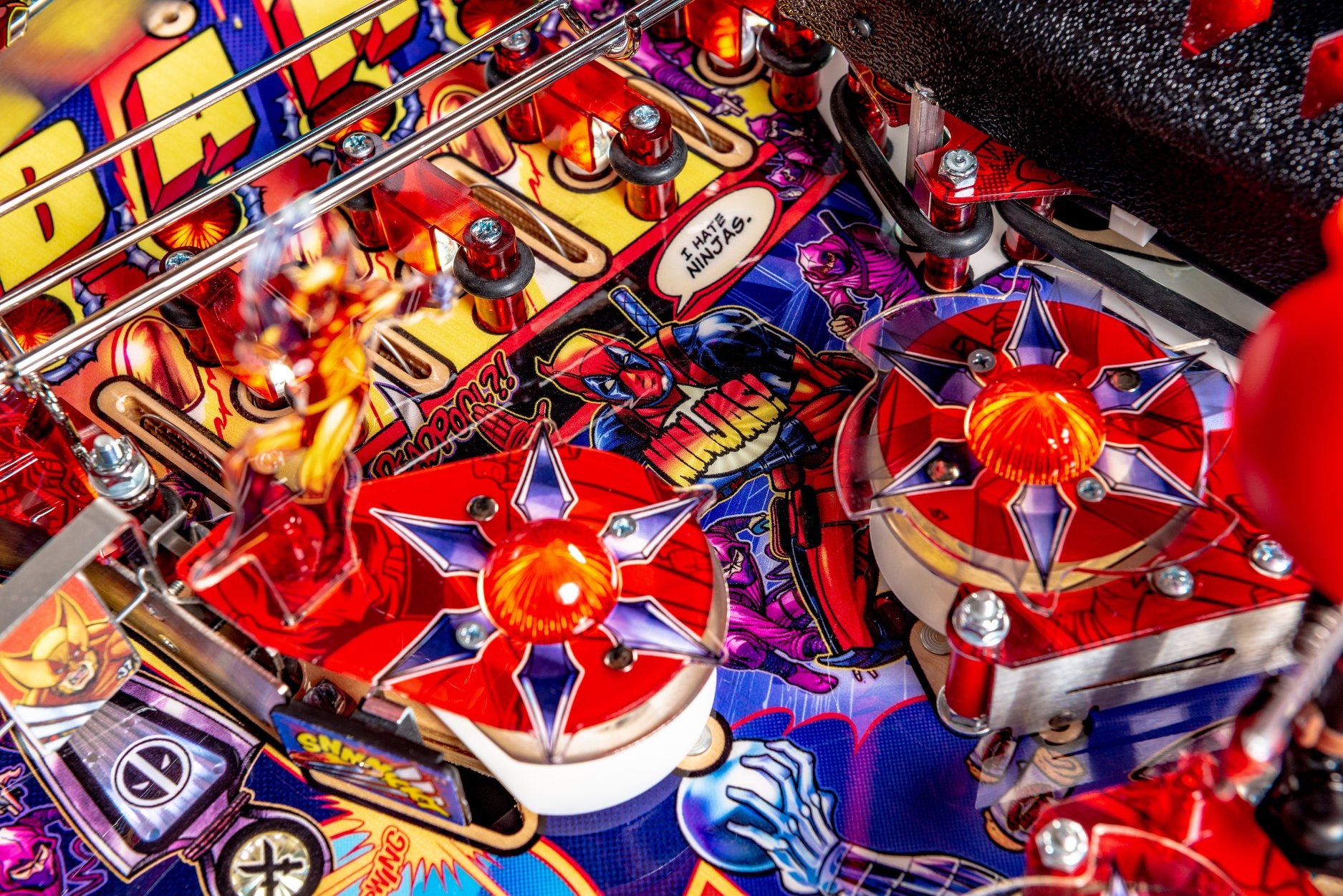 Price:
Pro

MSRP: $5,999
Street Price: ~ $5,600

Premium

MSRP: $7,599
Street Price: ~ $7,300

Limited Edition

MSRP: $8,999
Street Price: ~ $8,800
Availability: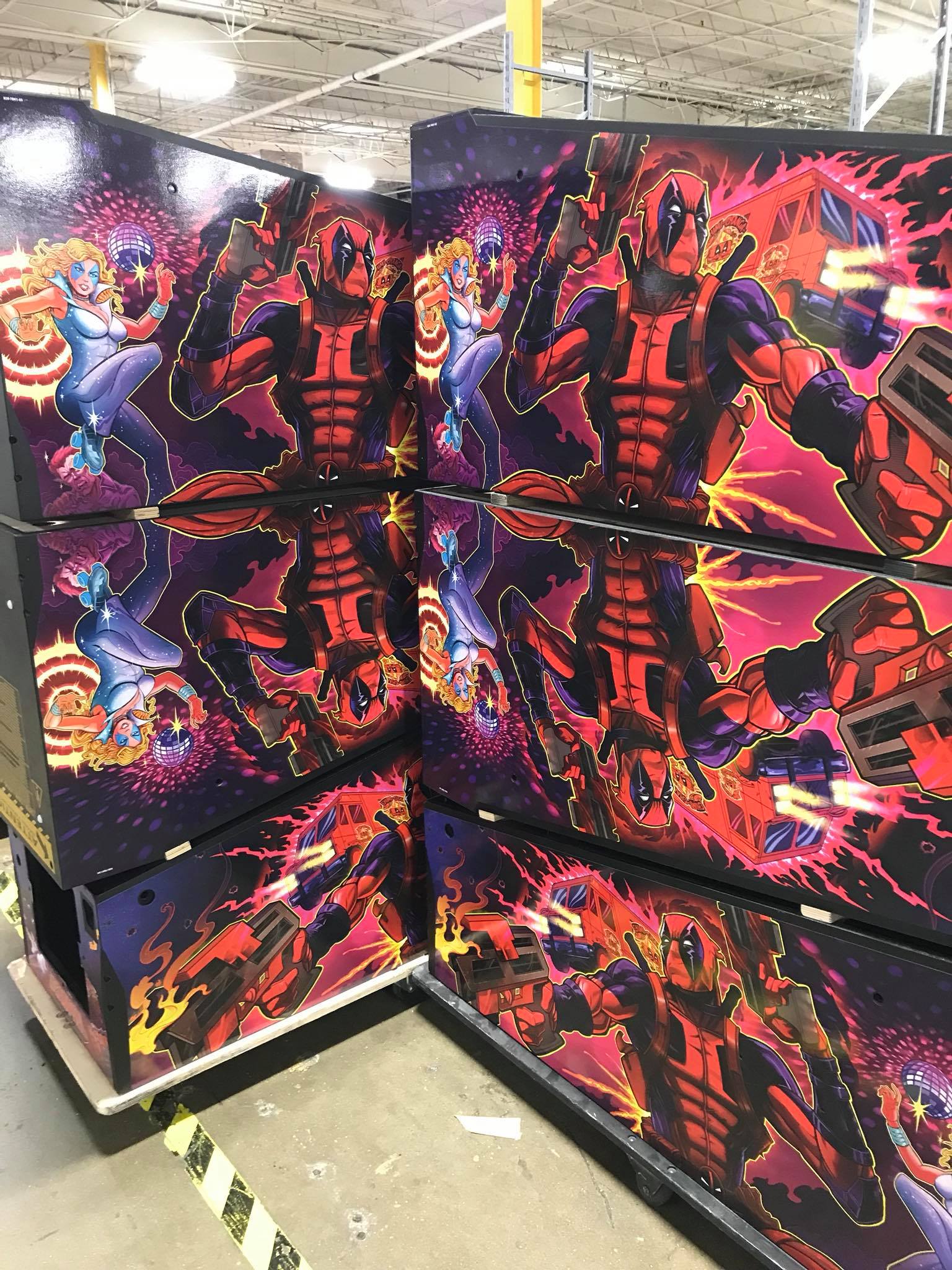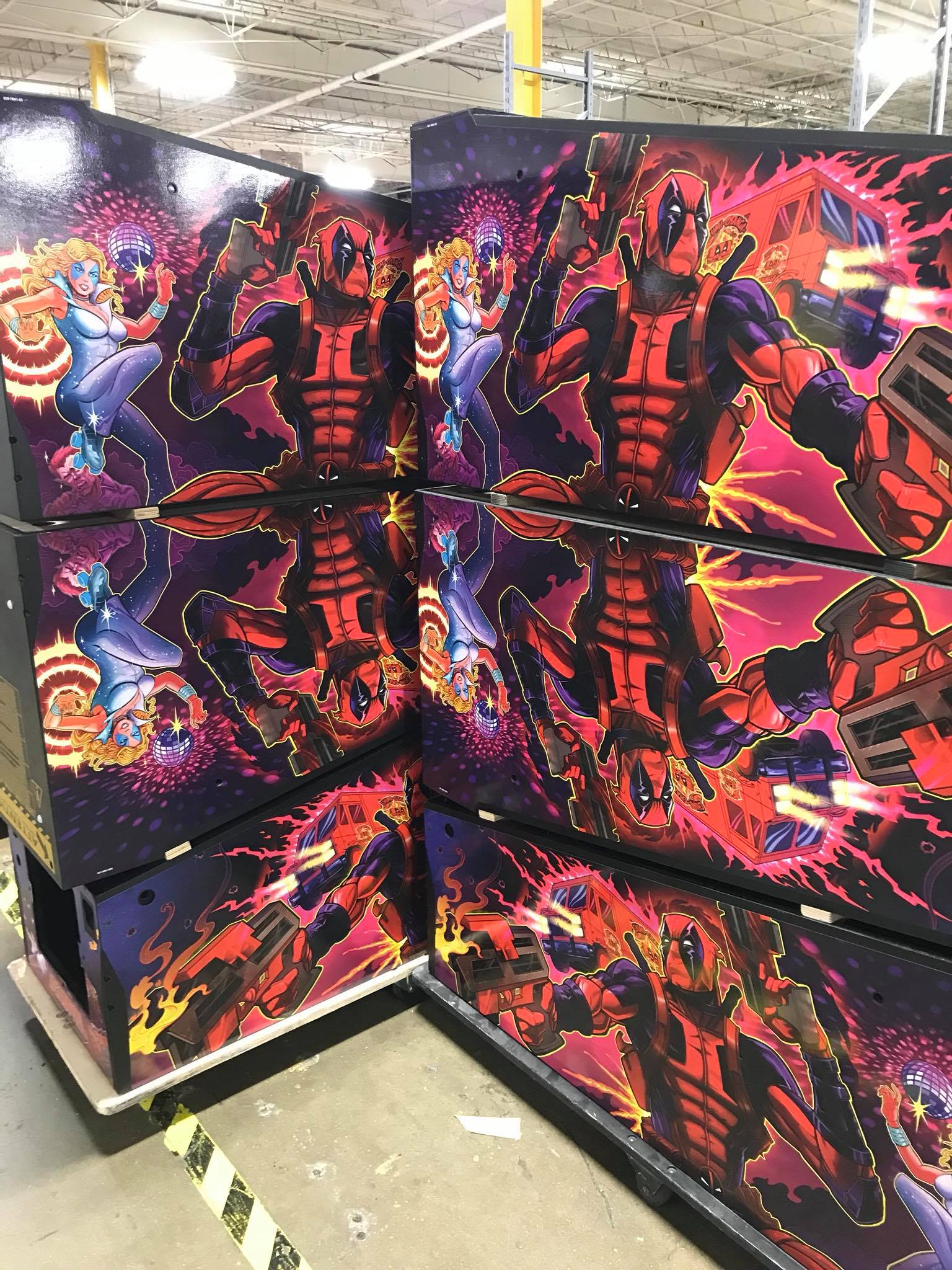 As usual, Stern reveals a machine and – within a day or two – shows the games being built at the Stern factory. So when will we see them?
The Pro Version is on it's way out the door of Stern's Factory now
The LEs will be next, shipping end of August/early September
The Premiums should be shipping end of September
There were several articles and videos accompanying the reveal:
Make sure to tune into the Dead Flip Twitch Channel this Wednesday, August 15th at 4:30PM Central/5:30PM Eastern to see the game play premiere of Deadpool!
---
2. George Gomez Interview on Coast2Coast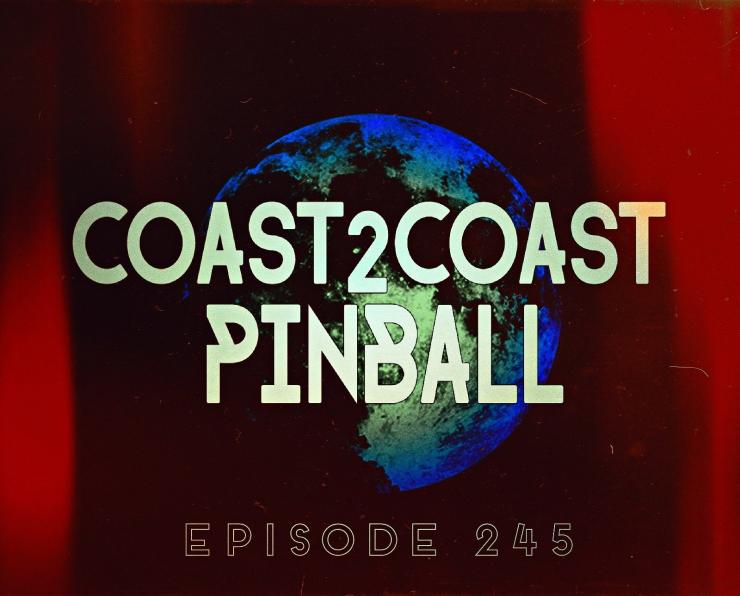 George Gomez, the designer of Deadpool, joined Nate Shivers on the Coast2Coast Pinball Podcast last week for the launch of Deadpool. Listen to the full episode here! Here are a few highlights:
On the Deadpool Comic Book Theme:
George: "Deadpool has been an amazing title to work on because of the amount of freedom involved in creating Deadpool pinball. The Deadpool Universe is kind of far reaching, meaning that Marvel has done so many things with him, and the character lends itself to being put in all kinds of different situations. He's incredibly versatile. So it was very much like creating an original theme.
…the fact that we went in the direction of the comic book gave us freedom in so many areas. It gave us almost complete creative freedom in terms of the things we will have Deadpool do in the game. And it gave us a tremendous amount of freedom in illustrating the art on the game and in creating the video graphics for the game, which in and of themselves are totally unique and specifically created for Deadpool…"
On Deadpool breaking the fourth wall:
George: "…we're gonna break the fourth wall, and we've had a lot of fun – he makes fun of the player and interacts with the player, even his "attaboys" are a lot of fun to listen to because he's giving you an attaboy as Deadpool would."
On the playfield:
George: "This game, this playfield when people play it, there are a ton of combination shots, it has flow, it has speed. I hope people like it – I have a couple of fresh shots that I haven't done before and I don't know that anyone else has either. Especially on the Premium/LE, there is an orbit shot that feeds the right flipper that is cool. All games have that cross shot where the right ramp feed is actually – the ramp on the left of the playfield, but the feed [is on the right], so it gives you crossing ramps in a fresh new way.
…with no rules in it, zero toys, is it just fun to make the shots? And if you work off of that platform, everything else can only enhance the game."
On the animations:
George: "We're doing some interesting things with the video – 100% of the animations in the game are specific for the game. Since we had nothing to work with, I decided it should look like a 90s fighting game – purposefully pixelated…we decided this is a great fit. So everything on the screen looks like a 90s fighting game. And when Deadpool breaks the fourth wall – we made this rule, things on one side of the screen of the screen were pixelated, and when things were on the other side they were going to be high-res, so when he breaks the fourth wall to talk to you, it is high res Deadpool. You'll see him doing all kinds of funny things. He's playing his own pinball…while he's waiting for an assignment. In the background is a bunch of old Stern product – old Stern pinball machines and old Stern video games."
On differences between the Pro and the Premium/LE:
George: "The Premium and the LE playfields are identical…one of the really cool things is the left orbit comes around and there is an up/down ramp in the shooter lane, and that ramp allows you to repeat that shot because it feeds the right flipper. So it is a really cool shot because you come all the way around, and then go up and then get dropped down on the katana to the right flipper. The dazzler character has a mode, which is essentially a disco themed mode and we play disco music – those games [Premium/LE] have an actual disco ball that is motorized and it projects a disco ball effect around the playfield. We match it to the old school disco music. There is a rule that allows you to get a multiball out of that. It is really a satisfying shot to repeat. And it is also a really cool shot to combo because you can come off that shot and then hit the left ramp and then go to the right ramp. There are two electric control gates on the premium/LE so you can orbit in both directions. There are molded characters in the Premium/LE. The Premium/LE have 11 drop targets. The drop targets are interesting because they change the dynamic at the bottom of the playfield. There is a DEAD POOL spell out – targets on the left that spell DEAD and targets on the right that spell POOL, and those are stand up targets on the Pro, and they speed up the bottom of the Pro quite a bit. They also create more side drains on the Pro than on the Premium/LE. The Premium/LE – because the drop targets absorb more energy, there is a lot less wild ball motion at the bottom than the Pro."
Coast2Coast doesn't do many podcasts anymore, but still lands huge interviews when new Stern pins are released!
---
3. Dennis Nordman Interview with Head2Head Pinball Podcast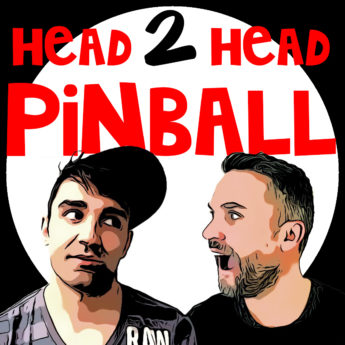 The Head2Head Pinball Podcast continued their streak of high quality interviews – this past week was pinball designer Dennis Nordman. We highly recommend listening to the full podcast here! Dennis goes through much of his career highlights and shares some interesting stories. Here are a few highlights:
On Heighway Pinball:
Dennis: "I worked on that thing [Alien] for about a year, and I never had a playing whitewood and things were just going WAY slow – and when he announced at Expo that he was going to have games the following May…the part that got me was he was accepting deposits on the game promising people delivery in May, and I knew that was absolutely impossible. And I didn't want people giving deposits thinking that it was one of my game designs and they were going to get it in May, I just couldn't live with that. So I left."
On Elvira 3 and joining deeproot:
Dennis: "I had a contract with Stern to do Elvira 3. When my contract ran out, they were no where near getting the game finished. I had a contract for a certain amount of time, and when that was over, I wasn't getting paid anymore. And I had expected the game to be finished by the end of my contract but it wasn't. It wasn't even close to being finished. But since it was my baby and I loved the playfield and its got three pretty unique toys on it, I kept going to meetings and stuff but I wasn't getting paid anymore. Then I had the offer come through from deeproot, and he offered to pay me to design pinball games again, so I took it."
More on Elvira 3:
Dennis: "It's not scrapped – it is going to happen. I have no idea when, I am really actually not involved any more…they may make some modifications to the playfield, but it was my playfield design. When I left, they still had some work to do on some of the mechanical devices…(Dennis was then asked it has an LCD or if it is a throwback to a previous era) | It is a full fledged modern pinball machine."
On the Elvira curse:
Dennis: "It turns out that Elvira has been a curse for me. [laughs] And they've been successful. So maybe me not being around when it is finished has something to do with their success. On Elvira and the Party Monsters, I crashed my dirt bike really bad and spent three months in the hospital. And then on Scared Stiff, I got laid off. And then on this one, I'm not part of the finished product either."
On deeproot:
Dennis: "I'm happy to be there. I've actually only visited the place three times and I've only been down there for like 3 days at time. But the people they have there, I am so impressed with. They have young, talented, aggressive, hungry guys working for them. The art department is incredible, the mechanical engineers are incredible, the electrical engineers are incredible. They're all excited and enthused to be a part of this. It is going to happen as fast as Robert wants it to happen? I can't answer that. But its going to happen.
He's not trying to build this company on people's money, so really you can't give him any criticism, just wait until he delivers…"
On Robert Mueller:
Dennis: "Robert is a very smart man and he's made a lot of money. If he didn't have passion for pinball – getting into pinball is not a smart move [laughs] – it isn't a business where you're going to make a hell of a lot of money. Robert is extremely passionate about pinball. I actually like Robert a lot. He can be a bit outspoken at times, but he's young and he's brash and he wants to do something new and different and everybody there is working towards that goal. I'm really excited to be there and I'm excited that Robert is letting me do this original theme that I want to do…I'm very impressed with everybody there. It is a more exciting environment than any pinball company I've been at. And I think it is because they're new and passionate and they really want to do something great. And I love working with these younger guys who have a lot of ideas for technologies that I don't know a lot about…there going to have failures at deeproot, they're going to have things that don't work. But they've got the passion and the energy to work through it and figure it out and move on."
On the Original Theme he's working on:
Dennis: "It's been in the back of my mind for a while, but since it was an unlicensed theme it was never going to get done…deeproot has a Story Writer, and he came from the comic book industry and he is awesome. His name is Quinn. And he is helping me flesh out the story line for this original theme that I'm doing. And he's doing that for all the games they're working on. He's really great, he's got a zillion great ideas. And with that fleshing out of the theme comes rule ideas also…we're getting far with the rules and the storyline."
Keep up the great work Marty and Ryan C.!!
---
4. Alice Cooper's Nightmare Castle Stream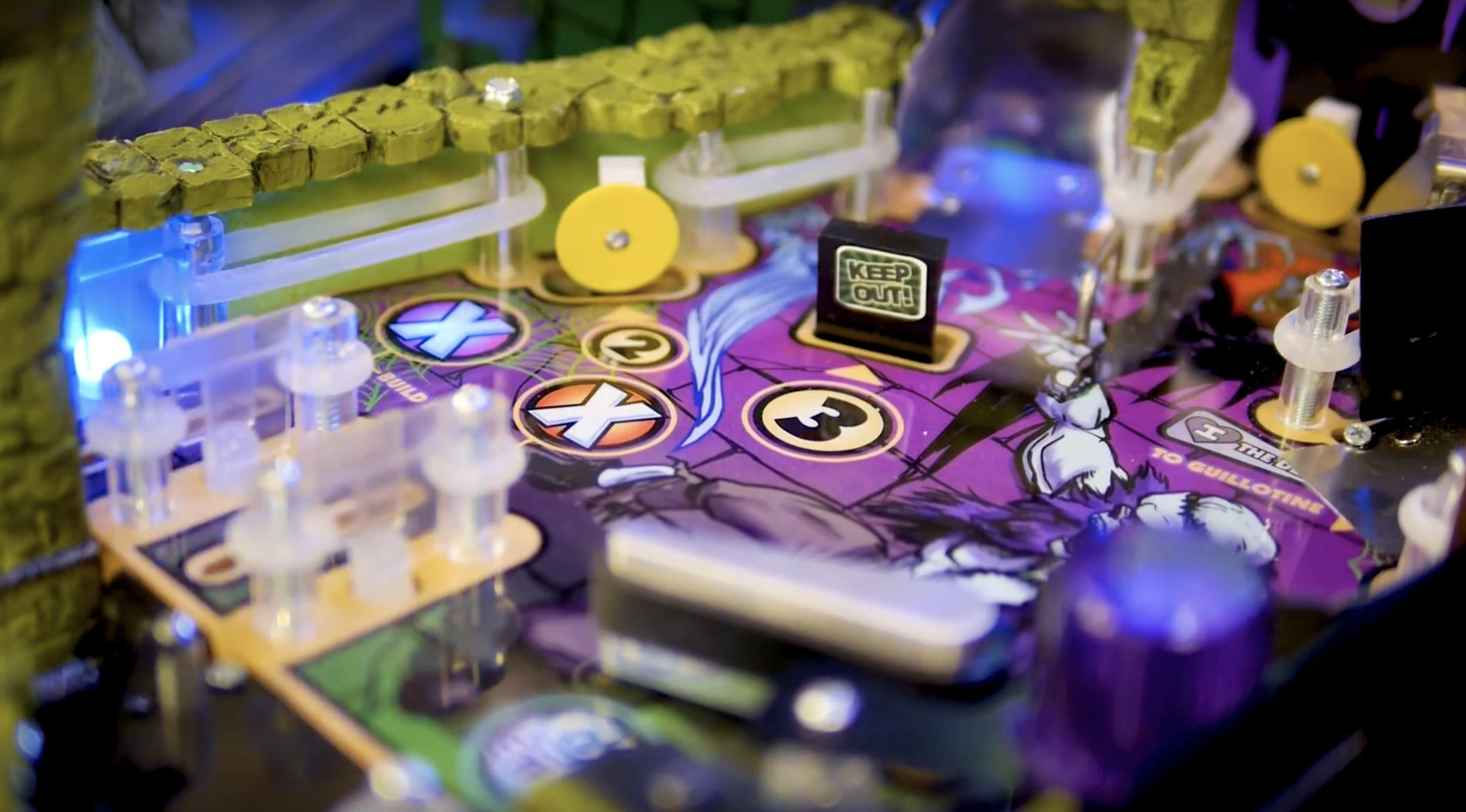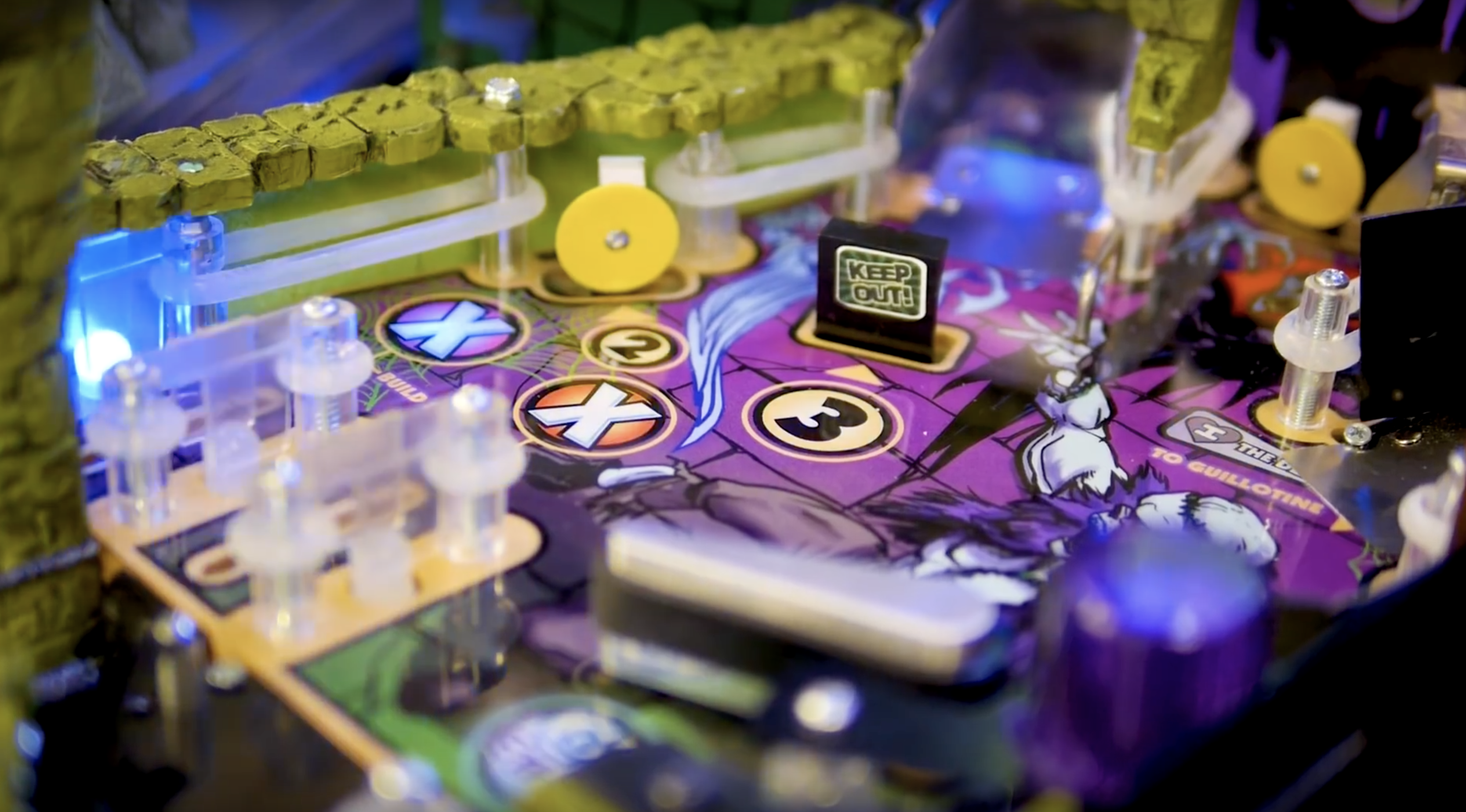 IEPinball has shared the first video on demand (VOD) stream of Spooky Pinball's newest machine, Alice Cooper's Nightmare Castle!! Check out the full stream here! It also included direct audio and video output, so make sure to check it out!
---
5. Expo Schedule Announced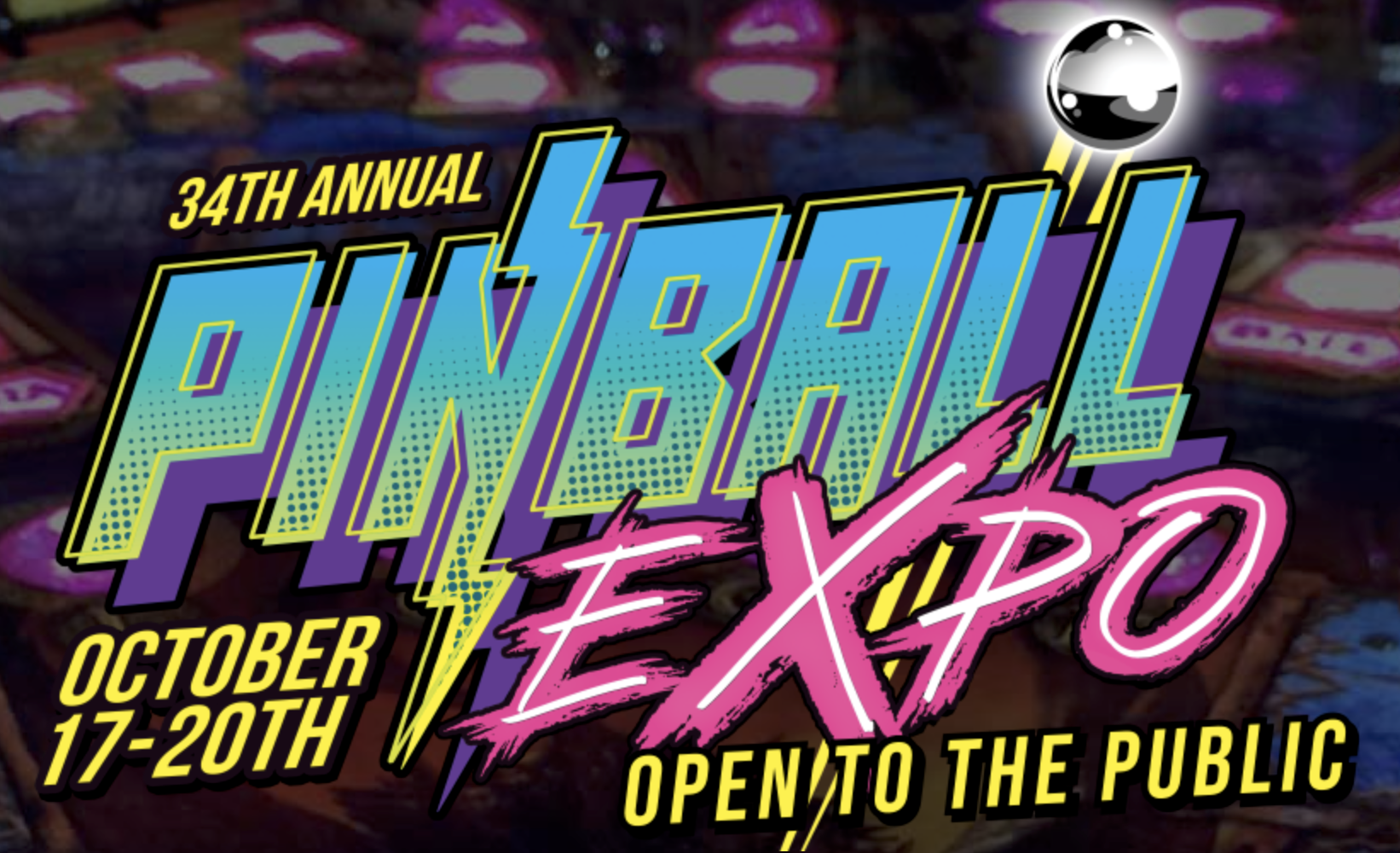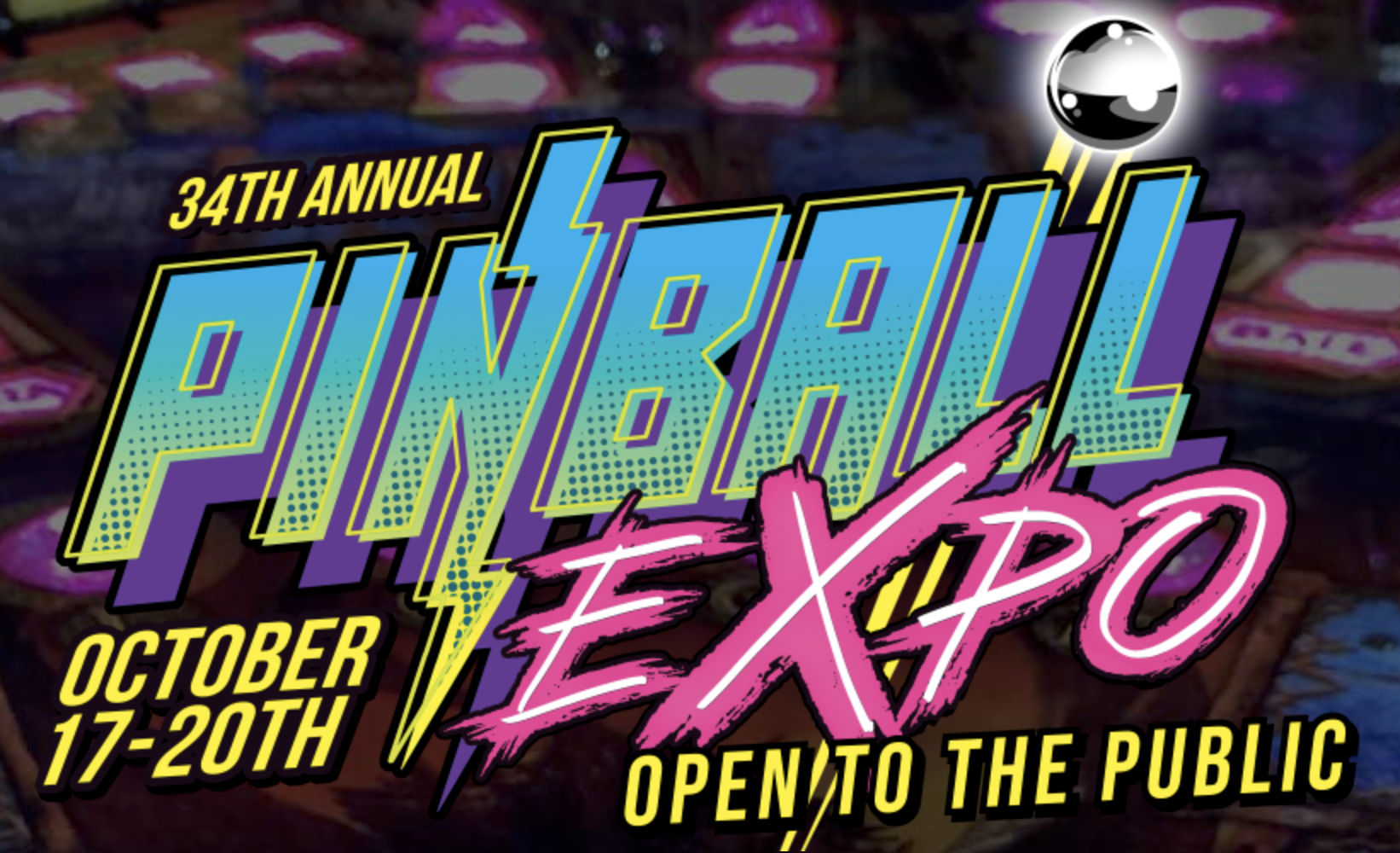 Pinball Expo announced the 2018 schedule last week – check out the full schedule here!
There are many interesting seminars lined up – a few include:
Thursday, October 18th, 8:30PM:
"Whats New at American Pinball"
Speakers: Joe Balcer, Jim Thorton, Josh Kugler, Jeff Busch, Ish Reneses & Barry Engler
---
Friday, October 19th, 5:30PM:
"Future Worlds with Deeproot Pinball"
Speakers: Barry Oursler, Dennis Nordman, John Popadiuk Jr., Jon Norris & Quinn Johnson | Moderator: Robert Mueller
---
Friday, October 19th, 8:30PM:
"An Evening with Jersey Jack Pinball"
Speakers: Jack Guarnieri & Staff
---
Friday, October 20th, 3:00PM:
"Total Nuclear Annihilation"
Speaker: Scott Danesi
---
Friday, October 20th, 4:00-8:00PM:
Various Speakers from Stern Pinball
Speakers: Keith Elwin, Steve Ritchie, George Gomez
---
Get alerts for new posts from This Week in Pinball – follow us on Facebook, Twitter, or sign up by email:
---
August Giveaways!
Check out the August Giveaways here! There are TWO WAYS to enter for August:
1. Consider making a monthly donation via the PayPal button below or Patreon, which you can find here. You'll automatically be entered each month you make a donation, and also get additional TWIPerks based on your giving level. Your contribution will help support this website.
[wp_paypal button="donate" name="My product"]
2. Donate nothing, and send an email to thisweekinpinball@gmail.com to let us know you want to be entered, and include your name, address (including city and state), and email address, and you'll be entered for that month. You'll just have to send the email every month to be included.
---

— What Else You Need to Know Today —
Buffalo Pinball Summer Open '18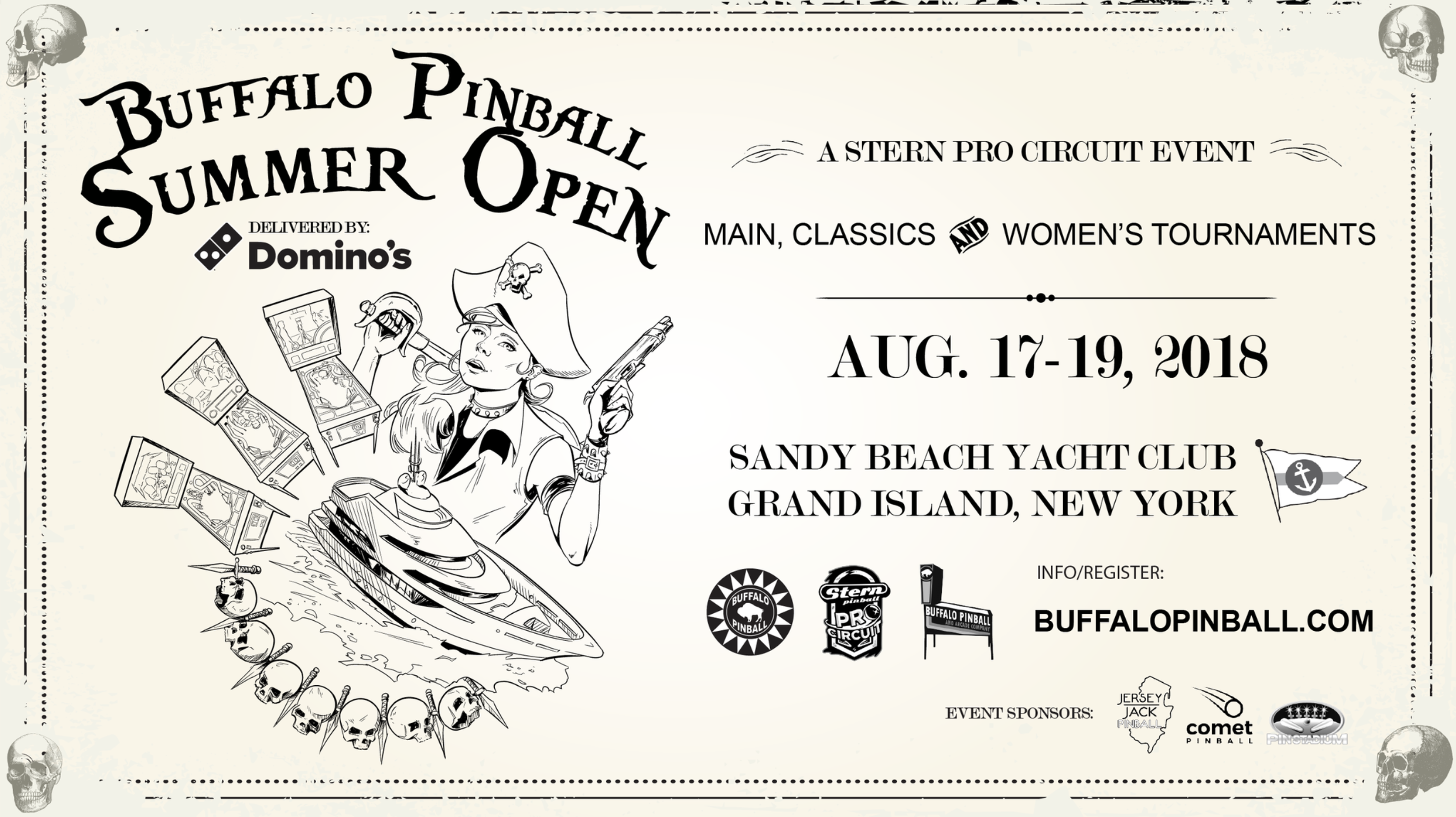 The Buffalo Pinball Summer Open takes place August 17th-19th in Grand Island, New York! Check out all the details here!!
Also check out this article: World's first yacht club pinball tournament coming to Sandy Beach Yacht Club
---
July Name the Game Winner of TWIP Lapel Pin
Congrats to Koos Goossens from the Netherlands, who won the TWIP Lapel Pin for the Name the Game contest in July!
---

Identify the pinball machine pictured below for a chance to win a limited This Week in Pinball Lapel Pin! Drawing will be held monthly!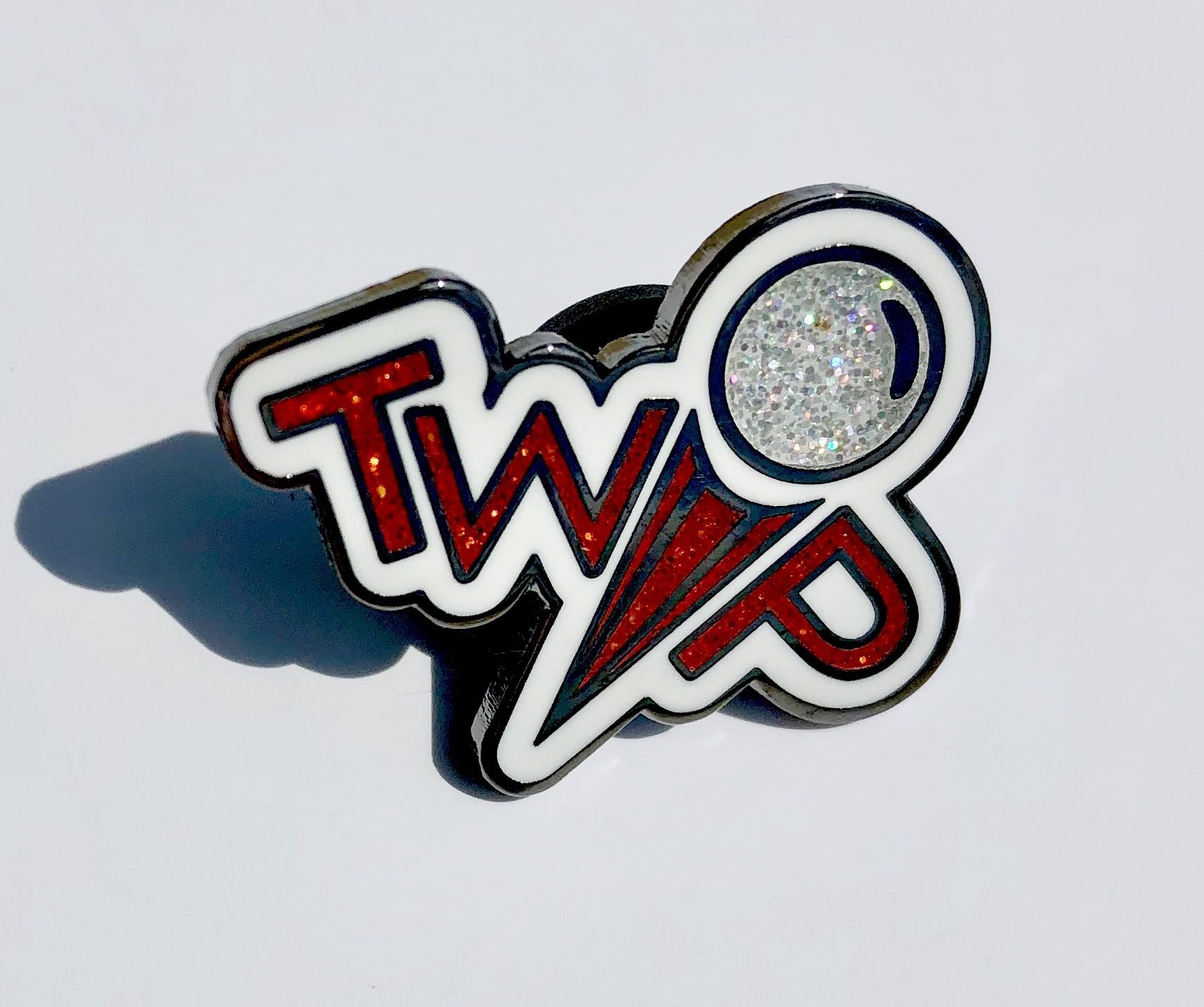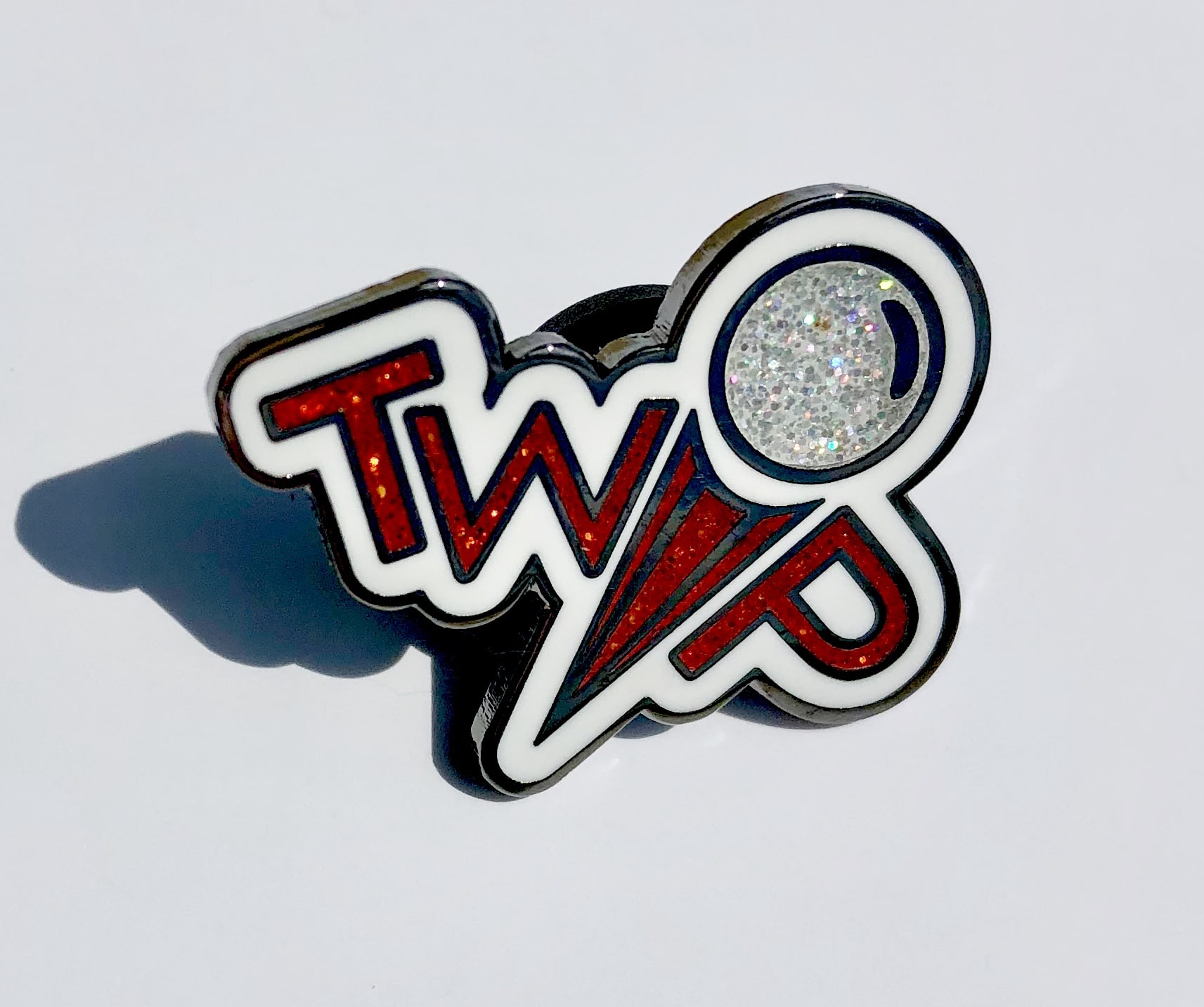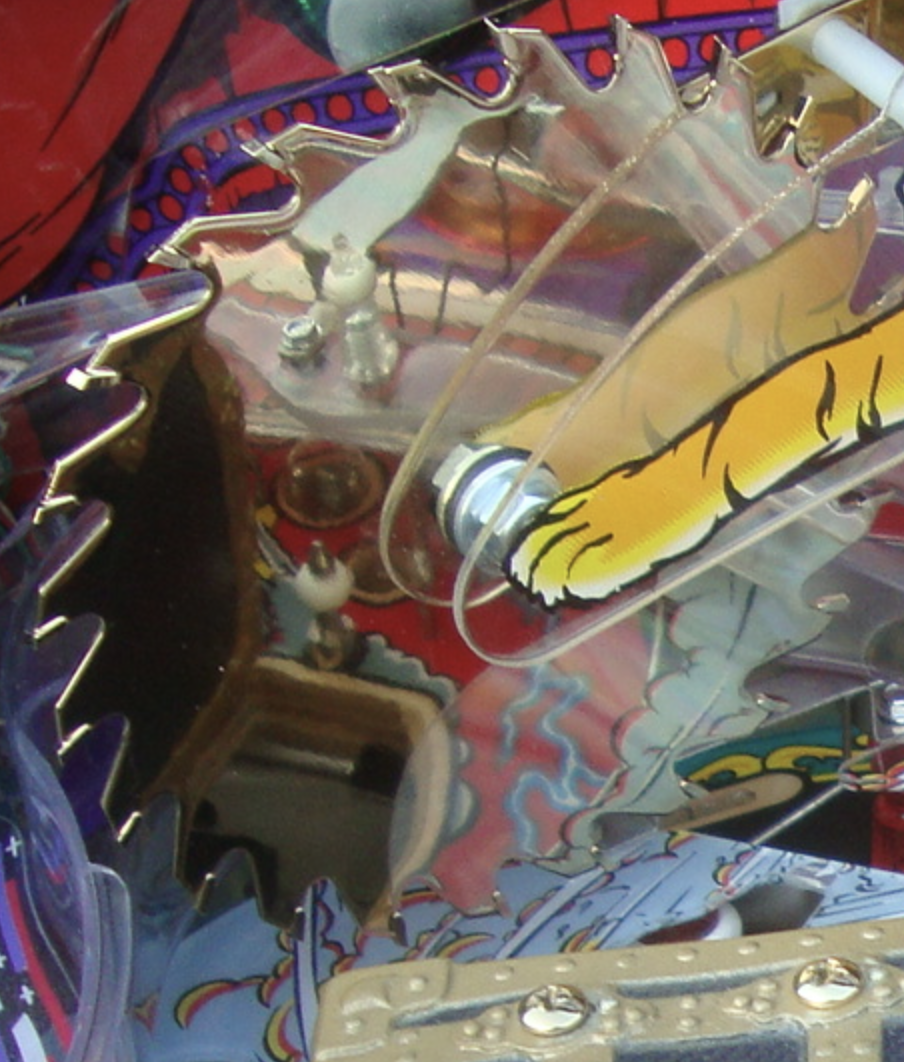 Last Week's answer: Jackbot
Email guesses to thisweekinpinball@gmail.com, correct answers will be entered into the drawing for the limited TWIP Lapel Pin!
---

— Presented By —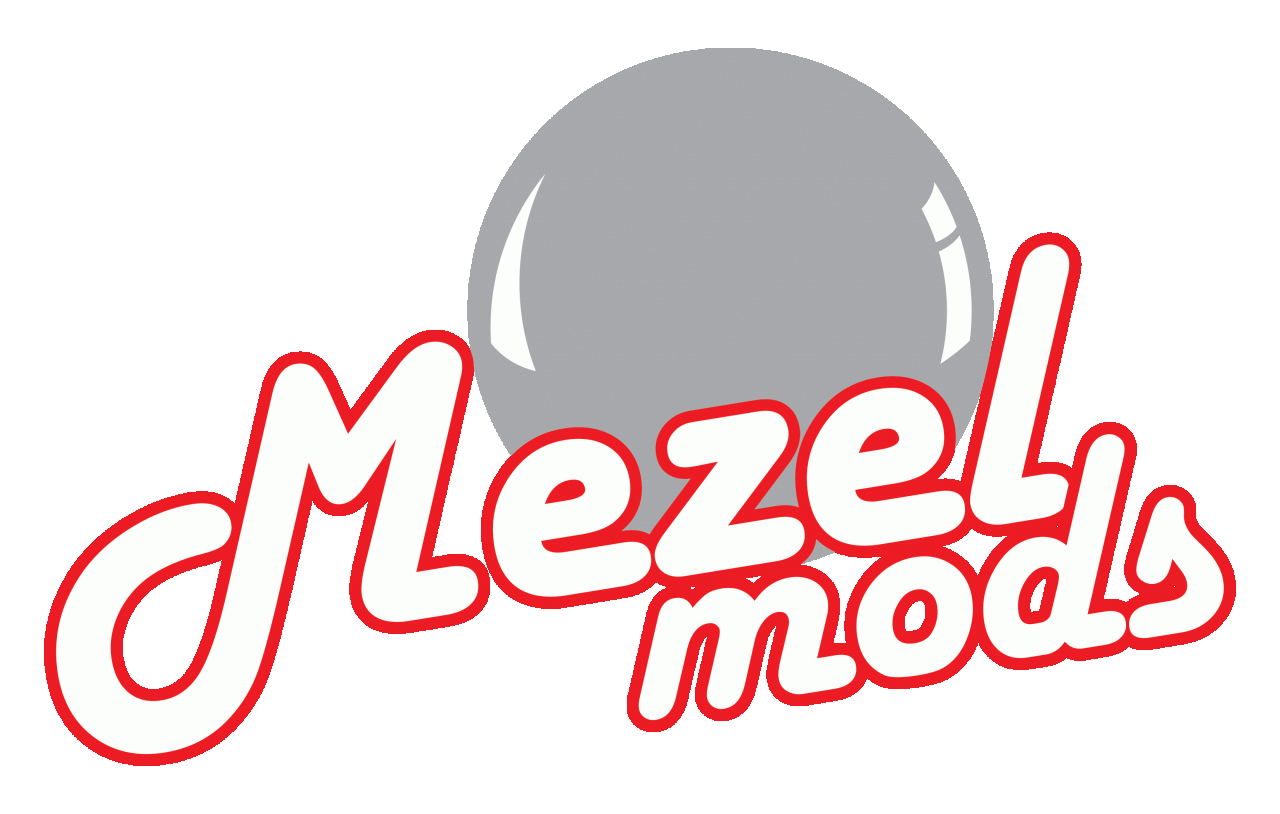 This Week's Mod of the Week is the Guardians of the Galaxy Groot Illumination from Mezel Mods!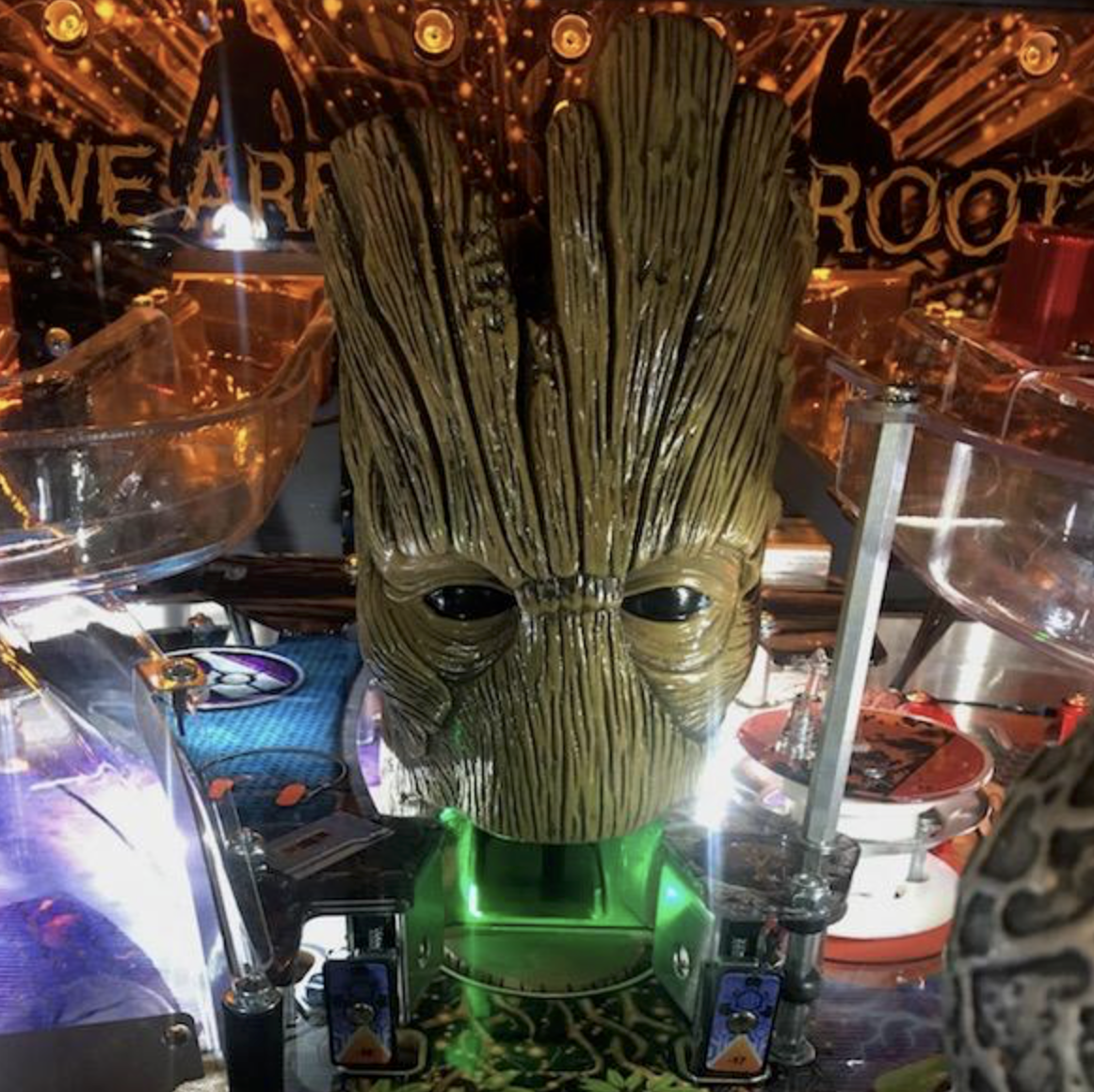 "Light up your multiball with the Guardians of the Galaxy Pinball Groot Illumination! This glowing green effect is visible during Groot multiball. This product is made using high-quality Spike LED boards from CoinTaker and is easy to install using an existing general illumination bulb. No alligator clips! Plug and play with no permanent modifications to your game."
---


— To Those Who Make This Hobby Better —
Shoutout to Tanio Klyce, who was the lead on software on Deadpool. This is Tanio's first time being lead on a pinball machine – we look forward to learning more about Deadpool and hearing more from Tanio, and thank you Tanio for all you do for pinball!!
---
Get alerts for new posts from This Week in Pinball – follow/like us on Facebook, Twitter, or sign up by email:
Disclaimer

: Any articles, interviews, or mentions of pinball manufacturers or pinball products is NOT an endorsement.
Have a scoop or anonymous rumor? Email us at thisweekinpinball@gmail.com
---

Stern Pinball
Most Recent Titles
Aerosmith | AC/DC Vault Edition | Star Wars | Guardians of the Galaxy | AC/DC Luci Vault Edition | Iron Maiden | Deadpool
Announced/Confirmed
Elvira 3
Rumors of Future Titles
The Munsters? | The Beatles? | Steve Ritchie Black Knight 3000? | Superman 1978? | Beetlejuice?
Jersey Jack Pinball
Most Recent Titles
Wizard of Oz | The Hobbit | Dialed In | Pirates of the Caribbean
Rumors of Future Titles
Willy Wonka? | Toy Story? | Guns N' Roses
Chicago Gaming/Planetary Pinball
Most Recent Titles
Medieval Madness Remake | Attack From Mars Remake
Rumors of Future Titles
Monster Bash Remake? | Cactus Canyon Remake? | Theatre of Magic? | Big Bang Bar Remake?
Spooky Pinball
Most Recent Titles
Rob Zombie's Spookshow International | Dominos (*contract game) | Jetsons (*contract game) | Total Nuclear Annihilation (*contract/house game) | Alice Cooper's Nightmare Castle
Rumors of Future Titles
Licensed Title | Scott Danesi Second Game
American Pinball
Most Recent Titles
Houdini
Rumors of Future Titles
Oktoberfest?
P3 (Multimorphic)
Most Recent Titles
Lexy Lightspeed | Cannon Lagoon | Cosmic Cart Racing
Team Pinball
Most Recent Titles
The Mafia
deeproot Pinball
Announced/Confirmed
Fire and Brimstone | Retro Atomic Zombie Adventureland | Magic Girl | Alice in Wonderland
Circus Maximus
Announced/Confirmed
The Pinball Circus Remake | Kingpin
Homepin
Most Recent Titles
Thunderbirds
Pinball Brothers
Rumors of Future Titles
Queen? | Barry Oursler's Original Theme? | Playboy?
Dutch Pinball
Most Recent Titles
Bride of Pinbot 2.0 | Bride of Pinbot 3.0 (on hold) | The Big Lebowski (production/legal issues)
Silver Castle Pinball
Announced/Confirmed
Timeshock
Phénix Pinball
Announced/Confirmed
Goblin Contest
Get alerts for new posts from This Week in Pinball – follow us on Facebook, Twitter, or sign up by email: