Alice Cooper's Nightmare Castle Revealed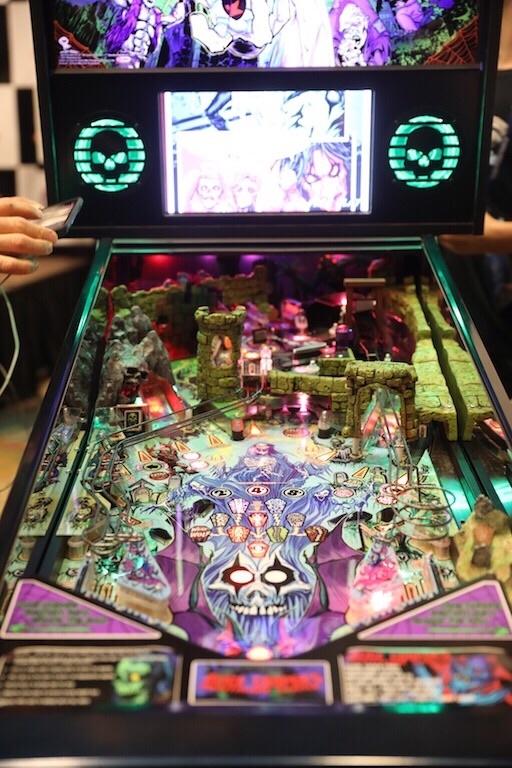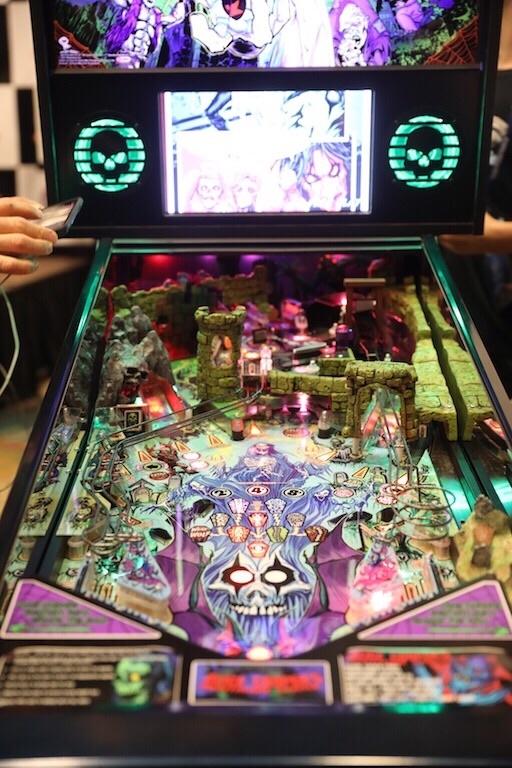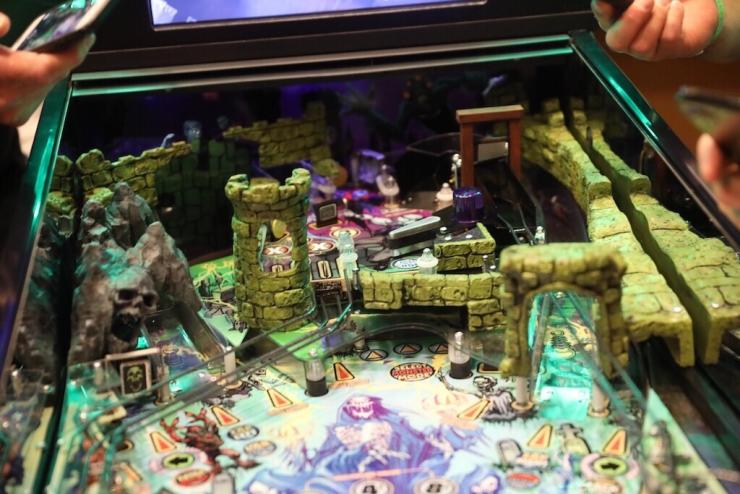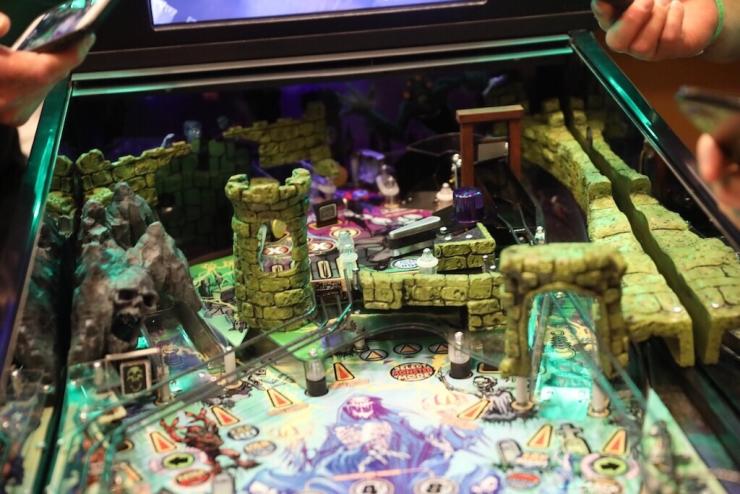 Alice Cooper's Nightmare Castle was revealed at last! So many excellent teasers, and we finally get to see it in full. What else do we know about this machine?
It contains 16 songs, 10 by Alice, 6 by Matt Montgomery (Piggy D.)

From this Pinside post: Mode/Song List from what Charlie said during reveal
———————————————————-
Mode: Frankenstein

Song: Feed my Frankenstein

Mode: Cold Ethyl
Mode: Igor
Mode: Vampire

Song: Disco Bloodbath Boogie Fever

Mode: Werewolf

Song: No More Mister Nice Guy

Mode: Zombie
Mode: Insects

Song: Its the little Things

Mode: Alice
Mode: Pit Creature
Wizard Mode: Billion Dollar Babies

Song: Billion Dollar Babies?

Standard sized cabinet
11 shots
3 flippers
Upper playfield
Two major toys

Working guillotine
Frankenstein

Same sound system as Total Nuclear Annihilation
RGB lights
Sculptures by back alley creations
P-Roc boards
If you collect all the monsters, you get to Billion Dollar Baby which is the wizard mode
Price is $6,450
Here is the best video we have so far of this machine from our friends at Straight Down the Middle: a pinball show (YouTube, Twitch, Facebook):
We've heard rumors of an upcoming stream on this machine – we hope to have a lot more information on this machine soon!!
Bowen Kerins is now employed by Spooky
Charlie also announced Bowen is joining the Spooky team!
---
Kingpin Revealed

Kingpin reveal!! Many people at the Texas Pinball Festival had the chance to see and play a Kingpin for the first time. The test machine in the Circus Maximus booth had never been played as long and often as it was at TPF, but it held up like a champ with just a few couple hiccups that Circus Maximus plans to address after the show.
Circus Maximus also held a seminar. Some of the information shared during the seminar included:
The game will have two ways to play – the original game emulation, and a second more modern game game with HD graphics and an updated ruleset. For TPF, the game was set for the original game emulation. They are looking at the game as "a new game that you happen to be able to play the original on", and they want to build it to make Kingpin what it could be if it were built today.
The display for the new Kingpin game will have full HD graphics that fill up the entire display (as opposed to the original emulation which will have the original dots that full up a portion of the display).
The new Kingpin will have an additional and better ruleset.
The next step is to build the whitewood to learn the cost of the build. They mentioned they estimate the game will cost between $6,000 and $7,500 (if we heard correctly), but that is just a guess until they know for sure what the bill of materials (BOM) will be.
They hope to have it in production by the end of the year. They have three choices – they have been approached by two manufacturers to possibly build the machine, or they could do it in house. The decision has not been made yet as to which manufacturing option they will use.
---
Stern Seminar: Brian Eddy Returns, Iron Maiden, Elvira 3, Star Wars Topper, More
Stern gave a Texas Pinball Festival Edition of Stern of the Union conducted by George Gomez, and it contained quite a bit of interesting info!! Let's break it down:
Brian Eddy Hired by Stern as Senior Designer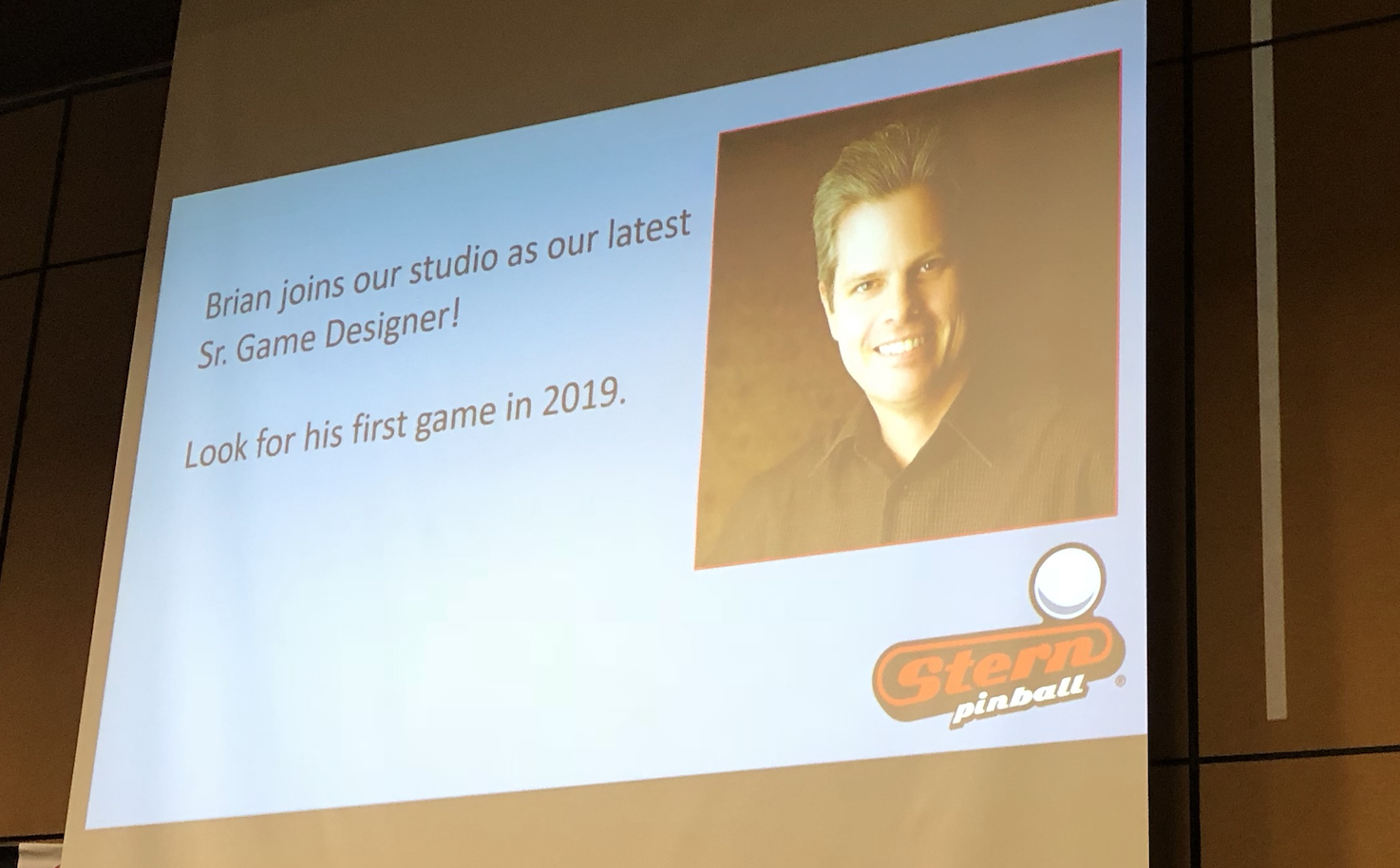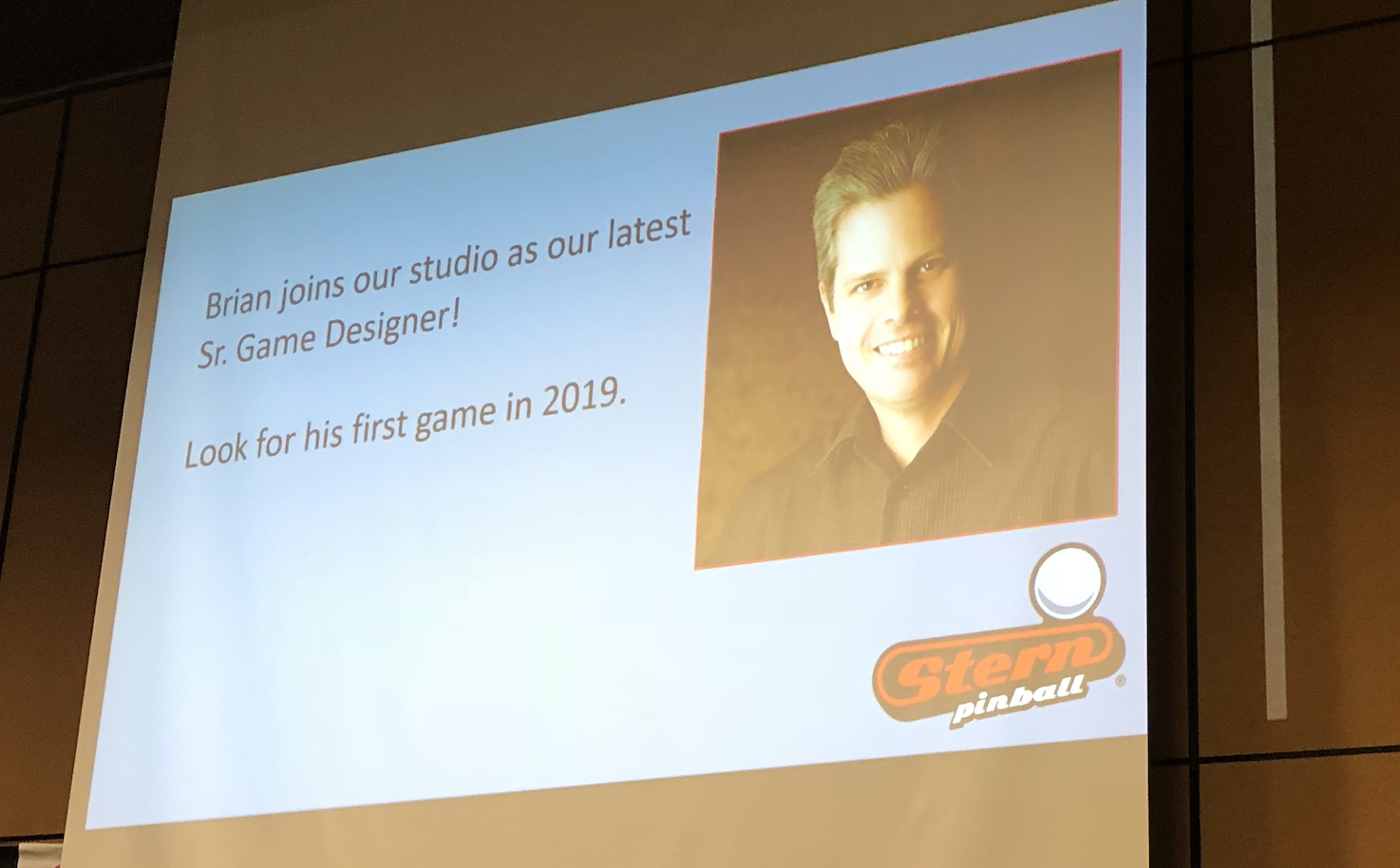 In major news, Brian Eddy, the designer of some of the top ranked games of all time including Medieval Madness, Attack from Mars, and The Shadow, has been hired by Stern as a Senior Game Designer. The slide with that announcement also said "Look for his first game in 2019."
Iron Maiden/Titanium Man
Ok, so they never actually said Iron Maiden. Their next game they referred to as Titanium Man. (Get it? Iron vs. Titanium, Maiden vs. Man?) But we're going to guess they were talking about Iron Maiden. They showed a few pictures of people working on Titanium Man: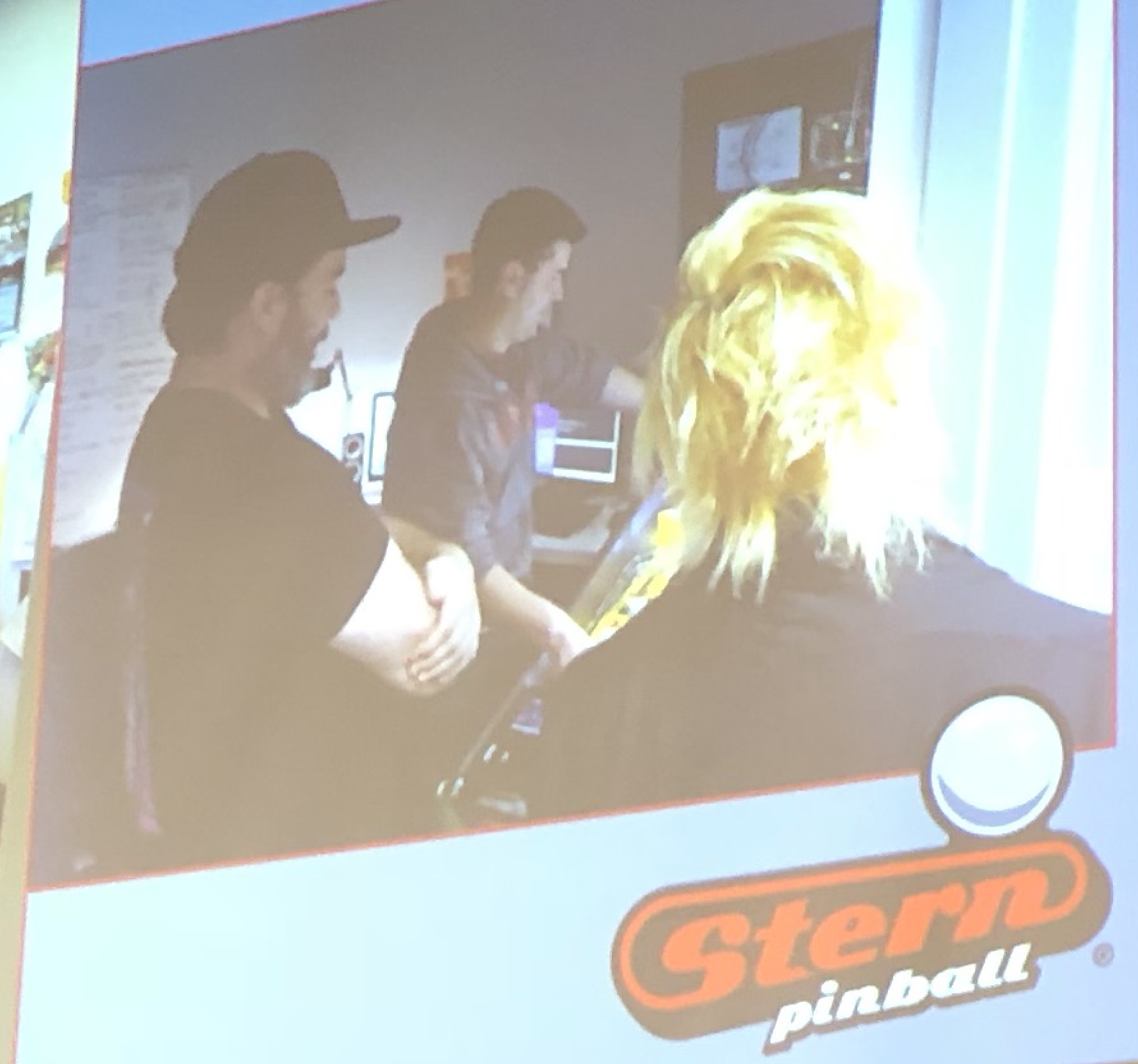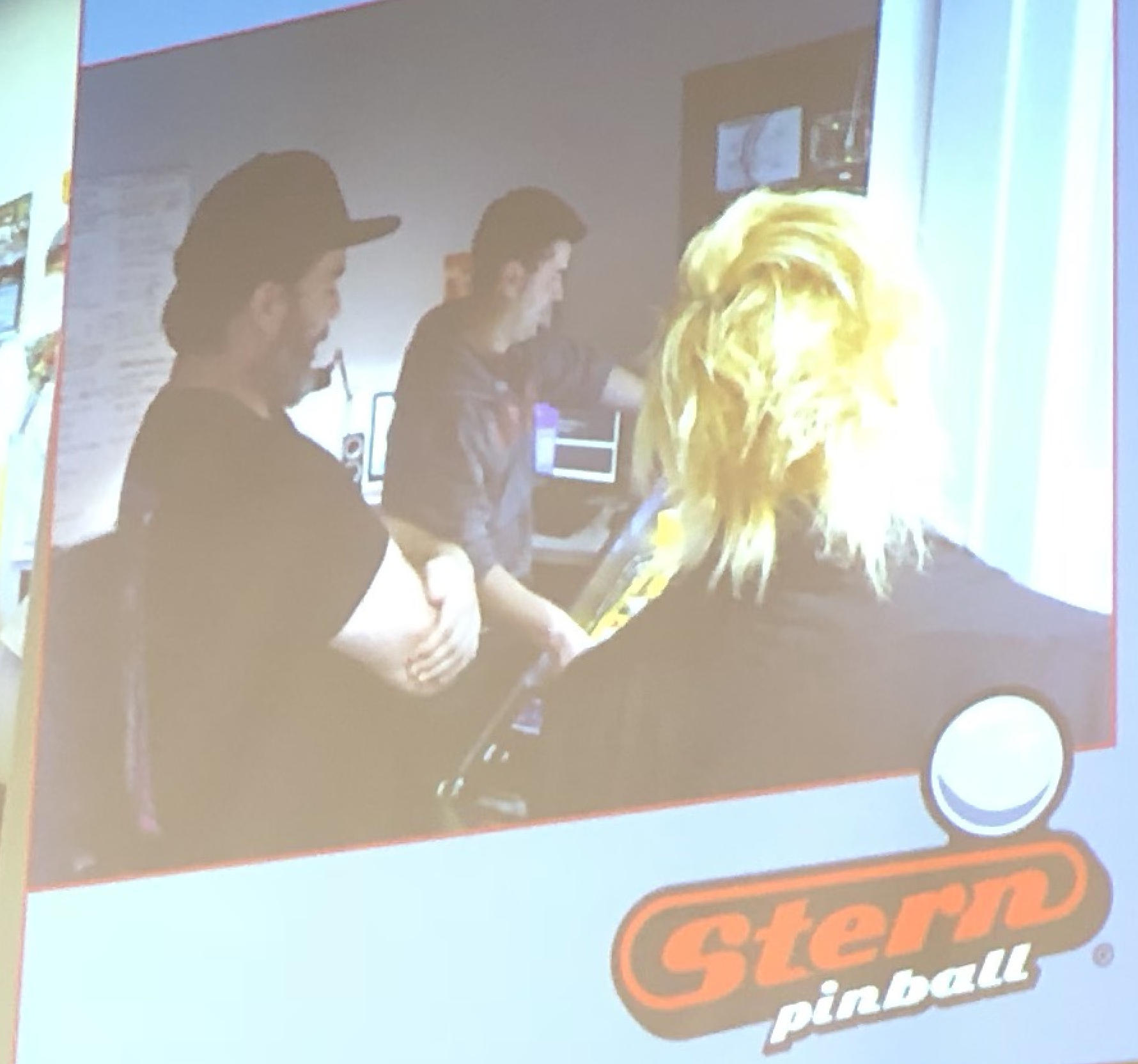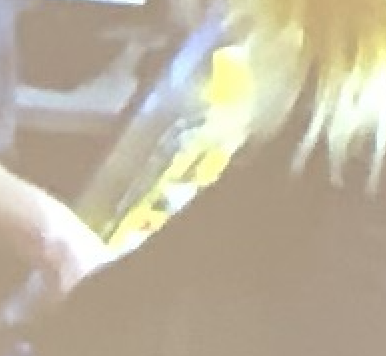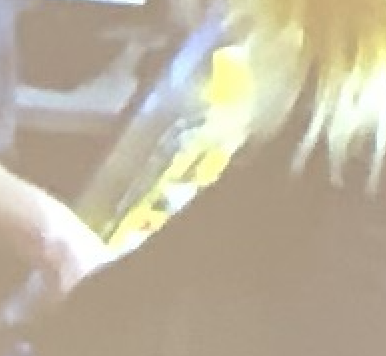 So, we look at that sliver of the playfield…is that the top of a pop bumper? It seems kind of large, but maybe. And a ramp winding around the pop? Now comparing that back at the Archer layout (check it out here)…it could still be the Archer layout, perhaps that is a pop bumper and the ramp has a slightly altered direction than the Archer layout. Are we really trying to get all this from THAT blurry picture??? Yes, yes we are.
Moving on, Gomez was also asked about when the reveal of Iron Maiden would happen. "Titanium Man?" he corrected. He then suggested we will/may see something in April. In April, the Midwest Gaming Classic will be held April 13th-15th, and it is located in Milwaukee, just over an hour north of Stern's Headquarters. Hmmm…
Elvira 3
Gomez was asked if Elvira 3 was still in the works at Stern. Short answer was YES – they still plan to release Elvira 3 in the future. In fact, they shared that the physical elements of the machine are far along, but the software is not. They're waiting on a software engineer to come free to work on it so it can move forward. But they still plan to make the machine.
Star Wars Topper
You could sense a bit of frustration as Stern is just as ready to sell these toppers as pinheads are to buy them. Gomez explained that the engineering is basically done, physically it is done, the code is done, the sound effects are done, and the on-going delays are caused by the approval process of the decoration on the topper.
Possible LCD Screens in Future Vault Editions?
Gomez was also asked about the possibility of future Vault Editions being upgraded from dot matrix displays to LCD screens. He mentioned that it would be a lot of work to switch to an LCD and they aren't sure how practical it would be. He also said if it were to happen, it would be "more than a Vault Edition". Interestingly, he used Lord of the Rings as an example Vault Edition…"lets say we were to make a Lord of the Rings Vault Edition"…they're always teasing aren't they?
Another Super Limited Edition?
Gomez shared that, yes, there will be another Super LE in the future when the right title comes along.
---
Cosmic Cart Racing – New Game for the P3 Platform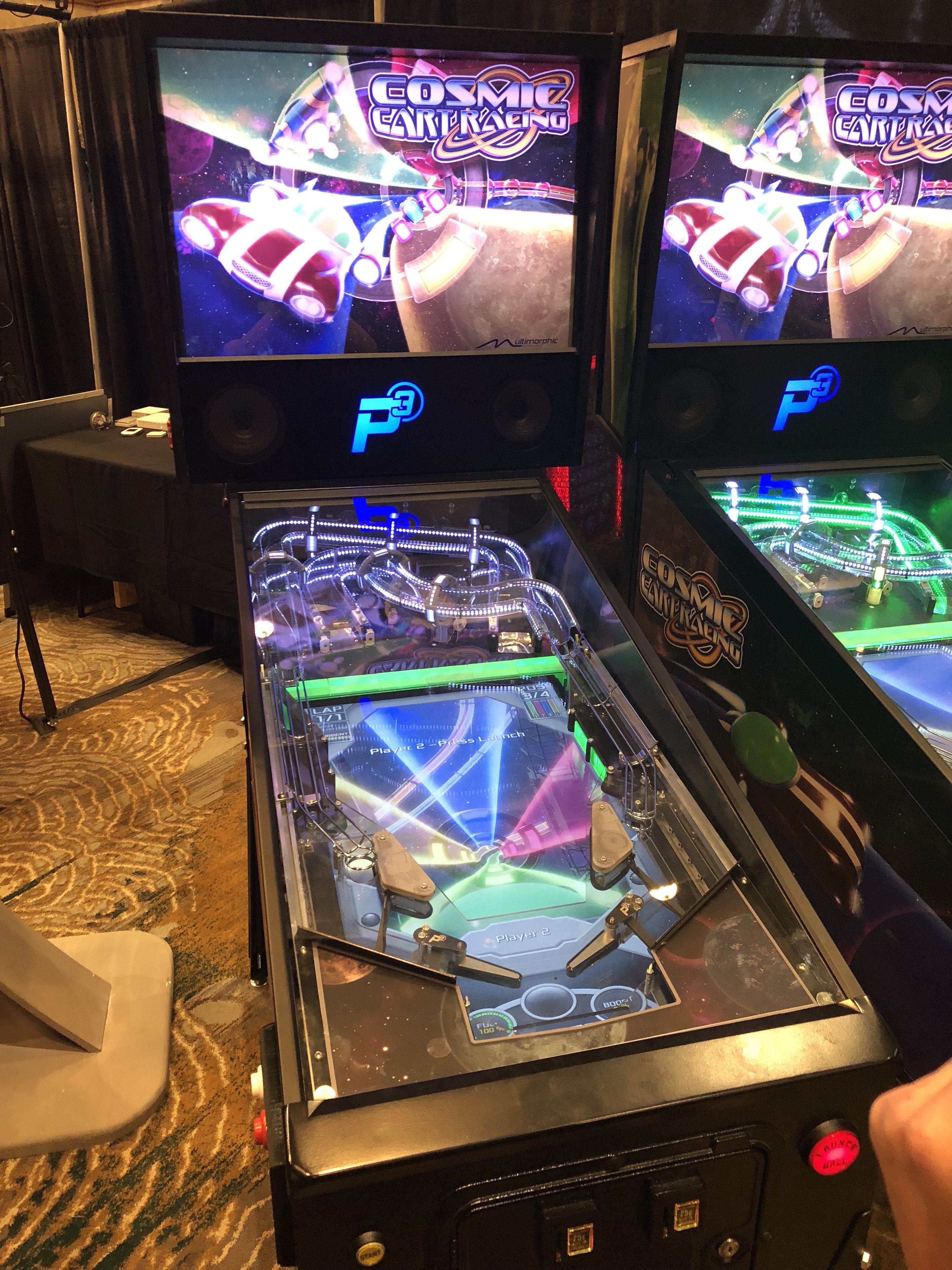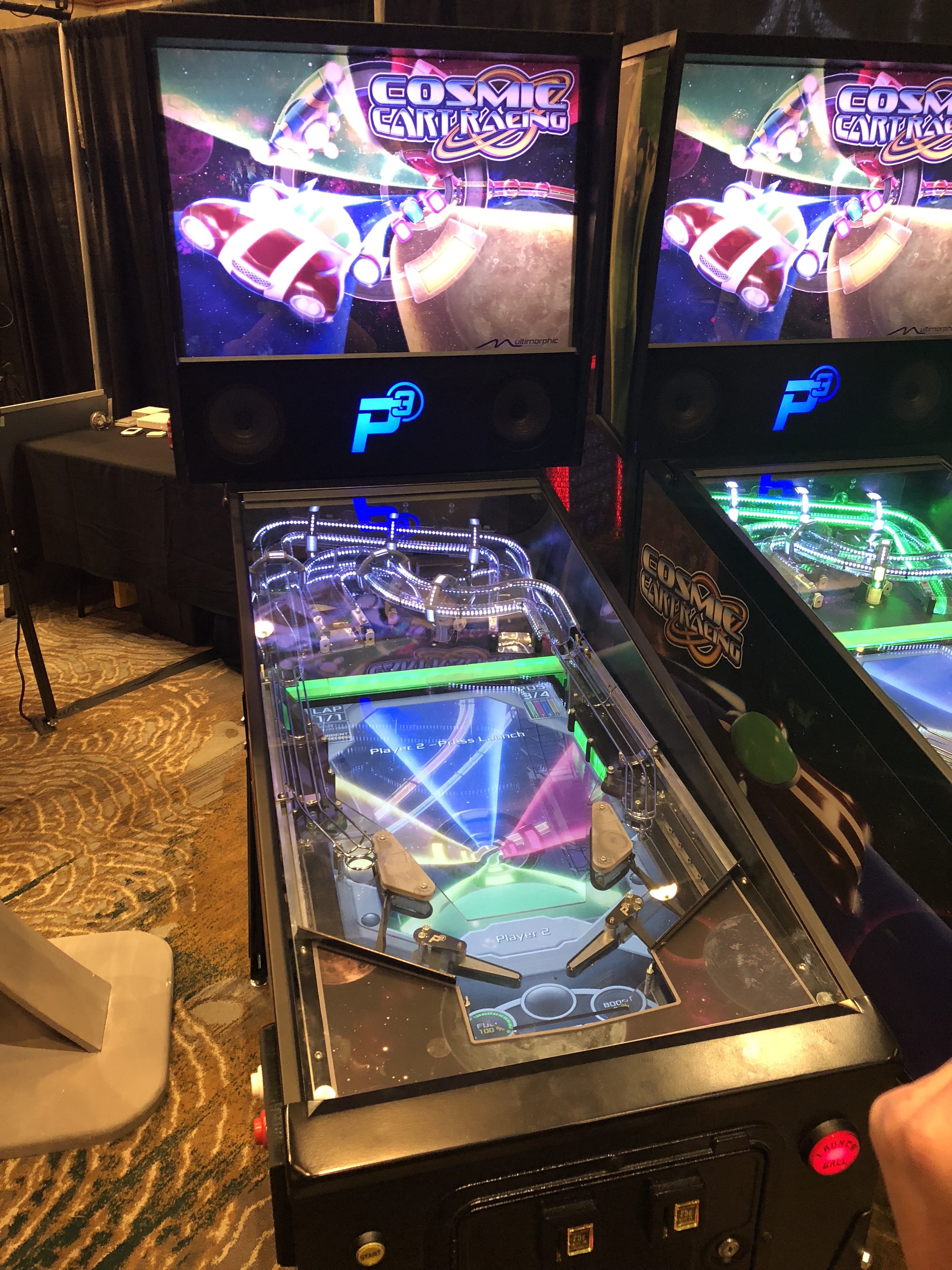 Multimorphic showed off their newest game for the P3 Platform – Cosmic Cart Racing!!
During the seminar, they mentioned the following about Cosmic Cart Racing:
It is based around a video style cart racing (Mario Kart, etc.), where it is a physical implementation of that…you progress through a race and compete with others
Nearly 800 RGB individually controllable lights
2 ramps

Magnet integration
With ramp assist, if your ball doesn't quite make it up the ramp, the magnets will help it make it the rest of the way
Ramp magnet locks

3 loops

2 loop shots have posts that can block the shot

If you drain a ball, it isn't the end of your race – it stops your speed, but you keep going with a new ball
Powerups

Boost – makes you go faster
EMP – makes the opponent stop moving
Blockade – raises posts to stop someone moving
Shield – drain the ball and you don't lose speed, or you can stop your opponent from using a Blockade against you

Can be Single Player, Multi-player on the same machine, or Networked Multi-player
Current Status of Cosmic Cart Racing

Upper Playfield is production ready
Software is 50% done
Sound is about 5% done
3-4 months away from shipping this product on the P3 Platform
For more info, check out the Multimorphic website here!
---
Kosmic Khaos?
A couple months ago, the Texas Pinball Festival released the photo below on their Facebook page with the caption: "Exclusive first look at the not-in-production #TPF2018 theme "Kosmic Khaos" pinball backglass/translite. Game design and concept by Mark Ritchie. Art by Blake Dumesnil. A Texas Pinball Production ? "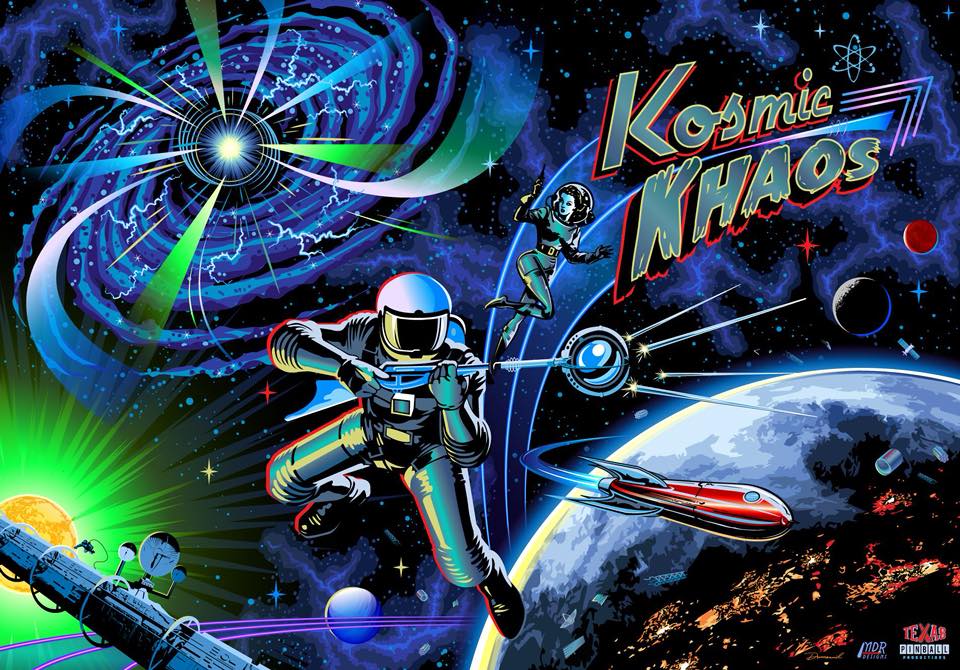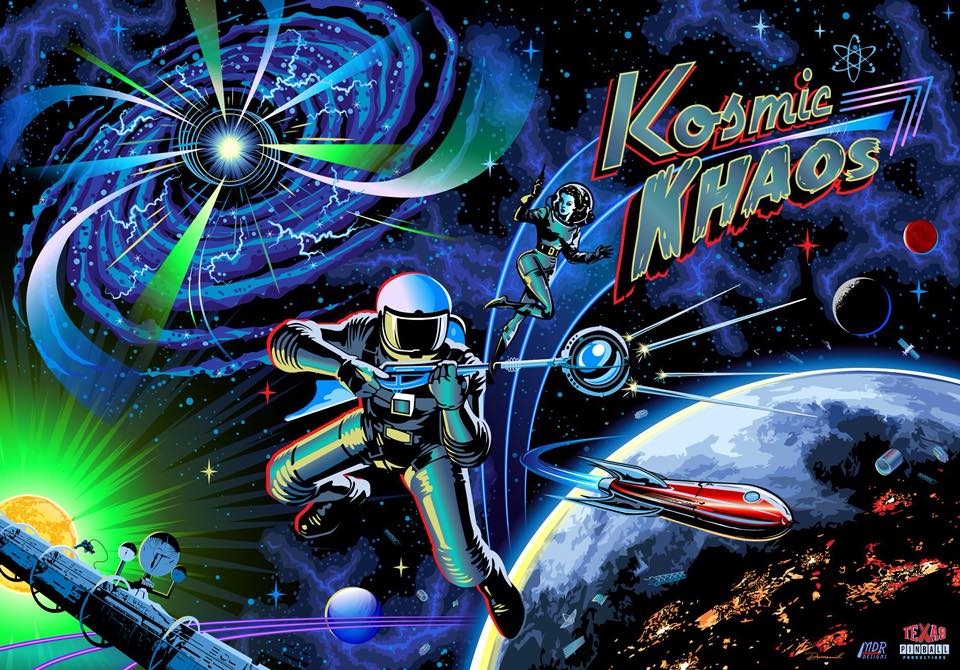 This Week in Pinball then reached out to get the story on this possible pinball machine, and published the following back in January:
So wait a minute – Game design and concept by Mark Ritchie? "Kosmic Khaos" pinball backglass/translite? Is this going to really become a pinball machine at some point?? Here is the story:

It started off with the folks from Texas Pinball Festival and pinball designer Mark Ritchie just joking around. They were looking for a theme for the 2018 Texas Pinball Festival and Ritchie brought up the concept of Kosmic Khaos, a 50s movie retro theme he had been thinking about. That became the TPF 2018 theme.

Then Ritchie started drawing up a playfield sketch. He is still working on the design in his spare time. Then Blake Dumesnil (mentioned above), started working on the artwork for TPF…and the backglass/translite above. Blake is currently working on cabinet art. The Kosmic Khaos cabinet might even be at TPF in March (without a playfield).

So will this be built and turned into a pinball machine? Maybe. They would need a programmer and would need a manufacturer. No timeline or expectations, but it is a possibility!
And guess what – the cabinet WAS at TPF and it looked fantastic! Check out the pics below:
So, will Kosmic Khaos be turned into a real pinball machine at some point? The answer is still maybe. TWIP will keep you updated if we hear anything new going forward!
---
Mezel Mod of the Week
STATION 3 KIT – Dialed In!
You know the Station 3 on Dialed In? The top is kind of…plain and grey. But check out Station 3 on the LCD!! (Seriously, you can see it here, its in the middle of the display screen on the upper left.) Notice how it has a vibrant blue 3 and bright green lines on it?? Well now you can change your dull grey Station 3 on your machine to match the more colorful one on the LCD! You can also get it with an interior station lighting effect.
Check out this mod below: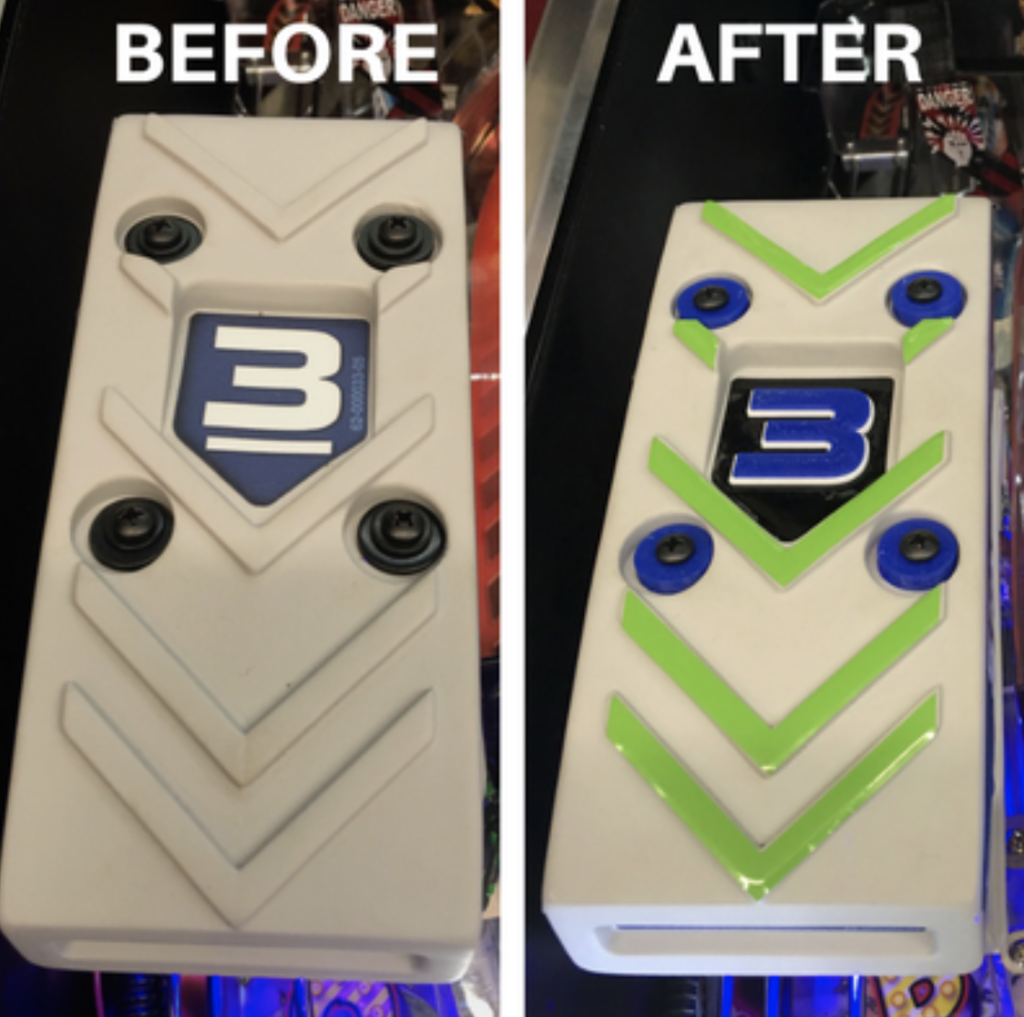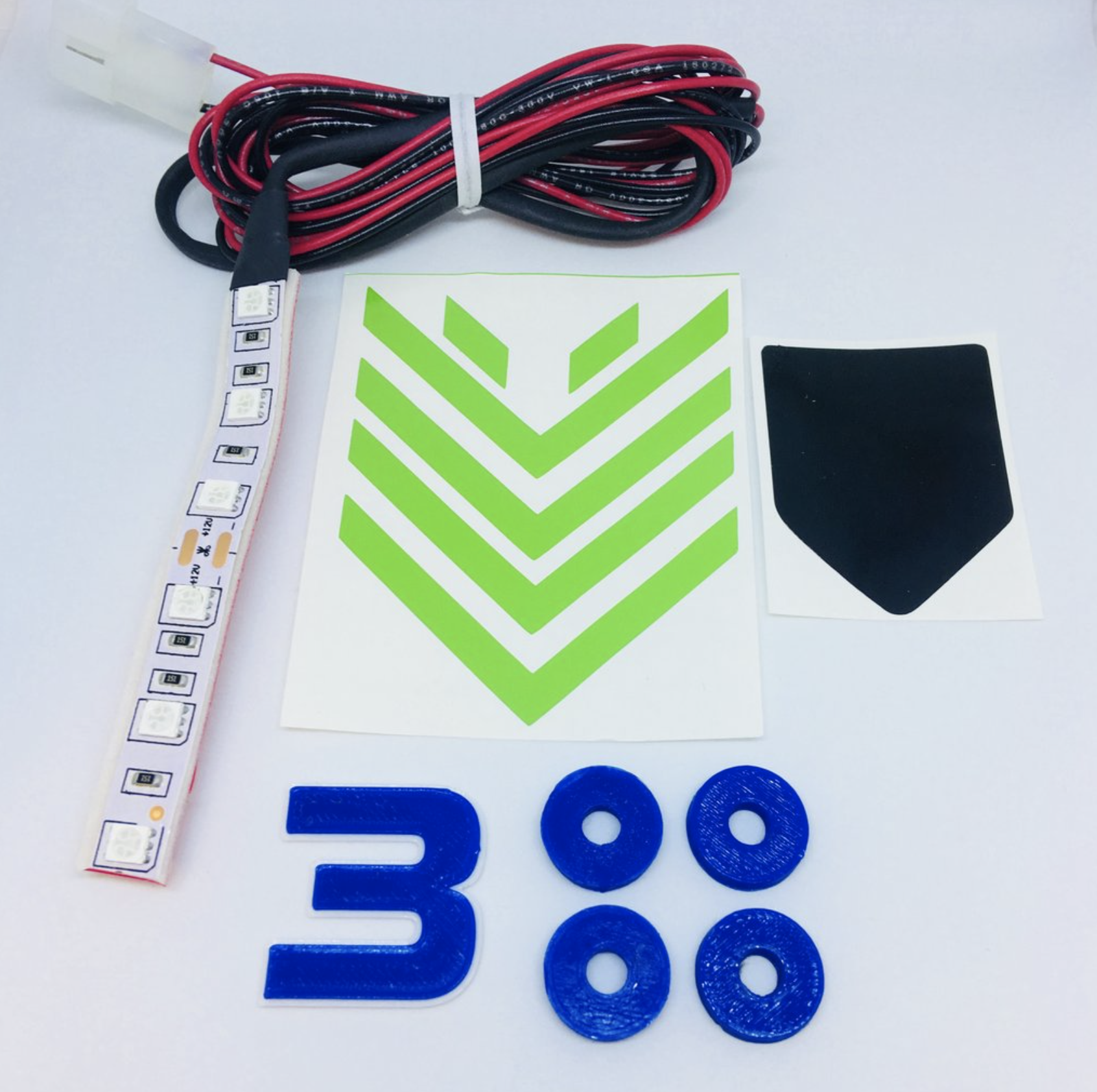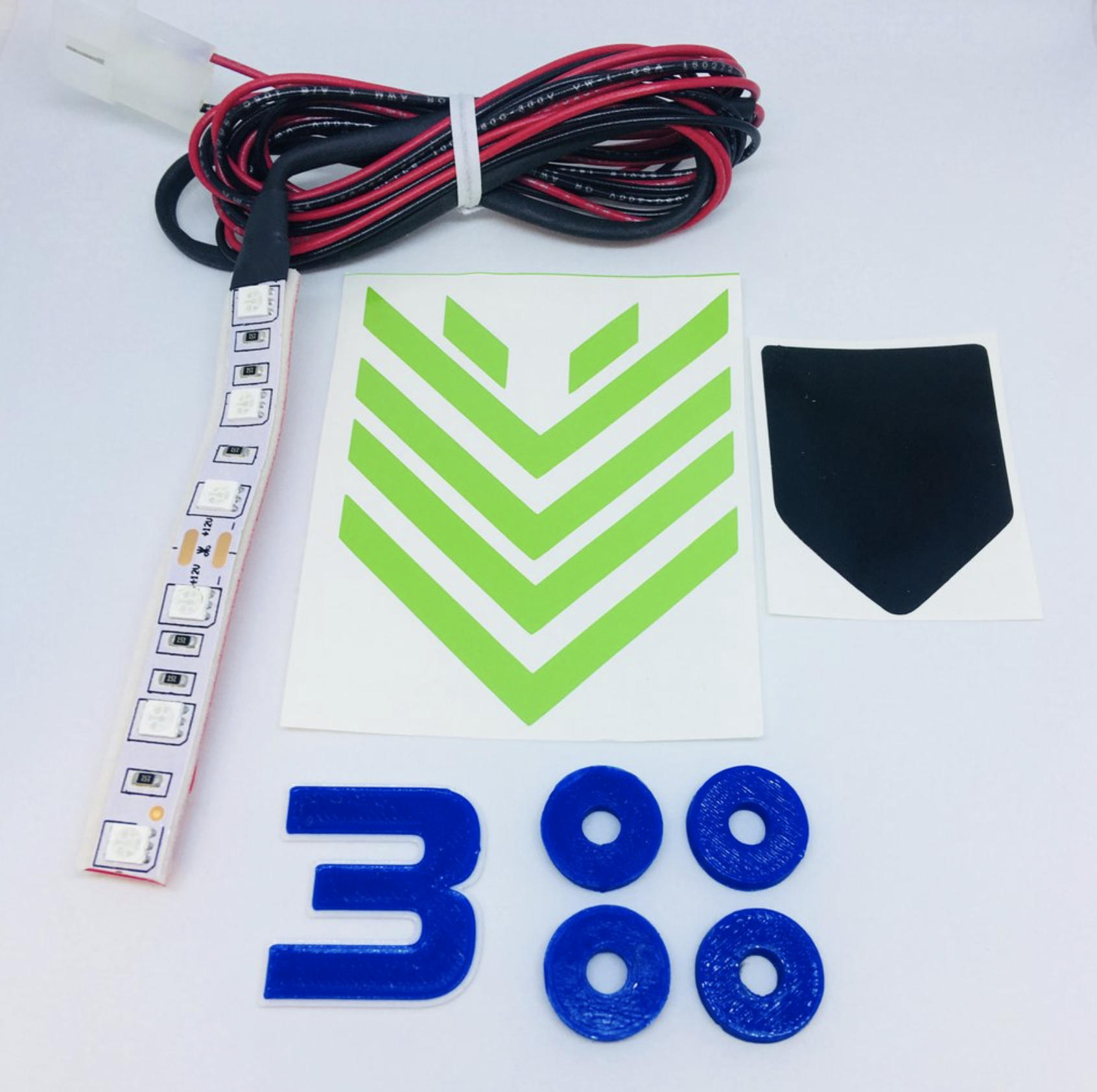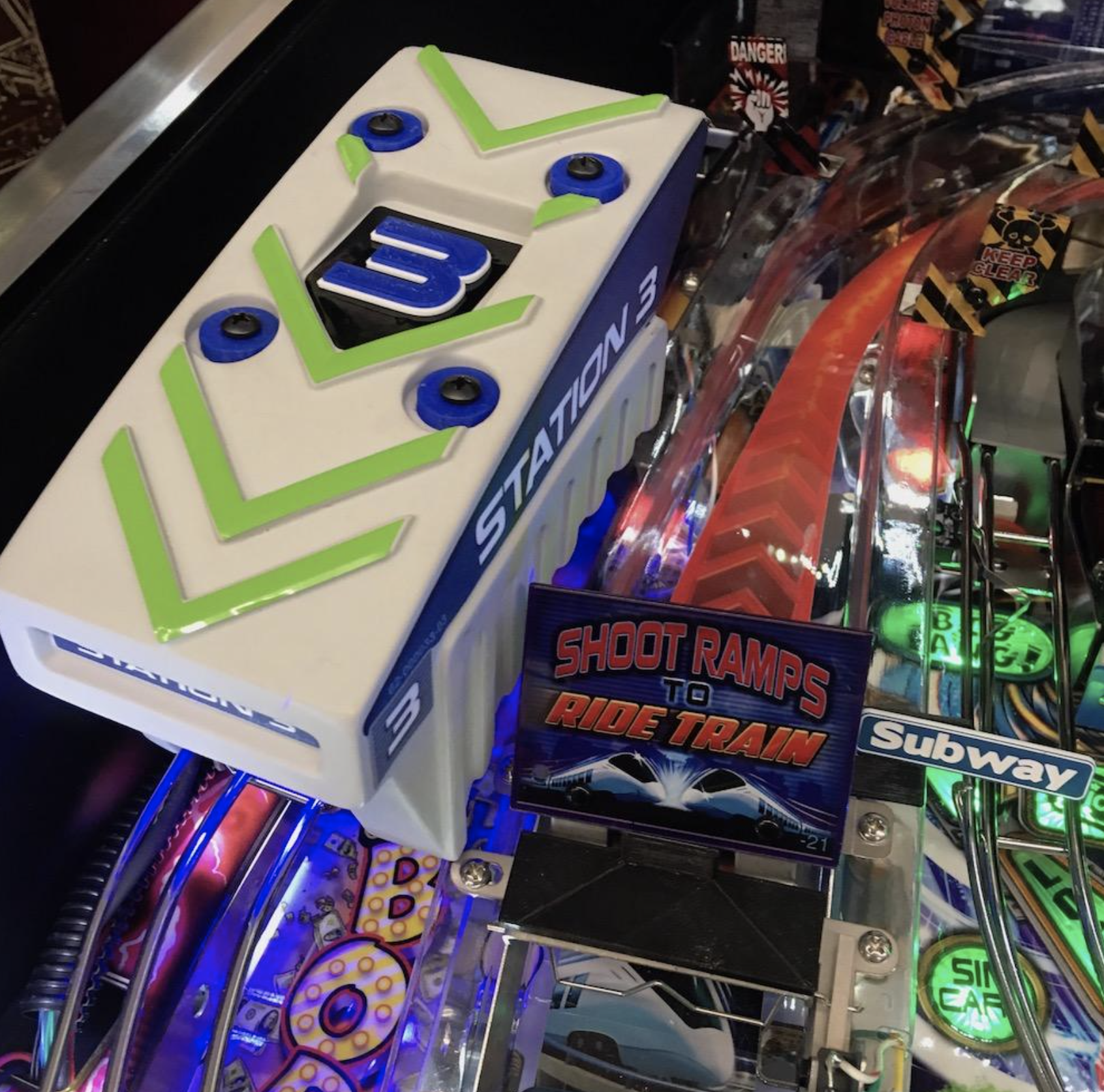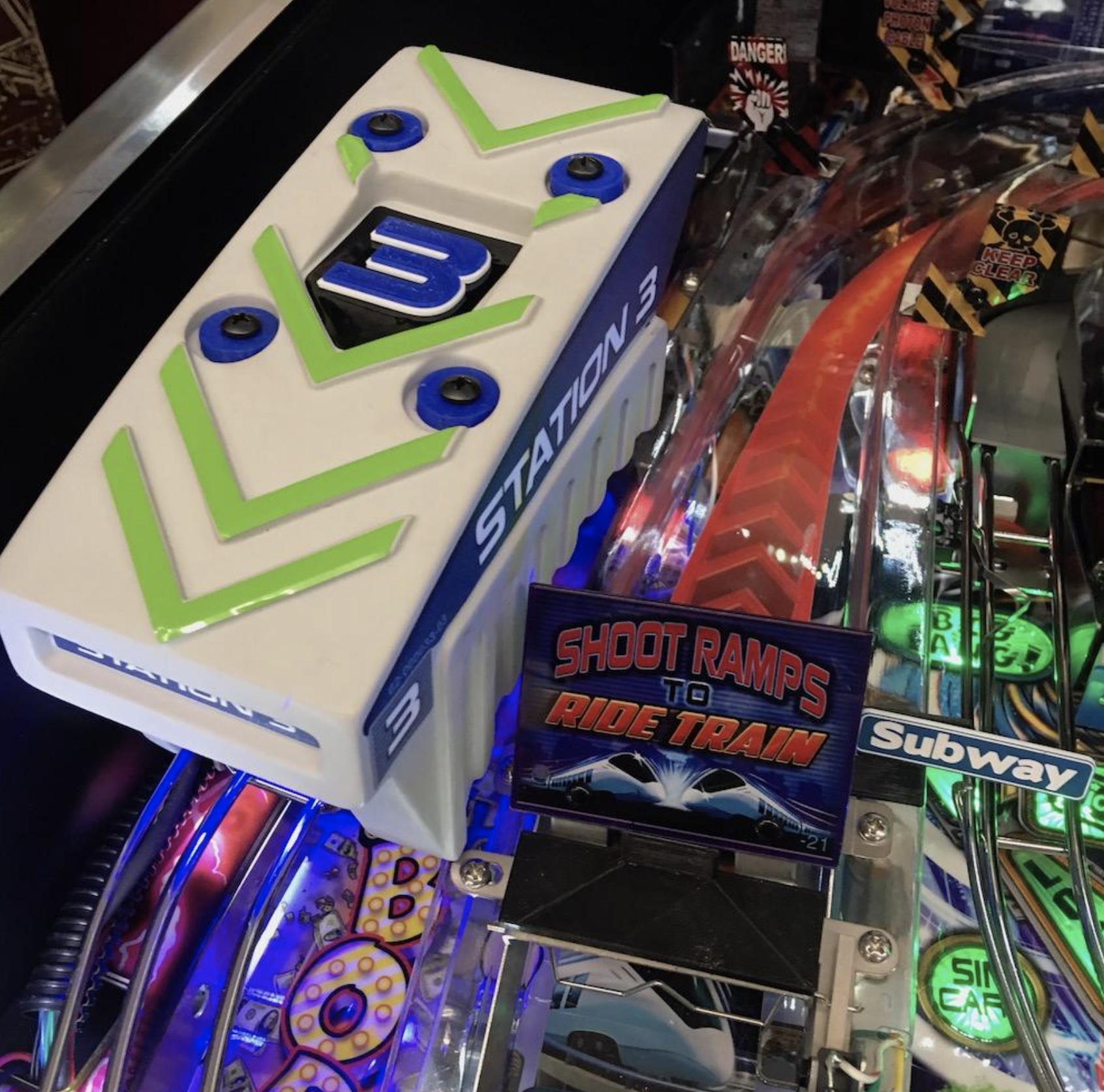 Do you want to sell your mod on Mezel Mods? Click Here to email them for more info!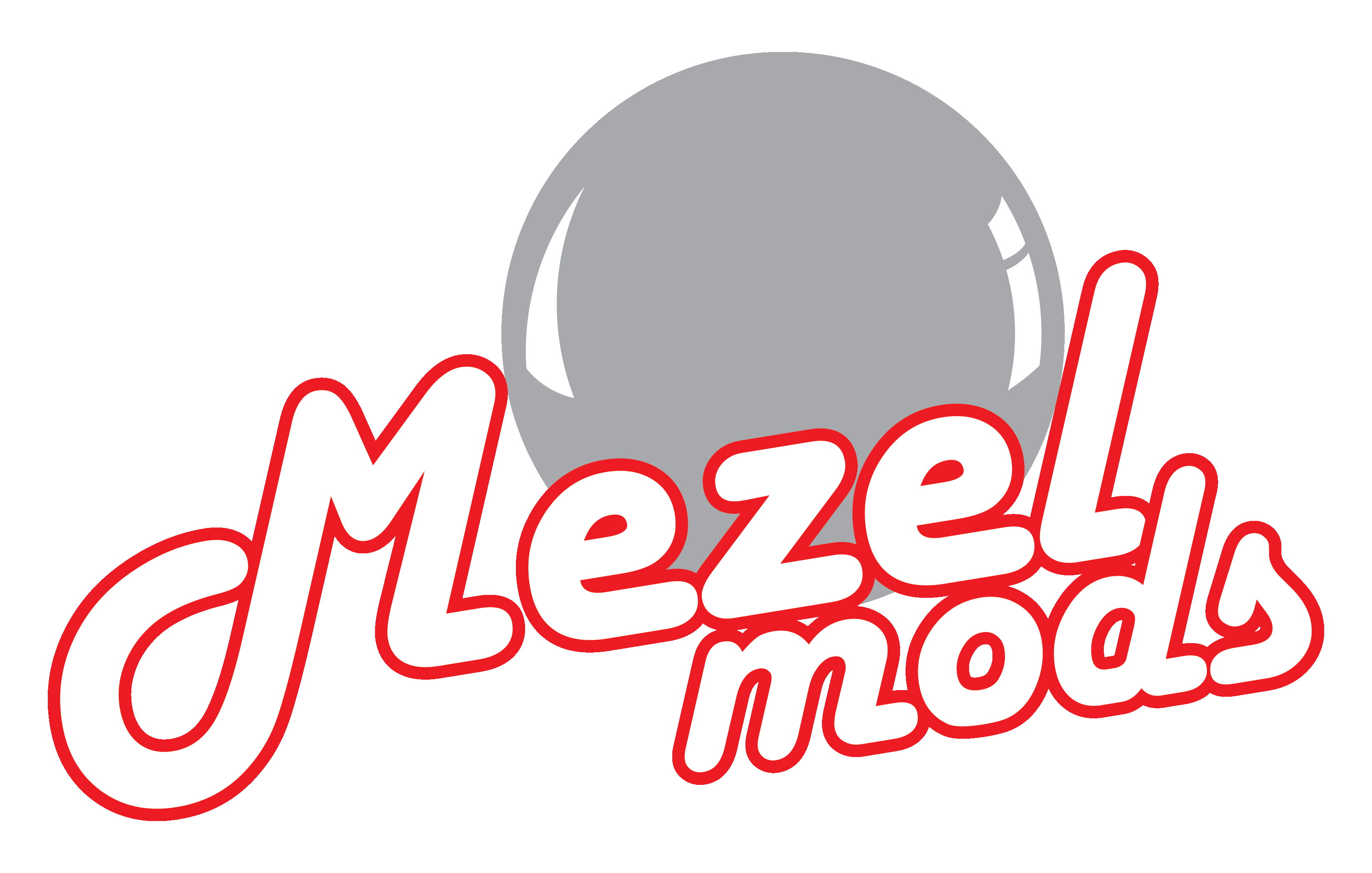 ---
Pinball Expo Update
In case you missed it, Rob Berk and Mike Pacak who have run Pinball Expo together for several decades, have now parted ways. For the initial story, click here. Rob had initially announced he plans to start a new show in September called Pinball Palooza at a new venue in Schaumburg, Illinois. Mike plans to go forward with a show in October on the same dates and location as Expo 2018 was scheduled, but with a different name.
We learned last week a couple new developments:
Chicago is the home of pinball and deserves a great pinball show.
---
deeproot Pinball Announces 5 Days of deeproot
deeproot Pinball had the following banners displayed at the Texas Pinball Festival: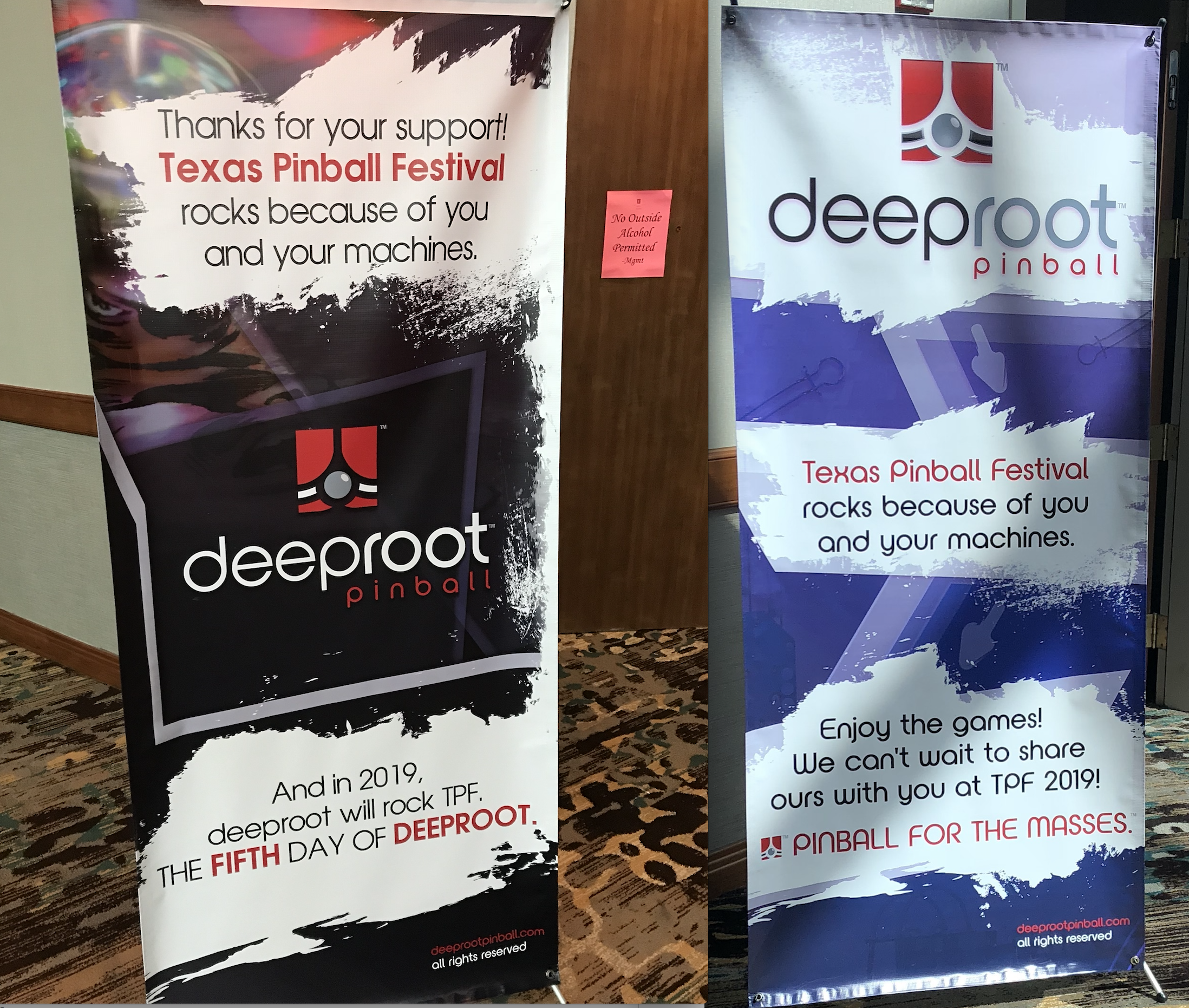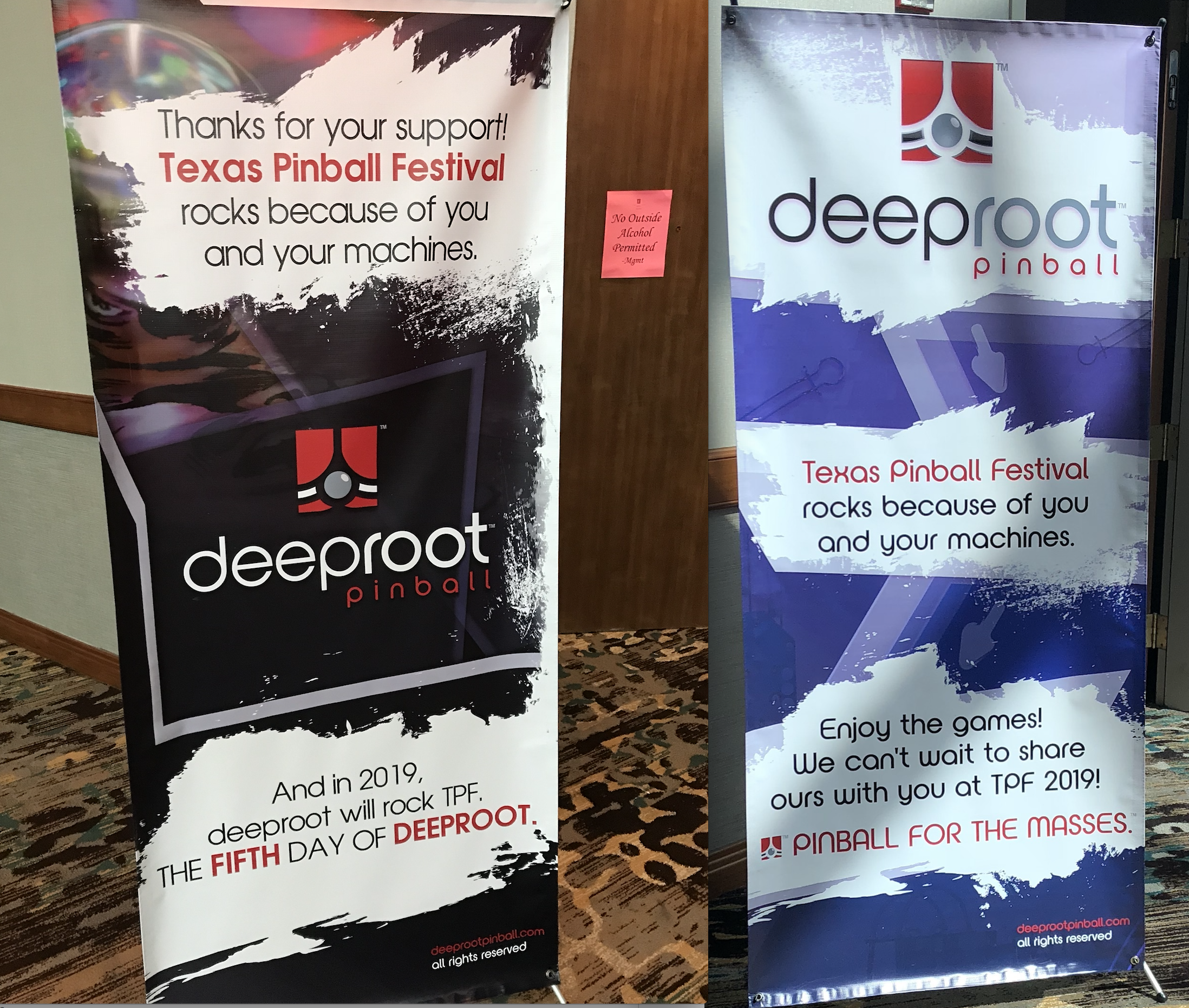 A few things to note on these banners. First, the banner on the right at the bottom implies that deeproot pinball plans to have more than one game at TPF 2019. Second, "Pinball for the Masses" seems to fit with their tagline of "Every family needs a Pinball…Every Pinball needs a family." Finally, the bottom of the left banner indicates that TPF 2019 will be the 5th day of deeproot. In the past, deeproot shared a tentative schedule for the Five Days of deeproot:
Day One: The deeproot Standard
Day Two: Design
Day Three: Immersion
Day Four: Culture
Day Five: Launch Event
So it appears that the Texas Pinball Festival in 2019 will be the official launch event for deeproot Pinball – stay tuned!
---
Barry Oursler Interview
Is this really the last article?? Many weeks this would be the lead story! The Little Kings Pinball Podcast (Soundcloud, Facebook) interviewed Barry Oursler last week, and in parts, Barry spoke about what is going on at deeproot Pinball. Listen to the full interview here! Here are some highlights:
On what he's doing at deeproot:
"I've been here about two months now, and I've already got two games laid out for them. You won't see production probably until the end of the year…"
On their current location (before deeproot's move to new facilities in April):
"We can build whitewoods and test the games, we just can't do production…"
On the manufacturing:
"I don't know for sure…but from what I understood, there are going to be four people at the station, and they're responsible for building the whole game…you don't do the same four screws over and over again all day long on 1,000 games…there is very little soldering on the games nowadays, everything is connectors, just plug everything in…I haven't really seen any of the details, I've only heard what they plan on doing with it…"
More on what he's doing at deeproot:
"…at deeproot I've already got two drawings done, I've got two whitewoods in two months…it is already done on CAD and I have a playing whitewood…"
On deeproot:
"I think we have a good team here, and we're going to make some good games and give the competition a good run for their money…"
---
WINNER of the KINGPIN TRANSLITE signed by Mark Ritchie and Stan Fukuoka!
Will be announced next Monday. Sorry!!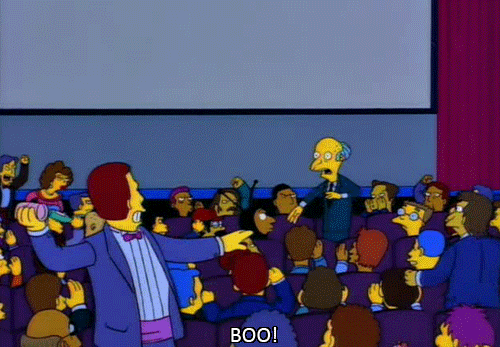 Still going through to make sure everyone gets the correct number of entries for the drawing! Thanks for all the entries!!
---
Victory Laps – End of Post Bonus
---
MATCH! – Next Game…What is Coming Up on This Week in Pinball
We'll have much more on Alice Cooper's Nightmare Castle coming up soon
We will be following the developments of Kingpin and give you updates when the new HD display and additional software is ready

Get alerts for new posts from This Week in Pinball – follow us on Facebook, Twitter, or sign up by email:
Disclaimer
Any articles, interviews, or mentions of pinball manufacturers or pinball products is NOT an endorsement.
Have a scoop or anonymous rumor? Email us at thisweekinpinball@gmail.com
---
Upcoming Games and Rumors
Stern Pinball
Most Recent Titles
Aerosmith
AC/DC Vault Edition
Star Wars
Guardians of the Galaxy
AC/DC Luci Vault Edition
Announced/Confirmed
Rumors of Future Titles
Iron Maiden?
Deadpool?
The Munsters?
The Beatles?
Jurassic World?
Pulp Fiction?
New Ka-Pow Title?
Steve Ritchie Unlicensed?

Spooky Pinball
Most Recent Titles
Rob Zombie's Spookshow International
Dominos (*contract game)
Jetsons (*contract game)
Total Nuclear Annihilation (*contract/house game)
Alice Cooper's Nightmare Castle <-MOVED!

American Pinball
Most Recent Titles
Rumors of Future Titles

Dutch Pinball
Most Recent Titles
Bride of Pinbot 2.0
Bride of Pinbot 3.0 (on hold)
The Big Lebowski (production issues)

Circus Maximus
The Pinball Circus Remake
Kingpin <-CONFIRMED

Phénix Pinball
Jersey Jack Pinball
Most Recent Titles
Wizard of Oz
The Hobbit
Dialed In
Pirates of the Caribbean
Rumors of Future Titles
Toy Story?
Willy Wonka?
The Muppets?

Chicago Gaming/Planetary Pinball
Most Recent Titles
Medieval Madness Remake
Attack From Mars Remake
Rumors of Future Titles
Monster Bash Remake?
Cactus Canyon Remake?
Big Bang Bar Remake?
Theatre of Magic?

Heighway Pinball
Most Recent Titles
Full Throttle
Alien (shipping)
Rumors of Future Titles

P3 (Multimorphic)
Lexy Lightspeed
Cannon Lagoon
Cosmic Cart Racing

Homepin
Thunderbirds (coming soon)

deeproot Pinball
Retro Atomic Zombie Adventureland?
Alice in Wonderland?
Magic Girl?
Original Houdini design?
Announced/Confirmed
Silver Castle Pinball
**TWIP dreams of the day
Harry Potter Pinball
will be added to these rumors. Ms. Rowling, accio Harry Potter pinball machine!

Get alerts for new posts from This Week in Pinball – follow us on Facebook, Twitter, or sign up by email: