North American Championship Series | Christopher Franchi Discusses Munsters Artwork/Features on TWIP Podcast | Dwight Sullivan Talks Munsters and Ghostbusters on Head2Head | NEW PRODUCT ANNOUNCEMENT: FUSION from Pin Stadium! | Scott Danesi Talks Second Game Timeline on Special When Lit | Ben Heck Missing Programming | Ben Heck vs Spooky Pinball | New Manufacturer Makes Big Hire | Name the Game | Mod of the Week | Upcoming Games and Rumors
---

— This Week's Top 5 Stories —
1. North American Championship Series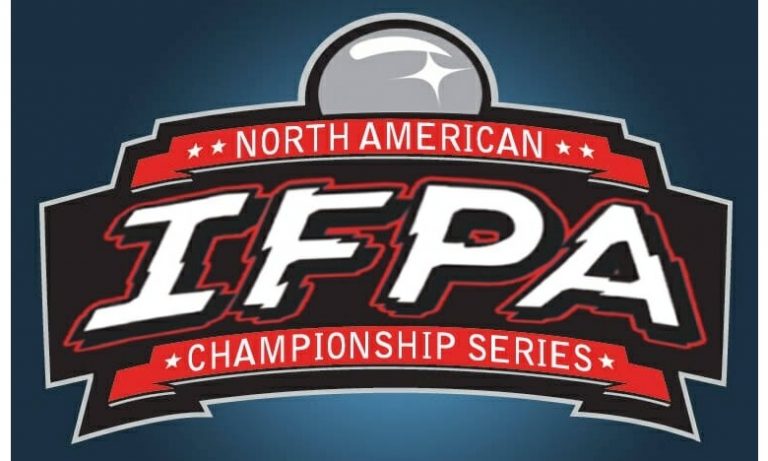 In the competitive pinball scene, the North American Championship Series took place over the weekend! Over 800 finalists qualified to compete for their share of nearly $70,000 in cash prizes. Winners of the states or provinces will also qualify for a spot in the IFPA North American Pinball Championship, which will be held Thursday, March 28th, 2019 in Las Vegas, NV. You can check out the winners and the standings for each state and province here.
This has also brought substantial local news coverage to pinball – just a few examples include:
There are many more local articles and should be even more next week.
CONGRATS to all the winners and competitors!!
---
2. Christopher Franchi Discusses Munsters Artwork/Features on TWIP Podcast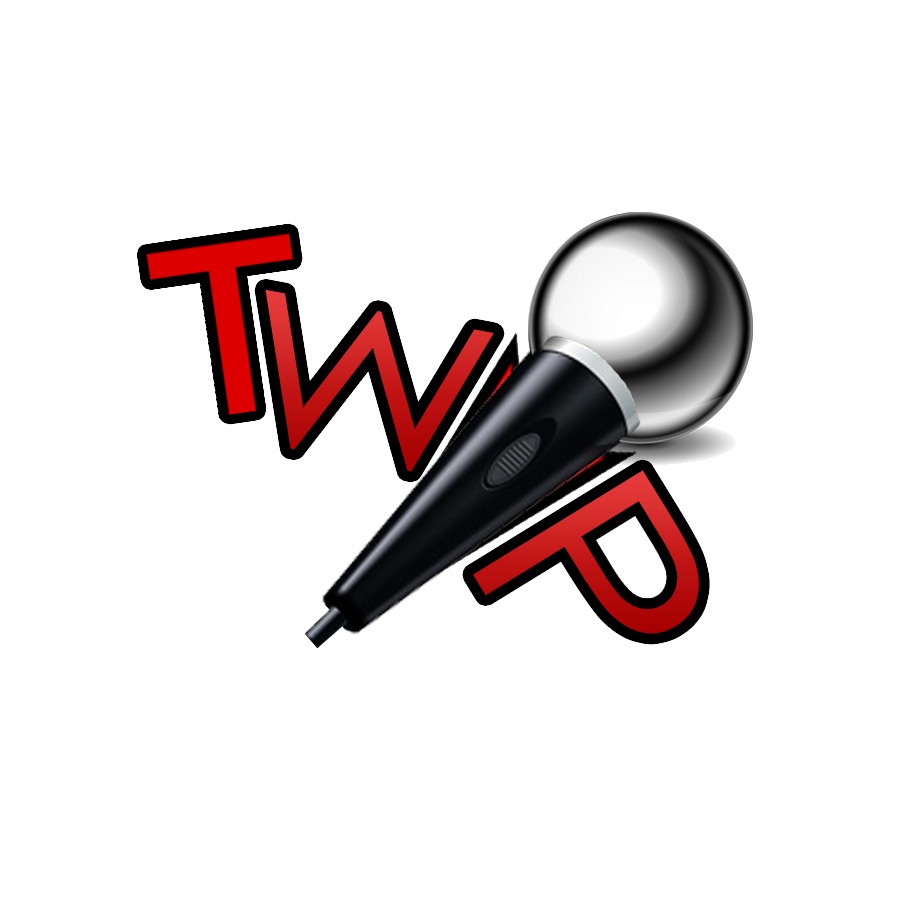 Christopher Franchi joined Zach Meny on the This Week in Pinball podcast last week for a segment called: A Closer Look with Christopher Franchi! Franchi discusses his thought process behind the Munsters artwork beginning at around the 44:00 minute mark. Here are just a few highlights:
On using actual casket handles on the Limited Edition Model:
My original plan was to do actual casket handles. But it is easy for me to dream this stuff up, and go "wouldn't it be cool…" and now everybody is going "oh, that would've been cool"…but when you've got people standing on the side of the machine watching you play, then they crank their leg or shin on the handle. Or somebody tries to pick it up and move it by the handles and the cabinet cracks because it is only for looks. So sadly, that went by the wayside pretty quickly and we had to just illustrate them, which visually still works.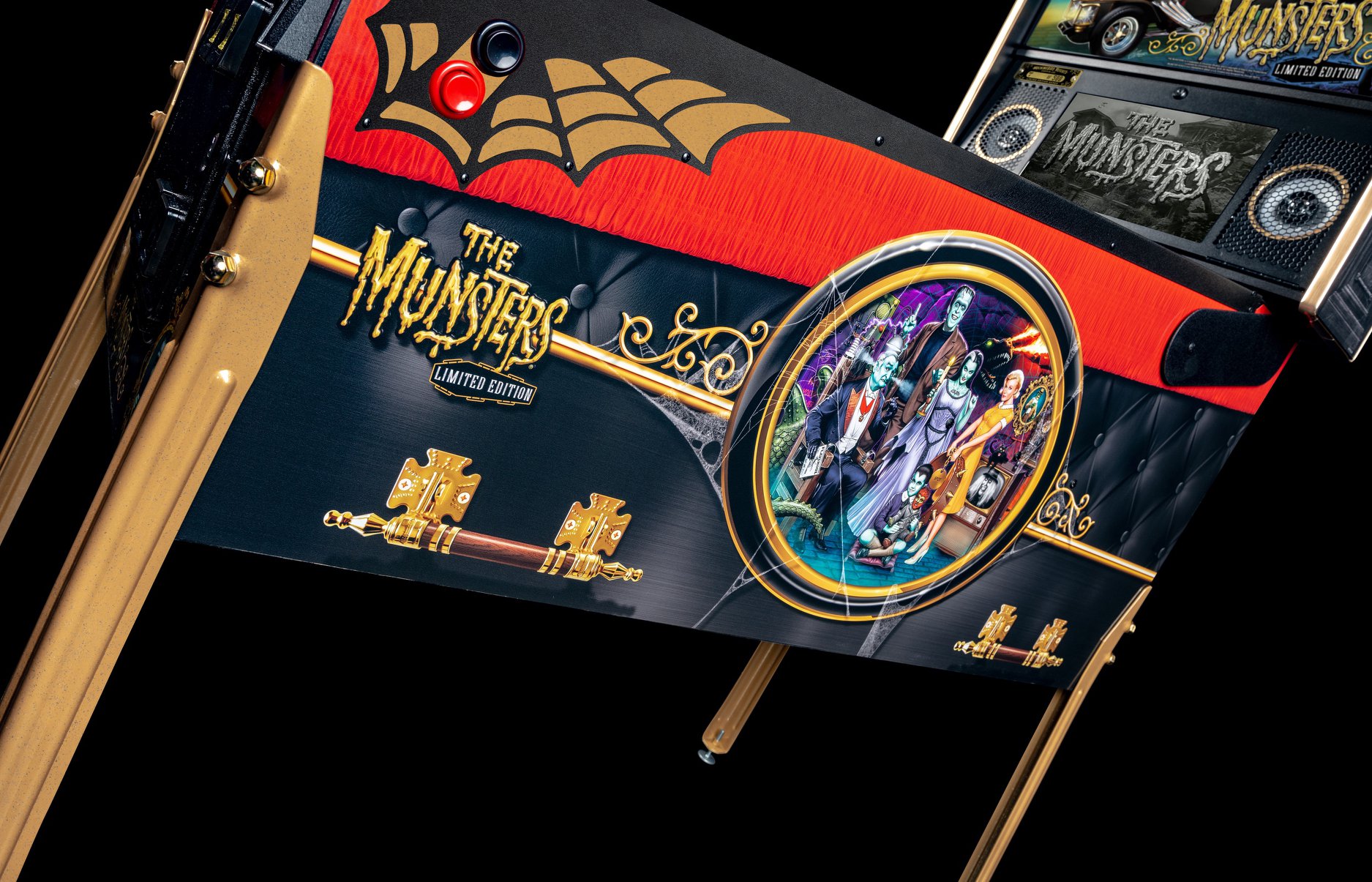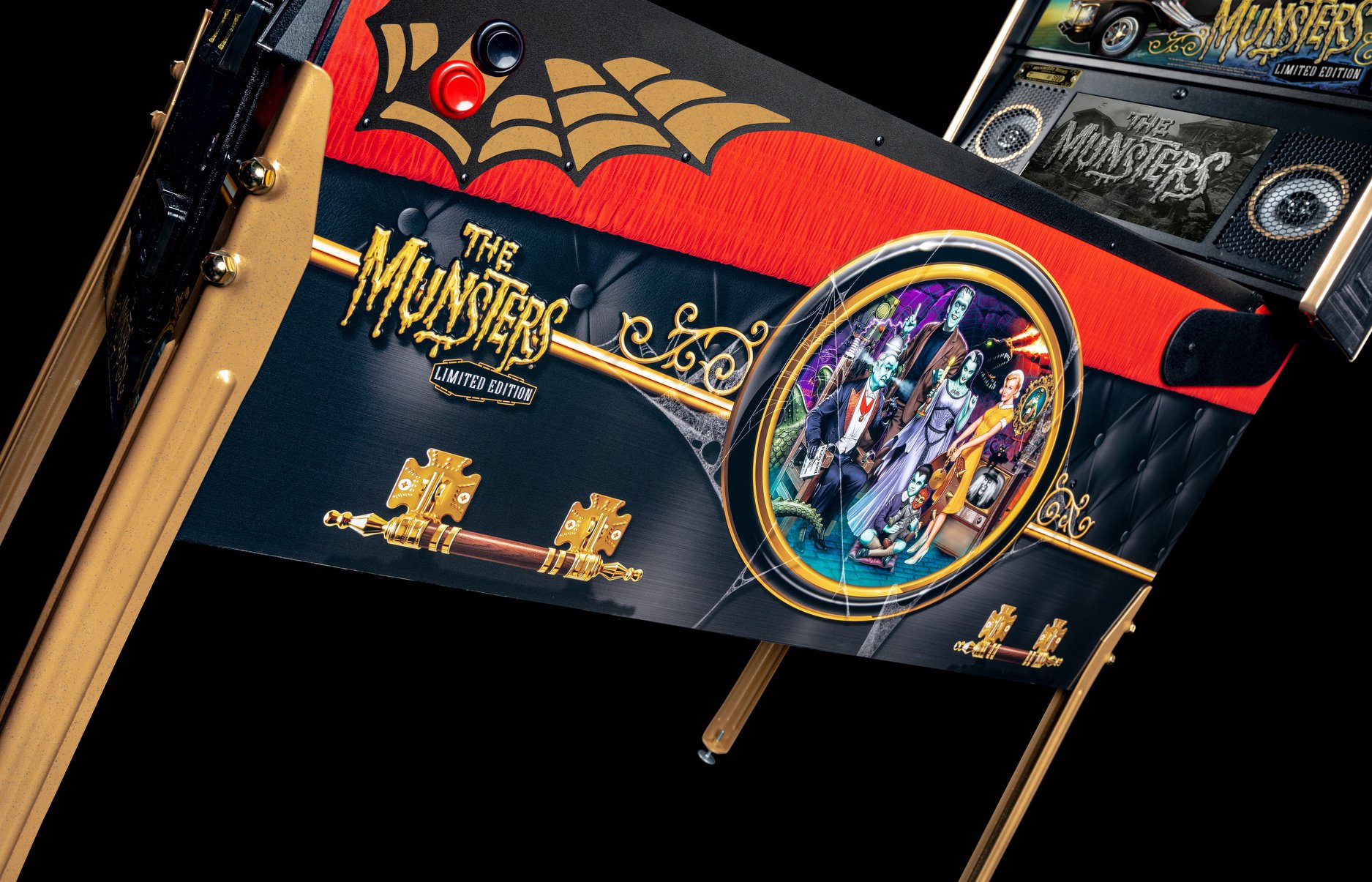 On the look of the wire forms on Munsters:
So we're [in a meeting] going through the CAD drawing…and I'm sitting there and right next to us, we have a whitewood, probably 75% complete. And he [John Borg] is pointing things out and I'm sitting down, and I'm kind of stretching up and looking over the rail into the playfield, and I see these wire form ramps. And they look like nickel, they're not chrome, they're like a dull metal. And wherever there is a spot weld there is a black singe mark on it, and I'm thinking "what is this" because I've never seen these unfinished…and I'm looking at it and I'm like "That is so Munsters" and…I said you have to keep these like this…it is perfect just like it is. Luckily they agreed. It wasn't a cost cutting thing at all, it was an aesthetic choice. They still have it clear coated, but it was with that look. And it just looks fantastic in the game…John is very collaborative, it is – the word "team" is just perfect [for the group that worked on Munsters].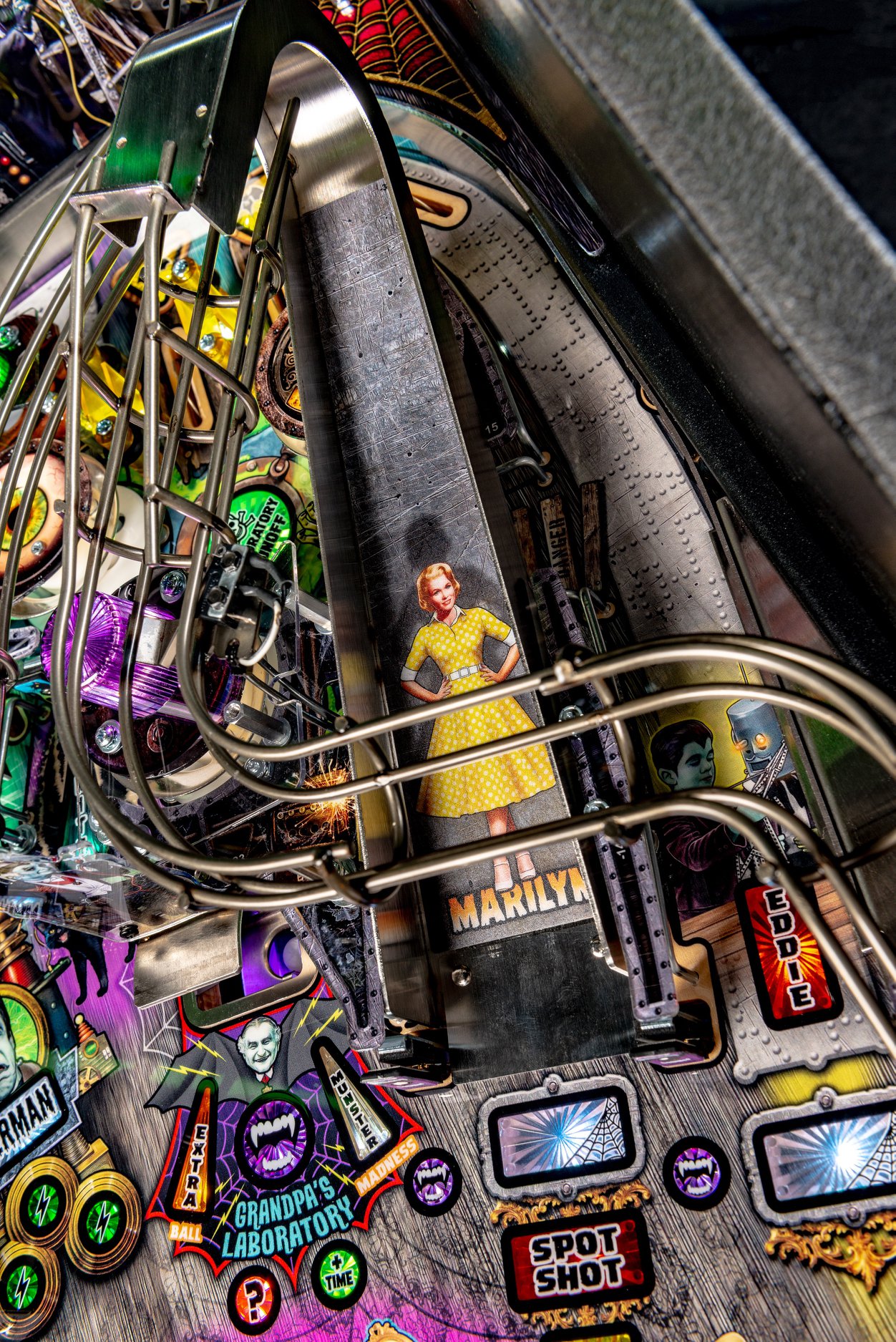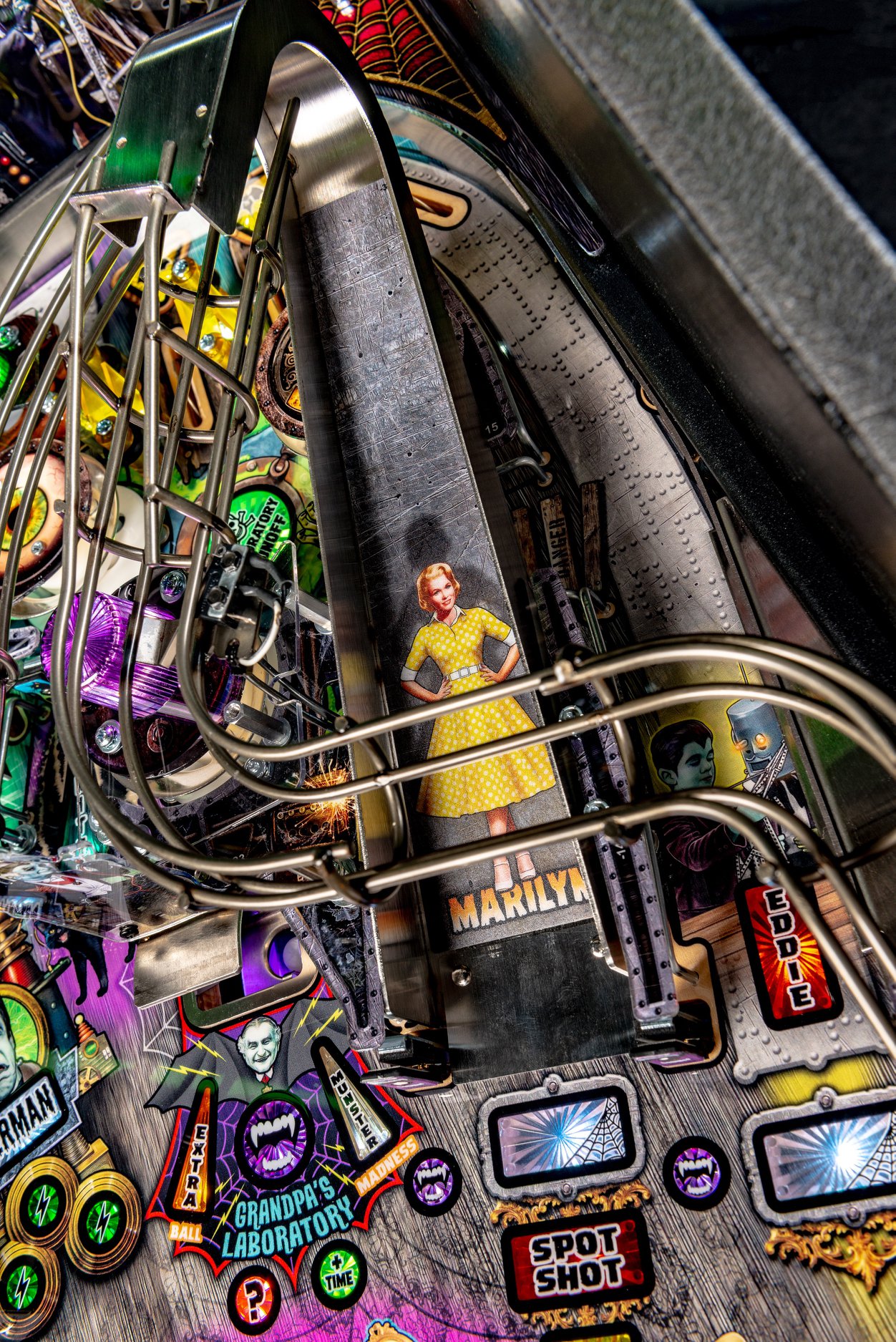 On his mom:
My mom's name is Fran. So her name is Fran Franchi.
Check out the full episode here!
---
3. Dwight Sullivan Talks Munsters and Ghostbusters on Head2Head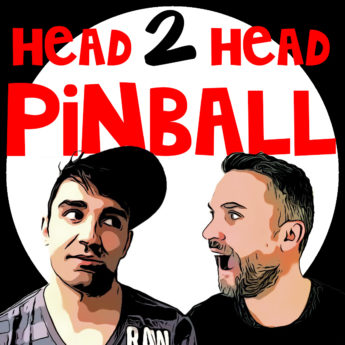 Dwight Sullivan joined Marty and Ryan at the Head 2 Head Pinball Podcast last week to talk all things Munsters! Along with discussing Munsters, they also had this conversation regarding Ghostbusters Pinball:
H2H: What are your thoughts on where the code is?
Dwight: So you're asking me what I think should be fixed on Ghostbusters?
H2H: Yes, without having to tell us what has been fixed because you can't…I guess what I'm really asking is do you think it is a monumental task ahead of you?
Dwight: No it is not monumental…but every code takes much longer than you think, even the simplest thing is usually a few days of work. So Ghostbusters, what I would like to see is…one of the highest things on my list is…I think the game is too messy. I think that when you're playing it and you're working your way up that center ladder of ghosts that you have collected, too many things are stacking on top of each and it is just a big hot mess. I would like to see looping supers never stacked with anything else…I have ideas of how I would fix this, and I have to actually get there and fix it. I want that [looping supers] to be kind of a moment.
H2H: The Librarian insert at the scoop – is that something that is on the to-do list?
Dwight: Now it is. The library insert was never designed to be a feature or a mode or it's own little rule, it was only supposed to be an indicator of – "hey, shoot here" because you're playing a librarian mode. And sure it is under used, I agree, but it was never ever meant to be a feature, never meant to be much more than it is right now. But now it has become a thing, so it will probably get its own little rule.
H2H: So [the possible wizard mode Are you a God] was on the instruction card…
Dwight: That was never meant to be part of 1.0…Ghostbusters is messy and I wish I could clean that up and there are some bugs, and of course I would love to fix bugs, and I will as soon as I can. I think We Came We Saw We Kicked its Ass could be a little more polished…it should be worth more and could be a little more interesting. But I think Ghostbusters is "complete", if it wasn't buggy and wasn't messy we could call it done. Are You a God is a wizard mode that I thought about, and I put it on the instruction card and that was a huge mistake…it didn't have a design…it was kind of flavor text on the instruction card. We could do that someday, but it never happened and I don't know if it will.
Check out the full episode here!
---
NEW PRODUCT ANNOUNCEMENT: FUSION from Pin Stadium!
Yes they are a sponsor/supporter of TWIP…along with most of the pinball content providers…but there is a reason the Pin Stadium products are popular – they completely change your experience with the game!
So a 20,000 foot view of Pin Stadium, if you are not familiar. Previously Pin Stadium had four main products:
Pin Stadium Lights: The actual general illumination light strips that magnetically attach to the inside of your cabinet just under the glass. They synchronize with the pinball machine's GI lights for modes, multiballs, etc.
UV+Glow Flasher: This is an added feature (extra $50) that you connect to a flasher in the game, so during certain exciting moments of the game (multiballs, jackpots, etc.), the Pin Stadium Lights will provide an additional light show when your flashers in the game are active.
Invisi-Shield: This is an added feature (extra $20) to hide the Pin Stadium Lights from side angle views (for example, if you have three machines in a row that have Pin Stadium Lights and you're playing the one in the middle, without Invisi-Shield you can see the GI lights on machines on your left and right – with Invisi-Shield you those lights are hidden).
Orion's Belt: This product is like the UV+Glow on steroids – it is a separate strip of lights dedicated for flasher effects that can plug into four different flashers, and can be individually customized to the colors and brightness of your choosing.
The Pin Stadium products also generate their own WiFi signal so that you can connect to them with your tablet or smartphone to control of the light colors and brightness. They work on any pinball machine and they can be transferred over to other machines if you sell or trade one.
Still with me?? Well, last week Pin Stadium Lights announced a new product that combines all FOUR of the features above – it is called FUSION. It combines Pin Stadium GI Lighting, UV+Glow Flasher/Orion's Belt, and Invisi-Shield for an "all-in-one" option: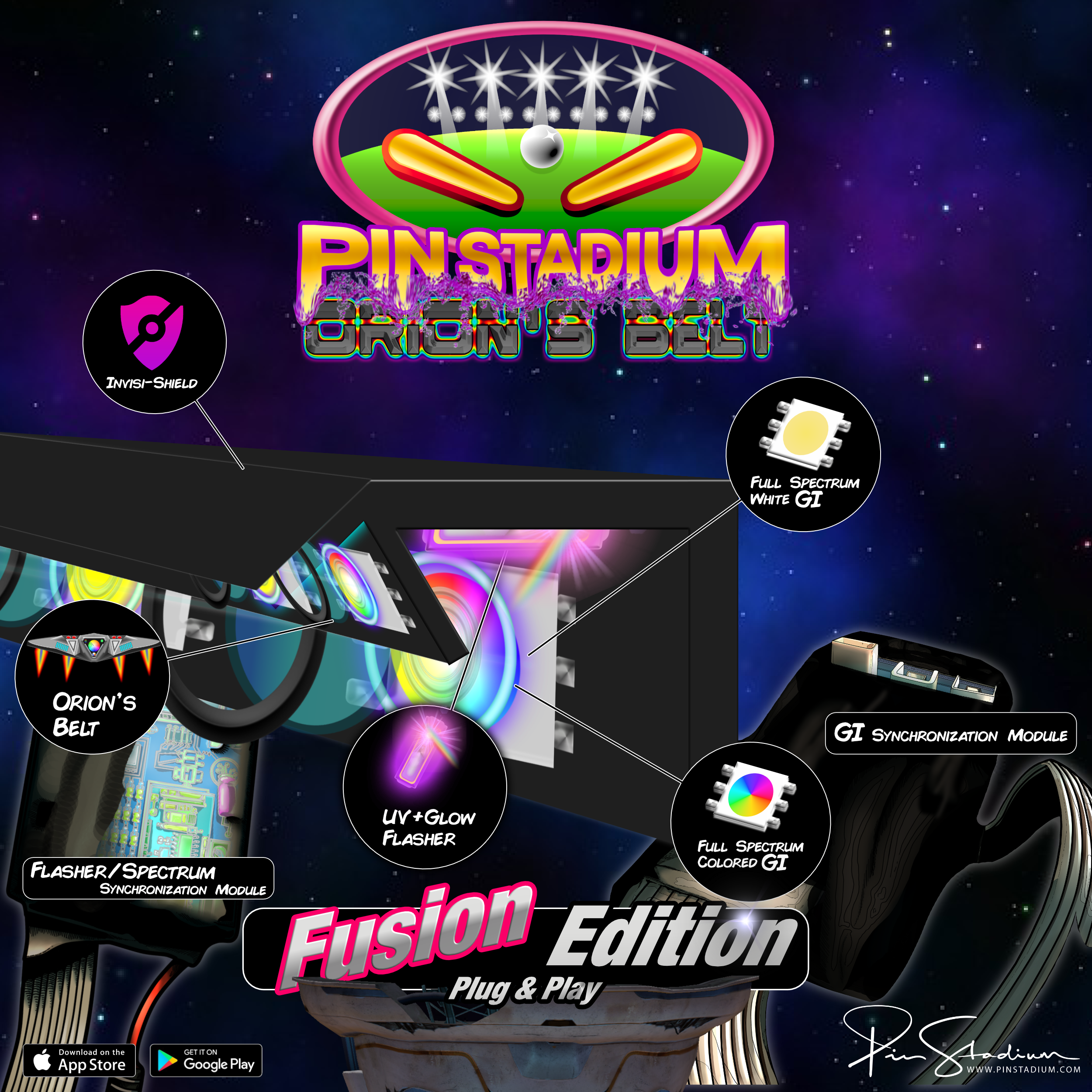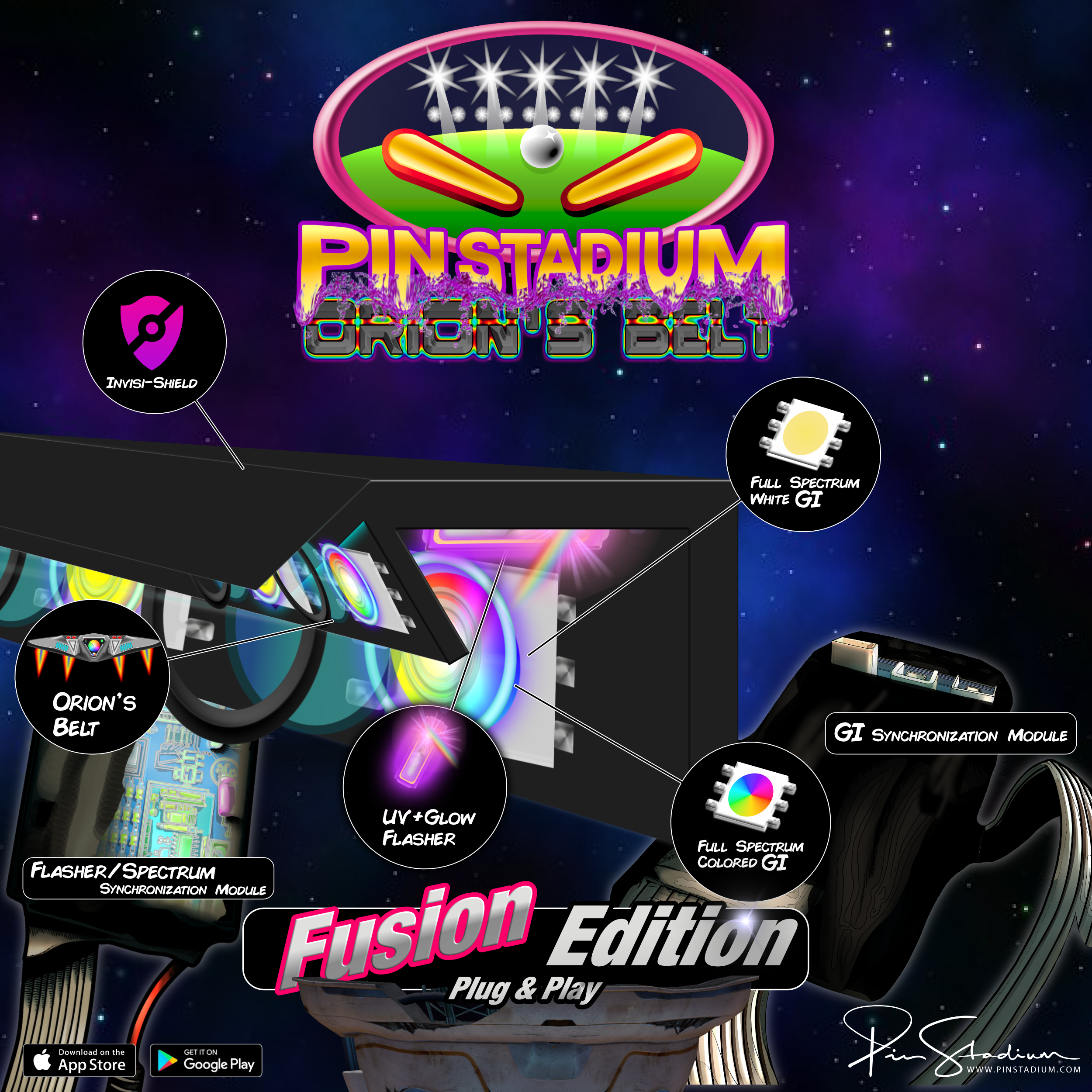 ---
4. Scott Danesi Talks Second Game Timeline on Special When Lit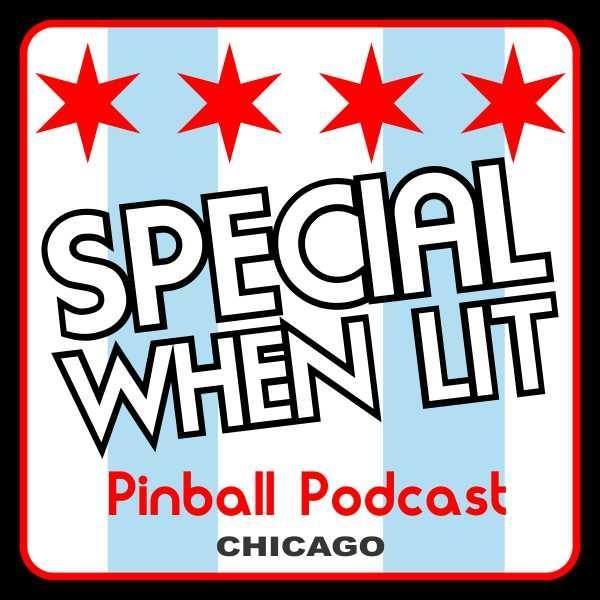 Scott Danesi joined our friends Ken and Bill on the Special When Lit Pinball Podcast last week! At one point they touched on a possible timeline for Scott's second game:
SWL: And you've got game #2 the is coming along…let me just be upfront with you and ask you…do you think we'll see part of this game at some point before the end of 2019?
Scott: I really hope so. My goal is to have that shown before the end of 2019. But we want to make sure Alice Cooper is really far along. And Charlie wants to do this thing where he announces and shows a game and then says "oh, by the way, we've already been making them, you can start buying them now. Even though Charlie is probably only going to be able to make like 10 ahead of time – it is a very low number so people will still have to do the wait but at least people will get it…he really wants to do that.
Check out the full episode here!
In other news on Scott Danesi game #2, Spooky posted the following pic on their Facebook page, clearly teasing the logo for Scott Danesi's Haunted House Party: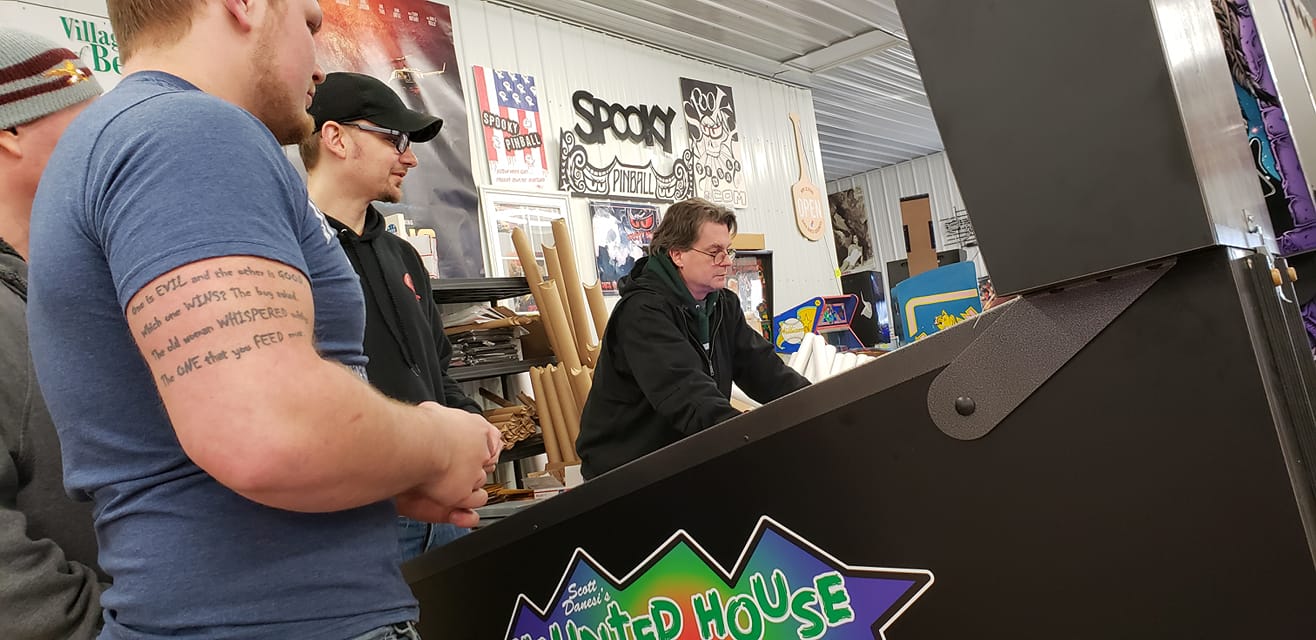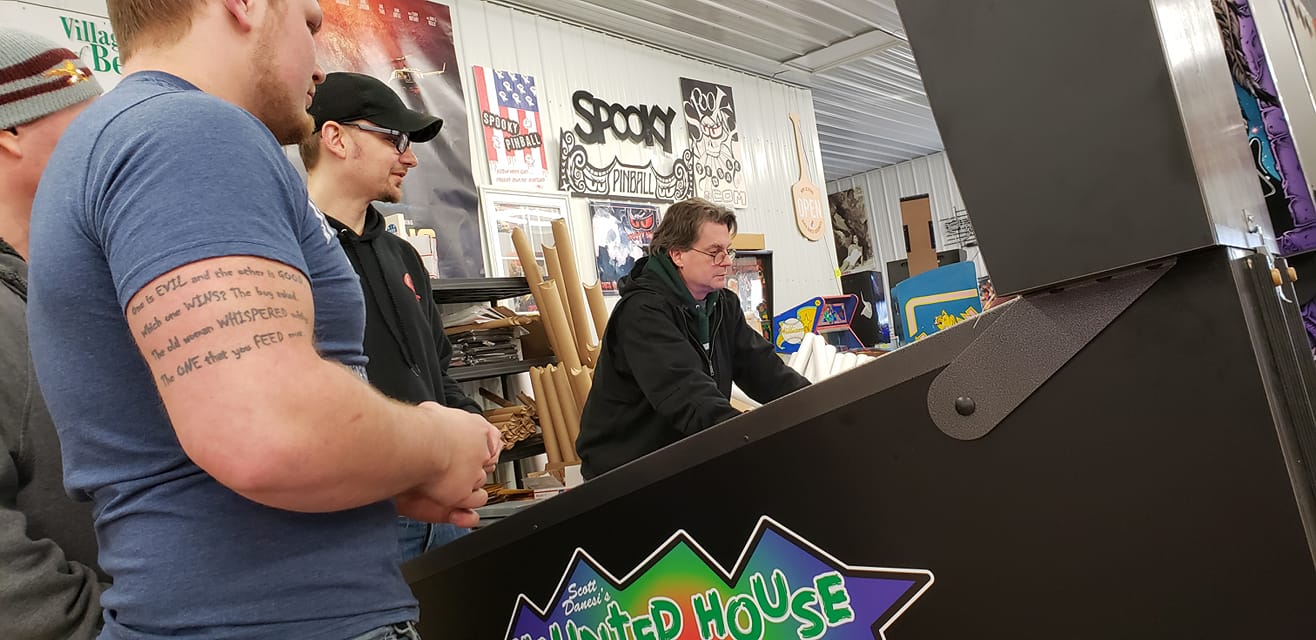 What do you all think the chances are the Scott Danesi's second game is called Scott Danesi's Haunted House Party? TWIP will guess… 0.02% chance. Looking forward to seeing and learning more about this game soon!
---
5. Ben Heck
Ben Heck posted a couple interesting tweets last week – first off, he shared that he missed programming pinball machines and Keith Johnson messaged him to talk via direct message: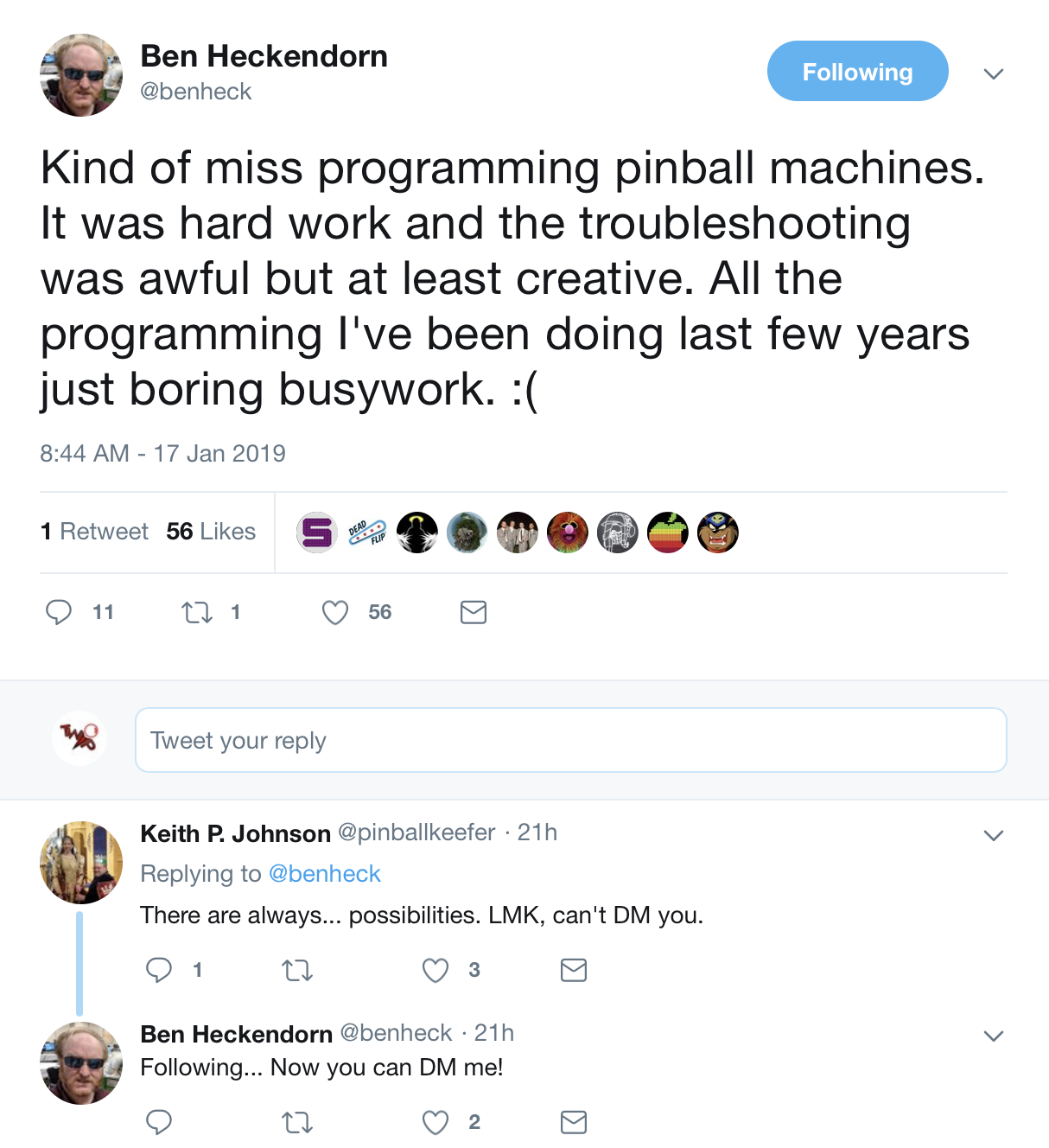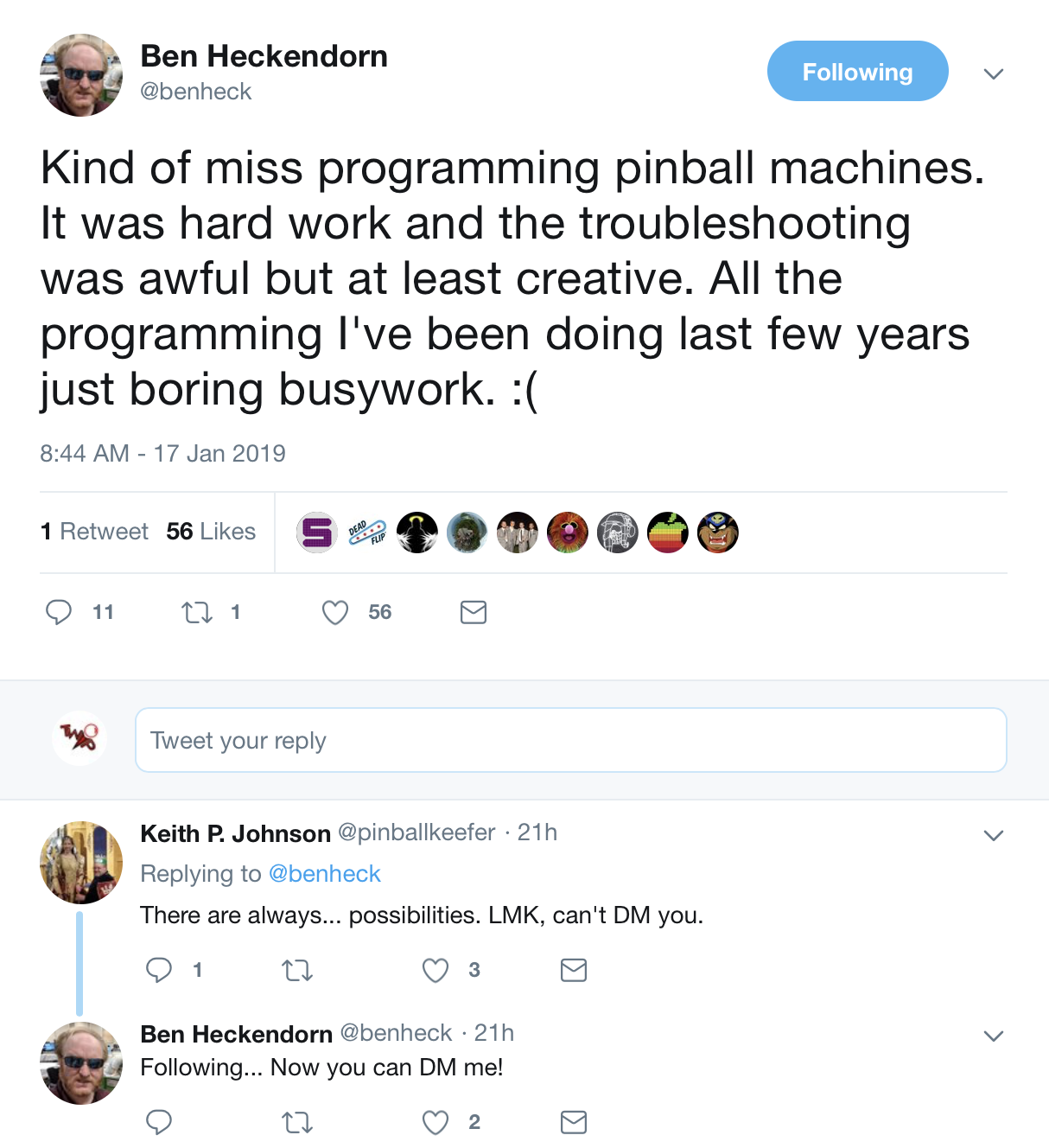 Then in the same Twitter thread, he strongly insinuated he had been working on an Evil Dead themed pinball machine for Spooky before they parted ways: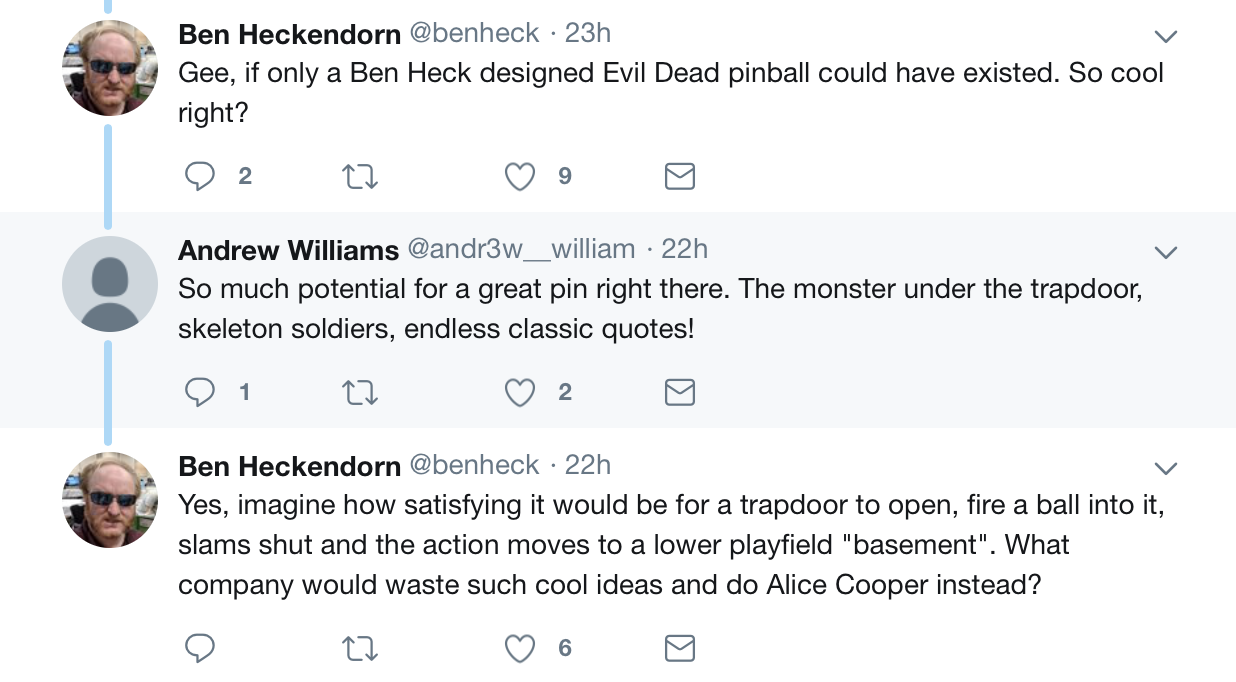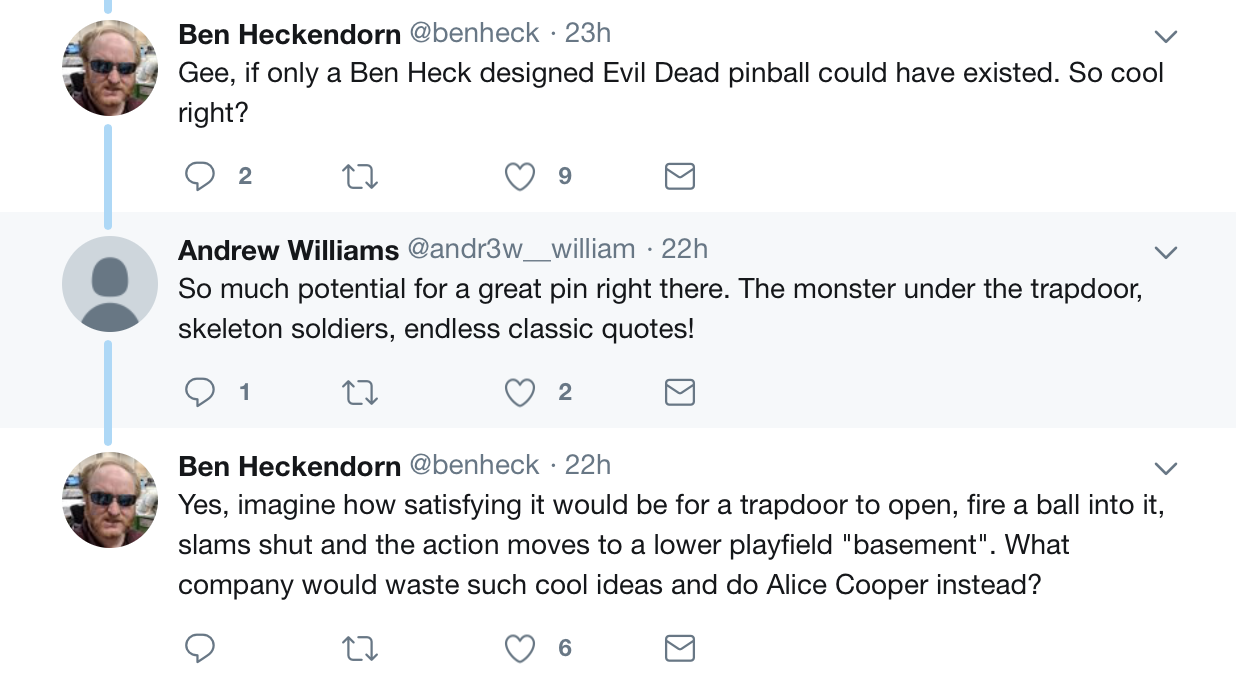 As you can see he also took yet another shot at Spooky Pinball. Ben has publicly criticized Spooky many times now, and this week Charlie Emery finally responded in this post on Pinside which read:
You started quitting during AMH because "you had zero faith in the pinball buying public" due to the slow sales start. I still have the email with you saying exactly that.
I offered you half the company to become a full partner during AMH because I thought it would be best for all of us (and I was really afraid you were going to leave!)… you "were making too much money and couldn't take the risk" so you passed and I accepted it.
You quit during RZ, you quit at least every other week while we had you on the payroll helping with ACNC and designing your next game.
The license on your game came down to 1 camp asking for more money than we had to give… we tried to make it work with them, we offered you multiple options to chase other licenses, and offered to let you make whatever original game you wanted where you would have more creative control. You weren't satisfied with any of this, so you quit… then you quit more, then you quit publicly.
Despite all this, we still hoped to help you finish the game we paid for you to develop… even up to a couple months ago. Having it sit here collecting dust sucks. BUT… you can't stop attacking me / Spooky publicly, and stating your version of history… so the desire to do that is fleeting fast.
You CHOSE NOT TO BE HERE. We never wanted you to leave.
First and last time I will say anything on this publicly. This should have been between Ben and Spooky. Period. I have never denied and never will the importance of Ben Heck helping Spooky getting started.
Typing any of this sucks.
It is tough to see this fallout between Ben and Spooky, and hopefully things will get more amicable over time.
---

— What Else You Need to Know Today —
New Pinball Company Makes Big Hire – Coming Thursday
A company that is looking to become a pinball manufacturer, and possibly bring games to the Texas Pinball Festival, added a well known member of the pinball community to their team last week. Details coming Thursday on TWIP!
---

Identify the pinball machine pictured below for a chance to win a limited This Week in Pinball Lapel Pin! Drawing will be held monthly!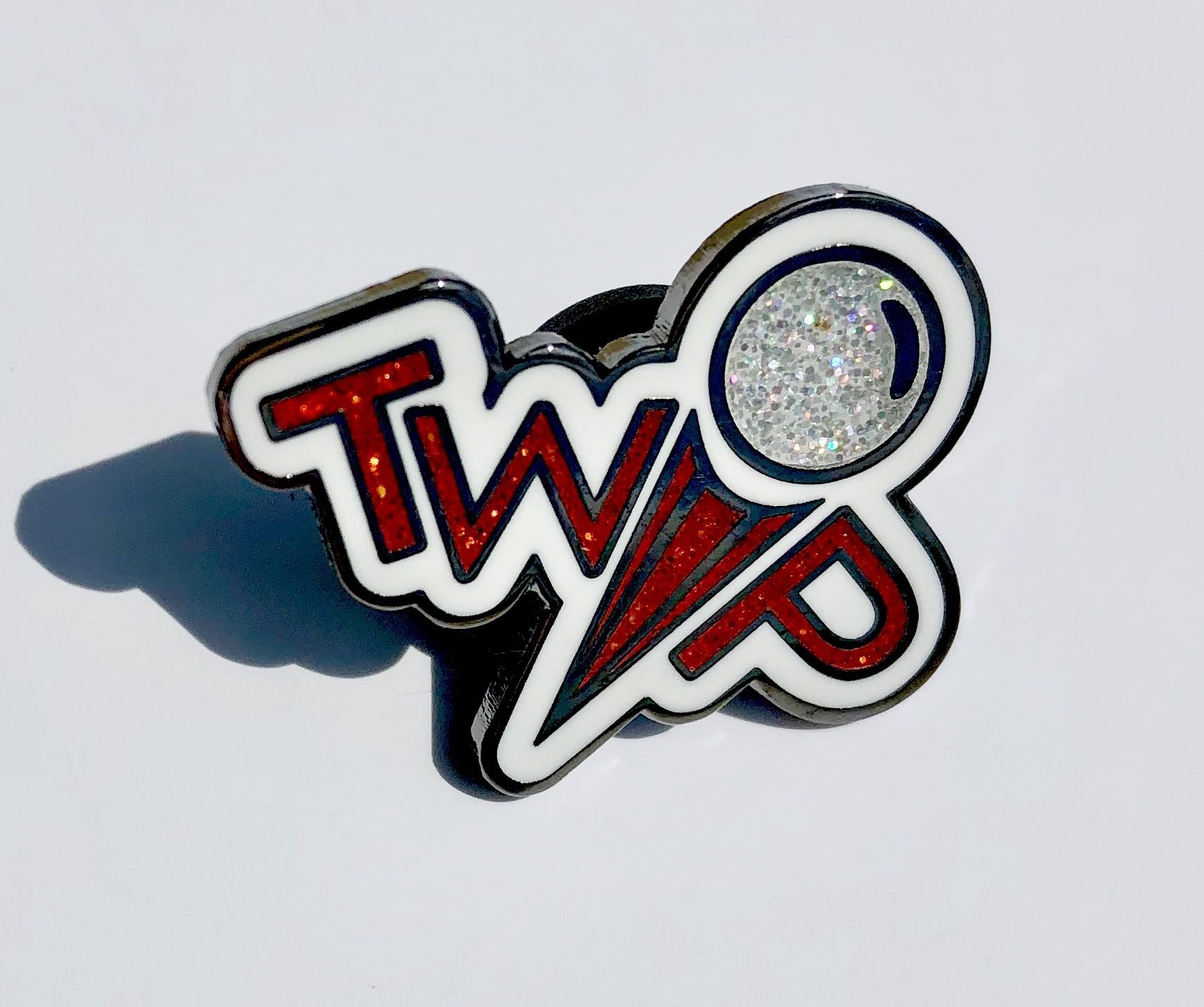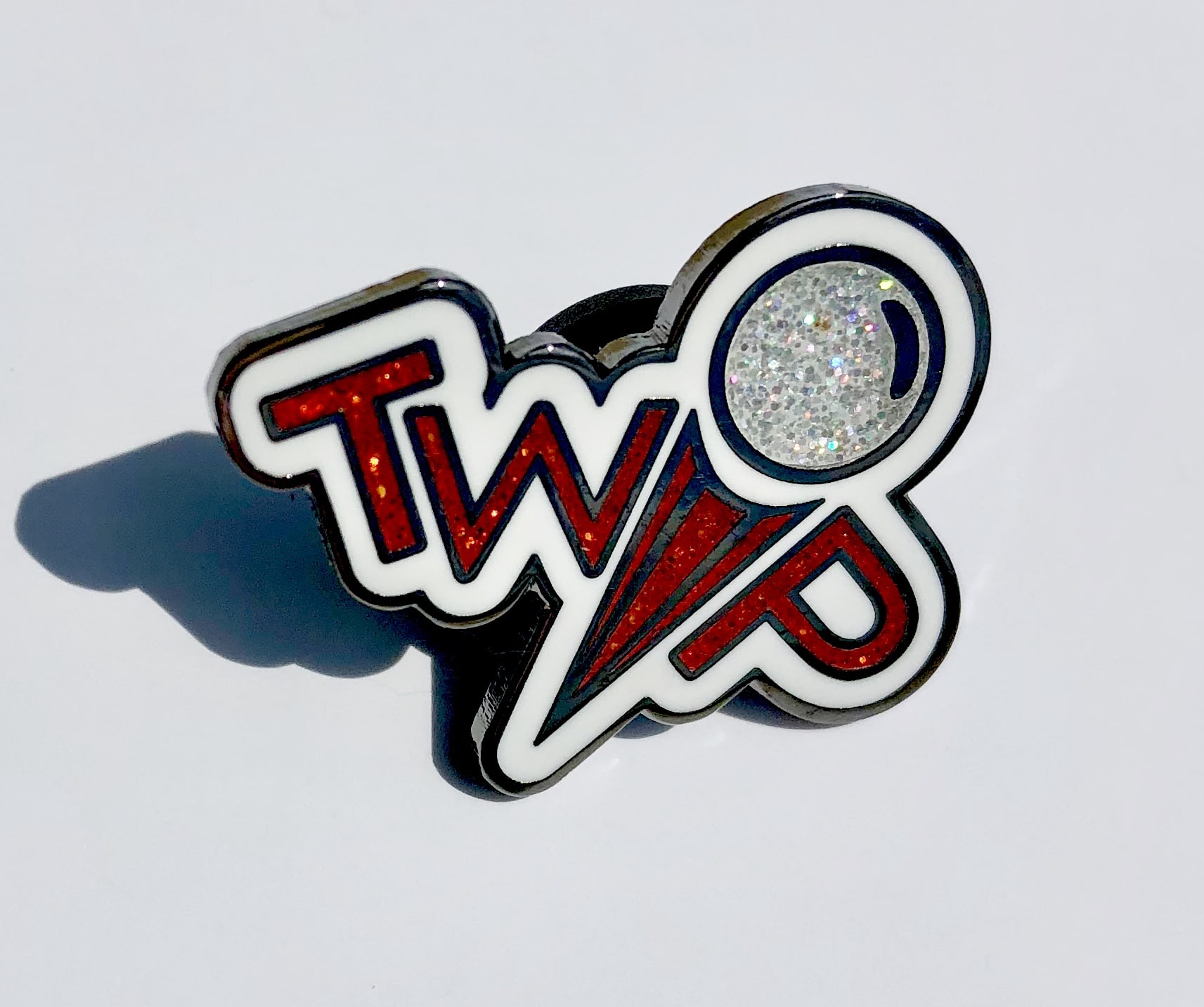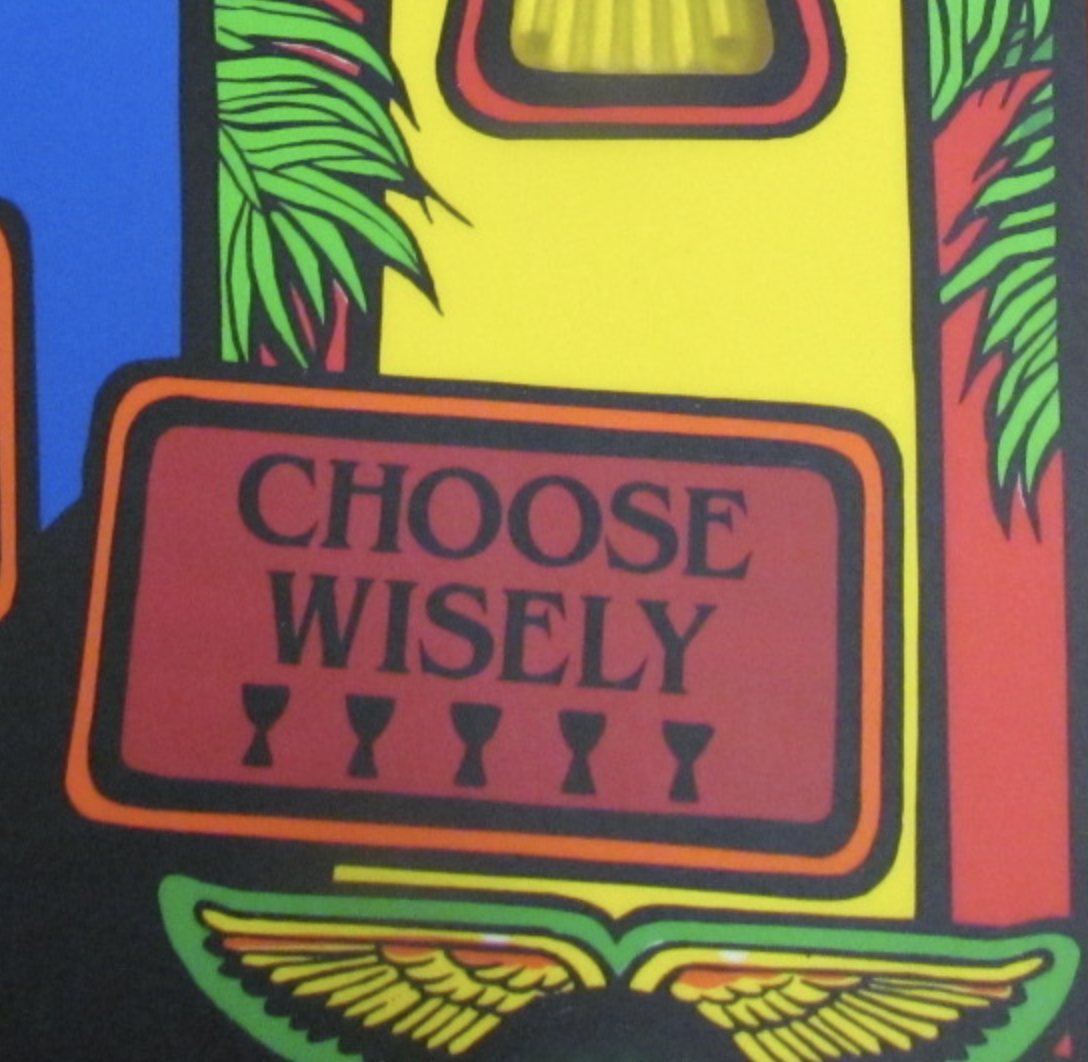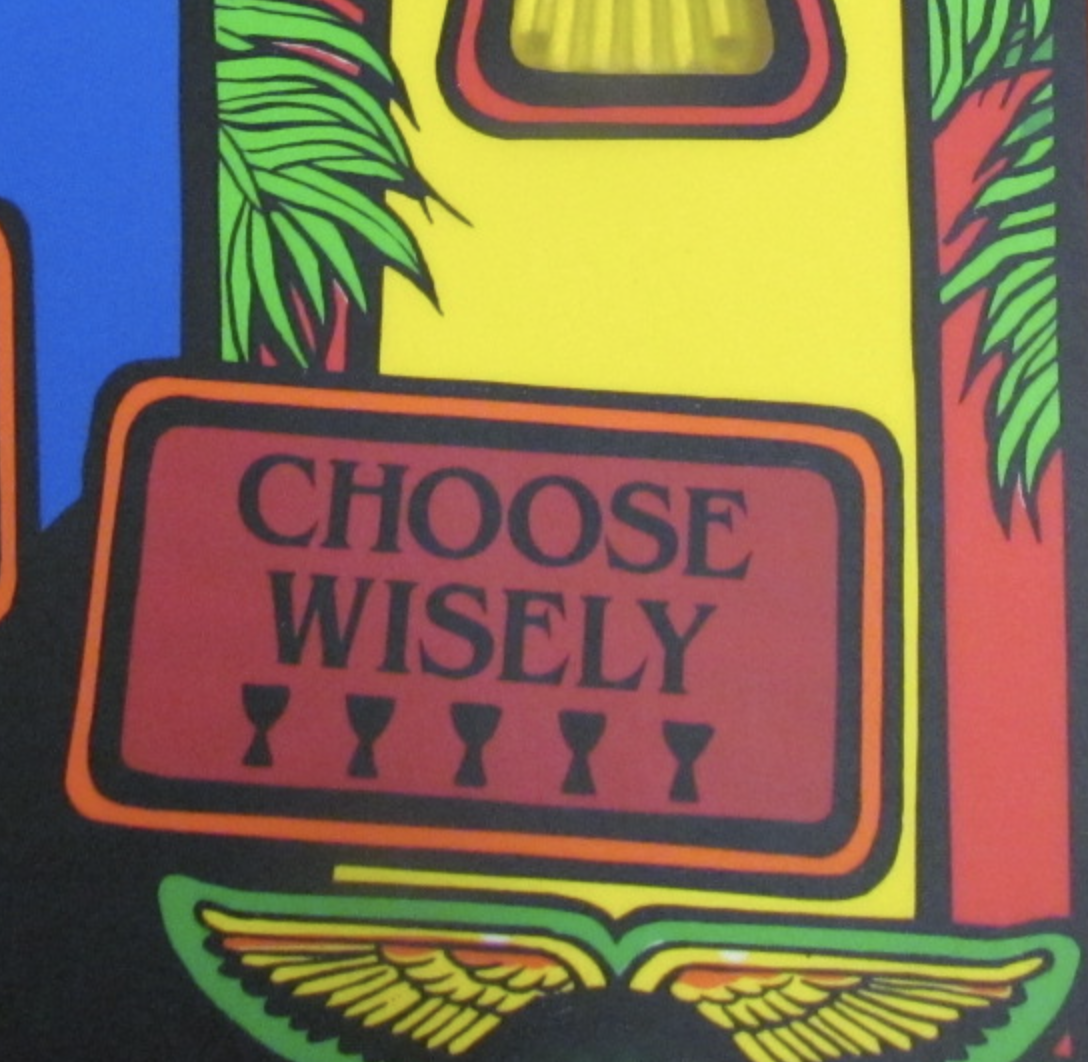 Last Week's answer: Taxi
Email guesses to thisweekinpinball@gmail.com, correct answers will be entered into the drawing for the limited TWIP Lapel Pin!
---

— Presented By —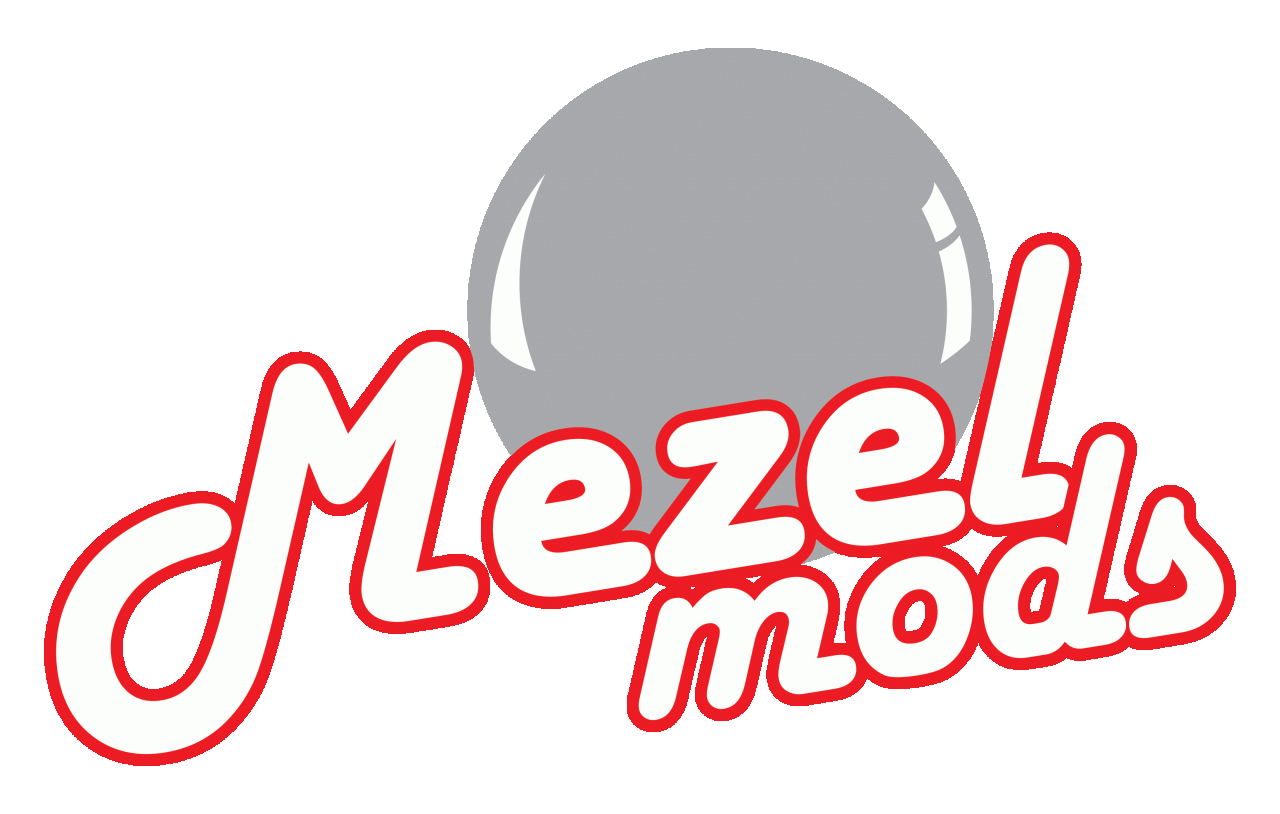 This Week's Mod of the Week is the Pile of Skulls Flipper Bats from ULEKStore and Mezel Mods!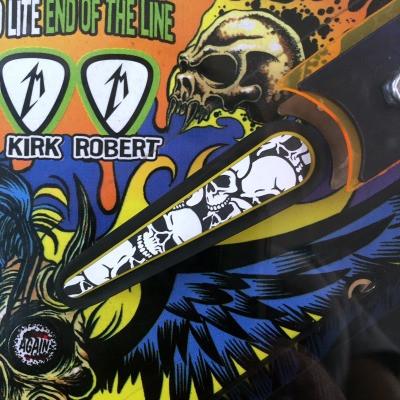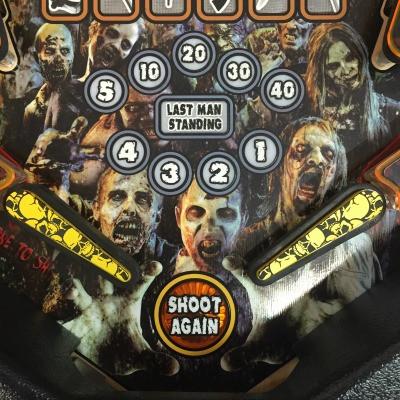 "Trick out your flippers with the Pile of Skulls Flipper Bats! These pinball flipper bat topper mods add a killer finishing touch to your playfield. Made from sturdy enhanced acrylic plastic pieces with heavy duty 3M tape on the back for long lasting play and durability.
This design looks AWESOME and compliments many machines including Pirates of the Caribbean (POTC), The Walking Dead (TWD), Metallica, KISS, etc.
The "Pile of Skulls" is a copyrighted image of ULEKstore who owns usage rights. The flipper bat MOD is strictly an aftermarket MOD and by no means is affiliated with AMC's The Walking Dead or Stern Pinball, Inc."
---

Stern Pinball
Most Recent Titles
Guardians of the Galaxy | AC/DC Luci Vault Edition | Iron Maiden | Deadpool | The Beatles | Primus (contract game) | The Munsters
Announced/Confirmed
Elvira 3
Rumors of Future Titles
Steve Ritchie Black Knight 3000? | Superman 1978? | Beetlejuice? | Godzilla?
Jersey Jack Pinball
Most Recent Titles
Wizard of Oz | The Hobbit | Dialed In | Pirates of the Caribbean
Rumors of Future Titles
Willy Wonka? | Toy Story? | Guns N' Roses?
Chicago Gaming/Planetary Pinball
Most Recent Titles
Medieval Madness Remake | Attack From Mars Remake | Monster Bash Remake
Rumors of Future Titles
Cactus Canyon Remake? | Theatre of Magic? | Big Bang Bar Remake?
Spooky Pinball
Most Recent Titles
Rob Zombie's Spookshow International | Dominos (*contract game) | Jetsons (*contract game) | Total Nuclear Annihilation (*contract/house game) | Alice Cooper's Nightmare Castle
Rumors of Future Titles
Licensed Title | Scott Danesi Second Game
American Pinball
Most Recent Titles
Houdini
Announced/Confirmed
Oktoberfest
P3 (Multimorphic)
Most Recent Titles
Lexy Lightspeed | Cannon Lagoon | Cosmic Cart Racing
Team Pinball
Most Recent Titles
The Mafia
deeproot Pinball
Announced/Confirmed
Fire and Brimstone | Retro Atomic Zombie Adventureland | Magic Girl | Alice in Wonderland | Dennis Nordman Unlicensed | Dennis Nordman Unlicensed 2
Circus Maximus
Announced/Confirmed
The Pinball Circus Remake | Kingpin
Homepin
Most Recent Titles
Thunderbirds
Rumors of Future Titles
Unlicensed Title
Suncoast Pinball
Announced/Confirmed
Cosmic Carnival
Great Lakes Pinball
Announced/Confirmed
Exposé
Haggis Pinball
Announced/Confirmed
Wraith
Pinball Brothers
Rumors of Future Titles
Queen? | Barry Oursler's Original Theme? | Playboy?
Dutch Pinball
Most Recent Titles
Bride of Pinbot 2.0 | Bride of Pinbot 3.0 (on hold) | The Big Lebowski (production/legal issues)
Silver Castle Pinball
Announced/Confirmed
Timeshock
Phénix Pinball
Announced/Confirmed
Goblin Contest
---
Get alerts for new posts from This Week in Pinball – follow/like us on Facebook, Twitter, or sign up by email:
Disclaimer

: Any articles, interviews, or mentions of pinball manufacturers or pinball products is NOT an endorsement.
Have a scoop or anonymous rumor? Email us at thisweekinpinball@gmail.com