Unboxings and Code Updates | Playfield Issues | Bowen Kerins Discusses New Spooky Game | Dutch Pinball Update | Houdini Production Ending | Insider: Popular Themes and their Licensing Challenges | Streamer Appreciation Giveaway
Please note: We are taking next week off (Labor Day here in America) – we'll be back the following week better than ever!

— This Week's Top 5 Stories —
---
1. Unboxings and Code Updates on Jurassic Park and Willy Wonka
The newest games from Stern and Jersey Jack are both got code updates last week and are both arriving in the homes of pinheads!
Unboxings:
Straight Down the Middle's Zach delivered a Jurassic Park Pro to Greg – Greg's dream theme – check out the unboxing here:
Our friends at Pinball Undesirables unboxed and streamed a Willy Wonka machine – check it out!
Code Updates
Designer Keith Elwin also chimed on this Pinside post to clarify some of the rules:

To answer a couple rules you guys seem unclear about…

Mini wiz mode King of the Island is at the Spinosaurus paddock. Capturing the T-Rex is not a mini wiz but boosts timers for 2X scoring, Ball save during multiballs, all modes.

Paddock capture difficulty- The green and yellow paddocks require you to only hit the "Set Trap" targets to light capture while the orange and red paddocks require setting the trap AND hitting the helipad to light capture. If you visit the Spitter paddock as your 2nd paddock you must hit the helipad before capture. It's a tough paddock but the reward perk is 2x super spinner. A regular super spinner is 2X lit spinner value so you can stack the spitter perk with 2x playfield and super spinner and max spinner for 8X lit spinner value (roughly 2 mil a spin)

The carnivores have special abilities. The ability of the spitter is to freeze rescues for 5 seconds when it comes within one space of a rescue. This is why a couple of the rescue shots you guys hit didn't award a rescue. You will know when the rescue light turns solid that that victim is temporarily incapacitated.

Other carnivore traits include:
T-rex- super speed
Spinosaurus- can jump from left side to right and vice-versa
Raptor- two raptors are active at once in the paddock, both must be captured
Compys- can't be slowed
Pteranodon- can fly directly to rescue shots

2X playfield scoring is lit via supply drop collect

Escape target is lit via roll-over in the pop area
---
2. Playfield Issues
There have been reports of playfield issues on some of the newer games from multiple manufacturers. In some cases, the clear coat on the playfield is bubbling and even chipping off around posts. You can see some examples here.
Christopher Hutchins of High End Pins (HEP), widely regarded as the best pinball restoration company in the industry, shared his thoughts on these issues (you can view the thoughts on this post and this post on Pinside):

Given the evidence and how it is plaguing more than one manufacturer I think this issue is without a doubt the new normal and it sucks.

If it is a cure issue things need to slow down

If it is a adhesion issue it needs to be fixed immediately moving forward by adding some type of adhesion promoter to the ground floor of the playfields or finding a product that bites in better.

If it is a product line issue like the clear itself it needs to be swapped for a better product.

No matter what it is if you cannot even install stationary plastic post on a playfield without damaging it then it will likely not hold up well to the moving silver ball.

– Christopher Hutchins, High End Pins
In trying to figure out the extent of the issues, how many customers were being affected, and what action manufacturers and vendors were taking, TWIP reached out to Mirco, Stern Pinball, Jersey Jack Pinball, distributors, and customers.
TWIP first reached out to Mirco, who shared that they had been asked to have the communication go through the manufacturer(s), and therefore had no comment.
TWIP contacted Zach Sharpe at Stern Pinball, who shared the following:

No widespread issues here at Stern, can't speak for other manufacturers though. If anyone does have any issues with their games though they should definitely be reaching out to their dealer or distributor.

– Zach Sharpe, Stern Pinball
TWIP also contacted Jack Guarnieri of Jersey Jack Pinball, who shared that he was out of the country with spotty service, and would respond after he returns on September 8th.
TWIP then contacted Jersey Jack Pinball customer support and asked around the industry for more information and it sounds like people that have been in contact with JJP have been told they are looking into the issue.
We're still trying to gather more information to better understand the extent of these playfield issues. These problems bother some buyers more than others. We'll keep you updated as we learn more.
---
3. Special When Lit: Bowen Kerins Discusses New Spooky Game

Our friends on the Special When Lit Pinball Podcast shared some interesting tidbits on their most recent podcast from Spooky's Bowen Kerins. Bowen talked to Special When Lit's Spooky Correspondent, Dr. John, about the next game he is working on after Alice Cooper and reveals how he is approaching the game from a coding standpoint:
Bowen: One of the things that is interesting about the Alice Cooper game is it is almost like a boss rush like from a video game, you have these long battles with these [monsters] you finish one and then you make a short trek to next one and then you fight another boss. It is very intense but it also takes all the focus away from anything else you can be doing in the game. So one of the things the next game is going to do pretty well I feel, is to always give the player multiple different options of things they could be doing at any given time, some of which may be modes or multiballs or other things – there should always be a choice.
Listen to the full episode here!
---

---
4. Update from Dutch Pinball
Dutch Pinball shared the following update last week in their newsletter:

In the last update I informed you on the settlement I've reached with our former manufacturer. And two weeks ago we managed to complete the settlement! This means that the lawsuit is off table and all games and parts that are in their warehouse are now ours and also fully paid for. With this first round of financing we are now ready to getting things set up again to build games. I am very happy with the trust of Cointaker and some of my very close friends and family who made this possible.

Due to the holiday of three weeks at ARA we had limited access to their warehouse, but fortunately we managed to get the games out and some parts we needed to finish them. Last week the first games were shipped. The rest of the games are now ready as well and will be shipped this week. I know it's a bittersweet moment, but it's also the start of a new beginning. We can now truly focus on the future.

On Monday next week the holiday will be over and then we can start with the transport of all the parts. We are already checking the list of parts and taking stock of how many parts we have to build games. Some parts are there for 200+ games, but some parts were bought 'lean' and this means that we also have to order new parts as we progress.

In the next weeks we will be busy preparing everything for production: arranging our production facility, counting parts, putting all the parts in our inventory system, checking the assembly instructions, sorting out the tools needed, etc… we will start small and will expand over time to build more games. We have a couple of locations in mind where we want to (re)start our business. We still have to decide which location is best and we hope to get this figured out this, or next week.

Another thing I want to inform you about is something I get a lot of questions about: the license from Universal Pictures. I'm happy to report that we have extended the license! For now it is extended until December 31st 2020.
I will keep you informed how things are progressing the coming weeks. If you have any questions. Please let me know. You can always email, or call me.

Kind regards,

Barry

P.S. Here are some photos of the parts in storage. It going to take a while to sort this out : )
Death Save Arcade streamed an unboxing of The Big Lebowski on Twitch which you can check out here, and also streamed gameplay on Twitch which you can check out here.
We'll keep you posted as we learn more developments with Dutch Pinball.
---
5. Houdini Production Ending, Special Pricing
Last week American Pinball shared the following update regarding their Houdini pinball machine:
Contact your distributor to find the new special pricing!!
---

This week we talk about a handful of popular themes and the licensing issues we've heard go along with those titles.

Get access to this info plus get free shirts and swag from TWIP and get free entries into the monthly drawings and help keep TWIP going by signing up on Patreon at the $20 level.
---
Streamer Appreciation Giveaway – Last Chance to Enter!
Pin Stadium Lights and This Week in Pinball have teamed up to offer a special giveaway to Affiliate Twitch pinball streamers over the next two weeks!
As you know, one of our missions at TWIP is to help grow pinball in anyway we can. As a special thank for all of you to the Affiliate Twitch streamers out there who spend countless hours sharing pinball with the world, TWIP is running a contest for the next two weeks starting TODAY and ending on Monday, September 2nd. Enter for a chance to win one of THREE sets of Pin Stadium X-Streams (total value of $750) generously donated by Pin Stadium!!
How to enter:
Click Here and download this TWIP logo then display it on your streams from now until September 2nd.
Send an email to TWIP with a link to your stream with the logo displayed on your layout.
Winners will win a set of Pin Stadium X-Streams donated by Pin Stadium (a $250 value).
Note: We ask that winner display their logo on their stream when they are in use. You must be a Twitch Pinball streamer with Affiliate status to be able to enter.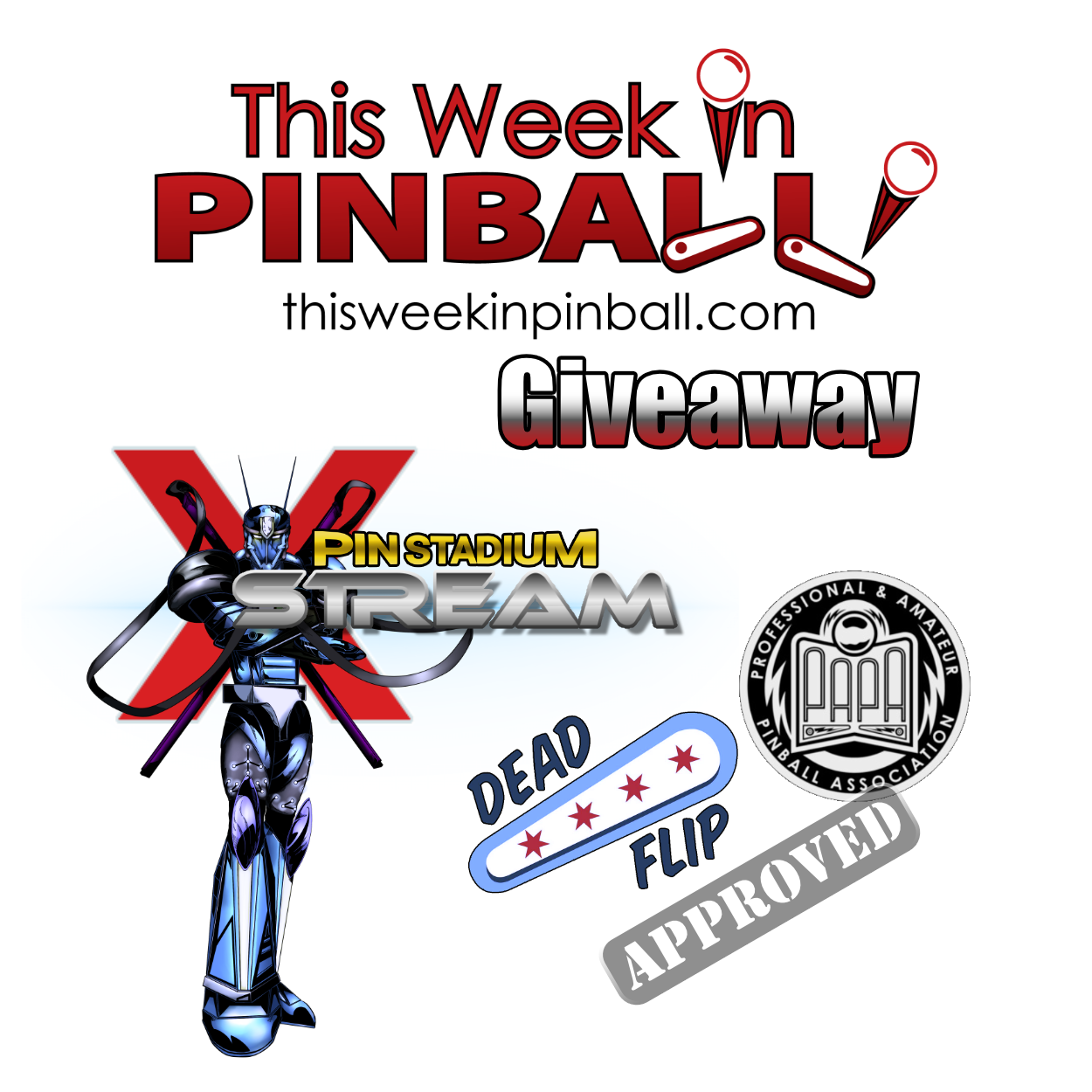 Other Manufacturers
More

Team Pinball: The Mafia

Circus Maximus: Kingpin, Python's Pinball Circus

Homepin: Thunderbirds

Suncoast Pinball: Cosmic Carnival

Great Lakes Pinball: Exposé

Haggis Pinball: Wraith, Celts

Pinball Brothers: Queen?, Barry Oursler's Original Theme?, Playboy?

Dutch Pinball: Bride of Pinbot 2.0, Bride of Pinbot 3.0 (on hold), The Big Lebowski (production/legal issues)

Silver Castle Pinball: Timeshock

Phénix Pinball: Goblin Contest

Pinball Adventures: Punny Factory, Sushi-Mania, Ninja Mania, First Class, Canada Eh!

Disclaimer: Any articles, interviews, or mentions of pinball manufacturers or pinball products is NOT an endorsement.