Jurassic Park Pros Shipping | TBL's Shipping | deeproot Pays Zidware Customers | Punny Factory Pinball | ESPN The Ocho | Insider: Image of Mystery Game from American Pinball | P3 Unboxing | Pinball Drama

— This Week's Top 5 Stories —
---
1. Jurassic Park Pros Shipping
Jurassic Park Pro Editions are shipping!
TONIGHT at 7:00PM CST/8:00 EST, Chuck Ernst (Lead Motion Graphics on Jurassic Park) will join our friends at Special When Lit on the Flip N Out Twitch Channel to stream Jurassic Park Pro! Click here to tune in!
TWIPs Jurassic Park Deep Dive has also been updated with more info on the four main multiballs and one bonus MB, plus how to get to the three mini wizard modes! Check it out here!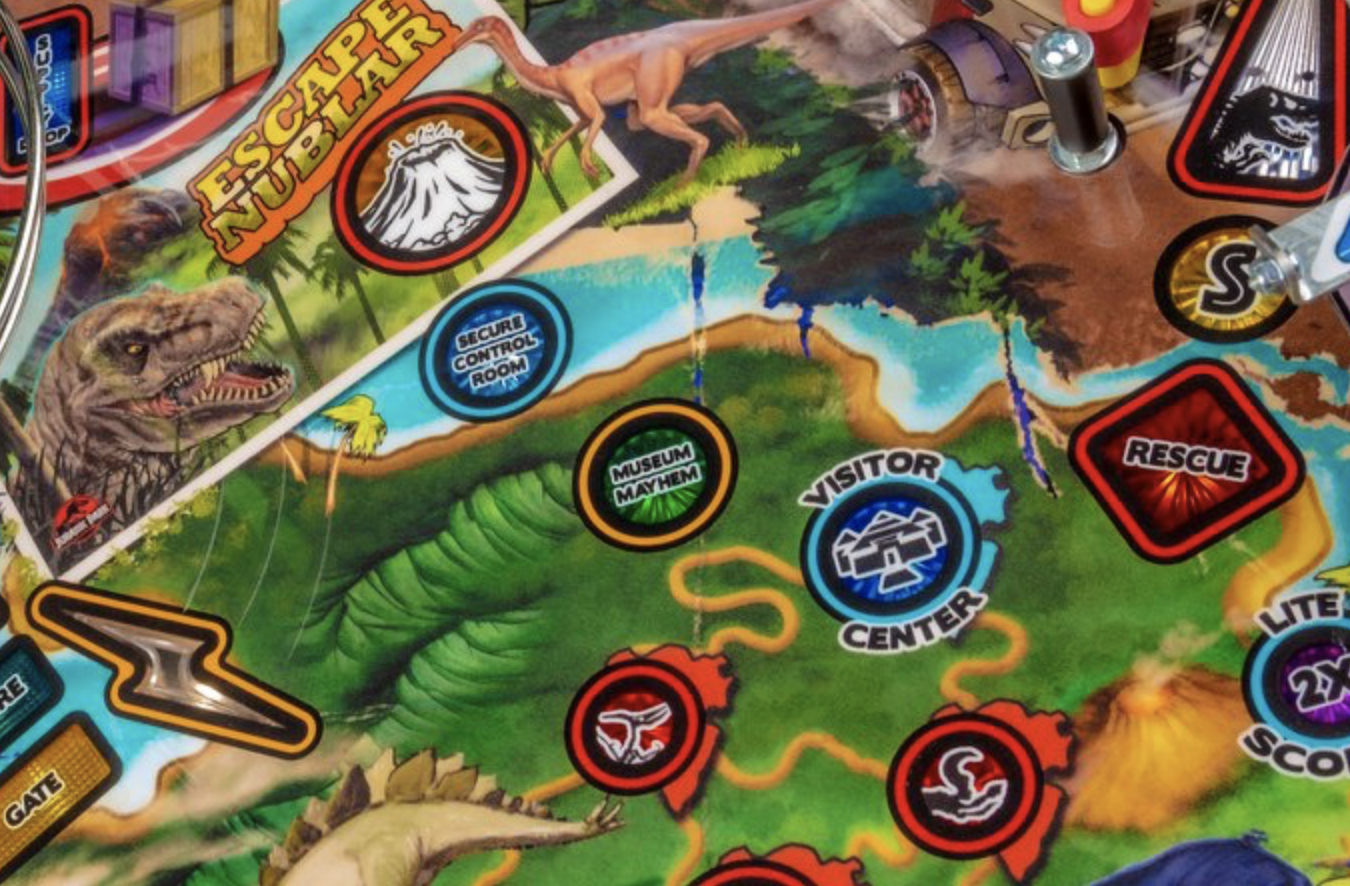 Pro models are (obviously) shipping now, look for the Limited Edition models later in August and first half of September, and the Premiums to ship later in September!
---
2. The Big Lebowski's are Shipping
In good news for the hobby, The Big Lebowski's are on their way to new owners:
In bad news for the hobby, the Early Achievers – those that paid full price for these machines directly to Dutch Pinball, got to watch the machines that they paid $8,500 for several years ago loaded up on a truck to go to someone new, who bought them in the last couple weeks.
It is great that these machines will be out in the world. It is just an unfortunate situation all around. Hopefully now the pre-order model is dead.
---
3. deeproot Pinball Makes Zidware Customer's Whole
Speaking of the pre-order model, are ready for some good news?? Zidware customers received cash settlements from deeproot Pinball recently! Zidware customers were offered an option of a credit towards a future deeproot game, or the option of a cash settlement. Those that chose the settlement received their money – check it out:




Congrats to the Zidware customers and thank you to deeproot for helping these customers!!
---

---
4. Punny Factory Pinball Machine added to Pinball Buzz Website
Remember Pinball Adventures? A while back they shared the games they have planned for the next few years:
Punny Factory (2019)
Sushi Mania (2020)
Ninja Mania (2020)
First Class (2021)
Canada Eh! (2021)
They also included brief descriptions of each game, and discussed in depth their plan and process for creating and promoting these machines. You can read about their process here.

Recently they updated their website to include a flyer and a price of $6,500.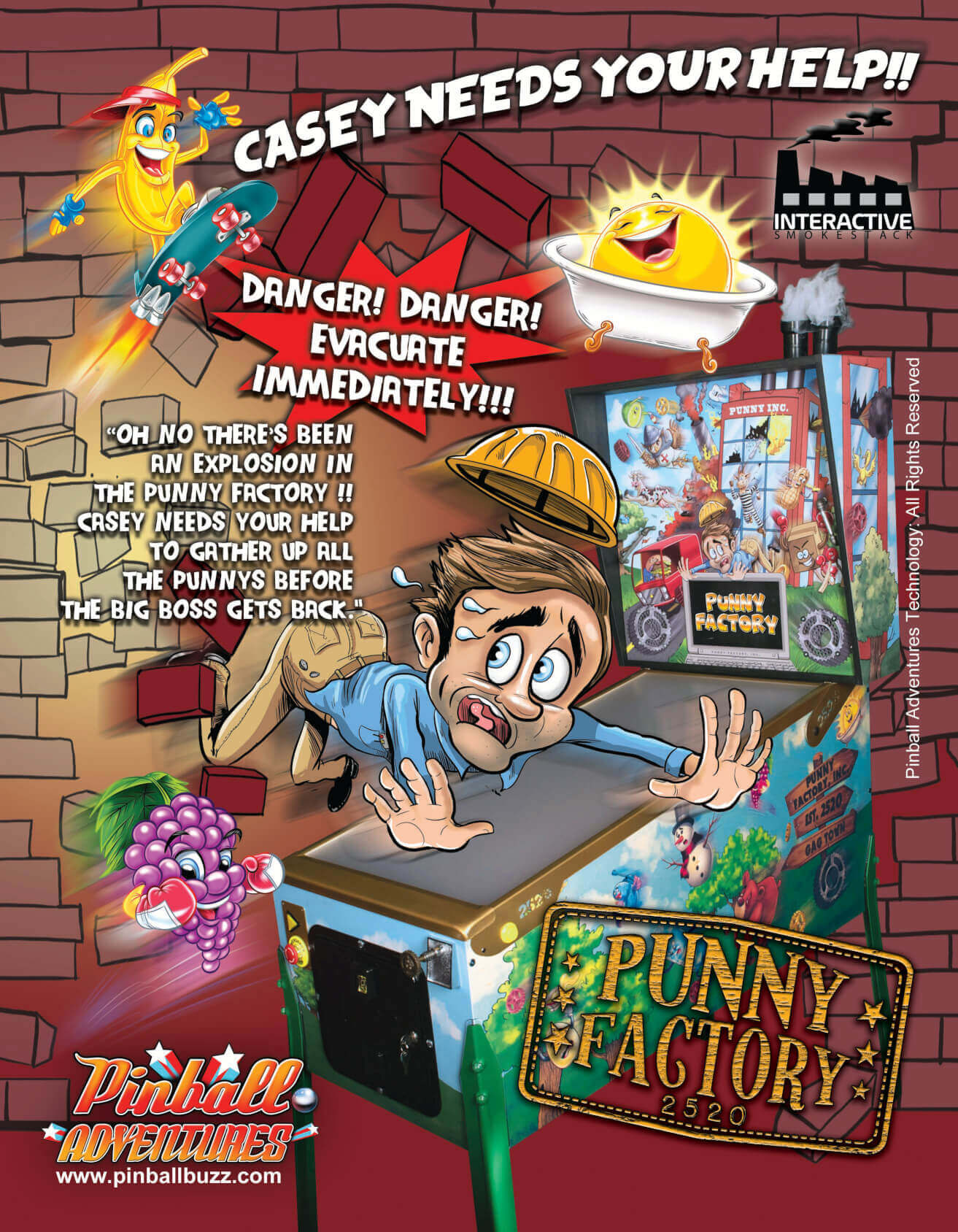 You can view the link here. We are still learning more about this company, we'll keep you updated as more details emerge!
---
5. Pinball Not Featured on ESPN The Ocho
Pinball was originally scheduled to make an appearance on ESPN The Ocho, which showcases some of the more "underground" type sports. However, this year Stern Pinball declined the invite.
This Week in Pinball reached out to Zach Sharpe, Director of Marketing at Stern Pinball, who shared the following:

"We respectfully declined ESPN's invitation to be featured on the Ocho this year. Our relationship with ESPN continues to this day and we look forward to future opportunities of working together."

– Zach Sharpe, Stern Pinball
Even if you missed pinball, you could still view professional arm wrestling, national stone skipping, Golden Tee championships, Tetris world championships, and more.
Here is to pinball being on in the future!!
---

This week we analyze the underside of a mystery playfield from American Pinball.

Get access to this info plus get free shirts and swag from TWIP and get free entries into the monthly drawings and help keep TWIP going by signing up on Patreon at the $20 level.
---

— What Else You Need to Know Today —
Multimorphic at Dave and Busters, Unboxing by Slap Save
In case you missed it, Multimorphic revealed last week their P3 Platform would be featured in Dave and Buster's in Austin, TX – check it out!
Our friends at Slap Save Pinball Podcast also released a video last week showing their unboxing of a Multimorphic P3 machine, with a very thoughtful overview of the machine – check it out!
---
This year at Pinball Expo, Dwight Sullivan and Corey Stup will be playing a game called FEUD without the FAMILY, a spin on Family Feud. It will cover questions like NAME THE PINBALL MACHINE WITH THE BEST TOY BEFORE 2010 and NAME A POPULAR VIDEO GAME FROM THE 1980s and 10 others. You can help make this fun by voting on these, it just takes a minute!! The survey says…
---

This was one of the most drama-filled pinball weeks in this hobby. Bowen Kerins calls out Fred Richardson, Christopher Franchi calls out Bowen Kerins, threads on Pinside like Why does Pinstadium get to flood all market pages and Nitro pinball apparently still harassing the pinball community via social media, which was also later shared on Facebook by Bowen Kerins, and I'm sure I'm forgetting some. (Sorry if any of the Facebook links do not work, you may have to be friends with so-and-so to view, not sure…)

Other Manufacturers
More

Team Pinball: The Mafia

Circus Maximus: Kingpin, Python's Pinball Circus

Homepin: Thunderbirds

Suncoast Pinball: Cosmic Carnival

Great Lakes Pinball: Exposé

Haggis Pinball: Wraith, Celts

Pinball Brothers: Queen?, Barry Oursler's Original Theme?, Playboy?

Dutch Pinball: Bride of Pinbot 2.0, Bride of Pinbot 3.0 (on hold), The Big Lebowski (production/legal issues)

Silver Castle Pinball: Timeshock

Phénix Pinball: Goblin Contest

Pinball Adventures: Punny Factory, Sushi-Mania, Ninja Mania, First Class, Canada Eh!

Disclaimer: Any articles, interviews, or mentions of pinball manufacturers or pinball products is NOT an endorsement.