Munsters Rumor Round Up | Special When Lit Holiday Show | Star Wars R2D2 Topper | Santa Brought Code | Pinball Mentioned on ESPN | Cousin Brucie on Pinball Profile | Jeffree Star and Jack Danger Streams | IFPA Updates | Homepin Second Game Tease | Jaws Pinball Homebrew
ANNOUNCEMENTS
1. Hey, the TWIP website has been redesigned!
Check it out!!  The new site will load more quickly and will have many features that we will be rolling out soon.  If you have any feedback, positive or negative, please send it to thisweekinpinball@gmail.com, we'd love to hear from you!
2. Happy New Years Eve – Last Chance to Enter December Giveaways!
We'll be announcing the December Giveaway Winners and the lineup of January Giveaways soon, and today is the LAST day to enter for the December giveaways!  Check out all the giveaways here!
As a reminder, there are TWO WAYS to enter:
1.    Consider making a monthly donation via the PayPal button below or Patreon, which you can find here.  You'll automatically be entered each month you make a donation, and also get additional TWIPerks based on your giving level.  Your contribution will help support this website.
2.    Donate nothing, and send an email to thisweekinpinball@gmail.com to let us know you want to be entered, and include your name, address (including city and state), and email address, and you'll be entered for that month.  You'll just have to send the email every month to be included.
3. TWIPY voting opens January 1st
The TWIPY Awards are here!  Voting will open tonight at midnight EST.  We'll be doing dedicated TWIPY post tomorrow, but that means we'll be combining the Monday and Tuesday TWIP post into one long one today.  So strap in, we've got a lot of ground to cover!
---

— This Week's Top 5 Stories —
1. Munsters Rumor Round Up
Hype for the upcoming Munsters pinball machine from Stern Pinball has been building.  Previously we saw that Munsters was on the manufacturing line at Stern.  Last week, a person on Pinside showed that his Primus Pinball machine had shipped with a Munsters Pro Manual.  We had also previously seen the following Munsters pics leaked: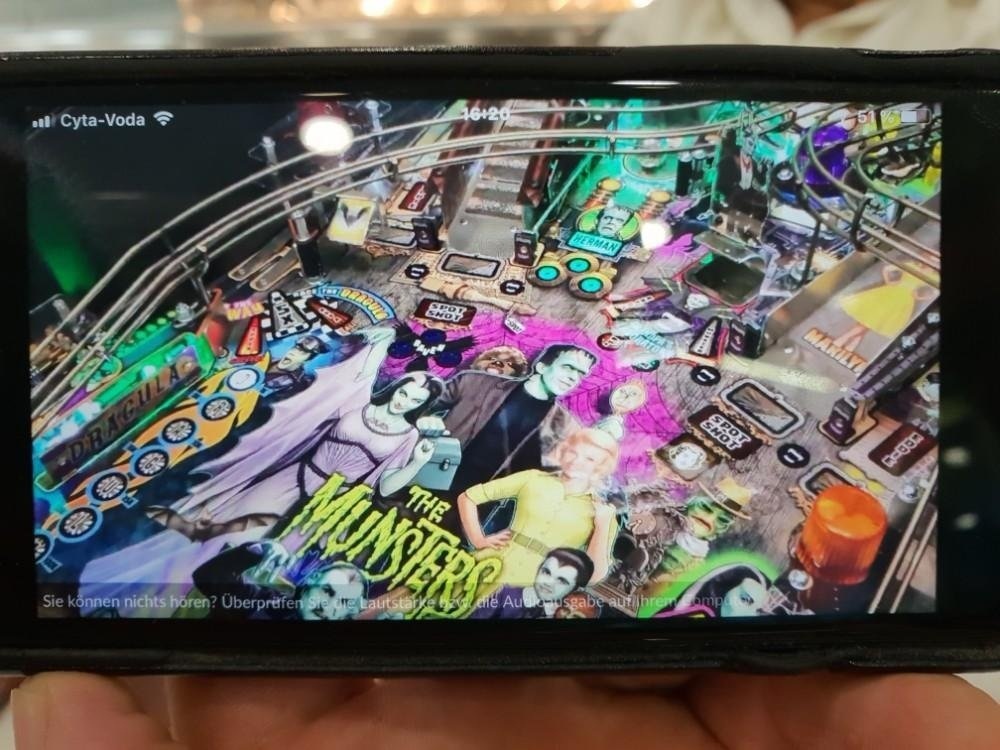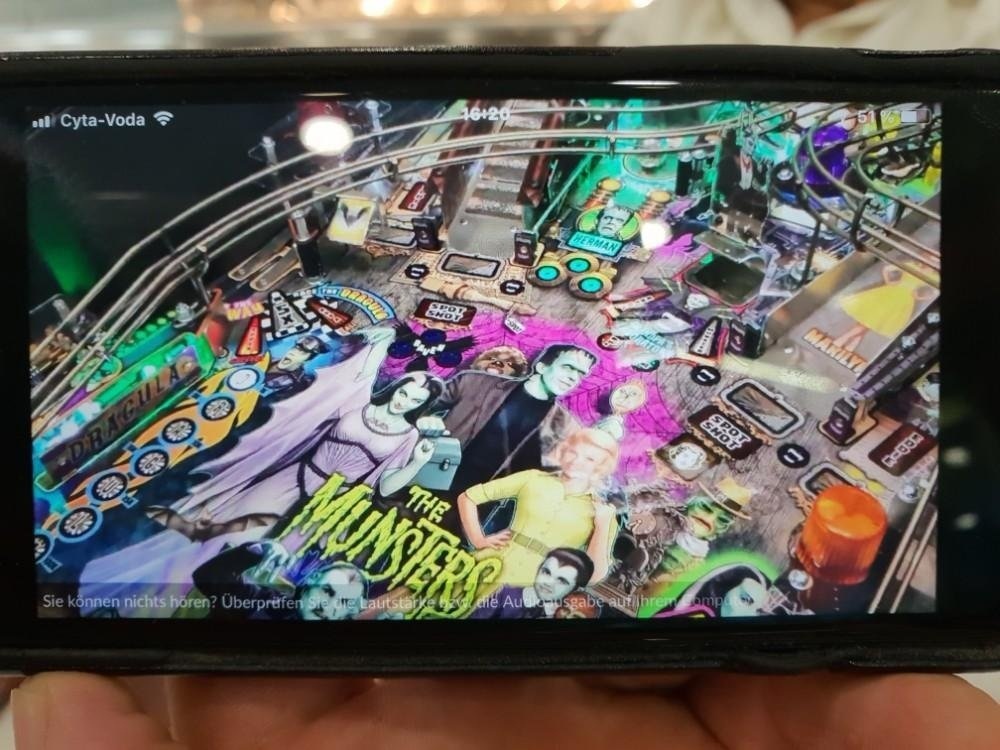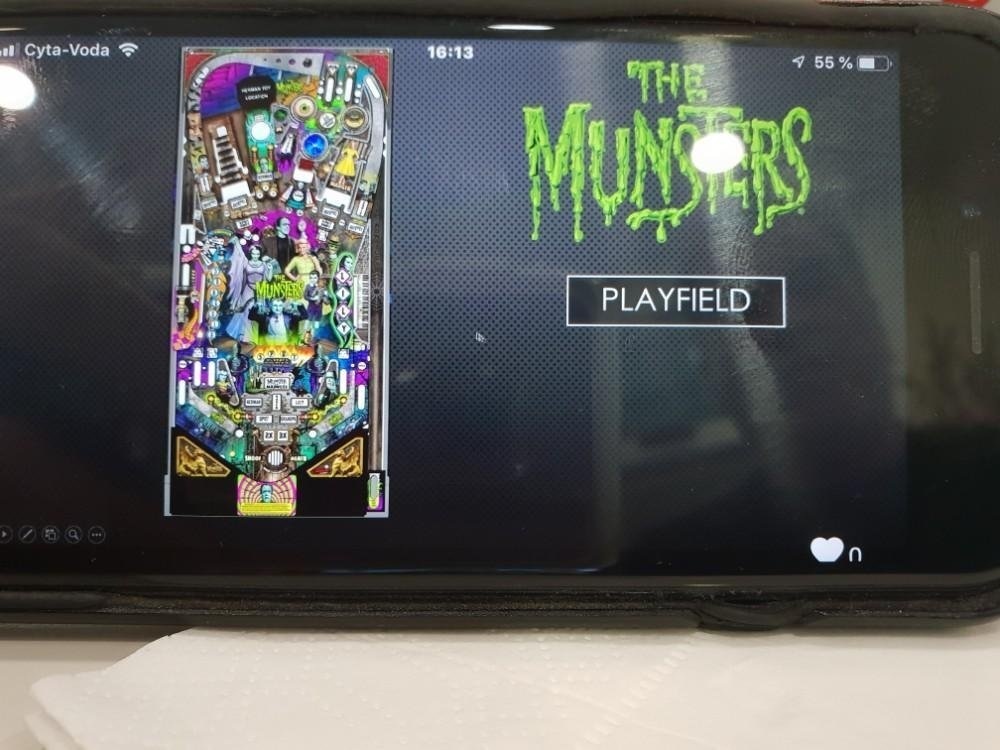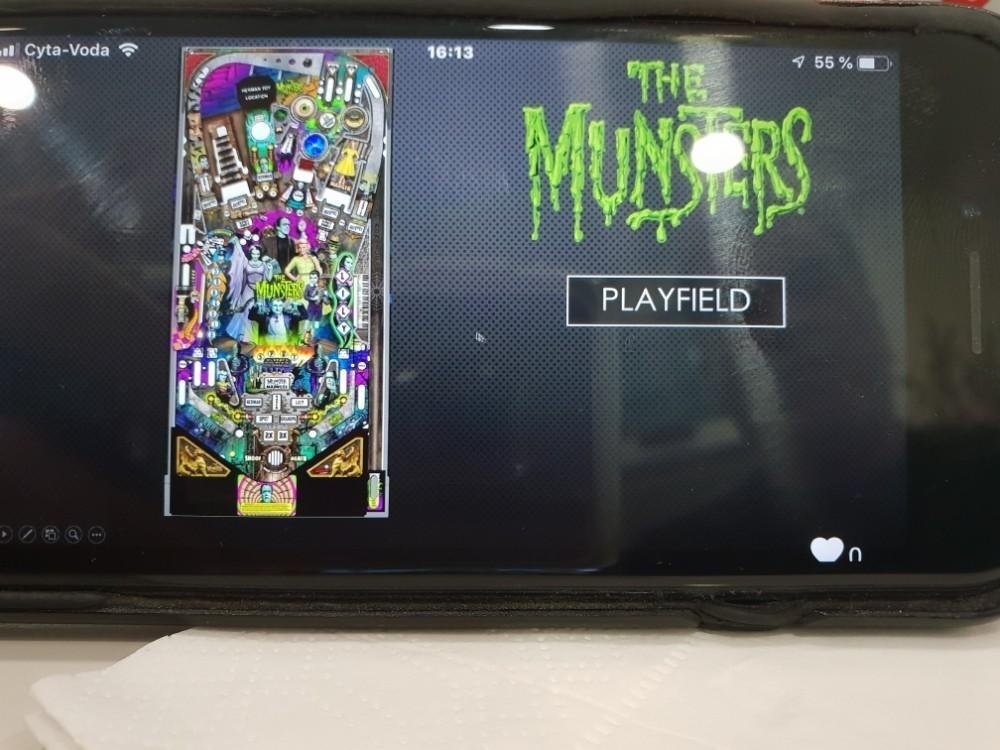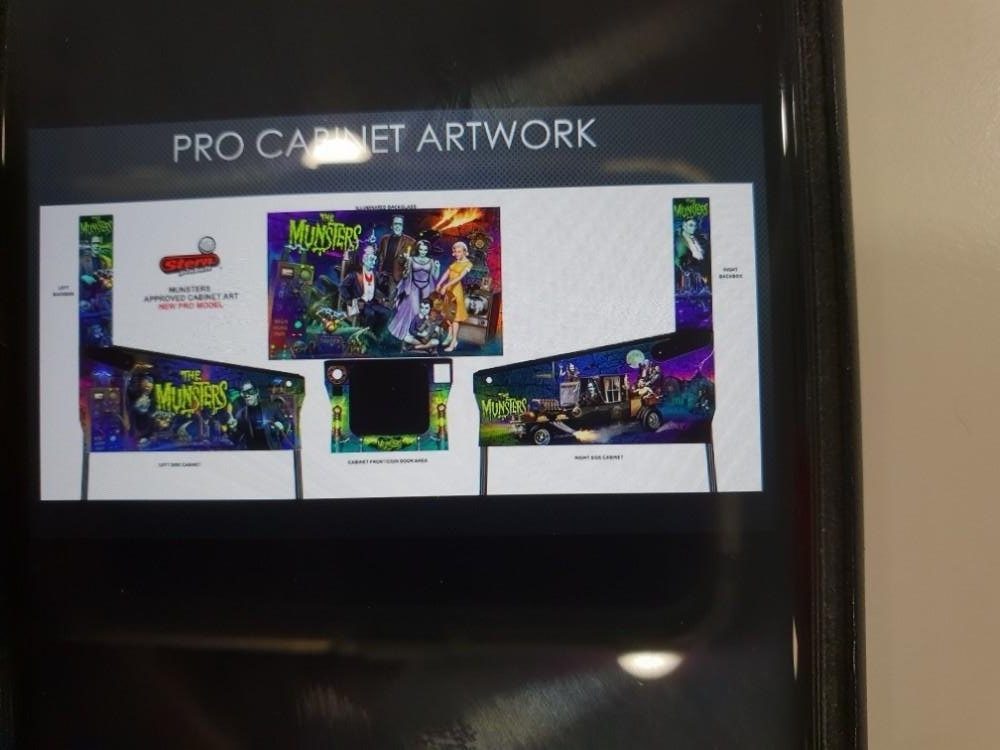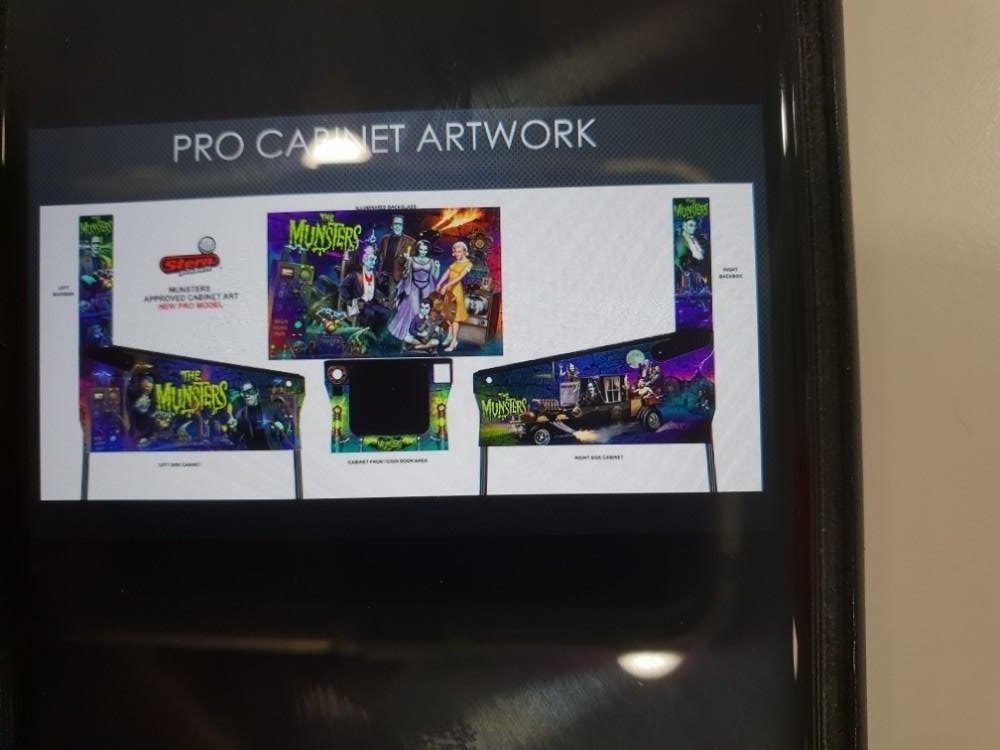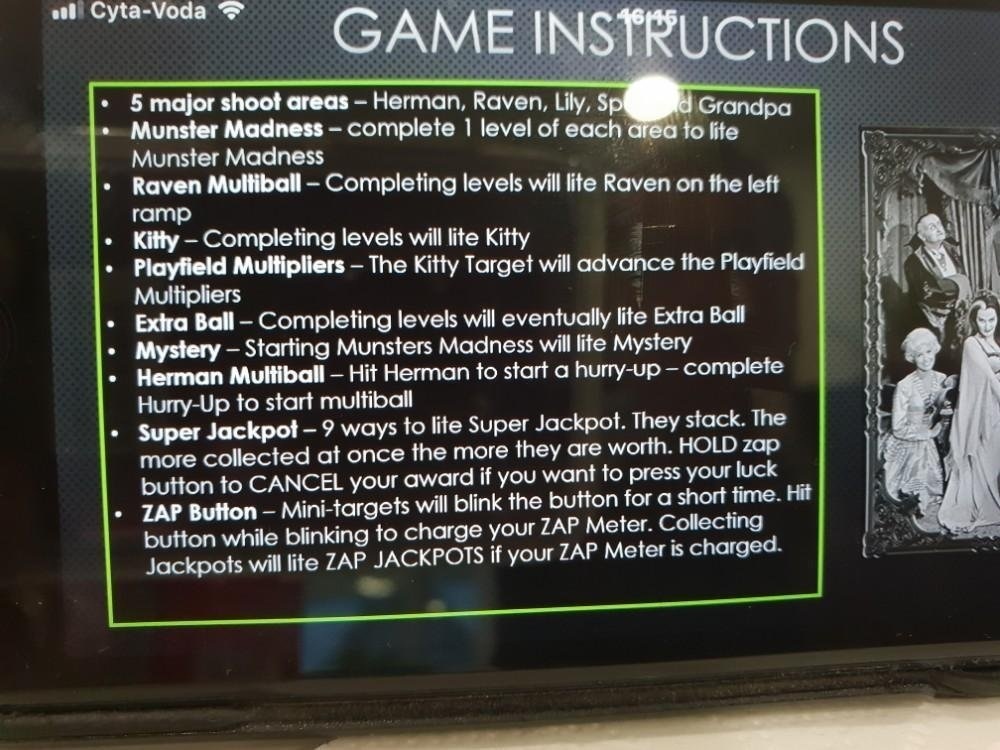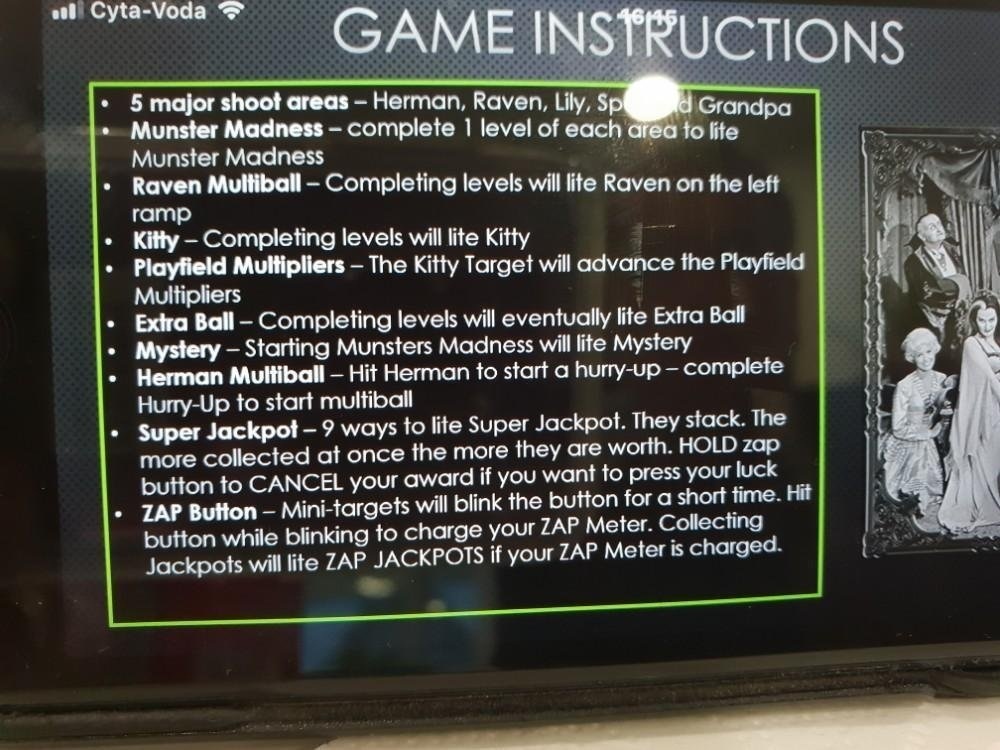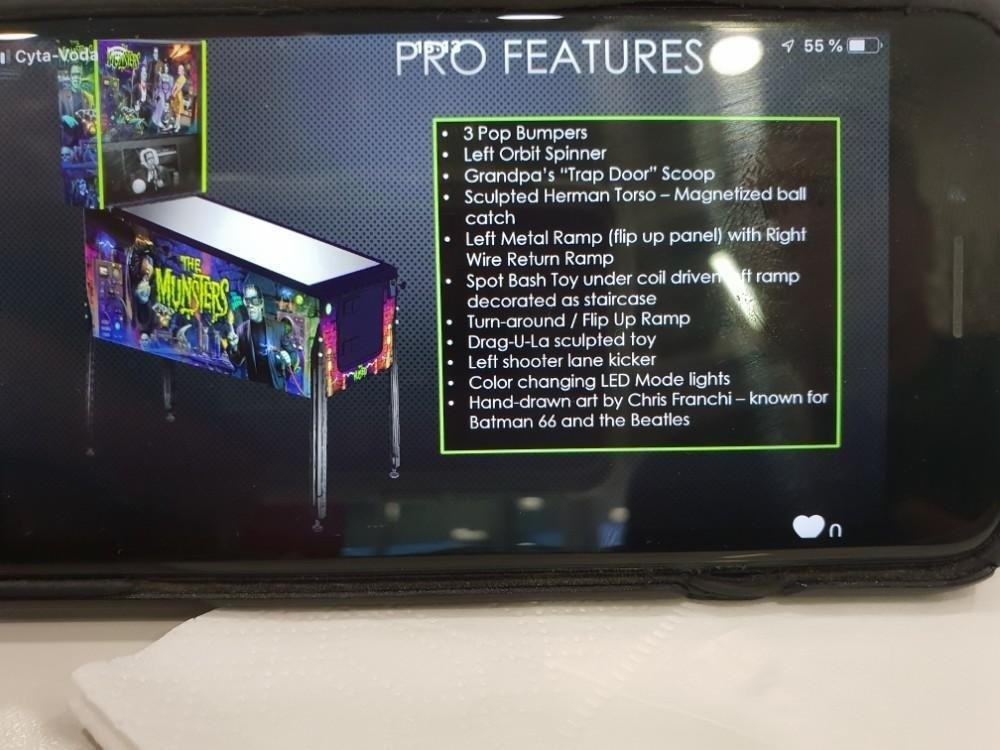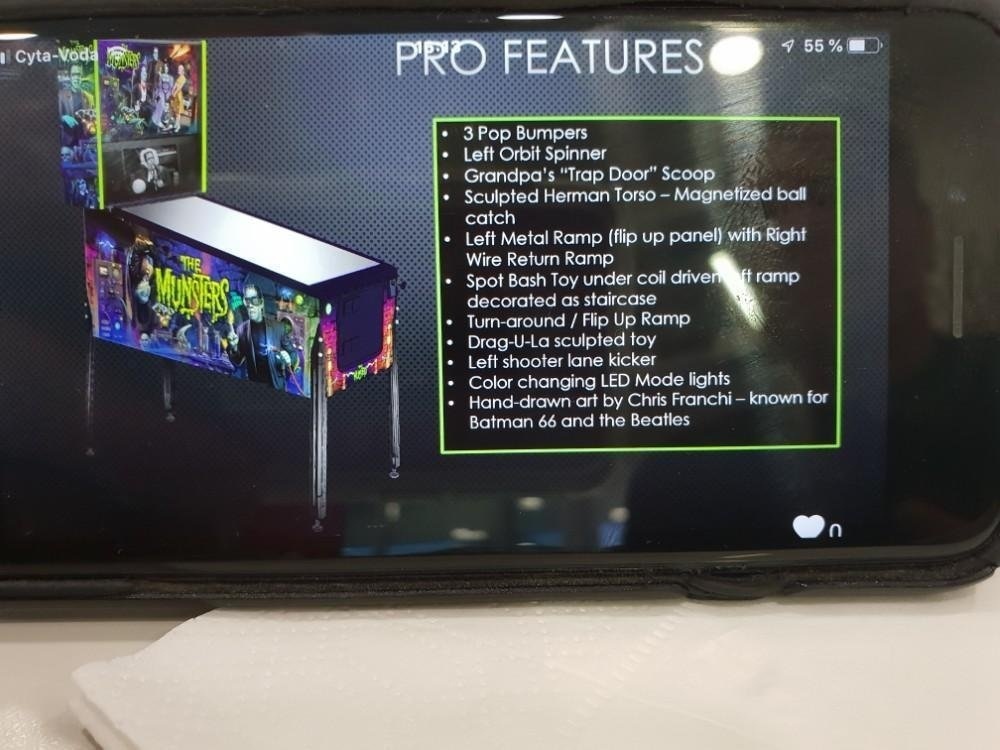 TWIP also mentioned that in looking at the previously leaked pics of the cabinet artwork that dropped back in August, you'll notice that the PREMIUM artwork on those leaks now appears to be the PRO artwork on the new leaks.
Rumor Roundup
As listed above in the leaked pics, some of the features on the Pro Model include:
Left Orbit Spinner
Grandpa's "Trap Door" Scoop
Sculpted Herman Torso – Magnetized Ball Catch
Left Metal Ramp (flip-up panel) with Right Wire Return Ramp
Spot Bash Toy under Coil Driven Left Ramp
Turn Around / Flip Up Ramp
Drag-U-La Sculpted Toy
Some basic info that we know (or think that we know):
John Borg is the designer
Dwight Sullivan on code
Christopher Franchi artwork
Pro, Premium, and LE version
And here are some rumors we're hearing at This Week in Pinball:
Premium Version will be black and white (b/w cabinet and playfield)
LE Version will be full color
The Premium and LE models have a lower playfield (Grandpa's cellar)
There are four flipper buttons on Premium and LE version, with the extra flipper buttons presumably to control lower playfield flippers
When can we expect to see it officially revealed?  All signs – especially the fact that the machines are on the line at Stern – point to very soon.  It is worth noting that the CES Conference takes place in Las Vegas January 8th-11th, and Stern Pinball will be in booth 21800.  Stay tuned!
---
2. Special When Lit Holiday Show


Our friends at the Special When Lit Pinball Podcast (website, Facebook) recently released a special edition of their podcast which featured 40+ guests discussing pinball resolutions and predictions for 2019!  Special guests included:
Bruce Nightingale (Slam Tilt Podcast)
Bill Webb (SWL)
Chris Kooluris (Kaneda's Pinball Podcast)
Christopher Franchi (Artist)
Chuck and Bug Emery (Spooky)
David Thiel (deeproot Pinball)
Dennis Kriesel and Tony Kurkowski (Eclectic Gamers Podcast)
Dirty Donnie (Artist)
Dwight Sullivan (Stern)
Ed Robertson (Barenaked Ladies)
Eric Meunier (JJP)
Erik Wurtenberger (Chuck Wurt)
Gary Stern (Stern)
George Gomez (Stern)
Gerry Stellenberg (Multimorhic)
Greg Bone (SDTM)
Jack Danger (Dead Flip)
Jack Guarnieri (JJP)
Jeff Patterson (TWIP)
Jeff Teolis (Pinball Profile)
Jerry Thompson (Stern)
John Borg (Stern)
Jonathan Joosten (Pinball Magazine)
Josh Kuglar (American Pinball)
Ken Cromwell (SWL)
Marc Silc (Voice Actor)
Martin Ayub (Pinball News)
Martin Robbins (H2H)
Nick and Kevin (Buffalo Pinball)
Nirmal Vasani (American Pinball)
Roger Sharpe (the guy that saved pinball)
Ron Hallett (Slam Tilt Podcast)
Ryan C (H2H)
Sarah Line (Mrs Pin's Pinball Podcast)
Scott Danesi (Spooky)
Steve Ritchie (Stern)
Steven Bowden (deeproot Pinball)
Tanio Klyce (Stern)
Terry DeZwarte (Pinabll Life)
Todd Tuckey (TNT Amusements)
Zach Meny (SDTM)
Zach Sharpe (Stern)
Zombie Yeti (Artist)
Here are just a few highlights:
Christopher Franchi: I can predict I'm going to be doing two or three more pinball machines in 2019.
Charlie Emery: My prediction is – Scott Danesi's game – his second game – will be better than his first.  That is my prediction.
Nirmal Vasani: In 2019 American Pinball is going to double our work force and our throughput, and maintain the excellent production quality we've been known for.
Gerry Stellenberg: I predict that in 2019, we'll see at least one and maybe two more full custom p-roc based pinball games going into mass production.  It is going to be a fantastic year for the evolution of pinball.
Jack Guarnieri: Its been said that the best way to predict the future is to invent it.  And I can tell you, at Jersey Jack, we are inventing it.  I wouldn't buy anything until you see our next game because it will really be something special.  I promise.  In fact, 2019 will bring more than one game from Jersey Jack Pinball.
Dwight Sullivan: 2019 is going to be a block buster year for pinball.  It is going to be interesting from day 1, all the way to the end of the year.  And that is not just what I know from Stern.  Stern has a lot of cool things planned for 2019, but I think the other companies do too…I think there is not going to be a dull moment the entire year.
Check out the full episode here!
---
3. Star Wars R2D2 Topper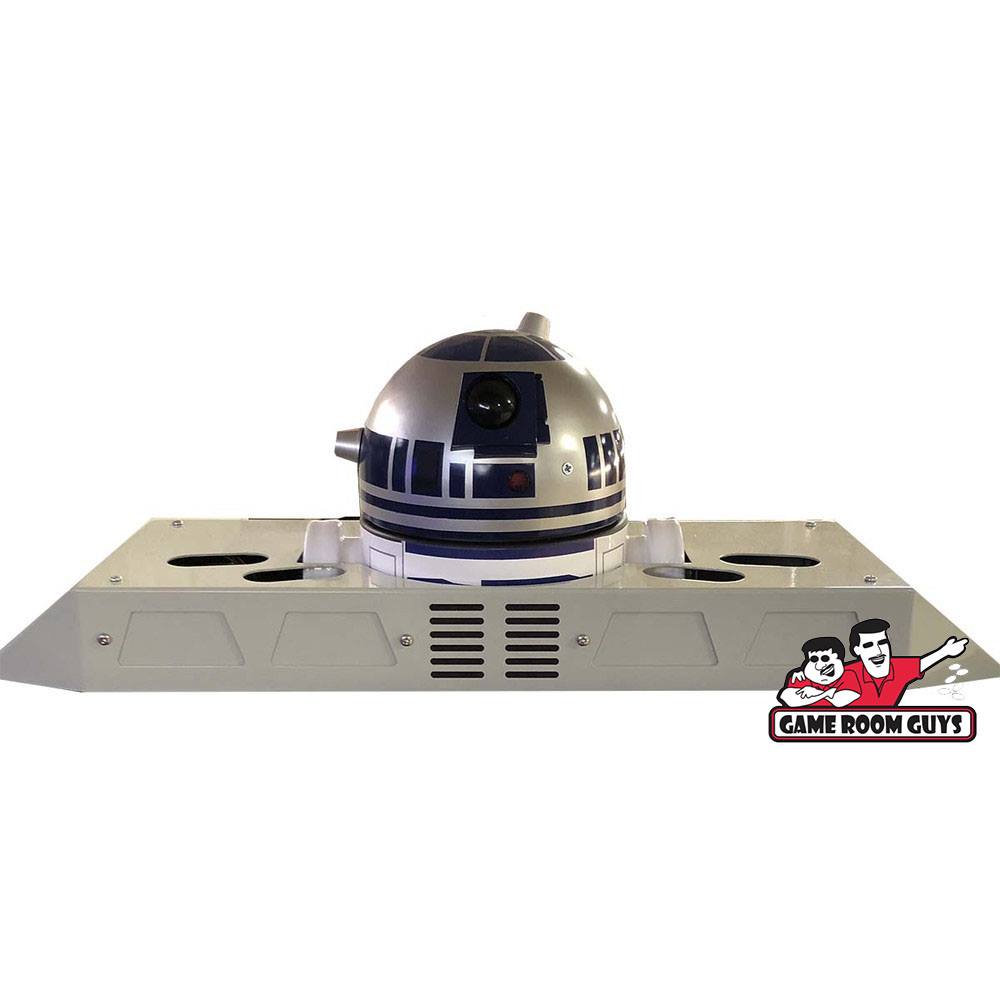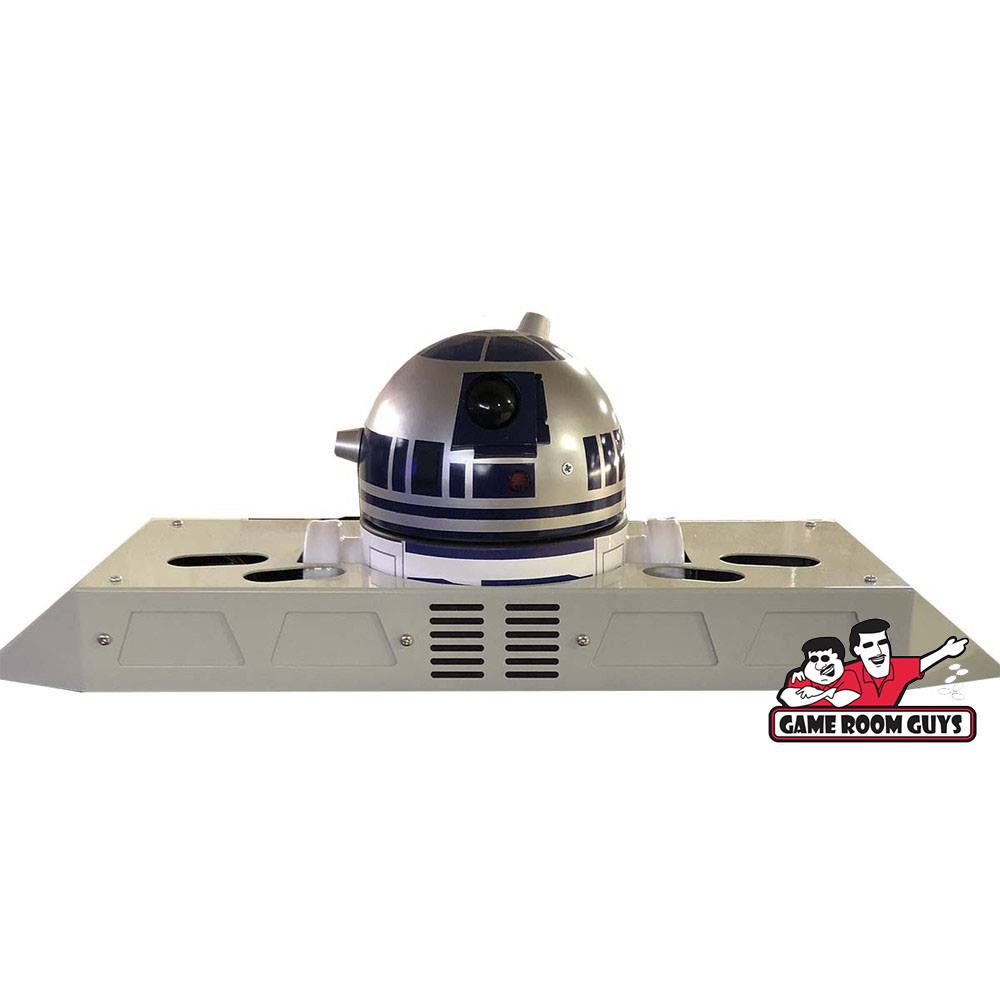 The Game Room Guys posted a picture of the Star Wars R2D2 Topper on this link.  The price is listed at $499.99 and the description reads: "Stern Star Wars Pinball topper for Stern pinball machines. Officially licensed Star Wars R2-D2 topper interacts with game play on all star wars pinball models."
Previously we saw a brief video of the topper in action, which you can check out here.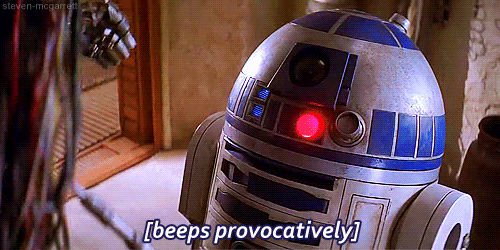 ---
4. Santa Brought Code
We had several code drops over the holidays!  In no particular order:
Also, did you know that The Beatles pinball machine has a "Holiday Adjustment" setting which includes holiday related game over callouts?
---
5. Pinball Mentioned on ESPN
Pinball got some great exposure recently when Elk Grove Village, which is the location of Stern Pinball, sponsored the Bahamas Bowl Game.  The FIU Panthers of Conference USA faced the Toledo Rockets of the Mid-American Conference, which was covered on ESPN with announcers Steve Levy, Desmond Howard, and Laura Rutledge.
The sponsorship was announced back in August.  You can check out more information about the Elk Grove at these links:
Finally, you can check out this article called When Elk Grove was mentioned on ESPN Bahamas Bowl broadcast: We logged it for when Elk Grove and PINBALL were mentioned during the broadcast.
Will we ever see pinball on ESPN?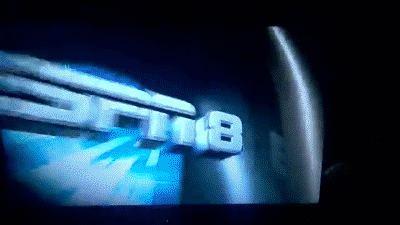 ---


— What Else is Happening in Pinball —
Cousin Brucie on Pinball Profile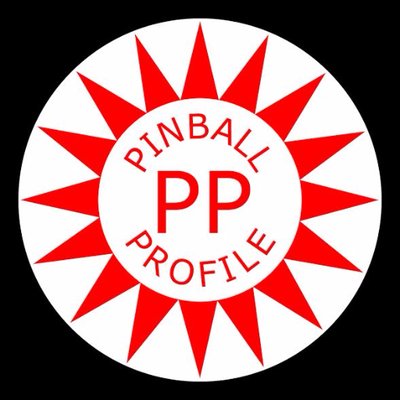 Our friend Jeff Teolis of Pinball Profile talks with legendary DJ Cousin Brucie about his experience with The Beatles…both pinball machine and the group.  Check it out here!
---
Buffalo Pinball: Alice Cooper's Nightmare Castle Stream
Buffalo Pinball's RudySoup streamed Alice Cooper's Nightmare Castle last week!  There is not a lot of ACNC footage out there yet – check it out!
---
Jeffree Star and Jack Danger Streaming 1/4 and 1/5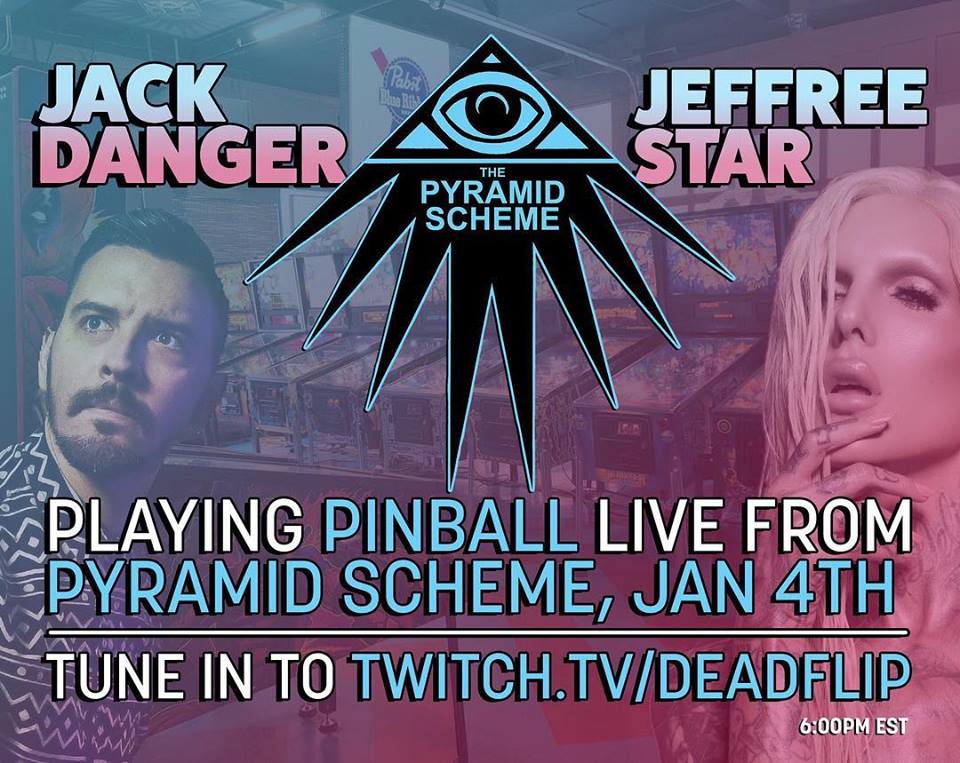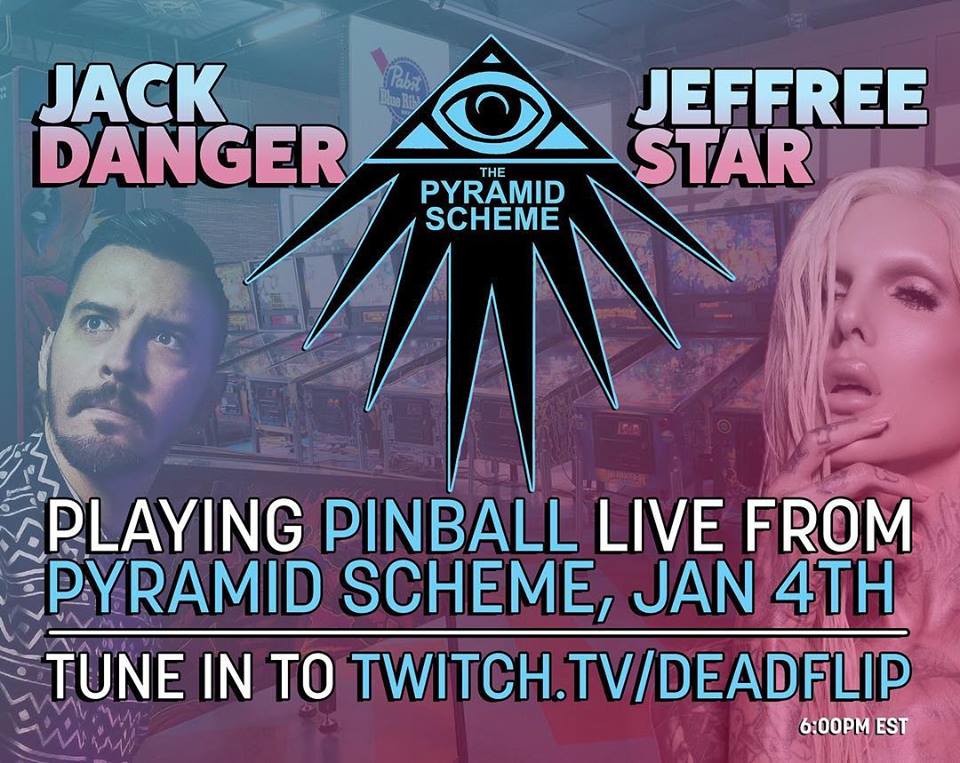 Jeffree Star and Jack Danger are back at it.  They'll be streaming at the Pyramid Scheme Bar in Grand Rapids, Michigan on January 4th.  As a reminder, Jeffree is a makeup artist, entrepreneur, and musician with a HUGE online following:
Over 11 million subscribers on YouTube
Over 1 billion views on YouTube
Over 9.2 million followers on Instagram
Over 2.7 million Facebook Likes
Over 2.8 million followers on Twitter
It should be great exposure for pinball – check out the streams when they go live on the Dead Flip Twitch channel here!
---
Total Nuclear Annihilation Difficulty Matrix
Scott Danesi posted the following image in this Pinside post.  It is a Reactor Difficulty Matrix, with the settings at Easy, Medium, Hard, and Brutal: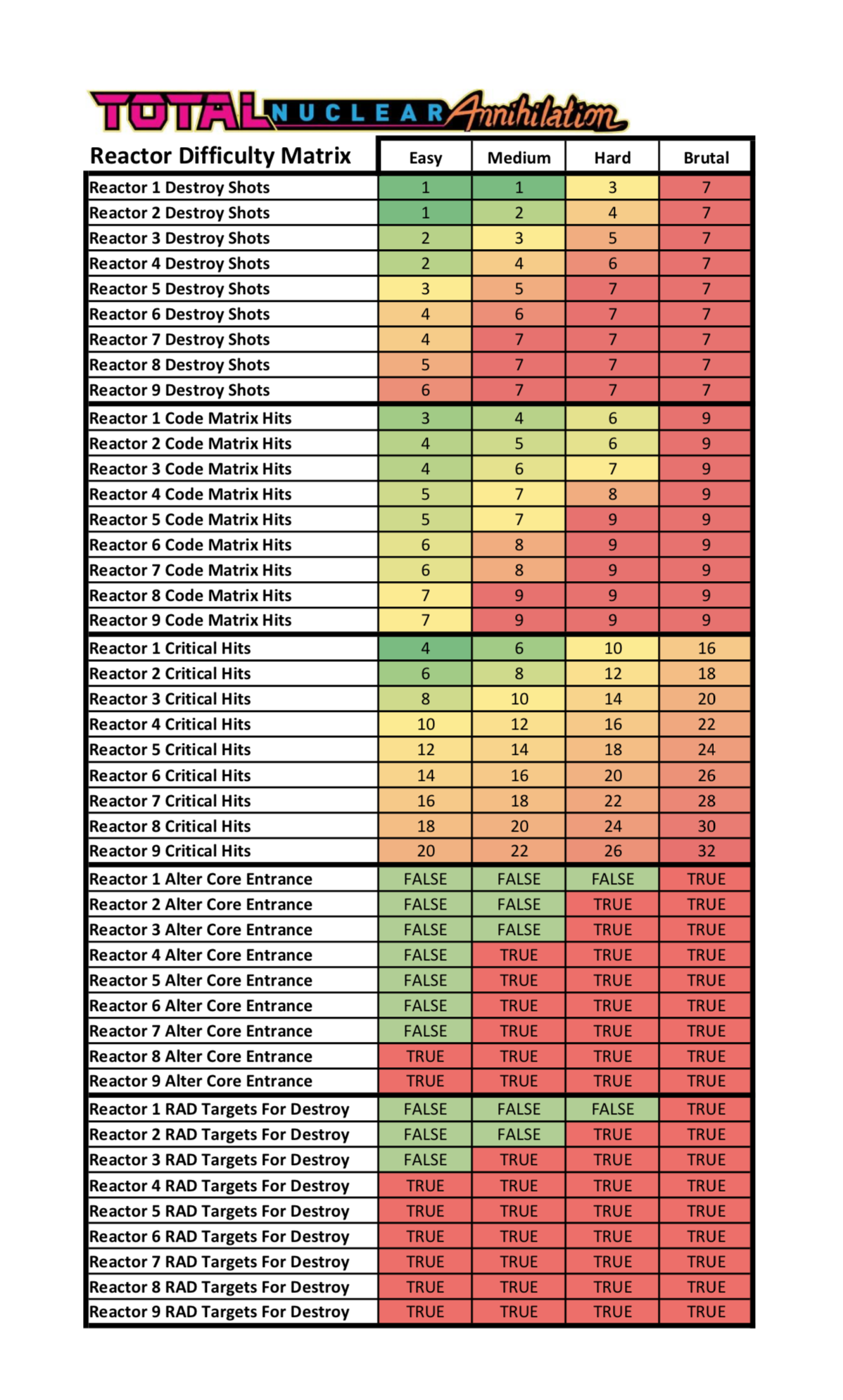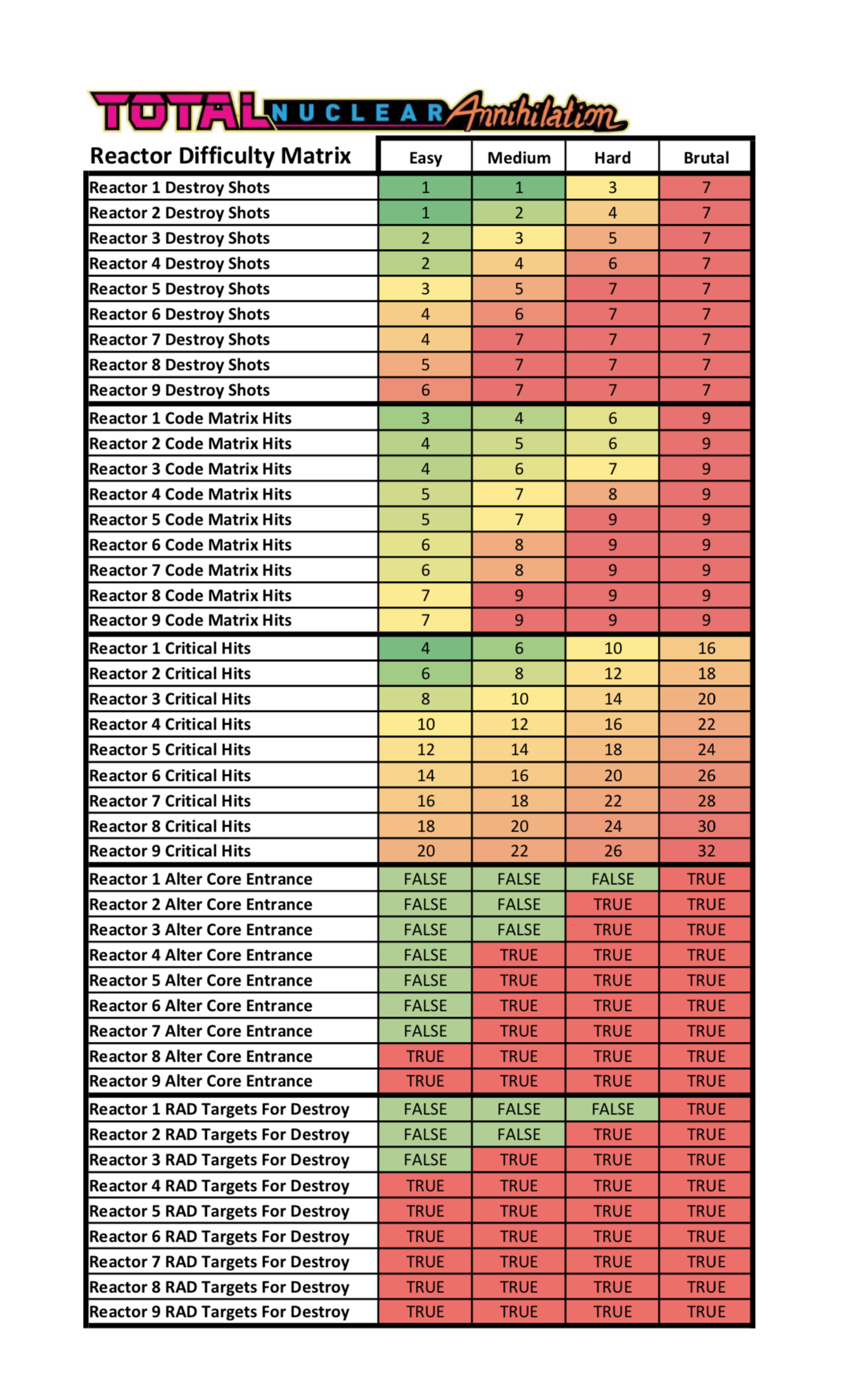 It shows the gameplay differences between the difficulty levels, which is in part already in the TNA code and will be part of the upcoming TNA update.  Do you want to help test the beta code?  Click here!
---
IFPA Annoucements


The International Flipper Pinball Association (IFPA) shared several articles on their website over the holidays, including:
---
Homepin Second Game Tease
Homepin shared a minor teaser for their second game recently on Facebook:
---
A Very Greg and Zach Pinball Christmas
Our friends at Straight Down the Middle: a pinball show released their Christmas episode – check it out!
---
Pinball Tools of the Trade
Jersey Jack Pinball's Butch Peel hosts a good video showing the tools of the trade of pinball – check it out!
---

— Cool and Crazy Stuff —
Love at Marco Specialties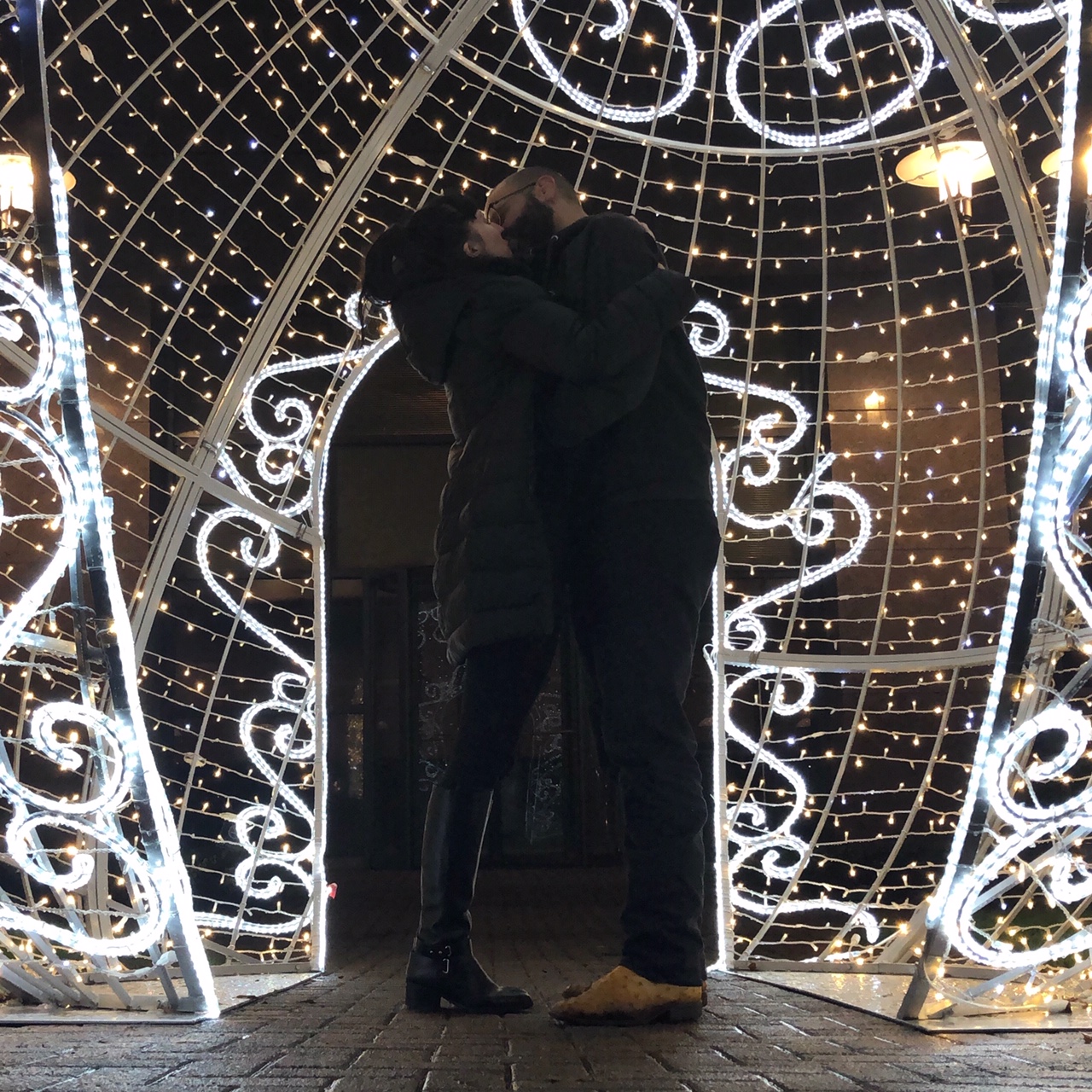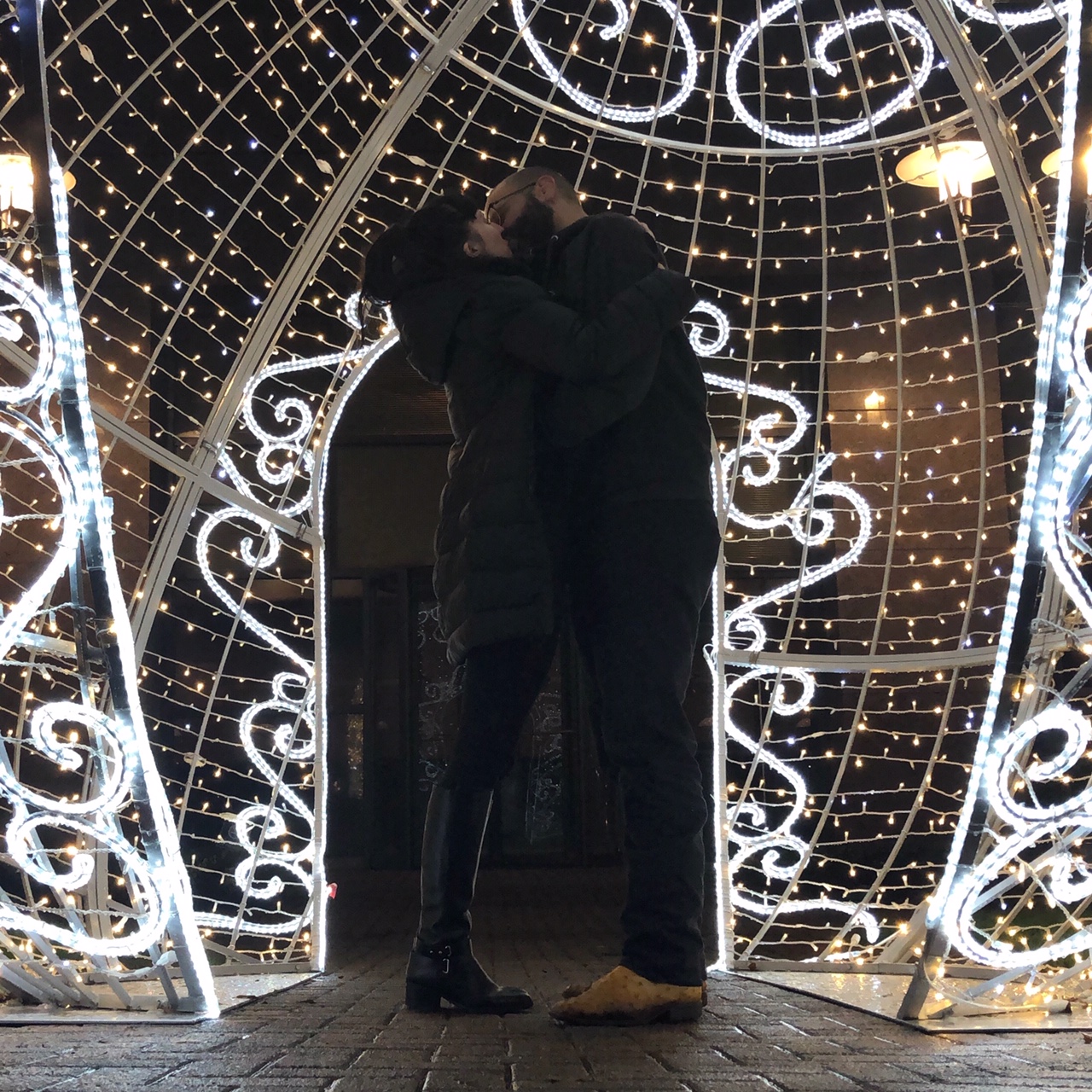 We have a pinball engagement!  Rachel Bess and Cale Hernandez Marco Specialties are engaged!  Check out some more information from Rachel:
Pinball really does bring people together!
We're going to have a big celebration at Arcade Expo in Banning, March 15-17, and maybe some cakes at the Marco booths in other cities as well; we want to celebrate with our people!
How it happened: We met in a work videoconference and shortly thereafter were on the road at pinball shows together. We were great friends for several months and got to share experiences like crossing our fingers that fedex would deliver our machines to the shows on time, spending way too many hours shivering while reboxing 25 Iron Maidens during the MGC blizzard, and making bets with other pinball folks about when the massive water leak was finally going to collapse the ceiling tiles in the hotel breakfast room. He had been in love with me the whole time but I never really knew it. Finally I realized that we clicked like Legos and we dated for a solid two weeks before realizing that we had to be together forever and got engaged!
Congrats to Rachel and Cale!!
---
Iron Maiden Drummer gets Iron Maiden Pinball
From our friends at Little Shop of Games: "Iron Maiden drummer Nicko McBrain loves his Limited Edition Iron Maiden pinball machine from Stern Pinball. Little Shop of GAMES delivers the goods!"  Check out the picture here!
---
Jaws Pinball Homebrew
Our friend Joel Cohen shared a cool Jaws Pinball on Pinside!  On this post, he shared:
Decades ago, I wanted to design my own shark themed, non-licensed pin, White Death (a nickname for the great white). The furthest I got was this ugly-as-sin playfield blank prototype I hand-routed back in early 2000. Forgive the magic marker "artwork." I also made a foam core/poster board mock-up to gauge the ramps and shots. Unfortunately, due to my horrible programming skills and inability to find extra help, this is the furthest I got. I attempted another PF blank with modified shots and less cluttered inserts, but much is similar to what you see here.
Just in case a Jaws pin does get made and some inserts are laid out like mine, I have the time stamp to show I made the first attempt.
Hopefully, one day I'll get some extra help to get a working homebrew made.
Check out the pic and those teeth inserts!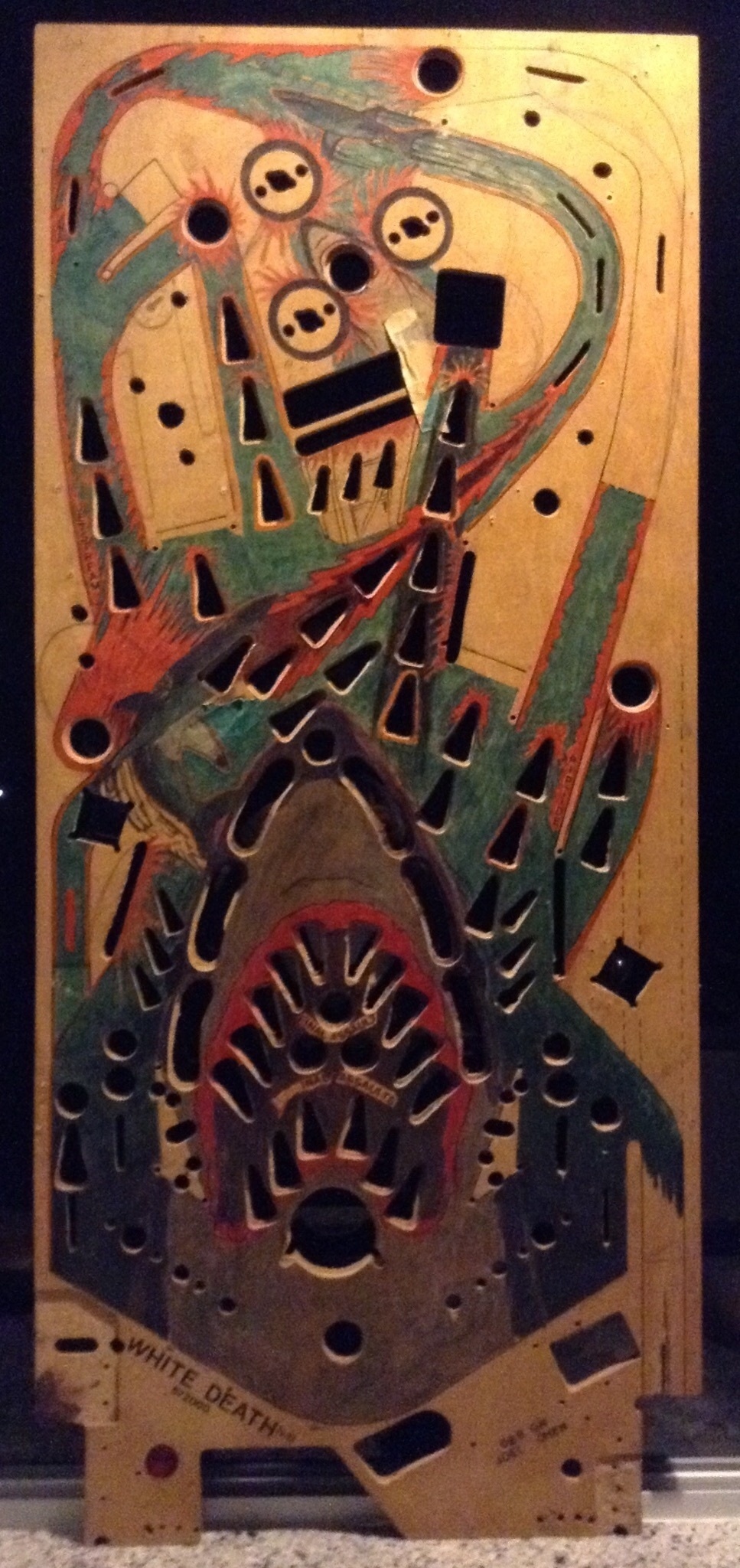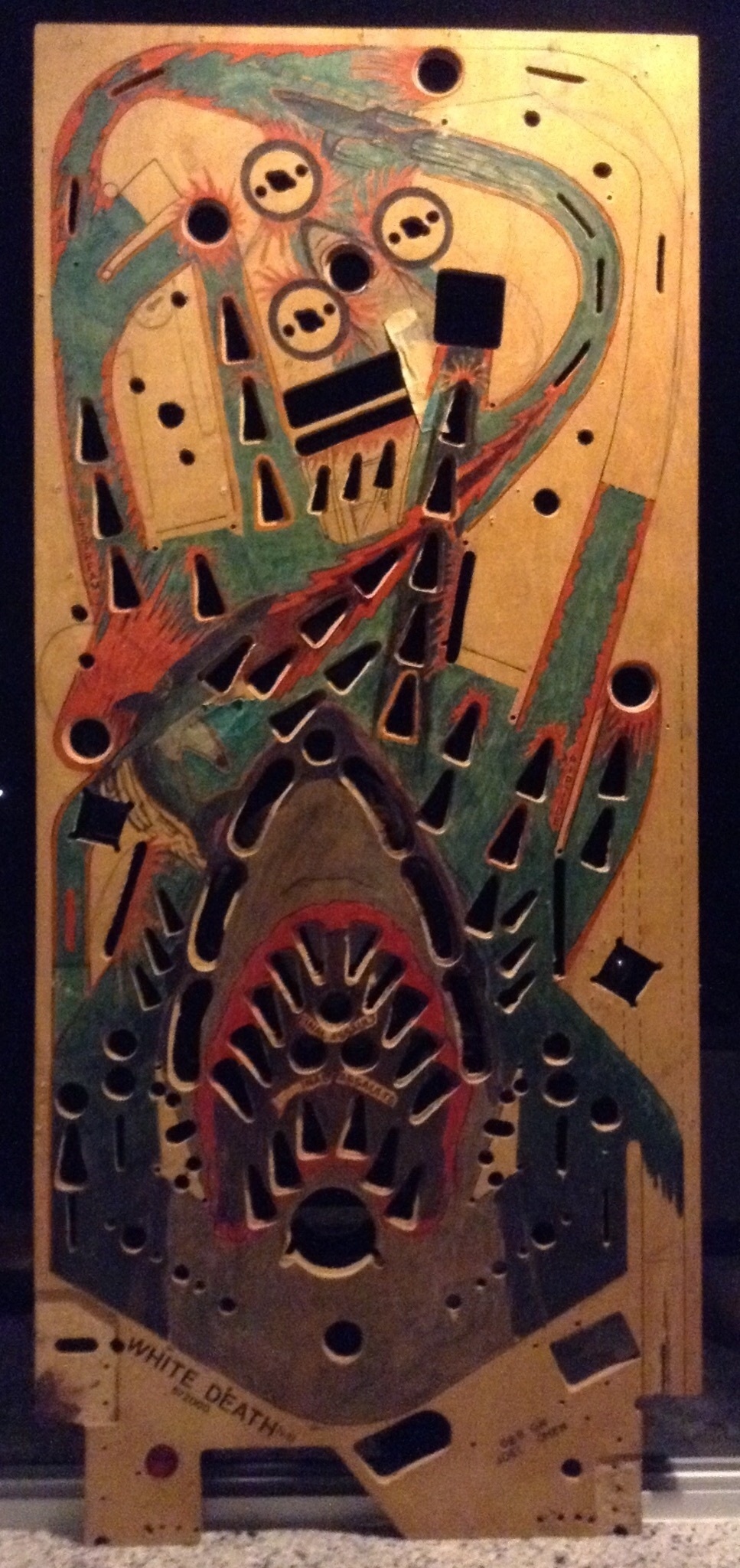 ---
New In Box Big Bang Bar – $25,000
For sale on Pinside – not sold (as of yet).
---
Beatles Diamond Edition – $18,500
For sale on Pinside – sale pending!
---
Crazy Pinball Car Thing
Half roadster, half pinball machine?
---

Identify the pinball machine pictured below for a chance to win a limited This Week in Pinball Lapel Pin!  Drawing will be held monthly!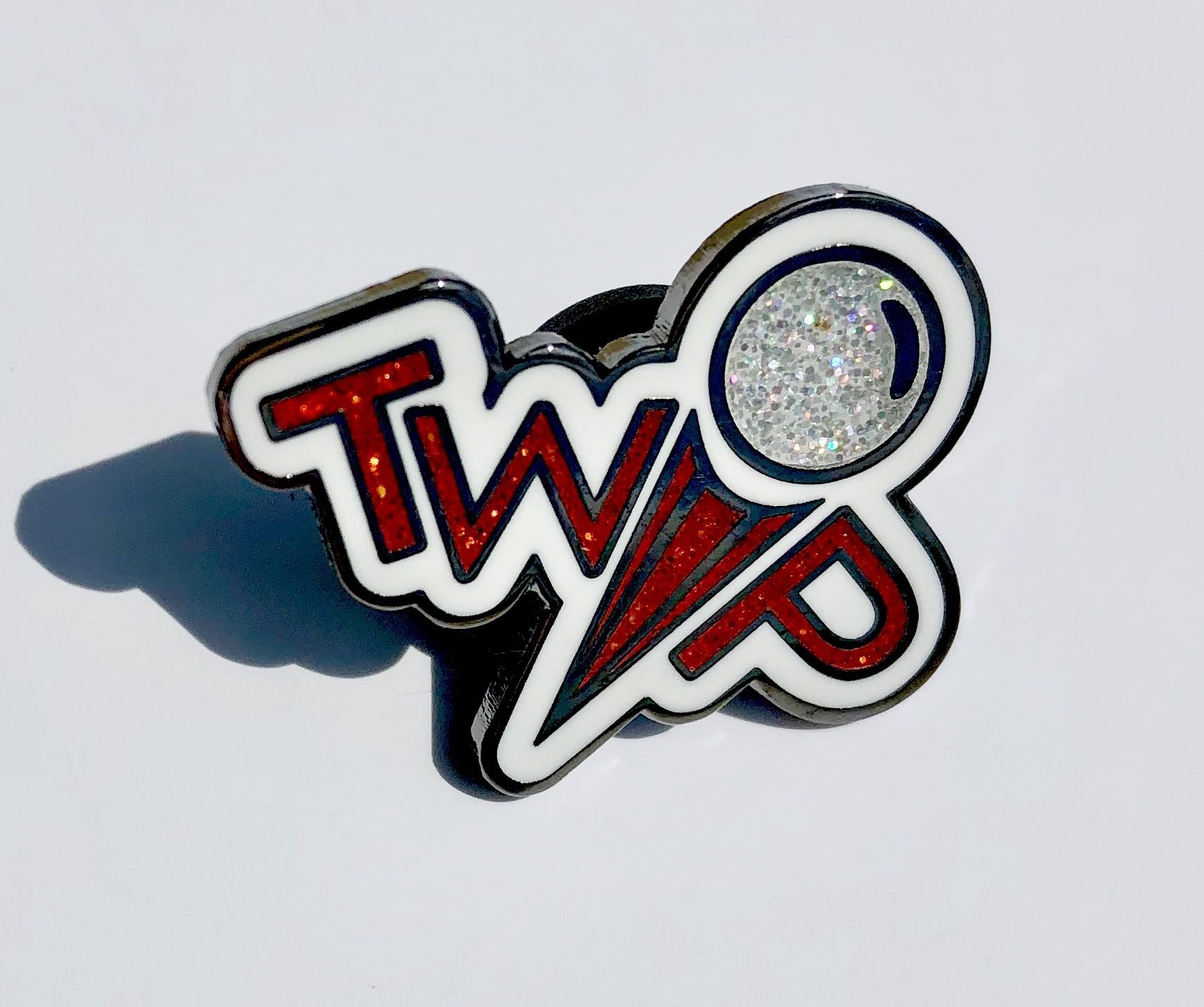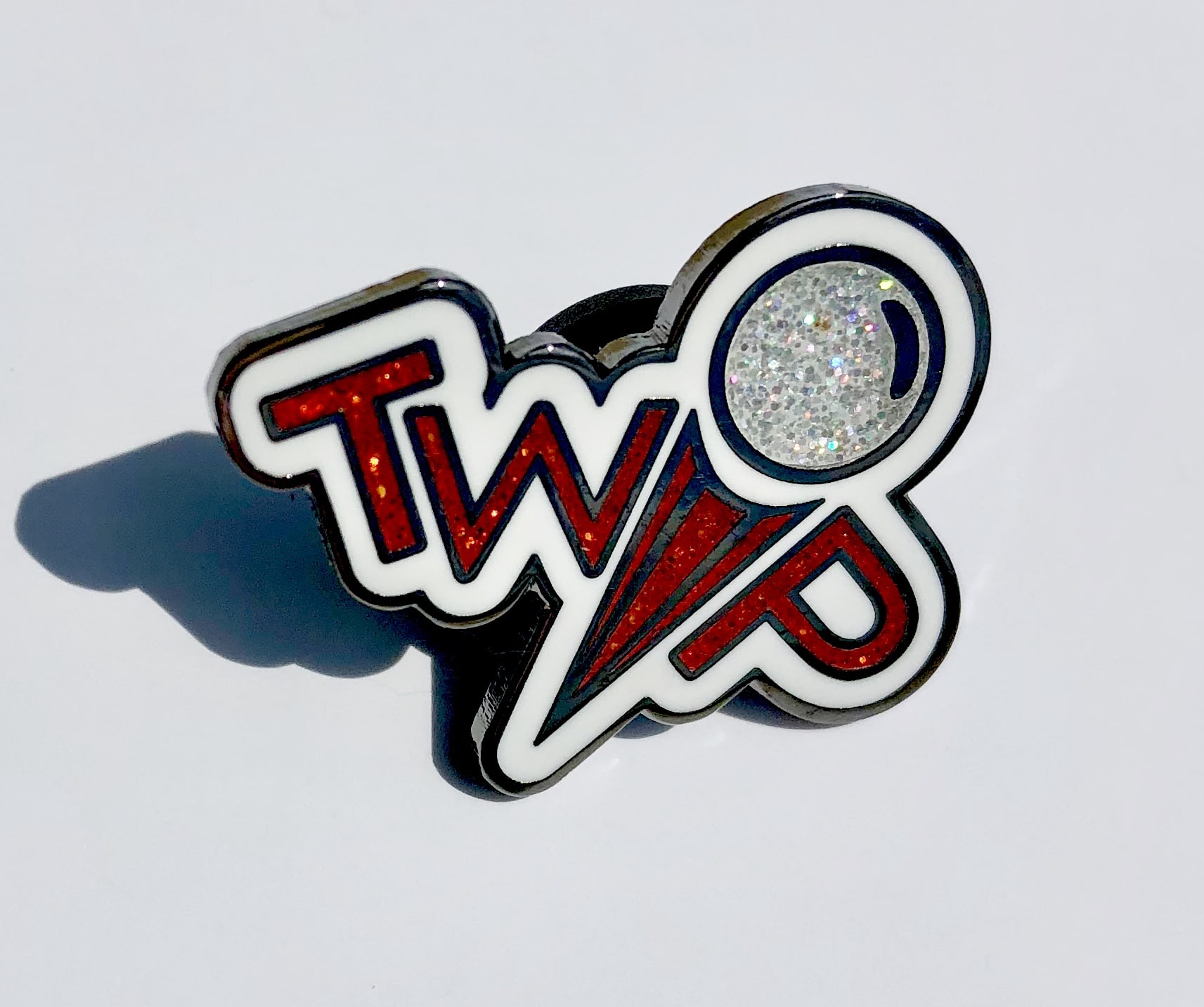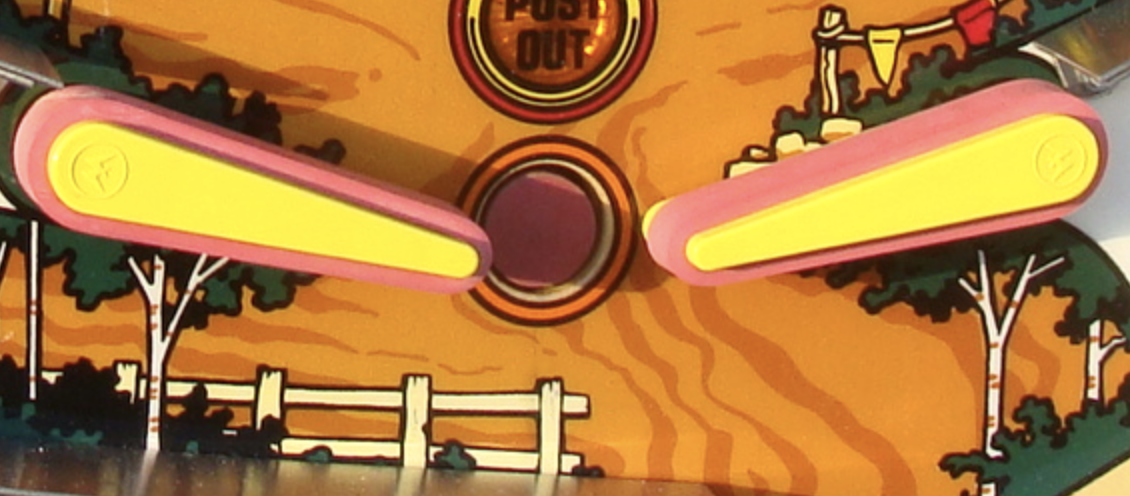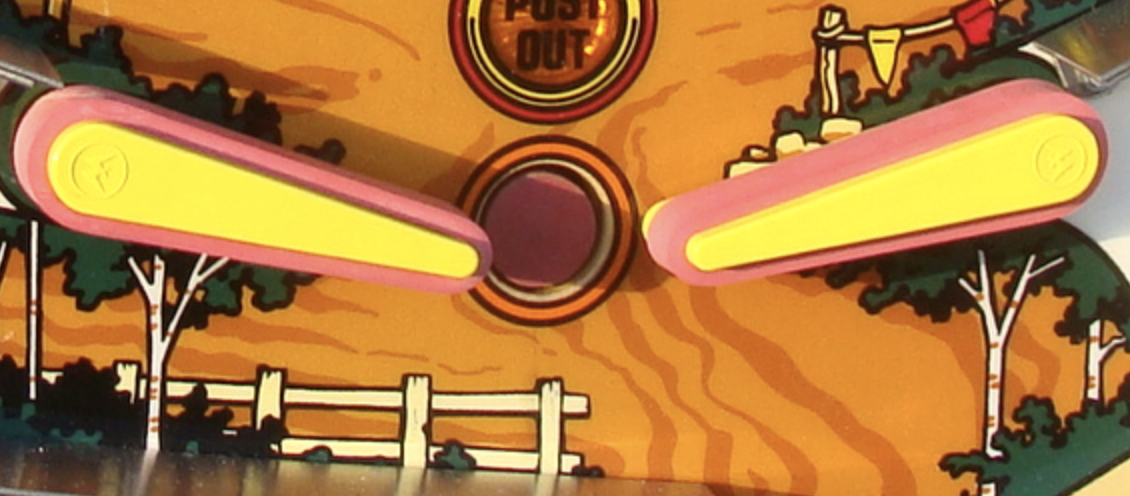 Last Week's answer: America's Most Haunted
Email guesses to thisweekinpinball@gmail.com, correct answers will be entered into the drawing for the limited TWIP Lapel Pin!
---

— Presented By —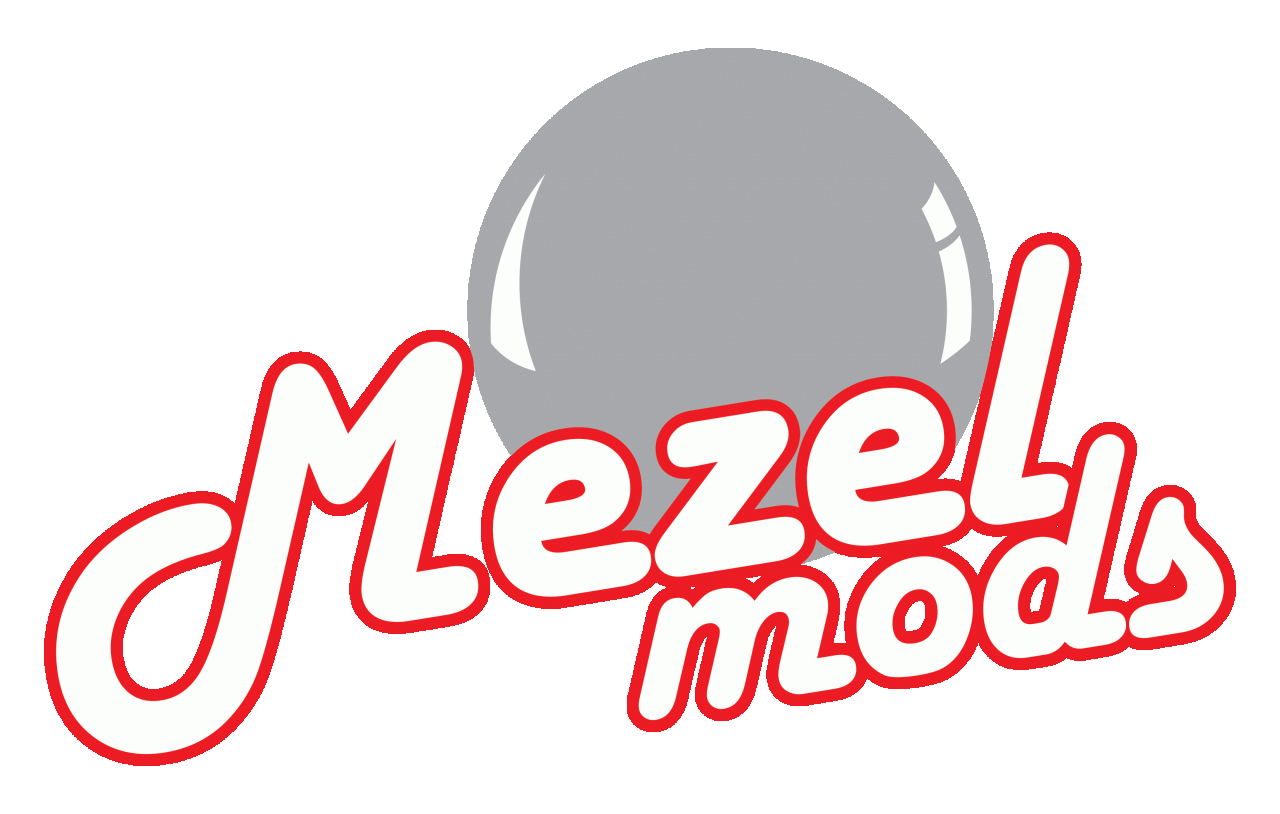 This Week's Mod of the Week is the Walking Dead Prison Door Roof from Mezel Mods!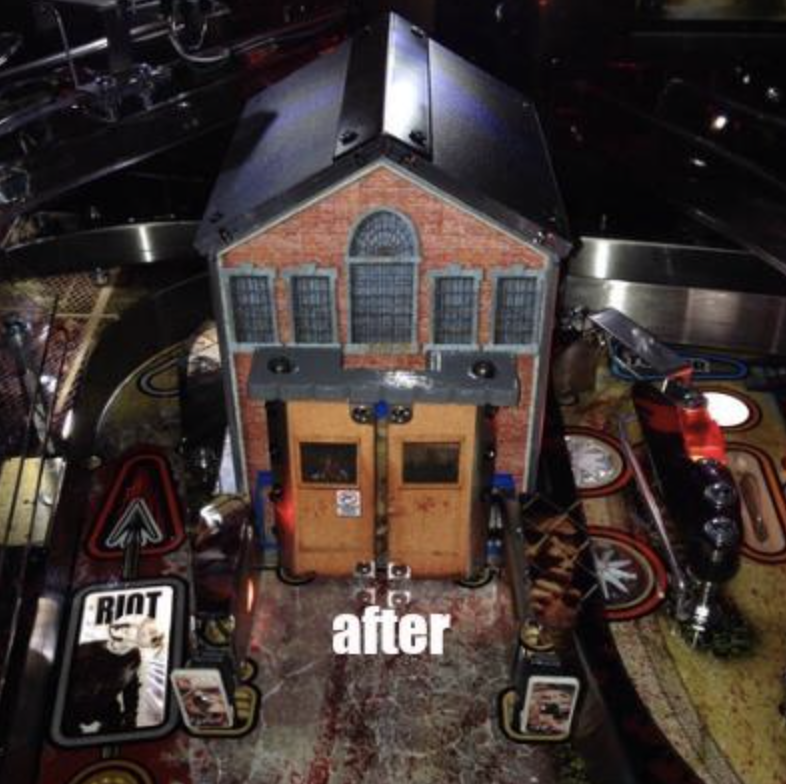 "Upgrade your prison door with the Walking Dead Pinball Prison Door roof.  Replace the existing metal bracket with this gray bracket that simulates the look of a brick outline. The bracket adds depth and conceals the view of the bolts. Attaches with the existing bolts."
---


— To Those Who Make This Hobby Better —
Happy 50th Episode Mrs. Pin's Pinball Podcast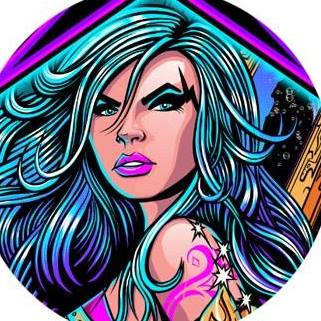 Mrs. Pin's Pinball Podcast just celebrated her 50th episode!  Always entertaining, Mrs. Pin and Dr. Pin have been an awesome addition to this hobby – congrats on 50 episodes!!  Check out their Facebook page here and their podcast here on Podcast Garden!
---
Slam Tilt Podcast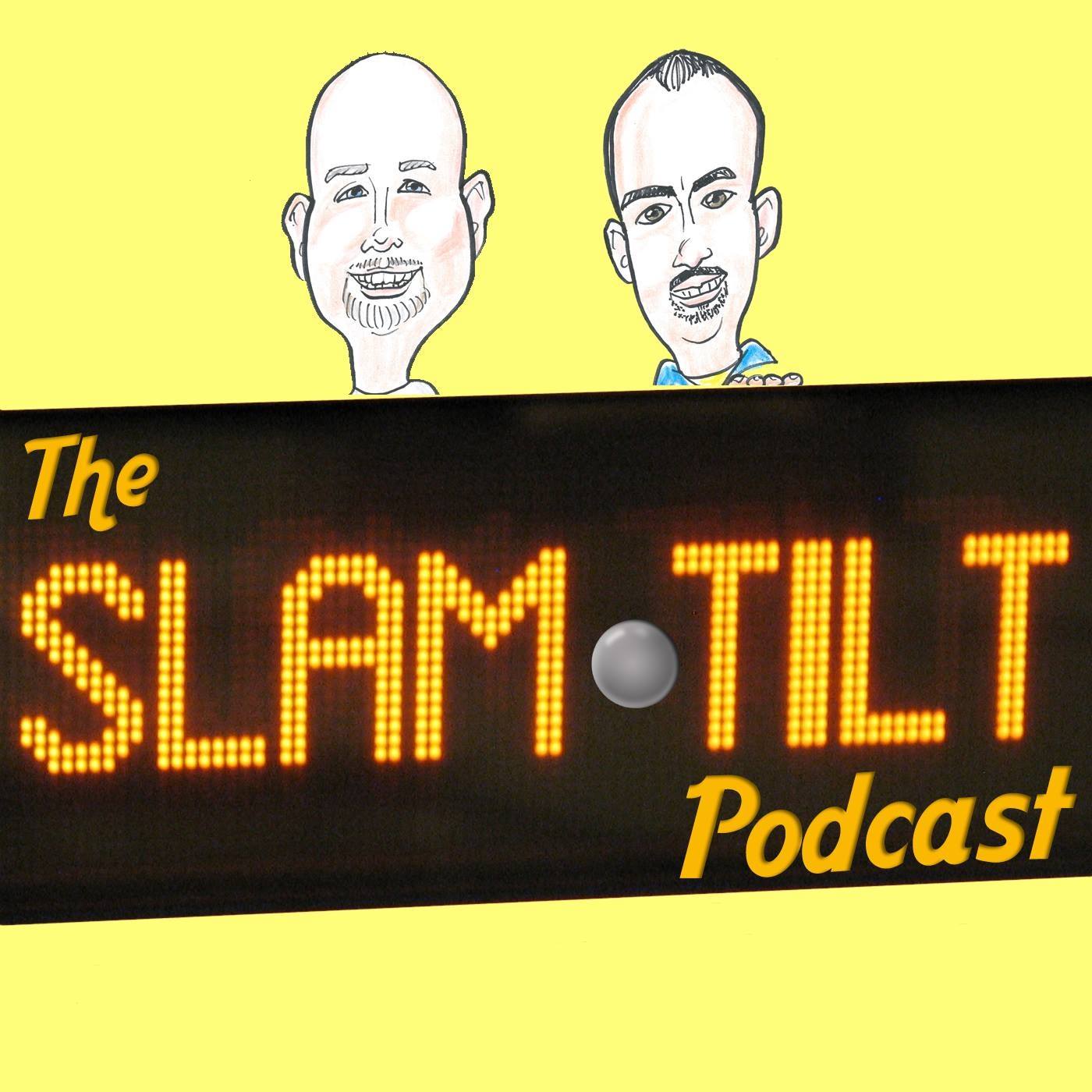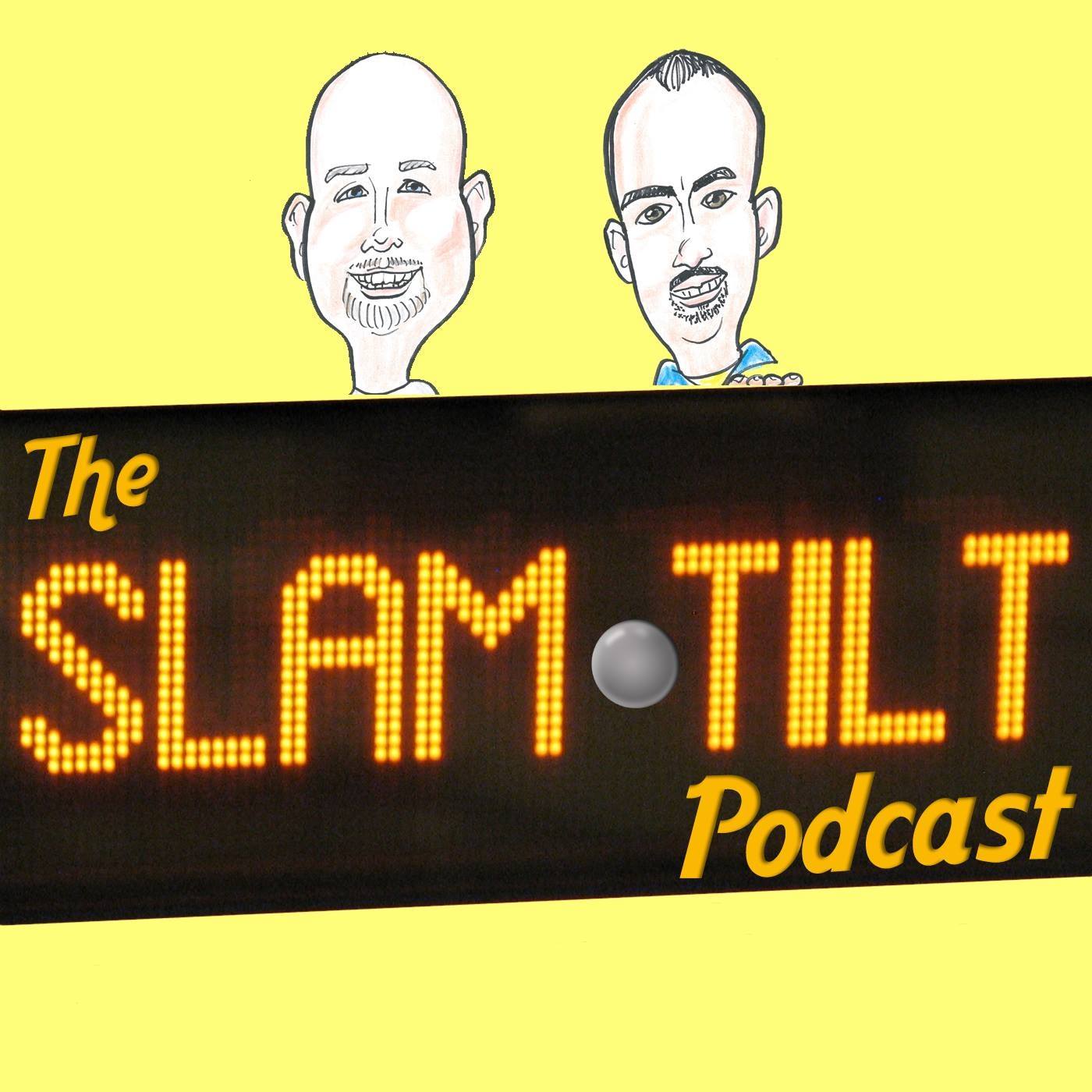 We've been waiting to share this on TWIP until we were sure it was true, but Slam Tilt Podcast is taking a well deserved break.  They will no longer be doing a weekly podcast, but doing their podcast as they have time.  On behalf of the pinball community, we will miss your weekly podcasts!!  🙁  THANK YOU for all the time and effort you've put into creating pinball content!!  We look forward to hearing from you as time allows!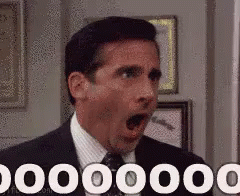 ---

— End of Post Bonus —
---
Get alerts for new posts from This Week in Pinball – follow/like us on Facebook, Twitter, or sign up by email:
Disclaimer

: Any articles, interviews, or mentions of pinball manufacturers or pinball products is NOT an endorsement.
Have a scoop or anonymous rumor?  Email us at thisweekinpinball@gmail.com
---

Stern Pinball
Most Recent Titles
Star Wars  |  Guardians of the Galaxy  |  AC/DC Luci Vault Edition  |  Iron Maiden  |  Deadpool  |  The Beatles  |  Primus (contract game)
Announced/Confirmed
Elvira 3
Rumors of Future Titles
The Munsters?  |  Steve Ritchie Black Knight 3000?  |  Superman 1978?  |  Beetlejuice?  |  Godzilla?
Jersey Jack Pinball
Most Recent Titles
Wizard of Oz  |  The Hobbit  |  Dialed In  |  Pirates of the Caribbean
Rumors of Future Titles
Willy Wonka?  |  Toy Story?  |  Guns N' Roses?
Chicago Gaming/Planetary Pinball
Most Recent Titles
Medieval Madness Remake  |  Attack From Mars Remake
Announced/Confirmed
Monster Bash Remake
Rumors of Future Titles
Cactus Canyon Remake?  |  Theatre of Magic?  |  Big Bang Bar Remake?
Spooky Pinball
Most Recent Titles
Rob Zombie's Spookshow International  |  Dominos (*contract game)  |  Jetsons (*contract game)  |  Total Nuclear Annihilation (*contract/house game)  |  Alice Cooper's Nightmare Castle
Rumors of Future Titles
Licensed Title  |  Scott Danesi Second Game
American Pinball
Most Recent Titles
Houdini
Announced/Confirmed
Oktoberfest
P3 (Multimorphic)
Most Recent Titles
Lexy Lightspeed  |  Cannon Lagoon  |  Cosmic Cart Racing
Team Pinball
Most Recent Titles
The Mafia
deeproot Pinball
Announced/Confirmed
Fire and Brimstone  |  Retro Atomic Zombie Adventureland  |  Magic Girl  |  Alice in Wonderland  |  Dennis Nordman Unlicensed  |  Dennis Nordman Unlicensed 2
Circus Maximus
Announced/Confirmed
The Pinball Circus Remake  |  Kingpin
Homepin
Most Recent Titles
Thunderbirds
Rumors of Future Titles
Unlicensed Title
Suncoast Pinball
Announced/Confirmed
Cosmic Carnival
Great Lakes Pinball
Announced/Confirmed
Exposé
Haggis Pinball
Announced/Confirmed
Wraith
Pinball Brothers
Rumors of Future Titles
Queen?  |  Barry Oursler's Original Theme?  |  Playboy?
Dutch Pinball
Most Recent Titles
Bride of Pinbot 2.0  |  Bride of Pinbot 3.0 (on hold)  |  The Big Lebowski (production/legal issues)
Silver Castle Pinball
Announced/Confirmed
Timeshock
Phénix Pinball
Announced/Confirmed
Goblin Contest
Get alerts for new posts from This Week in Pinball – follow us on Facebook, Twitter, or sign up by email: