Overview | Price | Who's Who | Production | Features | Rules and Code
Teenage Mutant Ninja Turtles Pinball (TMNT Pinball) is the newest creation from Stern Pinball! Below is an in-depth overview of the machine, and a dive into the features and rules – check it out!
---
Overview of Teenage Mutant Ninja Turtles Pinball
Pro | Premium | Limited Edition
---
Who's Who
Design: John Borg
Lead Game Developer: Dwight Sullivan
Artwork: Zombie Yeti
Lead Sound Designer: Jerry Thompson
Lead Mechanical Engineer: Elliot Eismin
Motion Graphics: Chuck Ernst, Joshua Clay and Team
---
Price
Pro

MSRP: $6,099
Street Price: ~ $5,700-$5,900

Premium

MSRP: $7,699
Street Price: ~ $7,400-$7,600

Limited Edition

MSRP: $9,099
Street Price: ~ $8,900-$9,099
---
Production and Shipping
According to Stern Pinball, the Governor of Illinois plans to allow full production to commence May 29th (this Friday). Stern is "preparing to start TMNT Pro production, with shipping beginning the 2nd week of June. LE production will begin later in June, followed in July by the Premium."
---
Features
All Models:
Three flippers
Three pop bumpers
1987 theme music
Custom video scenes and events
Speech callouts from 17 different characters
Hidden Ninja Training ball lock area
Up post diverters at top lanes
Foot Clan Spinner
17 RGB LEDs
Color changing general illumination LED lighting
Pro Model:
Six balls
Stop and Score mechanical device holds ball on wire ramps for awards
High speed magnetic spinning pizza disc that holds and throws balls (spins one direction on Pro Model)
Premium/LE Models:
Eight balls
Interactive custom sculpted TMNT Van ball locks up to four balls inside, releases balls through a mechanical side door that opens and closes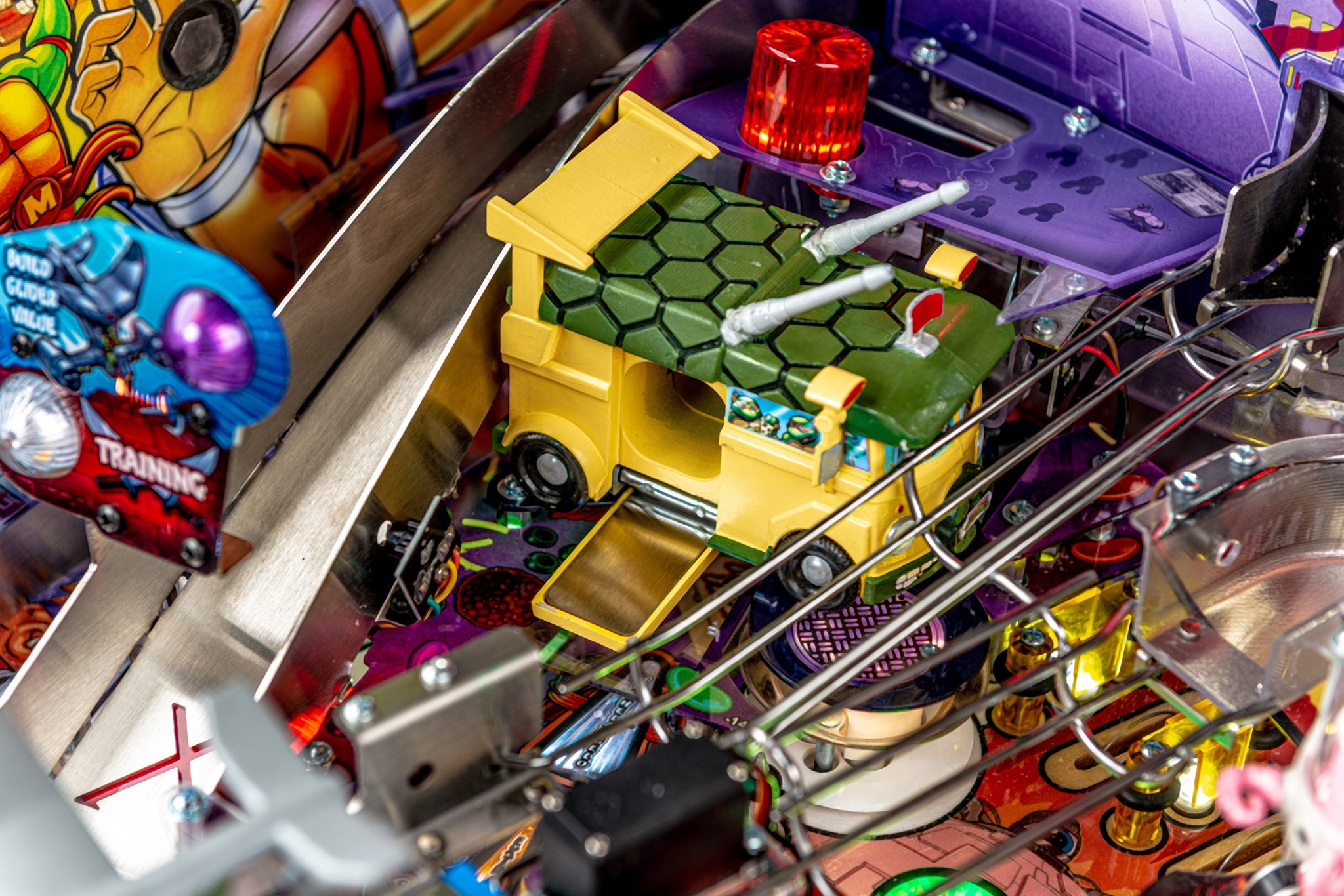 Player controlled custom sculpted TMNT Glider diverter, player controls the direction of the ball – use action button to control the diverter
High speed magnetic spinning pizza disc that holds and throws balls (spins both directions on Premium/LE Models)
Custom-sculpted mechanical Krang toy jumps up and down and taunts players
Limited Edition Model:
Mirrored backglass
LE inner art blades
Upgraded speaker system
Anti-reflection glass
Shaker motor
High gloss sour apple green powder coated armor
Autographs by Gary Stern and John Borg
Limited to 500
---
Rules and Code
NOTE: Subject to change and may need updating!
Ways to Play
There are several different ways to play the TMNT pinball machine. There is the standard way that you're used to, but also Cooperation Mode, Team Play, Challenges, and several others. We have seen Coop mode and Versus modes and others used in amazing ways in Spooky Pinball machines in the past, including Total Nuclear Annihilation and Alice Cooper's Nightmare Castle. Spooky and the Multimorphic P3 Platform have been leading the way on these innovations.
For this new release, Dwight Sullivan mentioned eight different ways to play on the Stern Insider Pinball Podcast. Currently very little is known about Team Play, Challenges, and the other modes, however Stern has shared how Cooperation Mode works.
You start Cooperation Mode by holding the right flipper in before pressing the start button. From there, each person that is playing chooses a different Turtle, and the progress, features, and points are shared across all players.
Skill Shots, Perks, Turtle Powers, and Leveling Up
At the beginning of the game you choose which Turtle you want to be – Leonardo, Donatello, Raphael, or Michelangelo. Each Turtle has their own special power (or perk). You start at Level One for each turtle and can move up to Level Four – every time you level up your Turtle you get a new perk. So there are 16 total perks – four for each Turtle.
After you choose your Turtle, if you hit the corresponding Turtle Skill Shot, you'll light the Weapon Hurry Up feature. Completing the hurry up to level up your Turtle.
Another way to level up your Turtle is to light and complete the Training Modes.
Episode Modes
There are eight modes, called Episodes. Each Episode has a story, and when you start an Episode it is very similar to the beginning of an episode of the TMNT animated series that the pinball machine is based on.
The middle of the playfield represents the eight different Episodes, they are all the different villains you'll face. Each of the circular inserts/lights correspond to the eight different Episodes.
Six of the Episodes are completely random, you can play them in any order, no matter what order you play them in it still takes you through an overarching story. You can shoot the center target to change which Episode is next.
The other two Episodes need to be unlocked as they are further along in the story.
Start Episodes by shooting the lit yellow shots on the playfield, then shooting the Start Episode television shot at the TMNT Van.
Finish four Episodes to reach the mini-wizard mode called Team Up. Finish all eight Episodes to reach the wizard mode called Final Battle. More on these modes below.
Training Modes
There is a shot behind the upper left flipper that leads to an area that is the Turtles' Lair. This is where they can go and they train by playing Training Modes – the hidden Ninja training ball lock area activates the Training Modes.
Training Modes are lit by shooting the LAIR target.
Completing Training Modes will level up your Turtle.
1-2-3 Foot Combo Mini Mode
When the 1-2-3 Combo mode is lit at the left inlane, rollover it to start this mode. Shoot the right ramp for first shot, then there are two different three way combos to complete the mode for big points and to defeat the Foot Clan. This mode is available once per ball.
Krang Kombo
Shoot the Krang shot to build up the Krang Kombo value, then shoot the center ramp from the upper flipper to collect the Krang Kombo.
APRIL Spot Target
Shoot the APRIL spot target to light Battle Again (the outlane saves). Complete the APRIL target a second time to start the April hurry up at the right ramp.
Multiballs
There are two main multiballs in the game:
Ninja Pizza Multiball
Shoot the Ninja Pizza Parlor and lock three balls to start Ninja Pizza Multiball.
Turtle Power Multiball
Shoot the right ramp four times to start Turtle Power Multiball.
Wizard Modes
There are three wizard modes in the game:
Team Up Mini Wizard Mode:
Team Up is available after playing four Episodes. In Team Up, Shredder has kidnapped the other three turtles and you have to go and rescue them. You call on your friends to help with the rescue. You fight your way through villians and then you have to hurry up to rescue one of the Turtles that is tied up, and Shredder gets in your way.
Depending on which episodes you've played before Team Up, this wizard mode is going to be slightly different – different episodes will add a different perk or bonus or change the rules in some way.
Final Battle Wizard Mode:
Final Battle wizard mode is available after you've played all eight Episodes.
One more…
Stay tuned…
---
Teaser Videos
Stern released several teaser videos for Teenage Mutant Ninja Turtles – first is the official teaser:
Then the features on the Pro Model:
And finally the features on the Premium/LE Models:
---
Stern Insider Pinball Podcast
Our friends at the Stern Insider Pinball Podcast released a panel discussion with John Borg, Dwight Sullivan, Elliot Eismin, Jeremy Packer (aka Zombie Yeti), and Jerry Thompson – definitely check out that podcast here!! Some of the information above was learned from this podcast, and it is fun to hear how enthusiastic the creative team is with this project.
---
Reveal Stream
Join Jack Danger and friends at 6:00PM Eastern / 5:00PM Central to check out the reveal stream!!