Last Sunday, a billion dollar streetwear brand called Supreme launched a trailer showing off their very own private label pinball machine, produced by Stern Pinball: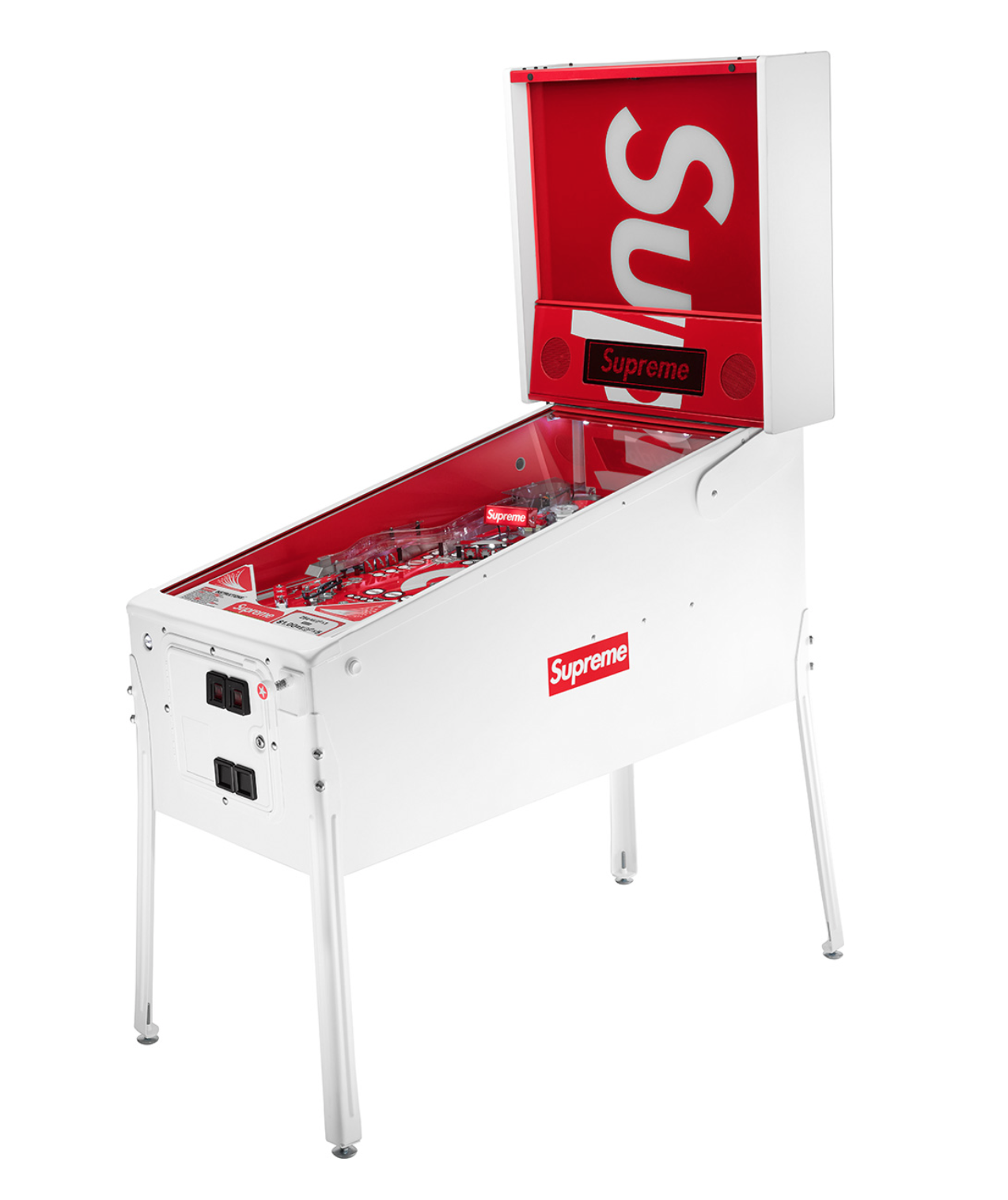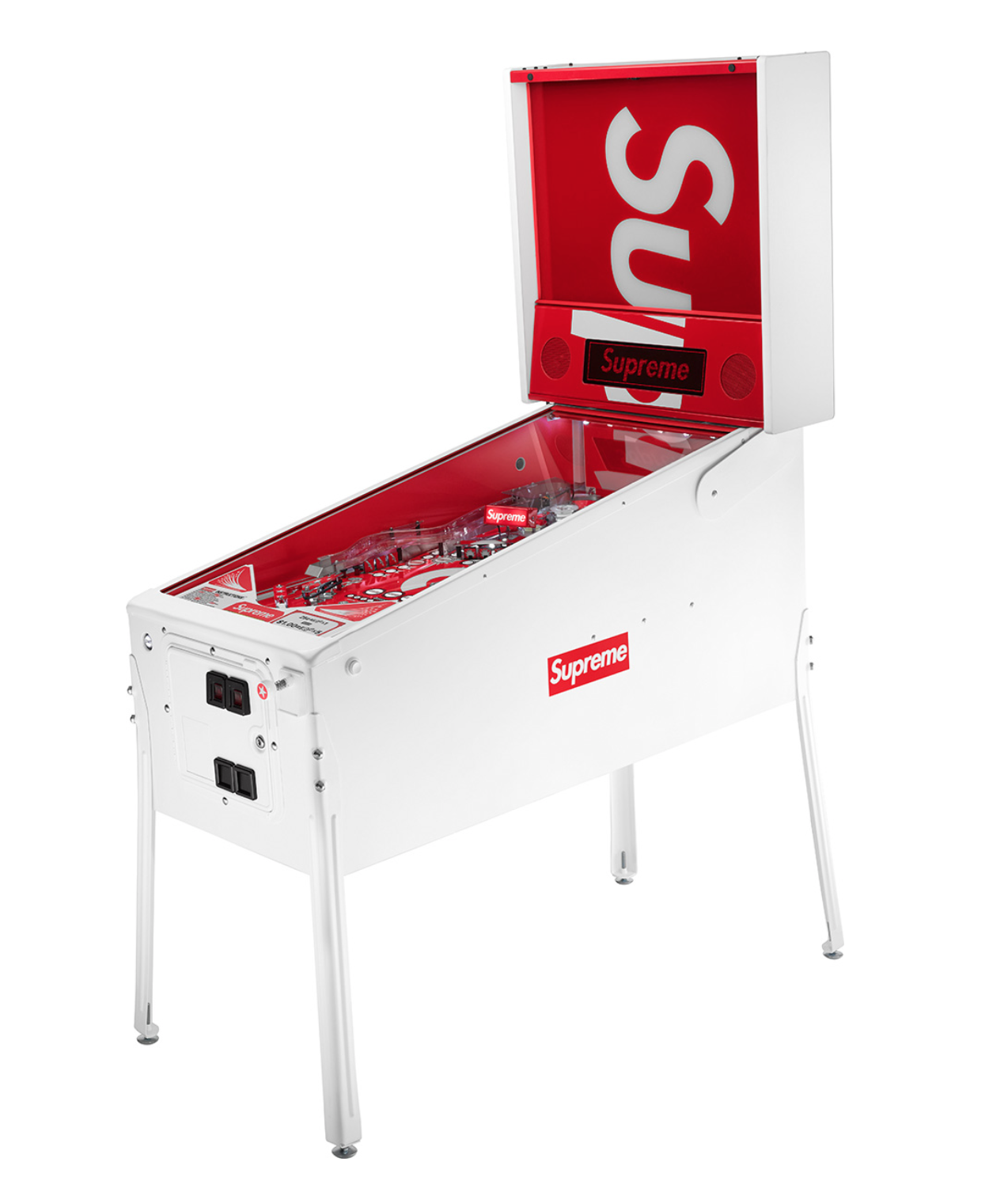 WHAT IS SUPREME?
As mentioned above, Supreme is a billion dollar streetwear brand. It was founded by James Jebbia in 1994. They have worked on collaborations with brands like Nike, Air Jordan, Vans, Clarks, The North Face, Hanes, Playboy, Levi's, Timberland, Louis Vuitton and more. According to their "About" page on their website:
"In April 1994, Supreme opened its doors on Lafayette Street in downtown Manhattan and became the home of New York City skate culture. At its core was the gang of rebellious young New York skaters and artists who became the store's staff, crew and customers.
Supreme grew to be the embodiment of the downtown culture, playing an integral part in its constant regeneration. Skaters, punks, hip-hop heads – the young counter culture at large – all gravitated towards Supreme.
While it grew into a downtown institution, Supreme established itself as a brand known for its quality, style and authenticity.
Over its twenty-two year history, Supreme has worked with some of our generation's most groundbreaking designers, artists, photographers, and musicians – all who have helped continue to define its unique identity and attitude."
WHAT DOES SUPREME SELL?
Supreme sells streetwear – casual clothing and such. But they also sell other items with the Supreme logo and branding, including fire extinguishers, bolt cutters, harmonicas, nunchucks, crowbars, water pistols, motorbikes, axes, and…a brick. Check out this list of "The 25 Weirdest Supreme Accessories Ever". Why are their products so popular? Depends who you ask. They're items are worn and embraced by celebrities. Their supply is typically WAY below the demand for their products. They regularly release new products with huge hype and long lines. Like them or hate them, their items are extremely popular.
WHY A PINBALL MACHINE?
Your guess is as good as mine, but part of the reason people buy the Supreme brand is that their items are limited releases. This pinball machine will be an extremely limited production run. Many fans of the Supreme brand enjoy purchasing and collecting rare items – and many pinball enthusiasts also enjoy collecting rare machines. Will there be an overlap of a pinball enthusiast that wants rare machines and is also a fan of the Supreme brand? Yes.
IS THIS GOOD OR BAD FOR PINBALL?
The exposure for pinball on this release has been unprecedented for pinball. Supreme shared the news on Instagram to over 9 million followers. At the time of writing this, the trailer video has been up for about two days, has almost 2 million views, over 14,000 comments, and over 450,000 likes.
On Sunday we witnessed the most exposure a new pinball machine has ever seen in a single day.
This is incredible exposure for this hobby. How many people were introduced or reintroduced to the pinball hobby just based on this 45 second video? Obviously that doesn't mean that the people that viewed the video are suddenly pinball fans. But that many people viewing pinball is definitely not a BAD thing for the hobby. If you love pinball and want this hobby to grow, this type of exposure is great for pinball!
FEATURES AND INFO ABOUT SUPREME PINBALL
Shall we move on to the pinball machine itself now? We're going to run through some general info about the machine and some of the features. This is different than our normal reviews as this machine really isn't aimed at the pinball enthusiast.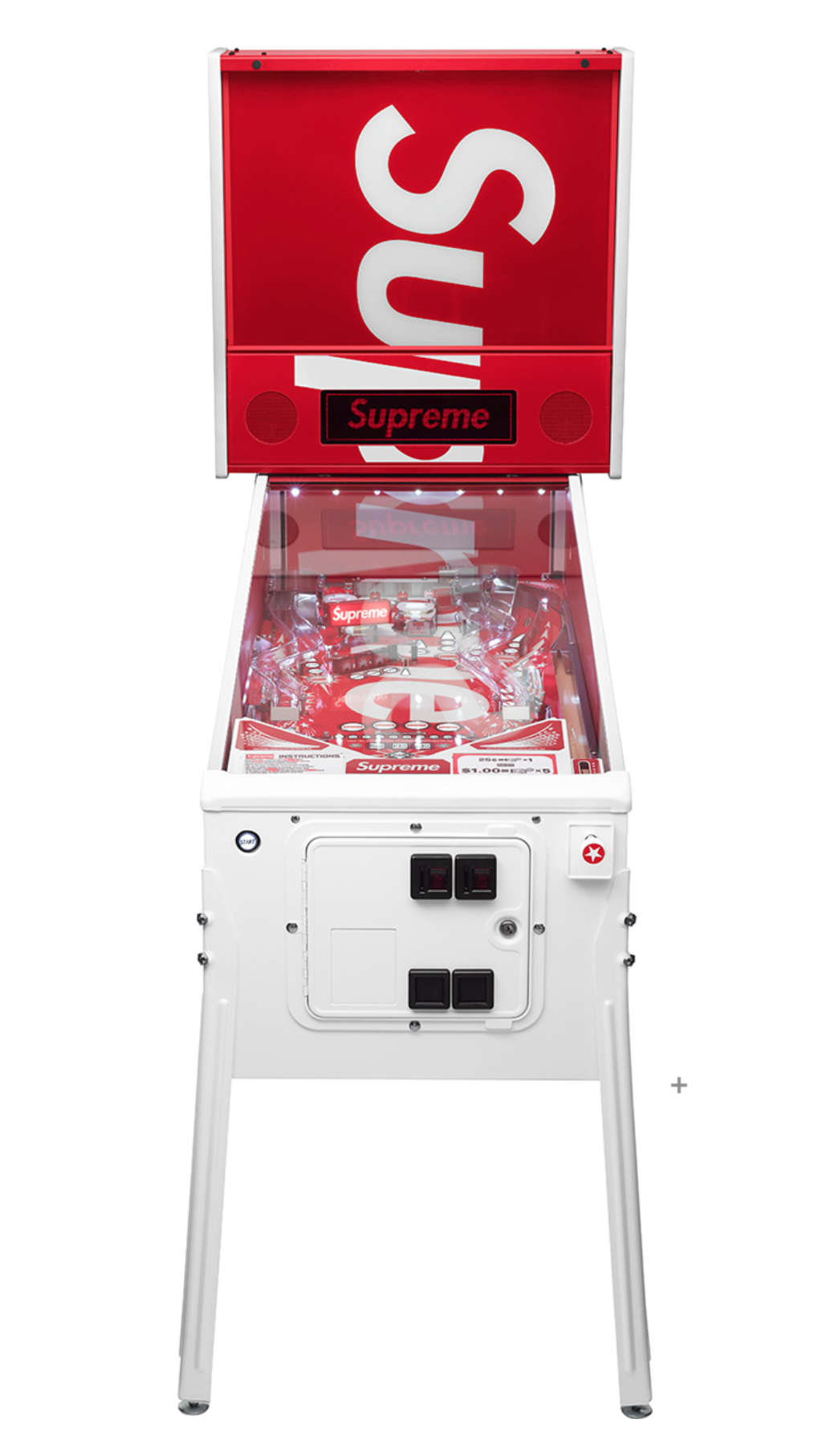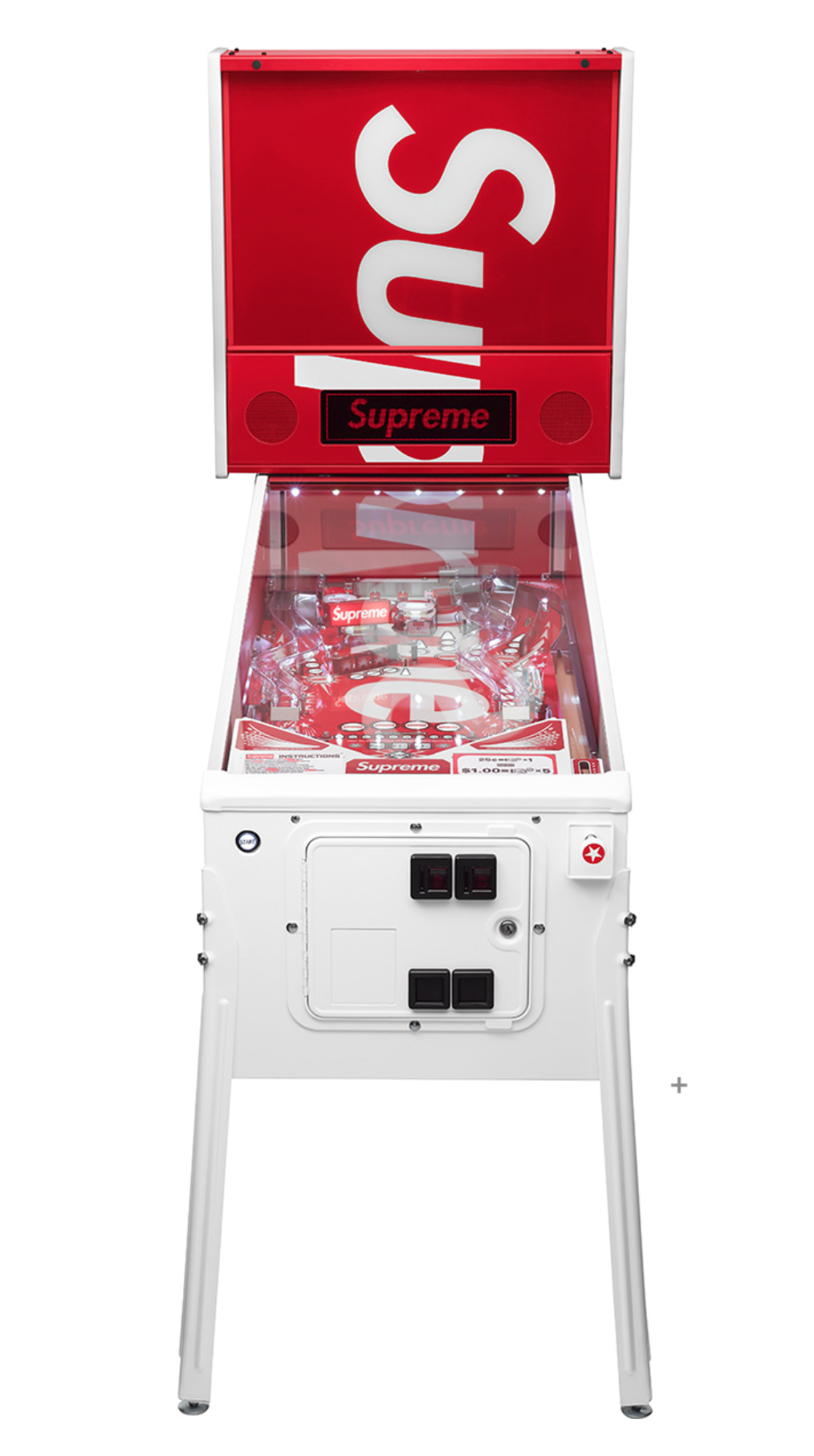 ---
PLAYFIELD
The playfield layout is a re-skinned playfield from Spiderman The Pin (Home Edition). Check out the the comparison below: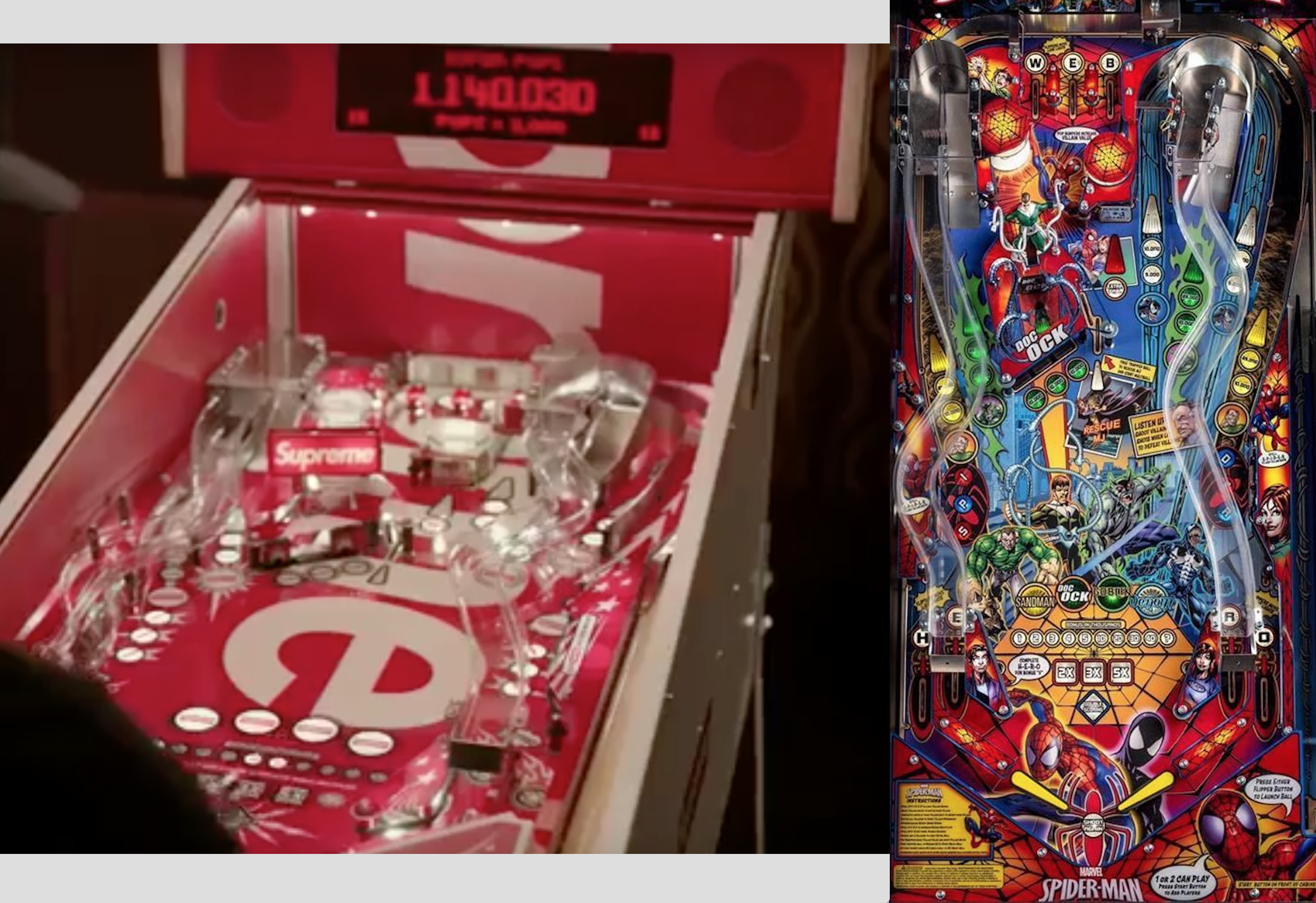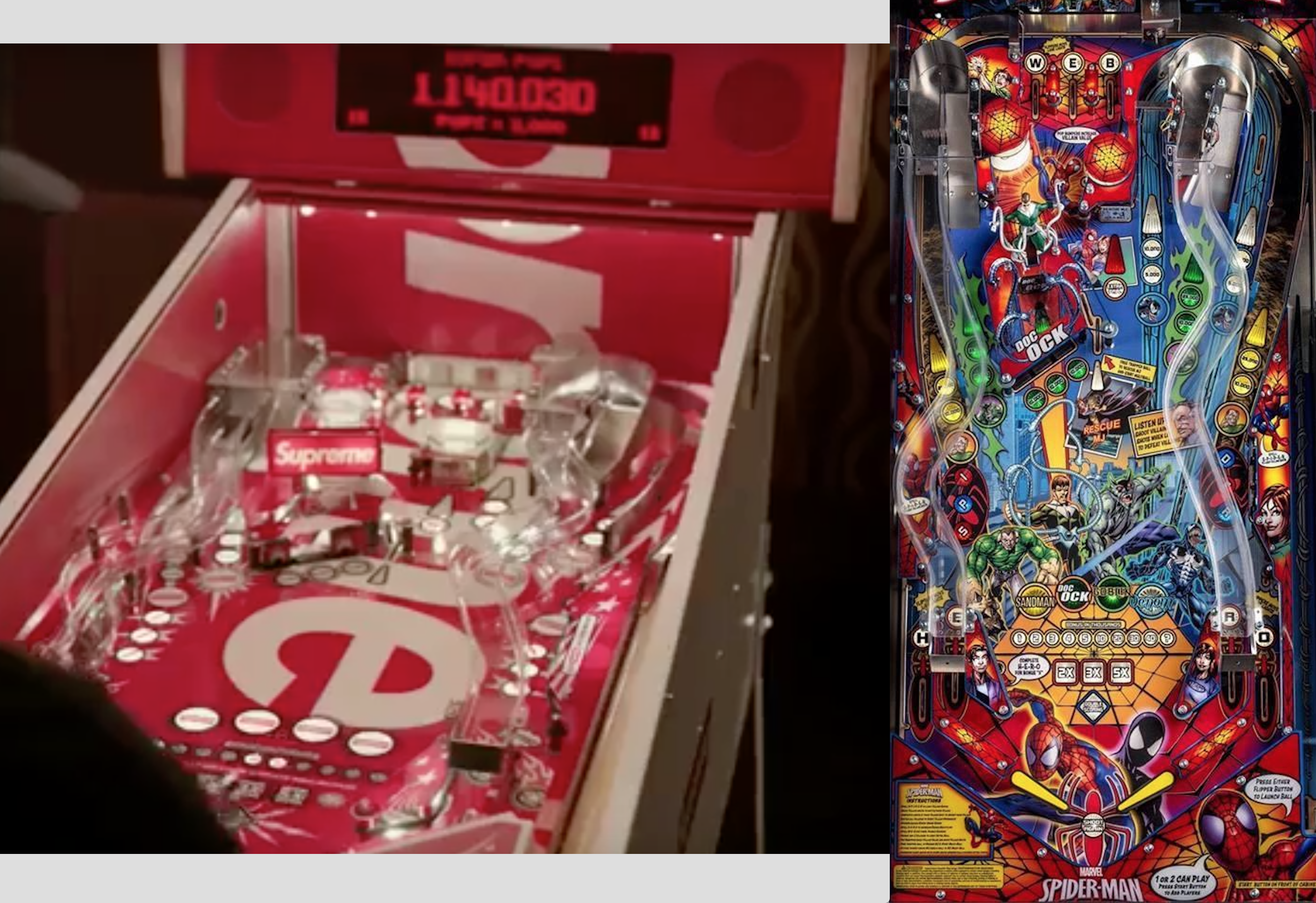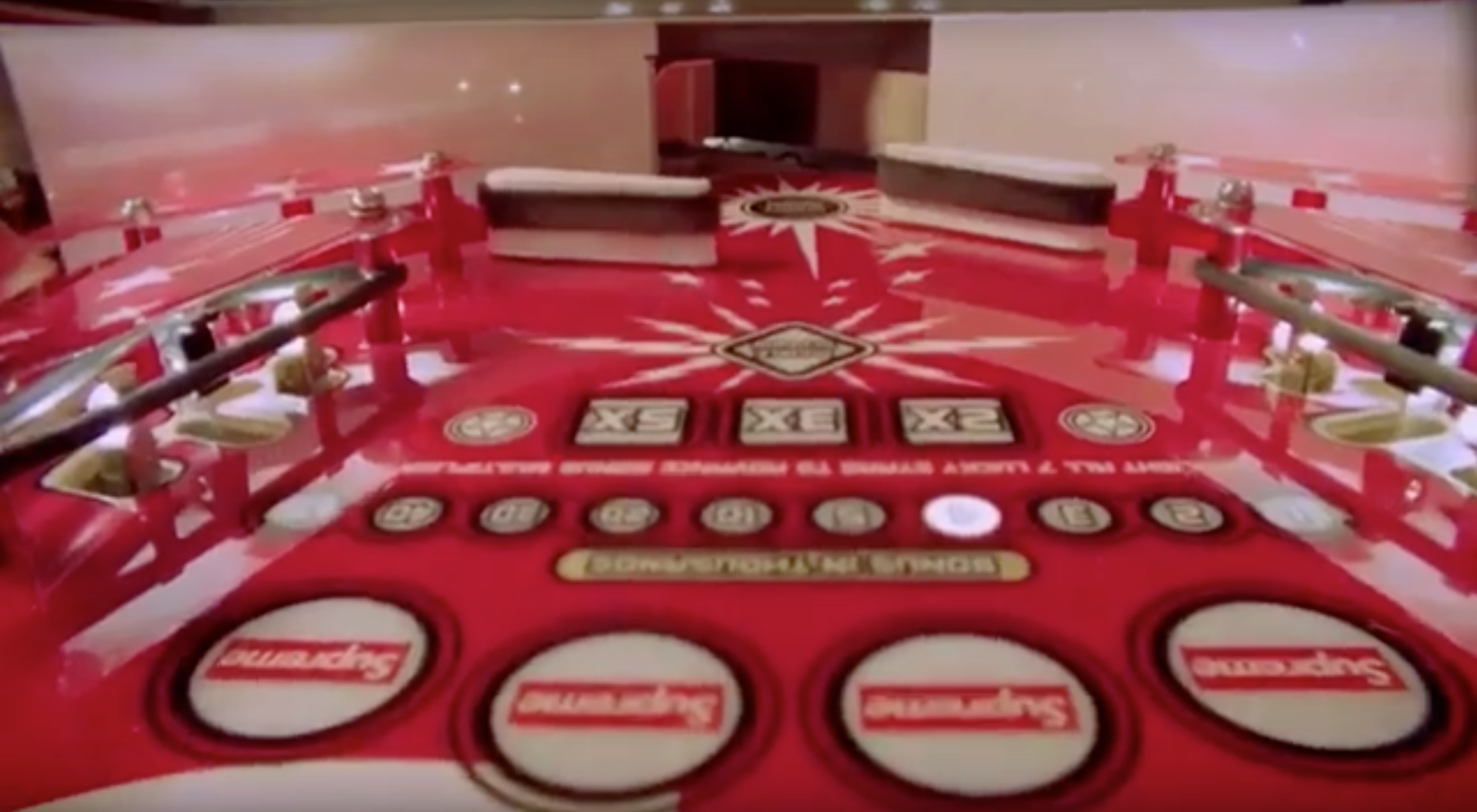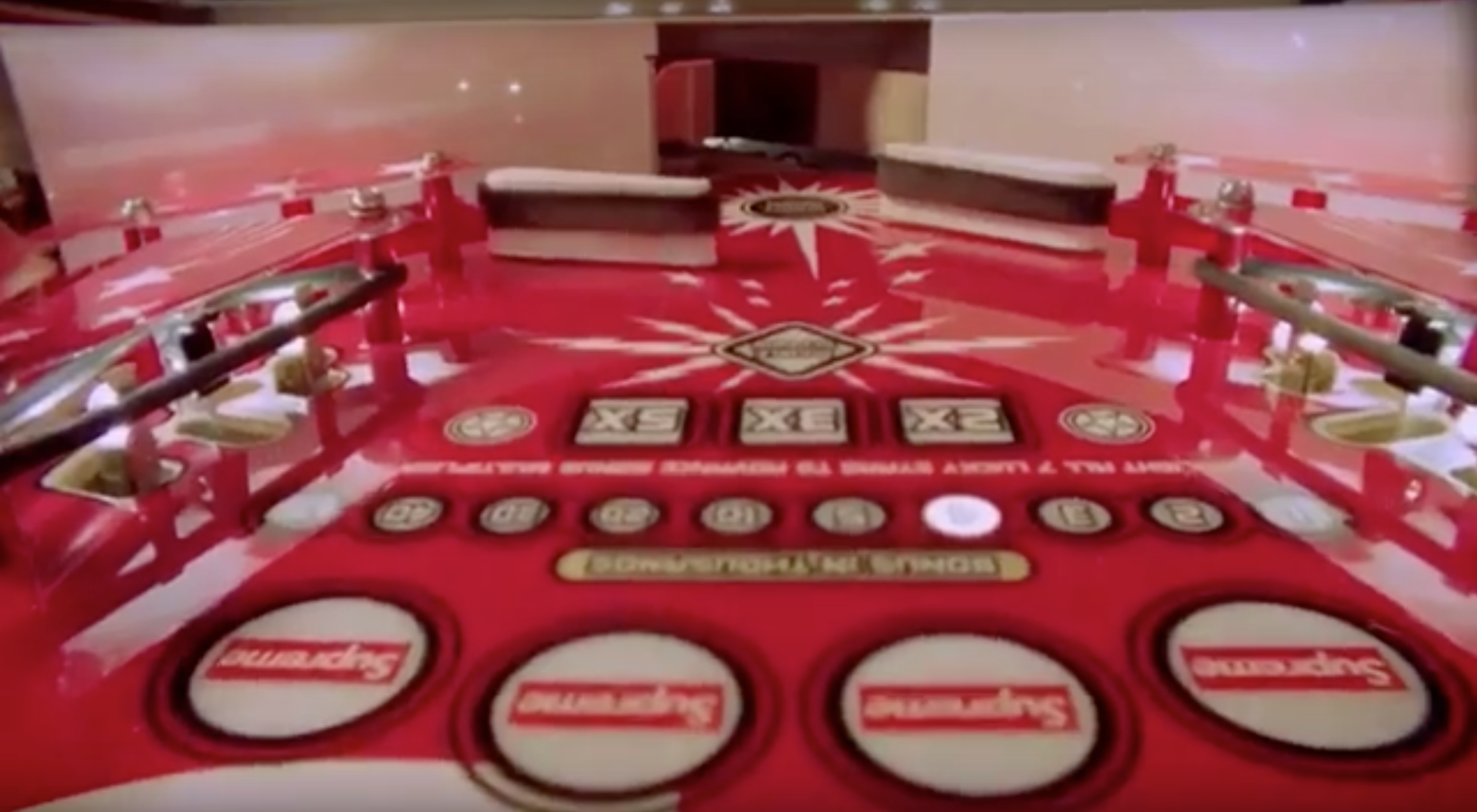 ---
DISPLAY
The display is underwhelming but fits the color scheme – a red dot matrix display: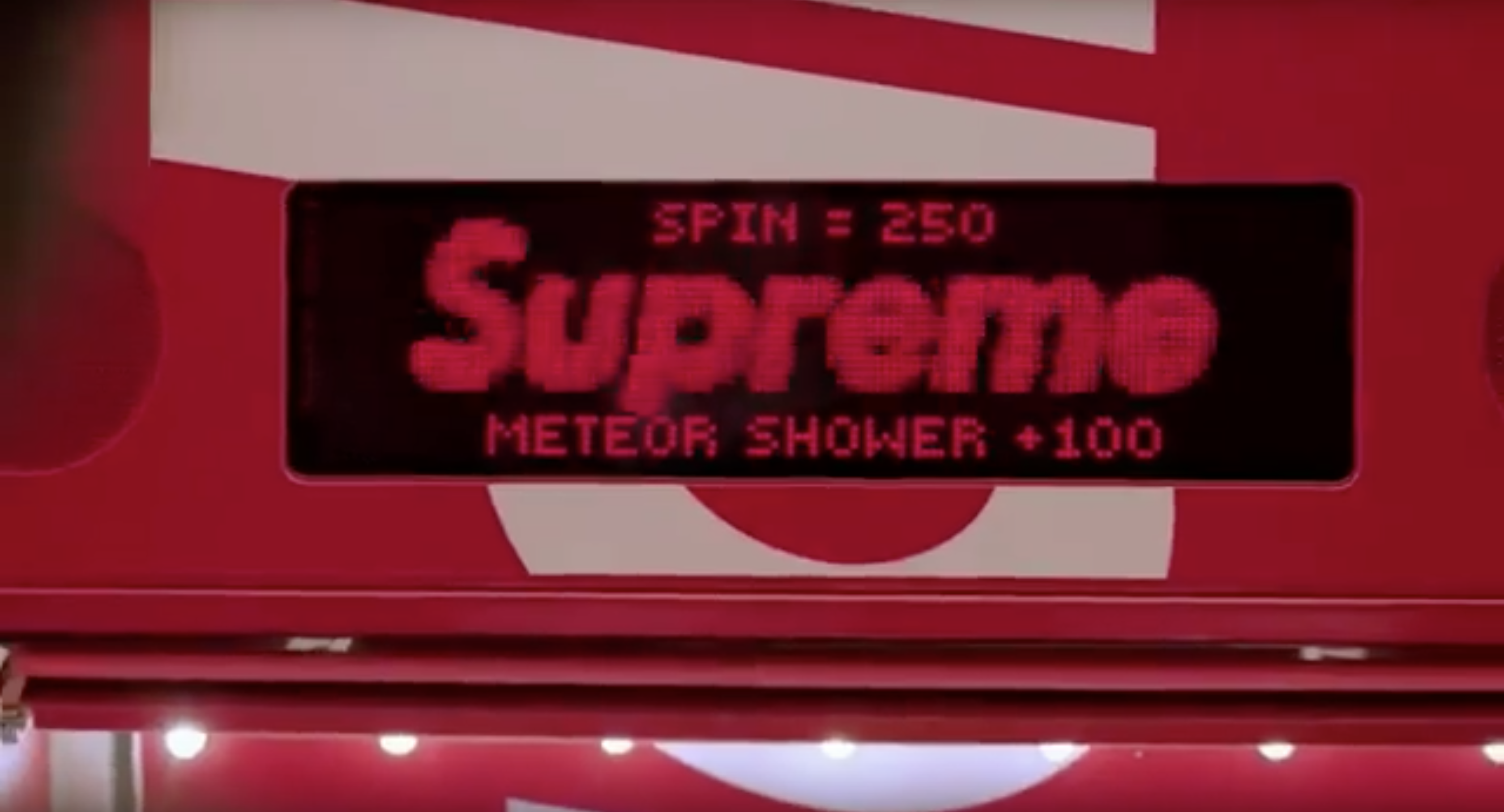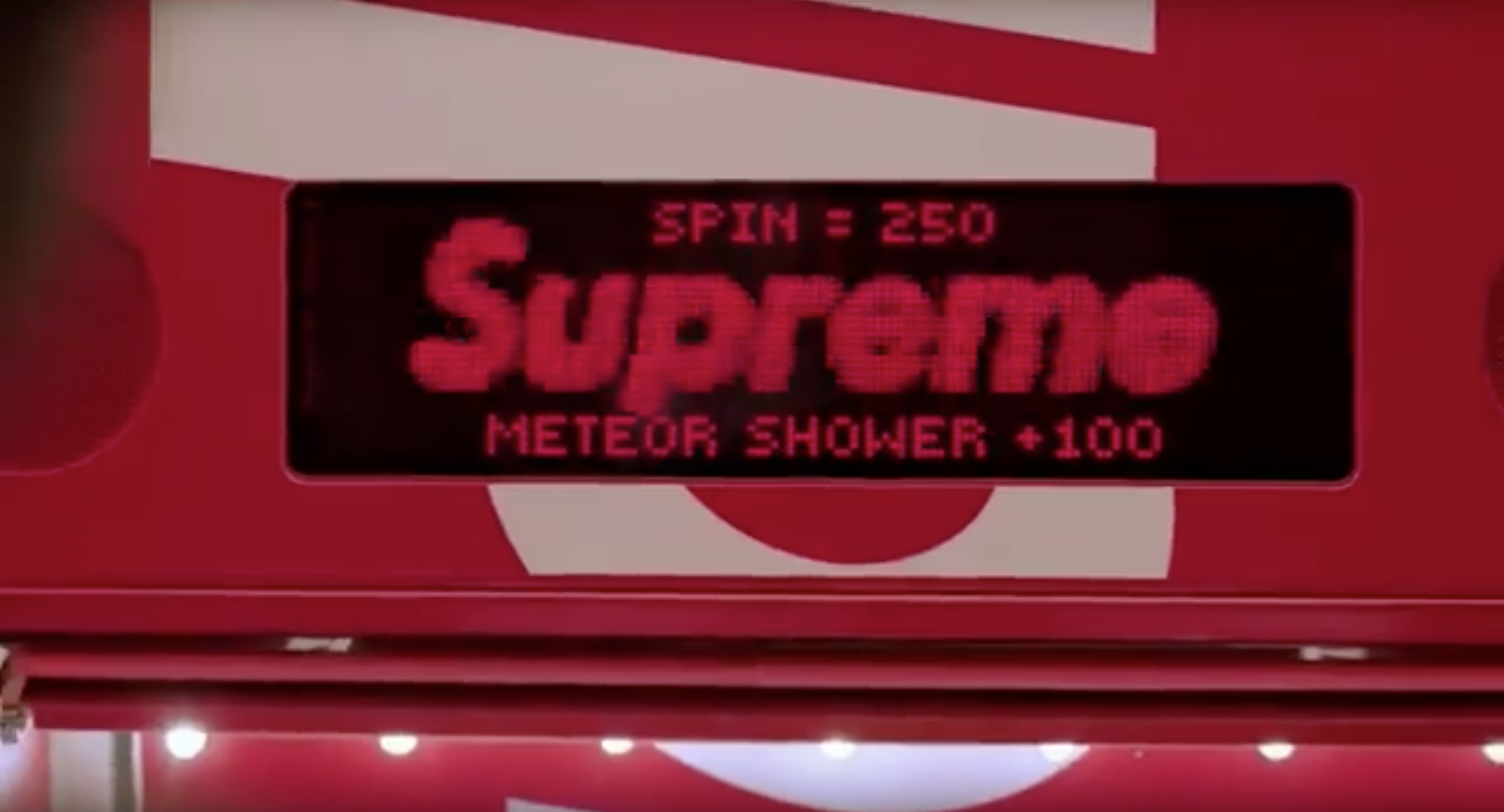 ---
ARTWORK
Artwork is always subjective and this artwork in particular has been loved by some and hated by others as it is very unique and unusual for a pinball machine. To a degree it is a lack of art – the entire cabinet is (almost) all white except for the small logo on the sides. Not all machines should look like this, but put me in the camp that love this look for this machine. There are only three colors used (red, white, and black), and they are used in a way that appears simple yet clean and modern.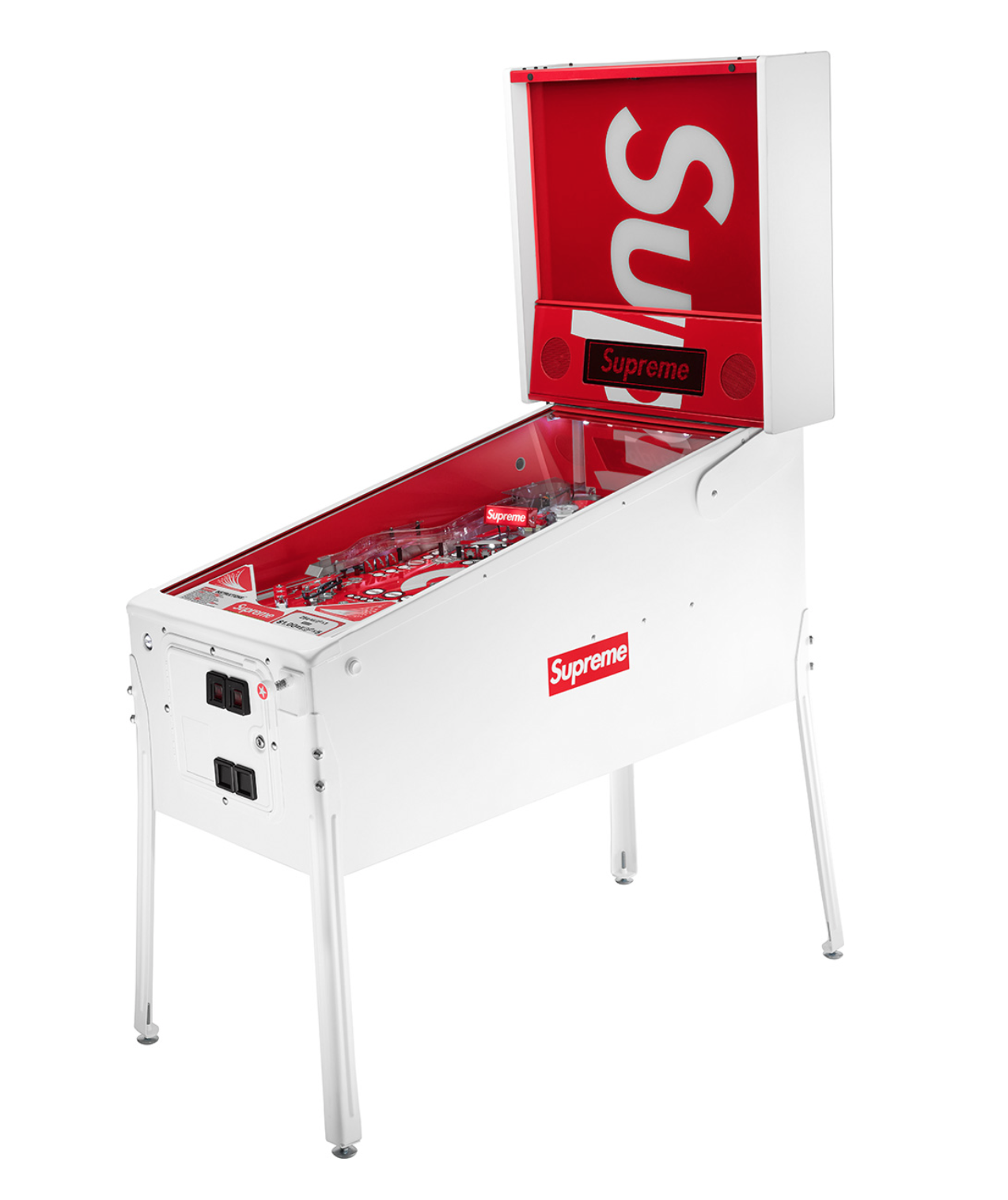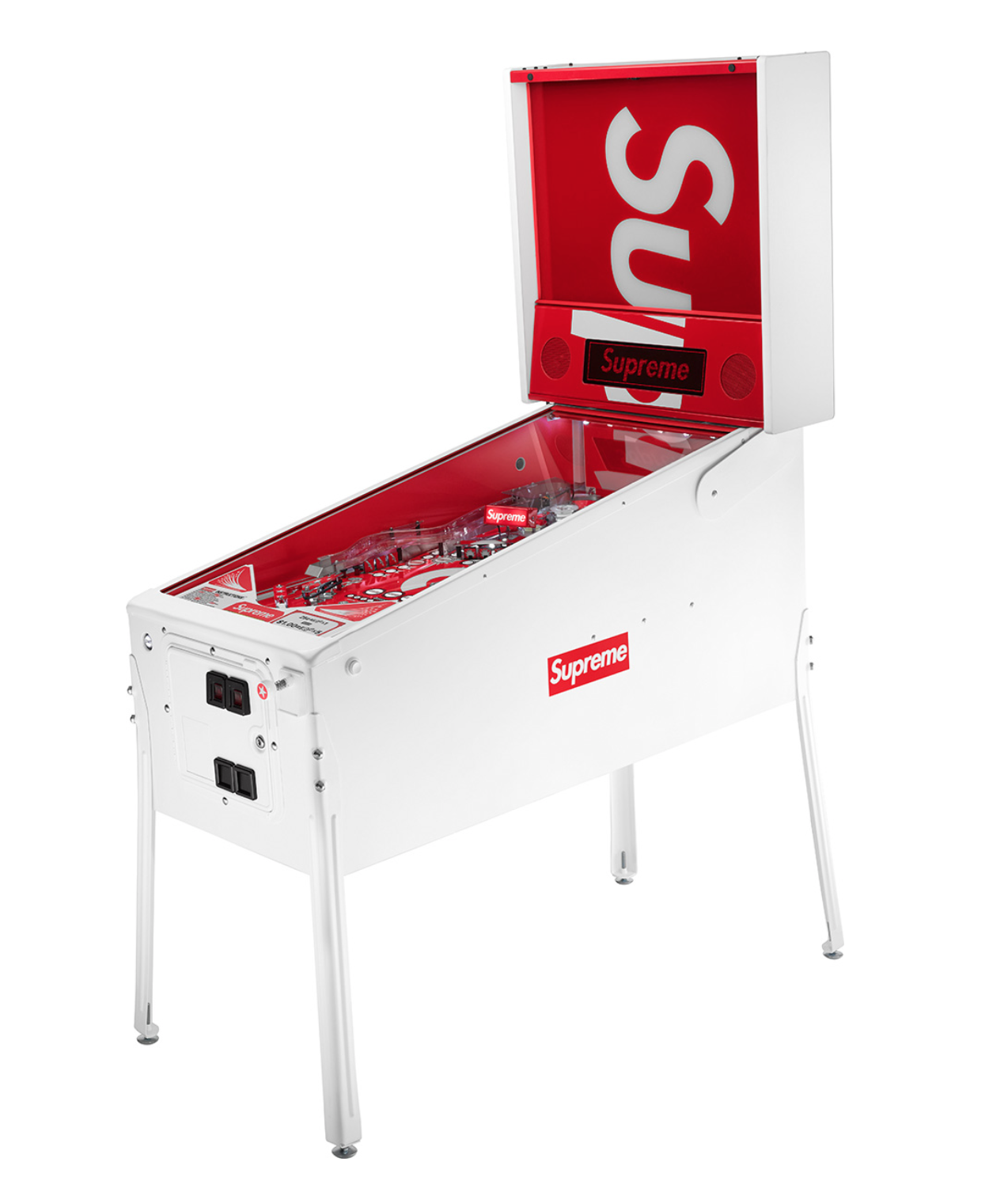 ---
SOUND
While we don't know for sure if the sound used in the video is the actual sound that will be used during gameplay, it sounds very retro and the sound effects were better than expected.


---
GAMEPLAY
We don't have any gameplay footage of the Supreme pinball machine other than what we saw in the 45 second video. We do, however, have some great gameplay video of Spiderman The Pin (Home Edition). Check it out:
PRICE AND AVAILABILITY
This Week in Pinball has been told this is "an extremely limited production run". According to this article on uncrate.com, it will be "limited to just 12 examples" though it isn't clear if that is the total number of machines, or the allotment just for uncrate.com. Expect the price to be high, perhaps VERY high.
Feedback, comments, thoughts? Email thisweekinpinball@gmail.com.
Get alerts for new posts from This Week in Pinball – follow us on Facebook, Twitter, or sign up by email: