Review of the brand new pinball themed tabletop game, Super-Skill Pinball by WizK!ds and designer Geoff Engelstein. Also includes an interview with the designer.
Written By Will Oetting
---
My family and I sat down last night to play the brand new pinball themed tabletop game, Super-Skill Pinball: 4-Cade by WizK!ds and designer Geoff Engelstein. I have been addicted to the pinball hobby for about the last four years and my family, especially my two sons, have been dragged along with me. I currently own six machines myself so I know a few things about pinball and I was instantly impressed with the Super-Skill Pinball game in how well it integrated pinball features and components into gameplay.
I really enjoy the possibilities it brings out with all of the different playfields.

12 year old son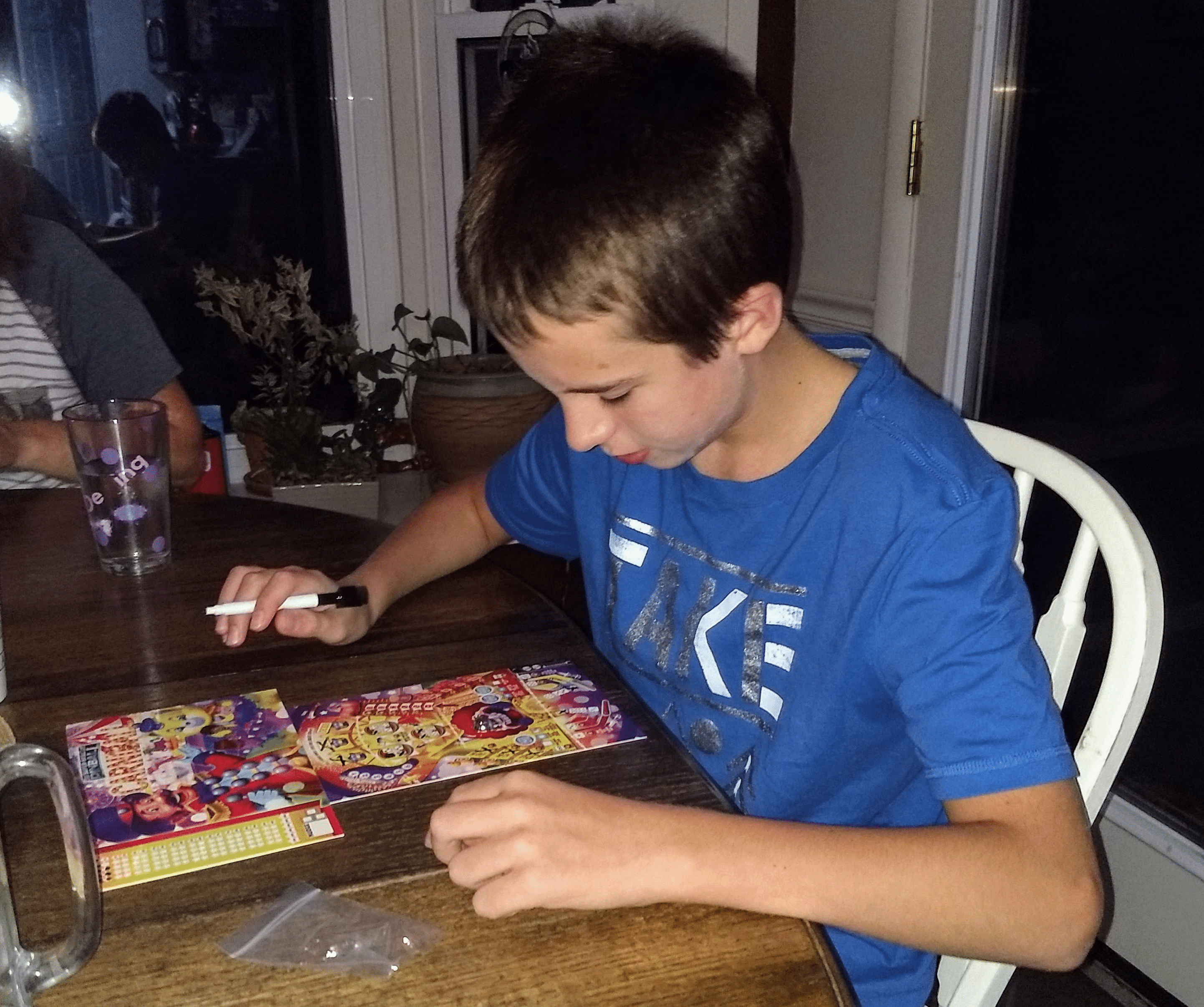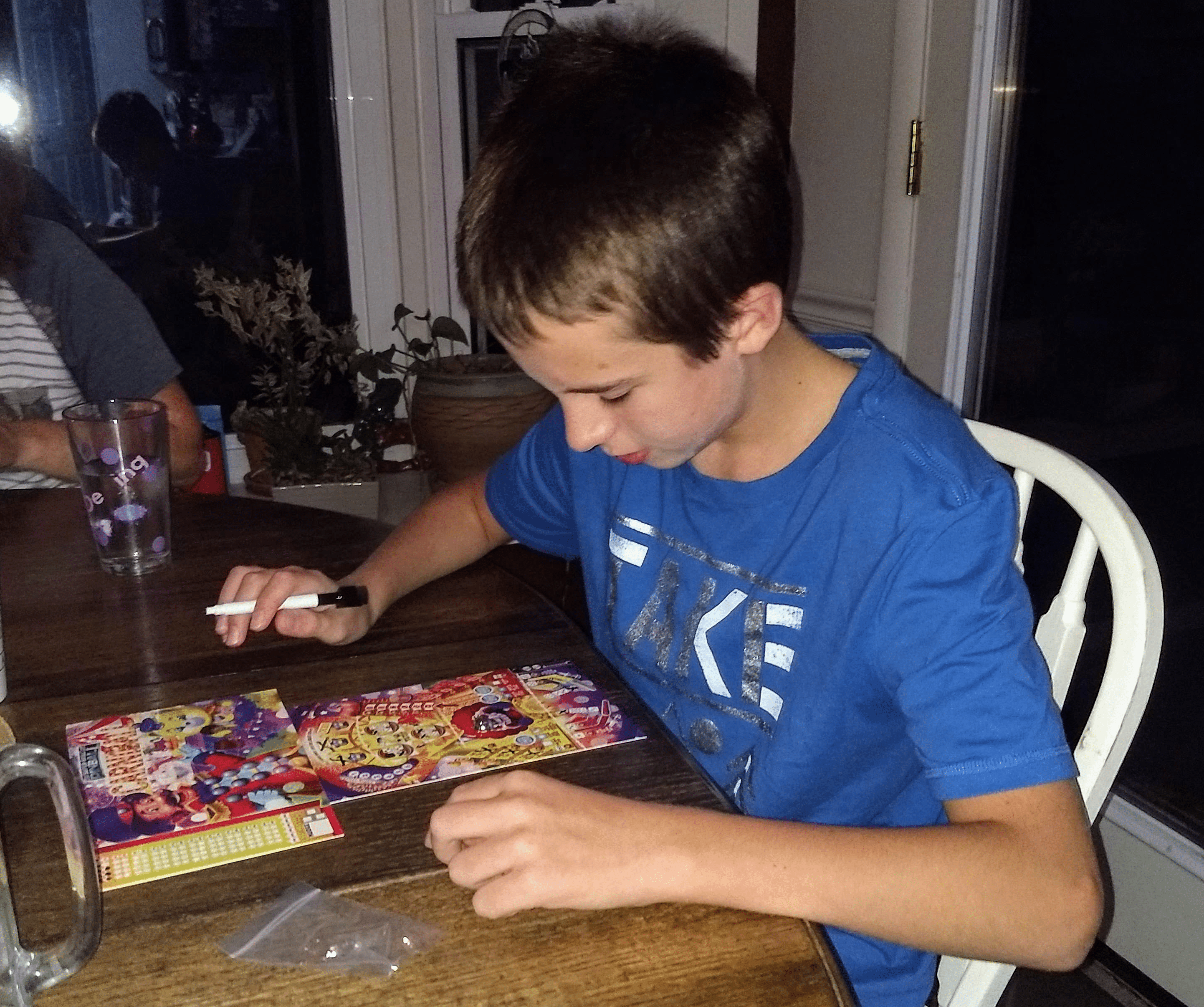 We were lucky in that we had already downloaded the sample board and watched the instructional video that the designer put out on YouTube. So, we had a good understanding of how to play before we dived in. Keep in mind when you get your hands on this game that there are quite a few instructions. There is a nice quick start for the first playfield, Carniball, that is the easiest of the four playfields included. Don't get overwhelmed by the booklet of instructions though, because really one of the strengths of this game is that you get four unique playfields that all use the same basic rules and then have added on features and rules specific to the playfield. It is like getting four NIB (new in box) machines all in one package. I think this is what my kids loved most. They gushed over all of the playfields and read through the booklet trying to figure out their special rules and what strategy will get them the most stars/points.
Playfields as described in the game
---
Carniball
(Easy Difficulty)

A classic pinball experience, where you shoot duckie targets, pop balloons, and ring the bell in the test of strength!
Cyberhack
(Moderate Difficulty)

Steal data from an evil corporation! Get past the corporate firewall! Avoid getting traced in the R-U-N minigame!
Dragonslayer
(Moderate Difficulty)

Become a powerful wizard! Hit targets to level up your spells! Magically manipulate the dice! Defeat the dragon!
Dance Fever
(Advanced Difficulty)

Return to the 1970s! Heat up the Disco Pinferno mini-table! Get down on the dance floor with the Boogie Bonus!
When are they going to come out with more playfields?

9 year old son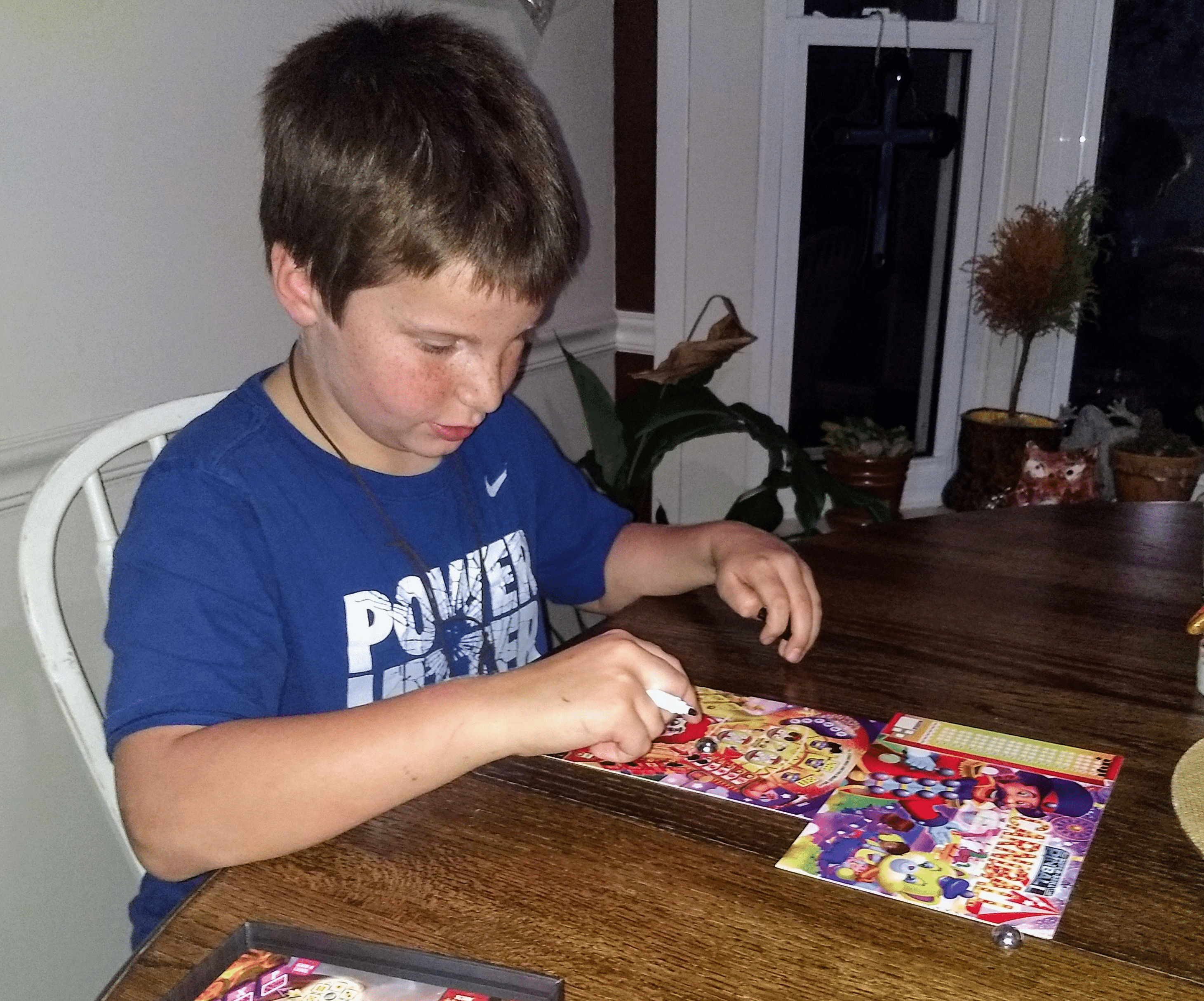 What I found the most intriguing was how the designer was able to use pinball features and strategy in the playfields. Each of the four playfields includes a backbox where you keep track of your score and even might include a minigame or mini-playfield. You'll see the well known pop bumpers, drop targets, slings and flippers; but you will also see spinners, vari-targets, ball saves, and multiballs. There are also rules around nudging to help you save the "ball", actually the token that looks like a silverball, from draining. As a pinball enthusiast, I was especially enthralled with the R-U-N mini-game on the Cyberhack playfield. It provided me that risk versus reward that is so challenging and enjoyable on real pinball machines. You can get a ton of stars/points in the R-U-N minigame, even possibly getting a multiplier on it, but you can also quickly lose it all. Get this, they also include a high score board at the back of the instruction booklet so that you can record your initials after a winning game.
It was better than I expected and I enjoyed it. There were a lot of rules.

Wife
If you are a pinball hobbyist and you enjoy playing tabletop games then this is a perfect fit. The artwork on the playfields are beautifully done and match each theme to a tee. Even though there are a lot of instructions, the booklet is easy to read and follow. The different rules involved on each playfield allows for new experiences every time you play. My kids have even started playing the playfields on their own to get more high scores. Once you decide to buy it send us a pic of your high scores so my kids can compare.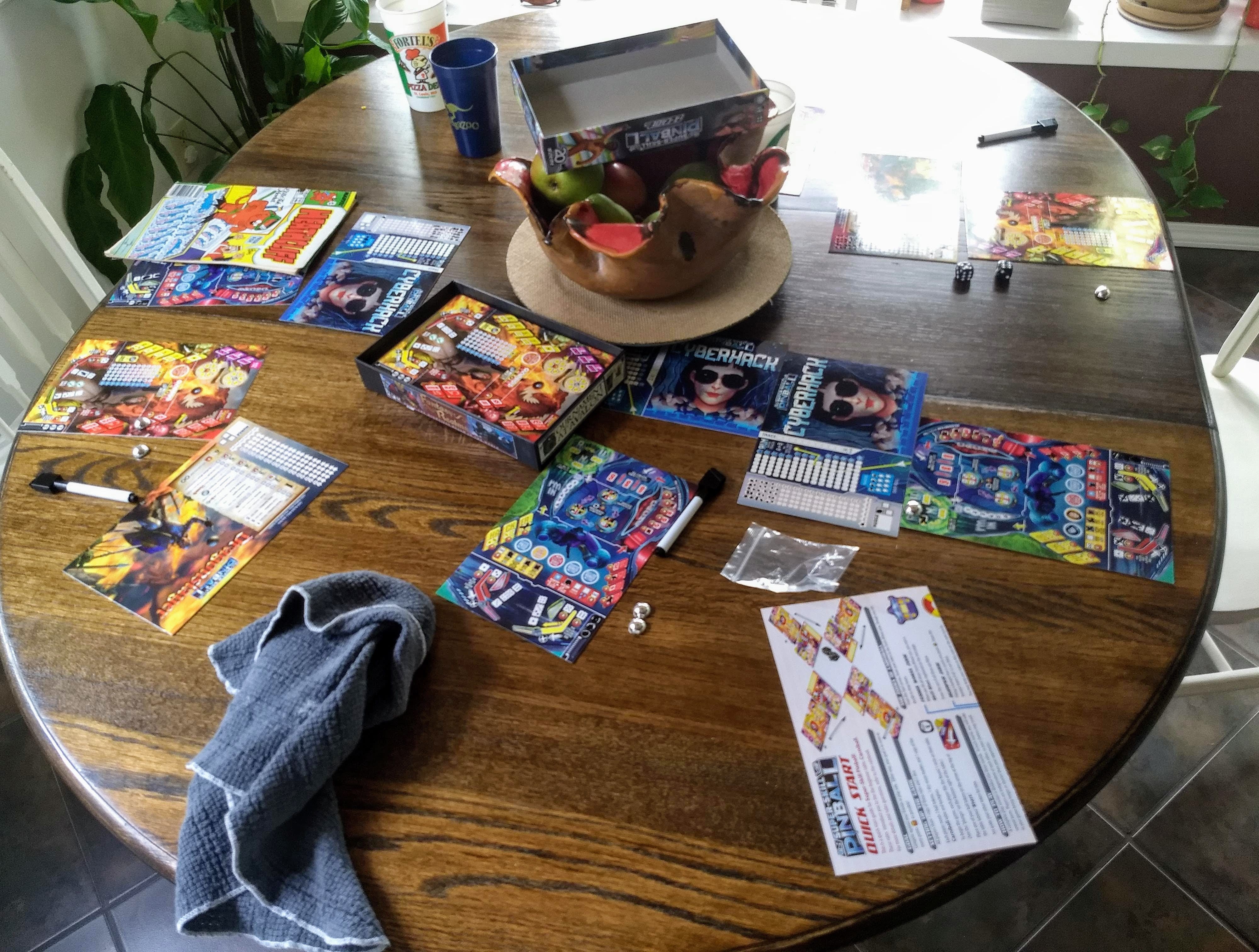 Interview with the Designer – Geoff Engelstein
---
[TWIP]: What experiences have you had with pinball before designing this game?
[Geoff Engelstein]: I've always been a huge pinball fan. Growing up we had a Fireball machine. In the basement of my college dorm we had an Eight Ball Deluxe which definitely did not help my grades. Once I had my own place I've always had a pin. My first was Cyclone. Eventually I traded that one for a Star Trek: Next Generation, and then a few years ago sold that and got a JJP Hobbit.
[TWIP]: Why did you choose to design a game around pinball?
[Geoff Engelstein]: I didn't sit down and say – hey, let's design a game about pinball. I had been thinking about the growing popularity of so-called "Roll and Write" games, where you roll dice and then record something on a pad (Yahtzee being an old example). I was playing my Hobbit machine, and the idea of marrying Roll & Write with Pinball just came to me in a flash. Originally the idea was to have numbered paths that you could move the ball along depending on the dice roll. But ultimately putting the numbers on the targets, bumpers, and other pinball features worked a lot better.
[TWIP]: Did you happen to use any real pinball machines as inspiration for the game's playfields?
[Geoff Engelstein]: I looked at a number of playfields from mainly the 60's and 70's to keep things simple, but I didn't model a specific machine. The introductory table in the game – Carniball – I think has a very classic layout from that era.
[TWIP]: Recently on TWIP, we did a poll asking our readers what components add the most fun to a pinball machine. Ramps was the clear leader on that poll. Did you consider trying to add ramps to any of the playfields in the game?
[Geoff Engelstein]: During the design of these tables I looked at adding ramps, but I couldn't figure out a way to do it graphically and not have it look too cluttered. So the first set of tables do not have any ramps. However the publisher, WizKids, put a fantastic graphic designer on the project who was able to come up with a way to add ramps, so we will definitely be including those on future tables.
[TWIP]: I love how you included some risk versus reward features on some of the playfields, like the RUN mini-game on Cyberhack. Did you specifically add those features to mimic that same experience on real pinball machines?
[Geoff Engelstein]: Absolutely! Another example is the mini-playfield on Dance Fever, which was inspired by Haunted House.
[TWIP]: Were there any real pinball components or features that you wanted to include in a playfield but couldn't figure out how?
[Geoff Engelstein]: Well, ramps were a big one, but we plan to include that in the future. I'm a fan of moving around bonus lights by using a flipper. I like the timing and dexterity elements. But there would be a lot of bookkeeping for the players do keep moving around bonuses, so we may have to leave that one to the side. I also left out Extra Balls, not because I couldn't figure out how to do it, but because it would lengthen the game and create issues where some players don't get the extra ball and finish well in advance of other players that do. And I'd love to call back to the pin we had growing up and add the cool spinning disc feature, but I'm not sure how to model that in the game.
[TWIP]: My kids, ages 9 and 12, both loved how they could play again on one of the four playfields and have new rules and new experiences. The first thing they asked was, "when will we get even more playfields?" I know it is early, but do you have any plans to make more playfields?
[Geoff Engelstein]: Glad to hear that! There will definitely be more to come, so stay tuned!
How To Buy
---
You can find buying links from the game's webpage: https://wizkids.com/super-skill-pinball-4-cade/