Oktoberfest is the newest creation from American Pinball! Check out details below!
OKTOBERFEST
"Experience the world famous Oktoberfest, year round, with Pinball on Tap! Travel around the festival, visiting over a dozen tents and collecting steins for each. Relish in the thrill of the exciting rides, including the amazing Corkscrew roller coaster! Enjoy fantastic music, food, and drink to round out the ultimate Oktoberfest adventure."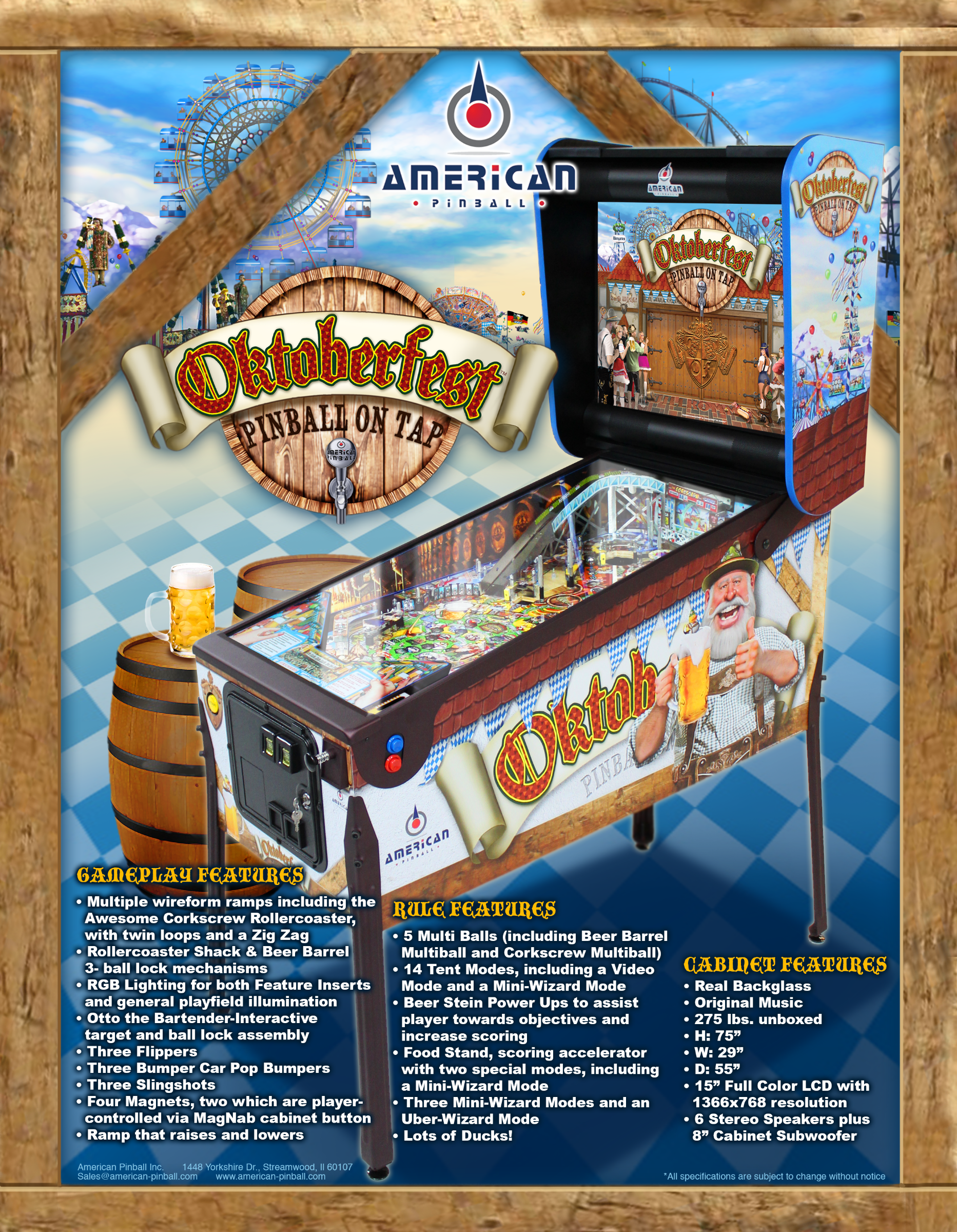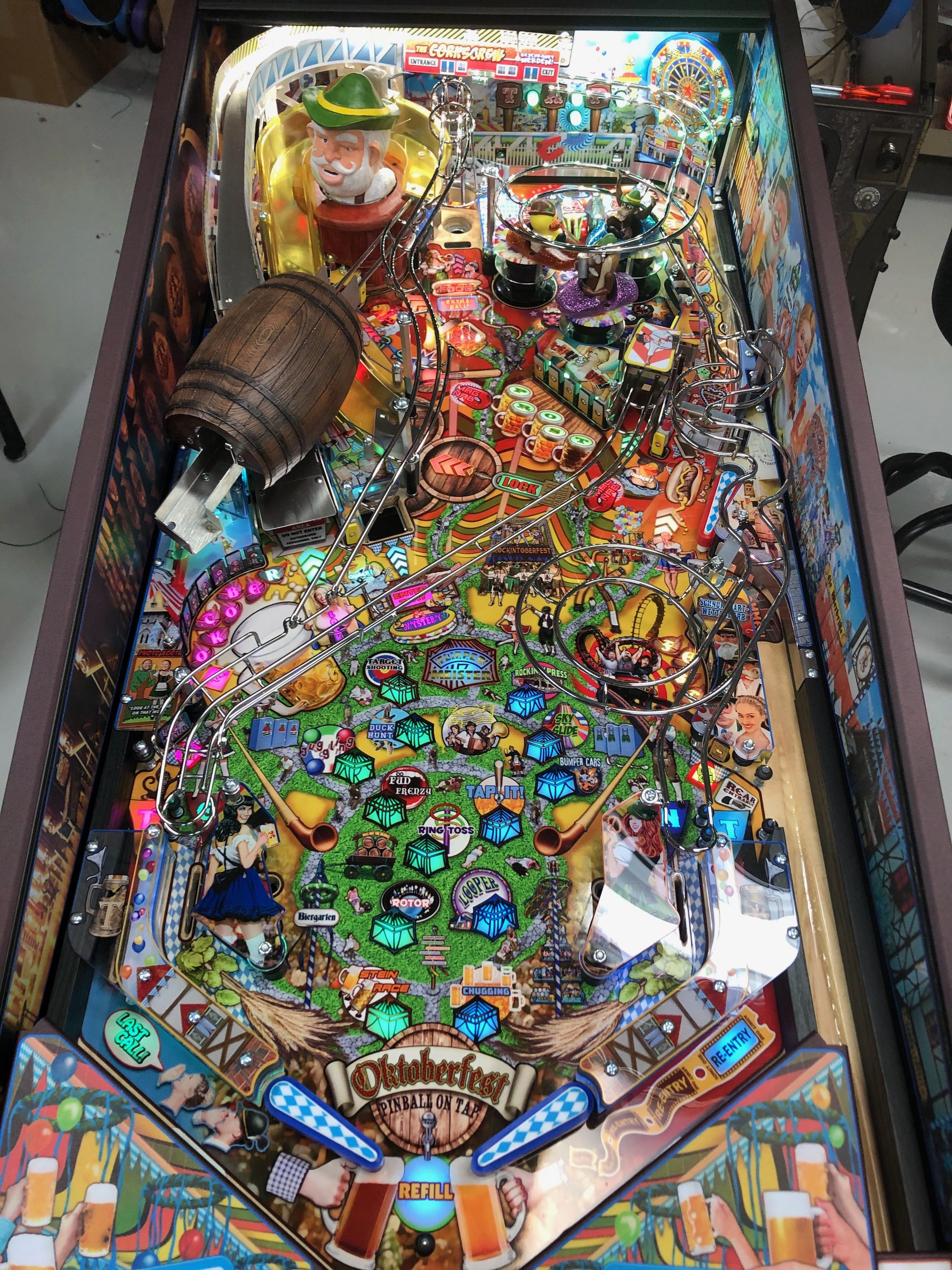 ---
OVERVIEW OF OKTOBERFEST
Who's Who
Playfield Design: Joe Balcer
Software Design: Josh Kugler, Joe Schober
Artwork: Jeff Busch
Animator: Ish Raneses
Music/Sound: Matt Kern
Project Engineer: Jim Thornton
General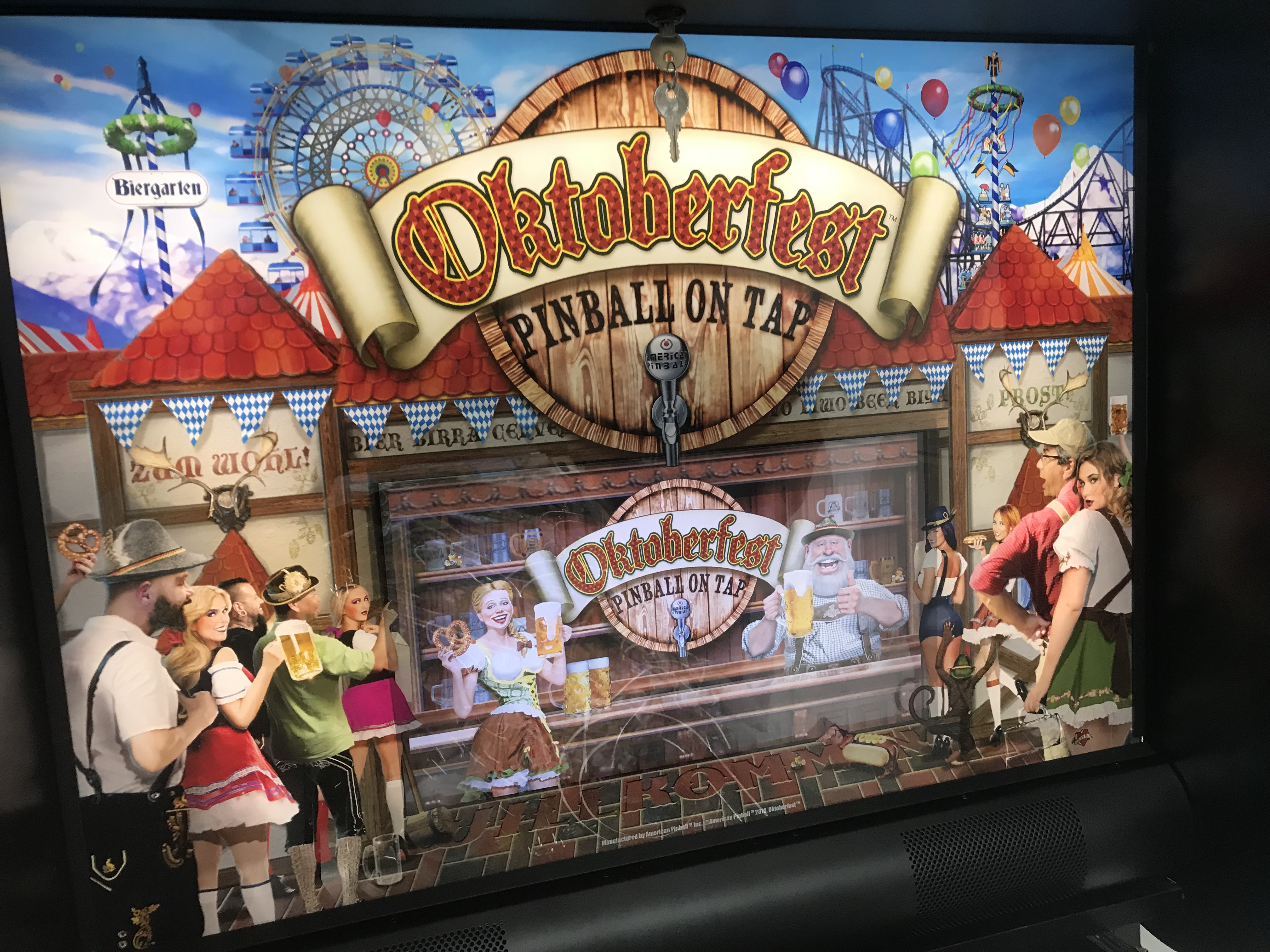 Custom Music
15″ Full Color LCD with 1366×768 resolution
6 Stereo Speakers plus 8″ Cabinet Subwoofer
275 lbs. unboxed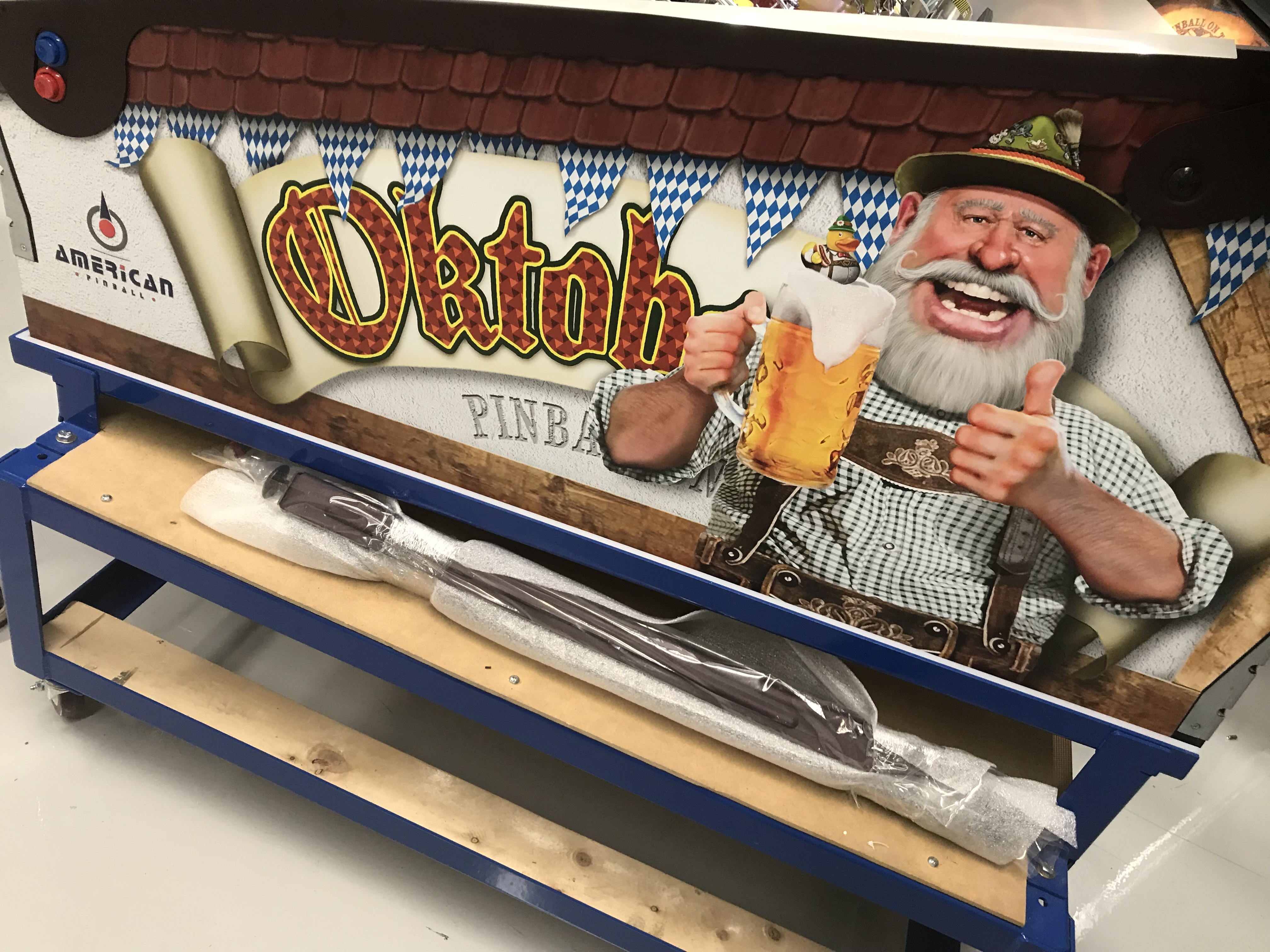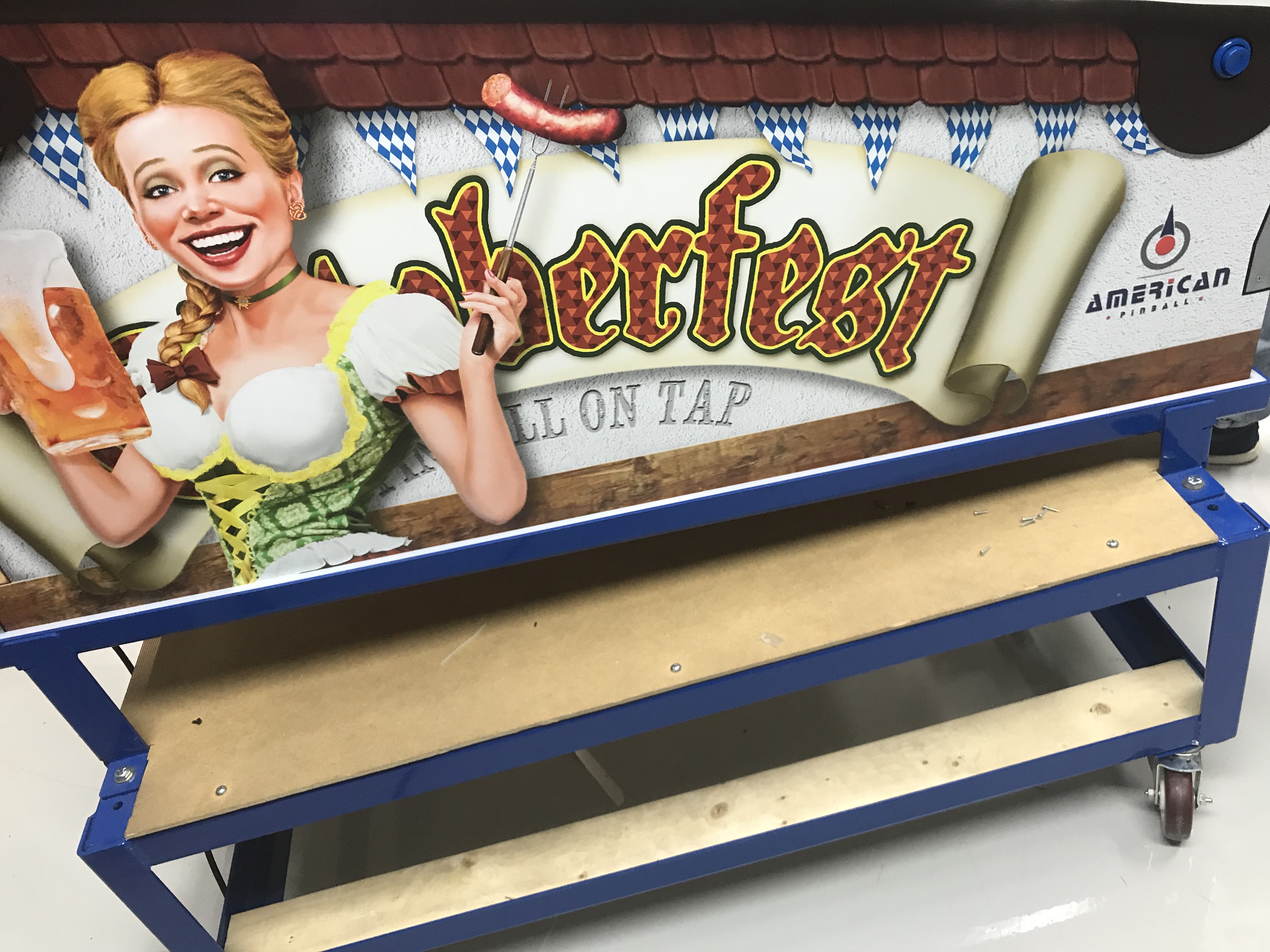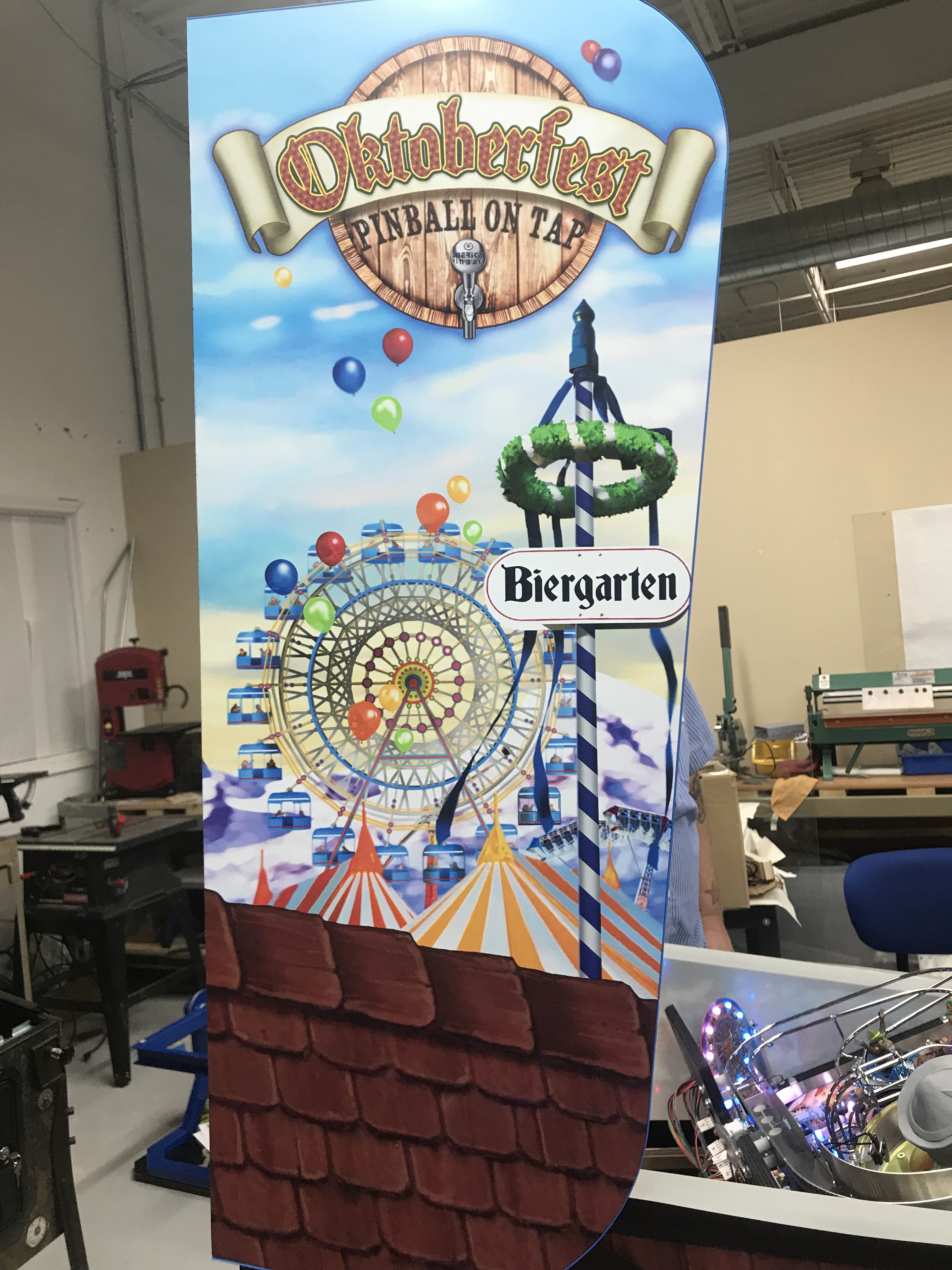 Height: 75″, Depth: 55″, Width: 29″
---
Features
Multiple wireform ramps including the Awesome Corkscrew Rollercoaster, with twin loops and a Zig Zag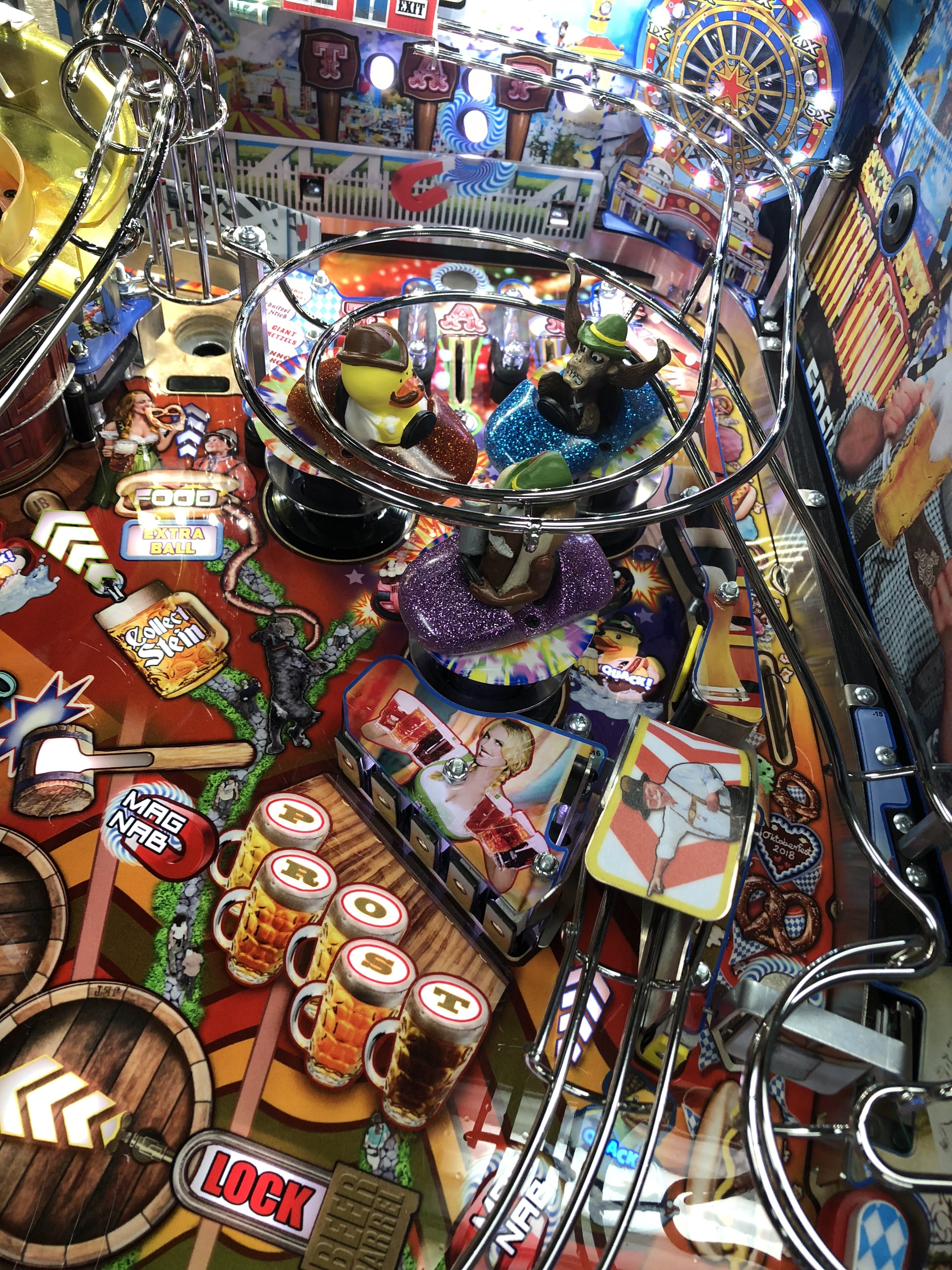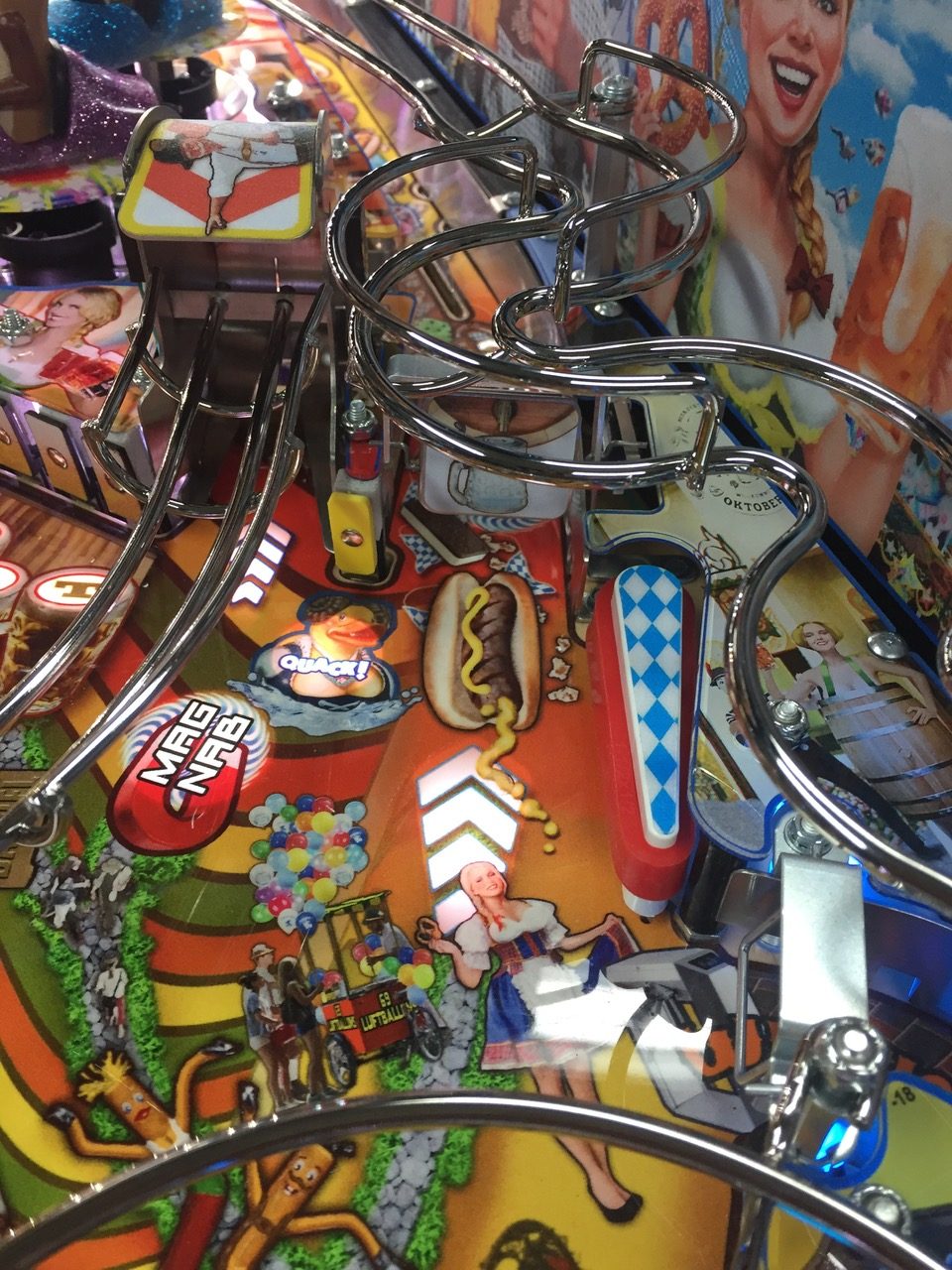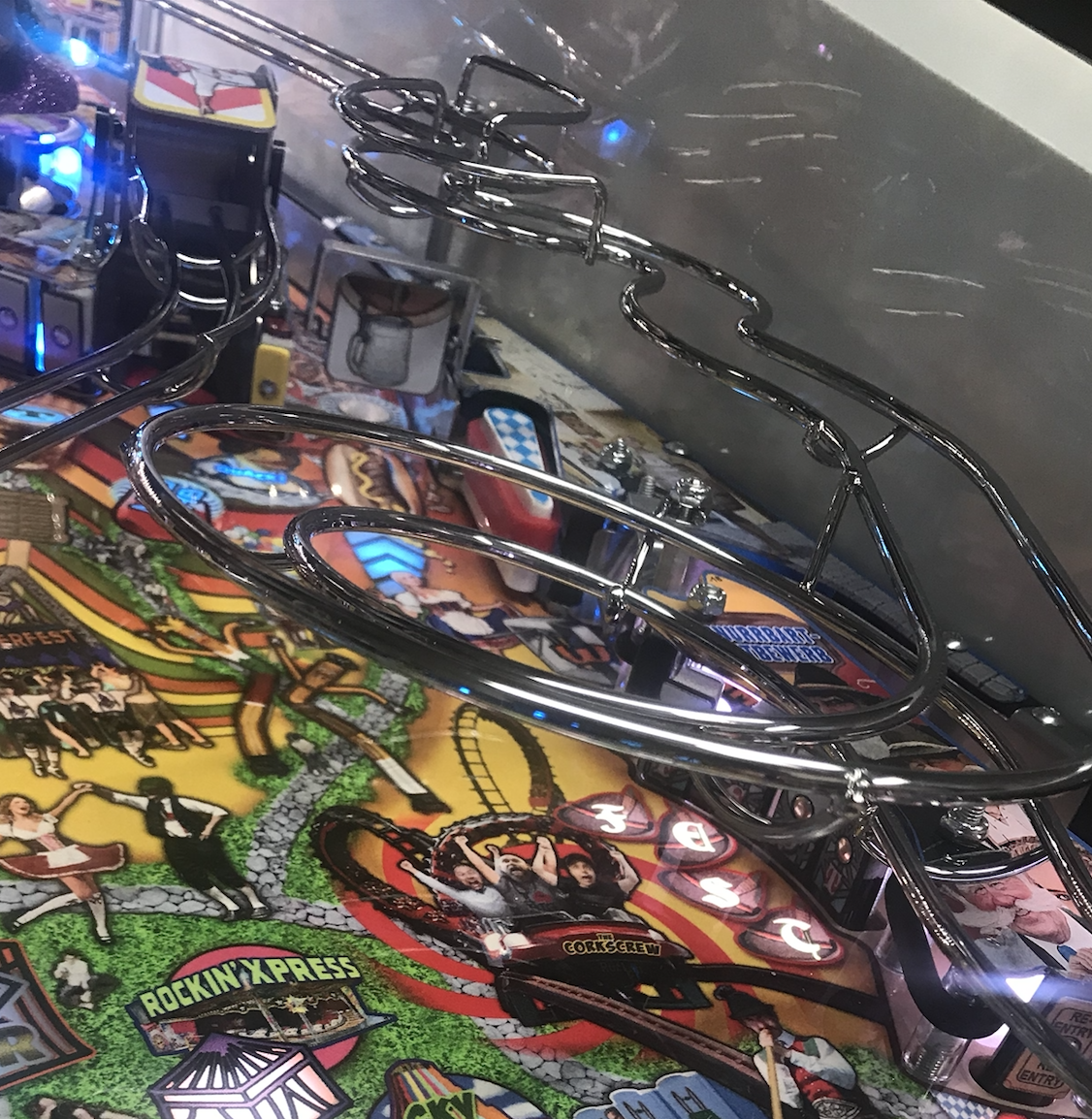 Rollercoaster Shack & Beer Barrel 3-ball lock mechanisms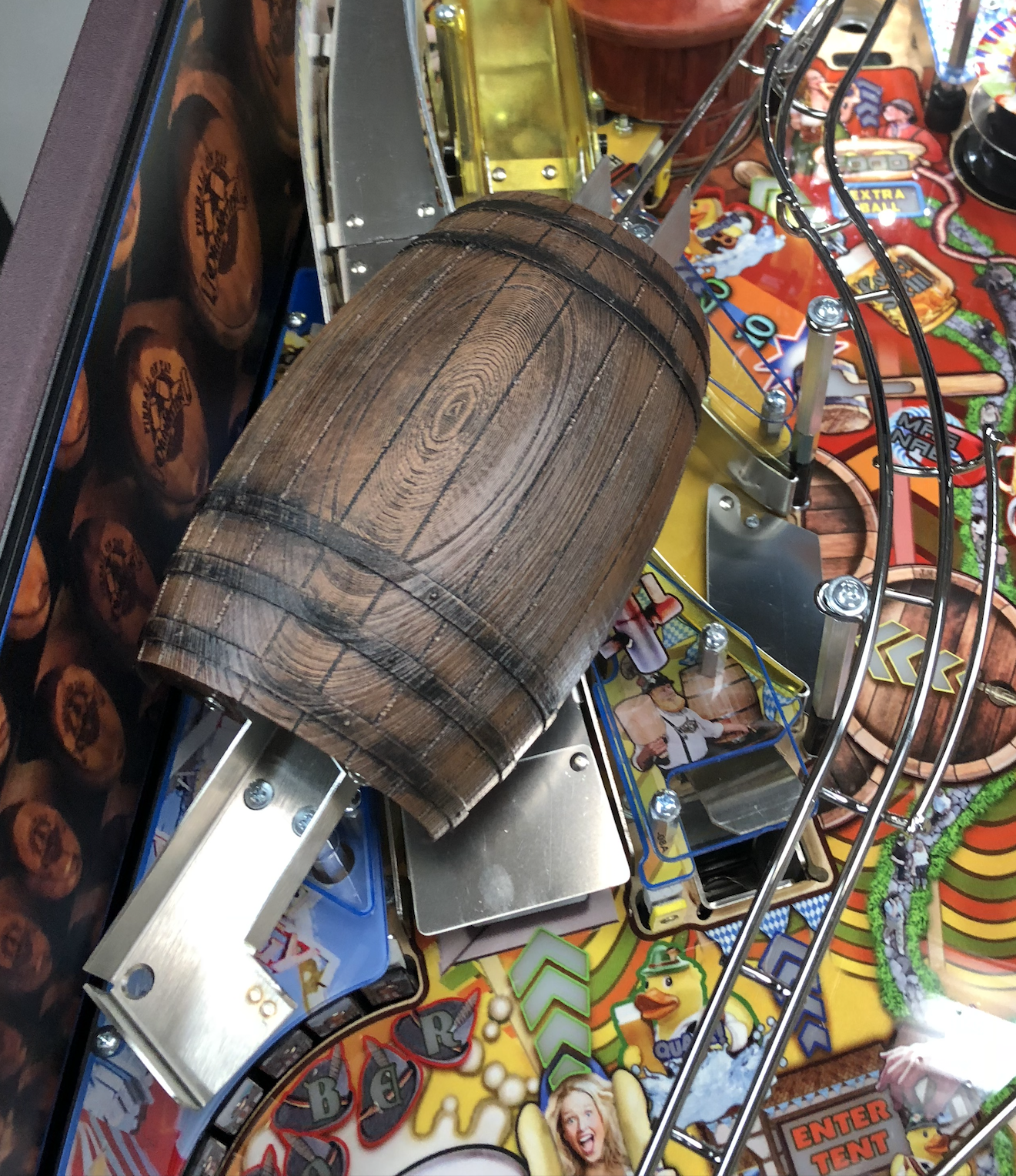 RGB Lighting for both Feature Inserts and general playfield illumination
Otto the Bartender – Interactive target and ball lock assembly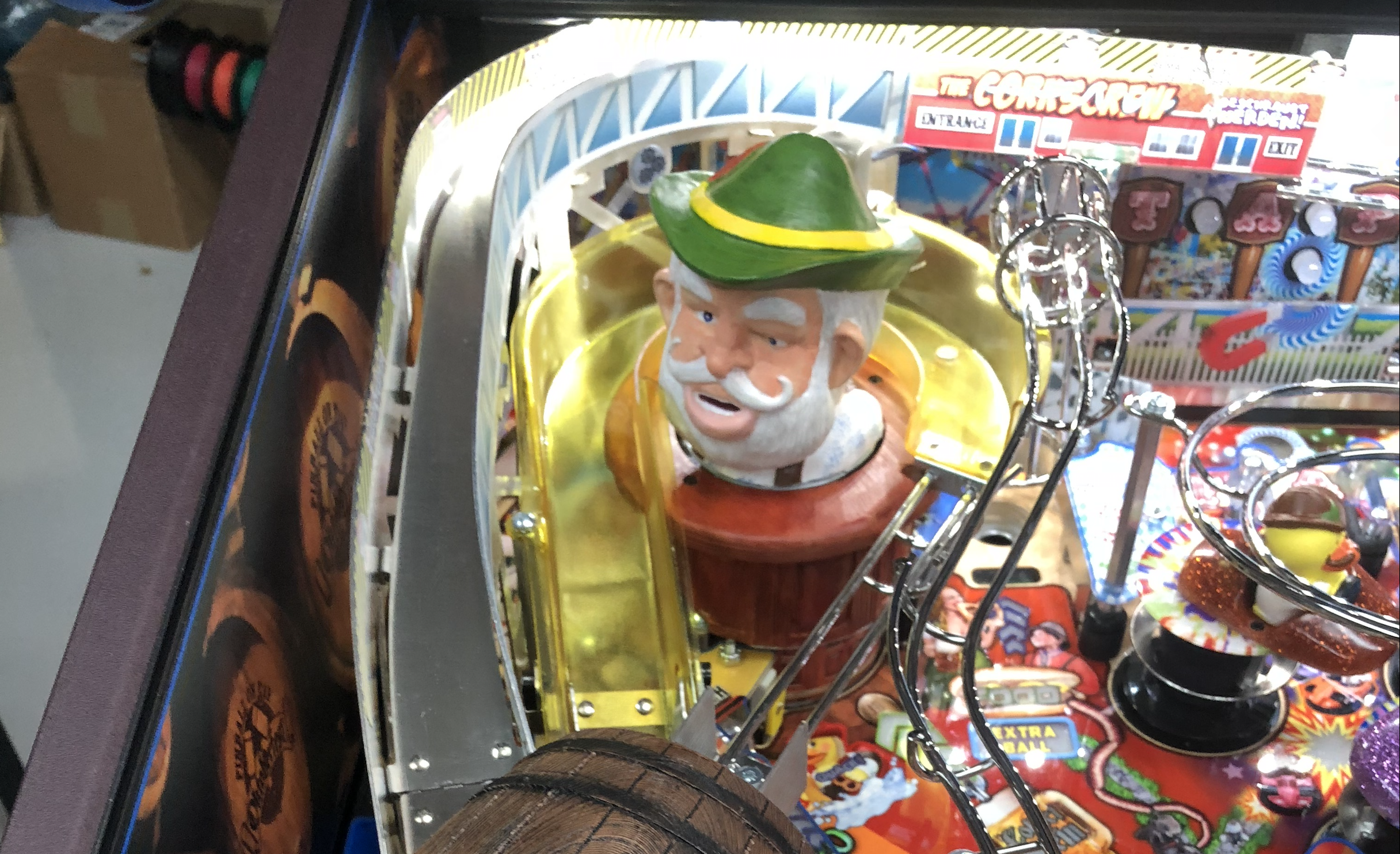 Four Magnets, two of which are player-controlled via MagNab cabinet button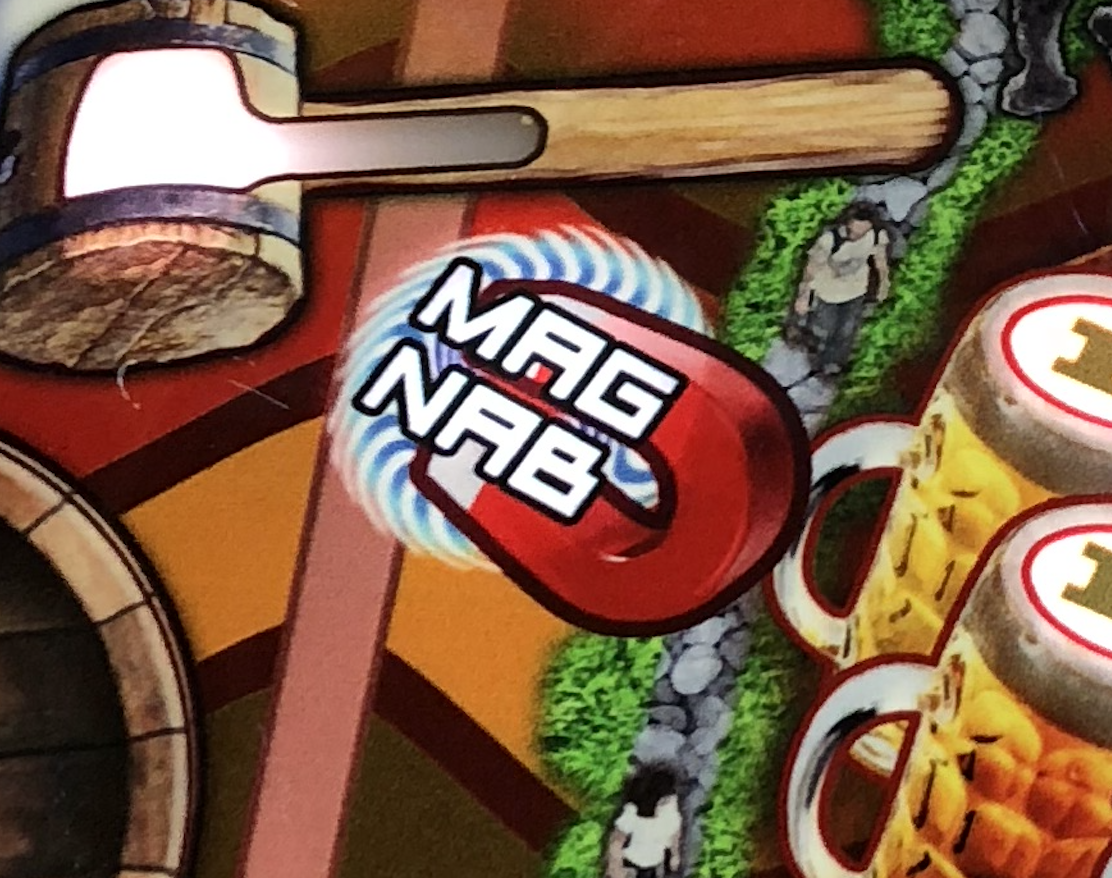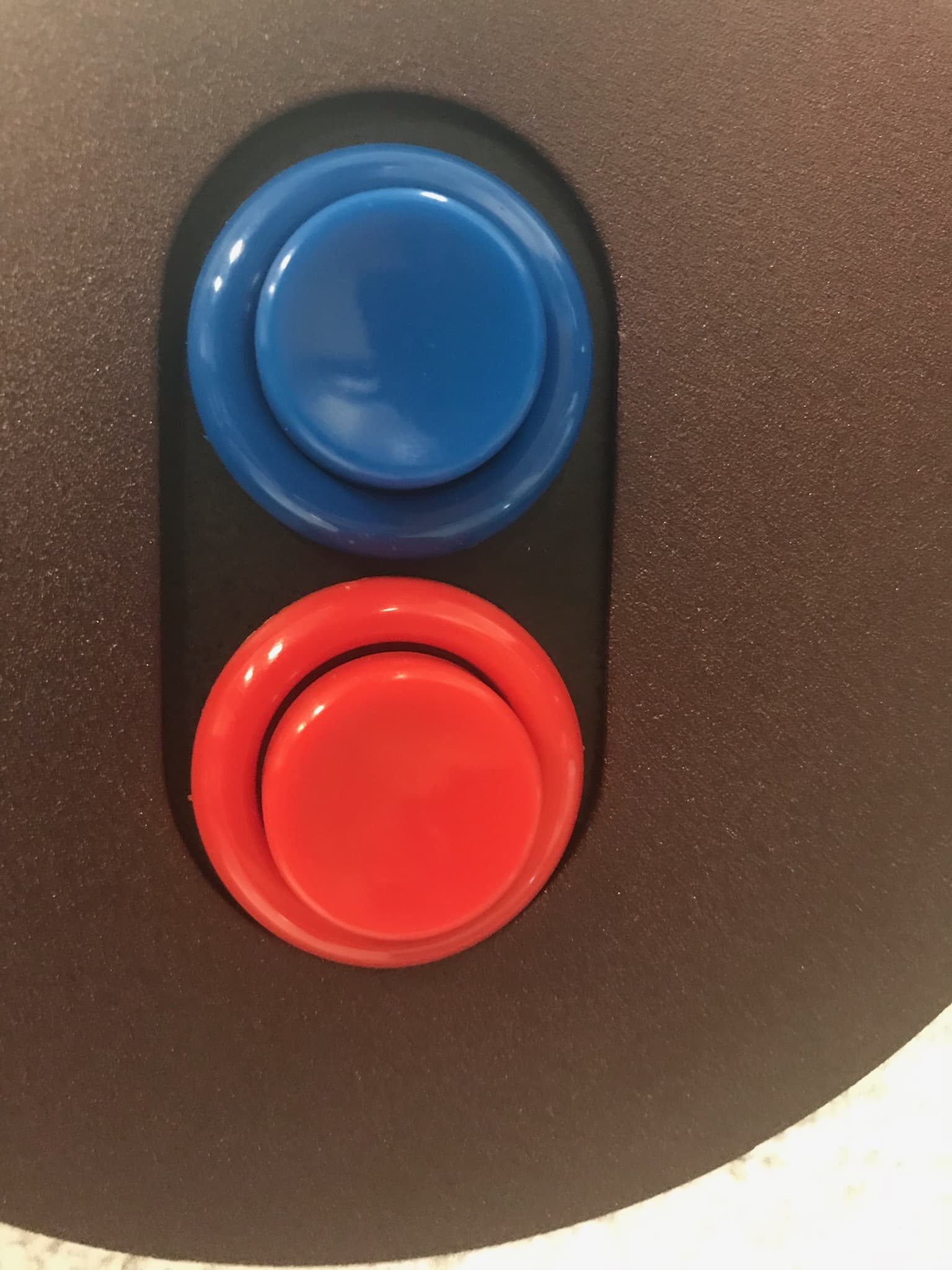 Ramp that raises and lowers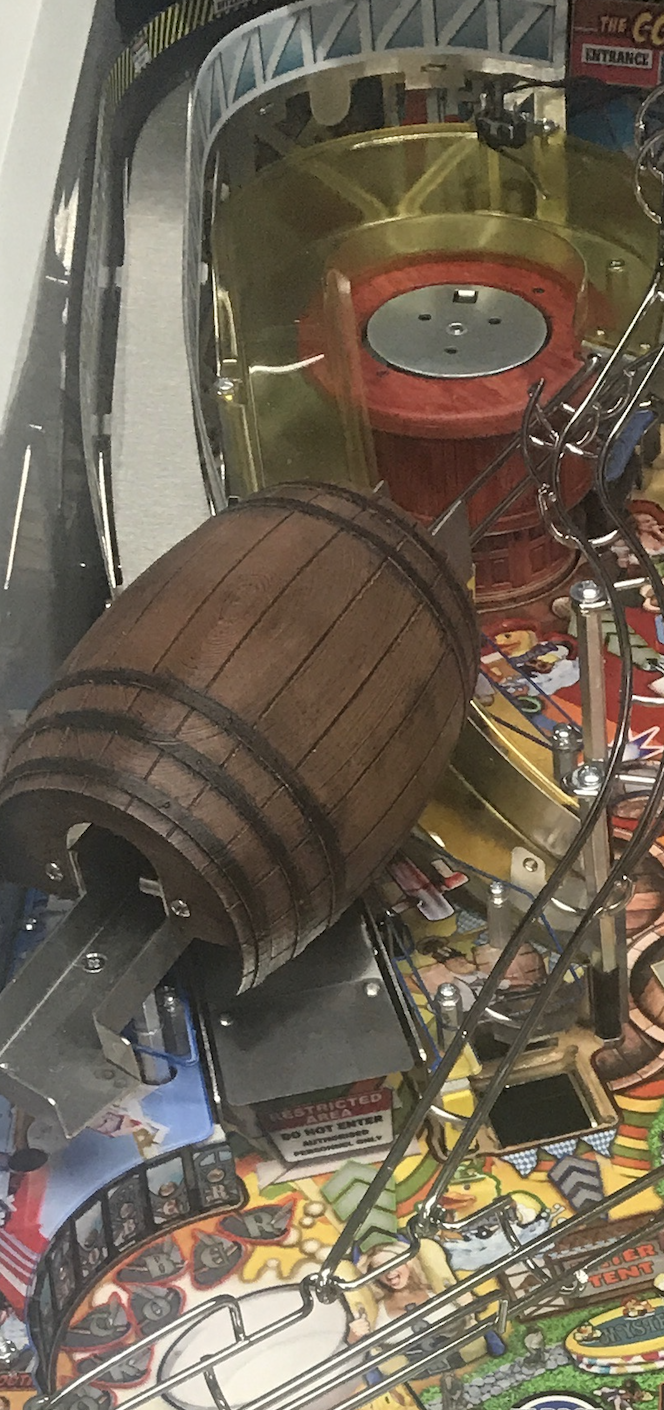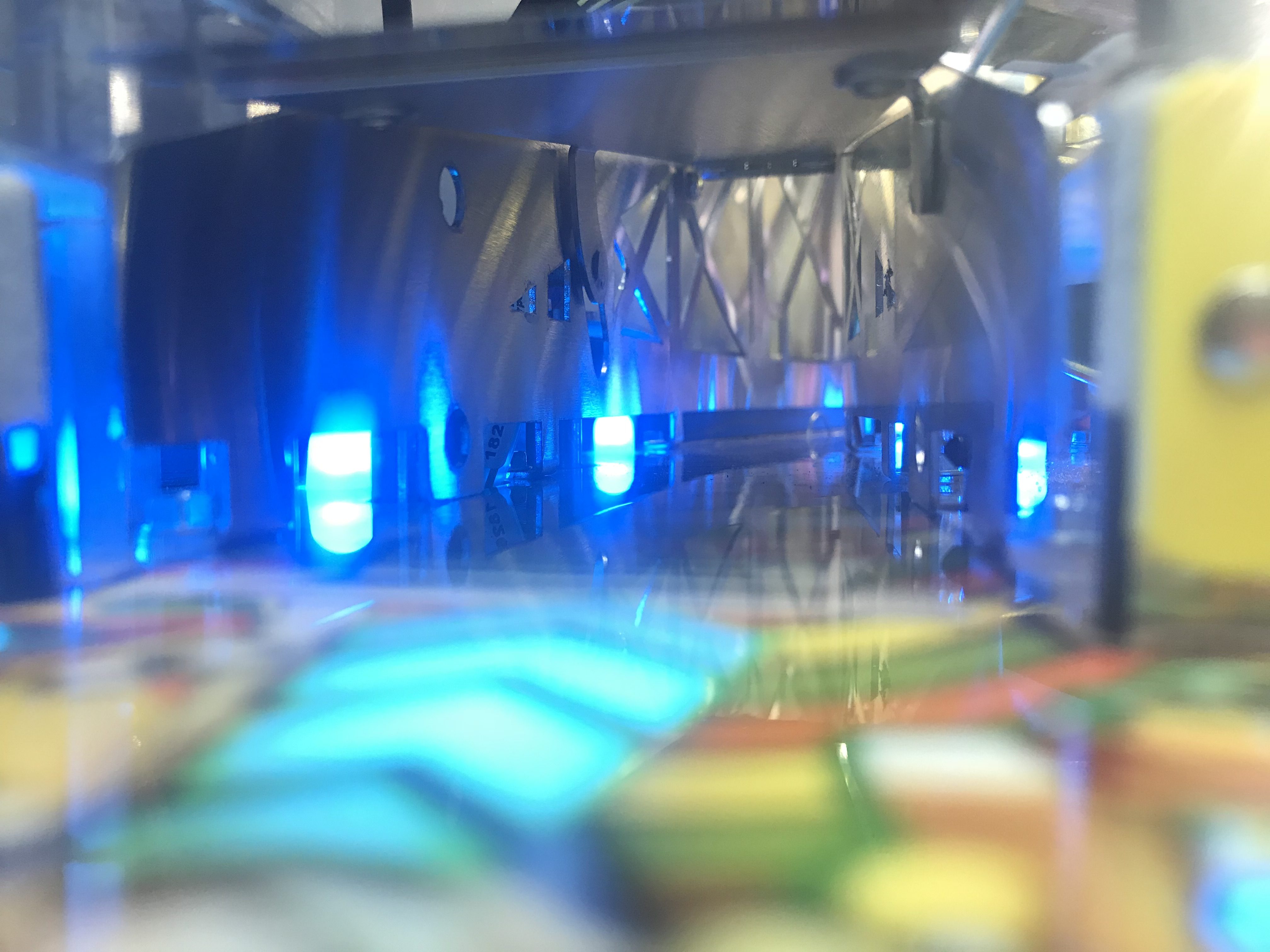 Three flippers
Three Bumper Car Pop Bumpers
Three Slingshots
---
MAGNAB
As mentioned above, Oktoberfest has FOUR magnets, two of which are player-controlled. 'MagNab' are the two player-controlled magnets, which are activated via the second 'flipper' button on the right side of the cabinet. Players can earn MagNabs in game play, and then choose when to use them.
MagNabs can be used to set up shots for the upper right flipper as there is a magnet located just above the flipper.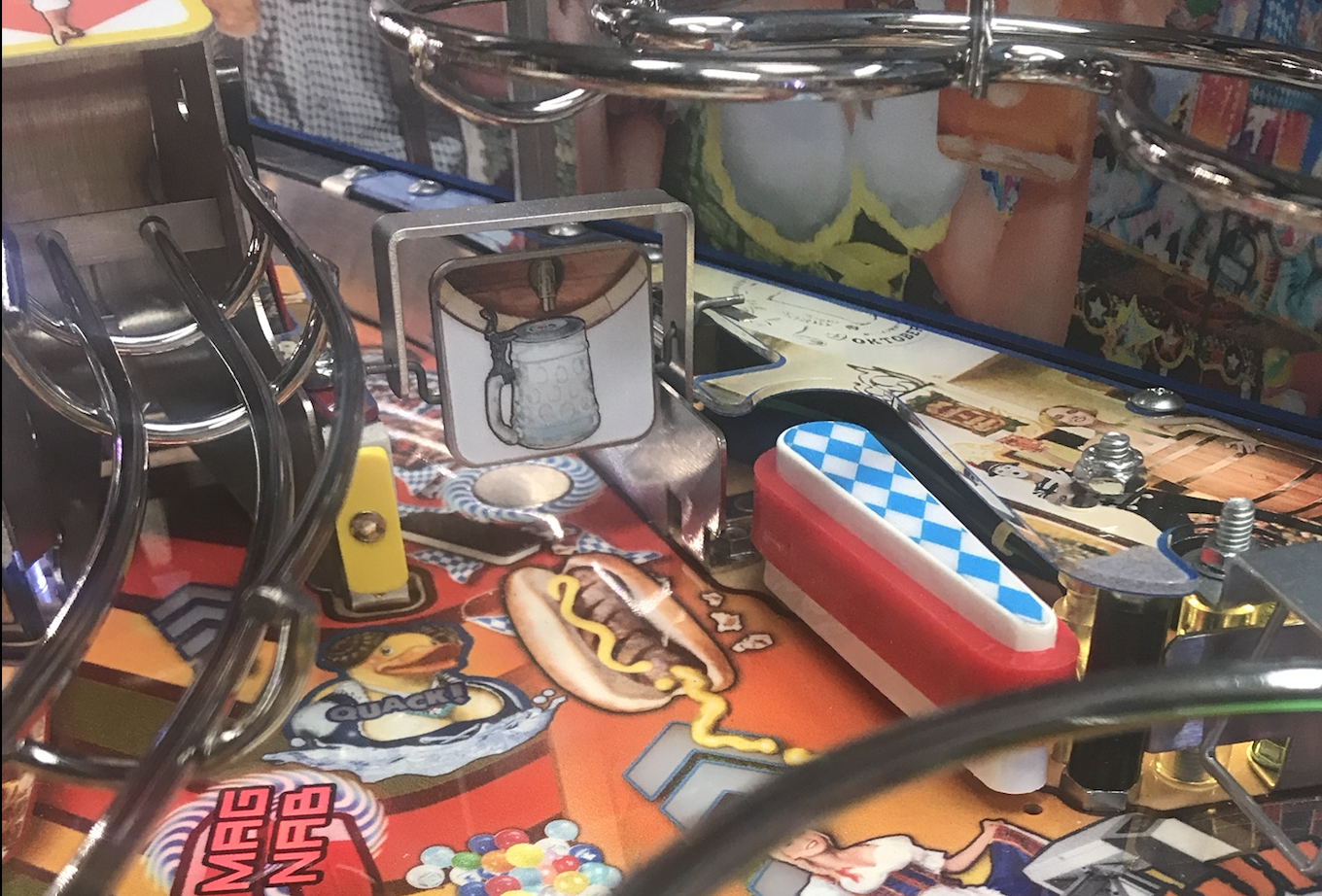 MagNabs can also be used to grab the ball and drop in the top lanes, where spelling T-A-P will increase the playfield multipler.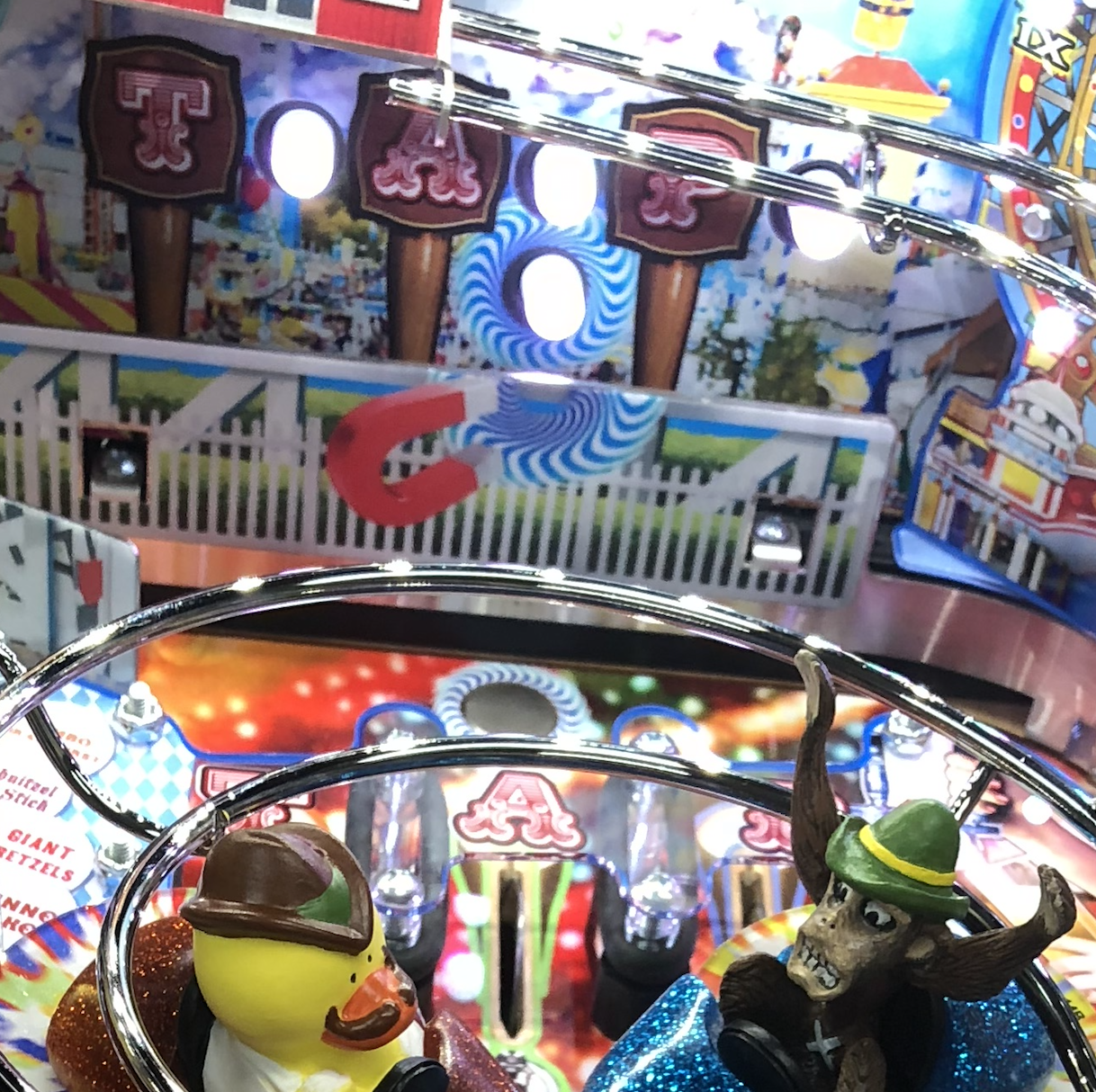 ---
RULES AND CODE
Note – all rules and code are subject to change!
Overview
Five Multi-balls, Two Primary Multi-balls
14 Tent Modes including a Video Mode and a Mini Wizard Mode
Beer Stein Power Ups to assist players towards objectives and increase scoring
Five Food Stand Modes
Three Mini Wizard Modes and an Uber Wizard Mode
Lots of Ducks
---
TENT MODES
As you traverse Oktoberfest, you'll visit different tents along the way, which are the modes. In order to start a tent mode, you must spell T-E-N-T on the inlanes/outlanes which lights Enter Tent at the scoop. Shoot the scoop to select your Tent Mode.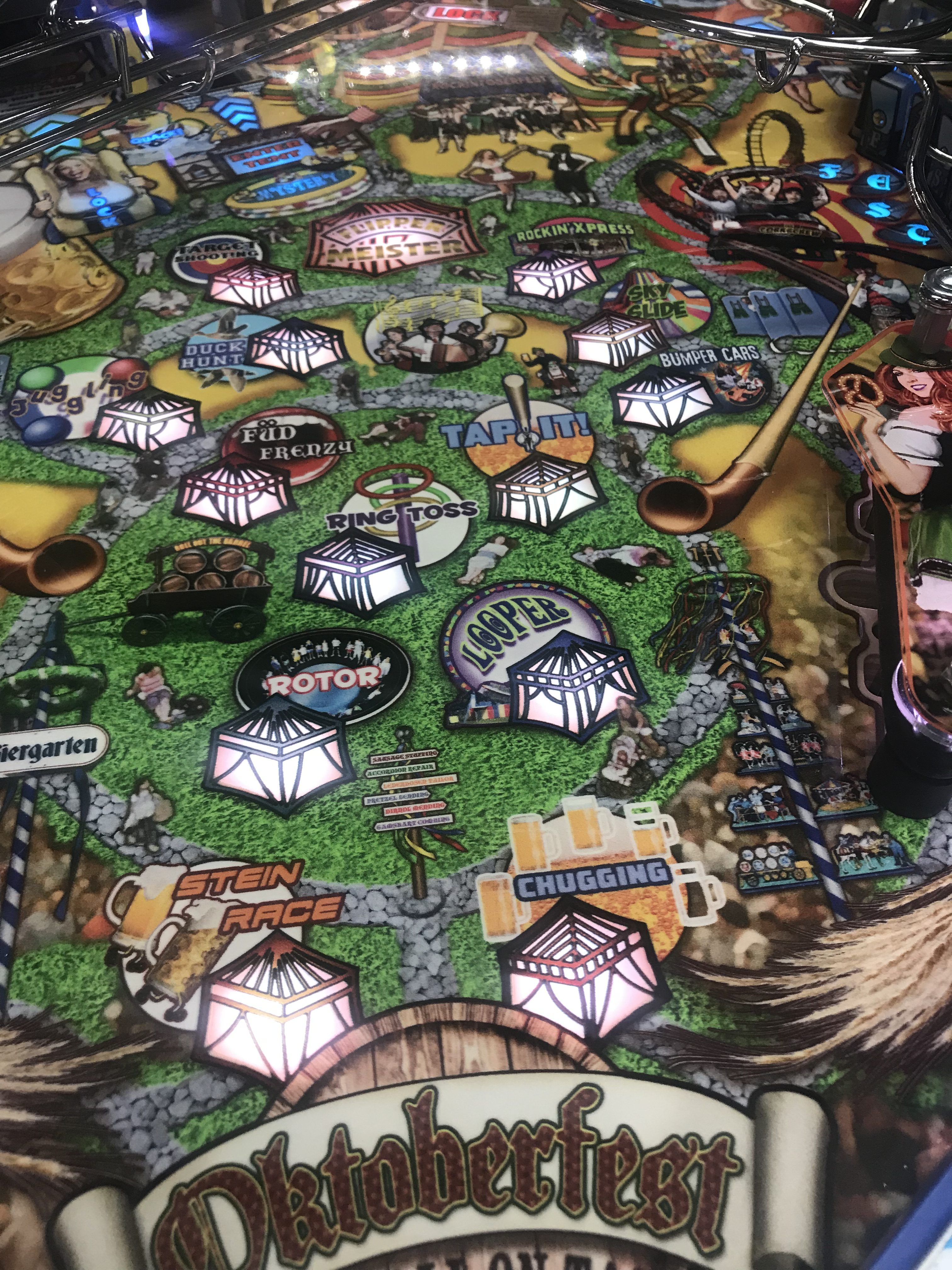 There will be 14 total Tent Modes. They include:
Target Shooting
Rockin' XPress
Juggling
Duck Hunt
Sky Slide
Fud Frenzy
Tap It!
Bumper Cars
Ring Toss
Rotor
Looper
Stein Race
Chugging
Flipper Meister (Wizard Mode?)
All Tent Modes have a "WIN" and then a "BONUS" until the timer runs out. Modes can be more than once if they were not "won".
---
BEER STEIN BOOSTERS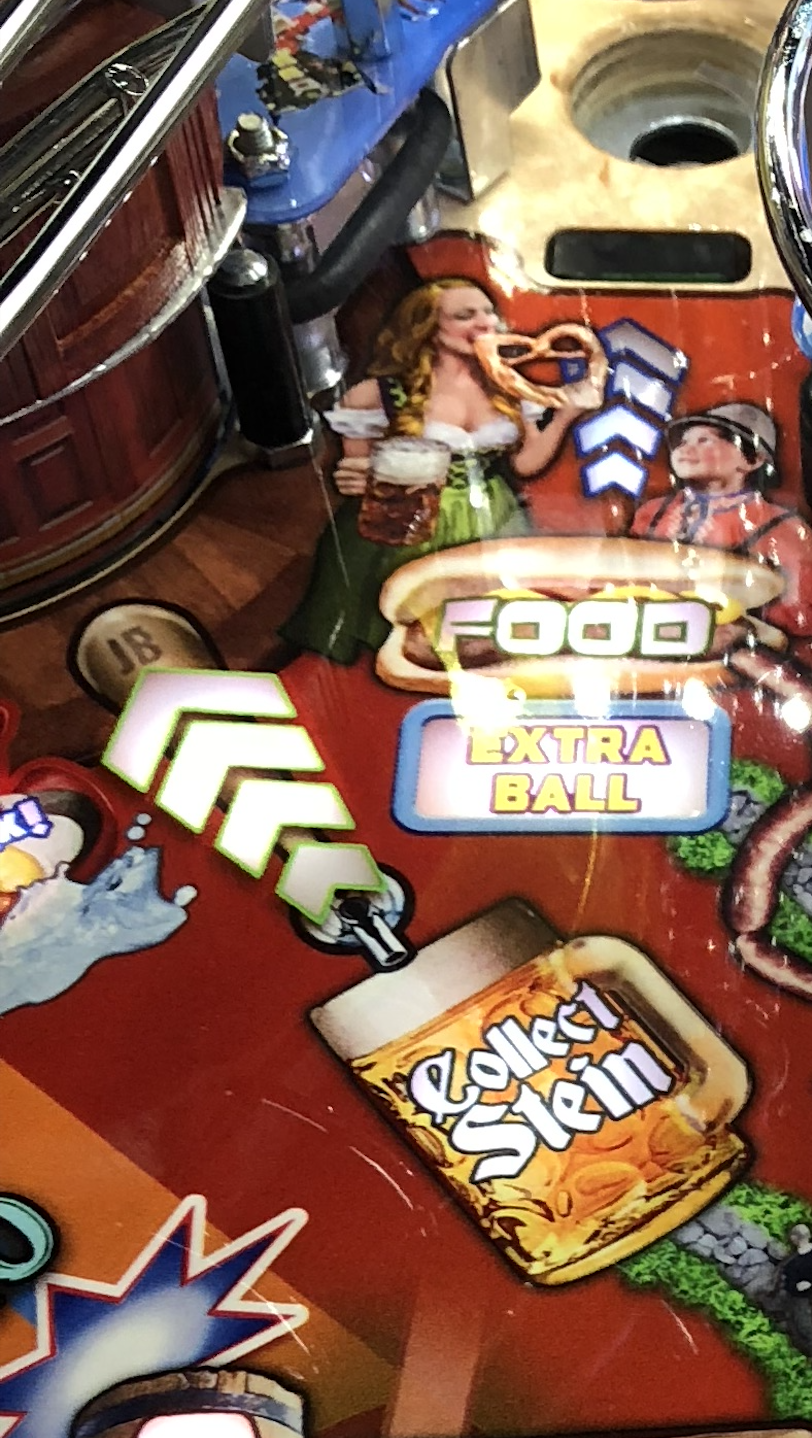 A player gets to choose one free Stein at the start of each game, then you collect Steins by bashing the bartender in the top left X number of times until the bar opens, then shoot into the bar to collect. There are 14 Steins in total. Each Stein has two effects: it multiplies the value of a specific tent feature/mode, and also globally boosts some other feature of the game (e.g. more valuable pops, more valuable spinners, higher multiball jackpots, more playfield X time, etc). Steins can be collected in any combination the player chooses, and all the effects stack, including having multiples of the same stein.
---
FOOD STAND MODES
What is Oktoberfest without food! There are FIVE Food Stand Modes, each one provides "UBER" scoring on different shots for a limited time. Shoot the spinner and the drop target to qualify Food Stand Modes. Collect food items to consume calories that accelerate scoring.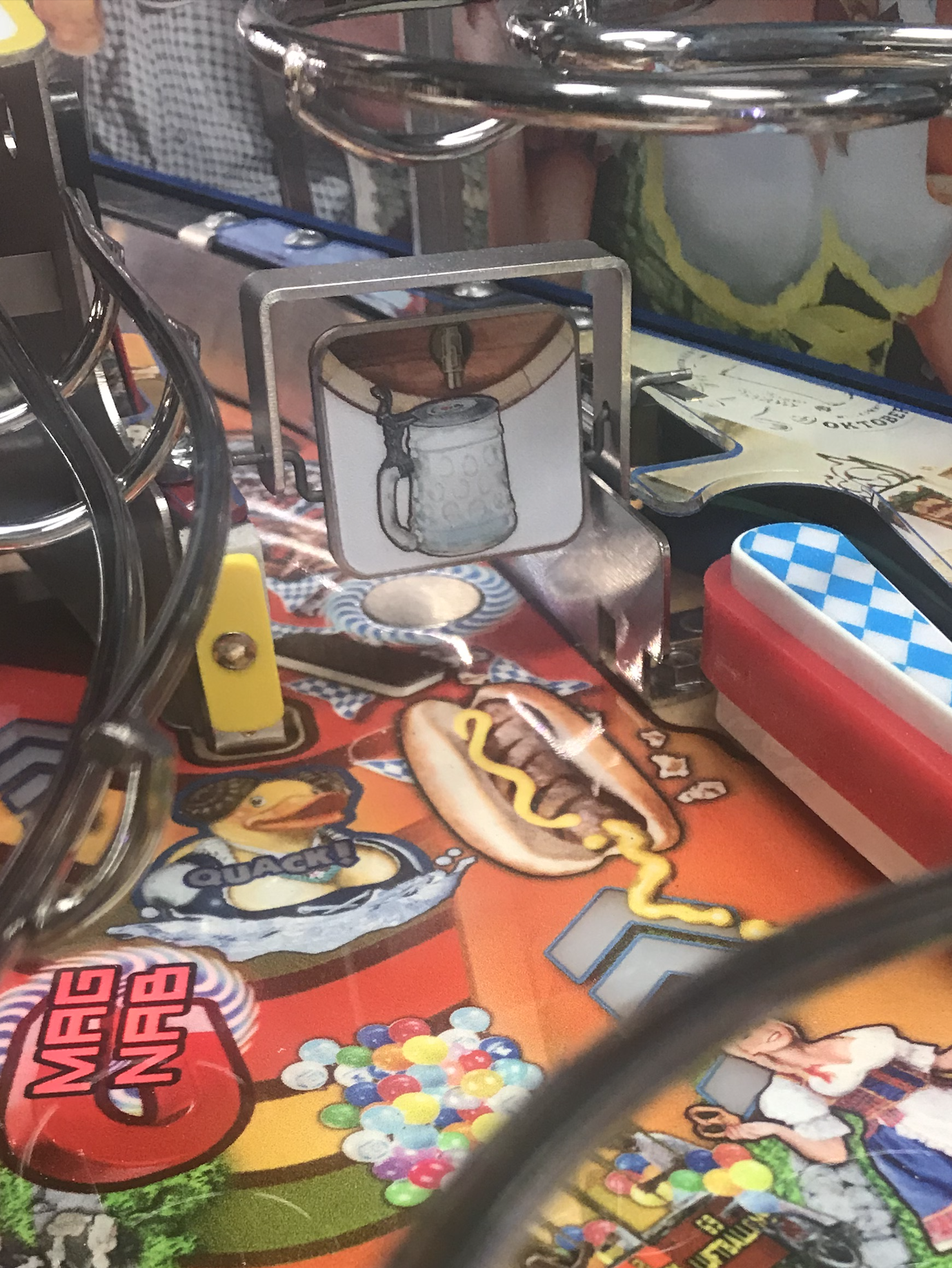 Consume too much and you go into a food coma, which is a mini-wizard mode!
---
MYSTERY AWARDS
There are four separate duck targets scattered around the playfield. Hitting them all will qualify mystery at the scoop. Collect Mystery Award at the scoop.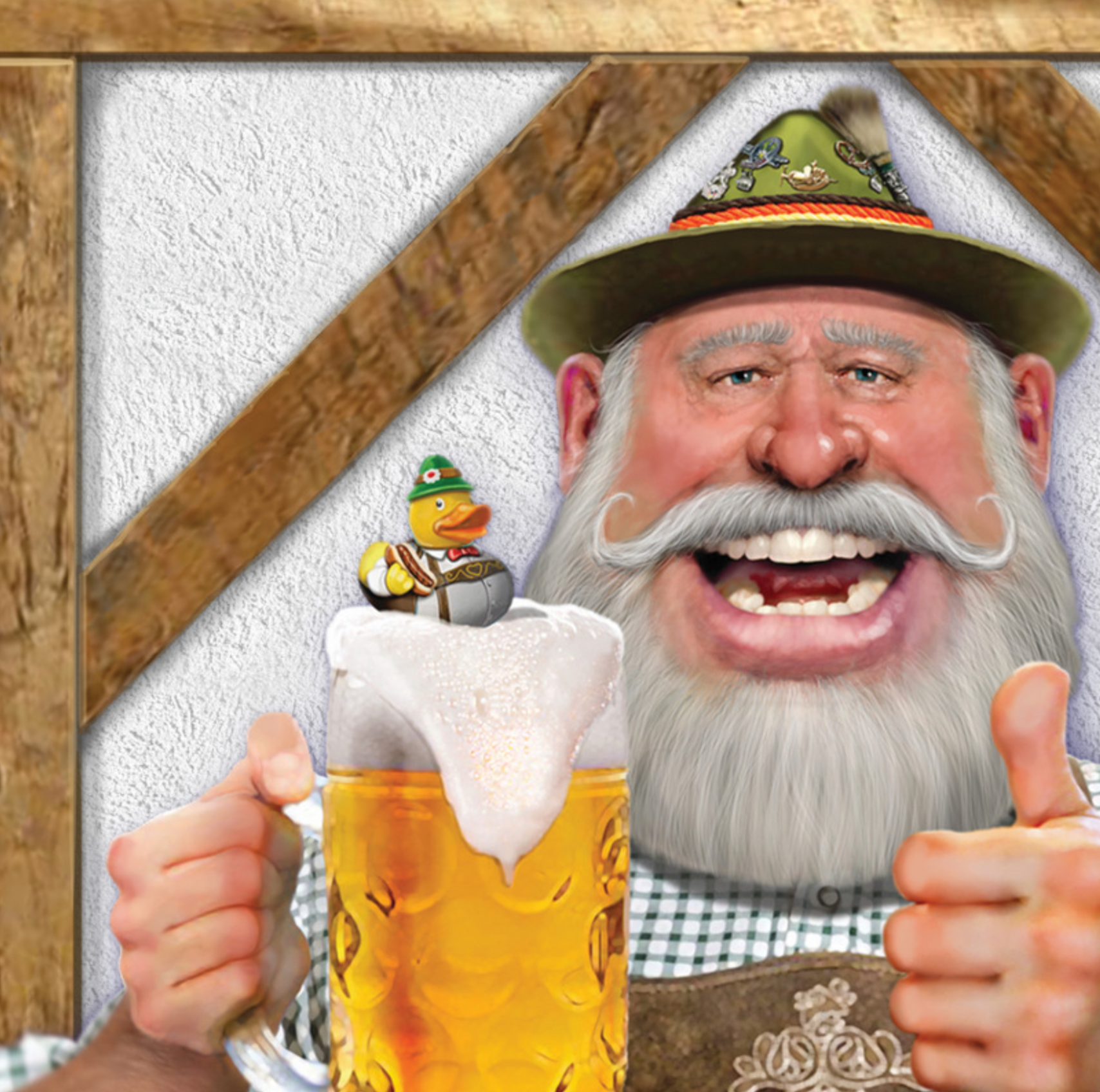 ---
MAIN MULTIBALLS
Corkscrew Multiball
Complete O-K-T-O-B-E-R and F-E-S-T targets to light locks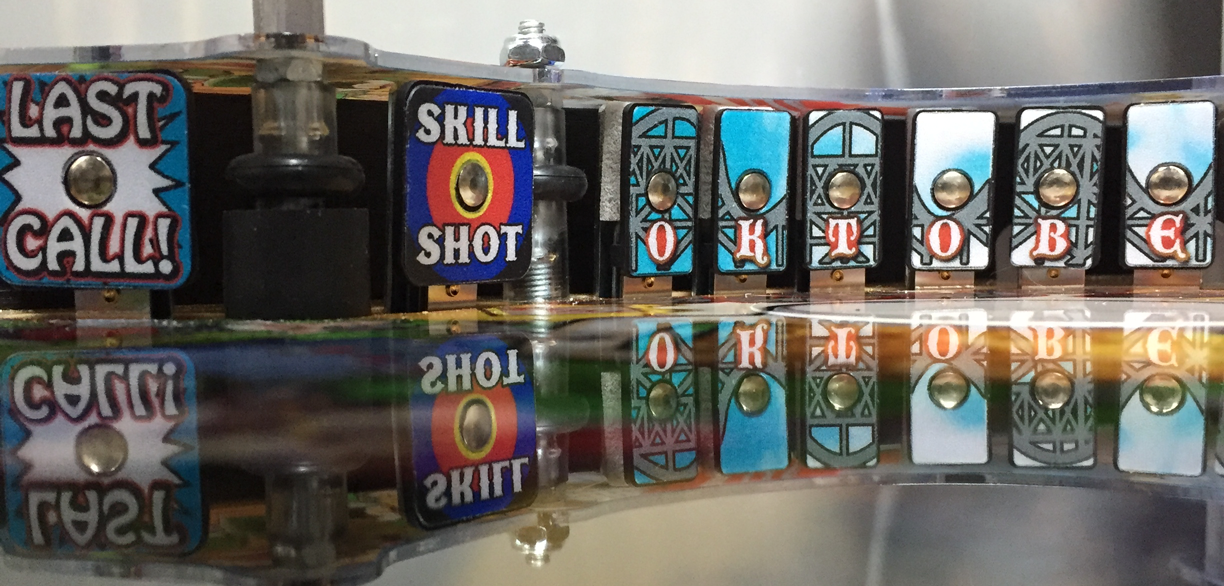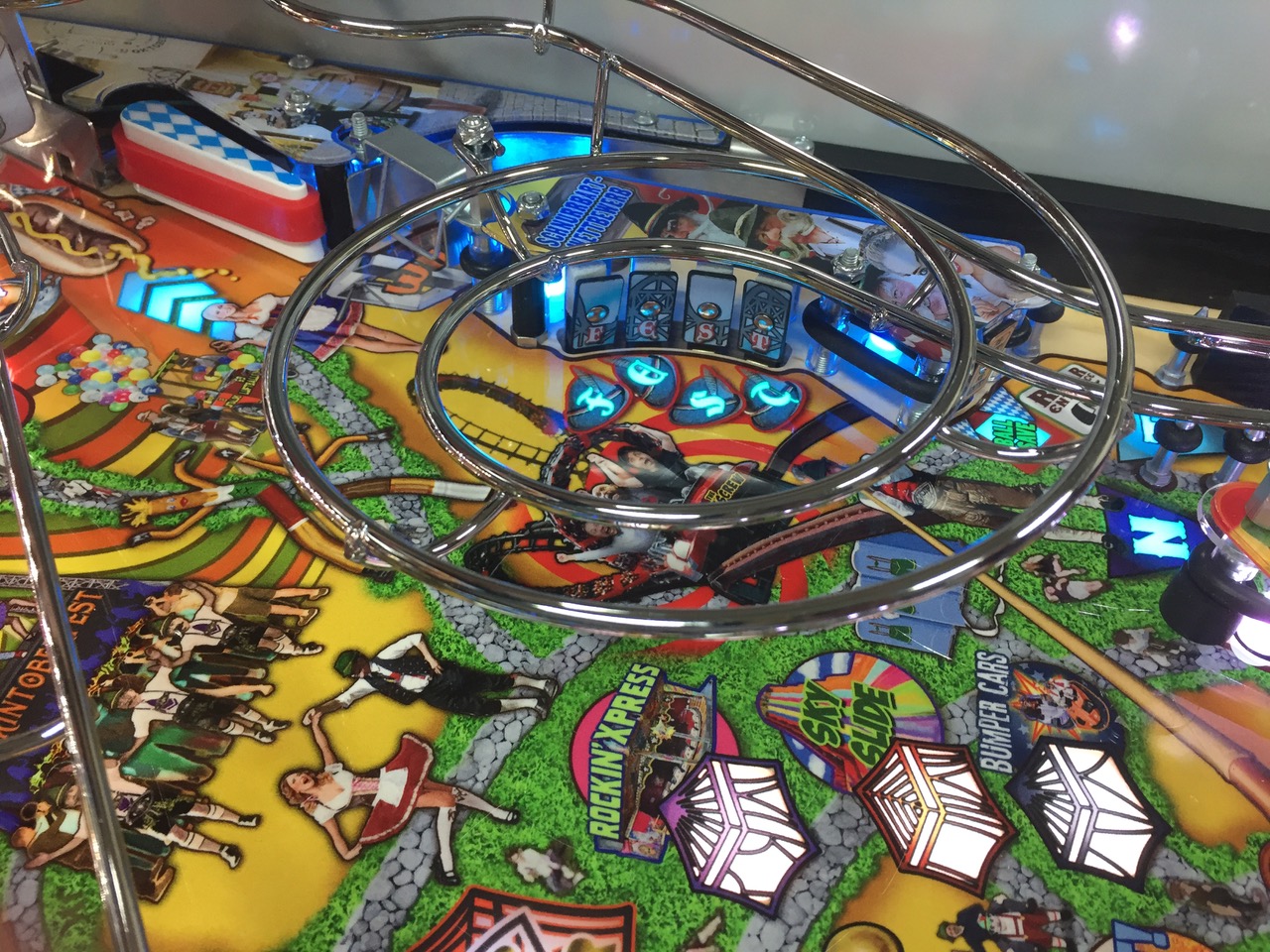 Shoot ramp to load the Coaster and lock balls
Lock three balls to start Corkscrew Multiball
During Multiball, complete O-K-T-O-B-E-R and F-E-S-T targets to light Super Jackpot
---
Beer Barrel Multiball
Complete P-R-O-S-T targets to light locks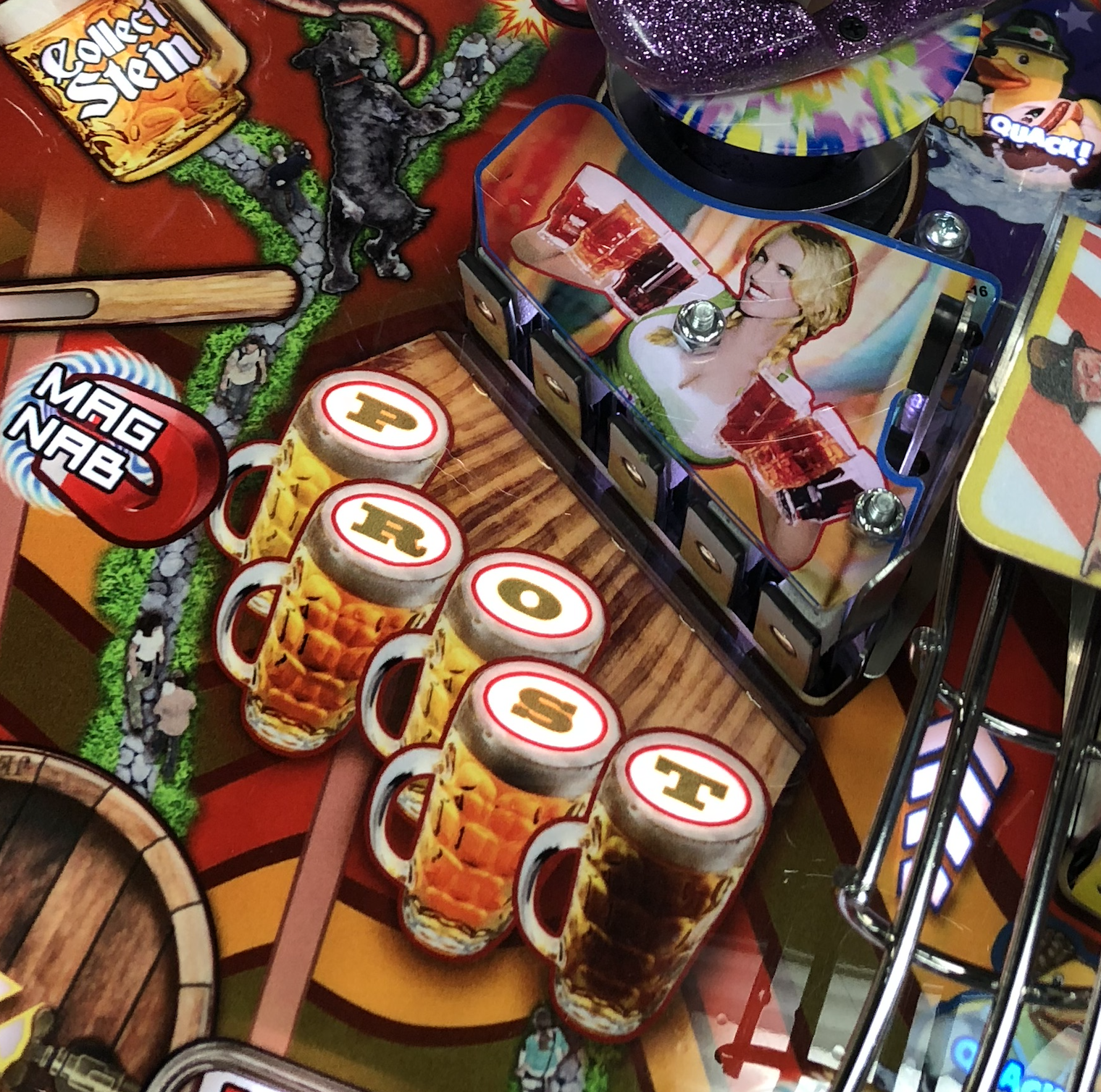 Lock balls in the Barrel when lock is lit
The third ball locked in the Barrel starts Beer Barrel Multiball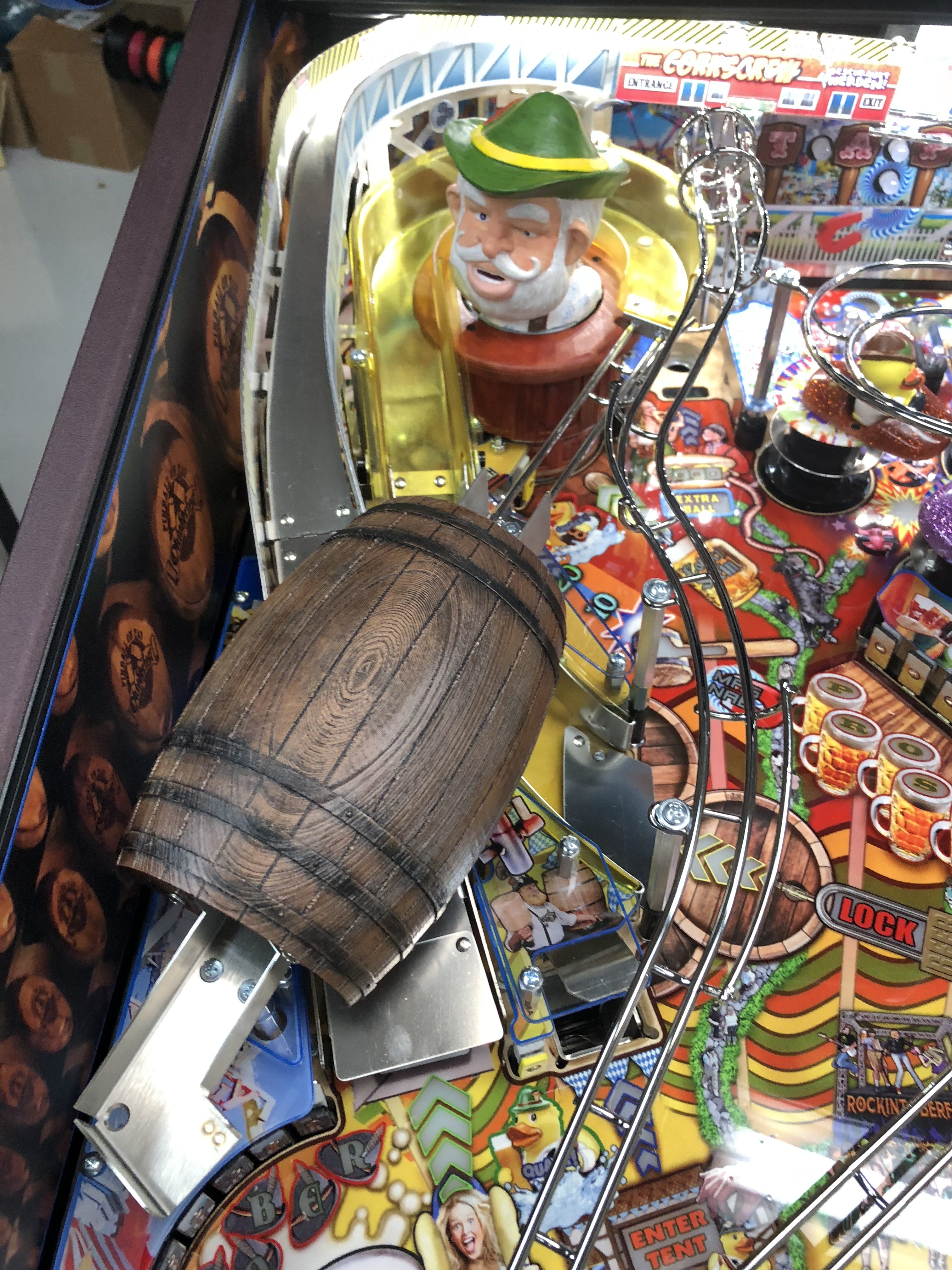 During Multiball, lock balls back in Barrel to multiply scoring for a limited time
During Multiball, get all balls back into the Barrel for a Super Jackpot
LOCK STEALING – You can steal locks in multiplayer games
---
WIZARD MODES
Oktoberfest has at least 4 wizard modes planned. Currently the plan is for the following wizard modes:
Wizard Mode for visiting all tents
Wizard Mode for collecting all Steins
Wizard Mode for collecting X number of ducks
Wizard Mode for eating X amount of food
---
Stay tuned for more Oktoberfest information going forward from American Pinball!!
---
Feedback? Email thisweekinpinball@gmail.com.

Get alerts for new posts from This Week in Pinball – follow us on Facebook, Twitter, or sign up by email: