Overview | Price | Who's Who | Production and Shipping | Features | Rules and Code
Elton John Pinball is the newest creation from Jersey Jack Pinball! Below is an in-depth overview of the machine, and a dive into the features and rules – check it out!
---
Overview of Elton John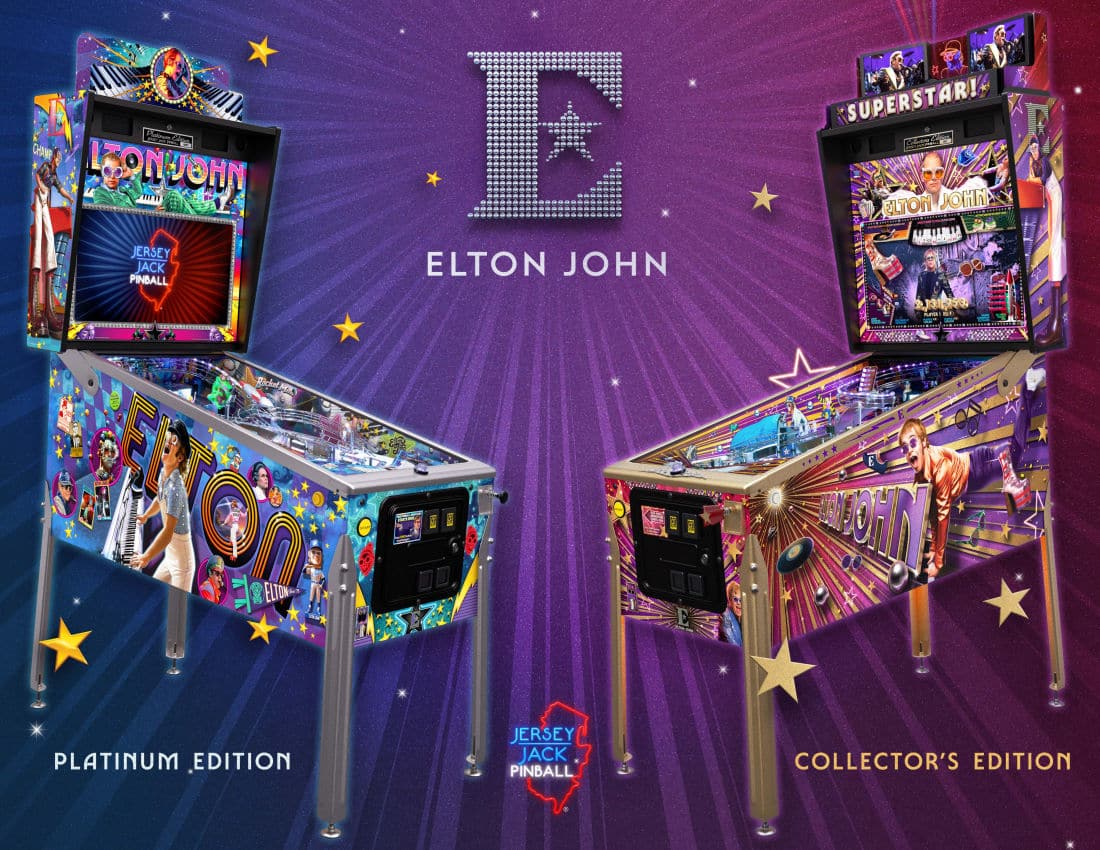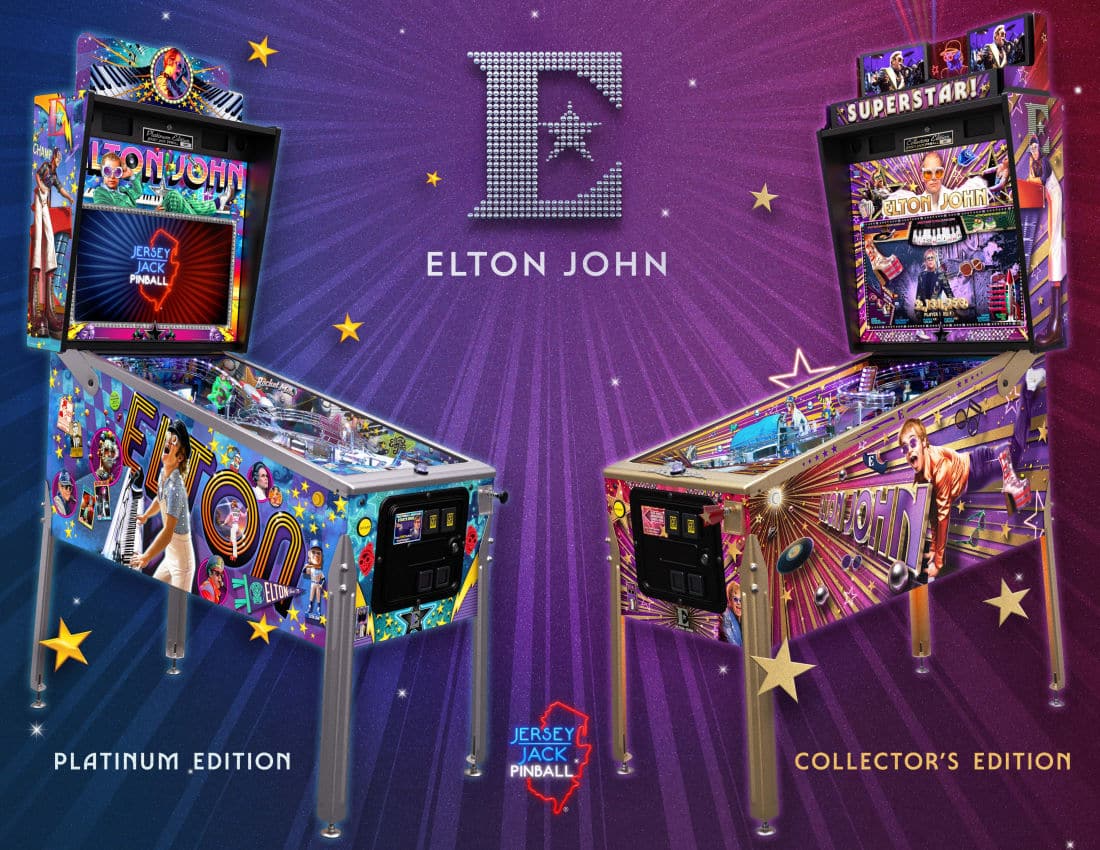 ---
Price
Platinum Edition- MSRP: $12,000
Collector's Edition – MSRP: $15,000
---
Who's Who
Game Design: Steve Ritchie
Software Lead: Bill Grupp
Animations: Olaf Gremie
Art: Christopher Franchi, John Youssi, and Jean-Paul de Win
Voice Callouts: Elton John
---
Features
All Models:
Custom Speech by Elton John
3 Supercharged flippers
16 Elton John Studio Master Tracks

Rocket Man
Tiny Dancer
Bennie And The Jets
Goodbye Yellow Brick Road
The Bitch is Back
Crocodile Rock
I'm Still Standing
Pinball Wizard
Saturday Night's Alright (For Fighting)
Your Song
Take Me To The Pilot
Philadelphia Freedom
Levon
Honky Cat
Your Sister Can't Twist (But She Can Rock 'n Roll)
Funeral For A Friend / Love Lies Bleeding

Piano-Playing Interactive Elton John Sculpture
Micro LED Piano Marquee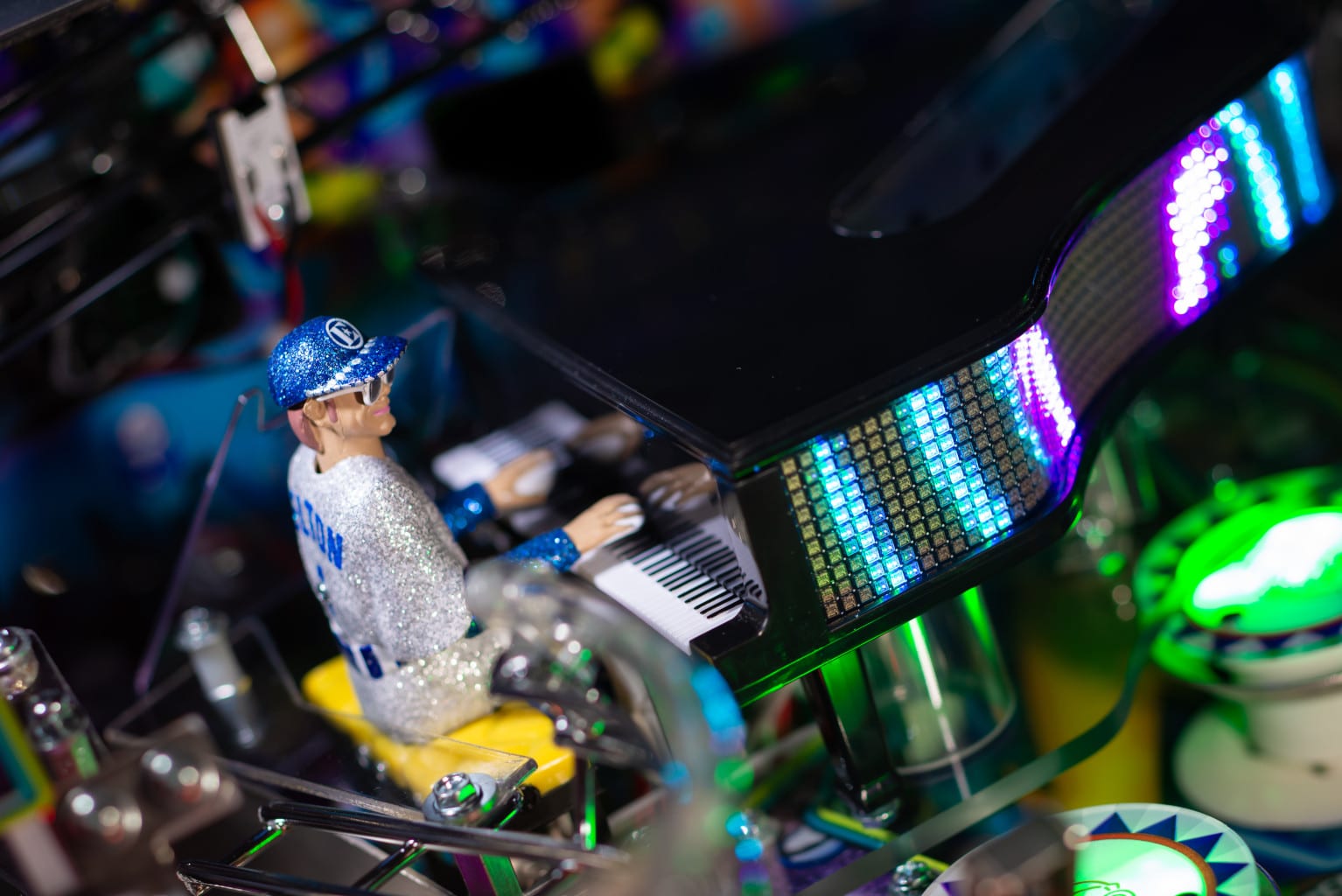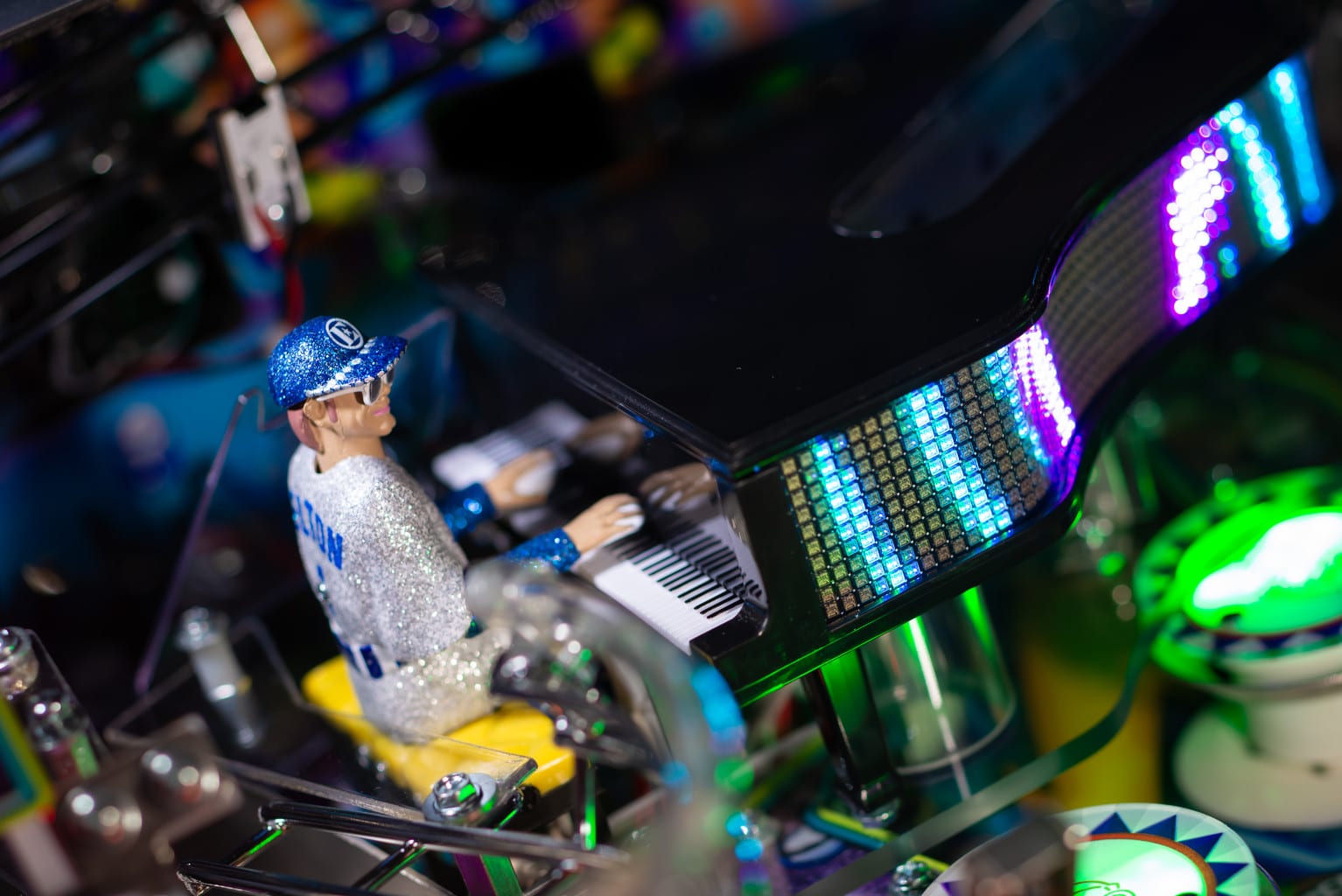 Rocket Sculpture with LED Flames
'Crocodile Rock' Physical Lock Sculpture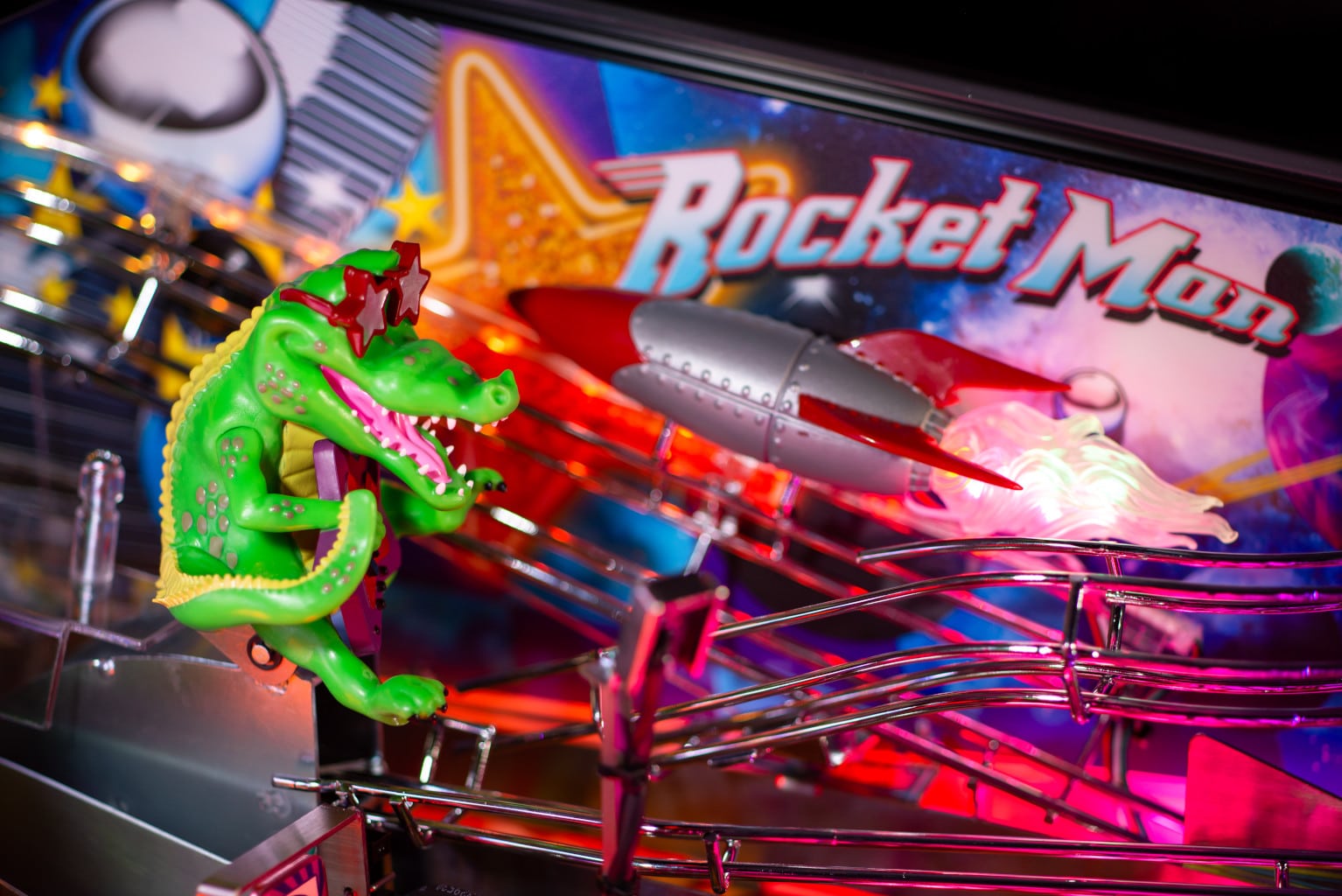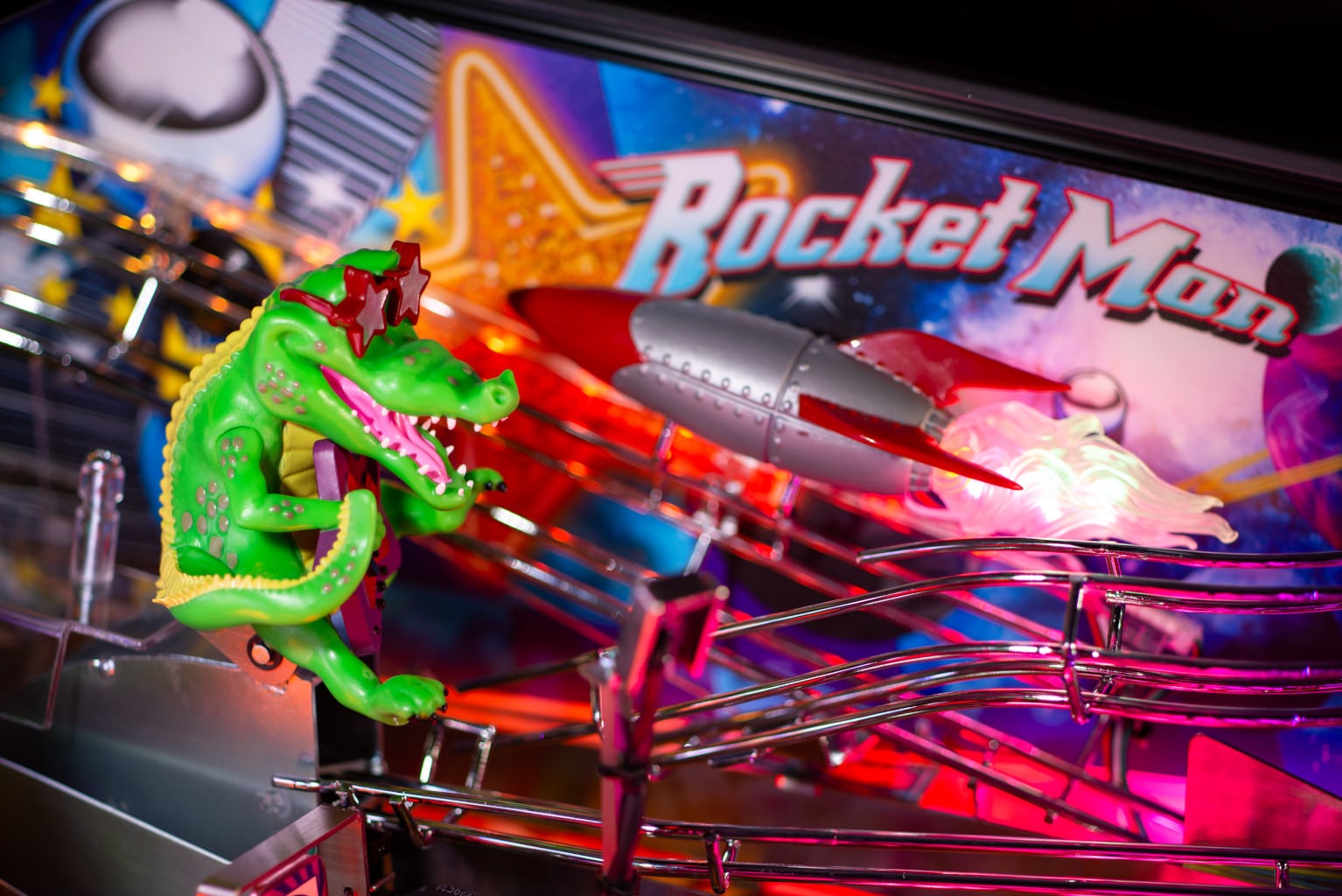 'Tiny Dancer' Motorized Sculpture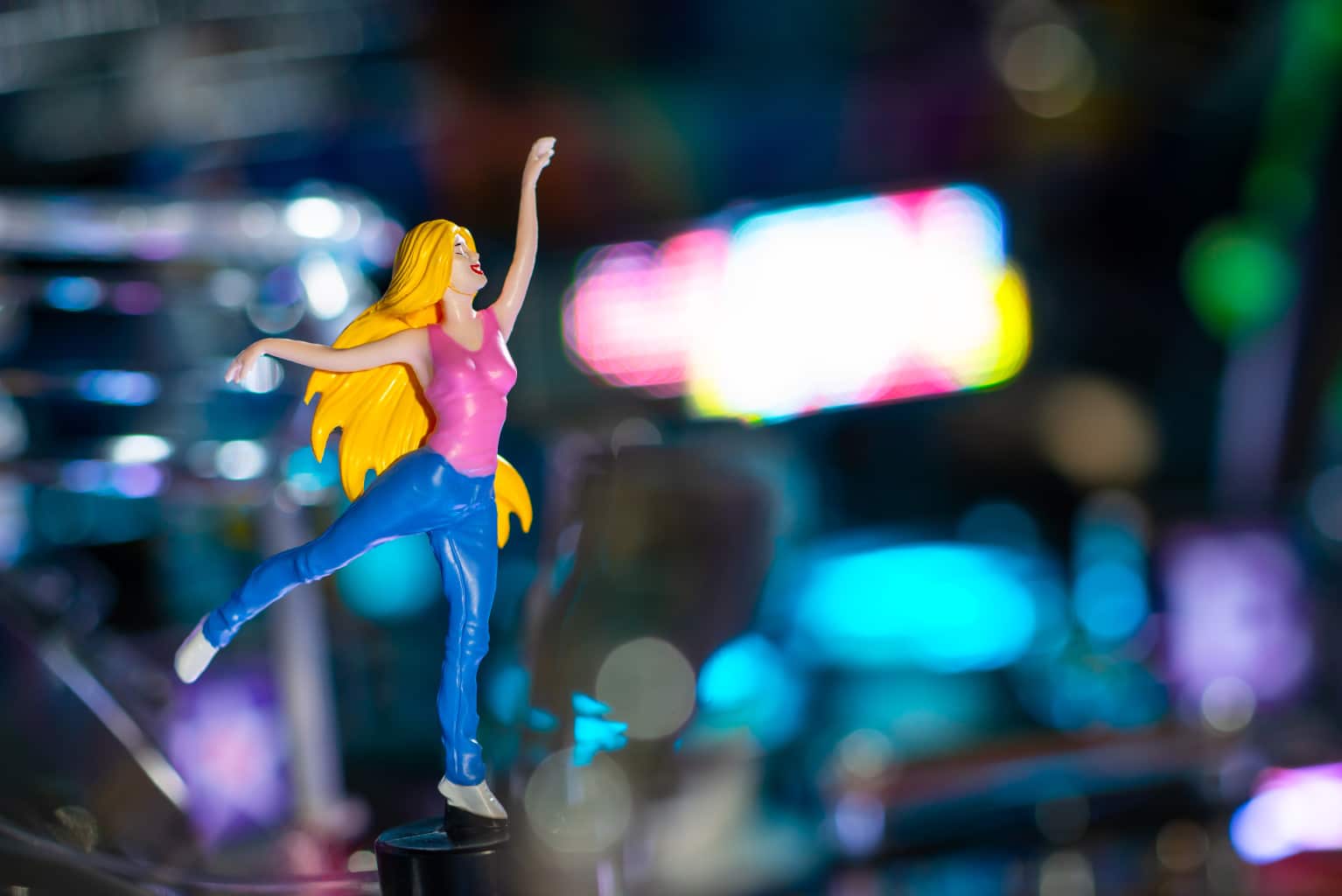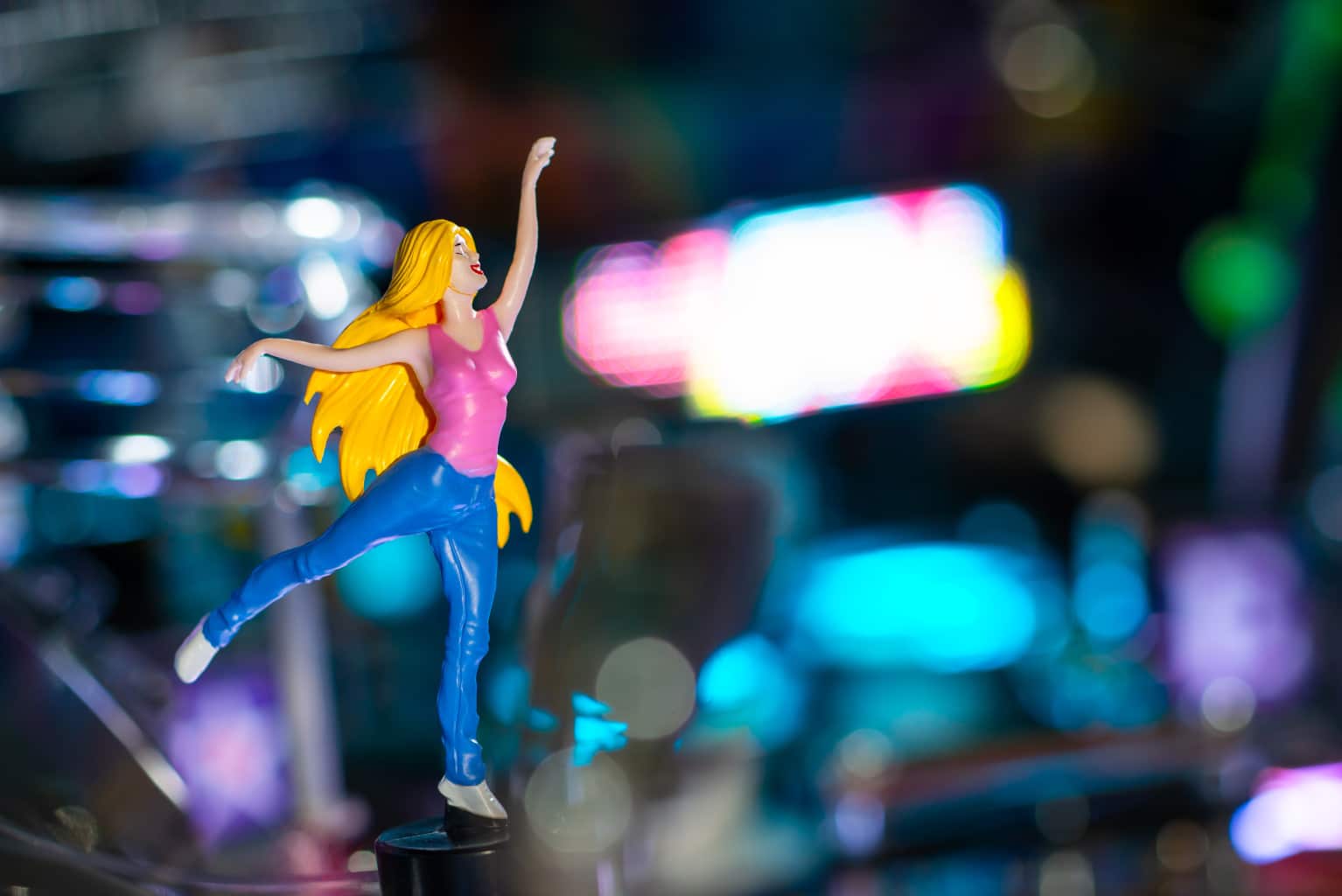 Grand Piano 3 Ball Lock with Diverter
3 'Bennie and the Jets' Bumpers
2 Rapid Spinner Targets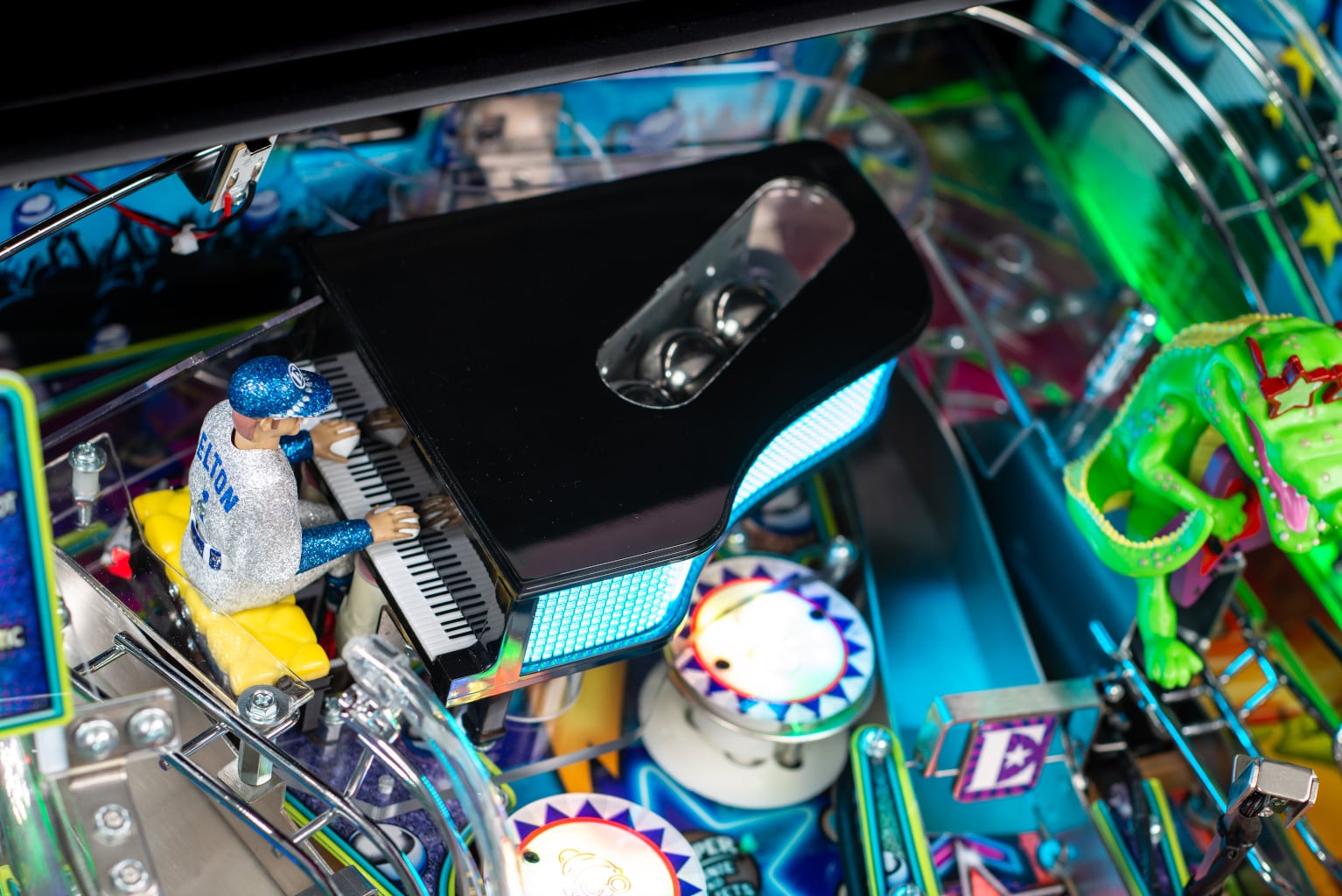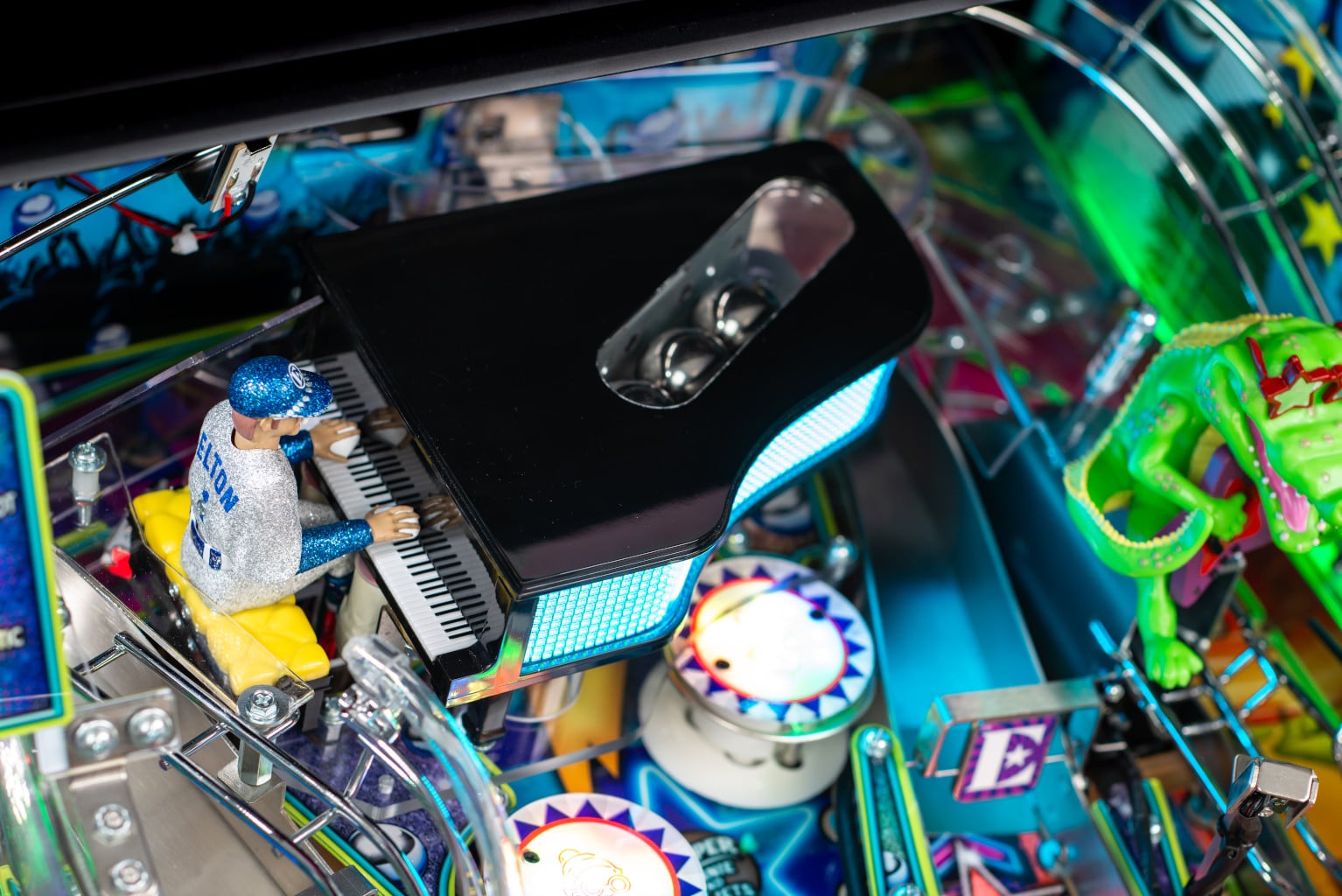 'Rocka Box' 3-Bank Drop Targets
'Rocket Man' Drop Target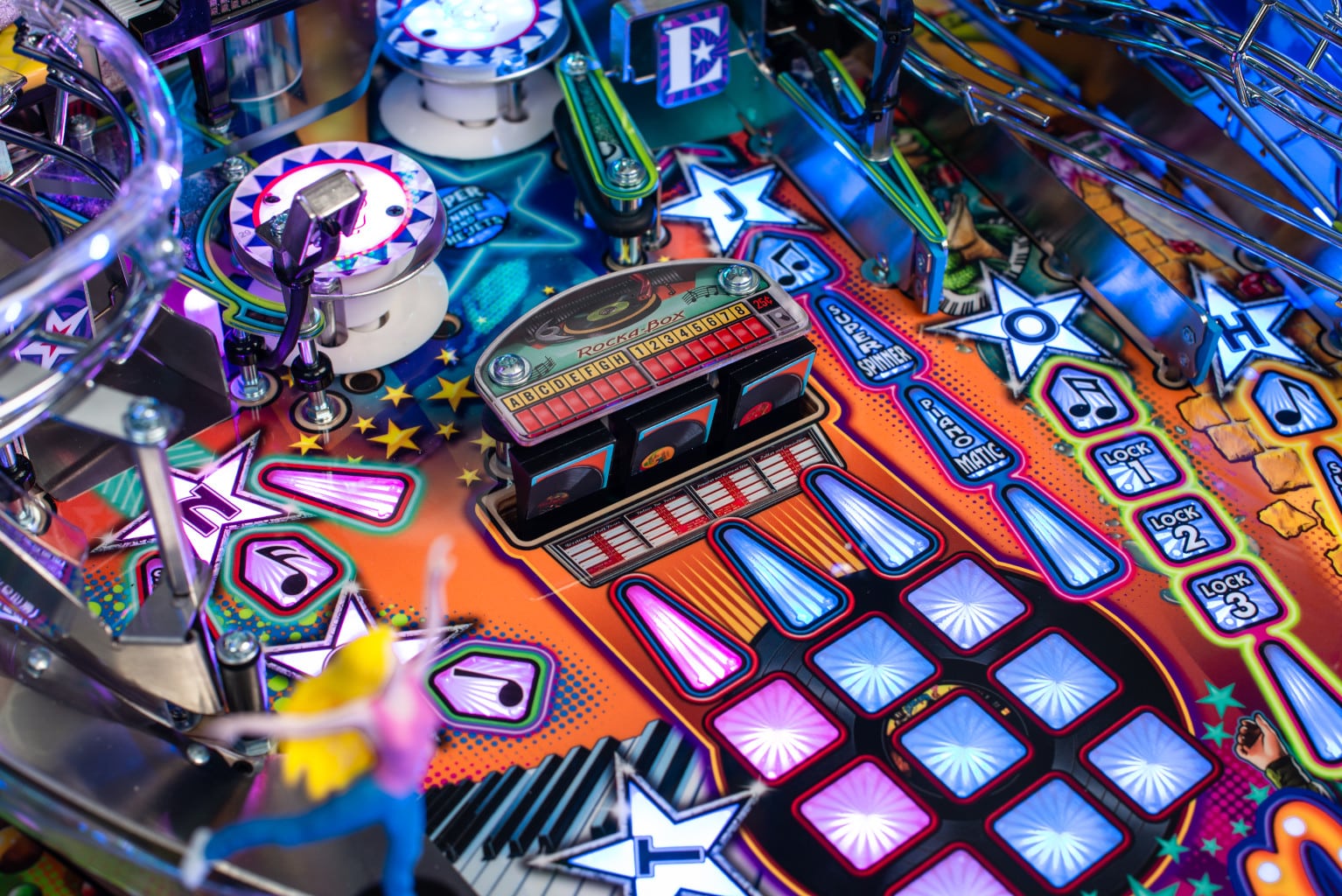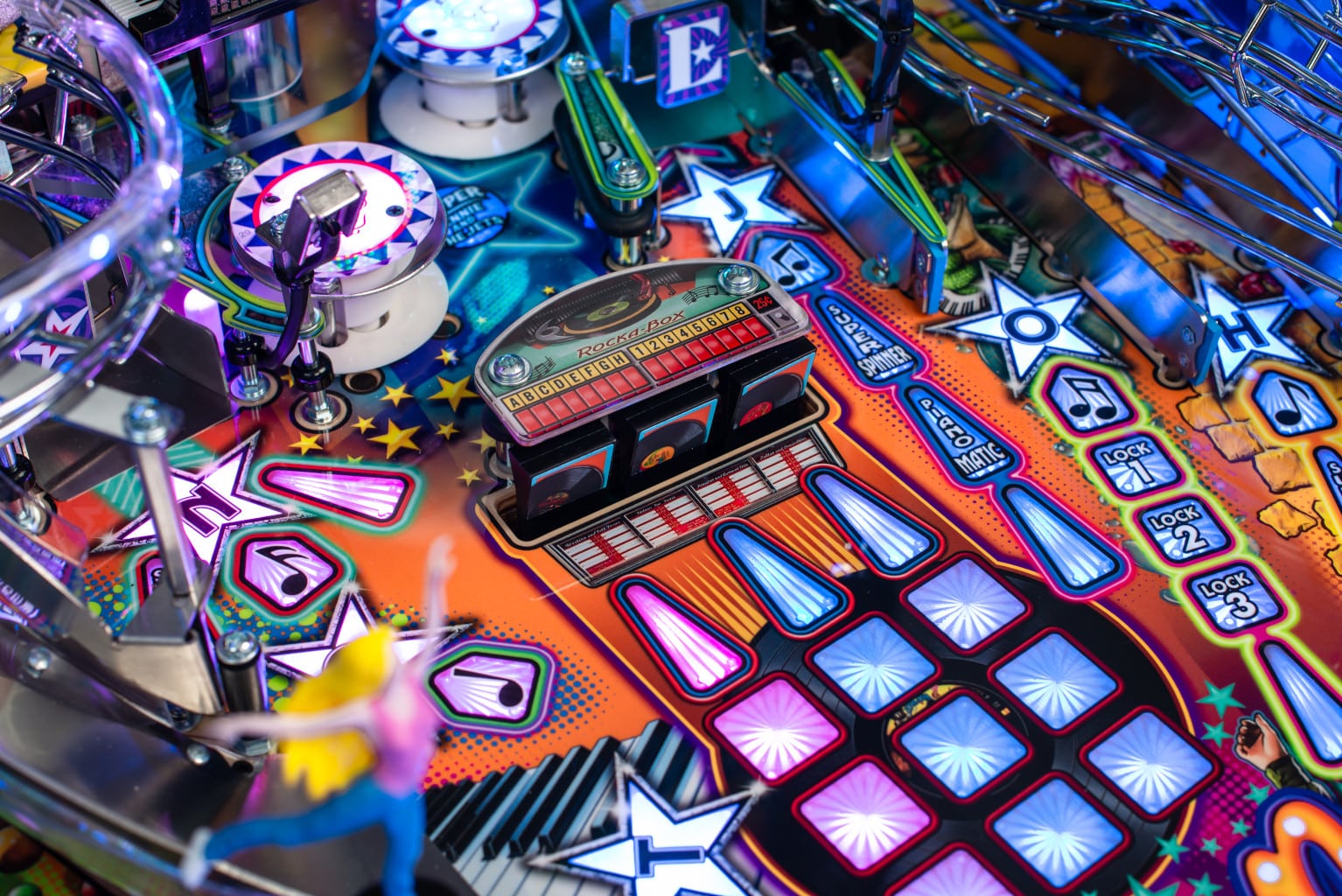 E-Ticket Up-kicker
'Rocket Man' Ball Launcher and LED lit ramp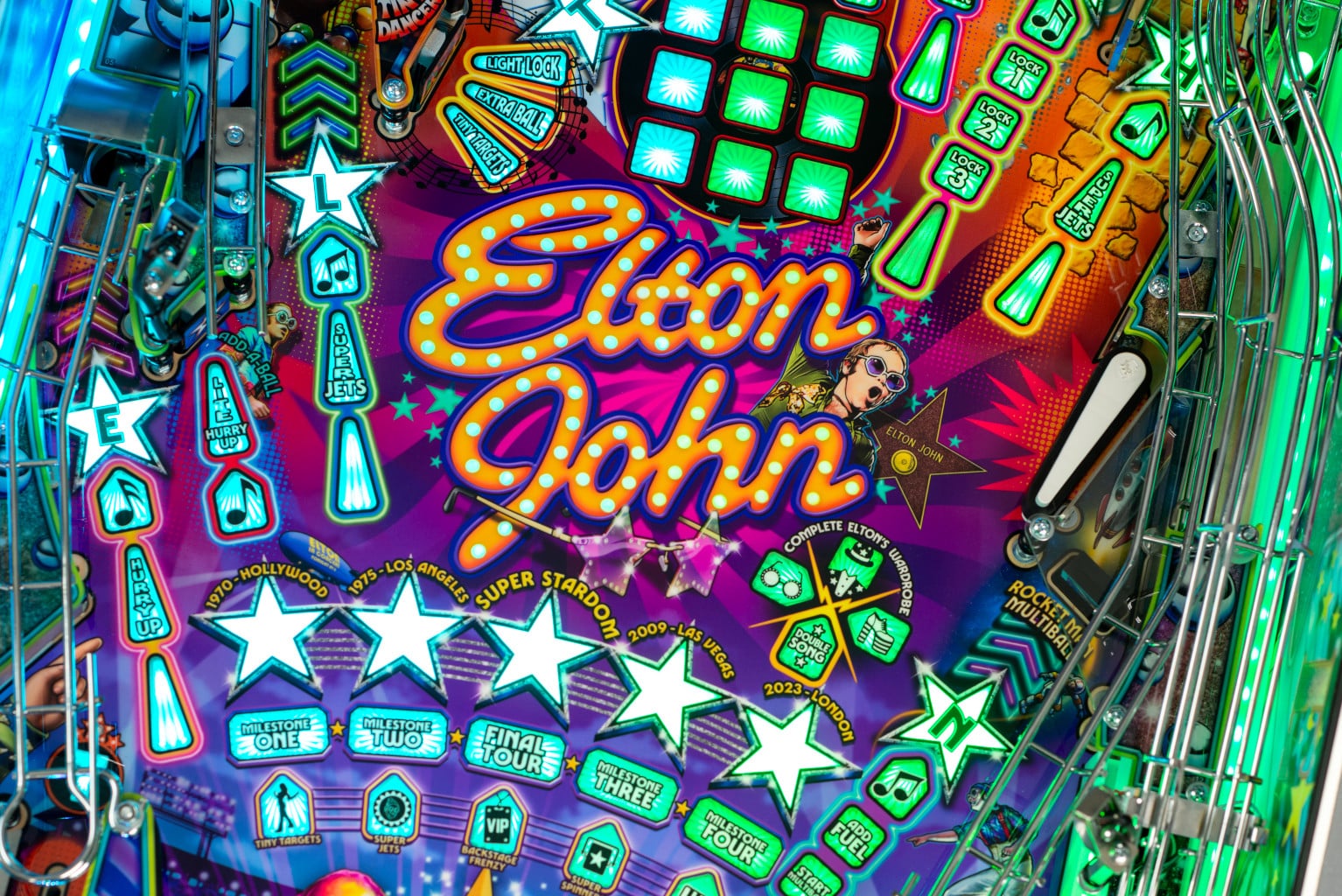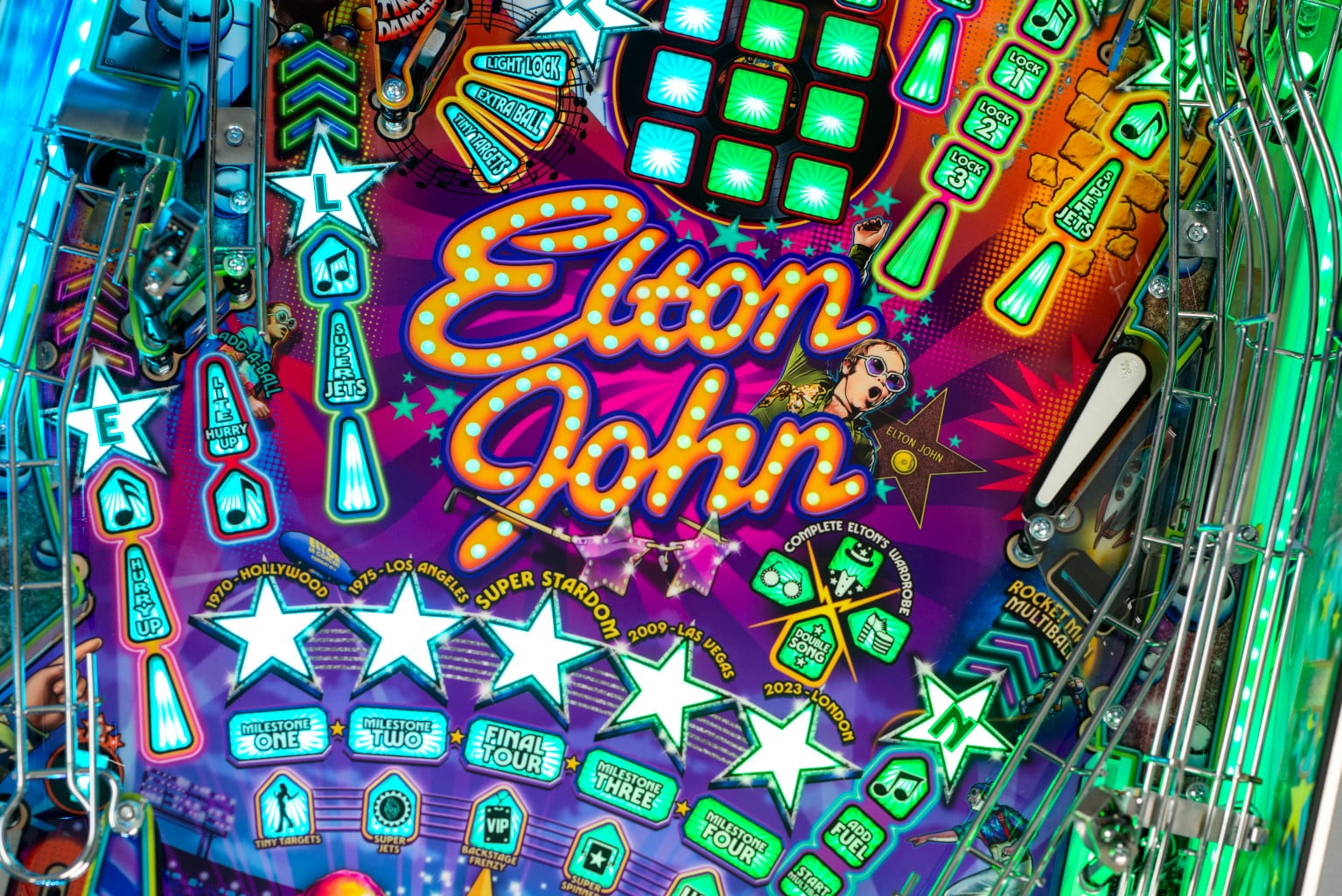 Platinum Edition Model:
Platinum Metallic Armor
Sparkle RadCals with Exclusive Art Package by Christopher Franchi
Exclusive Platinum Edition Art Blades
Dual Layer Acrylic LED Topper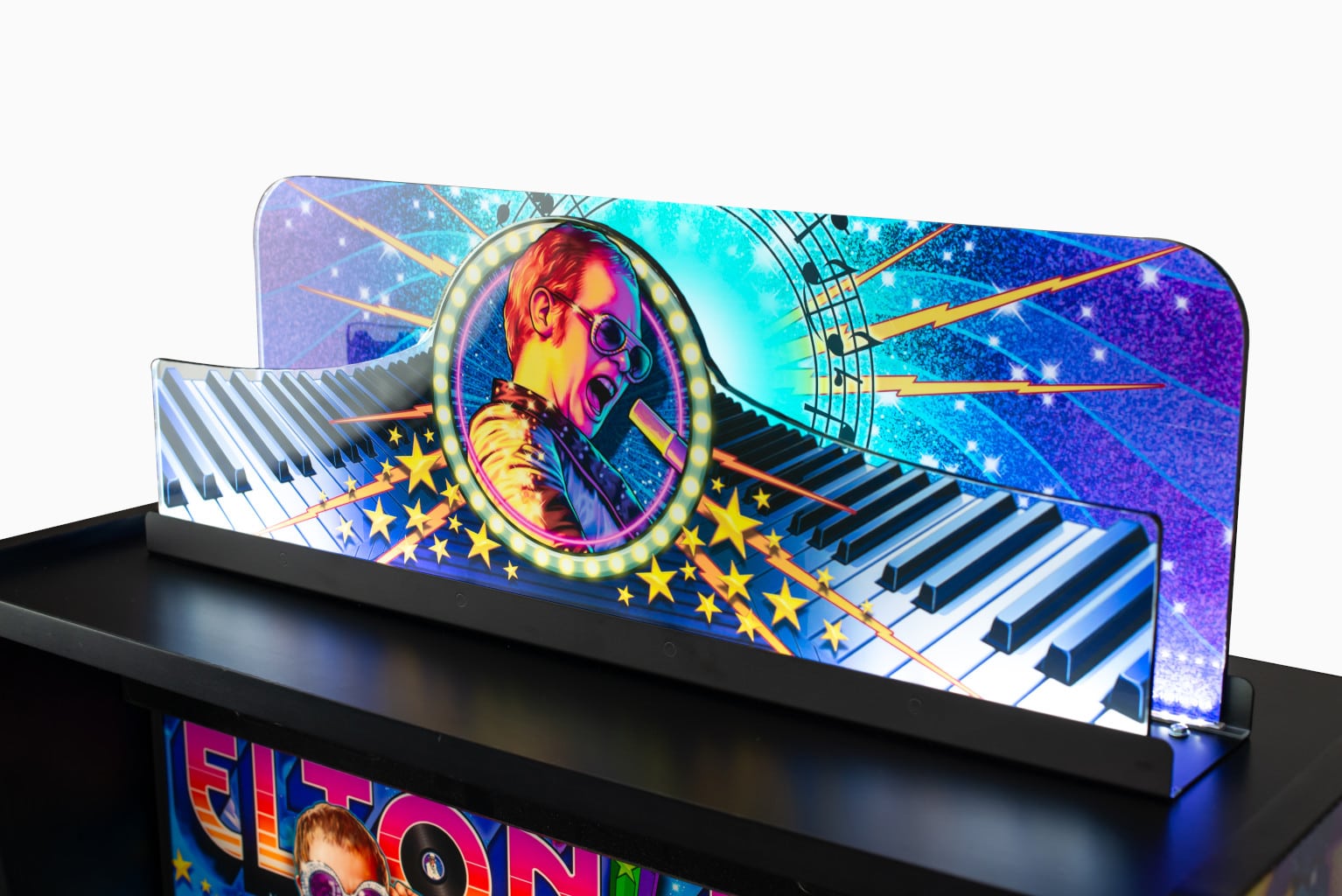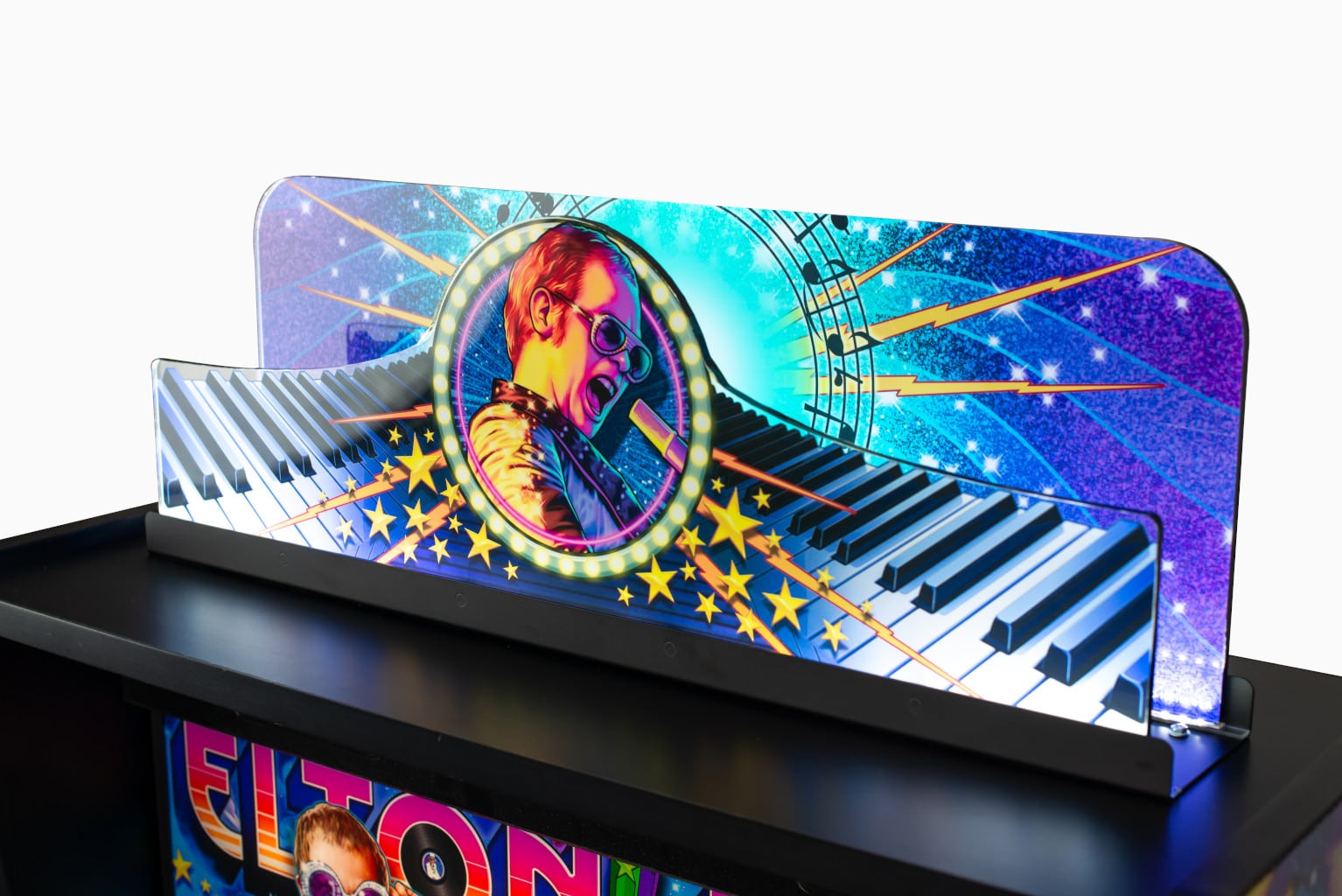 Collector's Edition Model:
Limited to 1,000
Laser-cut Action Button Plate
Sparkle Bottom Arch
Interactive Cabinet Light Show
Mirrored Backglass
Sparkle Playfield with Exclusive 'Baseball' Elton
Exclusive Collector's Edition Art Blades
Sparkle RadCals with Exclusive CE Art Package by John Youssi & JP De Win
Metallic Laser-Cut Armor
'SUPERSTAR' Topper w/ Dual 10″ LCD Screens & Interactive Laser Lightshow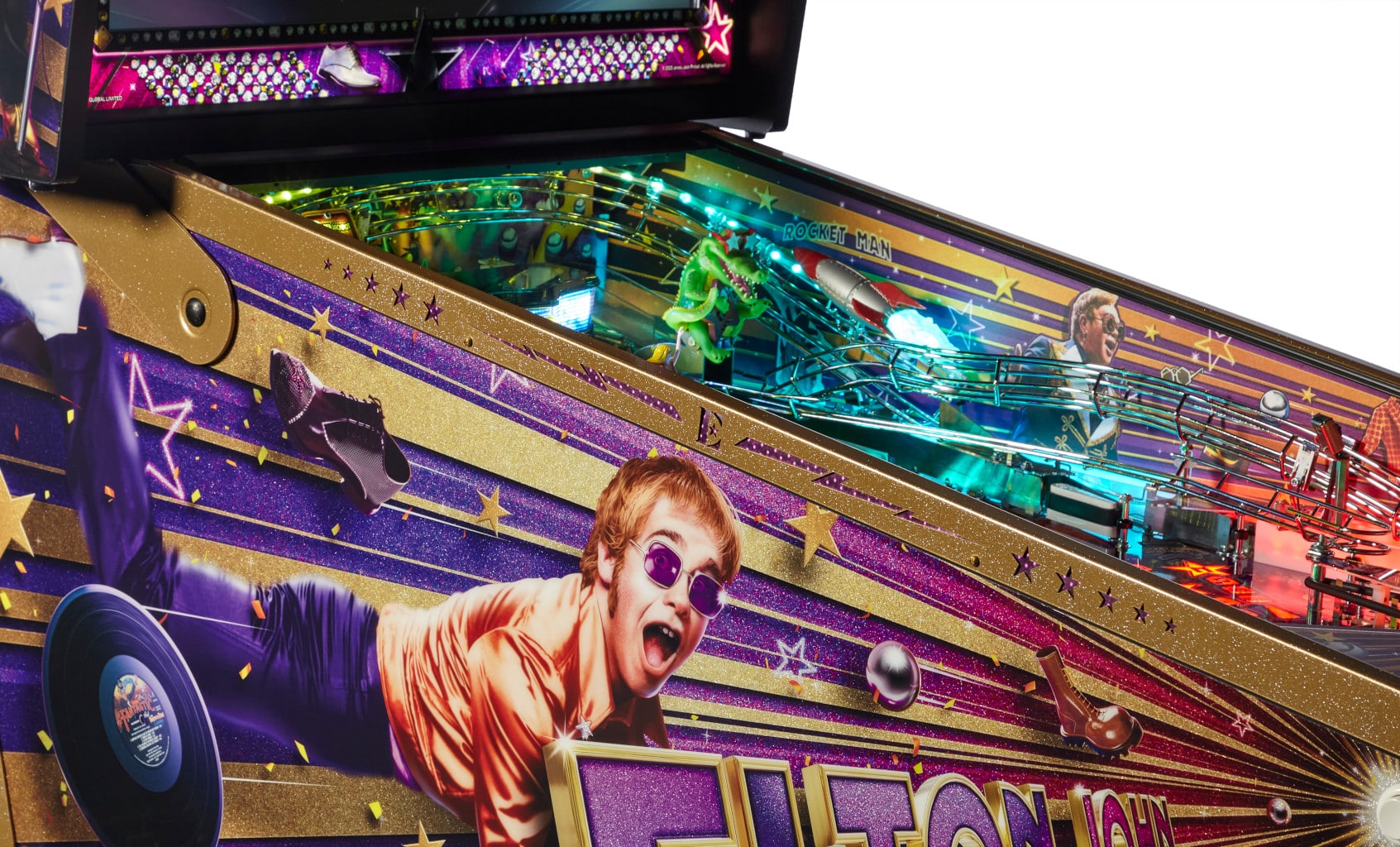 ---
Rules and Code
Songs: Choose your favorite Elton John song at the start of the game. Each song has its own 3 stage rules for collecting 'Notes'.
Wardrobe: Collecting 'Notes' qualifies wardrobe items: Glasses, Shoes and Outfits. Collect all three to complete the song and start victory laps.
Rocka-Box: Complete the drop targets to collect Albums. Collecting Albums gives awards and starts feature modes.
Encore Modes: Unlock the Encore modes at the Rocka-Box. Play all five encore modes (Tiny Targets, Bennie and the Super Jets, Super Spinners, Piano-Matic, Backstage Frenzy) to qualify Champ Multiball.
Crocodile Rock Multiball: Lock balls in the crocodile to start.
Rocket Man Multiball: Collect Fuel via individual shots and additional completed tasks to qualify Rocket Man. Shoot the rocket to start.
Signature Stage: Collect all the stars to light the Piano Lock. Shoot the Piano Ramp to lock balls in the Piano. Lock three balls to start Signature Stage Multiball. There are four different Signature Stage Multiballs to play which can be selected from the action button prior to a lock.
Superstar! Jackpot: Earn super jackpots (multiple letters can be earned by looping the super jackpot) in Signature Stage Multiball to add Superstar! letters.
Milestones: Complete iconic game features to collect Milestones. Collecting four milestones qualifies the Final Tour wizard mode. Collecting more milestones increases the Final Tour points.
Misc: Collect as many 3 shot combos as you can make, complete Honky Cat Hurry Up's to light kickback, Shoot side ramps to light extra ball.
---
Videos and Featurette
---