Lyman Sheats and Josh Sharpe Partnering with Chicago Gaming Company
Multimorphic, Inc. is excited to announce two new team members, Bowen Kerins and Colin MacAlpine!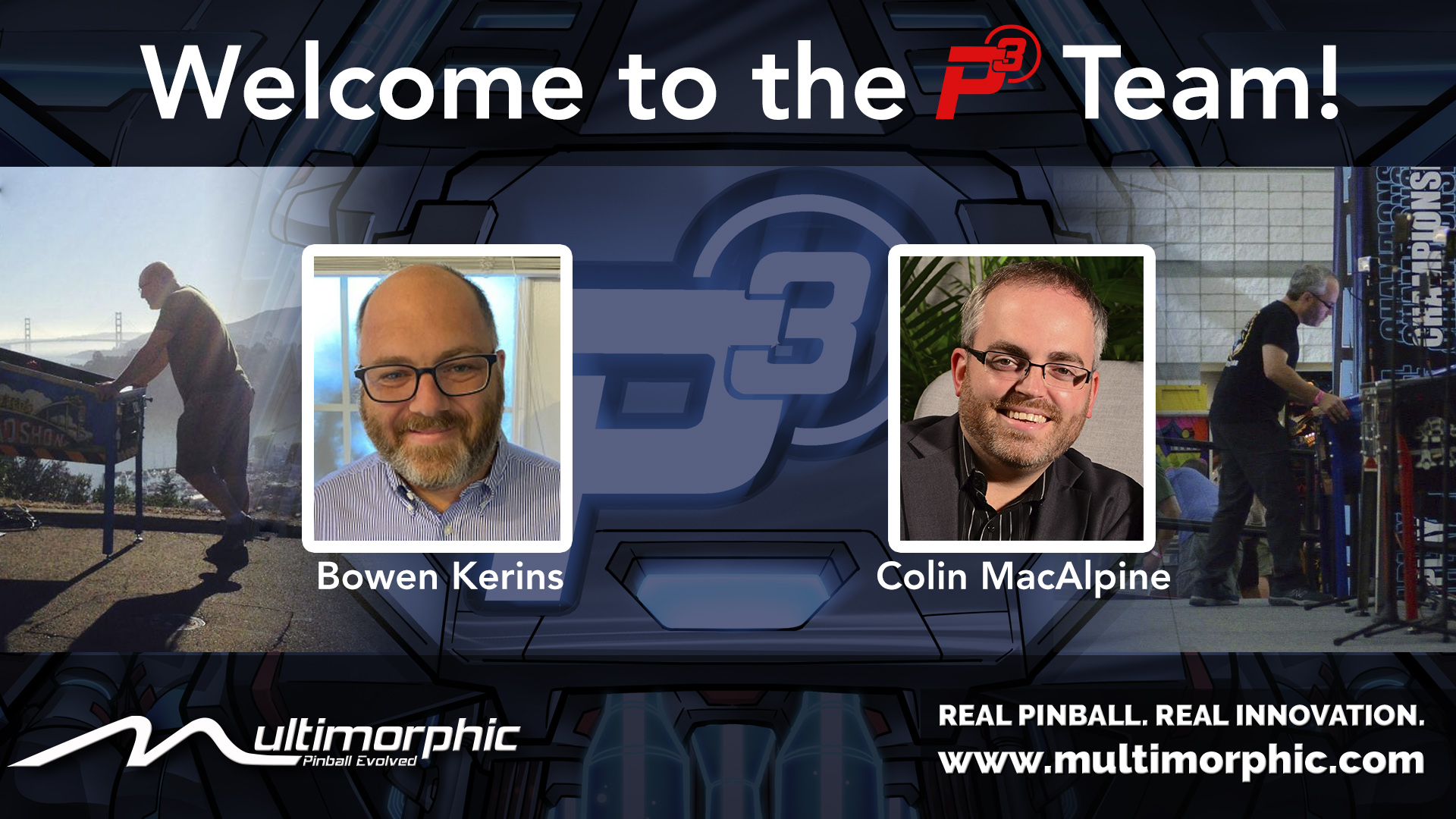 As incredibly accomplished pinball players, rules experts, and creative geniuses, Bowen and Colin bring a wealth of pinball knowledge and experience to the Multimorphic development team. They'll be involved in the full creative process on current and future Multimorphic titles with a special focus on game rules and ensuring P3 games are fun and engaging for players of all skill levels.
Bowen has been playing pinball his entire life. He won his first of five World Championship titles in 1994, was a tournament director at Pinburgh, the world's largest pinball tournament, and most recently acted as rules director on two titles from Spooky Pinball. Throughout his career as a competitive player and through video tutorials for countless games, Bowen has demonstrated expert knowledge of a vast array of pinball rulesets and strategies, and he's excited to help deliver both traditional and new playing experiences on the P3. Outside of pinball, Bowen writes math textbooks, is a tutor for grades 5 and up, and has been a mathematical advisor for over 20 game shows. He loves Slurpees and once won $1000 for knowing the number of degrees in a right angle!
Colin lives with his wife and three children in Austin, TX, where he works as Director of Product Management for a specialty chemical manufacturer. His infatuation with the silver ball began as a kid at a local pizza joint in Minnesota, and after years of battling only against high score tables, he started playing competitive pinball events in 2011. Since then, Colin helped found Austin's Bat City Pinball Club, has traveled around the world to find the greatest levels of competition, winning many tournaments along the way, and has developed a deep knowledge of pinball rulesets and what makes games fun to play. Colin has advised Multimorphic informally on a few existing P3 games and is excited to officially join the team and help develop fun, exciting, approachable, and novel rules for the ever-growing library of P3 titles.
The additions of Bowen and Colin show Multimorphic's continued emphasis on building a world-class team and connecting new ideas and the unrivaled features of the P3 with the raw pinball experiences that everybody loves. We welcome them with open arms and look forward to building amazing games together.
For more information about Multimorphic, the P3, and P3 games, please visit www.multimorphic.com.
Disclaimer: Any articles, interviews, or mentions of pinball manufacturers or pinball products is NOT an endorsement.