The Scoop
Statement from deeproot Pinball


Although we try to be 95% drama free here on This Week in Pinball, in order to bring you the highest quality pinball news we will sometimes need to wade into those waters. Last week, we posted an exclusive interview with deeproot pinball called deeproot pinball: The Next Misadventure or a Pinball Revolution? Reactions were strong, some positive and many negative. After seeing some of the comments and reactions, deeproot wanted to share the following with the pinball community:
"We thank everyone for the public comments; whether positive or negative. We also thank those who reached out in private."

"Prior to opening up the claims, we plan to do an open webinar for Zidware customers as they are a top priority. During the webinar we will explain our offers and take questions."

"There were at least two comments tying the $5,000 lower threshold for the RAZA/AIW payments to anticipated retail prices. Several FAQ entries talk about why we set the thresholds at those dollar amounts. They are not based on our internal costs or anticipated retail prices. We briefly addressed our thoughts on retail pricing in the TWIP interview."

"We continue to work with American Pinball, the Plaintiffs, Jeremy, and other Zidware vendors behind the scenes. We intend to open the claims process once these outstanding issues are resolved."
This Week in Pinball will keep you updated on the developments at deeproot Pinball as they continue their effort to become a pinball manufacturer.
---
**1ST ANNUAL PINBALL TWIPY AWARDS!**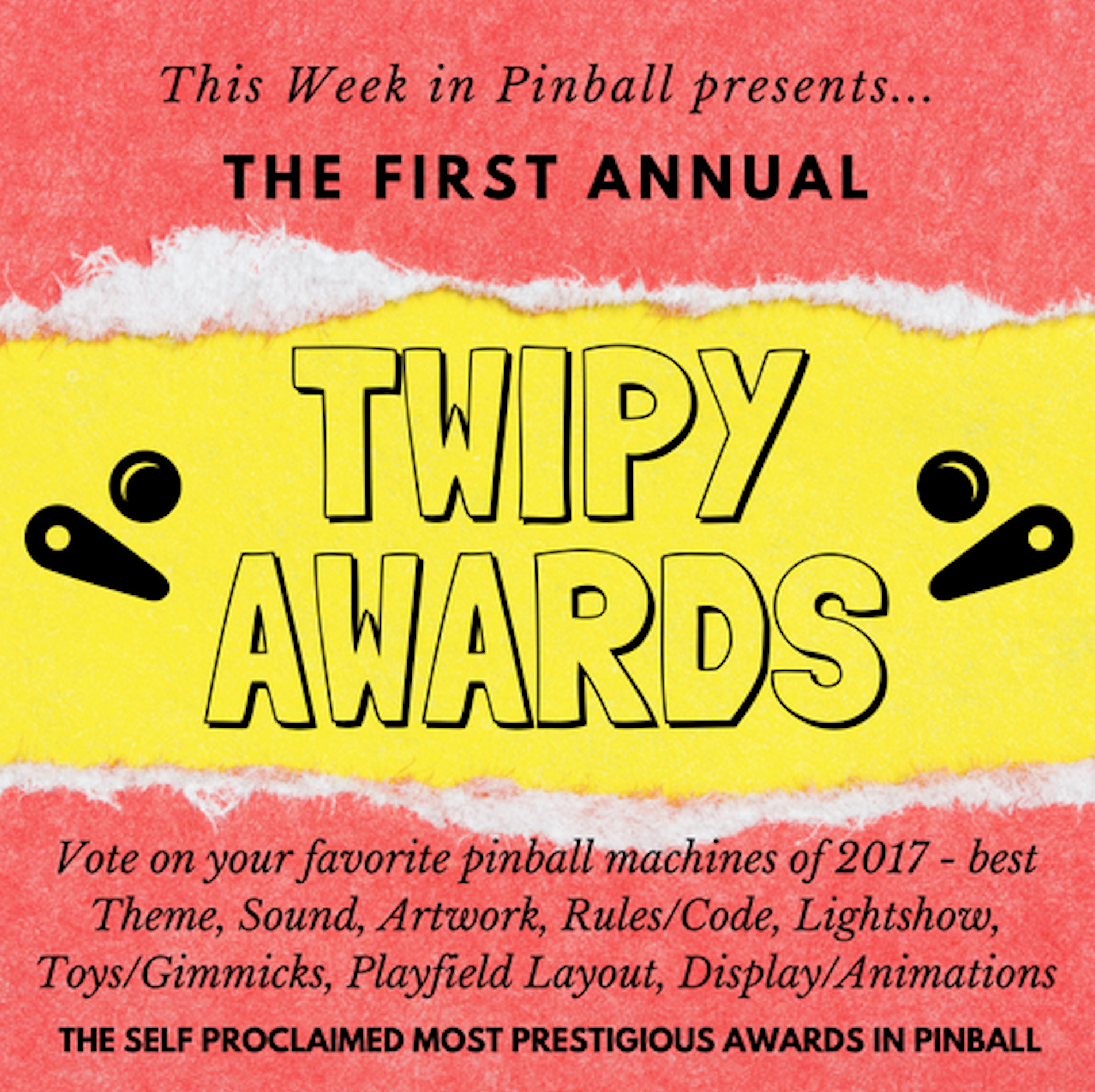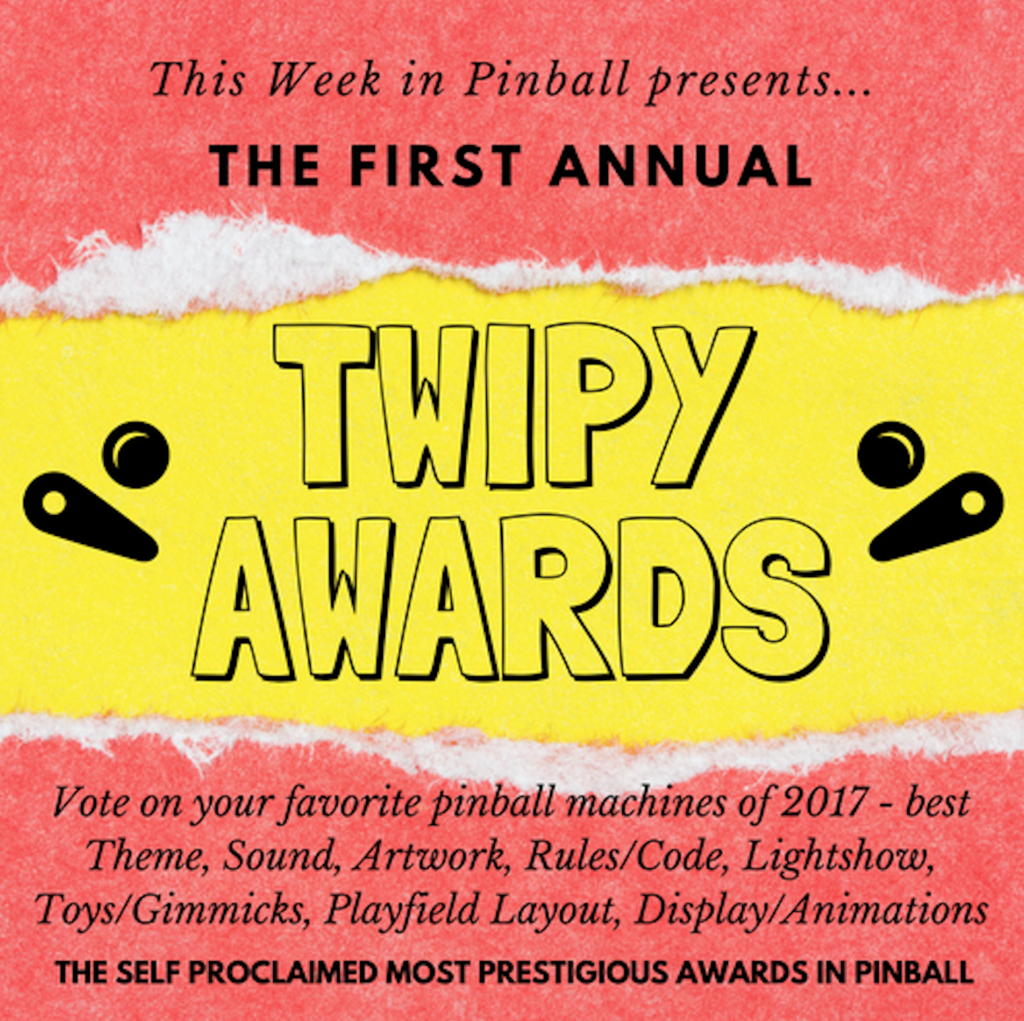 Have you heard of the pinball TWIPY Awards? These historic and very prestigious pinball awards were invented Saturday night on the This Week in Pinball Facebook page. Special thanks to Steve Bowden of funwithbonus.com for the help in naming of these, TWIPY has such a nice ring to it! Here's how it works: we're going to do poll **starting next week due to some issues with the current poll – stay tuned for the poll next week.** (link below) that runs through December – vote for the best artwork of the year, best theme, best toys, best lightshow, best display/animations, best sound/speech, and best pinball machine of the year. The winners will be announced and TWIPY awards will be given out in January. Vote below!
(10 questions, should take less than two minutes)
---
Alice Cooper's Nightmare Castle New Info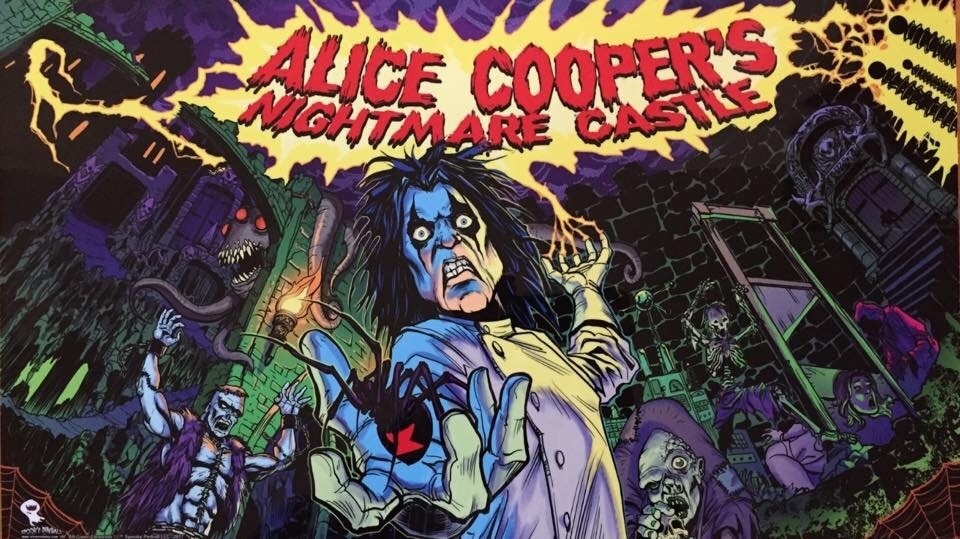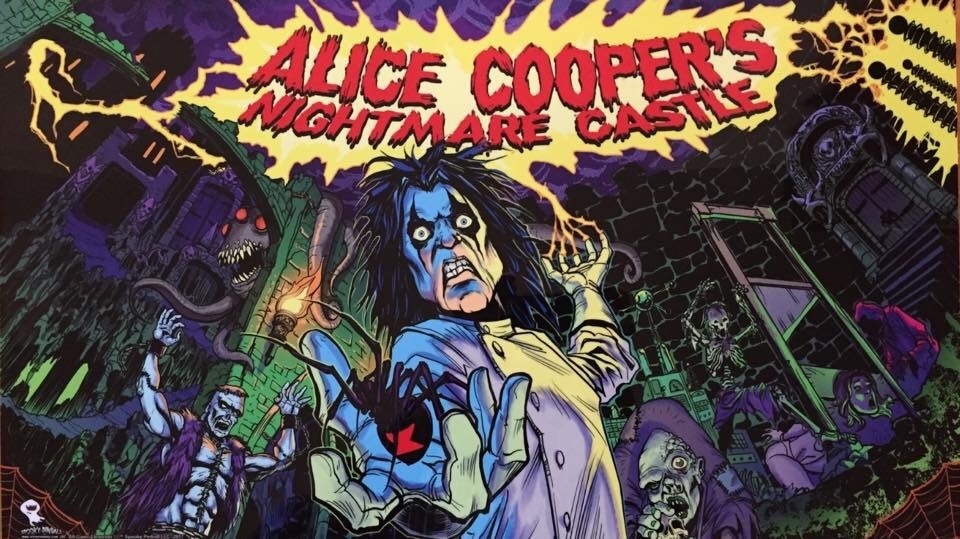 We heard some new teasers regarding Spooky Pinball's upcoming game, Alice Cooper's Nightmare Castle. On The Spooky Pinball Podcast, hosts Bug and Charlie Emery had the following exchange:

Bug: I was flipping Alice, that was fun.

Charlie: Alice Cooper is fun…So now that you've played Alice Cooper and spent a little time trying to load the – anyway, I can't even talk about what you were trying to load – you got one ball started for a two ball multiball…

Bug: Woah, that is a lot of information you're giving out!

Charlie: It is! And it was really hard to get that other one going wasn't it?

Bug: The first one – and this is going to sound so vague, people are going to be like "just tell us!" – the first shot I was like that is going to be an easy multiball…make the first shot, lock it, and then he explained the second shot to me and I thought "well that went from zero to 100 real fast"…

Charlie: It's only three shots – you hit two things and knock down one other thing and its a lock!…You couldn't lock that second ball to save your life, and couldn't backhand that other thing. And it is a smooth game…It definitely has more ramps than anything else we've ever done, I'll tell you that.
Yes that is vague, but it does give some clues on the upcoming game. They also mentioned on the podcast that Total Nuclear Annihilation is now Spooky's second best selling game and sale numbers are rapidly approaching their top selling game.

Stern Updates – Code, Callouts, and Stern of the Union
The Stern of the Union is released the first Tuesday of each month, so keep an eye out for it tomorrow. There were some code releases this last week:
Guardians of the Galaxy v0.72

Includes callouts

**There are more callouts in the works for future code updates**

It is listed as "Initial release", which may mean that v0.65 and 0.66 were beta code
The Walking Dead v1.60

This update was a nice surprise and was relatively robust
---
**December Deals and Giveaways**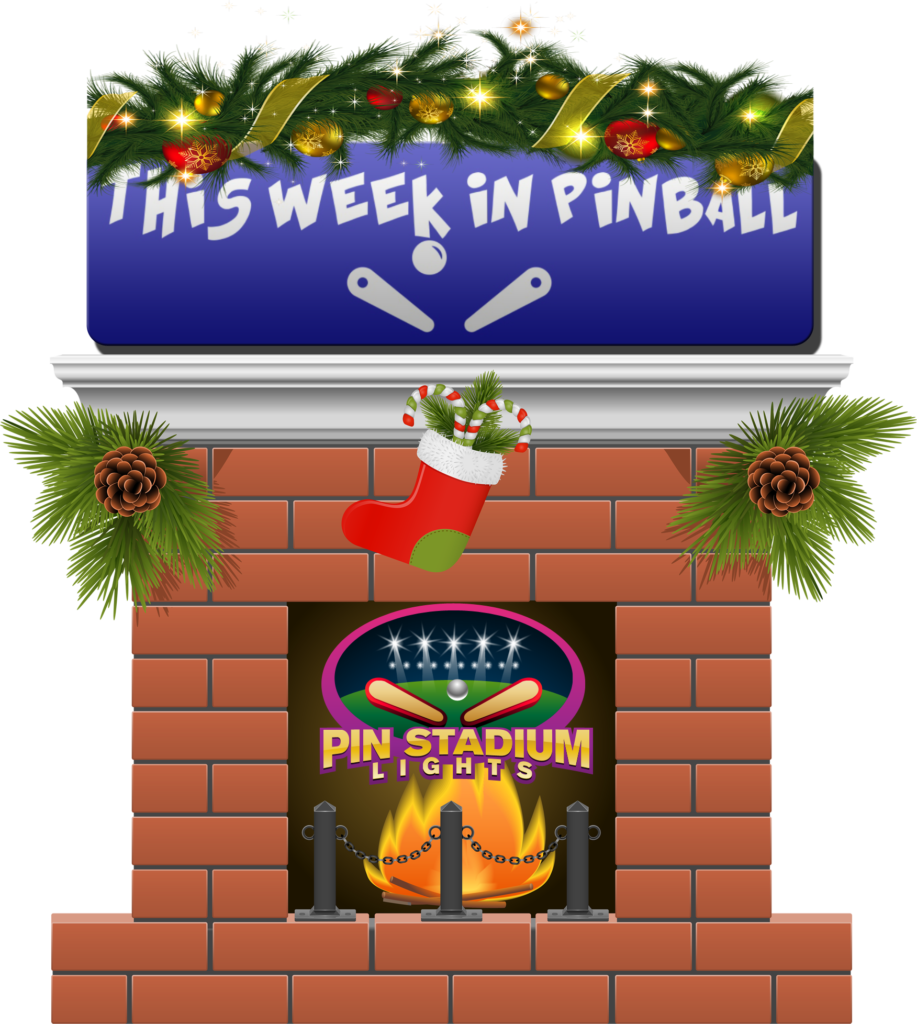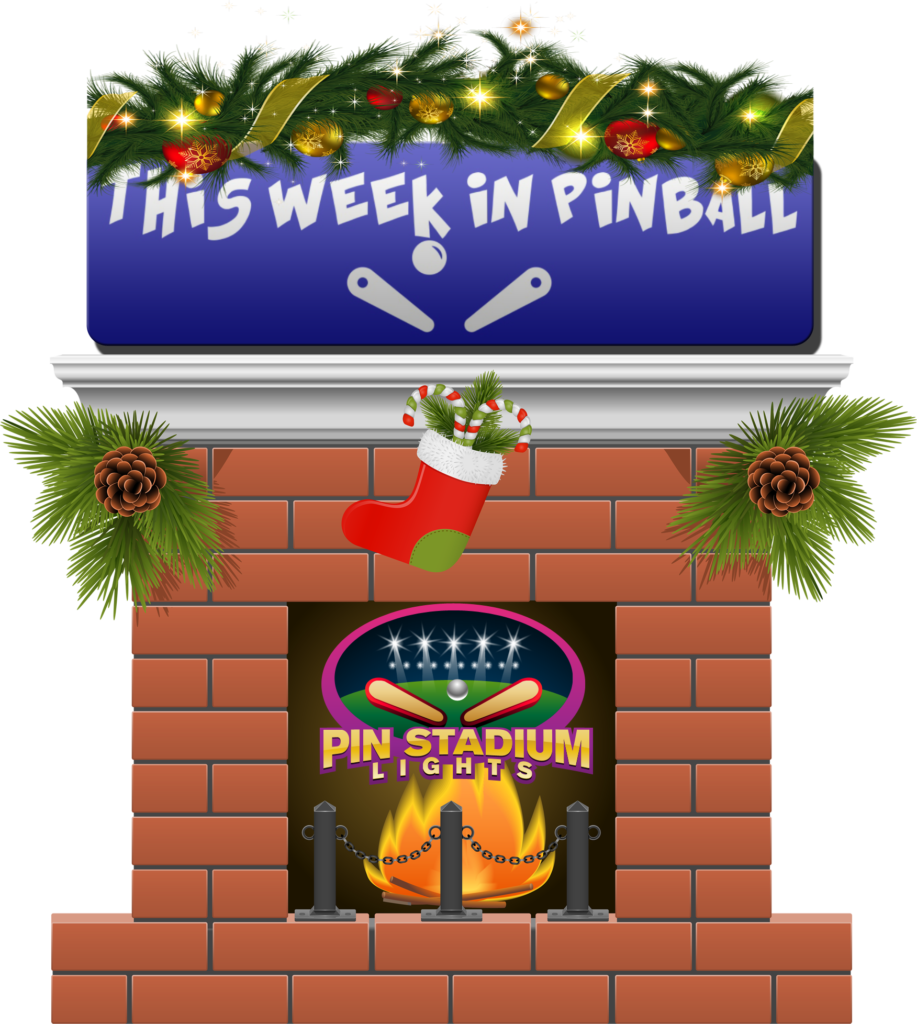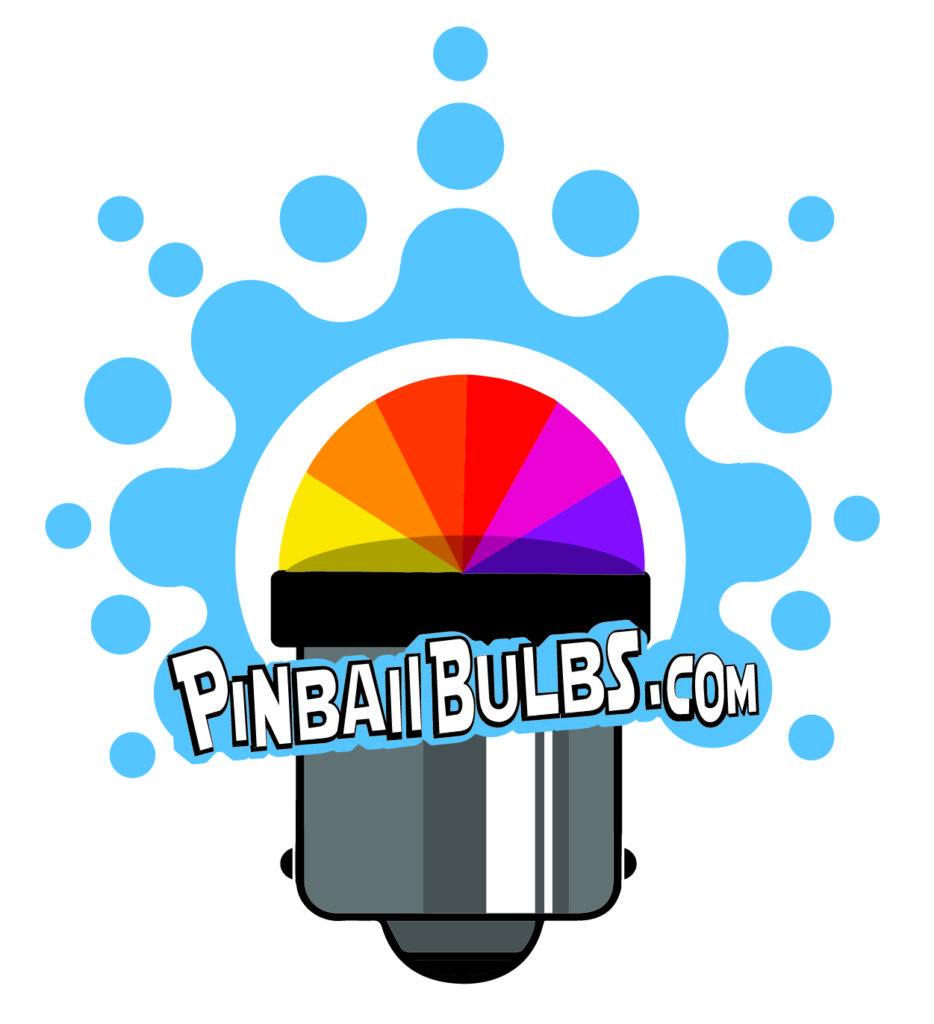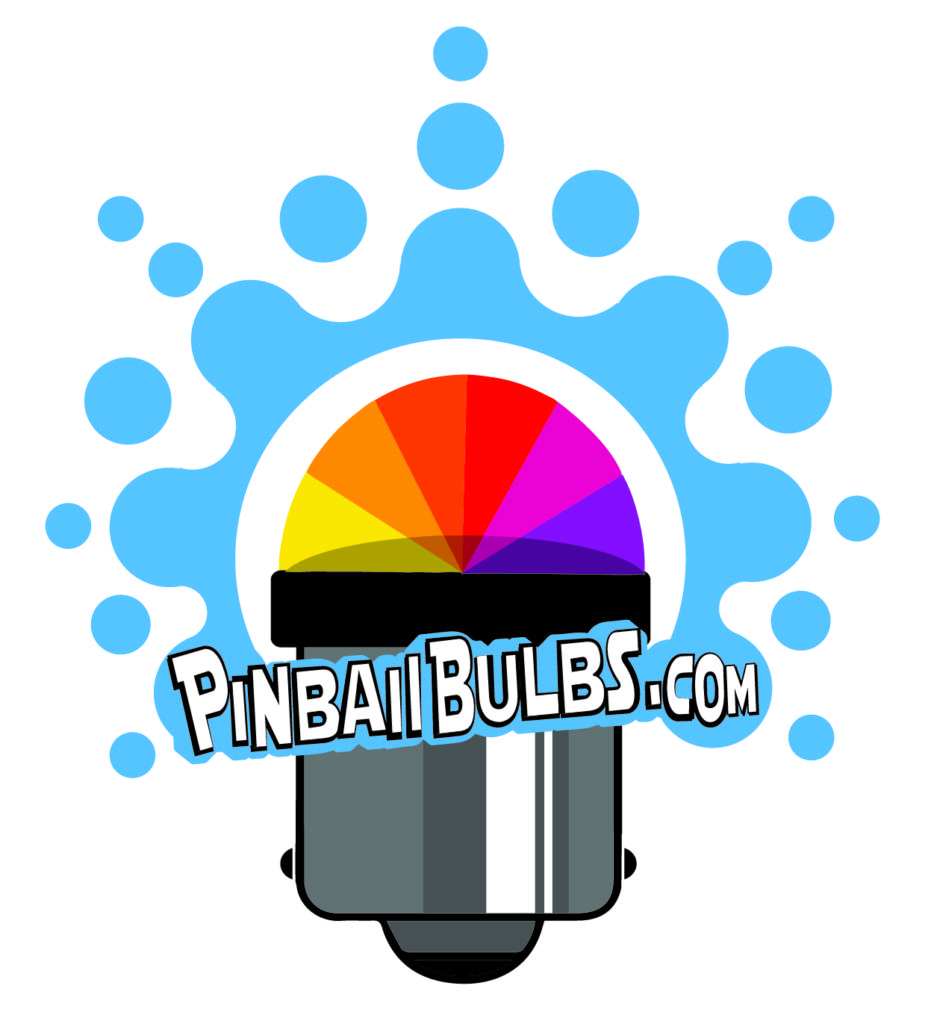 We've got two great deals and one FREE set of Pin Stadium Lights we're giving away this month! Here are the details:
10% off Pin Stadium Lights: Save 10% off your purchase at pinstadium.com by entering promo code "twip"!

15% off Pinball Bulbs: Visit Pinball Bulbs and enter promo code "ThisWeek15off" to save 15% off everything on the site! It's the perfect time to get an LED light kit for your game, check them out here!
---

New Gameplay Videos – GOTG, Alien, Houdini
We saw some new gameplay videos this week of some new machines:
Guardians of the Galaxy

: Waspinat0r from Pinball Undesirables shot the first Twitch video with the new GOTG callouts – click here to watch

Gameplay starts at 8:40, go to 9:10 to see 5 super smooth ramp shots in a row
Alien

: Pinsider Join_The_Cirqus posted four gameplay videos of Alien pinball – you can see deeper into the game than ever before and the game appears to be working 100%
IFPA Announces the Power 100 Championship
Earlier this year the International Flipper Pinball Association (IFPA) announced a new metric to help determine the best pinball players in the world. It is called the "Power 100" and focuses on the top 250 ranked players and their records against each other. Last week, the IFPA announced the Power 100 Championship which will take place in conjunction with Pinball Expo in Chicago on October 19th, 2018 (see the announcement here). "This high stakes match play invitational will be restricted to any players that finish in the "POWER 100" at the end of the calendar year." More details will be coming soon on the IFPA website. To view the current Power 100, click here. (TWIP just needs to move up about 15,000 spots to be eligible. #goals)

Victory Laps – End of Post Bonus

Get alerts for new posts from This Week in Pinball – follow us on Facebook, Twitter, or sign up by email:
Have a scoop or anonymous rumor for next week? Email us at thisweekinpinball@gmail.com
---
Upcoming Games and Rumors
Stern Pinball
Most Recent Titles
Aerosmith
AC/DC Vault Edition
Star Wars
Guardians of the Galaxy
Announced/Confirmed
Rumors of Future Titles
Iron Maiden?
Jurassic World?
Deadpool?
Pulp Fiction?
New Ka-Pow Title?
Steve Ritchie Unlicensed?
Keith Elwin Game?

Spooky Pinball
Most Recent Titles
Rob Zombie's Spookshow International
Dominos (*contract game)
Jetsons (*contract game)
Total Nuclear Annihilation (*contract/house game)
Announced/Confirmed
Alice Cooper's Nightmare Castle
Ben Heck's game

American Pinball
Most Recent Titles

Dutch Pinball
Most Recent Titles
Bride of Pinbot 2.0
Bride of Pinbot 3.0 (on hold)
The Big Lebowski (production issues)

Circus Maximus
The Pinball Circus Remake
Kingpin?

Silver Castle Pinball
Jersey Jack Pinball
Most Recent Titles
Wizard of Oz
The Hobbit
Dialed In
Pirates of the Caribbean
Rumors of Future Titles
Toy Story?
Willy Wonka?
The Muppets?

Chicago Gaming/Planetary Pinball
Most Recent Titles
Medieval Madness Remake
Attack From Mars Remake
Rumors of Future Titles
Monster Bash Remake?
Big Bang Bar Remake?
Cactus Canyon Remake?

Heighway Pinball
Most Recent Titles
Full Throttle
Alien (shipping)
Rumors of Future Titles
Queen?
Barry Oursler Licensed Theme
Barry Oursler UnLicensed Theme

P3 (Multimorphic)
Lexy Lightspeed
Cannon Lagoon
Cosmic Cart Racing

Homepin
Thunderbirds (coming soon)

Phénix Pinball

Deeproot Pinball
Retro Atomic Zombie Adventureland?
Alice in Wonderland?
Magic Girl?
**TWIP dreams of the day
Harry Potter Pinball
will be added to these rumors. Ms. Rowling, I'd be willing to listen to the life history of all of Mrs. Figg's cats if you approve this!

Get alerts for new posts from This Week in Pinball – follow us on Facebook, Twitter, or sign up by email: