Iron Maiden is Coming!
Last weekend at the Papa Circuit Finals, Stern released a teaser trailer for their upcoming pinball machine, Iron Maiden! Check out the teaser below:
So that doesn't give us a ton of info, but it does confirm our suspicions that Iron Maiden will be the next title from Stern. It also looks like "Legacy of the Beast" will be part of the title, which is the name of their upcoming 2018 Tour that starts on May 26th. You can see Jack Danger of Dead Flip talk with Bryan Johnson of the Tell 'Em Steve-Dave podcast and Brian Quinn of the Impractical Jokers about the upcoming game by clicking here.
Previously on This Week in Pinball, we did a rumor round up of the possible Iron Maiden pinball machine:
Don't know much about Iron Maiden? They are an English heavy metal band that have released 38 albums and have played over 2,000 live shows. According to Wikipedia, "Despite little radio or television support, Iron Maiden are considered one of the most successful heavy metal bands in history, with The Sunday Times reporting in 2017 that the band have sold over 100 million copies of their albums worldwide." Not sure if you know any songs? Here is a nine minute video on YouTube that plays snippets of a top 10 list of Iron Maiden songs.
What We're Hearing about the pinball machine:
that Iron Maiden will be the next title released
that Keith Elwin is the designer
that Zombie Yeti is the artist
that it should ship with v1.0 code (!)

that Lyman Sheets is on code…and that Keith Elwin is on code?

Explanation: we first heard that Lyman was on code, but we also saw this post by Elwin on Tilt Forums which indicates Elwin himself is doing the rules. Perhaps it is something where they're working together on rules?

that it may have four flippers
that it may be based on the layout from Archer, a home-brew machine designed previously by Keith Elwin
Are all these rumors correct? No, probably not. Hearing now that it may not be Lyman on code at all – that Elwin did the rules and someone else is implementing and programming those rules. We should find out soon. Speaking of that…
---
**WHEN WILL WE SEE IRON MAIDEN??**
Ok, these are RUMORS so take them with a grain of salt, but here is what we're hearing through the grapevine:
The reveal will happen TOMORROW (Tuesday) at around 10:00 AM (not sure which time zone, guessing Central)
The reveal will be coming from Rolling Stone a major website
The goal is for Dead Flip to stream the machine TOMORROW (Tuesday) afternoon, subject to last second licensor approval
If these are true, we could be watching this machine in action, like, tomorrow!! Stay tuned…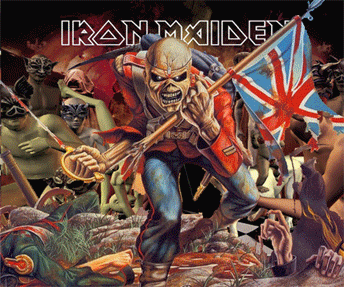 ---
Alice Cooper's Nightmare Castle More Info
We saw a new video of Alice Cooper's Nightmare Castle that shared some more info regarding this game – check out the video here:
Check out these stills from the video: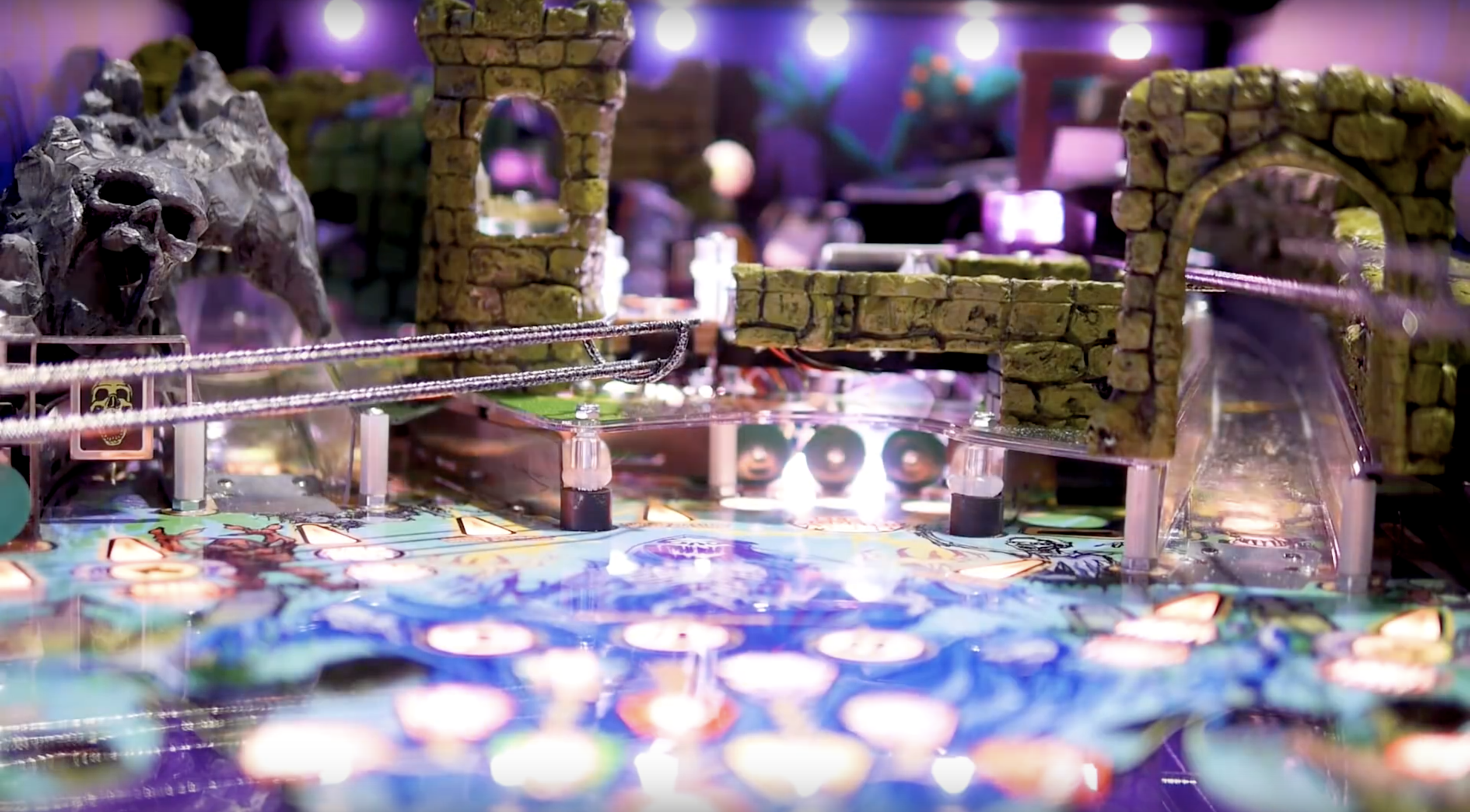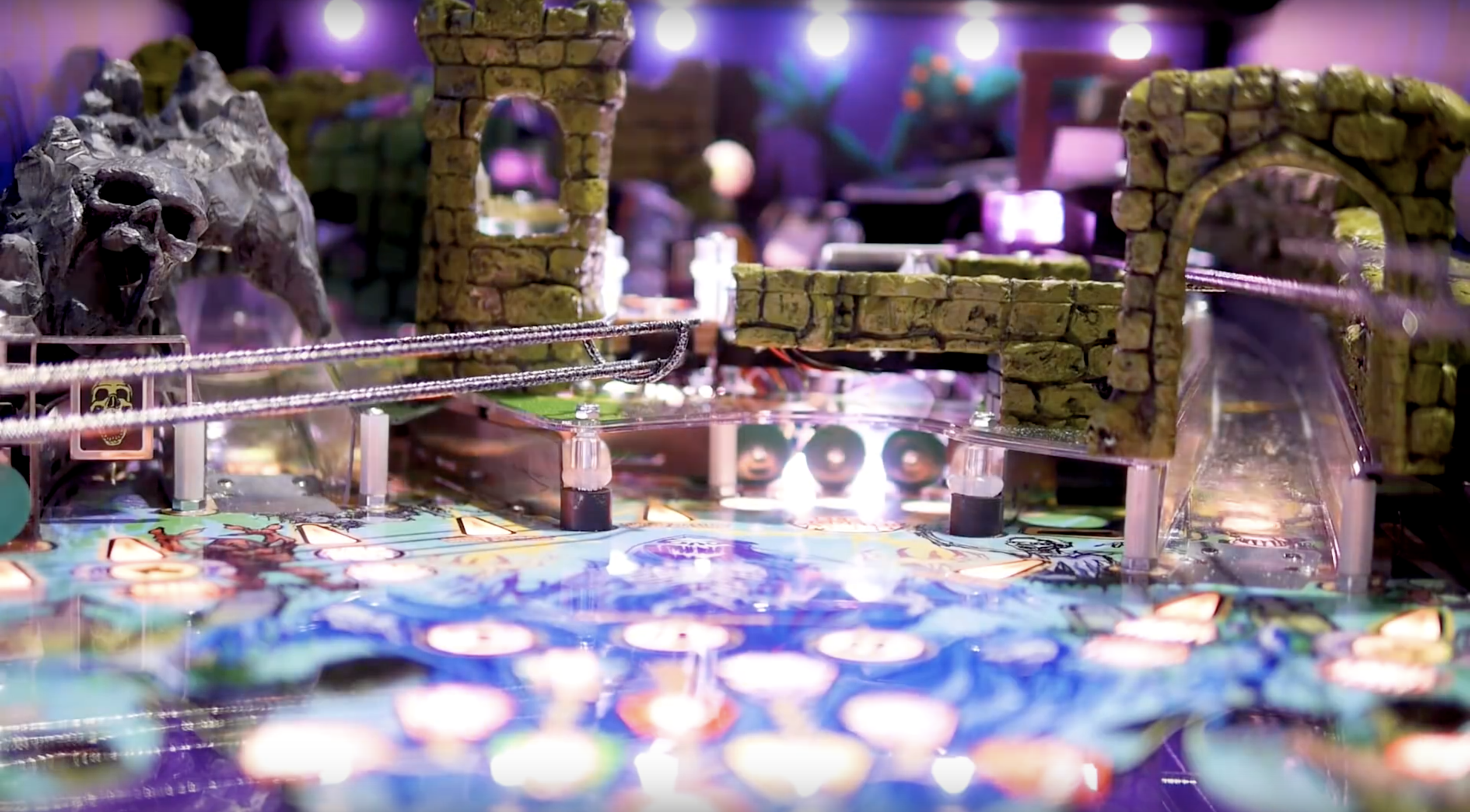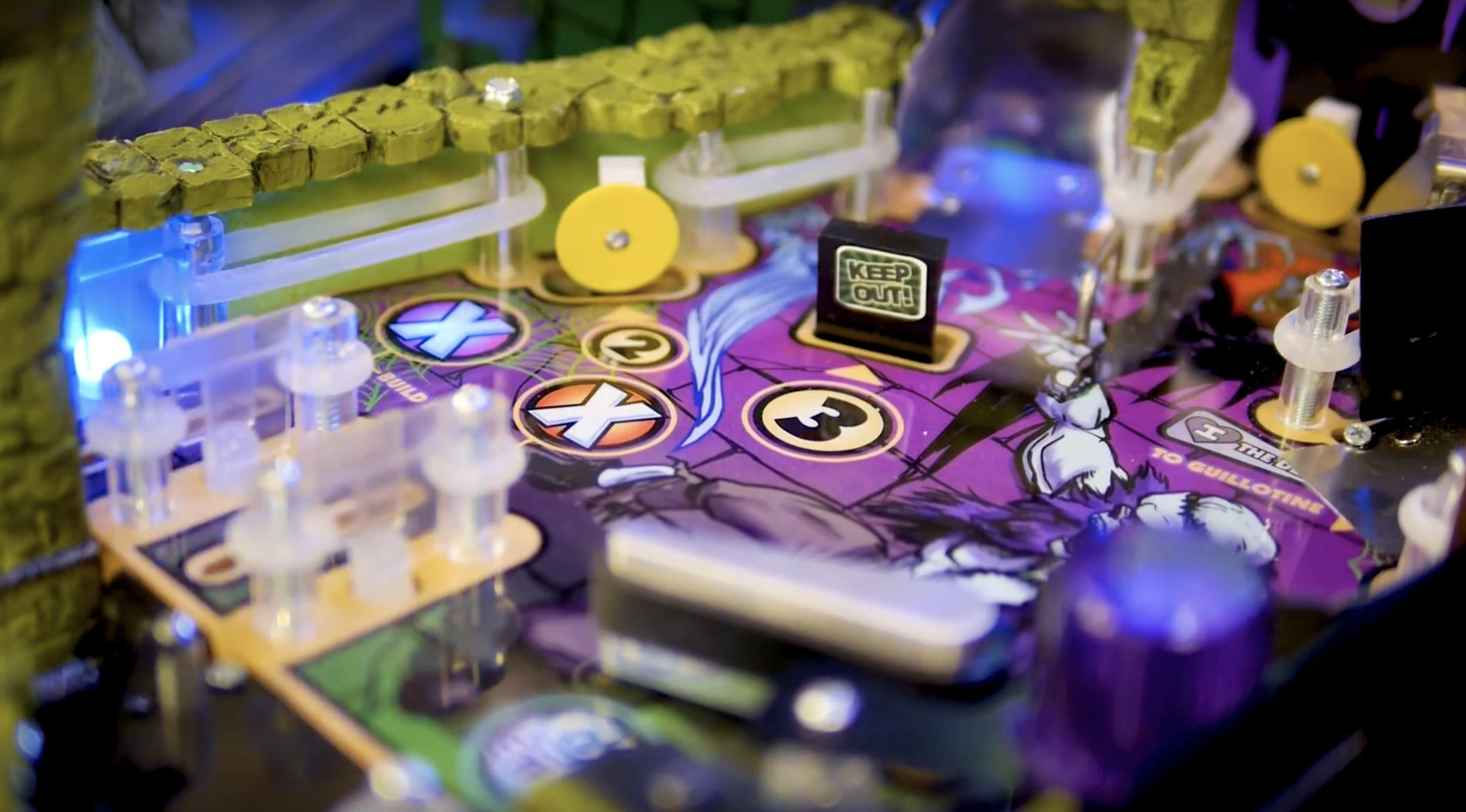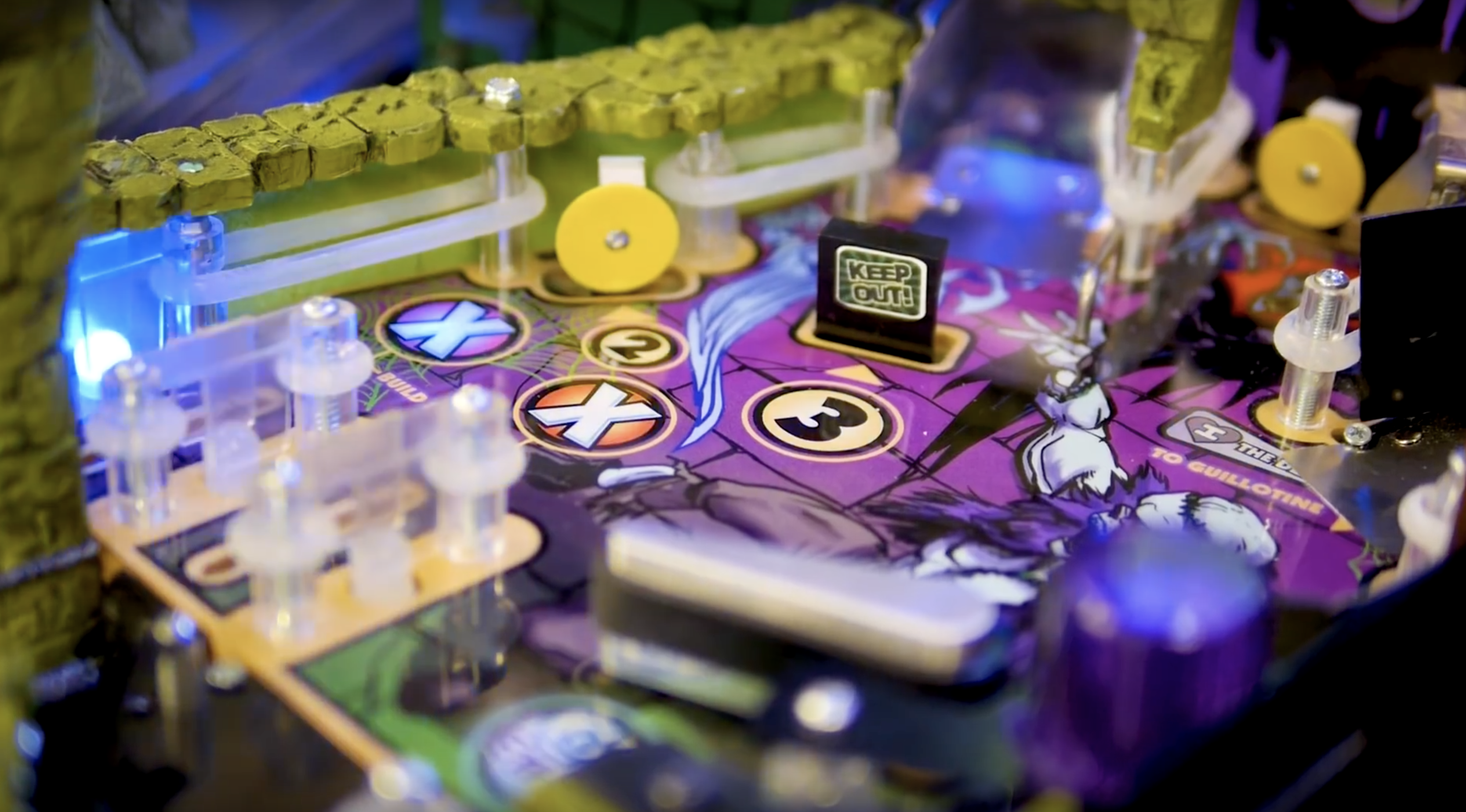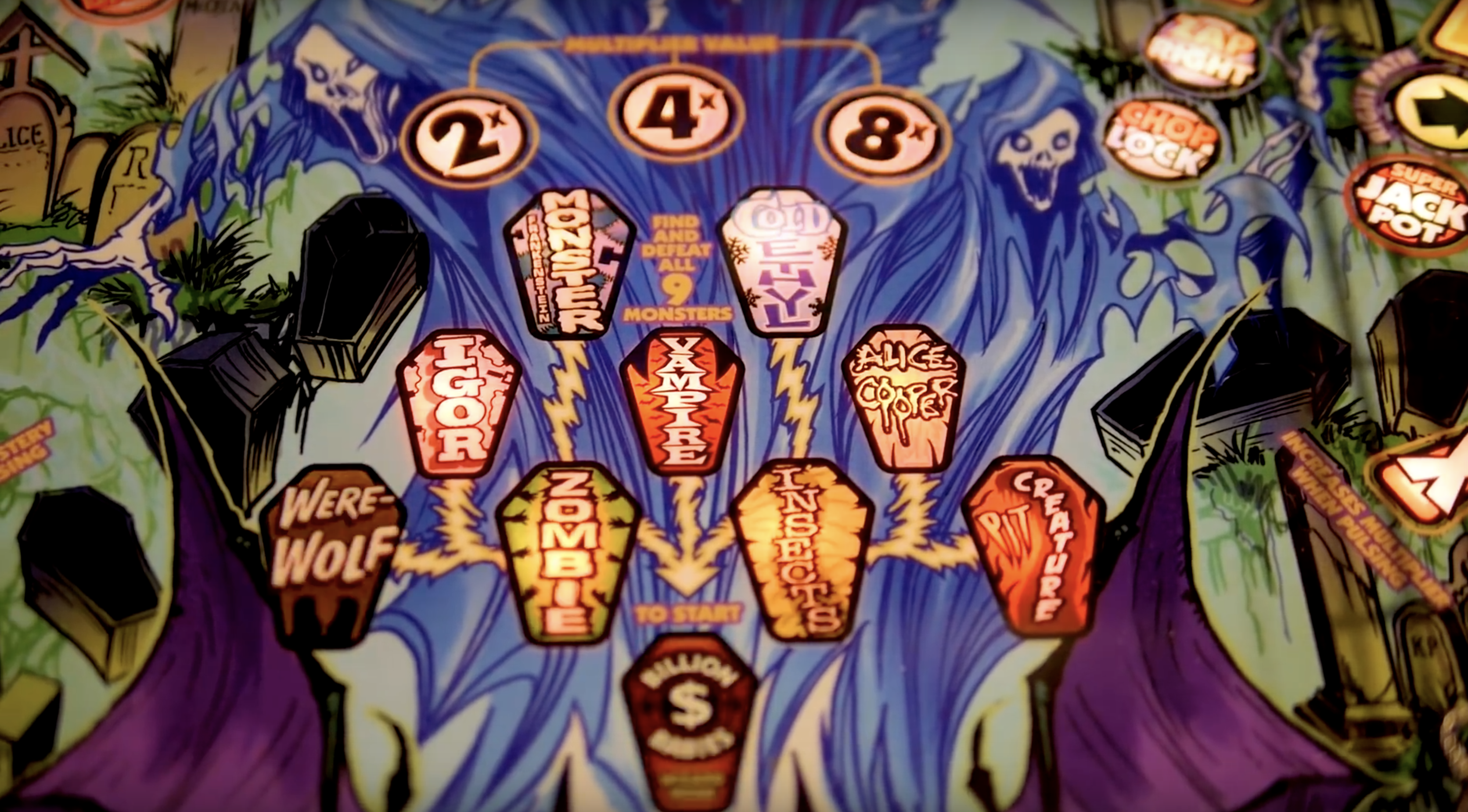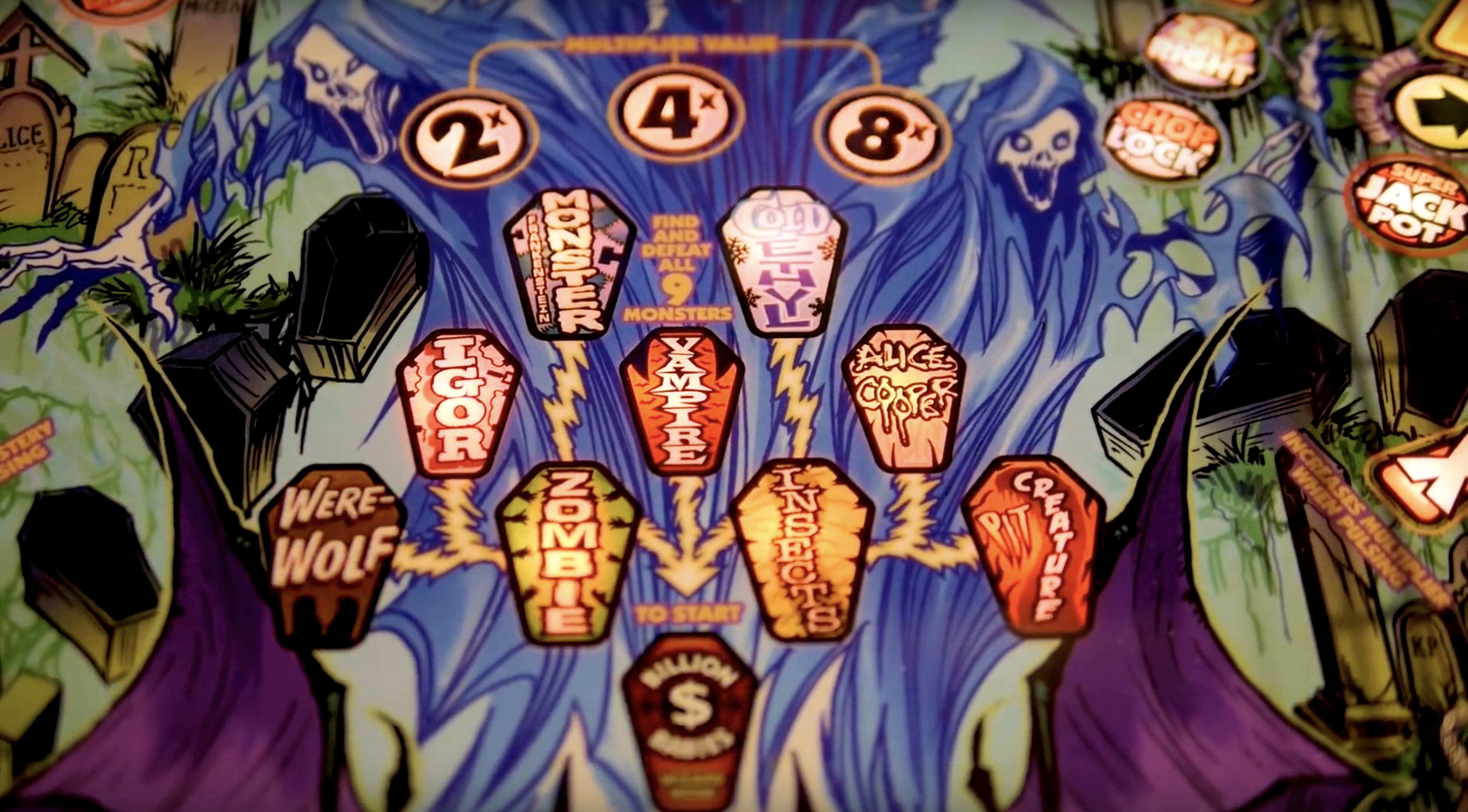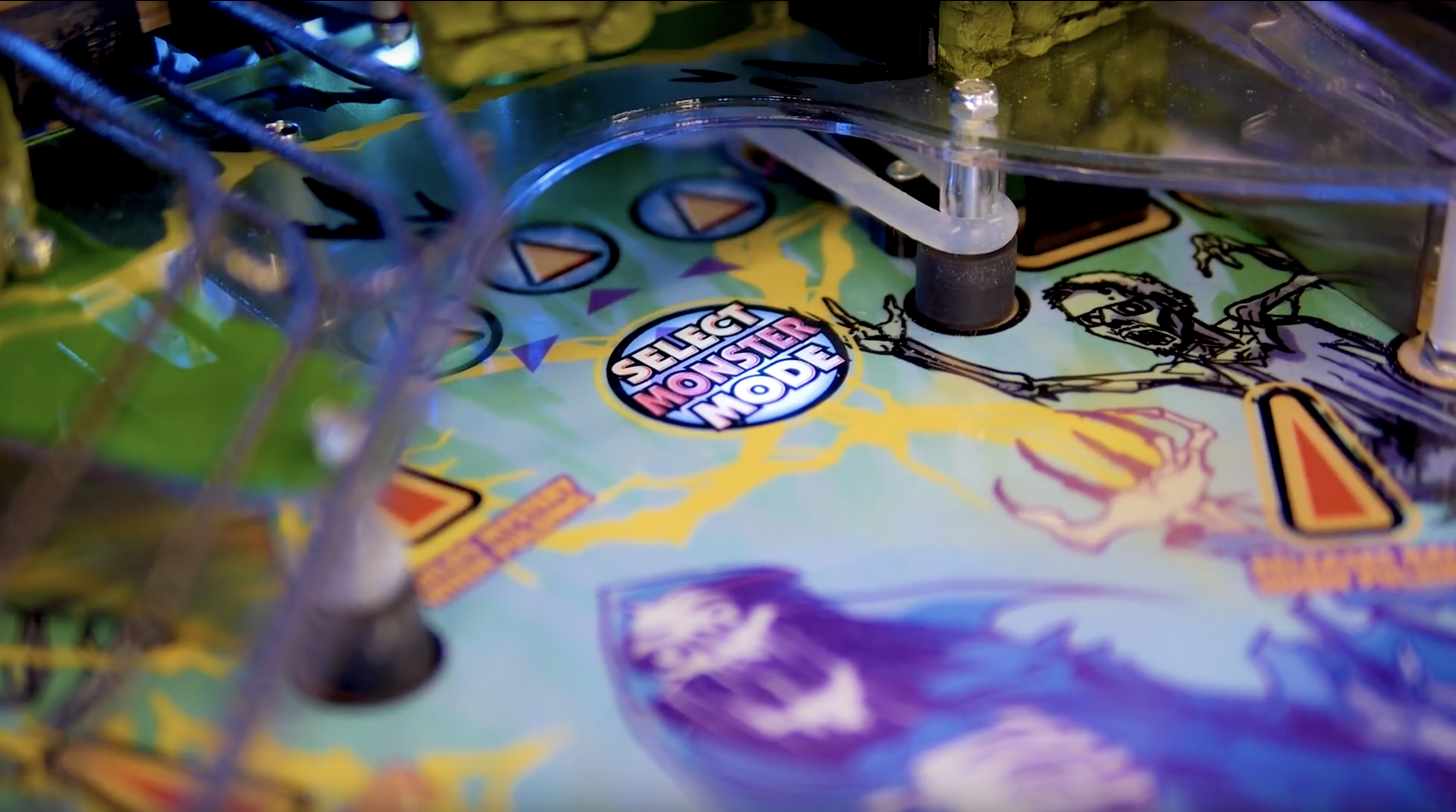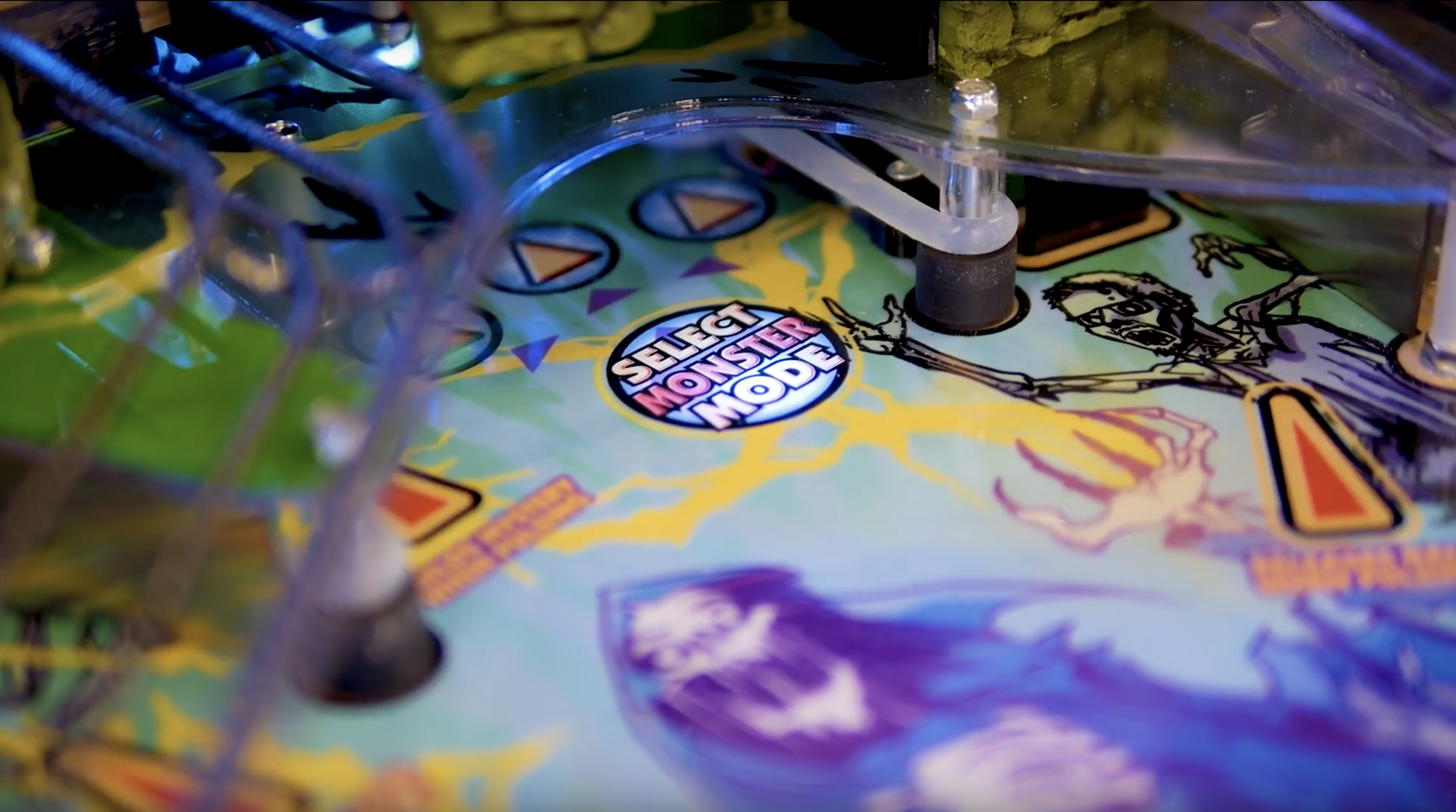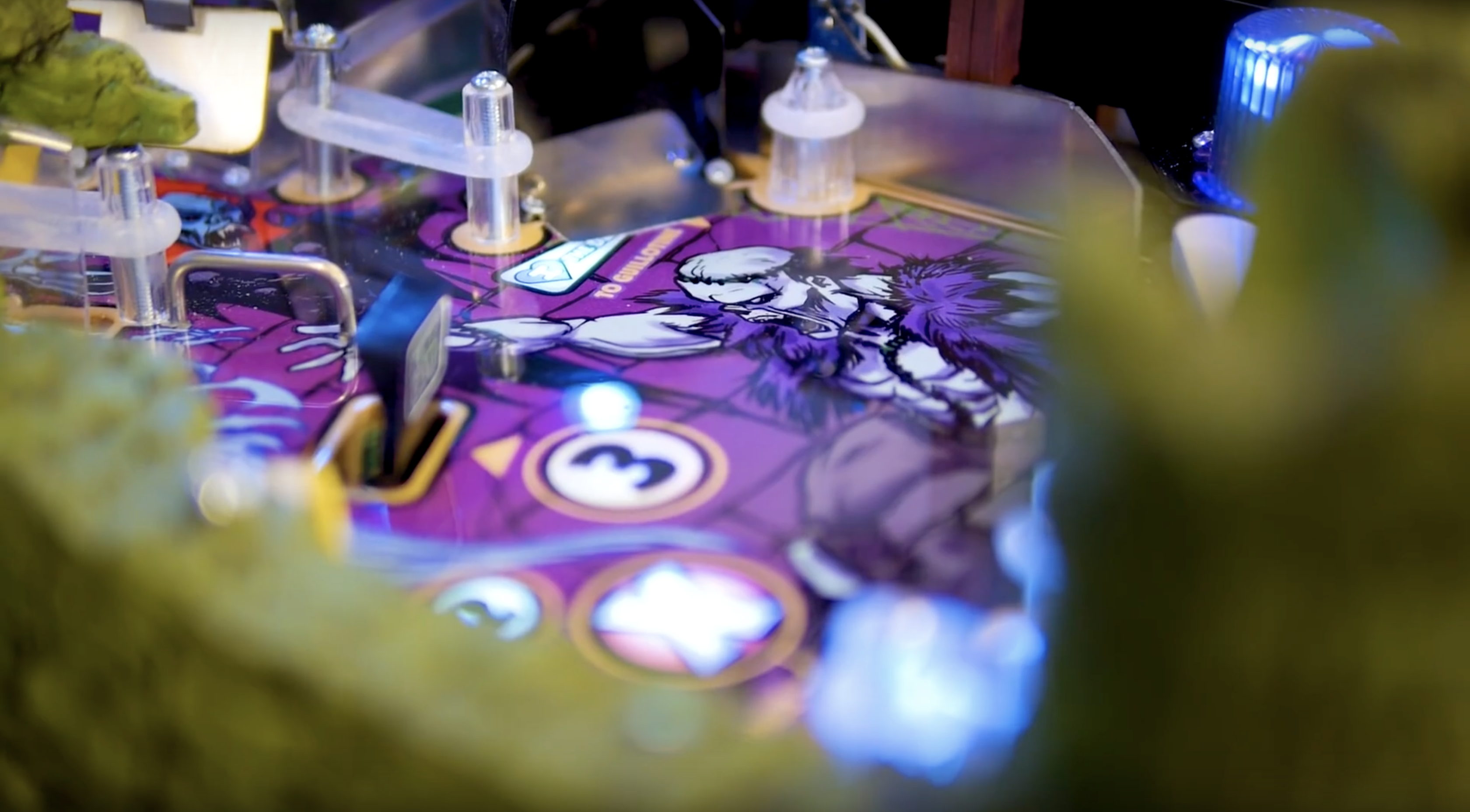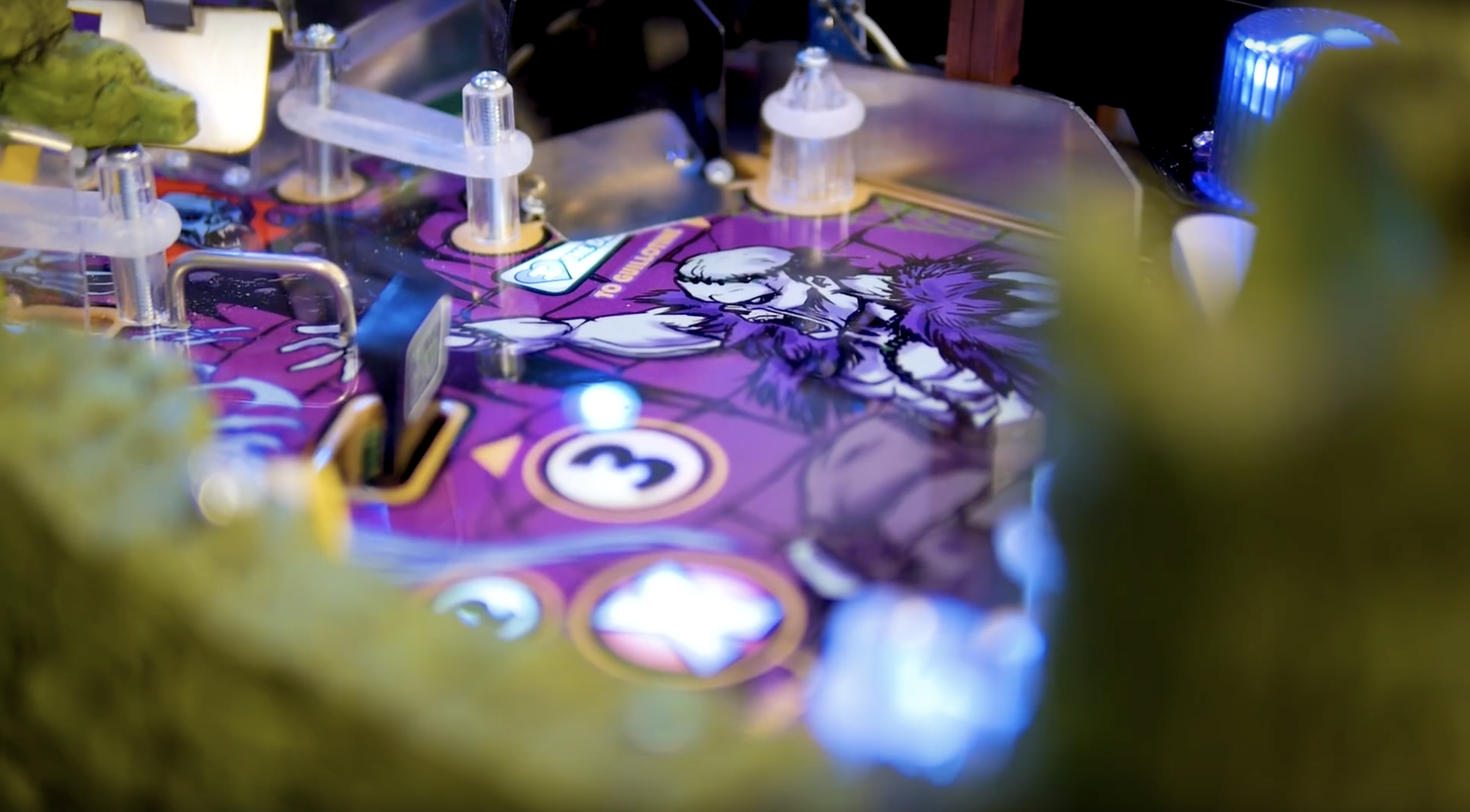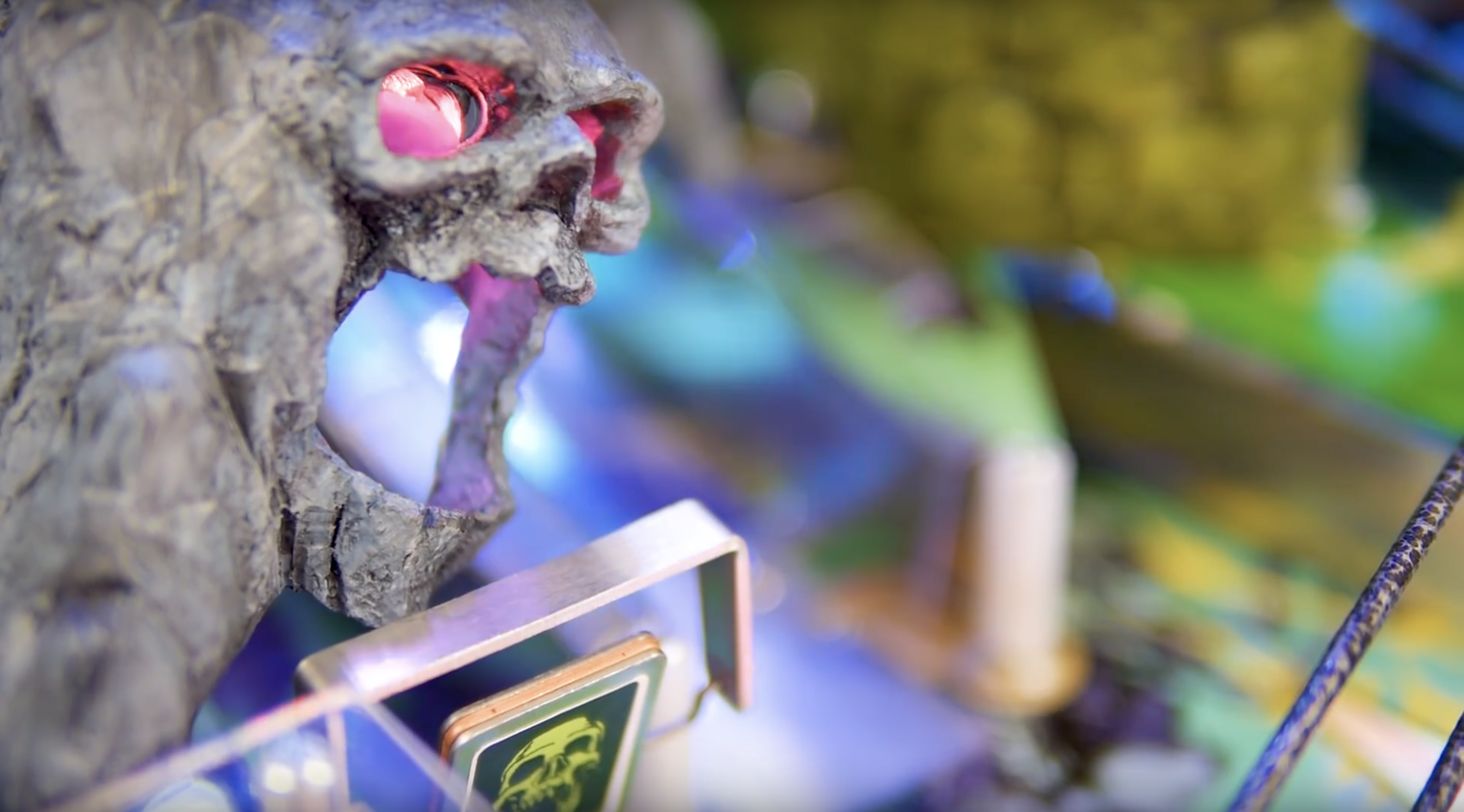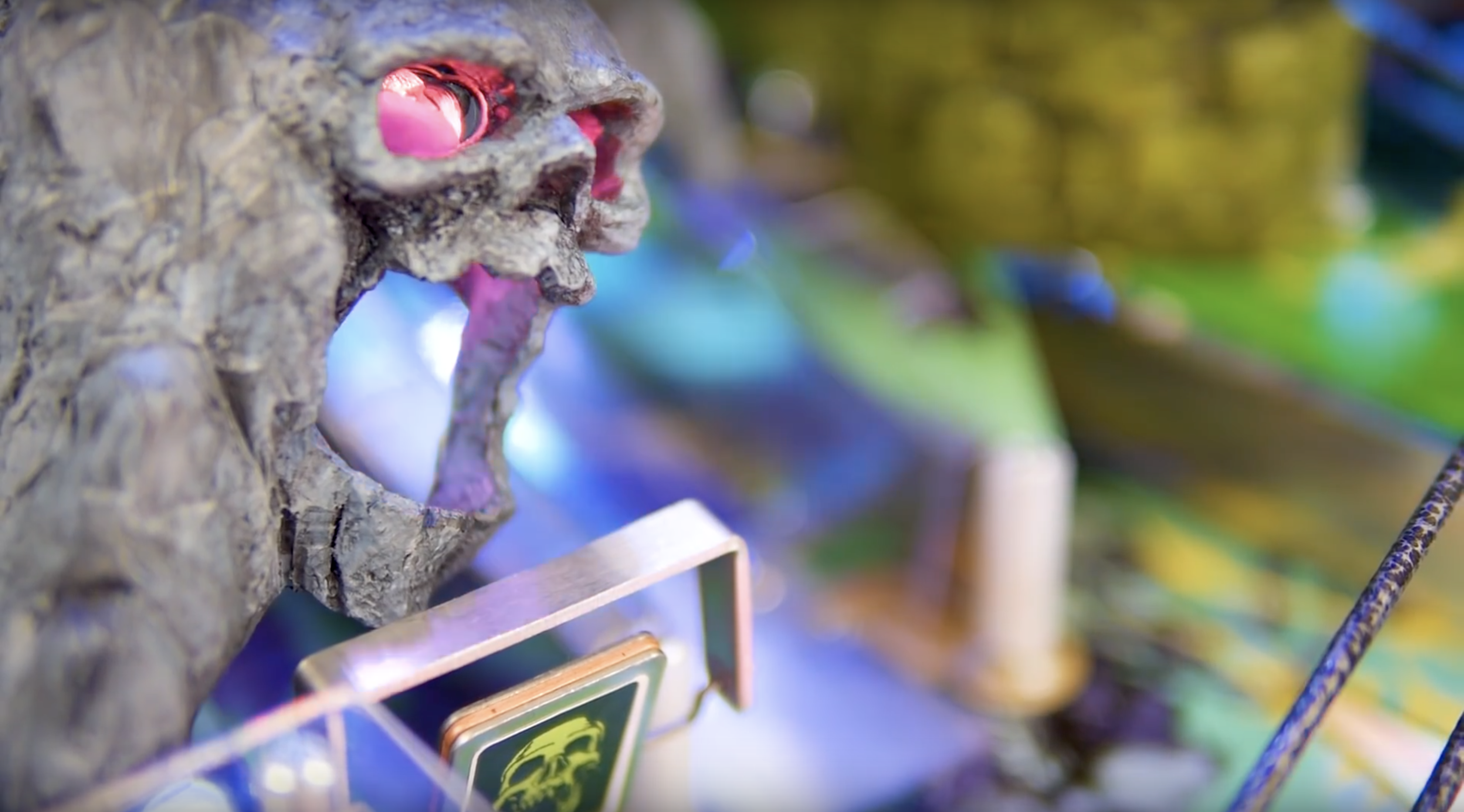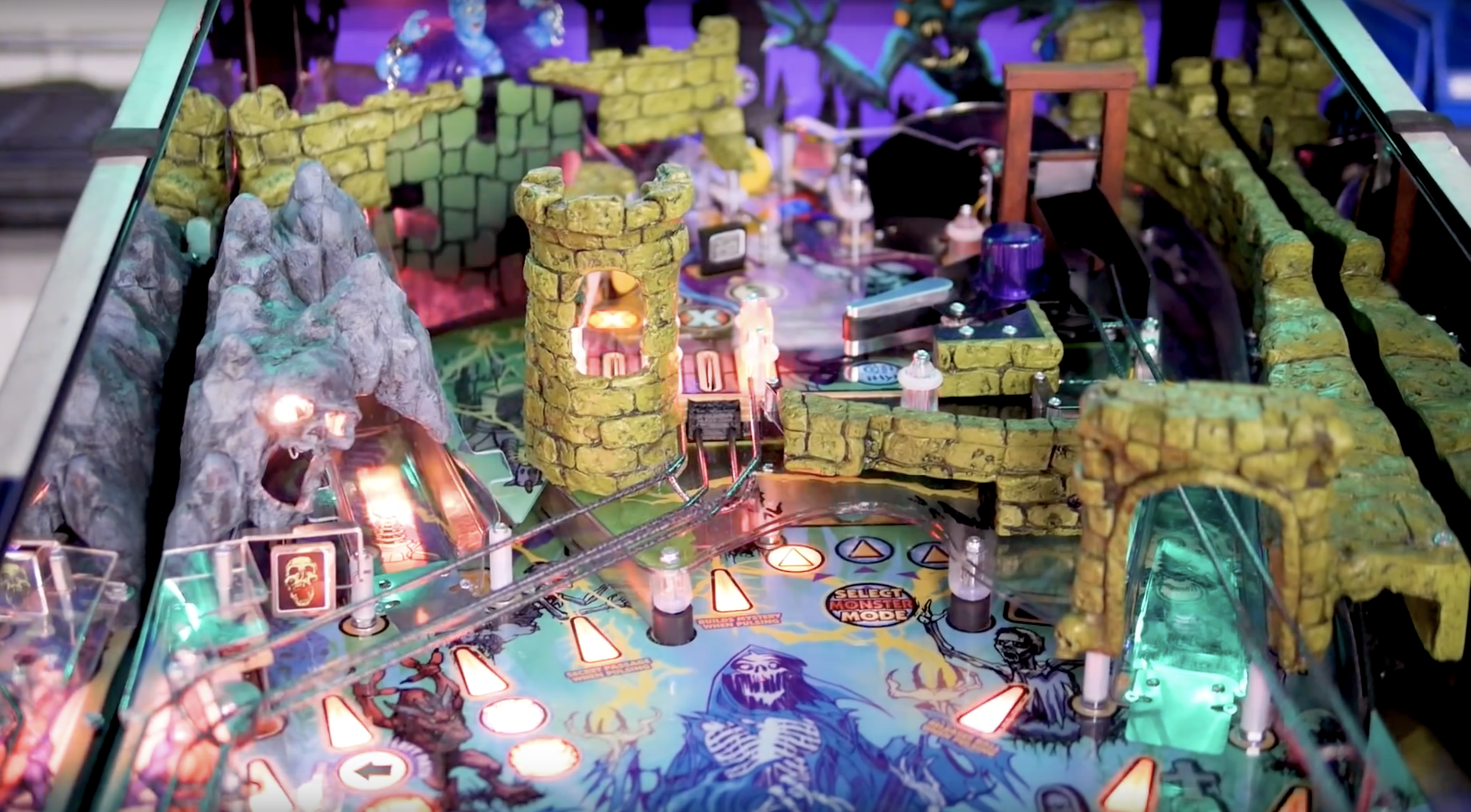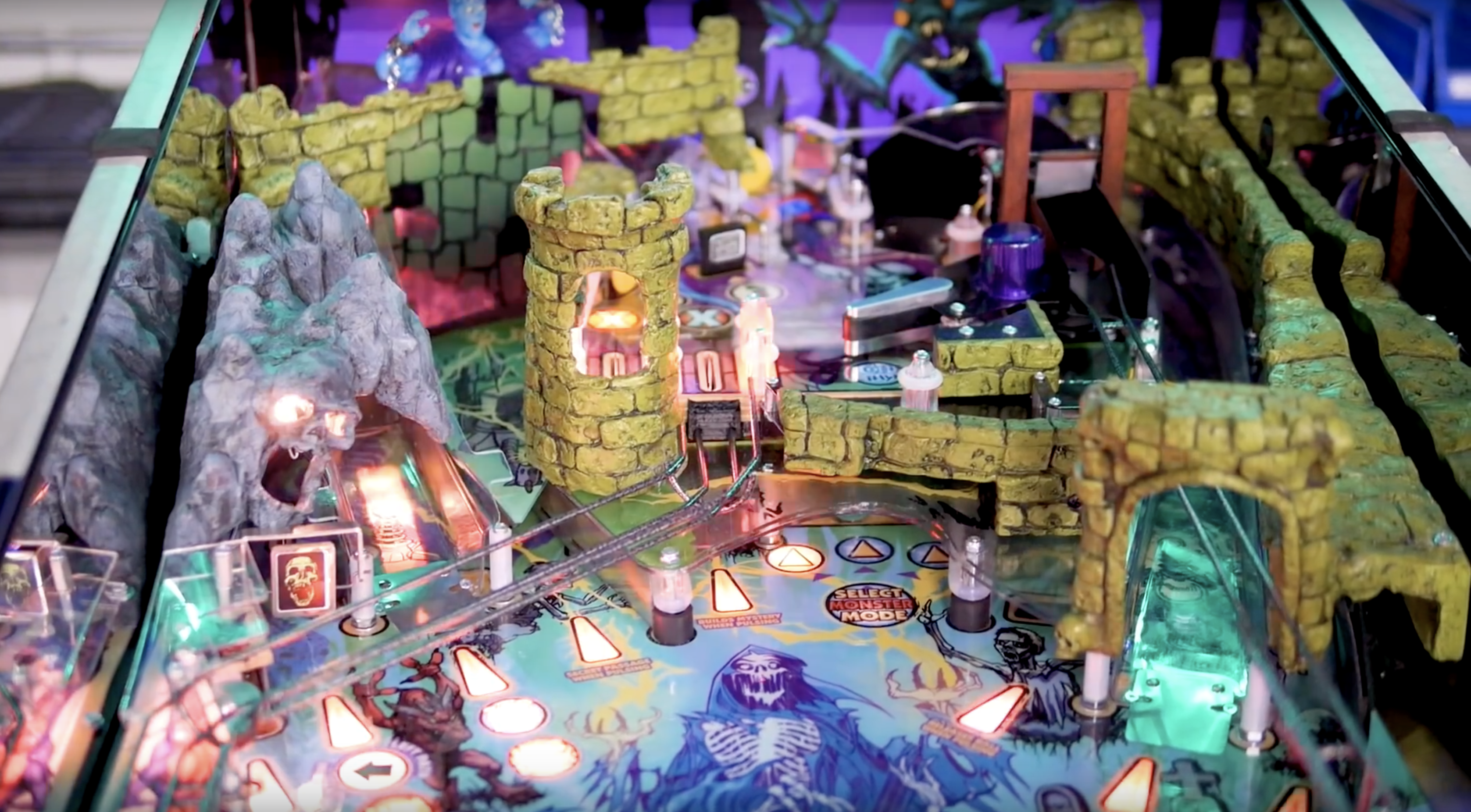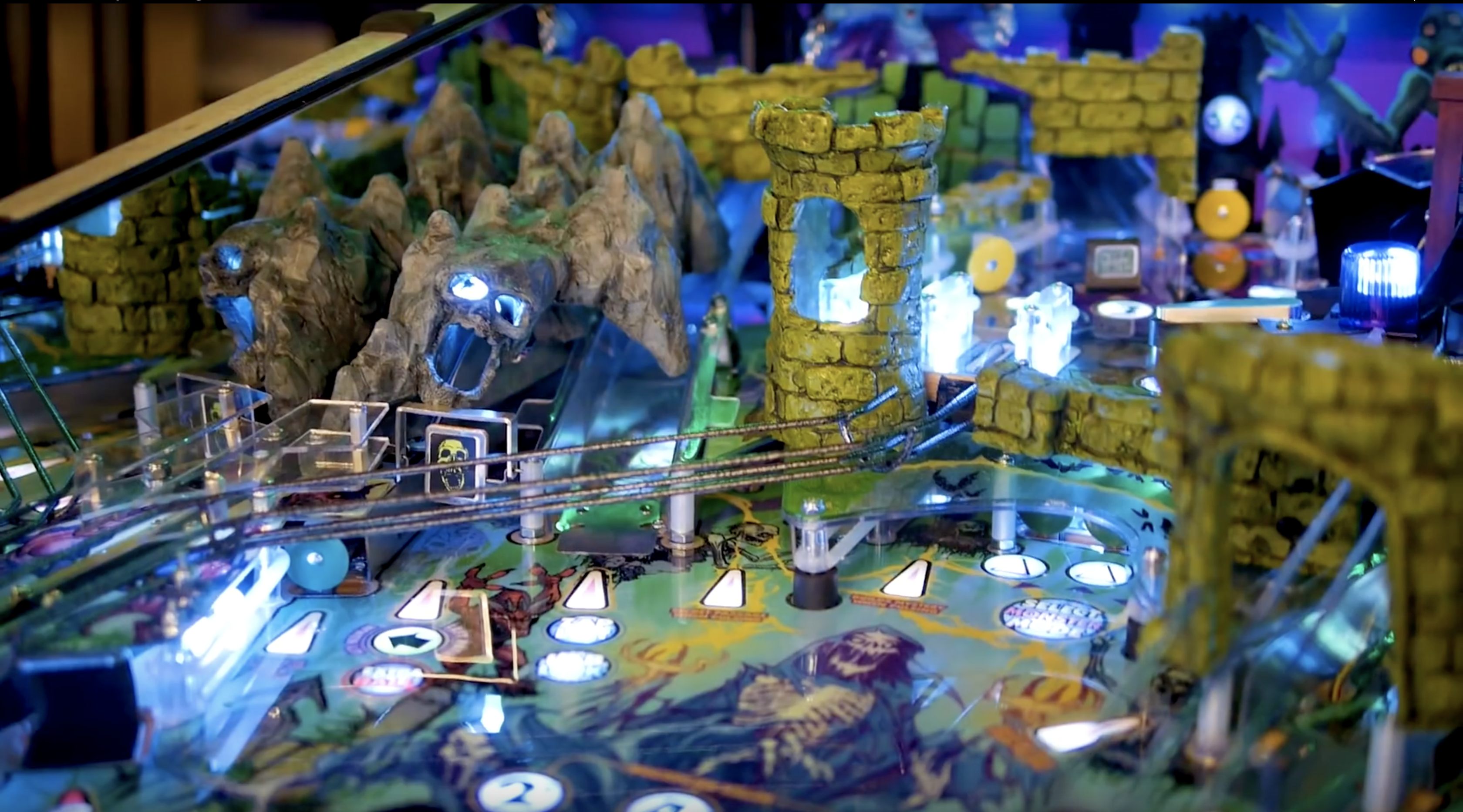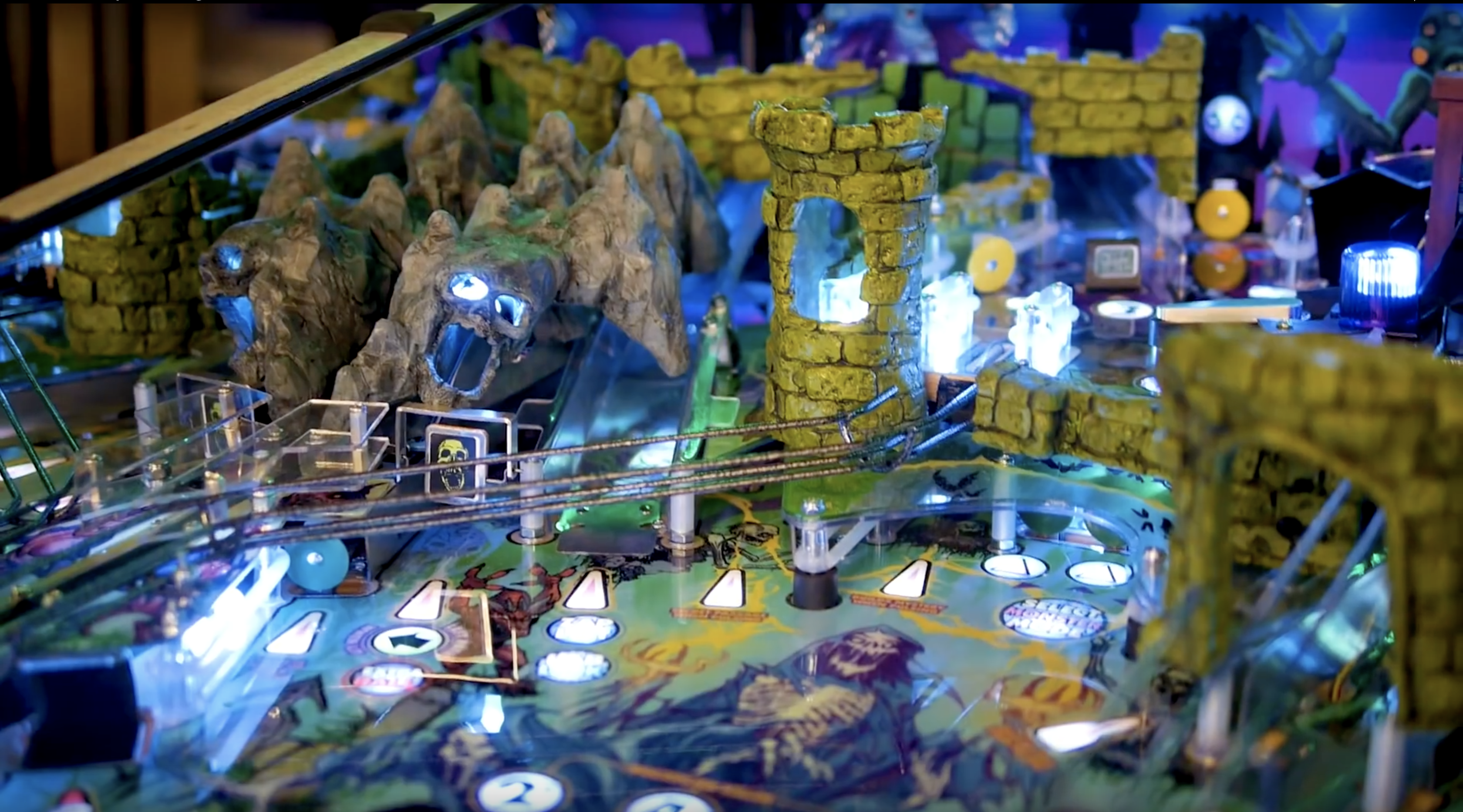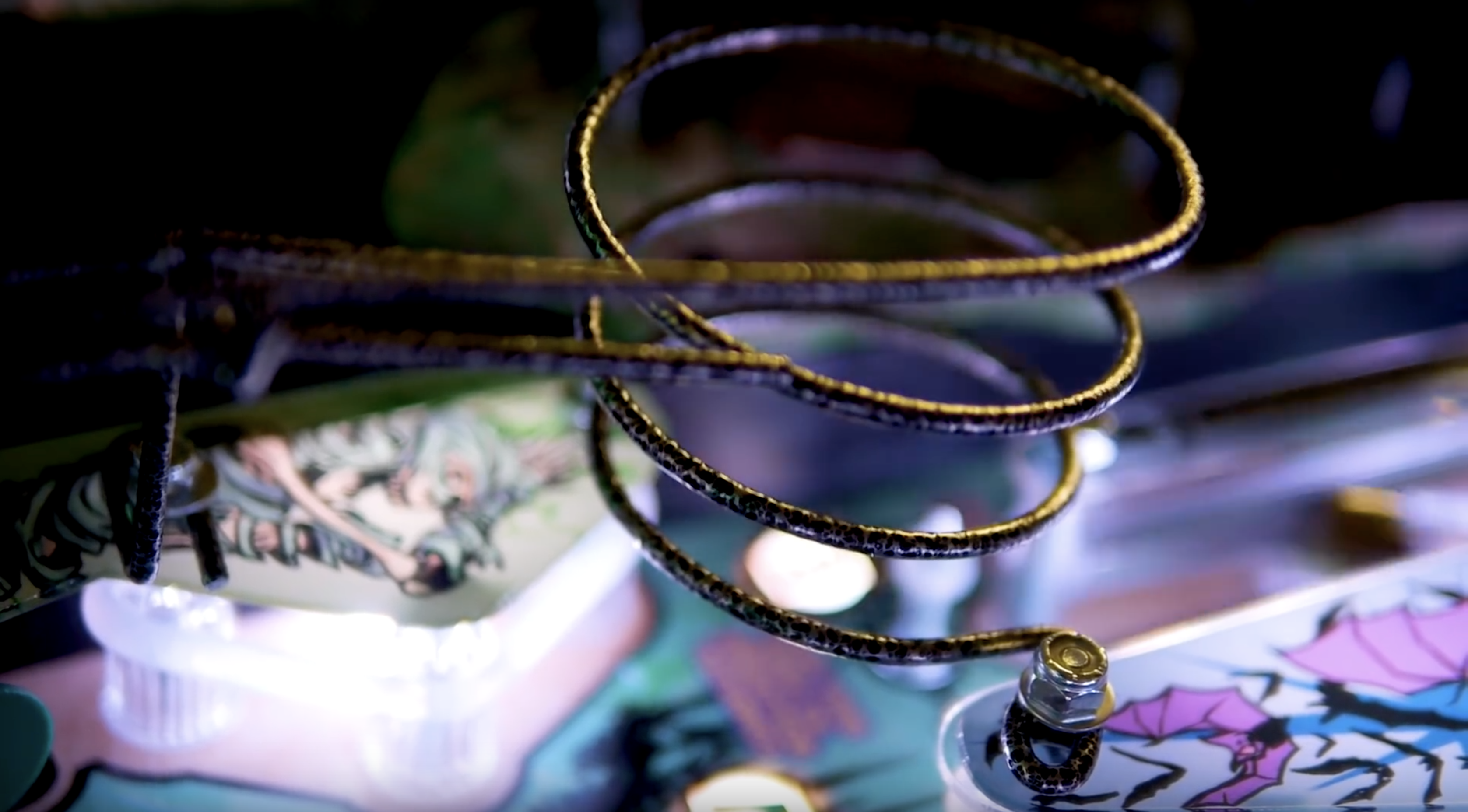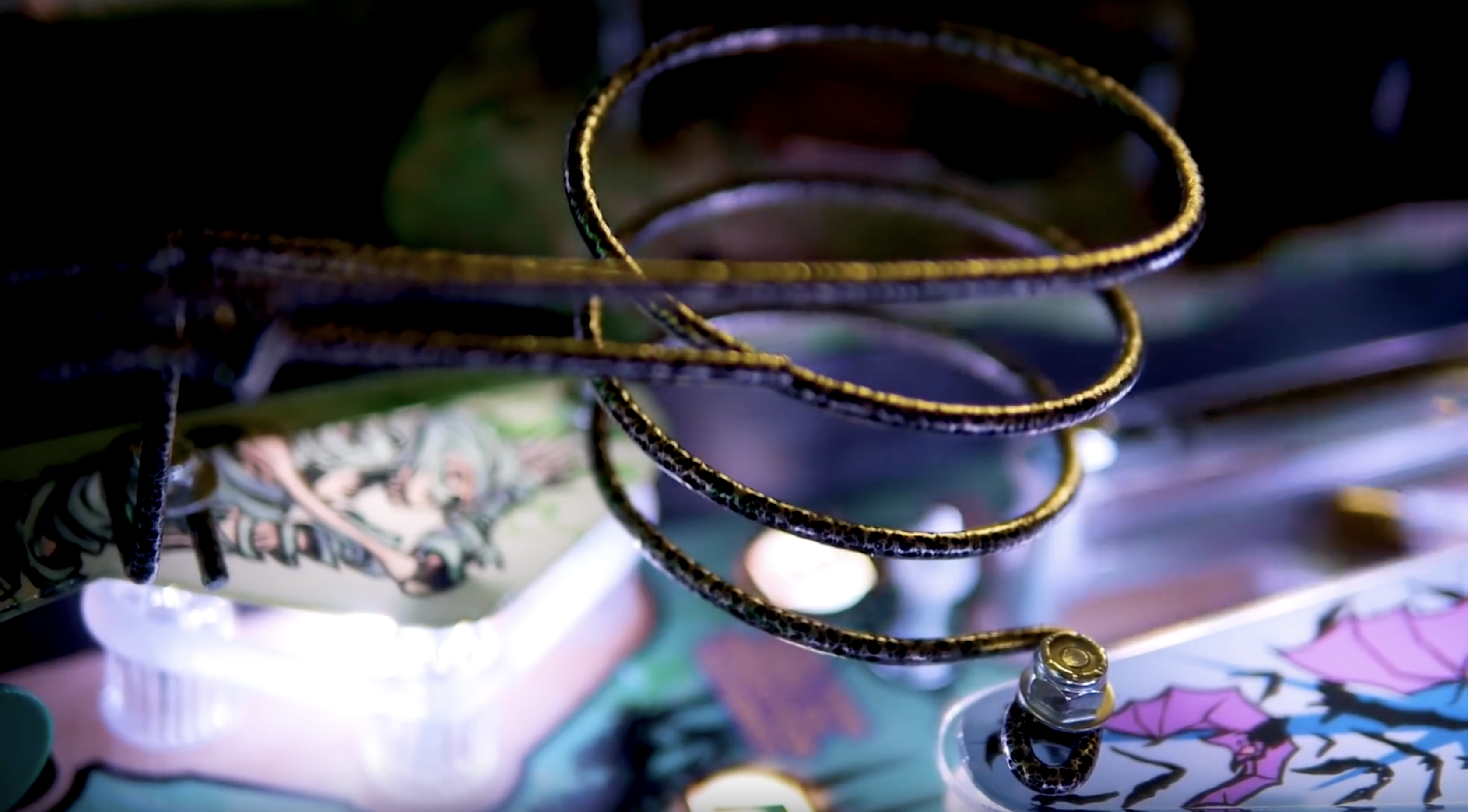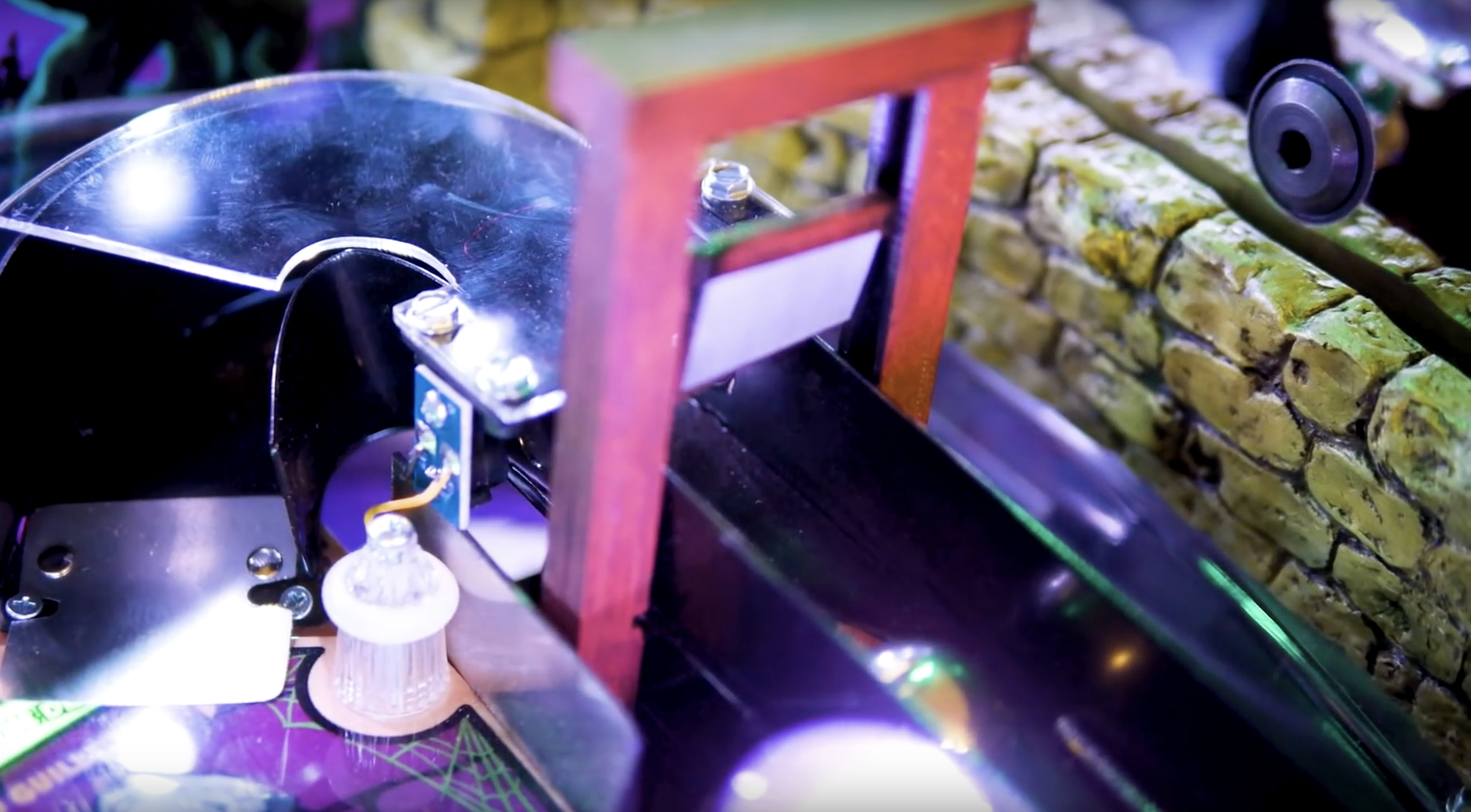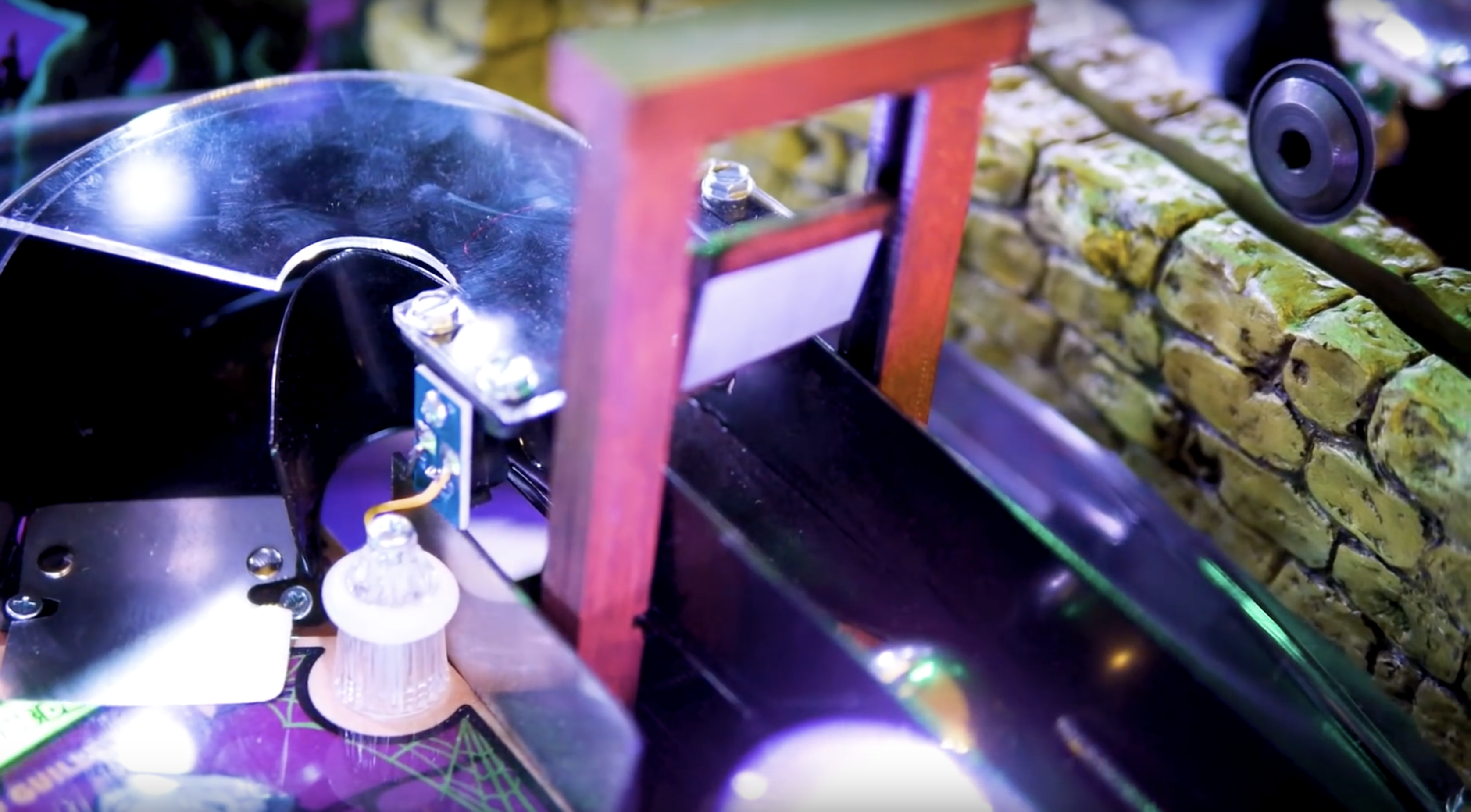 Some things we learned and what we know about this machine:
Standard sized cabinet
11 shots
3 flippers
Upper playfield
Two major toys
Same sound system as Total Nuclear Annihilation
RGB lights
Sculptures by Back Alley Creations
P-Roc boards
700 custom speech calls from Alice Cooper
2 magnets, including one in between the flippers to save your ball (check it out in action here!)
2 inline drop targets on main playfield, one on upper playfield
4 different ways to access the subway
If you collect all the monsters, you get to Billion Dollar Baby which is the wizard mode
Limited to 500 units
They estimate ACNC will start on the production line in late May or early June
Price is $6,450
It contains 16 songs, 10 by Alice, 6 by Matt Montgomery (Piggy D.)

Mode: Frankenstein | Song: Feed my Frankenstein
Mode: Cold Ethyl | Song: Cold Ethyl
Mode: Igor | Song: Lost in America
Mode: Vampire | Song: Disco Bloodbath
Mode: Werewolf | Song: No More Mister Nice Guy
Mode: Zombie | Song: Brutal Planet
Mode: Insects | Song: Its the Little Things
Mode: Tentacle Creature | Song: Go to Hell
Wizard Mode: Billion Dollar Babies | Song: Billion Dollar Babies
Also, Spooky posted a gameplay video on their Facebook page that shows off some of the light show and flow of the game – check it out here!
These machines can be ordered starting TODAY (March 26th)!
There should be an upcoming stream of this machine soon – keep an eye out for it and we'll be sure to cover it on This Week in Pinball!
---
Is Monster Bash the Next Title From Chicago Gaming Company?
This Week in Pinball shared this info on social media a couple weeks ago after seeing some excellent detective work on Pinside by pinsider herbertbsharp, and it points to Monster Bash being the next title from Chicago Gaming Company.
Basically, herbertbsharp posted the pics below from the latest issue of Replay Magazine. It was an article from Churchill Cabinet Company, who does the woodwork for Chicago Gaming Company – and in the background are three playfields:
Medieval Madness
Attack from Mars
and…
wait for it…
Monster Bash!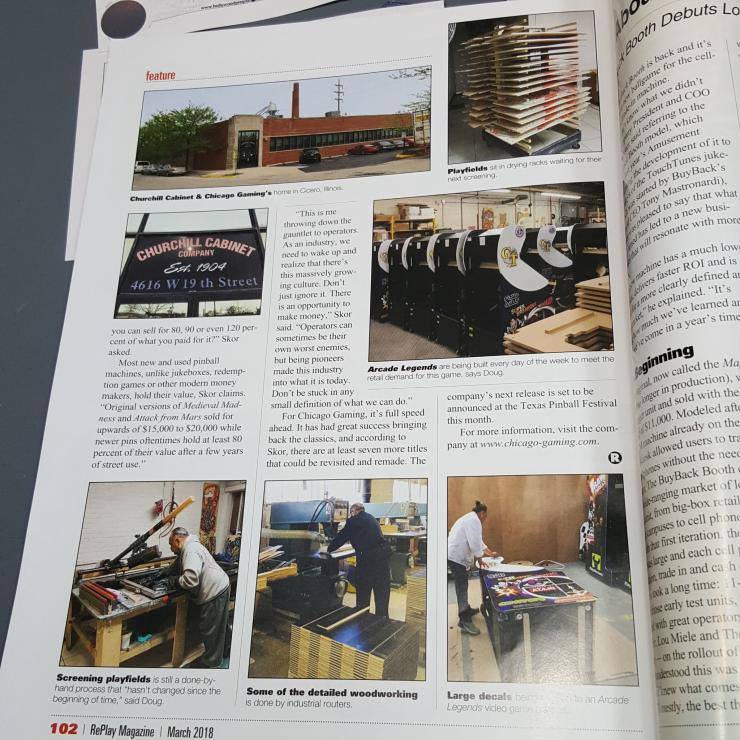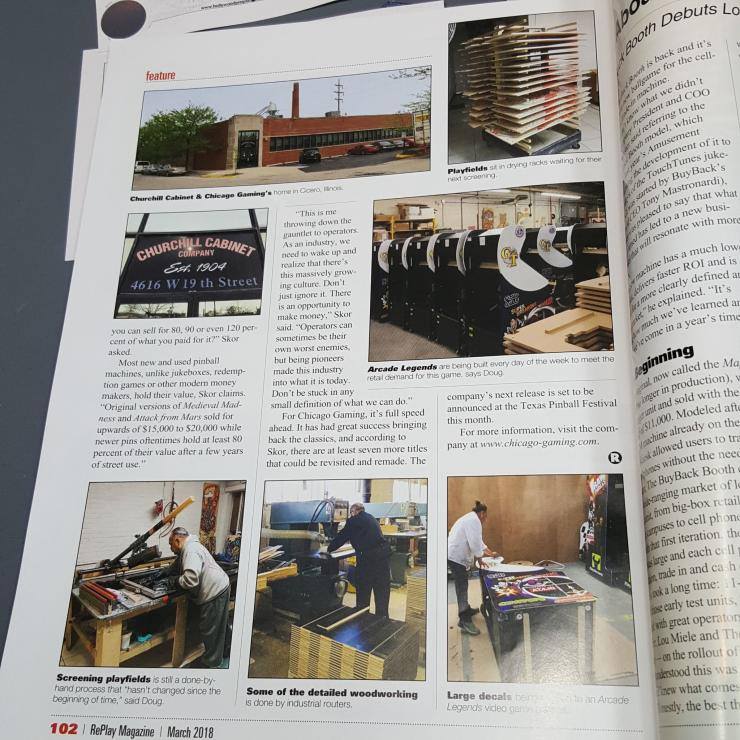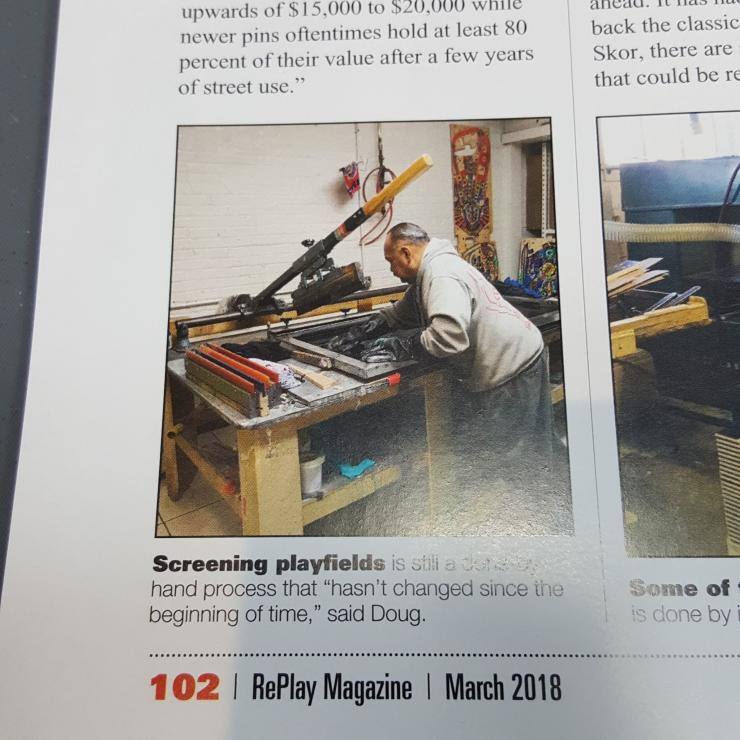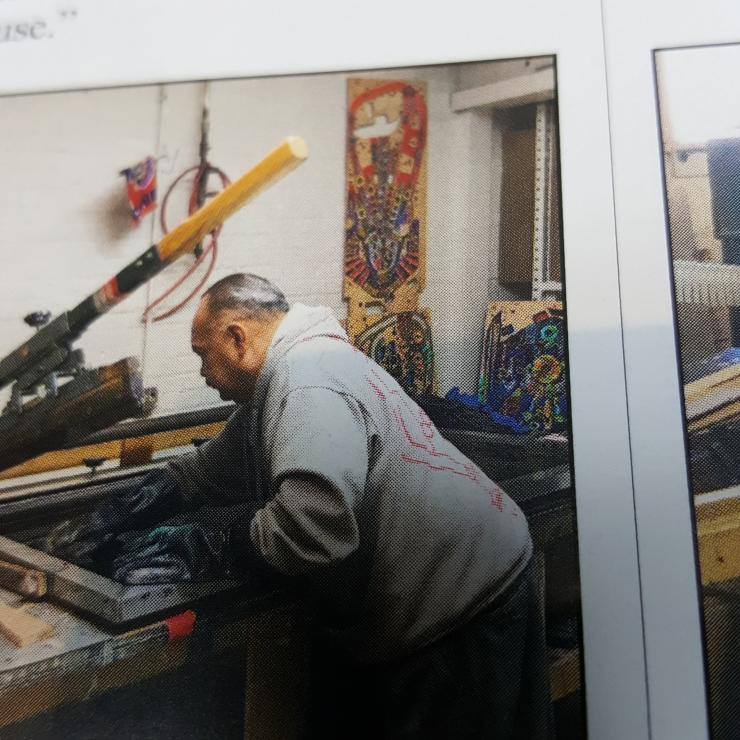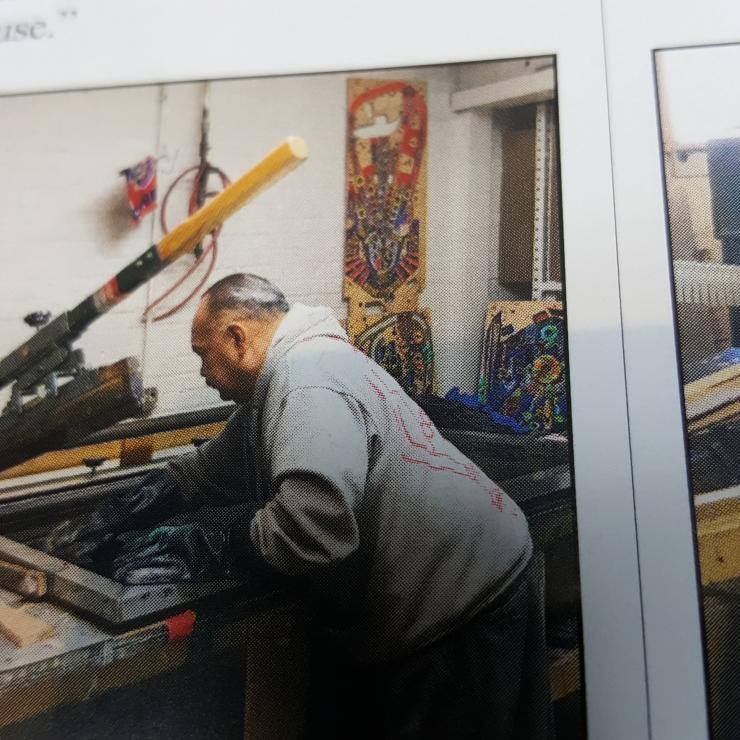 It sure is looking like game #3 from Chicago Gaming Company is going to be Monster Bash – we should learn for sure in the coming weeks!
---
Stern has Beatles License: Barry Oursler Interview
Last week at the Texas Pinball Festival, Tommy Skinner of This Flippin' Podcast interview Barry Oursler, legendary pinball designer that is currently working for deeproot Pinball. When asked by Tommy about a title or theme Barry would love to design, Barry responded:
"The only one I can think of was one that Stern just ended up getting a hold of, we always wanted to do a Beatles game, they ended up snatching the license on it"
This Week in Pinball previously reported on this rumored title:
This Week in Pinball recently shared that The Beatles license has been secured by a pinball manufacturer. On this episode of Kaneda's Pinball Podcast, Kaneda shared the following information regarding this license:
A pin based on The Beatles IS coming out
The Beatles machine that is coming out is NOT based on the Yellow Submarine
RUMOR: It is the next Ka-Pow title
RUMOR: The expected release date is Expo (October) of 2018
Stern continues to land very popular licenses, and we look forward to hearing more about this machine later this year!
---

SIMPSONS PINBALL PARTY LAMP!
You know how The Simpsons Pinball Party has that awesome upper playfield that represents their living room? It has the TV, it has artwork showing Maggie watching TV on the rug, and it has the famous physical ball lock on the couch! But then at the end of the couch you have…a large yellow flasher that just doesn't seem to fit (see it here). Well, there is now a solution to fix this – a lamp that covers the flasher and fits in nicely with the living room – check out this mod below: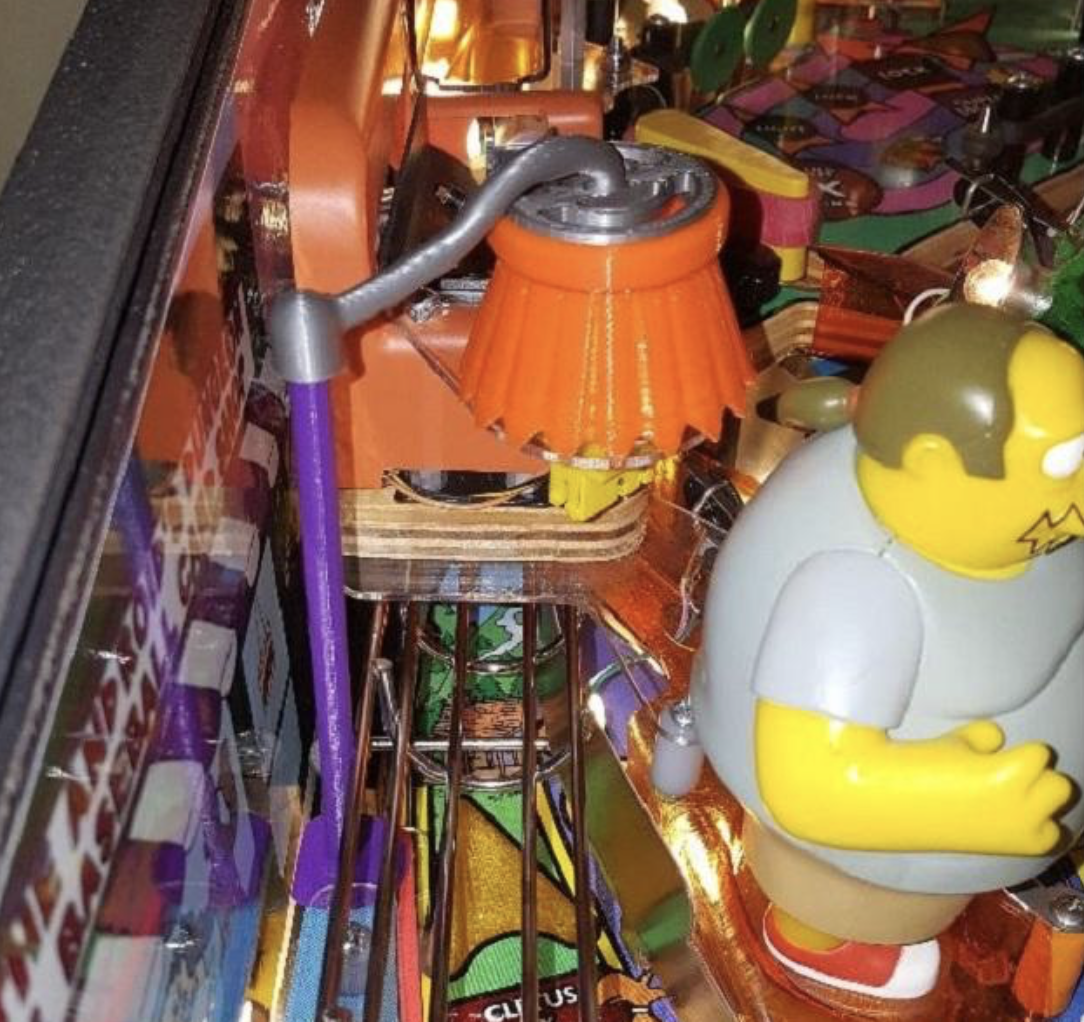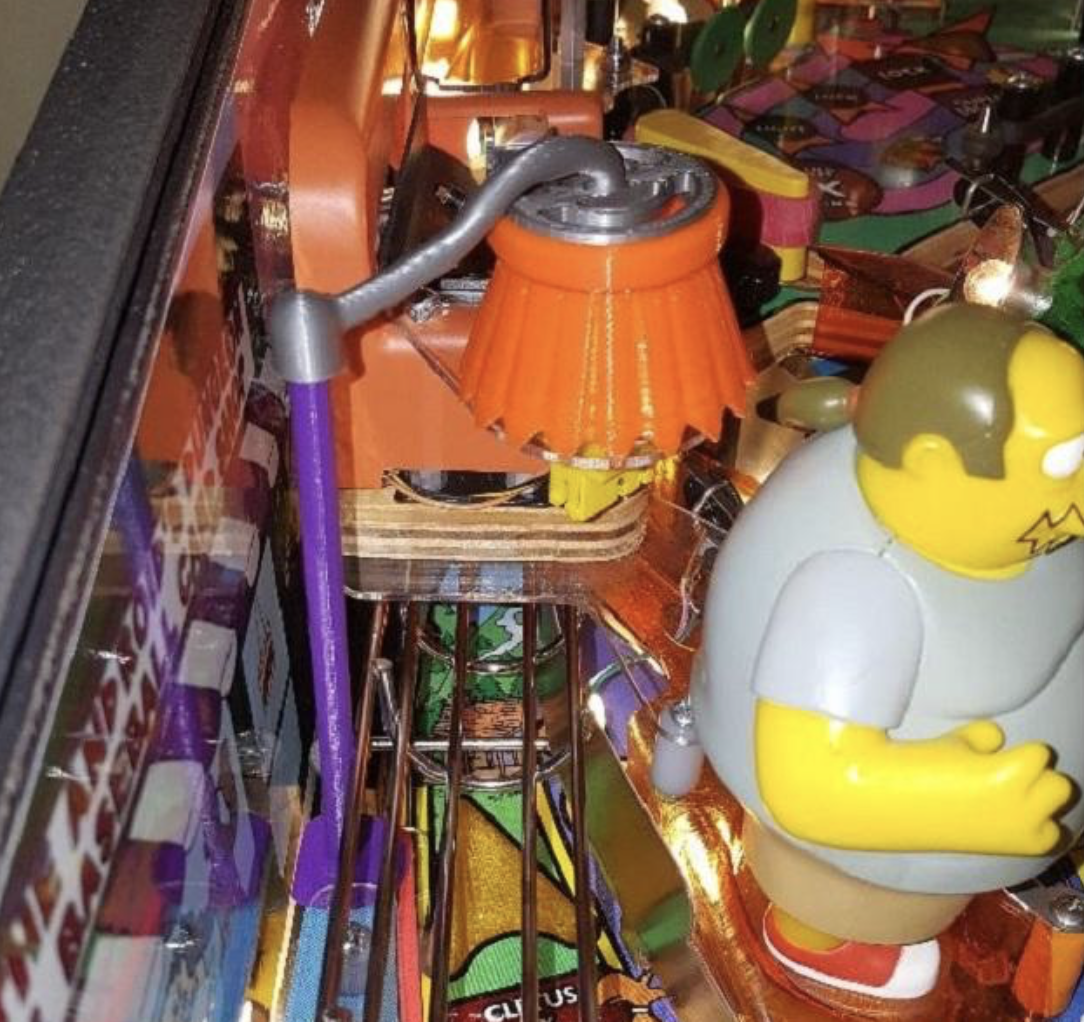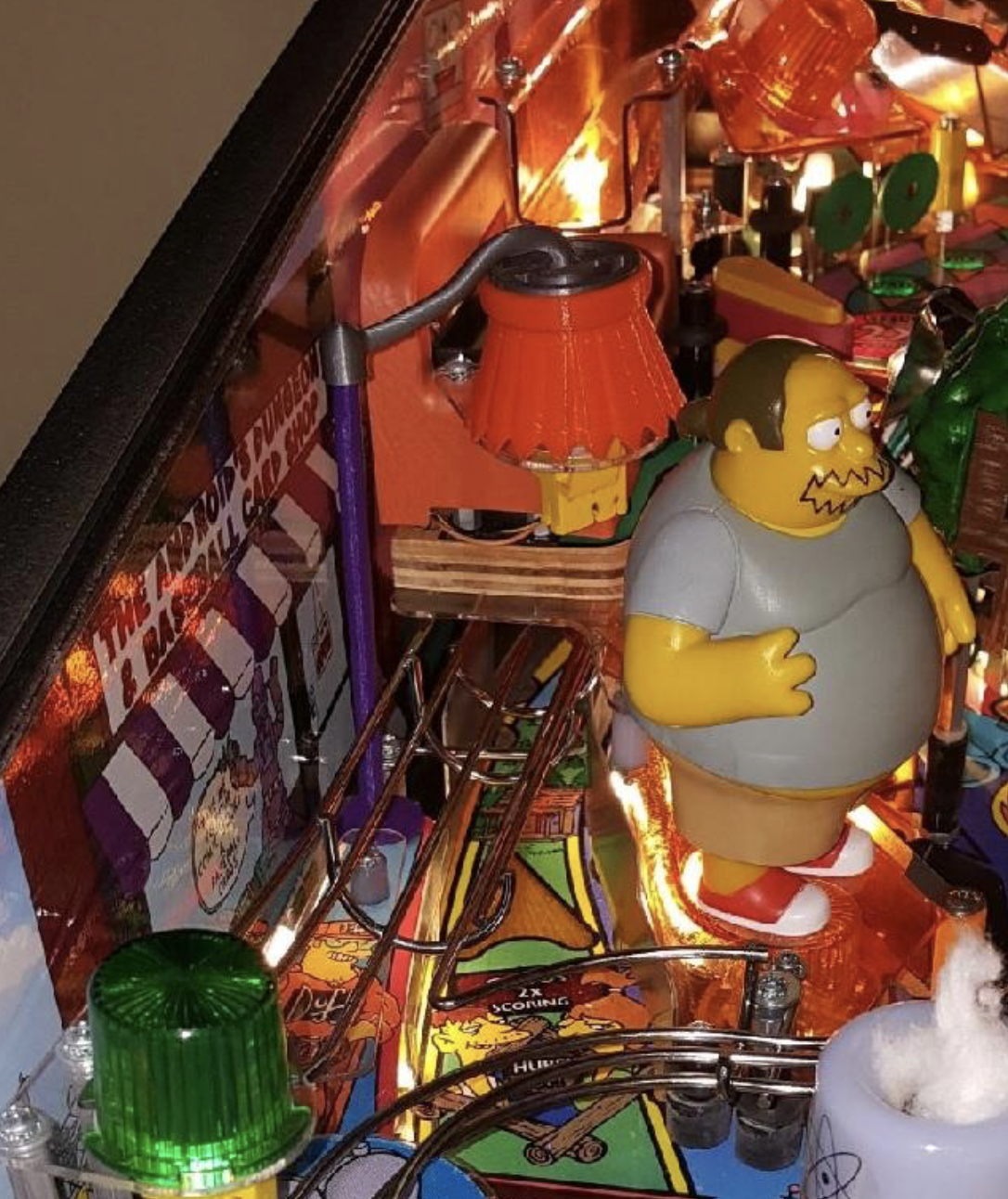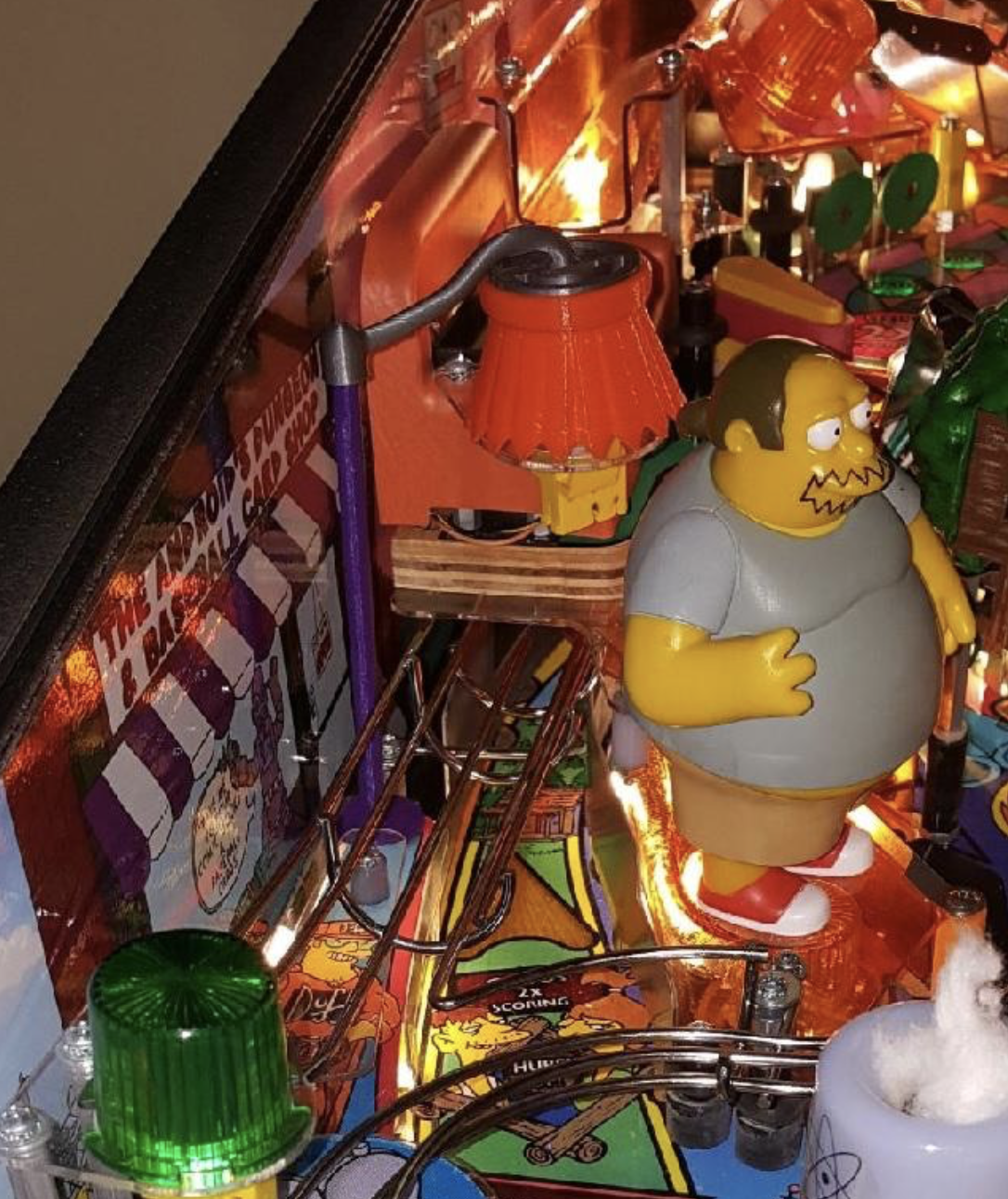 Do you want to sell your mod on Mezel Mods? Click Here to email them for more info!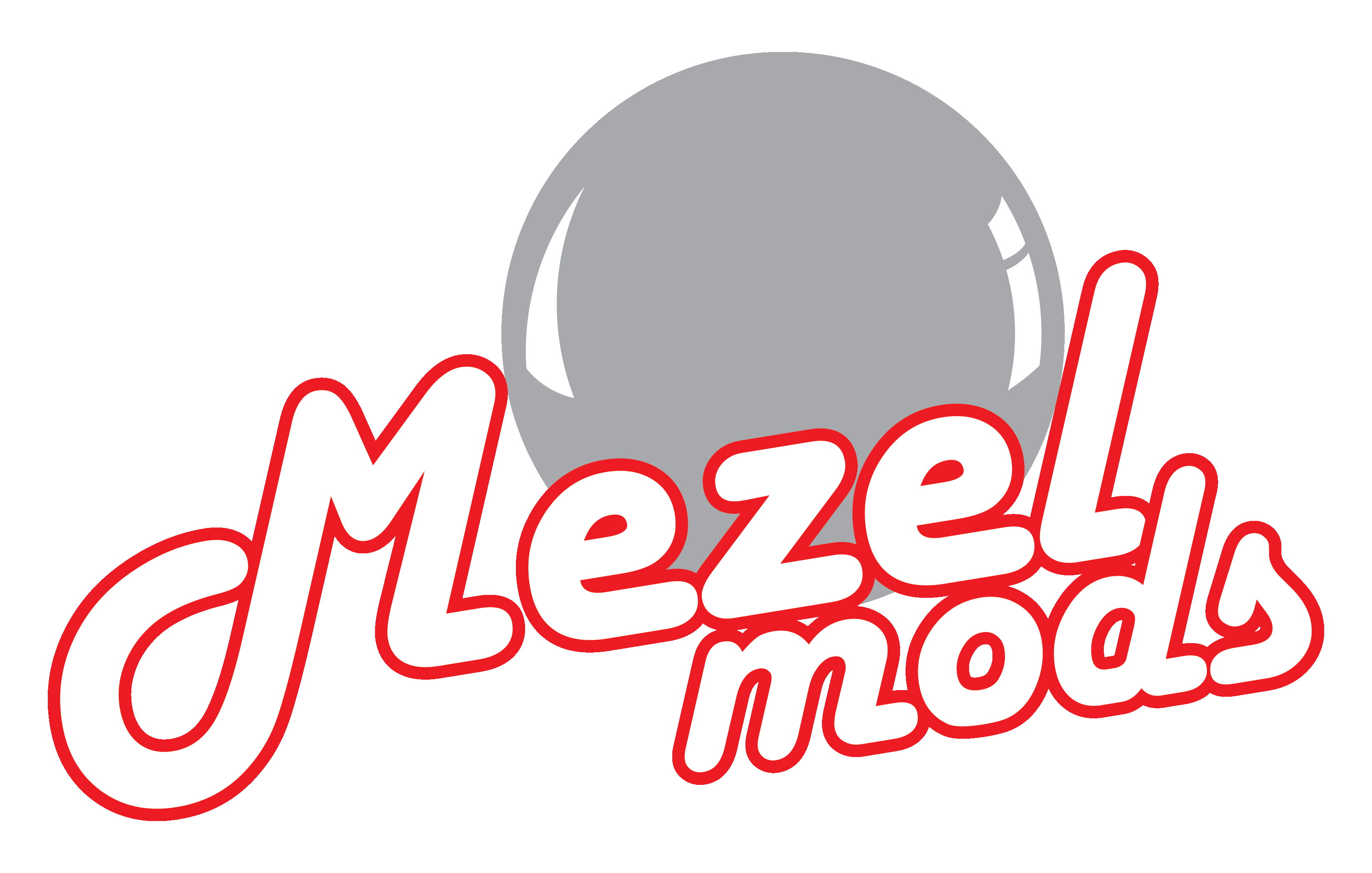 ---
Pirates of the Caribbean Delays?
Initially Jersey Jack's new pinball machine, Pirates of the Caribbean, was planned to ship in first quarter of 2018. As we near the end of the first quarter, it sounds like Pirates will hopefully start shipping this summer, possibly in the third quarter of the year (July/Aug/Sept). We'll keep you updated as we learn more.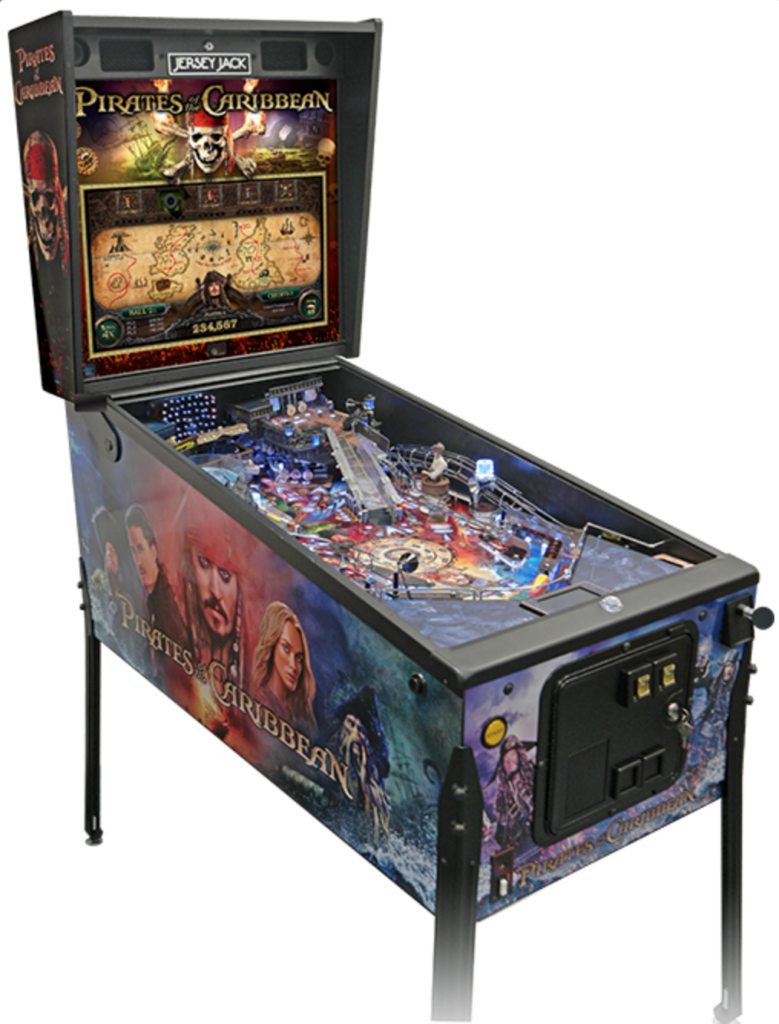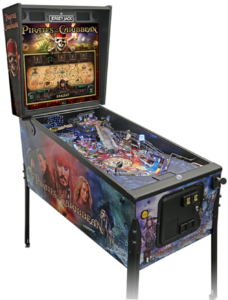 ---
Sharpe Bros Winning
Congrats to Josh Sharpe on winning the Papa Circuit Finals (for final standings, click here), and congrats to Zach Sharpe for winning the IFPA Heads-Up Pinball Championship (final results here) this weekend!! The title of this really should be some sort of pun with the Sharpe name. Something that has been done a thousand times and is quite lame. Sharpe Shooters? Something like that.
---
Co-op Modes for Total Nuclear Annihilation
At the Texas Pinball Festival, Scott Danesi unveiled a new mode for Total Nuclear Annihilation where you can play with other people and instead of competing against each other, you compete against the machine. So if you're not good enough to destroy reactor nine by yourself, maybe working with three other people you can reach it. Now there is a second co-op mode where players 1 and 3 can play against players 2 and 4.
Here is how Scott described it on a Pinside post:
There are 2 co op modes. "Co Op Mode" and "Team Vs. Mode".

The first thing you do to activate these modes is press and hold the start button when adding player 1. This will start the standard co op mode and will flash it up on the LCD. This mode is everyone vs the machine. If you want to do team vs mode, you press and hold the start button again until the screen says Team Vs. Mode. Then you must add all 4 players. This mode links players 1 and 3 together and 2 and 4 together. If you launch the ball without 4 players added to the game, it will default back to standard co op mode. You can also toggle between the 2 modes before starting the game by pressing and holding the start button before you launch the first ball.
Here are a few placeholder images for the attract mode, as they are working on the official
release of this code: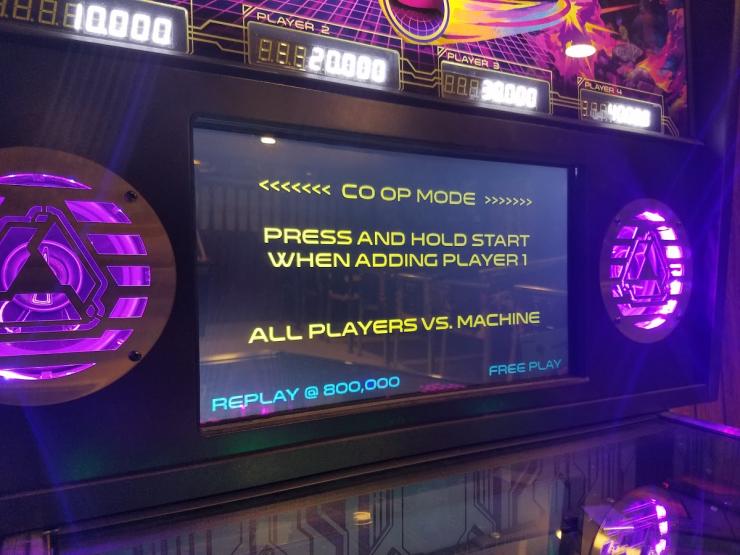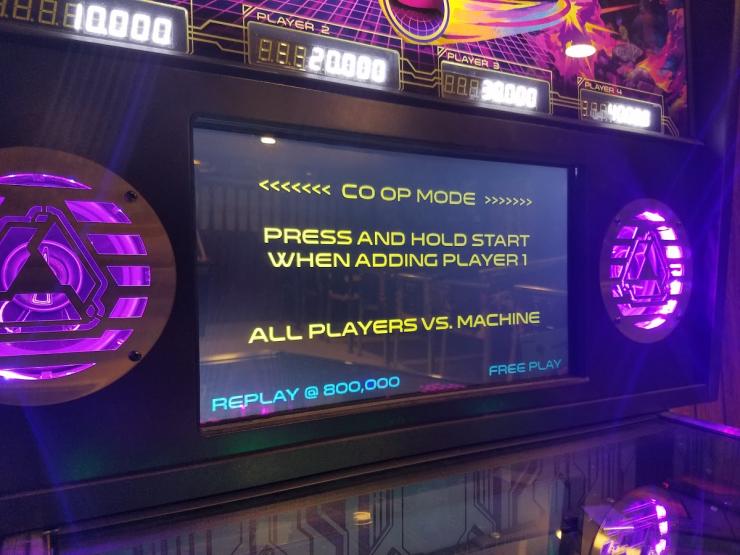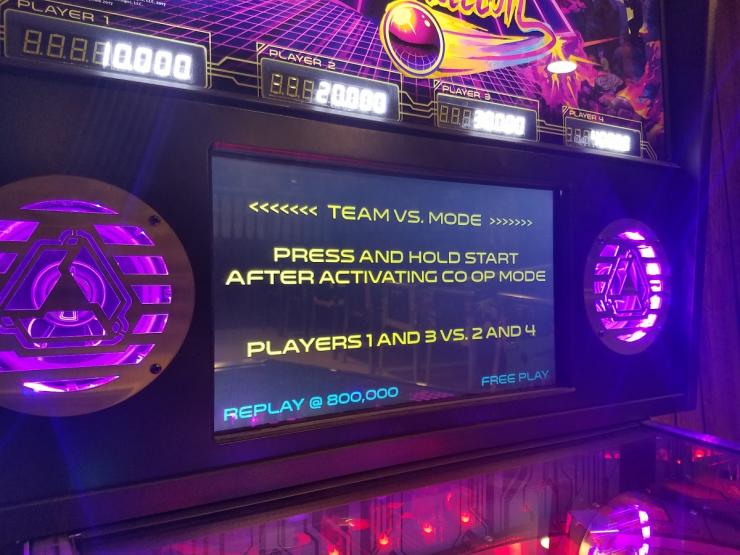 What a cool idea!
---
**

WINNER of the Kingpin Translite Giveaway

**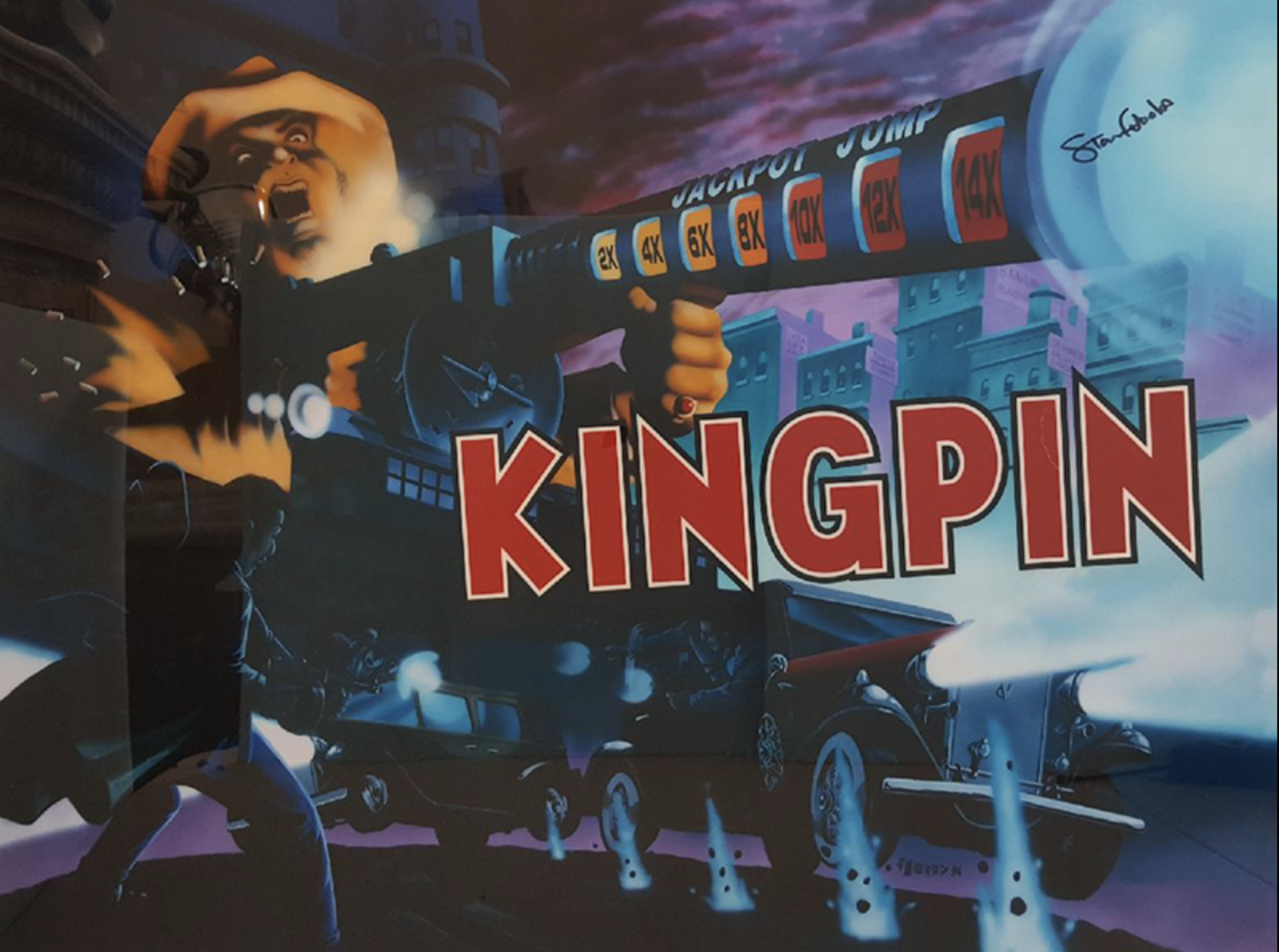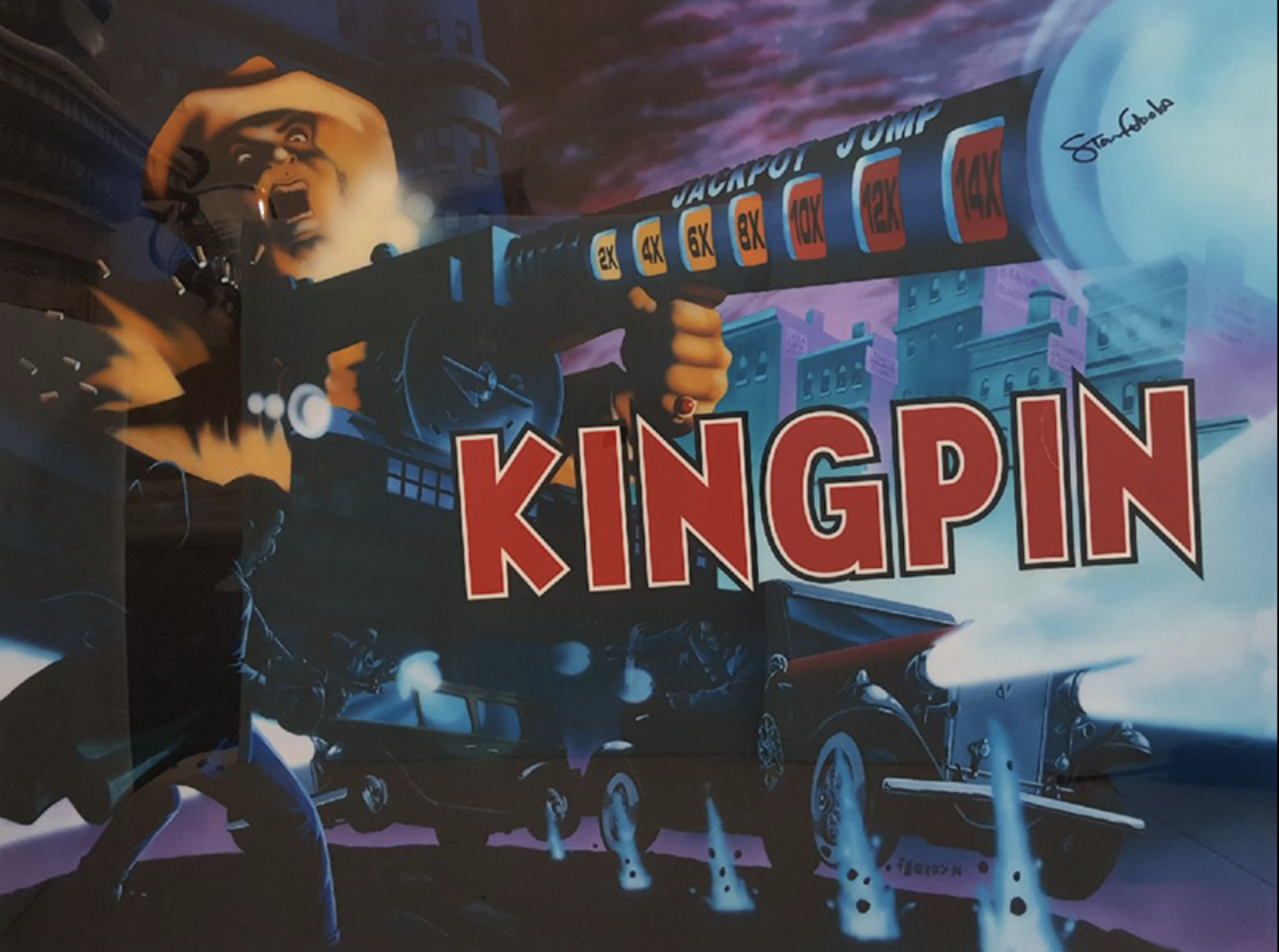 And the winner of the FREE Kingpin Translite signed by Mark Ritchie and Stan Fukuoka is…
Mike Sherrard of Colorado! Congrats Mike, it is on it's way!!
---
Thunderbirds Production Update
Homepin shared in a Facebook comment they plan to go into full production soon:
We are still building our final seven test machines to iron out any final bugs before we go into full production in a week or so.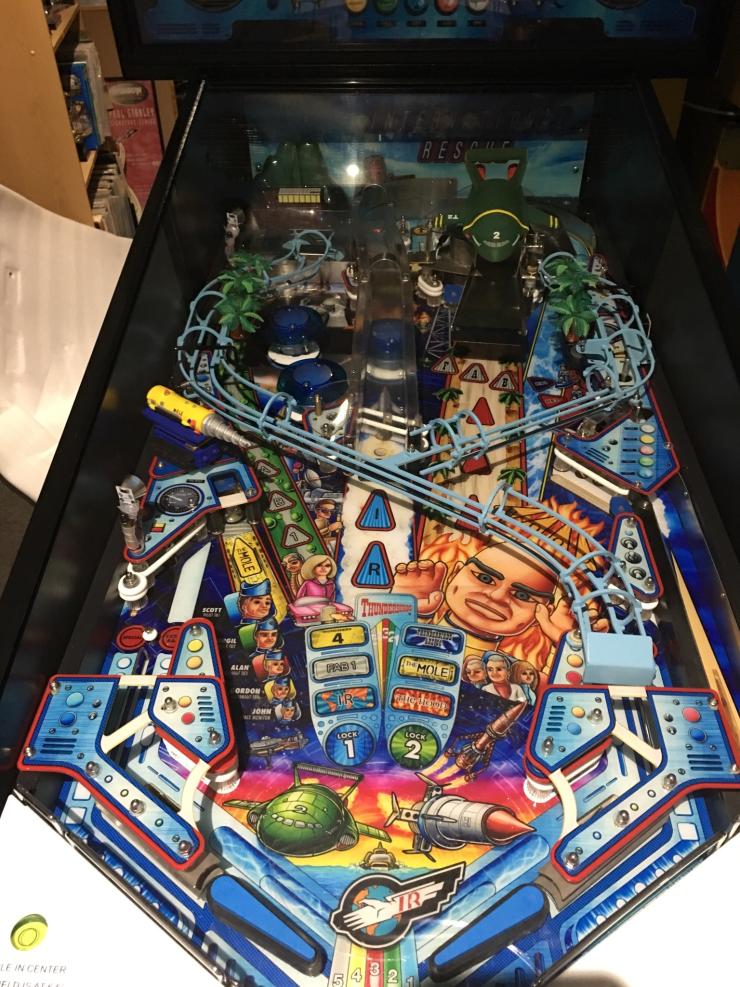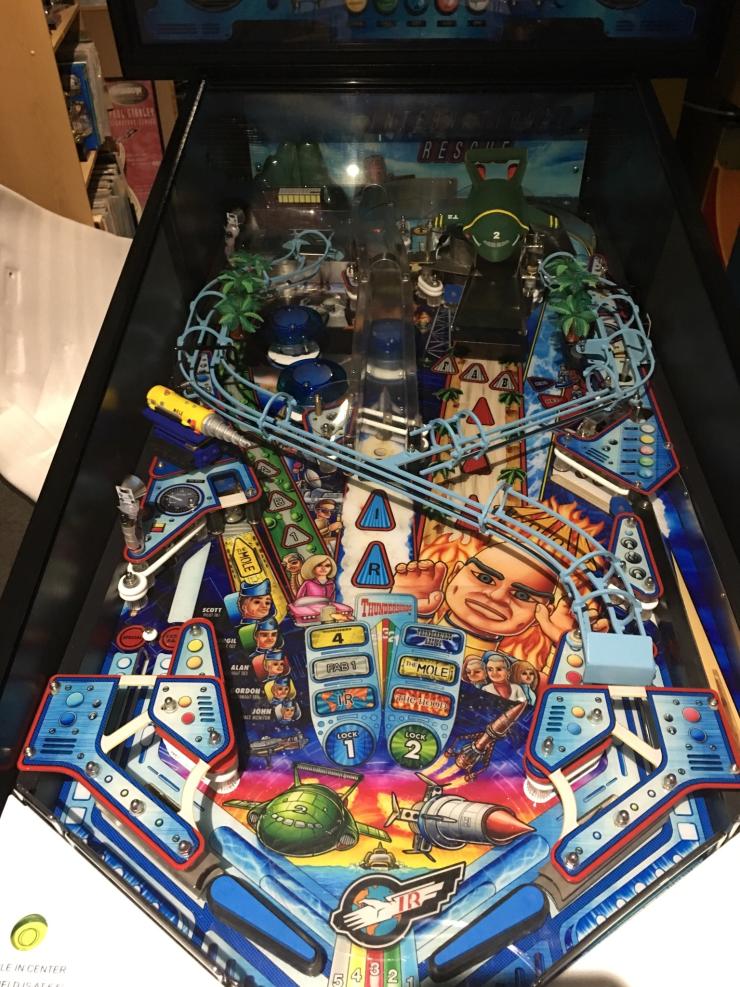 ---
Victory Laps – End of Post Bonus
Kosmic Khaos, the TPF theme that may or may not be turned into a pinball machine, has some cool display graphics – check them out here!
The Making of Guardians of the Galaxy by Stern – check it out!
Barry Oursler mentioned he is currently working on both a licensed and unlicensed theme for deeproot Pinball
Articles:
Want to learn more about Cosmic Cart Racing, the new game on the P3 Platform? Check out this article from Pinball News!
---
MATCH! – Next Game…What is Coming Up on This Week in Pinball
We hope to have an article on Iron Maiden this Thursday or Friday
We'll have more on Alice Cooper's Nightmare Castle soon
We launched a new redesigned website, which you probably have noticed at this point
---
Get alerts for new posts from This Week in Pinball – follow us on Facebook, Twitter, or sign up by email:
Disclaimer: Any articles, interviews, or mentions of pinball manufacturers or pinball products is NOT an endorsement.
Have a scoop or anonymous rumor? Email us at thisweekinpinball@gmail.com
---

Stern Pinball
Most Recent Titles
Aerosmith | AC/DC Vault Edition | Star Wars | Guardians of the Galaxy | AC/DC Luci Vault Edition
Announced/Confirmed
Elvira 3
Rumors of Future Titles
Iron Maiden? | Deadpool? | The Munsters? | The Beatles? | Jurassic World? | Pulp Fiction? | New Ka-Pow Title? | Steve Ritchie Unlicensed? Black Knight 3000? <<–NEW

Jersey Jack Pinball
Most Recent Titles
Wizard of Oz | The Hobbit | Dialed In | Pirates of the Caribbean
Rumors of Future Titles
Toy Story? | Willy Wonka? | The Muppets?

Chicago Gaming/Planetary Pinball
Most Recent Titles
Medieval Madness Remake | Attack From Mars Remake
Rumors of Future Titles
Monster Bash Remake? | Cactus Canyon Remake? | Big Bang Bar Remake? | Theatre of Magic?

Spooky Pinball
Most Recent Titles
Rob Zombie's Spookshow International | Dominos (*contract game) | Jetsons (*contract game) | Total Nuclear Annihilation (*contract/house game) | Alice Cooper's Nightmare Castle

American Pinball
Most Recent Titles
Houdini
Rumors of Future Titles
Oktoberfest?

P3 (Multimorphic)
Lexy Lightspeed | Cannon Lagoon | Cosmic Cart Racing

Heighway Pinball
Most Recent Titles
Full Throttle | Alien (shipping)
Rumors of Future Titles
Queen?

Dutch Pinball
Most Recent Titles
Bride of Pinbot 2.0 | Bride of Pinbot 3.0 (on hold) | The Big Lebowski (production issues)


Circus Maximus
The Pinball Circus Remake | Kingpin

Homepin
Thunderbirds (coming soon)


deeproot Pinball
Retro Atomic Zombie Adventureland? | Alice in Wonderland? | Magic Girl? | Original Houdini design?
Announced/Confirmed
Fire and Brimstone

Silver Castle Pinball
Timeshock (coming soon)

Phénix Pinball
Olympic Goblin
**TWIP dreams of the day
Harry Potter Pinball
will be added to these rumors. Ms. Rowling, I'd be willing to do detention with Dolores Umbridge if you approve this!

Get alerts for new posts from This Week in Pinball – follow us on Facebook, Twitter, or sign up by email: