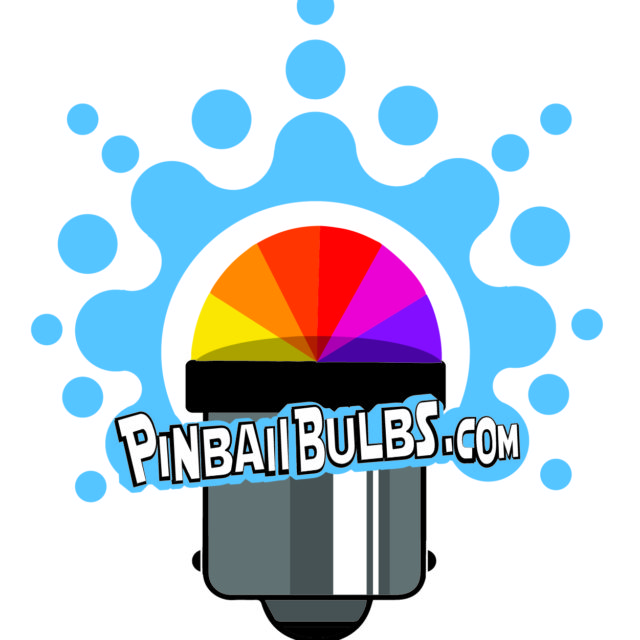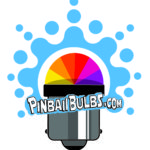 Advertisement — Pinball Bulbs SALE: Visit Pinball Bulbs and enter promo code "ThisWeek15off" to save 15% off everything on the site! It's the perfect time to get an LED light kit for your game, check them out here!
---
---
---

"Talk To TWIP"
Do you have any questions for us about pinball or about TWIP? We'll do a type of "mailbag" or "Ask Me Anything", and post it in the coming weeks. If you have a question you want answered, anything at all, send it to thisweekinpinball@gmail.com!
---
Two Themes Obtained by Pinball Manufacturer(s)
We revealed on social media last week the two licenses we know have been secured by a pinball manufacturer. (PLEASE REMEMBER – just because a theme was listed and eliminated does NOT mean that theme will not be made into a pinball machine! Some on our original list that were eliminated ARE in fact being worked on!) The two themes are:
PULP FICTION THE BEATLES
Yes these rumors have been around for a while, particularly Pulp Fiction. But we at TWIP did not know for sure that a pinball manufacturer(s) had the licenses until recently, which we wanted to confirm and share with the pinball community. Does this mean that we will FOR SURE 100% see a Pulp Fiction and The Beatles pinball machine? Not necessarily – unforeseen issues could delay or even shelve these. What else do we know about these titles? Not much unfortunately. We don't know WHICH manufacturer(s) landed the two titles. We don't know WHEN the licenses were originally secured, only that the licenses HAVE been secured and are being worked on. Check back in a year or 18 months and we'll see how well this information ages! We think it will age pretty well 🙂
Note: TWIP added The Beatles to the Stern section below because they are the largest pinball manufacturer, and therefore most likely to have landed the theme.
---
Alice Cooper's Nightmare Castle Teasers and Secrets
Spooky Pinball released some terrific teasers in the last week via their Facebook and Twitter pages, along with their monthly podcast (listen here). First, we got this picture from Facebook with the caption "Mmmmmwahahahaaaa.":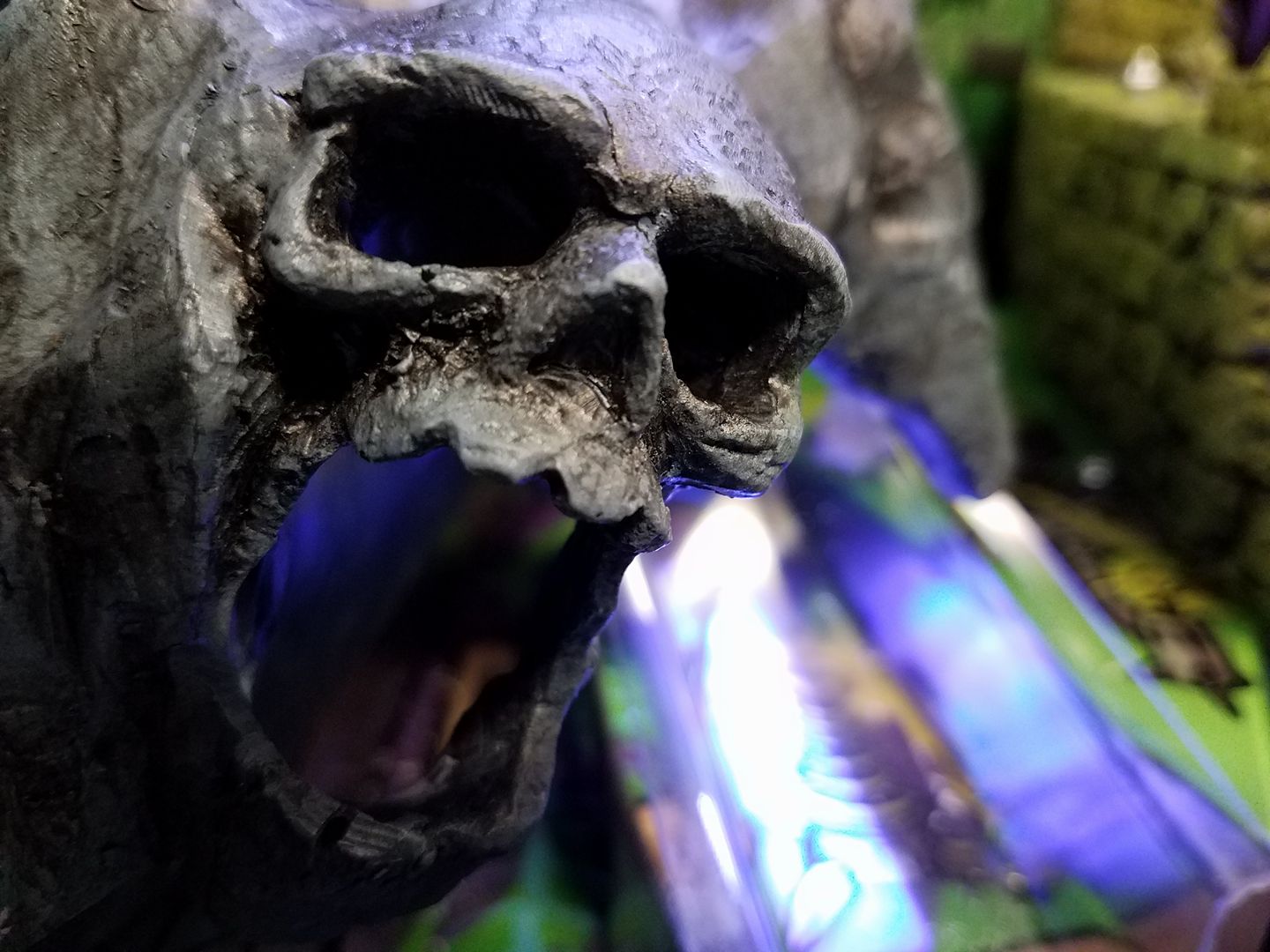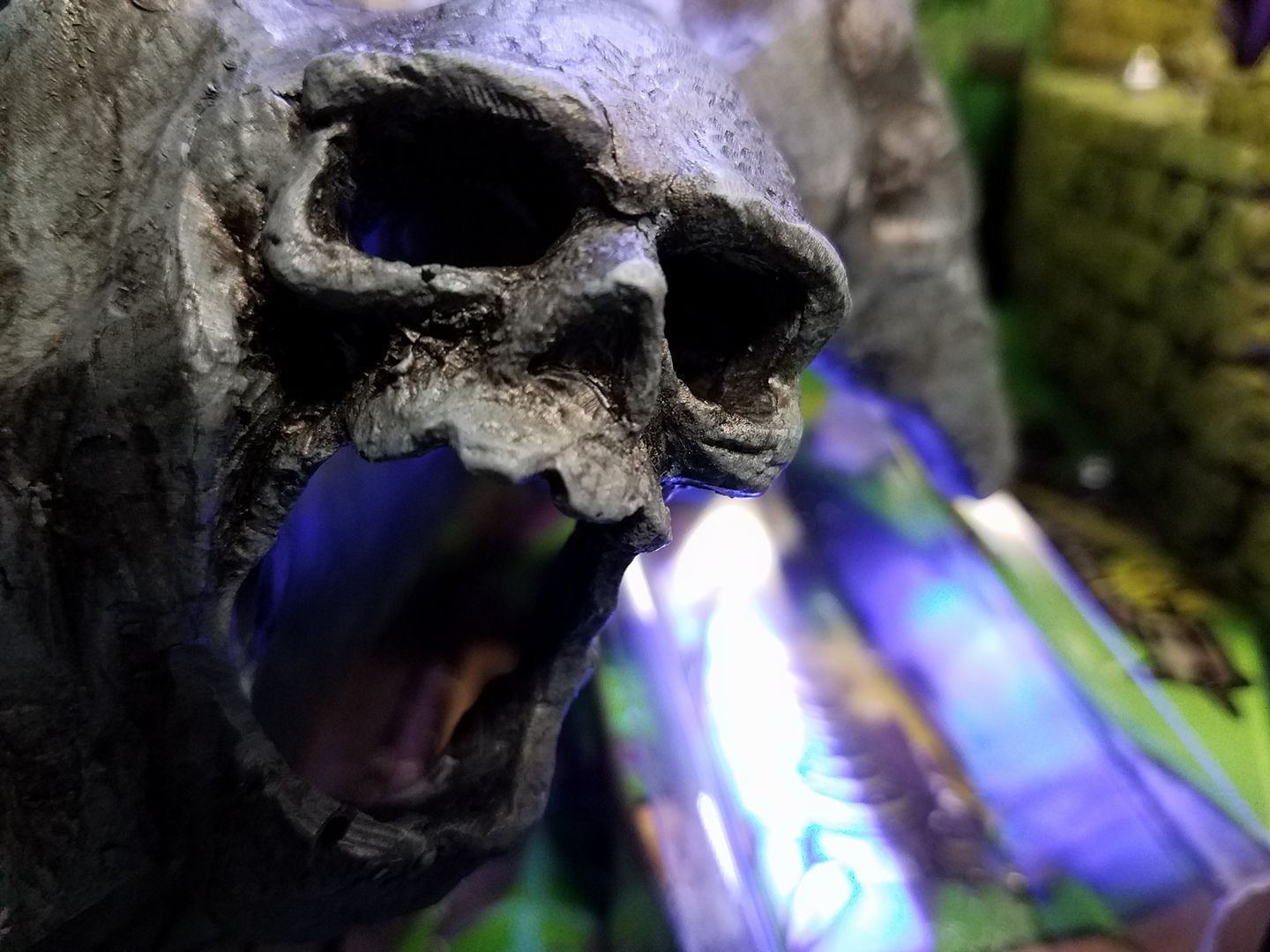 Then, we got this picture below with the caption: "Happy Friday friends freaks and fiends…
":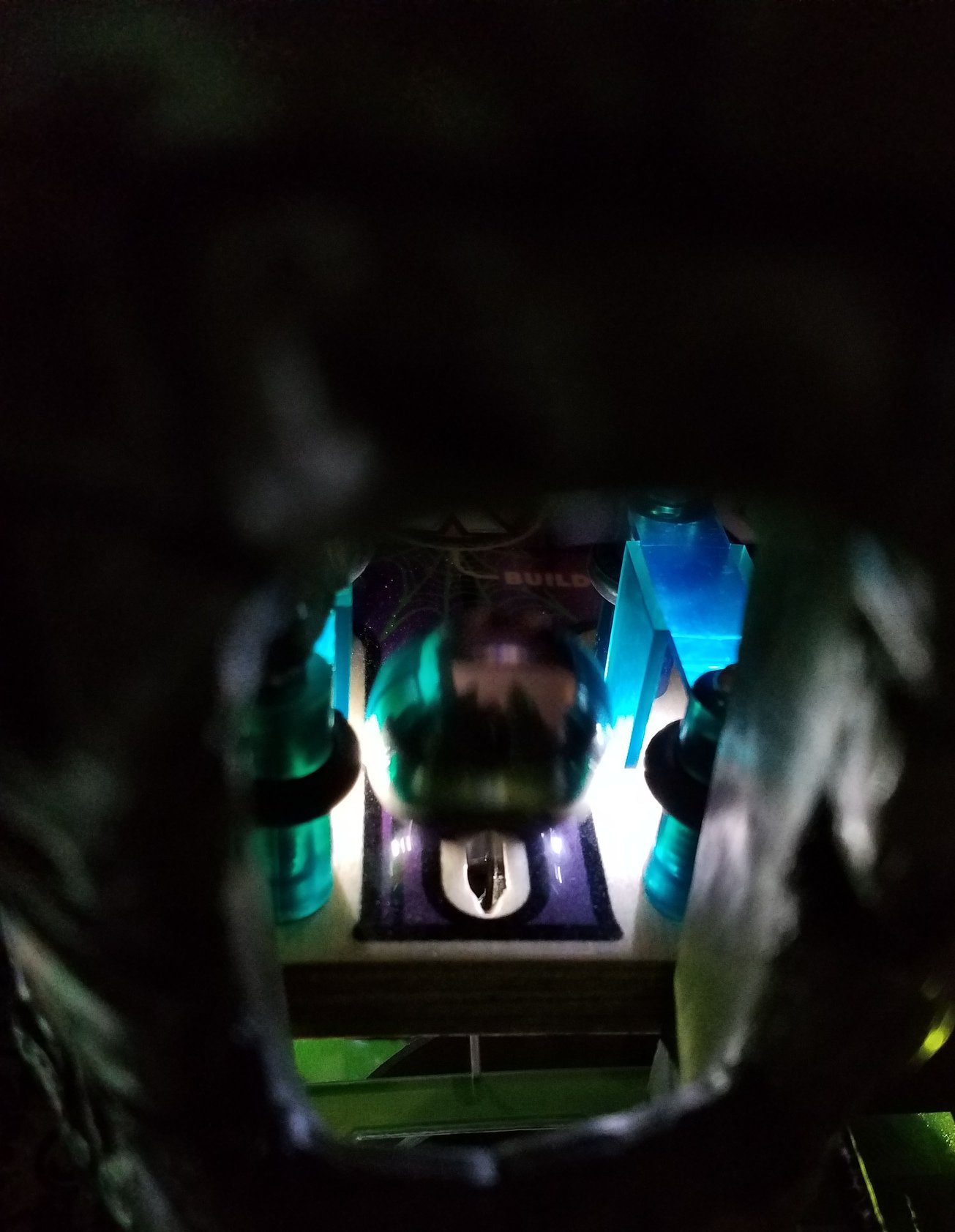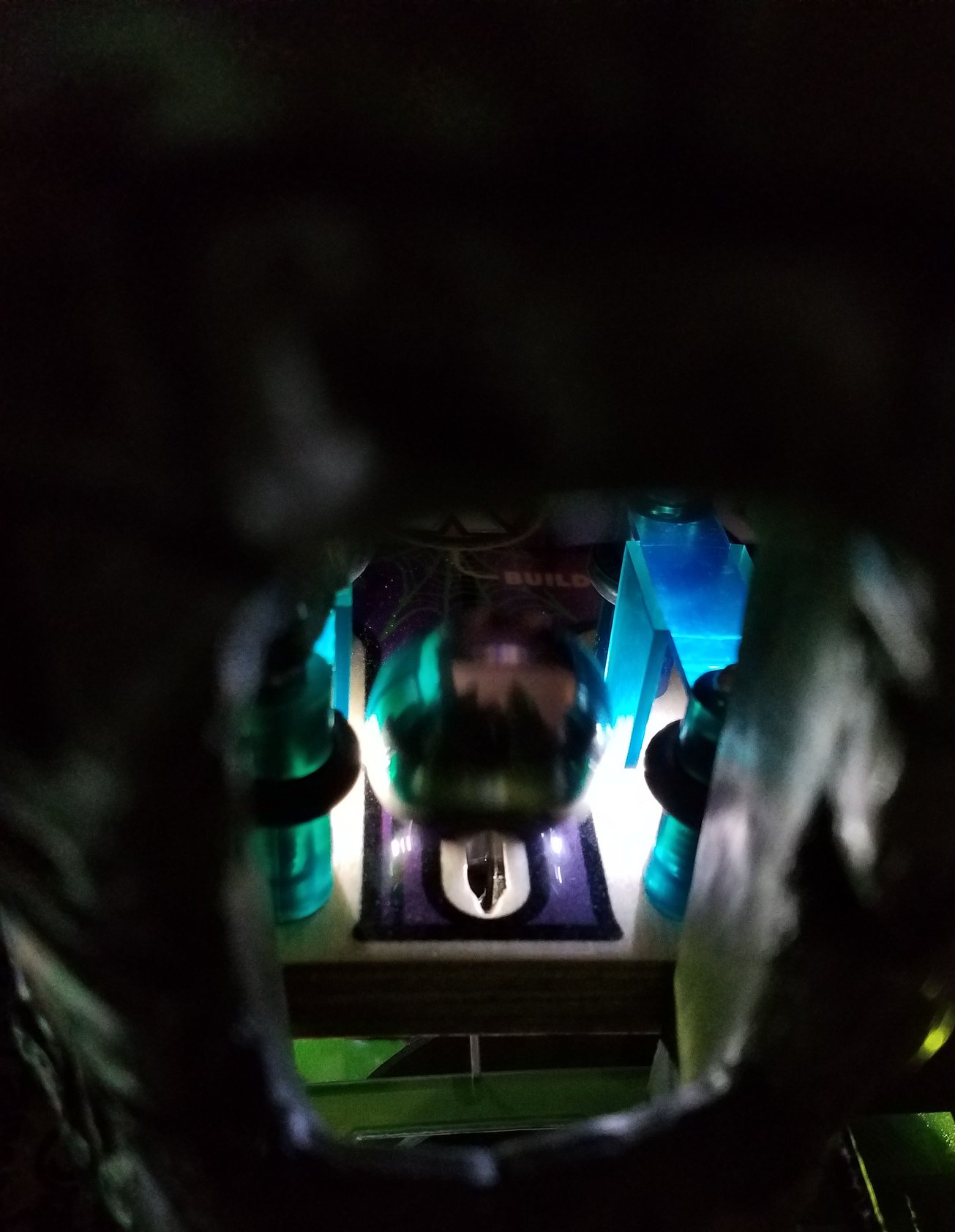 THEN, on Twitter they released this pic with the caption "Just a little peek at what's to come at the Texas Pinball Festival.":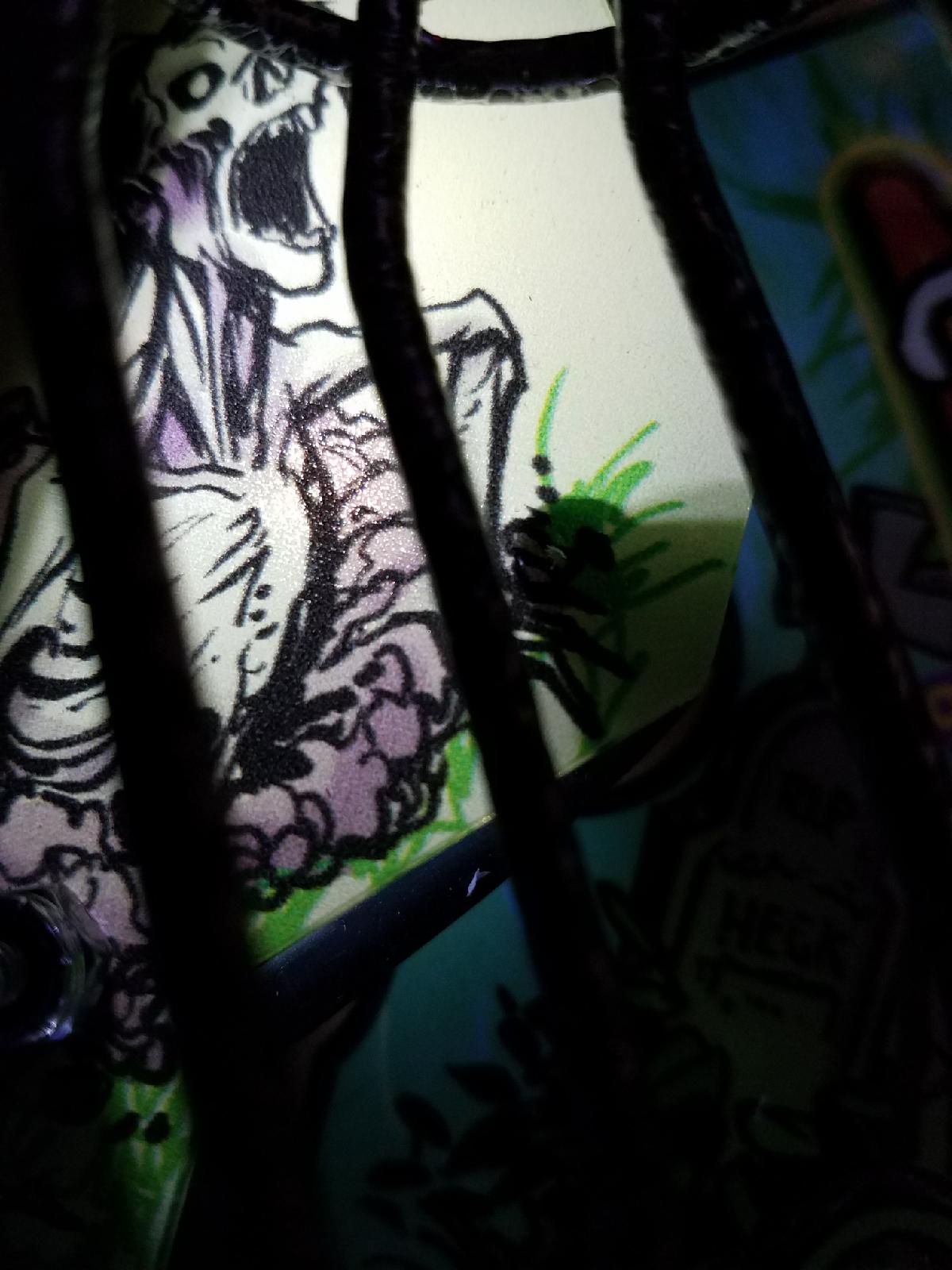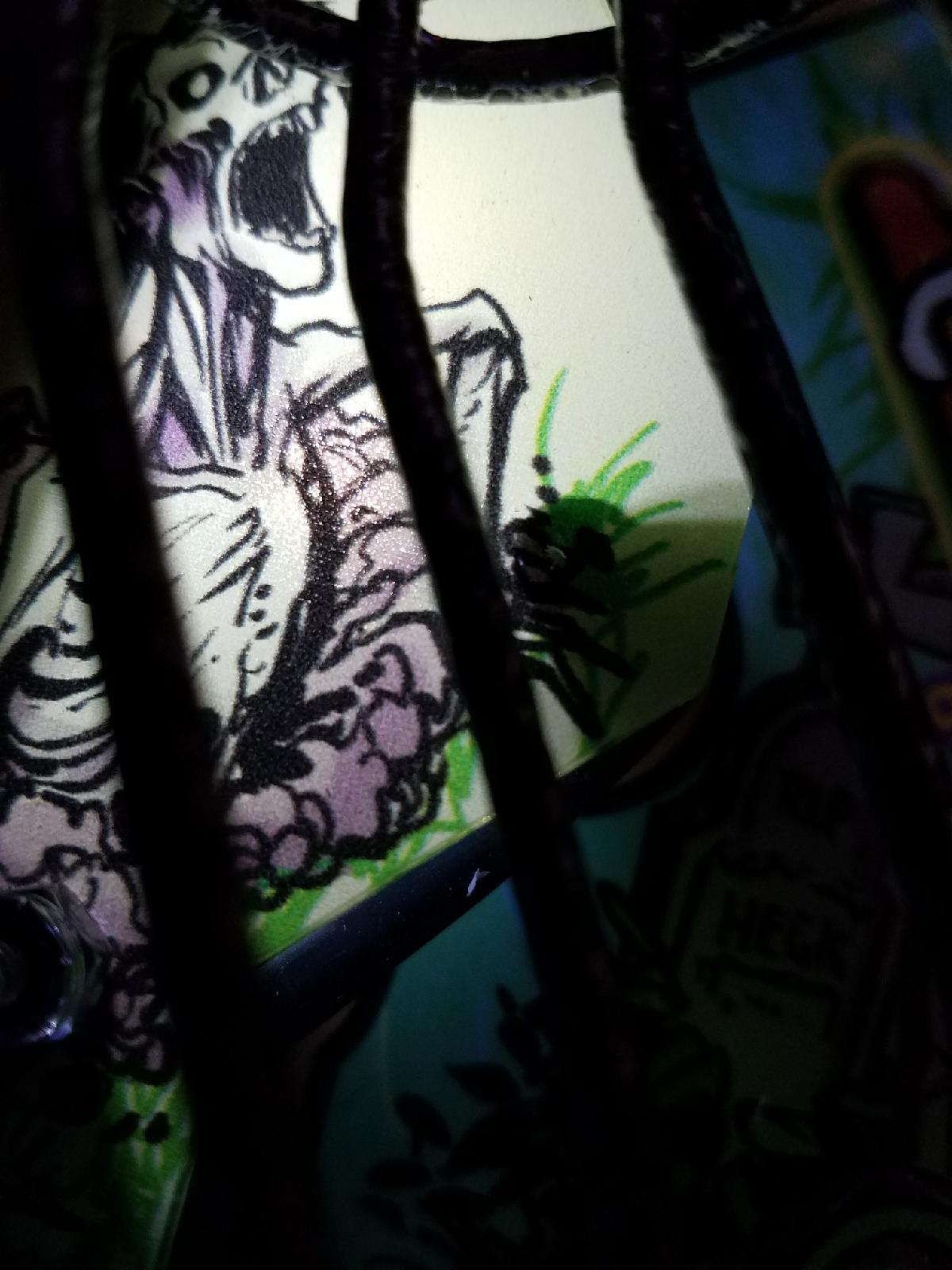 But WAIT a minute…let's try blowing out those images and see if they reveal anything else in the darker areas!
Here is the first one again, now blown out: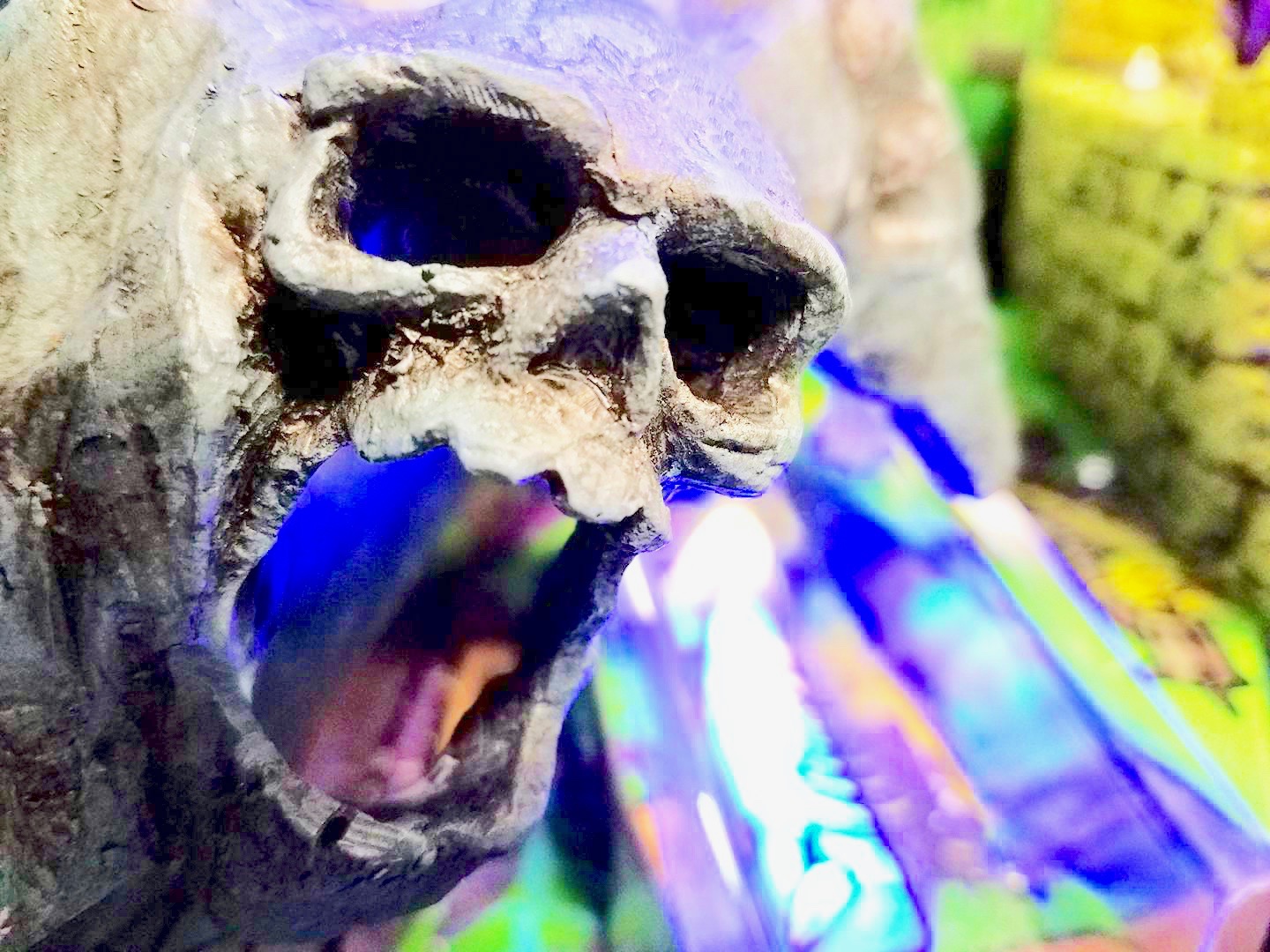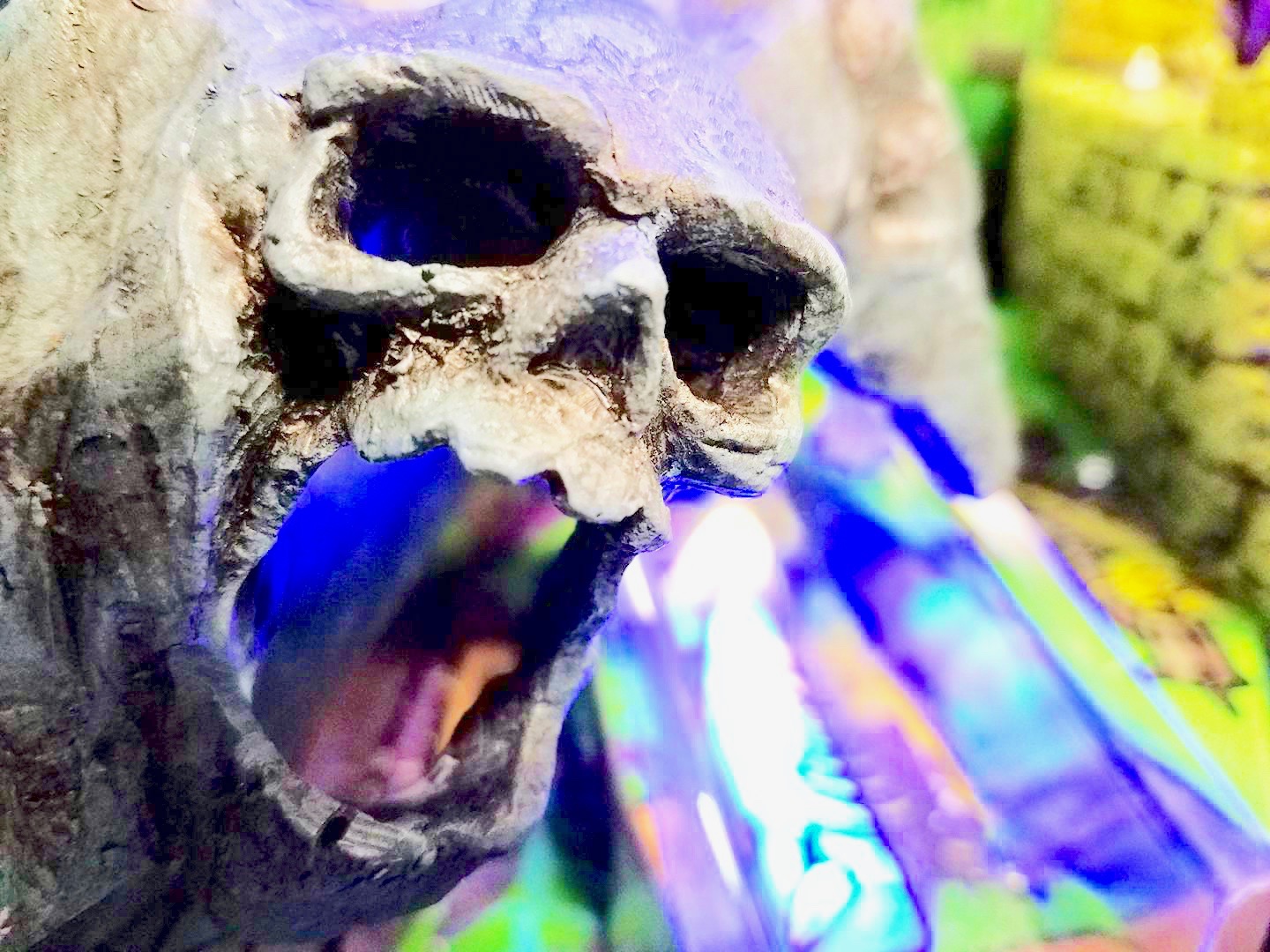 Ok, not much there that we see…but lets look at the second photo blown out: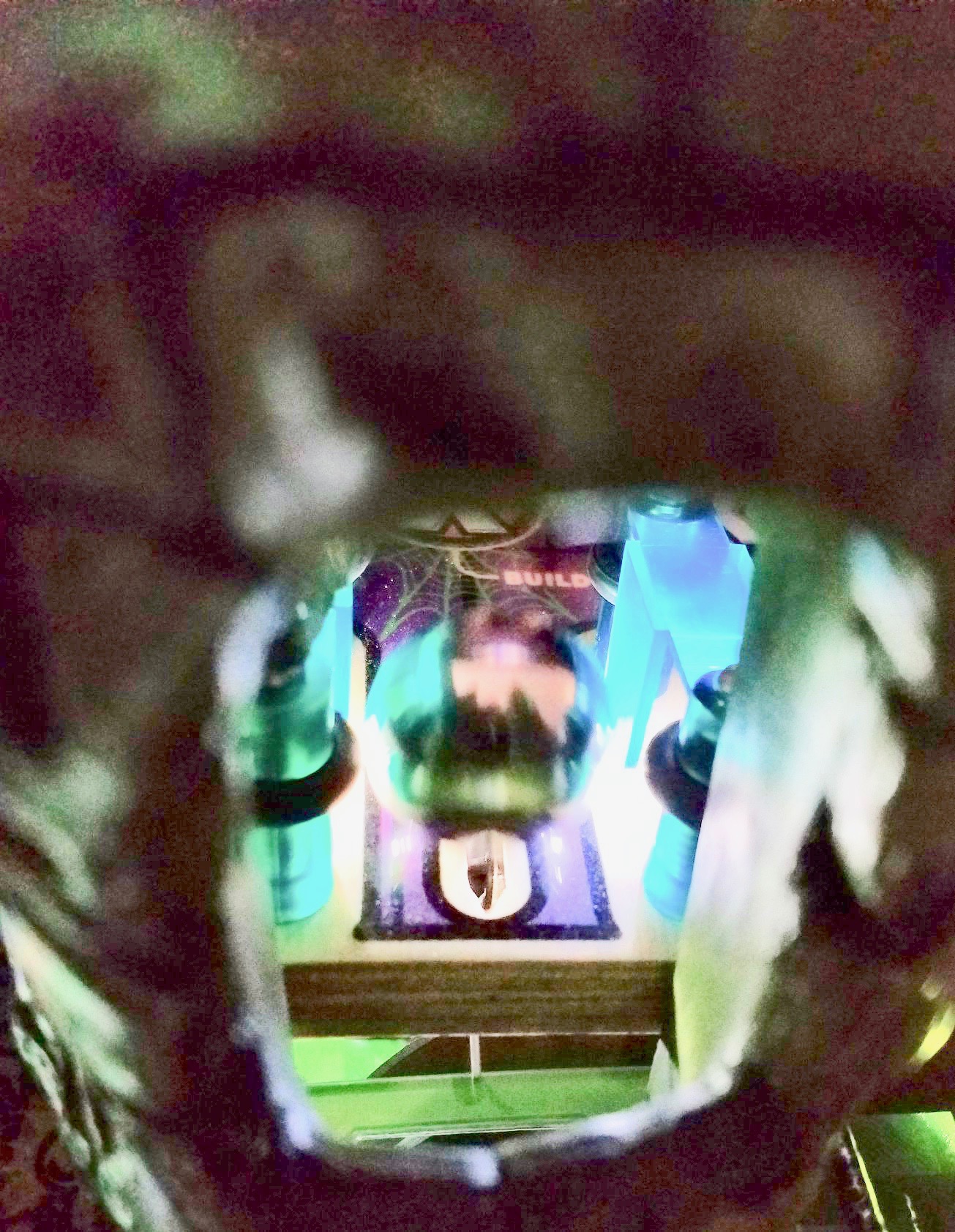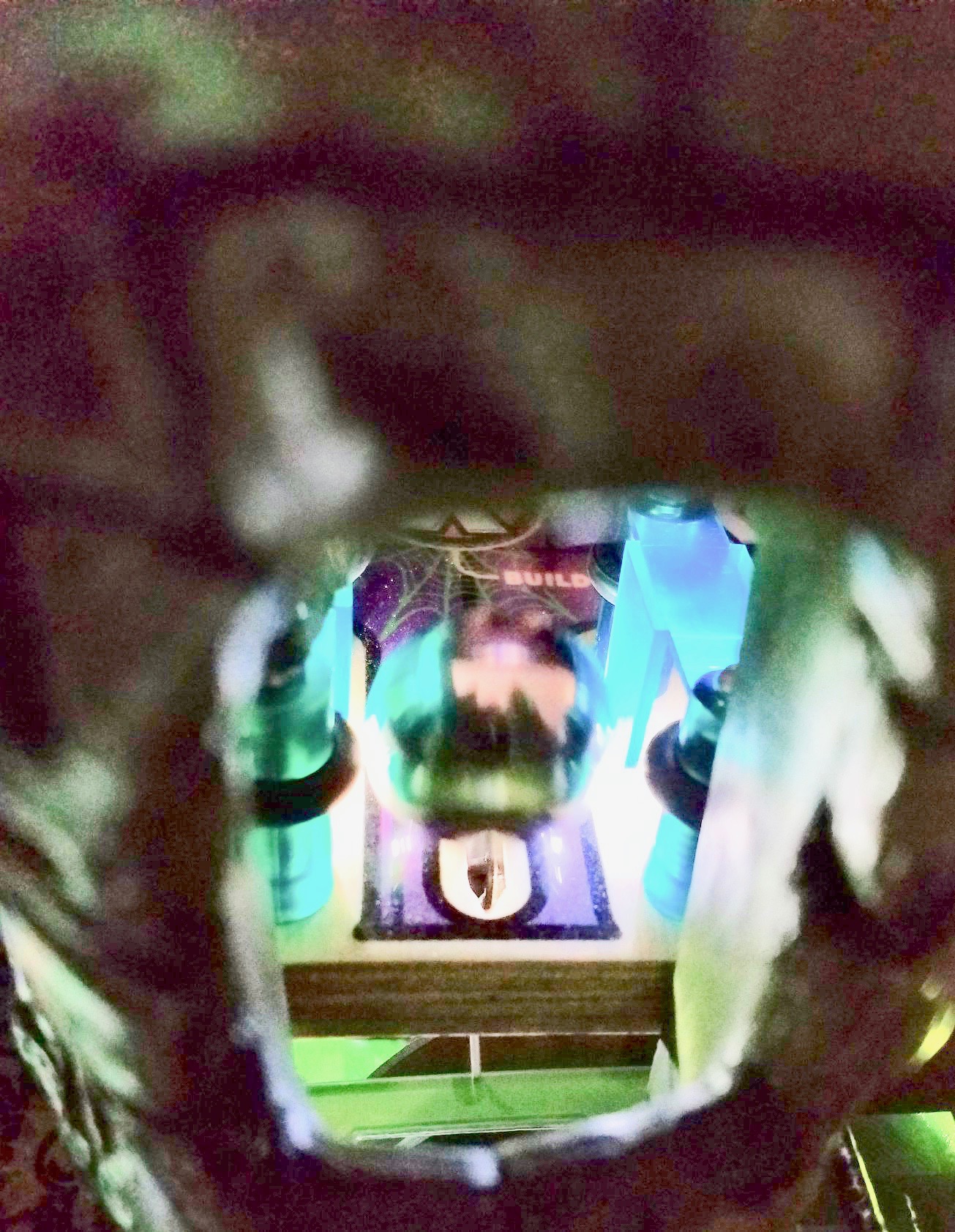 On this one you can clearly see a spiderweb, an insert (?) that appears to be an X (?), and the word "BUILD". Perhaps a multiplier? Most interesting is the angle of this photo, what are we looking at? (Send ideas to thisweekinpinball@gmail.com and we'll share them!)
On to the last photo: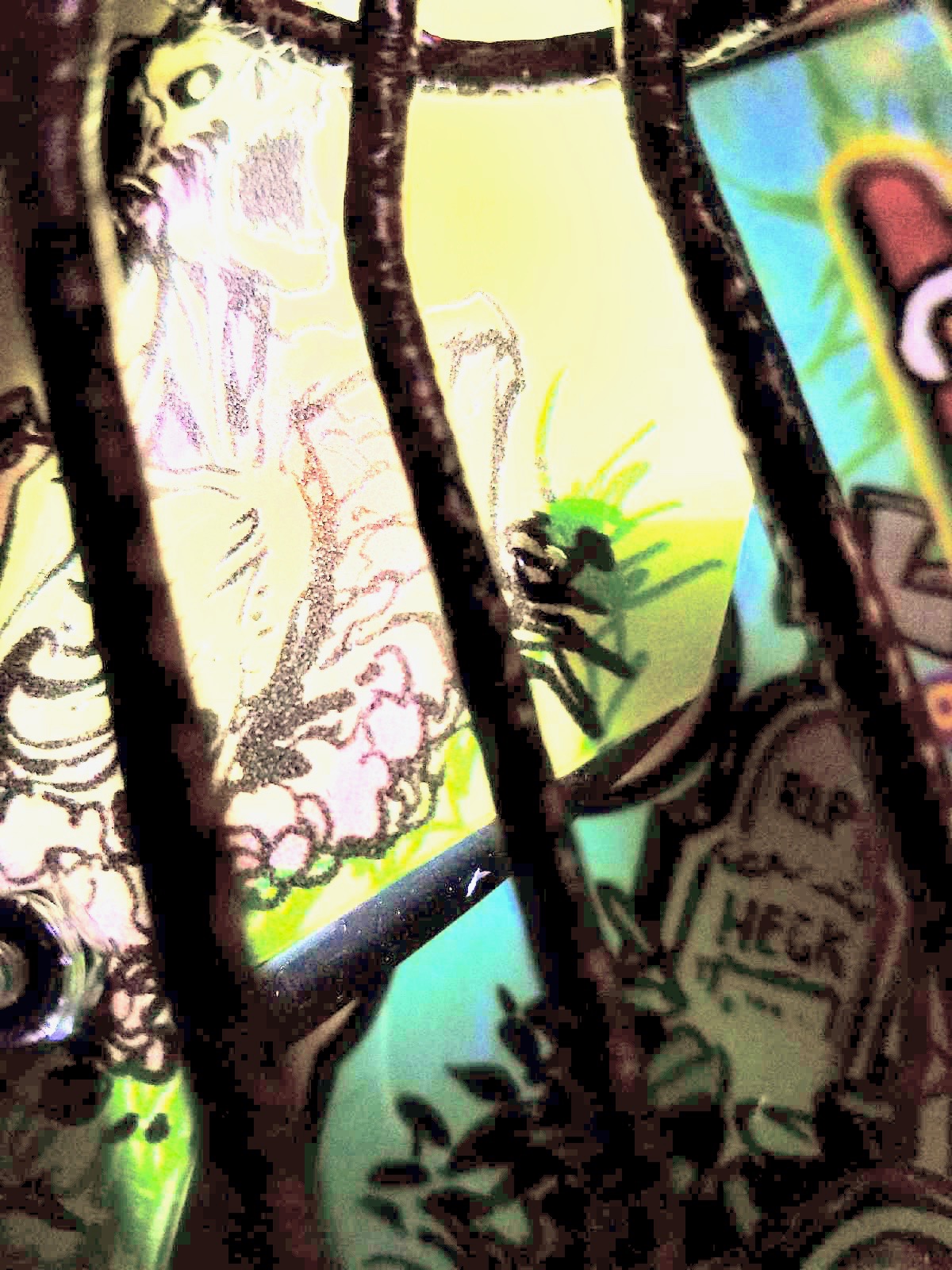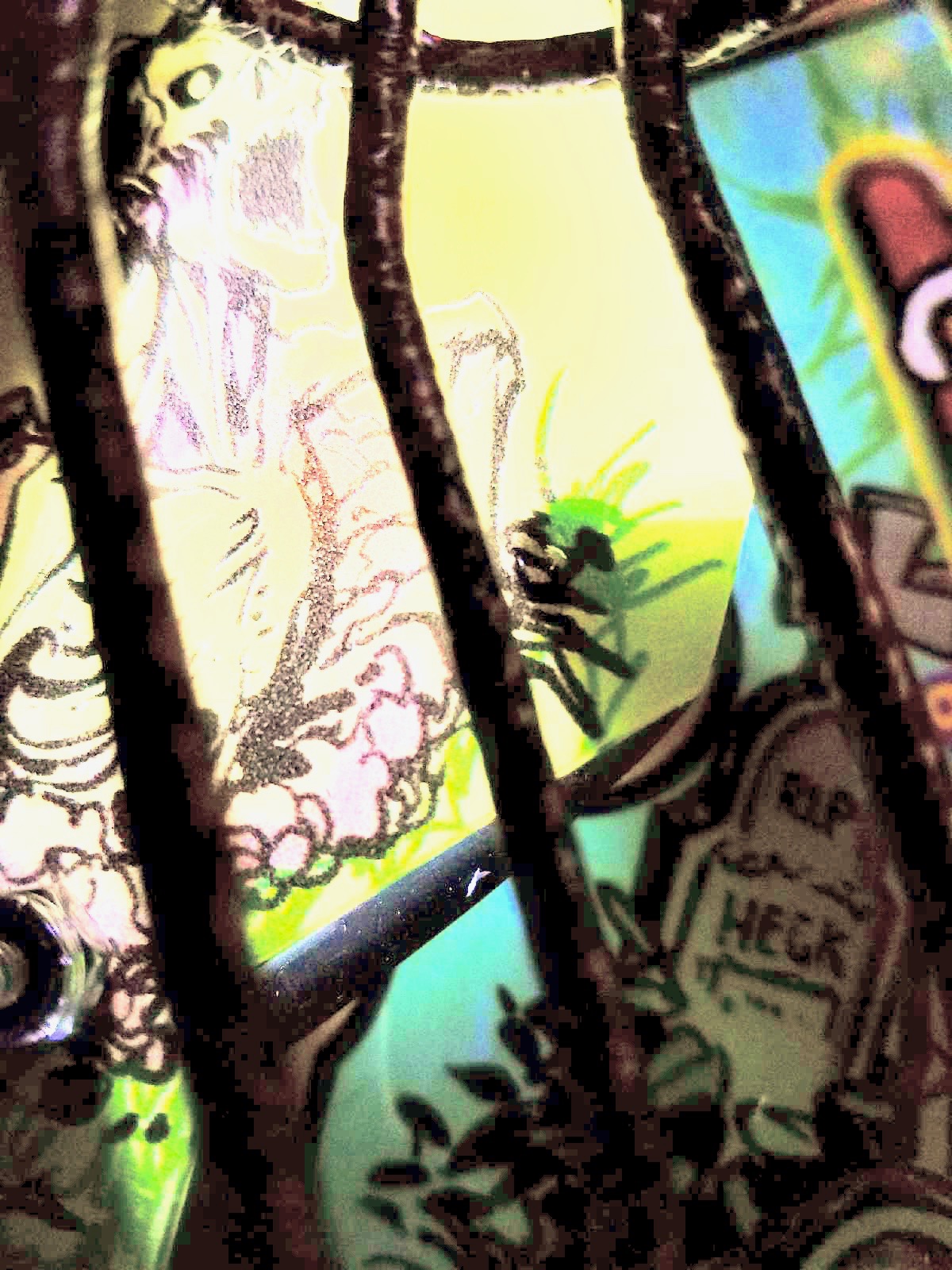 This one is very interesting. You can see a gravestone with RIP HECK written on it 🙂 You can also see what looks to be part of an insert on the upper right. The odd divide in this photo almost looks like it was doctored in some way? And again, what is our vantage point when looking at this photo? …Wait a minute, that looks like a wireform!!
Do you see something that we're missing? Please share any of your ideas on these photos, and we'll share them on next week's TWIP – send ideas to thisweekinpinball@gmail.com!
---
In addition to all the teasers above, we also got some teasers from the Spooky Pinball Podcast. We learned that David van Es is officially an employee of Spooky Pinball – he was hired as an animator for Alice Cooper's Nightmare Castle. Here is a very interesting exchange between Charlie, Bug, and David van Es:
Charlie: "So why are you here, what are we doing here this week?"
DVE: "This week I'm going to try to survive the cold…and we're going to start working, polishing up Alice Cooper, right?
Charlie: "Get all those video assets…"
DVE: "Yeah exactly…we're going to make that screen do what it needs to do, and tell the story it needs to tell of the adventure through the castle."
Bug: "It's gonna be pretty."
Charlie: "It is. And I've seen all the toys which I think will be here tomorrow (Tuesday the 2nd), and it looks pretty fantastic. I don't want to give too much away."
DVE: "Did I give too much away by saying castle?"
…discussing the castle
Bug: "Like Dracula but cooler."
Charlie: "Exactly. There is a castle, this isn't like Haunted House where you use your imagination and you're in the attic, you're in the basement, there is a castle with turrets and shots and things and stuff…"
…
DVE: "So we'll be working with the display, and honestly this is going to be the first time we going to see everything together, right? … We're heading towards TPF…"
Charlie: "Absolutely, yeah. The HD system has been bouncing all over the country essentially. It's been in the hands of three different people now, and it's in Benton for the first time."
DVE: "Have we said it was going to be an HD system?"
Charlie: "Yes…I threw all the pressure square on everybody." (laughs)
DVE: "We are taking the next step…lots of pressure, but I'm excited about it. It's gonna be the style…it's definitely going to be spooky."
Charlie: "To say the least…tons of Alice Cooper music in it…"
Bug: "Yeah…it is not a greatest hits collection, I'm still trying to get that across."
DVE: "I love Alice Cooper but that incidental music is just amazing. It's the perfect fit for your adventure through the castle of Alice Cooper. And don't trust him. That's all I'm gonna say, don't trust Alice!"
In case you forgot, this is the backglass for Alice Cooper's Nightmare Castle. Is it March yet??? TPF can't get here soon enough!
---
LIVE TWIPY Pinball Awards Show coming January 19th at 7:00 PM EST/6:00 PM CST!
We got some awesome new artwork from Christopher Franchi for the upcoming TWIPY Awards show – check it out!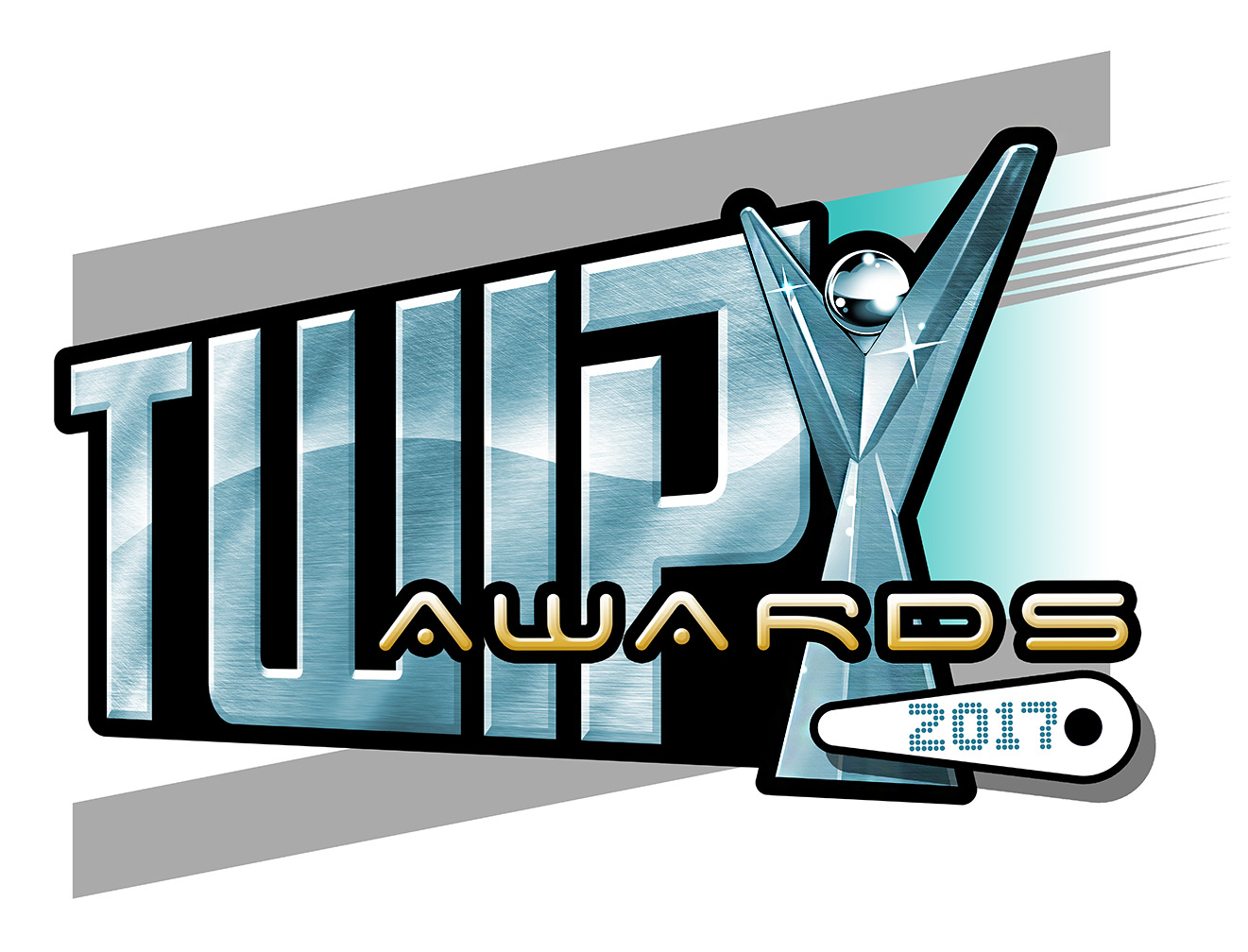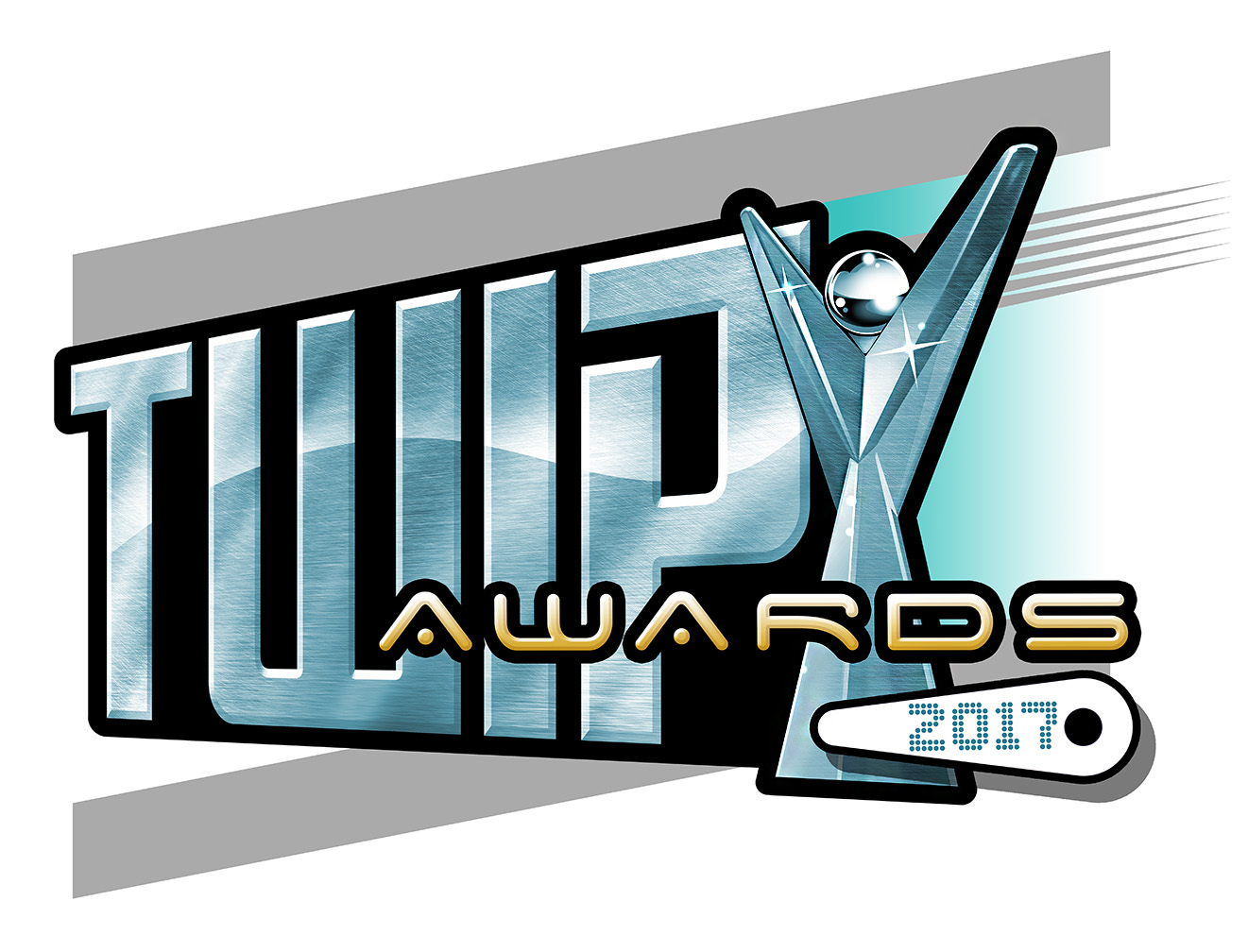 Tune into this Twitch Channel on Friday, January 19th at 7:00 PM EST/6:00 PM CST for the First Annual TWIPY Pinball Awards Show! Your hosts for the evening will be Zach and Greg from Straight Down the Middle: a pinball show (YouTube, Twitch, Facebook). They'll be LIVE on Twitch, where you can chat and heckle in real time during the show. To be alerted when the TWIPY show is live, follow SDTM on Twitch here.

---
Batman '66 – More Code with LOTS of New Video Clips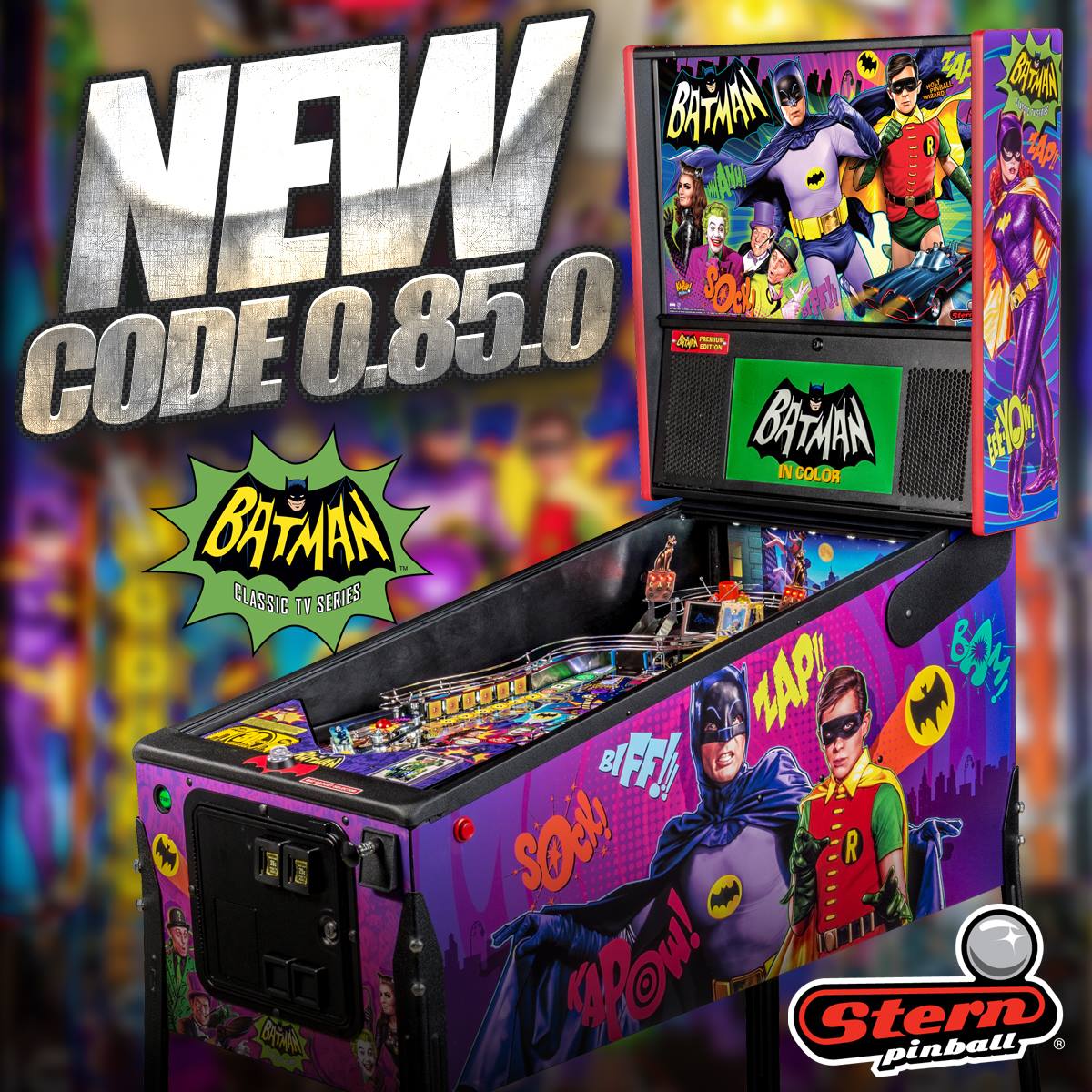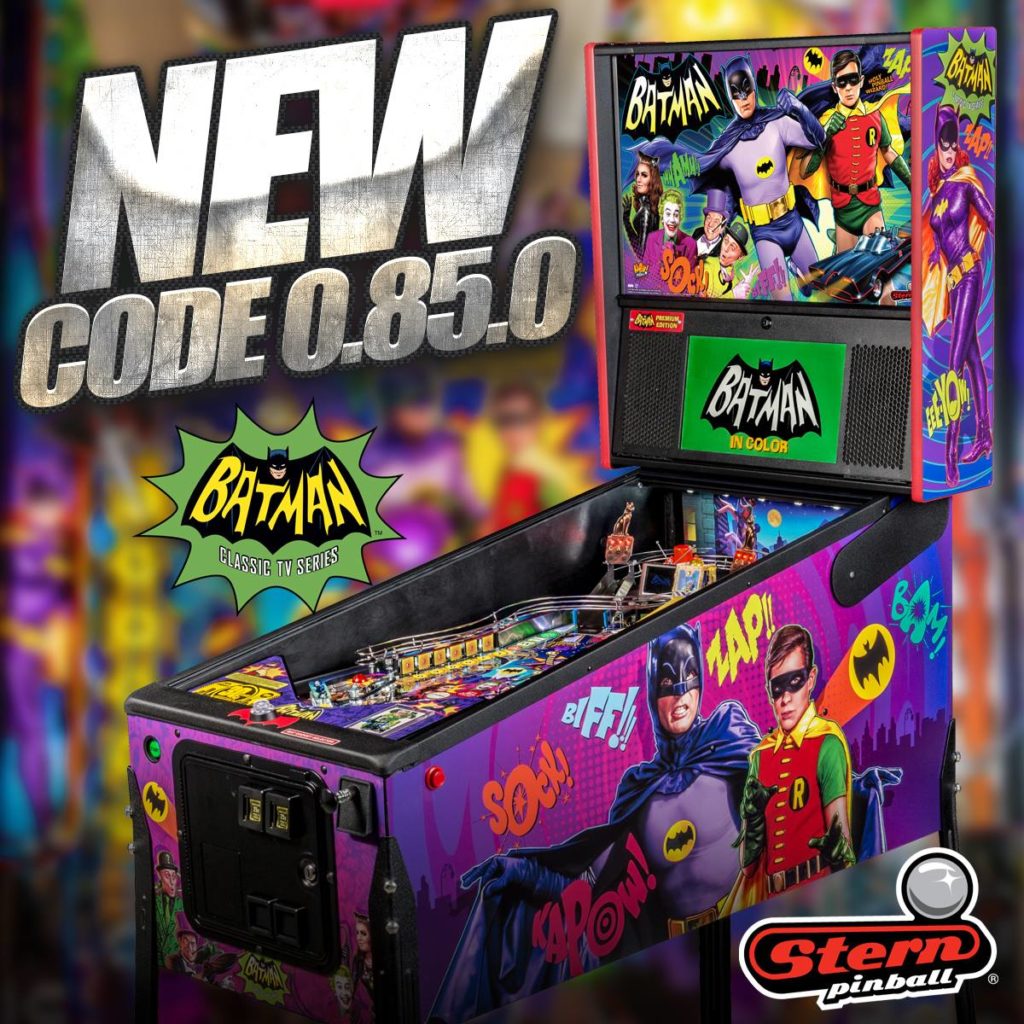 Batman '66 continues to come together with more and more code updates. Check out this post on Pinside which shares some more info about this code update, stating:
"I was interested to see why the unzipped files were 2.8 Gigabytes bigger than the last code update. The size increase was due a TON of new video clips. The 84 codes had 4,595 video clips. The 85 release has 6757 video clips, thats a huge 47% increase in clips! I . Guess thats the benecit of having 120 episodes worth of video assests to choose from. The GOTG programmer must be envious.
I also noticed that there are multiple specific episode titles for all the major and minor villains. Could Lyman be planning on having multiple modes for the major or minor villains with different objectives based on the different episodes? For example selecting Shame in season 2 has a different objective than Shame in season 3?"
For the full details of this code release, please click here!
---
Total Nuclear Annihilation Updates
Last week, Scott Danesi (creator of Total Nuclear Annihilation) posted an update on Pinside: "Just added a new feature. If you destroy a reactor, it will award you 1 single point along with your reactor destroyed value. This way we will be able to track by looking at people's scores how many reactors they destroyed during their games." Simple yet genius way to be able to quickly identify your progress in the game: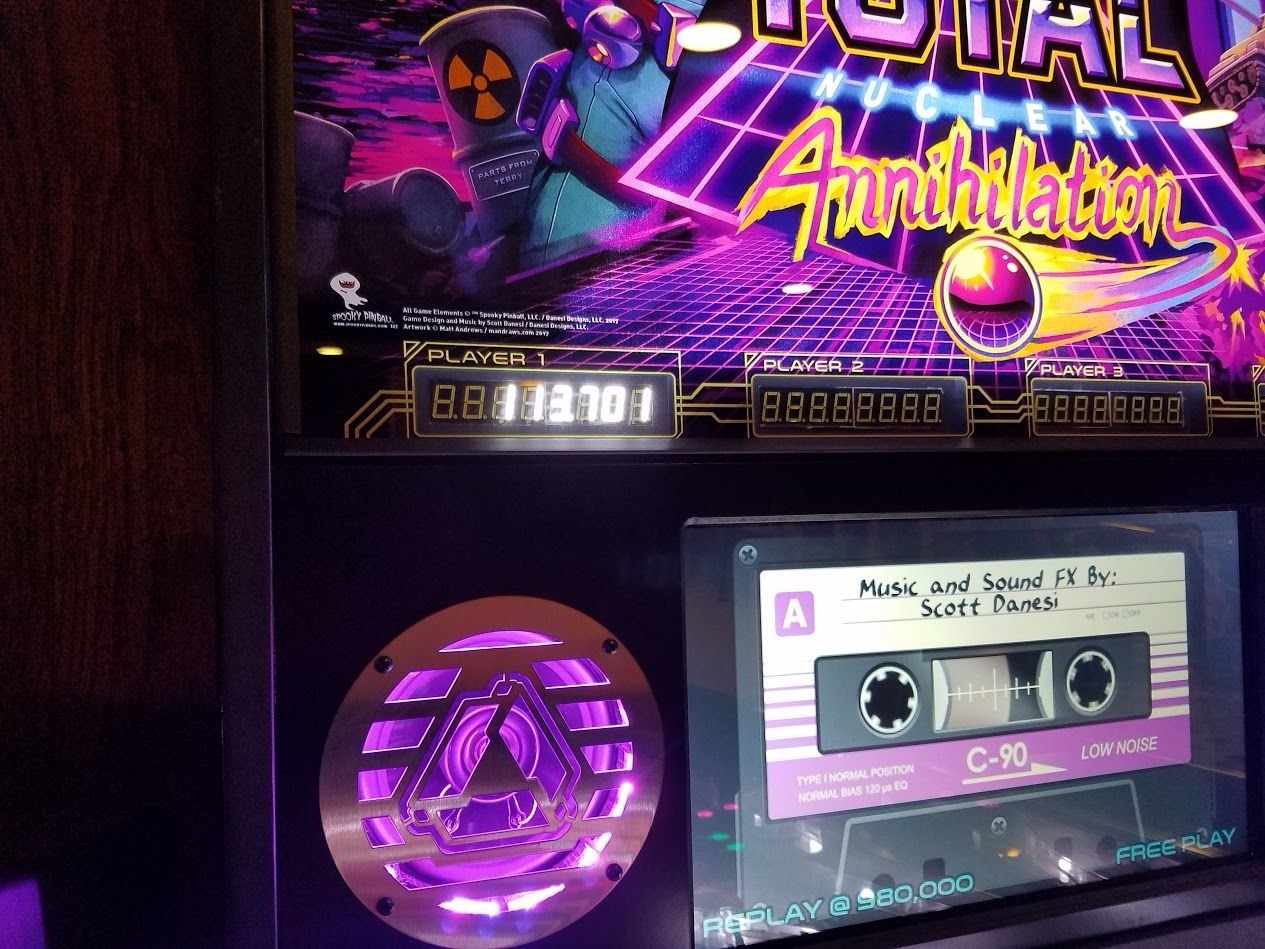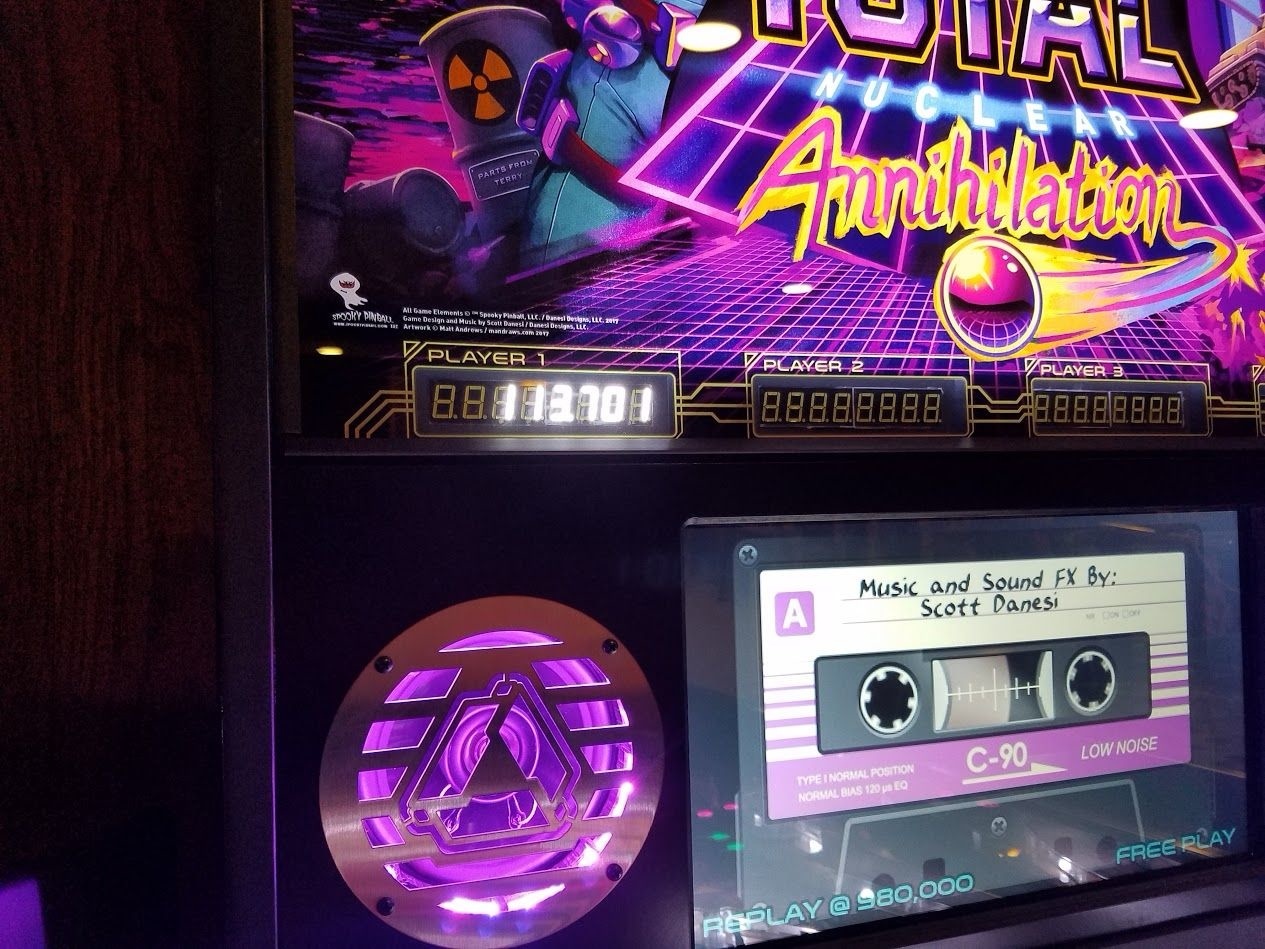 More TnA info this week – the music from Total Nuclear Annihilation is now available on cassette. The cassette is available for sale at Pinball Life for $15 – click here to buy! It will also be released digitally in early 2018 on iTunes, Spotify, Google music, etc.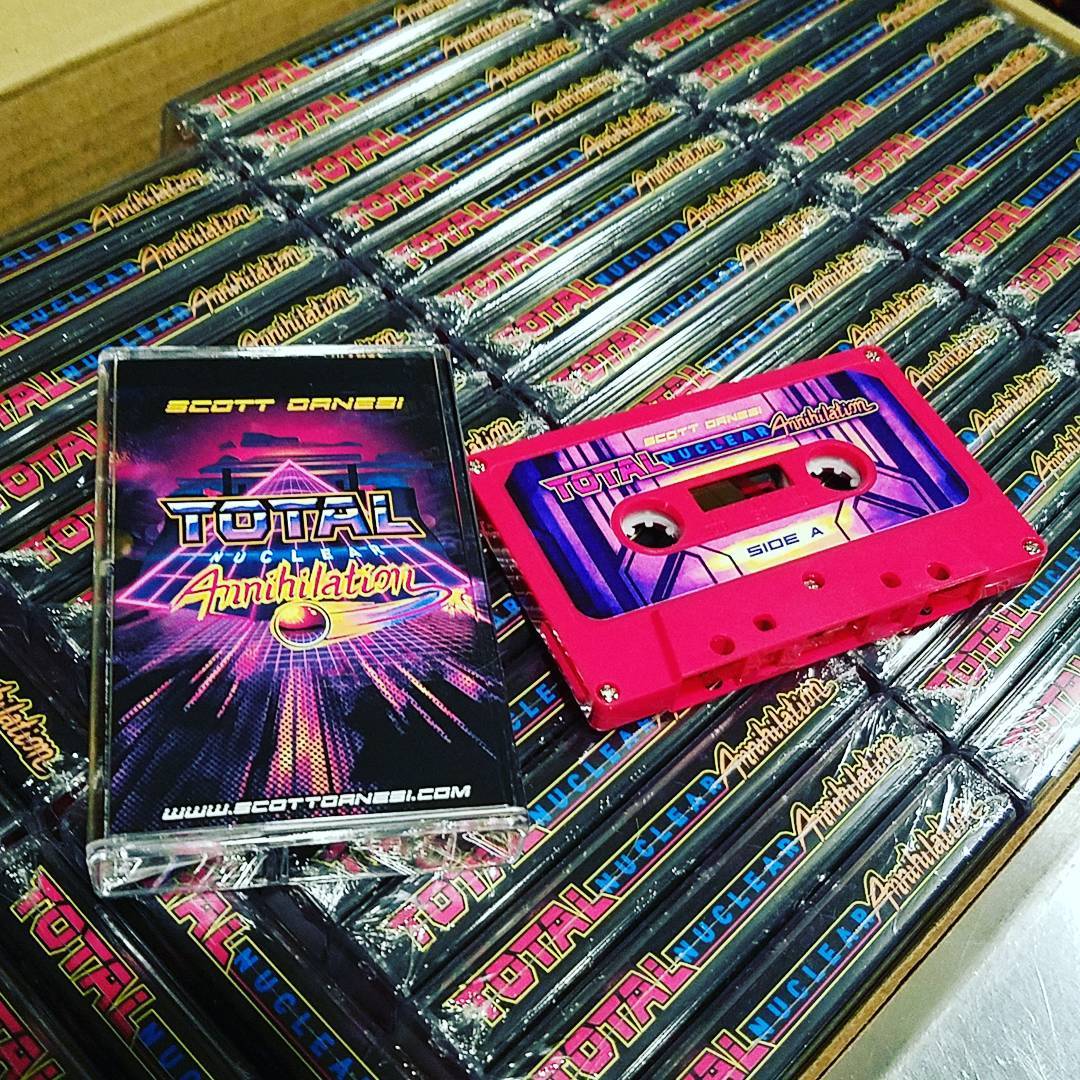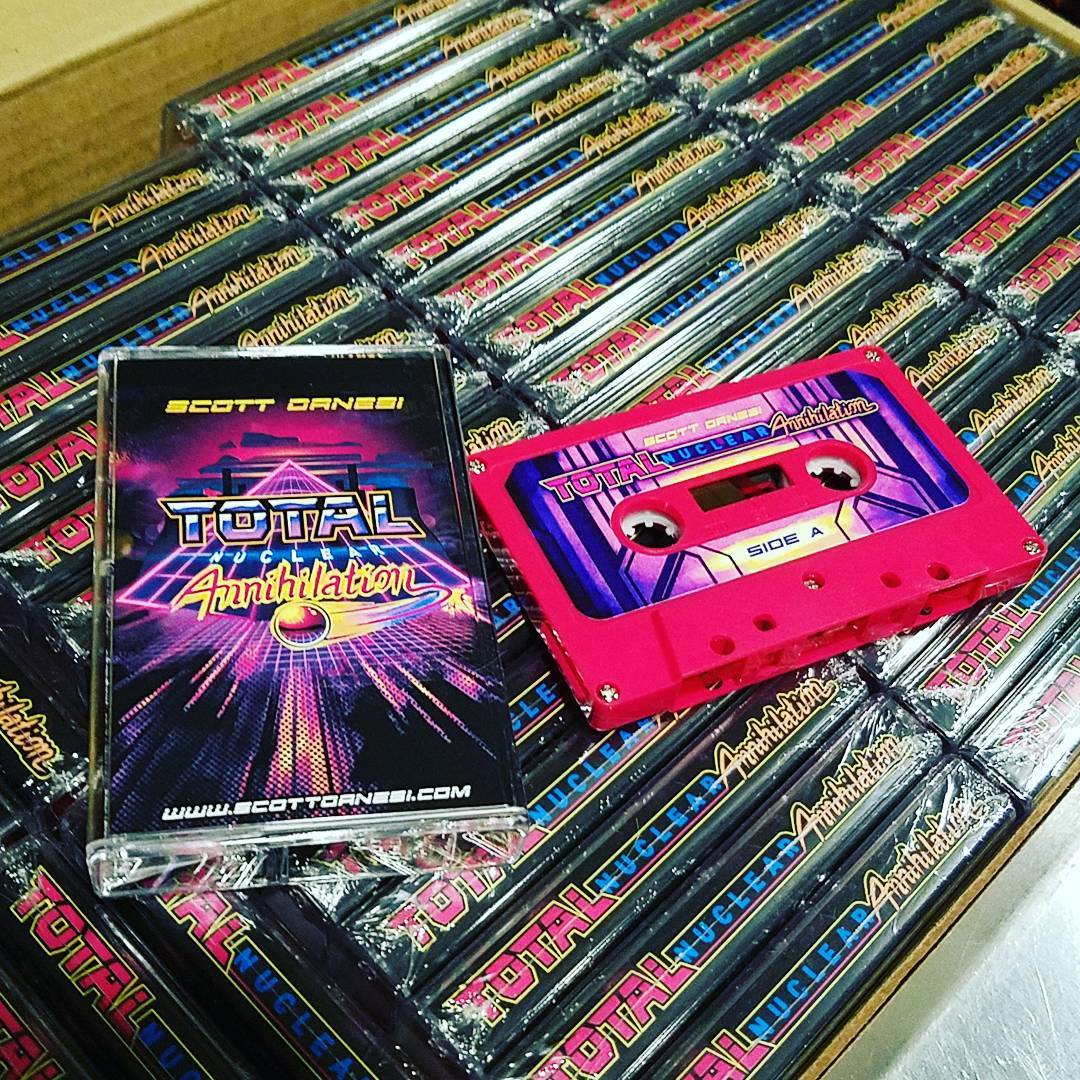 Total Nuclear Annihilation shirts are also now available from Pinball Life – click here for men's t-shirt ($15) and click here for women's tank top ($20).
Finally, the Head2Head Pinball Podcast interviewed Scott Danesi on their podcast that will be released today (Monday). In a post on Pinside, Head2Head shared that "we talked about his journey with TNA, his music, and the upcoming update and the possibility of future pins." Visit the Head2Head Pinball website here to listen, or check it out on your favorite podcast player.
---
Giveaway WINNERS!
So many great giveaways!
First, the winner was drawn for the FREE set of Pin Stadium Lights (the loaded set with the GI/UV + Glow – a $260 value!), and it is…drum roll…
JOHN GEORGE from Murphy, Texas!!! Congrats and enjoy the free set of Pin Stadium lights!
Huge thanks to Scott at Pin Stadium for his generosity of this fantastic product.
---
Second, a name was drawn for the December winner of the This Week in Pinball giveaway of a box of Marco Specialties swag…drum roll…
WILL OETTING!!
Will joins these past winners:
November winner (Comet Pinball gift card): Craig Kroll
October winner (Titan Pinball gift card): J.M. Ratkos
September winner (Mezel Mods gift card): Steve Flake
August winner (Pinball Life gift card): Todd Baumeister
July winner (Pinball Life gift card): Dylan Bristowe
(Wonder how the drawing is done? Click here.)
---
Third, we're doing our BIGGEST giveaway yet during January and February – win a Free Ultimate LED kit (up to a $300 value) – check them out here! To enter, you just need to answer correctly on our weekly Name the Game, which will happen every Wednesday. Multiple correct answers means multiple entries. (Here is last week's Name the Game, you can answer until Wednesday of this week when the new one posts.) Good luck!!
---
Big Bang Bar – At a New Location
The rare and expensive Big Bang Bar pinball machine was previously on location at only FIVE places in the world. And only THREE of those locations are open regularly. Last week, a Big Bang Bar was added to the amazing lineup at Main Street Amusements in Lafayette, Indiana: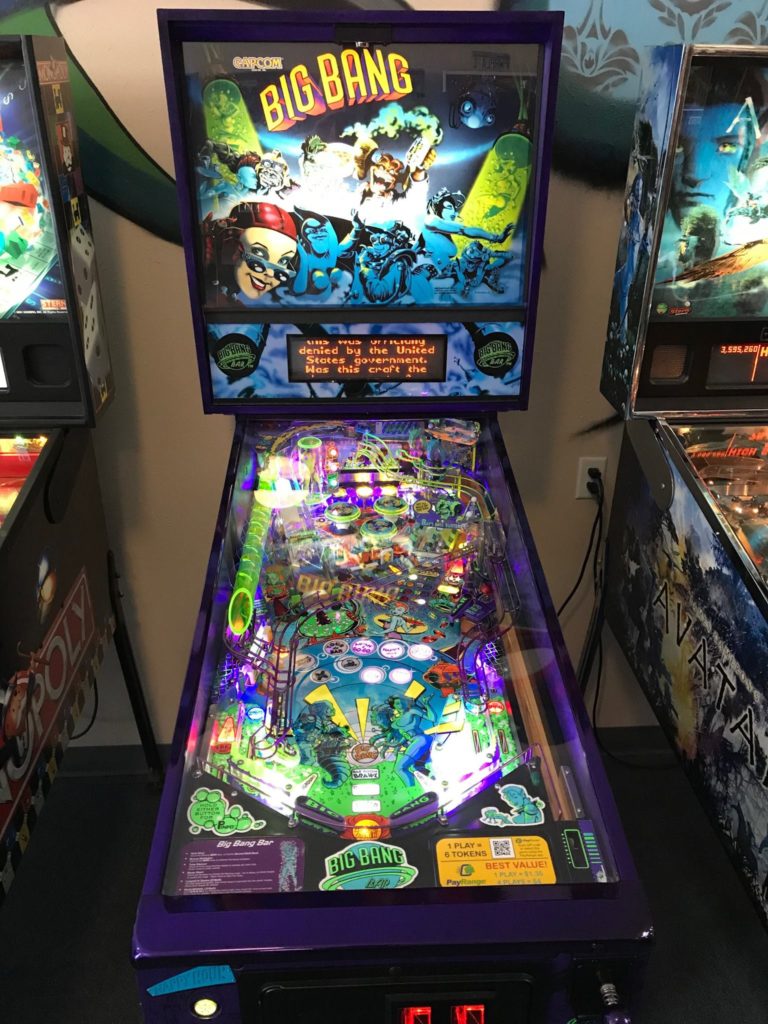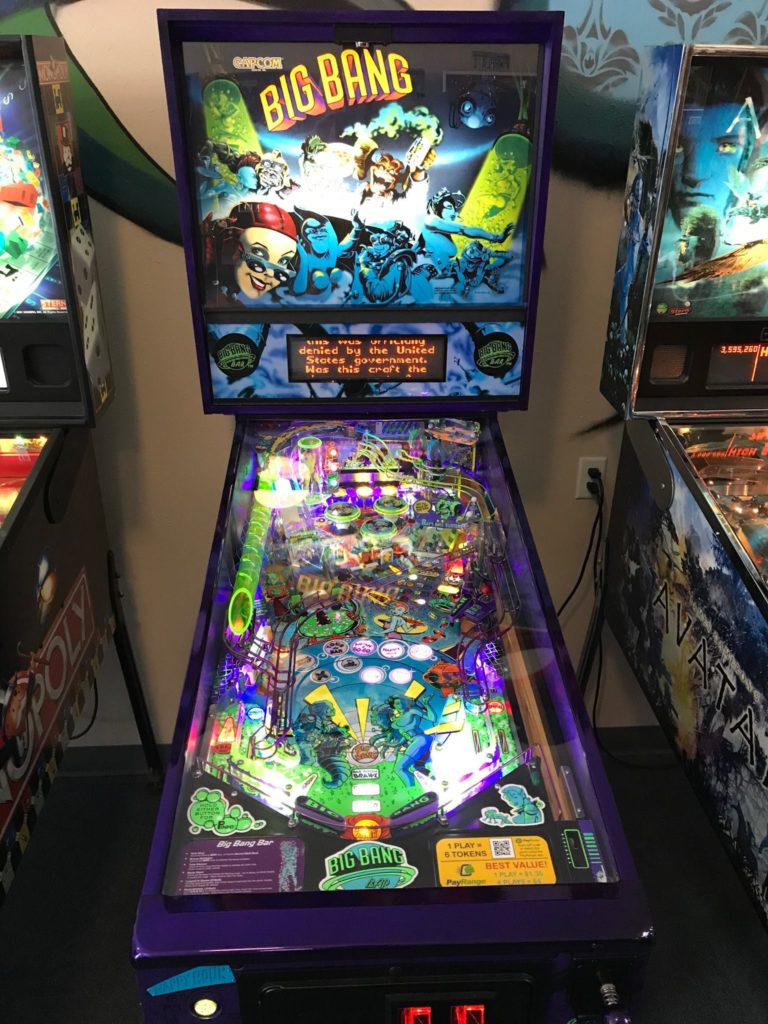 Check out the Main Street Amusements website here, and check out their Facebook page here. Big Bang Bar can now be played at the following locations:
Don't know the full story of Big Bang Bar? Check out this article which does a great job explaining the crazy history of this pin: When Pigs Flew: The Strange History of Capcom's Big Bang Bar.
---
It Never Drains in Southern California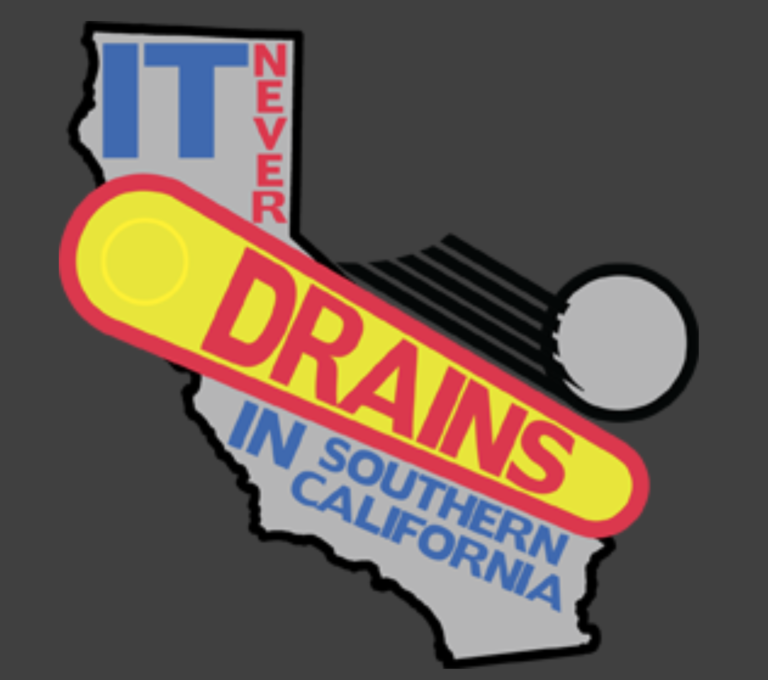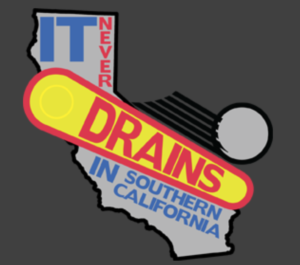 INDISC (It Never Drains in Southern California) is happening next weekend – January 12th-14th! It is the first Stern Pro Circuit (SPC) event in 2018 and takes place at the Museum of Pinball in Banning, California. Click here for the tournament schedule, here for the rules, and here for more info on the tournament and to buy tickets. You can follow the results at this link.
---
Thunderbirds Update from Homepin


Homepin gave the following update regarding their upcoming Thunderbirds pinball machine on their Facebook page:
"We are almost finished the build of two final sample machines. These are flushing out a few small issues that we need to tweak before we make a full production run. Some small changes to mechanisms to improve the operation and proving the final version of all the boards used.
We are also making the final assembly jigs – things like the wiring harness frame – there is a lot of work doing this and it's very time consuming to get it right."
---
Pinball Profile – 100th Episode with Roger Sharpe

Congrats to the Pinball Profile, as they just released their 100th episode! And it wasn't just any episode, it was an interview with the legendary Roger Sharpe! Click here to listen. You can listen to the Pinball Profile on iTunes, Stitcher and Google Play. Also check them out on Facebook, Twitter, and Podcast Garden. Congrats Jeff and we look forward to your continued great work!
---
Custom Black and White Twilight Zone Pinball Machine
Great American Pinball (website, Facebook, Twitter) shared an update on their custom black and white Twilight Zone pinball machine – check out the update here and check out a few pics below: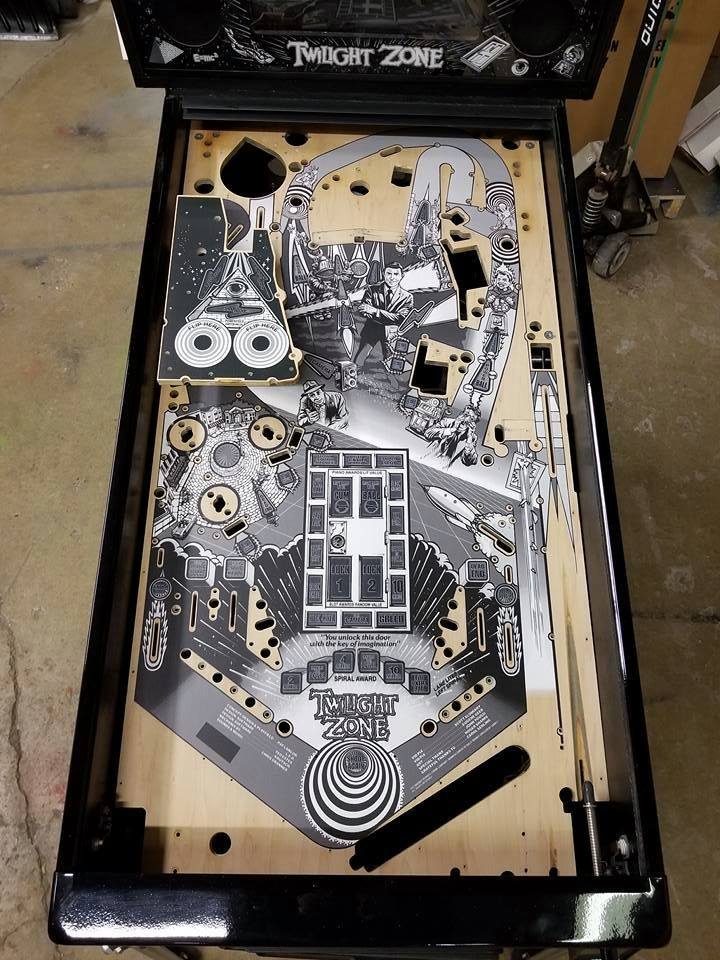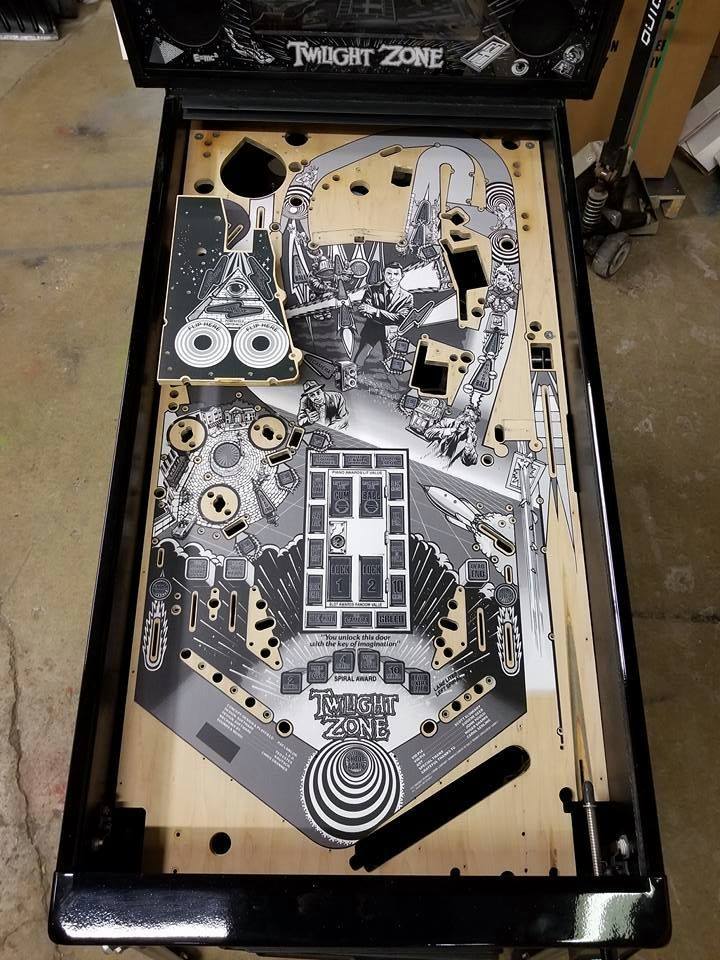 ---
Total Recall Pinball Machine – Playfield Art Seen for the First Time
Total Recall is a prototype machine by Data East. Only one prototype was produced, and it is one of the most bizarre pinball ideas ever seen. Take a look at the shape of the machine here – how would you even move it?? Last week, Planetary Pinball (website, Facebook, Twitter) released this blog post, which was full of cool nuggets of pinball history – most notably the never before seen playfield artwork for Total Recall – check it out below!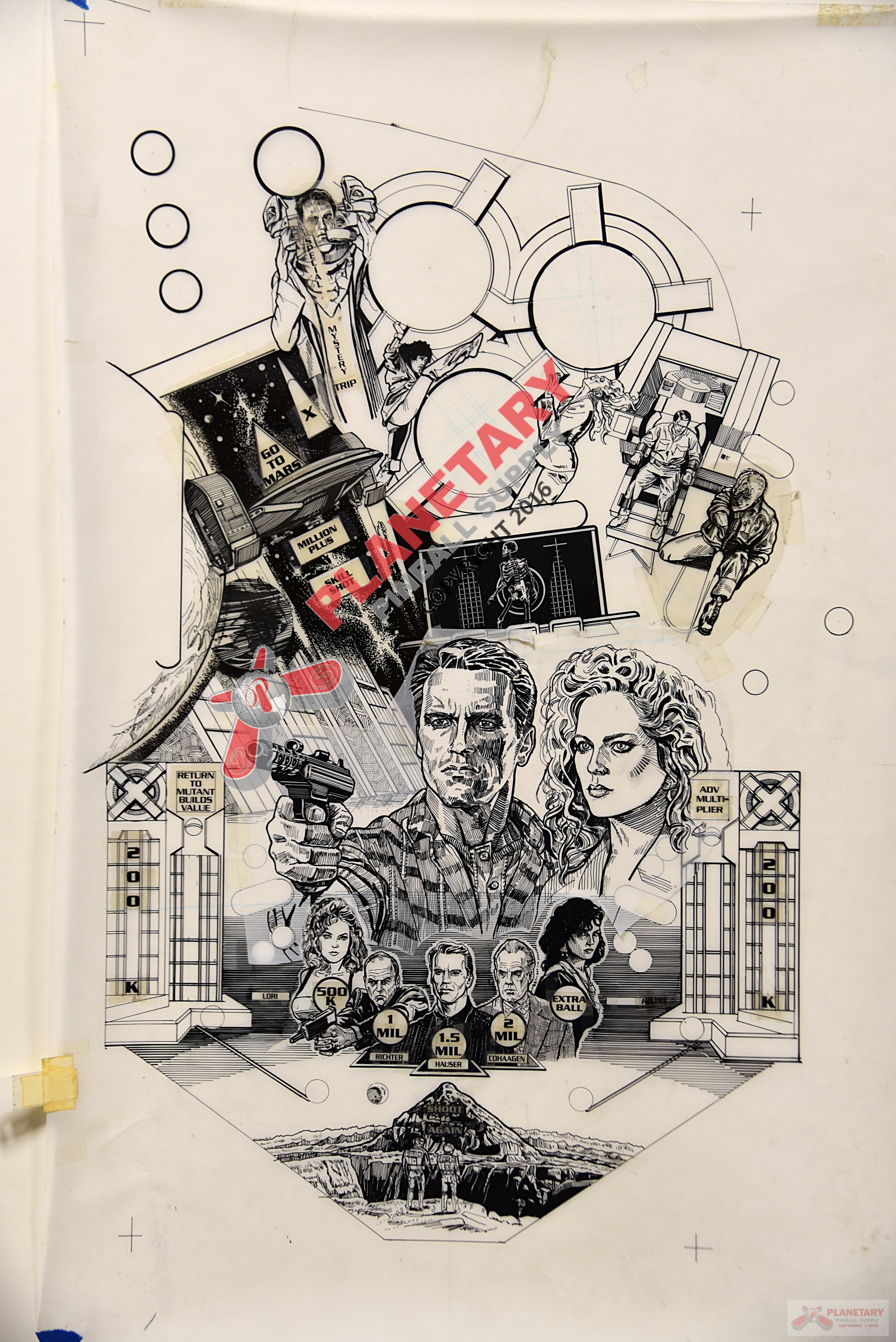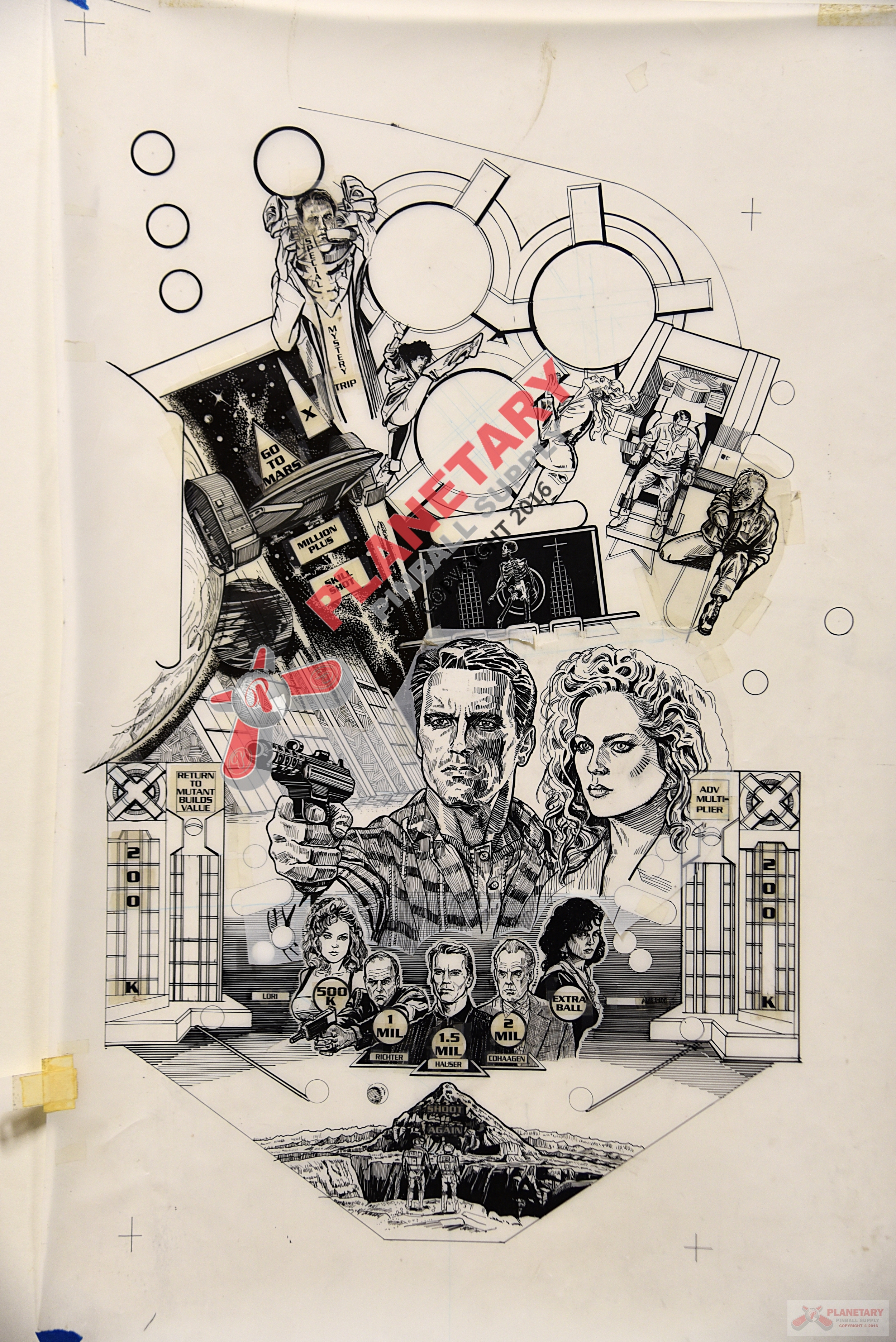 ---
Victory Laps – End of Post Bonus
Nate Shivers with the Coast 2 Coast Pinball Podcast is BACK! Listen here!
Have you heard of the TV Show Law & Order? How about the character Alexandra Cabot? Well the person that plays Alexandrea Cabot is Stephanie March, and she stopped by Modern Pinball New York City to play some pinball – check out the pic here!
Check out this incredibly in-depth article from Pinball News regarding Multimorphic's P3 Pinball Platform!
Stern Service Bulletin #191 – Metal Bracket Protector for Guardians of the Galaxy – check out all the details here.
Cool video about pinball machine The Big Hurt, featuring Frank Thomas – check it out!
Stern of the Union coming tomorrow!
Remember Silver Castle, the company making a prototype of the Timeshock! pinball machine? No major updates, but the project is not dead, they are still working on it!
Welcome back to the Slam Tilt Podcast! (Podcast Garden, Facebook, Twitch, YouTube)
---
MATCH! – Next Game…What is Coming Up on This Week in Pinball
A brand new series will be coming soon called "Around the Playfield with…". HUGE THANKS TO SHAWN FRADIN FOR SHARING THIS IDEA!!

This series will be a mini-interview with the same questions for every person:

The Start Button: How did you first get into pinball?

The Plunge: What was the first pinball machine you bought?

The Skill Shot: What is your best pinball achievement or favorite pinball moment?

Good Shots, Bad Bounces: What is your favorite and least favorite pinball machine?

The Wizard Mode: What is your dream theme you'd like to see made into a pinball machine?

The Tilt: What is the dumbest mistake you've made in pinball (mishap moving a machine, messing up trying to fix a machine, etc.)?

The High Score: Describe the pinball hobby in one word.

Match – Next Game: Where do you see the pinball hobby in 5-10 years?

…and we've got a GREAT first person to do it – we won't give it away but it kind of rhymes with Larry Burn.

Get alerts for new posts from This Week in Pinball – follow us on Facebook, Twitter, or sign up by email:
Have a scoop or anonymous rumor for next week? Email us at thisweekinpinball@gmail.com
---
Upcoming Games and Rumors
Stern Pinball
Most Recent Titles
Aerosmith
AC/DC Vault Edition
Star Wars
Guardians of the Galaxy
Announced/Confirmed
Rumors of Future Titles
Deadpool?
_______ VE?
The Munsters?
Iron Maiden?
The Beatles? <<-NEW!
Jurassic World?
Pulp Fiction?
New Ka-Pow Title?
Steve Ritchie Unlicensed?
Keith Elwin Game?

Spooky Pinball
Most Recent Titles
Rob Zombie's Spookshow International
Dominos (*contract game)
Jetsons (*contract game)
Total Nuclear Annihilation (*contract/house game)
Announced/Confirmed
Alice Cooper's Nightmare Castle
Ben Heck's game

American Pinball
Most Recent Titles

Dutch Pinball
Most Recent Titles
Bride of Pinbot 2.0
Bride of Pinbot 3.0 (on hold)
The Big Lebowski (production issues)

Circus Maximus
The Pinball Circus Remake
Kingpin?

Silver Castle Pinball
Jersey Jack Pinball
Most Recent Titles
Wizard of Oz
The Hobbit
Dialed In
Pirates of the Caribbean
Rumors of Future Titles
Toy Story?
Willy Wonka?
The Muppets?

Chicago Gaming/Planetary Pinball
Most Recent Titles
Medieval Madness Remake
Attack From Mars Remake
Rumors of Future Titles
Monster Bash Remake?
Cactus Canyon Remake?
Big Bang Bar Remake?
Theatre of Magic?

Heighway Pinball
Most Recent Titles
Full Throttle
Alien (shipping)
Rumors of Future Titles
Queen?
Barry Oursler Licensed Theme
Barry Oursler UnLicensed Theme

P3 (Multimorphic)
Lexy Lightspeed
Cannon Lagoon
Cosmic Cart Racing

Homepin
Thunderbirds (coming soon)

Phénix Pinball

Deeproot Pinball
Retro Atomic Zombie Adventureland?
Alice in Wonderland?
Magic Girl?
Houdini?
**TWIP dreams of the day
Harry Potter Pinball
will be added to these rumors. Ms. Rowling, I'd be willing to take a Bludger to the head if you approve this!

Get alerts for new posts from This Week in Pinball – follow us on Facebook, Twitter, or sign up by email: