— What Else is Happening in Pinball —
When Will We See Munsters?
Butch Patrick, who played Eddie Munster, joined a podcast last week called The Swearwolves (a horror podcast). You can check out the full episode here. During the podcast, there was the following exchange:
Swearwolves: The Stern Pinball company, it appears they are working on a Munsters pinball machine?
Butch Patrick: They have not only worked on it, they have completed it.
Swearwolves: Can you tell us anything about the pinball machine?
Butch Patrick: All I know is I am going to go to the [Texas Pinball Festival] in March in Texas for their unveiling of it, and bringing my cars along and they're bringing down Pat Priest (Marylin Munster) to join in the festivities, and then…
Swearwolves: They're going to unveil the game?
Butch Patrick: Unveil the game…you know what's funny, it is amazing it took them this long to figure out The Munsters would be a successful pinball machine, because Addams Family is the most popular pinball machine of all time, and it is such a no-brainer…
So does this mean we won't see Munsters until March? Maybe, and maybe not. Many have been discussing (and emailing TWIP), wondering when we'll see Munsters, so we'll share what we we've been hearing and throw in a lot of speculation…Most are saying that we'll see this game in either December of January. Stern shared previously they would build 1,000 Beatles machines. From what we can make out, when the Beatles machines are built, they would then move on to build the Primus pinball machines, which would likely take them a week or two. To keep the line moving – unless they go back to building Deadpool or Beatles or a different machine, it would seem they would then go on to announce their next pinball machine. We shouldn't have to wait too much longer!!
---
Cactus Canyon Continued Review – SDTM
Our friends Zach and Greg from Straight Down the Middle: a Pinball Show released a Cactus Canyon Continued Review last week – a great overview and look at a rare game -check it out!!
---
Dead Flip Reaching New Audiences
Last week Jack Danger of Dead Flip travelled to Los Angeles to live stream Jeffree Star's pinball collection. The stream was very good exposure for pinball:
There were over 167,000 live views during the stream
There were 6,130 live viewers at one time
The Twitch broadcast has been viewed over 16,000 thousand times
The YouTube video has over 3,500 views
Check out the YouTube Video:
As we mentioned last week on TWIP, Jeffree has a huge following on social media:
Over 11 million subscribers on YouTube
Over 1 billion views on YouTube
Over 9.2 million followers on Instagram
Over 2.7 million Facebook Likes
Over 2.8 million followers on Twitter
Then this last week, Perez Hilton made a video encouraging people to watch Dead Flip play PINBALL on Twitch – check out the video here. Perez also has a huge following on social media, with over 6 million followers for his website's Twitter account.
How much can pinball grow? Send your thoughts to thisweekinpinball@gmail.com, we'd love to hear from you!
---
At World's End Wizard Mode – Pirates of the Caribbean
Our friend Kevin from Buffalo Pinball beat the At World's End Wizard Mode recently – check it out!
By the way, have we mentioned here at TWIP how much we love the Rules Flowchart for this game??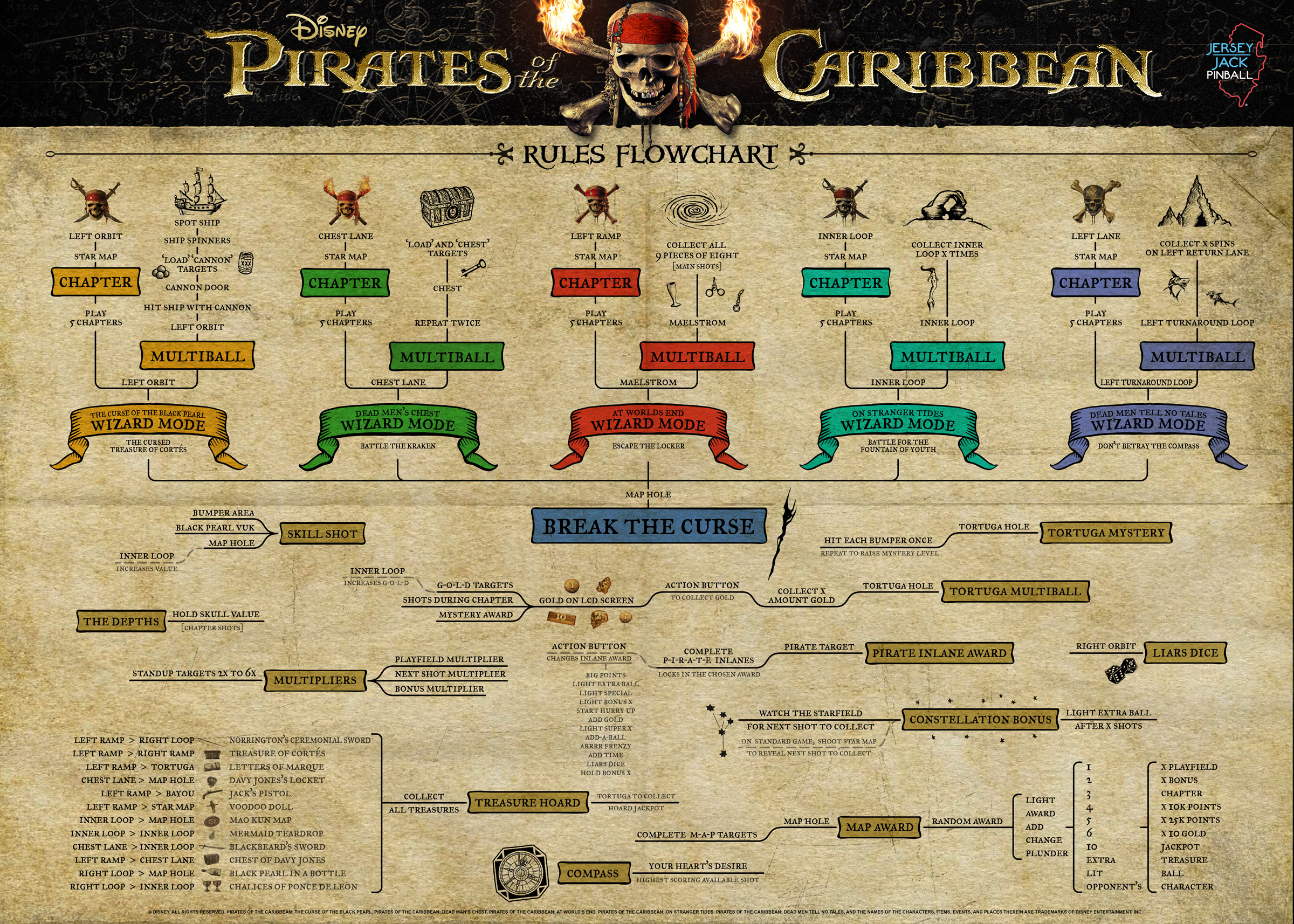 ---
Jersey Jack Pinball Addresses Minor Out of Box Issues
Speaking of JJP's Pirates of the Caribbean, some customers have been experiencing some minor (yet frustrating) issues out of the box. Eric Meunier chimed in on this Pinside post and shared:
I was on the production floor in NJ last week. Every issue that I've seen on here has been accounted for and corrected on games now going out the door. No more leg bolt issues, topper issues, or broken wires on the pearl. Other tweaks on the production floor should have the game arriving as close to perfection as any pinball possibly can. And if it doesn't, you know where to find me.
---
Happy Sweet 16th Birthday Pinside!

The most popular pinball forum on the planet turned 16 last week! Robin, the founder of Pinside, shared some interesting details of the beginning of Pinside:
Let's go back in time for a minute…
It was Friday November 2nd 2001. The US president at the time was George W. Bush. Chances were high that you would hear Lose Yourself by Eminem on the radio. Cinemas were playing The Pianist and Panic Room and on TV people were watching a brand new CSI Miami (and also the first season of Top Gear). And if you liked videogames you were probably playing Grand Theft Auto: Vice City.
…And Pinball fans were looking at the freshly released Stern game: RollerCoaster Tycoon. Remember the troll? Oof, me too.
But much more happened that day… Somewhere in the morning, around 11am. After weeks of brainstorming for a cool name, I decided on registering the domain name Pinside.com. I had started building my own solid state pinball database a little while earlier and was now looking to turn it into a news and discussion site about pinball. Hosted from an old server in my garage,
I worked on the site for every free evening I had. Pinside.com officially launched on November 18th 2002, almost a year later…
Check out the Pinside thread about it here, and you can view what the site looked like 16 years ago. Very cool. Congratulations to Robin and the whole team at Pinside on running such a great resource for the community!! Here's to 16 more years!
---

— Cool and Crazy Stuff —
Oreo uses Pinball in Marketing
And oddly they specify exactly 420,408 pinball players…
---
FOX Thursday Night Football Uses Pinball in Marketing
Here is the commercial…pinball makes a brief appearance…wait for it…
---
Lucky Charms Uses Pinball in Marketing
Ok, this was like 30-40 years ago, but it fits the "in marketing" theme of Extra Balls this week – check out the commercial here!
---

— End of Post Bonus —
Get alerts for new posts from This Week in Pinball – follow us on Facebook, Twitter, or sign up by email: