Stern Pro Circuit Championship | Doug Polka Interview | Dead Flip Pinball | New Code | Sherlock Holmes | Guy Playing Pinball in River

— What Else is Happening in Pinball —
Stern Pro Circuit Championship This Saturday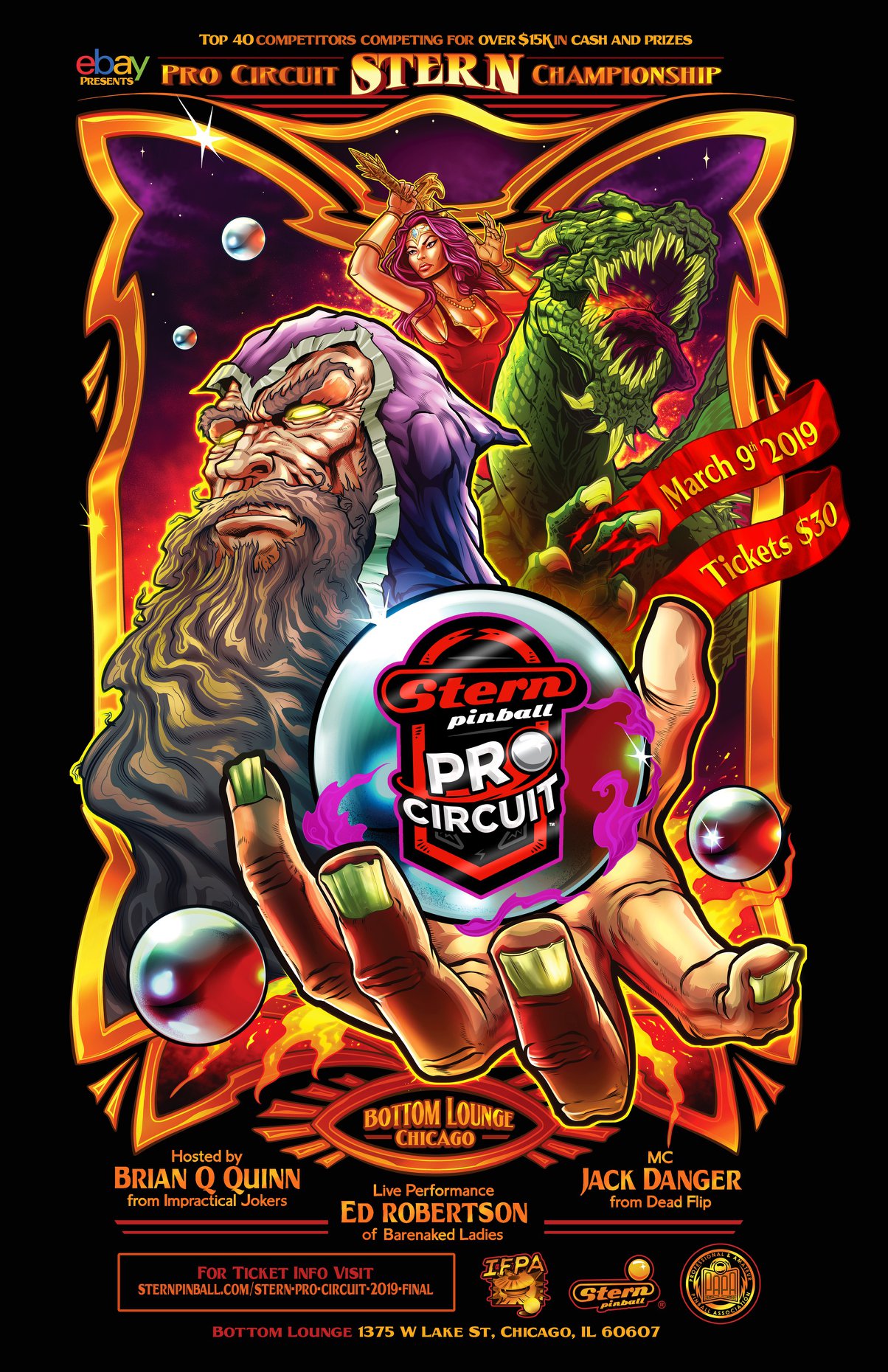 The Stern Pro Circuit 2018-2019 Championship takes place this Saturday! The top 40 finalists will battle to see who comes out on top. The event will be hosted by Brian Q Quinn from Impractical Jokers, MC'd by Jack Danger of Dead Flip, and will include a live performance by Ed Robertson of the Barenaked Ladies. Good luck all!
---
Doug Polka Joins the Buffalo Pinball Podcast

Our friends at Buffalo Pinball interviewed Doug Polka, the Pinburgh Tournament Director! Here are just a few highlights:
Buffalo Pinball: "What is PAPA?"
Doug: "PAPA is now a brand name under the Replay Foundation. PAPA used to be owned by Kevin Martin…he owned 400 machines and created this thing in Pittsburgh. He built this warehouse, filled it with games, and eventually in order for us to keep going we decided it would be best if he turned it into a non-profit. So basically he donated all his games to the new entity which was the Replay Foundation and we are a 501(c)(3) non profit and we promote gaming culture."
Buffalo: "So [PAPA World Pinball Championships] went away a couple years ago because you were looking at getting a new facility. Does that old facility still exist and you have games there?"
Doug: "No, we sold the old building…it basically didn't do what we needed it to do anymore. Pinball and the events we had run outgrew that facility…[the move] is going to end up saving us a lot of money, and hopefully eventually we will be able to move to a building where we're going to be able to host the World Championships again and continue to do stuff at our building."
Doug also talked about the growth of Pinburgh, and shared than the Pinburgh sold out in FIVE seconds this year – check out the full episode here!
---
Dead Flip's Pinball Machine is Flipping
Our friend Jack Danger shared that the Dead Flip pinball machine he is working on is actually flipping now – check it out!
---
New Code – Deadpool, Alice Cooper, Lexi Lightspeed
Code drops from last week include:
---
American Pinball's Josh Kugler Chimes in on Possible Sherlock Holmes Pinball Machine
As mentioned a few weeks ago on TWIP, American Pinball has added four trademarks as found on Justia. They are:
Last week, Josh Kugler of American Pinball chimed in with his thoughts on a possible Sherlock Holmes themed pinball machine – read it here!
---

— Cool and Crazy Stuff —
The Guy Playing Pinball in a River
Remember the famous picture of the guy playing pinball in a river? That guy (Jon Replogle) joined our friend Jeff Teolis on Pinball Profile last week, and shared some more details about that image:
Pinball Profile: "There is that famous picture of you, Jon, playing Fish Tales in the water.  For those that don't know, how did that all come about? "
Jon: "This was a number of years ago at this point.  Mark [Steinman, director of ReplayFX] was doing some filming for his PAPA TV road show idea that he was doing.  So Mark and I grabbed a machine, a generator, our fishing waders and our fishing poles.  And we headed out to around Confluence, Pennsylvania, which is sort of the middle of Pennsylvania, and there's not really many people out that way.  We wanted to do some good filming.  You can actually still see the PAPA TV roadshow full segment of that, which is a lot more than just the picture.  But the picture was made famous.  There is nobody out there, just to give you an idea.  We're filming and doing our stuff.  And this guy in a truck skids off to the side of the road, gets out, takes out a cell phone and just snaps a picture of us.  I mean why not if you're just driving down the road and you see people playing pinball in the stream, might as well take a picture.  But it went crazy on Reddit and I guess that is now my 15 minutes of fame."
…
PP: "I didn't realize that was more than just a picture. I had no idea…that you were actually playing the machine, that it wasn't just a photo shoot."
Jon: "That was something that both Mark and I were fairly nervous about because we had the machine hooked up to a generator, and if you take a good close look at that picture, you can see the power cord is hanging off the side of the machine and we made sure the plug was not submerged. And we were both nervous about that. I mean, you should not be playing a pinball machine in the water. That is just not a good idea…we probably shouldn't have done it but we did."
---
Woodworking: Two Person Pinball
---
Lord of the Rings/Hobbit Game Room
This is like the ultimate game room for a fan of Lord of the Rings and Hobbit – WOW!
---

— End of Post Bonus —
---
Disclaimer: Any articles, interviews, or mentions of pinball manufacturers or pinball products is NOT an endorsement.