— What Else is Happening in Pinball —
Deadpool Limited Editions on the Line at Stern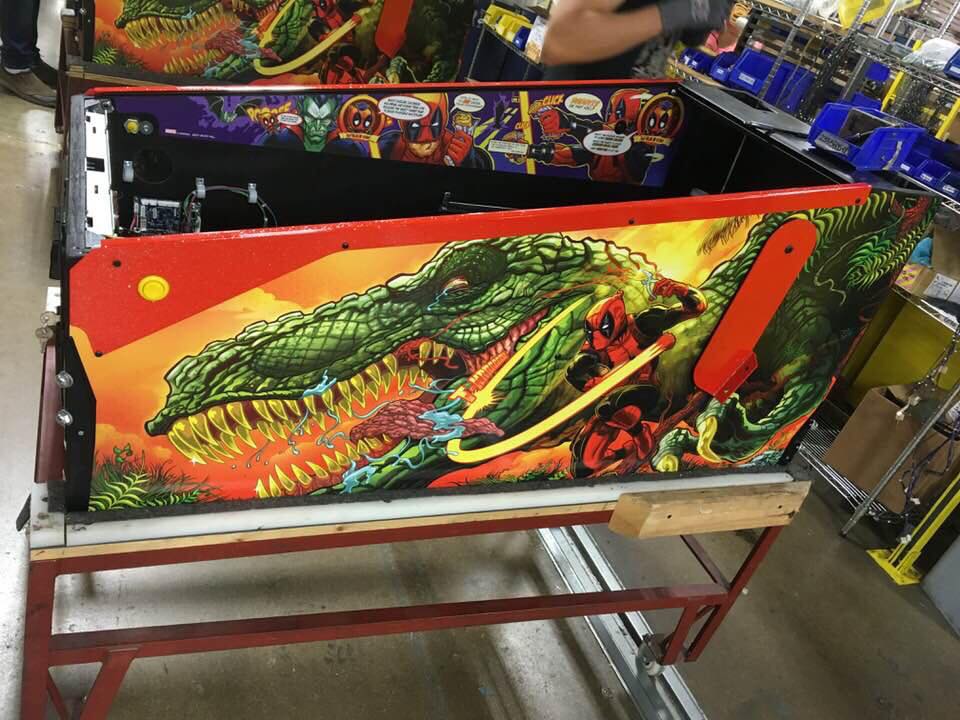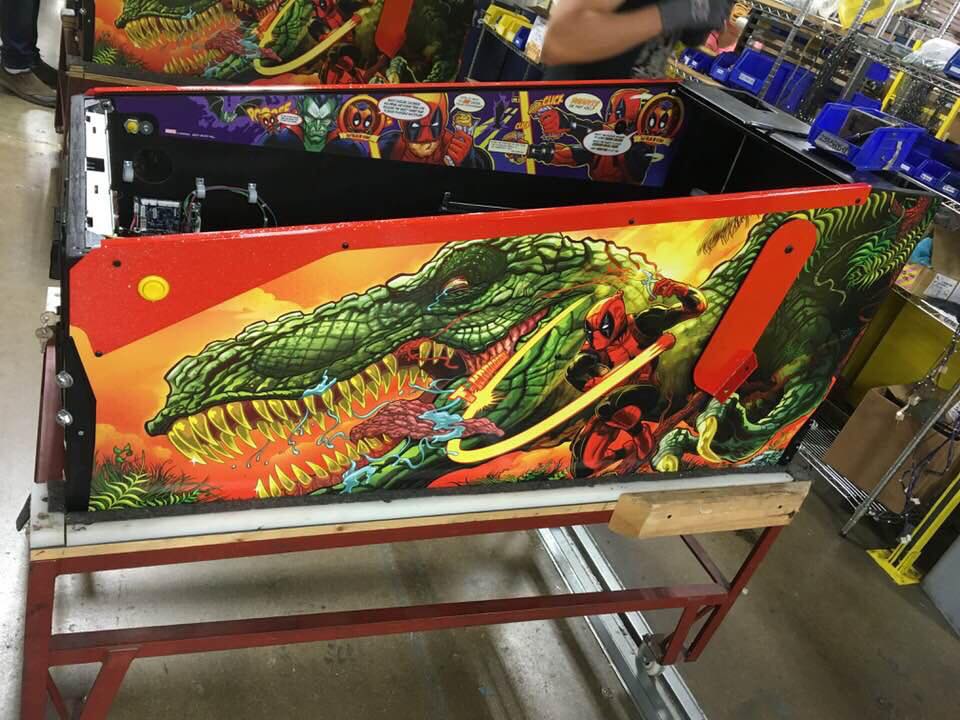 From Stern's Facebook Page:
Deadpool LE now in full production on the line today! "Get ready for an explosion of color, sound & fun like you've seldom seen. Believe the hype. BOOM, BABY, BOOM!" -George Gomez
Love the side blades on the Limited Editions, looking forward to playing one of these.
---
Deadpool – Bro, Do You Even Pinball?
Buffalo Pinball played Deadpool's new code (v0.84) on their most recent Bro, Do You Even Pinball – check it out!!
---
Deadpool Review – SDTM
Our friends Zach and Greg from Straight Down the Middle: a Pinball Show released an Deadpool Review last week – check it out!
---
THRILLA IN STERNILLA
Zach Sharpe vs. Keith Elwin
Deadpool Premium
Live Charity Battle This Wednesday at 3pm CST/4pm EST on Dead Flip's Twitch Channel
Nudge Like a Butterfly
Flip Like a Bee
This is Not a Good Joke
As You Can See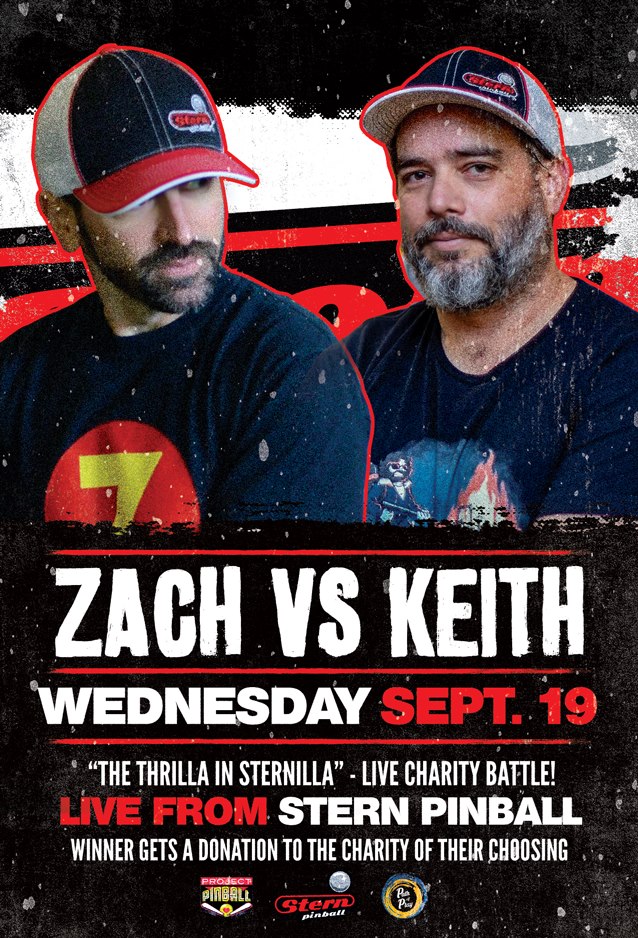 Who ya got??
---
What Happened to the Crocodile Hunter Pin
The Head 2 Head Pinball podcast interviewed Wayne Gillard on their podcast last week! Gillard had a lot of great stories. He also shared a little bit about the rumored Crocodile Hunter pinball machine:
"Regardless of what people say, it costs you a million dollars, no matter who it is, to design a pinball machine from scratch. From design to having a product that you can start putting on a production line and copying. We put about 250 thousand into it, we had a playfield layout, we had some basic flippable software, cabinet art, translite art. We didn't have any playfield art yet but that was where we were heading. We had some sounds and some voice and stuff as well. So we were getting to that point, but unfortunately he got killed by a sting ray…He approved some of the art, some of the voice stuff…"
Check out the full episode here.
---
United Flipper Workers
There is a new pinball t-shirt and accessory company called United Flipper Workers!
They are currently doing a shirt pre-order and all shirts are 15% off during this time – if you buy two or more shirts use code FREESHIP for free shipping. Pre-order will go until Oct 7th. Check it out here!
---
Pinball Photos Exhibit
Check out this pinball art exhibit in Newtown, Pennsylvania that features the incredible photography from Pinball Photos!
---
Enter September Giveaways!
Check out the September Giveaways here! There are TWO WAYS to enter:
1. Consider making a monthly donation via the PayPal button below or Patreon, which you can find here. You'll automatically be entered each month you make a donation, and also get additional TWIPerks based on your giving level. Your contribution will help support this website.
[wp_paypal button="donate" name="My product"]
2. Donate nothing, and send an email to thisweekinpinball@gmail.com to let us know you want to be entered, and include your name, address (including city and state), and email address, and you'll be entered for that month. You'll just have to send the email every month to be included.
---

— Cool and Crazy Stuff —
Dr. Phil is a Pinhead
It is true. Dr. Phil is a Pinhead. In a separate interview, he calls pinball one of his vices. (Thanks Matt Peace for the interview link!)

The best part of this? This comment we received on Twitter from @Tipsy_Danger_:
"I wonder what machine he has. I like to imagine it's a Dr. Dude with tape over the "dude" and Phil sharpied on it."
---
Robin Williams Owned a Hook Pinball Machine
A collection of Robin Williams possessions will be auctioned off and the proceeds will be given to Williams' favorite charities. One of those items is a Hook Pinball machine, a give to Williams from Steven Spielberg. RIP Robin Williams.
---
Someone Rethemed an Iron Maiden
Let's try this again – FOR THOSE OF YOU THAN COULDN'T VIEW THE LINK LAST WEEK…here is a new one you can view:
And not a cool retheme. Why would you do this!?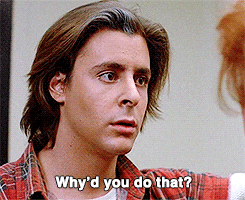 ---


— To Those Who Make This Hobby Better —
Shoutout to @Tipsy_Danger_ on Twitter!! As mentioned above, he commented on Dr. Phil being a Pinhead by saying: "I wonder what machine he has. I like to imagine it's a Dr. Dude with tape over the "dude" and Phil sharpied on it." That visual was one of the highlights of my pinball week. Thanks Tipsy Danger!!
---


---

— End of Post Bonus —
Get alerts for new posts from This Week in Pinball – follow us on Facebook, Twitter, or sign up by email: