Last Chance to Enter October Giveaways!
Check out the October Giveaways here! You could win Pin Stadium Lights, Orion's Belt, Museum Grade Canvas from Pinball Photos, Gift Card to Comet Pinball, Silicone Ring Kit from Titan Pinball, Gift Card to Double Danger, Gift Card to Mezel Mods, Pin Gulp, Autographed Translites from Stern and Jersey Jack Pinball, TNA Translite from Spooky, or a Lapel Pin from TWIP!!
WINNERS WILL BE ANNOUNCED NEXT WEEK!
There are TWO WAYS to enter:
1. Consider making a monthly donation via the PayPal button below or Patreon, which you can find here. You'll automatically be entered each month you make a donation, and also get additional TWIPerks based on your giving level. Your contribution will help support this website.
[wp_paypal button="donate" name="My product"]
2. Donate nothing, and send an email to thisweekinpinball@gmail.com to let us know you want to be entered, and include your name, address (including city and state), and email address, and you'll be entered for that month. You'll just have to send the email every month to be included.


— What Else is Happening in Pinball —
Oktoberfest Updates
We got several updates on the Oktoberfest title that is coming from American Pinball!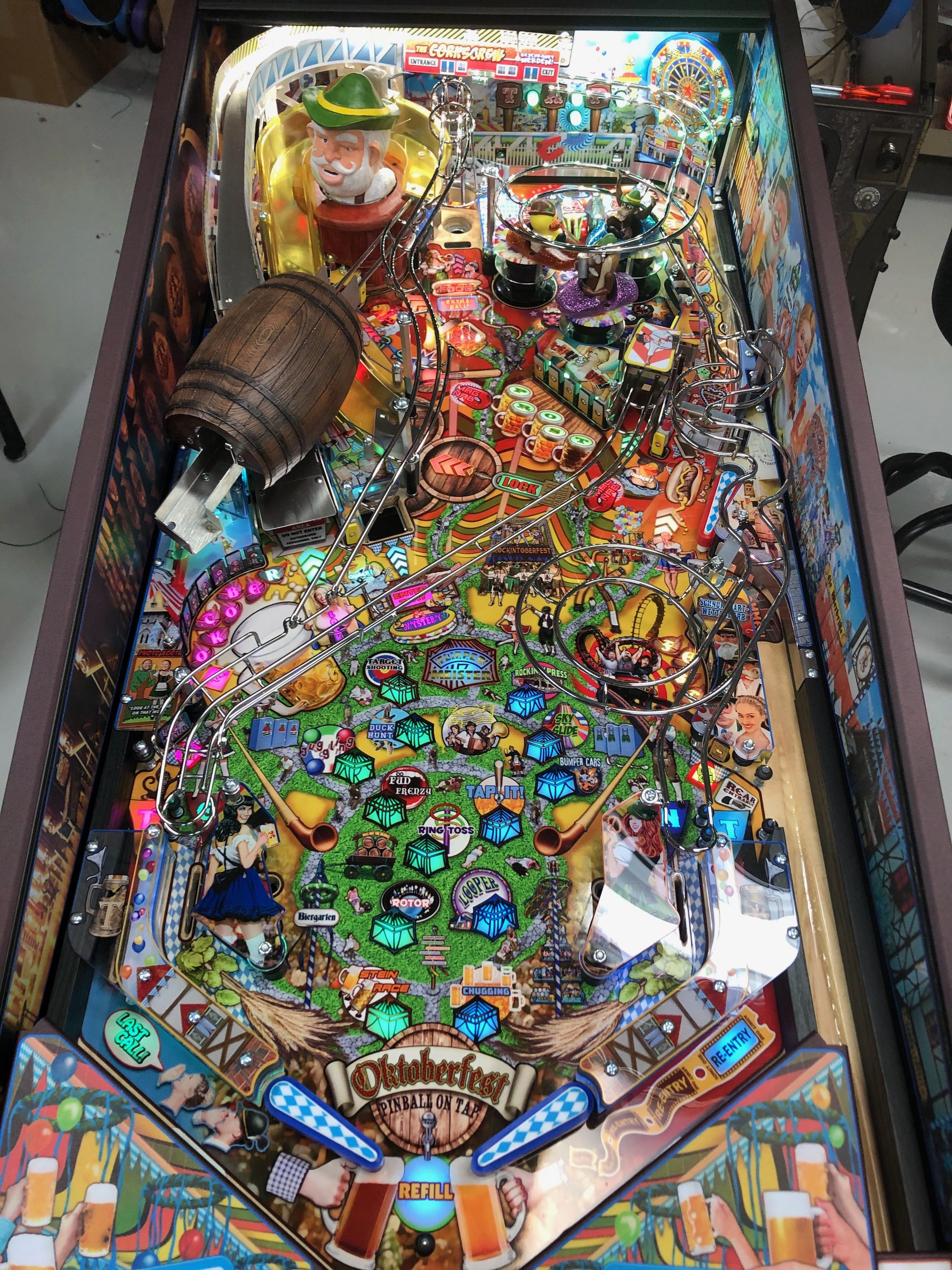 Pricing
Distributors have now announced pricing for Oktoberfest – it will cost $7,400 USD which includes Art Blades. Contract your favorite distributor to reserve yours today!
Production Goals
Barry Engler, the Technical Service Manager at American Pinball, was asked on Pinside when production would start for Oktoberfest. He responded in this post and shared the following:
That my friend is the million dollar question! We are trying to get it on the line by December 3rd… But there are many hurdles yet to overcome. So I am not sure, is my answer.
So the goal is December 3rd, but they know there may be hurdles that delay that date.
Artwork
American Pinball shared a couple items on Pinside regarding the artwork. First, they may be doing some alternative artwork as an add-on. It sounds like the alternative artwork would be more "adult oriented". Second, they also mentioned that the artwork displayed on the prototype games is not the final artwork.
A specific portion of the artwork is also causing controversy. On the backglass, a monkey is shown grabbing two women (see the pic here). American Pinball has shared on Facebook this artwork will be changed before production.
---
The Making of Stern Pinball's Deadpool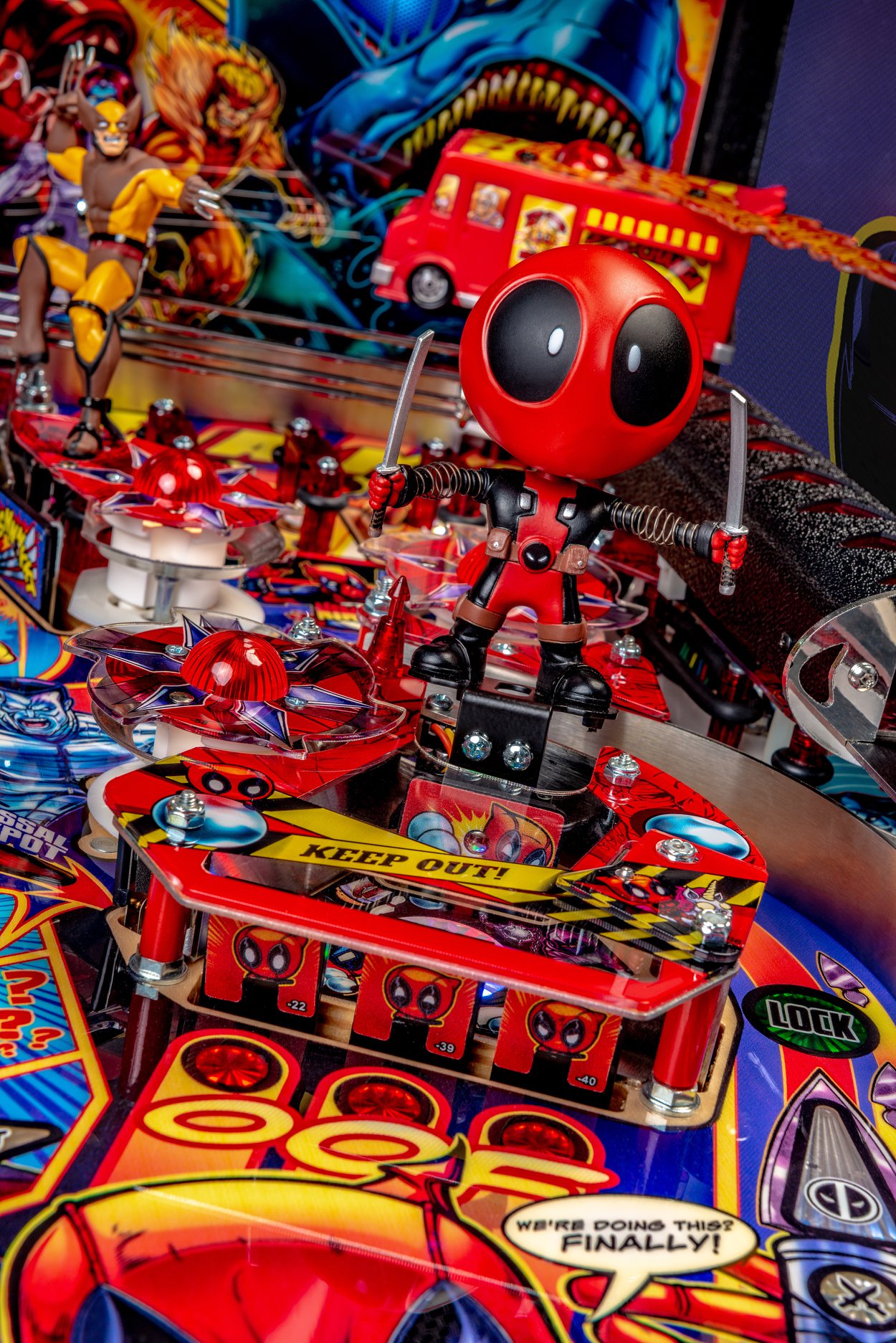 Last week, Stern Pinball shared their "making of" video of Deadpool pinball – check it out here!
---
Buffalo Pinball chats with Eric Meunier
Our friends at Buffalo Pinball (Twitch, Twitter, YouTube) hosted Jersey Jack Pinball Playfield Designer Eric Meunier on their most recent episode of Bro, Do You Even Talk Pinball? Check out the full episode here!
A couple notable items that Eric mentioned. First, he shared that the goal is to have Collector's Editions shipping at the end of this year. Second, he discussed a bit about what he enjoys in a pinball machine design:
Listener question: Joe Balcer just released an Oktoberfest design, and he is one of the few designers that doesn't really have a "style" from one game to another. Is there any specific "style" or elements of design that you are looking to incorporate into future projects after doing JJPOTC?
Eric M.: I don't think I can answer that yet, I mean I've only done one game. I like – from Pirates, the way that I like playing games, I don't like shots that you shoot them and they do one thing and they come back. To me, that is boring.I would prefer there would be a diverter or there be an alternate path for the ball to take. I like it when the player can control things in the game. And do things like an under the flipper shot. I love under the flipper shots. I think it is so cool that the player chooses to lift up their upper flipper and shoot it underneath, and make that shot and you're rewarded for it. That is something I like.
Looking forward to seeing more JJP Pirates in the wild!
---
This Month in Pinball – SDTM
Our friends Zach and Greg from Straight Down the Middle: a Pinball Show released This Month in Pinball (Expo Edition) last week – check it out!
---
Ben Heck Cuts his Unreleased Pinball Game
Ben Heckendorn shared on Twitter recently that he cut his unreleased pinball game. Will this machine ever get made? We don't know yet, but check it out!
---
Upcoming New Shows
Pincinnati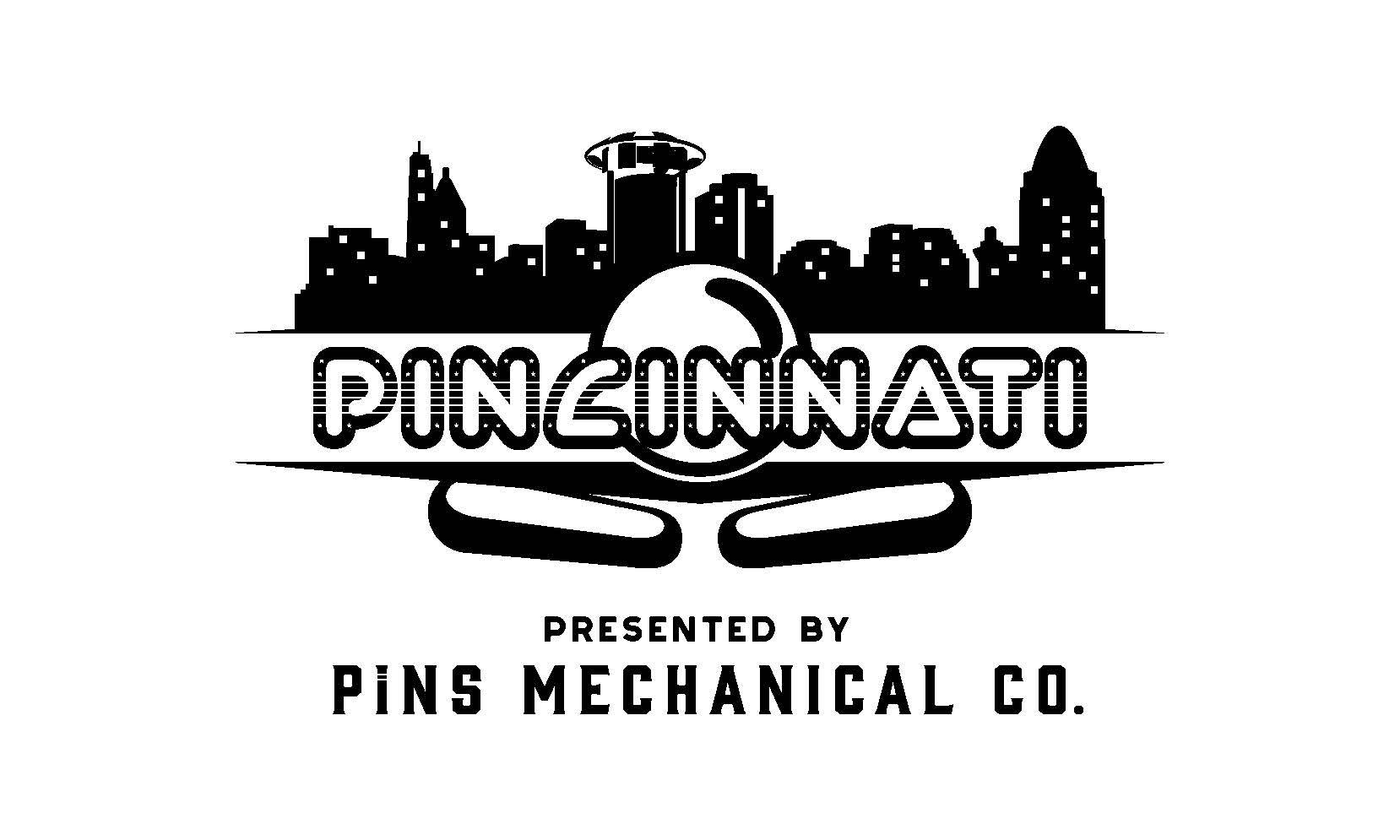 Pincinnati 2018 – Nov 30th thru Dec 2nd, 2018
Greater Cincinnati's first annual pinball show featuring over 100 machines from local collections. All machines will be set for free play, so leave your quarters at home. 2018's show and tournament will occur at the Holiday Inn Hotel of Eastgate.
Machines from the 70's through the present will be well represented. Several machines will be available for purchase with contact and pricing listed on these machines.
Click here for more information!!
First Ever Kansas City Game Con Pinball Championship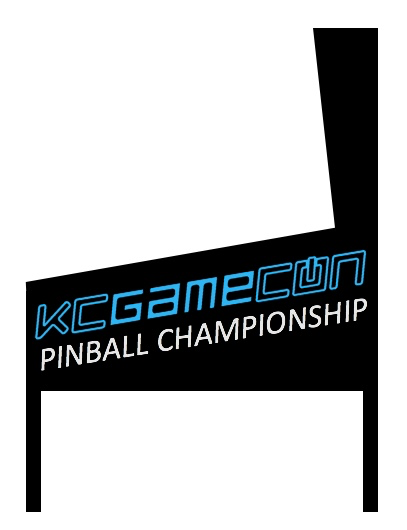 What is it?
Pinball was invited to participate in KCGameCON, a gaming convention in the Kansas City area focused on growing esports. As such, a Pinball Championship tournament is scheduled (games will also be on freeplay for attendees throughout the event).
Where is it?
The KCI Expo Center in Kansas City, Missouri.
When is it?
November 30th through December 2nd.
Tournament Details
The main tournament, the Pinball Championship, will be held on Saturday, December 1st. Here are the tournament specifics:
Format: Match Play
Cap of 48 players
12 machines, 4 from each era (EM, Solid State, Modern)
3 rounds of qualifying, 1.5 hours each with break in between
A Finals- top 16
Novice Finals- next 8 if not ranked in IFPA top 2000
During finals the top 2 players from each group will advance until there are only 4 players left for the final round
Entry fees

$25 entry for tournament players
$10 to venue and $1 to IFPA

Payouts (with 48 players)

A Division

1st $242
2nd $120
3rd $40

Novice Division
IFPA Points: This format will achieve 100% TGP and have a base value of 24 points if there are 48 players
Trophies

A Division- 1st, 2nd, 3rd
Novice- 1st, 2nd, 3rd

Prizes: The top 3 winners from each division will also receive new translites, courtesy of Stern Pinball
Pre-registration is now openonline. Keri Wing can be contacted if the registration is full, to be placed on the wait-list at keriwing@gmail.com
This tournament will be live-streamed on Twitch, with commentary by Dennis and Tony of the Eclectic Gamers Podcast, at this link: https://www.twitch.tv/eclectic_gamers
Questions and additional details are available at the KCGameCON Pinball Championship Facebook page: https://www.facebook.com/events/1124105281088487/
---

— Cool and Crazy Stuff —
TNT Pinball Machine
This one is from a couple years ago, but I had not seen it before…is this real?
---
A Musket (Re)themed Pinball Machine – Musketball
Well that is an…interesting theme for a pinball machine.
---
Is This Pinball? Kinda sorta…
But it is worth watching either way!
---

— End of Post Bonus —
Get alerts for new posts from This Week in Pinball – follow us on Facebook, Twitter, or sign up by email: