The Scoop
Total Nuclear Annihilation Reveal
Total Nuclear Annihilation's artwork and price were revealed this week in this Facebook post from Spooky Pinball. TNA was created by Scott Danesi (website here) and is being manufactured by Spooky. The game was built like an early '80s solid state game but with up to date displays and components. In Scott's words, it was built to have a "retro-futuristic feel". For TWIP's initial thoughts and much more info on the machine, click here.

Pinburgh 2017 Champion – Colin MacAlpine
Congrats to Colin MacAlpine on winning Pinburgh! Colin beat out Josh Sharpe (2nd), Keith Elwin (3rd), and Cayle George (4th) to win the first prize of $15,000. In the end, Colin had very well played game on Andromeda, and Josh stepped up needing a huge score on ball three to win – click here to watch Josh's final ball and the moment Colin won. These players are unbelievably talented – to watch the full stream click here. Here is an interview with Colin afterwards, and here is an interview with Josh. Congrats Colin! (Note: Did anyone else notice Keith Elwin, who works for Stern Pinball, wearing a Jaws hat during the finals? Is he just trolling us or does Jaws need to be officially added to the Stern Rumors of Future Titles section below?)

Ghost in the Machine
The first page of the manual for Stern's recently released Star Wars machine includes the following: "Normal plastic insert crazing (tiny stress cracks) and ghosting (small cloudy areas around insert edges) are often seen in pinball machines, due to a combination of plastic mold stress, pushing of inserts into purposely undersized holes, and heating and breaking of inserts' plastic "skin" when the playfield field is sanded." This is the first time this statement has appeared in a Stern manual, and is significant because many in the pinball community believe the crazing and ghosting are defects with the affected playfields (particularly in games with low plays), but this statement in the manual indicates it is considered by Stern to be normal.

Attack From Mars Remake, Dialed In!, and P3 Multimorphic
Attack From Mars Remake from Chicago Gaming/Planetary Pinball, Dialed In! from Jersey Jack Pinball, and the Multimorphic P3 Pinball Platforms are all shipping, so make sure to check them out if you get a chance.

Stern Star Wars Premium/LE Video, Code Update
A short video has surfaced of the Star Wars Premium/LE Gameplay. Unfortunately the video doesn't show the hyperdrive accelerator in action. Stay tuned this week as it is expected that more Premium/LE videos will emerge. Stern also put out yet another code update (0.85 to 0.87) for the new Star Wars Pro pinball machine. To read what has changed, check out this page.

Alien Update
More good news this week from Heighway Pinball. According to Heighway's Facebook announcement (found here), Alien pinball is now in "full production" and they plan to start shipping games on August 14th.

ColorDMD Release: Jurassic Park
ColorDMD, which is scientifically proven to increase your happiness in life by 12-15%, continued their barrage of new titles with Jurassic Park this week. Here is the announcement on their Facebook page. To buy, visit ColorDMD.com.

Pinball Arcade New Release: Firepower II — World Cup Soccer Next?
Pinball Arcade recently released Firepower II. The hint in their newsletter seems to indicate that World Cup Soccer will be their next release. To learn more, check out their website by clicking here, or download the Pinball Arcade app onto your phone or tablet.
What'd we miss? Have an announcement for next week? Email us at thisweekinpinball@gmail.com
Pin of the Week
LASER CUE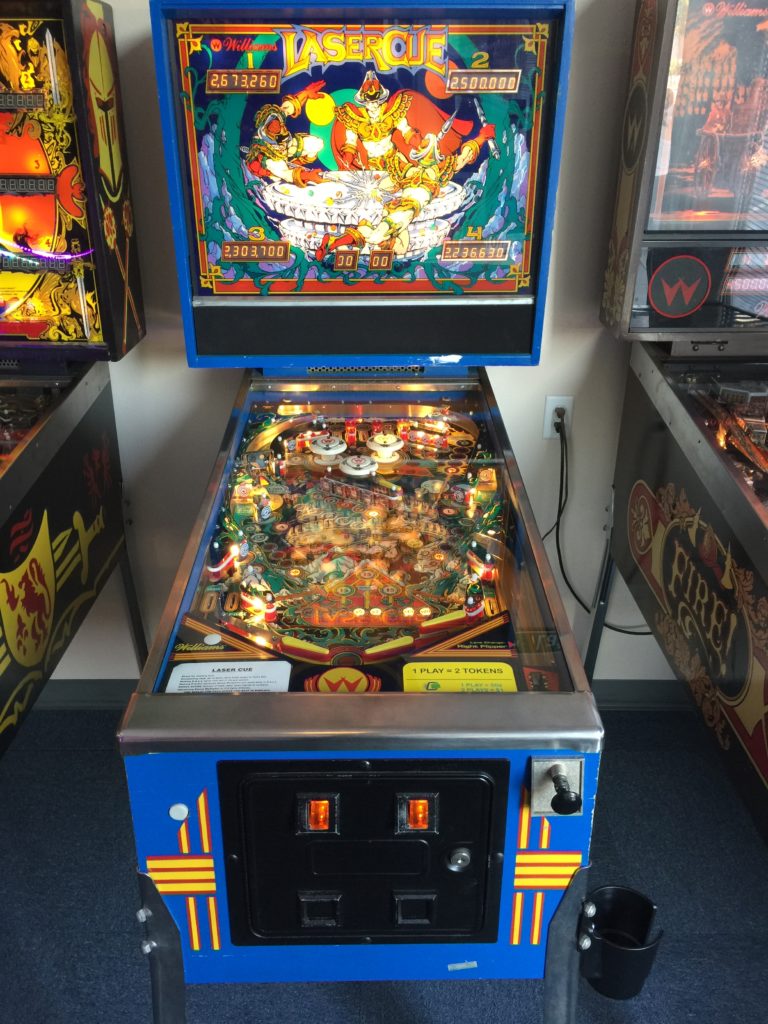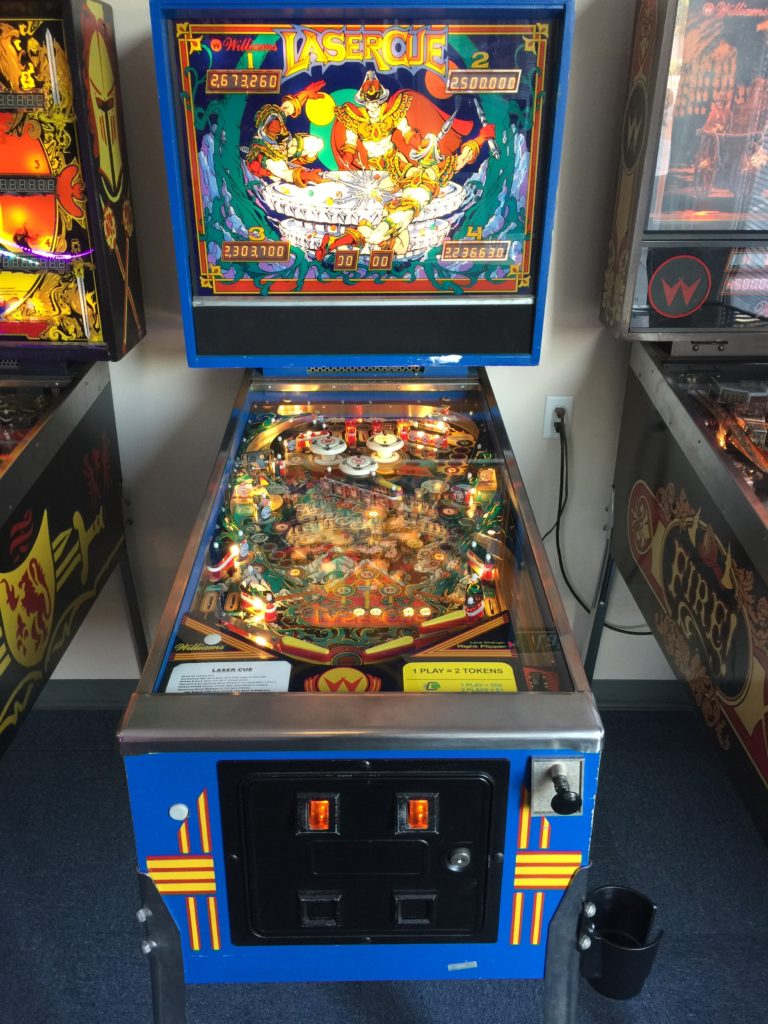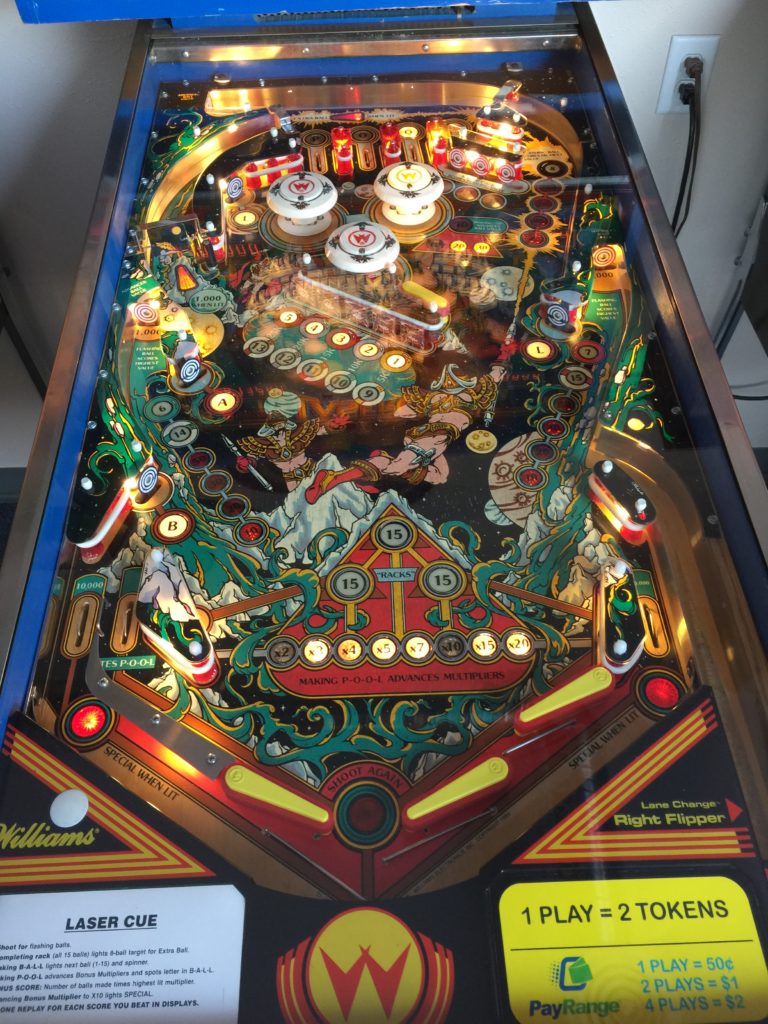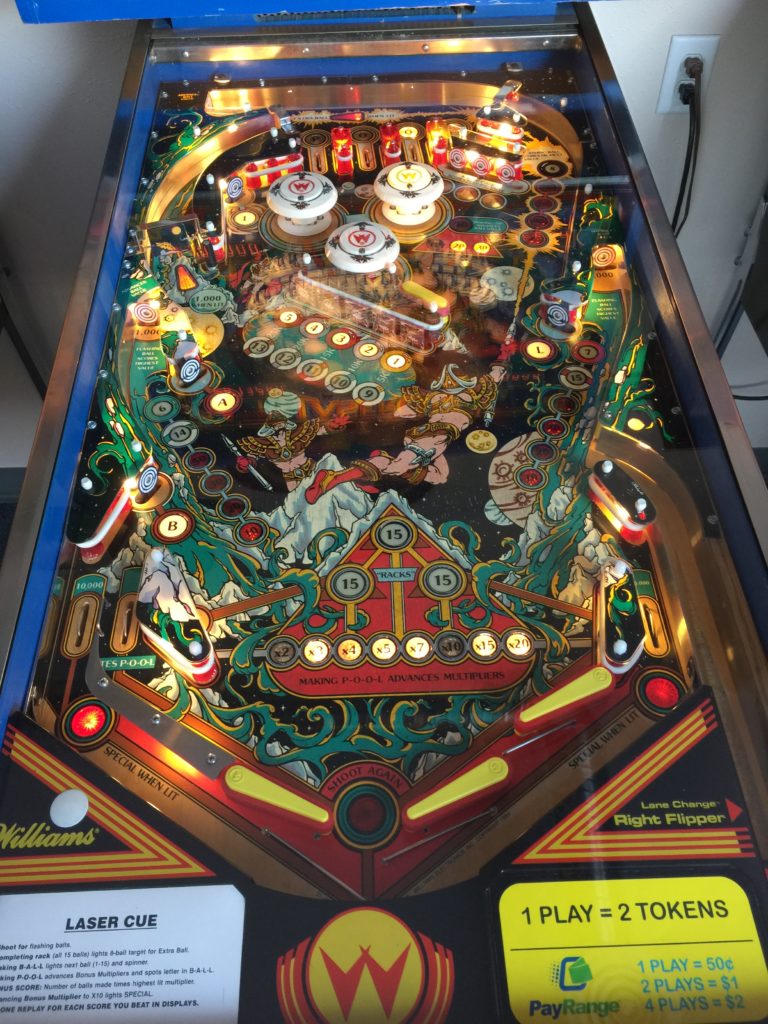 Interesting notes about Laser Cue:
"Williams Laser Cue … features an unusual "billiards in space", science-fiction theme." – Pinside.com
"Originally named 'World Hockey'." – IPBD.com
Manufacturer: Williams
Display: Digital
Players: 4
Flippers: 4
Ramps: 0
Release date: February 1984
System: Williams System 7
Design: Edward Tomaszewski
Programming: ?
Artwork: Pam Erickson
Music/Sound: ?
Production run: 2,800

Website of the Week
Lots of information and helpful guides on this site for repairing and restoring pinball machines – if you have a problem with a machine, this is a great place to look for a solution!
Have a site we should check out or want your website featured? Send an email to thisweekinpinball@gmail.com with the URL and a short description and we'll include it.
Name the Game
Identify the pinball machine pictured below for a chance to win a gift card to Pinball Life! This is the last chance for July, the winner will be announced next week!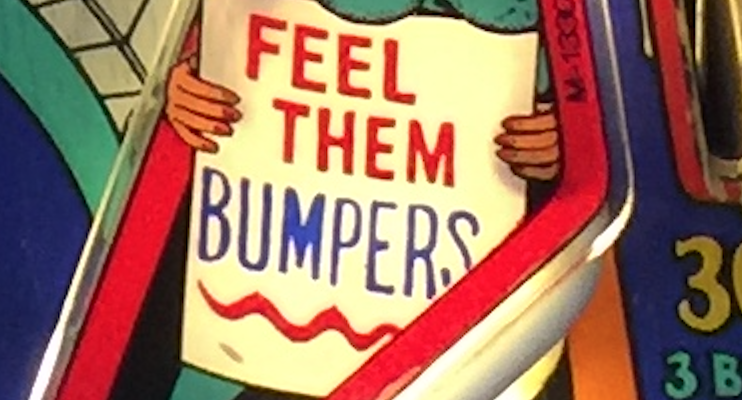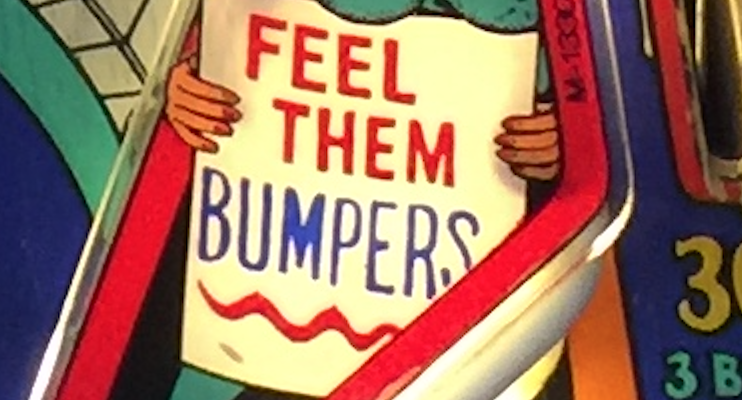 Hint #1: Four flippers
Hint #2: Controversial (yet fantastic) artwork
Last Week's answer: Taxi
Email guesses to thisweekinpinball@gmail.com, correct answers in July are entered into the drawing for a gift card to Pinball Life!

Upcoming Games and Rumors
Stern Pinball
Most Recent Titles
Aerosmith
AC/DC Vault Edition
Star Wars
Announced/Confirmed
Rumors of Future Titles
Guardians of the Galaxy?
Iron Maiden?
Jurassic World?
Deadpool? «New!
Spooky Pinball
Most Recent Titles
Rob Zombie's Spookshow International
Dominos (*contract game)
Jetsons (*contract game)
Total Nuclear Annihilation (*contract game)
Announced/Confirmed
Alice Cooper's Nightmare Castle
Ben Heck's game
American Pinball
Most Recent Titles
Dutch Pinball
Most Recent Titles
Bride of Pinbot 2.0
Bride of Pinbot 3.0 (on hold)
The Big Lebowski (production issues)
Silver Castle Pinball
Jersey Jack Pinball
Most Recent Titles
Wizard of Oz
The Hobbit
Dialed In
Rumors of Future Titles
Pirates of the Caribbean?
Toy Story?
Chicago Gaming/Planetary Pinball
Most Recent Titles
Medieval Madness Remake
Attack From Mars Remake
Rumors of Future Titles
Monster Bash Remake?
Big Bang Bar Remake?
Cactus Canyon Remake?
Heighway Pinball
Most Recent Titles
Full Throttle
Alien (production issues)
Rumors of Future Titles
P3 (Multimorphic)
Lexy Lightspeed (coming soon)
Cannon Lagoon (coming soon)
Cosmic Cart Racing (coming soon)
Homepin
Thunderbirds (coming soon)
**TWIP dreams of the day Harry Potter Pinball will be added to these rumors. Ms. Rowling, how can I help make that happen?