The Scoop
Thunderbirds is Coming
It is exciting times for Homepin as they are getting closer and closer to releasing their upcoming pinball machine, Thunderbirds. Homepin plans to show off the machine at Pinfest in Australia coming up October 7th and 8th. This week, we saw:
Check out Homepin's Facebook page here for more updates, and check out this flyer for a pic of the machine. We look forward to seeing the pin in action soon!

Buffalo Pinball Summer Open
The Buffalo Pinball Summer Open takes place this coming weekend (August 18th-20th)! The competition has been designated as a PAPA Circuit Major this year. Check out the tournament schedule and format here. If you arrive early, there is a "warmup" tournament that will be held the night before (on the 17th) at Pocketeer – more info can be found here. You can also check out the Buffalo Pinball group here on Twitch and follow them here on Twitter.
Also this weekend is the UK Pinball Open which takes place August 19th-20th in Salisbury. For more information, check out this link or click here to register.

New Stern Director of Marketing – Zach Sharpe
Stern announced this week that Zach Sharpe would be the new Director of Marketing, replacing Jody Dankburg who has been promoted to Director of Licensing and New Business Development. To see the announcement on Stern's Facebook page, click here.

Nic's North American Pinball Tour
A guy named Nic Schell has been travelled across North America fixing pinball machines for people in exchange for them allowing him to stay with them for the night and contributing a bit to his trip. How cool is that?! Check out a recent news story about him here, check out the Pinside thread here, and his Facebook page here.

Interview with Gary Stern
A video was posted last week to YouTube showing an interview with Gary Stern by First Comic News at Comic-Con in San Diego. A few interesting quotes from the interview were that the Star Wars LEs were "all spoken for", and that Stern exports almost half the games they produce. Check out the full interview here.

Pinball News Website Teaser
The Pinball News website, which has tons of in-depth pinball information and great inside scoops, is getting an upgrade to a more modern and clean, minimalistic look. Check out their announcement/teaser on their Facebook page here. Folks that are subscribed to their newsletter got an early hands-on preview. The new site looks fantastic with easy-to-find content and smooth navigation. Looking forward to the full release soon!

ColorDMD Teasing New Release
ColorDMD, which increases your happiness in life by 12-15%, released three hints (one, two, three) last week about their next release, which should be announced soon. Perhaps Champion Pub? <<EDIT: Yes, it is Champion's Pub!

Pinball Expo Schedule and Seminars Released
The 33rd annual Pinball Expo, which takes place October 11-15th, released their schedule of events and seminars last week. Speakers included Gary Stern, Jack Guarnieri, Lloyd Olson, Clay Harrell, Steve Ritchie, Greg Freres, Christopher Franchi, Martin Ayub, and many more. Check it out here.

New KISS Code – V1.30
KISS owners have been patiently waiting for a code update, and it has finally happened. Stern announced a code update for KISS last week for the first time since April 20, 2016. Updates to the Pro can be found here, Premium here, and LE here.

Get alerts for new posts from This Week in Pinball – follow us on Facebook, Twitter, or sign up by email:
Have a scoop for next week? Email us at thisweekinpinball@gmail.com
Pin of the Week
CREATURE FROM THE BLACK LAGOON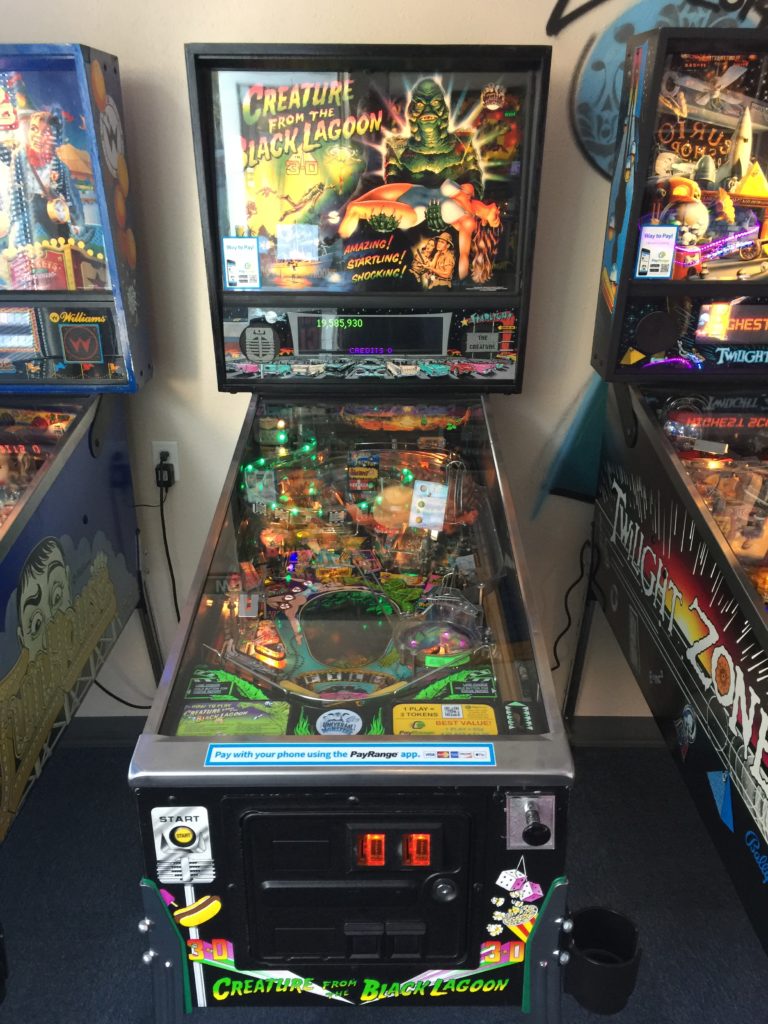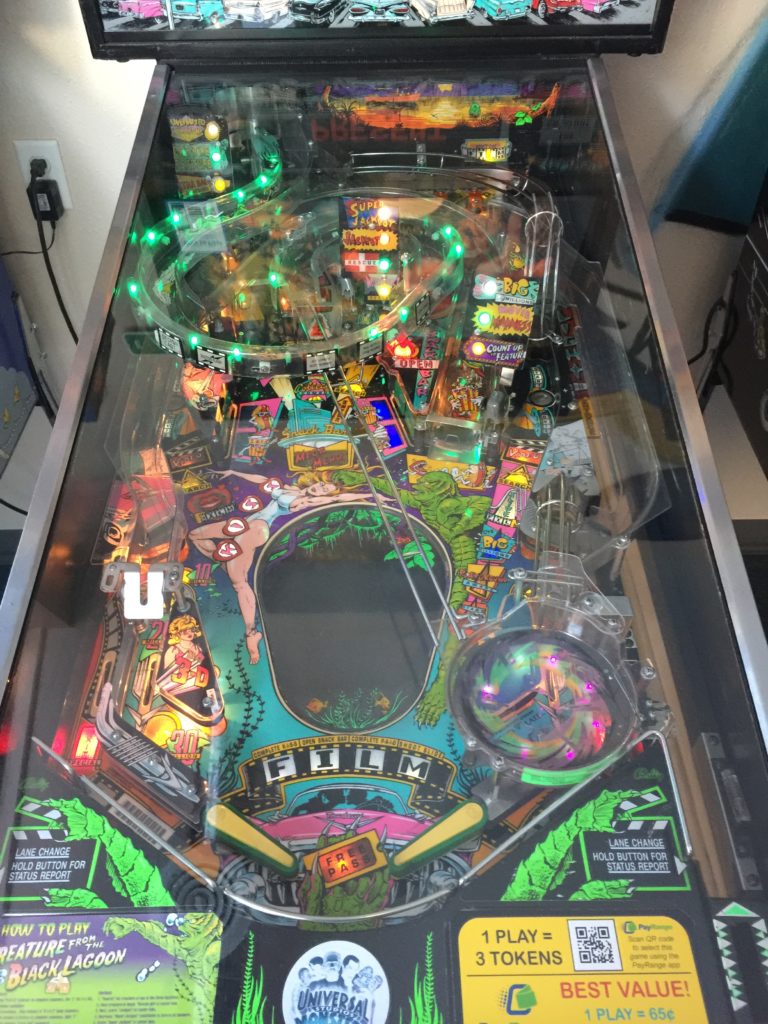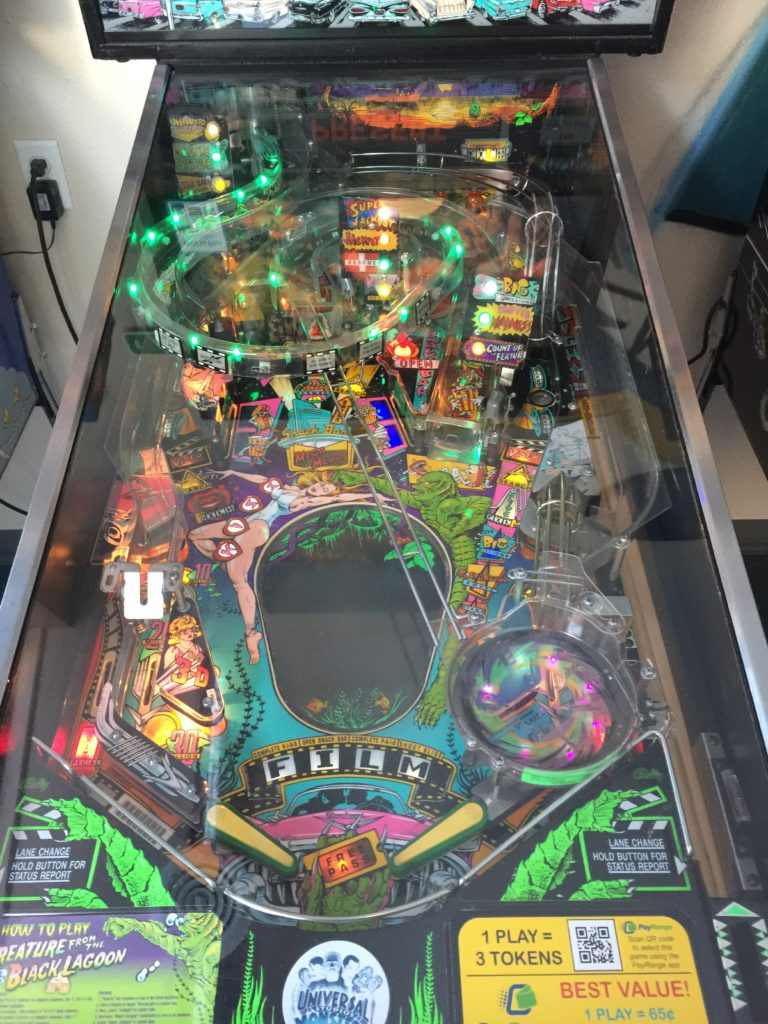 Interesting notes about Creature from the Black Lagoon:
"The table's major feature is a holographic creature, set in the middle of the playfield, that lights up and waves its "hand" back and forth during multiball play. The green hologram was produced by Polaroid and is affixed to a metal plate that is divided into 3 "floating" sections. A cam behind one of sections presses against the back of the plate, flexing the hologram's surface, so that the monster's claw appears to 'swipe' at the player. A 2nd motor (mounted in the bottom of the cabinet), oscillates the light reflecting mirror (changing the direction of the light source) and causing the image of the creature to gently sway from side to side." – Wikipedia
"In 2007, designer John Trudeau shared this story with us about one of the people on the backglass: As we didn't get the rights to the actors' likenesses, I asked Kevin (O'Connor) to see what he could do. I gave him a picture of my son, who was still in his teens at the time, and asked him to try to age him a little and fit his likeness onto the actor (Richard Carlson) in the pith helmet. It came out fine for me at the time and it really does now (he's 34) resemble my son quite a bit." – IPDB
Manufacturer: Bally
Display: Dot Matrix
Players: 4
Flippers: 2
Ramps: 2
Release date: December 1992
System: Williams WPC
Design: John Trudeau
Programming: Jeff Johnson
Artwork: Kevin O'Connor
Music/Sound: Paul Heitsch
Production run: 7,841

Website of the Week
You've heard of this one right? Pinside is a huge pinball website with tons of resources including forums, pinball maps, pinball market, pinball related businesses, game reviews, events, and much more.
Have a site we should check out or want your website featured? Send an email to thisweekinpinball@gmail.com with the URL and a short description and we'll include it.
Name the Game
Identify the pinball machine pictured below for a chance to win a gift card to Pinball Life!


Hint #1: Finger flippers
Hint #2: Clowning around with the weather

Last Week's answer: Dialed In!, The Hobbit, Ghostbusters, Aerosmith, Game of Thrones, The Getaway

Email guesses to thisweekinpinball@gmail.com, correct answers in August are entered into the drawing for a gift card to Pinball Life!

Upcoming Games and Rumors
Stern Pinball
Most Recent Titles
Aerosmith
AC/DC Vault Edition
Star Wars
Announced/Confirmed
Rumors of Future Titles
Guardians of the Galaxy?
Iron Maiden?
Jurassic World?
Deadpool?

Spooky Pinball
Most Recent Titles
Rob Zombie's Spookshow International
Dominos (*contract game)
Jetsons (*contract game)
Total Nuclear Annihilation (*contract game)
Announced/Confirmed
Alice Cooper's Nightmare Castle
Ben Heck's game

American Pinball
Most Recent Titles

Dutch Pinball
Most Recent Titles
Bride of Pinbot 2.0
Bride of Pinbot 3.0 (on hold)
The Big Lebowski (production issues)

Silver Castle Pinball
Jersey Jack Pinball
Most Recent Titles
Wizard of Oz
The Hobbit
Dialed In
Rumors of Future Titles
Pirates of the Caribbean?
Toy Story?

Chicago Gaming/Planetary Pinball
Most Recent Titles
Medieval Madness Remake
Attack From Mars Remake
Rumors of Future Titles
Monster Bash Remake?
Big Bang Bar Remake?
Cactus Canyon Remake?

Heighway Pinball
Most Recent Titles
Full Throttle
Alien (production issues)
Rumors of Future Titles

P3 (Multimorphic)
Lexy Lightspeed (coming soon) «New!
Cannon Lagoon (coming soon) «New!
Cosmic Cart Racing (coming soon) «New!

Homepin
Thunderbirds (coming soon)
**TWIP dreams of the day Harry Potter Pinball will be added to these rumors. Ms. Rowling, I am willing to subject myself to the Cruciatis curse if you approve this!
Get alerts for new posts from This Week in Pinball – follow us on Facebook, Twitter, or sign up by email: