Who are the Pinball Brothers?
Last week This Week in Pinball covered the Fall of Heighway Pinball. This week we've been trying to find out more about the Pinball Brothers, why the company was formed, what role they played and what they're up to currently.
Pinball Brothers Limited was formed on June 16, 2017, very shortly after the investors took control of Heighway Pinball and Andrew Heighway stepped down. Officers listed are:
Mats Daniel Janson
Cato Paus Skrede
Alexander Thomas Spohr
Johan Patrik Tenn
We have reached out to members of Pinball Brothers for answers, but they have declined to comment thus far. Right now we have more questions than answers.
Will Pinball Brothers Produce Machines?
It is sounding more and more like the Pinball Brothers company is planning to move forward and attempt to build/sell their current titles:
Queen
Playboy
Barry Oursler Original Theme (same vein as Oursler's Cyclone and Hurricane)
A lot of time and money have been invested in these titles, particularly Queen and Playboy. We're hearing Queen would be the first title, and that it would be done on a new platform – not the swappable playfield idea that Heighway was initially trying to create. We've also heard that Alien may still be on the table down the road.
Why was Pinball Brothers Limited formed?
From what we've heard, the investors set up this new entity and transferred Heighway Pinball's valuable assets to Pinball Brothers which would ensure that Heighway Pinball's debts and liabilities were expendable, if it came to that. Which of course it did. Pinball Brothers were then able to erase Heighway's debts, while holding onto the assets that had been transferred.
This brings up a lot of questions.
Was the plan all along to close up Heighway Pinball?

Andrew Heighway is getting nearly all the blame currently. How much blame should be put on the investors?

All the rhetoric blaming Andrew Heighway is helping to paint the investors as victims – are they victims?

Are any of the outspoken ex-Heighway employees currently employed by Pinball Brothers?

If they do try go forward with producing machines under Pinball Brothers, will Heighway customers be made whole?
---
More Heighway Coverage
Pinball News had an extensive interview with Andrew Heighway – check it out here

Pinball Profile interviews Designer Barry Oursler, programmers Brian Dominy & Joe Schober, and distributor Tommy Floyd – check it out here

Aurich (Artwork) shares some of experiences at Heighway Pinball – check it out here
---
Jersey Jack Timeline Change
It has been heavily rumored that the next title from Jersey Jack would be Toy Story, followed by Willy Wonka and the Chocolate Factory. (Note: Jersey Jack Pinball has not announced anything to confirm either of these titles.)
We have heard from credible sources that this schedule has changed, and these two titles have be flipped.
Willy Wonka and the Chocolate Factory will be next, followed by Toy Story, according to multiple sources.
Why the change? We have been told it had to do with licensing. The movie Toy Story 4 comes out June 20th, 2019, so it is possible that it has to do with the release date. No matter what order, knowing JJP these machines will be incredible and we can't wait to see what they're working on!
---
Monster Bash Remake Coming
The Northwest Pinball and Arcade Show is coming up June 8-10th in Tacoma, Washington. Last week on their Facebook page, they posted the following: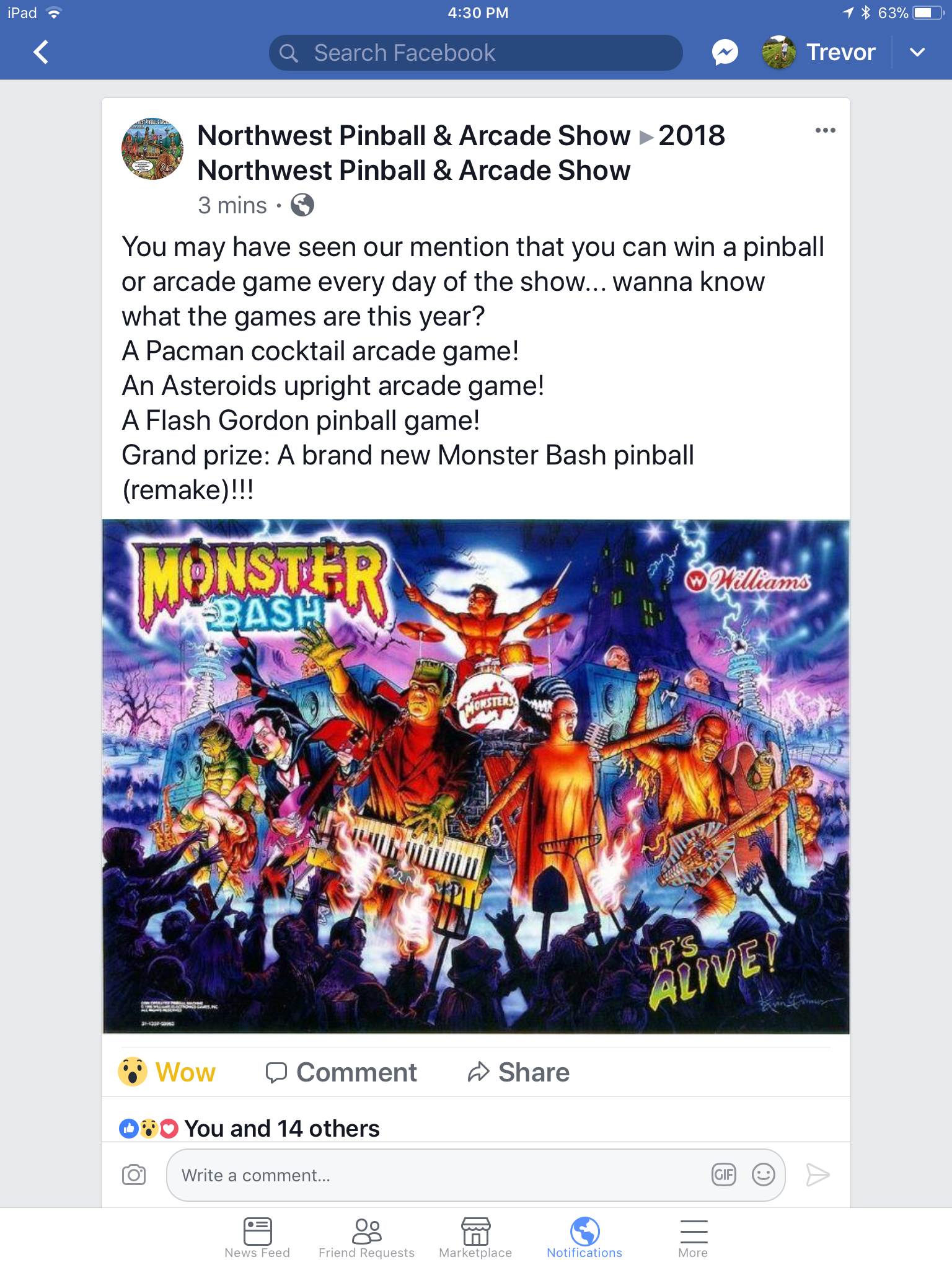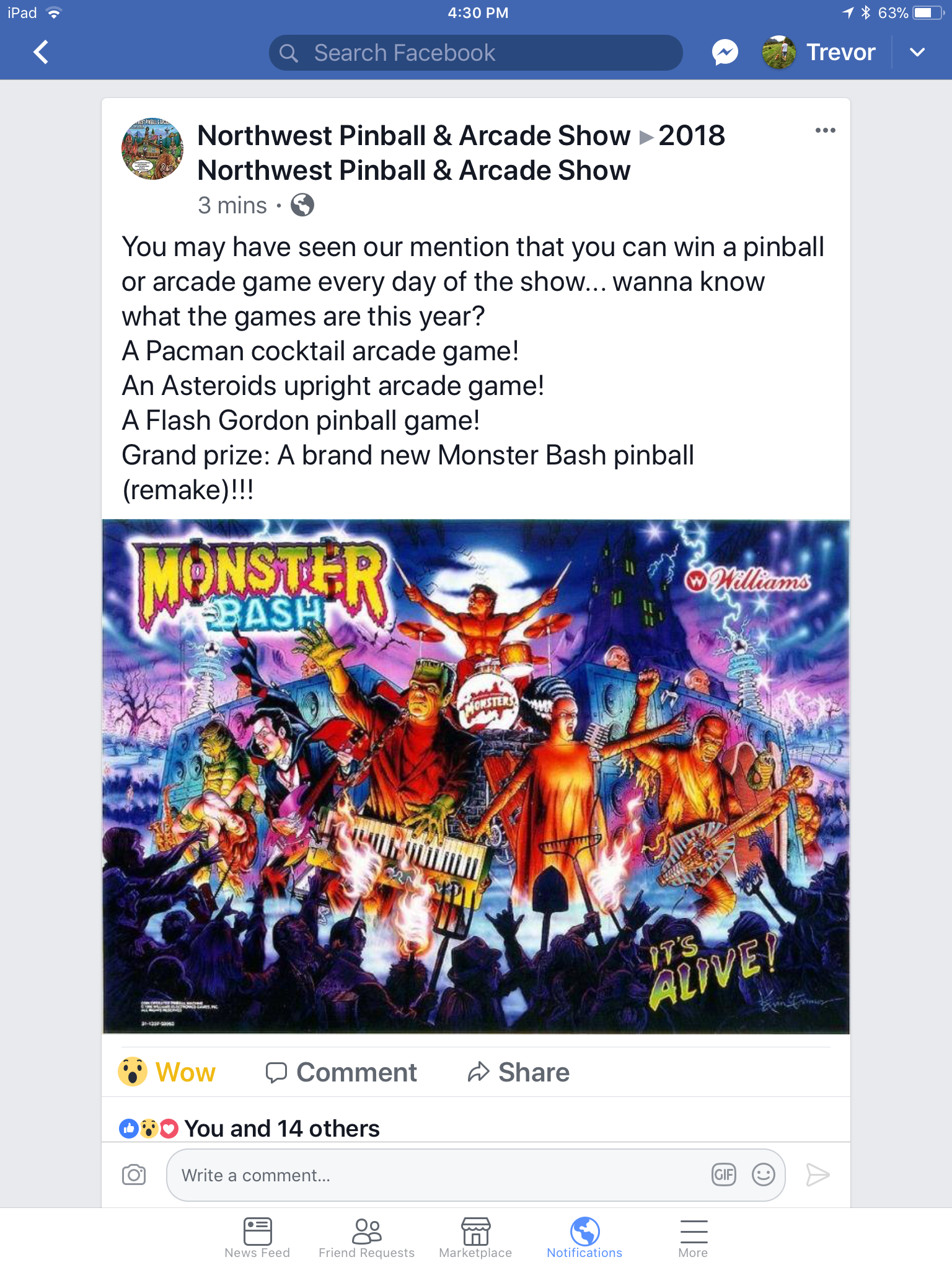 Problem is, Monster Bash Remake has not been officially announced by Chicago Gaming Company yet. Oops! The Facebook post was quickly updated: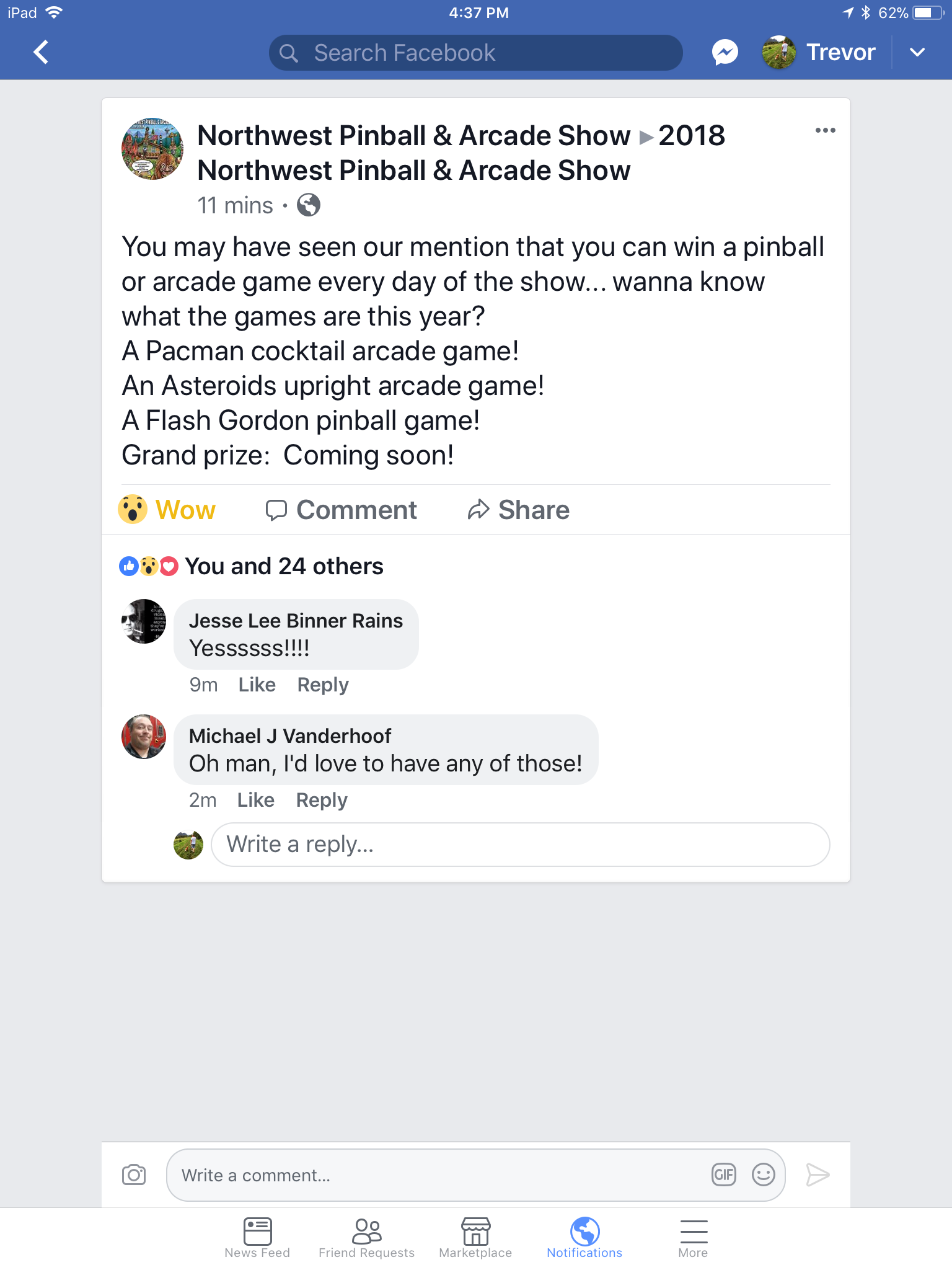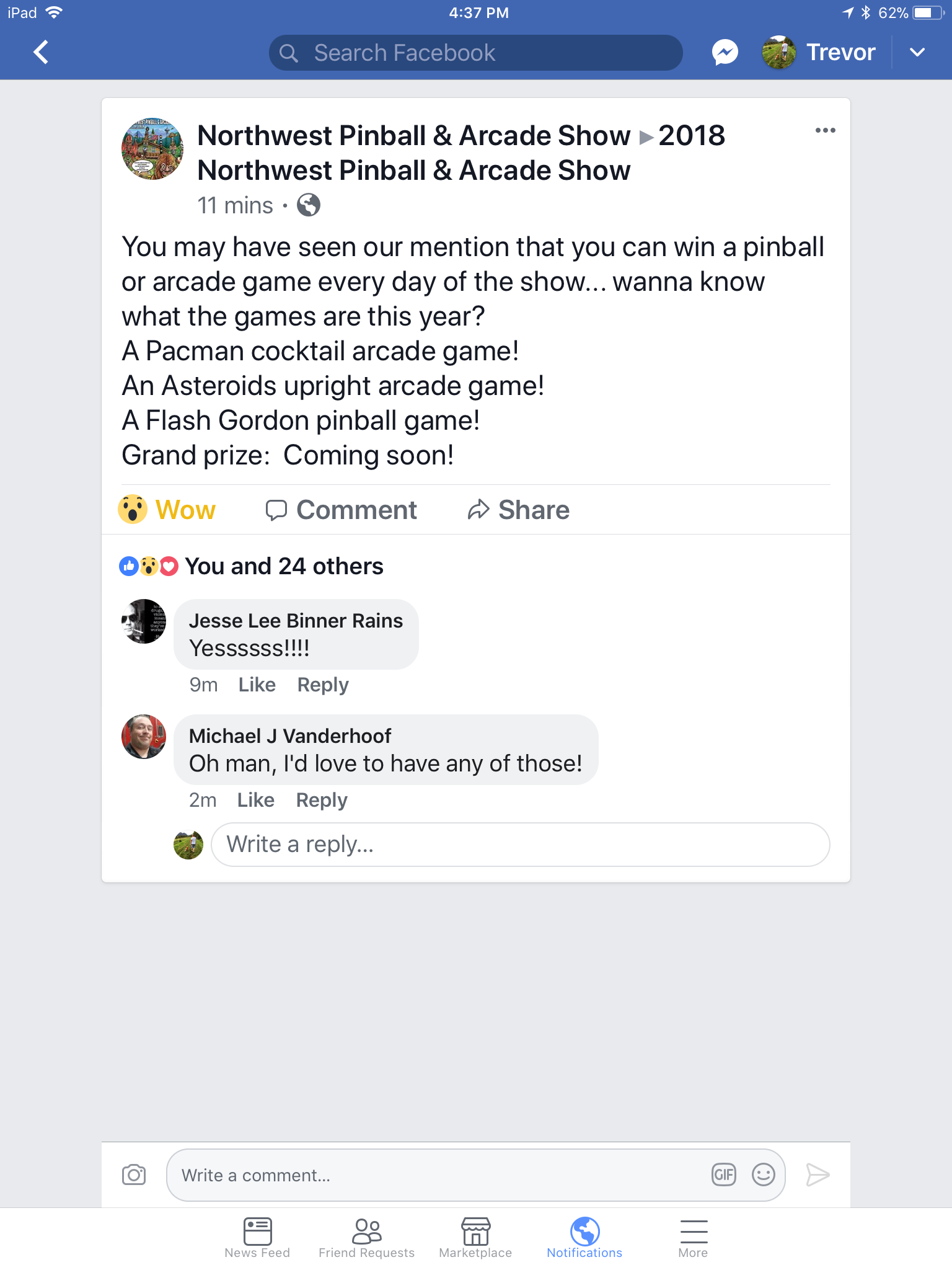 Nothing gets by Pinside though, so someone grabbed the screen shot above before it was deleted. Check out the initial post here, and great catch by Pinsider extraballingtmc!
---
Iron Maiden: LE Stream and Shipping, Premium Pics This Week?
Iron Maiden news! Here is what happened last week with Stern's newest pinball machine:
Iron Maiden Limited Edition was streamed by Dead Flip – check it out here!

Waiting to see pics of the Premium? The plan is for them to be released THIS week!!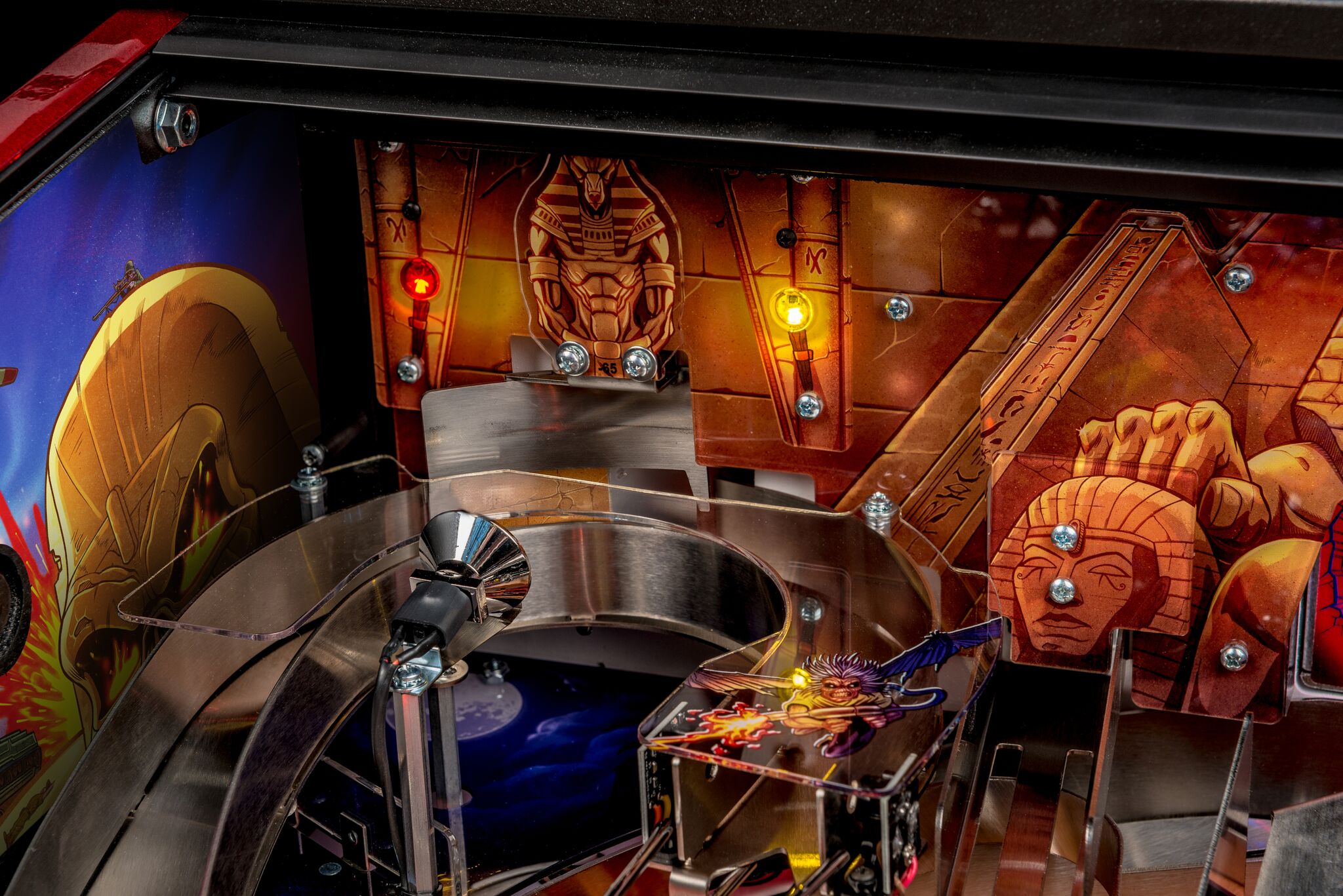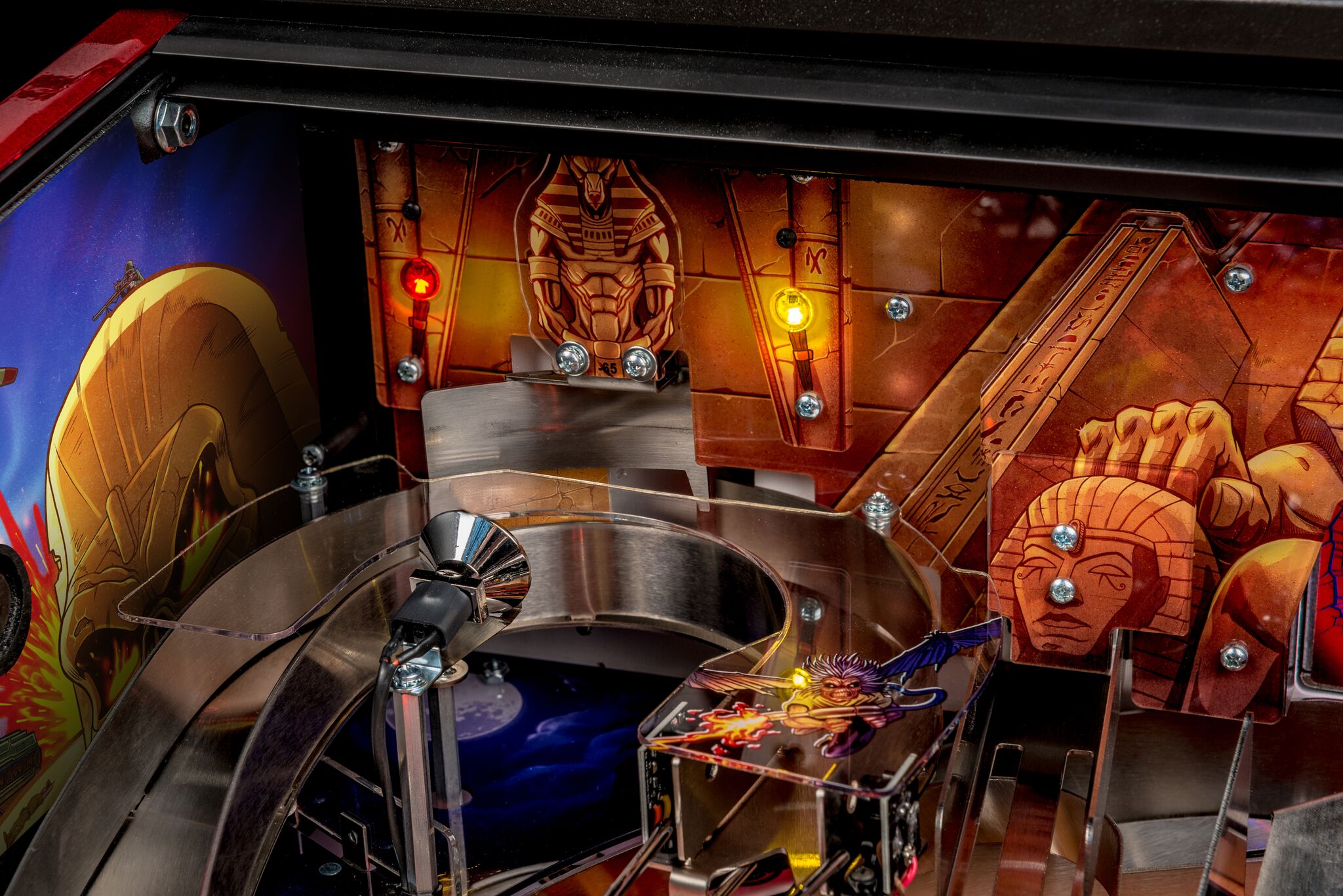 ---

WALKING DEAD PINBALL PRISON TOWER
Add The Walking Dead Pinball Prison Tower to your Walking Dead Pinball! Attaches to the back the back board and includes red and white interactive LEDs – check it out!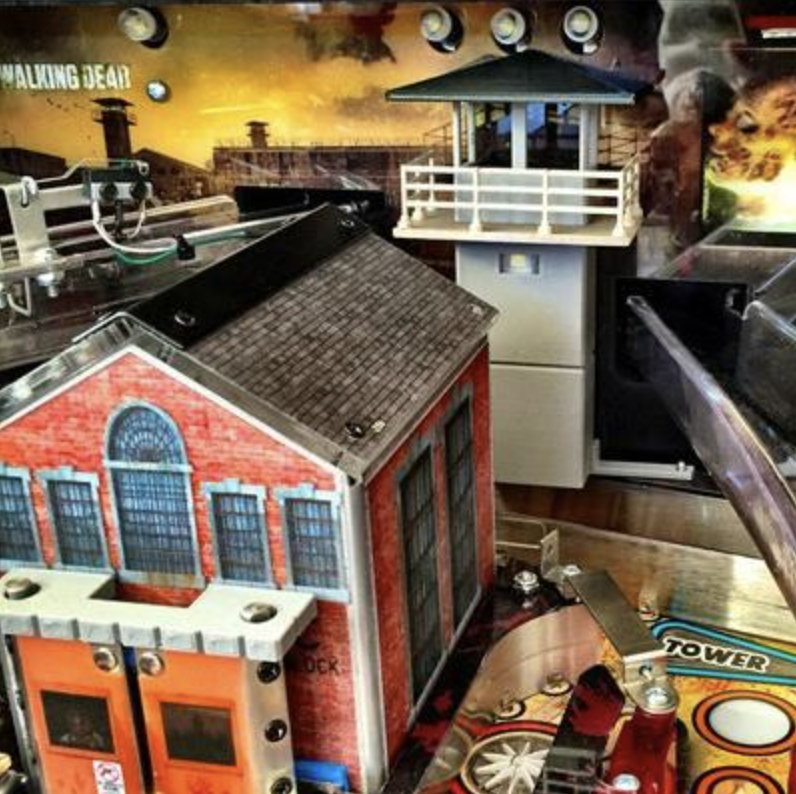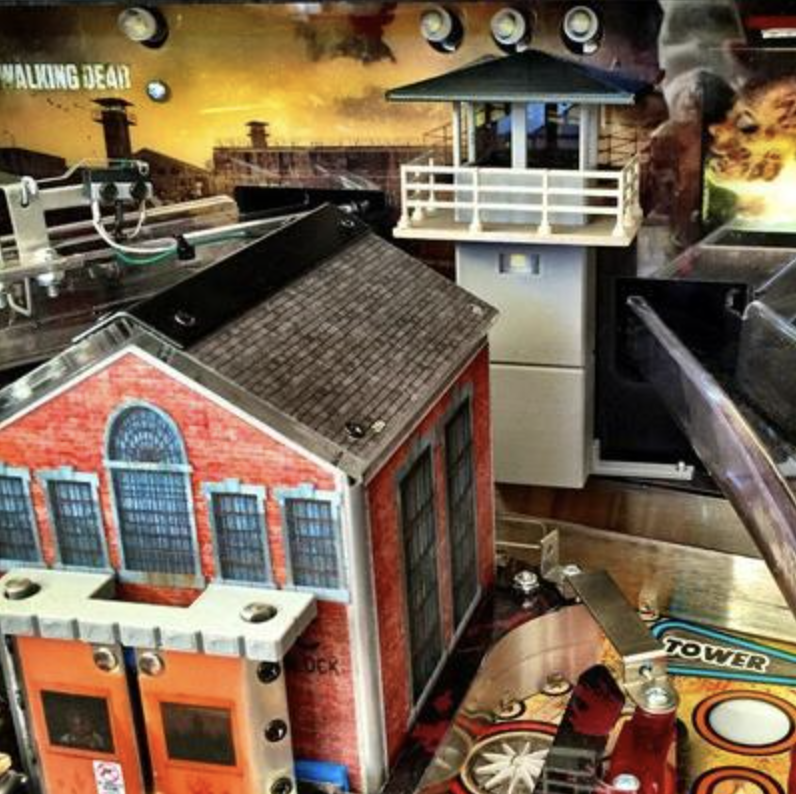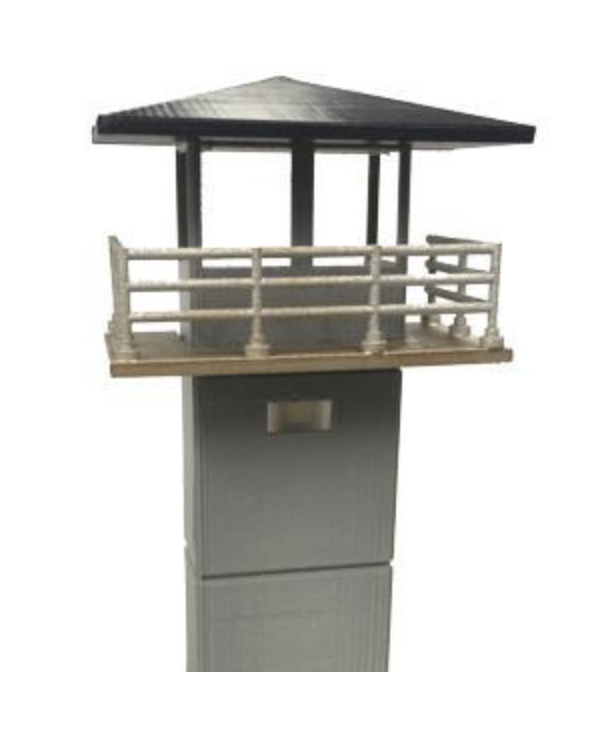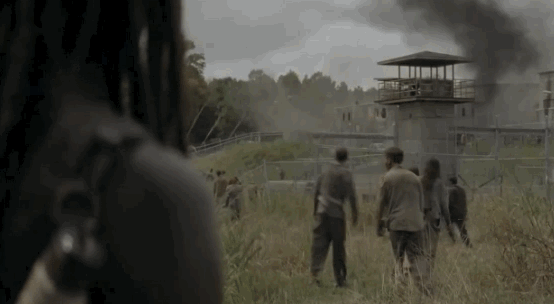 Do you want to sell your mod on Mezel Mods? Click Here to email them for more info!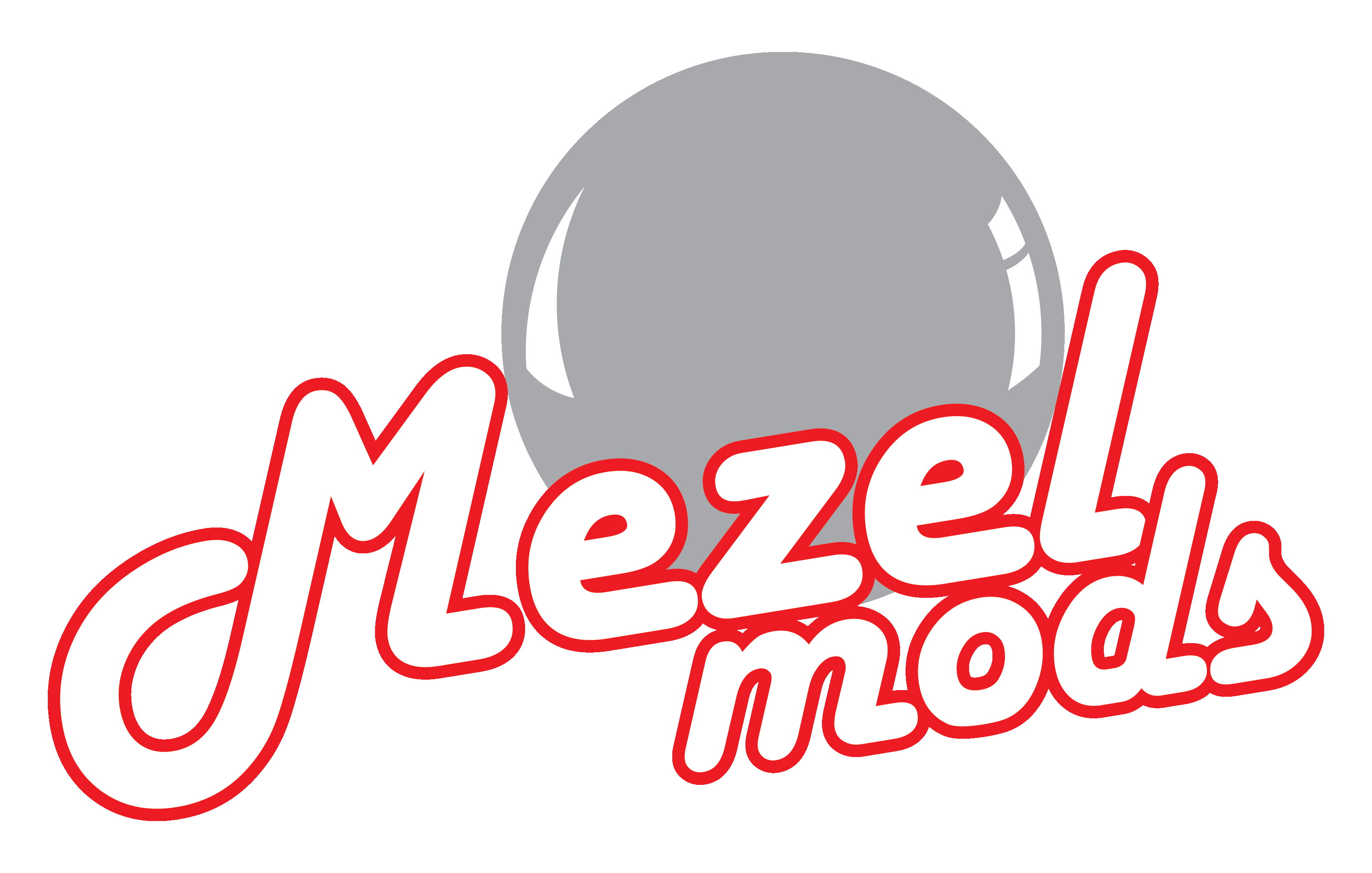 Congrats to GREG WILLIAMS, WINNER of the April Mezel Mods Giveaway!
---
New Titles Rumored…
In an episode last week from Kaneda's Pinball Podcast, he shared the following:
"I've been hearing what some rumored new titles are, I'll share those on a future podcast…if the rumors are true about what future themes are coming from Stern Pinball, God help everyone else in this hobby…because we all know, theme is everything for the most part, Stern knows how to make a fun pinball machine, we know that…I think Stern has learned where the sweet spot is, it is nostalgia. They are coming out with titles that are going to hit the bullseye dead center with some of these themes coming out. I'm super excited, and you're going to be as well."
All we'll say about the comment is – we're excited too. Very excited – great things are coming 🙂
(see our Upcoming Games and Rumors below…)
---
John Popadiuk Judgement
Last week, Plaintiffs won their civil case against John Popadiuk. According to this post on Pinside:
"We were in court in Cook County yesterday. Me and the rest of the claimants were there to have an actual trial FINALLY. There were 6 of us representing the entire class. Jpop was there as well. He brought a whiteboard? I think it was magic girl but I did not see it actually used, just sat there. Still no shooter lane…
My testimony was very straightforward and took 5 minutes. I paid, he did not produce, give me money back. In the end that is what the judge agreed to for me. I get all my money back. I am not going to discuss the other claimants settlements, although I will say no one got less than me."
We will keep you updated on developments going forward.
---
Houdini: New Code, Magic Glass, Rule Sheet
A few updates to report for American Pinball's Houdini: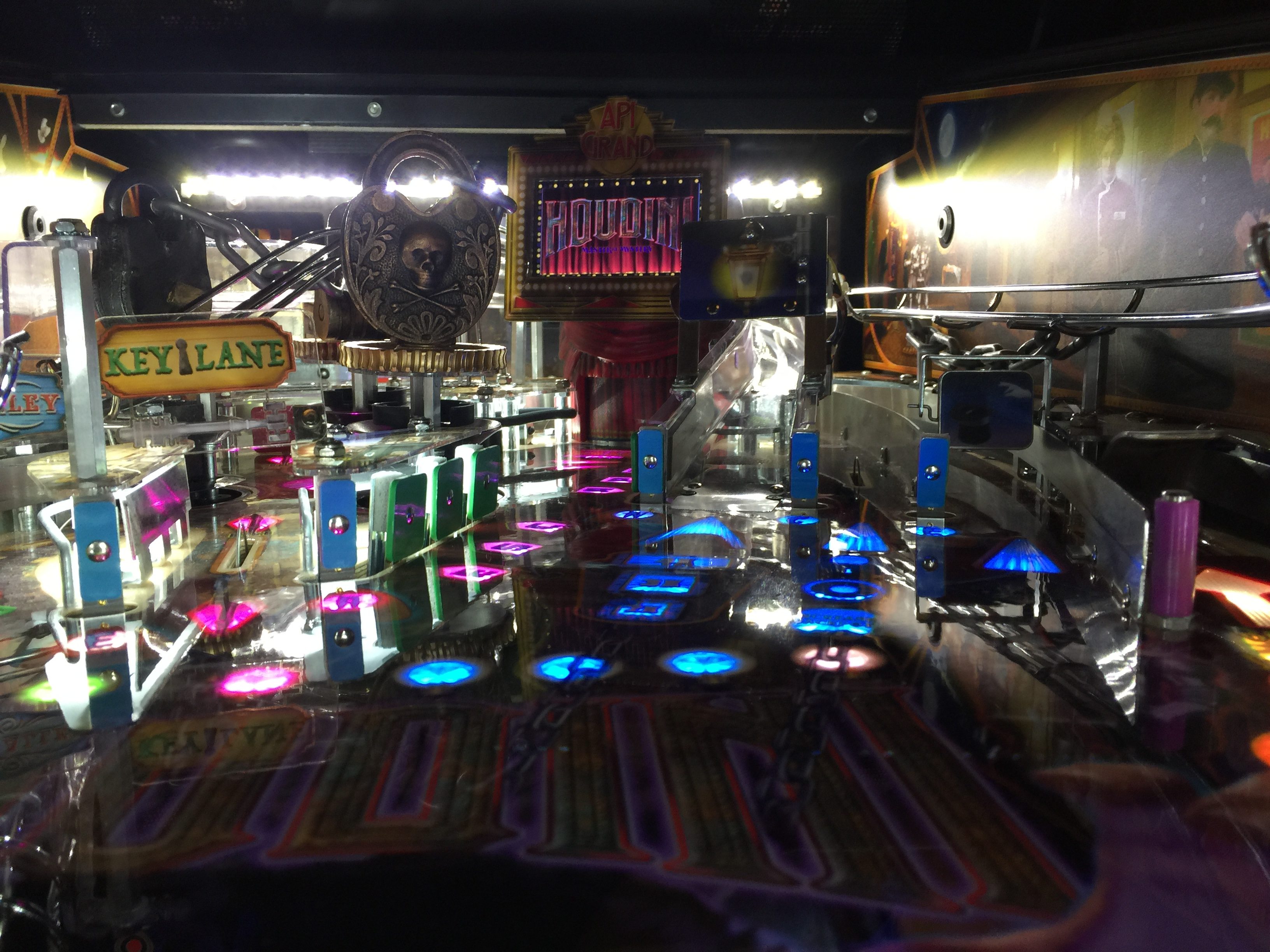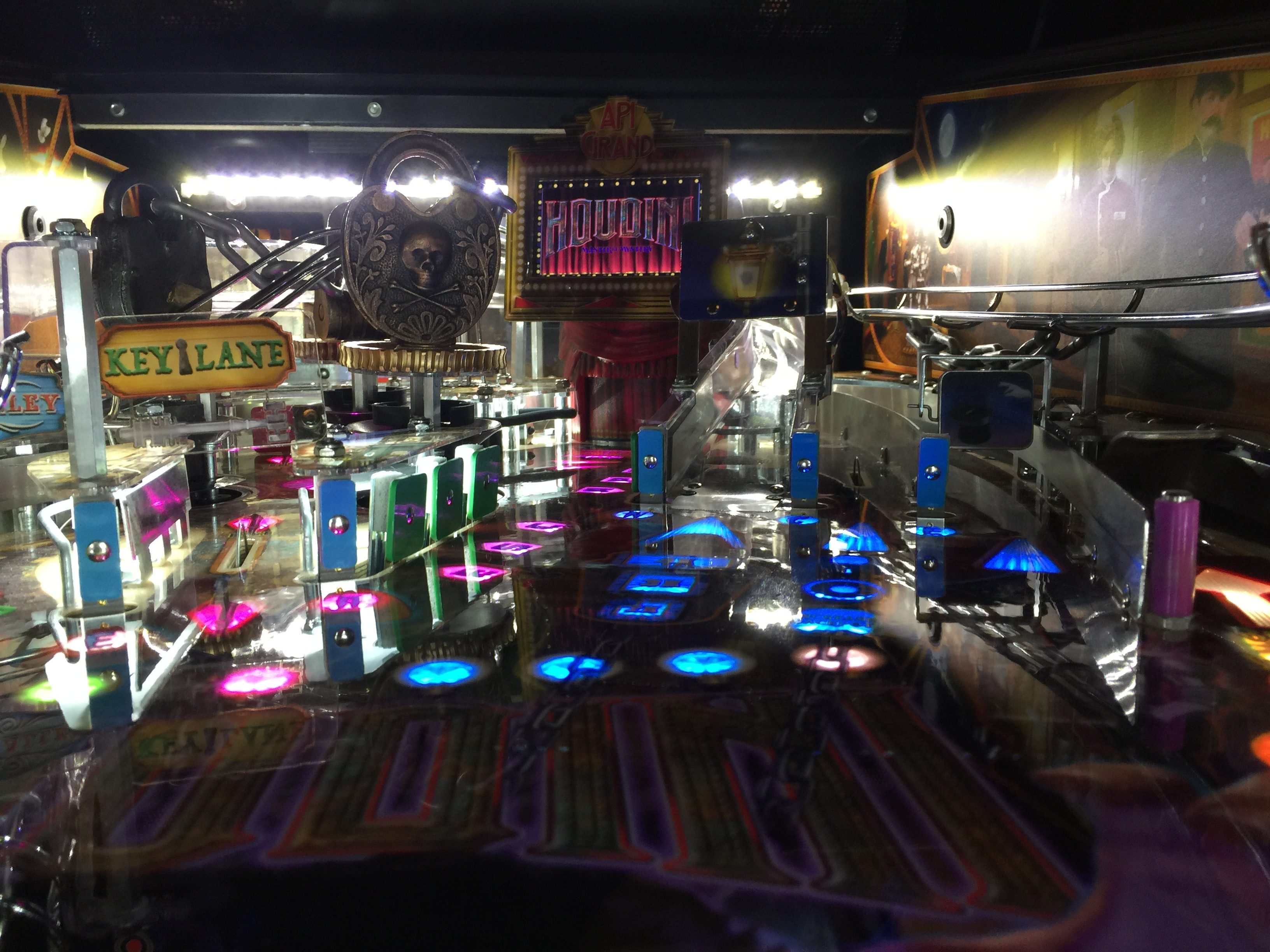 ---
Straight Down the Middle: a pinball show
Five Favorite Pinball Machines from Each Manufacturer
Check out the new video from Zach and Greg at Straight Down the Middle: a pinball show! They discuss their top 5 favorite pinball machines from each manufacturer (Stern, Sega, Data East, etc.) – check it out:
---
What is your Dream Theme for Pinball??
---
Victory Laps – End of Post Bonus
---
MATCH! – Next Game…What is Coming Up on This Week in Pinball
Tomorrow – Top 10 Pat Lawlor Designs
Wednesday – Name the Game!
Thursday – a guest post about the growth of pinball (subject to change!)
---
Get alerts for new posts from This Week in Pinball – follow us on Facebook, Twitter, or sign up by email:
Disclaimer: Any articles, interviews, or mentions of pinball manufacturers or pinball products is NOT an endorsement.
Have a scoop or anonymous rumor? Email us at thisweekinpinball@gmail.com
---

Stern Pinball
Most Recent Titles
Aerosmith | AC/DC Vault Edition | Star Wars | Guardians of the Galaxy | AC/DC Luci Vault Edition | Iron Maiden
Announced/Confirmed
Elvira 3
Rumors of Future Titles
Deadpool? | The Munsters? | The Beatles? | Steve Ritchie Black Knight 3000? | Superman 1978? <–NEW!! ? | Beetlejuice? <–NEW!! ?
Jersey Jack Pinball
Most Recent Titles
Wizard of Oz | The Hobbit | Dialed In | Pirates of the Caribbean
Rumors of Future Titles
Order changed –> Willy Wonka? | Toy Story? | Guns N' Roses
Chicago Gaming/Planetary Pinball
Most Recent Titles
Medieval Madness Remake | Attack From Mars Remake
Rumors of Future Titles
Monster Bash Remake? | Cactus Canyon Remake? | Theatre of Magic? | Big Bang Bar Remake?
Spooky Pinball
Most Recent Titles
Rob Zombie's Spookshow International | Dominos (*contract game) | Jetsons (*contract game) | Total Nuclear Annihilation (*contract/house game) | Alice Cooper's Nightmare Castle
American Pinball
Most Recent Titles
Houdini
Rumors of Future Titles
Oktoberfest?
P3 (Multimorphic)
Lexy Lightspeed | Cannon Lagoon | Cosmic Cart Racing
Pinball Brothers
Queen | Playboy | Barry Oursler's Original Theme
Dutch Pinball
Most Recent Titles
Bride of Pinbot 2.0 | Bride of Pinbot 3.0 (on hold) | The Big Lebowski (production issues)
Circus Maximus
The Pinball Circus Remake | Kingpin
Homepin
Thunderbirds (coming soon)
deeproot Pinball
Retro Atomic Zombie Adventureland? | Alice in Wonderland? | Magic Girl? | Original Houdini design?
Announced/Confirmed
Fire and Brimstone
Silver Castle Pinball
Timeshock (coming soon)
Phénix Pinball
Olympic Goblin
**TWIP dreams of the day
Harry Potter Pinball
will be added to these rumors. Ms. Rowling, I'd be willing to let Dobby try to save my life (in his own way) and keep me from going back to Hogwarts if you approve this!
Get alerts for new posts from This Week in Pinball – follow us on Facebook, Twitter, or sign up by email: