— This Week's Top 5 Stories —
1. Stern nabs Godzilla Theme from Spooky
Last week we had mentioned that Spooky Pinball was not able to secure the Godzilla license they were pursuing. This was surprising and disappointing to hear, as it has always been a dream theme for Charlie and Bug of Spooky Pinball.
This week we learned why: Stern has acquired the Godzilla license in a behind the scenes bidding war.
We will not be adding it to the list of Upcoming Games and Rumors as it is not clear at this time if they plan to manufacturer a Godzilla themed machine.
---
2. Pinburgh Preview!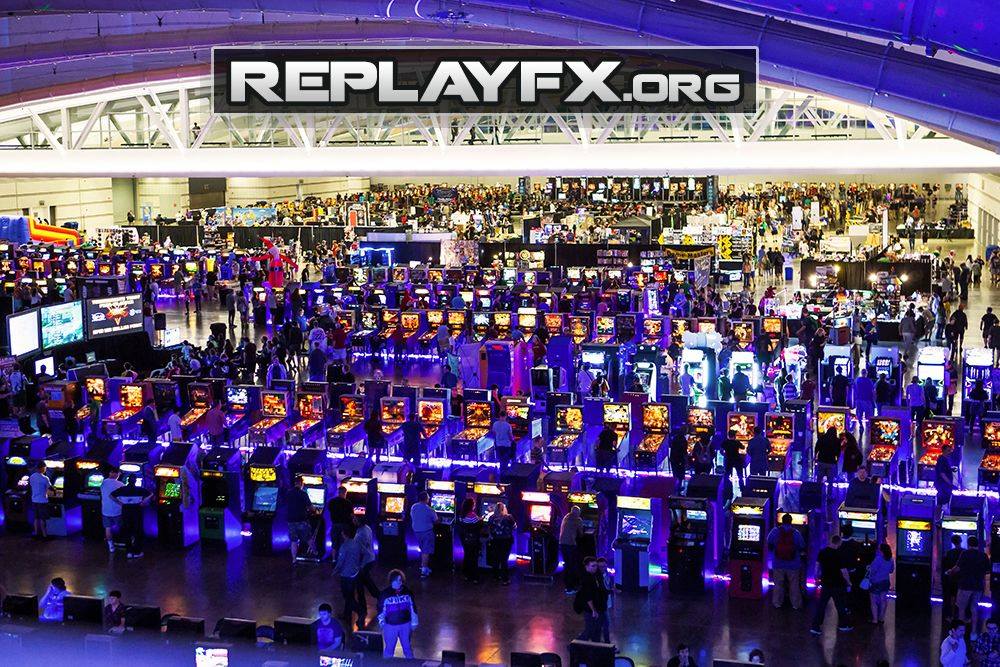 It's time for ReplayFX/Pinburgh! If you're unfamiliar with Pinburgh, it is the largest pinball tournament in the world, with 840 players battling it on over 300 pinball machines. This year, ReplayFX will also feature the Women's International Pinball Tournament (W.I.P.T.), the largest women's pinball tournament in the world. There is also loads of Prize Money for the winners of both competitions.
Quick links to get you ready for Pinburgh!
Pinburgh: What to Watch For
Can Colin MacAlpine become the first to win back to back at Pinburgh?
Will Eric Stone make it into the tournament and continue his hot streak? As of the time of this writing, he is 78th on the waitlist.
Will Josh Sharpe win his first major? He posted on Tilt Forums his previous 32 results in majors which includes 14 top tens and four second place finishes.
If Zach Sharpe, Cayle George, or Keith Elwin want to have a chance at running down Raymond Davidson for the #1 player in the world in 2018, this is their last big chance to do it – will one of these big names come out on top?
W.I.P.T: What to Watch For
Can Robin Lassonde take the title? She is currently the top ranked female in the world at 166th in the IFPA Rankings
Another person to watch is Zoe Vrabel, who was the 2016 IFPA Women's World Champion – will she take home first prize of a medal plus an autographed Iron Maiden Pinball Machine?
Pinburgh: By the Numbers
Games by # of Players:
1: 24
2: 14
4: 244
6: 6
Every Letter of the Alphabet has a game except U:
O: Old Chicago
Q: Quicksilver
Y: Yukon
Z: Zig Zag
X: X-men, Xenon, X's & O's
Every Year from 1963-2018 represented except 3:
1965: (Dodge City in Backup)
2000
2005
Oldest Games
Slick Chick 1963, Zig Zag 1964
Games by year
1980 – 21
1977 – 17
1976 – 14
1979 – 13
1995 – 12
1975 – 10
1981 – 10
1986 – 10
1988 – 10
1990 – 9
1978 – 8
1989 – 8
1993 – 8
1984 – 7
1991 – 7
1994 – 7
1996 – 7
1973 – 6
1992 – 6
1970 – 5
1983 – 5
1985 – 5
1987 – 5
2017 – 5
1969 – 4
1972 – 4
1974 – 4
1998 – 4
2011 – 4
2013 – 4
1968 – 3
1971 – 3
1997 – 3
2001 – 3
2003 – 3
2007 – 3
2008 – 3
2010 – 3
2012 – 3
2015 – 3
1966 – 2
1967 – 2
2006 – 2
2009 – 2
2014 – 2
2016 – 2
1963 – 1
1964 – 1
1982 – 1
1999 – 1
2002 – 1
2004 – 1
2018 – 1
By Manufacturer
Bally – 39
Bally Midway – 10
Capcom – 2
Data East – 9
Game Plan – 4
Gottlieb – 36
Interflip – 1
Jersey Jack – 3
Midway – 20
Mr. Game – 1
Mylstar – 2
Premier – 13
Recel – 2
Sega – 6
Segasa – 1
Sonic – 5
Spooky – 1
Stern – 52
Williams – 79
Zaccaria – 2
Thanks to Doug Polka from PAPA for providing the info above, which was collected from IPDB and compiled by Pete Hendricks.
The Pinburgh stream will start at the quarterfinals. They will also be streaming the finals of Intergalactic and WIPT on Sunday. TUNE IN HERE ON THE PAPA YOUTUBE CHANNEL WHEN IT GOES LIVE!!
---
3. Team Pinball Reveals The Mafia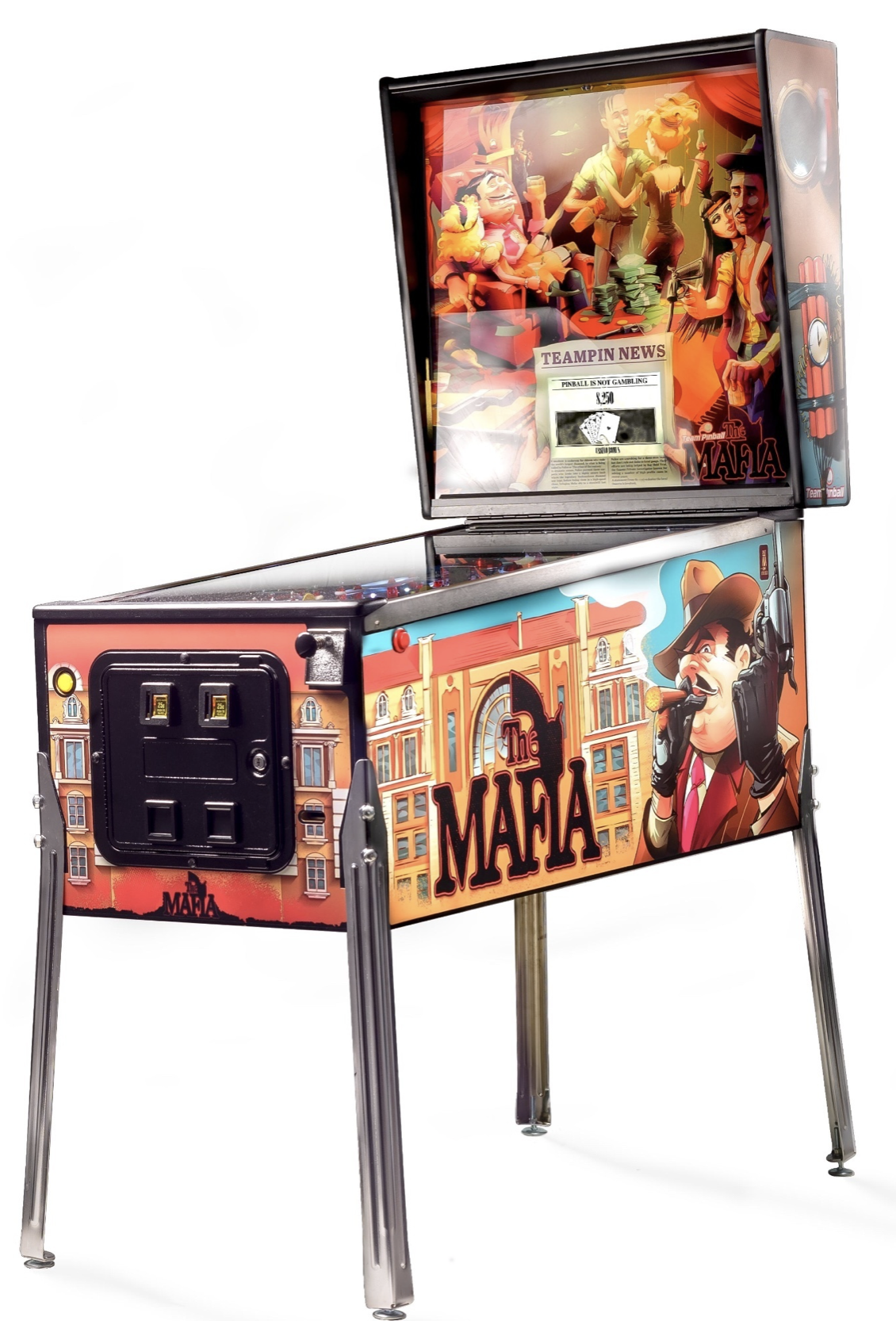 In one of the best kept secrets in recent history in this industry, a new small scale manufacturer called Team Pinball revealed their first pinball machine – The Mafia. Team Pinball is out of South Wales, and has been working towards this reveal for over a year.
General Info
There are currently 10 The Mafia pinball machines made
There will be 100 total made, with 35 of those available in the United States (exclusively through PinballSTAR)
"Join a gang on the East Coast of the United States in year of 1920-1930, during prohibition, when mafias and bootleggers used to reign. The player is immersed in the world of the mafia in what the player must progress through the rules of the game to conquer the city. This machine has a classic, fun and unique game design built with modern technology, you will re-discover pinball! Playing with this game will give a great opportunity to join the world of Mafia to rule the city, have fun and experience something new."
We reached out to Team Pinball to find out more about the rule structure of this game. They shared the following:
"The game is based on hurry up modes which you need to collect. Your goal of the game to conquer most cites and become the Big Boss. The wizard mode is based on your hurry up scores and all time based."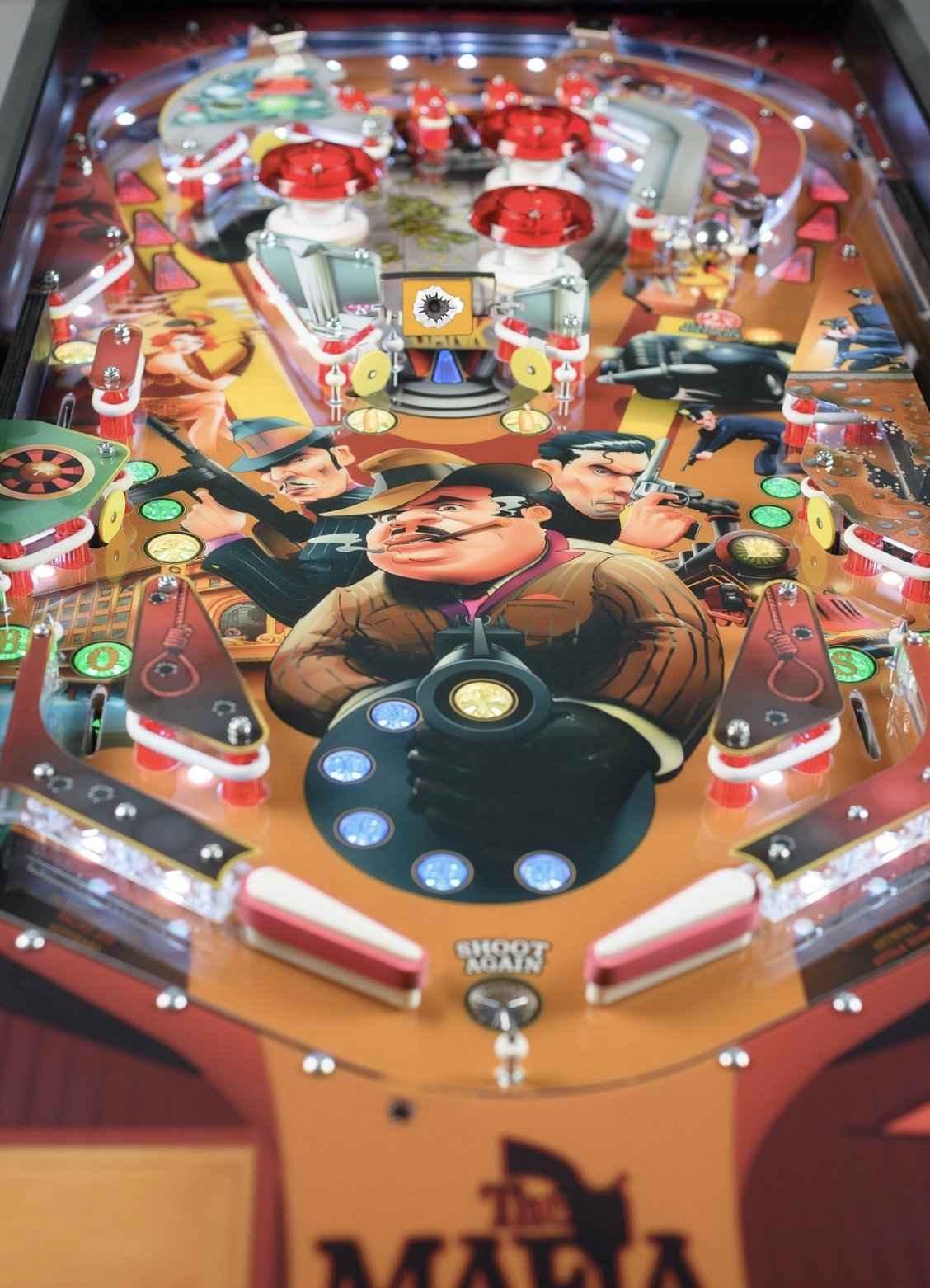 Details
One ball game
Factory fitted reverse-printed playfield protector
Genuine reverse-printed backglass
10-inch HD LCD screen integrated in the backglass
Powered by the famous Raspberry Pi computer
Full RGB LED playfield lighting, providing Attractive lamp effects
Single electronic board with through-hole components
Designed to be operator friendly, manufactured with standard pinball parts
Hand-drawn art and LCD animations
Original – composed for the game – music giving an authentic pinball experience
Cabinet decal set – high quality scratch resistance material
Features
2 standard size flippers
100 RGB LEDs for inserts and general illuminations
2 Car chase orbit shots
1 Thompson gun spinner
2 Bullet stand up targets
1 Casino stand up target
1 Train stand up target
1 dancer roll over switch
3 Gin letter roll over switches for bonus advance
4 Boss letter roll over switches for ball saver
1 Detonator captive ball: double scoring for 15 seconds
1 Diamond stand up target
3 Money bag pop bumpers
2 Sling shots
1 Bonus collect exit to the shooter lane
Wizard mode
Hurry up
Boosting spinner value
Price
Production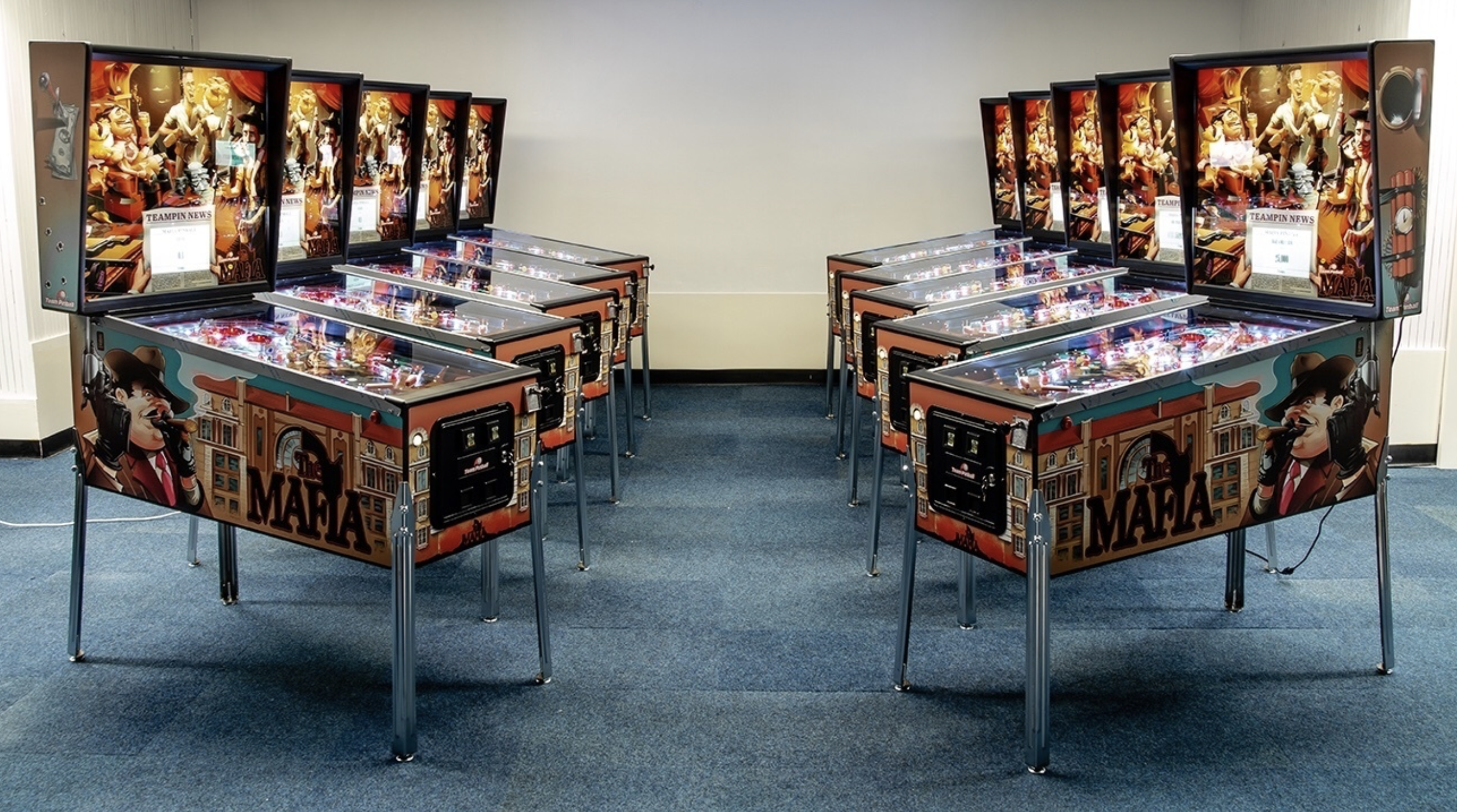 As mentioned above, there are currently 10 games completed
We reached out to Team Pinball regarding future production plans, and they shared:

"At the moment, we are planning to make 10-15 games a month. As the machines are going to be manufactured to demand, we are going to order the parts for the first production batch once we have the order from our distributors. It then will approximately take 10-12 weeks to manufacture the first run and then we will make continuously batches of 10-15. I believe that we would complete the 100 games in about a year."
Congrats to the group at Team Pinball!! We look to seeing more about this game.
---
4. Slam Tilt Podcast Interviews Lyman Sheats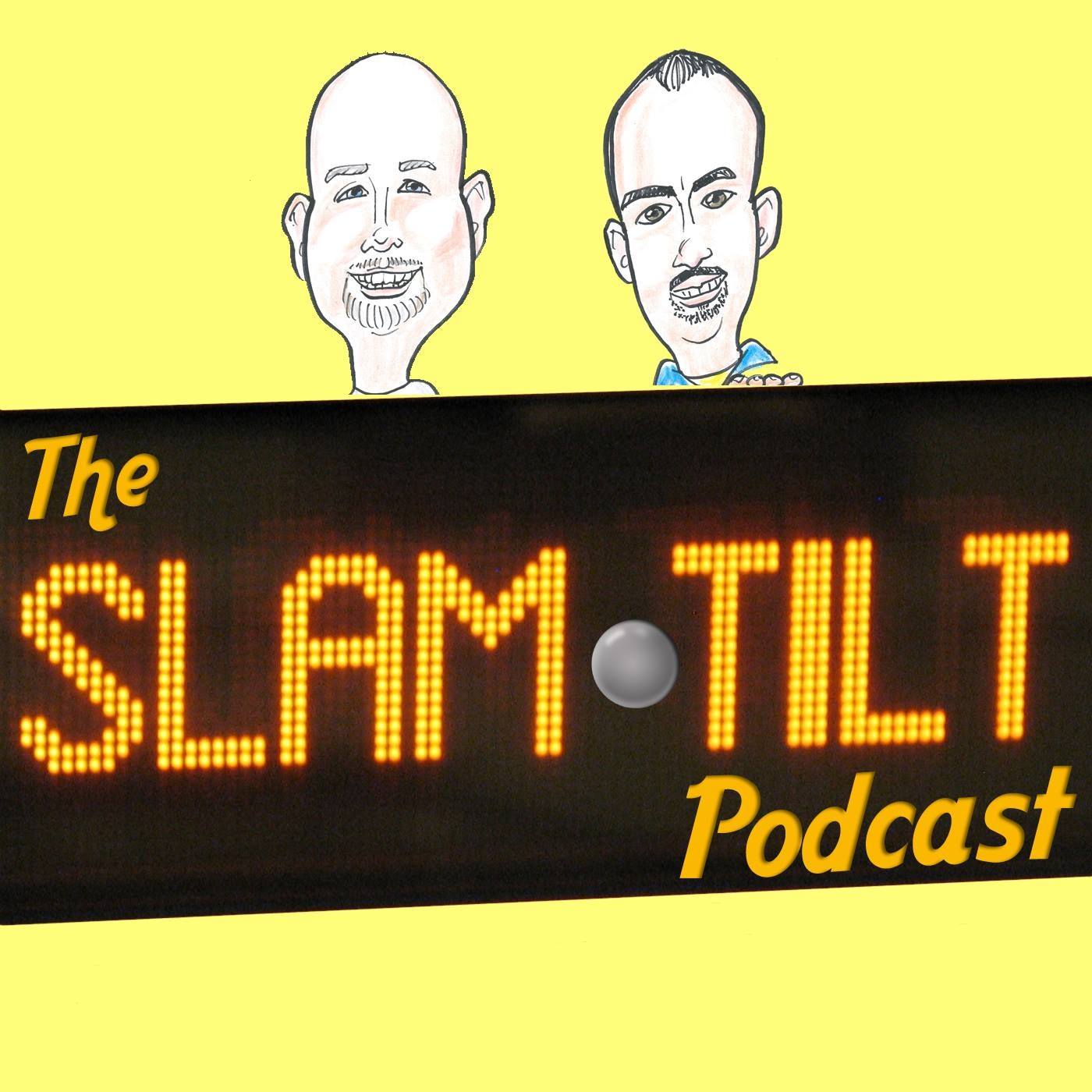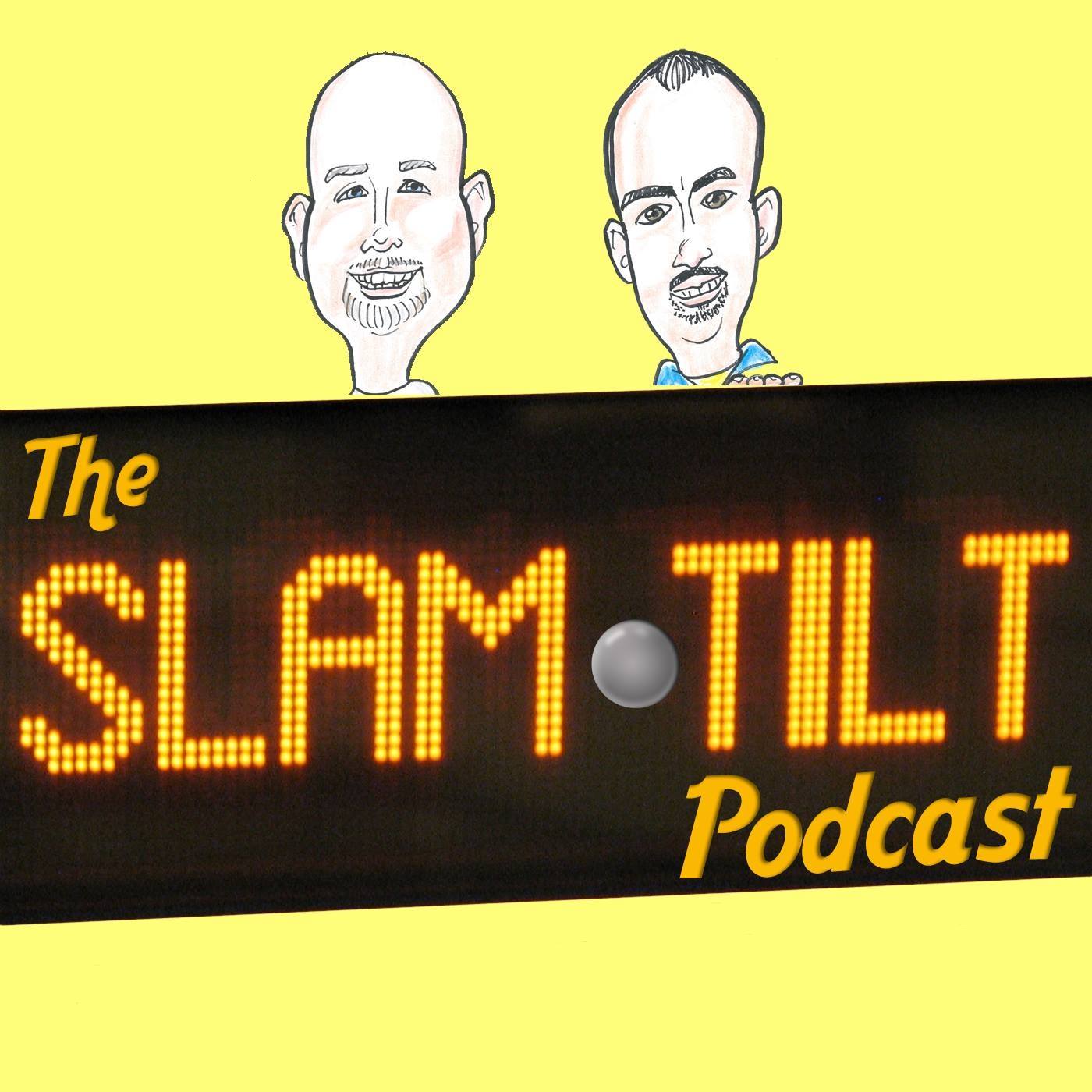 Lyman Sheats is a Software Engineer for Stern Pinball and has been a programmer for some very popular pinball machines, including The Walking Dead, Batman '66, Metallica, Spiderman, and many more. This week he gave a rare interview to the Slam Tilt Podcast. It covered many interesting portions of his pinball career and is an excellent listen. Here are a few interesting tidbits:
On his first game: "The actual first game I was assigned to…was Congo. Bill Grupp was the lead programmer and I was the support programmer. The Congo I started working on wasn't the Congo that everybody else has played. The original Congo at Williams was a two level game. During one of the design reviews, it was decided that maybe this isn't the best direction for the game. So it went into this redesign phase…
…originally it was a two level game, it had four flippers. Probably like Black Knight – well, more like the original Black Knight, it was a little smaller playfield up top. It had two big flippers in a tight space, a couple targets and couple shots. It was just very crowded, a little claustrophobic. Interesting layout but it ended up being redesigned."
On Lyman's Lament, an Easter Egg in Monster Bash named after Lyman: "So George put the list – or maybe it was Kevin I don't know – I think it was George – it was just meant to be like a paper joke. Here are the songs in this game, and here is this other song because – I don't know, I guess people think I complain about stuff too much. Not that I have a bad attitude, but most people's scales go from 1 to 10, and I think mine goes from -5 to +5. George felt like I never really got excited about things in the game. I think it was a function of – we were all excited about the things we were doing again in pinball, but a lot of other people weren't. It is pretty tough to come into work every day, and work so hard at stuff, work 12-14 hours a day, and then just kind of feel like the people you're doing the work for just don't really care about what your doing. But he put the songs that were in the game, he named all the songs. And the last one, just as a joke, he said "and this one is called Lyman's Lament" and I said "Well what's that?" and he said "I don't know, it is just you complaining about stuff…" So it stayed on the playfield, and somebody was like "well we've got to put this song in the game." And I said "I gotta get the rest of the game done first, I can't be putting stupid stuff in the game that isn't part of the game." But in the end we managed some time to do it…George said "it's just you complaining, so go in the studio and vent and complain about stuff". Not my idea but it is there!"
On Batman '66: "That was a tough one for me because I grew up watching the show…and I wanted to be involved, and there is just so much material to go through. And once I said ok I'll do this, I want to do it, and I knew it was going to be on a pretty tight schedule…ok, here are all the people we can have as part of the license, and here are all the things we can do, and this and that. It was like "what did I sign myself up for". It was really a lot. There is so much material that we ended up being able to use. And I was a little overwhelmed because I am a big fan of the show and I wanted to do the theme justice. The thing about doing a licensed game is most of the time you only get one shot at doing the license. A little later on, I wasn't really sure what was happening with the game and I found out a little later that the company was wanting to do a little more expensive game, the Super LEs and LEs were a little more expensive than normal. Then it just kind of became this self fulfilling prophecy where I have to make this game a big game, and utilize all the material that we're able to use. And so it has been somedays a lot of fun and some days not so fun. And in the end, I get one shot at doing it, so I want to make sure that I do the best I can."
On what else is coming for Batman '66: "There is still a lot left. There is the rest of the minor villain modes and two more wizard modes along side of Batusi. So once you qualify what now is just Batusi, you'll be able to pick from three wizard modes total from the minor villain select to say which one you want to play. Then obviously a few other tweaks and polish for the game…score balance a little bit and some more light shows. Stuff that I normally do towards the end of the game. When I work on a game I try to do rules first and display, sort of together. Then after that sound and light shows. There is still quite a bit of score balancing and polish and rule tweaking that I'd like to do."
He also talks Pinball 2000, AC/DC, Metallica, The Walking Dead, and much more. Listen to the full interview here!
---
5. Beatles Classic Playfield?
On the Head2Head Pinball Podcast, Martin and Ryan C. were reflecting on their interview with Joe Kaminkow, and on one particular comment he had made about the possible Beatles title being "very classic pinball". Here was the exchange:
Ryan C: "One of the hints he dropped was that it was "very classic pinball". Now what does that mean Marty? Very classic pinball?"
Martin: "Well, I know that that is a loaded question because you and I have spoken about it. It's about whether this is going to be like a Woah Nellie or a Pabst Can Crusher where it is a flat playfield, or a TNA where it isn't going to be ramps or mega rules, it is going to be sort of old school. Is that kind of what we're thinking?"
Ryan C: "Yeah, when you listen back to it, he put an emphasis on classic like that is a very important thing he could tell us. When I think classic I think pre-DMD. Now I don't think they're going to release something that doesn't have an LCD. But as you said, the playfield may represent something that isn't modern. Maybe that was part of the license? Who knows…"
What do we make of this? Are we looking into things too much? When listening to the interview, that is a statement that jumps out, so we would guess it is a hint of design elements. We will see!
---
Get alerts for new posts from This Week in Pinball – follow us on Facebook, Twitter, or sign up by email:
---
Don't forget to sign up for July Giveaways!
Click here for a list of the giveaways! There are TWO WAYS to enter:
1. Consider making a monthly donation via the PayPal button below or Patreon, which you can find here. You'll automatically be entered each month you make a donation, and also get additional TWIPerks based on your giving level. Your contribution will help support this website.
[wp_paypal button="donate" name="My product"]
2. Donate nothing, and send an email to thisweekinpinball@gmail.com to let us know you want to be entered, and include your name, address (including city and state), and email address, and you'll be entered for that month. You'll just have to send the email every month to be included.
---


— What Else is Happening in Pinball —
When will we see Deadpool and Monster Bash Remake?
There is constant speculation now as to when we'll see the rumored Stern Deadpool and the rumored Chicago Gaming Company Monster Bash Remake. With Stern at Comic Con last week, there were rumors that Deadpool may be revealed there. Both Deadpool and Monster Bash Remake had heavy rumors on forums and Facebook last week that they would be revealed before the end of the week, which obviously did not happen. There were many rumors floating around about a machine being revealed last week, which ended up being The Mafia by Team Pinball as mentioned above, so it is possible that helped fuel the speculation. So when will we see these machines? Well, we don't know for certain at this point. (So why are we writing this article?) Our best guess is that Monster Bash Remake will be announced before the end of July or first week of August, and Deadpool will be on the line at Stern in August.
---
Gameplay Reveal of Cosmic Cart Racing Coming from Buffalo Pinball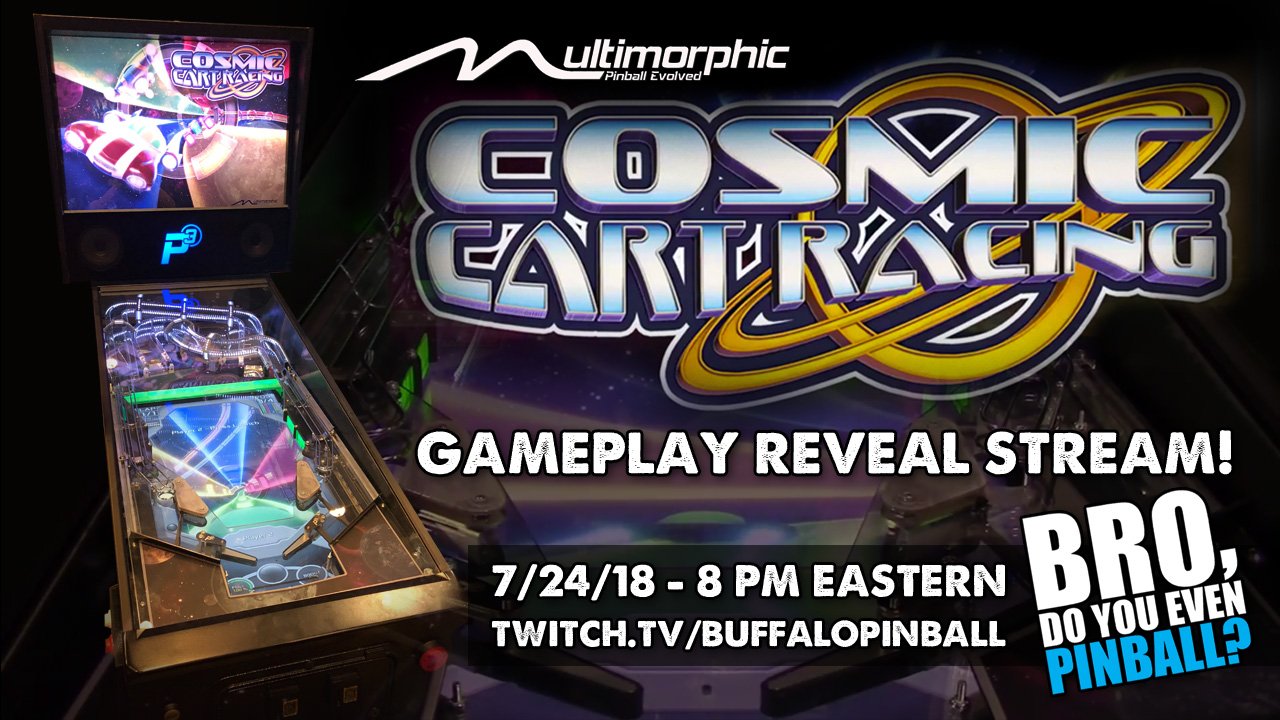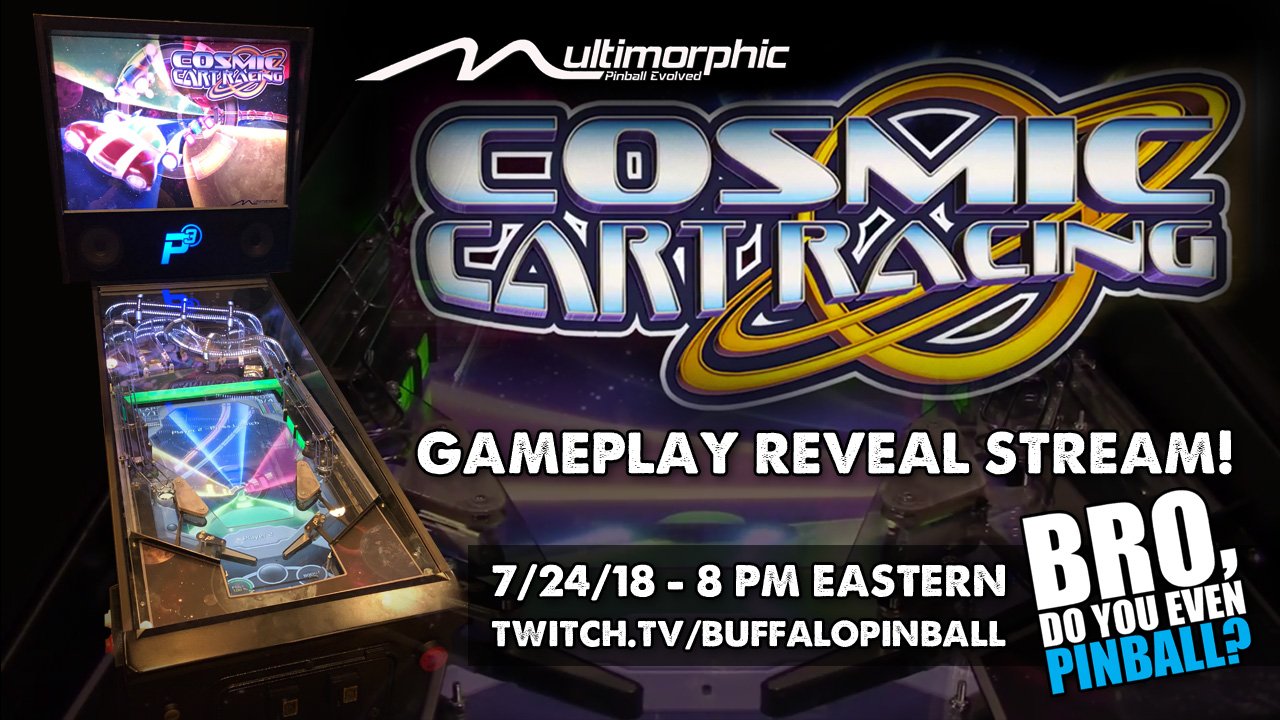 Buffalo Pinball shared the following news via Facebook last week:
"Gerry Stellenberg, founder and president of Multimorphic, Inc joins us for two special streams highlighting their P3 pinball machine:
– Monday, 7/23, 8 p.m. Eastern: A special episode of the "Bro, do you even TALK pinball?" podcast, where Gerry and I will sit down and discuss the history of Multimorphic, the P3 platform and all of the available (and upcoming!) games.
– Tuesday, 7/24, 8 p.m. Eastern: Gerry joins us for a summertime episode of "Bro, do you even pinball?" for the gameplay reveal stream of Multimorphic's latest P3 game, Cosmic Cart Racing! (RSVP here: https://www.twitch.tv/events/5y6bb2SQQk6LPrlGQ9J8Jg)
Plus, as always, be sure to check out our streaming partners: RudySoup on Thursday and McSirTuna on Saturday (8 p.m. Eastern) as they share their awesome collections of games."
---
Alice Cooper's Nightmare Castle to be Streamed July 30 with Dead Flip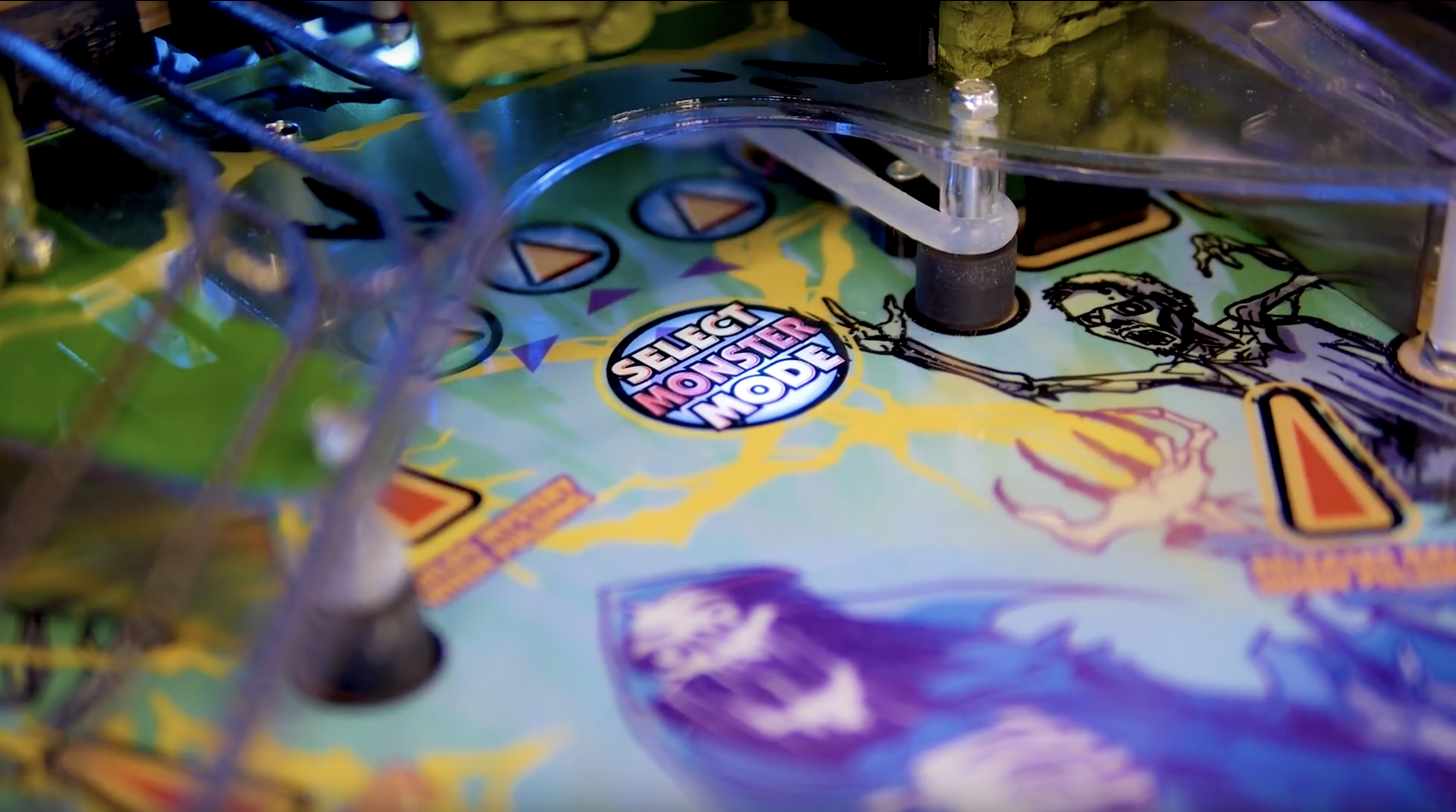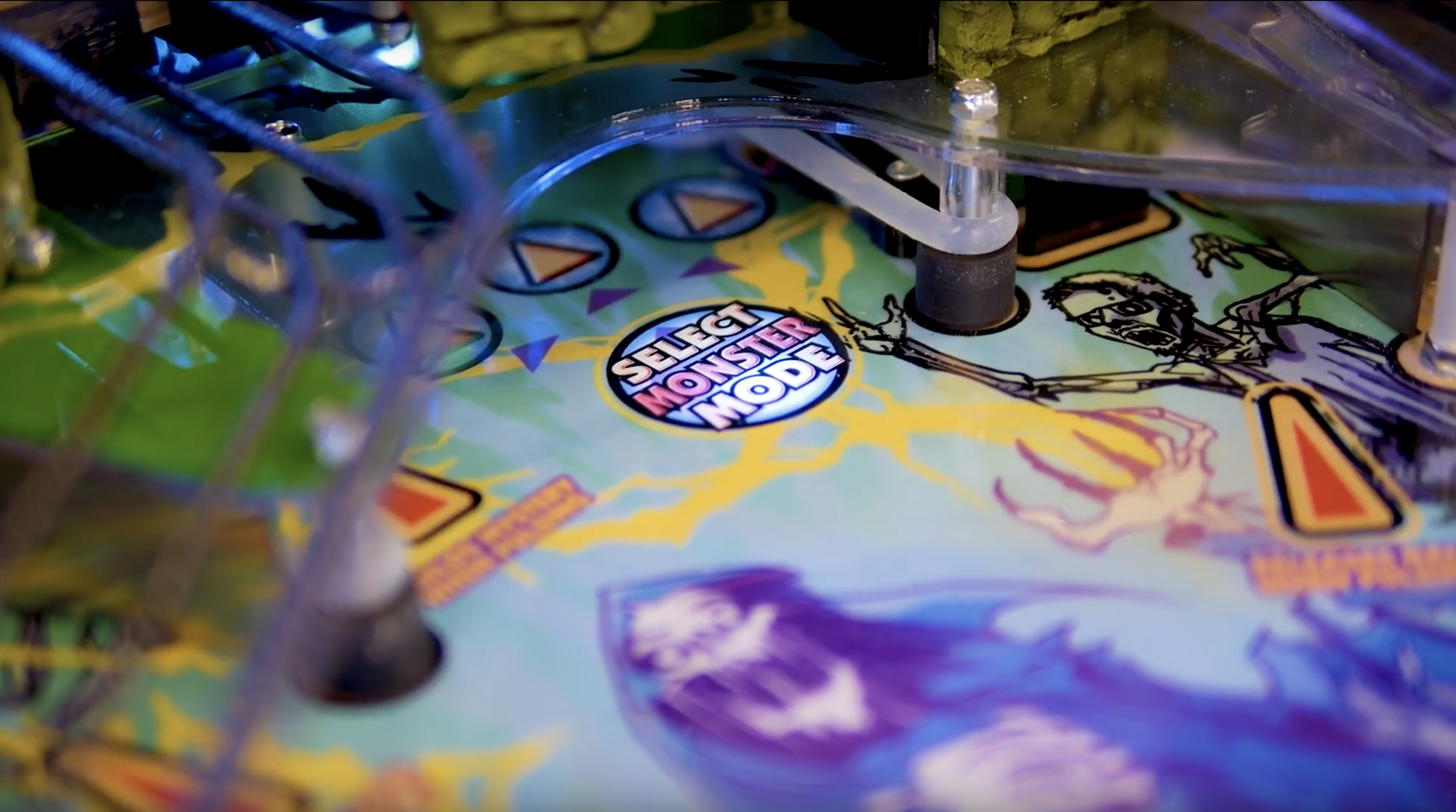 Spooky Pinball and Jack Danger of Dead Flip announced this week that the first Alice Cooper's Nightmare Castle stream will take place on July 30th at Spooky headquarters! You can check out the stream on the Dead Flip Twitch Channel here! (Hey, this can be a copy and paste article for next week! Time saved!)
---
Chuck Wurt Reaches There and Back Again
If you missed it previously, Jersey Jack Pinball announced new code for The Hobbit pinball machine, which included many updates, including a "There and Back Again" wizard mode which can be reached by playing all Book Modes. Well this week, Chuck Wurt with Straight Down the Middle reached the new wizard mode! Check out the video below:
---
Save. of. the. Year.
And this was on the game when he made it to There and Back Again. Watch it, you won't regret it!
---
Python's Pinball Circus Update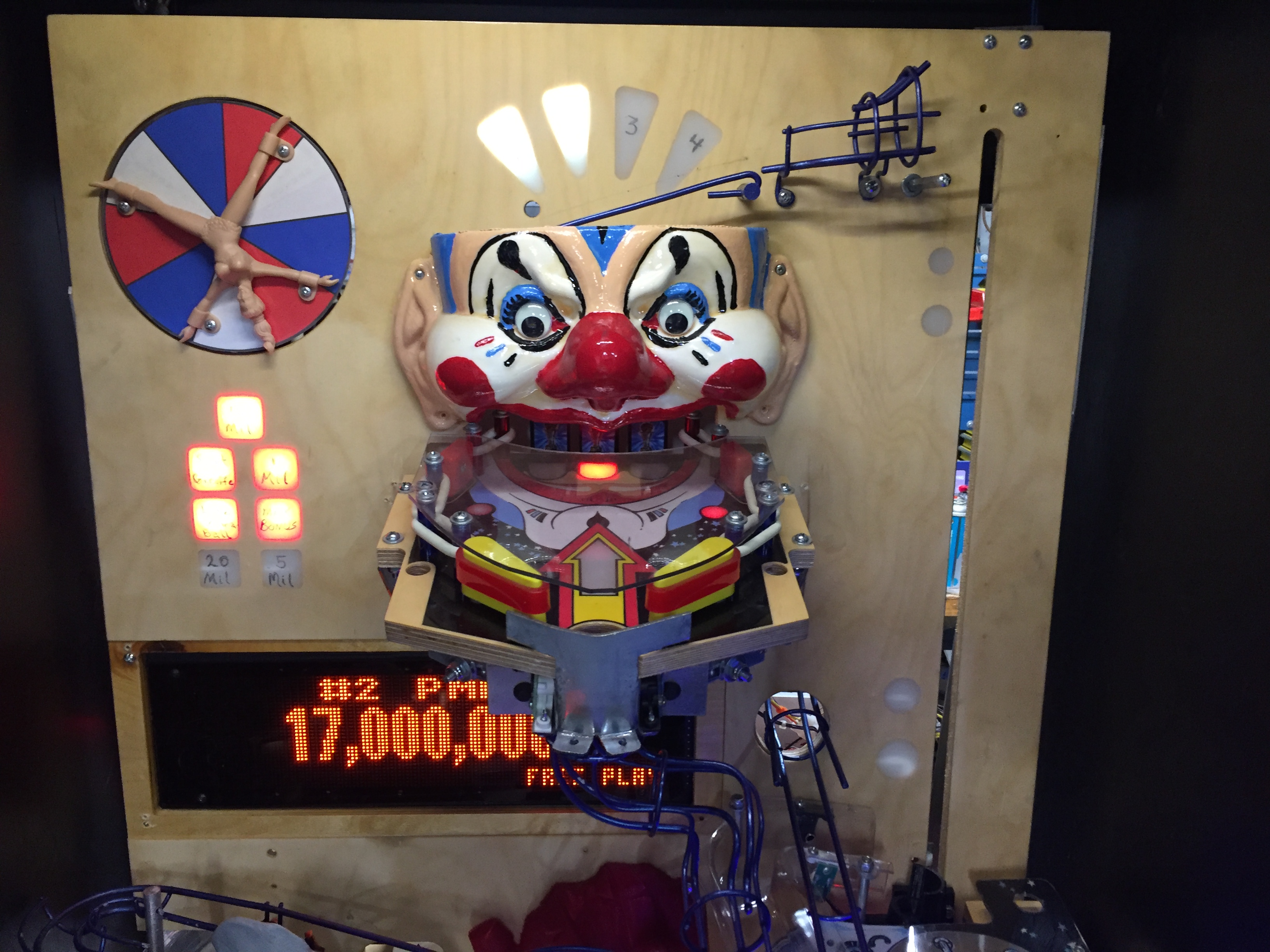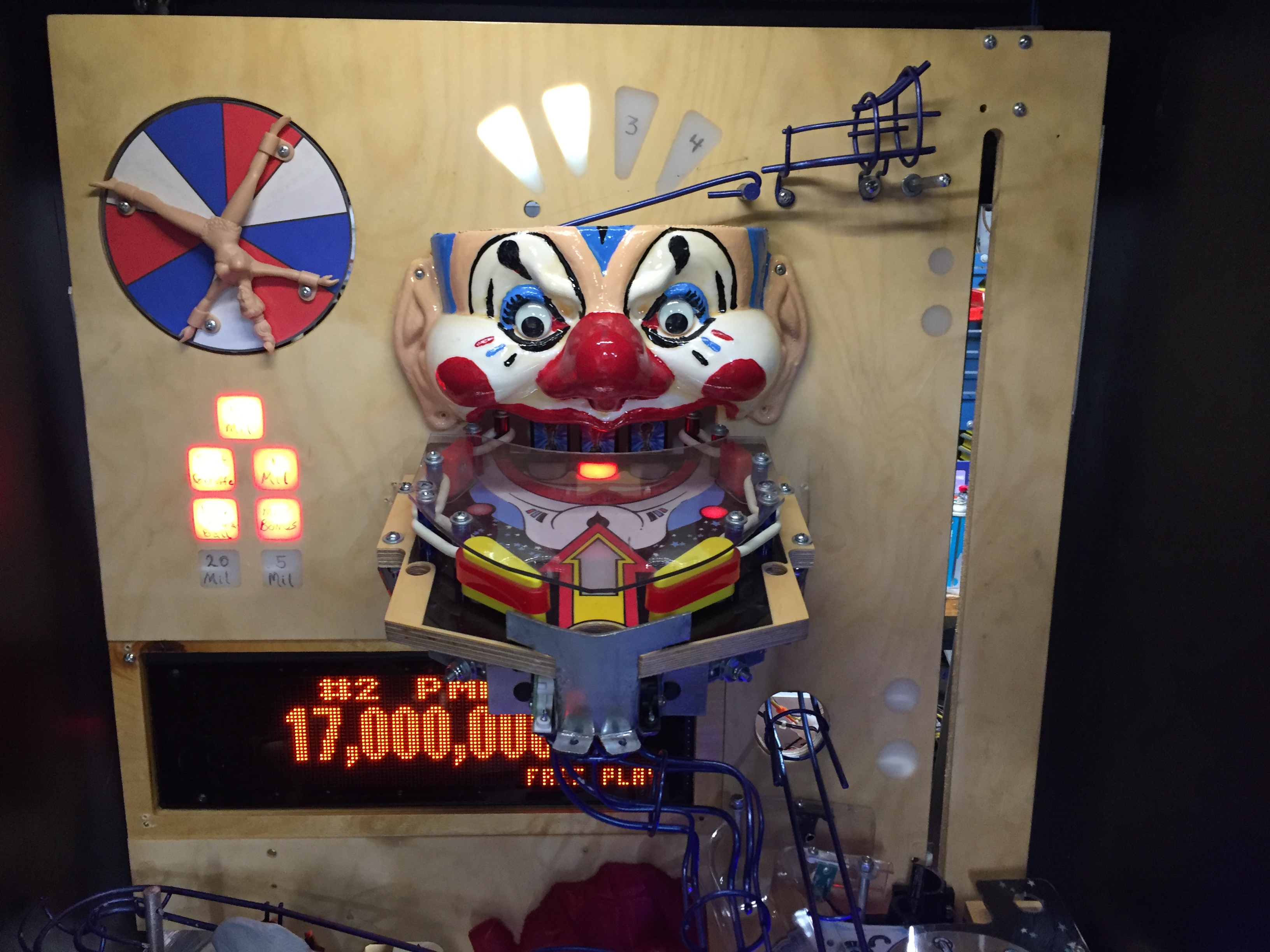 Paul from Circus Maximus shared a couple updates regarding Python's Pinball Circus production. After being asked on Pinside if it was going to be a large production run (like in the hundreds), Circus Maximus responded:
"Our primary objective is to get as many of these into collectors hands as possible to honor Python, but we really have no idea how big of a run there will be yet. We know it will be a smaller run than Kingpin though.
There will be 12 sample games made. After that it all depends on ultimately what the demand will be for the production run. 250 is probably the minimum sized run where the economies of scale make it more reasonably priced. And unless someone like Chuck E Cheese wants them for all of their stores, I'm not sure there is a demand for more than 250 of them at the max.
There are so many custom parts on a game like Pinball Circus that building them in small batches would probably make them significantly more expensive than we'd like them to be, but we will do that if that's what the demand determines."
If you missed it, This Week in Pinball did an article on all things Pinball Circus and gave updates on Python's Pinball Circus late last year – check it out here! By the way, the SECRET title mentioned in the article has now been revealed of course – it is Kingpin!
(Join the Pinside discussion here!)
---
Straight Down the Middle Reviews Wizard of Oz
Our friends at Straight Down the Middle: a pinball show review Jersey Jack's Wizard of Oz: check it out!
---

The poll is a little different this week. We're going to break these down by age and sex, etc. which should be interesting to see which machines are popular among different demographics. As always we don't use any of this info except for the purposes of this poll.
WE NEED YOUR VOTES FOR THIS ONE!
---

Identify the pinball machine pictured below for a chance to win a limited This Week in Pinball Lapel Pin! Drawing will be held monthly!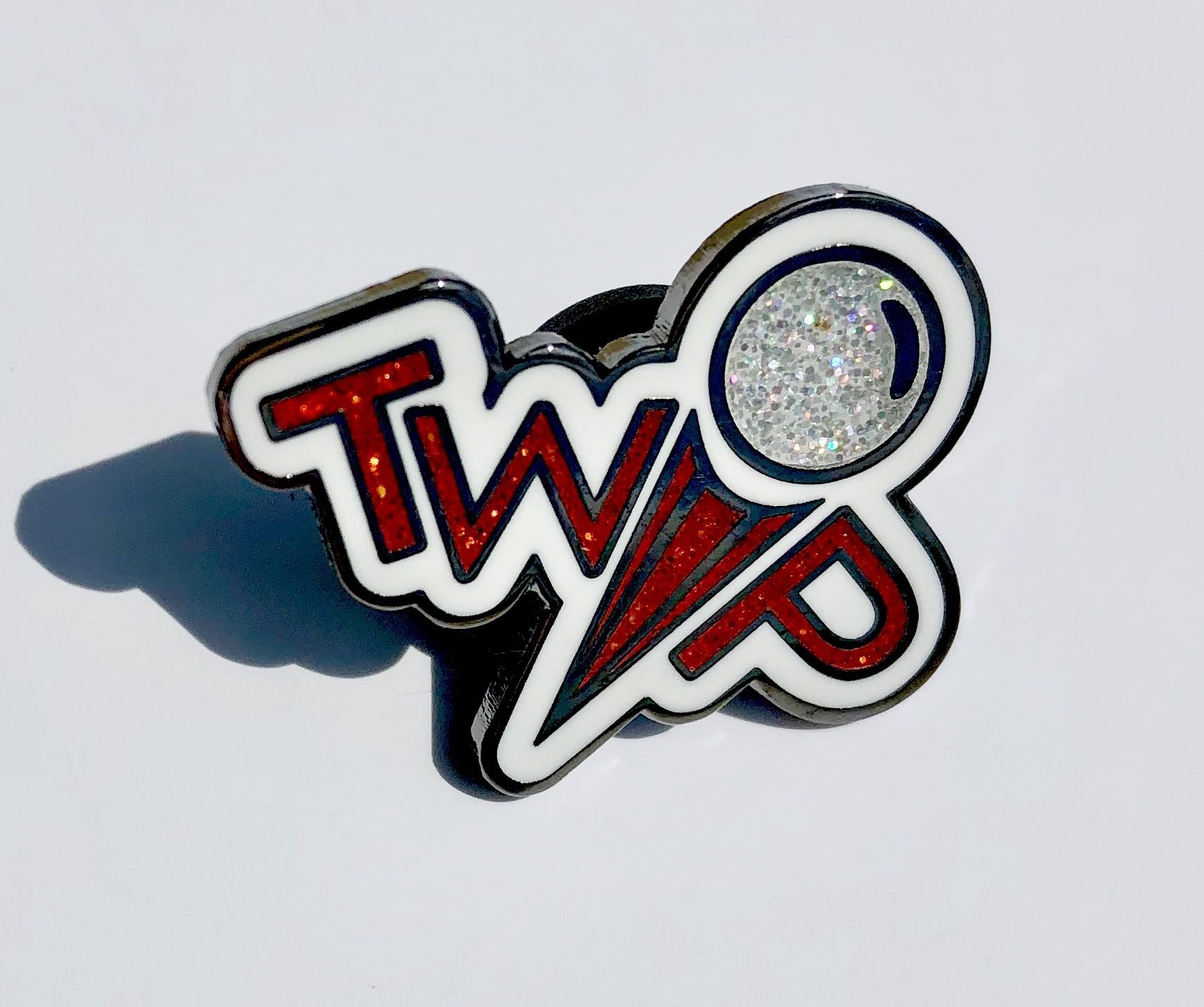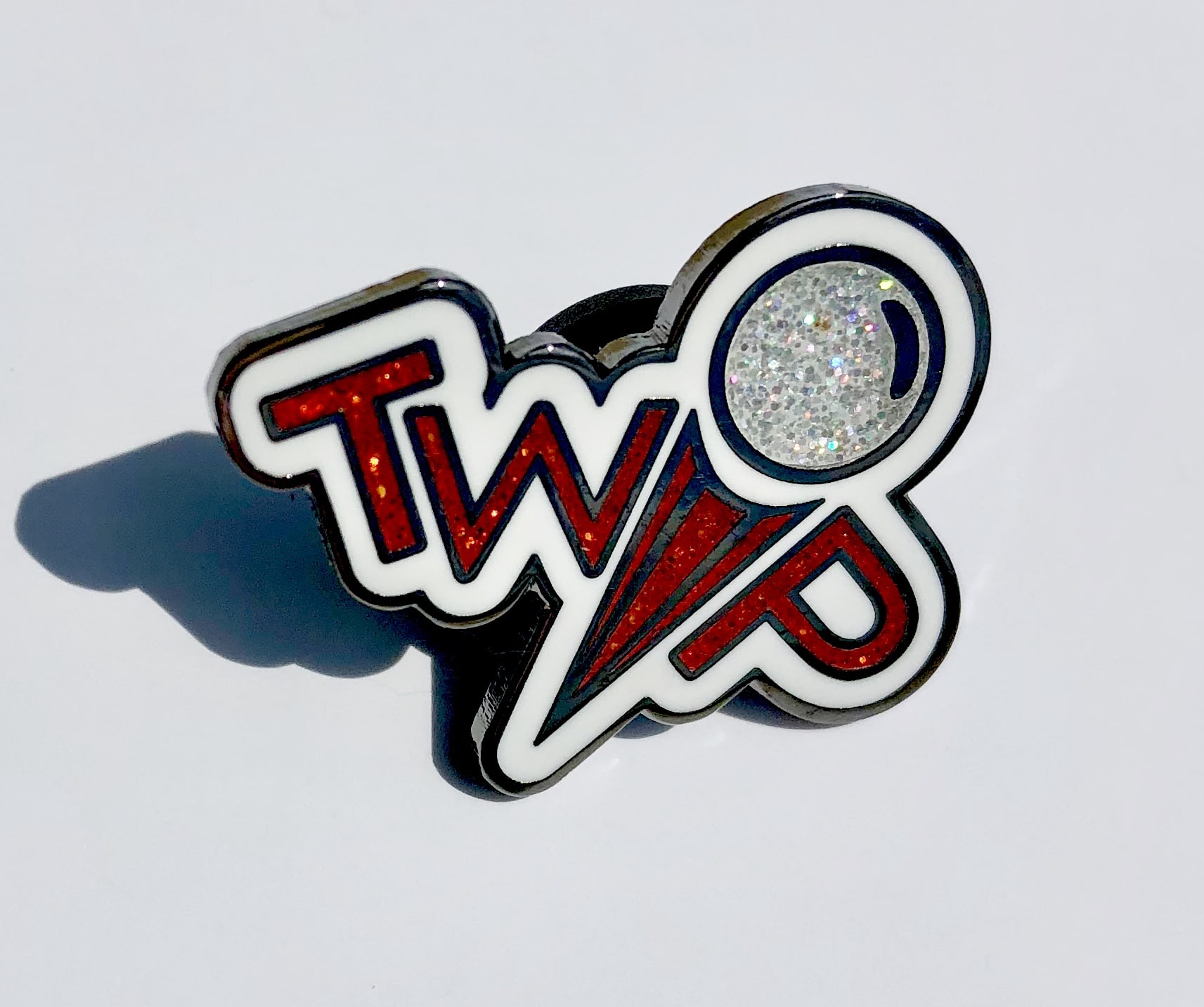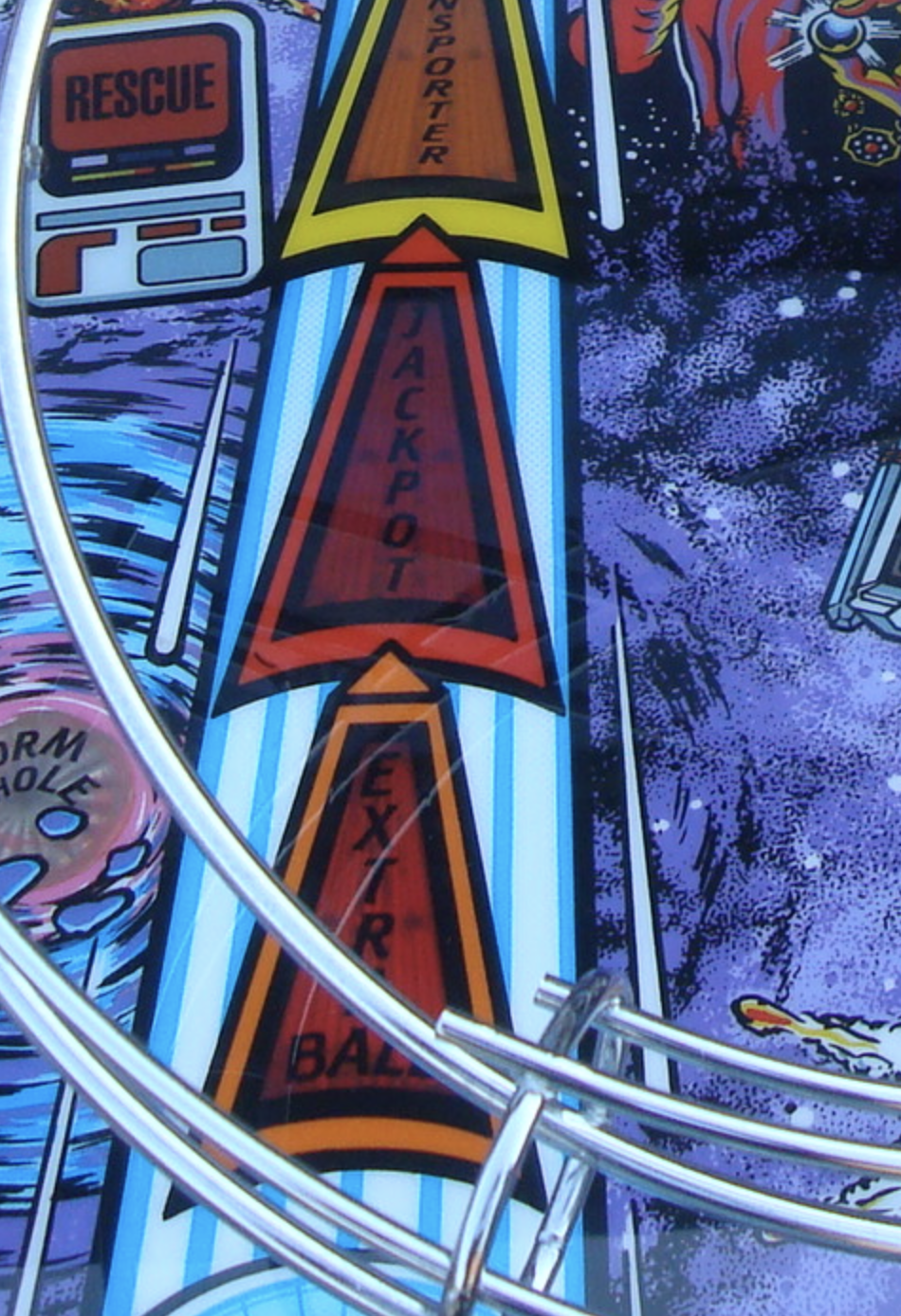 Last Week's answer: Diner
Email guesses to thisweekinpinball@gmail.com, correct answers will be entered into the drawing for the limited TWIP Lapel Pin!
---

— Cool and Crazy Stuff —
NFL Players Buy Pinball Machines
From Stern Facebook: "Professional football players (retired) love pinball! Gary Barnidge on left and DeAngelo Williams on right! Gary is going to purchase a Ghostbusters and DeAngelo a Guardians for their personal collection".
DeAngelo Williams was on my fantasy team! The guy in the middle is Zach Sharpe, he is the non-pro-football-player if you couldn't tell.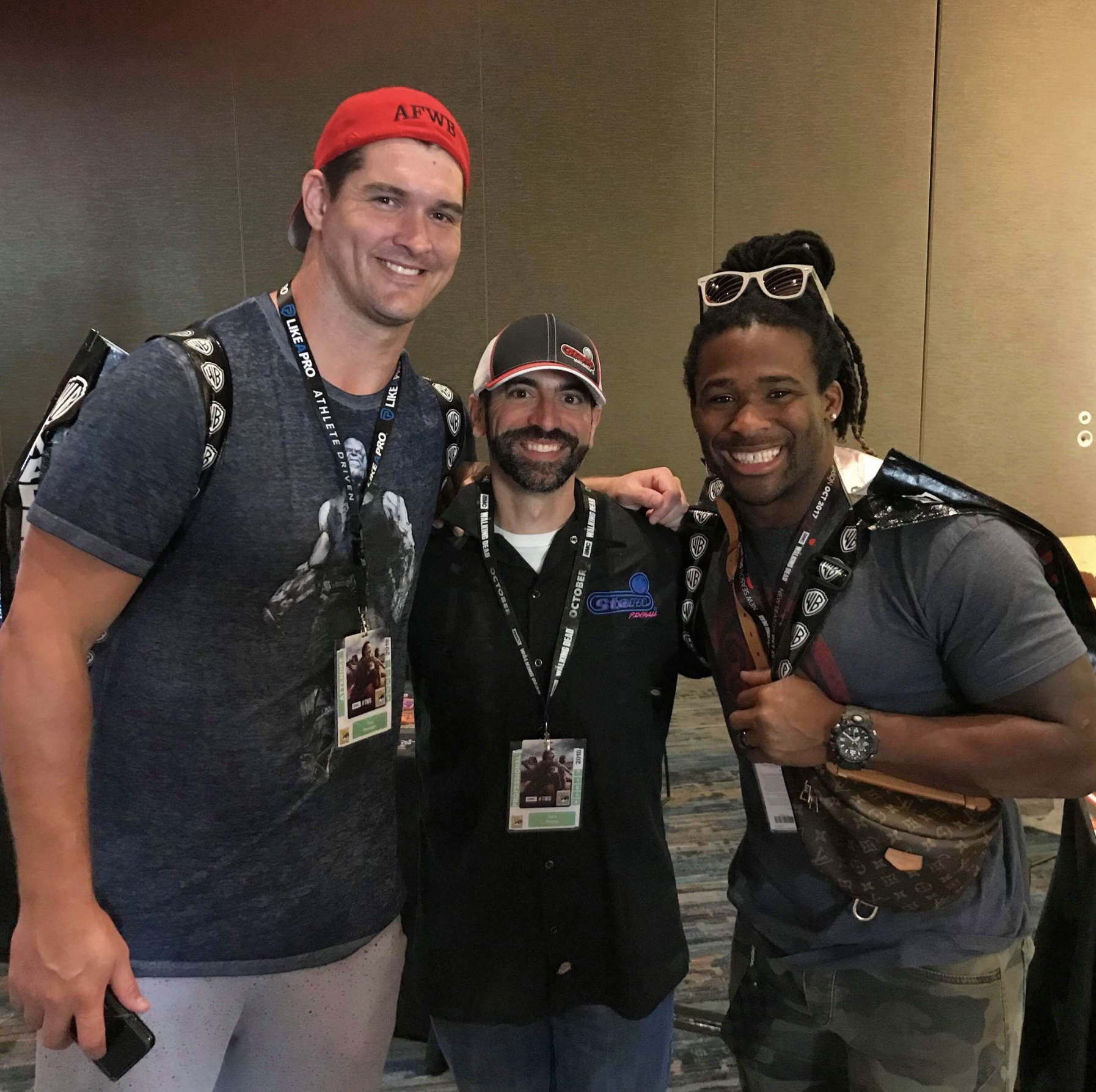 ---
Slayer's Kerry King checking out Iron Maiden Pinball
This won't squash any rumors of a Slayer Pinball machine…it's been rumored for many years now…hmmm
Kerry King of @Slayer checking out @sternpinballinc's new @IronMaiden #pinball machine at #sdcc2018 pic.twitter.com/uhYjAwG7E3

— DEAD FLIP (@DeadFlip) July 21, 2018
---
CoinTaker's Listing of Retro Atomic Zombie Adventureland (RAZA)
CoinTaker apparently still has Retro Atomic Zombie Adventureland listed on their website. Very pretty machine (that is the old artwork BTW). deeproot now has the rights to build this machine so we may still see it…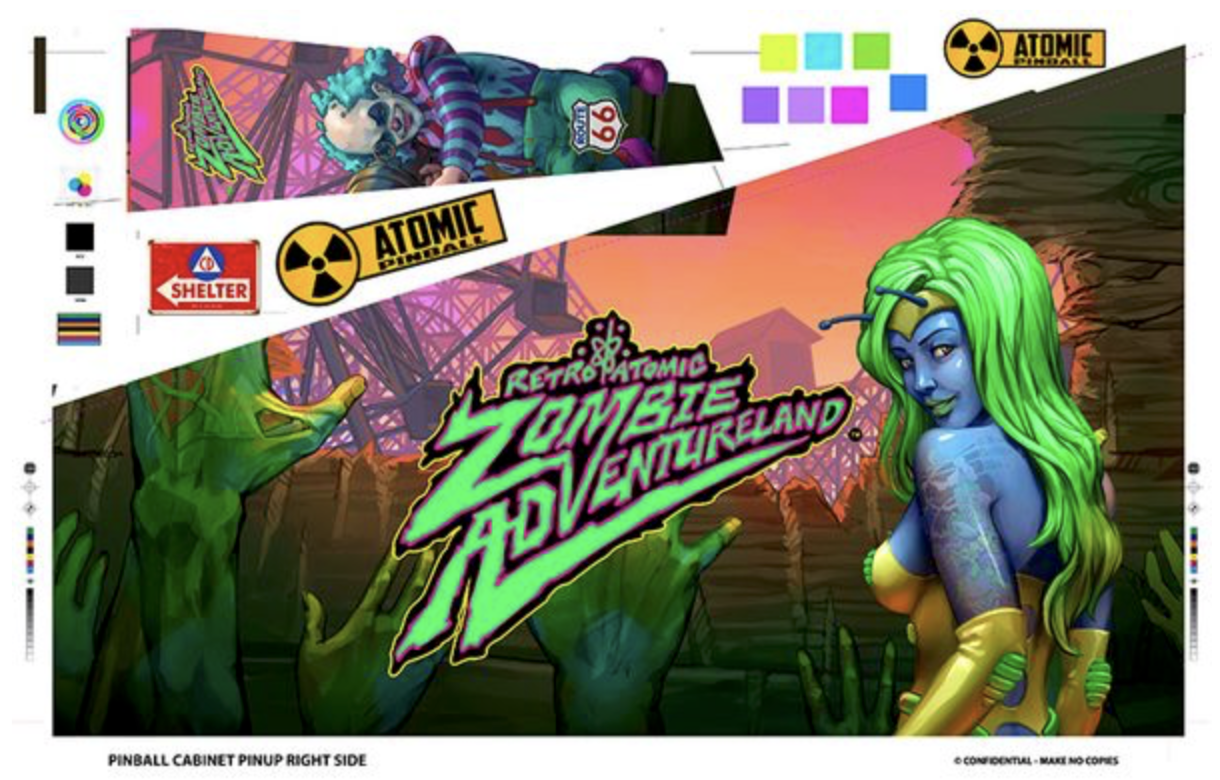 ---
Magic Girl Playfield ($2,500) and Prototype Backglass (make offer) for Sale
Chris Kooluris posted a Magic Girl Playfield and prototype backglass for sale in the Pinball Machines for Sale thread on Facebook. They look like beautiful collectibles! But…I could buy a full pinball machine (or a few) for that $$…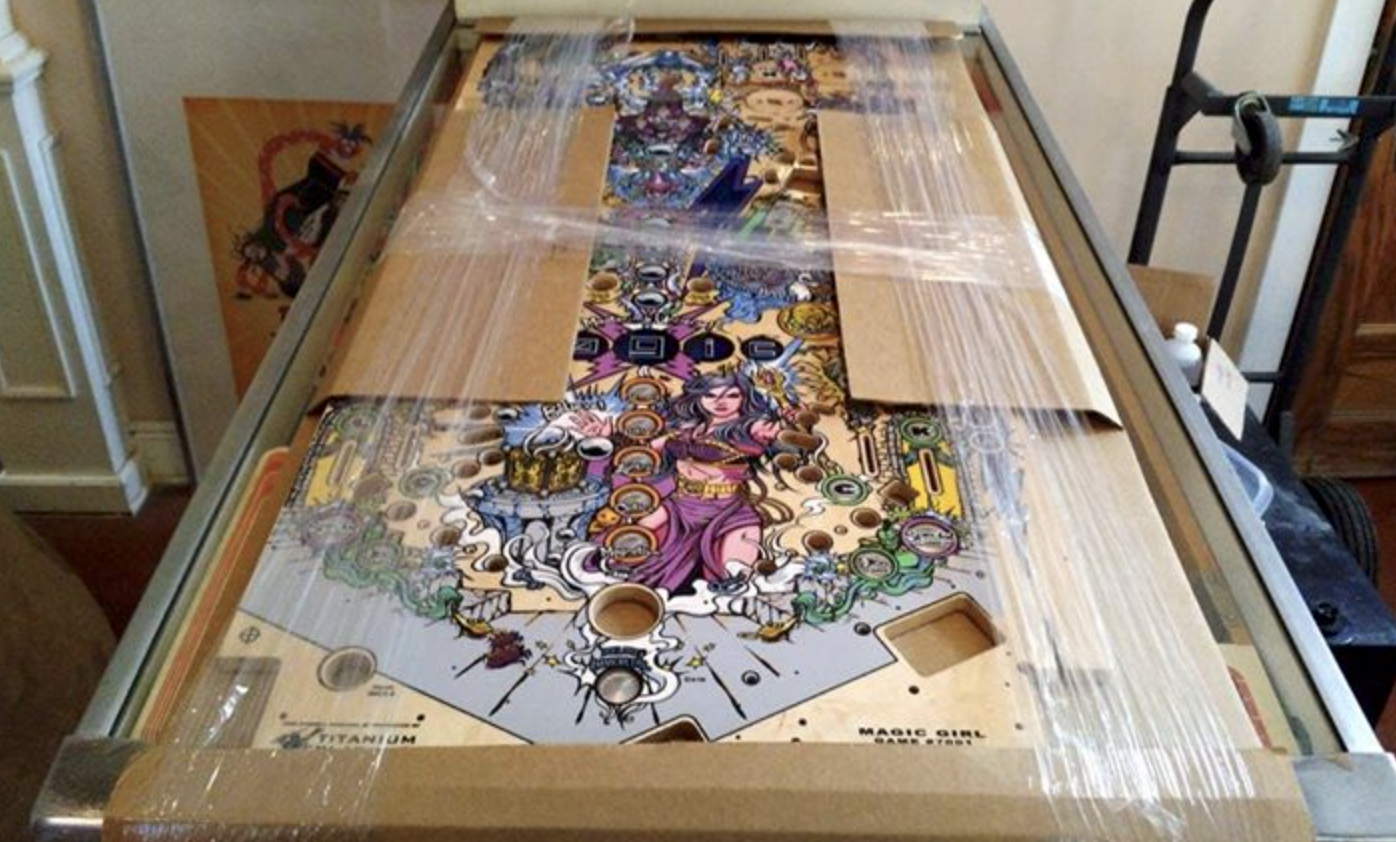 ---


From the post:
"Ok, this post is bragging a bit so sorry in advance but what a Great day. My wife and I are celebrating 25 years this year (she must be nuts) with 16 of those years living this crazy addiction known as Pinball! With the anniversary coming up my wife asks "what do you want for our 25 year anniversary?" I say anything?? "Sure" My shot for the moon was "I have Always wanted a museum quality HEP masterpiece in our collection!" Of coarse she says sure but I need to further explain what that actually means lol. With her blessing we decided to get our First (DMD) and to this day Favorite pin restored which is Twilight Zone! A few wonderful communications with the man himself Chris H and Bam my bucket list dream pin restoration will soon become a reality!! Not a big deal to most I'm sure but after Many years of hard work and I can't say how many machines we have hauled into and out of this house we finally will have the centerpiece I always dreamed of having. Plus for me, I inherited this TZ from a Very close family member that passed so seeing his machine hit the stars with the hand of HEP is icing on the cake for me. Hope my wife understands I will be spending more time with the pin now but that May have been her motive……"
How cool is that! Follow the progress of the pin on the thread!
---


— To Those Who Make This Hobby Better —
The Slam Tilt Podcast of course! 100 episodes! Congrats to Ron and Bruce. Keep up the great work!!
---

— End of Post Bonus —
---

— What is Coming Up on TWIP —
Tuesday – Around the Playfield Pinside Edition: gweempose
Wednesday – Not sure yet
Thursday – TBD…hoping for something but…
---
Get alerts for new posts from This Week in Pinball – follow/like us on Facebook, Twitter, or sign up by email:
Disclaimer

: Any articles, interviews, or mentions of pinball manufacturers or pinball products is NOT an endorsement.
Have a scoop or anonymous rumor? Email us at thisweekinpinball@gmail.com
---

Stern Pinball
Most Recent Titles
Aerosmith | AC/DC Vault Edition | Star Wars | Guardians of the Galaxy | AC/DC Luci Vault Edition | Iron Maiden
Announced/Confirmed
Elvira 3
Rumors of Future Titles
Deadpool? | The Munsters? | The Beatles? | Steve Ritchie Black Knight 3000? | Superman 1978? | Beetlejuice?
Jersey Jack Pinball
Most Recent Titles
Wizard of Oz | The Hobbit | Dialed In | Pirates of the Caribbean
Rumors of Future Titles
Willy Wonka? | Toy Story? | Guns N' Roses
Chicago Gaming/Planetary Pinball
Most Recent Titles
Medieval Madness Remake | Attack From Mars Remake
Rumors of Future Titles
Monster Bash Remake? | Cactus Canyon Remake? | Theatre of Magic? | Big Bang Bar Remake?
Spooky Pinball
Most Recent Titles
Rob Zombie's Spookshow International | Dominos (*contract game) | Jetsons (*contract game) | Total Nuclear Annihilation (*contract/house game) | Alice Cooper's Nightmare Castle
Rumors of Future Titles
Licensed Title | Scott Danesi Second Game
American Pinball
Most Recent Titles
Houdini
Rumors of Future Titles
Oktoberfest?
P3 (Multimorphic)
Lexy Lightspeed | Cannon Lagoon | Cosmic Cart Racing
Team Pinball <<–NEW
The Mafia <<–New
deeproot Pinball
Announced/Confirmed
Fire and Brimstone
Rumors of Future Titles
Retro Atomic Zombie Adventureland? | Alice in Wonderland? | Magic Girl? | Original Houdini design?
Circus Maximus
The Pinball Circus Remake | Kingpin
Homepin
Thunderbirds
Pinball Brothers
Rumors of Future Titles
Queen? | Barry Oursler's Original Theme? | Playboy?
Dutch Pinball
Most Recent Titles
Bride of Pinbot 2.0 | Bride of Pinbot 3.0 (on hold) | The Big Lebowski (production issues)
Silver Castle Pinball
Timeshock
Phénix Pinball
Goblin Contest
Get alerts for new posts from This Week in Pinball – follow us on Facebook, Twitter, or sign up by email: