Spooky Pinball: No Godzilla License, Franchi on Munsters and/or Beatles?, Pinburgh Stream, When Will We See Deadpool?, More

— This Week's Top 5 Stories —
1. Spooky Pinball – No Godzilla License (for now)
A bit of history on this – Charlie Emery, who runs Spooky Pinball, and members of his family are huge Godzilla/Toho fans. (If you don't know much about Toho or Godzilla, click here for the Wikipedia page for Godzilla and here for the Wikipedia page for Toho.) They even built custom Godzilla themed pinball machine before they started Spooky Pinball – check out some pics here.
More recently, Spooky attended the Licensing Expo in Las Vegas, and followed that up with some teasers of a possible license. One of the attendees at the Licensing Expo was Toho, which led to much speculation they had landed the Godzilla/Toho license.
This week, Spooky changed their Facebook profile picture to this: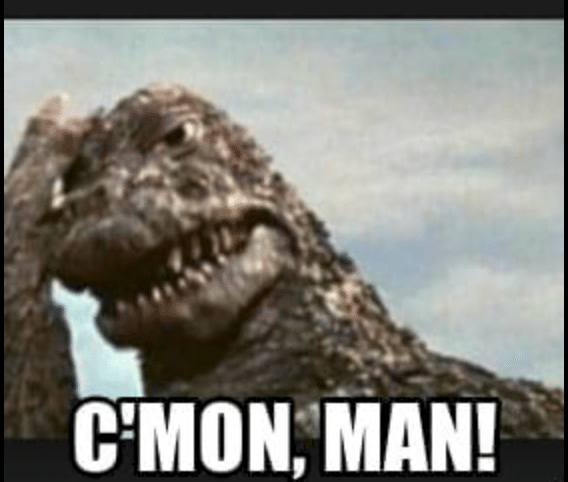 Unfortunately, they couldn't work out a deal for their dream license 🙁 It was one of the licenses they were working on at the Licensing Expo, and the one they were most excited about.
TWIP contacted Charlie, and he shared the following:
"We're disappointed we couldn't make a deal to secure our dream theme, but we'll be at G Fest all this weekend for their 25th anniversary with our custom Godzilla game, 98′ Sega Godzilla game, Godzilla Wars redemption game, and Alice Cooper's Nightmare Castle will be in fellow Godzilla fan & ACNC artist, Jeff Zornow's booth. We love sharing our passion for Godzilla & pinball with the thousands of attendees every year. All games are .25 cents each with all proceeds going to the G Fest charity group, 'G Fans Helping G Fans' for the 10th consecutive year. Just going to stay positive and enjoy the best father & son weekend we have all year! We love geek'n out over giant radioactive lizards and huge mystical moths with all our Godzilla friends."
For those that don't know, G-Fest is "the largest regular gathering of Godzilla and Japanese monster fans in the world". While they are obviously disappointed at missing out on the license, Charlie and Bug still seem to be having a great time at G-Fest – check out some pics on their Facebook page here!
---
2. Christopher Franchi working with John Borg and Dwight Sullivan on…
Last week, pinball artist Christopher Franchi joined Zach Meny on This Week in Pinball Podcast. They discuss an interview with Dwight Sullivan, in which Dwight mentions he wants to make his next game less complex and more approachable than his previous game, Star Wars. Then they had this exchange:
Zach: "We know Dwight games are pretty complexly coded, he uses multipliers, he goes pretty deep. Are you ok with him pulling the reigns on this next one?"
Franchi: "Yeah, because I know what it is because I'm working on it [laughs] …I've never worked with Dwight."
Zach: "So you're telling us right now you're working with Dwight Sullivan on a game?"
Franchi: "Yes I am. He is a great collaborator…he's a really good guy. I don't do anything with code, but he's actually asked me about different things and I've made suggestions as far as how what I'm doing and what he's doing interlocks. He's been very open to that. Actually with this next game, there has been a whole lot where I've stuck my face into different areas. I was looking at the whitewood and there was something I saw about it that I really liked. Obviously I can't say what it is. But it was something that never would've been left like this…and I said, look – for this particular property, this – the way this is handled right here – if it is left like this, it would be awesome. And they actually listened and they're actually doing it. I guess I'll explain more about that down the road when people can see what I'm talking about. And working with John Borg, this is our second go around, I worked with John on Guardians. The team of the three of them – it has been a very collaborative thing. Where I am encouraged to speak up about ideas that I may have that either tie in to what I'm doing or don't tie in to what I'm doing."
So Franchi is currently working with John Borg and Dwight Sullivan. But on which upcoming Stern game? We don't know for sure. There is a lot of talk and speculation on this Pinside thread that it may be Munsters. Let's look at a few reasons for the speculation:
Draw your own conclusions – and stay tuned to see what's coming up from Stern!
---
3. Franchi Slated for Four More Games – Beatles included?
On the TWIP Podcast, Mr. Franchi also addressed his recent post on Facebook, where he posted "Pinball career over! Film at 11!" but then deleted the post. As part of that, he also shared the he is slated for four unreleased games:
Zach: "You kinda worried me last week on Facebook, you had a little post that said something like "My pinball career is over" and freaked me out, I had to contact you…"
Franchi: "Yeah…there's some pinball news."
Zach: "And I was sweating the entire time. Because I have to have art by Christopher Franchi on pinball machines. So you are continuing to do artwork, and you are in the production phase of some artwork on some upcoming games, is that true?"
Franchi: "Yes…number 3 is complete and number 4 is almost complete. And number 5 and number 6 are already on the schedule."
Zach: "Ah, the pinball world is ok once again. You can't scare us like that Franchi!"
Franchi: "I'm just one of those kind of guys – I'm a no nonsense kind of dude. And I give everything I can possibly give. When I don't feel it is being appreciated – and I'm not talking about Stern, I'm just talking about wherever – if I don't feel like it is being appreciated and all that, I'm not the kind of guy that just goes, "well I need the paycheck". I'll just be like, I'm outta here, I'll find someone else."
…
Franchi: "So it might not be the last time you see a post like that from me [laughs]…"
Zach: "But in the future everybody, don't jump to conclusions like me and freak out…"
Franchi: "Yeah, just give it like 48 hours and see what happens. Let a little bit of water flow under the bridge."
If you missed it last week, the Head2Head Pinball Podcast had a huge interview with Joe Kaminkow where he dropped a lot of information about the next KaPow pinball machine. On TWIP, we speculated if it is The Beatles, and list several things that have been shared in the past by different people in the industry that seem to point to it being The Beatles. On the This Week in Pinball Podcast, Franchi confirmed he is working on the next KaPow pinball machine:
Zach: "You did the first KaPow Pinball/Stern Pinball collaboration in Batman '66…is it safe to say that you are working on this title that Joe is speaking of?"
Franchi: "Yes. Well no actually, I can't say that I'm working on it, I worked on it. It is done. I am on to something else."
Zach: "Was it fun working on it?"
Franchi: "It was very fun working on it. What actually happened was, he came to me with this – it was over a year ago actually – and he said he'd been trying for 10 years to get the license and he goes "I'm going to give it one more shot. I want you to just come up with what you can come up with, just do your thing. I've been trying for 10 years and I've failed, so maybe if I don't give you any direction and you do you own thing, we'll have something different here, something that they like." I was given two choices in direction basically…and I chose my path and put it together and he got the license. His excitement alone was enough for me. I was excited too, but he was just so thrilled to have finally gotten an approval on this."
Can't wait to see what is coming up!
---
4. Pinburgh Banks Revealed Live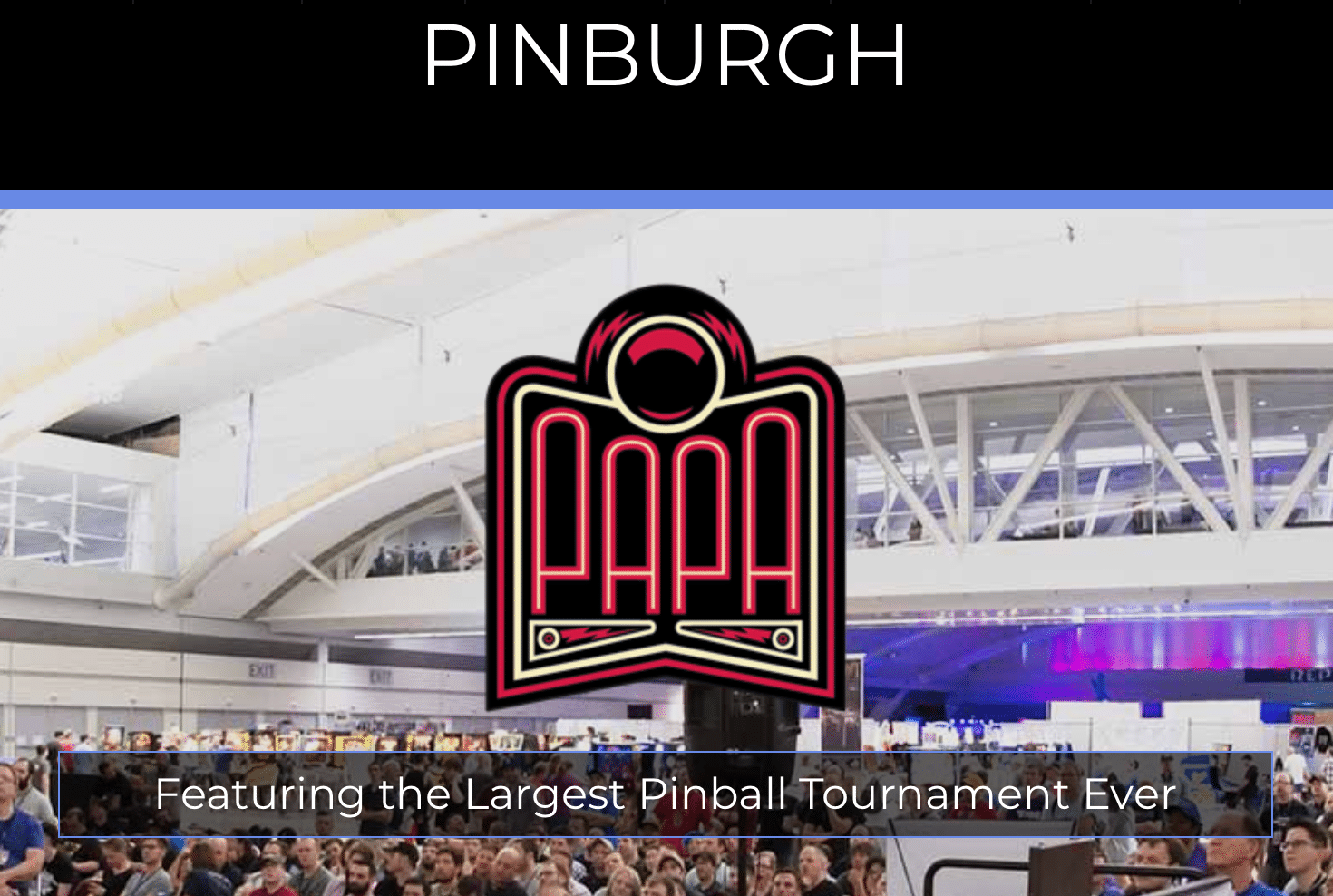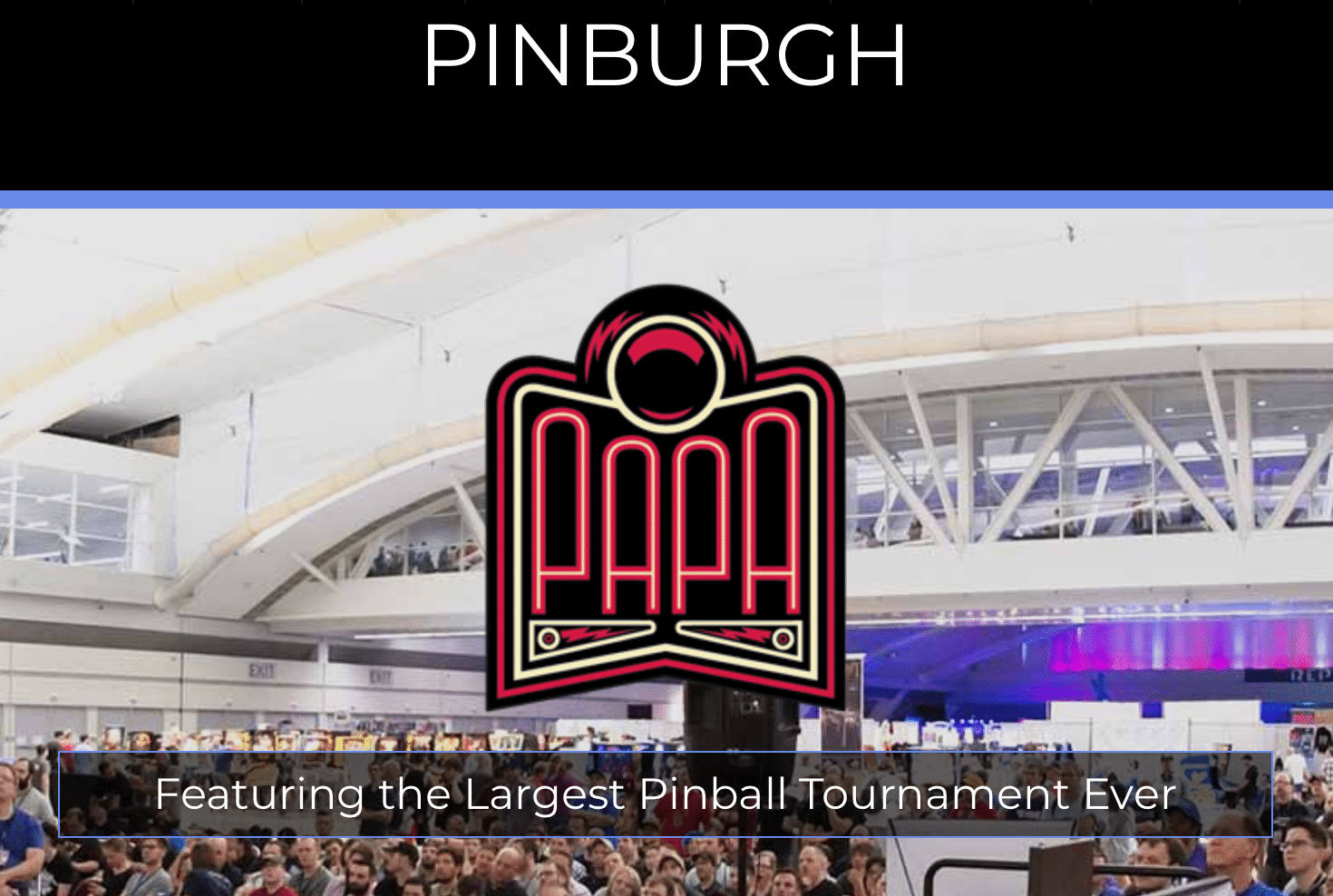 This weekend we saw a pinball event like no other! Steve Bowden of deeproot Pinball played all 288 games that will be in the Pinburgh banks! Wow. It lasted around 15 hours. You can check out Part 1 of the stream here! There will be a part 2 that will be uploaded soon. As soon as the banks are all listed, we'll make sure to share them here on TWIP!
You can also check in early for Pinburgh – check out more info here.
Countdown to PINBURGH!
---
5. Dutch Pinball Mess
It is difficult to even know what to make of this situation with Dutch Pinball right now. This week, we saw:
TWIP would love to see The Big Lebowski's get built! It is a FUN and entertaining game, and the theme is very well integrated.
But this is just a mess. This secret group has a goal to raise a half a million Euros because Dutch Pinball needs "help to pay their lawyers and to start up the production with another manufacturer". But there is very little information and no clear plan from this secret group. TWIP has reached out to Universal to see if we can find out more information about the license, but have not heard back yet. We'll keep you updated on this, but as of now it doesn't seem likely to succeed.
---


— What Else is Happening in Pinball —
When Will We See the Rumored Deadpool Machine from Stern?
Deadpool is rumored to be the next title released from Stern Pinball. A little back story on this pinball machine: in the past, we've seen a leak of one of the iterations of the playfield. From what we can piece together, Deadpool was being worked on by John Trudeau (designer) and Zombie Yeti (artist) before JT's arrest. Trudeau's design was then completely scrapped, and George Gomez took over design. (Source: Head2Head Pinball Podcast's interview with Zombie Yeti.)
As previously covered on TWIP, one of the big questions surrounding the leaked image is whether it is the old design by John Trudeau or the new design by George Gomez.
In looking at the metadata of the image, we know the leaked image was taken on November 15th, 2017. John Trudeau was arrested on August 25th, 2017. Is 82 days enough time to cut ties with JT, decide to scrap his design, assign a new designer, completely redesign the machine, and build a whitewood?
That seems like a fast turn around time. But that playfield sure looks very Gomez-ish…
Speculation has been increasing recently as to when we'll see this machine. Based on the leaked image, the machine looks to themed on the Deadpool Comics, not on the movie. Hey, you know what is coming up this weekend? Comic Con. Hey, do you know who is going to be there as an exhibitor? Stern Pinball. It almost feels like we'd be hearing a bit more if this title was going to be released at Comic Con, but it sure does seem like it would be a fitting place to reveal it. Stay tuned!
---
Aurich Reveals Original Alien LE Artwork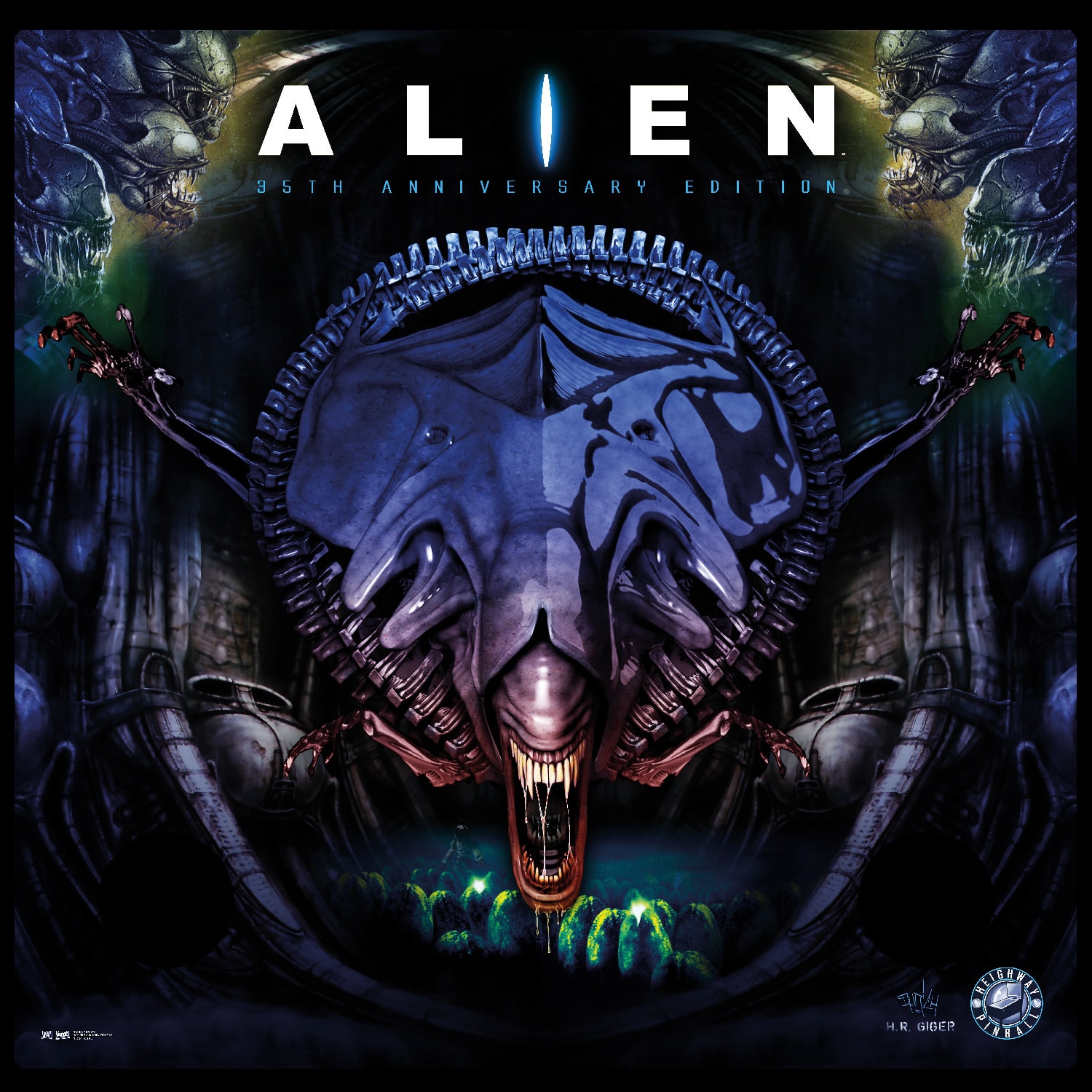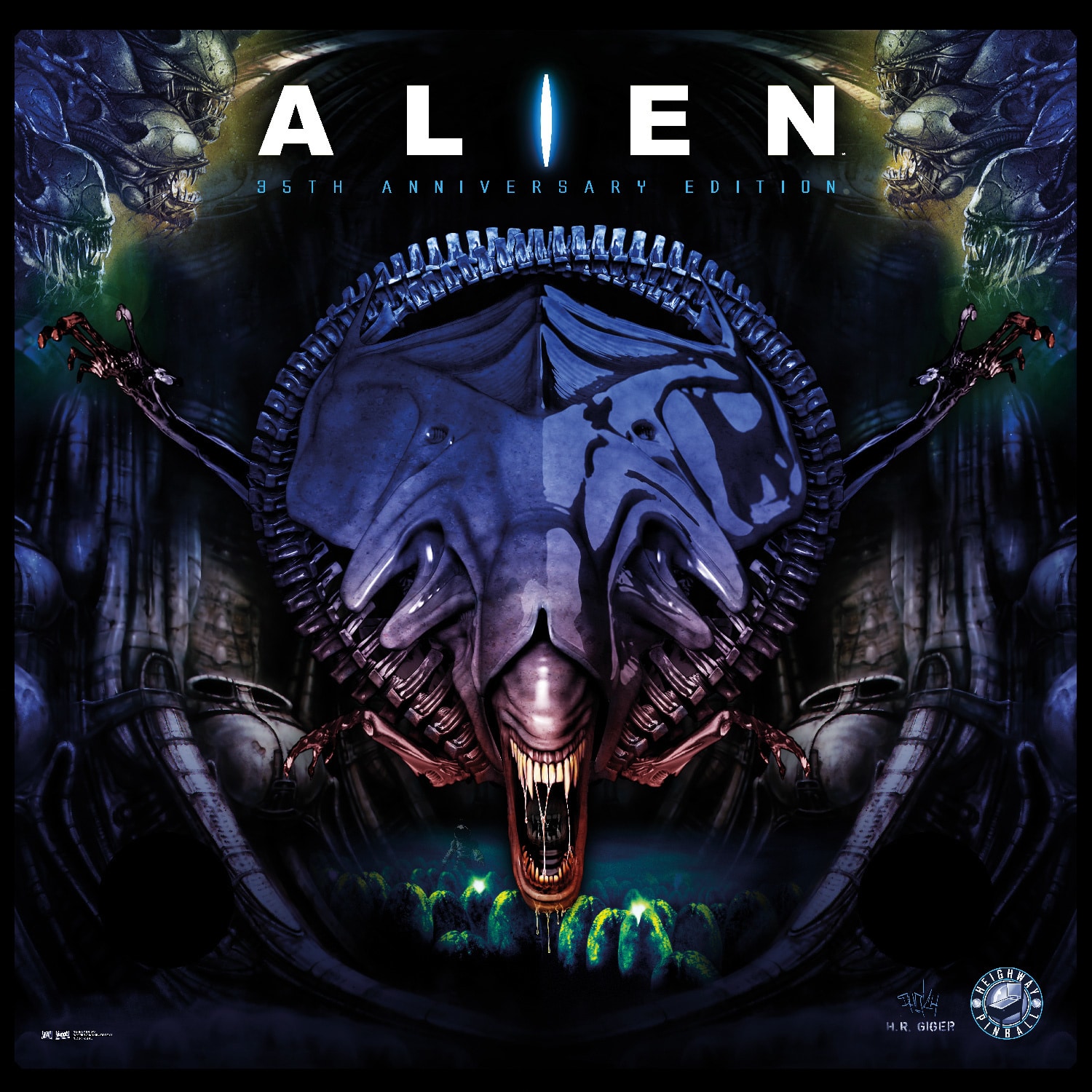 Aurich Lawson revealed his original artwork for the Alien Limited Edition machines on this Pinside post. This was originally intended to be the backglass art on the LEs, but Andrew Heighway decided to replace it with artwork by Brian Allen, which you can see here. CORRECTION: The LEs did actually ship with the Aurich artwork.
---
Skill Shot Pincast Interviews Keith Elwin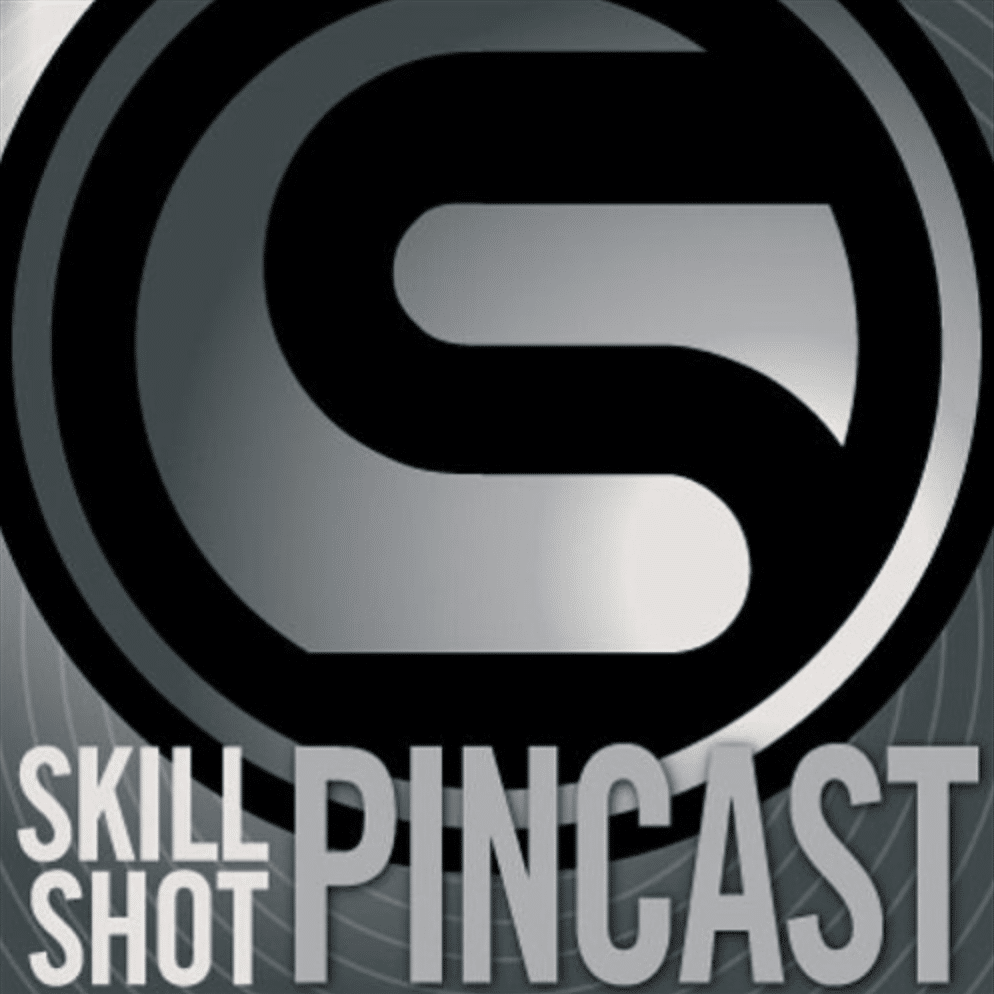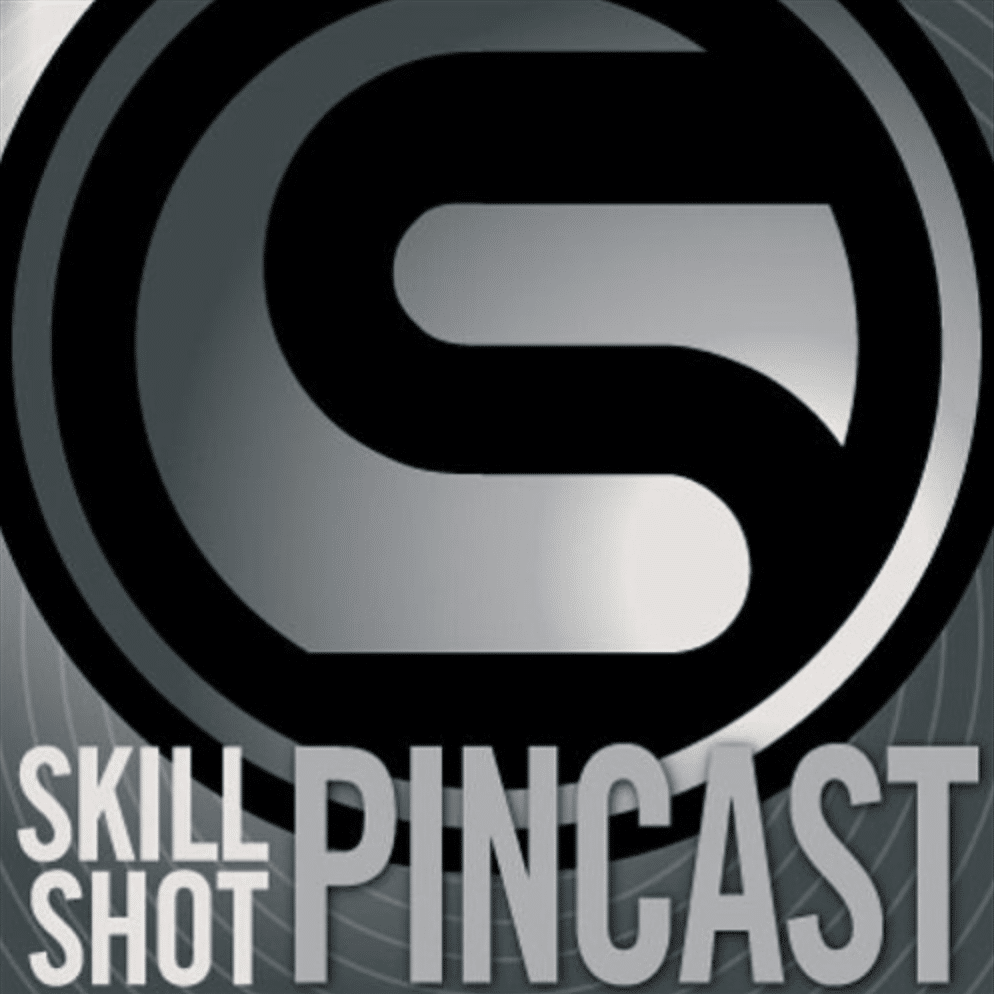 Graham Klym and Kayla Greet of the Skill Shot Pincast (website, Soundcloud) interviewed Keith Elwin on their most recent podcast. He discusses Iron Maiden and also gave this little teaser:
Skill Shot: "Did you have anything on your wishlist that didn't make the cut when designing the game that had to get scrapped, or any ruleset or element that is on your wishlist to put onto a new game in the future?"
Keith Elwin: "Yeah, I did have a couple things. I don't want to divulge them but they are going in a future game…I was just thinking about it today, and I am going to use it in the next game. A couple of cool little ideas that I have."
Listen to the full podcast here!
---
Hobbit Code Status and Hidden Feature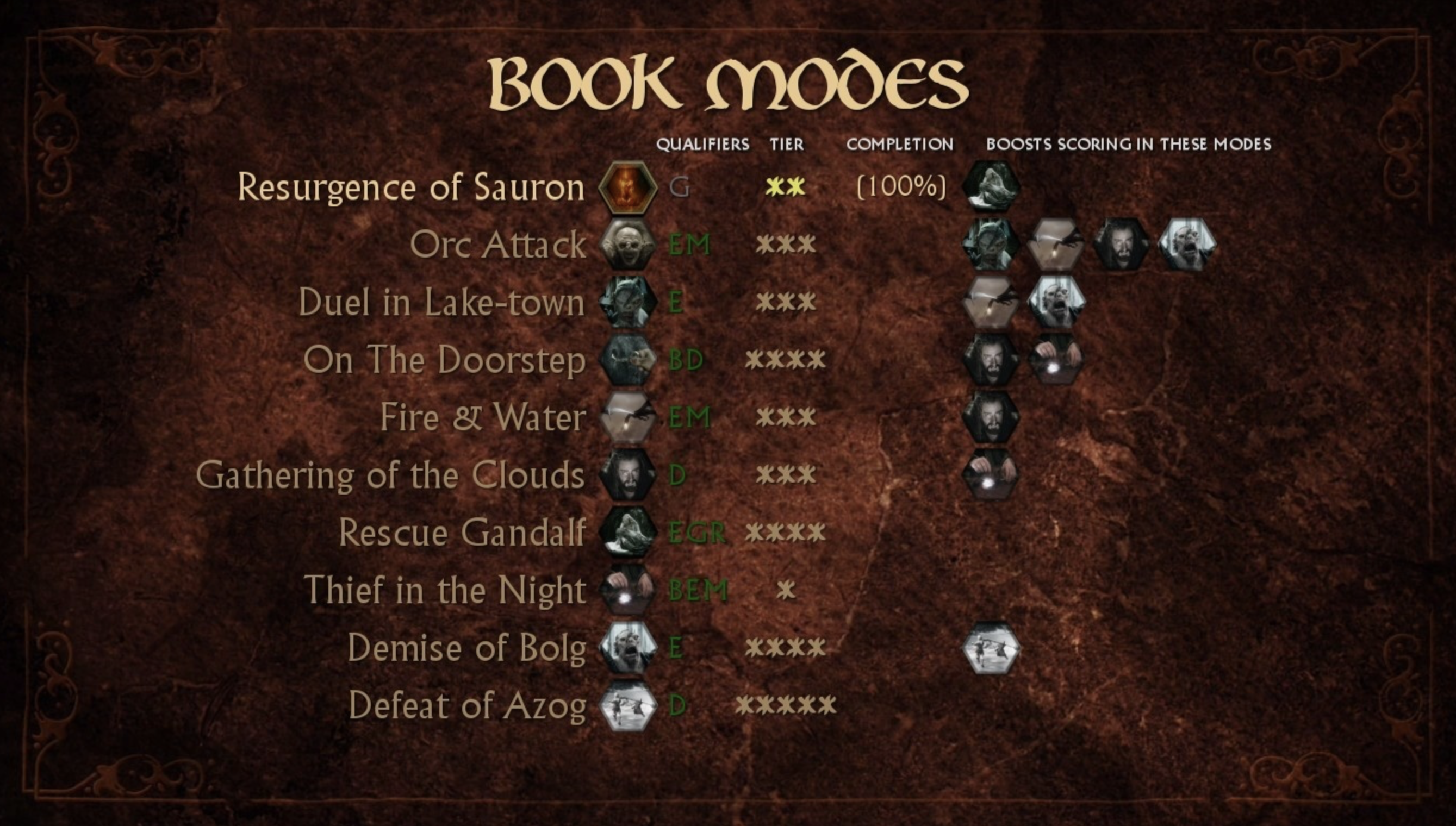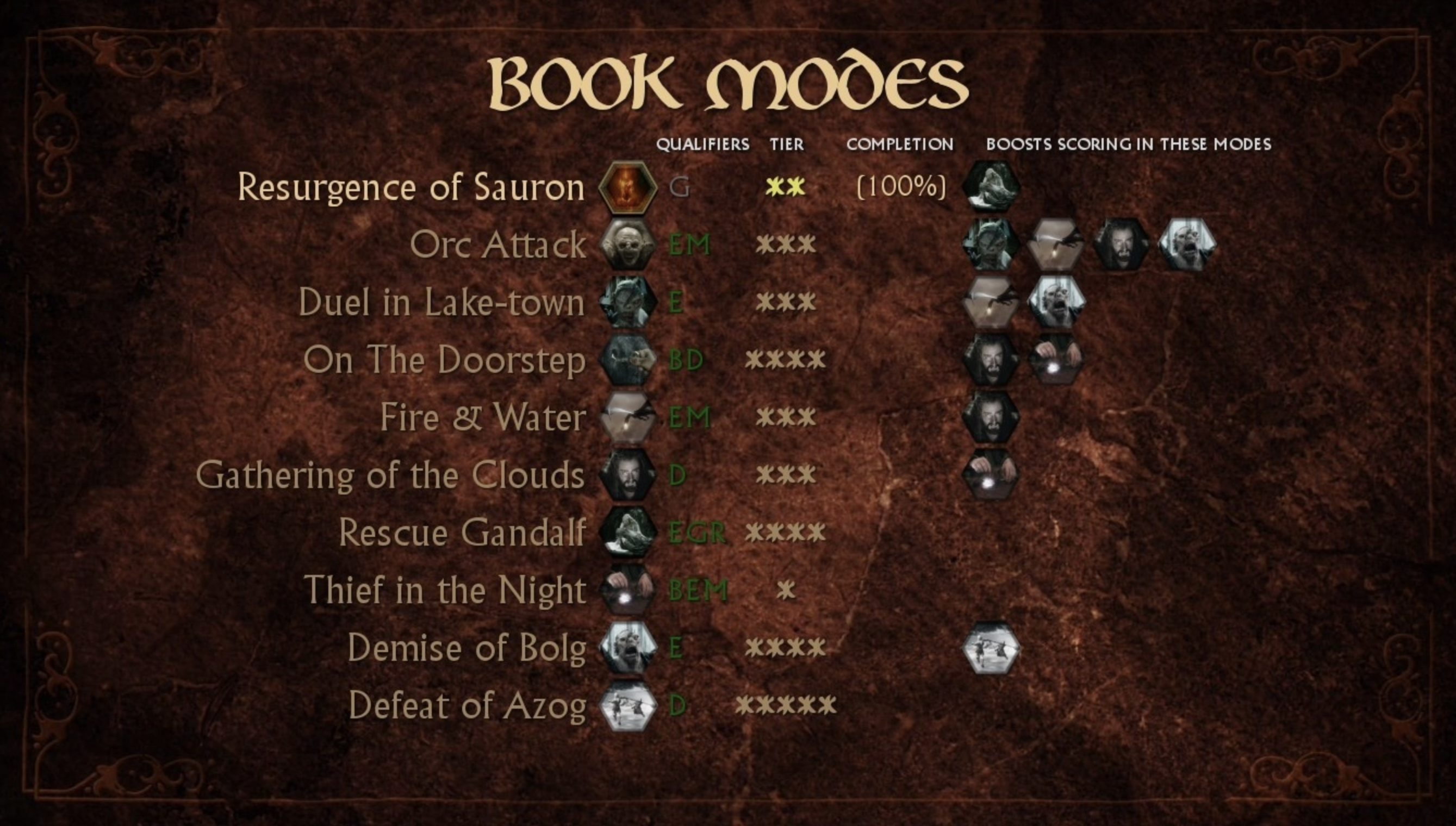 Ted Estes shared this Google Docs document last week on Pinside, which will contain ongoing updates on the Hobbit Code. He shared "I have color coded the items to show their status. (Fixed / Working as intended / Will not address / Might get attention / Will be fixed or changed)." If you missed it previously, Jersey Jack Pinball announced new code for The Hobbit pinball machine, which included many updates, including a "There and Back Again" wizard mode which can be reached by playing all Book Modes. Check out all the details of the code here! They also live streamed the new code – check out the stream here!
(Join the Pinside discussion here!)
On the stream, we also learned of a hidden feature in the Hobbit. After a mode ball lock or "sneak in", if you hold either the left or right flipper button as the ball triggers the switch (the one "at the entrance to the back tunnel"), you can choose which VUK (Vertical Up Kicker) the ball will exit. Right flipper will have it exit the right VUK, left flipper will exit the left VUK. This has apparently been in the code for a couple years!
---
Alice Cooper's Nightmare Castle Stream Coming Soon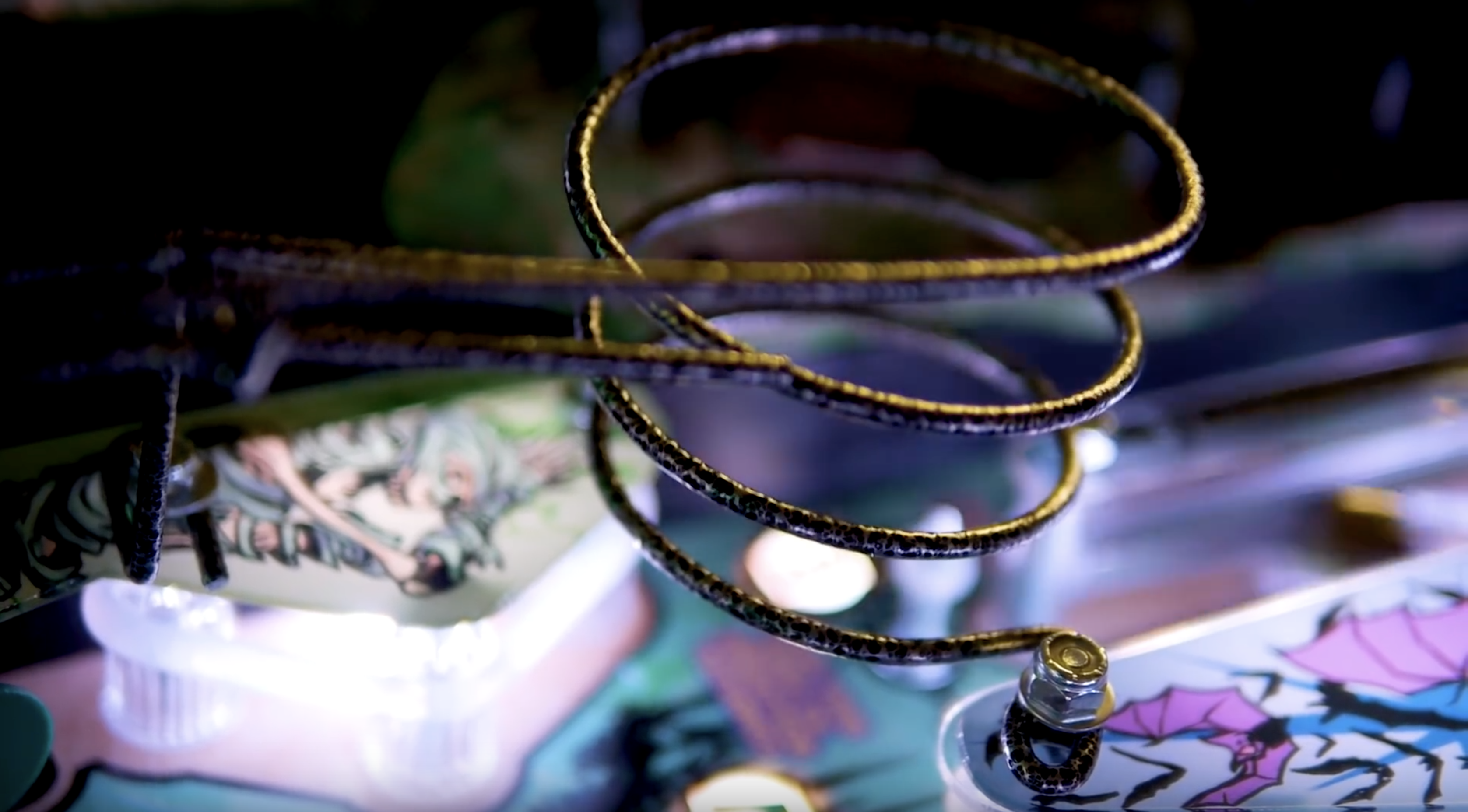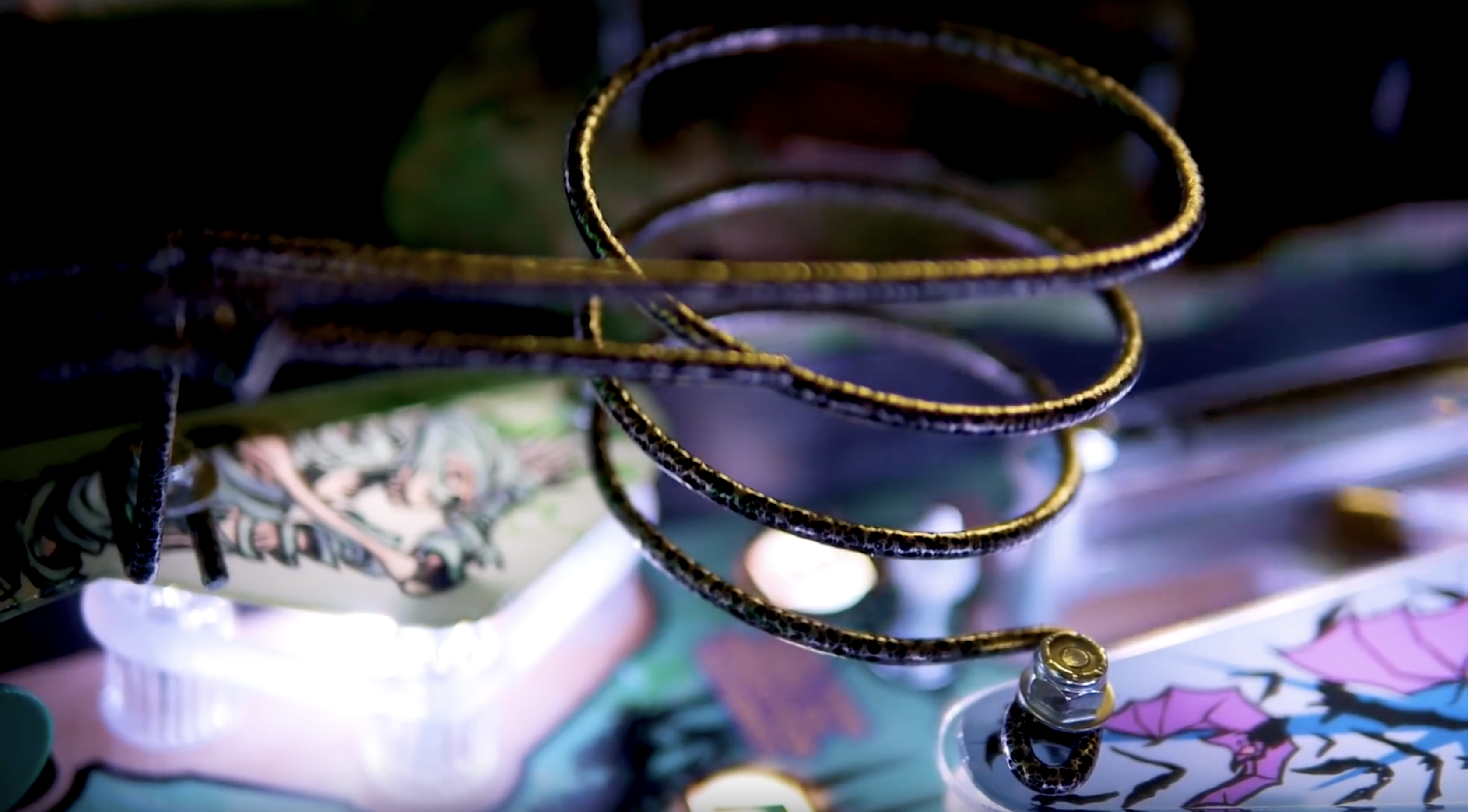 Charlie from Spooky Pinball shared on Pinside that a stream of Alice Cooper's Nightmare Castle will be coming soon! After someone asked about a stream of the machine, Charlie replied:
"Coming…. sorting out a date Jack Danger can get here asap.
1st day he's available, it's on. For now, staying quiet gives others a chance to get in and we have zero problem with that. 1st game left for the R&RHoF in June, production parts here, 3 new employees getting up to speed, code is getting better every day."
(Join the Pinside discussion here!)
---
First TWIP LE EARLY ACCESS Emails Sent
— Shameless Plea for Support for TWIP —
The first TWIP "EARLY ACCESS" email went out to the LE Supporters of TWIP last weekend! It shared upcoming exclusives, confirmed a rumor, and shared some unconfirmed rumors of new titles – rumors that we've heard but aren't vetted enough to include on TWIP. Click here if you're interested in an example of these EARLY ACCESS emails!
This month we announced TWIPerks and the July Giveaway Extravaganza – check out the details here! We have tons of super cool giveaways (like over $700 worth, just for July)!!
TWIPerks are new – they are levels of rewards for the beautiful people who support TWIP monthly! There are 5 tiers of TWIPerks for subscribers, you can check them out on our Patreon page here. You can also join the 5 tiers of awesomeness by donating via PayPal with the below button. HUGE thanks to all those that help this site keep going!!
[wp_paypal button="donate" name="My product"]
---
June Winner of Name The Game Mezel Mods Gift Card
…is Myles Edwards!! Congrats Myles!
---
Custom Messages in Attract Mode Coming to Houdini
Josh Kugler of American Pinball pranked his co-worker Nirmal with this message on Houdini: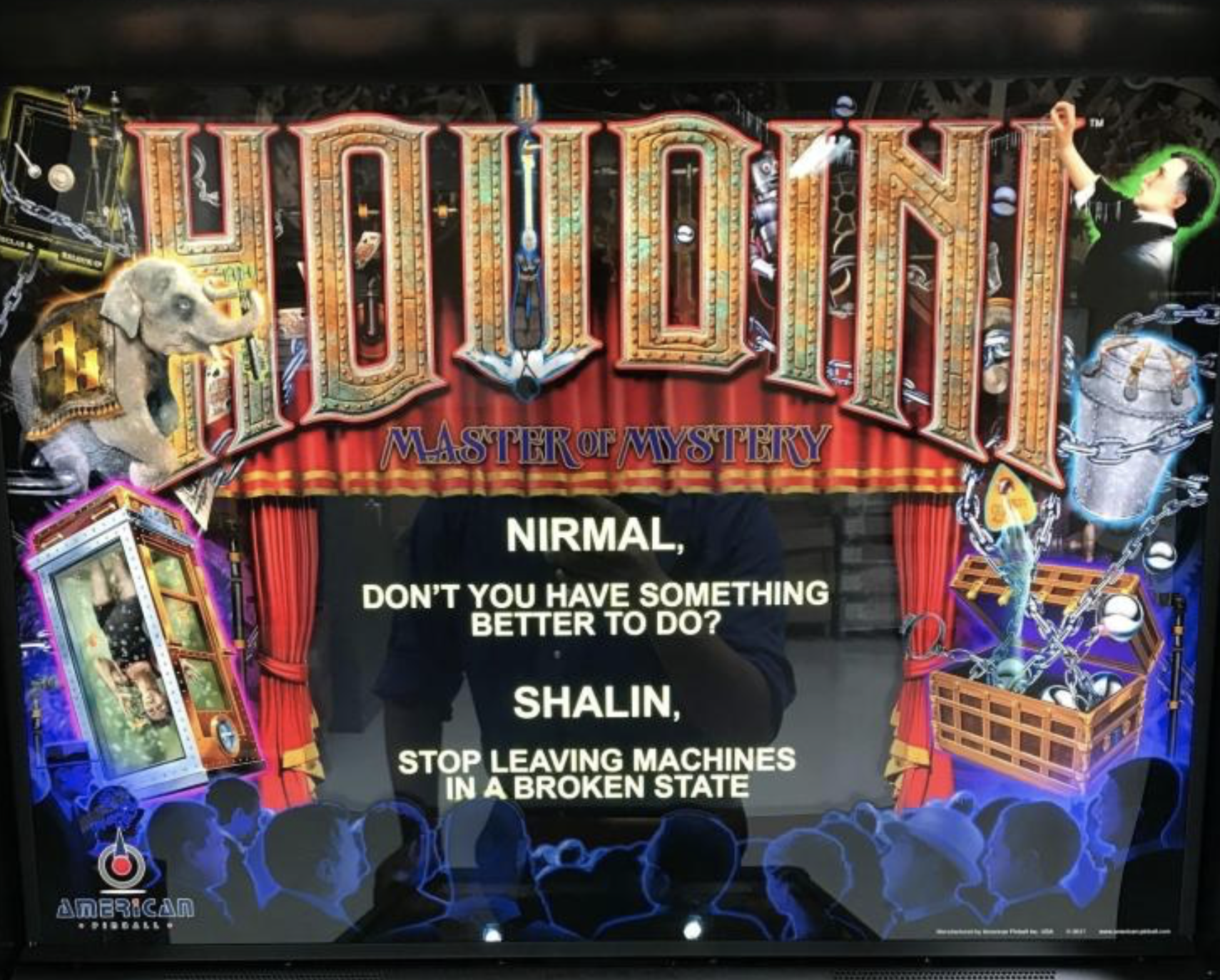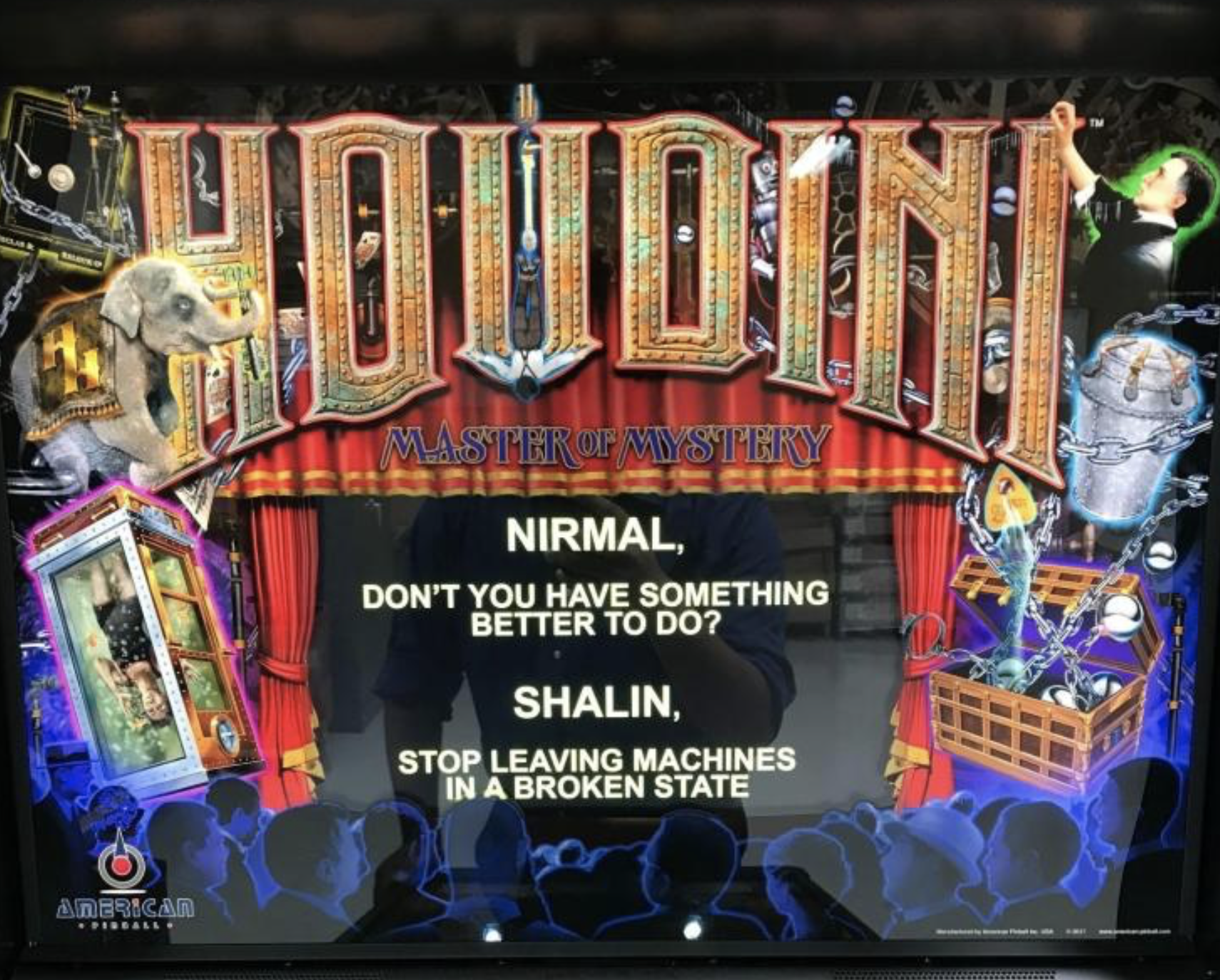 After Nirmal posted that on Pinside, Josh responded with this: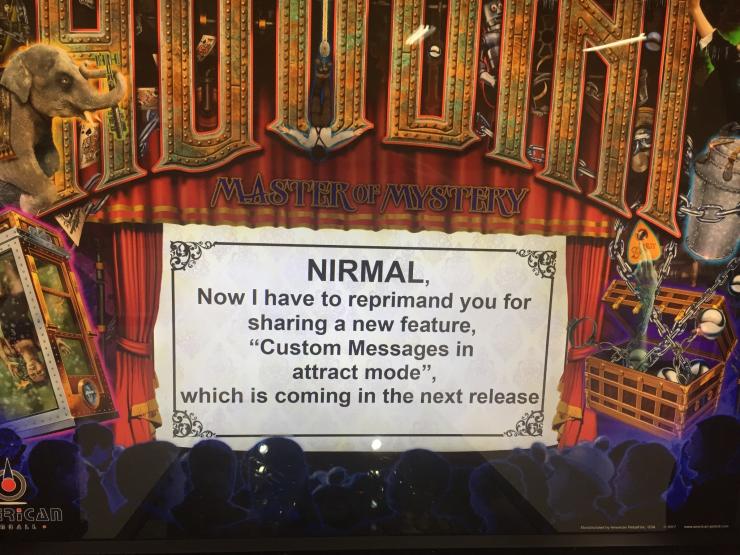 So not huge news but a fairly entertaining way of announcing the new feature!
---
This or That – Straight Down the Middle: a Pinball Show
Our friends Zach and Greg from Straight Down the Middle: a Pinball Show released a new episode this week of This or That, check it out!
---
New Charity Similar to Project Pinball
A new charity in France has started that is similar to Project Pinball! According to their website:
"The idea of ​​this project is to raise funds to offer gaming machines for welcoming centers for sick children.
The goal is to create a friendly, joyful, linking point, to forget for a few hours the difficulty of certain situations, to get the children out of solitude to discover this pleasure of the shared game, lights and sounds Which illuminate the faces.
This approach has already shown its benefits in the United States with the Project Pinball charity."
Check out their website here and support this very worthy cause! We will have more information about this organization and initiative soon on This Week in Pinball.
---
Cosmic Cart Racing Reveal – Stream Coming Soon from Buffalo Pinball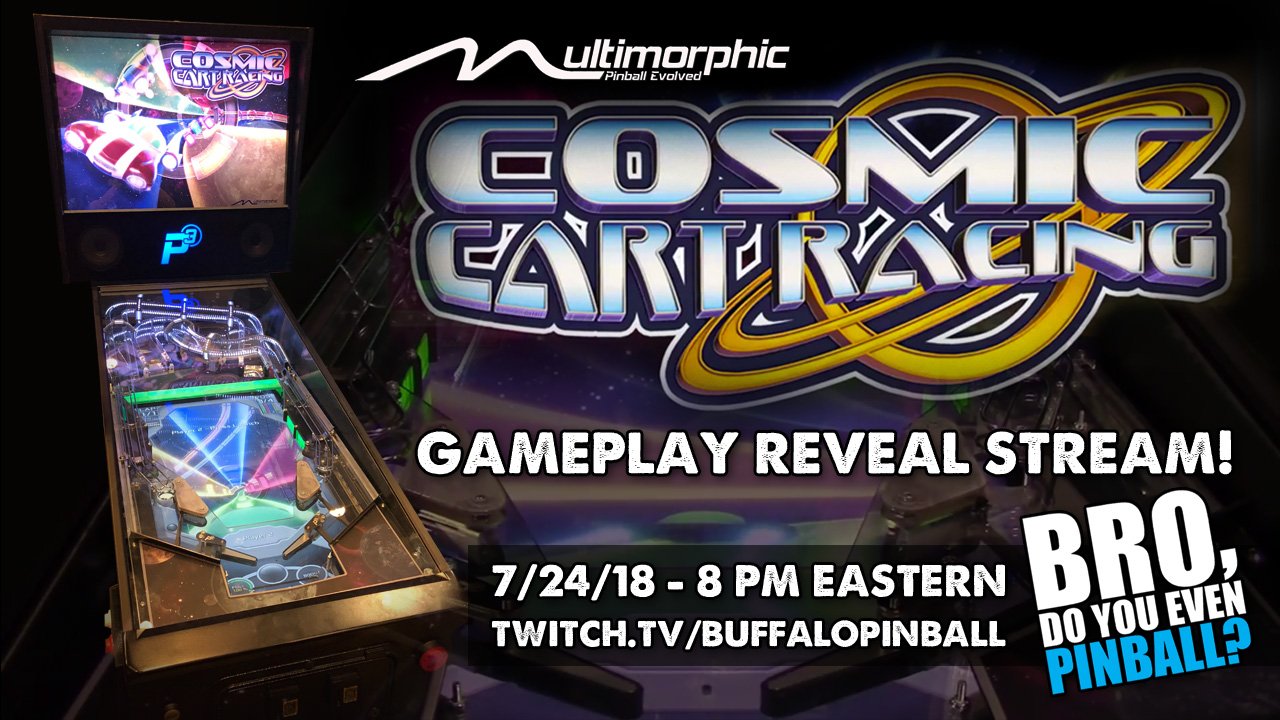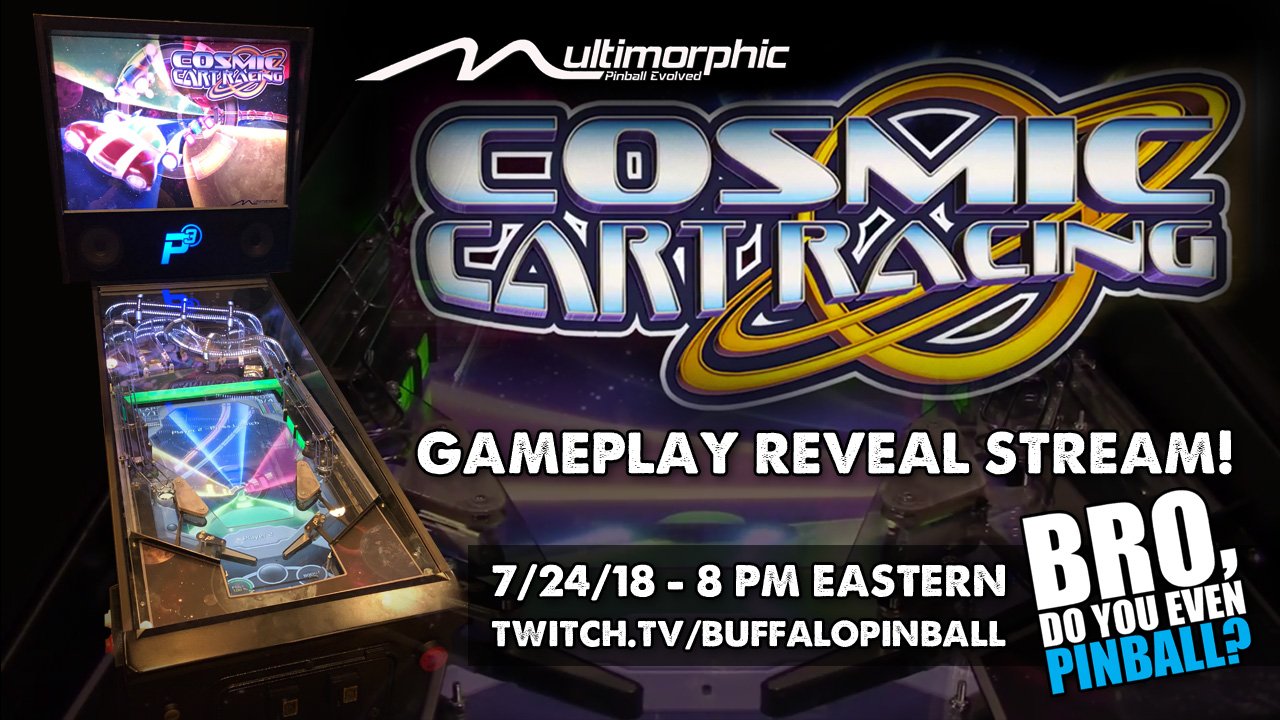 Buffalo Pinball recently received a Multimorphic P3 Pinball and last week announced that they would be streaming Cosmic Cart Racing along with Gerry Stellenberg from Multimorphic! According to their tweet:
"Tune in July 24 at 8 p.m. Eastern as @Multimorphic founder Gerry Stellenberg joins us for the gameplay reveal stream of Cosmic Cart Racing!"
---

The poll is a little different this week. We're going to break these down by age and sex, etc. which should be interesting to see which machines are popular among different demographics. As always we don't use any of this info except for the purposes of this poll.
What is your favorite pinball machine?
---

Identify the pinball machine pictured below for a chance to win a limited This Week in Pinball Lapel Pin! Drawing will be held monthly!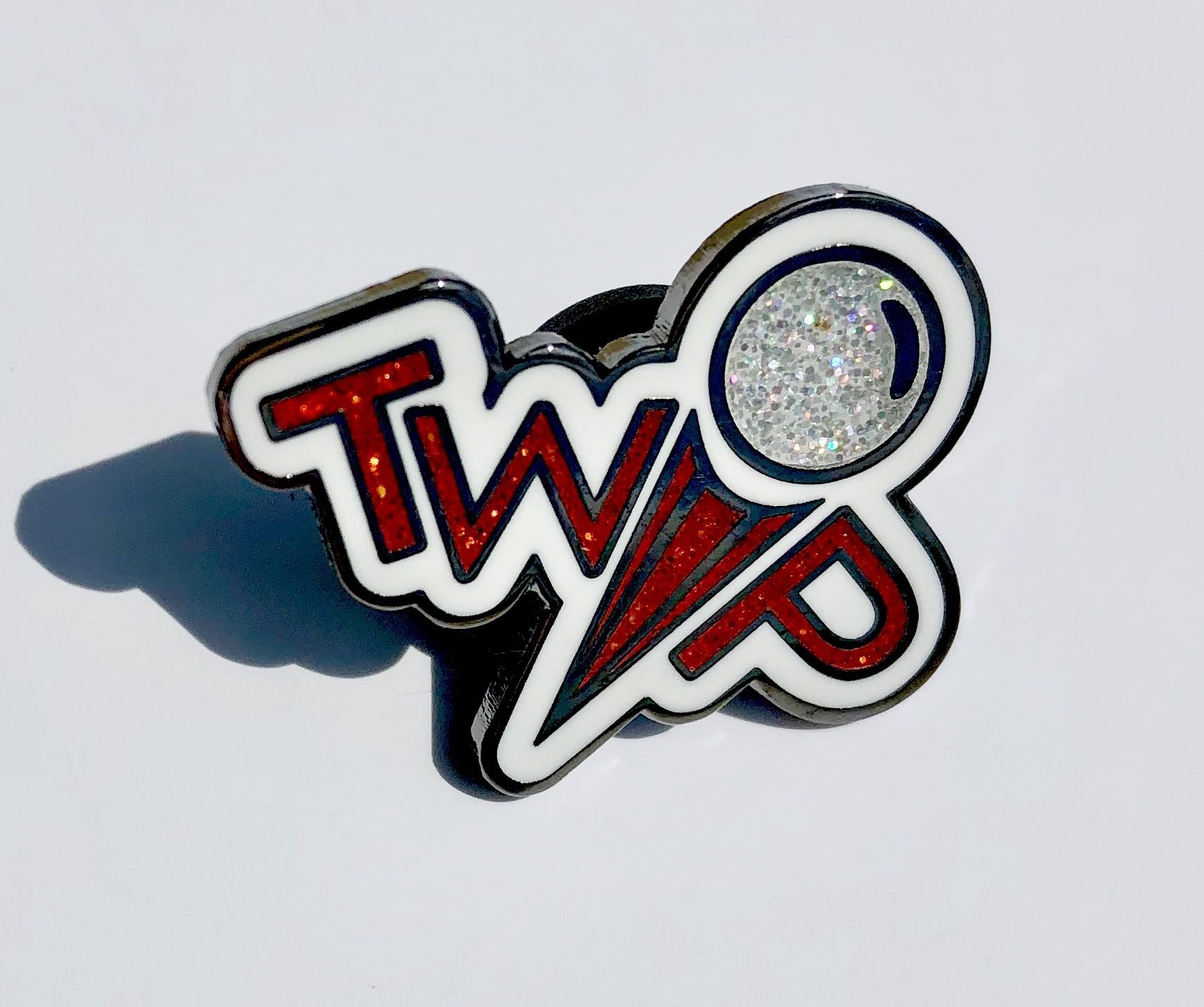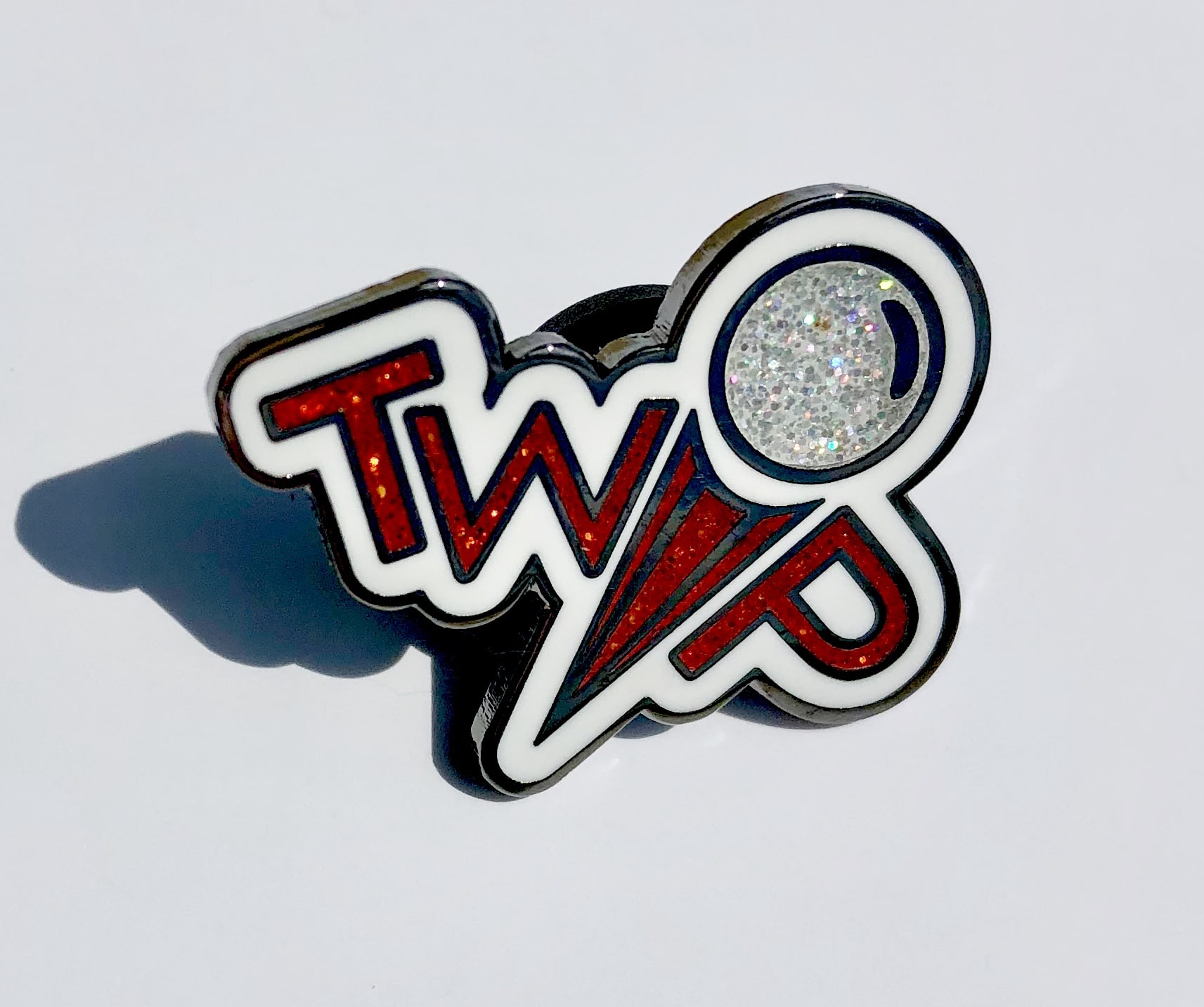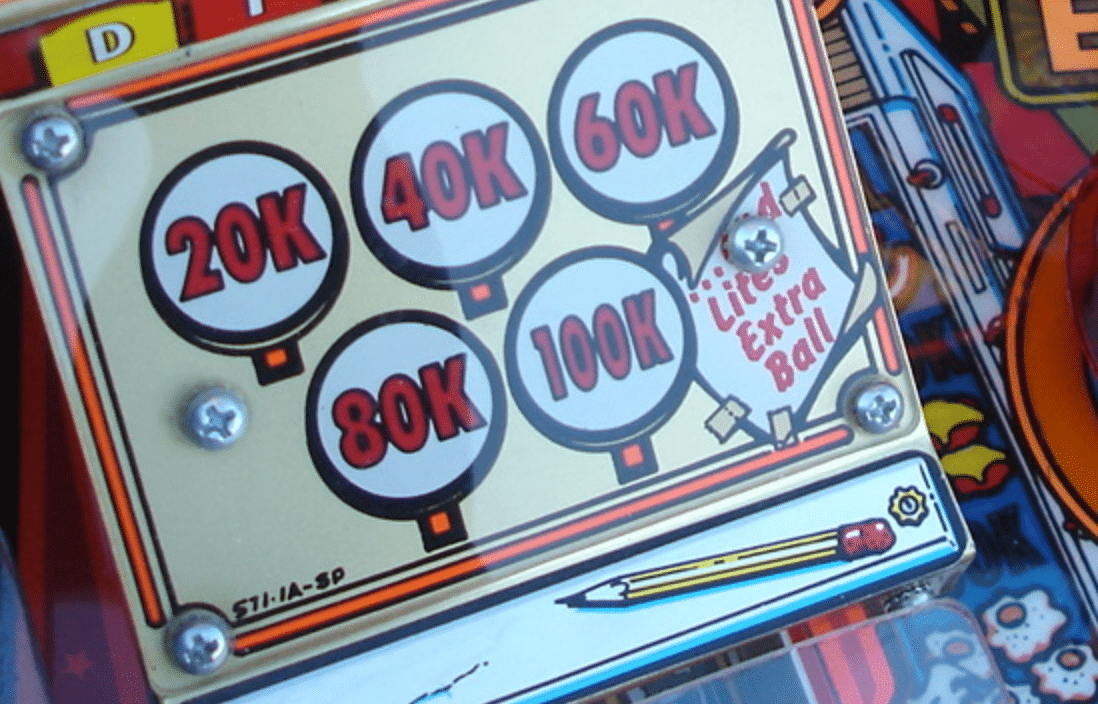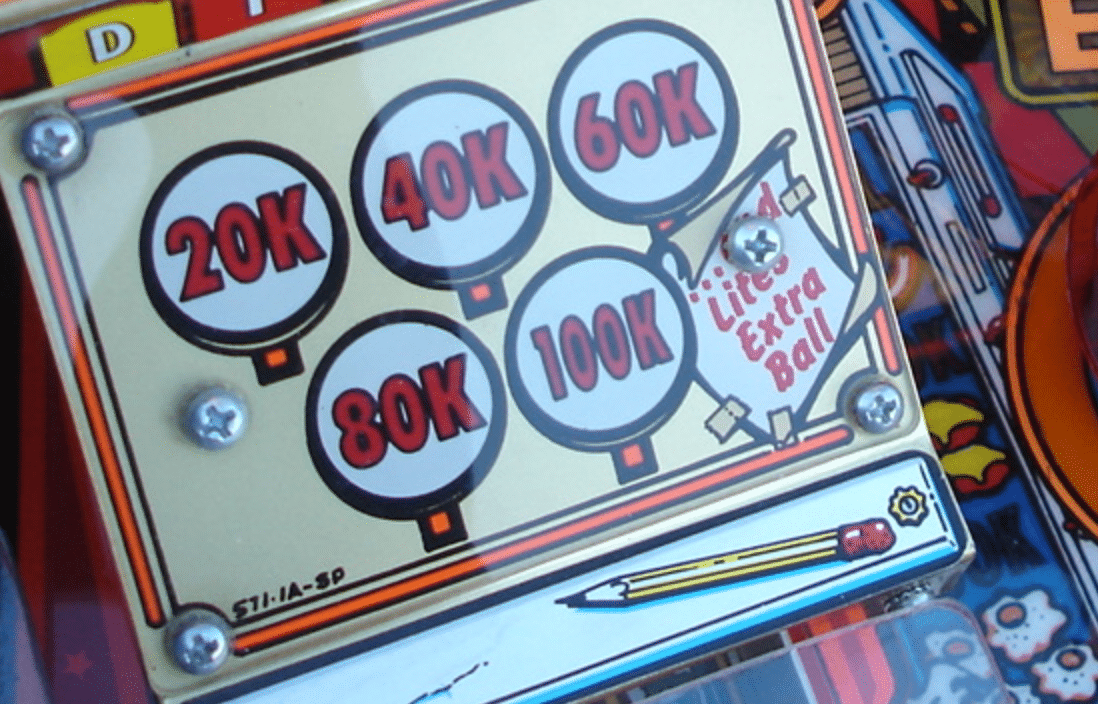 Last Week's answer: Champion Pub
Email guesses to thisweekinpinball@gmail.com, correct answers will be entered into the drawing for the limited TWIP Lapel Pin!
---

— Cool and Crazy Stuff —
Tom Savini is a Pinhead
Tom Savini is an actor, stunt performer, and film director. He is perhaps best known as a prosthetic makeup artist for films such as Friday the 13th, Texas Chainsaw Massacre 2, Dawn of the Dead, Day of the Dead, etc. He is also a pinhead!
---
ScoreGasm Master Pinball Machines
On the new episode of the Special When List Podcast, Terry Dezwarte of Pinball Life shared that he has seven New In Box ScoreGasm pinball machines at Pinball Life, but they're not for sale!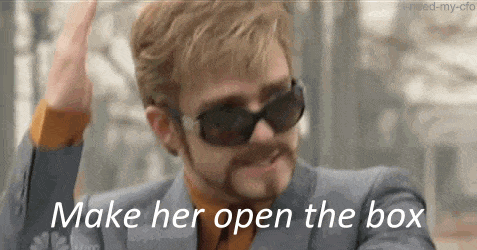 If you want to know more about this machine, check out this Pinball News article!
---
The Big Lebowski sold for $21,000?
It sounds like The Big Lebowski pinball machine that was for sale
on this Pinside thread
is "sale pending" for a sales prices of approximately $21,000. That's a lotta dough.
---


Very cool story, as told by Jared from Stern Pinball. Check it out!
---


— To Those Who Make This Hobby Better —
John Coble. Who? He is the guy that has been trolling Stern on Facebook about the Star Wars topper for several months. Is he really making the hobby better? Probably not but…sorry Stern, he's entertaining. And Stern's responses have also been entertaining 🙂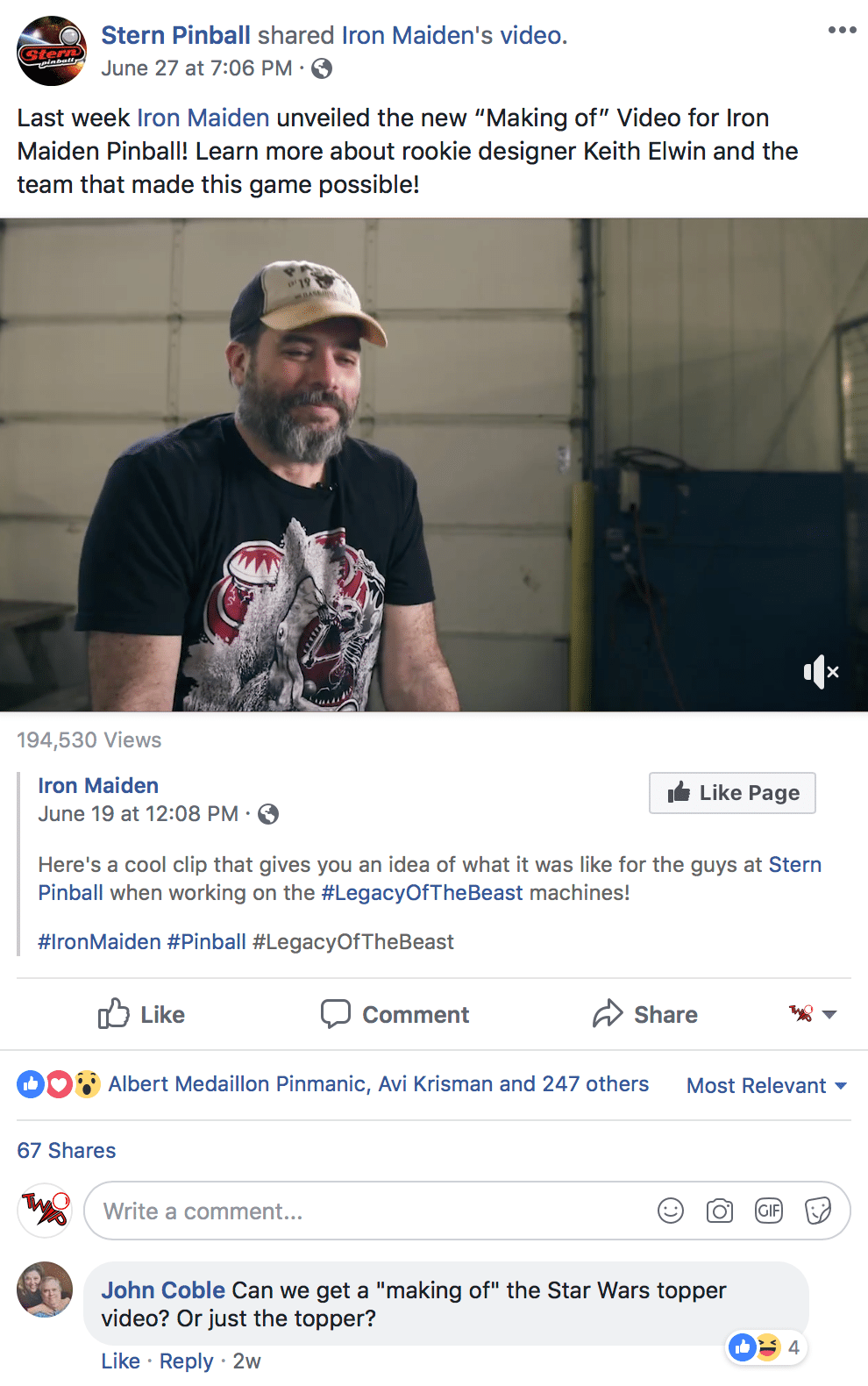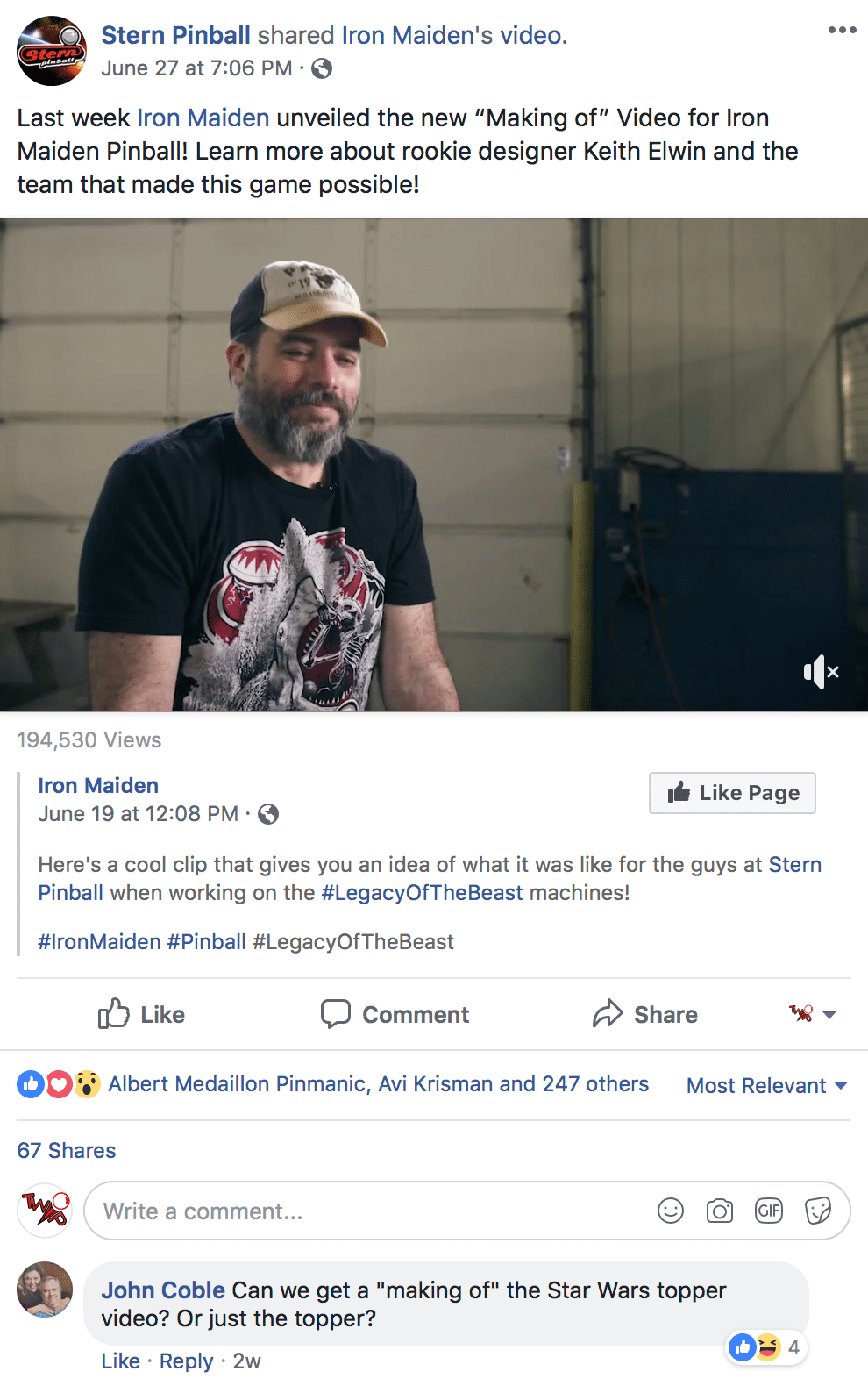 ---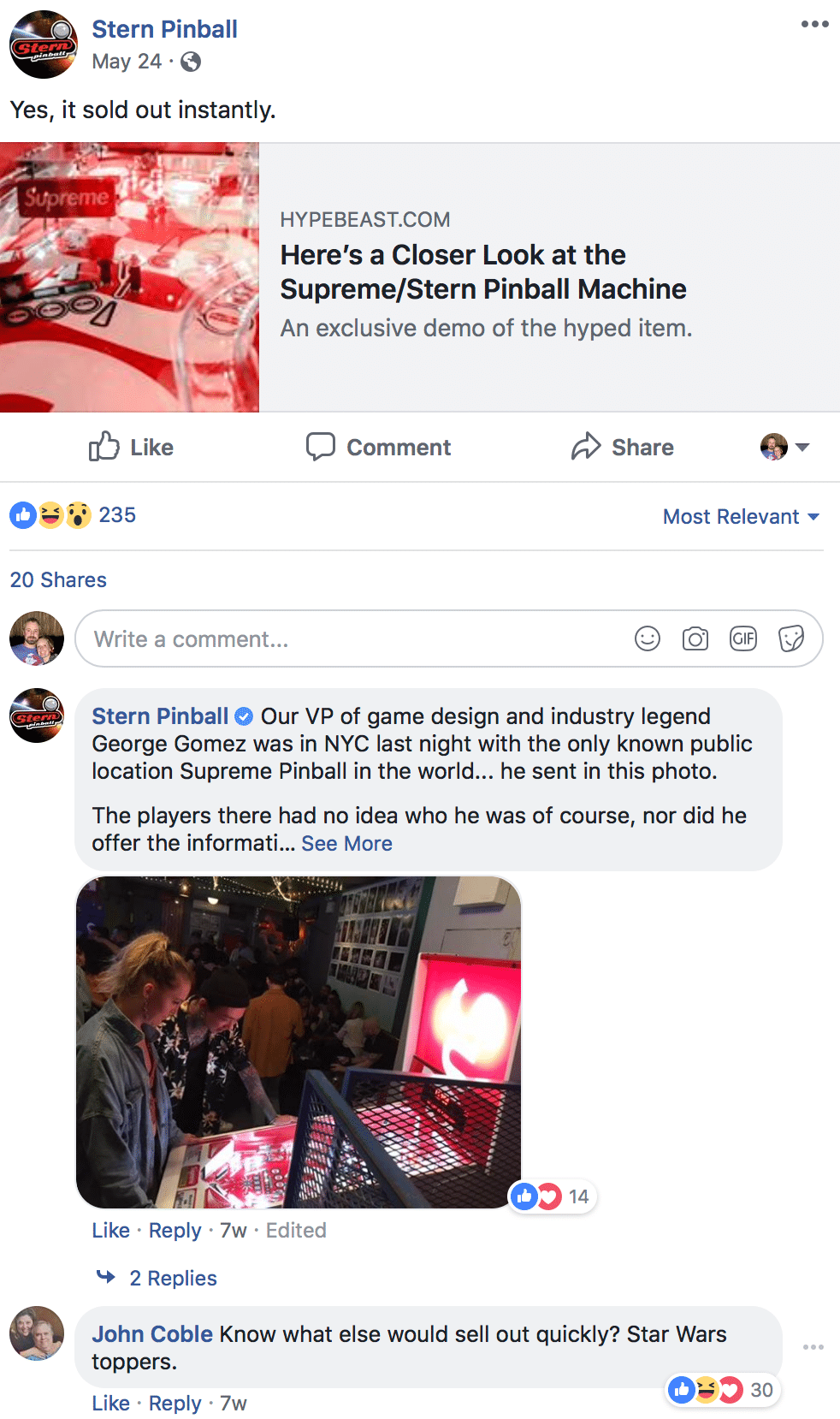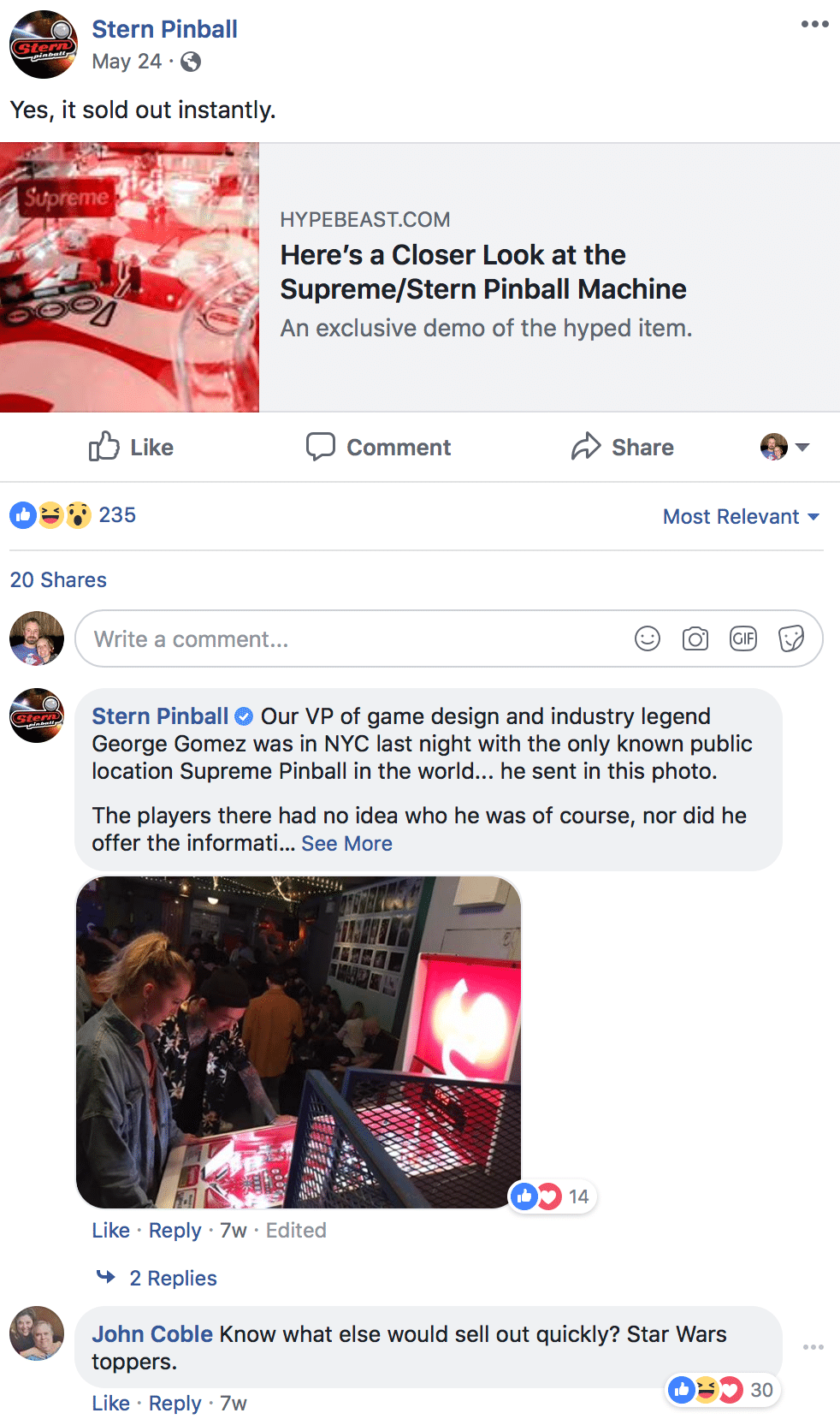 ---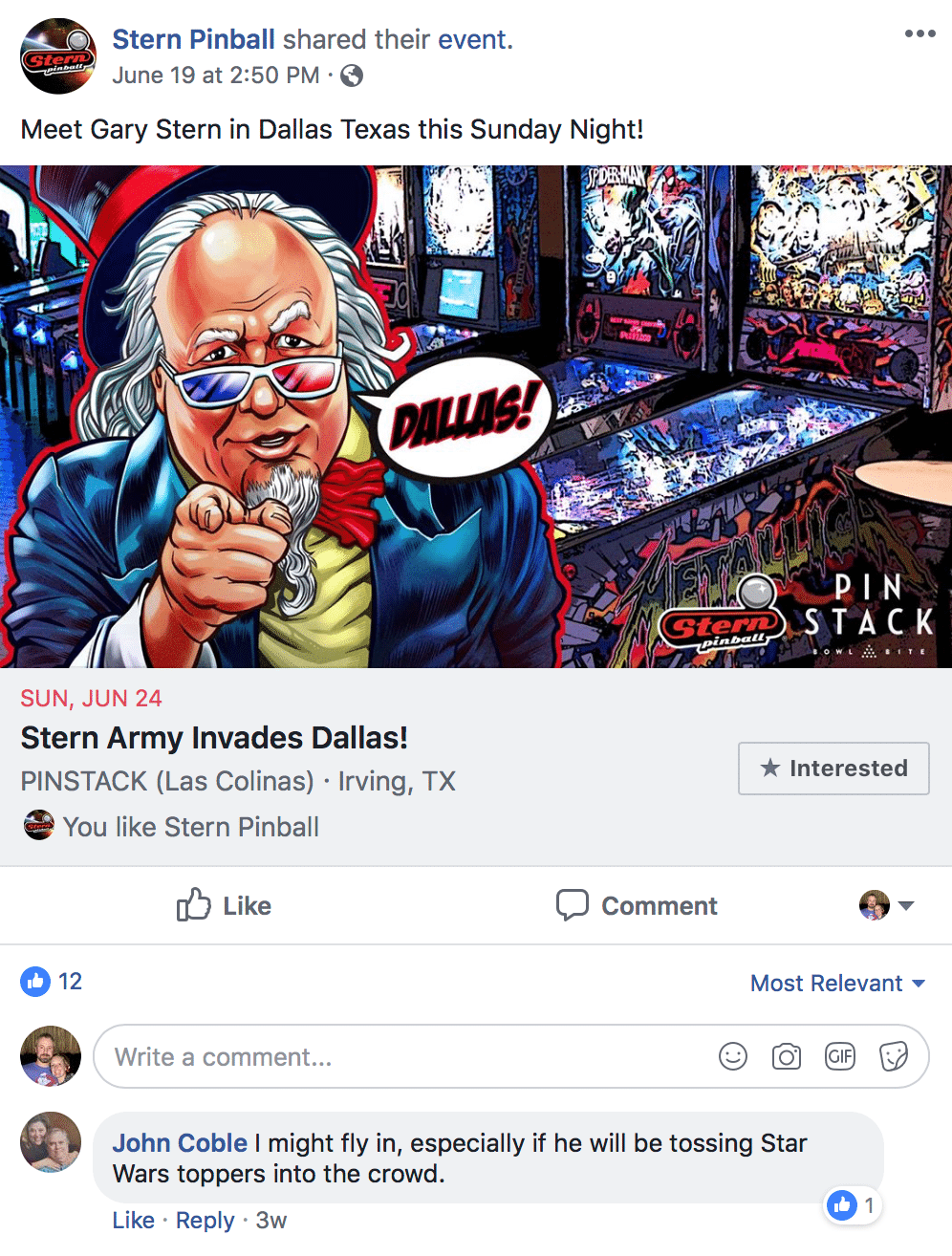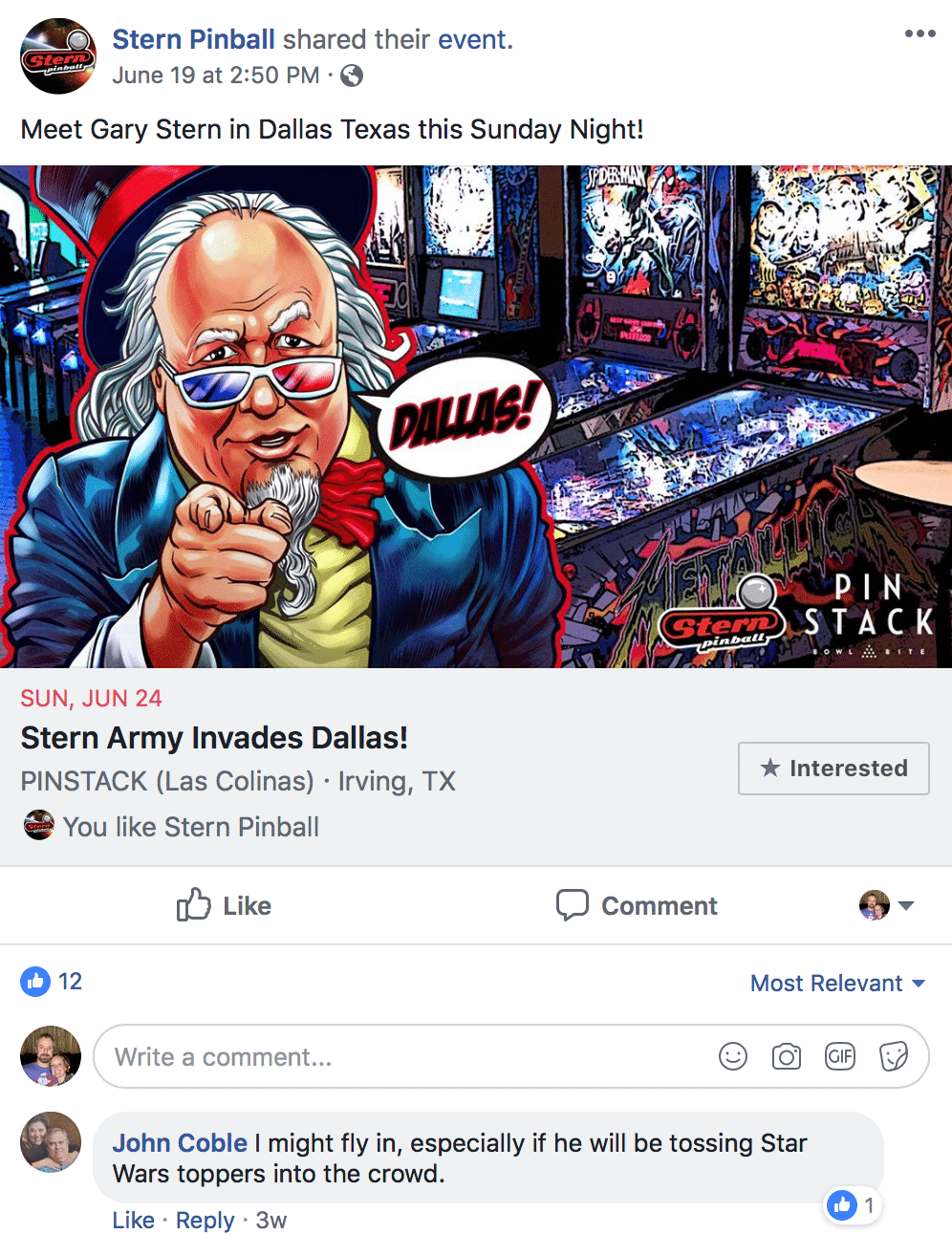 ---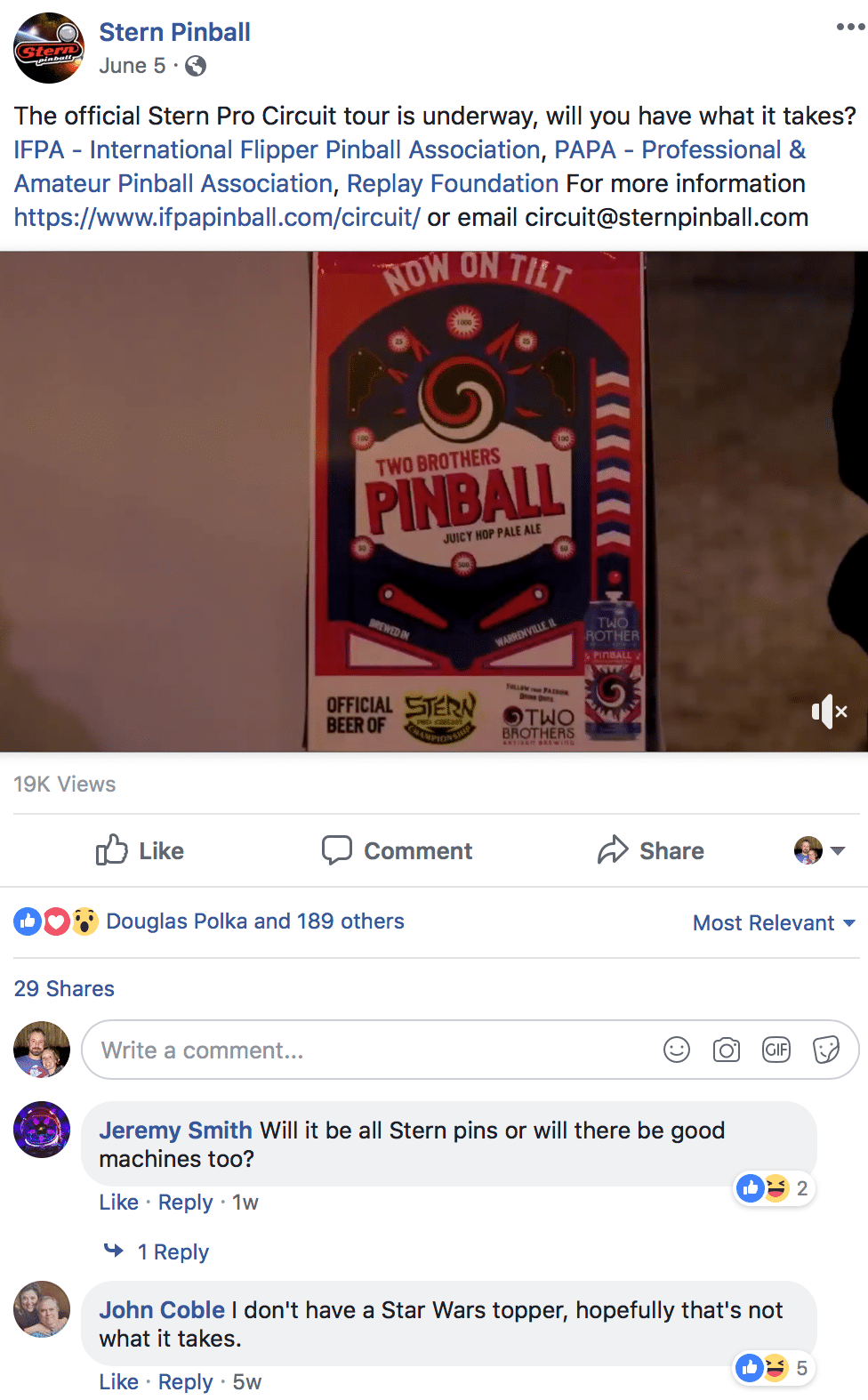 ---




---

— End of Post Bonus —
---

— What is Coming Up on TWIP —
Tuesday – Your Top 10 Favorite Playfield Art in Pinball Games
Wednesday – Announcements on some new stuff coming for the August Giveaway Extravaganza
Thursday – TBD…
---

Stern Pinball
Most Recent Titles
Aerosmith | AC/DC Vault Edition | Star Wars | Guardians of the Galaxy | AC/DC Luci Vault Edition | Iron Maiden
Announced/Confirmed
Elvira 3
Rumors of Future Titles
Deadpool? | The Munsters? | The Beatles? | Steve Ritchie Black Knight 3000? | Superman 1978? | Beetlejuice?
Jersey Jack Pinball
Most Recent Titles
Wizard of Oz | The Hobbit | Dialed In | Pirates of the Caribbean
Rumors of Future Titles
Willy Wonka? | Toy Story? | Guns N' Roses
Chicago Gaming/Planetary Pinball
Most Recent Titles
Medieval Madness Remake | Attack From Mars Remake
Rumors of Future Titles
Monster Bash Remake? | Cactus Canyon Remake? | Theatre of Magic? | Big Bang Bar Remake?
Spooky Pinball
Most Recent Titles
Rob Zombie's Spookshow International | Dominos (*contract game) | Jetsons (*contract game) | Total Nuclear Annihilation (*contract/house game) | Alice Cooper's Nightmare Castle
Rumors of Future Titles
Licensed Title | Scott Danesi Second Game
American Pinball
Most Recent Titles
Houdini
Rumors of Future Titles
Oktoberfest?
P3 (Multimorphic)
Lexy Lightspeed | Cannon Lagoon | Cosmic Cart Racing
Pinball Brothers
Rumors of Future Titles
Queen? | Barry Oursler's Original Theme? | Playboy?
Dutch Pinball
Most Recent Titles
Bride of Pinbot 2.0 | Bride of Pinbot 3.0 (on hold) | The Big Lebowski (production issues)
Circus Maximus
The Pinball Circus Remake | Kingpin
Homepin
Thunderbirds (coming soon)
deeproot Pinball
Announced/Confirmed
Fire and Brimstone
Rumors of Future Titles
Retro Atomic Zombie Adventureland? | Alice in Wonderland? | Magic Girl? | Original Houdini design?
Silver Castle Pinball
Timeshock (coming soon)
Phénix Pinball
Goblin Contest