The Scoop
Heads-Up Pinball Championship
IFPA announced last week that the 2017 IFPA Heads-Up Pinball Championship will be held Saturday, October 28th at the Hard Rock Cafe in Las Vegas, Nevada. The format is exciting and new: the matches will consist of Head-to-Head Challenges being played out simultaneously on two different machines of the same title, and whichever player completes the challenge first is declared the winner for that game. They hope to livestream the entire event. The winner gets a brand new Stern Aerosmith Pro pinball machine! Click here for an overview of the tournament, and click here to register.

Updates on John Trudeau Arrest
Following his arrest, pinball designer John Trudeau was released on bail from the DuPage County Jail last week. Stern Pinball released a statement regarding the situation, which you can read at the bottom of the Pinball News article here.

Play Pinball and Help with Hurricane Harvey Relief
After the catastrophic hurricane that hit the US last week, people in the pinball community have joined together to help raise money to help those affected. The IFPA is waiving their typical 30 day rule for any tournaments in September that are held for the purpose of raising funds for Hurricane Harvey Relief. Tilt-Hammer is selling $15 pins with all proceeds being donated to relief efforts. There are too many relief efforts in the pinball community to list individually, look for one near you and help spread the word.

It's Back! "Bro, Do You Even Pinball?"
After taking a break over the summer, Buffalo Pinball's popular weekly livestream "Bro, do you even pinball?" is back this week! Check them out on Twitch here this Thursday, September 7th at 8:00 PM Eastern as they play Stern KISS. It will be great to see Kevin, Nick and the gang back doing these weekly!

Thunderbirds Updates
Yes, we've been covering the Thunderbirds pin quite a bit. But Homepin keeps releasing new teasers every week! This week they released a video of a possible playfield toy and part of the playfield – see the toy here in action (not approved yet and subject to change). They also released the End Credits of the dot matrix display on their YouTube channel, check it out here (quick animation at the end). Last week we saw the electroluminescent headbox decals and the steel aprons with built-in leveling bubbles. In past weeks, Homepin posted a video showing playfields being cut by their CNC machine, a pic of the lock inserts, the approved translite art, and teaser pictures of the playfield plastics. Homepin plans to show off the machine at Pinfest in Australia coming up October 7th and 8th. Check out Homepin's Facebook page here for more updates.

MEZEL MODS – TWIP September Giveaway Sponsor
Thanks to MEZEL MODS for sponsoring the September gift card giveaway on TWIP! Is it MEEzel or Mehzel? Potato Potahto! No matter how you say it, they have tons of pinball accessories and mods for your game – playfield toys, shooter rods, decals, parts, toppers, LEDs and more. Don't settle for ordinary pinball – Visit their website to shop for your game specific mods! Seriously, visit their site. Please. Do it now, you won't regret it!

Stern Updates – Brazil Manufacturing Update, Star Wars Premium
Star Wars Premiums are officially shipping and arriving in the homes of pinheads. In other Stern news, after the Instagram post from last week alluding to Stern manufacturing in Brazil, a video was released this week showing Gary Stern in Brazil. Although Gary didn't officially confirm anything in the video, you can check it out in this Facebook post from Pinball Clube São Paulo.

Dutch Pinball Updates
Dutch Pinball released two updates in the past week regarding The Big Lebowski. The first one discussed board redesigns (read the full update here). In the second update they announced that they would introduce their new contract manufacturer at Expo in October (read the full second update here). The second update also stated "We still are on schedule that the first 'new' TBL will be ready in October. We still are on track to deliver the first 'new' TBLs before the end of this year."

Pinball Hall of Fame – Tim Arnold Funny Quote
Here is a recent article and video interviewing Tim Arnold who runs the Pinball Hall of Fame in Las Vegas, which is one the the largest collections of pins in the world. One of the quotes from Tim Arnold: "Depending on how you look at it, it's either a great cultural treasure or it's a bunch of old pinball machines we dug out of dumpsters and stuck in an old auto parts store."

August Giveaway Winner!
Congrats to Todd Baumeister who won a Pinball Life gift card for This Week in Pinball's August giveaway! To enter for the September giveaway for a gift card to MEZEL MODS, correctly answer the Name the Game (see below). Each additional correct answer each week is an additional entry. Congrats Todd! (Wonder how the drawing is done? Click here.)

Get alerts for new posts from This Week in Pinball – follow us on Facebook, Twitter, or sign up by email:
Have a scoop for next week? Email us at thisweekinpinball@gmail.com
Pin of the Week
BLACK KNIGHT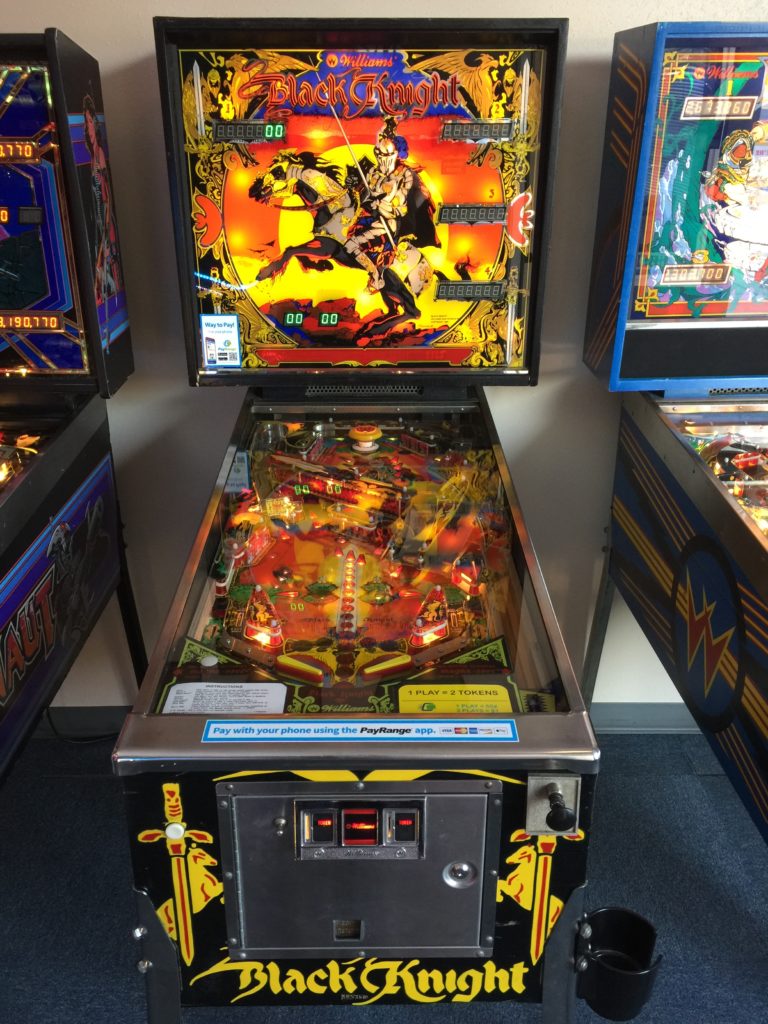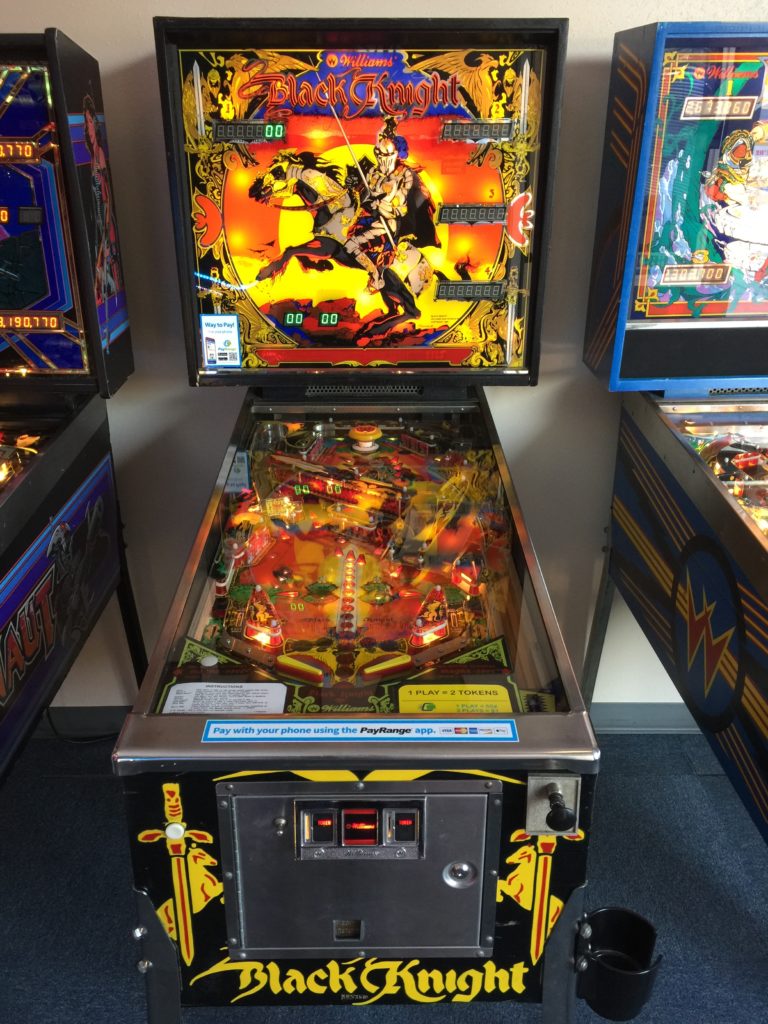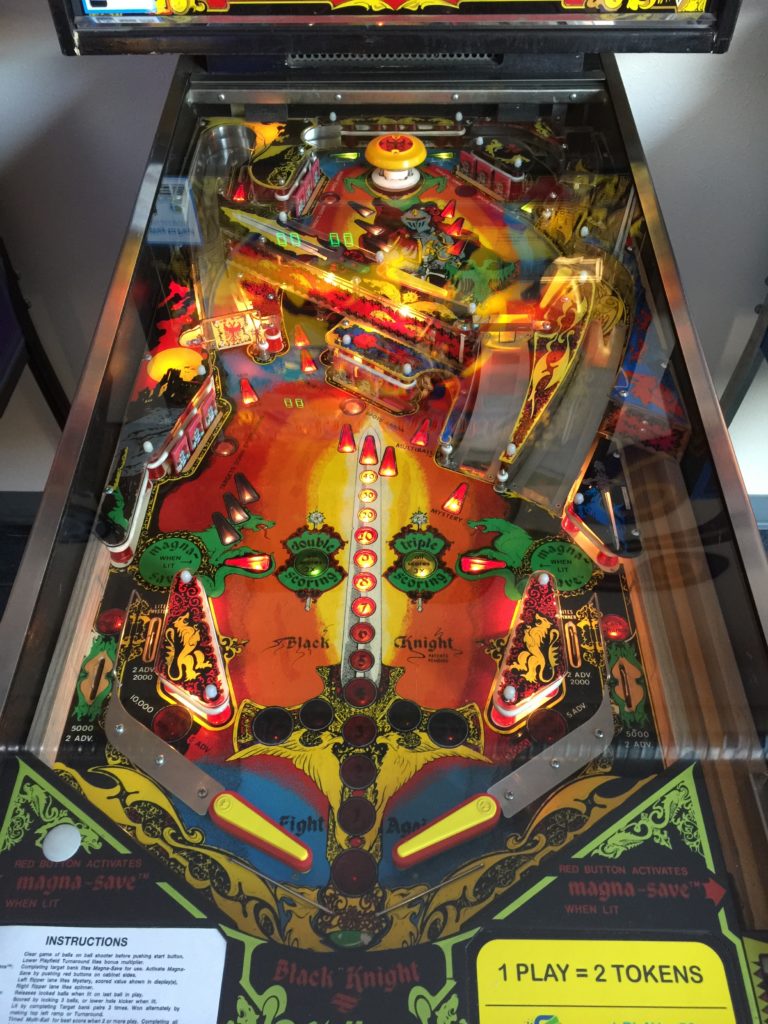 Interesting notes about Black Knight:
"The Black Knight is a milestone in the evolution of pinball. It introduced many of new designs to pinball. It was the first game with the patented "Magna-Save" feature. It was the first with a two-level playing field, and faceted inserts in the playfield." – Pinside.com
"Other notable features of Black Knight are a loud riding bell instead of the old familiar knock when a special (free game) was won, three ball multi-ball that did not require any previous targets to be hit before allowing balls to lock, and random score targets." – Wikipedia
Manufacturer: Williams
Display: Digital
Players: 4
Flippers: 4
Ramps: 3
Release date: November, 1980
System: Williams System 7
Design: Steve Ritchie
Software: Larry DeMar
Artwork: Tony Ramunni
Music/Sound: John Kotlarik
Production run: 13,075

Website of the Week
What is Fun With Bonus? This website contains a lot of different pinball related topics, with daily pinball posts along with some long form editorial posts and many other interesting pinball articles and items. Another example is this unique Pinball Dictionary. This website is run by Steven Bowden, currently ranked #12 in the world, and one of those individuals that does a TON for the pinball community. Not only has he posted a daily pinball update on his website for over FIVE YEARS (closing in on 2,000 days in a row people), he is a regular on podcasts and as a commentator for pinball tournament streams (when he's not busy winning the tournament). Check out this recent interview with the Pinball Players Podcast to hear Steven talking about the website. You can find Fun With Bonus on Facebook here with a Facebook group here, or on Twitter, Instagram, and YouTube. Thanks Steven for all you do for the pinball community – and check out his site!

Have a site we should check out or want your website featured? Send an email to thisweekinpinball@gmail.com with the URL and a short description and we'll include it.
Name the Game
Identify the pinball machine pictured below for a chance to win a gift card to Mezel Mods! Visit Mezel Mods here to check out some of the coolest mods in pinball!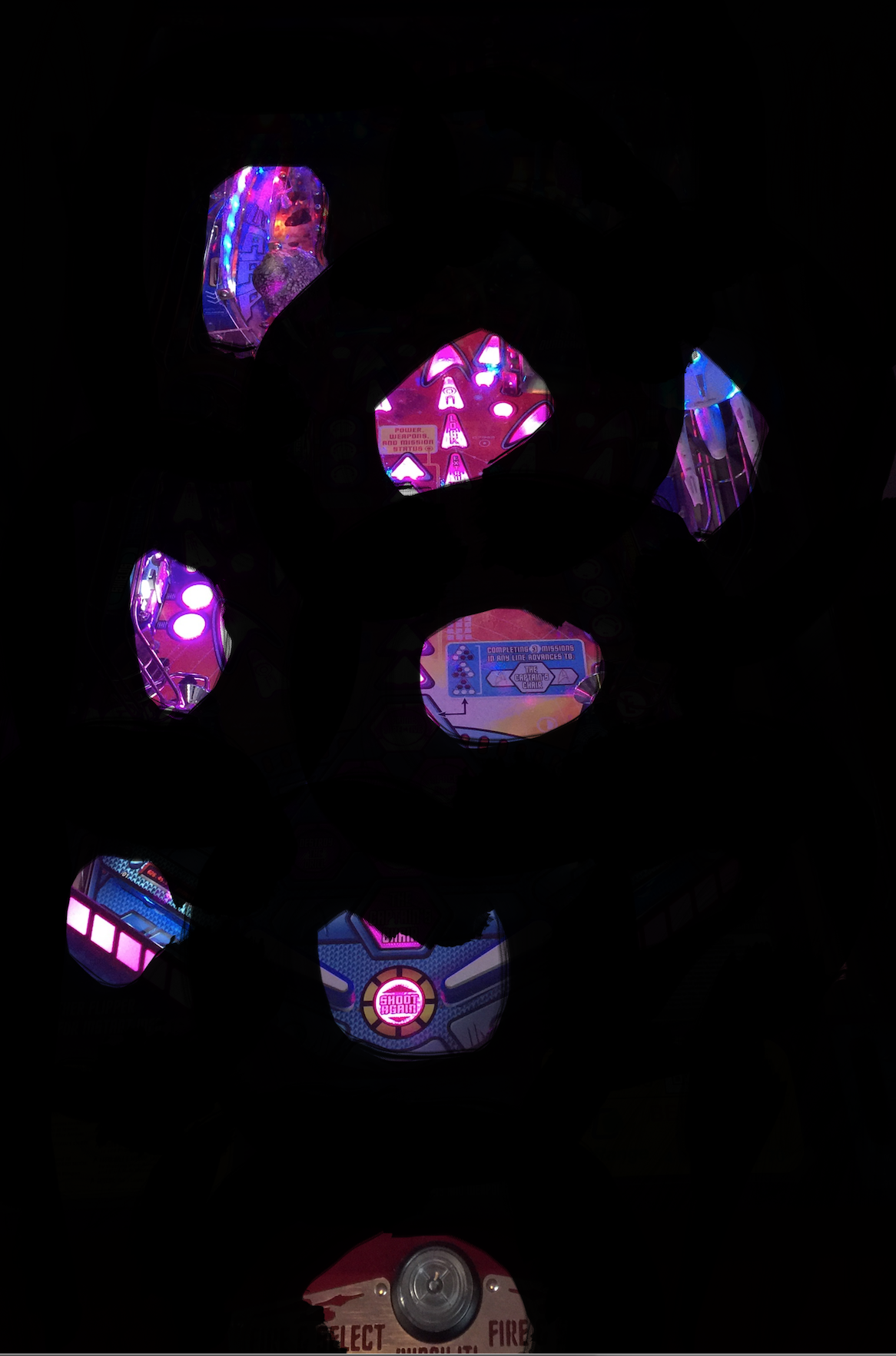 Last Week's answer: Whirlwind

Email guesses to thisweekinpinball@gmail.com, correct answers in September are entered into the drawing for a gift card to MEZEL MODS!
Upcoming Games and Rumors
Stern Pinball
Most Recent Titles
Aerosmith
AC/DC Vault Edition
Star Wars
Announced/Confirmed
Rumors of Future Titles
Guardians of the Galaxy?
Iron Maiden?
Jurassic World?
Deadpool?
Pulp Fiction?
New KaPow Pin? <<NEW

Spooky Pinball
Most Recent Titles
Rob Zombie's Spookshow International
Dominos (*contract game)
Jetsons (*contract game)
Total Nuclear Annihilation (*contract/house game)
Announced/Confirmed
Alice Cooper's Nightmare Castle
Ben Heck's game

American Pinball
Most Recent Titles

Dutch Pinball
Most Recent Titles
Bride of Pinbot 2.0
Bride of Pinbot 3.0 (on hold)
The Big Lebowski (production issues)

Silver Castle Pinball

Jersey Jack Pinball
Most Recent Titles
Wizard of Oz
The Hobbit
Dialed In
Rumors of Future Titles
Pirates of the Caribbean?
Toy Story?

Chicago Gaming/Planetary Pinball
Most Recent Titles
Medieval Madness Remake
Attack From Mars Remake
Rumors of Future Titles
Monster Bash Remake?
Big Bang Bar Remake?
Cactus Canyon Remake?

Heighway Pinball
Most Recent Titles
Full Throttle
Alien (production issues)
Rumors of Future Titles

P3 (Multimorphic)
Lexy Lightspeed
Cannon Lagoon
Cosmic Cart Racing

Homepin
Thunderbirds (coming soon)
**TWIP dreams of the day Harry Potter Pinball will be added to these rumors. Ms. Rowling, my boggart turns into a world without a Harry Potter pinball machine – please approve this!
Get alerts for new posts from This Week in Pinball – follow us on Facebook, Twitter, or sign up by email: