THE SCOOP
Planetary Pinball Reveals "Likely" Remakes
Planetary Pinball made a post on Pinside last week that shared some information about their future plans. They have already remade Attack From Mars and Medieval Madness. The games are products of Chicago Gaming Company, licensed through Planetary Pinball. In the Pinside post, they shared:
At least five more remakes are in the works
Each game will have new core features (like the large color display on Attack From Mars Remake)
The most likely remake titles are:

Cactus Canyon
Monster Bash
Big Bang Bar
Theater of Magic
They also have the source code for all of the titles listed above. Planetary Pinball also mentioned in a different thread that "The challenge I have with IJ/TAF/TZ is that there were so many games produced … great games nonetheless …" (IJ = Indiana Jones, TAF = The Addams Family, TZ = Twilight Zone)
All of this is subject to change of course. Remake number three is expected to be revealed at the Texas Pinball Festival in March. Stay tuned!
---
Clues from "Ask Steve Ritchie"
Last week Stern held a live stream on Facebook where Steve Ritchie answered questions from pinheads – watch the full stream here. There has been quite a bit of speculation regarding Ritchie's next title – will it be licensed or unlicensed? Will it be a sequel to one of his other games, possibly a Black Knight 3000 or High Speed 3? During the Q&A he gave a few answers we can over-analyze. Ritchie, who designed High Speed and The Getaway: High Speed 2, was asked "Will there a third high speed getaway game?" and here was his response:
"I don't know, maybe a 5th one. I don't know. Maybe. I kind of feel guilty about remakes. Maybe I've done it too much. People want more but I don't know if it's the right thing to do. I think I should move on to new stuff, don't you guys?"
He later also said: "I like the game I'm working on right now, I feel free."
Previously, Ritchie had commented on Facebook: "I'm sick of licenses right now. I'm having REAL FUN doing what I'm doing on my next!" (see post here). Then at Expo, Ritchie shared some frustration when working with licenses and flat out said his next theme would be unlicensed during his presentation. THEN, at IAAPA, Gary Stern did an interview with Jeff Teolis from the Pinball Profile (Facebook, Twitter, Podcast Garden) and seem to indicate he is against an unlicensed theme.
These new comments above seem to indicate possibly an unlicensed theme that is not a sequel? There have been some very popular unlicensed themes in 2017 with Dialed In! and Total Nuclear Annihilation. We will see!
---
HOST ANNOUNCED FOR TWIPY PINBALL AWARDS!
The First Annual TWIPY Pinball Awards Show will be held in January LIVE on Twitch and we here at This Week in Pinball are excited to announce the hosts for this year! You know them from Straight Down the Middle: a pinball show (check out their YouTube page, Twitch page, and Facebook page). That's right – Zach and Greg will be hosting!


The TWIPY Pinball Awards show will be LIVE on Twitch in January so you can interact (or heckle) in real time as the award winners are announced. We will be announcing the date and time of the awards show soon, so stay tuned!
VOTE NOW for your pinball favorites in 2017! Many of the categories are VERY close so every vote is important!
(should take less than two minutes and you can skip questions)
Note: You must have a Google account to vote – it is free and easy, click here if you would like to set up an account.

And the categories are…
Best Theme
Best Theme Integration
Best Sound/Callouts
Best Artwork
Best Rules/Code
Best Lightshow
Best Toys/Gimmicks
Best Playfield Layout and Gameplay
Best Display/Animations
Favorite Pinball Podcast
Favorite Pinball Twitch Streamer
Favorite Pinball YouTube Channel
Favorite New Mod
GAME OF THE YEAR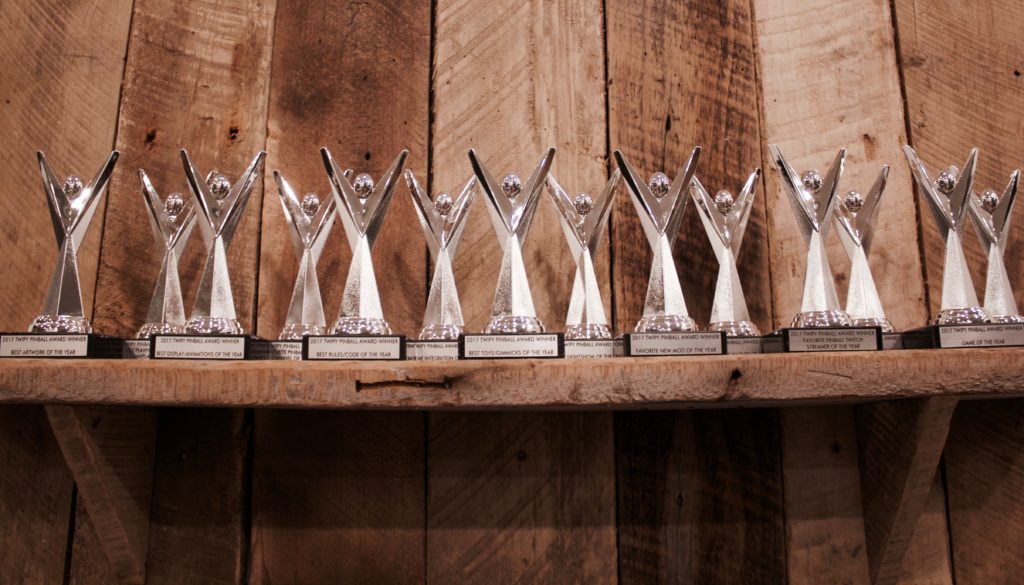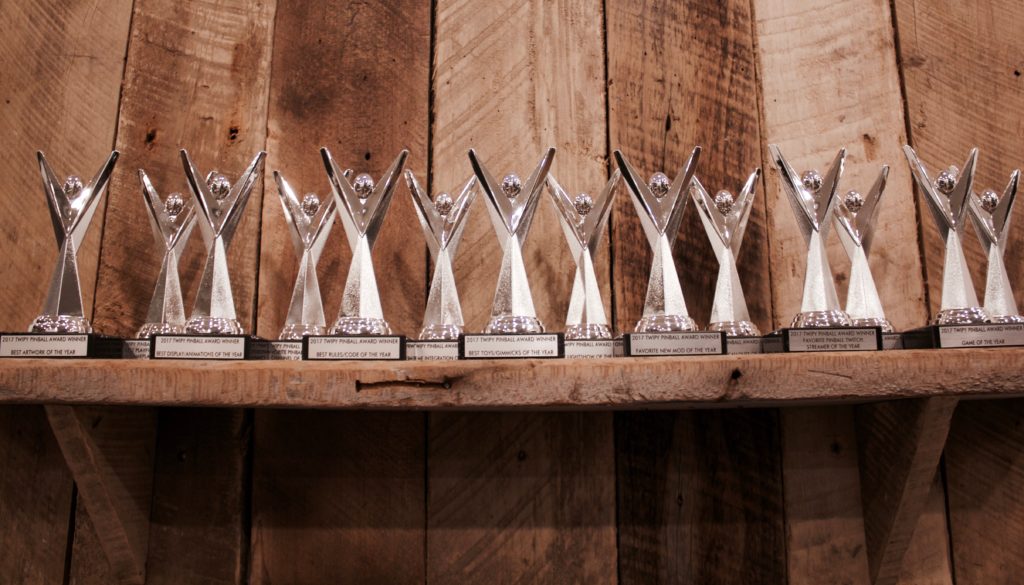 ---
Houdini Deep Dive – Likes, Dislikes, Features, Code


In case you missed it, This Week in Pinball had an opportunity to play Houdini at Level 257 near Chicago. We also had a chance to meet the playfield designer Joe Balcer, and have been in contact with Josh Kugler (rules, programming) to learn more about the game. After playing for a few hours we wrote up a Deep Dive to go into out all the features, modes, likes and dislikes of the game – check out the full article here! (Note: Apologies for any typos in the article. And the entire TWIP website in general.)
---
Code Code Code Code – Guardians, Star Wars, Alien, Wizard of Oz
Several code updates were announced last week! These are pretty significant updates, not just bug fixes:
---
More Alien Info
Speaking of Alien, Heighway Pinball announced on their Facebook page that the Alien LE trim options would be blue, green, and black, and they included a picture of the blue trim: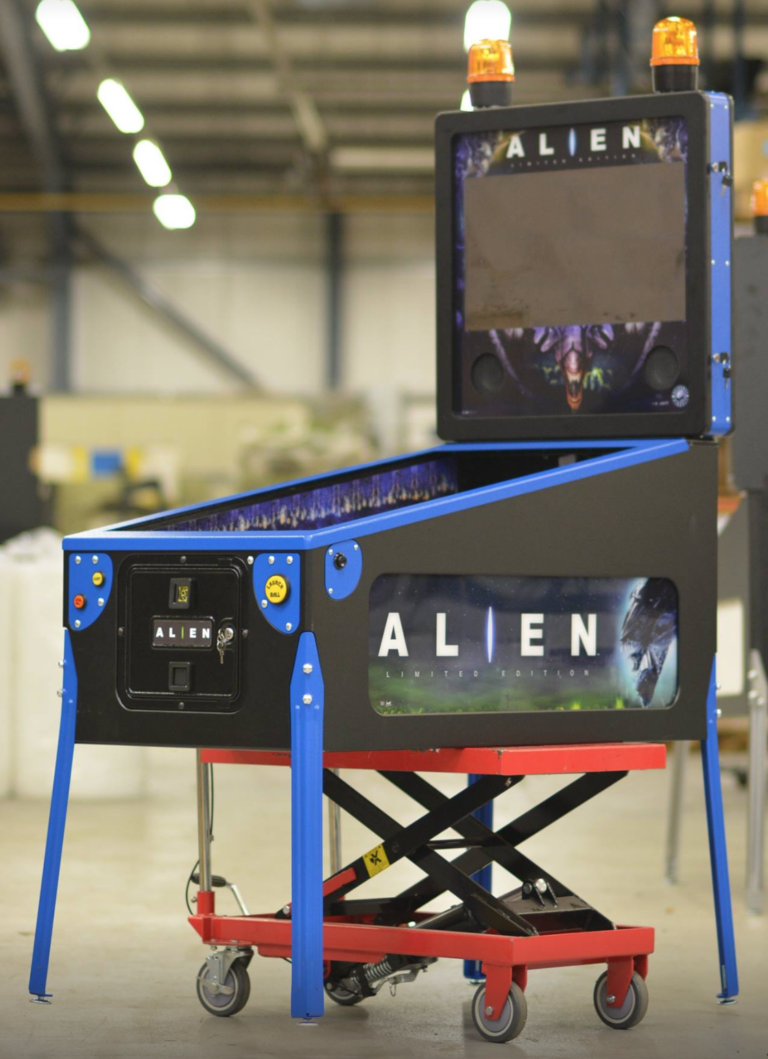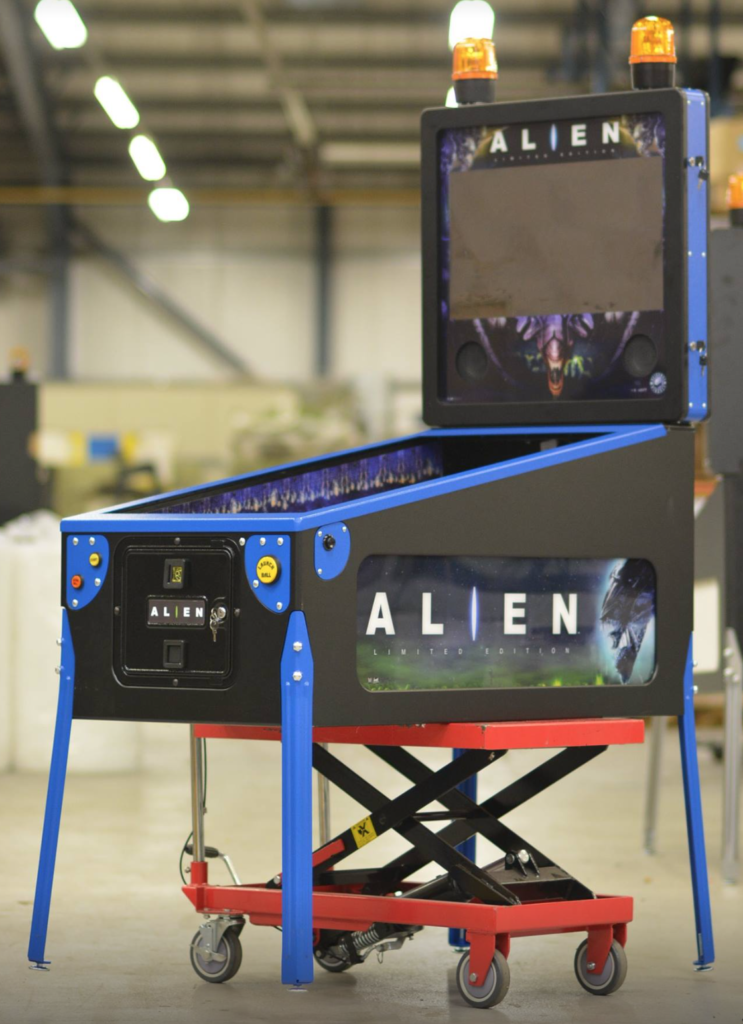 Also last week, Straight Down the Middle: a pinball show did a review of the Alien pinball machine – check it out:
---
**FREE set of Pin Stadium Lights!**
We're giving away a FREE set of Pin Stadium Lights in December! It the loaded set with the GI/UV + Glow – a $260 value!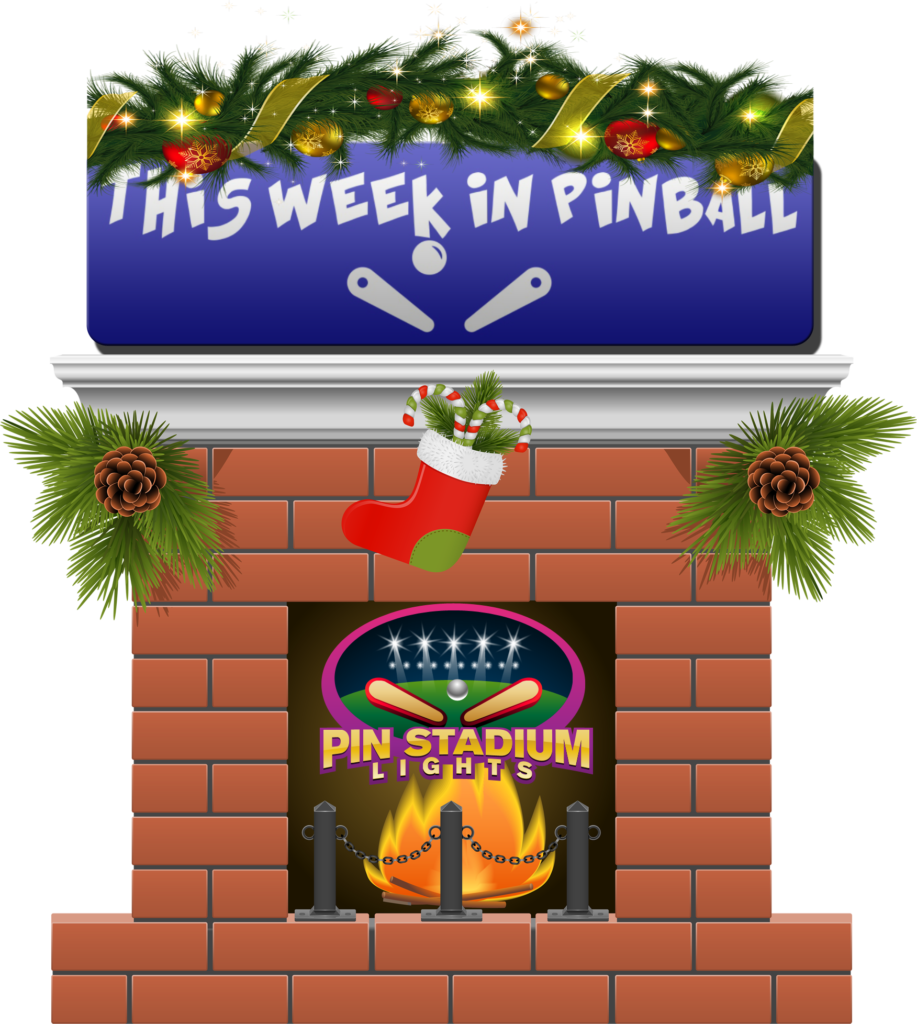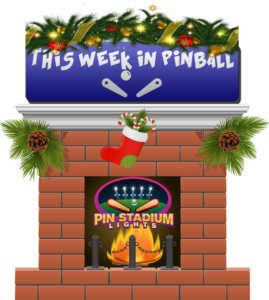 ---
**Pinball Bulbs SALE!**
Save 15% off Pinball Bulbs: Visit Pinball Bulbs and enter promo code "ThisWeek15off" to save 15% off everything on the site! It's the perfect time to get an LED light kit for your game, check them out here!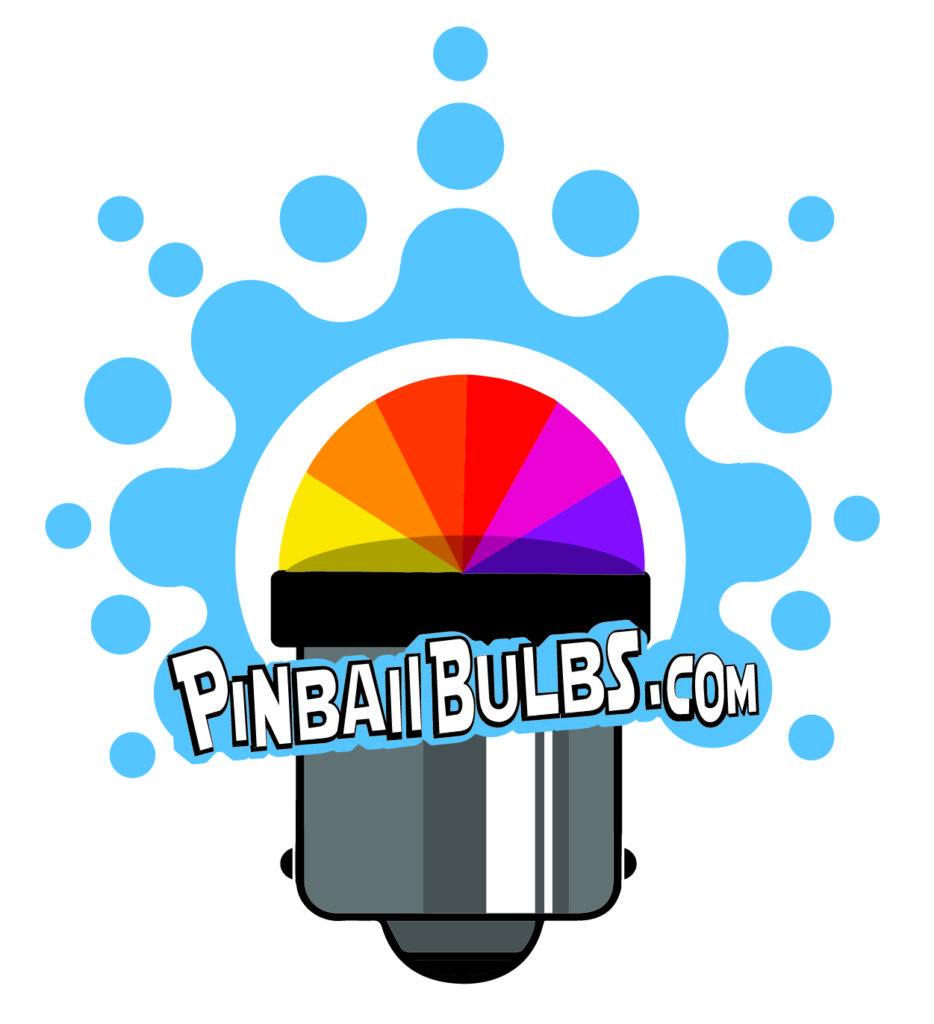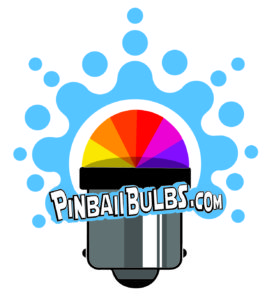 ---
Mystery Playfield in the Background
At one point during the Q&A with Steve Ritchie, the camera shifted and we got a glimpse of an odd playfield: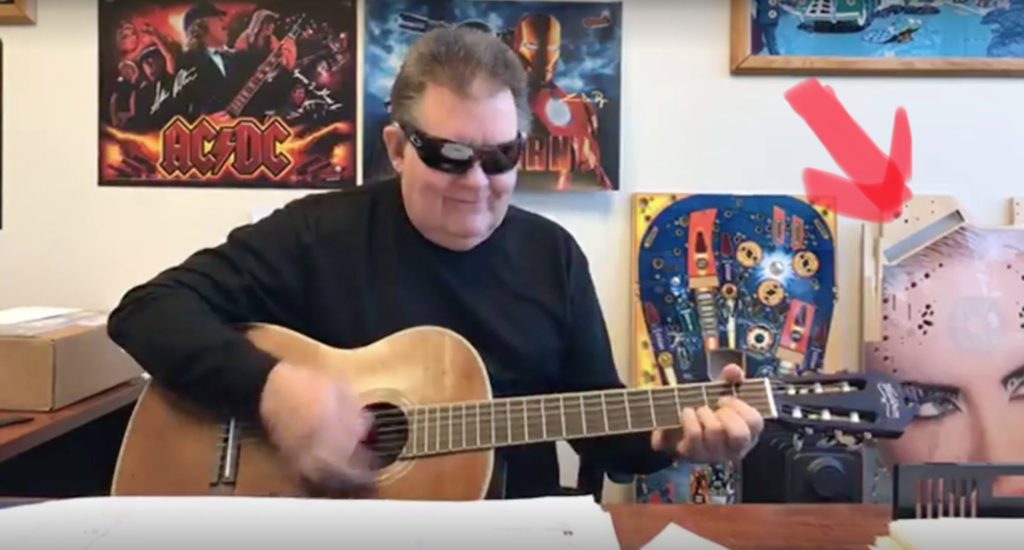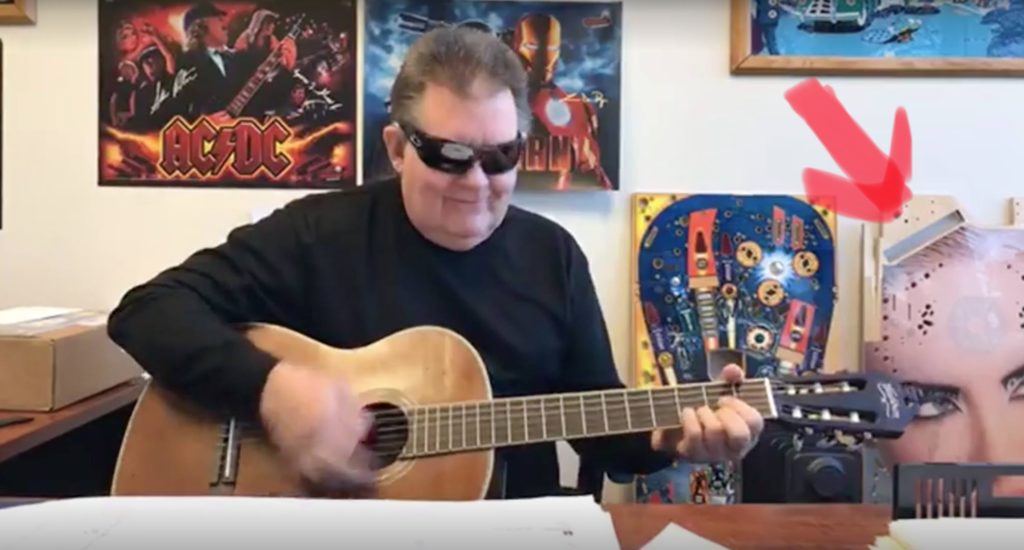 Of course that led to some speculation. Is Stern working on a Boy George pin? Lady Gaga? Why is it upside down from the players perspective? This Week in Pinball reached out to Stern, and it appears that there is no reason to look too much into the playfield. But that IS something they'd say to throw us all off, right?? 🙂
---
Victory Laps – End of Post Bonus
Jersey Jack Pinball had a Facebook Livestream last week and announced that test games for Pirates of the Caribbean will soon coming to Level 257 (near Chicago, Illinois), and likely the Silverball Museum (Asbury Park, New Jersey), the west coast of the U.S. and other countries soon. Can't wait to see some of these out in the wild!
ColorDMD LCDs are back in stock – buy them here! The LED displays are currently sold out but more are expected in the next week.
ColorDMD also announced their newest release – Game of Thrones! Check out the announcement here.
Spooky Pinball announced that the most of first 75 Total Nuclear Annihilations should be done by the end of the year. They also mentioned they're making about 8-10 each week – so look for them near you soon!
We announced the winner of the Comet Pinball gift card on social media, but forgot to mention it here – congrats to Craig Kroll from Buffalo, New York on winning the gift card for November!
Did you know Heighway's first game, Full Throttle, was initially a different theme called Cersei's (sp?) Animal House? Brian Dominy, a Heighway Pinball Programmer, mentioned it on this episode of The Pinball Profile.
Pinball FX 3 was launched on Nintendo Switch last week – check out this article for more info!
Last week, Gene Simmons of KISS joined Jeff Teolis on The Pinball Profile – check out the episode here!
PinGraffix is having a 10% off sale from now until December 25th – use coupon code "PINXMAS1"
---
MATCH! – Next Game…What is Coming Up on This Week in Pinball
We'll soon be releasing an interview with a top pinball designer (hopefully this Thursday) stay tuned!
We are waiting on a few things to wrap up behind the scenes, then will do a follow up on deeproot Pinball and the "5 Days of deeproot"
There will be no Monday post from This Week in Pinball on Christmas Day (next Monday). We'll be busy playing friendly pinball in the Christmas spirit with family (you're going down Chris, you know who you are!)

Get alerts for new posts from This Week in Pinball – follow us on Facebook, Twitter, or sign up by email:
Have a scoop or anonymous rumor for next week? Email us at thisweekinpinball@gmail.com
---
Upcoming Games and Rumors
Stern Pinball
Most Recent Titles
Aerosmith
AC/DC Vault Edition
Star Wars
Guardians of the Galaxy
Announced/Confirmed
Rumors of Future Titles
Deadpool? <<MOVED!
_______ VE? <<NEW!
The Munsters? <<NEW!
Iron Maiden?
Jurassic World?
Pulp Fiction?
New Ka-Pow Title?
Steve Ritchie Unlicensed?
Keith Elwin Game?

Spooky Pinball
Most Recent Titles
Rob Zombie's Spookshow International
Dominos (*contract game)
Jetsons (*contract game)
Total Nuclear Annihilation (*contract/house game)
Announced/Confirmed
Alice Cooper's Nightmare Castle
Ben Heck's game

American Pinball
Most Recent Titles

Dutch Pinball
Most Recent Titles
Bride of Pinbot 2.0
Bride of Pinbot 3.0 (on hold)
The Big Lebowski (production issues)

Circus Maximus
The Pinball Circus Remake
Kingpin?

Silver Castle Pinball
Jersey Jack Pinball
Most Recent Titles
Wizard of Oz
The Hobbit
Dialed In
Pirates of the Caribbean
Rumors of Future Titles
Toy Story?
Willy Wonka?
The Muppets?

Chicago Gaming/Planetary Pinball
Most Recent Titles
Medieval Madness Remake
Attack From Mars Remake
Rumors of Future Titles
Cactus Canyon Remake? <<MOVED!
Monster Bash Remake?
Big Bang Bar Remake?
Theatre of Magic? <<NEW!

Heighway Pinball
Most Recent Titles
Full Throttle
Alien (shipping)
Rumors of Future Titles
Queen?
Barry Oursler Licensed Theme
Barry Oursler UnLicensed Theme

P3 (Multimorphic)
Lexy Lightspeed
Cannon Lagoon
Cosmic Cart Racing

Homepin
Thunderbirds (coming soon)

Phénix Pinball

Deeproot Pinball
Retro Atomic Zombie Adventureland?
Alice in Wonderland?
Magic Girl?
**TWIP dreams of the day
Harry Potter Pinball
will be added to these rumors. Ms. Rowling, I'd be willing to take remedial potions with Professor Snape if you approve this!

Get alerts for new posts from This Week in Pinball – follow us on Facebook, Twitter, or sign up by email: