Iron Maiden by Stern Pinball
Last week, Stern Pinball announced their newest creation, Iron Maiden Pinball!! The reveal was seen first on this article from IGN and this article from Rolling Stone. Check it out: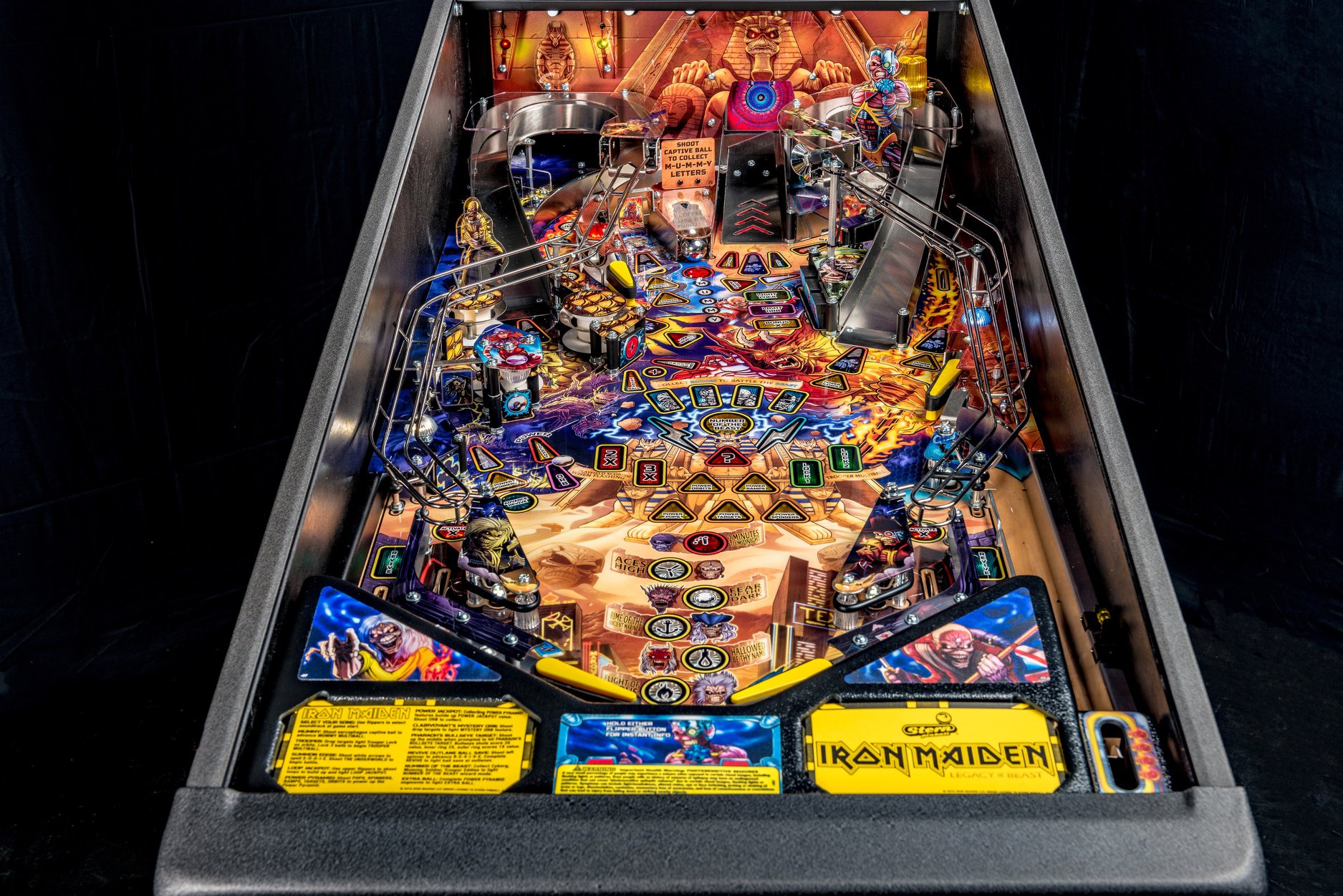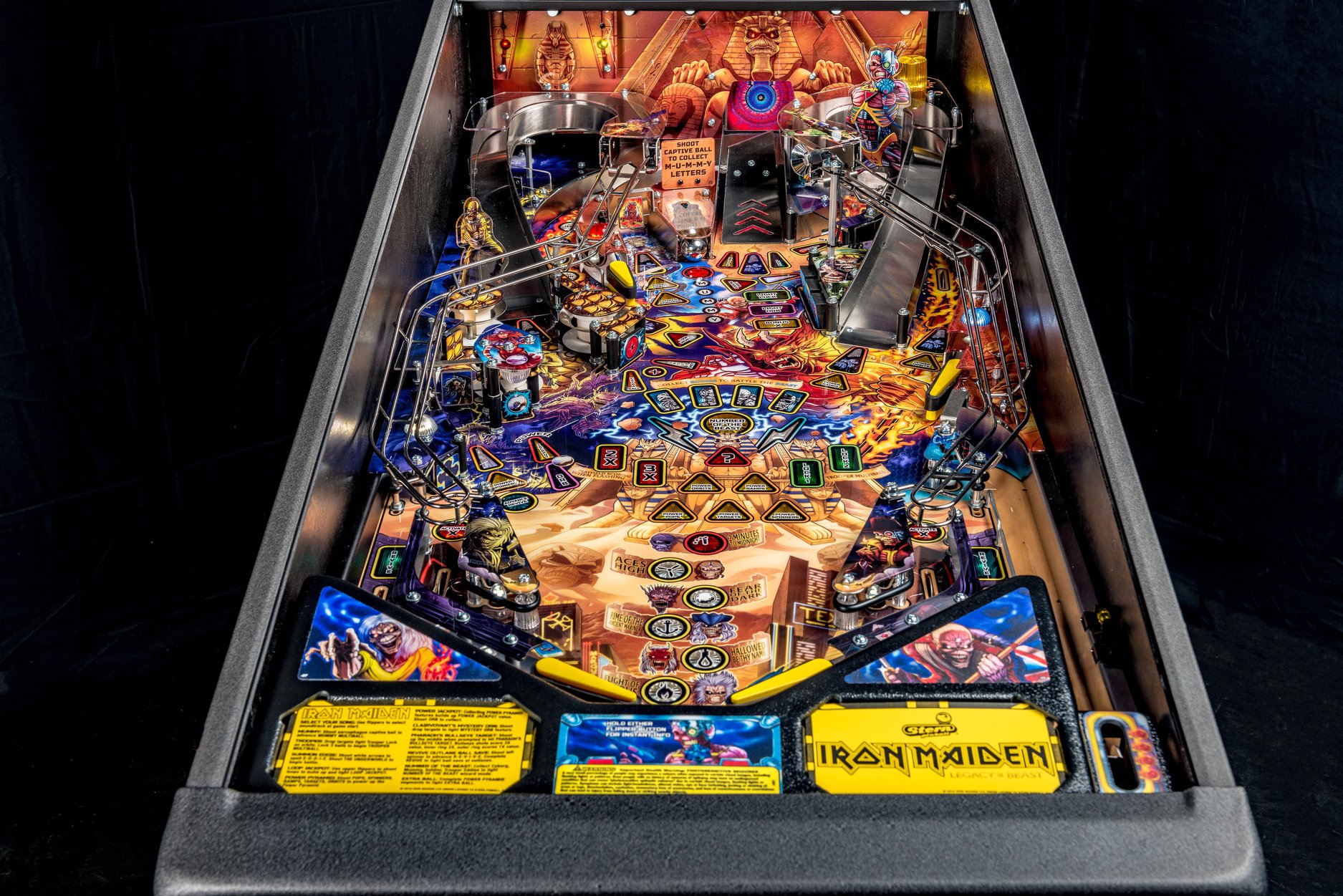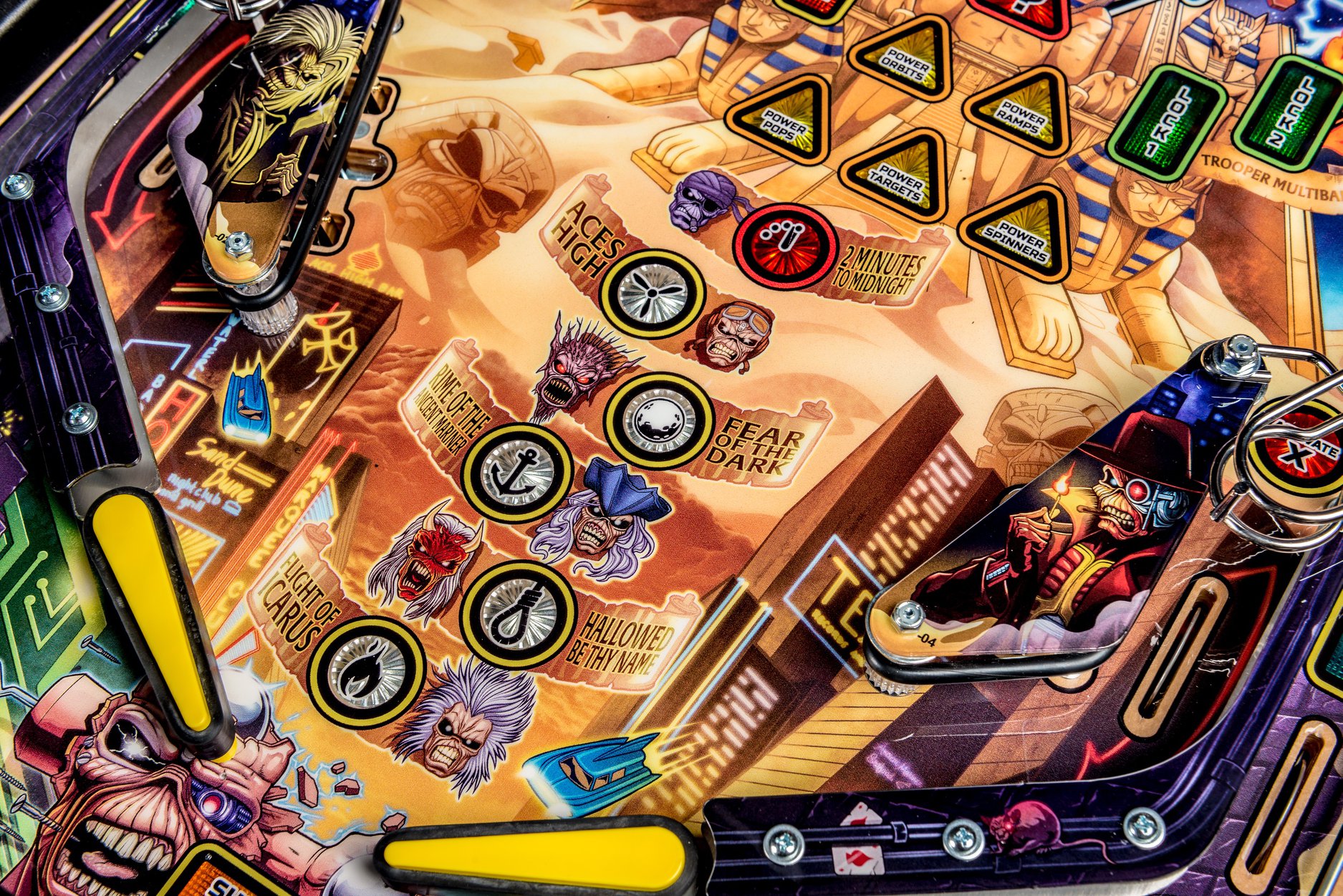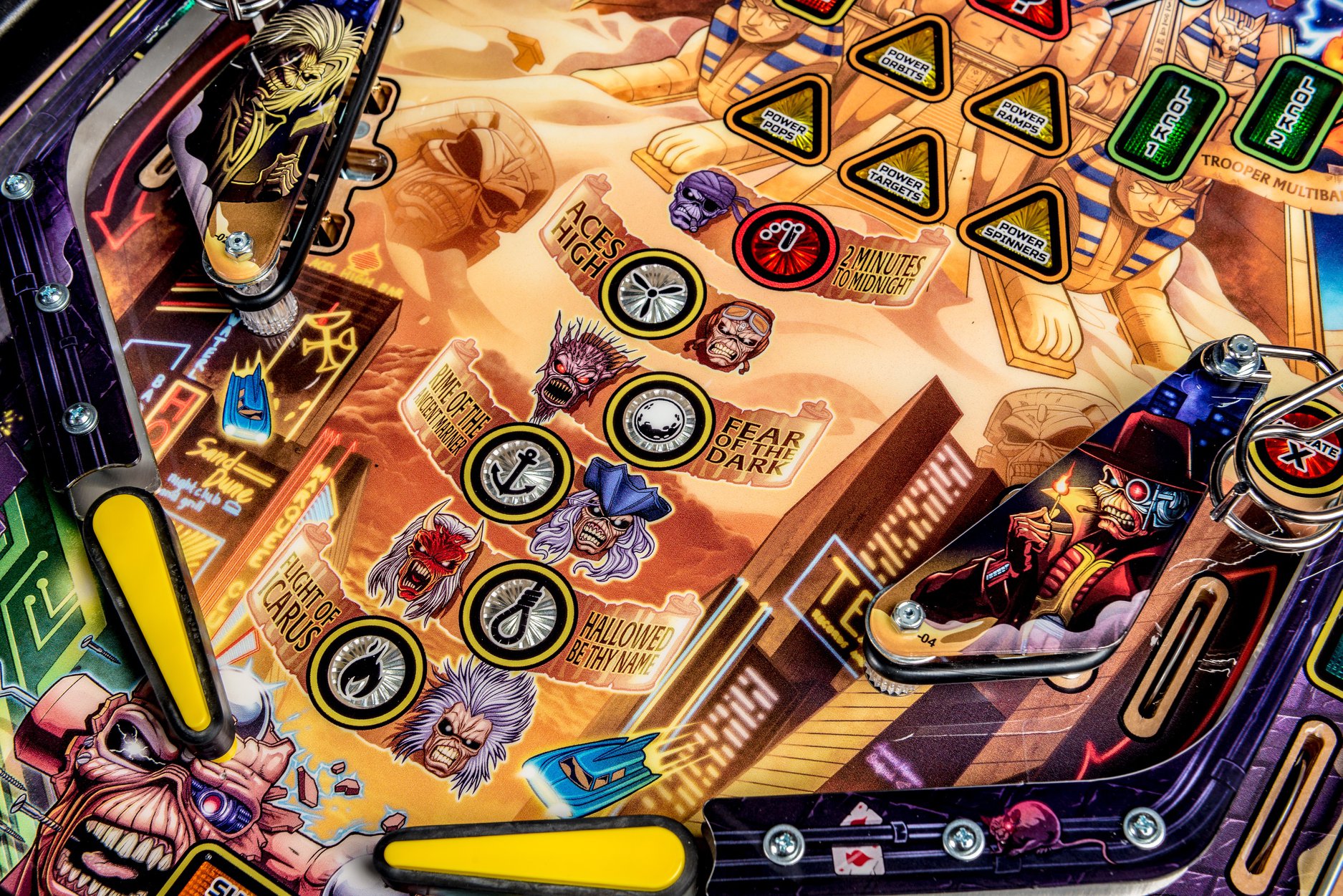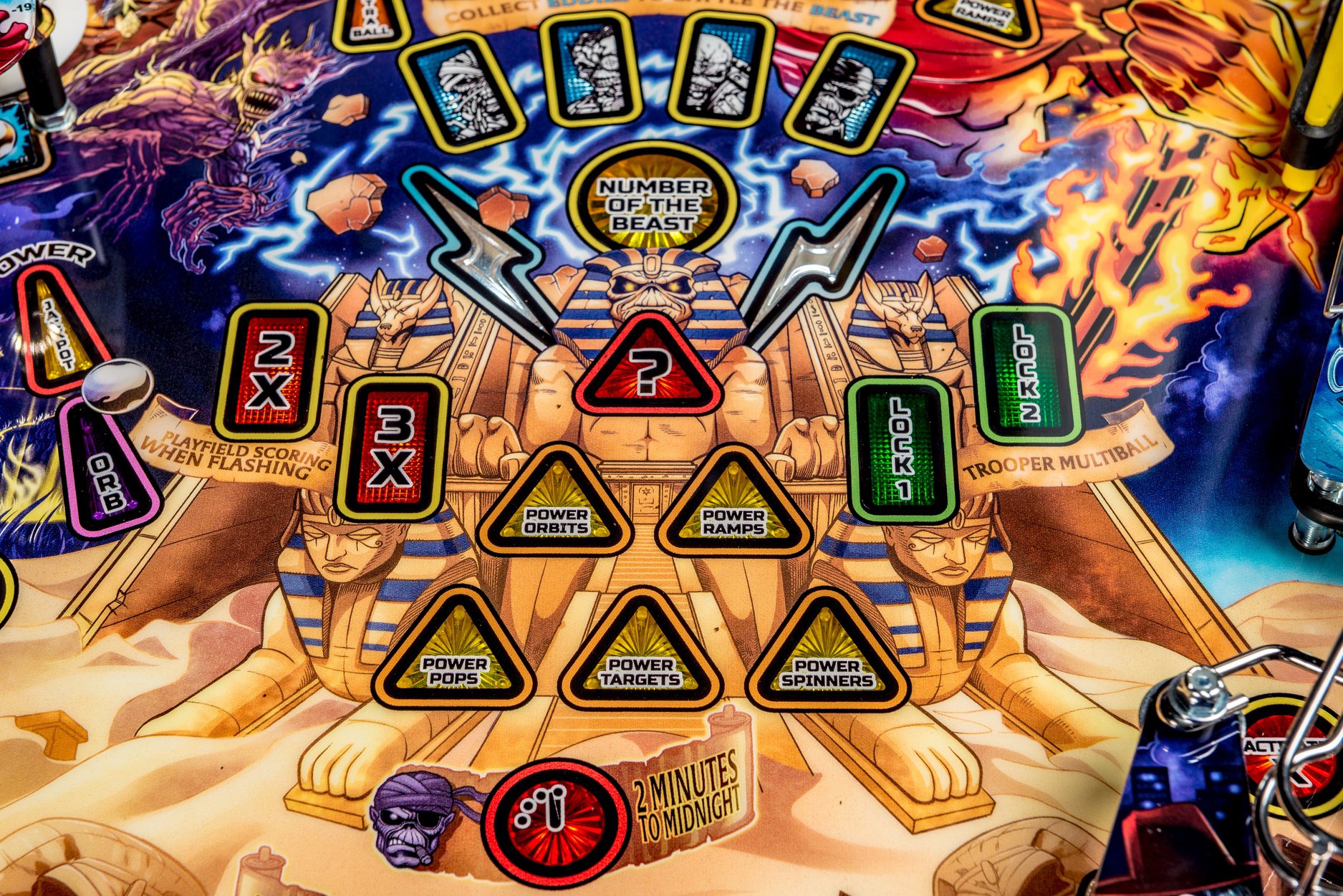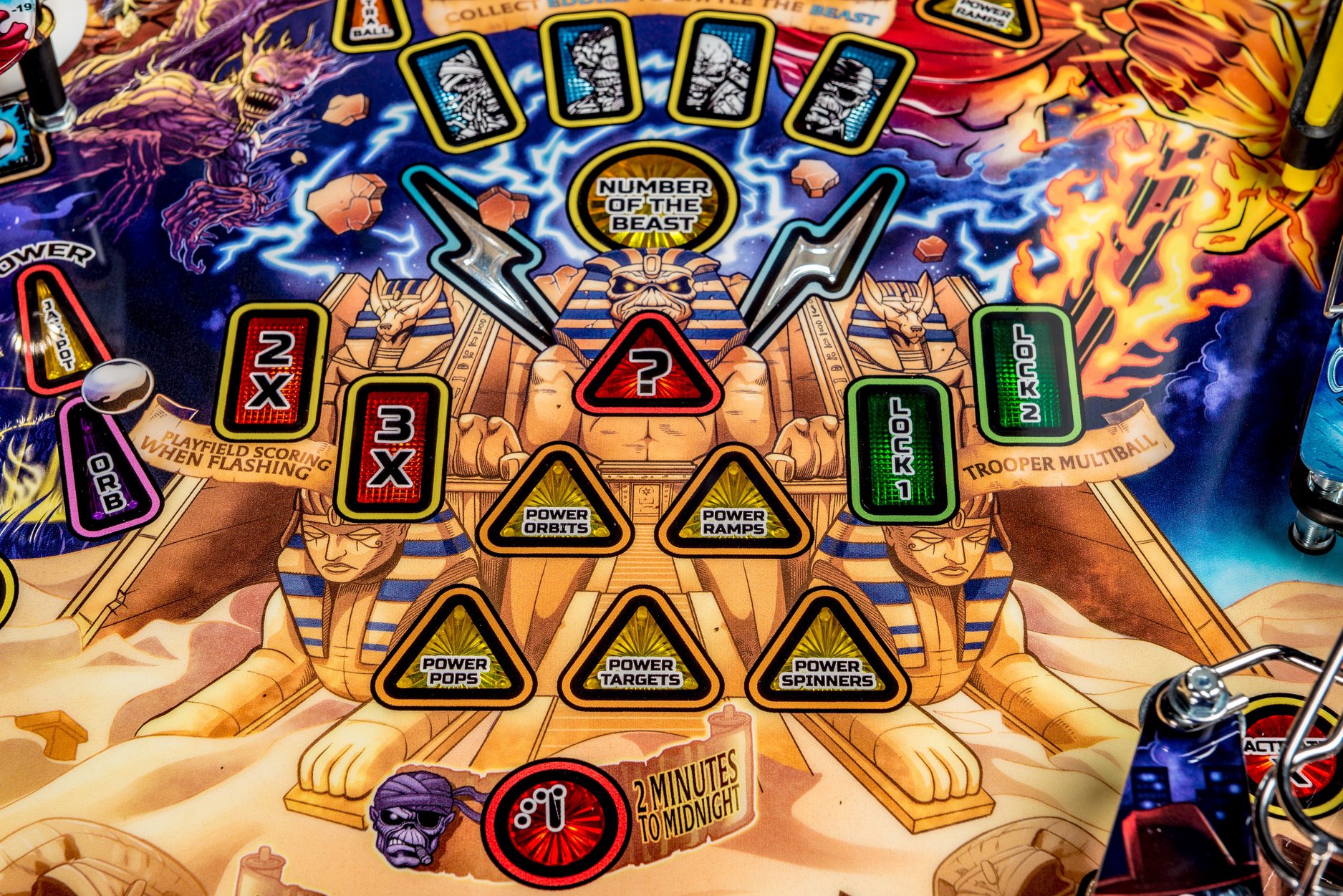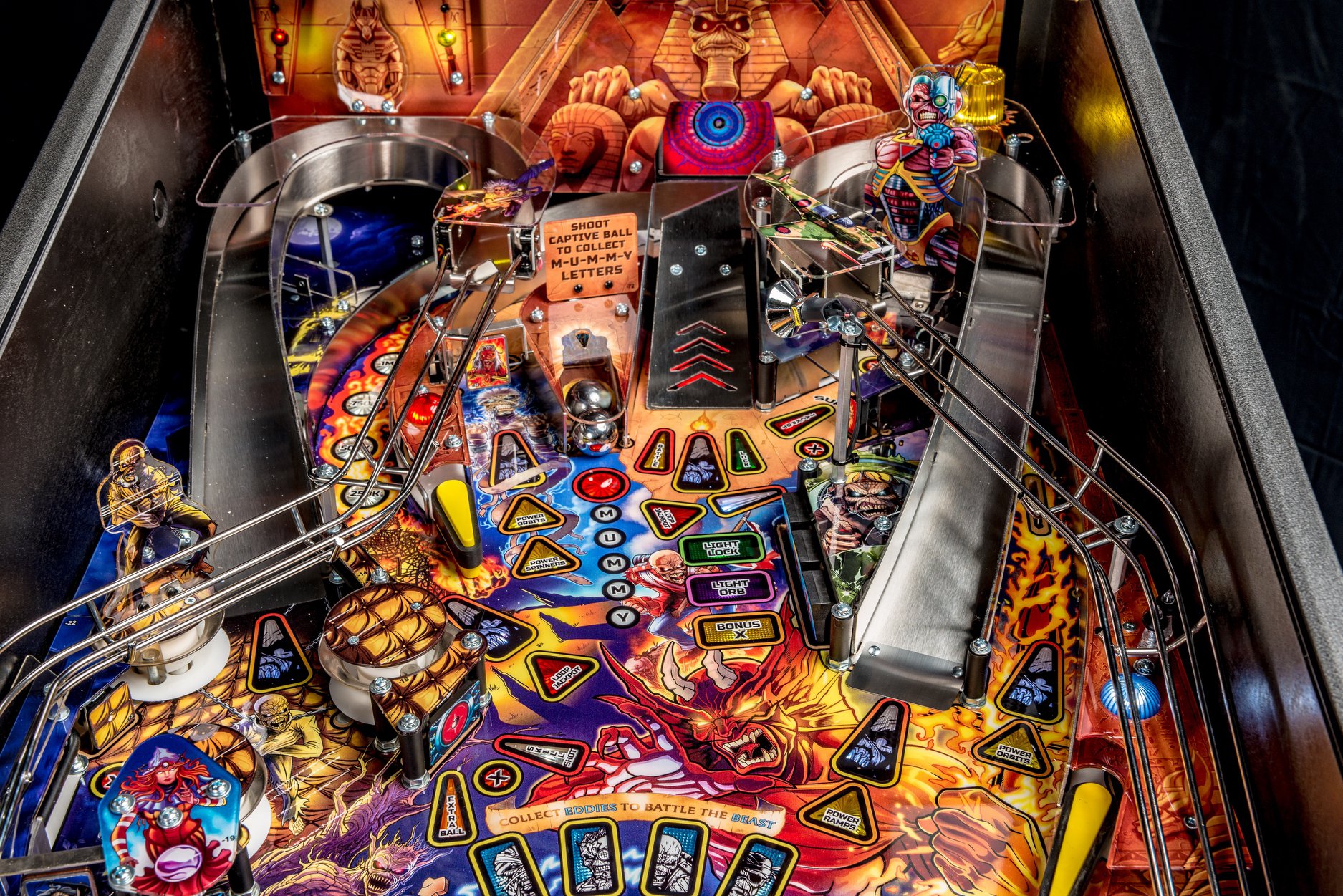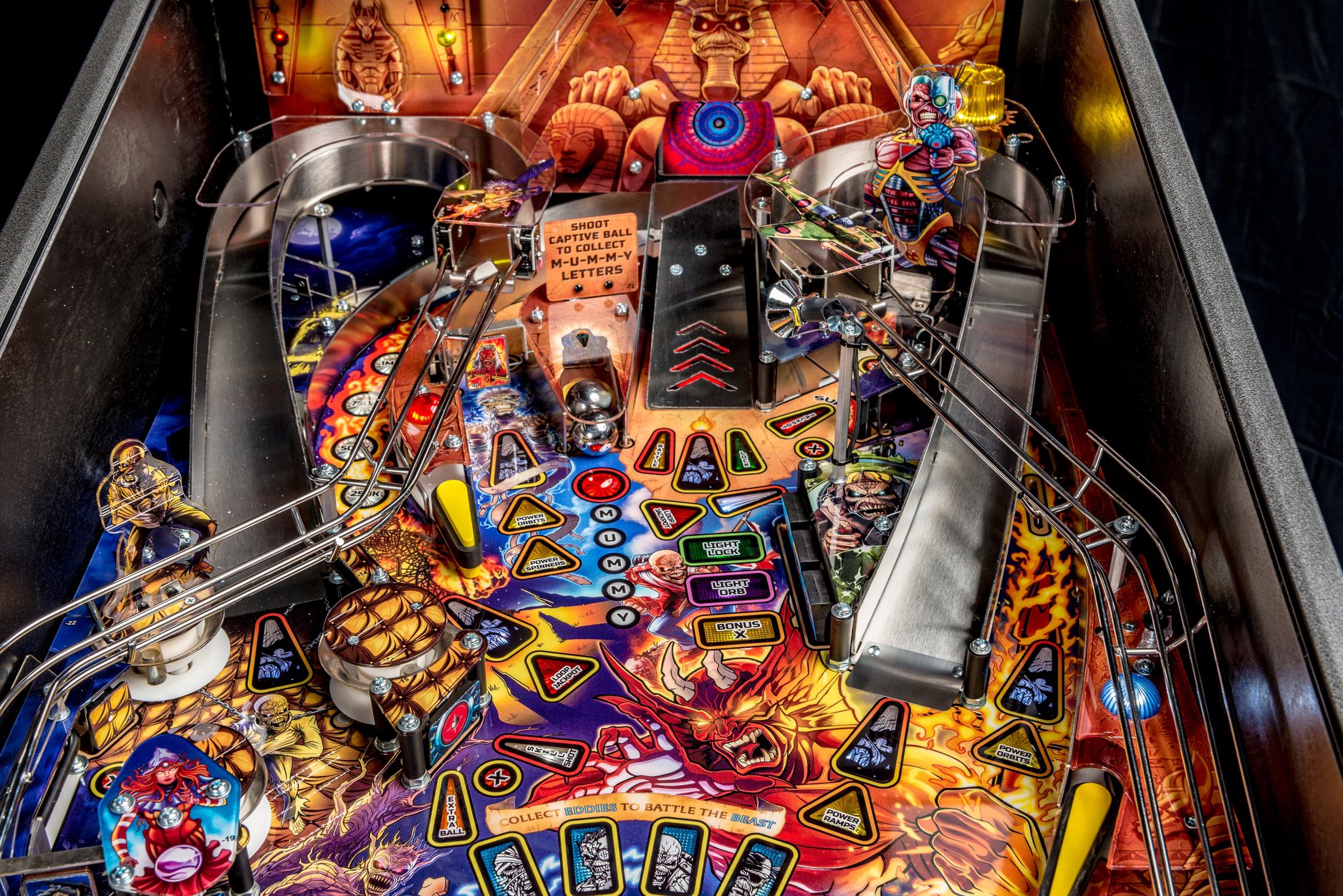 ---
Iron Maiden: What We Know
This Week in Pinball will do a Deep Dive into this game soon once we have some more gameplay video we can share. But here are some of the basics of Iron Maiden.
According to the Stern Pinball website: "The Iron Maiden pinball machines aim to reflect the same excitement, energy, and experience of a live Iron Maiden concert. Players will immerse themselves in an interactive Iron Maiden universe transforming into various forms of Eddie, the band's legendary mascot. Players, as Eddie, will embark on a quest to defeat the Beast and his minions across the Legacy of the Beast mobile game and comic book world. Iron Maiden pinball entertains with an amazing array of modern and classic features, making it suitable for all skill levels."
Who's Who:
Design: Keith Elwin
Rules: Keith Elwin
Artwork: Jeremy Packer (AKA Zombie Yeti)
Sound: Jerry Thompson
A Few of the Features on All Models:
12 Iron Maiden songs

Aces High
2 Minutes to Midnight
The Trooper
Wasted Years
Can I Play With Madness
Number of the Beast
Run to the Hills
Powerslave
Hallowed Be Thy Name
Flight of Icarus
Rime of the Ancient Mariner
Fear of the Dark

Four flippers
Two spinners
3 bank of drop targets
Metal and wireworm ramps
Captive ball
Center bullseye target
We could go on and on – this game is packed! Check out the full feature matrix: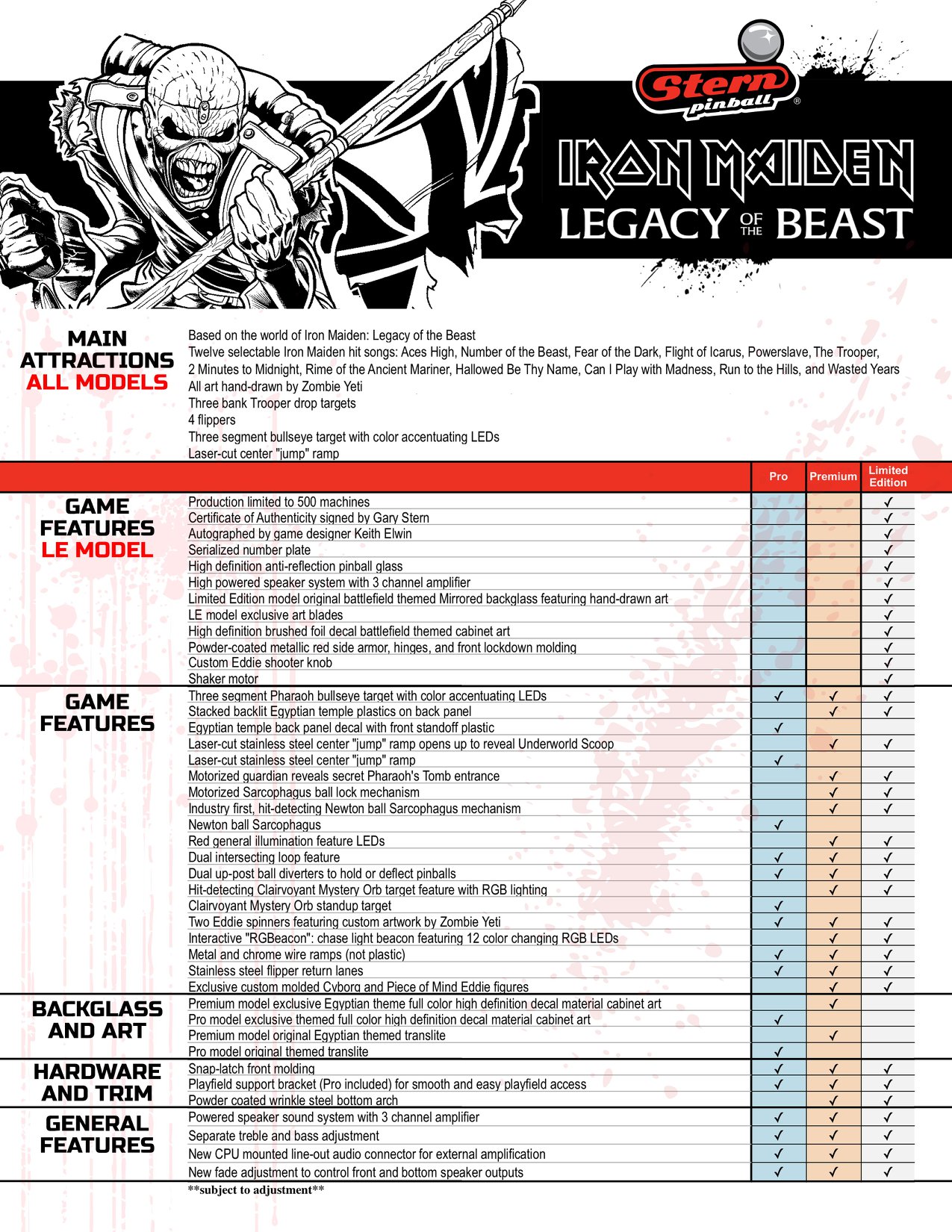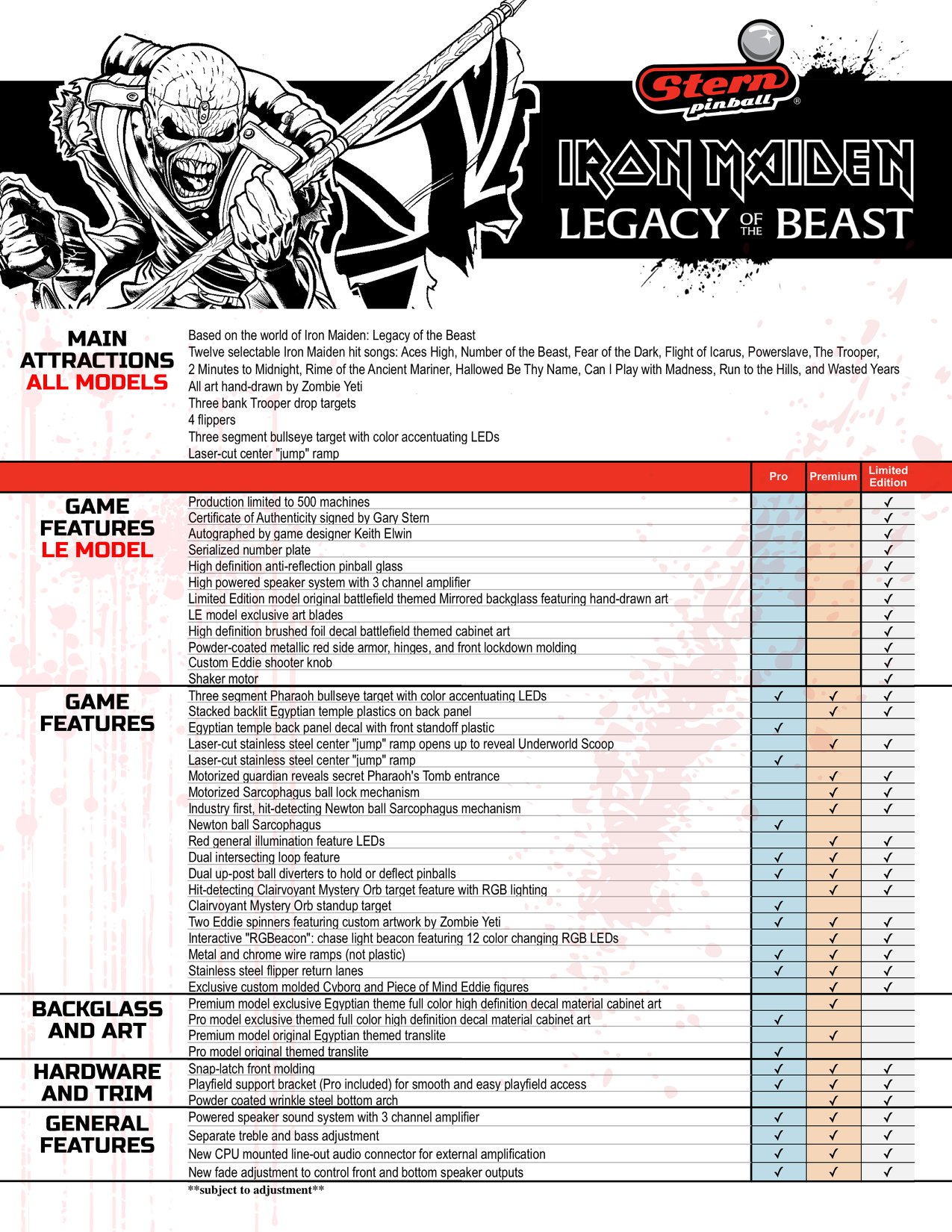 Rules:
Someone started a rule sheet on Tilt Forums which you can view here. This will be shipping nearly code complete! We'll have more on the rules when we do our Deep Dive, so stay tuned.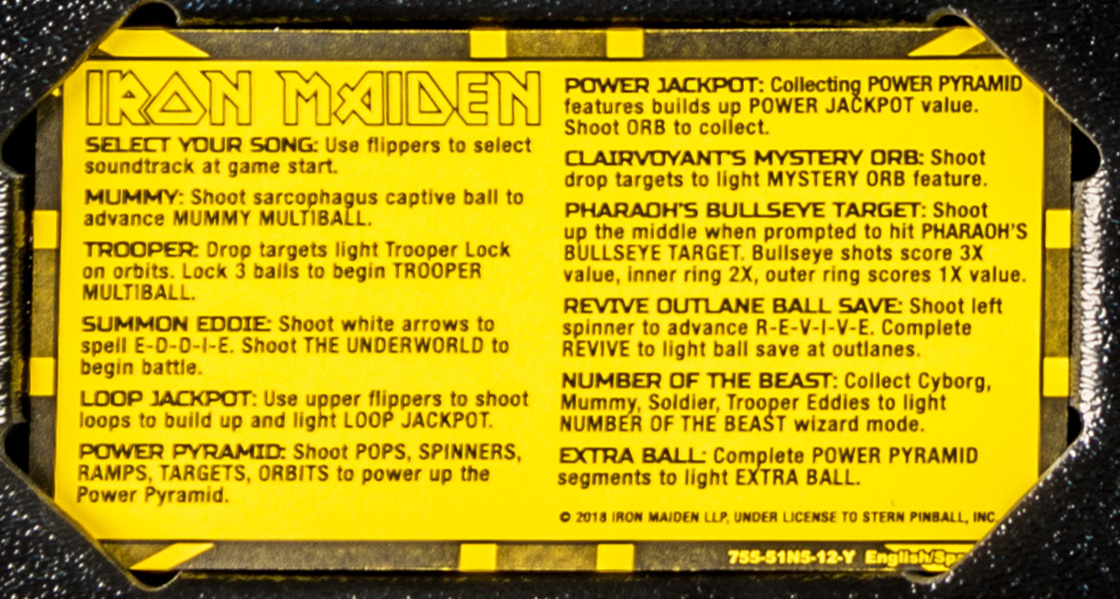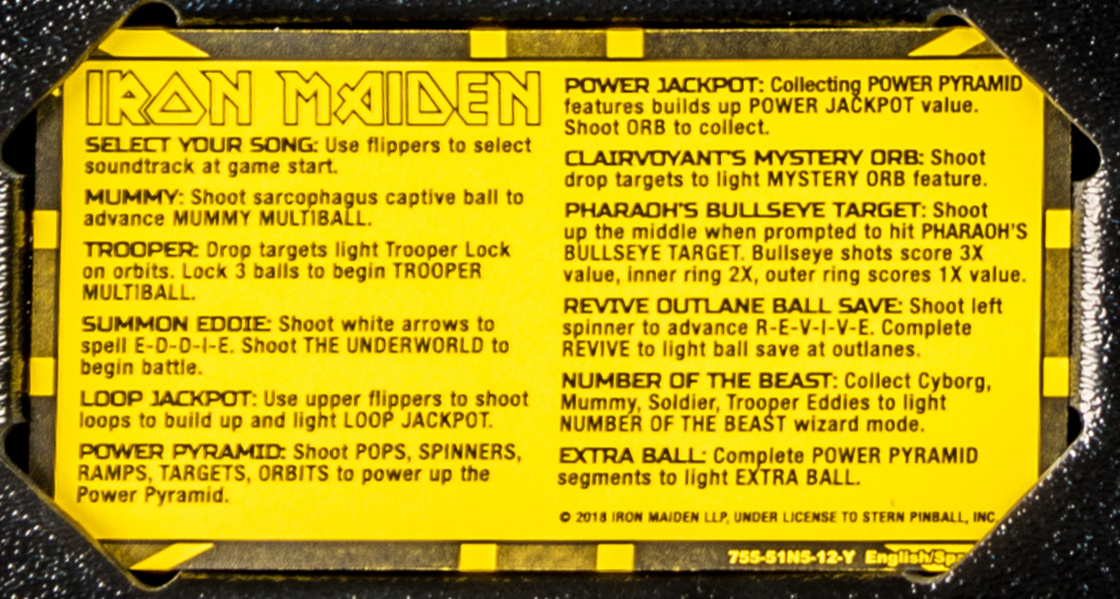 Price:
Pro

MSRP: $5,999
Street Price: ~ $5,500-$5,600

Premium

MSRP: $7,599
Street Price: ~ $7,300

Limited Edition

MSRP: $8,999
Street Price: ~ $8,800
Availability:
Do you want to know why Stern is the #1 pinball manufacturer? They reveal Iron Maiden on Tuesday and post this video on THURSDAY, with rows and rows of Iron Maiden cabinets and playfields being assembled to ship! So when will we see them?
The Pro Version is on it's way out the door of Stern's Factory now
The Premium/LE will be shipping in April or May
---
Iron Maiden Stream
Dead Flip streamed our first look at Iron Maiden Pro gameplay from the Stern Factory Tuesday evening. Check out a short clip of the stream here!
The video archive is not available to view on Twitch or on YouTube, due to a few different reasons, but another stream will be happening very soon, so stay tuned!
---
Iron Maiden Premium and LE Information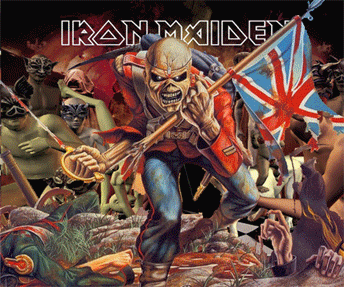 As mentioned above, we should be seeing the Premium and LE editions in April or May, and they will be shipping soon after they're revealed. So what can we expect to see with the Premium and LE? Here are a few items:
The same playfield artwork as the Pro (subject to minor modifications)
The Premium artwork will be Egyptian themed
The LE artwork will be "battlefield" themed
A Few of the Features on the Premium and Limited Edition:
A Few of the Features on the Limited Edition:
HD anti-reflective glass
Shaker
High powered speaker system
Mirrored backglass
HD brushed foil cabinet artwork decals
Metallic red powder-coated side armor
Custom Eddie shooter rod
The LE is/was limited to 500 units, and from what we've heard, they are already sold out of the limited editions!
---
Interview with Keith Elwin on Coast2Coast
Nate with Coast2Coast Pinball interviewed Keith Elwin, who did the rules and designed Iron Maiden. Listen to the full episode here! Here are a few highlights:
Coast2Coast: So Iron Maiden, this theme has been tossed around almost as long as you've been working on the playfield design – how did these two get married? So you brought your Archer playfield design, and eventually it got hooked up with Iron Maiden, how did that happen?
Keith Elwin: When I was originally hired, George [Gomez] wanted me to do Guardians of the Galaxy. But I couldn't get out here in time. So he's like "how about Iron Maiden?", and I love the artwork. I never really listened to the music that much so I said, let me think about it. And he said "you'll have Jeremy, Zombie Yeti". And that kind of sealed the deal. Ok, I'm in.
…
C2C: Have you grown to appreciate or like any of the music?
KE: It works great for pinball. It does. It is high energy music.
…
C2C: What has been the challenge of taking a design that you had worked on for quite a while…now you've shifted and moved it to a new theme, what were the challenges with doing that, especially with your first design with Stern?
KE: The biggest challenge was that I kind of cheated a little bit on Archer in that I didn't really have any confines of playfield dimensions, so I kind of moved everything way in the back, and I was like "Ok, I'm out of room, I'll just make the playfield longer". (Laughs) I don't have that luxury here. It was funny, George told me when I first started "this is actually going to work in your favor, because some of these shots that are tough to hit are going to become easier to hit", and I was like "ok if you say so". So we kind of moved everything in a little bit, closer to the flippers and sure enough, he was right. The shot through the pops to the left ramp became easy when compared to Archer, which is a lot tougher.
C2C: So I'm looking at the photographs here of the pro machine, and I notice steel ramps, steel ball returns, four flippers, really amazing artwork, looks like spinners on both sides?
KE: Two spinners, a set of sweep-able drop targets in the middle, two loops, a super tight super jackpot shot which I love available at the top right corner, service rails on the pro…
C2C: Was that a Keith Elwin request or did it just work out that way?
KE: No, that is going forward in all of our pros. But it definitely was a request of mine, because nobody likes the pegs.
C2C: So when you look at the pro vs the LE, I've heard designers talk a lot about the LE or the Premium is the full game, and then we make a few changes to get the Bill of Materials down. I'm looking at this Pro and it looks pretty filled out, what are your thoughts on the two games? I haven't seen the Premium or LE, I've just read the feature matrix. What are your thoughts on the differences between the two?
KE: The back panel is a lot more interactive on the LE. So on the pro we have standard wood back panel with a decal on it and it has one plastic surrounding the bullseye target, whereas the LE has stacked layers – I think four layers of stacked plastics – so it has this cool 3D look. There is a scoop if you will in the back of the panel, so this motorized diverter opens up, it is on the left ramp, and it reveals a secret passage called the Pharaoh's tomb. You shoot past the diverter, which is actually a statue, you shoot past the diverter and it holds the ball in there. And it can do one of two things, it can load up the Sarcophagus which is the physical ball lock mech which is not on the pro, or it can dump out to the upper left flipper. So we're using that for something a mode awards, or also the ball lock on the Sarcophagus which is very similar to the rocket launcher on Archer, except it also unloads to the center scoop which is underneath the middle ramp.
C2C: What are your thoughts as a player looking at this game that you designed, versus all the other games you've played. What did you put into it to do something different?
KE: I wanted to do a four flipper game with good shot flow. I think the closest you can get to this would be Judge Dredd, but I just didn't like the upper flippers on that game, they just felt like they were in the wrong place. I did my take on that and I tried to make it so you can't look at this and say "Oh this is just a carbon copy of ________"…it shouldn't remind you of anything you've played.
…
C2C: Tell me about the game, what is the concept, what are you trying to do as you play Iron Maiden, whats the story if you will?
KE: The story is basically based on the Beast World. I know everyone on Pinside was talking about the video game but it is actually the comic books. You're trying to receive your soul shards that the beast has stolen from you. The way I did it was – the modes themselves are based on the song lyrics. So – such as – Ace is High, you're suddenly in World War 2 and you're in the cockpit and you're fighting these airplanes, and the way it works is you lock on – so I'm using that bullseye target, which has an outer ring, middle ring and inner ring – so you lock on to your target and you shoot the bullseye target and however accurate you are shooting the bullseye target, that's how much damage you do. Then there is the Fear the Dark mode, where most of the GI turns off except for one string, and you're shooting spinners – the spinners are worth a lot of points in this mode – and you're trying to turn the lights back on. So each mode that I did is pretty much based on the lyrics of these songs that we chose.
C2C: So you're collecting your soul shards. What is the progression like, is it six modes to a wizard mode or something similar?
KE: There is a base game rule of the power features. The power features are pops, spinners, ramps, orbits and targets. So the way you start them is you hit them, and you can hit them anytime, during multiball, whatever. You need like eight ramps to start the power ramps feature. Something like eight orbits, 40 spinner spins. Once you do that you start what's called a power feature, and then once you start shooting the ramps, orbits, spinners, during the power feature, it goes into this little bank of points you see displayed in the corner. And then as you finish each one it gets multiplied. And you can cash this in anytime with the power orb shot which is a shot kind of below the pop bumpers. So it is risk/reward, the more you finish before you collect it, the more it is multiplied. But if you drain out your lose your multiplier.
We look forward to hearing more about Iron Maiden going forward, and we'll be doing a Deep Dive into this game soon!
---
Deadpool Leaked Image?
Deadpool is rumored to be an upcoming title from Stern Pinball. Last week, a leaked image which is presumed to be a portion of the Deadpool game was posted on Facebook and Pinside. It appears to be a whitewood with some art added. It also appears to confirm that it is based on the comic book and not on the movie Deadpool. See the image here.
---

SCOOP ILLUMINATION!
Does your scoop look like a cave, all dark and colorless? Well fix that easily and add some POP to your machine with Pinball Scoop Illumination! Check out this universal mod here: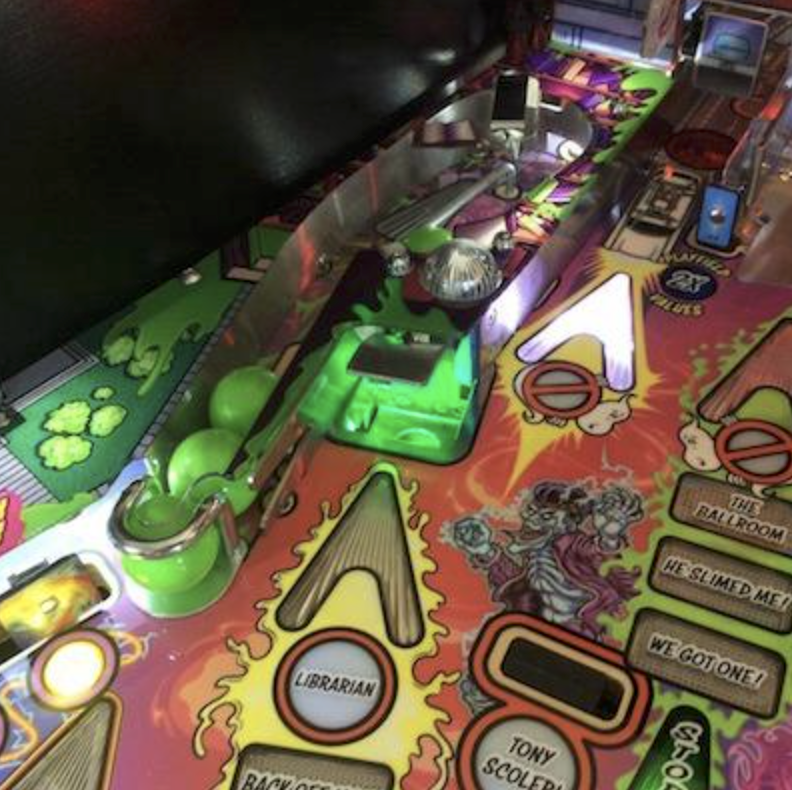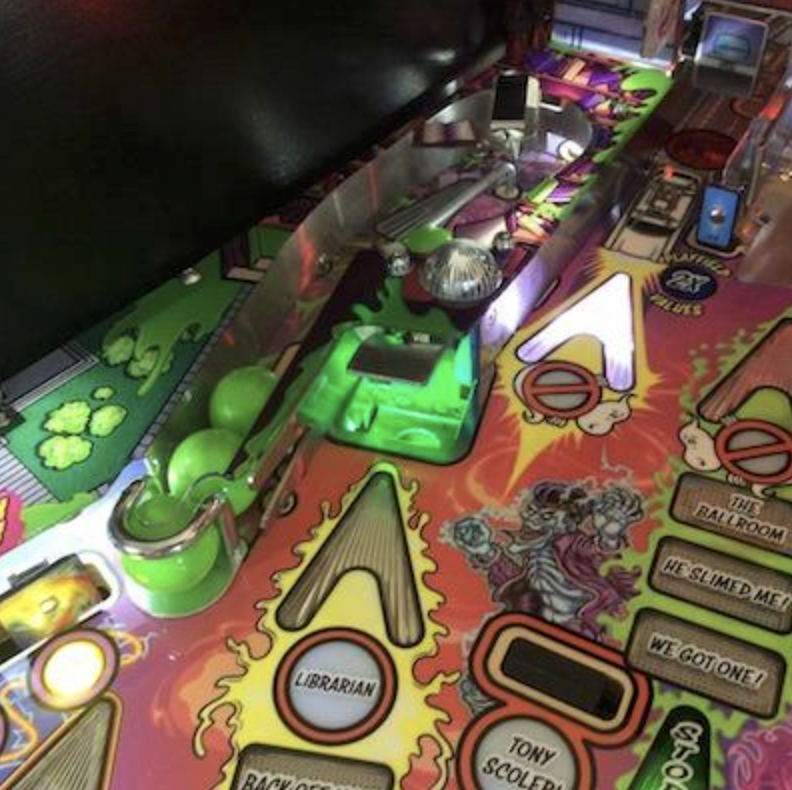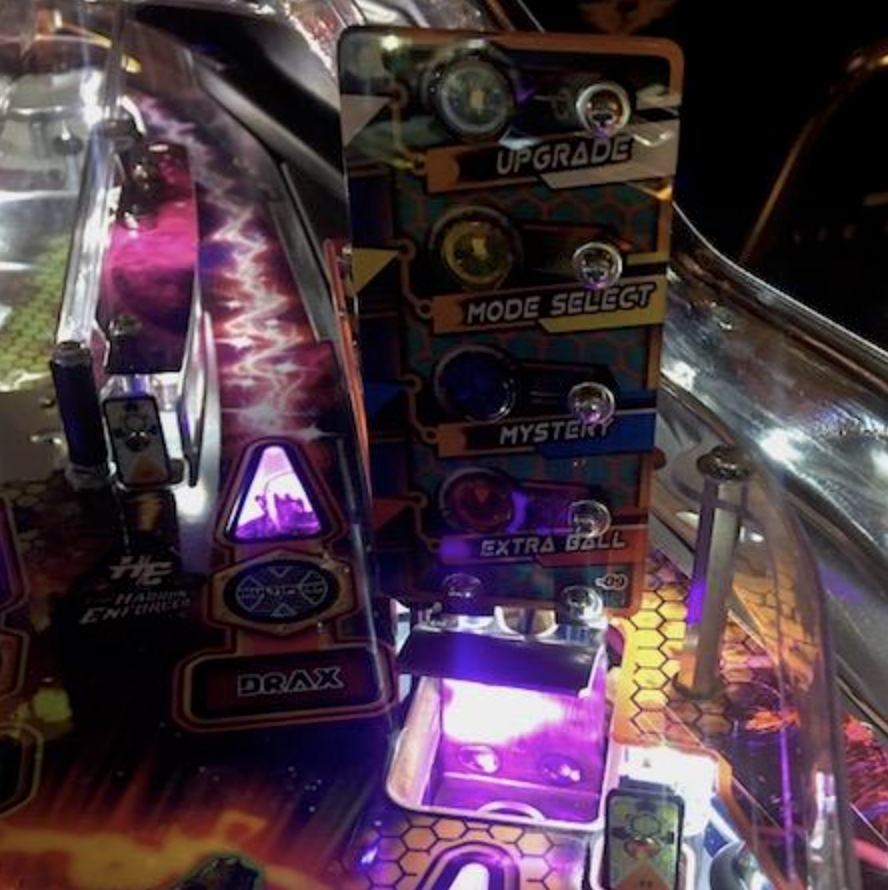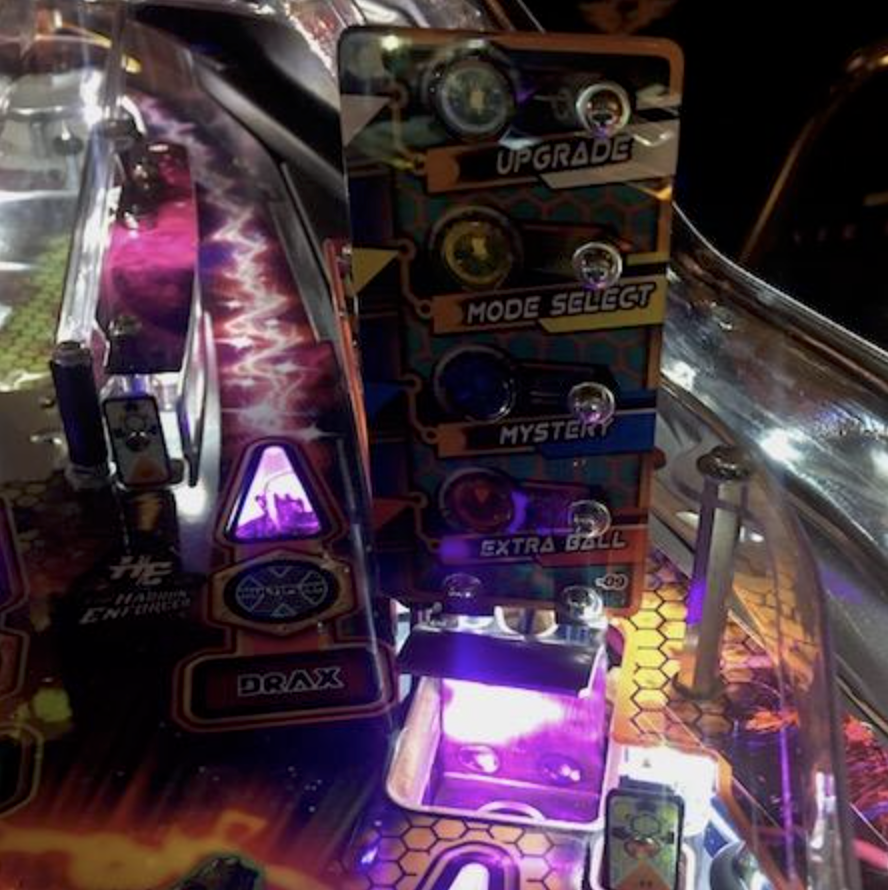 Available in many different colors!

Do you want to sell your mod on Mezel Mods? Click Here to email them for more info!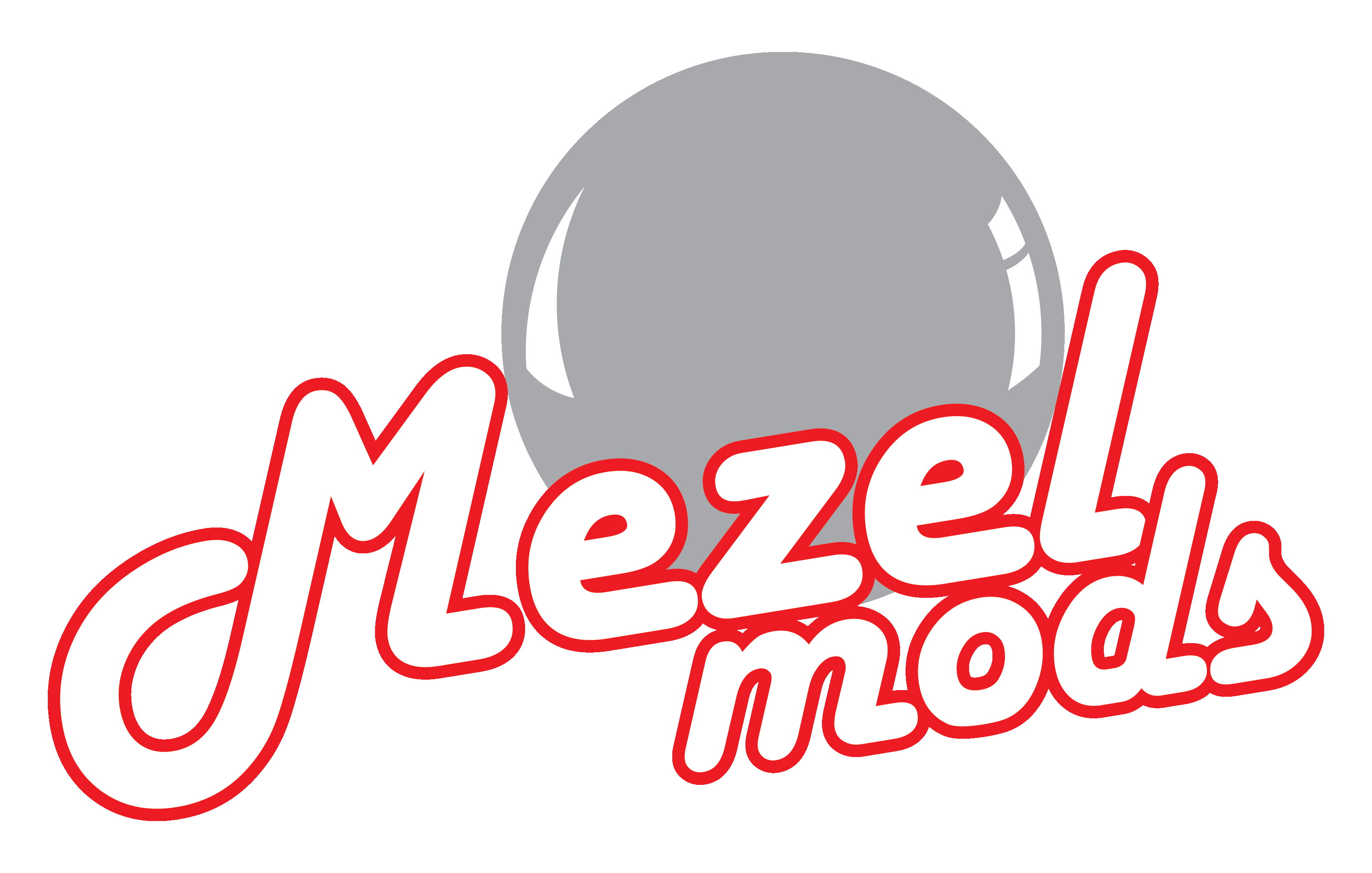 ---
Spooky Updates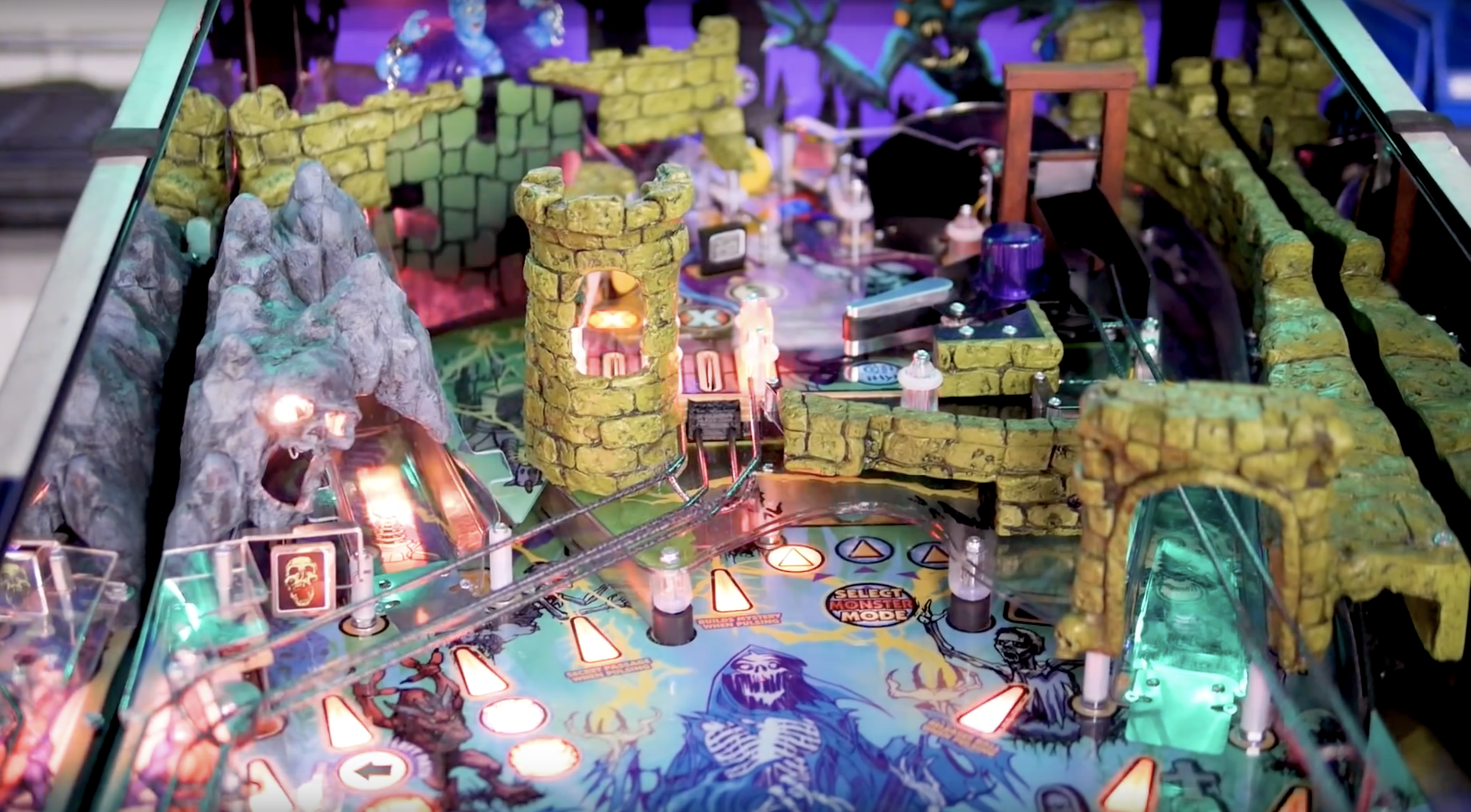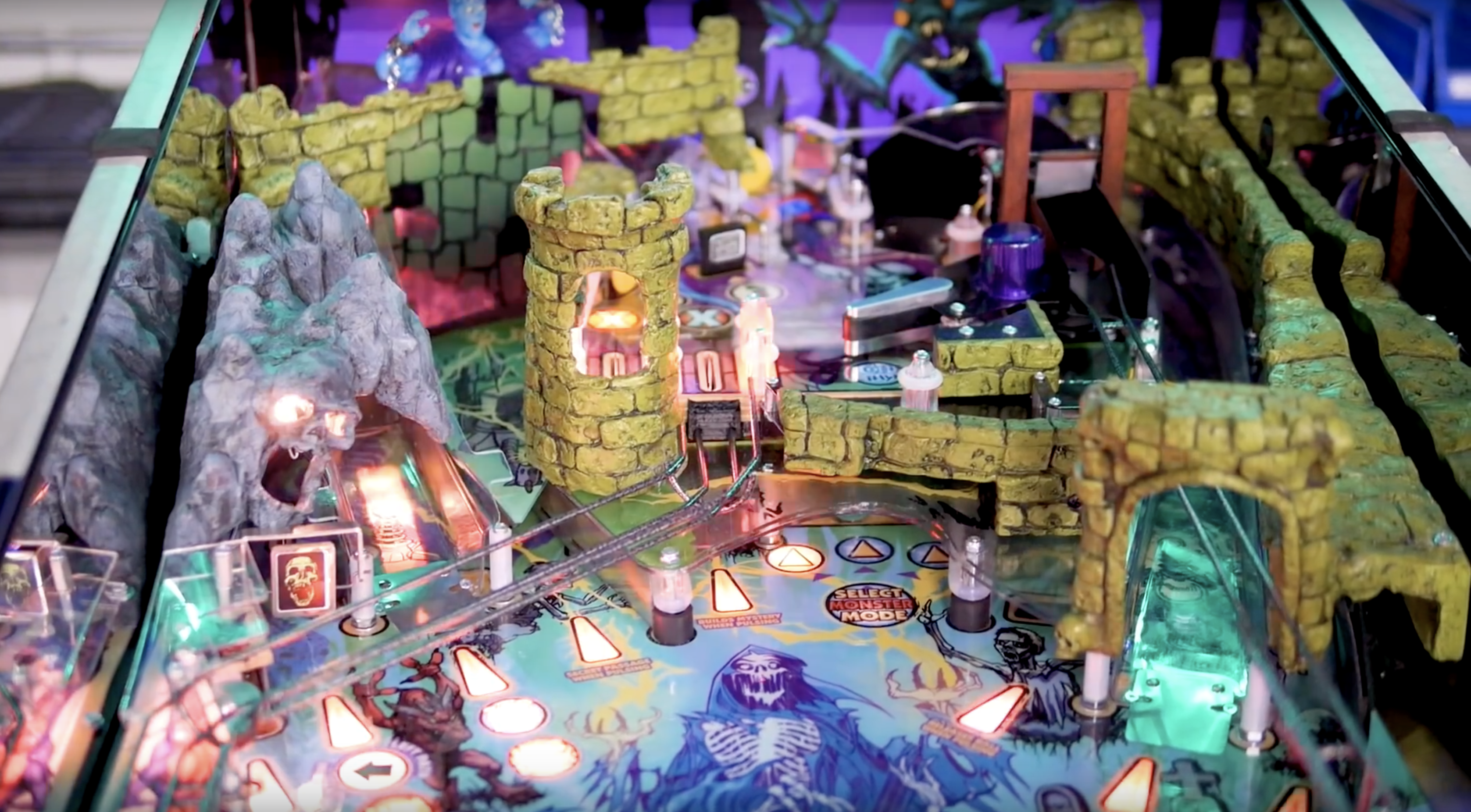 Spooky released their monthly podcast, and share a few interesting tidbits of info:
The Monday that they opened sales on Alice Cooper's Nightmare Castle (last Monday) was the biggest sales day Spooky has ever had
The ACNC at Texas Pinball Festival was extremely "code light", which is part of the reason they waited to reveal it until 4:00PM on Saturday

The reason for the light code was because they switched from the PinHeck system to the P-Roc system shortly before the Texas Pinball Festival

Bowen Kerins is "now a member of team Spooky"

He will be a "rules consultant", and was officially hired about 10 minutes before his seminar at TPF

Alice Cooper's Nightmare Castle will be at the Midwest Gaming Classic April 13th-15th, and will have some significant code updates as compared to the code at TPF
We also heard a rumor (not on their podcast) that Alice Cooper's Nightmare Castle *might* be getting a similar co-op mode to what TNA currently has…
---
Guardians of the Galaxy – New Code
Stern released a huge update to Guardians of the Galaxy last week, which is now up to v0.90. In this update, all eight main modes were redesigned. Orb multi-ball was also redesigned. A new mini-wizard mode was added (Cherry Bomb multi-ball). For all the updates, click here. This game continues to improve from the initial launch code, and we're excited to see where this game ends up code-wise!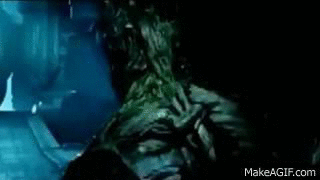 ---
Keeping the Ball Alive: 30 Years of Stern Pinball
Remember the Stern coffee table book kickstarter that was announced…well, a LONG time ago? Good news – it is still on its way to getting done, and per their recent update, the written material has finally been approved. Read the full update here!
---
Thunderbirds Updates
We got some updates from Homepin last week. First off, PinballSTAR will be the US distributor for Homepin and Thunderbirds. The price for Thunderbirds is $4,999. Second, games are in production now and the plan is for them to start shipping at the end of April. Finally, Homepin released a list of features and what is included: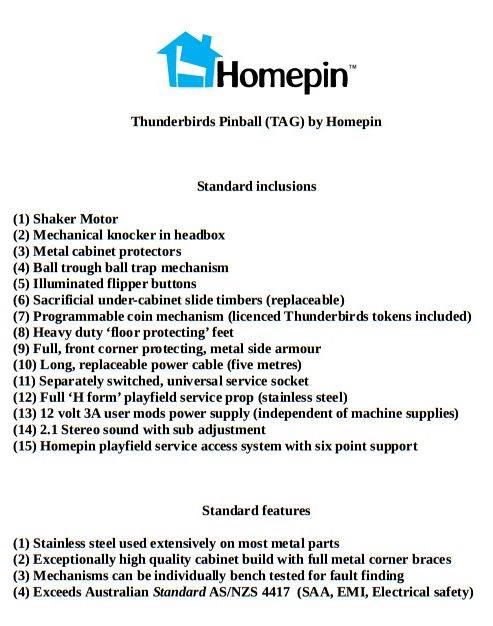 ---
Victory Laps – End of Post Bonus
---
MATCH! – Next Game…What is Coming Up on This Week in Pinball
We're waiting on video footage to do Deep Dives into Alice Cooper's Nightmare Castle and Iron Maiden – stay tuned!
Please bear with us as we're going through some website upgrades here!
We may start a TWIP stream on Twitch in the next month…
---
Get alerts for new posts from This Week in Pinball – follow us on Facebook, Twitter, or sign up by email:
Disclaimer: Any articles, interviews, or mentions of pinball manufacturers or pinball products is NOT an endorsement.
Have a scoop or anonymous rumor? Email us at thisweekinpinball@gmail.com
---

Stern Pinball
Most Recent Titles
Aerosmith | AC/DC Vault Edition | Star Wars | Guardians of the Galaxy | AC/DC Luci Vault Edition | Iron Maiden <<–NEW
Announced/Confirmed
Elvira 3
Rumors of Future Titles
Deadpool? | The Munsters? | The Beatles? | Jurassic World? | Pulp Fiction? | New Ka-Pow Title? | Steve Ritchie Unlicensed? Black Knight 3000?

Jersey Jack Pinball
Most Recent Titles
Wizard of Oz | The Hobbit | Dialed In | Pirates of the Caribbean
Rumors of Future Titles
Toy Story? | Willy Wonka? | The Muppets?

Chicago Gaming/Planetary Pinball
Most Recent Titles
Medieval Madness Remake | Attack From Mars Remake
Rumors of Future Titles
Monster Bash Remake? | Cactus Canyon Remake? | Big Bang Bar Remake? | Theatre of Magic?

Spooky Pinball
Most Recent Titles
Rob Zombie's Spookshow International | Dominos (*contract game) | Jetsons (*contract game) | Total Nuclear Annihilation (*contract/house game) | Alice Cooper's Nightmare Castle

American Pinball
Most Recent Titles
Houdini
Rumors of Future Titles
Oktoberfest?

P3 (Multimorphic)
Lexy Lightspeed | Cannon Lagoon | Cosmic Cart Racing

Heighway Pinball
Most Recent Titles
Full Throttle | Alien (shipping)
Rumors of Future Titles
Queen?

Dutch Pinball
Most Recent Titles
Bride of Pinbot 2.0 | Bride of Pinbot 3.0 (on hold) | The Big Lebowski (production issues)


Circus Maximus
The Pinball Circus Remake | Kingpin

Homepin
Thunderbirds (coming soon)


deeproot Pinball
Retro Atomic Zombie Adventureland? | Alice in Wonderland? | Magic Girl? | Original Houdini design?
Announced/Confirmed
Fire and Brimstone

Silver Castle Pinball
Timeshock (coming soon)

Phénix Pinball
Olympic Goblin
**TWIP dreams of the day
Harry Potter Pinball
will be added to these rumors. Ms. Rowling, I'd be willing to read all of Professor Lockhart's books if you approve this!

Get alerts for new posts from This Week in Pinball – follow us on Facebook, Twitter, or sign up by email: