The Scoop
John Trudeau Arrest
In very disturbing news, last Friday Stern pinball designer John Trudeau was arrested and charged with two counts of possession of child pornography. You can read more info from the Glendale Heights Police Department here. Here is the Pinball News article regarding the arrest. TWIP will follow up on this story as necessary.

<insert smooth transition from horrible news to getting back to fun pinball news>


Houdini Updates
On a lighter note, American Pinball shared some updates last week regarding their upcoming release, Houdini. They mentioned that parts are being ordered and/or made in preparation for production, and that they are planning to ship games by the end of the year. American Pinball also mentioned they hoped to have some games on location by Halloween (10/31), which is also the anniversary of Houdini's death. Check out American Pinball's website here, where you can also find detailed Houdini pics.

Houdini Gameplay
For those unfamiliar with Houdini – a couple months ago, we got some quality Houdini gameplay footage from Zach and Greg on Straight Down the Middle: a pinball show. Check out the four part series with Part 1, Part 2, Part 3, and a fly-by of the game here. Here are some of the highlights:
Check out more from Straight Down the Middle on their YouTube page, Twitch page, and Facebook page.

Thunderbirds Electroluminescent Headbox Decals
In spite of battling multiple typhoons last week, Homepin posted a feature list for Thunderbirds Pinball on their Facebook page (check it out here). Some highlights include:
Homepin also posted a video showing playfields being cut by their CNC machine, check it out here. Previously, we saw a pic of the lock inserts, the approved translite art, and teaser pictures of the playfield plastics. Homepin plans to show off the machine at Pinfest in Australia coming up October 7th and 8th. Check out Homepin's Facebook page here for more updates.

This Week in Pinball – HELP!
Help support the site by liking our Facebook page, following us on Twitter, signing up for email alerts below, or telling your friends about the site. Do one of these in the next five minutes for lucky pinball bounces for the rest of the week!

Pinball News Website
Last week, Pinball News launched a website upgrade which features a more modern and clean, minimalistic look. Martin Ayub started Pinball News back in 1999. Martin and the team at Pinball News provide tons of useful information related to pinball, including in-depth articles on industry news, new game reviews, an up-to-date pinball calendar, reports from pinball shows, information about where to play, and more. Check out the announcement on their Facebook page here, and make sure to check out their new-look website here!

Star Wars Updates – R2D2 Topper, Premiums Shipping Soon
Two updates regarding Stern Star Wars – first, an R2D2 Topper is supposed to be released soon. Although specifics are not known about the topper, previous code included an option to "Disable R2D2 Projector". Check out the message here. Second, there are several reports that distributors are telling customers the Premiums should start shipping in the next week or two.

Stern Updates – New Cabinets Bracing, Brazil Manufacturing?
If you're unaware, Stern has had some issues with cabinets splitting on newer games. They seemed to have addressed this issue with extra cabinet bracing – see pics of the extra bracing here and here – hopefully this won't be an issue going forward. Second, according to this Instagram post, some Stern Pinball titles will now be made in Brazil. Translated, the post reads: "Stern made in Brazil !!! It's been a huge challenge keeping this secret since December 2015. But finally we can shout to the world that we will make Pinball again! Matic, who manufactured the famous J Esteban and EletroMatic until the 80's, made a deal with Stern Pinball and will set up Pinball's again in Brazil! Long conversations and negotiations took place. But now it's official! These will be the first titles! Aerosmith premium, Star Wars pro, WWE Premium"

Alien Updates
Heighway Pinball announced that they will be removing the fiber optic ramp lights and refunding LE owners the cost of the lights. Cointaker is also expecting a shipment from Heighway Pinball on 9/1. It isn't known exactly what will be included with the shipment.
Get alerts for new posts from This Week in Pinball – follow us on Facebook, Twitter, or sign up by email:
Have a scoop for next week? Email us at thisweekinpinball@gmail.com
Pin of the Week
METALLICA PREMIUM (MONSTERS VERSION)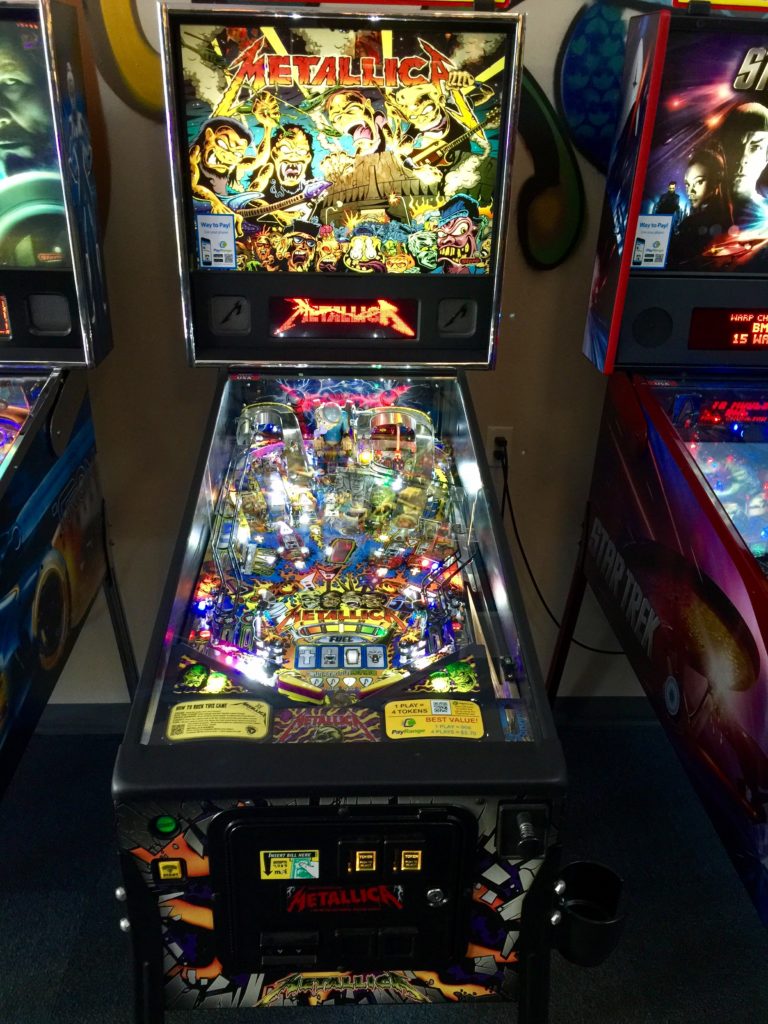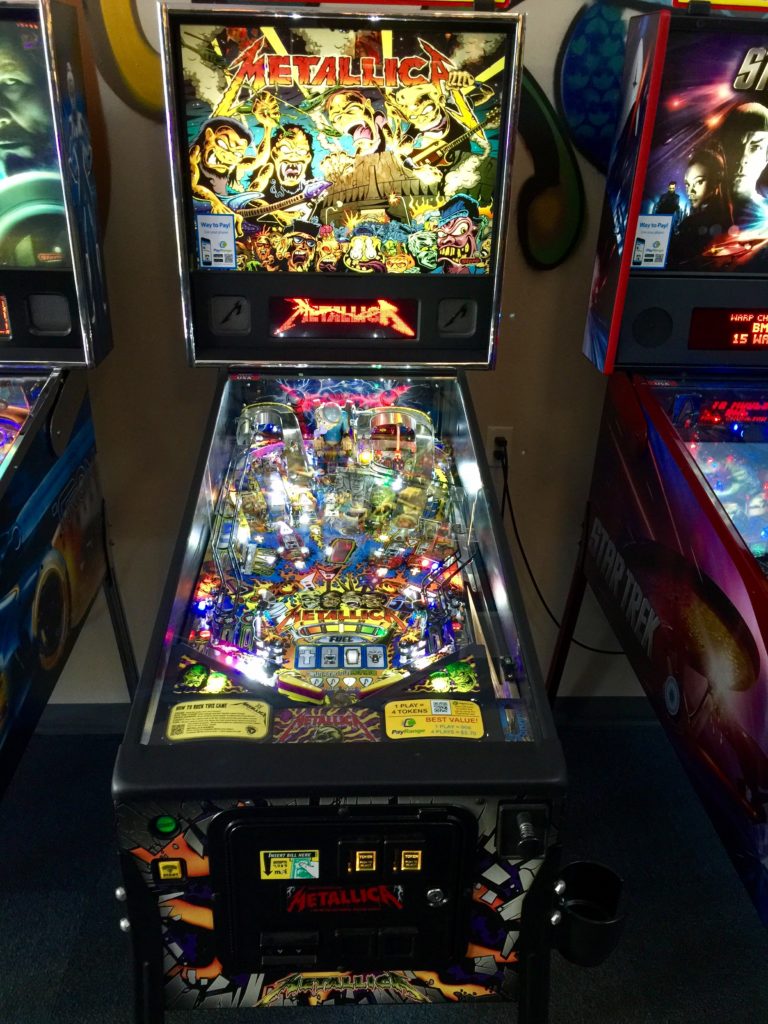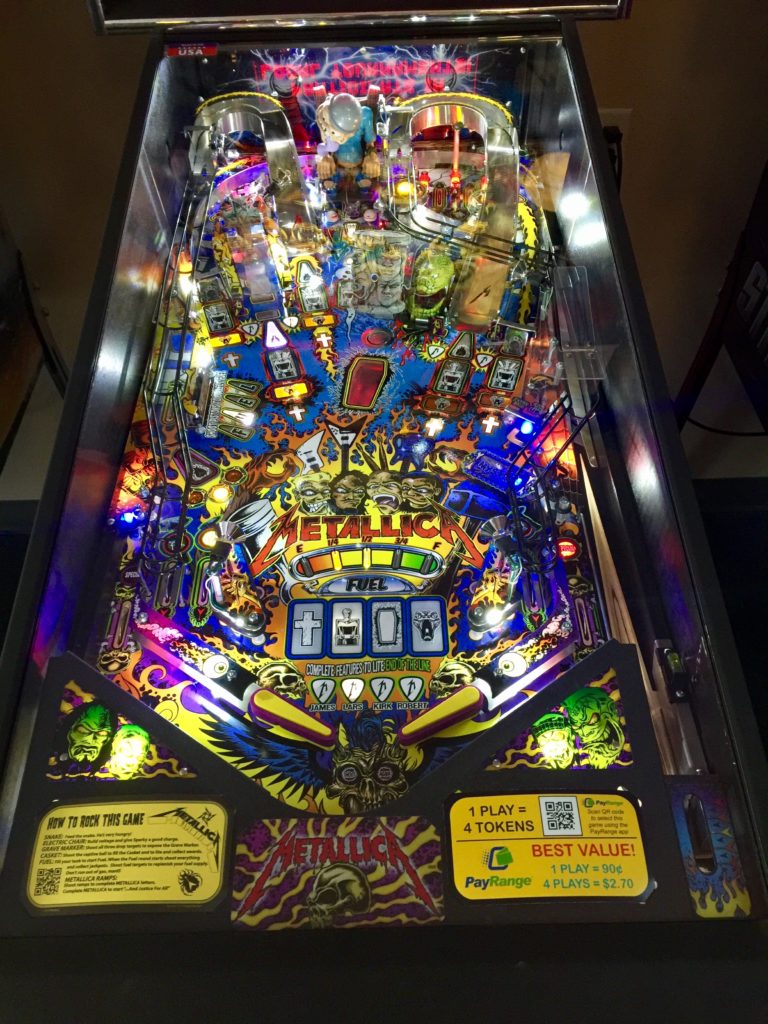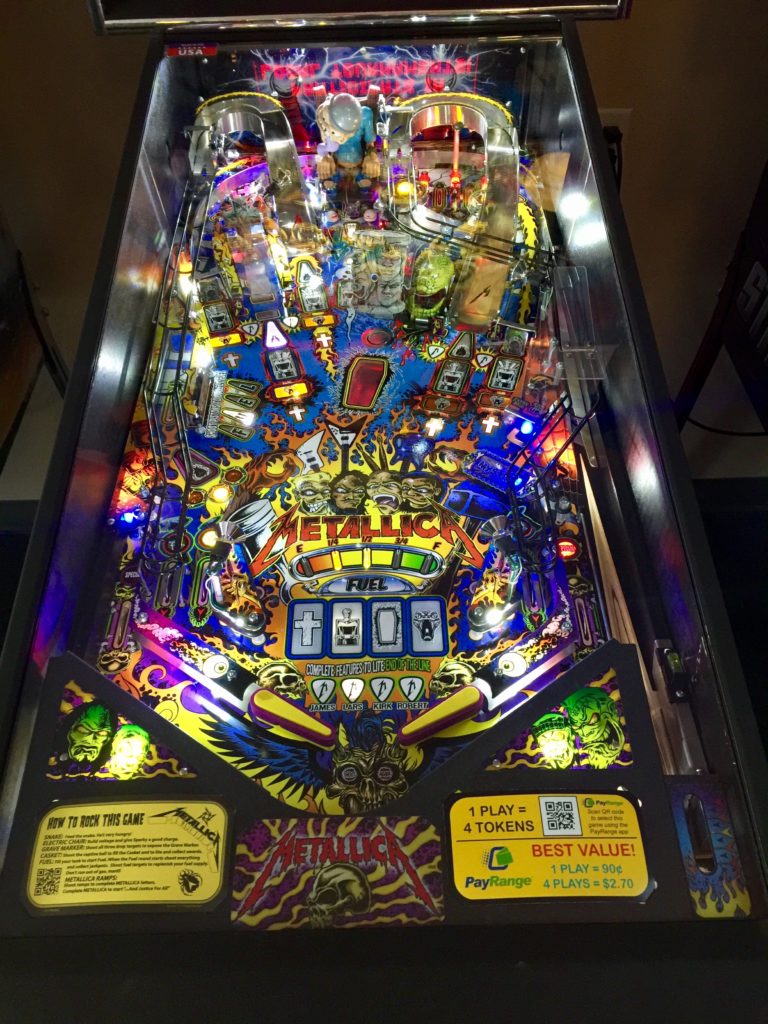 Interesting notes about Metallica Premium:
There are two premium versions – Premium Monsters (pictured above) and Premium Road Case
"Brendon Small provided the voices for 'Sparky' and 'The Snake'." – IPDB
Manufacturer: Stern Pinball
Display: Dot Matrix
Players: 4
Flippers: 2
Ramps: 2
Release date: April 2013
System: Stern SAM System
Design: John Borg
Software: Lyman Sheats
Artwork: Donny Gillies
Music/Sound: Metallica
Production run: ?

Website of the Week
If you want to find more information about any pinball machine, IPDB is the place to go. From their website: "The Internet Pinball Machine Database — also known as the IPDB — is a comprehensive, searchable encyclopedia of virtually every pinball machine ever commercially made. The database currently includes 66,798 images of 6,084 games, 4,620 other game related files, and links to other pinball websites, grouped by machine. The database also includes pitch & bat baseball games, cocktail table machines, bingos, and payout machines … when they have a pinball theme.

The data in this database has been laboriously gathered by the Editors over many years, from books, photographs, flyers, web sites, pinball manufacturers, collectors' personal records, and of course the pinball machines themselves. Most of the actual photographs in the database came from various collectors – over 2,377 different contributors to date." Check it out!

Have a site we should check out or want your website featured? Send an email to thisweekinpinball@gmail.com with the URL and a short description and we'll include it.
Name the Game
Identify the pinball machine pictured below for a chance to win a gift card to Pinball Life! The August winner will be announced next week!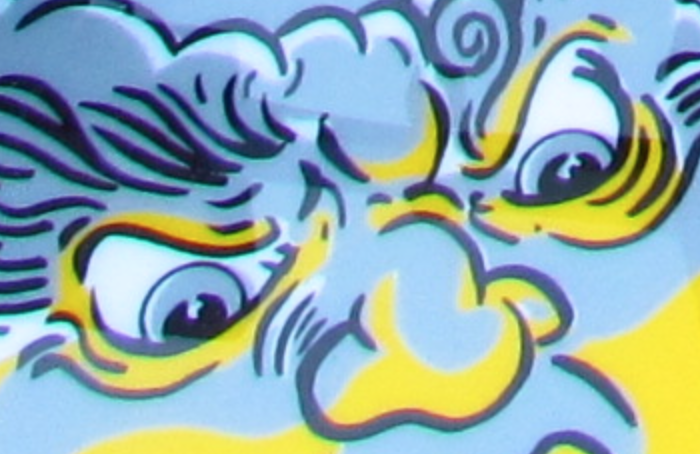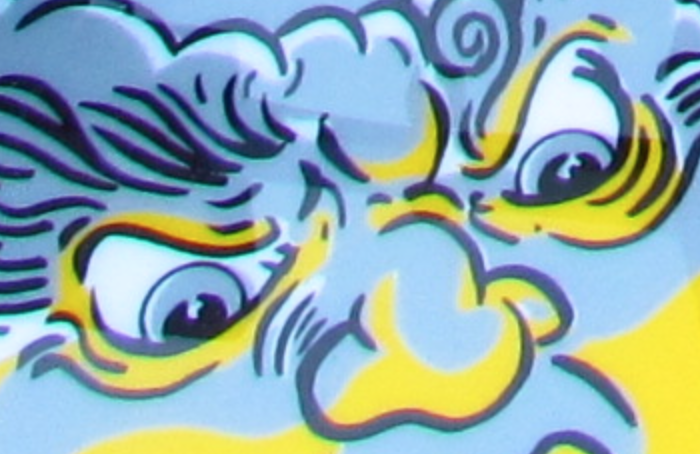 Hint: This pin will blow you away
Last Week's answer: Big Brave / Big Indian

Email guesses to thisweekinpinball@gmail.com, correct answers in August are entered into the drawing for a gift card to Pinball Life!
Upcoming Games and Rumors
Stern Pinball Most Recent Titles
Aerosmith
AC/DC Vault Edition
Star Wars
Announced/Confirmed
Rumors of Future Titles
Guardians of the Galaxy?
Iron Maiden?
Jurassic World?
Deadpool?
Pulp Fiction?

Spooky Pinball Most Recent Titles
Rob Zombie's Spookshow International
Dominos (*contract game)
Jetsons (*contract game)
Total Nuclear Annihilation (*contract/house game)
Announced/Confirmed
Alice Cooper's Nightmare Castle
Ben Heck's game

American Pinball Most Recent Titles

Dutch Pinball Most Recent Titles
Bride of Pinbot 2.0
Bride of Pinbot 3.0 (on hold)
The Big Lebowski (production issues)

Silver Castle Pinball
Jersey Jack Pinball Most Recent Titles
Wizard of Oz
The Hobbit
Dialed In
Rumors of Future Titles
Pirates of the Caribbean?
Toy Story?

Chicago Gaming/Planetary Pinball Most Recent Titles
Medieval Madness Remake
Attack From Mars Remake
Rumors of Future Titles
Monster Bash Remake?
Big Bang Bar Remake?
Cactus Canyon Remake?

Heighway Pinball Most Recent Titles
Full Throttle
Alien (production issues)
Rumors of Future Titles

P3 (Multimorphic)
Lexy Lightspeed
Cannon Lagoon
Cosmic Cart Racing

Homepin
Thunderbirds (coming soon)
**TWIP dreams of the day Harry Potter Pinball will be added to these rumors. Ms. Rowling, I am willing to walk into the forbidden forest – WITHOUT my wand – if you approve this!
Get alerts for new posts from This Week in Pinball – follow us on Facebook, Twitter, or sign up by email: