The Scoop
Total Nuclear Annihilation Stream
Last week, Dead Flip (Twitch, Facebook, Twitter) went to Spooky Pinball to stream Total Nuclear Annihilation – the first time it was shown with the full artwork. Check out the full TNA portion of the stream here. TWIP posted Five Things Seen/Heard/Learned which shows highlights from the stream. Here are the top four most viewed highlights:
Check out Spooky's Facebook page here and their website here, and email kt@spookypinball.com if you want more info or to buy this machine!

The Jetsons Stream
The Dead Flip Twitch stream was a double feature, as they also streamed The Jetsons while at Spooky Pinball Headquarters. Check out the full Jetsons portion of the stream here. TWIP posted Five Things Seen/Heard/Learned which shows highlights from the stream. Here are the top four most viewed highlights from the Jetsons stream:
The game was designed by The Pinball Company and is being built by Spooky. Check out The Pinball Company's Facebook page here. You can buy this machine from The Pinball Company (click here) or from Spooky Pinball, a distributor of the game (email them at kt@spookypinball.com).

Thunderbirds Sneak Peeks
Last week we found out some more new information regarding Homepin's Thunderbirds Pinball:
Homepin leaked a bit of the playfield on the Aussie Arcade forum – check out this pic of the lock inserts.
The Head2Head Pinball Podcast (more on them below) got an exclusive sneak peek of the Thunderbirds playfield art (which is not yet approved). They were restricted on how much they could share, but described it on their podcast last week as "hand drawn", "colorful", "very Thunderbirds", "very 2D, not very 3D", and that it had "lock 1 and lock 2 inserts on the playfield". Can you picture it in your mind perfectly now? To listen to the entire segment, click here and skip to 53:45.
From the Homepin Facebook page: "How amazing – we are loading and shipping our first two finished factory Thunderbirds pinball machines on the 30th of August – they should arrive (land – LOL) in Australia in time for the inaugural 'Thunderbirds Day'." Thunderbirds day is September 30th. Check out the full post here.
Last week, we saw the approved translite art, teaser pictures of the playfield plastics, and the front of one of the cabs. Homepin plans to show off the machine at Pinfest in Australia coming up October 7th and 8th. Check out Homepin's Facebook page here for more updates.

Buffalo Pinball Summer Open Recap
Congrats to 14 year old Aleksander Kaczmarczyk who won the Buffalo Pinball Summer Open! He beat out Levi Nayman in a tiebreaker after they beat out Zach Sharpe and Robert Gagno. He made a great save here during the tiebreaker, and here is the moment he won. See an interview with the top three finishers with Jeff Teolis here. The competition was covered in the local news – check out the story here. This tournament led to this great photo as well. You can check out the Buffalo Pinball group here on Twitch, where their popular Thursday night Bro, Do You Even Pinball stream will return in few weeks.

Alien Production Update
Heighway Pinball sent out an update via their Facebook page on Sunday. It reads: "The Production is underway at the factory. An annoying error on one of the newly designed and improved metal ramps has forced us to have them re-made. The supplier has promised the correct ones early next week and, as soon as they are here, games will be finalised for quality checks and start to be shipped out. We apologise for this frustrating delay and thank you for your patience. In the meantime, as shown in the pictures, stock has filled up at the factory for continued production." Click here to see the Facebook post and check out the pictures.

Star Wars Updates
Stern released a video of their newest employee, Zach Sharpe, destroying the Death Star on the new Star Wars LE pinball machine. Check it out here. Stern also released new code (v0.89) – see what has been updated with the Pro here, the Premium here, and the LE here. Speaking of the LEs, they are shipping and arriving in homes! Also check out this LE unboxing video from Pinball Supernova (check out more on their website below on Website of the Week).

New Pinball Podcasts
Head2Head Pinball Podcast (mentioned above) is a new podcast by Ryan and Martin out of Australia, and they released their fourth episode last week. It is entertaining and it is a great source of pinball news. If you haven't checked it out yet, check our their Facebook page here and their website here. Also, The Pinball Players Podcast with Jeff Parsons recently released their first episode. This podcast focuses on playing (including competitions) as opposed to collecting. Check out more on their Facebook page here. Both podcasts can be found on your favorite podcast listening application.

ColorDMD: Champions Pub Video
ColorDMD, which increases your happiness in life by 12-15%, released the Champions Pub video preview – check it out here.

Pinball Arcade New Release
Pinball Arcade released World Cup Soccer "World Championship Soccer" last week. The hint in their newsletter seems to indicate that Fathom will be their next release. To learn more, check out their website by clicking here, or download the Pinball Arcade app onto your phone or tablet.

Get alerts for new posts from This Week in Pinball – follow us on Facebook, Twitter, or sign up by email:
Have a scoop for next week? Email us at thisweekinpinball@gmail.com
Pin of the Week
LITTLE CHIEF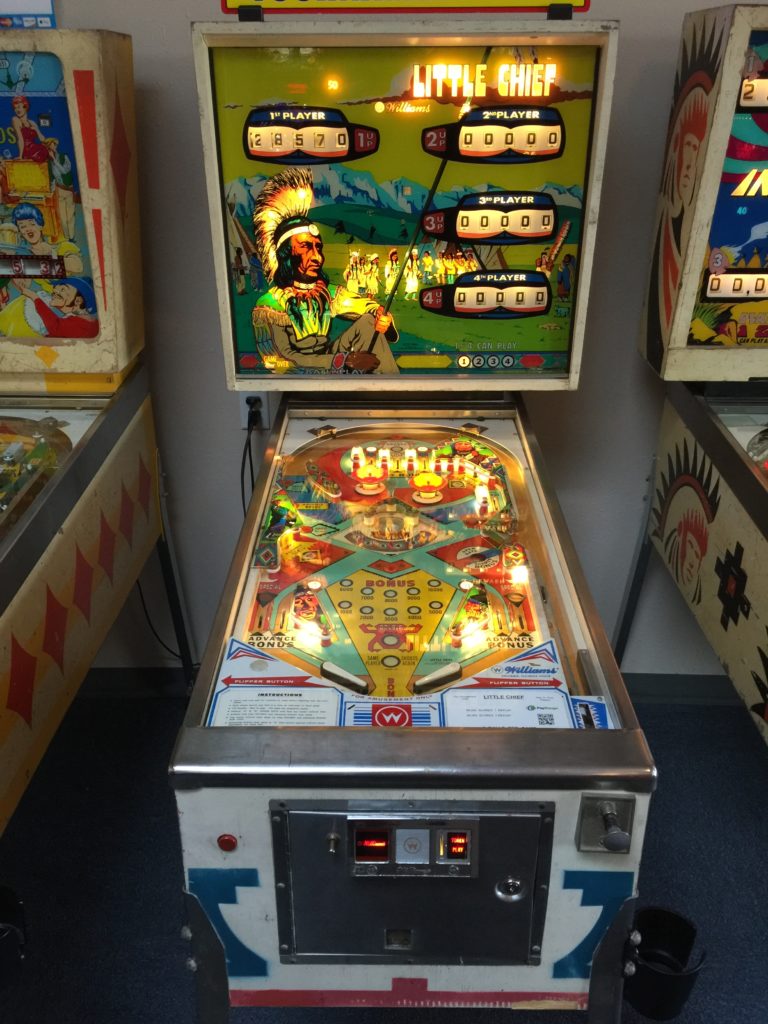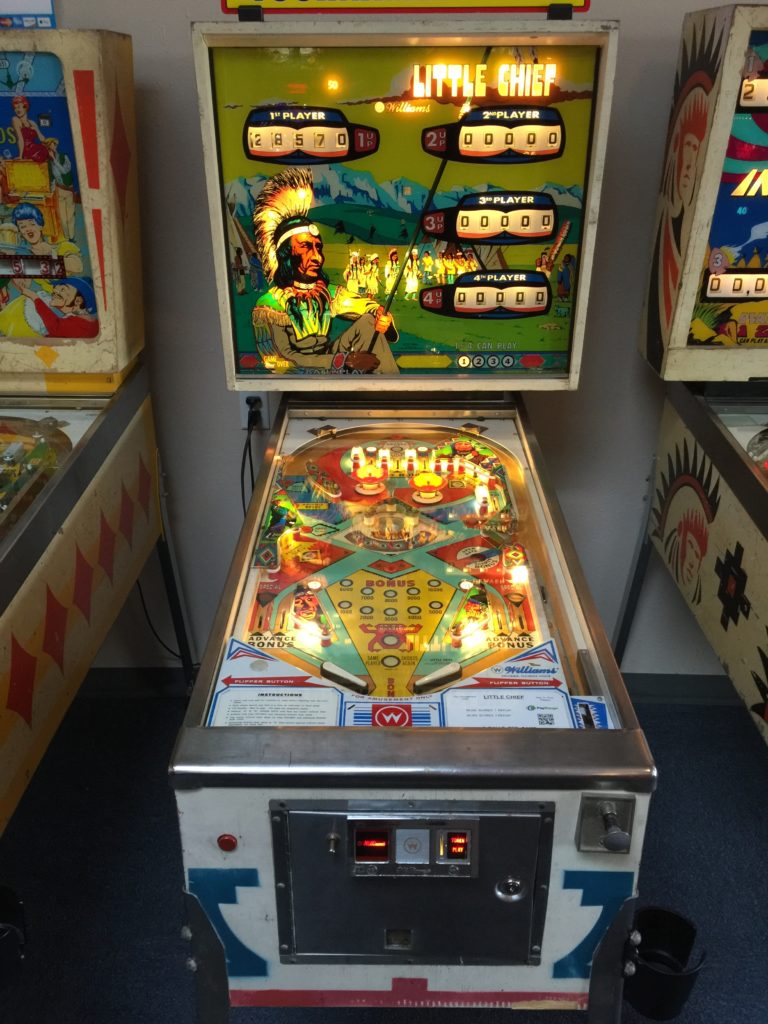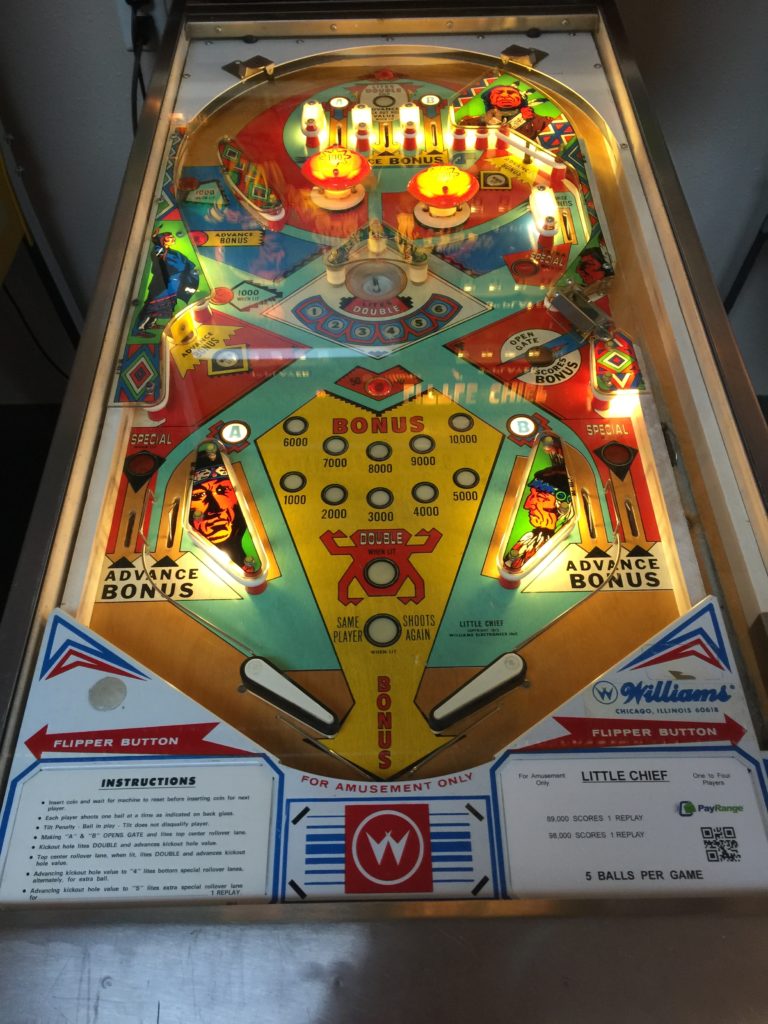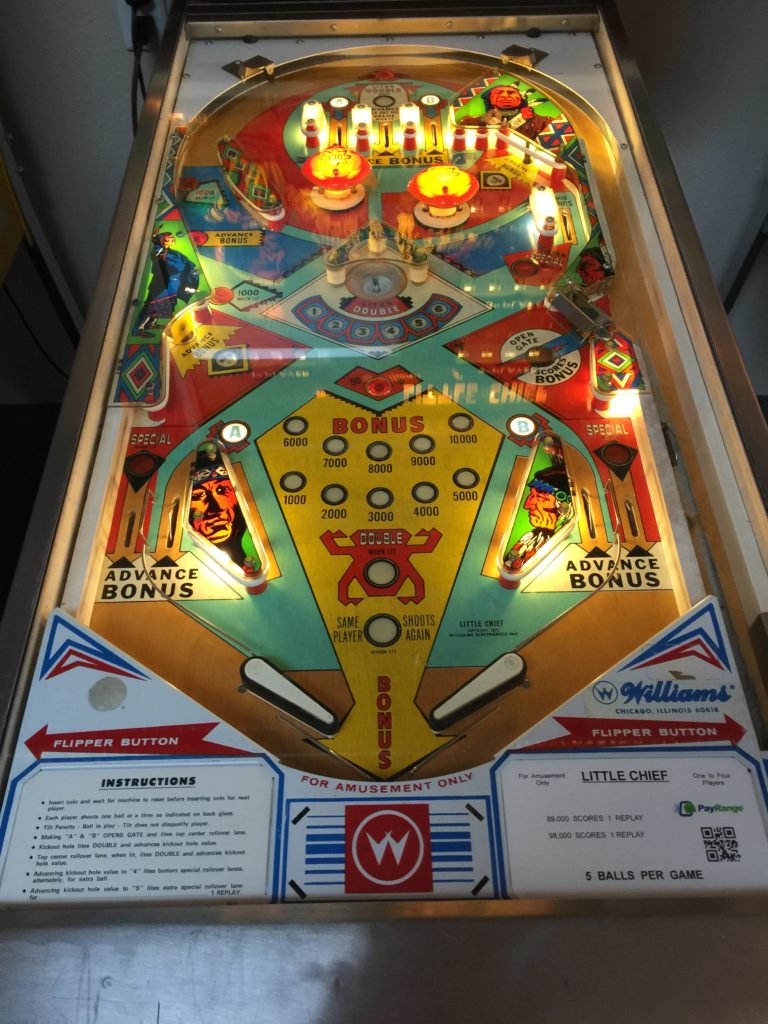 You thought it was going to be Gottlieb's Eclipse, right? That would've been better, but TWIP has no pics of Eclipse (yet).
Manufacturer: Williams
Display: Mechanical Reels
Players: 4
Flippers: 2
Ramps: 0
Release date: September 1975
System: n/a
Design: Steve Kordek
Programming/Mechanics: Steve Kordek
Artwork: Christian Marche
Music/Sound: n/a
Production run: 6,300

Website of the Week
Pinball Supernova is "the epicenter for all things pinball". If you haven't been to this site before, check it out! They do several pinball related posts each week on their blog, which can be found here. You can also check them out on Facebook, Twitter, Instagram, and YouTube.
Have a site we should check out or want your website featured? Send an email to thisweekinpinball@gmail.com with the URL and a short description and we'll include it.
Name the Game
Identify the pinball machine pictured below for a chance to win a gift card to Pinball Life!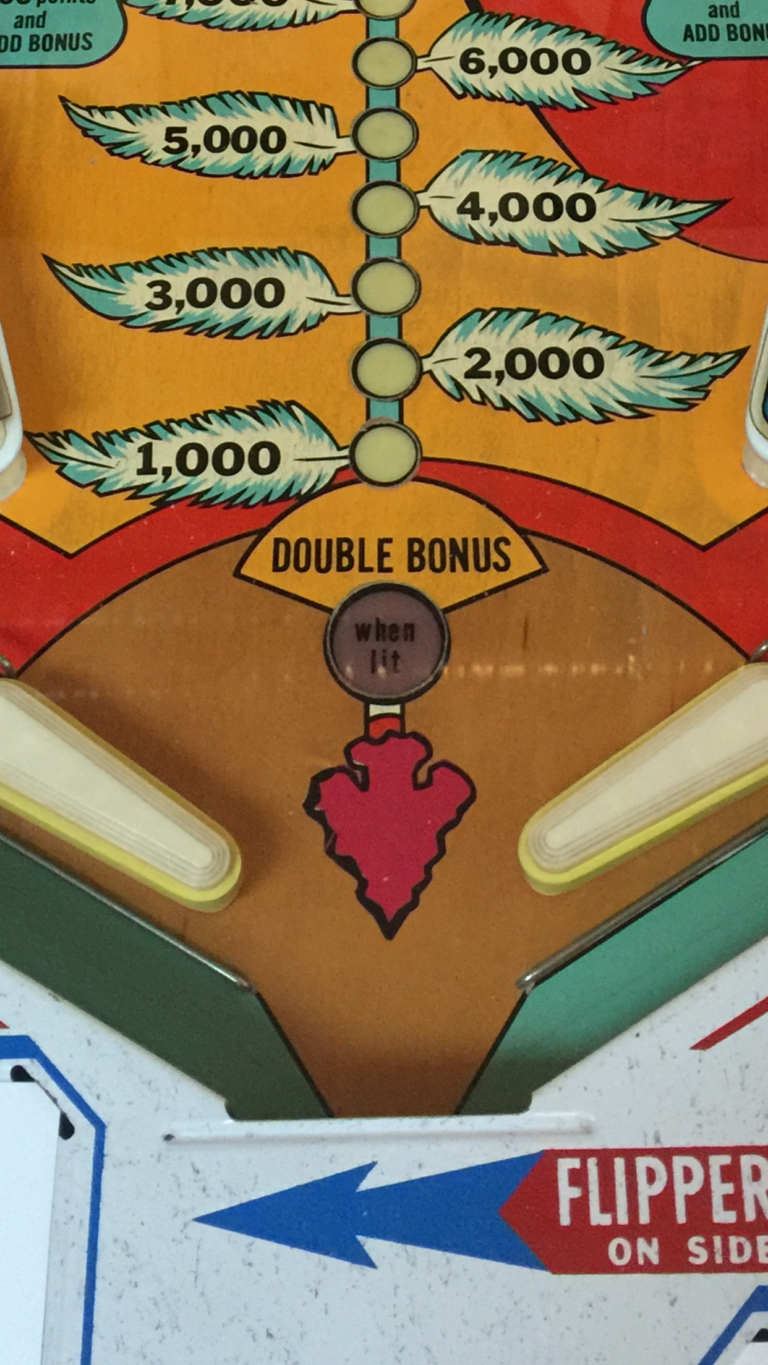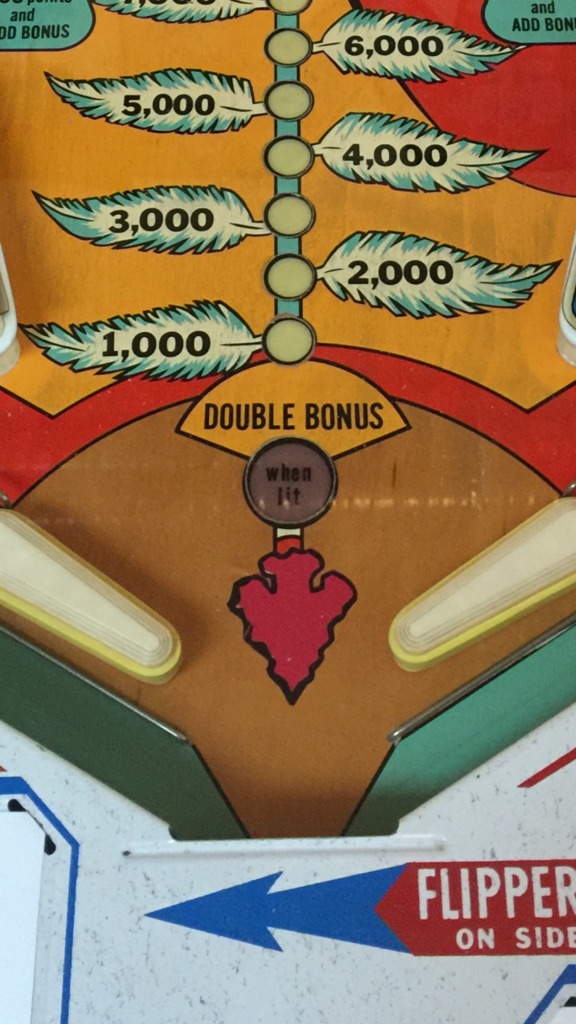 Hint: An opposite of sorts to the Game of the Week, Little Chief (are these PC?)
Last Week's answer: Cyclone
Email guesses to thisweekinpinball@gmail.com, correct answers in August are entered into the drawing for a gift card to Pinball Life!
Upcoming Games and Rumors
Stern Pinball Most Recent Titles
Aerosmith
AC/DC Vault Edition
Star Wars
Announced/Confirmed
Rumors of Future Titles
Guardians of the Galaxy?
Iron Maiden?
Jurassic World?
Deadpool?
Pulp Fiction? «New!

Spooky Pinball Most Recent Titles
Rob Zombie's Spookshow International
Dominos (*contract game)
Jetsons (*contract game)
Total Nuclear Annihilation (*contract/house game)
Announced/Confirmed
Alice Cooper's Nightmare Castle
Ben Heck's game

American Pinball Most Recent Titles

Dutch Pinball Most Recent Titles
Bride of Pinbot 2.0
Bride of Pinbot 3.0 (on hold)
The Big Lebowski (production issues)

Silver Castle Pinball
Jersey Jack Pinball Most Recent Titles
Wizard of Oz
The Hobbit
Dialed In
Rumors of Future Titles
Pirates of the Caribbean?
Toy Story?

Chicago Gaming/Planetary Pinball Most Recent Titles
Medieval Madness Remake
Attack From Mars Remake
Rumors of Future Titles
Monster Bash Remake?
Big Bang Bar Remake?
Cactus Canyon Remake?

Heighway Pinball Most Recent Titles
Full Throttle
Alien (production issues)
Rumors of Future Titles

P3 (Multimorphic)
Lexy Lightspeed
Cannon Lagoon
Cosmic Cart Racing

Homepin
Thunderbirds (coming soon)
**TWIP dreams of the day Harry Potter Pinball will be added to these rumors. Ms. Rowling, I am willing to subject myself to listening to mandrakes without earmuffs if you approve this!
Get alerts for new posts from This Week in Pinball – follow us on Facebook, Twitter, or sign up by email: