THIS FRIDAY
January 19th at 7:00 PM EST
LIVE TWIPY Pinball Awards Show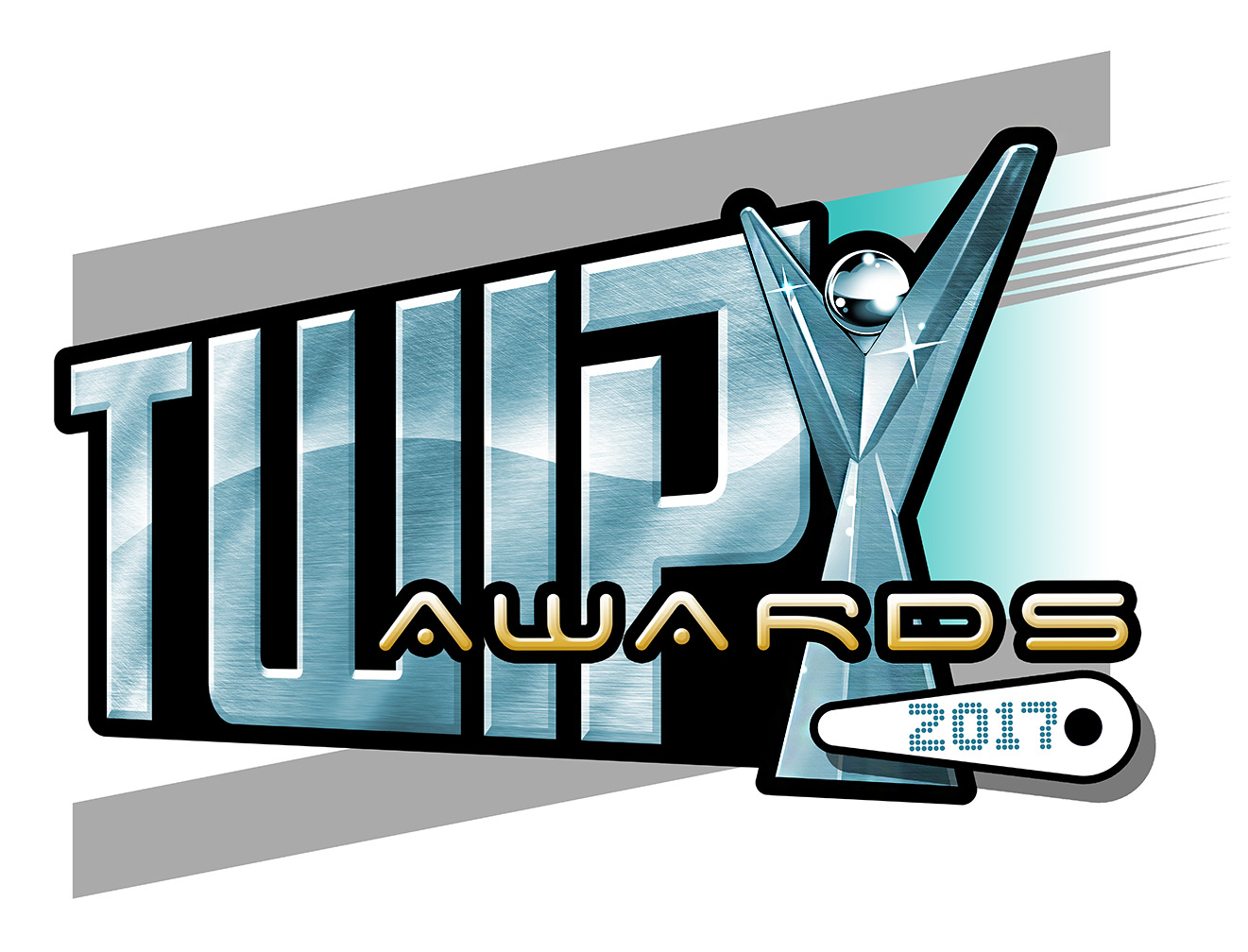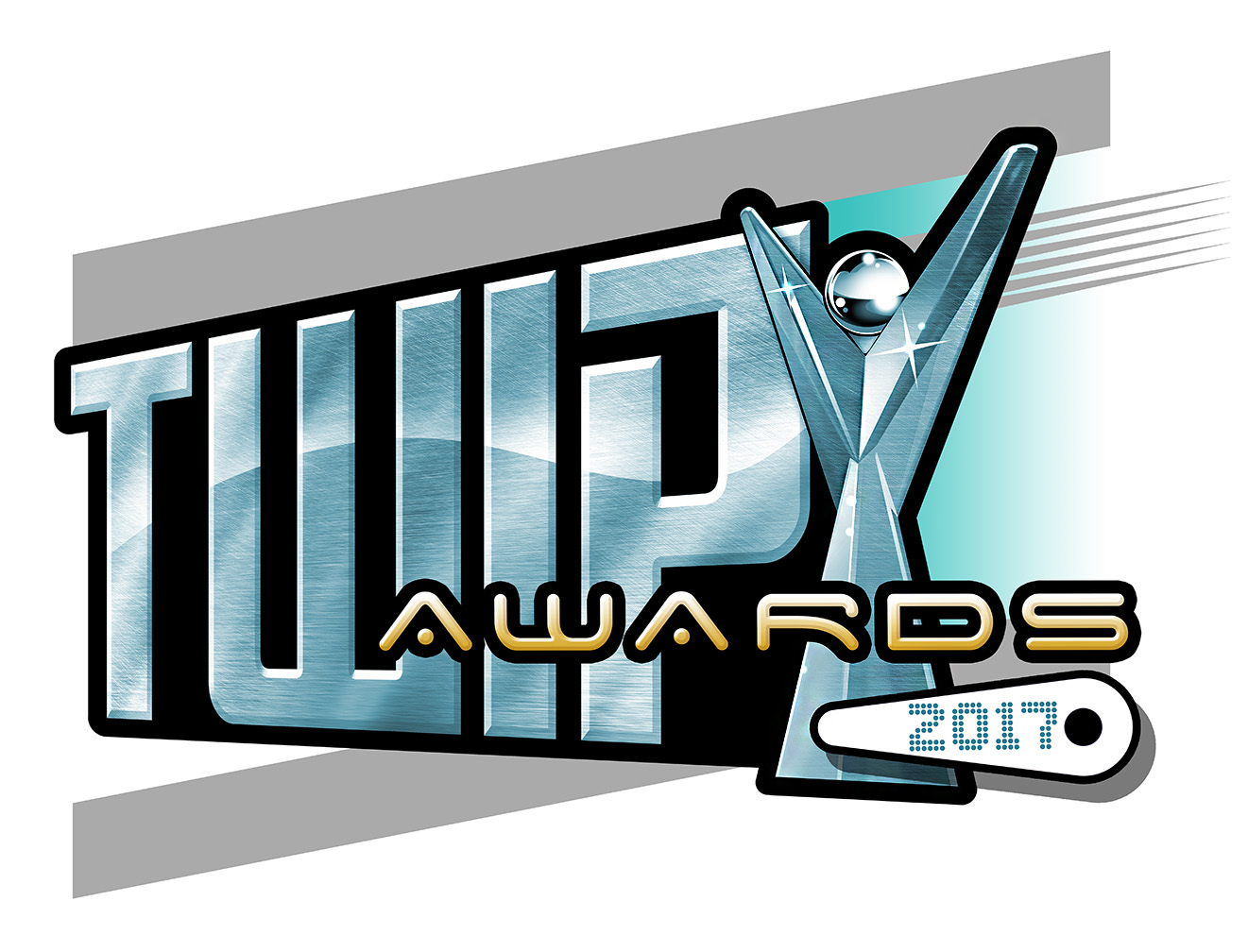 ---
The 2017 pinball machines…
Aerosmith
Alien
Batman '66
Dialed In
Guardians of the Galaxy
Lexi Lightspeed – Escape from Earth
Star Wars
The Jetsons
Total Nuclear Annihilation
**Thanks for all the input from the pinball community to determine eligible machines**
---
And the categories are…
Best Animations and Display
Best Lightshow
Favorite New Mod (write-in)
Best Theme
Best Toys and Gimmicks
Favorite Pinball YouTube Channel (write-in)
Best Theme Integration
Best Sound and Callouts
Favorite Pinball Twitch Streamer (write-in)
Best Code and Rules
Best Playfield Gameplay and Layout
Favorite Pinball Podcast (write-in)
Best Artwork
Game of the Year
(To be alerted when the show is live, follow this Twitch channel.)
---
The Beatles Are Coming
This Week in Pinball recently shared that The Beatles license has been secured by a pinball manufacturer. On this episode of Kaneda's Pinball Podcast, Kaneda shared the following information regarding this license:
A pin based on The Beatles IS coming out
The Beatles machine that is coming out is NOT based on the Yellow Submarine
RUMOR: It is the next Ka-Pow title
RUMOR: The expected release date is Expo (October) of 2018
We are very excited to learn more about this upcoming machine!
---
The Story and Possibility of Kosmic Khaos Pinball
Last week, the Texas Pinball Festival released the photo below on their Facebook page with the caption: "Exclusive first look at the not-in-production #TPF2018 theme "Kosmic Khaos" pinball backglass/translite. Game design and concept by Mark Ritchie. Art by Blake Dumesnil. A Texas Pinball Production 🙂 "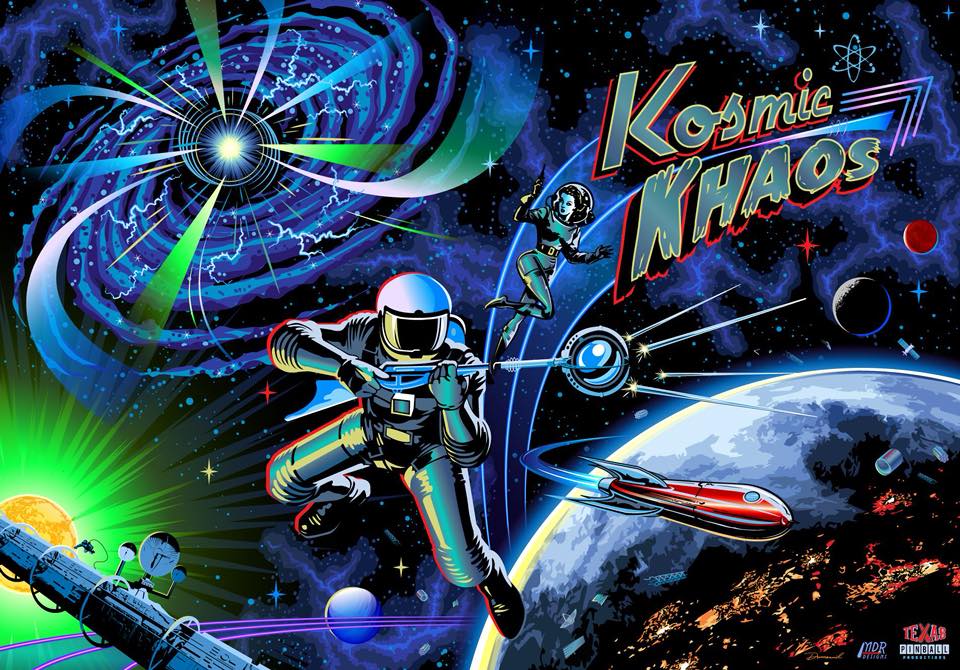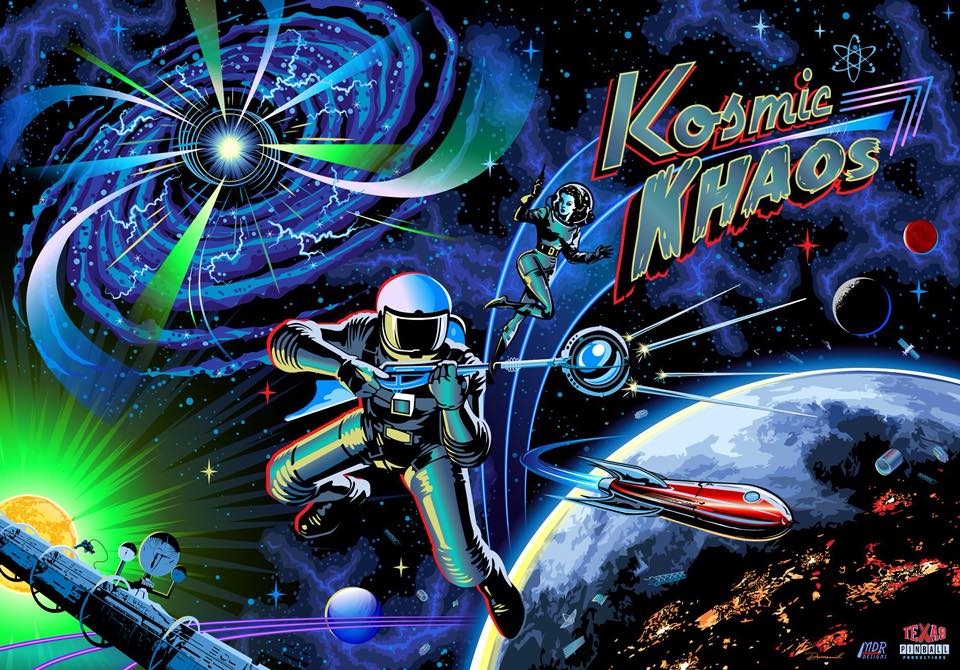 So wait a minute – Game design and concept by Mark Ritchie? "Kosmic Khaos" pinball backglass/translite? Is this going to really become a pinball machine at some point?? Here is the story:
It started off with the folks from Texas Pinball Festival and pinball designer Mark Ritchie just joking around. They were looking for a theme for the 2018 Texas Pinball Festival and Ritchie brought up the concept of Kosmic Khaos, a 50s movie retro theme he had been thinking about. That became the TPF 2018 theme.
Then Ritchie started drawing up a playfield sketch. He is still working on the design in his spare time. Then Blake Dumesnil (mentioned above), started working on the artwork for TPF…and the backglass/translite above. Blake is currently working on cabinet art. The Kosmic Khaos cabinet might even be at TPF in March (without a playfield).
So will this be built and turned into a pinball machine? Maybe. They would need a programmer and would need a manufacturer. No timeline or expectations, but it is a possibility!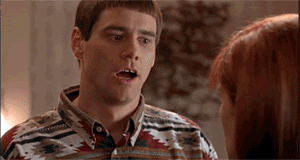 ---
Is Iron Maiden the Next Stern?
Iron Maiden is heavily rumored to be "in the pipeline" for Stern Pinball. There have been a lot of rumors surrounding Iron Maiden – who is the designer, who is the artist, and what is the release date? On the episode mentioned above of Kaneda's Pinball Podcast, Kaneda stated that:
Iron Maiden will be the next game released by Stern Pinball
Zombie Yeti is doing the art
Keith Elwin is designing the playfield (not John Trudeau, as has been rumored)
The game will "probably" be released before the Texas Pinball Festival (which takes place in March)
Are these true or just more rumors? We will soon find out!
---
Pinball Bulbs – advertisement
Pinball Bulbs SALE: Visit Pinball Bulbs and enter promo code "ThisWeek15off" to save 15% off everything on the site!
That includes their Mini Virtual Pinball Machine, which comes loaded with:
Pinball FX2
Pinball Arcade
Ikaruga and Proycyon (shooters)
Visual Pinball – MAME (ROMs added by user)
Customer front end so no computer or technical skills needed
Full online support fort your specific machine
Real Analog Nudge
Click here for more info and pricing, and watch the video below to check out more about this machine!
---
Pirates of the Caribbean Updates
Jersey Jack Interviewed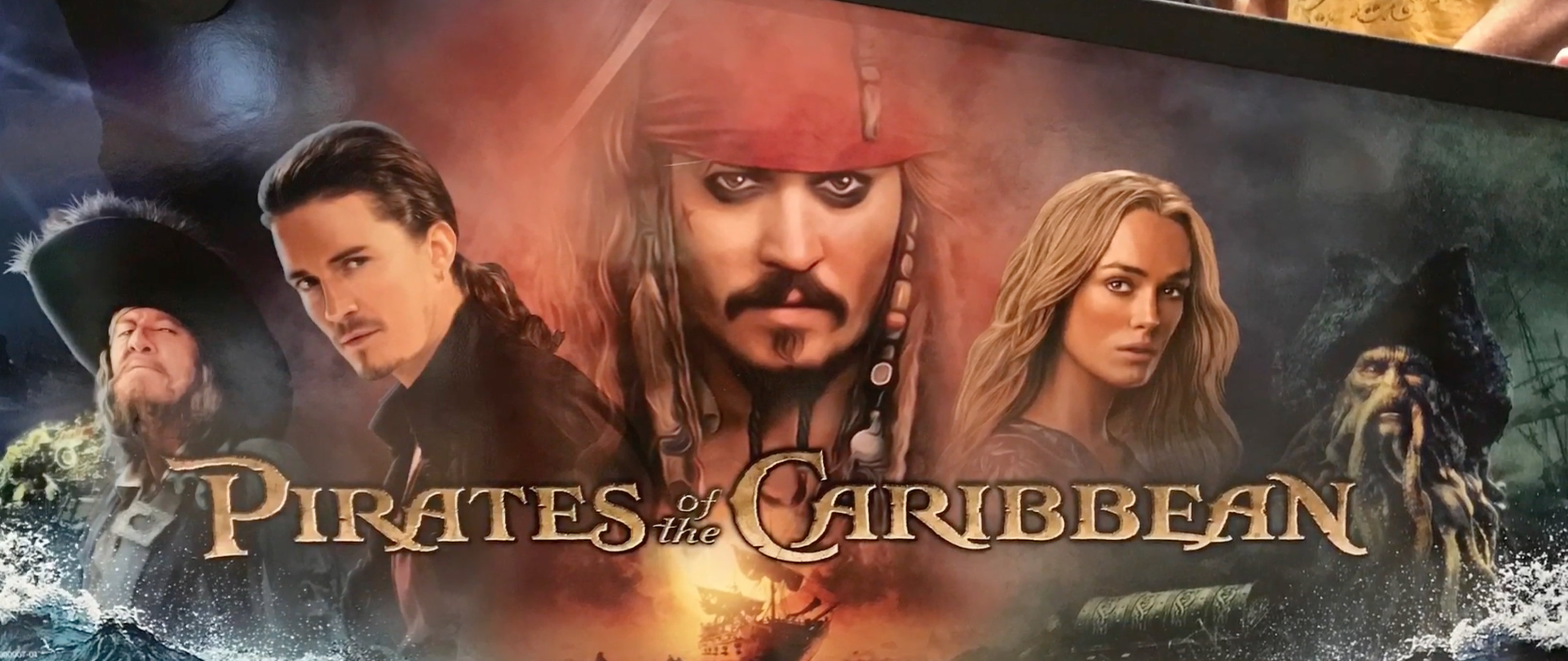 Recently we've seen several small updates on Jersey Jack Pinball's upcoming machine, Pirates of the Caribbean. First, Keith Johnson (software) shared a couple tweets that seem to show some new graphics that have been added – check out the tweets here and here. We also saw a video from a UK distributor sample game, which you can view here. Finally, Pinball Star had a Pirates of the Caribbean Launch Party in Malvern, Pennsylvania. You can watch the full stream on Twitch at this link.
Jersey Jack Guarnieri himself also attended and was interviewed by the folks at RageTiltPinball.com, you can view the complete interview on the Twitch stream at the 1:55:46 mark or here on YouTube. Here are some interesting excerpts from the interview:
Jack: "Pirates of the Caribbean, this is a theme I wanted to do for a long time. I was Stern's biggest distributor with Pinballsales.com for years. I sold 600-700 Pirates games, it was probably my easiest game to ever sell…one thing I said was that I never wanted to do what's been done before. Well, in a lot of ways, obviously looking at this game – it's never been done before. Taking a license like that and bringing it into the 21st Century with all the technology, all the mechanical action of the game is really cool to do…"
…
Does Pirates and the licensing with Disney open up the door for more Disney themes?
Jack: "There are a lot of rumors out there. I don't really want to comment on the rumors, but if you saw us do another Disney license, don't be surprised. I like to stay with what works, so you saw us do two properties with Warner Brothers with Wizard of Oz and Hobbit. They own other properties that are interesting to me as well. Disney has a lot of rich content…"
…
What are your thoughts on video game modes?
Jack: "We have some people in the company that like them and some people in the company that don't like them. I think there is a place for them in certain games. People thought that when I decided to put this 27" HD LCD monitor in a game, that we were going to play video games on it. And maybe in the future on one of our games we will. I'm not against it. I think it is fun in the right game and the right theme."
…
You've got that big screen…have you ever considered throwing in a tutorial where you come on screen and talk about the basics…a built-in tutorial?
Jack: "Yes. We have thought about it, and we've actually started doing more than thinking about it…we're going to do more of that as we go along. On location, it will be difficult to hear…Some people want to design things to be really good for…expert pinball players. On a location, the casual player goes up to the game and puts money in it, and they don't want to be frustrated. They don't want to be denied some fun for 2-3 minutes to play the game. They want to feel challenged. They don't want to feel silly about playing pinball, they don't want to be rejected. So you need to build games and have settings in games where – you don't want [an expert player] in your location playing a game for 15 minutes for $0.75 or $1. But you don't want to make the game so difficult that the casual player walks up and gets knocked off the game. And there is a way we can do that. We have a formula to do that. And I'm not going to discuss it until we do it. But we think about this all the time."
---
Alien Code Update
Heighway Pinball released a huge update to their Alien pinball machine last week! Click here for the list of all the changes and updates in version 1.1.
Thanks to a pinhead, we already have some video of the new code, which shows off some new sounds and new lighting effects and much more:
Heighway also recently released two documents/bulletins – one regarding amplifier settings (click here to view) and one CPU connectors (click here to view).
---
Stern Growth
The Director of Marketing for Stern Pinball, Zach Sharpe, did an interview at CES 2018 last week which can be seen here. An interesting quote that is getting some discussion is when Zach shares that "sales are up over 40% from last year to this year, which is up 40% from the year prior". You can speculate on what that means exactly – was it a down year two years ago or have pinball sales just increased substantially? Either way, those numbers are extraordinary.
---
IFPA State Championship Series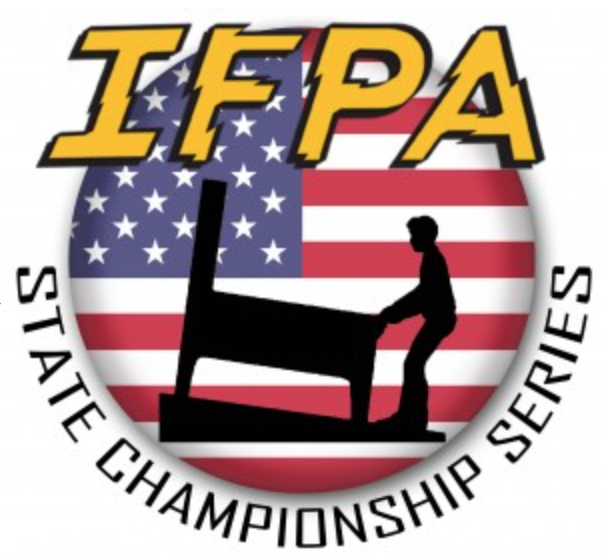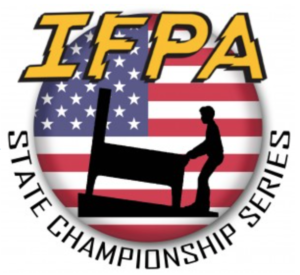 The State Championship Series is ON! 43 states plus Washington DC will hold their finals simultaneously on Saturday, January 20th. Check out the announcement on IFPA's website here. To check out the finalists by state, click here. Good luck everybody!
---
It Never Drains in Southern California Winner!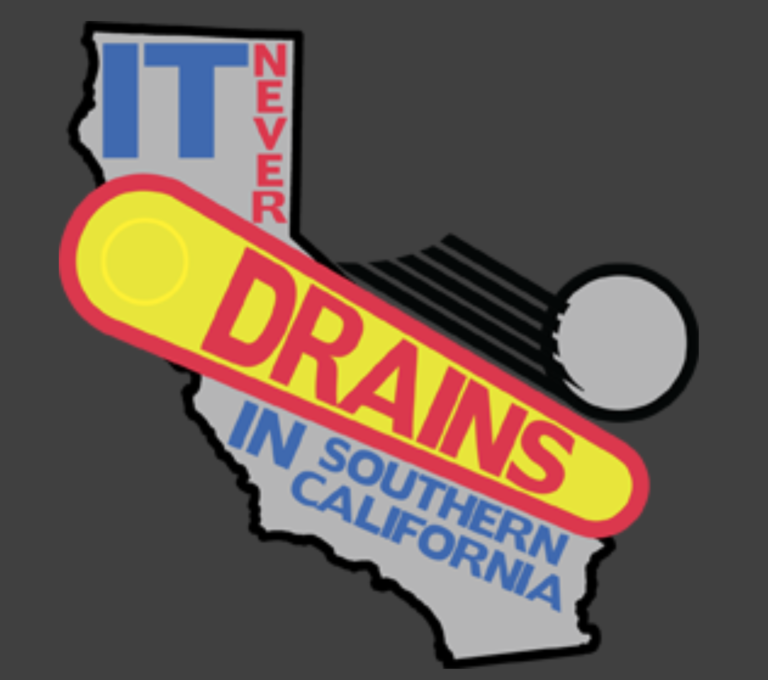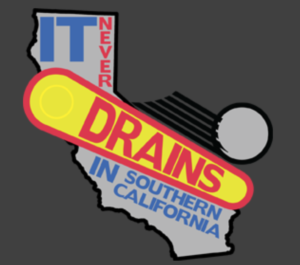 Congrats to Robert Gagno who won INDISC (It Never Drains in Southern California) over the weekend! And congrats to Danielle Peck, winner of the Women's Division and Raymond Davidson, winner of the Classics Tournament! It was the first Stern Pro Circuit (SPC) event in 2018 and took place at the Museum of Pinball in Banning, California. For the full results of the Main A Finals tournament, click here.
---
New Pinball Event in the UK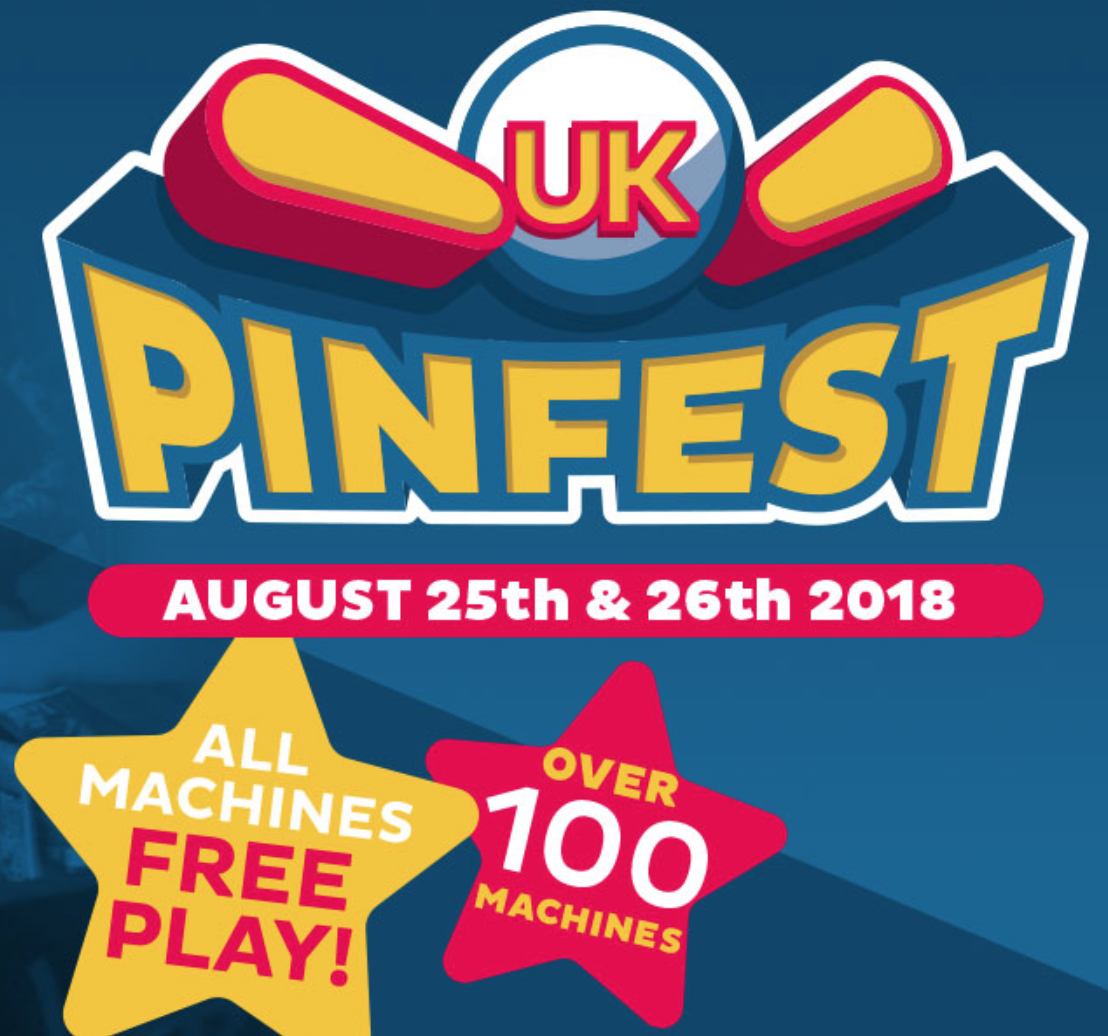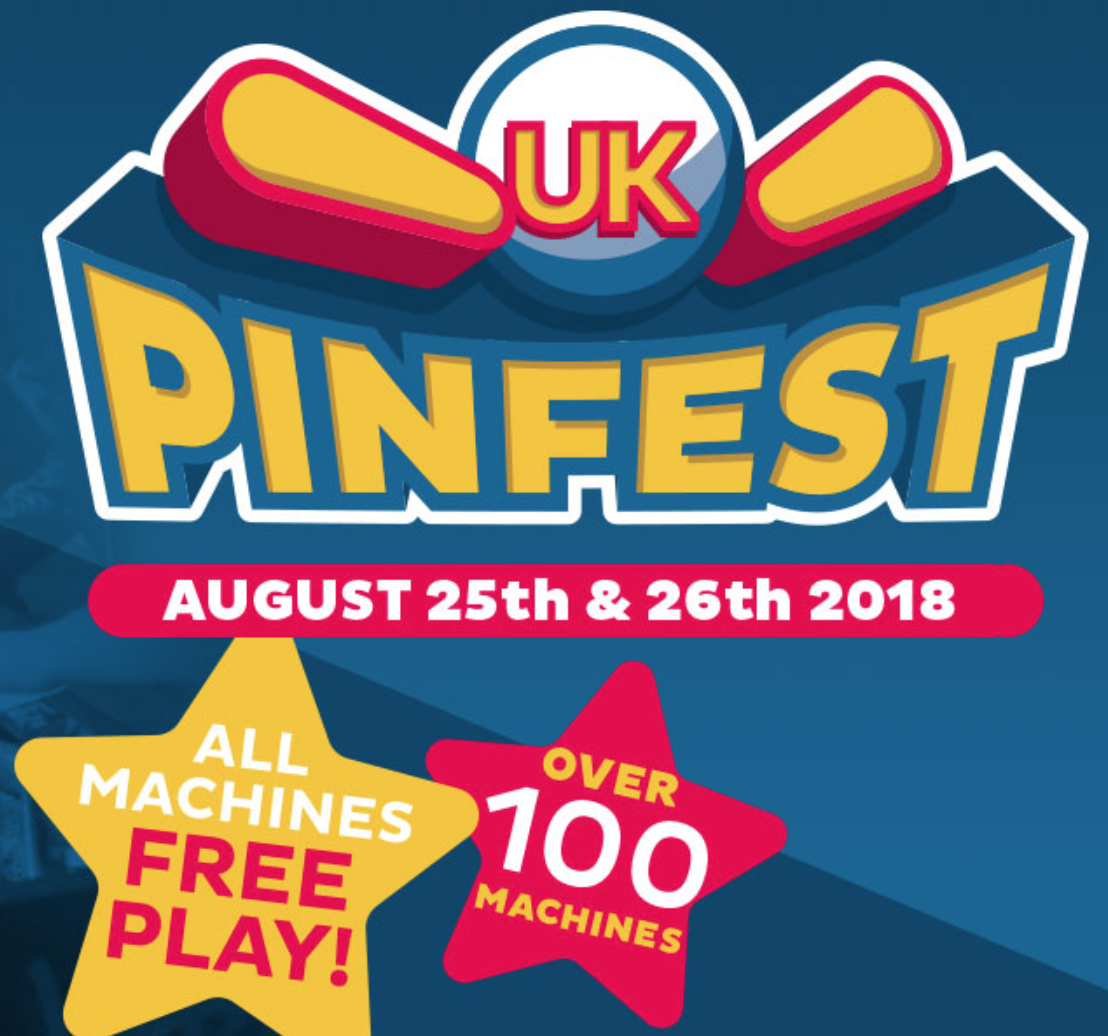 There used to be a UK Pinball Event called the UKPinballParty which was organized by Andrew Heighway. Unfortunately there hasn't been a dedicated pinball event in the UK for three years.
Enter Phil Murphy – the organizer of UKPinfest – a new pinball event in the UK and the only dedicated pinball event for the UK!
The event will be held in Daventry, a central location for the whole of the UK, on August 25th and 26th. Check out their website here, and follow them on Facebook here and Twitter here.
Thanks for your work on this Phil and we look forward to a great event!
---
Victory Laps – End of Post Bonus
We had some very cool pinball streams last week – two of them (unfortunately) were streamed at the same time on the same day:

Buffalo Pinball had their weekly Bro, Do You Even Pinball? with special guest Johny Chow, bassist for rock/metal band Stone Sour – check out the full video here!
Jack Danger of Dead Flip traveled to Lafayette, Indiana to stream the very rare game Big Bang Bar, which was recently added to the lineup at Main Street Amusements and is one of the few Big Bang Bars on location – check out the full video here!

The Head2Head Pinball Podcast had a huge episode last week with interviews with both Scott Danesi and Karl DeAngelo – check it out here!
Total Nuclear Annihilation digital versions should be coming out at the end of January – for the cassette which is available now, click here!
American Pinball's Houdini:
Guardians of the Galaxy released a code update to v0.85 – check it out here!
The Stern of the Union was released last week – check out the details here!
Did you see the rumor about the Wonder Woman Pinball Machine? It is false, but here is the pic that started the rumor…
---
MATCH! – Next Game…What is Coming Up on This Week in Pinball
First, we've got THE TWIPYs coming this Friday!
Second, we've got Around the Playfield with JOSH SHARPE coming tomorrow 🙂
Third, we will be disclosing the TWIPY awards results for all of the pinball machine categories
FINALLY, we'll likely have a big update from deeproot Pinball a week from Thursday on 1/25

Get alerts for new posts from This Week in Pinball – follow us on Facebook, Twitter, or sign up by email:
Confidential Information – TWIP Policy
We do NOT share any confidential or "off the record" information without permission from the source of the info, either publicly on the TWIP website or to podcasters, etc.
Have a scoop or anonymous rumor? Email us at thisweekinpinball@gmail.com
---
Upcoming Games and Rumors
Stern Pinball
Most Recent Titles
Aerosmith
AC/DC Vault Edition
Star Wars
Guardians of the Galaxy
Announced/Confirmed
Rumors of Future Titles
Deadpool?
_______ VE?
The Munsters?
Iron Maiden?
The Beatles?
Jurassic World?
Pulp Fiction?
New Ka-Pow Title?
Steve Ritchie Unlicensed?
Keith Elwin Game?

Spooky Pinball
Most Recent Titles
Rob Zombie's Spookshow International
Dominos (*contract game)
Jetsons (*contract game)
Total Nuclear Annihilation (*contract/house game)
Announced/Confirmed
Alice Cooper's Nightmare Castle
Ben Heck's game

American Pinball
Most Recent Titles

Dutch Pinball
Most Recent Titles
Bride of Pinbot 2.0
Bride of Pinbot 3.0 (on hold)
The Big Lebowski (production issues)

Circus Maximus
The Pinball Circus Remake
Kingpin?

Silver Castle Pinball
Jersey Jack Pinball
Most Recent Titles
Wizard of Oz
The Hobbit
Dialed In
Pirates of the Caribbean
Rumors of Future Titles
Toy Story?
Willy Wonka?
The Muppets?

Chicago Gaming/Planetary Pinball
Most Recent Titles
Medieval Madness Remake
Attack From Mars Remake
Rumors of Future Titles
Monster Bash Remake?
Cactus Canyon Remake?
Big Bang Bar Remake?
Theatre of Magic?

Heighway Pinball
Most Recent Titles
Full Throttle
Alien (shipping)
Rumors of Future Titles
Queen?
Barry Oursler Licensed Theme
Barry Oursler UnLicensed Theme

P3 (Multimorphic)
Lexy Lightspeed
Cannon Lagoon
Cosmic Cart Racing

Homepin
Thunderbirds (coming soon)

Phénix Pinball

Deeproot Pinball
Retro Atomic Zombie Adventureland?
Alice in Wonderland?
Magic Girl?
Houdini?
**TWIP dreams of the day
Harry Potter Pinball
will be added to these rumors. Ms. Rowling, I'd be willing to steal an egg from a Hungarian Horntail if you approve this!

Get alerts for new posts from This Week in Pinball – follow us on Facebook, Twitter, or sign up by email: