---
A huge thank you to TWIP readers!
In October we had 52,474 views from 18,355 unique visitors in 73 different countries, making it our busiest month yet. Wow!!
---


— This Week's Top 5 Stories —
1. More Details on The Beatles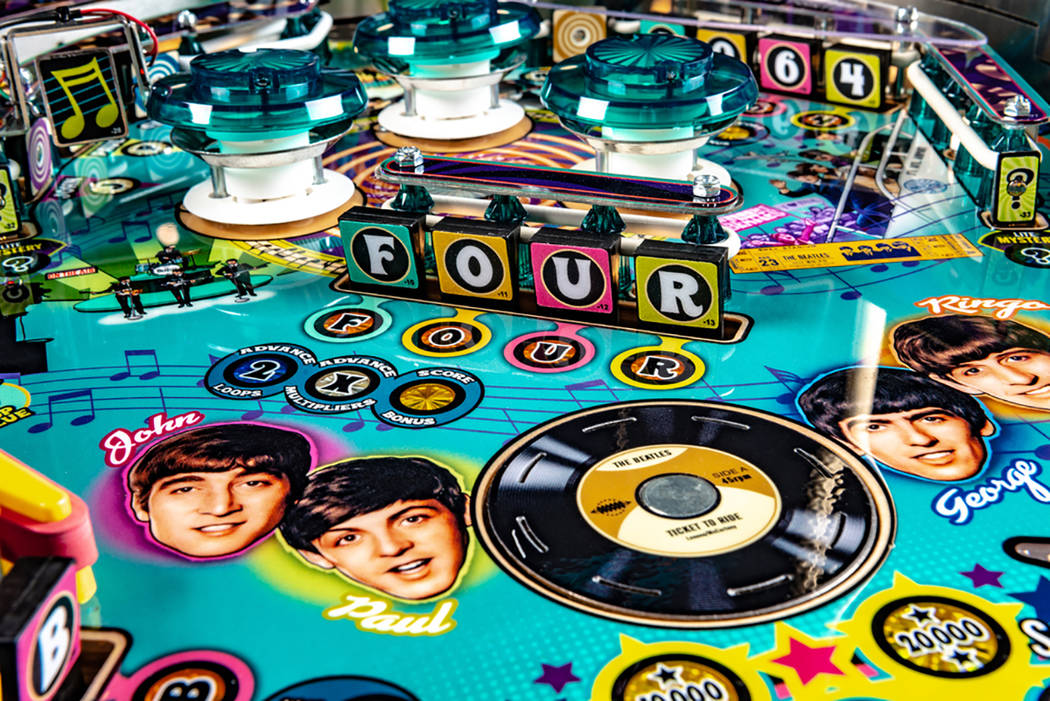 Last week we got some more information and some pictures of the upcoming Beatles pinball machine from Stern/Kapow.
We'll start with some additional information from Joe Kaminkow regarding the following questions that have been discussed in the community:
Song Length
One question that pinball enthusiasts have asked is – will the machines contain the full songs or portions of the songs? If portions, how long will the clips be? TWIP spoke to Joe Kaminkow, who shared that the song length is tailored to mode length so the song lengths will vary depending on what is going on in the game.
Will it have a Coin Door?
Another question people have been asking is: Will it have a working coin door? Joe Kaminkow told TWIP the following: Depending on customers requirement some will have coin doors some won't. An example, a family entertainment may want a coin door, or a blank for home collectors. The coin door has a beautiful decal.
---
Next, Stern issued the following press release:
The Beatles and Stern Pinball Announce the First and Only Beatles Pinball Machine Ever Made!
Only 100 Diamond Edition Games
Only 250 Platinum Edition Games
Only 1614 Gold Edition Games
Only 1964 Games in Total
ELK GROVE VILLAGE, IL – October 29, 2018 – Stern Pinball, Inc., a global lifestyle brand based on the iconic and outrageously fun modern American game of pinball, in collaboration with Ka-Pow Pinball, proudly announced today the availability of the one- of-a-kind Beatles pinball machine. Only 1964 units will be produced in recognition of the year in which the world forever changed when Ed Sullivan introduced America to four young mop-topped musicians from Liverpool, England. The deal was brokered by Bravado Merchandising, the Beatles North American licensing agent.
The game is available in three models named for the recording industry's sales award levels. The Diamond Edition, the highest level and most difficult to attain, is limited to only 100 units. The Platinum Edition is limited to only 250 units. The Gold Edition is limited to 1614 units.
The Beatles pinball machine will immerse players in 1960's Beatlemania and feature eight timeless hit songs from that era:
A Hard Day's Night
Can't Buy Me Love
Ticket to Ride
All My Loving
Help
Drive My Car
It Won't Be Long
I Should Have Known Better
The game also features iconic introductions by Ed Sullivan along with custom speech and callouts by Hall of Fame disk jockey, Cousin Brucie. Cousin Brucie introduced The Beatles at New York's Shea Stadium in 1964.
The retro-themed playfield features four flippers, eleven drop targets, eight stand-up targets, multiple skill shots, two opto-spinners, a ball-catching magnet and a magnetic spinning record disc in the center of the playfield. Players, friends and family will enjoy full screen animations as well as simulated reel scoring on the game's high definition video screen.
All models feature unique art packages and custom powder-coated armor. The 100 Diamond Editions are numbered, certified collectible and include a mirrored backglass. The 250 Platinum Editions are numbered and certified collectible.
Complementing the immersive Beatlemania theme and exciting gameplay experience, Stern Pinball's powerful SPIKETM electronics hardware system enables high-definition graphics and innovative animations on the high-definition video display. SPIKETM reduces system complexity and energy usage resulting in enhanced reliability and simplified servicing. The state-of-the-art electronic system also powers a high-fidelity 3- channel audio system that is three times more powerful than audio systems of previous generations.
"We are very proud of this Beatles pinball machine that was produced in collaboration with our good friend, Joe Kaminkow," said Gary Stern, Chairman and CEO of Stern Pinball, Inc. "We can't wait for players to experience Beatlemania when they play this game."
Pricing and Availability:
Please contact your local Stern Pinball distributor or dealer for availability and pricing. To find an authorized Stern Pinball distributor or dealer in your area, please visit: www.sternpinball.com/buy
A few pictures accompanied the press release: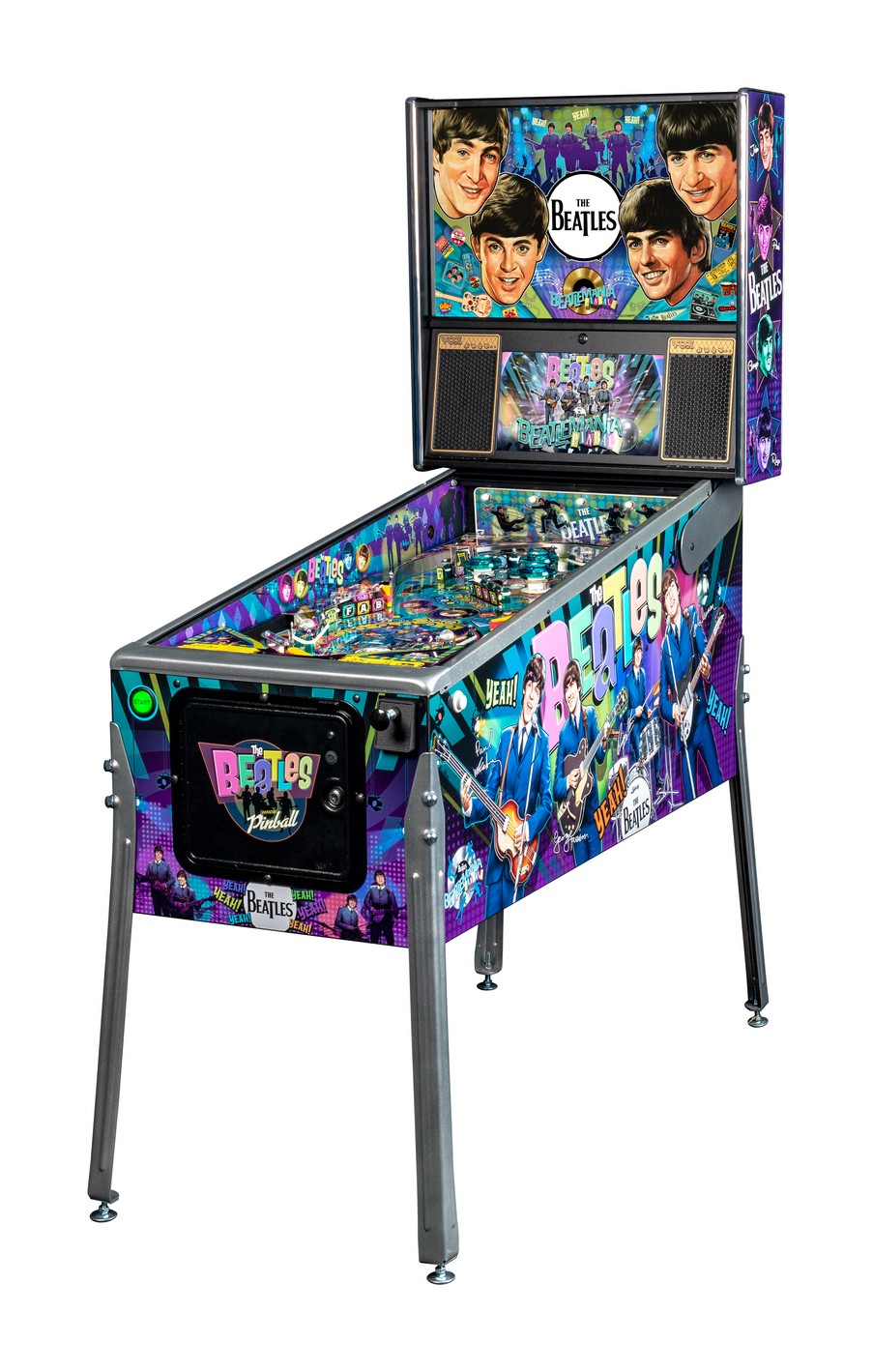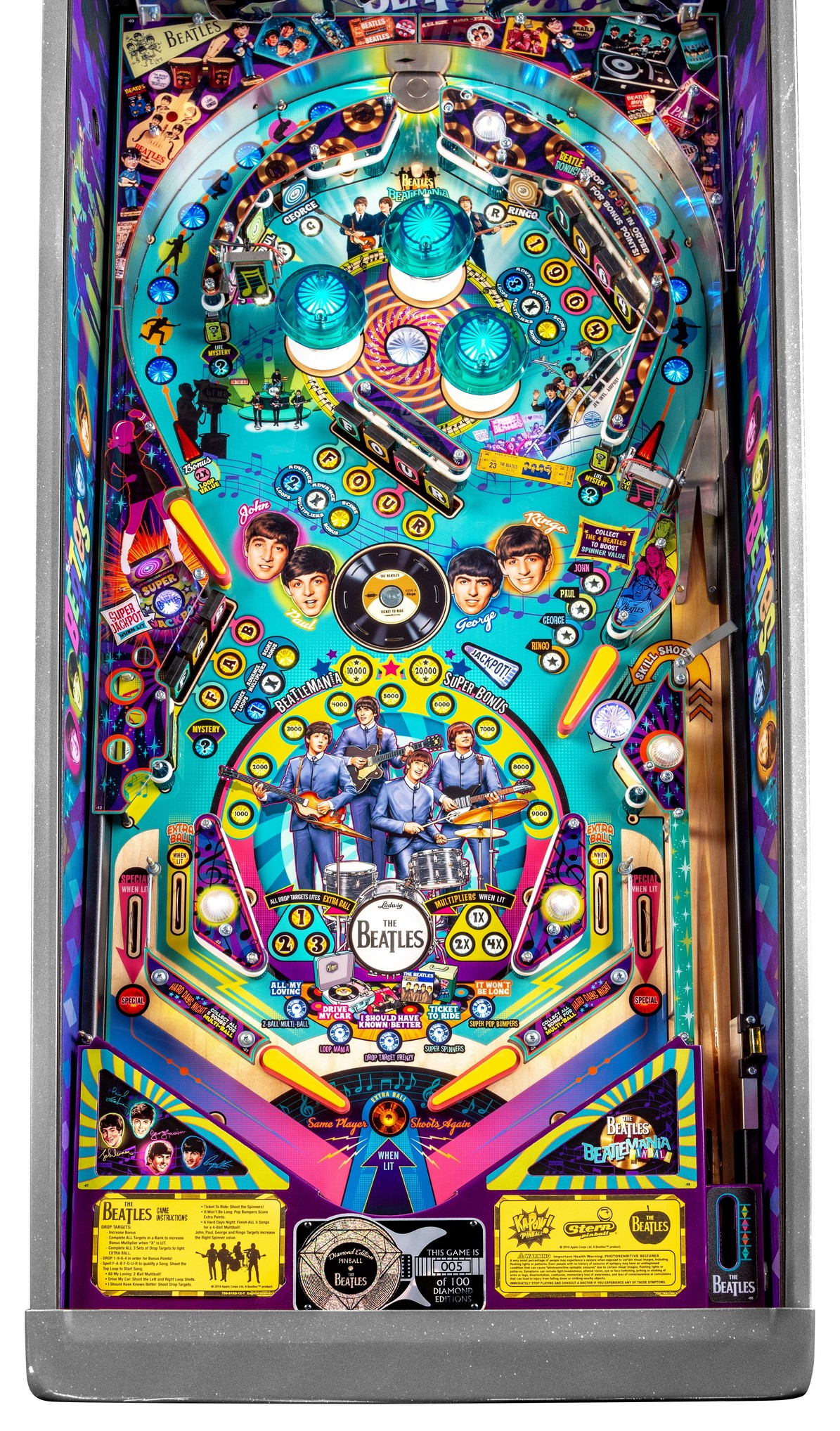 Other pictures were circulating on Facebook and forums that showed a few different cabinet options. Please note – we had heard previously that the Diamond and Platinum versions would have different translite artwork, so it is possible this artwork and/or trim is not current for the Gold and Platinum models. However, these are the pictures that have been widely shared this week, so we will share them here: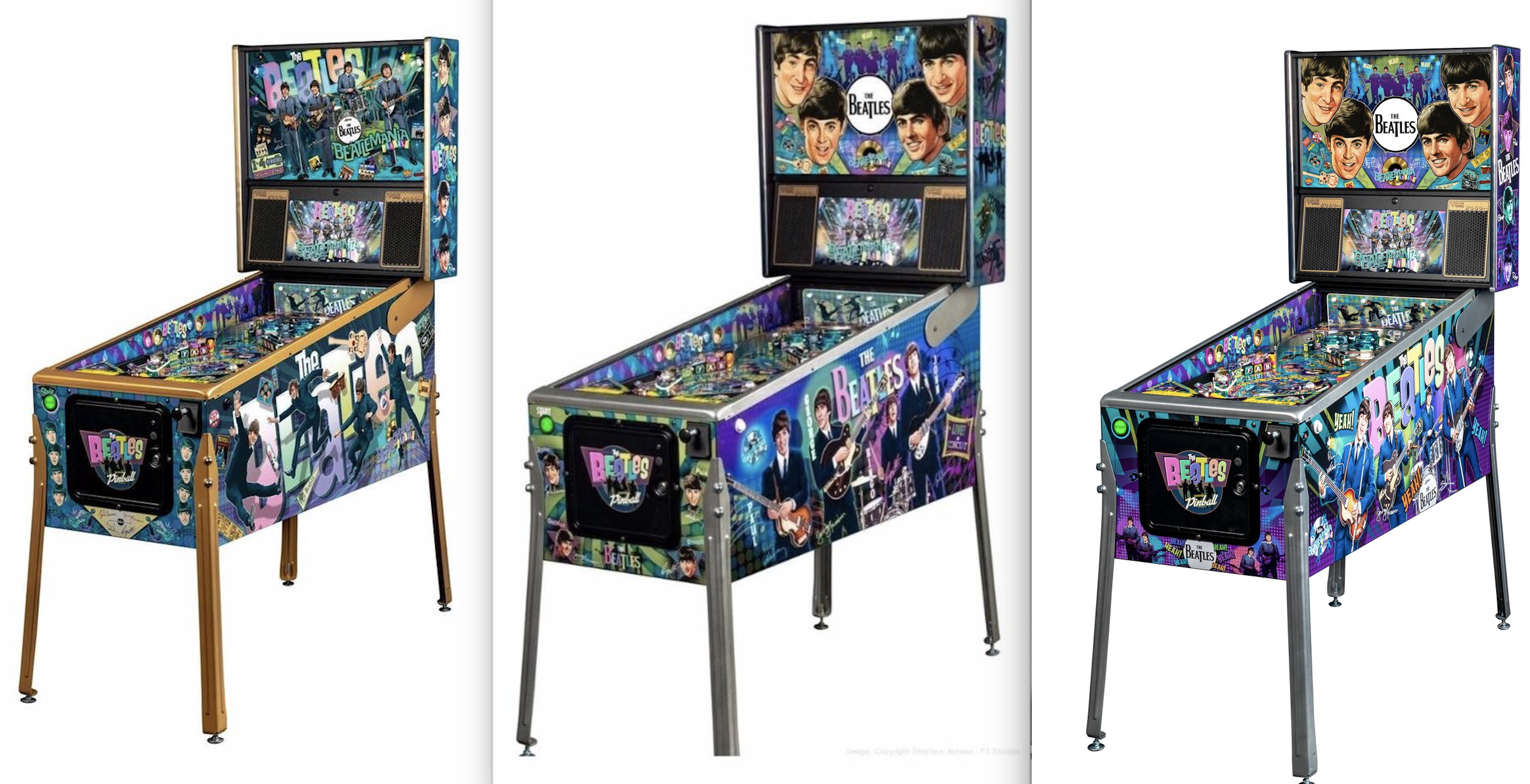 As mentioned, we would not be surprised to see that the official photos and the machines themselves look a bit different for the Gold and Platinum Editions. It is also worth noting that there was a Facebook comment sharing the Gold Edition trim would be sparkle gold, not a flat metallic.
---
As of now, we also know the following:
Availability
1964 total machines made

1614 GOLD Edition
250 PLATINUM Edition
100 DIAMOND Edition

As others have reported, we are also hearing that these are being sold to distributors in packs of 10, which includes 7 GOLD editions, 2 PLATINUM editions, and one DIAMOND edition.
Physical differences between Seawitch and Beatles Playfields:
A spinning disk with a magnet in the middle
A magnet in the top middle of the playfield
Lite Mystery stand up targets at entries to left and right loop (these were just posts on Seawitch)
Mystery Award stand up
A Super Jackpot shot behind the drop targets on the left side
Behind the drop targets on the left that have the Super Jackpot target behind them, there is a path for the ball to return to the left inlane
There is now a one-way gate in the shooter lane
Additional spinner on left side of pop bumpers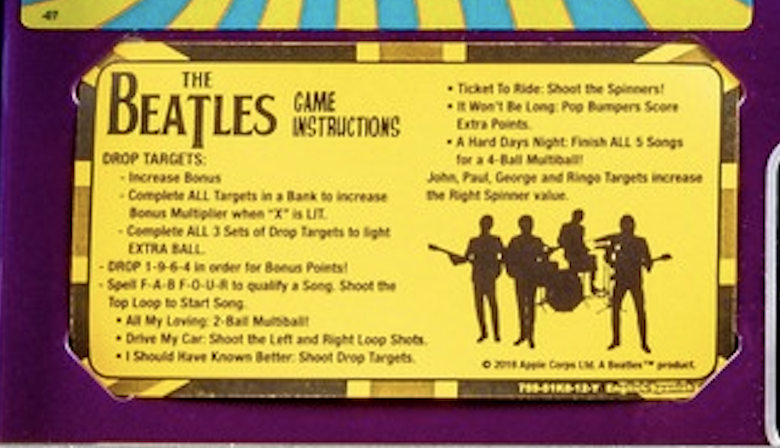 Songs included:
Check out some of the Beatles articles that have appeared in the last week:
The plan is also to have two GOLD editions at the International Association of Amusement Parks and Attractions (IAAPA) show November 13th-16th in Orlando, so get over there and play them!
We should be hearing more details about the Beatles very soon, probably in the next day or two!
---
2. Orin Day on the Slam Tilt Podcast
Our friends Ron and Bruce from the Slam Tilt Podcast interviewed pinball software engineer Orin Day on their most recent podcast! The interview was wide-ranging and went through Orin's career in pinball. Here are just a few of the many interesting tidbits that Orin shared:
Talking about Twister
The other unique thing about [the Twister pinball machine I own] is that the canister in the movie was called Dorothy 2. But because of that and the little Toto style dog that the baby Helen Hunt is holding in the back glass was deemed by MGM to be too close to Wizard of Oz. So it wasn't allowed to be used in any licensing. So we had to change the decal, so it said Lock the balls in "the hole", rather than Dorothy 2, to start multiball.
The other thing that is interesting about this game is that – on the far left side of the backglass, Philip Seymour Hoffman is present. He was in the movie, it was one of his early movies. And we didn't have a contract to use his likeness. He came up to Joe and John Borg at the premiere, and he was so overjoyed to be in a pinball game and where could he buy one [laughs]. So not everyone in Hollywood is out to make a buck.
Talking about Independence Day
A little trivia is that the name "ID4" and that abbreviation came out of our shop. They saw it on the drawings and they said "What is that?" and we said "It is very common in the pinball community to shorten a game to the initials, so we called it ID4." And they ended up using it for a lot of marketing, and we got a special thanks in the movie credits which was a first for us.
Talking about Oktoberfest/Striker Extreme
A story that a lot of people don't know, the original layout for Striker Extreme by Joe Balcer was really Oktoberfest. He wanted to do an Oktoberfest game. And now he has, only 19 years later. And I think you can maybe see – if you were to look at the two side by side – you might see there is maybe a little bit of similarity in where targets are and stuff like that.
Check out the full episode here!!
---
3. American Pinball Updates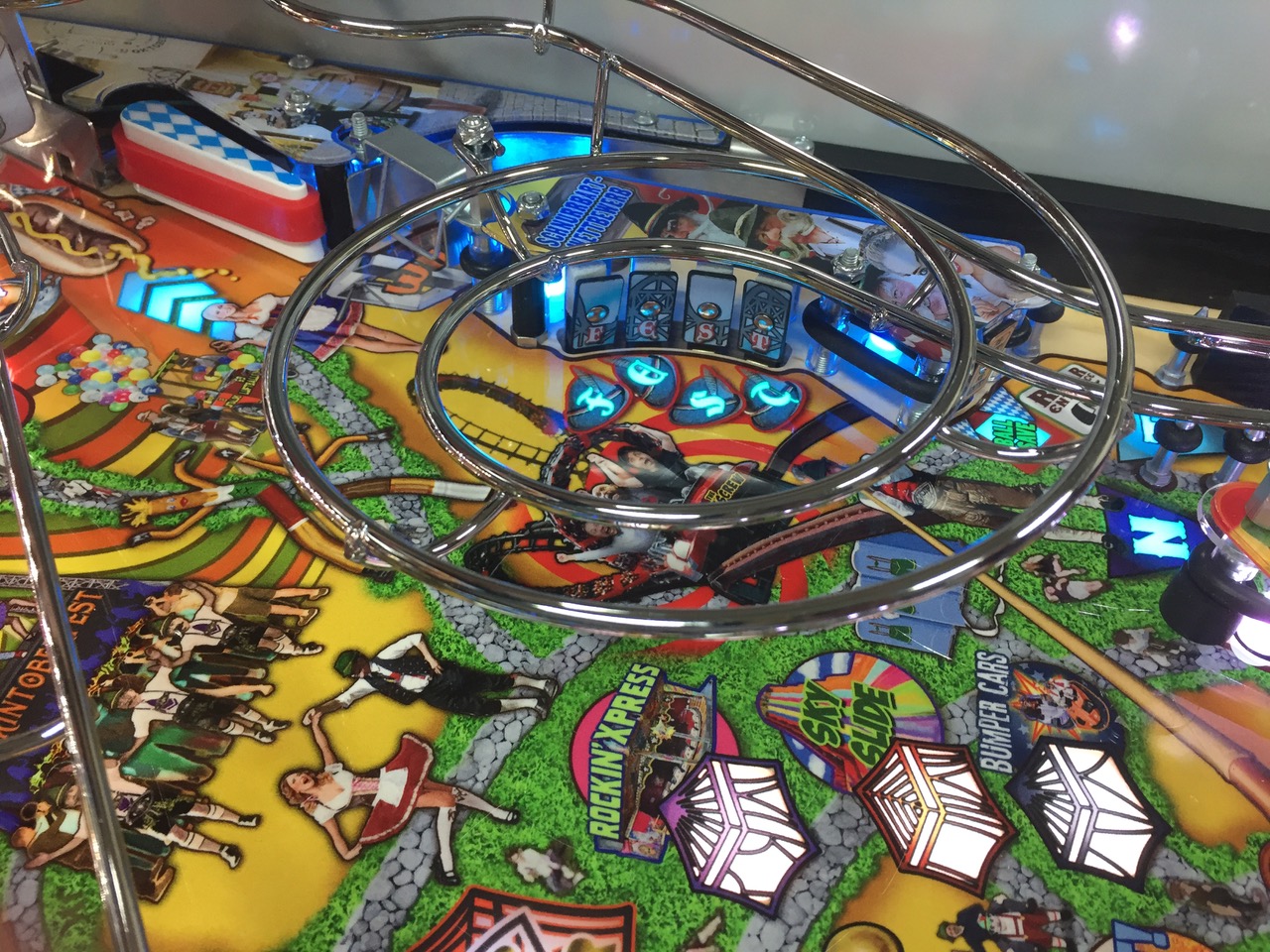 American Pinball is one of the few manufacturers that actively interacts with folks on the Pinside forums. We got a couple updates last week from American Pinball. First, Barry Engler, the Technical Service Manager at American Pinball, shared on this post:
Houdini is now in it's final phase of production, 45 more games until we switch the line over to Oktoberfest…
If you have been waiting to get your Houdini, the time is now. Contact an authorized distributor and buy it now!
Later in the week, Josh Kugler from American Pinball shared the following on this post:
There are a few changes being evaluated (and I'm not talking about the monkey business) from layout to art to voices, etc. Some of these were things we had identified before expo, but wanted to see if there were really a problem or not, some we felt were not an issue, some we felt we needed to take a look at. Can't say we had any real surprises as far as some thing with the layout that was an issue, etc. Joe is trying out a few things and we will then decide what changes need to be made. I have little doubt there were be some changes, just like we had with Houdini. There is always the possibility that it will move production out a couple of weeks, and if so, then it is possible some more Houdini's may get made in the meantime. There is also a window of time needed to convert the line over. Until we move to the larger facility space is a real premium, which makes a lot of this more challenging than it should be, and why we can't be running two games at once, at least for now.
The team behind the code (Ferret and I), music and sound (Matt Kern), Art (jeff Busch) and animations (Ish Raneses) are cranking away so that when games ship the code and the assets are where they need to be to provide the desired experience.
I'm sure we will start to share things as we work through them and get closer to production.
If there is one thing we have been over the last week or so, is no matter what we do, what changes we make, not everyone will be happy, but that is no surprise when it comes to pinball. But I am pretty pleased where we are and where we are heading.
Finally, American Pinball showed off their Houdini Topper: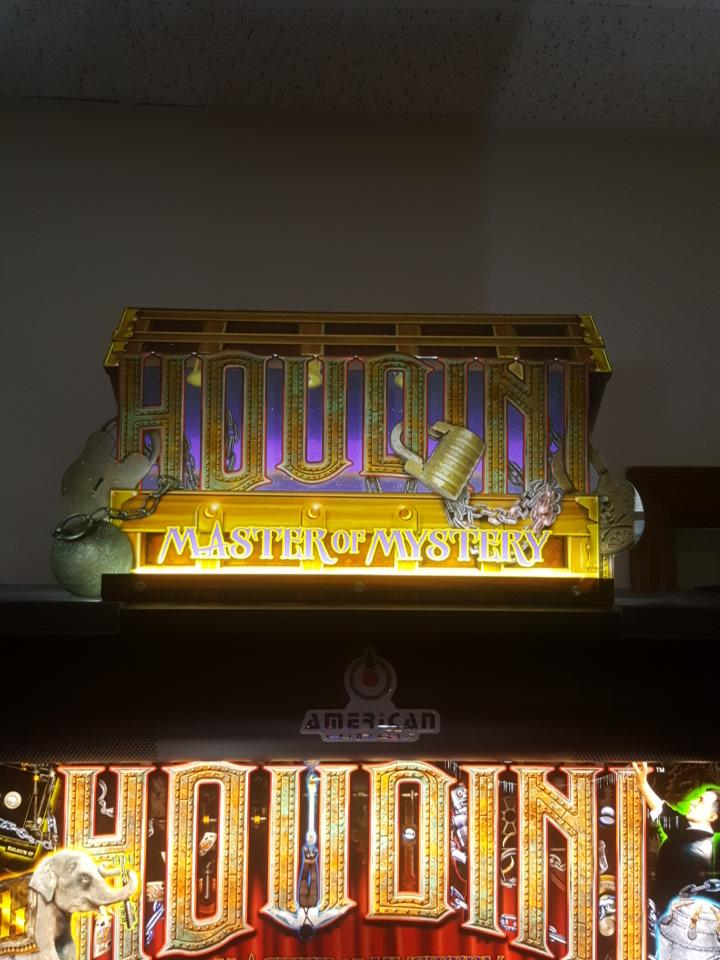 You can find more information on the topper here!
We'll keep you updated here at TWIP with Oktoberfest developments and other information as American Pinball transitions from manufacturing Houdini to manufacturing Oktoberfest. Stay tuned!
---
4. Bill and Ted's Excellent Adventure Pinball: Real or Fake?

A post was made on Facebook, believed to be posted by Dead Flip, and then the post was quickly deleted. It showed the image above – Bill and Ted's Excellent Pinball Adventure. As a pinball community, what did we do? We shared it all over the place, we speculated on who the designer is, who the artist is, likely release dates…you know, the usual! 🙂
So what to make of this? Remember that the Stern "troll game" is on point and they like to tease. Plus sometimes they may want to see how we – the hobbyists – react. Examples of them having fun with teases include Keith Elwin as a Stern employee wearing a Jaws hat to Pinburgh, their team recently visiting Hogwarts and posting it on Facebook (that one made me cry on the inside a little bit), and any time Gary Stern gets a picture taken with anything to do with any license that hasn't been made.
This artwork looks to be pulled from the Bill and Ted's Most Excellent Collection movie poster advertising a Blu Ray that came out a few years ago. You can see the artwork here. It appears this is…FAKE (confidence 98%).
But hey, there is a new Bill and Ted's movie coming out called Bill and Ted Face the Music. Maaaayyyyyybbbbeeeee a pinball machine will launch in conjunction with the release of that in 2020ish? You never know…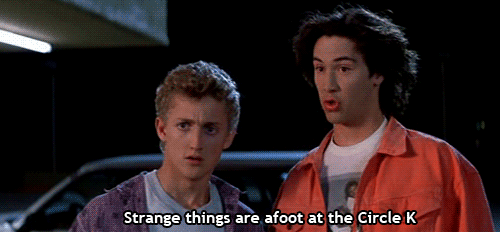 ---
5. Monster Bash Remake Overview and Review – SDTM
Our friends Zach and Greg from Straight Down the Middle: a Pinball Show released a Monster Bash Remake Overview and Review last week. It is some of the best looks of the game we've seen so far – check it out!
---
Get alerts for new posts from This Week in Pinball – follow us on Facebook, Twitter, or sign up by email:
---

— What Else You Need to Know Today —
Joe Kaminkow Interview on Head2Head Pinball
Our friends Martin and Ryan C. interviewed Joe Kaminkow for their podcast episode today! Some of the topics covered include:
Why Stern/Kapow choose an older game to base the Beatles off
What other older Stern electronics games where in contention
Licensing story
Will Beatles have a coin door?
Will the full songs be in there?
When production starts
Make sure to listen here – should be live this morning!
---

Identify the pinball machine pictured below for a chance to win a limited This Week in Pinball Lapel Pin! Drawing will be held monthly!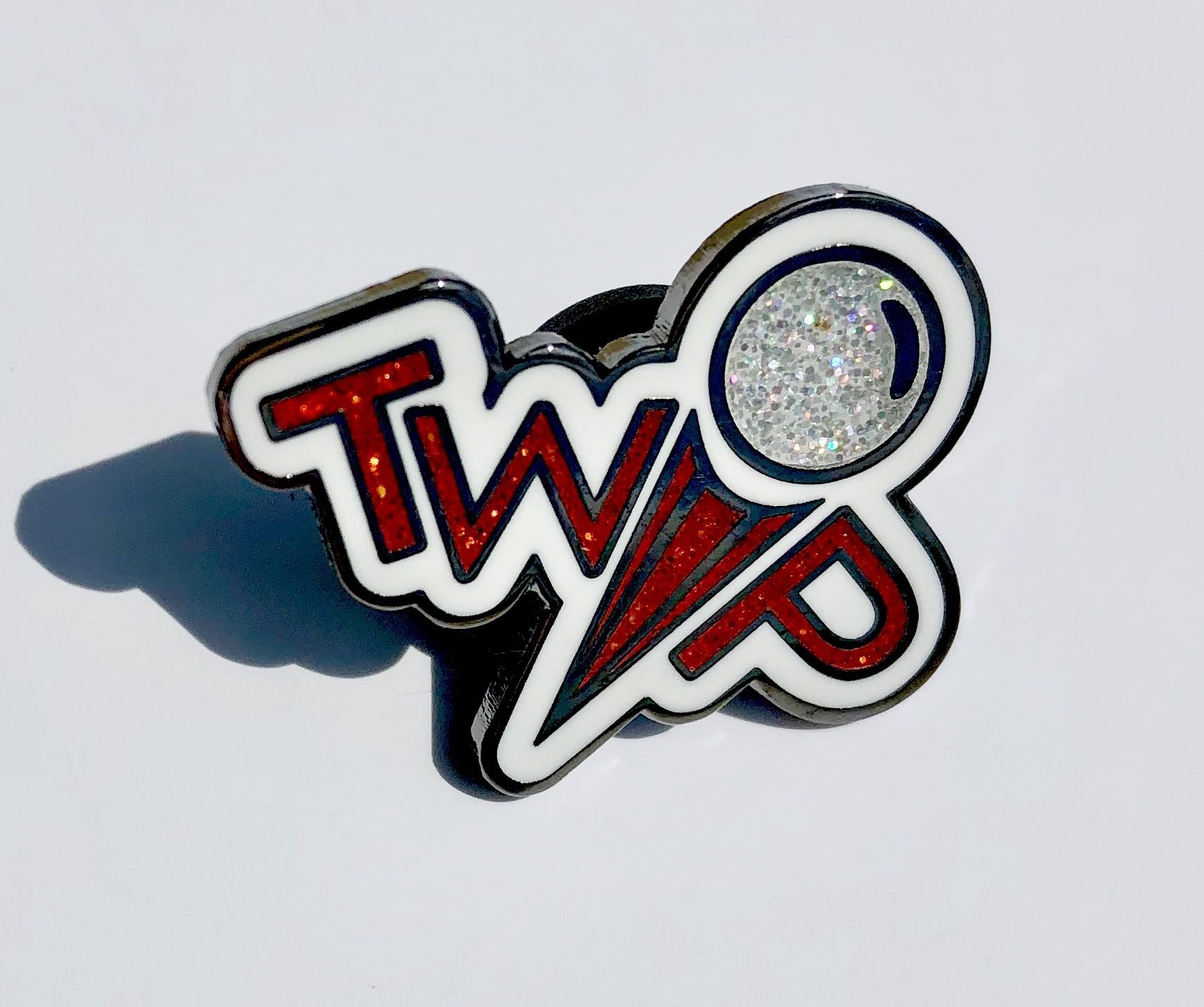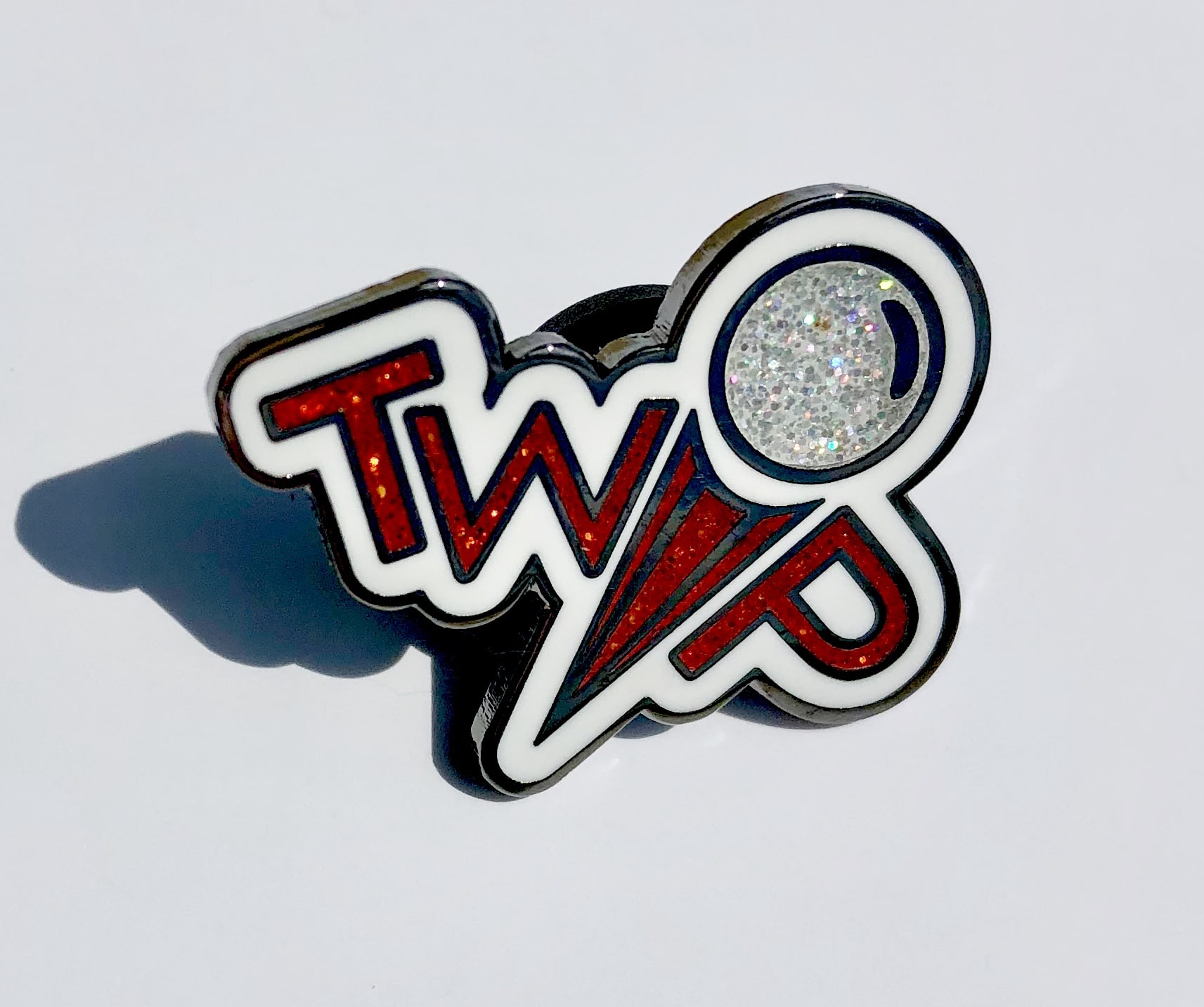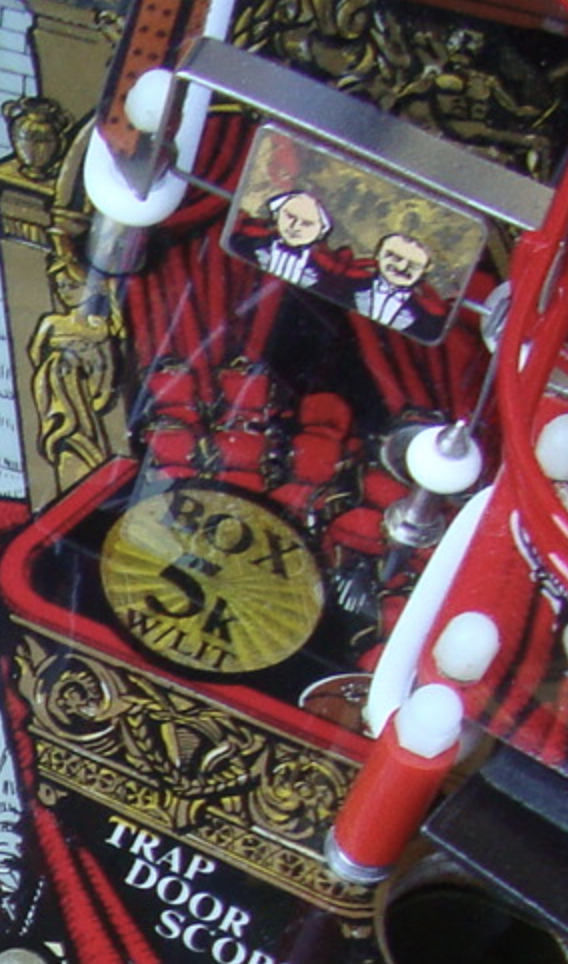 Last Week's answer: The Getaway
Email guesses to thisweekinpinball@gmail.com, correct answers will be entered into the drawing for the limited TWIP Lapel Pin!
---

— Presented By —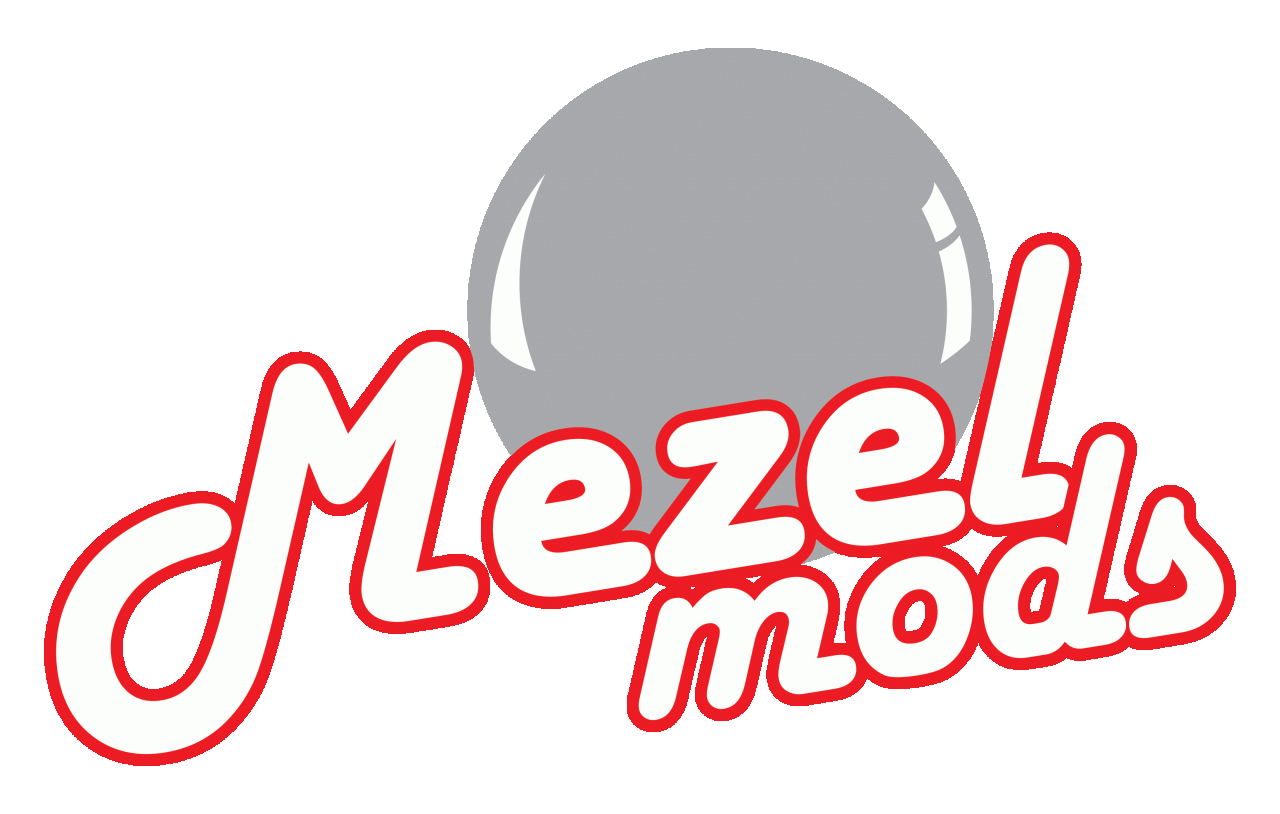 This week's Mod of the Week is the Metallica Pinball Flashing Cemetery Arch from Mezel Mods!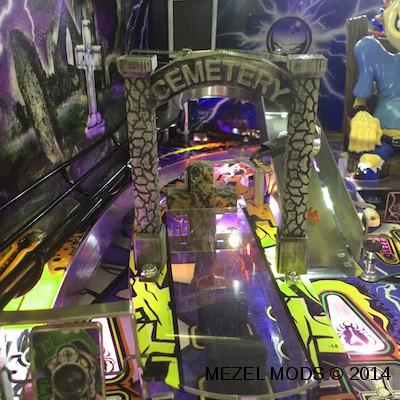 New design! A staff favorite, our Metallica Pinball Flashing Cemetery arch is grey with black accents and red lights that flash during game play. The Metallica Pinball Flashing Cemetery is a perfect accent to the games cross drop target. (Note: this product is not compatible with Pinball Refinery's UV Light Kit.)
---
Get alerts for new posts from This Week in Pinball – follow/like us on Facebook, Twitter, or sign up by email:
Disclaimer

: Any articles, interviews, or mentions of pinball manufacturers or pinball products is NOT an endorsement.
Have a scoop or anonymous rumor? Email us at thisweekinpinball@gmail.com
---

Stern Pinball
Most Recent Titles
Aerosmith | AC/DC Vault Edition | Star Wars | Guardians of the Galaxy | AC/DC Luci Vault Edition | Iron Maiden | Deadpool
Announced/Confirmed
The Beatles | Elvira 3
Rumors of Future Titles
Primus? | The Munsters? | Steve Ritchie Black Knight 3000? | Superman 1978? | Beetlejuice? | Godzilla?
Jersey Jack Pinball
Most Recent Titles
Wizard of Oz | The Hobbit | Dialed In | Pirates of the Caribbean
Rumors of Future Titles
Willy Wonka? | Toy Story? | Guns N' Roses?
Chicago Gaming/Planetary Pinball
Most Recent Titles
Medieval Madness Remake | Attack From Mars Remake
Announced/Confirmed
Monster Bash Remake
Rumors of Future Titles
Cactus Canyon Remake? | Theatre of Magic? | Big Bang Bar Remake?
Spooky Pinball
Most Recent Titles
Rob Zombie's Spookshow International | Dominos (*contract game) | Jetsons (*contract game) | Total Nuclear Annihilation (*contract/house game) | Alice Cooper's Nightmare Castle
Rumors of Future Titles
Licensed Title | Scott Danesi Second Game
American Pinball
Most Recent Titles
Houdini
Announced/Confirmed
Oktoberfest
P3 (Multimorphic)
Most Recent Titles
Lexy Lightspeed | Cannon Lagoon | Cosmic Cart Racing
Team Pinball
Most Recent Titles
The Mafia
deeproot Pinball
Announced/Confirmed
Fire and Brimstone | Retro Atomic Zombie Adventureland | Magic Girl | Alice in Wonderland | Dennis Nordman Unlicensed | Dennis Nordman Unlicensed 2
Circus Maximus
Announced/Confirmed
The Pinball Circus Remake | Kingpin
Homepin
Most Recent Titles
Thunderbirds
Rumors of Future Titles
Unlicensed Title
Suncoast Pinball
Announced/Confirmed
Cosmic Carnival
Great Lakes Pinball
Announced/Confirmed
Exposé
Haggis Pinball
Rumors of Future Titles
Unknown
Pinball Brothers
Rumors of Future Titles
Queen? | Barry Oursler's Original Theme? | Playboy?
Dutch Pinball
Most Recent Titles
Bride of Pinbot 2.0 | Bride of Pinbot 3.0 (on hold) | The Big Lebowski (production/legal issues)
Silver Castle Pinball
Announced/Confirmed
Timeshock
Phénix Pinball
Announced/Confirmed
Goblin Contest
The Pinball Company
Rumors of Future Titles
Scooby Doo?
Get alerts for new posts from This Week in Pinball – follow us on Facebook, Twitter, or sign up by email: