25. The Antici…
…pation. The build up for months and months and months, waiting for March 16th to finally get here. I figured that was half the fun, but then the show exceeded my expectations.
24. The Food and Drink
Everywhere you look there was delicious food or a cold libation. I feel like I need a diet detox after that weekend of indulgence.
23. The Pong Table

A physical Pong table. Have you seen this? Like a coffee table with a working Pong game inside. It spawned from this Kickstarter campaign, check out the video of this thing!
22. The Weather
Hey, I'm from Indiana. It was 25 degrees when I went to the airport. 80 felt pretty good, even if I was inside for most of the weekend.
21. So Many Pinball Machines
Over 400. A bunch I had not played before and had never seen. As far as the eye could see, it was glorious.
20. Restored Machines
I've always wanted to completely restore a Williams game. Like HEP quality. Ok, not that good, but a really nice restore. I probably never will because I know me, I'll get in over my head and drive myself crazy trying to make every single thing perfect, then never play it if I ever finish it. But it is fun to dream about it, and the restored machines at TPF are incredible (see: Indiana Jones).
19. Jack Danger Streaming
Who is the tall guy walking around talking to his phone?? It's Jack Danger streaming live for the pinball world! Seriously, he streamed for like 15 hours over the course of the weekend. Thanks for all you do for pinball Jack!!
18. deeproot Pinball Signs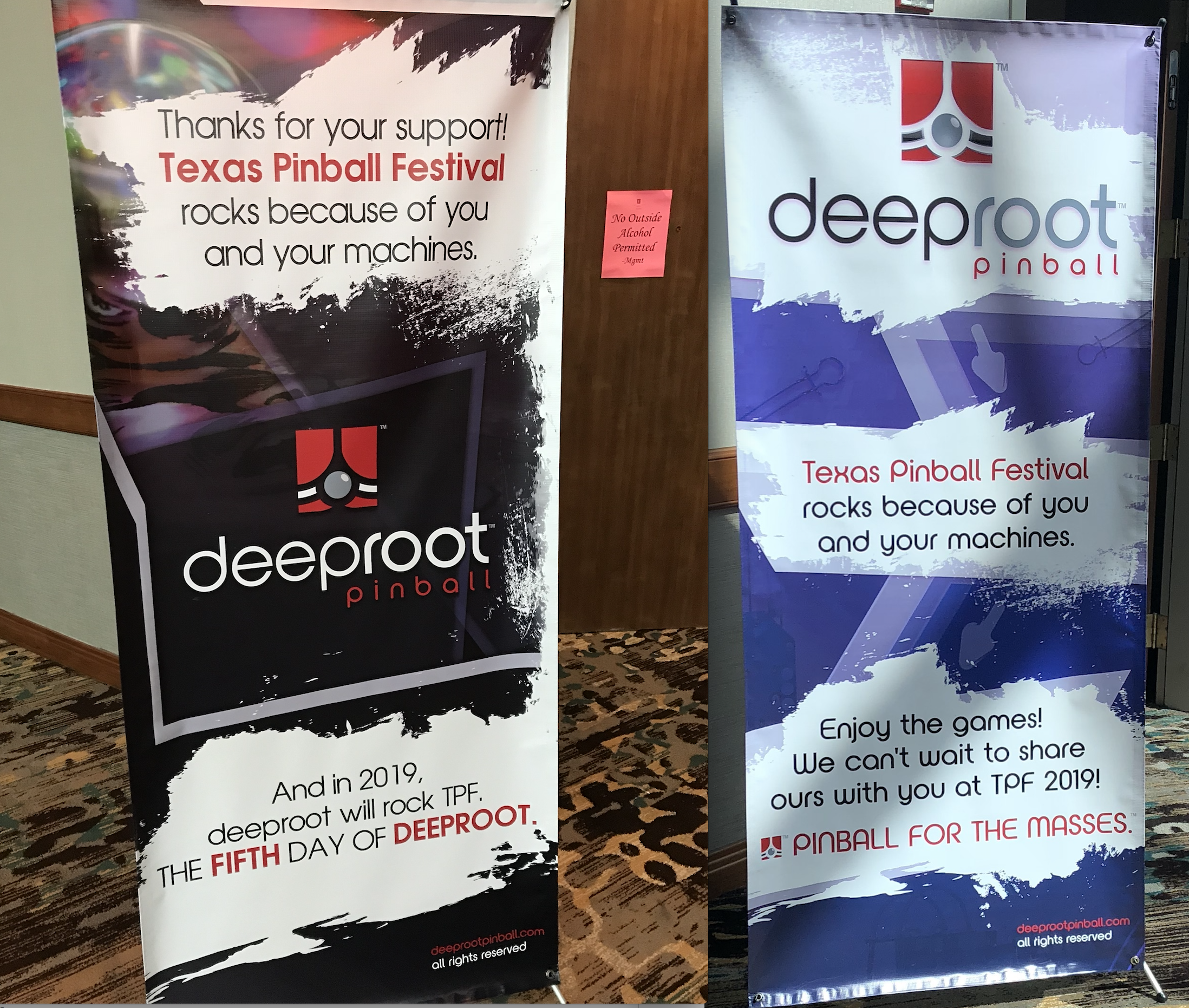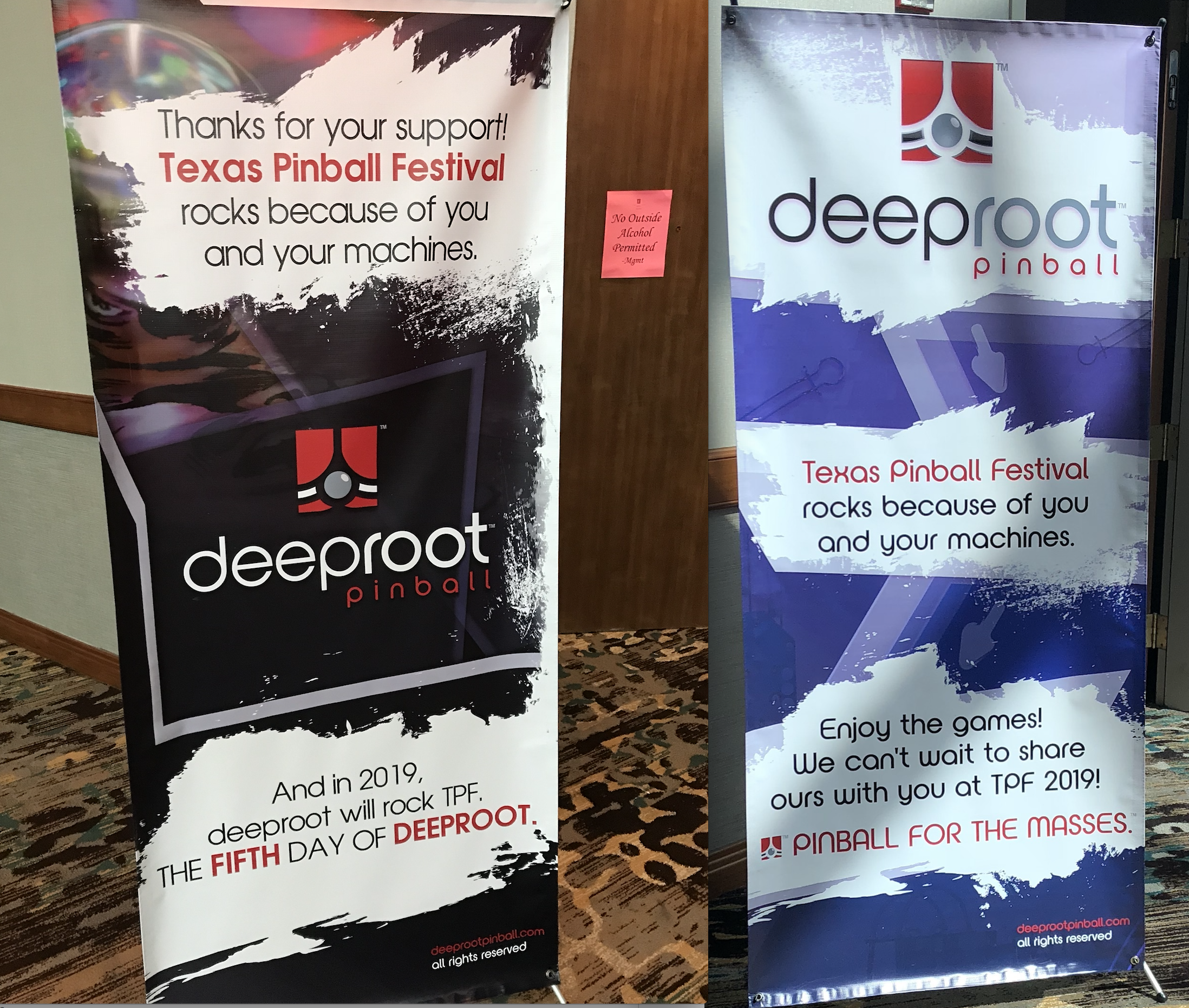 deeproot Pinball announced on the banners at Texas Pinball Festival that they plan for their "5 days of deeproot" to end with their official launch at TPF 2019. Love them or hate them, they are good material for pinball news!
17. Kosmic Khaos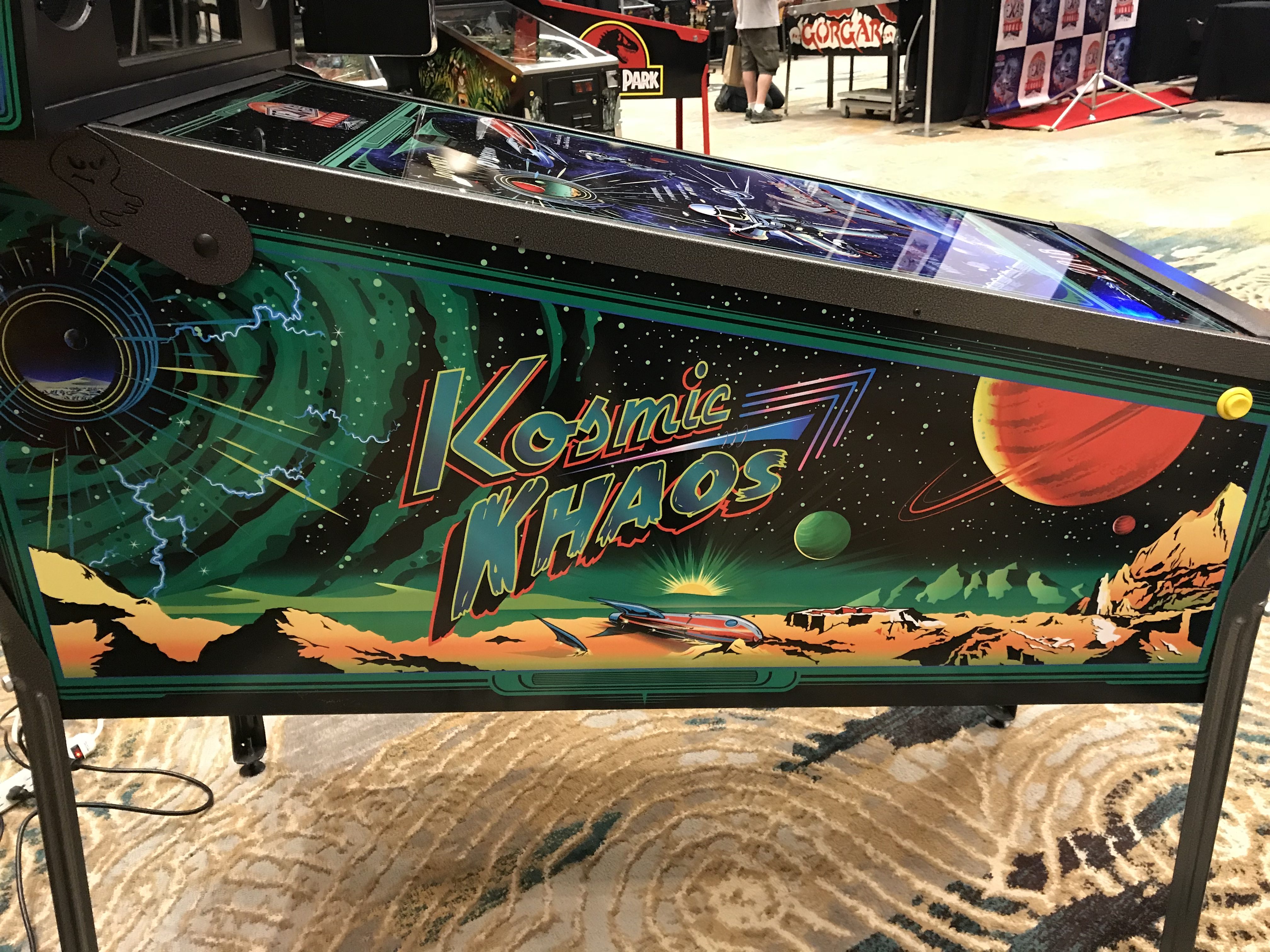 Will this be a real pinball machine, or is it just a theme? They have spent quite a bit of time on it…and Mark Ritchie is designing a playfield…I think they want to get this thing built. Will it happen? 50/50.
16. The Vendor Booths
I've never been to an exhibit hall where I was interested in ALL the vendors and what they were selling! I'd miss some if I started listing my favorites, but you could spend a full day just shopping around for all the cool pinball stuff.
15. Butter Cabinets
This was my first time seeing the Butter Cabinets from Spooky Pinball in person. Total Nuclear Annihilation Butter Cabinet? Really really nice and absolutely beautiful. Alice Cooper's Nightmare Castle in the Butter Cabinet? I don't know what to say, probably the most "quality" cabinet I've ever seen. The colors are insanely vibrant and stand out. It's glossy. Is it worth an extra $1,000? I can't believe I'm saying this, but yes, it definitely is. It is gorgeous. I could go on but you get the point.
14. People Knowing This Week in Pinball
Everyone likes positive feedback, right? Yes this is self indulgent, but it was great hearing from people that enjoy the site.
13. People Pretending to Know This Week in Pinball
"Hi, I'm Jeff from This Week in Pinball." … nodding, pregnant pause … "Oh…right, I love that podcast!" 🙂 (We don't have a podcast. Yet.)
12. Multimorphic P3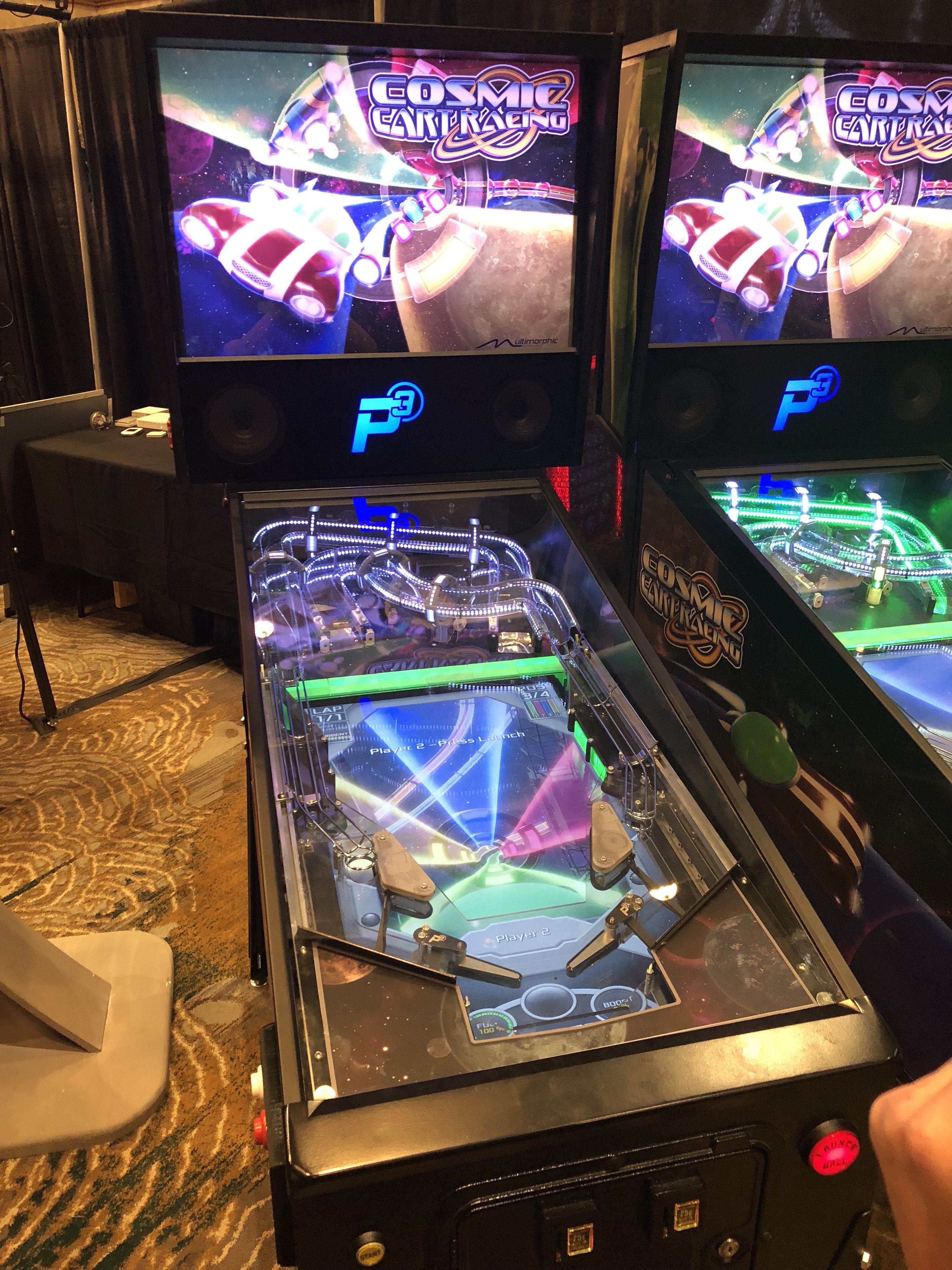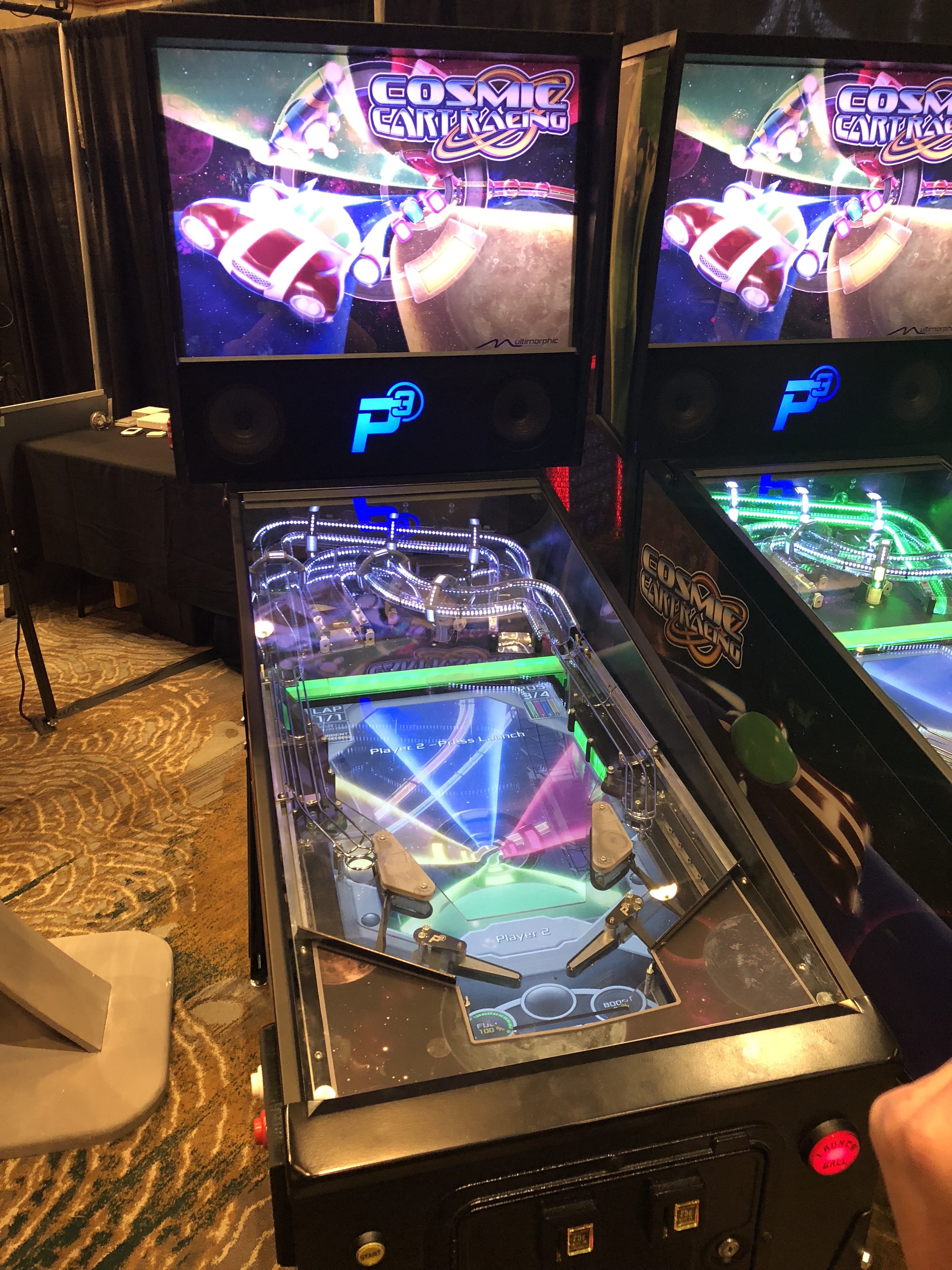 This was my first opportunity to FINALLY play the Multimorphic P3 platform! Very cool idea. The ramp on Cosmic Cart Racing with the magnets is super cool. The flippers take a little getting used to, or at least they did for me. Very cool innovations. More on this machine in a future article.
11. Total Nuclear Annihilation
My first time playing TNA. I'm in line, get to the front, and ask the guy behind me about doing a two player game (because TNA feels like a multiplayer game). Had a blast. Is there a better experience in pinball right now, between the sounds and the lights and everything else with this machine?
10. Total Nuclear Annihilation Whitewood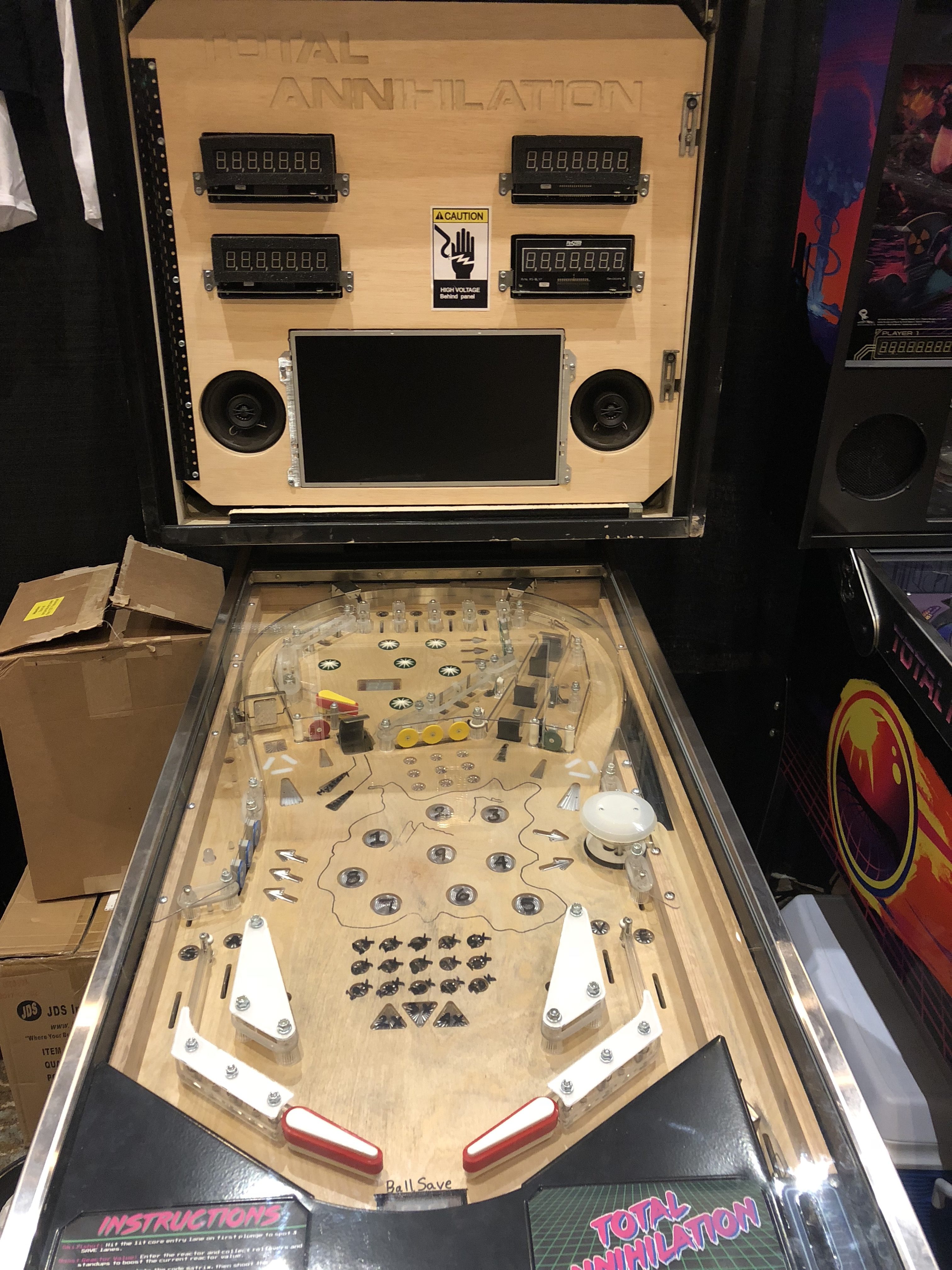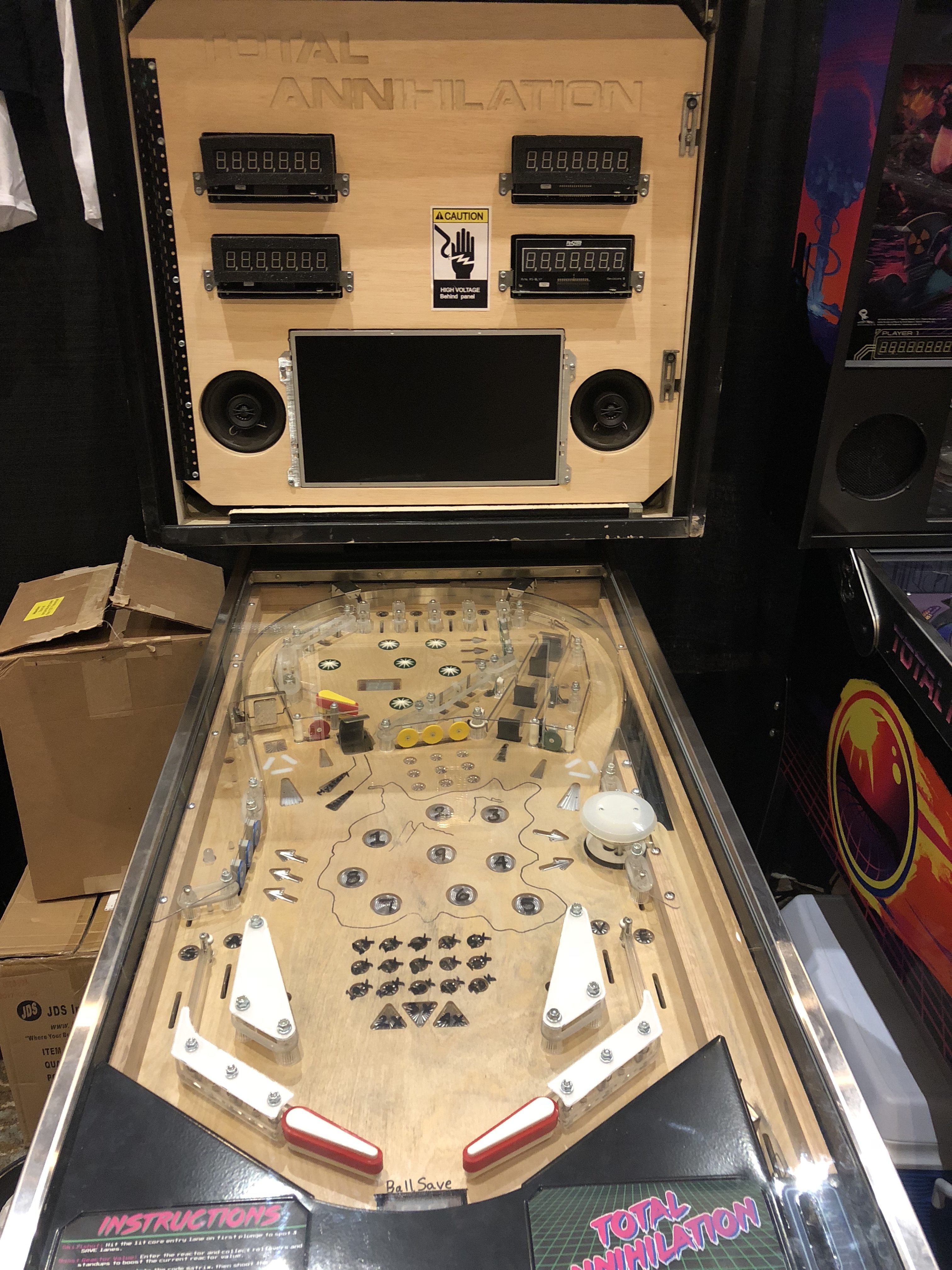 My first picture I took inside the TPF exhibit hall. I walked past a bunch of machines, but this one I nerded out on. It is just so cool to see this and know that someone put all the effort into it, and it was turned into a mass produced pinball machine.
9. Pirates of the Caribbean
My first time playing it. It is in the realm of Wizard of Oz, it is a masterpiece of a pinball machine. The attention to detail is incredible. Tons of shots, tons of code. Always had a long line, the whole weekend.
8. My First New in Box
I've got pinball money burning a hole in my pocket! I looked at a bunch of different machines. Houdini, Pirates, Total Nuclear Annihilation, Kingpin, Alice Cooper, Guardians of the Galaxy and decided on…Dialed In 🙂
7. Interaction with Non-Pinheads
Two stories:
UBER: The Uber driver asks my why I'm here. For a pinball show. Really? Yes. And you flew here for a pinball show? Yes. I actually also run a pinball website too. Oh…um…cool. Well it is nice when people are passionate about something.
WAITRESS: Setting the scene, I am at a table with Zach from Straight Down the Middle, Christopher Franchi, Chris (Kaneda), Lyman Sheats, Jack Danger, Ryan C. from Head2Head, and Blake D. (who did the art for Kosmic Khaos). It is getting late and I look around and realize we are the last people in the restaurant. We've all been talking loudly about pinball for the last hour or two, and Kaneda is in the middle on some very loud rant. The waitress comes to my side of the table and asks if she can take my plate. Do you think we're crazy? No, not at all! You don't think we're crazy, arguing about pinball? No, definitely not. Really? [looks directly at me] Yes, this is crazy, I can't believe you're all this into pinball.
6. Stern Seminar
No, they didn't announce a new game. But that seminar still had some meat on it and wasn't much fluff. They shared:
Brian Eddy hired by Stern as Senior Designer

Iron Maiden/Titanium Man (likely) coming in April

Elvira 3 is still in the works, will come out
5. Face-timing with my cats
Hahaha, just kidding! Total kidding! Right? Right??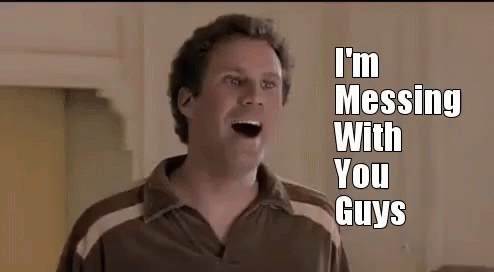 Maybe I'm not though.
4. Kingpin
Kingpin is one of the machines like King Kong, most of us have never seen one before. To see one and get to play it was special. Even better…it is a fun shooting machine! If you like flow, you'll like this machine. And when they add the new code and graphics…I can't wait to see when it is fully finished!
3. Alice Cooper Nightmare Castle Reveal
Really this is #3?? I'll save my full thoughts for a later article, but I think Spooky took things to the next level with this machine. It is beautiful and though I didn't get much time on it, it was a thrill being at a show and getting to play a machine that had been released less than an hour earlier.
2. Bowen Kerin's Live Tutorial and Destroying Reactor Nine
This will be one of the most memorable parts of the trip for me. First, seeing a live Bowen tutorial was a little surreal. Yes, he is as good as he is in his videos. I've never seen someone play like that. And for him to get a standing ovation, and destroy reactor nine on Total Nuclear Annihilation, it was just fun to be there to witness it!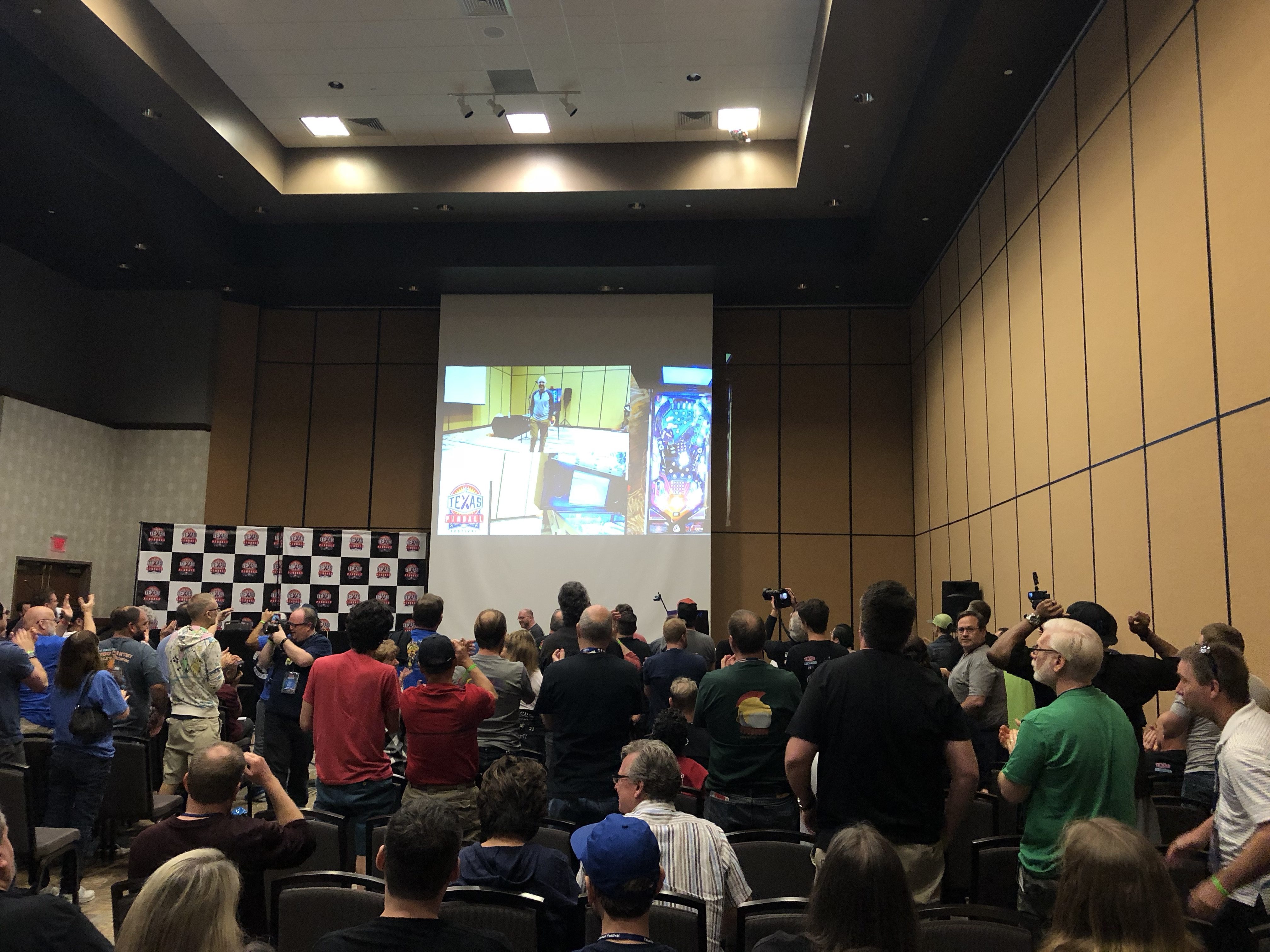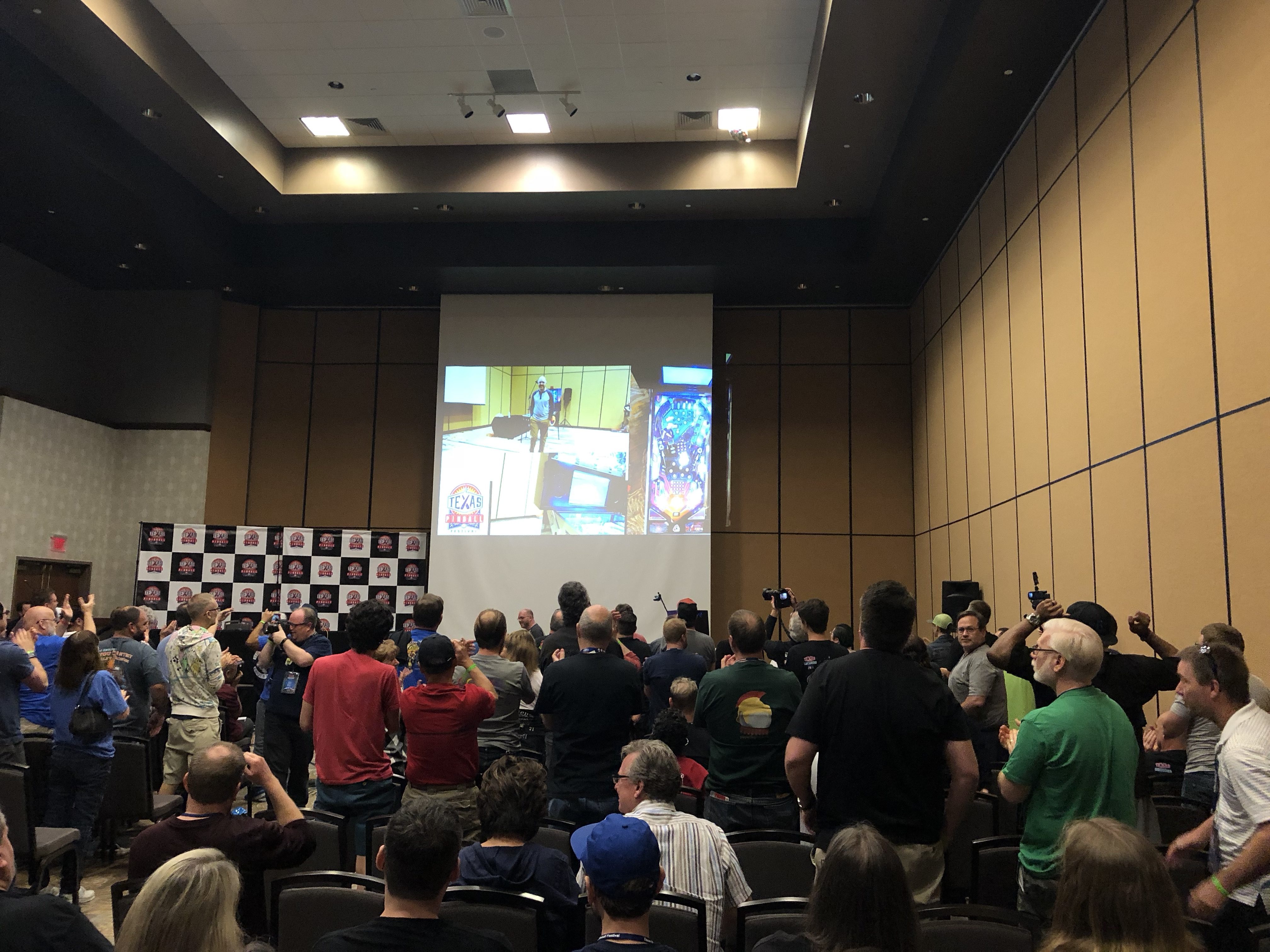 1. The People
So cliche, but 100% true. I had a great time meeting people and hanging out…with Zach from Straight Down the Middle, Ryan C from Head2Head Podcast, Jack Danger from Dead Flip, Chris from the Kaneda Pinball Podcast, Blake Dumesnil, Joel and Dana Reeves who produced the Spooky Documentary, Bowen Kerins, Kristin Mezel from Mezel Mods, Christopher Franchi, Lyman Sheats, Scott from Pin Stadium Lights, David Thiel, Eric Meunier, Scott Danesi, Charlie Emery, Bug, Robin and Martijn from Pinside, Ryan Claytor, Larry from Flip N Out Pinball, Tony and Dennis from the Eclectic Gamers Podcast, Paul and the gang from Circus Maximus, the folks from American Pinball, and SO many others to list. It was my favorite part of the show.
Honorable Mention:
Nap on Sunday.
---
Get alerts for new posts from This Week in Pinball – follow us on Facebook, Twitter, or sign up by email: