Jurassic Park and Willy Wonka Updates | Keith Elwin Interview | Interviews with Rick Naegele and Harrison Drake | Rules Updates | Playfield Issues Update | TOPcast Discussing Clear Coats | Interview with Barry Driessen | Jersey Jack Pinball Timeline Changes | Punny Factory New Info | Insider: More Licensing Challenges, Industry Changes Coming
Please note: TWIP is listed as Questionable for next week – life is getting in the way of TWIP right now, but we'll be back 100% soon! The August Giveaways, including the Pin Stadium Winners will be be announced soon, as will the September giveaways!

— This Week's Top 5 Stories —
---
1. Jurassic Park and Willy Wonka Updates
We have had a lot of updates in the last couple weeks regarding Jurassic Park and Willy Wonka!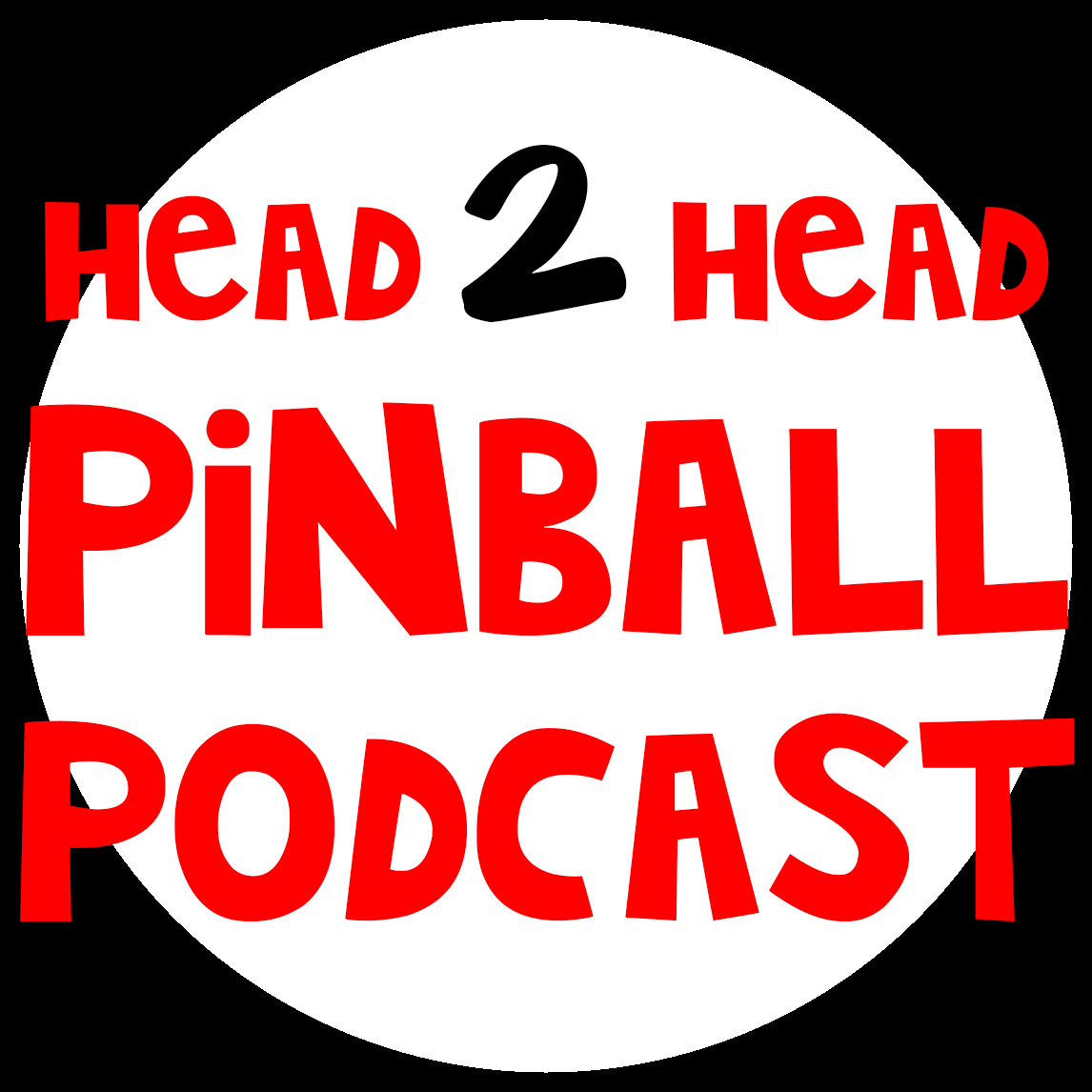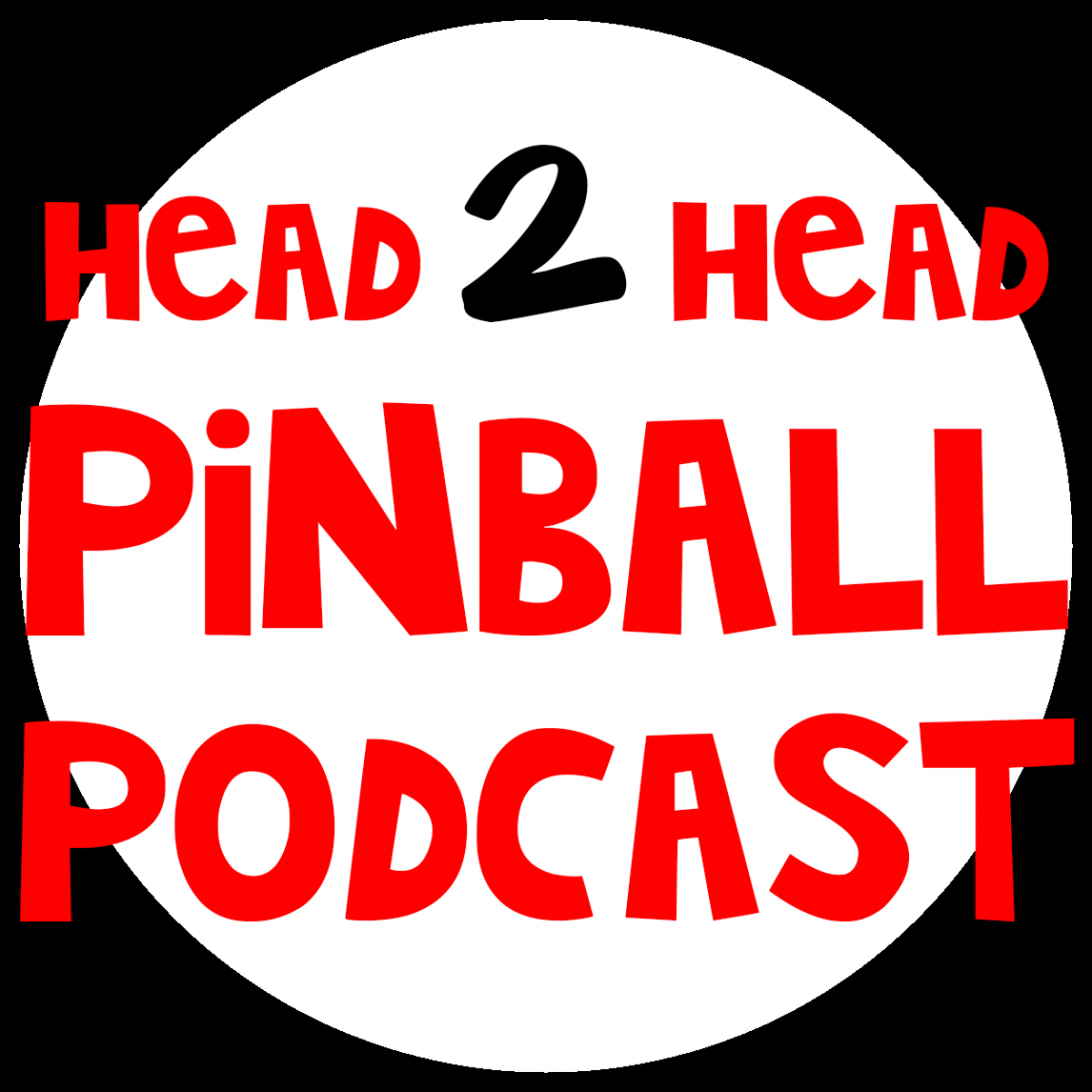 Keith Elwin Interview on Head2Head Pinball:
Our friends at the Head2Head Pinball Podcast had a very insightful interview with Keith Elwin recently. Elwin talks the rules of Jurassic Park, unique parts of the design, the assets on the displays, and much more – here are just a few highlights!
Thoughts on taking Archer to Iron Maiden, the success of Maiden, and then taking the next step to the next game:
It was a bit of a learning curve.  When you're doing your own home-brew, you are just doing whatever you want in your garage at your leisure, you're not worried about licensors.  Obviously since Archer was a whitewood, didn't have to deal with artist approvals and whatnot.  That is actually the biggest learning curve there is.  That and – coming to a company like Stern, suddenly I have all these guys [asking] what do you want me to do…and I am used to doing everything myself…so it was a big system shock working from a home-brew where you're doing literally everything to having a team of people to make your life easier.
On shooting the loops on Iron Maiden:
I don't know if you remember, but when the game first came out people were shooting the loops like crazy.  And I'm sitting there watching these videos and I'm playing the one in my office and I'm like, wow, I get like three in a row and the ball gets going so fast that I can't do it anymore.  So we actually – probably nobody knows this – but on the back of that game on the back panel, there is a screw.  And what that screw does is it adjusts that loop speed.  So you can turn that screw in a little bit and it will slow the ball down coming around that loop.  I've never told anyone about this.
On the Jurassic Park design:
I was told it was going to be Jurassic Park. There is a little bit of history with this title and basically, I ended up doing it. I wasn't originally supposed to do it but I ended up taking and – so I had nothing planned out for it, so it really was a "quick to whitewood" stage game that I didn't really get to plan out for too much. Now my next title I've known about it for three months, so this one I'm having a little more time to plan out. But that can still bite you in the @ss so we'll see.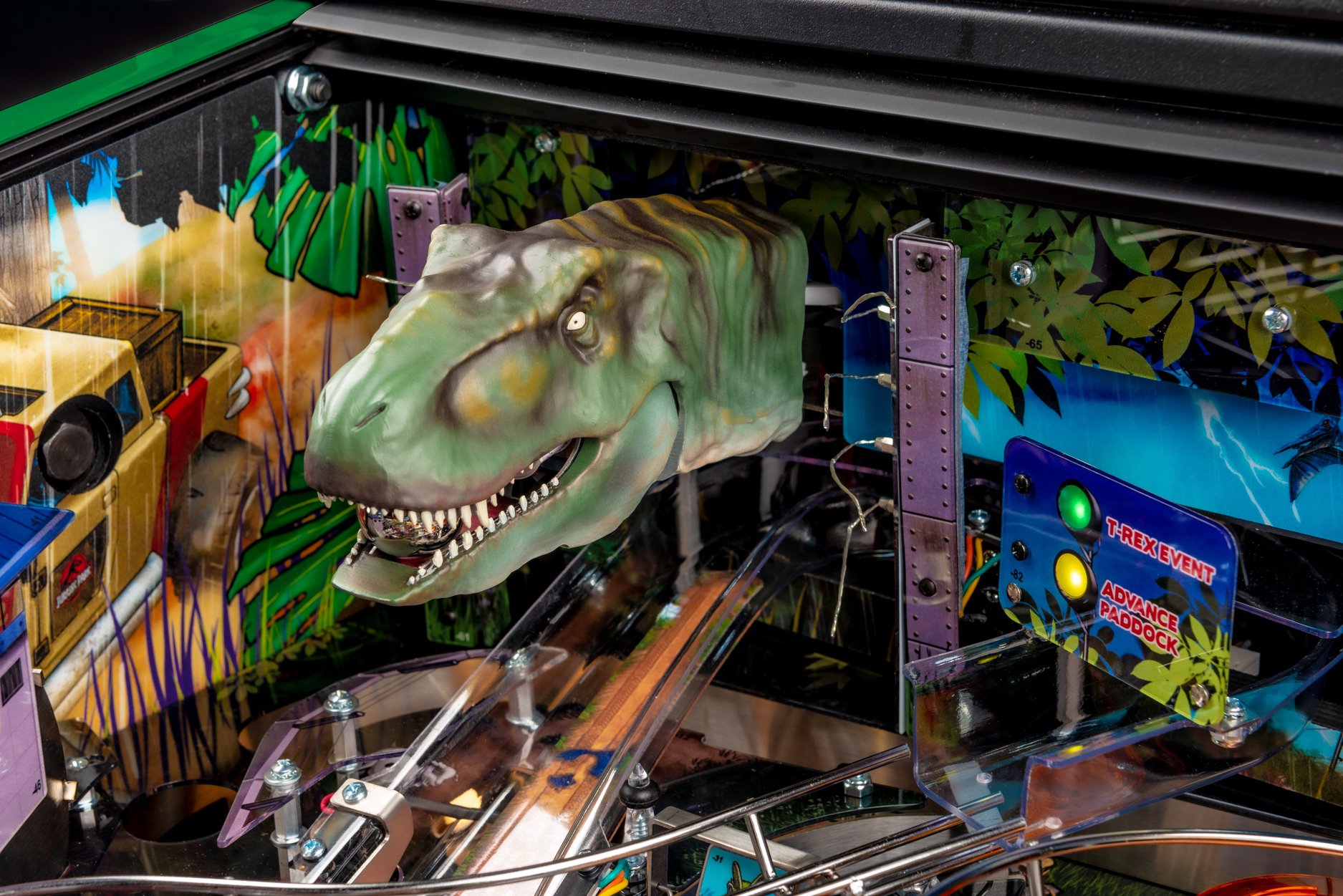 On the T-Rex toy:
When I first started the project, Gary [Stern] and George [Gomez] were both like "it's gotta have a T-rex, gotta have a T-rex…", so I was like alright.  So I designed the playfield and I was like "I'll stick a t-rex in the upper left corner somewhere".  And then I got the layout all done and thought this thing shoots great, [but I] still need to get a T-rex in there somewhere…so I told Harrison, my engineer, "design the most expensive T-Rex you can and that way we've done our job and they can pull out whatever they want".  So that is what he did, and he came back and the sales team saw it and they're like "that is staying, that is awesome, that is amazing".
Check out the full podcast here!!
Stern Insider Pinball Podcast with Rick Naegele and Harrison Drake
Our friends at the Stern Insider Pinball Podcast also recently interviewed Rick Naegele (lead programmer on Jurassic Park) and Harrison Drake (lead engineer on Jurassic Park) – click here to sign up to be a Stern Insider!
Willy Wonka and Jurassic Park Rules
As people are figuring out the rules more on these two games, in-depth rulesheets are being developed on Tilt Forums – click here for Willy Wonka and click here for Jurassic Park!
If you'd like to view TWIP's DEEP DIVE of the rules of these machines which includes code details with pictures, click here for Willy Wonka and click here for Jurassic Park!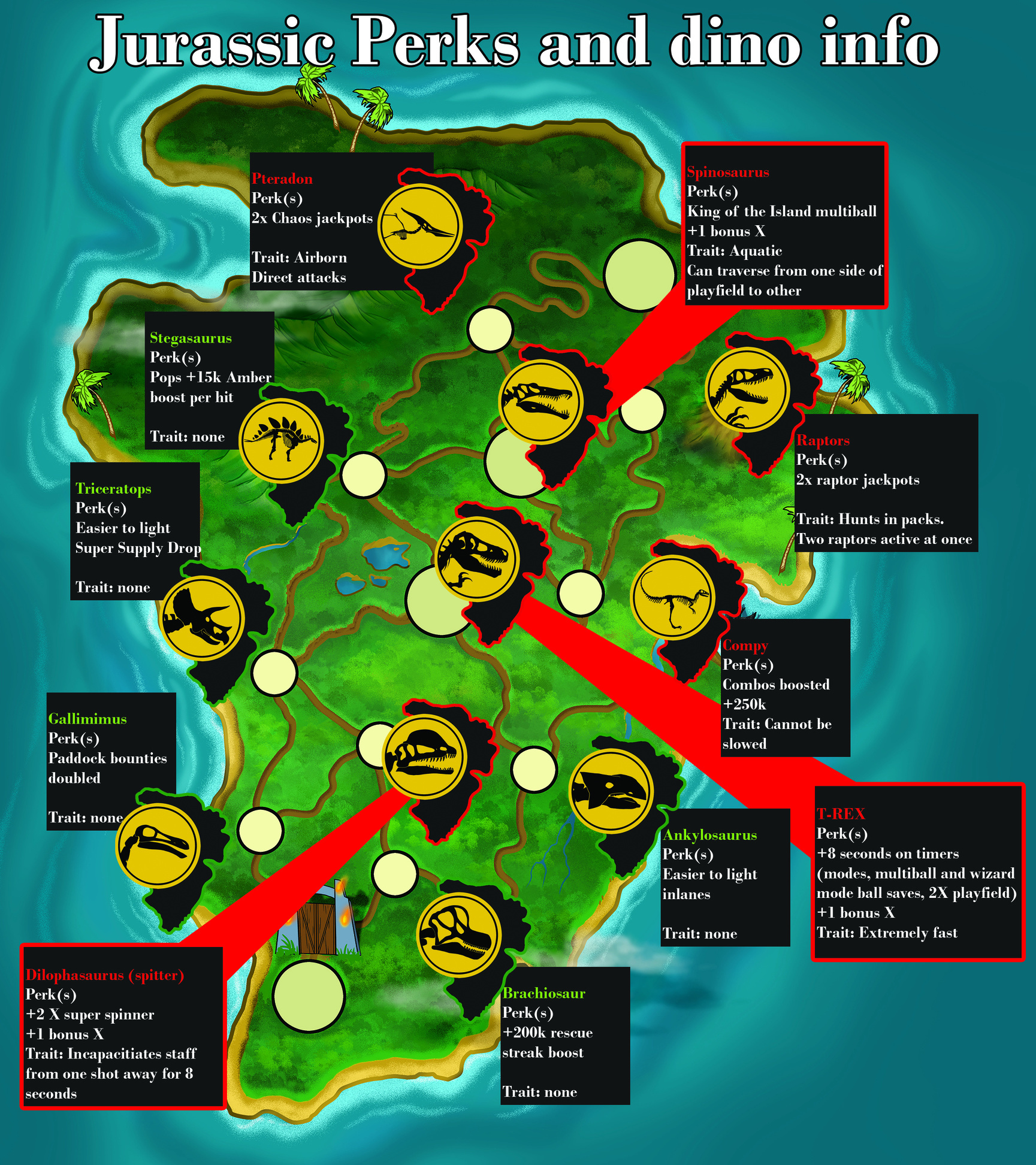 Buffalo Pinball also recently streamed the new Wonka Beta Code – check out there stream here!
---
2. Playfield Issues
As is being widely discussed, some new machines are experience playfield issues where the clear coat on the playfield is bubbling and even chipping off around posts. This Week in Pinball Podcast had guest hosts Ian and Drew of the Poor Man's Pinball Podcast who had a very thoughtful conversation about how the clear coat works and what issues may be causing the issues – click here to listen to that conversation (it starts at about the 14 minute mark).
This is effecting games from both Jersey Jack Pinball and Stern Pinball, including Willy Wonka and Jurassic Park.
Last week on the Pinball News and Pinball Magazine Podcast, Jack Guarnieri of Jersey Jack Pinball shared the following regarding the issues:

"Alright, well first off I just want to apologize for the delay in speaking about this matter publicly as we sorted through things internally and we understand that some of our customers are concerned to see and hear of clear coat chipping around posts on our Willy Wonka game. The number of actual cases we have seen with true playfield chipping is extremely low and we're in the process of developing a program for anyone with documented damage and will work with those customers on a case-by-case basis and, you know, feel free to call Tech Support or call me directly if you feel your machine has true chipping or damage. And we want you to feel confident and comfortable with your purchase, always. We want to notify customers NOT to take apart their machine, remove posts, etc, for the sole purpose of looking for chipping or problems under the posts. If you truly need to remove any part of the machine, we recommend contacting JJP Tech Support for instructions on how to do this properly. And for those customers who see rippling or pooling around any post, we want to urge you, this does not mean your game will chip. We're diligently working with our vendor and engineers day and night on correcting any pooling moving forward. We have no reason to believe any games out there in the field are inadequate in any way, shape, or form. You should continue to enjoy and play your amazing game. Our company's put countless hours and efforts into making Willy Wonka a fun experience for you and your loved ones to appreciate for years to come. I mean really, our people work hard every day with passion to design and create amazing games for you to play. As we always have, we will stand by our product and support our loyal customers and I can tell you that'll never change. Thank you"

– Jack Guarnieri on the Pinball News and Pinball Magazine Podcast
Previously, TWIP contacted Zach Sharpe at Stern Pinball, who shared the following:

No widespread issues here at Stern, can't speak for other manufacturers though. If anyone does have any issues with their games though they should definitely be reaching out to their dealer or distributor.

– Zach Sharpe, Stern Pinball
This week Zach added "We always stand behind our products and if you ever have any issues with your game, don't hesitate to contact your dealer or distributor", and that the "[production] line is not paused" as had been rumored.
There have been several reports of Jersey Jack Pinball refunding people that ordered a replacement playfield at half price – you can find examples of those reports here and here and here.
TWIP will continue to report on this as we learn more.
---
2a. Special When Lit Shares TOPcast Interviews Discussing Clear Coats

Our friends at the Special When Lit Pinball Podcast shared some very interesting interviews from the legendary TOPcast (This Old Pinball Podcast). The interviews were conducted with Python Angelo and Pat Lawlor and discuss why more durable playfields may have been BAD for pinball in the past. Click here to listen, the interviews start around the 14 minute mark!
---
3. Pinball News and Pinball Magazine Podcast: Interview with Barry Driessen of Dutch Pinball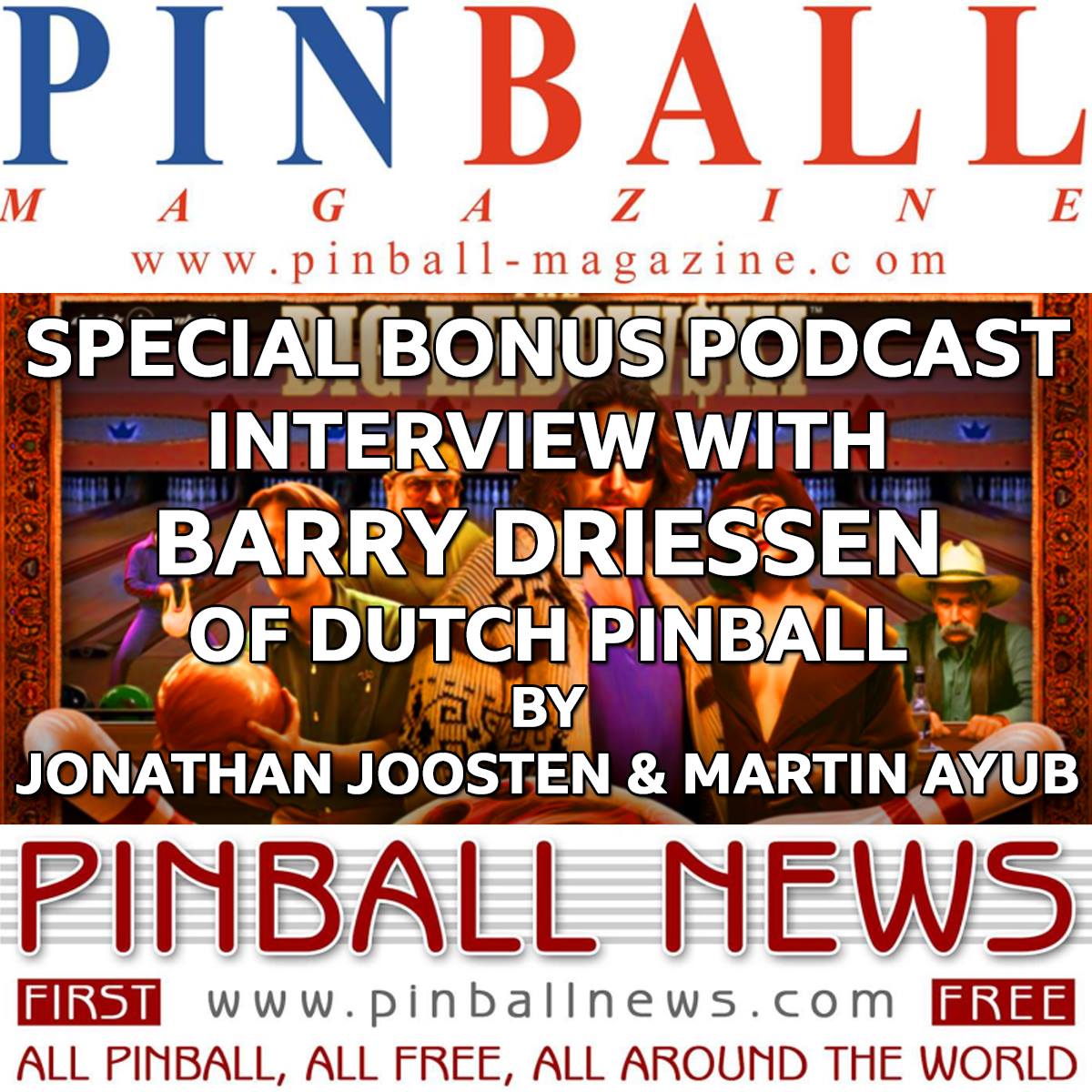 Our friends on the Pinball News and Pinball Magazine Podcast shared an extensive interview with Barry Driessen of Dutch Pinball. Barry talks about the timeline of Dutch Pinball, from the beginning up until now. He also shares there were approximately 185 Early Achievers, and 55 of those have received a game. He did share that when and if manufacturing starts again, funding would NOT come from pre-order dollars. Here are just a few highlights from the interview:
On problems with ARA, the original contract manufacturer:
Barry: "Mostly had to do with pricing of the game, the price we were paying ARA. Of course we had deals in place, we had agreements in place, and eventually it turned out that the game was more expensive than everybody expected. And you can understand, that generates problems."
"…after they shipped the first games, I think they restarted the math on all the invoices and all the hours and everything that was needed to build games, and I think they had quite a shock to see it was much more expensive that they expected. And [more expensive than] we expected of course."
On how much more ARA wanted per game to continue manufacturing:
"…it was around €1,000 ($1,096)"
Pinball News and Pinball Magazine Podcast: I do need to ask you this question, because it is something that someone has asked me that they wanted to ask you: when you said there was a problem with the board and that is why the game couldn't be released and obviously that wasn't actually the truth at that point…do you regret having said that?
Barry: "…yeah, of course I regret it.  I know some people think we're liars and try to con people and are a Ponzi scheme or whatever you call it, but of course I regret that stupid lie…"
On XYTech, the second contract manufacturer:
Barry: "[ARA filing the lawsuit] happened during our start up phase with XYTech so that obviously became a problem…the reason it didn't go through with XYTech was mainly financial."
On the games received from ARA settlement:
Barry: "We got 40 almost complete games. I think there were 32 complete games that were tested by me and Jaap…and they were completely boxed and ready to go out. Then there were about 8 games that were tested at ARA, that meant that they had done all the testing from a checklist we made…"
On how many games they can build from parts they have:
Barry: "I have a list of those parts…from that I can guestimate how many games I can build…I know back in the day we placed an order for 300 games. Roughly 90-100 are made. Some parts they bought for all 300 games, and some parts were bought lean in batches of 20 or 30 or 50. So it is hard to say how many I could make exactly from the parts that are there, but I think after we do a really good count of the parts, we can say how many games we can make from the stock that we have now."
On plans going forward:
Barry: "Of course I want to build games, I want to build games for the Early Achievers. And to do so we have to…see how many games we have to sell to games to new people to fund and build the Early Achiever games. That is something we have to work out in the next weeks or months."
"…we will start slowly in the next couple of months, and slowly ramp up, and this time we won't be using any contract manufacturer, we're going to build a production facility ourselves, and we're just going to start from there."
"Just yesterday I agreed on [leasing] a building and I think it will be ready for us in two weeks…"
On how many games he thinks will be needed to be built before all Early Achievers have their games:
Barry: "I think the sweet spot is going to be somewhere between 400-500 games."
On funding for building new games:
Barry: "The funding is there to see this project through. I can't guarantee anything of course, but the plans that are in place now, I'm sure we can pull it off."
On timeline:
Barry: "What my target is for finishing all Early Achiever games is before the end of next year."
At this point it is still hard to see how this is going to work out, but we hope that the Early Achievers are made whole or get what they paid for. Listen to the full interview here!
---
PLEASE NOTE: Due to the recent announcement that TWIP would begin running ads, Martin Ayub and Jonathan Joosten of the Pinball News and Pinball Magazine Podcast have asked This Week in Pinball to no longer transcribe any parts of their podcast. TWIP readers, we will link to their podcast if they have content of interest, such as the interview above, but it will not be covered on TWIP as it normally would.

---
4. Live Catch Pinball: Possible Jersey Jack Pinball Timeline Changes
Our friends at Live Catch Pinball out of Brazil were recently joined by Jack Guarnieri from Jersey Jack Pinball on their Twitch stream! Jack shared some interesting information – check out just a few highlights here:
On Pirates of the Caribbean being rerun:
"We don't have a plan right now to build the game again.  That doesn't mean that maybe one day we won't build the game…if we going to build the game, we are going to tell people we're going to build the game, it won't be a secret…but right now there is no plan at all to build the game.  The next three games we're working on, they're in development so we have a lot we're doing right now without going backwards and building a game…the game is a great game."
On if we're going to see another JJP game this year:
"In the beginning of the year I said yes.  But I have to say right now, we're so busy building Willy Wonka we may not.  Willy Wonka is a big big hit, we're very busy, we're building about 20 games a day…we have about 1600 or 1700 sold so far.  And I think we'll build more than 2000.  So honestly the answer is I don't know.  Because why would I stop if I we're building it and we have orders right now and we have the parts – you know we ordered a lot of parts for a lot of Willy Wonka games.  So we'll keep building but lets see what happens in the next few months, we still have four months left in the year."
We'll keep you posted as we hear more – check out the full interview here!
---
5. Punny Factory – More Information Released
Pinball Adventures recently shared the following image and flyer for their machine, the Punny Factory: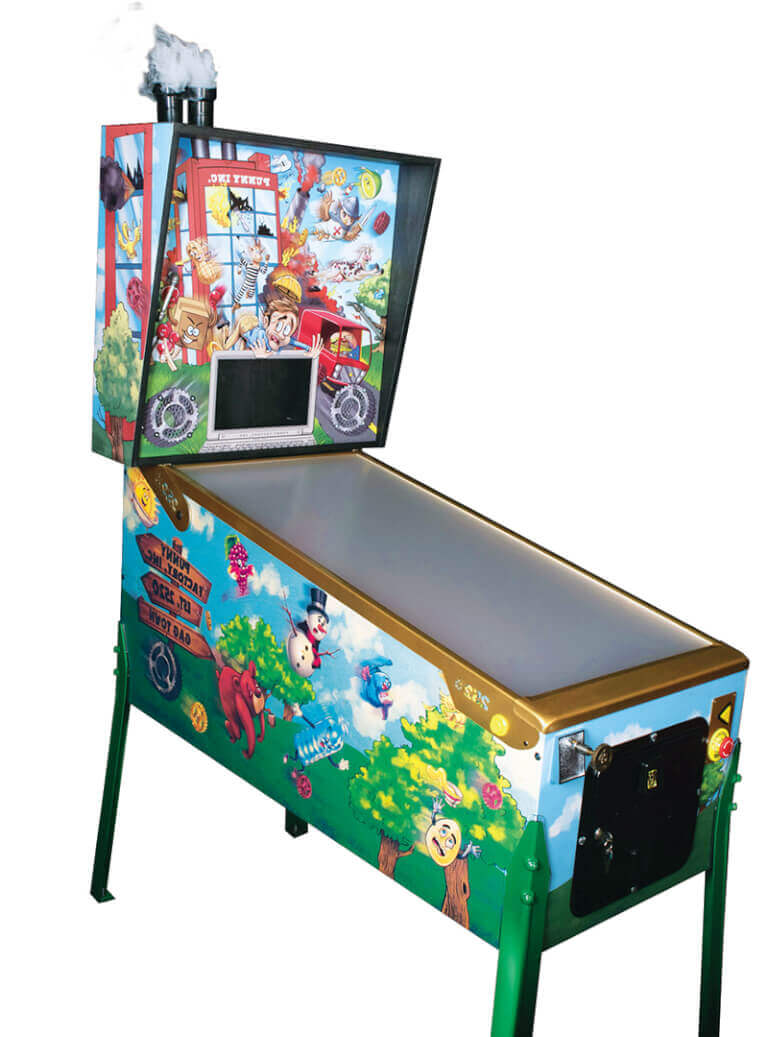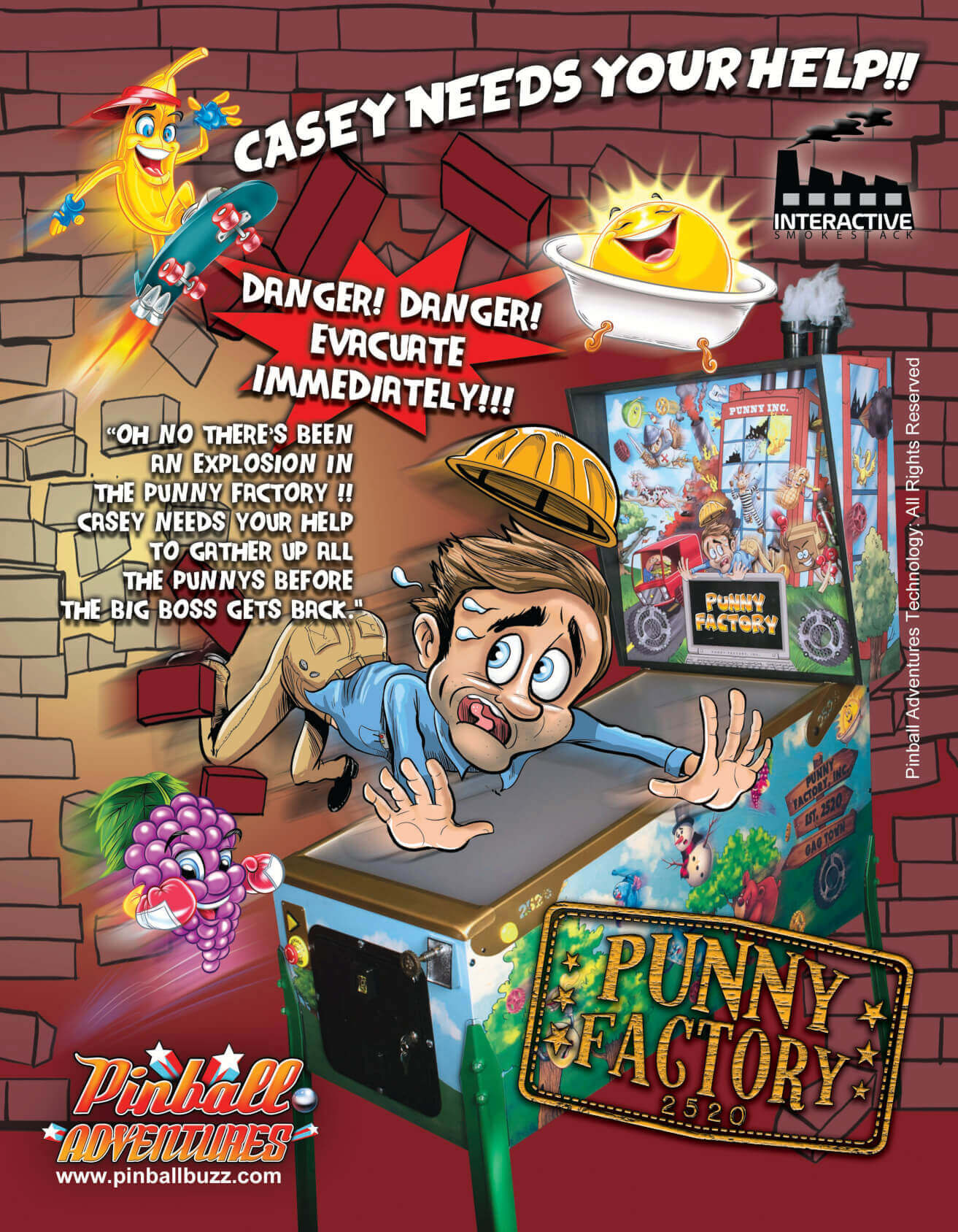 They also released the following description on their website which shares some details on the rules and the playfield features:
Oh no, there's been an explosion in the Punny Factory and all the puns have run loose! You must help Casey to gather all the puns that have broken loose during the explosion. It's your job to help Casey collect all the missing puns to get the Punny Factory up and running again.
Punny Factory is a new original pinball machine concept that features a different unique adventure with every play. Built with above industry standard quality parts, you can trust that the new Punny Factory pinball machines deliver a professional solid platform that cradles a fun yet challenging playfield that appeals to all.
Punny Factory features the beloved old school unique Vari-Target as well as a one of a kind ball press in the middle of the playfield. We've also added three of our double shot danger targets along with everyone's favorite pop bumpers, slingshots and kickbacks for non-stop action.
As an industry first, we implemented an Interactive Smokestack system that simulates factory smoke. The Interactive Smokestack system can be triggered during gameplay by catching puns, during ball launch, and while the machine is in pinball attract mode.
Eye catching LED lights are incorporated into every aspect of the machine. Integrated throughout the backglass and playfield, the bright and colorful lighting design and synchronization is a definite eye-catcher. A high definition 10.1″ LCD display is mounted in the backbox, playing randomized full color animations when completing the objectives of the game.
In terms of hardware, Punny Factory is built with mostly in-house designed and manufactured parts. The control module uses a single IO board the runs on the newest edition Raspberry Pi computer, ensuring smooth and consistent gameplay. Our platform comprises of a Raspberry Pi 3 and a single electronic board (R-board) with through-hole components. The Raspberry Pi 3 runs the game software, interfacing with the machine through the R-board. All the direct switches are connected to the R-board and are scanned at a rate of a thousand times per second. The CPU responds to the solenoids in less than 3 milliseconds giving sharp feedback with no gameplay lag. The software is custom-built and the software stack has been designed from scratch, written in C++ guaranteeing the best performance.
Because the Punny Factory is not a licensed theme but rather an all original game designed entirely by our team, we had the freedom to design the best possible game without the traditional constraints other manufacturers face when using licensed intellectual properties. Thus the Punny Factory has an attractive price point, as well as a fresh new and never before seen design and concept.
When playing the Punny Factory, your objective is to gather all 50 puns to restore the Punny Factory back to its original state before the big boss gets back from Lunch. We packed the experience with plenty of surprises and some of your favorite puns to ensure you'll never get bored.
We will keep you posted as we learn more!
---

This week we talk about more licensing challenges, along with some upcoming changes in the industry.

Get access to this info plus get free shirts and swag from TWIP and get free entries into the monthly drawings and help keep TWIP going by signing up on Patreon at the $20 level.
---

Other Manufacturers
More

Team Pinball: The Mafia

Circus Maximus: Kingpin, Python's Pinball Circus

Homepin: Thunderbirds

Suncoast Pinball: Cosmic Carnival

Great Lakes Pinball: Exposé

Haggis Pinball: Wraith, Celts

Pinball Brothers: Queen?, Barry Oursler's Original Theme?, Playboy?

Dutch Pinball: Bride of Pinbot 2.0, Bride of Pinbot 3.0 (on hold), The Big Lebowski (production/legal issues)

Silver Castle Pinball: Timeshock

Phénix Pinball: Goblin Contest

Pinball Adventures: Punny Factory, Sushi-Mania, Ninja Mania, First Class, Canada Eh!

Disclaimer: Any articles, interviews, or mentions of pinball manufacturers or pinball products is NOT an endorsement.