Elvira's House of Horrors Reveal Stream and Deep Dive | George Gomez Interview | Ghostbuster's Code and God Mode | Suncoast Pinball More Details | Unreleased Armed & Dangerous Pinball Machine by Gomez | Insider: Spooky Teases New Display, Ghostbusters Vault Rumors | Dwight Sullivan on TWIP Podcast

— This Week's Top 5 Stories —
---
1. Elvira's House of Horrors Reveal Stream and Deep Dive
Our friends at Dead Flip hosted the reveal stream for Stern's newest creation, Elvira's House of Horrors! Jack Danger was joined by Lyman Sheats, Dennis Nordman, Greg Freres, Mike Vinikour, among others – check out the video below!
---
2. George Gomez Joins Flip N Out Stream
Our friends at Flip N Out Pinball and the Special When Lit Pinball Podcast hosted Stern's Chief Creative Officer, George Gomez, on their most recent stream! George shared a lot of interesting information, here are just a few highlights:
Talking about Star Wars The Pin:
We've explored the top of the market, now we're exploring price points down from our Pro product. You're going to see all kinds of interesting things from us, this may not be the lowest price point we explore.
On what is coming from Stern:
You're going to see a bigger digital presence from us, and this coming year one of the most exciting things is the connectivity.
On the next The Pin:
Probably next year. You'll have to imagine what title it will be.
On retheming another title, similar to Beatles with the Seawitch layout:
The biggest issue with those games are the costs of some of the targets, like drop targets…drop target assemblies are some of the most expensive things you can put on a game. So when you have a game with a bunch of drop targets and a motor and spinner and this and that…it adds up quick. And the problem is everybody tells us they don't want to pay that kind of money for something like that…In the case of the Beatles, that license wasn't cheap. Putting nine Beatles songs in a game, it is expensive. That is the challenge. We would love – we have talked a lot about a Stern classics line. But people say it has to cost less than a Pro, well if it has to cost less than a pro, it's a challenge.
Funny Story on the Johnny Mnemonic theme, when Williams was working on the title in the mid 90s:
Johnny Mnemonic, the movie studio – we were hassling them, come on you gotta show us the movie… We kept saying, show us something. We're at the end of our development cycle, we've got our pinball machine basically built. And they say "fly to Hollywood", so I flew to Hollywood and they screened the movie for me. And I ran out of the movie theater and called Chicago and said "can we get out of this?…lets name it something else!" [laughs]

Check out the full stream below!
---
3. Ghostbusters Code Drops and Includes God Mode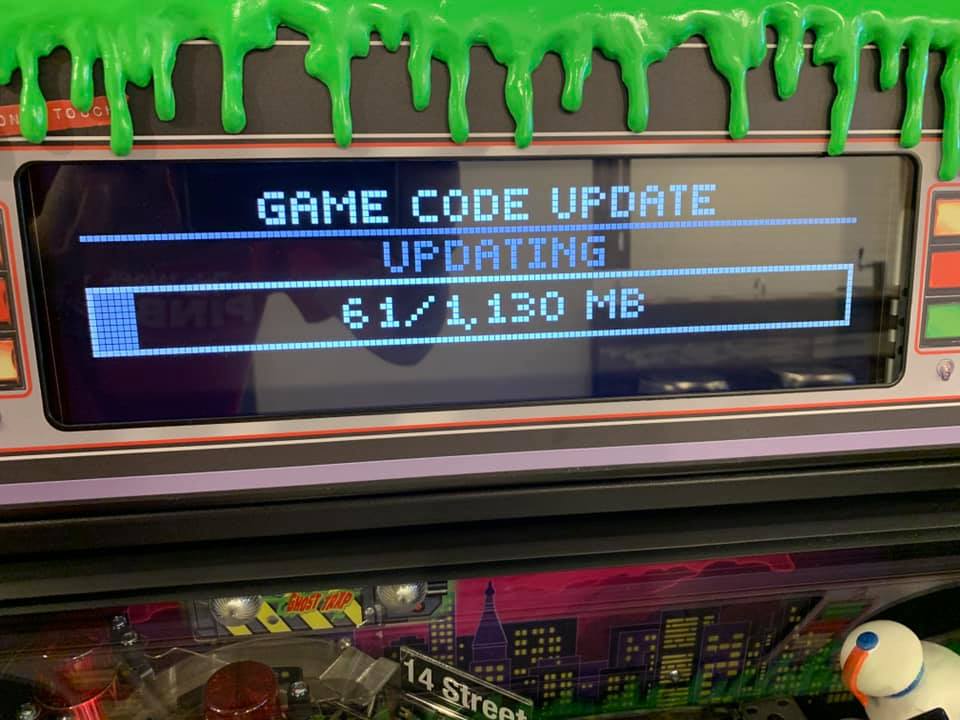 After being revealed on a Dead Flip stream recently, the new Ghostbusters code dropped this week! You can view the changes here:
Also included with the code update is God Mode! This was brought up by the chat during the stream, but was unexpected to actually be included in the update. Here are the details in the update:
 - Added GOD MODE adjustment.
    - The settings are NORMAL or GOD MODE. The game defaults to NORMAL.
    - If set to GOD MODE, when you start a game you will start at the begining
      of "We Are Ready To Believe You" wizard mode. You can add players or you
      can plunge the ball. Plunging the ball will start the multiball.
    - If you complete "We Are Ready To Believe You" you will start "ARE YOU A
      GOD?". When "ARE YOU A GOD?" ends your game will end.
    - If you do not complete "We Are Ready To Believe You" the game will end.
    - Added a GOD MODE champion. If the game is set to NORMAL this will not be
      seen in the attract mode.
    - If GOD MODE is enabled you cannot MATCH, win a replay, or qualify for
      other high scores champions.
Basically, it lets you start the game already in the "We are Ready to Believe You" wizard mode, and if you complete that mode you will get to the "Are You a God?" wizard mode. [Editor's Note: I played this mode with some friends this weekend, it is a blast!]
To download the new code, click here!!

---
4. Suncoast Pinball Details

As we shared last week, Suncoast Pinball, the creators of Cosmic Carnival, is shutting down their pinball manufacturing. This last week, we learned there were four customers that did not get their machines. Suncoast Pinball sent out the following correspondence to those involved:
"It is with a heavy heart that Suncoast Pinball announces we will be shutting down pinball operations. Due to unexpected delays, higher than expected costs and other factors, continuing is not financially viable for us. We have filed chapter 11 bankruptcy to reorganize our company and allow us to pay our debts in a timely and appropriate manner. We have managed to fulfill all orders with the exception of 4. Those customers will be included in the bankruptcy so they can file for a refund under the appropriate steps. We do have some parts and might be able to finish a few more machines down the road if anyone would prefer. Right now our focus is on reorganization. We wish everyone the best and hope those who have Cosmic Carnival will be able to enjoy it for years to come. We will still try and support current games for as long as we can and to the best of our ability."
If you would like to read more about Suncoast, our friends at Pinball News also posted a story regarding the situation at Suncoast Pinball which you can read here.
We will keep you updated as we learn more.
---
5. Unreleased Armed & Dangerous Pinball Machine, Gomez Design from 1995
Last week on Facebook, George Gomez of Stern Pinball shared the following on his Facebook page:
Armed & Dangerous…1995…my old school concept sketches- black Flair, BIC pen, Niji Stylist were my go to's back then. Linked Fastbreak was born of this "failure".#yesIreallywenttodesignschool #realdesignersdesign 😊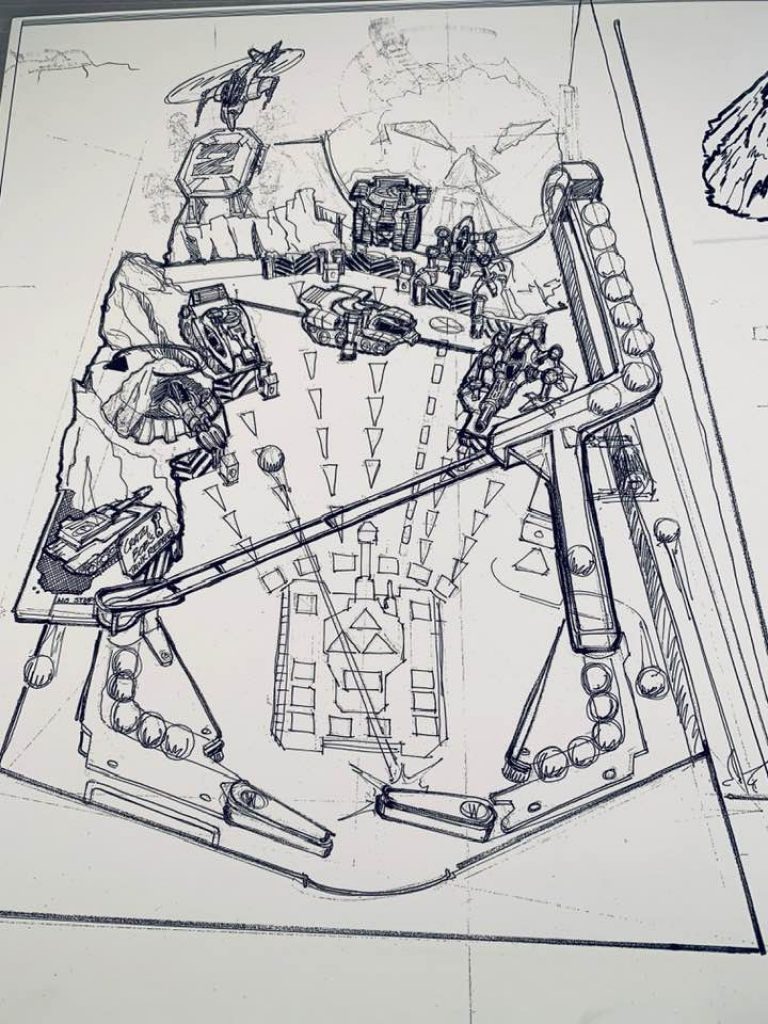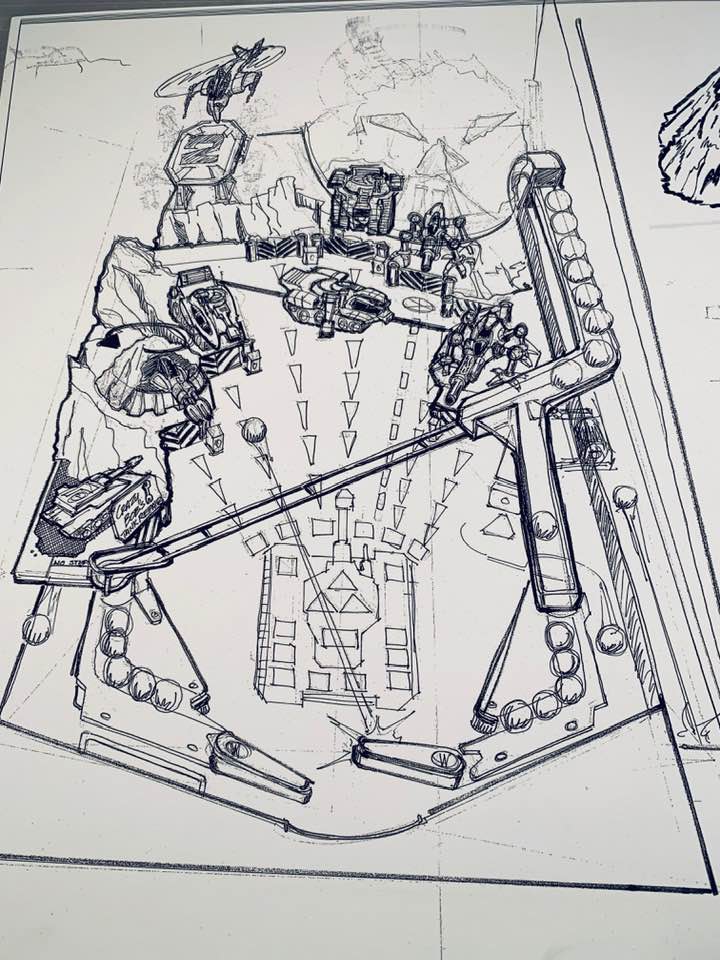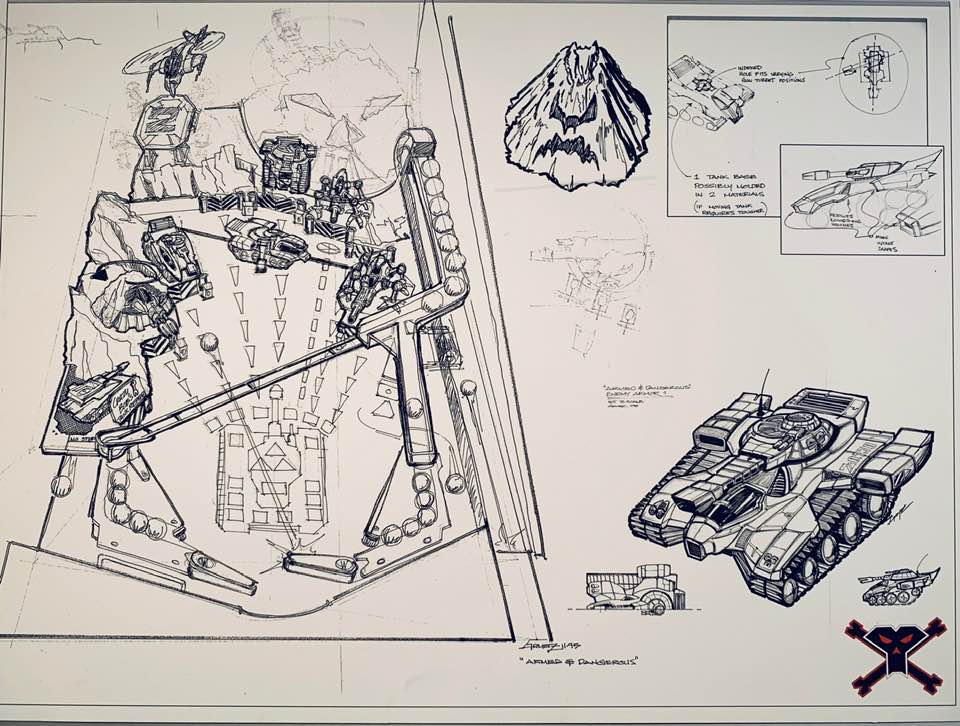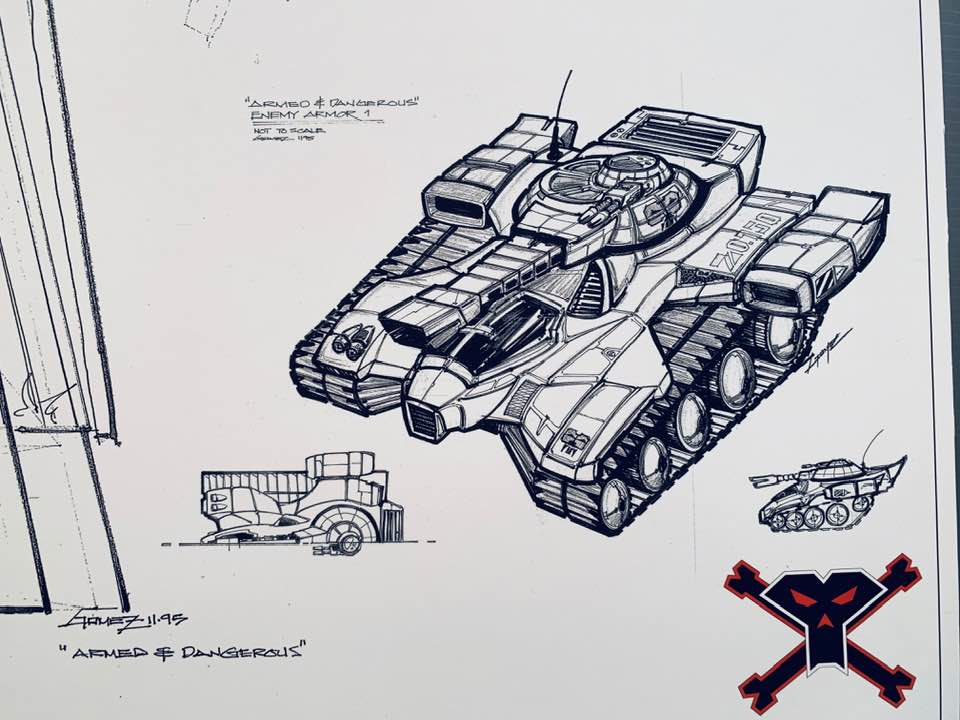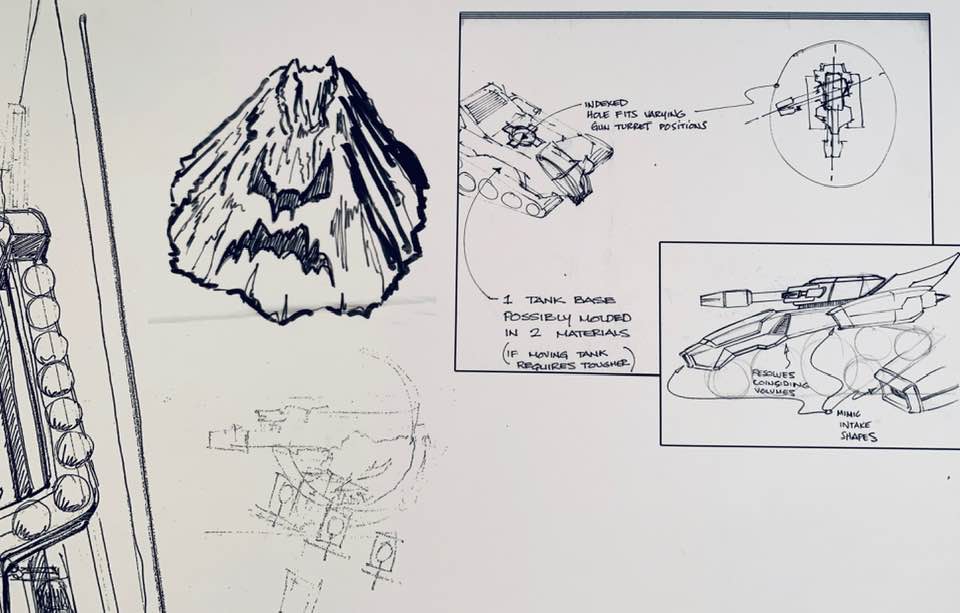 This Week in Pinball reached out to George who shared some additional information about this project.
On the object of the game:
Gomez: Your "life" in the game was not based on draining some number of balls. Your life was represented as hits to your tank (the tank image between the flippers). When all of those inserts were "out" you were dead and we killed the flippers. The arrows from enemy tanks represented their shots at you- like a Space Invaders they started slow and seldom and became faster. If you hit the enemy tank it killed the "shot" string of lites. You had constant fire power so all balls drained only to recycle into the feeds.
TWIP: Are the balls just coming at regular intervals to each flipper?
Gomez: You could "call up" the ball out of the cue. [The idea] was to have constant firepower – like hyperball/rapid fire but with flippers and a storyline and 2 machines hooked together – the linking tech went into Fastbreak when they killed this concept.
TWIP: There is one section of inserts heading towards the flippers that are rectangular instead of triangles. Any difference with that portion or just spacing of inserts?
Gomez: Those inserts were a slower but more powerful [enemy] weapon- they are the tiny slot shaped insert that was used at Willy.
---

This week we talk about a tease about a new display from Spooky Pinball and Ghostbusters Vault Rumors.

Get access to this info plus get free shirts and swag from TWIP and get free entries into the monthly drawings and help keep TWIP going by signing up on Patreon at the $20 level.

Thank you for considering supporting This Week in Pinball!!
---

— What Else You Need to Know Today —
Dwight Sullivan Joins the TWIP Podcast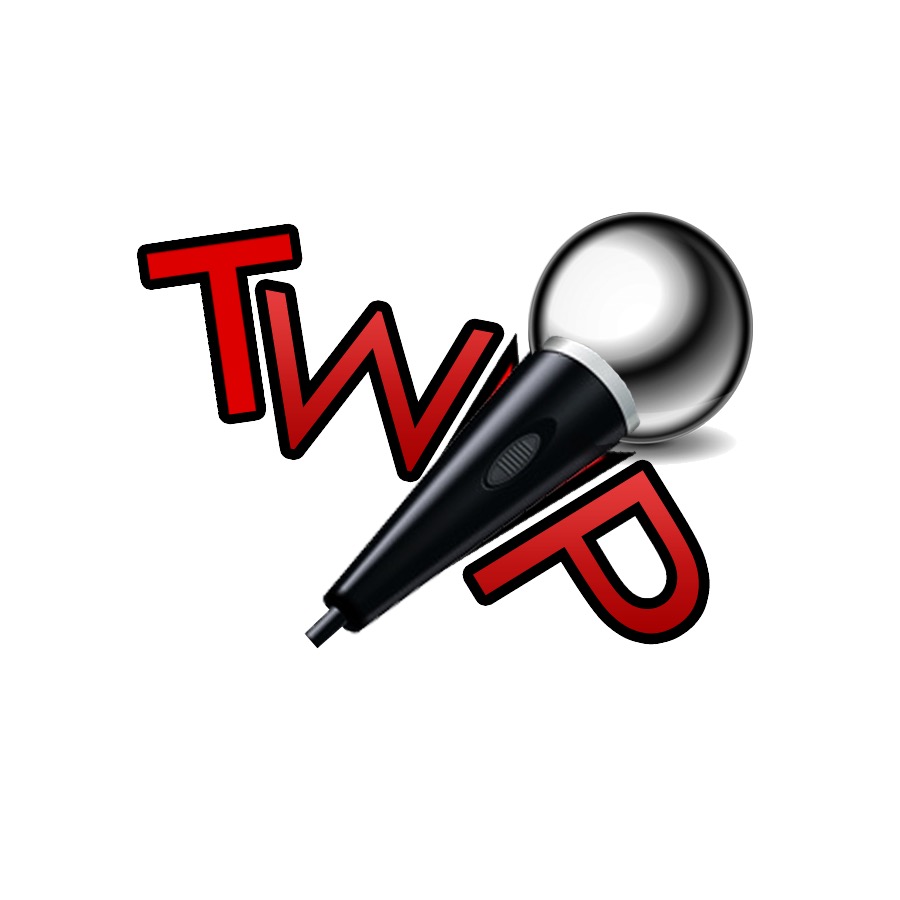 We rarely report on the TWIP Podcast on TWIP because it seems a little redundant and "insisting upon itself", but if you haven't listened to the last episode with Dwight Sullivan, it is a classic. Not only does Dwight talk about internet connectivity, how he codes games and how he codes moments, but he also brings in a new segment called "Why Zach Was Wrong".
During the episode, Dwight was talking to Zach and shared the following: "I listen to TWIP every week, and most of the time there is at least one thing that you say that I'm like "No, that's not true" and I want to argue with you or at least discuss it, and here is my chance. So what I did, I went back and I scrubbed through you on podcasts, and I looked for times you took a strong take that I didn't agree with. So the rules are simple, we're going to play a little clip from a previous podcast where you said something that I don't agree with, and I am going to tell you why I don't agree with, and then you get a chance to either agree with me or continue to be wrong."

Other Manufacturers
More

Team Pinball: The Mafia

Circus Maximus: Kingpin, Python's Pinball Circus

Homepin: Thunderbirds

Suncoast Pinball: Cosmic Carnival

Great Lakes Pinball: Exposé

Haggis Pinball: Wraith, Celts

Pinball Brothers: Queen?, Barry Oursler's Original Theme?, Playboy?

Dutch Pinball: Bride of Pinbot 2.0, Bride of Pinbot 3.0 (on hold), The Big Lebowski (production/legal issues)

Silver Castle Pinball: Timeshock

Phénix Pinball: Goblin Contest

Pinball Adventures: Punny Factory, Sushi-Mania, Ninja Mania, First Class, Canada Eh!

Disclaimer: Any articles, interviews, or mentions of pinball manufacturers or pinball products is NOT an endorsement.