Batman '66 Catwoman | Munsters Premium in Color | Superman '78 Artwork | Ben Heck Comments on Evil Dead | Harry Potter Virtual Pin | Oktoberfest Kugler Stream | Rumors: 3D Space Cadet Pinball | Giveaway of Dirty Donny Book

— This Week's Top 5 Stories —
1. Stern Announces Munsters Premium Color Edition and Batman '66 Catwoman Edition
Last week Stern announces two reruns of current titles, each with a twist. First, a color edition of the Munsters Premium will be available in later this month – check it out: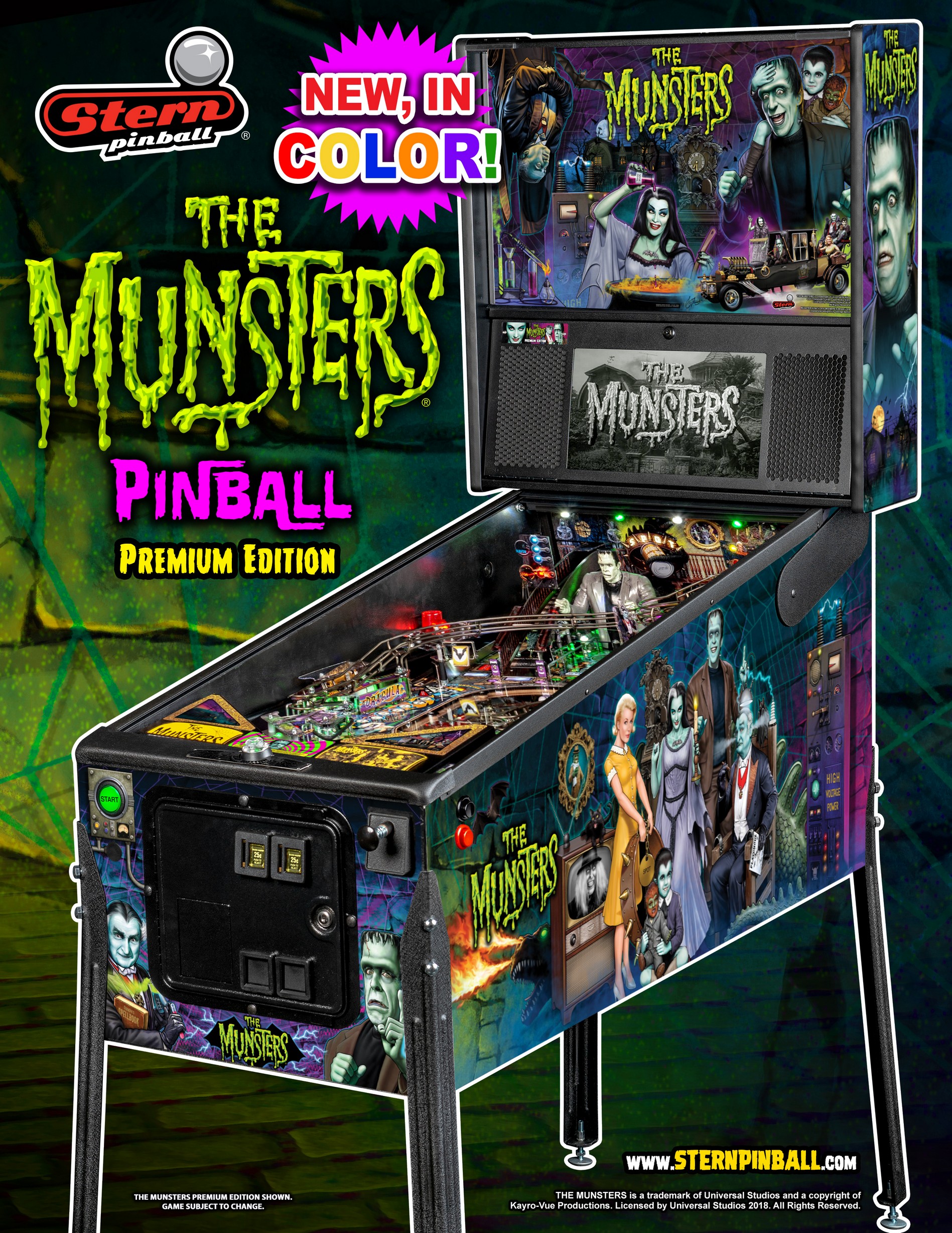 The pricing will be the same as the black and white Premium Edition (MSRP: $7,599). Stern also shared a Catwoman Signature Edition for the Batman '66 pinball machine – check it out: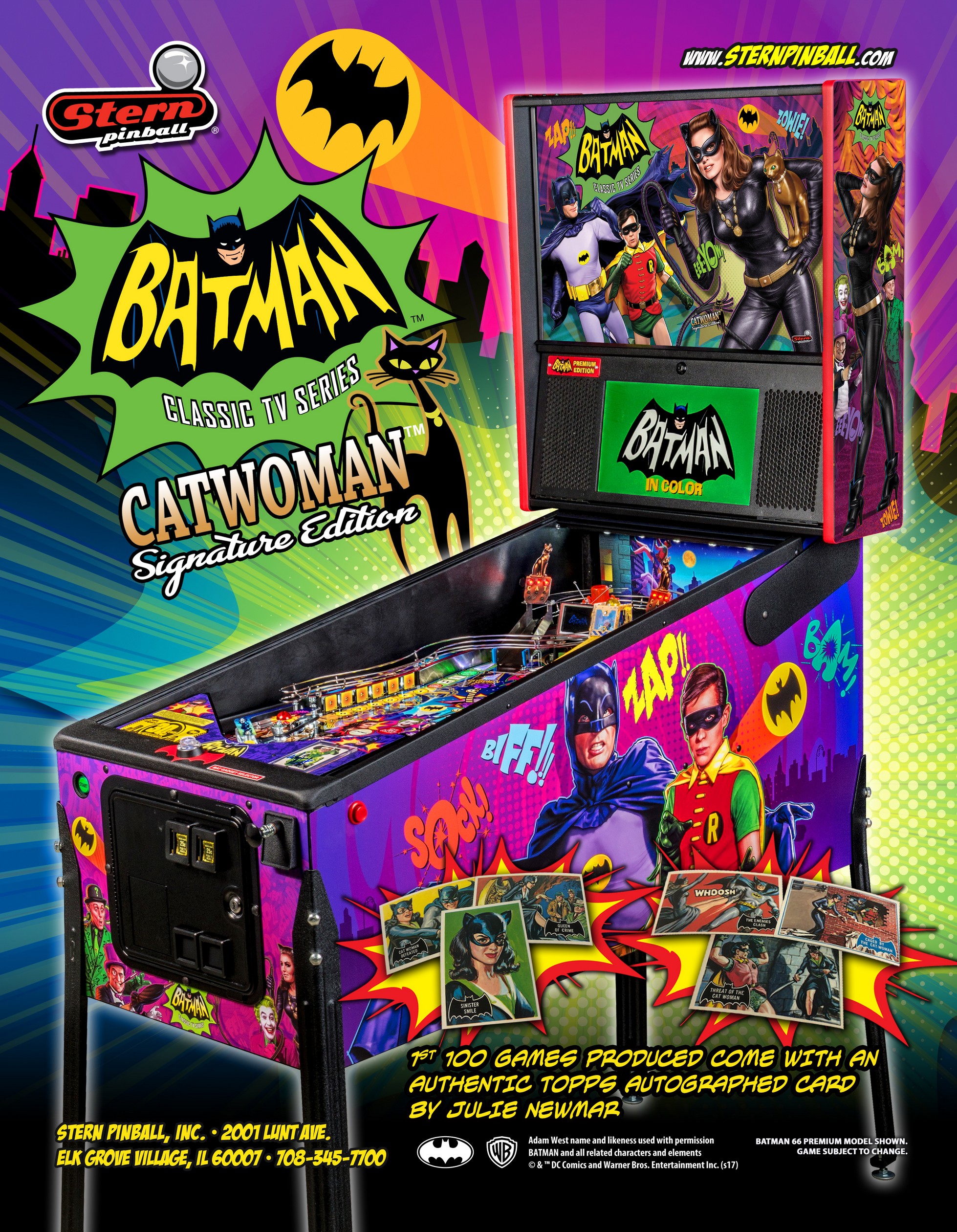 The first 100 Catwoman games produced come with a Topps card autographed by Julie Newmar, who played Catwoman on the series.
---
2. CANCELED Superman '78 Pinball Artwork Shared on Slap Save
NOTE: this machine is NOT happening at this time! (Hate to post pics and have people get excited only to read the machine is not happening!)
Christopher Franchi joined the Slap Save Pinball Podcast last week to discuss cancelled Superman '78 pinball machine. Franchi had done the artwork for this machine (which you will find below). Before revealing the artwork on the Slap Save Facebook page, Franchi first addressed why he was showing the artwork. On the Slap Save Pinball Podcast Franchi shared the following:
"About a year and a half ago, a — we'll call them a "boutique" company — wanted to propose to Stern a game for Beetlejuice and a game for Superman '78…I was contracted to do the artwork for [both of them]…both of these went through Warner Brothers. So originally Beetlejuice pretty much looked like it got the green light. Then we got to Superman and there were some stumbling blocks, and Warner Brothers was trying to work that out. In the meantime…both of these IPs were pitched to Stern as possible boutique games. The same thing that happened to Superman that happened to Beetlejuice. I'll paraphrase George Gomez by basically saying that both of these IPs were presented to the teams at Stern and none of them were quite as passionate as George would've liked them to be in order to produce a really exciting game for either of these properties. Now as much as that sucks it is a very valid point. We don't want anyone designing a game that they're just not feeling because it is just not going to come out as good as it could if it was a property that they were really behind. So basically because I own the artwork but I don't own the properties, they are basically going to go nowhere."
Listen to the full episode here. Then later that day, the images below were shared:
TWIP reached out to George Gomez, the Chief Creative Officer at Stern Pinball, who shared the following comment:
"Chris is an independent contractor and not an employee of Stern Pinball and none of that art was commissioned or directed by Stern Pinball. I saw it for the first time when he posted it.

We have very strong licensing relationships and we look at lots of potential licenses. The process of selecting a license or a brand to work with is very complex. As you know we sell games to a global multicultural audience that is very diverse in terms age, race, demographics and gender. A license has to satisfy many parameters beyond just attractive art. It has to fit the company's sales and marketing strategy for the given time frame and also the licensors time frame. I feel strongly that teams have to be passionate about the work they do; so yes, it's important that a team be excited and committed to the theme. Without that passion, a great game just can't be made. In addition sometimes a license requires additional expenses for theme music or actors permissions or video clips or a myriad of other requirements that could make the cost impractical to our business model. We typically plan several years in advance, so sometimes there are no available slots for a particular title. Other times there are properties that are just a better fit for us.
I suspect that the art that Chris showed was created to get us interested in the title but as I mention above there are many factors that play a role."
---
3. Ben Heck Comments on Evil Dead Theoretical Pinball Machine
It is heavily rumored that Ben Heck was working on an Evil Dead themed pinball machine before he left Spooky Pinball. He has strongly implied this via podcast interviews and via Twitter.
Note: If you're not familiar with Evil Dead, you can read more about it here on Wikipedia. Or if you're really brave you can watch the trailer.
Last week our friend mnpinball on Pinside started a speculation thread sharing some clues pointing towards a possible Evil Dead, and Ben Heck chimed in on this post, saying:

Hypothetically speaking, if I were to design an Evil Dead game it would have:

1) Deadite toys that springs out of a grave Sam Raimi style and has limbs and head you can blow off (they hide behind body) Oh and a little hidden fan to blow the hair around for no reason, again like a Raimi film.
2) Deep satisfying shot at the back with a mechanized trap door leading to a lower PF basement. Combo loops in basement to rev up chainsaw jackpot which you collect on main PF during MB. Trap door could sync to speech to taunt you during play.
3) "Broken Bridge Jump" shooter lane habitrail, with the ability to use the gap to load a ball back into shooter lane for Double Barrel Ball Launch.
4) A Newton ball lock so you hit the shot to release for quick 2 ball MB (friend capture MB save me Ash!)
5) Small tape recorder toy near flippers that rotates reels and lights up when mode prompts are being spoken to give you a visual clue to listen up.
6) A scoop eject that's positioned better than the one in AMH.

Yup, would have been cool all right.

Charlie Emery also chimed in responding to Ben's statement of "Yup, would have been cool all right.", saying:
"The man ain't wrong… not even a little. If said thing was ever going to happen that is, which we can't confirm or deny. Side note: licensing is HARD."
---

---
4. Harry Potter VIRTUAL Pinball
It feels like today's TWIP is mostly about machines that will NOT be made. UGH. Well adding to that list – the list that will NOT be made – is a physical version of the Harry Potter pinball machine that was seen last week.
(Editor's Note: Hey it's Jeff. For a little backstory on this – Harry Potter is my dream theme. A friend sent me the image below after seeing it on Facebook. I kind of freaked out (kind of meaning totally) because it looks SO legit! Anyway, I try to be as objective as possible in my writing on this site, but I just can't with this theme. I want this to happen so bad. Make it happen, someone, anyone, please!!)
So last week an image started floating around showing a lower playfield of a Harry Potter Pinball machine, which is the greatest theme a pinball could ever have and there is no argument which would likely be a popular theme. Check out the image below: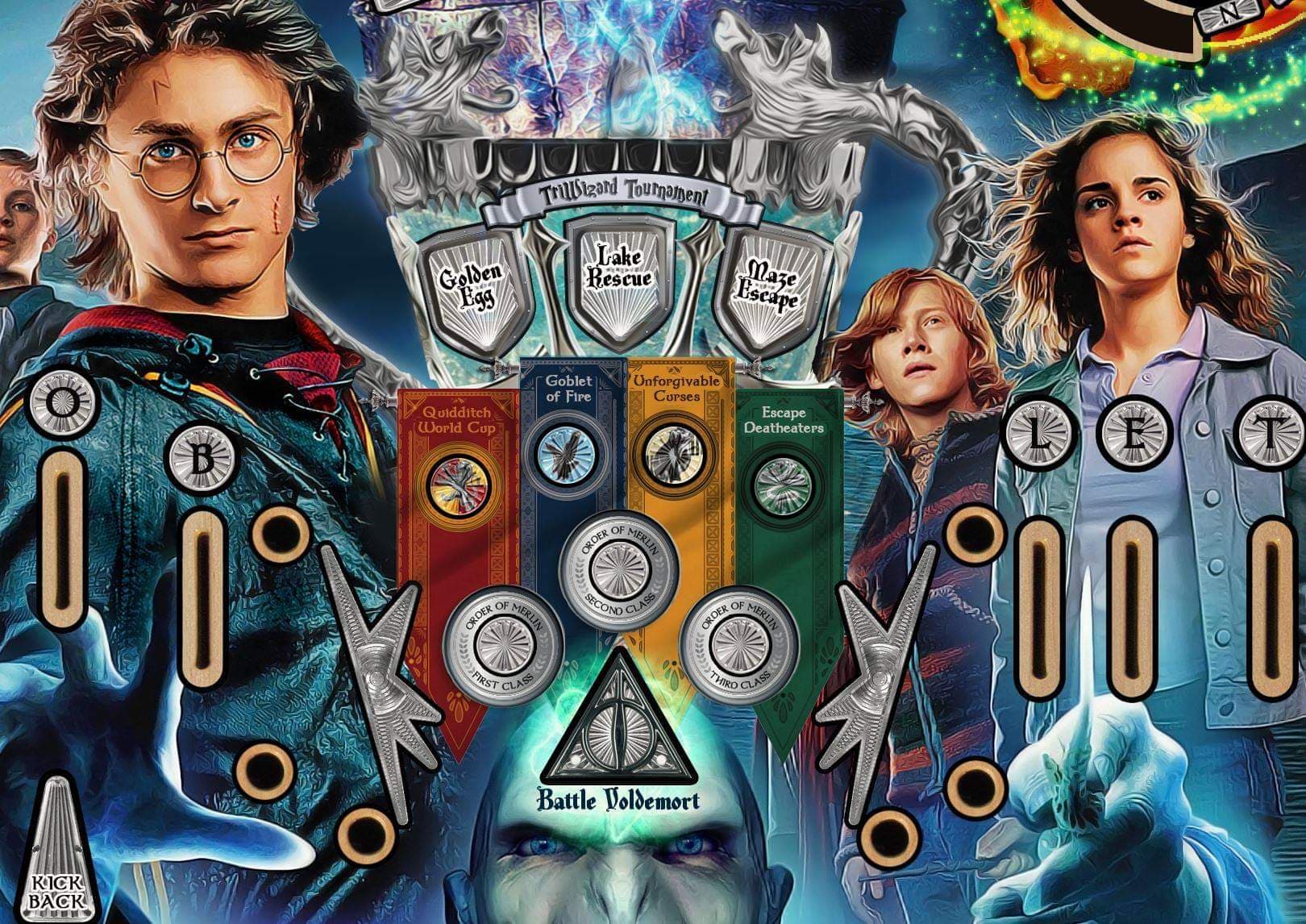 As you can see, it looks very legit with interesting insert patterns and tons of detail! Clearly this would be the greatest pinball machine of all time. So here is the story on it – it will NOT be made into a physical pinball machine at this time. It is a home-brew virtual pin created by Scott Wickerg who is my new best friend. Scott had previously created a virtual Stranger Things pinball machine. I reached out to Scott for more information on the Harry Potter pinball and he shared a few more images: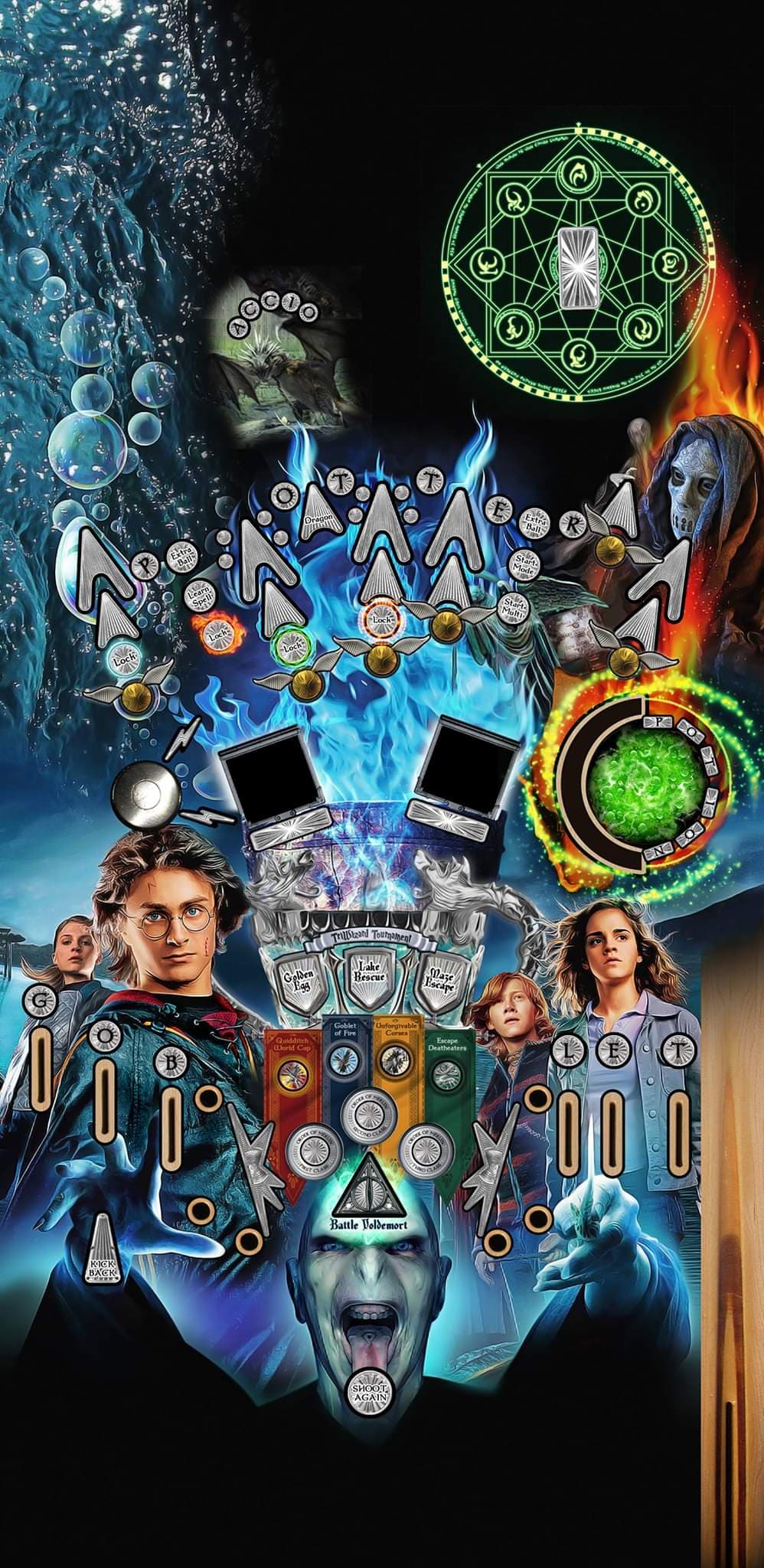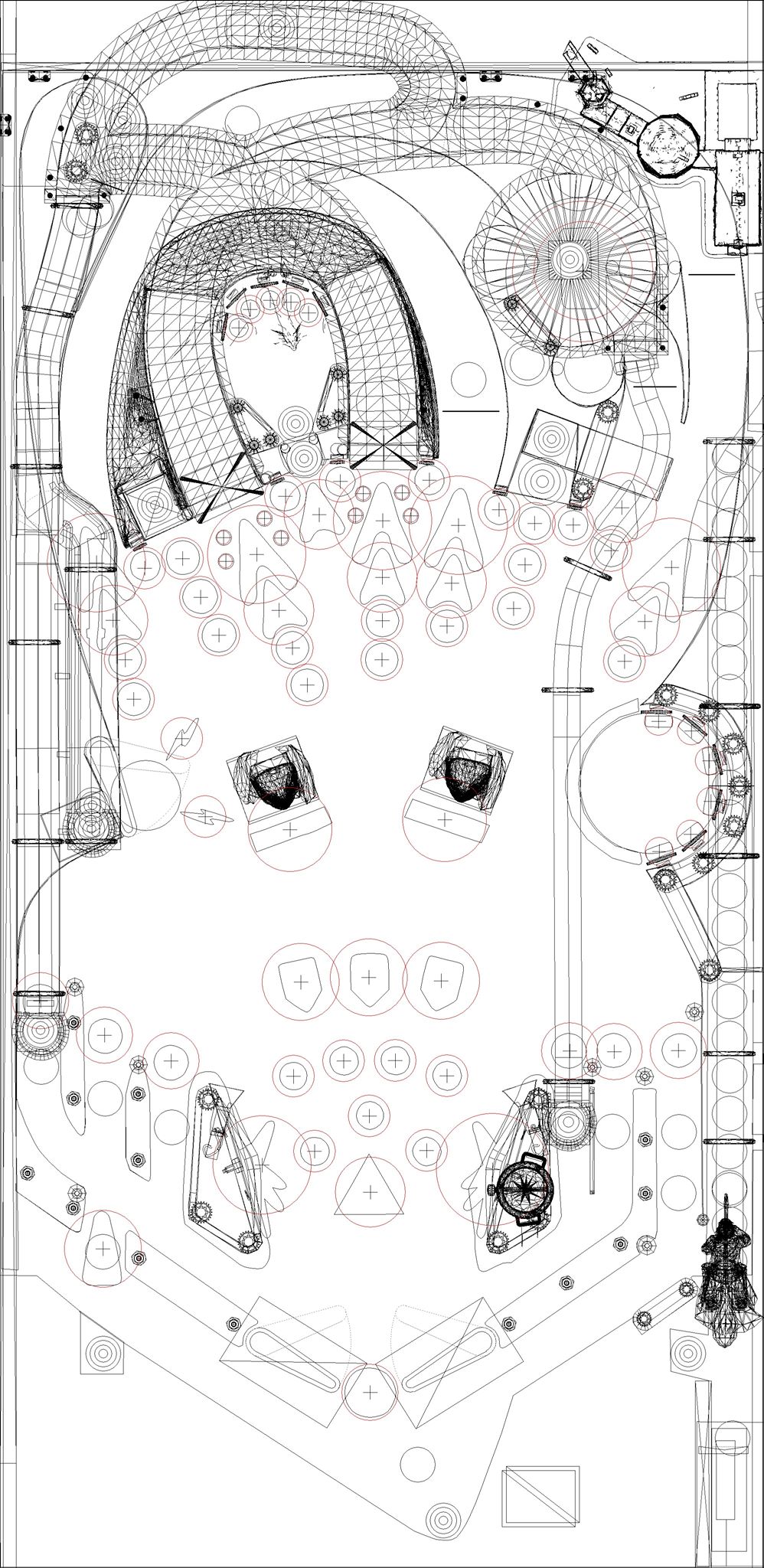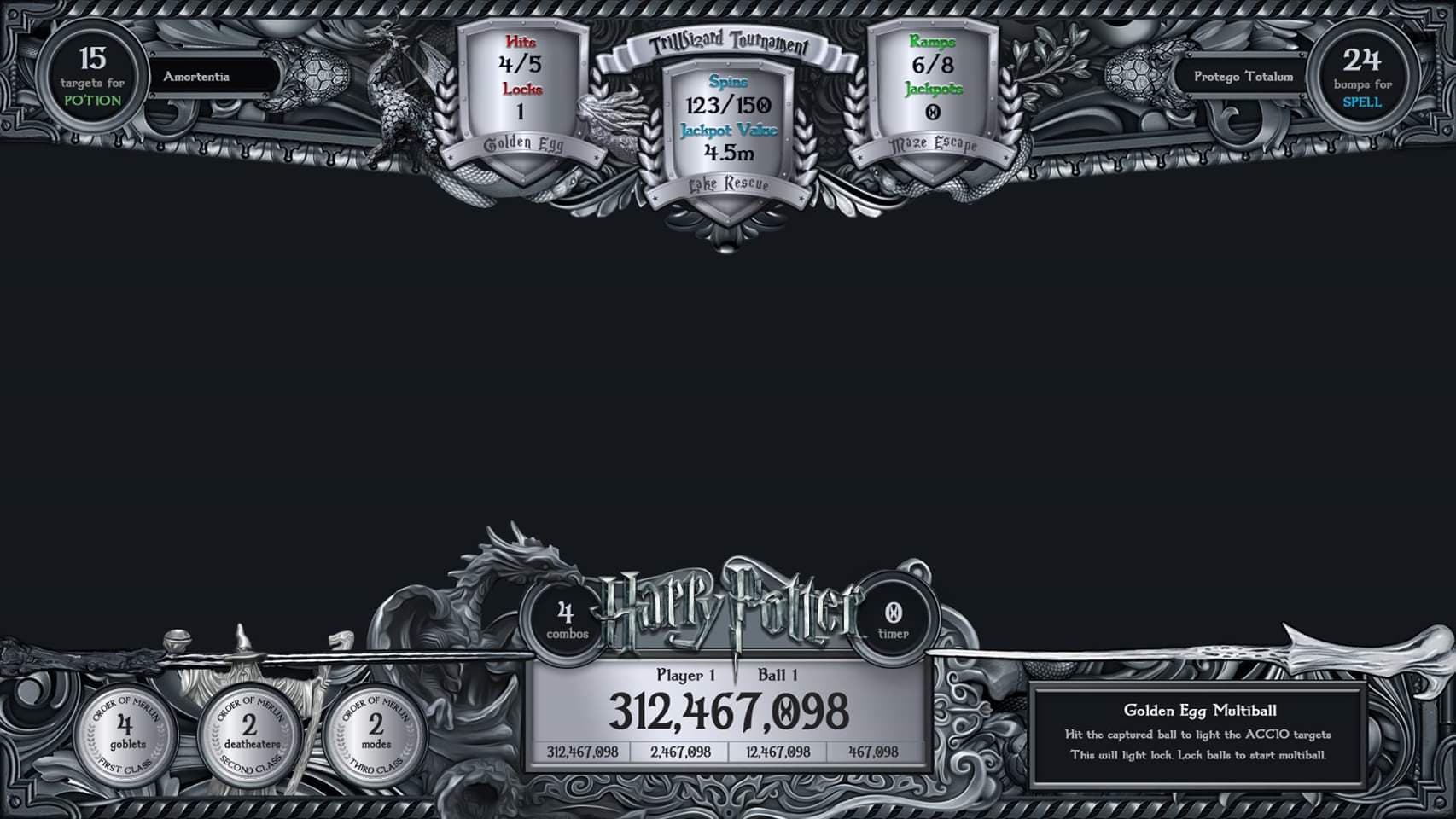 So as a reminder, this incredible creation is NOT going to be a PHYSICAL pinball machine. Obviously, it wouldn't be story number four on TWIP if it was. It would be the Super Special Hyperventilating Edition of TWIP.
---
(Editor's Note: Ok I need to stop looking at these pictures or TWIP will never get done this week. JK Rowling and Warner Brothers and everyone else that would need to be involved…just tell me what I need to do to help make this happen!!!)
---
5. Oktoberfest Pinball Stream with Josh Kugler
Our friends at Flip N Out Pinball recently announced a new Twitch and YouTube channel, and they teamed up with with Bill Webb and Ken Cromwell of the Special When Lit Pinball Podcast to stream Oktoberfest with Software Designer Josh Kugler last week. Check it out!
---

This week we share what we've heard (and seen) regarding a possible physical 3D Space Cadet pinball machine.

Get access to this info plus get free shirts and swag from TWIP and get free entries into the monthly drawings and help keep TWIP going by signing up on Patreon at the $20 level.

As you know, here at This Week in Pinball we do a BOATLOAD of giveaways every month – if you like free stuff, click here to find out how to enter the monthly drawings!
For ONE MORE WEEK, we're doing a special giveaway for a Dirty Donny PINBALL WIZARDS & BLACKLIGHT DESTROYERS Hardcover book, sponsored by SunCoast Pinball!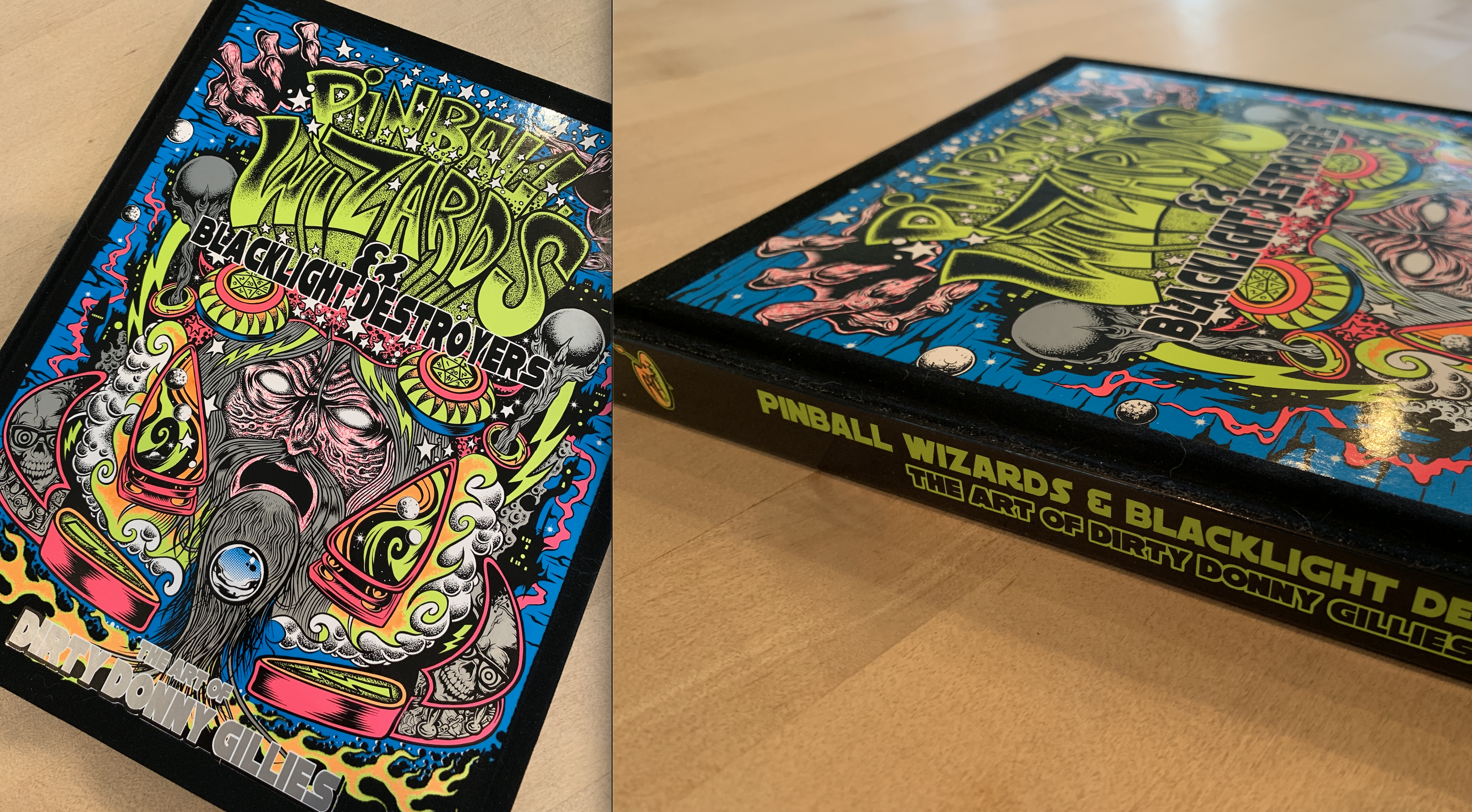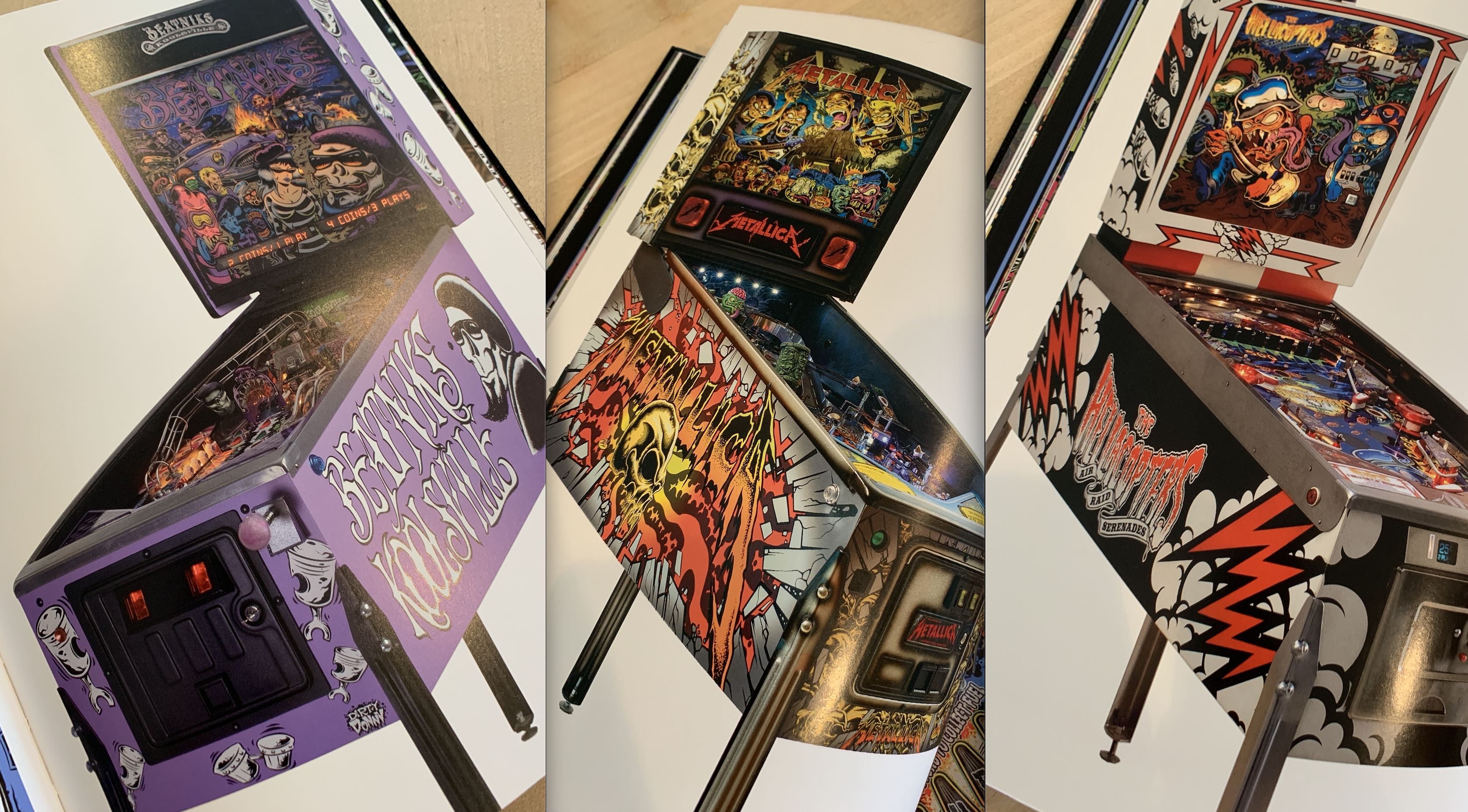 Easy to Enter, You Can Get up to Three Entries:
One entry option: LIKE our Facebook page (go here, click like)
Second entry option: Follow us on Twitter (go here, click follow)
Third entry option: Sign up to receive email alerts for new posts from This Week in Pinball (sidebar, or email us)
PLEASE NOTE: You must EMAIL us at thisweekinpinball@gmail.com to let us which of these you have done! If you've already done one or more of these items, just email us and let us know you've already liked our Facebook page or followed us on Twitter and you'll be entered into the drawing.

One of my Bucket List items since I got into pinball was to own an Attack from Mars and get to RULE THE UNIVERSE. Only I'm not very good. I finally decided the playfield was too dark and that was contributing to my poor skillz. So I put some Pin Stadium Lights on and check out the difference! (Kind of hard to photograph.) This will certainly make me play better and finally get to RTU, right??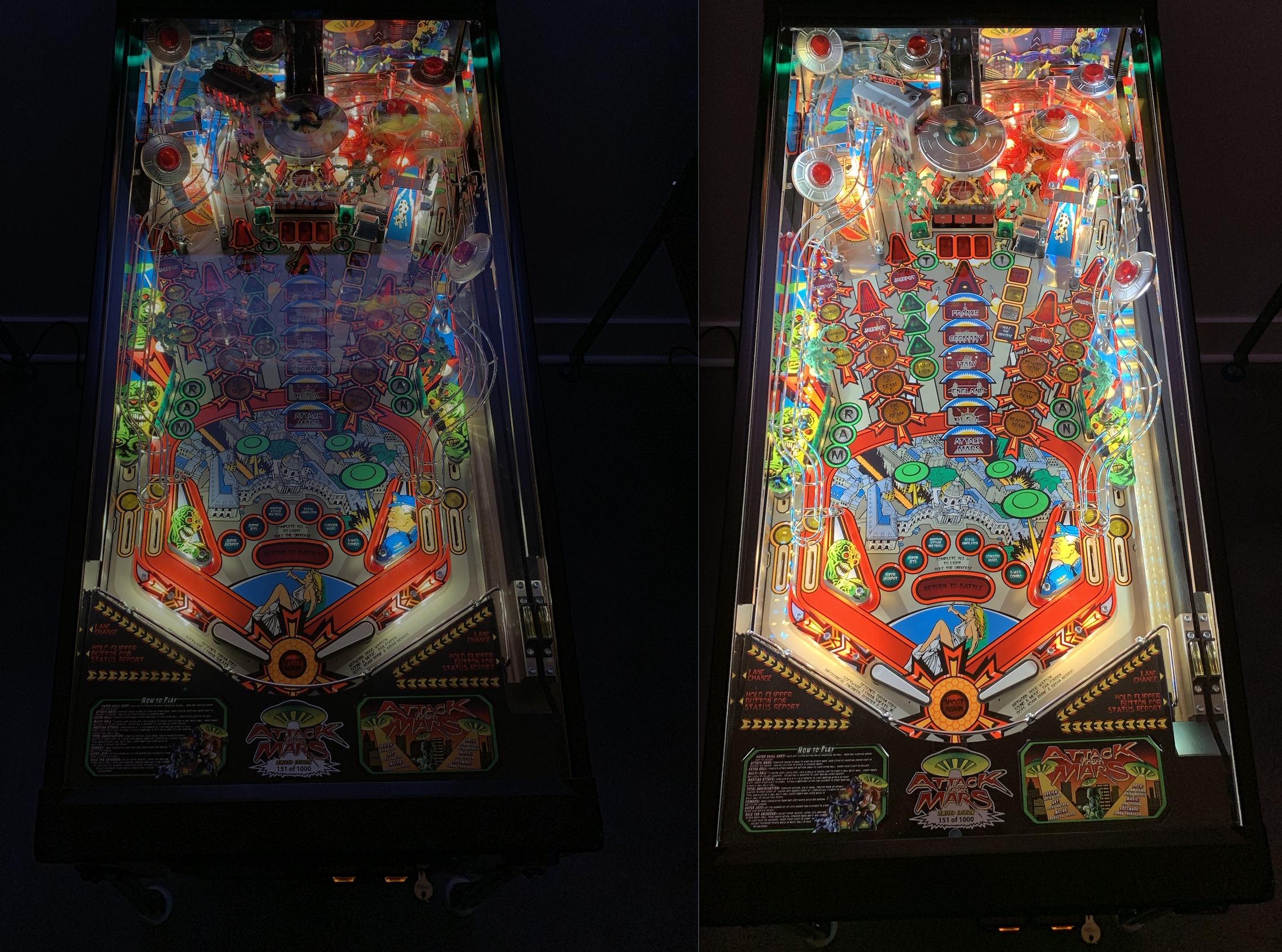 Identify the pinball machine pictured below for a chance to win a limited This Week in Pinball Lapel Pin! Drawing will be held monthly!

Last Week's answer: Avengers
Email guesses to thisweekinpinball@gmail.com, correct answers will be entered into the drawing for the limited TWIP Lapel Pin!
CONGRATS to Trent Augenstein who won the April Lapel Pin!

Other Manufacturers
More

Team Pinball: The Mafia

Circus Maximus: Kingpin, Python's Pinball Circus

Homepin: Thunderbirds

Suncoast Pinball: Cosmic Carnival

Great Lakes Pinball: Exposé

Haggis Pinball: Wraith, Celts

Pinball Brothers: Queen?, Barry Oursler's Original Theme?, Playboy?

Dutch Pinball: Bride of Pinbot 2.0, Bride of Pinbot 3.0 (on hold), The Big Lebowski (production/legal issues)

Silver Castle Pinball: Timeshock

Phénix Pinball: Goblin Contest

Pinball Adventures: Punny Factory, Sushi-Mania, Ninja Mania, First Class, Canada Eh!

Disclaimer: Any articles, interviews, or mentions of pinball manufacturers or pinball products is NOT an endorsement.