Oktoberfest Stream and Updates | Coin-Op Carnival | Interview with Ryan Claytor and Nick Baldridge | Stern Pro Circuit Championship | Pinball Adventures Game Titles Revealed | Countdown to TPF

— This Week's Top 5 Stories —
1. Oktoberfest Stream and Updates
Our friends Zach and Greg from Straight Down the Middle streamed Oktoberfest at the Louisville Arcade Expo last weekend! This is the first time Oktoberfest has been streamed since updates were implemented after the Expo reveal last year. Check it out!
The new stream led to much discussion online, with Joe Schober and Josh Kugler (the software designers for Oktoberfest) chiming in on different forum threads. Here is some of the discussion:
If you remember, Oktoberfest has two flipper buttons on the right side of the cabinet, with one controlling the magnet above the upper right flipper:
During the stream we saw a great example of how that can be used to set up an easier shot to the beer barrel lock mechanism – check it out here!
We also saw the first unboxing of Oktoberfest from our friends at SDTM – check out the unboxing video here:
Lastly, are you in the Chicagoland area and do you want to help play-test Oktoberfest at American Pinball Headquarters? This week on Monday, Tuesday and Wednesday from 5:00PM – 8:00PM, you are welcome to stop by and help them out by playing pinball!
---
2. Coin-Op Carnival: Electrifying Tales of Mechanical Contraptions
Last week, Ryan Claytor (award winning artist) and Nick Baldridge (host of the For Amusement Only Pinball Podcast) announced a project they plan to reveal at the Texas Pinball Festival – a new publication called Coin-Op Carnival!
From their website, here is a description of the publication:
"Coin-Op Carnival, a new 64-page print publication, is the only source for full-color, completely illustrated content documenting the history and stories surrounding electro-mechanical coin-operated amusement devices (pinball and pre-video arcade games manufactured prior to 1978). Each issue includes an interview with a game designer, in-depth game reviews, E.M. tech explained, product spotlights, comics, and more. Every page of the publication features new full-color illustrations from university professor and award-winning comics artist, Ryan Claytor, with articles written by both Claytor and Nick Baldridge, host of "For Amusement Only, the E.M. and Bingo Pinball Podcast", creator of the custom-built "Multi-Bingo" pinball machine, and seasoned tech."
Check out some of the cool teaser material they posted on Pinside:
This will go up for sale online starting March 22nd, 2019, with a cover price of $15.
To learn more about this project, check out their website: www.coinopcarnival.com. Looking forward to seeing more of this at the Texas Pinball Festival!
---
2a. Interview with Nick Baldridge and Ryan Claytor on This Flippin Podcast
Our friends at This Flippin' Podcast interviewed the creators of Coin-Op Carnival: Electrifying Tales of Mechanical Contraptions last week on their podcast! Here are just a few highlights:
On the project:
Nick: We started discussing this idea, and I was deep in the throes in the Multi-Bingo…we started chatting and we're talking about how cool it would be to have an EM focused publication. And not just EM Pinball but EMs in general. So..fortune tellers, shooting galleries…stand up arcade games, anything EM. We wanted to have some publication that was dedicated to it…our [publication] is very unique in that we decided to go to the source for information as much as we could. So our first issue is largely an interview with Wayne Neyens. And we got a lot of research through talking with Wayne directly, as well as other folks. We've been up and down Chicago trying to figure out the most accurate way to tell this story. That also includes period appropriate drawings for all the technical aspects. And that is something I was a real big stickler for as Ryan will attest [laughs]…But it was an over the table conversation, "wouldn't it be cool…"
Ryan: We both brought our own influences to this. To piggy back on what Nick was saying, the majority of this publication is an interview with Wayne Neyens, but we also have game reviews, both pinball and non-video arcade game reviews. We've got tech segments. We have product reviews and comics and even more – I don't want to spoil all the surprises.
On why the story of EM games needs to be recorded:
Nick: Many of the folks that were originally there are unfortunately dying off. There is a lot of information that is out there thanks to places like the Internet Pinball Database, thanks to many other websites that happened to capture technical information. But there is very little about people. And some of that information is extremely fascinating and informs the technical. That is some of the purpose.
Ryan: I also feel like, one of the things we were trying to do with this publication is to hit multiple audiences. We want this to be accessible to people that are not pinheads, that are not deep down the rabbit hole like we are. But at the same time we want information there that is going to be interesting to people who are in our position.
On detail in the book:
Ryan: If you saw the comic about Wayne Neyens when he moves…to Gottlieb in 1939, there is an image of the Chicago Coin Gottlieb building that is kind of shaped like an "L" and there are some store fronts around it. There was not a photograph of this building anywhere. I looked high and low, I talked to Chicago historical societies, I talked to Wayne, I talked to pinball historians, I talked to anybody I could think of, this photograph does not exist. So in order to create that, I had multiple conversations with Wayne, multiple iterations of creating that building…so we have historically accurate information in here that might slip by the average person, but I'm really proud with what we've been able to accomplish with this. Essentially we have artist renderings of documentation that did not exist before.
On having four issues:
Ryan: Issue 1 is 64 pages. New issues will follow roughly every two years. So in another 6-ish years we should have all four.
…
This Flippin Podcast: What is the time frame that we're actually talking about as far as the electro mechanical world…?
Nick: 1934 to about 1978, the book ends there.
This Flippin Podcast: Are there periods within those four decades where you can break down electro mechanical [into different eras] – what would be the differences between those eras, where is the innovation in the EMs?
Nick: I'm glad you asked – there is a ton of innovation in the 30s. That was when pinball was first starting to become popular. And there is a tremendous amount of crazy innovation that happened between the 1930s and through the 1950s. Things like…kickers, sling shots, player controlled magnets, flippers of course, pop bumpers, descending pop bumpers where they lower beneath the playfield and raise back up, moving targets. There is a world of amazing innovation that happened just in pinball…
Ryan: There is a ton of innovation that happened during this time period that I think a lot of people today mistake for modern innovations. Like the player controlled sling shots in WWE came in the electromechanical era, player controlled magnets came in the electromechanical era. Even on flipperless games, they were creating games with elecro magnets to alter the path of the ball. So some of this stuff is really early innovations that modern pinball designers look back on.
On the format of the series of books:
Ryan: We've got a different interview in every single one of the four issues. After that Nick and I will both have a game review…the section following that is always going to be Nick's tech segment and we've got those mapped out for all four issues. And finally I've got a product review…after that there are another couple things that I'm not going to outline because I want people to have some surprises in this issue. That is the rough outline of every single issue.
Check out the full episode here!
---
3. Stern Pro Circuit Championship

The Stern Pro Circuit Championship took place over the weekend! This is the tournament that will be featured on ESPN in August. Prior to the tournament Forbes ran an article previewing the big names, along with interviewing Keith Elwin and Zach Sharpe. Check out the article here!
The winner was Andy Rosa, who beat out Alex Harmon (2nd) and Raymond Davidson (3rd) for the title! Check out the 10 top finishers here.
The entire event was streamed on Dead Flip's Twitch Channel – click here to check out the full stream. If you want to see the moment when Andy won, fast forward to 13 hours, 16 minutes and 20 seconds to watch his last ball. Congrats to Andy!!
---
4. Pinball Adventures Game Titles Revealed
As we mentioned a few weeks ago on This Week in Pinball, Pinball Adventures partnered with a pinball manufacturer and announced they plan to make three pinball machines in the coming years.
This Week in Pinball recently learned the titles they plan to release – they are the following original themes:
PUNNY FACTORY
SUSHI-MANIA
FIRST CLASS
According to Pinball Adventures, "Each machine will boast two unique features that have never been done on a pinball machine before. More details will be revealed in the coming months." Stay tuned to learn more!
---
5. Countdown to the Texas Pinball Festival
Only 11 days until the Texas Pinball Festival! There are a lot of things to look forward to:
Hundreds and hundreds of pinball machines
The Vendor Hall
Playing the updated Oktoberfest
Jersey Jack Pinball seminar Friday at 7:00PM (might we see something?)
Checking out the Coin-Op Carnival publication and seminar Friday at 8:00PM
Steve Ritchie's seminar Friday night
Haggis, Multimorphic, Stern, Circus Maximus, American Pinball, Bowen Kerins…all seminars on Saturday
Hanging out with hundreds of people and friends that will nerd out about pinball with you
The TWIPYs
And the surprises (ex: last year Stern announced they hired Brian Eddy)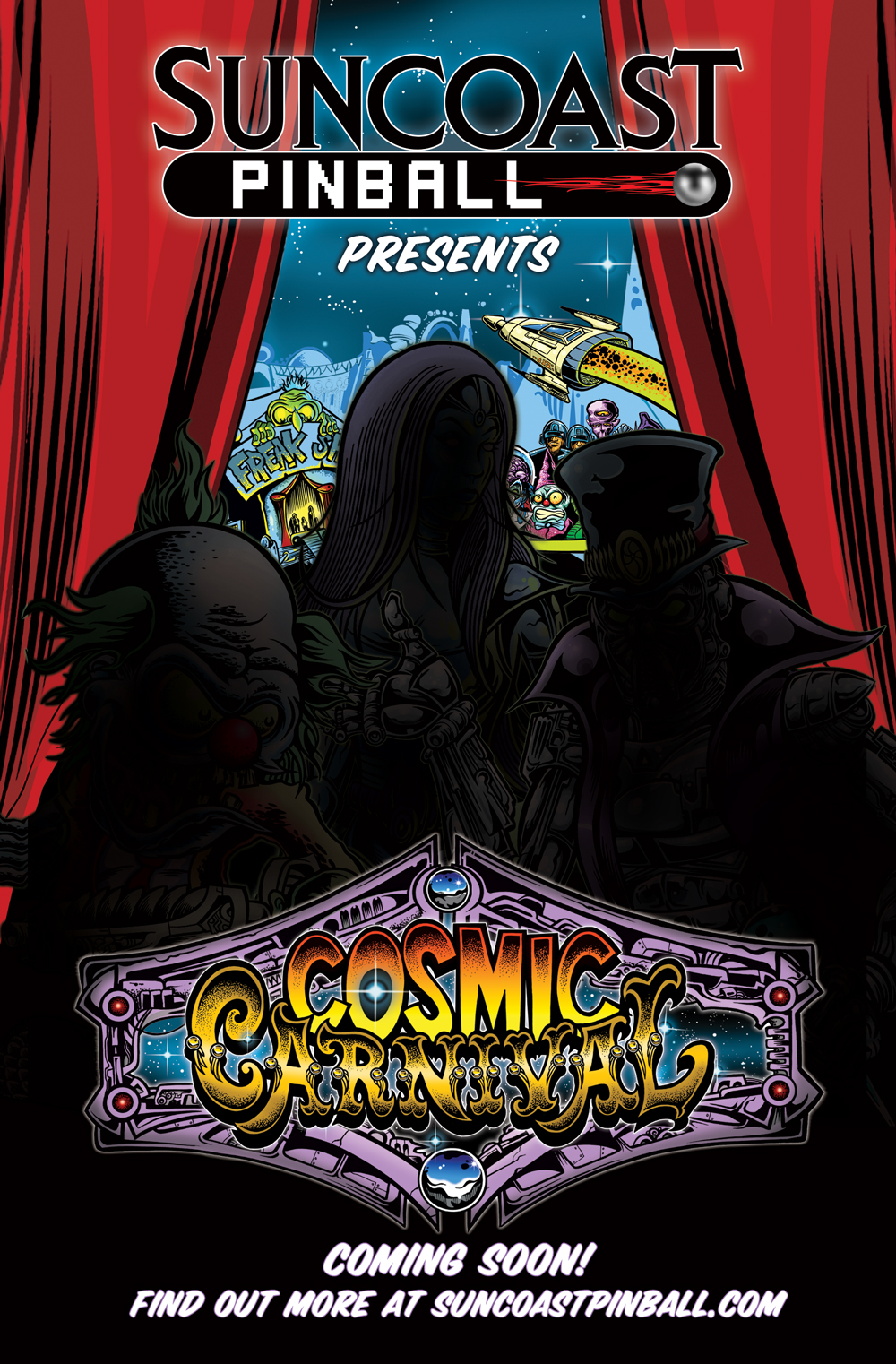 11 days!
---


— What Else You Need to Know Today —
Check out the pics of some cool TWIP swag will be shipped out to TWIP supporters (from 2018) this weekend!!
If you want to support TWIP, check out our Patreon: https://www.patreon.com/TWIP
$5/month = keychain and automatic entry into monthly giveaways
$10/month = keychain and t-shirt and automatic entry into monthly giveaways
$20/month = keychain and t-shirt and polo shirt automatic entry into monthly giveaways, plus LE/Insider Info (https://www.thisweekinpinball.com/category/le-access/)
Thank you as always for your support!

Identify the pinball machine pictured below for a chance to win a limited This Week in Pinball Lapel Pin! Drawing will be held monthly!
Last Week's answer: Iron Maiden
Email guesses to thisweekinpinball@gmail.com, correct answers will be entered into the drawing for the limited TWIP Lapel Pin!
CONGRATS to Kevin Peterson who won the February Lapel Pin!

— Presented by —
This Week's Mod of the Week is the Ghostbusters Pinball Walking Stay Puft from Mezel Mods!
Ghostbusters Pinball Walking Stay Puft brings the spirit of this classic moment in the film alive inside the Ghostbusters pinball machine. As players battle Slimer, the Scoleri Brothers and collect ghosts they are reminded of the angry walking Stay Puft (swaying left to right). Stay Puft moves into action when the Storage Facility light and stays walking for 10-15 seconds. This fantastic product was designed as a collaboration between Tim's Pinball Mods, Random Pinball and Mezel Mods.

Other Manufacturers
Disclaimer: Any articles, interviews, or mentions of pinball manufacturers or pinball products is NOT an endorsement.