Stern Halts Production, Delays Heavy Metal | American Pinball Halts Production | IFPA Suspends Sanctioning Events | Multimorphic Reveals Heist | Hot Wheels Updates | Spooky Pinball Moving

— QUICK HITS —
---
Coronavirus Updates
Stern Pinball Halts Production, Delays Heavy Metal
Stern shared the following update last week:

TO OUR VALUED CUSTOMERS AND SUPPLIERS:

In response to the COVID-19 Coronavirus pandemic, Illinois Governor J. B. Pritzker has announced a "stay at home" order for the entire State of Illinois, which will take effect at 5pm on Saturday, March 21, 2020. Being located in Illinois, Stern Pinball is subject to this order. As a result, much of our normal operations will be suspended as of the order's effective time. Production and Receiving will be closed from the order's effective date.

We have arranged for many of our employees to work from home. Included are much of our Product Development, Technical Service, Sales/Marketing, and Accounting staff.

We will continue to provide updates based on developments pertaining to the "stay at home" order. We look forward to getting back to complete operations as soon as possible.

We hope all of you are safe and well.

Sincerely,

Gary

Gary Stern
President
Stern Pinball, Inc.
2001 Lunt Avenue
Elk Grove Village, IL 60007-5605 USA
Tel: +1-708-786-7036 Fax: +1-708-345-7813
Mobile: +1-847-278-1398
Stern also announced that the release of Heavy Metal would be delayed:
American Pinball Halts Manufacturing
American Pinball also announced they were suspending manufacturing:
IFPA Suspends Sanctioning of Events
The International Flipper Pinball Association shared the following update last week:
New York City Pinball Championships Cancelled
The New York City Pinball Championships shared the following update last week:
Stay healthy TWIP readers!!
---
Multimorphic Reveals Heist
Last week Multimorphic revealed their newest creation, Heist!!
First HEIST Stream!
Our friend Nick Baldridge of the For Amusement Only EM and Bingo Pinball Podcast streamed Heist over the weekend – check it out!!
For more coverage of the Heist reveal, check out the following:
For more information about the P3 Platform and to buy Heist, click here!
---
Hot Wheels Updates
American Pinball shared some more information last week regarding their newest creation – Hot Wheels!! Check out the flyer and higher resolution images of the playfield and cabinet: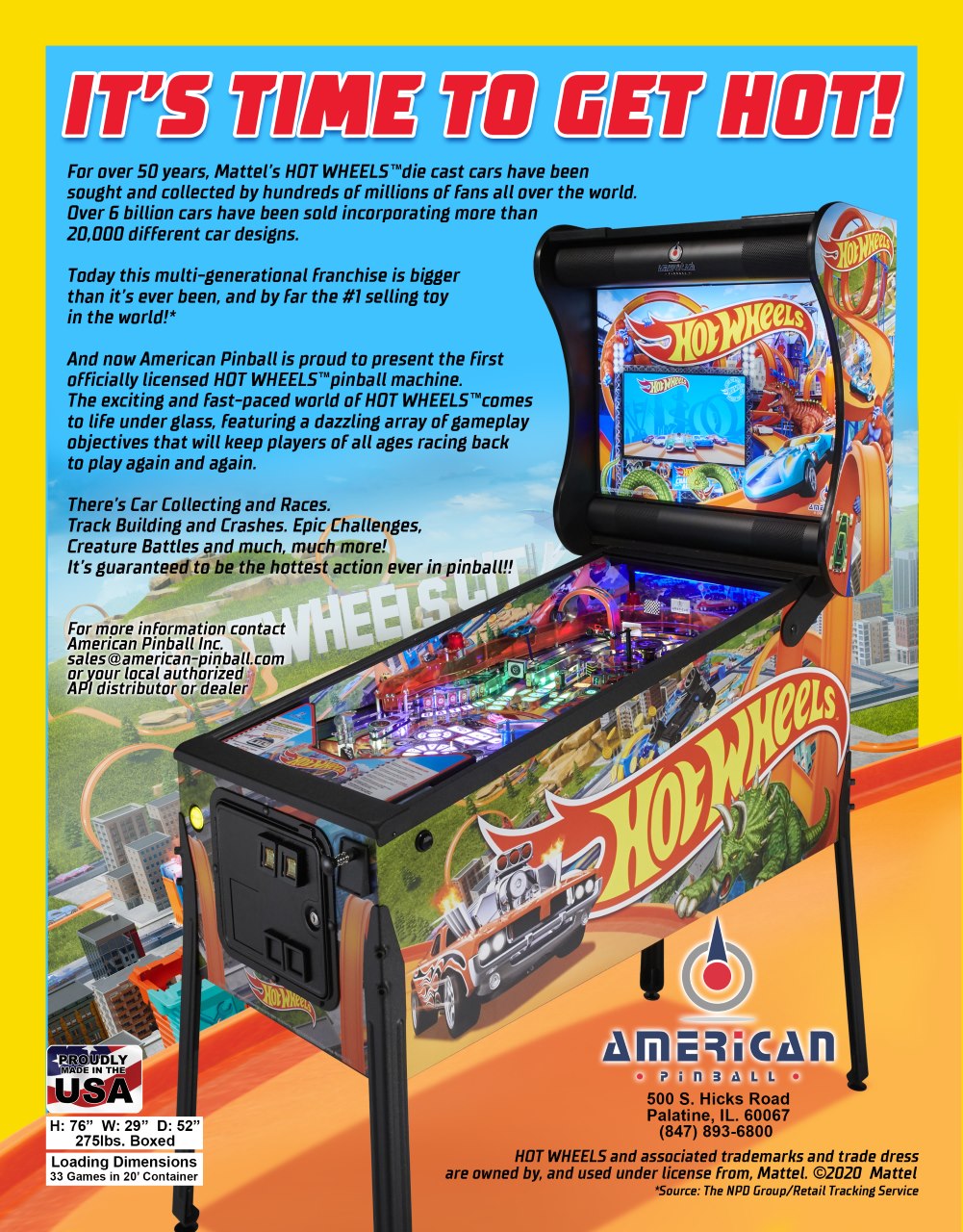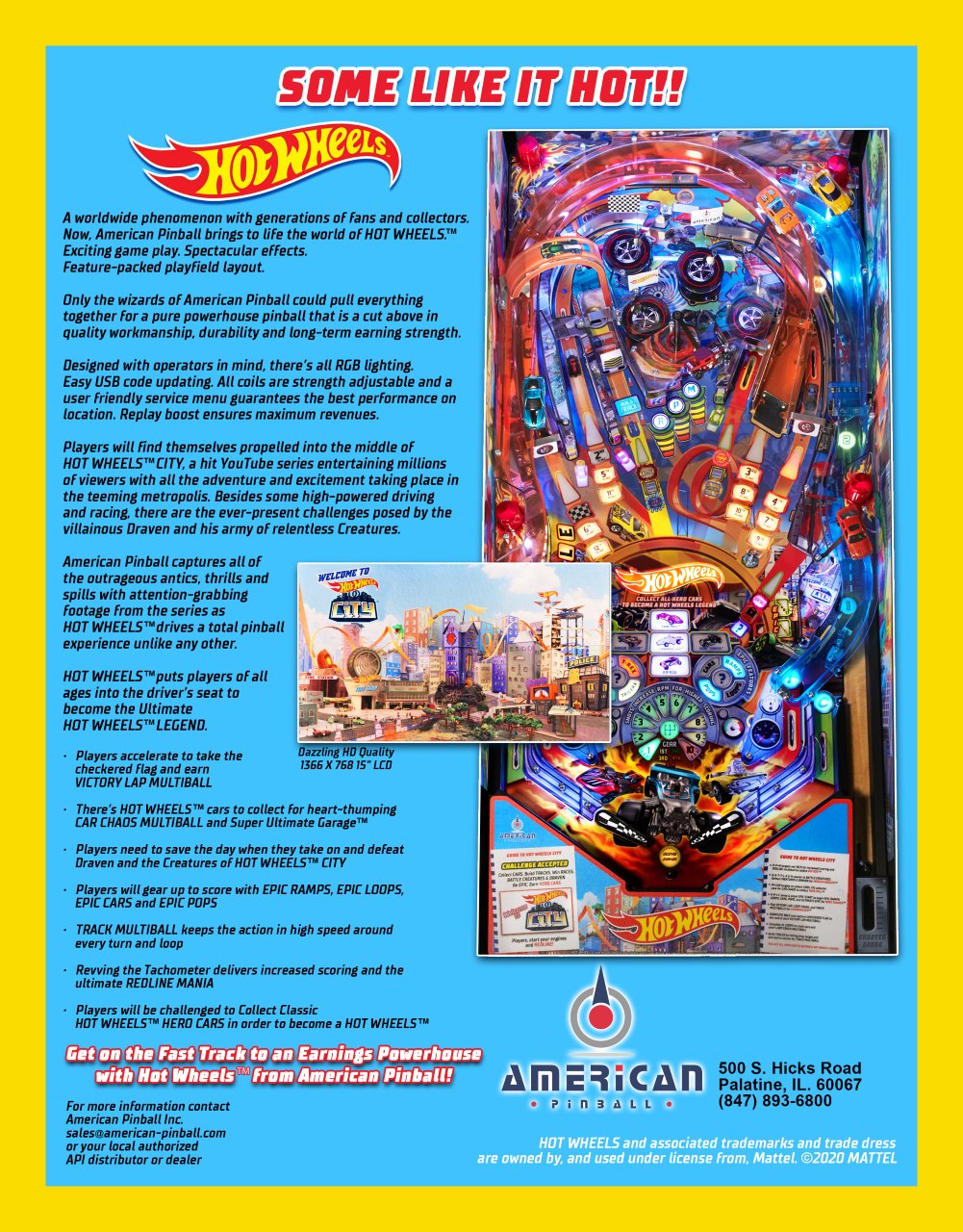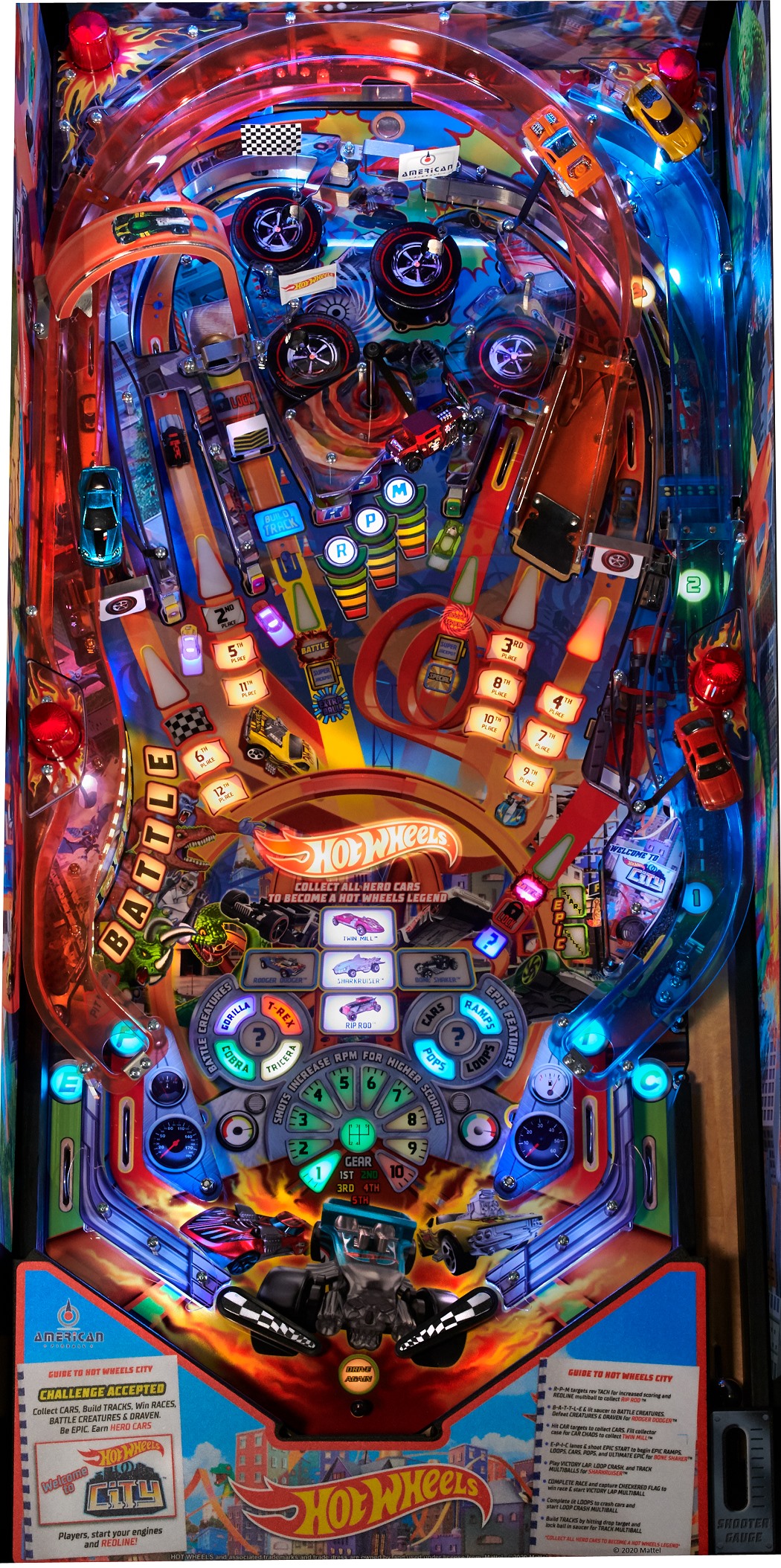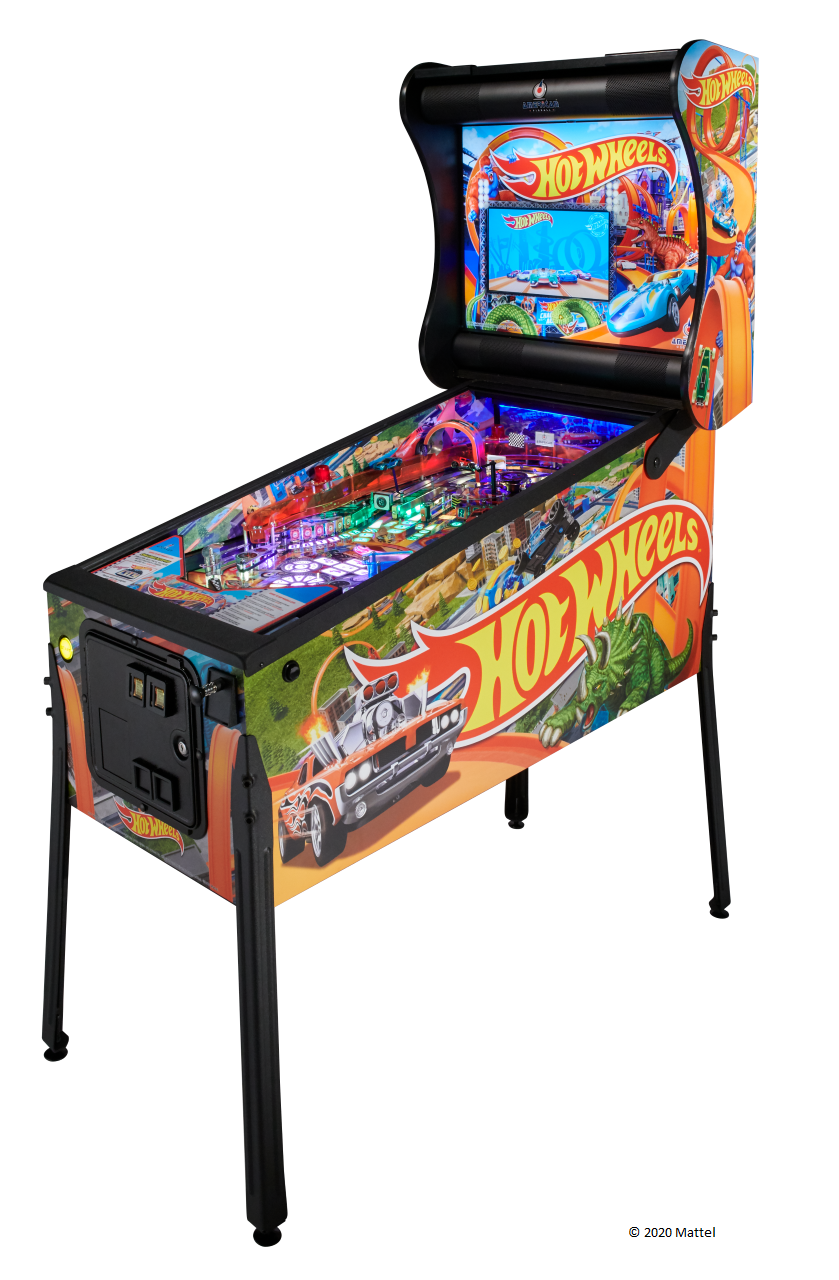 Josh Kugler, the Director of Software Engineering at American Pinball, answered some questions regarding Hot Wheels on this Pinside post:

1) Whats with the offset monitor?

Despite some suggesting we did that since we had to fit it into the provided art, I can tell you that is not even remotely close to the truth. It has been our goal to integrate the game display into the backglass when possible, in this case as a jumbotron or digital billboard. The team also felt we could do more with the backglass if we could create a larger canvas for our artist. We did testing of playing the game with the offset monitor and found that it takes very little time to adjust to the different position. After a game or two you don't think about it being offset. And we do believe that the larger canvas allows the theme of the game to come through, even when the machine is turned off.

2) What's with the dinosaurs?

Thankfully there are still toys in the world that encourage kids to use their imagination. And over the years Hot Wheels™ has expanded its' universe to include playsets that allow kids to explore different worlds with their Hot Wheels™ cars. Using your car to battle dinosaurs, gorillas, sharks and other creatures is the norm for many kids now playing with Hot Wheels™. Given our goal was to capture all the different aspects of Hot Wheels™, collecting, track building, racing, the stuff may of us grew up up with, we also felt creature battles should be a part of it.

3) What's with the spinning car?

Without context it easy to see how the spinning car seems a bit out of place. The car does respond to what is happening in the game. And while I won't go into a lot of detail on that in this first post, I will say that we are still adjusting how it is used in game play, regardless, there are settings to control how much it is used, a little, a lot or none at all. So for those who really don't like it, you can just turn it off. I will say that when you actually play the machine, it is not as distracting as it might look watching a cell phone camera video of game play, and it can be quite helpful in knowing when the tach value is dropping — you will soon learn why this is important.

4) What's the price?

Each of our games has been priced, based on what is in the game. Hot Wheels™ has a lower price than either of our first two games, with an MSRP of $6,295. This price reflects that the game has a little less in it feature wise. Also, as I indicated above, we want to grow location play and operators need a game at a price that works for them, so it was our goal on this machine to make it a little lower priced to better serve operators and to get more pinball on location. Given what is going on right now, there is little doubt that collectors won't mind paying a little less for a great new game.

Even with this lower price, the game is still loaded. Multiple ramps, drops targets, a vuk with loop ramp, a front facing kicker, staggered stand-up targets, real direct printed backglass and tons more. The game is 100% RGB LEDs for inserts and general illumination, using over 140 LEDs, including multiple LEDs in arrow inserts to allow better illumination and lighting effects. Cabinet inside art is included, the first of its kind, 3D Lenticular backpanel is included, art on the front of the apron included, powder coated rails included, and as mentioned above, for a limited time, the shaker motor is included. Oh, and the rules are designed to give you a lot of different objectives to pursue, which will keep this game challenging and entertaining for a long time.

5) What's with the stop motion animation?

Mattel has created a youtube series called Hot Wheels City™ and when we watched it, it just grabbed us. We loved the world they created and just watching it makes you smile. It is about having fun and that is what pinball is supposed to be about, so after much discussion, we decided that we wanted that to be part of the game and our friends at Mattel were willing to let us do so. You will see we mix that bit with some other animations that we feel better capture other aspects of Hot Wheels™ that some of us grew up with, such as track building and car collecting.

– Josh Kugler, American Pinball
Josh Kugler also gave an overview of the rules of Hot Wheels on this Pinside post – check it out!

You guys asked, so here is an overview of the rules.

First, let me say we looked at all the ways you play with Hot Wheels™ and created game play around each. Each of the objectives areas are tied to "Hero Cars", collect all five Hero Cars and you can become a Hot Wheels™ Legend

Racing — you start in 13th position (12th place flashing), you need to get to 1st to start Victory Lap Multiball, you can see the race positions/shots on the playfield image. Victory Lap multiball can be incredibly lucrative, if you have the skills to build the super jackpot all the way up before collecting it. The main 'out of mode' sound track is tied to racing, as you advance race positions, the music will advance with you.

Car Collecting — leads to mystery awards and special modes.

Track Building — you build increasingly more complex tracks, complete one and you are in Track Multiball. This is the easiest multiball to start, as it only takes four shots to get to it (the first time).

Creature Battles — These are modes, with each being quite unique. All feature a 'fuel bonus' based on how much is left on the fuel gauge when you defeat the creature. Defeat all four creatures and then you battle the mad scientist Draven.

Loop Crash Multiball — makes lots of loop shots, to start this Multiball that grabs the ball with the magnets when the super jackpot is ready, better crash that ball before the magnet lets go to collect the super. BTW, the only two MBs you can stack together are Loop Crash with Victory Lap — but only if you start them at the same time! All MBs can stack with Battles and EPIC features, speaking of which . . .

EPIC Features — spell EPIC at the lower lanes and then hit Start EPIC, where ramps and/or loops and/or car targets and/or orbits and/or the whole playfield builds up an EPIC jackpot. The more you start together the higher scoring, but the harder to qualify before you can collect, but be sure to collect it before you drain or it will be an EPIC Fail!

The Tachometer — I've save the most important thing for last. This is very important, but very simple.

The higher the tach, the higher the scoring. This idea of a single feature affecting all scoring was something that ferret had bouncing around his head for a long time and was a perfect fit for the theme. Scoring on everything is based on the tach.

The higher the tach, the higher the scoring. (just keep repeating that to yourself). The primary way to increase the tach is by shooting the RPM targets, which are the 'stepped' stand-ups right in the middle. If you can redline the tach, well, get ready, because Redline Mania is going to be coming at you (great objective for kids). BTW, there are inserts right by the flippers that show the tach levels (as well as on the display), but the spinning car will be quite helpful in helping you know when the tach is getting low. If you are not making shots, the tach will go down and down and down. If that car is not spinning, your scoring is probably lower than you would want, spinning slow, not bad, but when it is going fast . . .

The tach really adds a great dimension to game play for the enthusiast and for the tournament player who is focused on score. It creates a great risk/reward scenario relative to keeping the tach up, as it requires you to shoot the stepped standup targets that create random action.

Oh, there is also Turbo Boost — use the pops to build up the boost, once lit, you can trigger it at the kicker, and that will then increase the tach value by 10X for a very brief period of time, so use it wisely.

– Josh Kugler, American Pinball
---
Spooky Moving to New Facility
Spooky announced last week they are moving into a larger facility:
They also shared they will "hit some production bumps" due to the Coronavirus:
---
Stranger Things – Behind the Scenes
This video is fascinating – Chuck Ernst of Stern Pinball talks about everything that goes into creating the animations on Stranger Things – check it out!
---
Other Quick Hits:
Happy birthday to Snow Galvin!!
---

Other Manufacturers
More

Team Pinball: The Mafia

Circus Maximus: Kingpin, Python's Pinball Circus

Homepin: Thunderbirds, Chinese Zombies

Suncoast Pinball: Cosmic Carnival

Great Lakes Pinball: Exposé

Haggis Pinball: Wraith, Celts

Pinball Brothers: Queen?, Barry Oursler's Original Theme?, Playboy?

Dutch Pinball: Bride of Pinbot 2.0, Bride of Pinbot 3.0 (on hold), The Big Lebowski (production/legal issues)

Silver Castle Pinball: Timeshock

Phénix Pinball: Goblin Contest

Pinball Adventures: Punny Factory, Sushi-Mania, Ninja Mania, First Class, Canada Eh!

Disclaimer: Any articles, interviews, or mentions of pinball manufacturers or pinball products is NOT an endorsement.