Free Toppers | Mike Vinikour Interviews | Scott Danesi Interview | Bowen Kerins Interview | The Pinball Network
---
LAST WEEK TO VOTE!
Don't forget to fill out your TWIPY ballot if you haven't already!!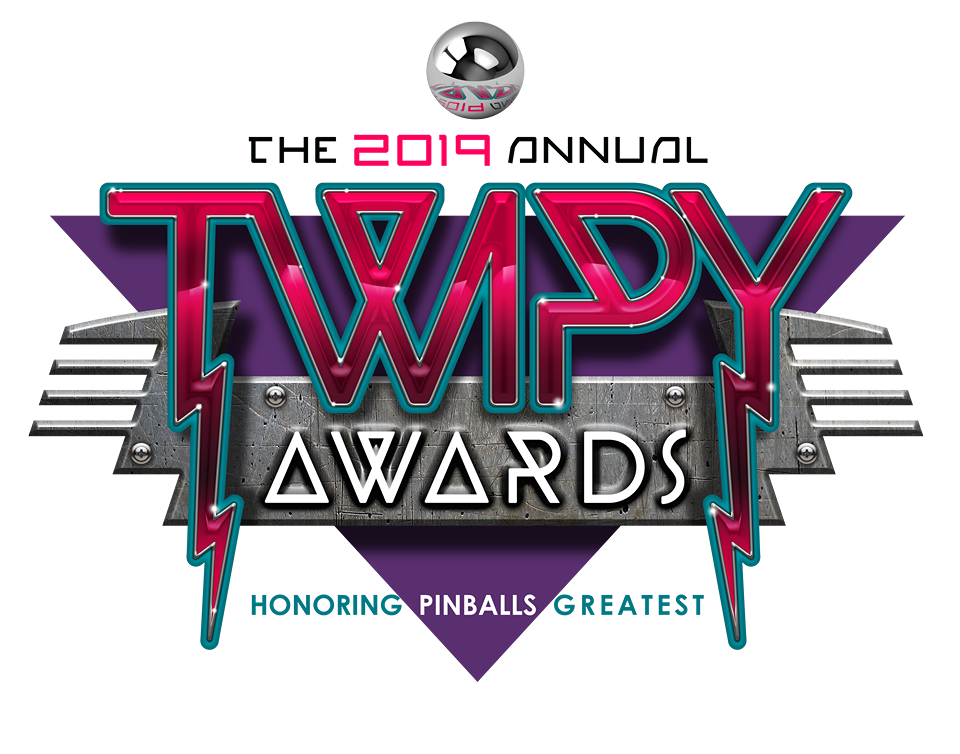 ---

— This Week's Top 5 Stories —
1. Free Topper from Spooky Pinball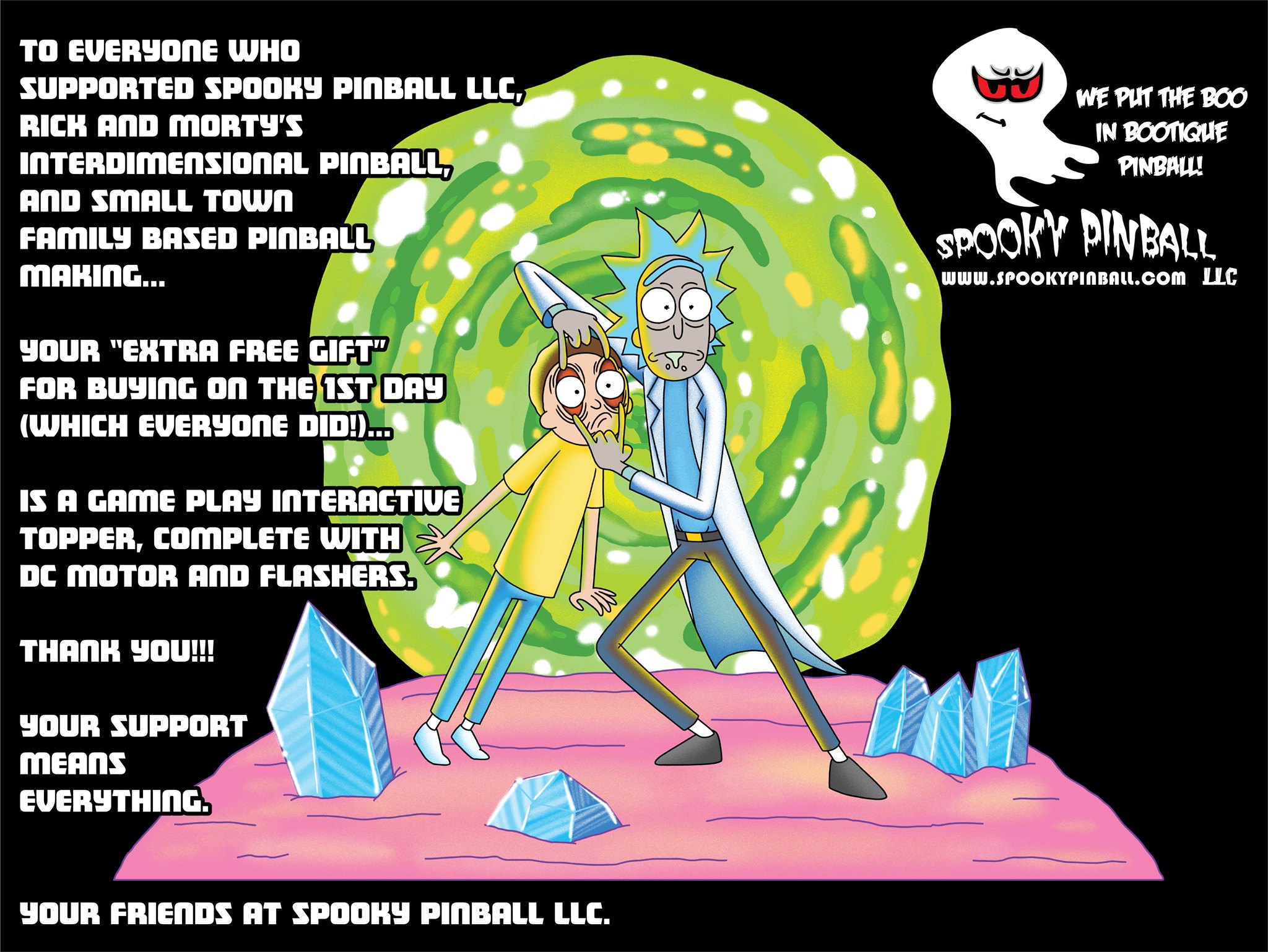 If you had not heard, Spooky recently announced a FREE TOPPER to all the customers that ordered the new Rick and Morty game! Considering how much toppers for pinball machines cost now, this is an incredible a free gift!
Scott Danesi joined Bro, Do You Even Talk Pinball? – more on that awesome interview below on story #3 – and shared a few nuggets about the topper:
I can share that it moves…I saw it today with its lights and its motion. Usually I'm pretty critical on stuff, and I say "we should change this or change that" – I had no feedback, it is frickin cool…I had no idea that Charlie was just going to give away toppers for free, what the hell is that all about? [laughs] Seriously, he's crazy. It shouldn't be long though because I saw a video of a working topper so hopefully they show that soon.

– Scott Danesi on the Buffalo Pinball Podcast
Looking forward to seeing the reveal of this topper!
---
2. Slap Save: Mike Vinikour Talks Stranger Things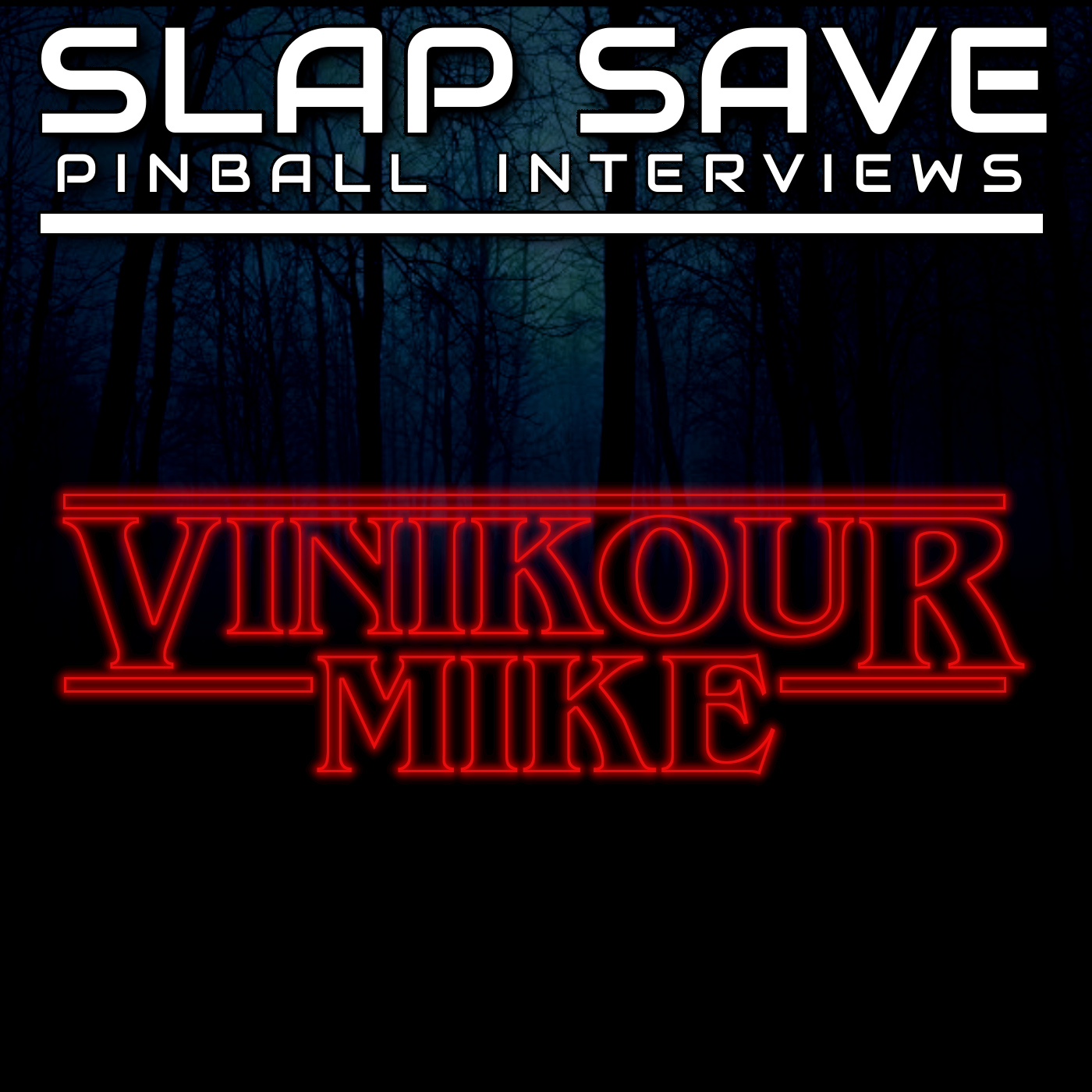 Our friend Jason Fowler interviewed Mike Vinikour (Stern Associate Game Developer) on his most recent episode! Here are just a few highlights:
Discussing where the code is headed for Stranger Things:
Mike Vinikour: There are plenty of more assets to come, they'll be more visual stuff, more callouts – David Harbour recorded a lot of custom speech for the game and you've only heard some of it, there is more to go in. Lots more projector stuff coming in for the LE and the Premium. And then we still have some wizard modes and a couple other modes we want to add that aren't in there yet. We also plan on taking a pass through all the game modes that are currently [included] to make them more fun and add a lot more polish…
On his work with Lyman Sheats on the Batman '66 channel changing feature:
Mike Vinikour: The channel changing thing on Batman '66 I'm really really proud of. Lyman had the design of having the multiple TVs because he wanted to show all the things going on in the game at once so you always knew where your points were coming from. But the original design was that – whatever was the last thing you started would get that main screen. When he was telling me his design I said "man it would be so cool if you could change the channel with a button, but you couldn't do that could you?" And he thought about it for a minute and said "I think I could, let me try that and I'll grab you when I got something"…and the next morning he already had it working.
On designing his own pinball game:
Mike Vinikour: Designing a whole game for Stern is my long term goal for sure, it is something I feel like I'm working towards and when the time is right I hope to get the opportunity and I'm pretty sure they will let me when the time is right. I've made it no secret that that is the last thing on my bucket list to do in this industry. I look forward for when that day comes and when the time is right.
Mike also discusses the Stranger Things theme, talked about working with Brian Eddy, how Brian Eddy got "caught up" with the industry after being away, talks about his "typical day" at Stern, talks about Lonnie Ropp being underrated, how much he enjoys collaborating with Lonnie, how great Lonnie's presentations in pinball machines are, talks about how underrated KISS pinball is, talks about how he deals with criticism (and praise), talks about TWIPY Pinball Awards, and much more!!
Listen to the full podcast here!!
---
3. Buffalo Pinball: Scott Danesi Talks Rick and Morty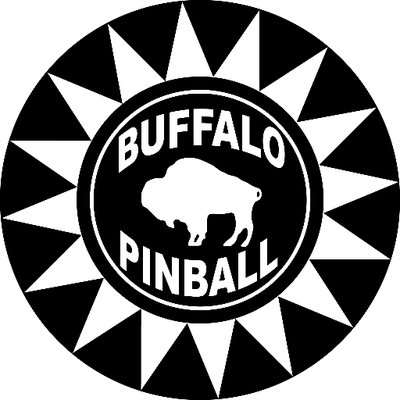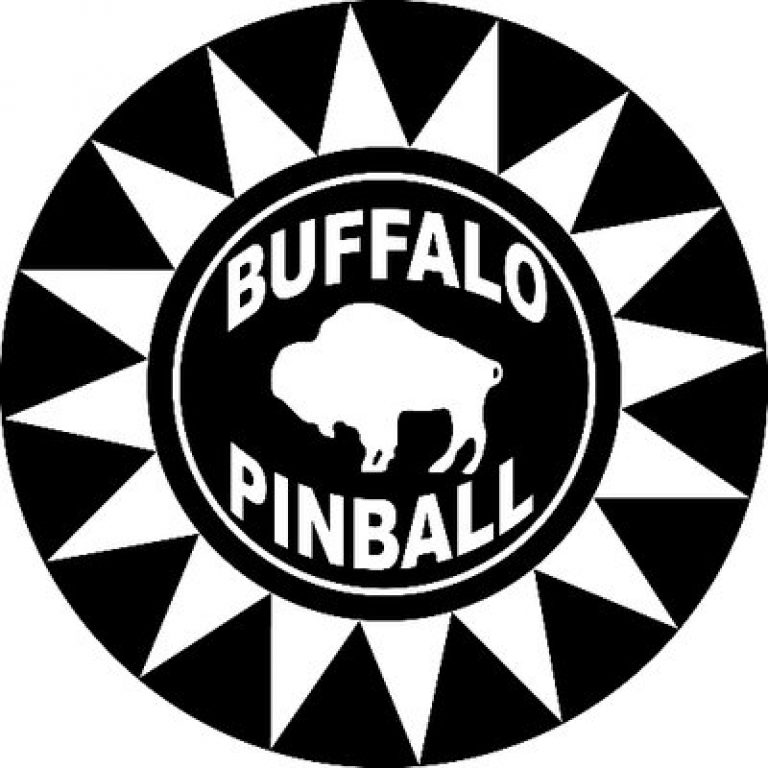 Our friends at Buffalo Pinball were joined by Scott Danesi last week to discuss Rick and Morty pinball! Here are just a few highlights:
On how he goes about designing the physicality of a pinball machine:
Scott Danesi: For me…I will go into my little book – I have a little book of little mechanical design things that I think about, and I'll find something that kind of fits what I'm trying to go for. Which in this case I started with that locking mechanism. That mechanism itself was already drawn in the notebook so I built it all out…on the computer. Once I had that I started building everything else around it.
I've really love those old school games…I like that old school flat flowy stuff, but I wanted a more modern take on that retro stuff so I added in more ramps and mechanisms…but you'll still see stylings of old retro stuff like quick turnarounds and loops and really difficult shots.
On a 20,000 foot view of rules:
Scott Danesi: You are Morty, and Rick is in the pinball machine yelling at you and making fun of you…he is instructing you on what to do. You guys go on adventures together, and adventures are similar to a pinball mode.
On if the adventures/modes you'll play are linear:
Scott Danesi: It is not linear at all, it is random. It doesn't allow you to pick an adventure…[but] there is the Morty Adventure Card on the playfield, and if you fill in 10 adventures, then you get to pick your own adventure and it is a little wizard mode.
On production:
Scott Danesi: They have a bunch of [games] almost built, I think we're waiting on some things in software, waiting on some approval stuff, and then it is ready to go in boxes.
He also talks about when he found out the Rick and Morty license was a possibility, talks about working with a team vs working on TNA (where he did most of it himself), about working with Justin Roiland (co-creator of Rick and Morty), he talks specifically about shots on the game and describes them, talks about the possibility of a co-op type mode in this game, shares there will be popular songs from the show, and much more!
Check out the full episode here!!
---
4. Monday Night Pinball: Mike Vinikour

This was over a week ago now but hasn't been covered on TWIP yet since we took last week off – Mike Vinikour joined the Monday Night Pinball gang! Mike talks and plays Stranger Things pinball – check out the stream here!!
---
5. Slap Save: Bowen Kerins Talks Rick and Morty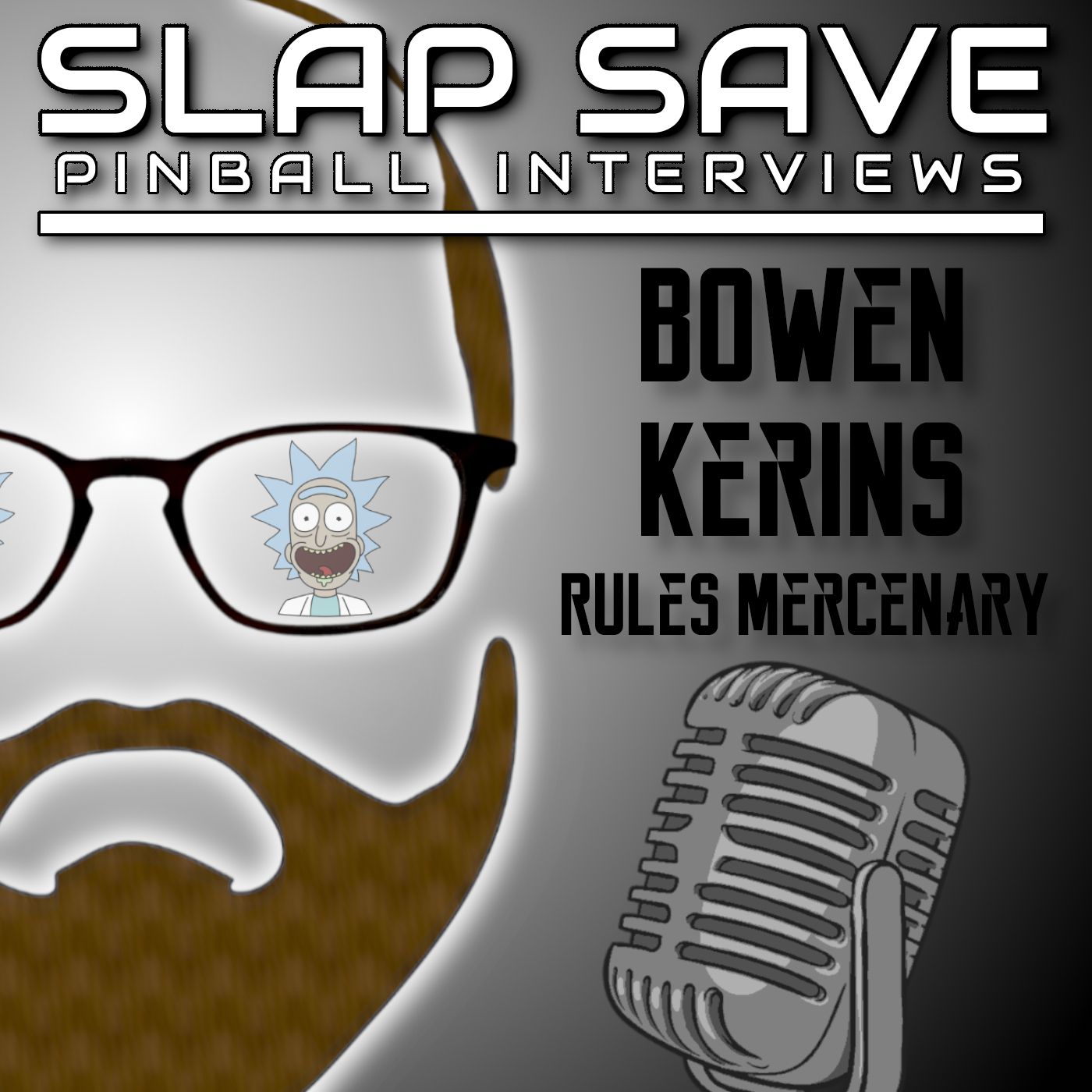 Also over a week ago now but hasn't been covered on TWIP yet – our friend Jason Fowler interviewed Bowen Kerins on a recent episode! Here are just a few highlights:
On a 20,000 foot view of the rules:
Bowen Kerins: It sets up extremely well for you – the player – to be Morty, and for Rick to be the voice of the machine, shouting at you in various friendly and unfriendly ways what to do and when to do it.
On the status of the code:
Bowen Kerins: I think the base version of what the overall game is and what the rules do in general is very close to 100%. Now there are definitely things within there that are not finished yet. Like certain adventures are not completely programmed or scored yet, certain sounds, audio bytes, video clips, all the things we have to get in there, those are not finished. But having the base organized and what the player is going to be doing and in what order and when and why, I think we've done a really good job of that…I want this game to be understandably complicated.
On "Dimensions" in the game:
Bowen Kerins: I mentioned this thing called Dimensions, they are separate from adventures. When you travel to a different dimension…some things change. Like you could have a playfield effect, where loops being double in that dimension. Or you could have a negative effect like ramps don't score…the other thing that will happen when you go to different dimensions is it will light up megaseeds around the playfield, three megaseeds. If you collect a megaseed you don't get any points but it gives you an end of ball bonus.
On when we'll see the reveal stream:
Bowen Kerins: Soon, I would guess within a few weeks from now we'll have something prepared that we can present live and then right around that same time I would presume the game would start shipping.

Bowen talks about settings for swearing in the Rick and Morty game and how you can set it to whatever percent that you want – if you set it to 10% then it will bleep 90% of the time for example. He also discusses about Alice Cooper code, talks about the complexity of game code, talks about how to play better for beginner and intermediate players, and much more!
Check out the full podcast here!!
---

---

— What Else You Need to Know Today —
---
Media Shakeups
There were a lot of shakeups (and confusion) in the pinball "media" recently, with many podcasts ending and the community finding out that many have teamed up to form The Pinball Network. The first teaser shared "Pinball Media Evolves in 2020" and "Become One". The reveal of the participants was shared last week:
---
The Pinball Network and TWIP
In response to the many friends asking questions regarding The Pinball Network and TWIP, I wanted to clarify my involvement:
Zach Meny and Dennis Kriesel were co-hosts of the TWIP podcast and have moved on to The Pinball Network (ending the TWIP podcast was a mutual decision between myself and Zach). This Week in Pinball is not, however, involved with The Pinball Network. I learned the details last week when everyone else did.
Though I have worked very closely with many involved with the new network and even discussed the idea with some of them to ask a bunch of pinball media to work together back as far as October of 2018, I was not approached to take part.  Without knowing details of this venture, it is unclear how or if I would participate in the project, but I'd be lying to say I wasn't frustrated to be excluded.
All that said, one of the things I am most passionate about – and one of the reasons I started TWIP to begin with – was to reach new audiences and pinball hobbyists that are not so involved that they would understand references to the interpersonal relationships and inside jokes often referenced on podcasts and forums. People like me 5 years ago, and even today to a large degree.
To the extent The Pinball Network will also share that passion to expand our hobby, I fully support their efforts. I look forward to seeing what they create in their new endeavor and learning how we can work together to grow the world of pinball. – Jeff

Other Manufacturers
More

Team Pinball: The Mafia

Circus Maximus: Kingpin, Python's Pinball Circus

Homepin: Thunderbirds, Chinese Zombies

Suncoast Pinball: Cosmic Carnival

Great Lakes Pinball: Exposé

Haggis Pinball: Wraith, Celts

Pinball Brothers: Alien?, Queen?, Barry Oursler's Original Theme?, Playboy?

Dutch Pinball: Bride of Pinbot 2.0, Bride of Pinbot 3.0 (on hold), The Big Lebowski (production/legal issues)

Silver Castle Pinball: Timeshock

Phénix Pinball: Goblin Contest

Pinball Adventures: Punny Factory, Sushi-Mania, Ninja Mania, First Class, Canada Eh!

Disclaimer: Any articles, interviews, or mentions of pinball manufacturers or pinball products is NOT an endorsement.