Stranger Things Premium Updates | Scott Danesi Interviews | CPR Announces Custom Re-Theme Shop | Arcade1Up Announces Digital Machines | Bowen Kerins Talks Rick and Morty
---
Don't forget to fill out your TWIPY ballot if you haven't already!!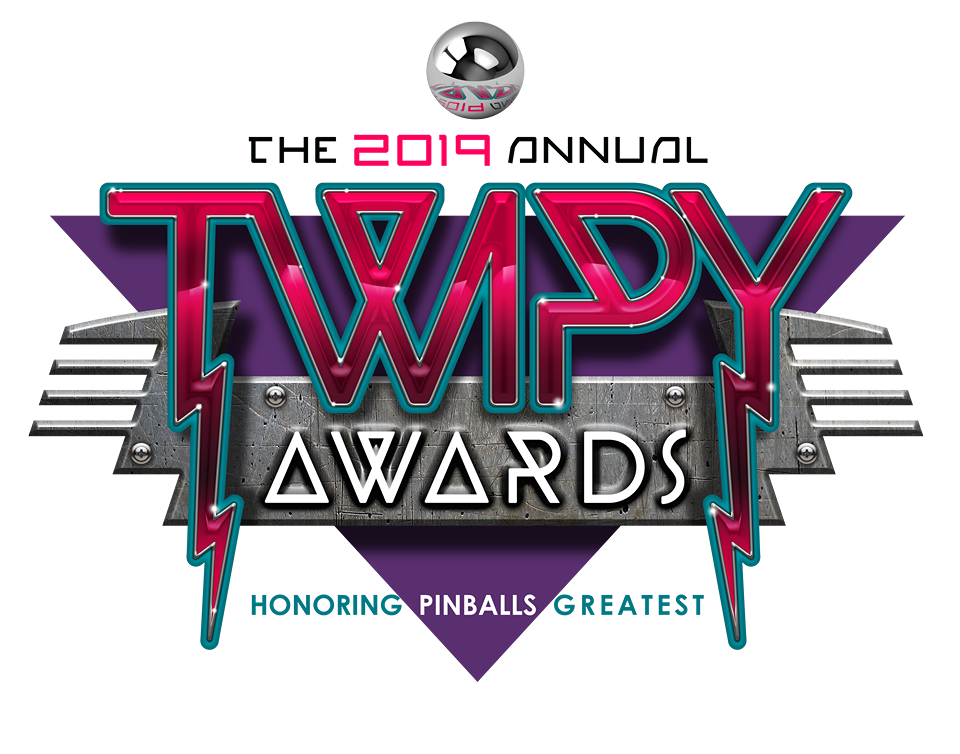 ---

— This Week's Top 5 Stories —
---
1. Stranger Things Updates
The Stern team was at the Consumer Electronics Show (CES) last week showing off their newest creation, Stranger Things! We got to see some of the Premium Model with the projector feature and the magnetic ball lock. Here are some updates from the last week on Stranger Things:
They were extremely collaborative and really excited to see what we have in store, especially with the projector. Right now we are still going through some approvals on some of the content we're going to be including, but just wait.

– Zach Sharpe on working with the Duffer Brothers, creators of Stranger Things
In case you missed it, this is the original teaser trailer of the Premium model that was released by Stern Pinball:
Keep an eye out for the stream of the Premium this week!
---
2. Scott Danesi Interviews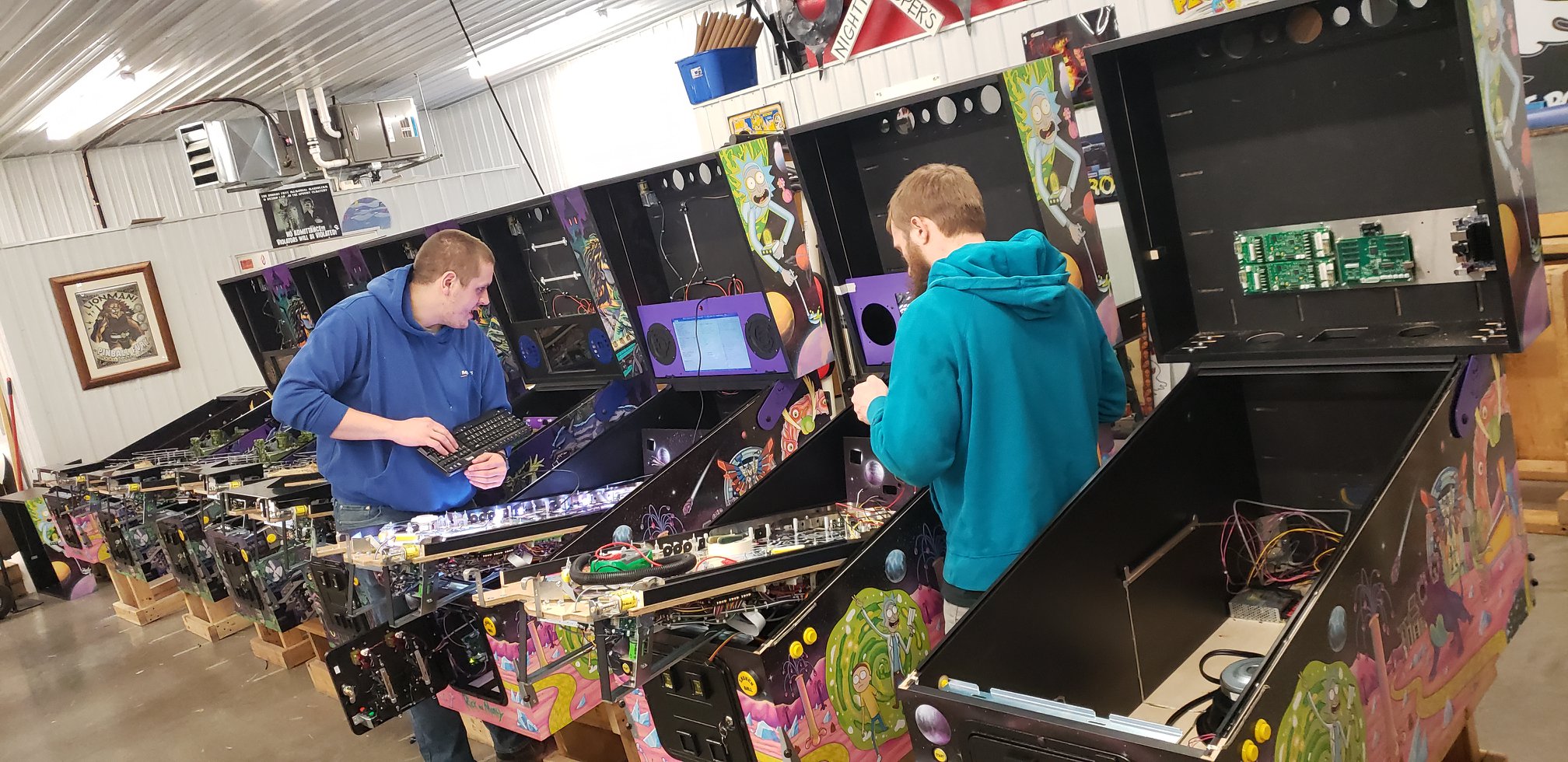 Our friend Scott Danesi joined several different podcasts last week to talk about Spooky's newest creation, Rick and Morty! Here are just a few highlights from the different interviews:
Slap Save Pinball Podcast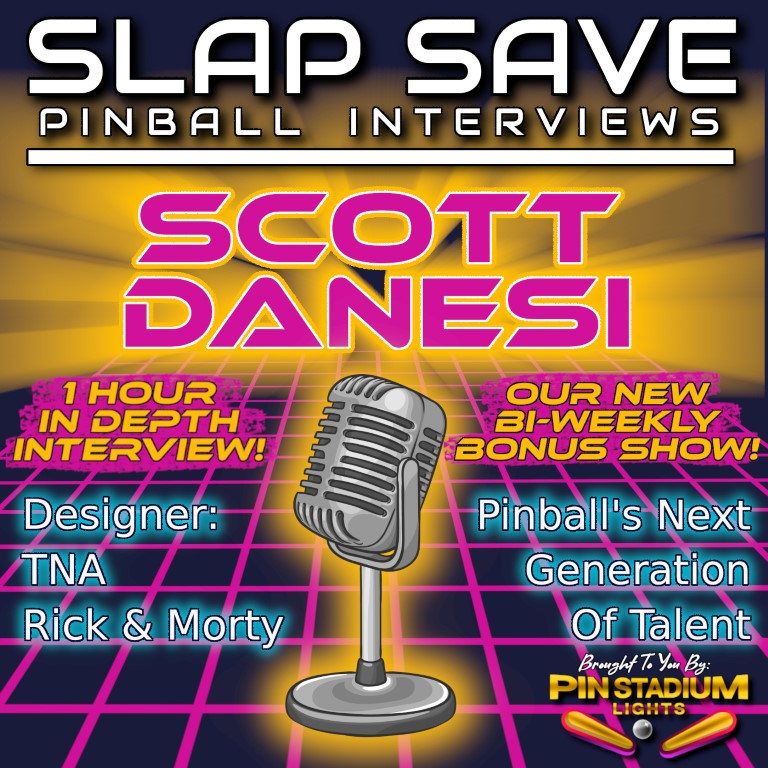 Scott's first interview was with the Slap Save Pinball Podcast. It was an in-depth interview that dove into a lot of different topics – here are just a couple highlights:
On if he was surprised with the sellout of Rick and Morty and how quickly it sold out:
Scott Danesi: "A little bit…but that theme is honestly the majority of the heavy lifting…I think the Rick and Morty fanbase is just crazy…and also the pinball people – the Rick and Morty fanbase cross over with the pinball people."
On working with a license like Rick and Morty vs. working on the unlicensed Total Nuclear Annihilation:
Scott Danesi: "Going back and looking at TNA…basically I built a game I wanted to see and that I put everything into it that I thought was fun. I thought the design was great, I wanted to see that type of design so I made it. I wanted to see crazy lightshows in an old 80s style looking game so I did that. I wanted really loud music…so I just did all this stuff. So I just did whatever I wanted, there were no restrictions at all. So when Charlie was looking to actually bring it into production, you have to create things like a BOM…but since I had already designed it all, you can't really take anything out of it or change it at all. So we just built it as is. And since I used parts that were available to Spooky and nothing super custom in that game, it made it a lot smoother.
…I actually built the Rick and Morty game – the whitewood version – without Charlie seeing it at first…I was not showing him along the way what I was doing, he didn't see it until the whitewood was assembled and he actually got to flip it for the first time. That was actually really cool because I still got to do what I wanted which was do a design that didn't look like anything else that was out there…it is very different designing a game with something in mind because you have to take in theme elements, you have to make sure you're not blowing up a BOM…"
Listen to the full podcast here!!
Spooky Pinball Podcast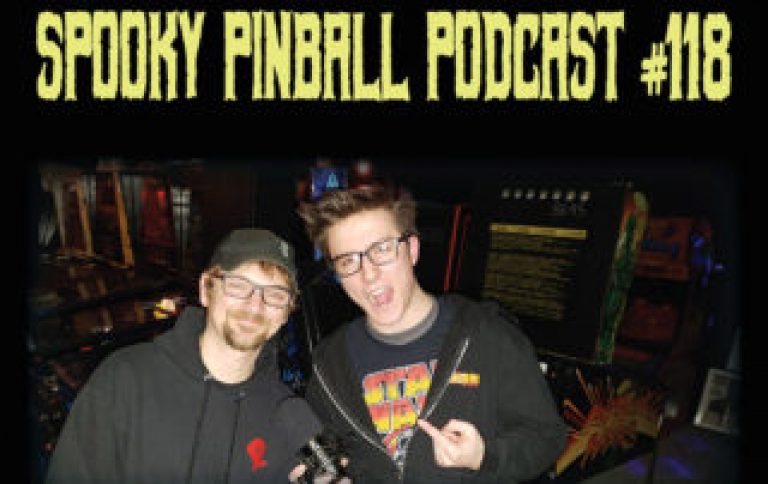 Scott also joined the Spooky Pinball Podcast to talk Rick and Morty with Bug and friends – here is just one of the highlights from that podcast:
On the Danesi Lock 2.0:
Scott Danesi: "It is kind of funny people are calling it that. It is a horseshoe with two drop targets on the outer edges or the openings of it, and it has an up-post in the the middle. It can be used in tons of different ways…it can be used as a high speed loop when it is wide open…then it works as a locking mechanism where you can lock a ball on either side, then you can transfer those balls from one side to the other or the game can decide to keep the ball on one side or the other and then it just acts like captive ball, or two separate captive balls."
Listen to the full podcast here!!
The Super Awesome Pinball Show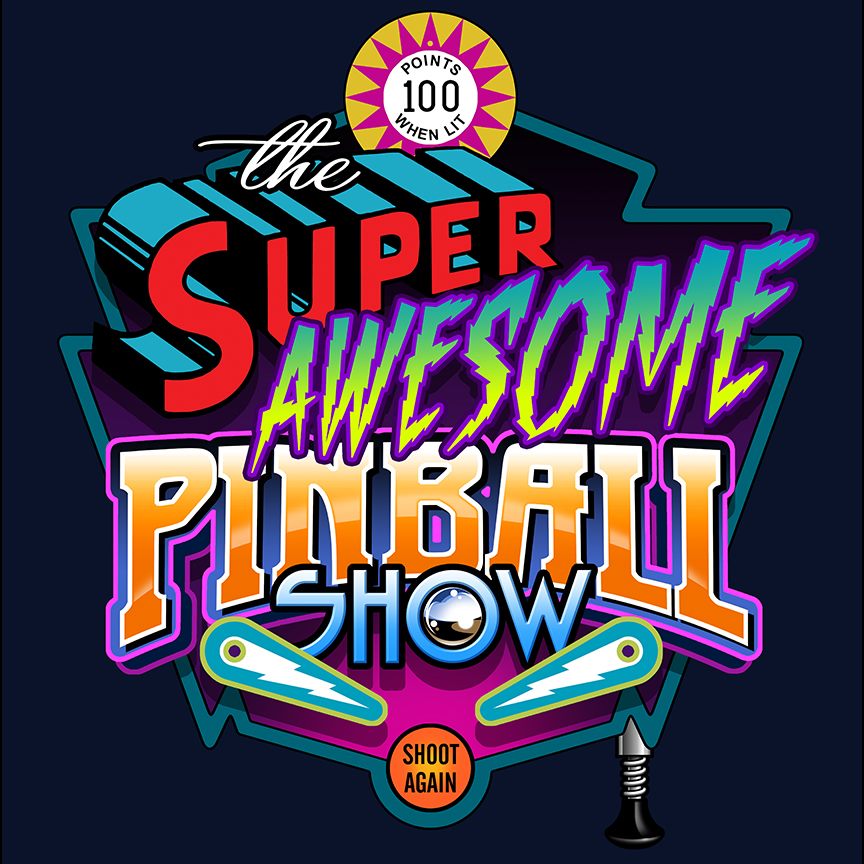 Scott also joined The Super Awesome Pinball Show for a very detailed discussion on the machine, here are just a couple highlights:
On Easter Eggs in the game:
Scott: "From the prototype to the main game there's not much that we had to change besides the positioning of the pickle rick under the flipper there."
Christian Line: "Speaking of that, they said that that's not going to make it to the actual production games. Charlie said that was going to be moved?"
Scott: "No Charlie said that it was going to be changed in terms of where it was located. Charlie even posted a picture on facebook of the production playfields that are in house right now and you can see that pickle rick has been moved."
Christian: "How much stuff like that.. the hidden stuff – did you put in there? Are there a lot of easter eggs, and little things to find in the code and in the cabinet art and that sort of thing?"
Scott: "So in the art.. the easter eggs in the art are not pinball related. They are actually things from the show that have not been released yet. Which is super neat, because we got the art done.. it was done before season 4 started. There was stuff all over the artwork that is from [season 4]. We were like "What is this thing, what's that thing?" none of this makes sense. So as the season progresses, more and more of the stuff on the game makes sense."
On Expandable Content and Future Support With Modes:
Scott: "As for expandable content and stuff that we're planning on in the future – we are planning on releasing time released code updates for this thing. So like as new things happen in the season, we're going to be releasing new little chunks every once in a while. We're going to be around to support it. Erik [Priepke] is an amazing programmer, Bowen [Kerins] is an awesome rules designer, so we're going to keep going with this…they're not going to give up on it.
The time released stuff I'm really excited about, because as new seasons come on-line we'll be able to get stuff from Cartoon Network we'll be able to put it in the machine. Erik has built the framework so that it's a lot easier to implement that stuff.
It's not going to be a "keep up with the show" thing, but it's going to be like if something really significant happens.. a cult following happens around space snakes or something. The next pickle rick happens, that obviously has to be put into the machine, because then otherwise you end with something like South Park where you end up just locked in to the first season, you know?"
Listen to the full podcast here!!
---
3. Classic Playfield Reproductions Announces Custom Re-Theming Shop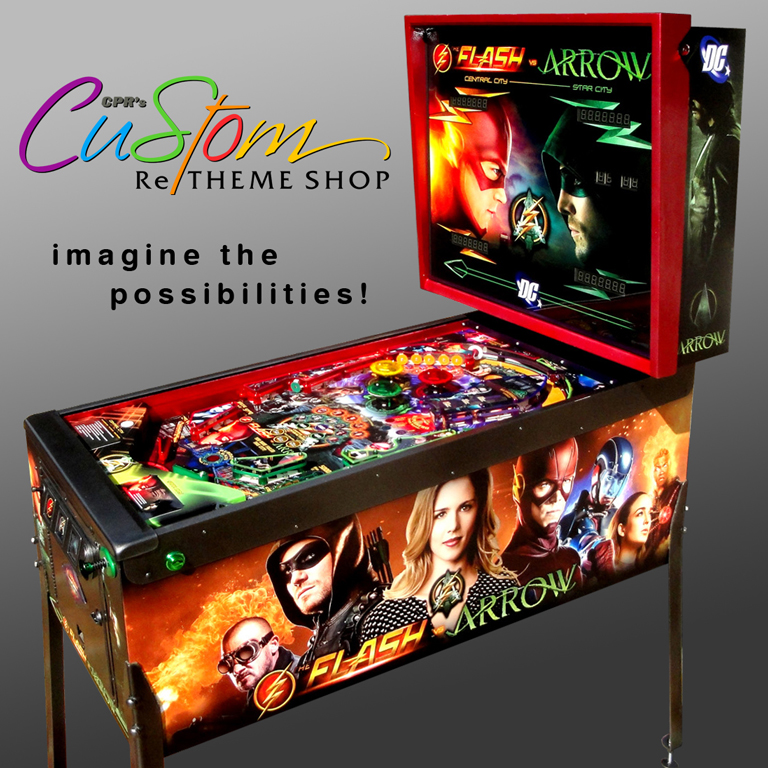 Custom Playfield Reproductions announced a custom retheme service last week! Per their website:
This is the spot! CPR is now the hobby's first & only Custom Shop for Re-Theming. We can help with everything from printing your custom plastics, backglasses, playfields, and even cabinet decals, etc. Use your own artwork, or let us work with you to develop it. Re-Theme your pinball machine into a one-of-a-kind, of any theme you want. Ever had a dream machine? Well CPR can get you all of the major components that hold most re-theme dreams back. Dreams CAN come true!
…
We do not make "overlays" for our custom playfields. All of CPR's Custom Re-Theme playfields are printed directly onto the wood, just like the real thing. You can either supply us with your used playfield (properly prepared for printing) , or if we have the CAD cutfile for your title, we can make you a completely new playfield. If you want to completely change playfield inserts to other colors to match your theme – no problem! You can change them out, or have us do it for you. Every project is different, and every project is fully custom. The possibilities are only limited by your creativity!
Any new Custom Re-Theme project deserves a real backglass. We can make it for you! You can even have mirroring added to it at no additional charge. As an added bonus, we include 2 Backglasses with your Re-Theme purchase.
We also provide new plastics that are printed and laser-cut on PETG. The same process you have come to expect from CPR. Not computer printer decals stuck to Dremel plastic (haha). As an added bonus we include 2 sets of your new plastics set with your Re-Theme purchase. Your plastics layout can be anything that will fill up a standard 24" x 24" sheet, even with "extras" if you like, including common break plastics, custom key fobs, etc.
If you need a topper for your new Re-Theme, no problem, we do that too. All toppers are printed and laser-cut from 3/16" Acrylic and include mounting holes.
If you want to go all the way, we can also provide you with custom cabinet decals, apron decals, spinner decals, target decals, etc… all from your custom Re-Theme artwork, or you can have us develop the artwork for you.
[Editor's Note: I don't want this to be the way I end up getting a Harry Potter themed pinball machine, but I will if I have to.]
---
4. Arcade1Up Announces Star Wars and Attack from Mars Digital Machines
Also at CES, Arcade1Up announced new digital pinball machines:
Here is a video tour from CES that shows the machines – thanks to Pinsider Trifle for posting a link to the video!
These machines have a color LCD, interchangeable artwork, and haptic feedback. We'll keep you posted as we learn more about pricing and availability.
---
5. Special When Lit: Bowen Kerins Talks Rick and Morty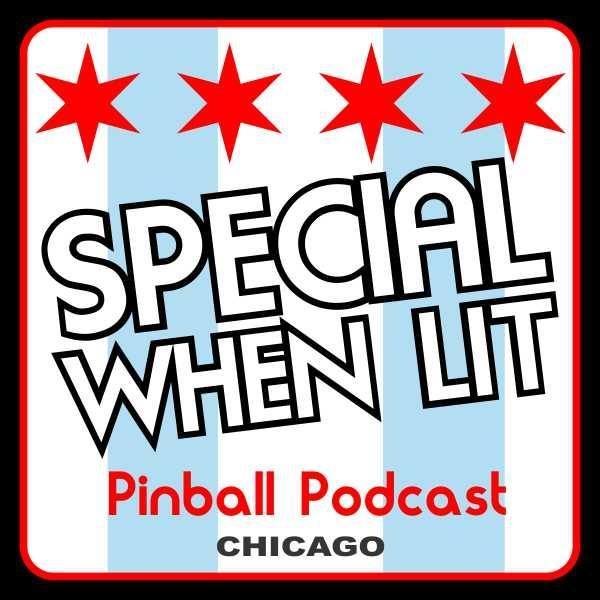 The Spooky Correspondent, Dr. John, on the Special When Lit Pinball Podcast continued his talk with Bowen Kerins of Spooky Pinball this week! Bowen talked about the megaseeds in the game and how they relate to end of ball bonus:
There is a feature in the game called the megaseeds…nobody knows exactly why Rick wants megaseeds but he wants as many as possible…whenever you travel to a different dimension in our game, and you can do that a lot of different times, megaseeds will be available on the playfield. If you make a shot that [corresponds to a megaseed], you add it to your collection, and the megaseeds are worth 5% of your ball score. So when you get to the end of your ball…each megaseed is worth this much [toward your end of ball bonus]…the megaseeds you keep throughout the game.

– Bowen Kerins
Click here to check out the full episode!
---

---

Other Manufacturers
More

Team Pinball: The Mafia

Circus Maximus: Kingpin, Python's Pinball Circus

Homepin: Thunderbirds, Chinese Zombies

Suncoast Pinball: Cosmic Carnival

Great Lakes Pinball: Exposé

Haggis Pinball: Wraith, Celts

Pinball Brothers: Alien?, Queen?, Barry Oursler's Original Theme?, Playboy?

Dutch Pinball: Bride of Pinbot 2.0, Bride of Pinbot 3.0 (on hold), The Big Lebowski (production/legal issues)

Silver Castle Pinball: Timeshock

Phénix Pinball: Goblin Contest

Pinball Adventures: Punny Factory, Sushi-Mania, Ninja Mania, First Class, Canada Eh!

Disclaimer: Any articles, interviews, or mentions of pinball manufacturers or pinball products is NOT an endorsement.