Rick and Morty Stream | Stranger Things UV Lighting Kit | Interview with Riot Pinball | Interview with Damian Hartin | Code Updates
---

— This Week's Top 5 Stories —
1. Rick and Morty Pinball Stream, Updates
Over the weekend Jack Danger of Dead Flip streamed Rick and Morty Pinball – check it out!!
Our friend Luke, the Production Manager at Spooky Pinball, shared the following shipping update on this Pinside post:
30 games sitting in the warehouse ready to ship. 10 more the guys are finishing up to be boxed next week also and i do not anticipate that slowing down anytime soon. Waiting on approvals to ship the stock has nothing to do with physical build here. We have a pretty good handle on the build already. Sounds like everything needed to ship everything here will be in place before next week.

– Luke on Spooky shipping
Luke also talked about the playfield quality of the Rick and Morty playfields:
Just a random note. There has been a seriously significant improvement in the RM playfields. When these get out start checking for dimples its unbelievable how well these are holding up. The ones we have been beating up here are holding up unlike anything we have ever done before. You guys are going to be pleasantly surprised, i know we were.

– Luke on Spooky playfield quality
We'll keep you updated as we learn more about Rick and Morty!
---
2. Stranger Things UV Lighting Kit
Last week Stern announced a UV Lighting Kit upgrade to their recent Stranger Things release – per the Stern website:
"This one-of-a-kind UV lighting kit will turn your Stranger Things pinball playing experience upside down! Custom interactive code will activate lighting during dramatic events and experiences throughout game play, immersing players into the Stranger Things universe...

Kit contains: New bottom arch w/ LEDs installed, 8 new butyrates, ramp LED boards mounted on install brackets, fasteners."

– Stern Pinball
Stern released the following video on their YouTube channel to show the new feature:
Jack Danger of Dead Flip streamed the feature at Stern Headquarters with Mike Vinikour and Brian Eddy – check out the stream here!
Here are a few images of the hidden art from hobbyist Jeremy Smith – check it out!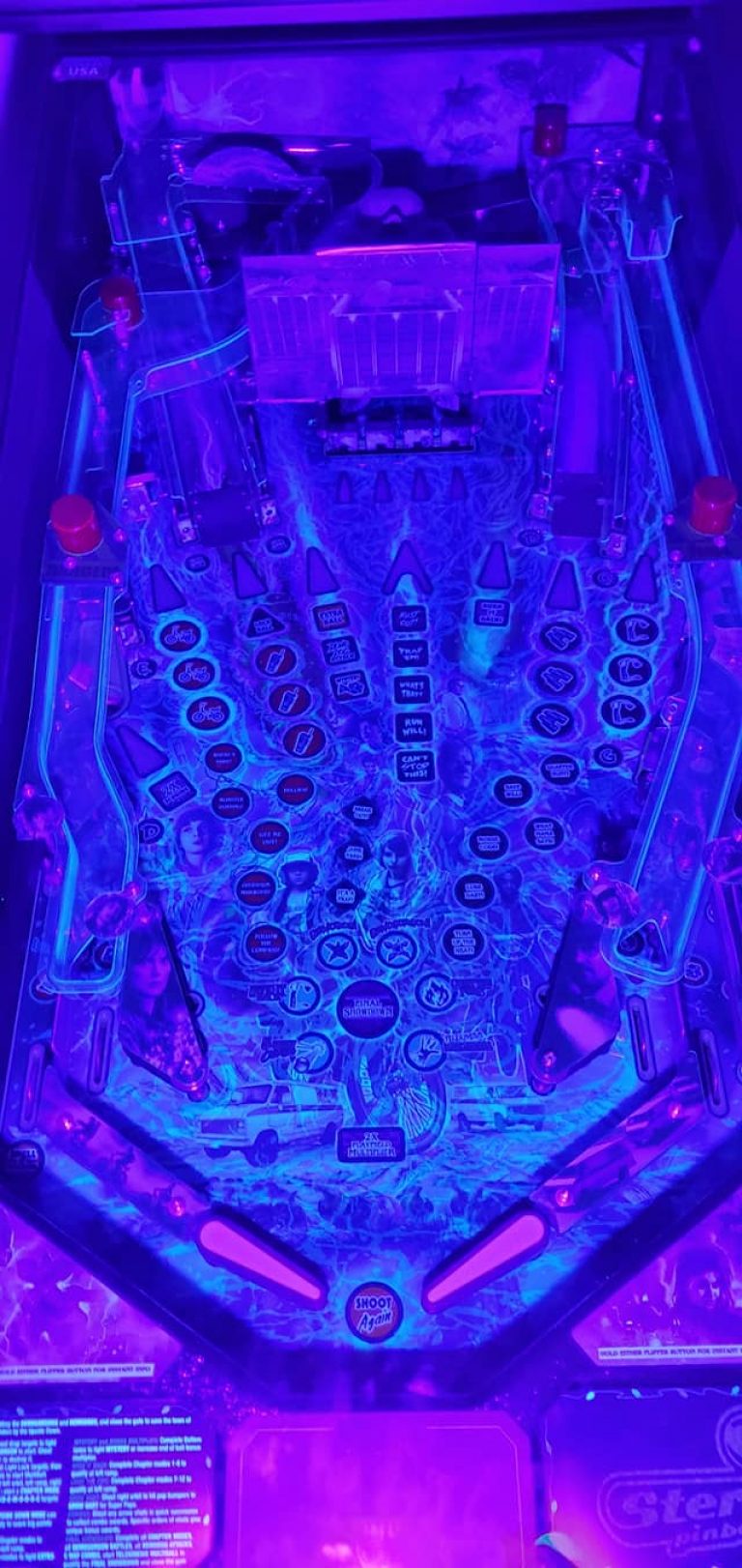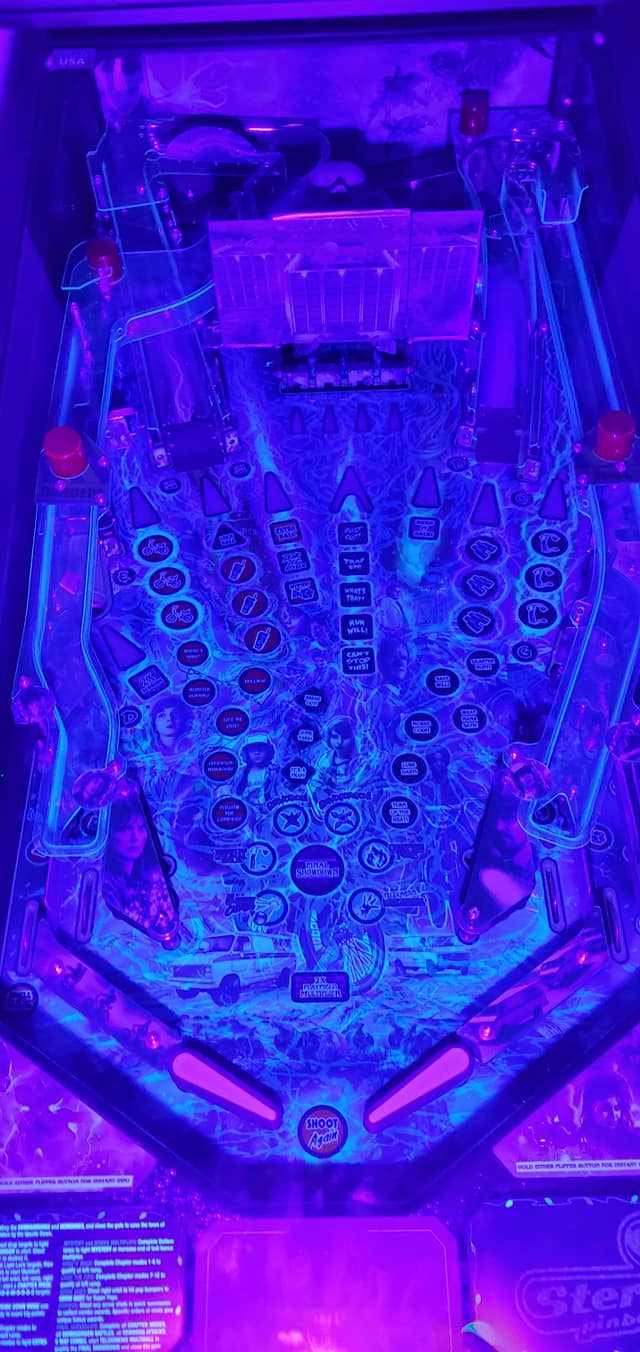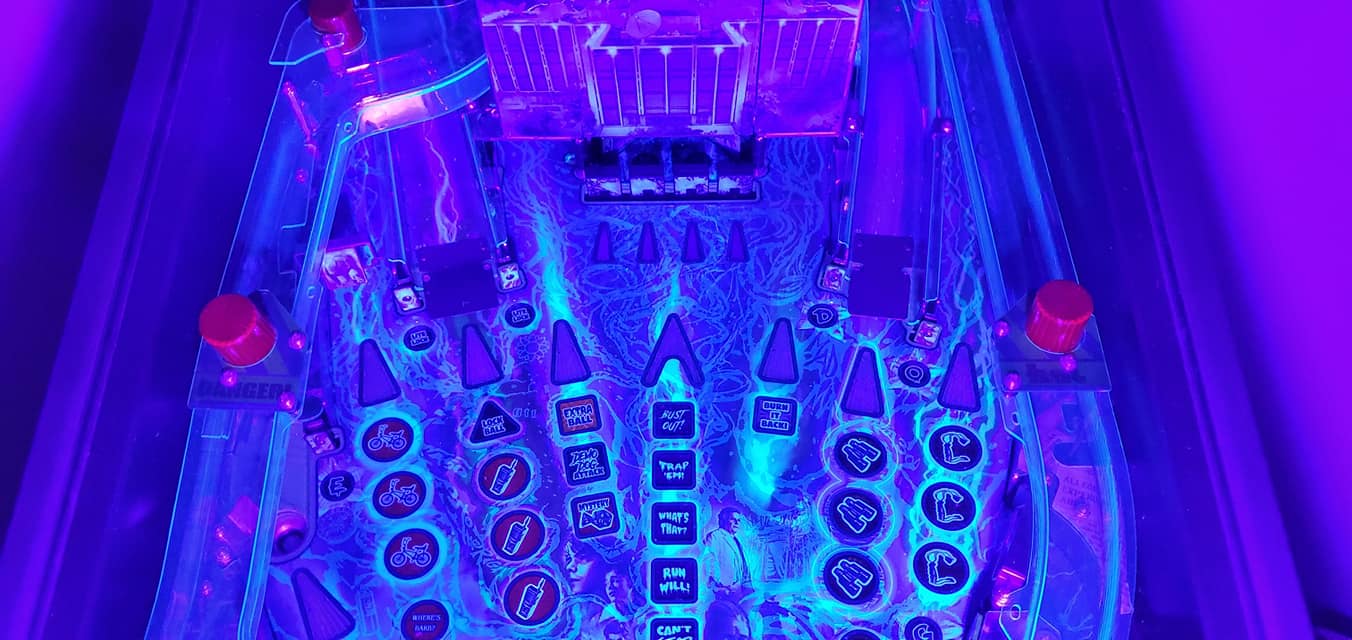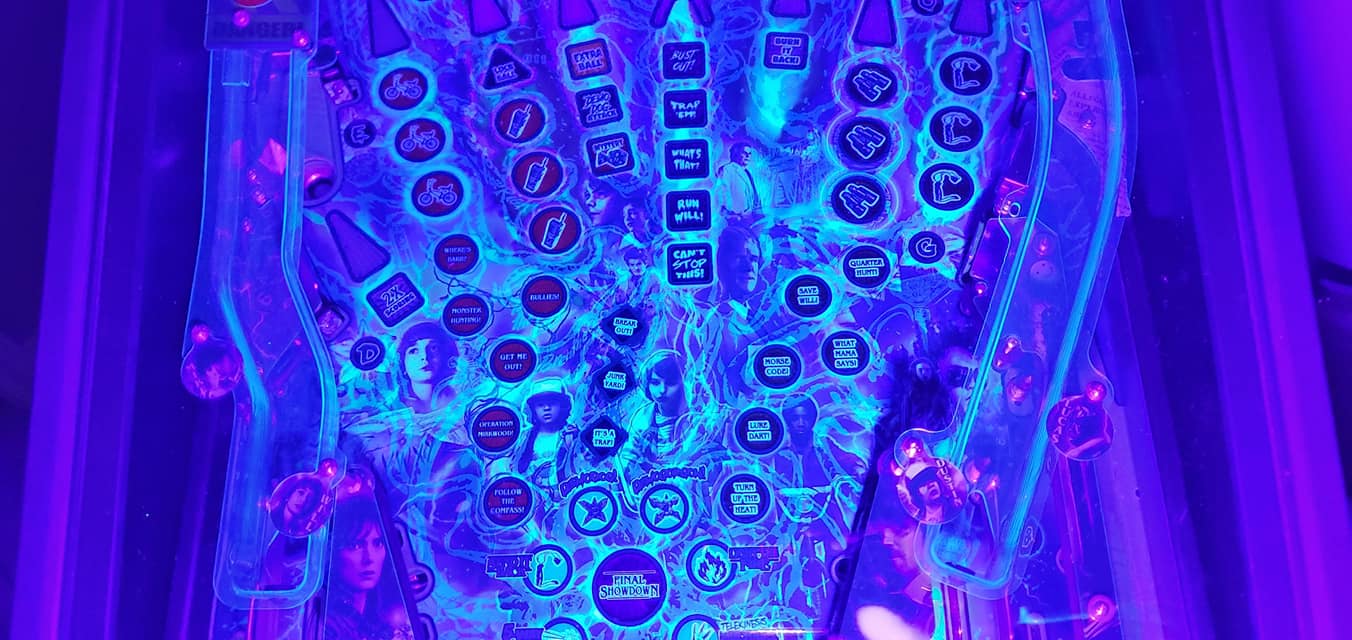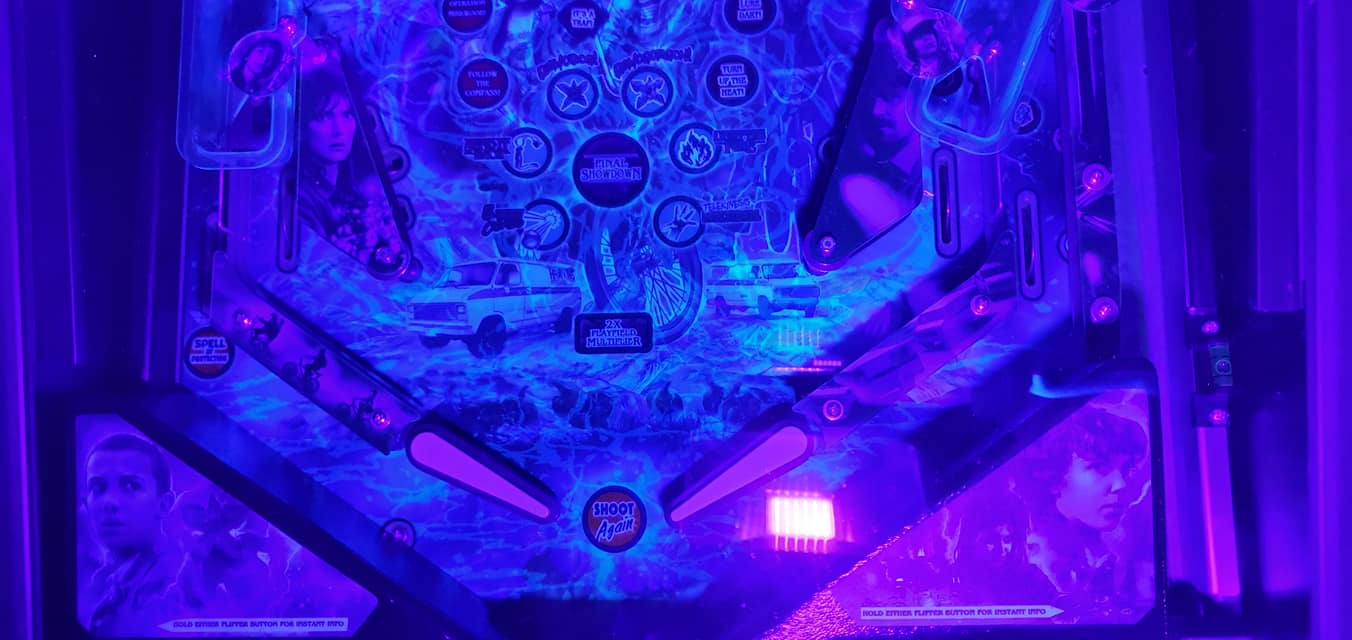 ---
3. TWIP: Mini-Interview with Riot Pinball, Creators of Legends of Valhalla

Our friends at Riot Pinball shared several updates over the last week! Here are a few images from their Facebook page: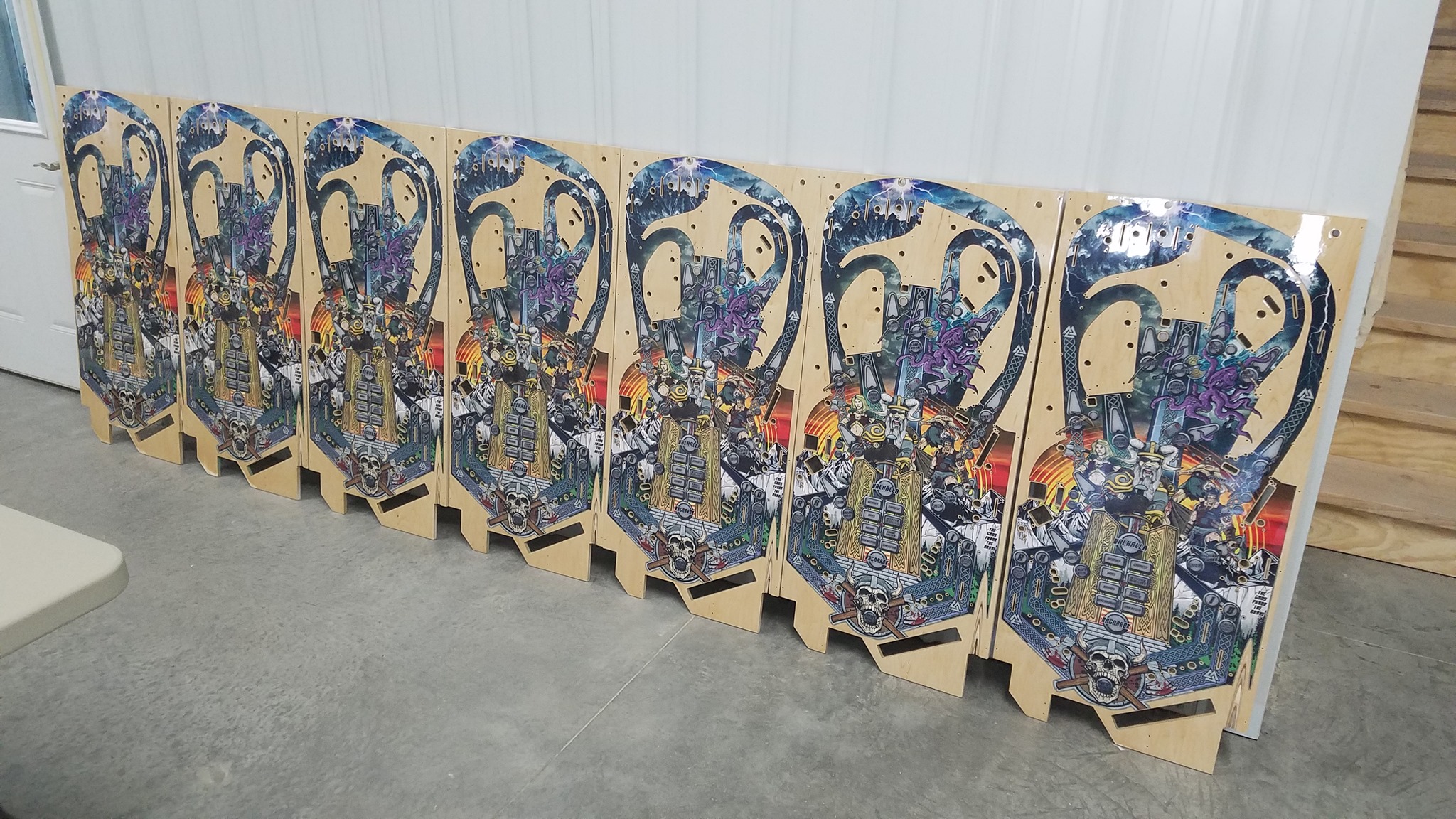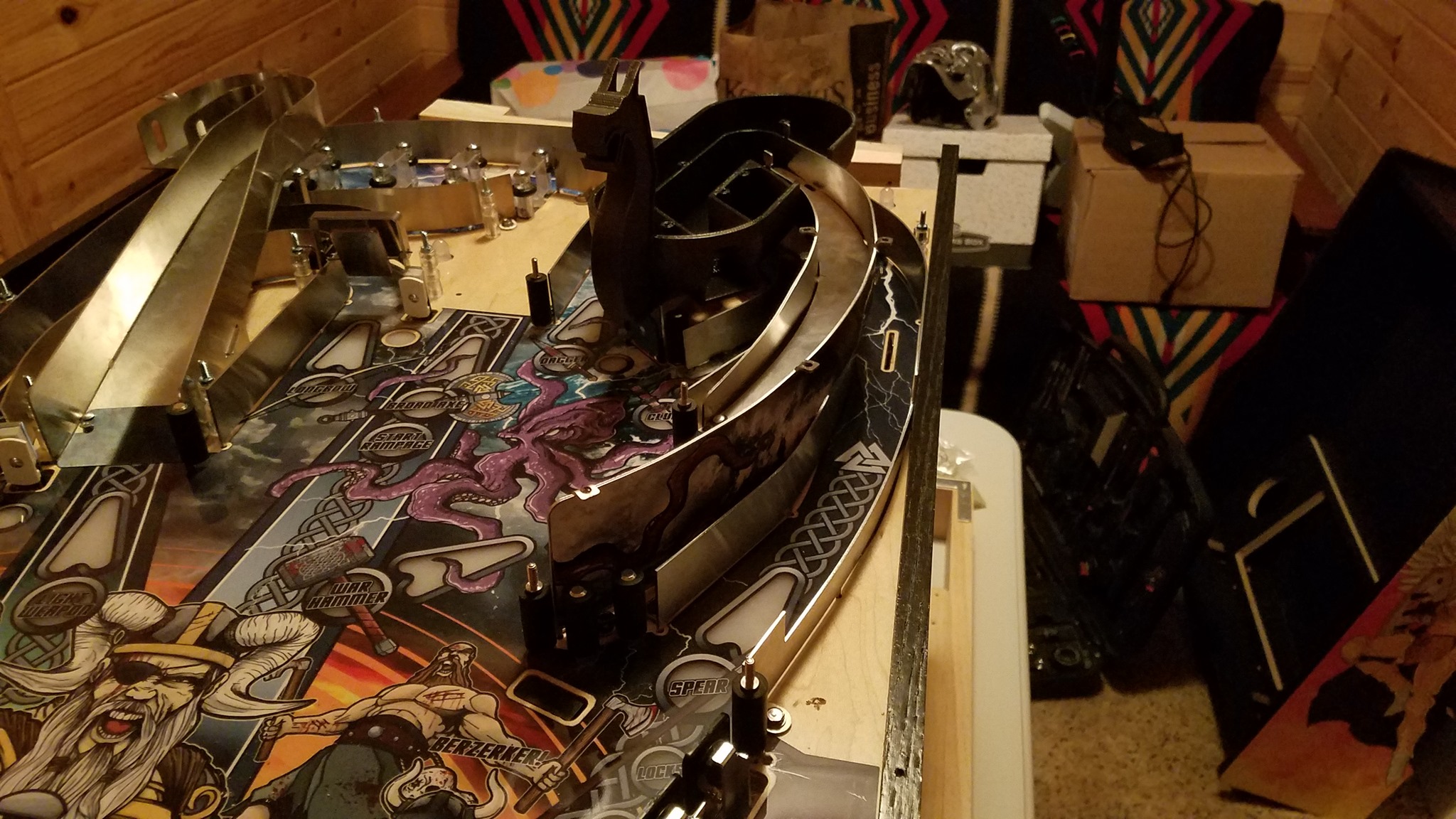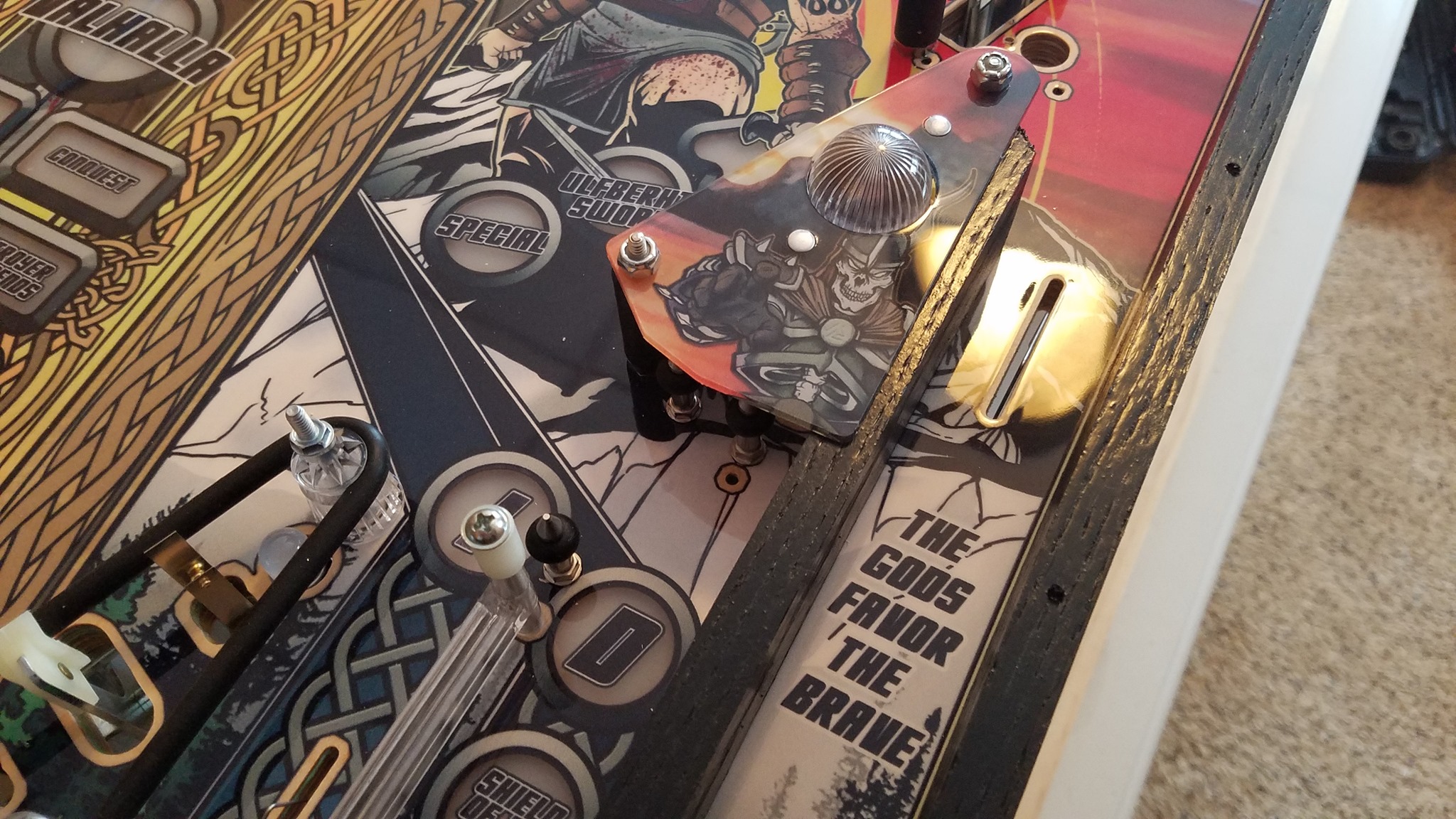 TWIP: For those not familiar with Riot Pinball and its history, can you share a little bit about what Riot Pinball is?
Scott Gullicks: "Riot Pinball, LLC. is a company I formed in 2012. The company is comprised of two key individuals, myself – Scott Gullicks, and my incredibly talented programmer/IT extraordinaire, Frank Gigliotti. I am responsible for the overall design, mechanical engineering, electrical, artwork, rules, and overall managing of the company. Frank does an incredible job of implementing the rules while adding and improving on them, as well as all of the critical assets in the pinball machine such as sound fx, music, animations, light shows, computer selection/maintenance/implementation, etc. The purpose of the company was to design and build original, low volume pinball machines as well as provide art services for other companies in the industry. Our first project was designing the pinball machine "Wrath of Olympus," nicknamed WOOLY which was themed after the mythology of the Greek gods. This pinball machine happened to be the first that I know of that was created digitally, shared freely with the forum group, and then recreated physically in the form of a full size pinball machine. The company made six pre-production prototypes of that pinball machine. The total number of machines produced was limited by key individual parts that were available at that time. After WOOLY, the company focused on providing art services for various companies for a number of years and eventually decided to start another original pinball design. This most recent design focuses the theme on the legends and myths of the Norse gods and is titled "Legends of Valhalla," nicknamed LOV for short."
TWIP: You've released a lot of new information in the last week regarding Legends of Valhalla – can you tell us more about that machine?
Scott Gullicks: "Legends of Valhalla is an immersive pinball machine that brings the player into the world of the Norse gods and other viking mythology. The game is a standard body design and utilizes three flippers offering a nice variety of fast and unique shots. The game code has a variety of objectives that the player must either start or complete as they work their way through the game attempting to not only reach Valhalla, the majestic hall of dead vikings, but also move on to the final epic battle known as Ragnarok. As of right now the game has 16 intricate modes programmed in the form of viking legends for players to explore along with many multiballs and a bunch of mini features that are unlocked during specific actions while playing the game. The game also exhibits a couple of fun playfield features such as the kraken which grabs the ball via a magnet mounted underneath the playfield and flings it around in chaos, a viking ship where the player builds their army by locking balls inside, as well as Thor's hammer which is mounted on the rear vertical panel that comes smashing down, simulating a lightning strike."
TWIP: What is the plan on the production of this machine? Is this something that could be mass produced?
Scott Gullicks: "Right now we are building six prototype machines for personal use, testing, and evaluation. With the issues that we ran into with WOOLY and sourcing parts, this game has been designed focused on more readily available parts on a more standard platform. This should allow us the ability to more easily make a larger run of production machines once the game is ready for consumers. It should also be easier to manufacture for any other potential parties interested in producing the game for us and hopefully give us a better chance at more pinheads getting access to a game of their own one day."
We'll keep you updated as we learn more!!
---
4. Kaneda: Interview with Damian Hartin of Haggis Pinball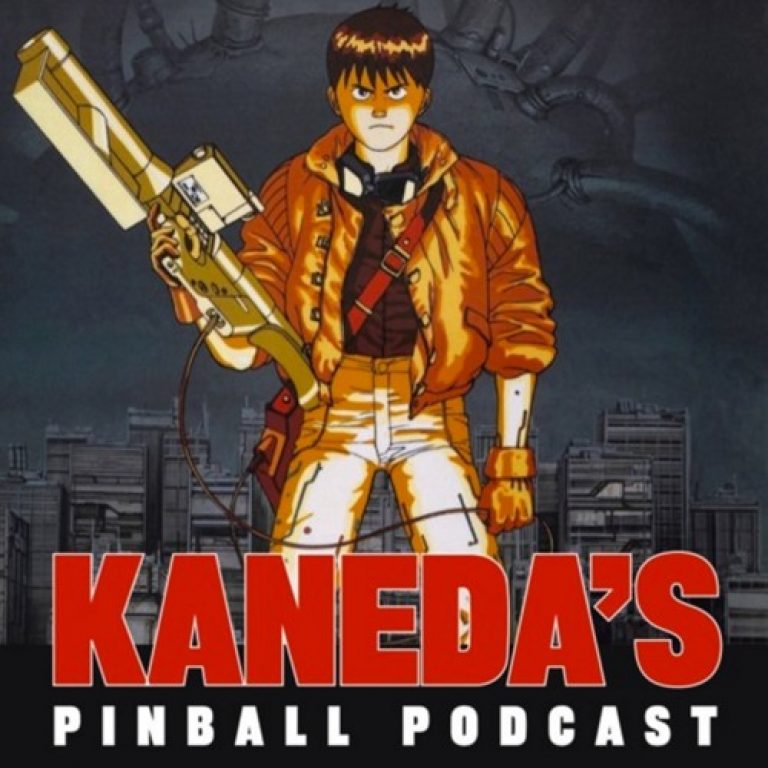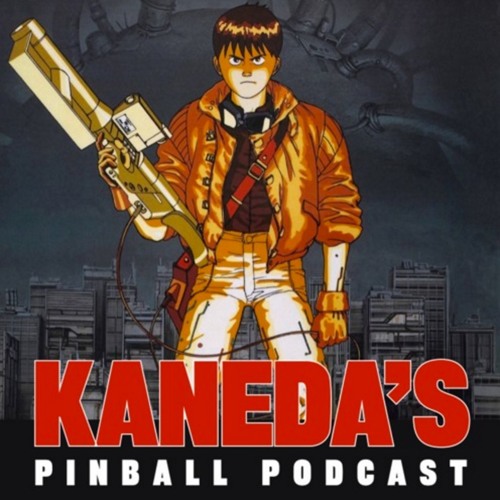 Kaneda's Pinball Podcast interviewed Damian Hartin from Haggis Pinball on an episode last week! He talked a bunch about Celts of course – here are just a few highlights:
On the artwork:
Damian: "Any art application is backed up with a layer of white…if you were to print color onto the wooden playfield as you do and you didn't have a white layer underneath it you would actually see the wood somewhat through the artwork. So there is always a white layer that sits behind your color layer because that helps give it some vibrancy…it is what makes it look as good as it looks. In our instance, we've got the white portion on the wood and the color portion [reverse printed] onto the acrylic."
On if the acrylic is adhered to the wood:
Damian: "At the moment it is not…we do have chemical bonding going on but not between those two layers. We will have and do have a couple of small strategic pieces of high quality commercial double sided tape [holding them together]"
On if the cost of this type of playfield is more expensive:
Damian: "Yes it is. There are tradeoffs and benefits obviously because it is a different process. Your material costs go up significantly, but then your time to manufacture reduces and the manual labor that is associated with getting the wooden playfield to manufacture also reduces. You make some savings, you have some increased costs. Overall it does end up more expensive…not like 5X the cost or anything, but it is more expensive."
Damian also talks about why he decided to try to make a different type of playfield and the thought process behind it, shares that the new playfield will be in all Celts games but there will be no cost increase, talks about the possibility of going into playfield manufacturing, said they will be limited Celts to 200 units, talks about why he started a pinball company, talks about why he chose Celts as the theme for his first game and the possibility of a licensed theme in the future, and talks about when they plan to start shipping. – check out the full podcast here!!
---
5. Stern Code Updates
Stern Pinball dropped new code for a bunch of pinball machines last week!! Check it out:
---

---

Other Manufacturers
More

Team Pinball: The Mafia

Circus Maximus: Kingpin, Python's Pinball Circus

Homepin: Thunderbirds, Chinese Zombies

Suncoast Pinball: Cosmic Carnival

Great Lakes Pinball: Exposé

Haggis Pinball: Wraith, Celts

Pinball Brothers: Alien?, Queen?, Barry Oursler's Original Theme?, Playboy?

Dutch Pinball: Bride of Pinbot 2.0, Bride of Pinbot 3.0 (on hold), The Big Lebowski (production/legal issues)

Silver Castle Pinball: Timeshock

Phénix Pinball: Goblin Contest

Pinball Adventures: Punny Factory, Sushi-Mania, Ninja Mania, First Class, Canada Eh!

Disclaimer: Any articles, interviews, or mentions of pinball manufacturers or pinball products is NOT an endorsement.