Rick and Morty Gameplay | Haggis Hammer Time | Interview with Damian Hartin | New Code Drops | Dutch Pinball Updates
---

— This Week's Top 5 Stories —
1. Rick and Morty Gameplay
Last week we finally got a chance to see gameplay of Spooky Pinball's Rick and Morty Pinball machine! First, the gang at Spooky shared a YouTube video which you can check out below:
Then the next day, Charlie Emery, Bug, and Bowen Kerins went to Cartoon Network Headquarters to show off the machine on a stream/show called Stupid Morning Bullsh*t – you can check out that stream here! (The pinball portion starts at around the 24 minute mark of that stream.)
Following the streams we had a few updates from the team at Spooky Pinball. One concern from the YouTube video was that the spinner loop shot from the upper flipper was rejecting quite often. Designer Scott Danesi shared more info in this Pinside post:
I can confirm the spinner is jamming the ball in this video that was recorded today due to it not being balanced and resting off center. This is not going to be the case for the production games.

– Scott Danesi on the spinner loop shot
Bowen Kerins also shared with This Week in Pinball that there would be more streams of this machine coming soon – so stay tuned!
---
2. Haggis Hammer Time
Our friends at Haggis Pinball, creator of the Celts pinball machine, shared a press release last week entitled: Playfield sledgehammer test – our playfields will not dimple or pool – check out the press release in its entirety below:
As a new Pinball manufacturing company, less then eighteen months old and started in my living room with nothing more than a love for the hobby and the love of a challenge, I have needed to explore and understand countless aspects of Pinball machine construction.

As part of that journey, Haggis Pinball have designed, developed, innovated and reviewed multiple construction methods, including playfields and their limitations with relation to dimpling and pooling. Wanting to address this and ensure that we would not have these problems, we set about designing a new method for playfield manufacture.

The result of that is a new hybrid playfield, comprised of a layer of Birch Plywood, a layer of specially coated Acrylic and a digitally printed cast substrate that is chemically and mechanically bonded to create a Pinball Playfield that will not dimple and not pool.

We have also run a physical pinball endurance test on our new playfield, and as of today, it has had over 750,000 plays with no sign of wear.

Haggis Pinball is extremely proud to be a Pinball manufacturer and is committed to the pursuit of producing enjoyable, innovative and quality Pinball Machines. We are excited about what the future holds for both Haggis Pinball and the hobby as it continues to grow into 2020 and beyond.

Please see the following video we have made regarding our new playfields and some of the testing we have done: https://youtu.be/dbgtok6Bbu4

– Haggis Pinball Press Release
They then linked to an incredible video showing different playfield durability tests including banging it with a sledge hammer to seemingly no damage – check it out!
Looking forward to learning more about this product and seeing it in person at the Texas Pinball Festival!
---
3. Pinball Profile: Interview with Damian Hartin of Haggis Pinball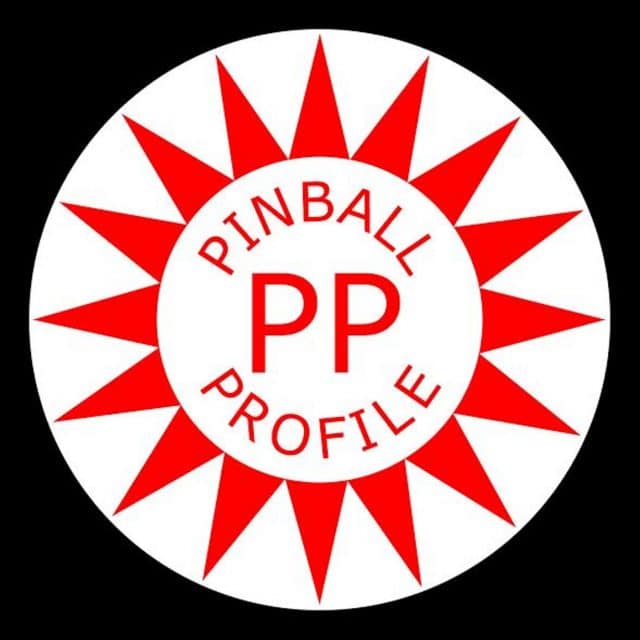 In following up to the previous story, our friend Jeff Teolis of Pinball Profile interviewed Damian Hartin from Haggis Pinball on an episode last week! Here is just a snippet where the discuss the new playfield construction:
Damian: So when we first started to manufacture, I guess I probably followed the same path that other manufacturers do and we produced – in our prototype machines – typical playfield constructions. And we've suffered the same problems that everyone is talking about at the moment, which is dimpling and pooling. We're not chipping yet but chipping usually comes after pooling and a period of time. So I wanted to resolve that and saw that as a big thing, and I wanted to come up with a way to have that as a non-issue moving forward. So what I did is I sat down and I worked with some very clever people and we've come up with a new hybrid substrate for our playfields. It is actually a combined plywood and acrylic top…it is 9 mil plywood and 4.5 mil acrylic with a cast printed substrate in between. They are chemically and mechanically bonded, and what it results now in is no dimpling, no pooling, no chipping, ever.
…it is predominately a commercial reality that it is a problem because if you wanted to spend 10 or 20 times the cost of manufacturing for a playfield I'm sure we could resolve that but it is just not financially viable because people then wouldn't want to buy it. So I needed to come up with a solution of that I could still produce a playfield of that quality within the price bracket that we had the pinball machine set at.
They also discuss all things Haggis Pinball and Celts – check out the full podcast here!!
---
4. New Code for Jurassic Park, Alice Cooper, and Elvira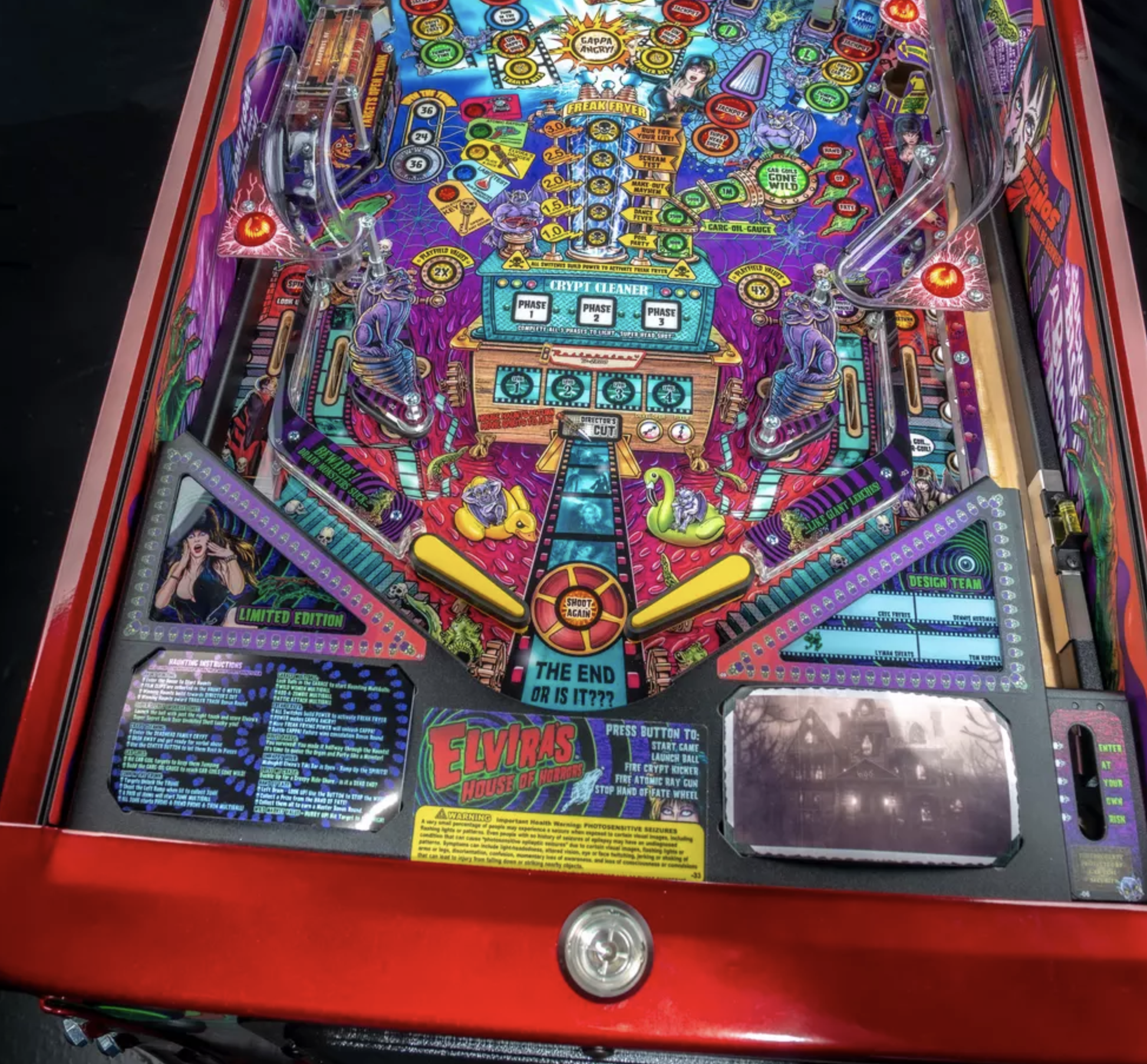 We had several significant code updates last week! Check them out:
Jurassic Park v0.98 – "This code contains the ultimate wizard mode, Escape Nublar! In addition to being the final wizard mode in the game, it will also be featured as a mini challenge game option without having to go into the service menu. To activate players will hold both flipper buttons during attract mode (with credits on the machine or free play enabled) and select "CHALLENGE". The Escape Nublar Challenge mini game will have its own dedicated high score board. This code also contains bug fixes, enhancements and additional polish."
Alice Cooper's Nightmare Castle v1.1.0.0 – "Yes, that massive pain of a memory leak is fixed, a bunch of new content, tons of bugs squashed, AND MORE GOODNESS TO COME!!! Time to work those weapons being collected into the code and much more in the next few weeks."
---
5. Dutch Pinball New Images
Dutch Pinball shared some new images on Facebook in their first update on Facebook since June 24, 2018:
Per Pinball Magazine's most recent newsletter, Jonathan Joosten shared the following update:
"In a phone conversation I had earlier today with Barry Driesen, the owner of Dutch Pinball, he informed me he's looking to do a livestream from the Dutch Pinball factory at the beginning of March, including gameplay and a short video tour. More details on this will be provided in upcoming newsletters."
We'll keep you updated as we hear more.
---

---

Other Manufacturers
More

Team Pinball: The Mafia

Circus Maximus: Kingpin, Python's Pinball Circus

Homepin: Thunderbirds, Chinese Zombies

Suncoast Pinball: Cosmic Carnival

Great Lakes Pinball: Exposé

Haggis Pinball: Wraith, Celts

Pinball Brothers: Alien?, Queen?, Barry Oursler's Original Theme?, Playboy?

Dutch Pinball: Bride of Pinbot 2.0, Bride of Pinbot 3.0 (on hold), The Big Lebowski (production/legal issues)

Silver Castle Pinball: Timeshock

Phénix Pinball: Goblin Contest

Pinball Adventures: Punny Factory, Sushi-Mania, Ninja Mania, First Class, Canada Eh!

Disclaimer: Any articles, interviews, or mentions of pinball manufacturers or pinball products is NOT an endorsement.