Roger Sharpe Interviews Harry Williams | Interview with Charlie Emery | Interview with Keith Elwin | The Big Lebowski Arriving | Jurassic Park Stream | Streamer Appreciation Giveaway

— This Week's Top 5 Stories —
---
1. Coast 2 Coast: An Evening with Harry Williams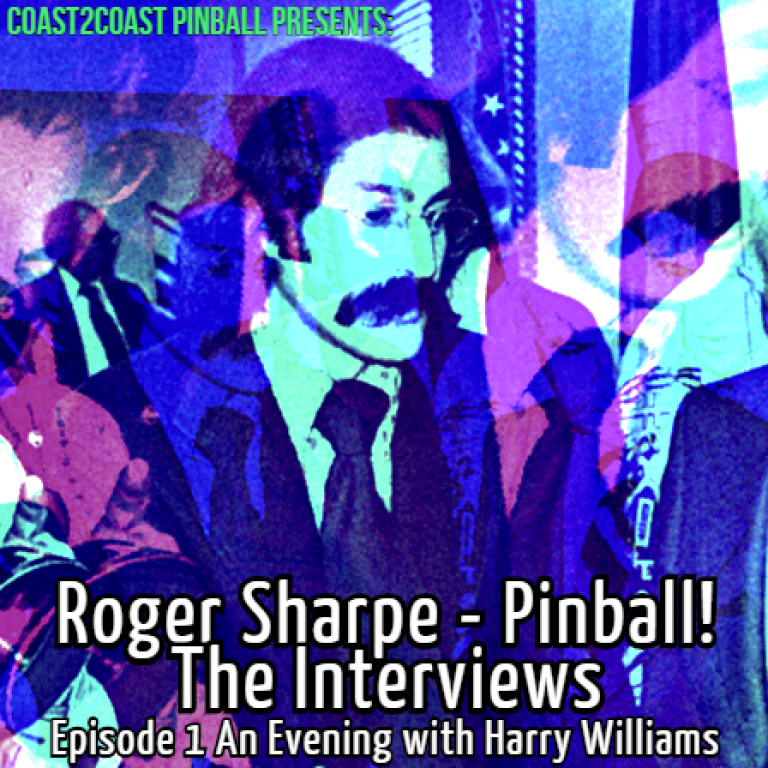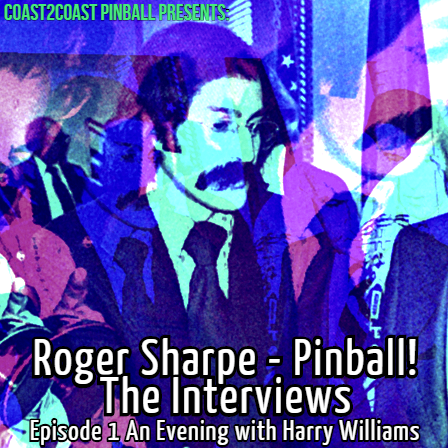 Last week the Coast 2 Coast Pinball Podcast revealed that they will be releasing interviews done by Roger Sharpe in the mid 1970s with some of the biggest names in pinball!!
The first release featured an interview from Harry Williams, often called "The Father of Pinball". Here are just a few highlights:
On adding bells to a machine as a joke:
…I thought I had a good joke…I got ahold of a doorbell and a put it in this thing one night, so every time the ball went in the contact hole…it would ring a bell.
…we put them side by side, identical machines. The one without the bell took in half the money as the one that had the bell. Before that nothing had sound…
On inventing the plumb bob tilt:
…the electric tilt came in. I made a prototype…a pendulum tilt, I got the idea one night when I was dangling a chain, a key chain…and I thought gee, you put a relay on that and a little arrow up on that arch, and it said "ok" here and "tilt" here, that would be much better…and this pendulum if it got swinging, it would hit the ring and energize this little relay and…tilt.
On Pinball Gambling:
When they started flooding the market with one-balls, it made me very frightened. Payout games. And ticket games, even though I was guilty of making a ticket games, and also a one-ball machine, I didn't like it. I did not like it. I made one one-ball machine at my plant in Los Angeles…but I could see I was digging my own grave by making them…Because sooner or later they had to be thrown out. Because if they threw out slot machines, this is maybe a little less innocuous slot machine, but it is still a gambling piece. And sooner or later some city clubs will get up in arms about it and throw them out. And there goes our industry.
On where he thought pinball was going to go:
I think we're going to see more intriguing things happen on the playfield…get more action…we're going to have new innovation.
Check out the full episode here!!
---
2. Poorman's Pinball Podcast: Interview with Charlie Emery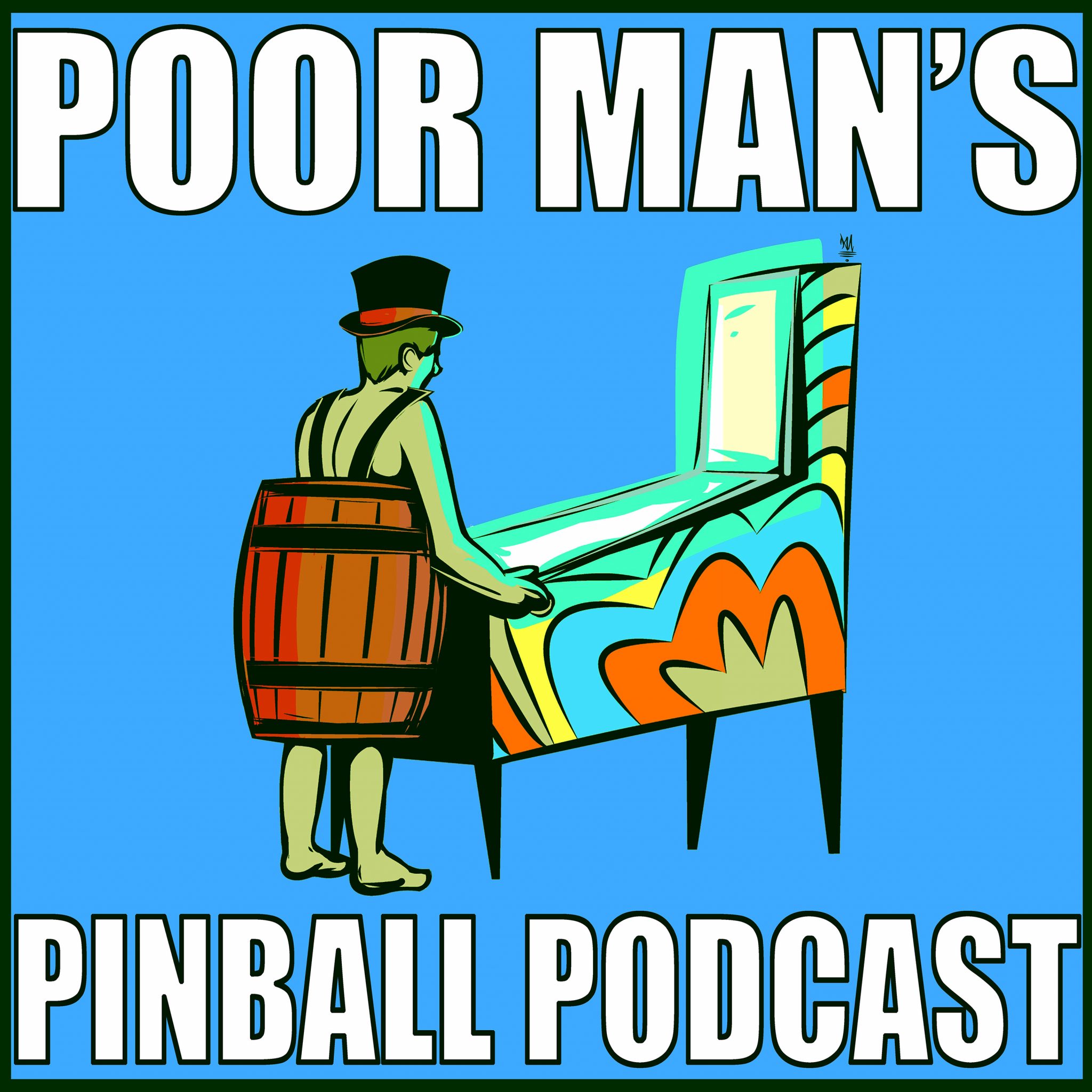 Our friends at the Poorman's Pinball Podcast travelled to the Spooky factory last week and interviewed Charlie Emery while they were there! Here are a few highlights:
On building more Total Nuclear Annihilations:
It is our fail safe, it is our fall back. We're going to be running Alice Cooper right up until Christmas, we're hoping to release Scott's second game right about that same time…we're still getting calls, literally every single week asking for more Total Nuclear Annihilations. So we've discussed it, we know it is going to be a little bit different. There won't be anything different in the gameplay or anything dramatic, but some little cosmetic things are going to change and we'll call it TNA 2.0 or something different. But yeah, the world will see more Total Nuclear [Annihilations].
On designing more games:
I think I have one more in me. You won't see it for a while…we have other people now…I want to see younger guys get a shot.
On when the next game timeline:
I will tell you, the goal is to wrap up Alice Cooper and launch about the same time. Obviously there is going to be a little bit of an overlap there. We can't really say what exactly is going to happen in that regard as to when you're going to see it and hear about it. There are other forces at work, not just Scott Danesi and me and everybody else involved, there is a lot going on with that thing. The goal is…when it gets announced, have it be a really quick turn around to seeing real games in the wild. We don't want the delay we had on Alice. When [Alice Cooper's Nightmare Castle] wraps up we want to have some of Scott's game already built.
On Spooky's future:
We're lucky enough right now…we're three games out. We're sitting on the next three games. For Spooky [we have] always been "seat of the pants", "live and die by the next thing coming up", we [have] three games in development right now. And that is unreal to even be saying those words. I didn't think we would get here at this stage, but it feels really good…they are in development.
Check out the full episode here!!
---
3. Stern Insider Pinball Podcast: Keith Elwin Interview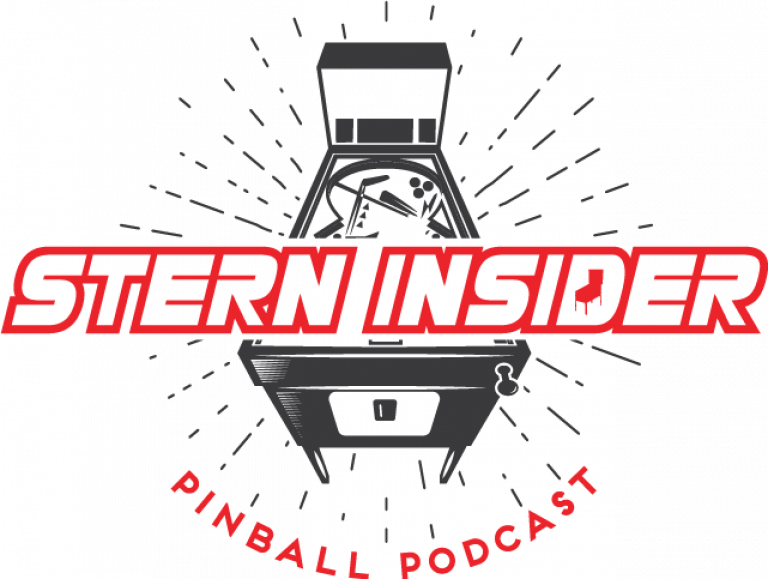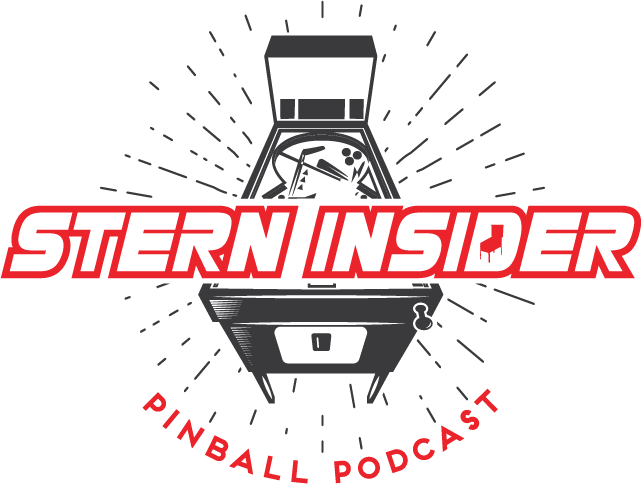 Our friend Nate Shivers of Coast 2 Coast Pinball also announced last week a new podcast called the Stern Insider Pinball Podcast available to Stern Insiders. (Note: this episode of the podcast is available for free, you just have to sign up to become a Stern Insider.)
The first episode featured an interview with Keith Elwin! Check out a few highlights:
On the Jurassic Park vs Jurassic World:
Keith: I had a choice with the licensor to do either one, but I couldn't combine them both. That would've been ideal. I chose Park because in my opinion that is the best movie…[and the licensor said] you can use any of the dinosaurs from the first three movies.
On licensing of the actors:
Nate: There is no Jeff Goldblum on the game, there's not a lot of actors. But we do see, my favorite, Newman is on the playfield and the artwork. How did that come to be…why did he end up being the featured human character?
Keith: He signed off on it, and that is what we had to work with. And I was ecstatic because he is my favorite character in that movie. Unfortunately he dies so soon that he doesn't have that many lines, but the lines he has – I think everyone that has watched the movie – he has some golden lines in there.
On the smart missile, scoops, and action buttons on lockdown bars:
Keith: I hate scoops and I hate button presses. The way the smart missile works, there's an up-post in the left inlane…so when lit, when the ball hits the left inlane, the post will come up, and you'll get this countdown "Smart Missile Away", and you then have three seconds to shoot the smart missile target which is located way in the back in the game between the pop bumpers. It is a tough but makable shot. And if you do it within three seconds, you'll get your smart missile award.
---

---
4. The Big Lebowski's are Arriving
The Big Lebowski pinball machines have shipped and are arriving in the homes of their new owners: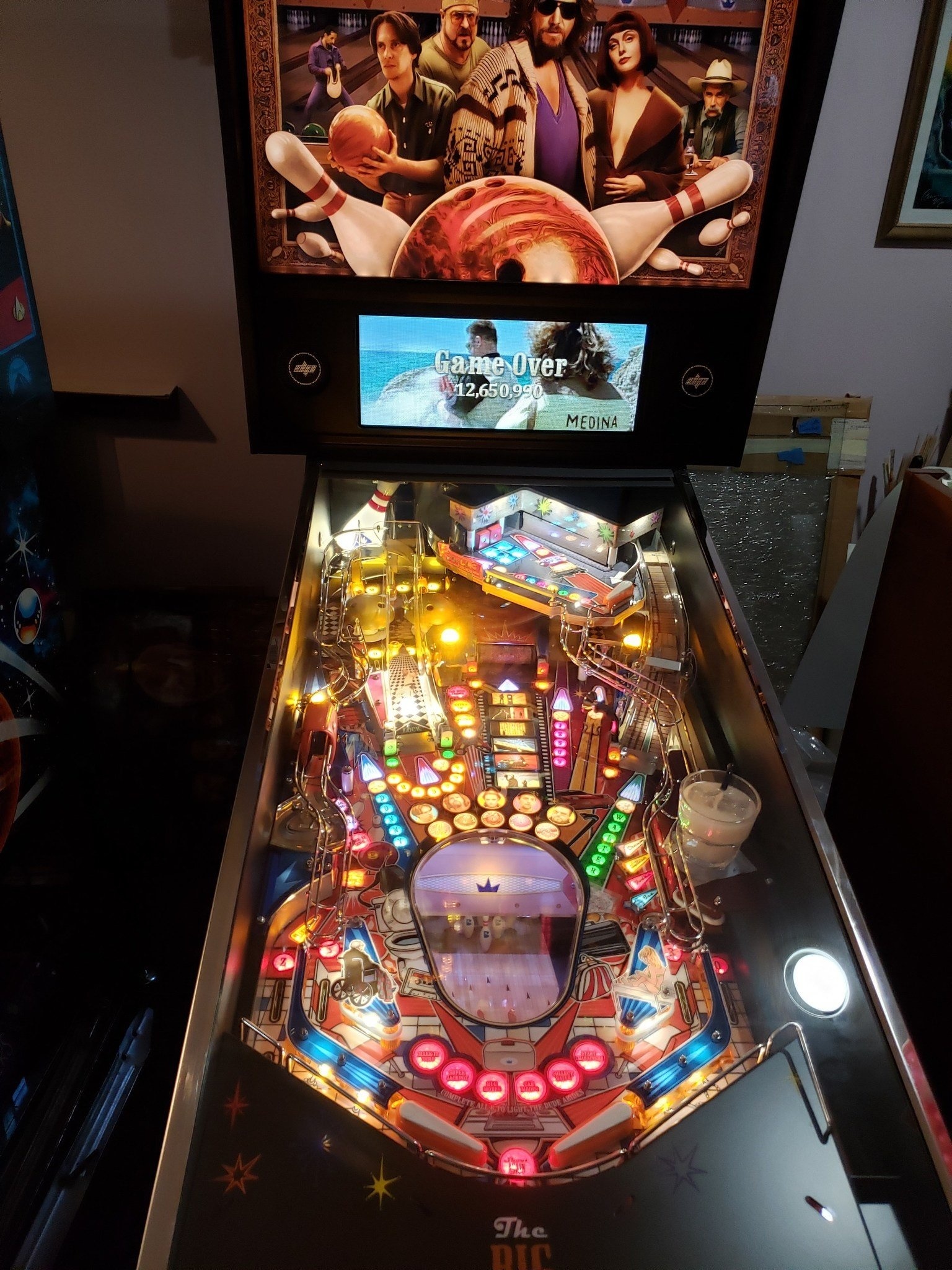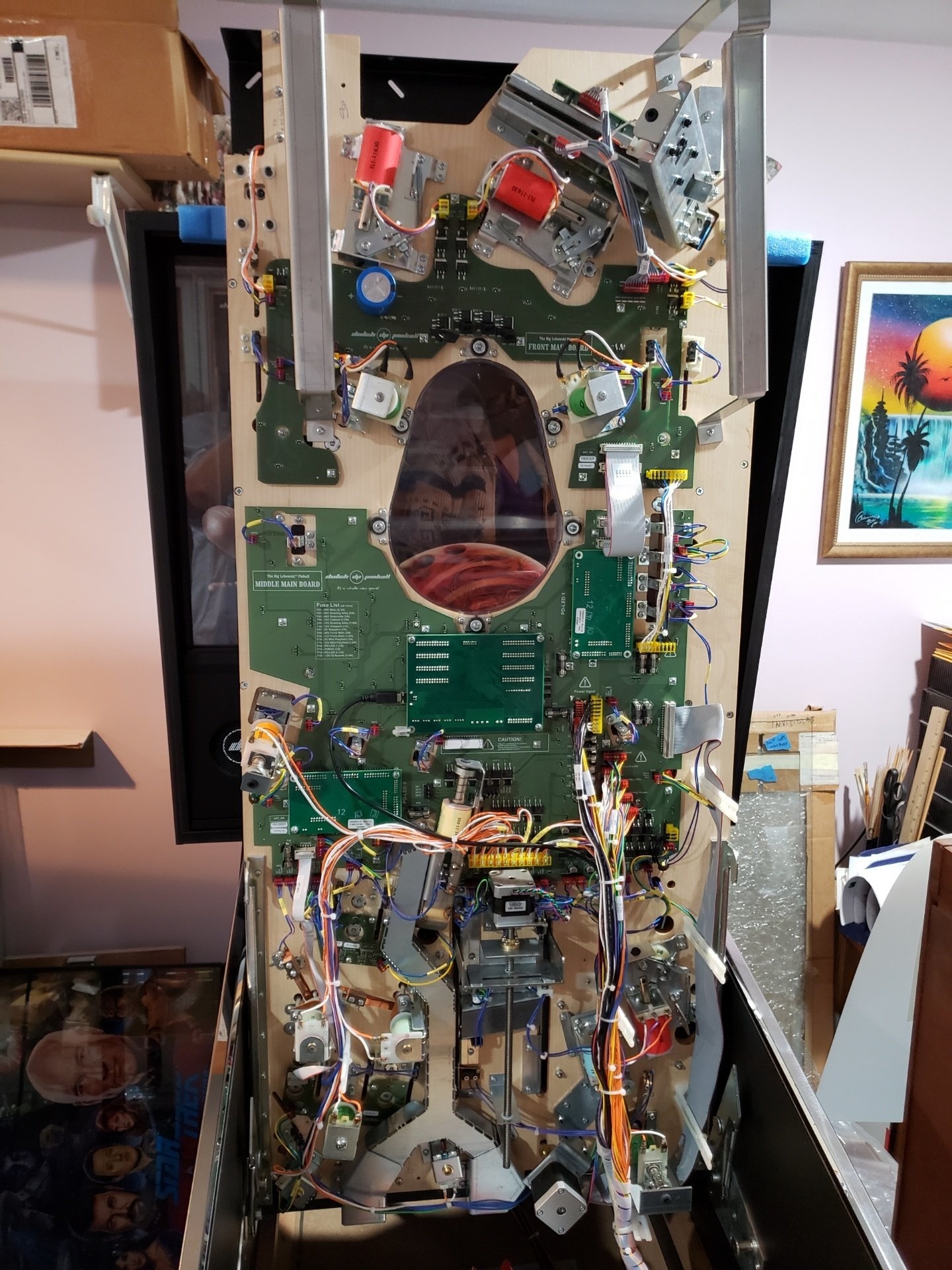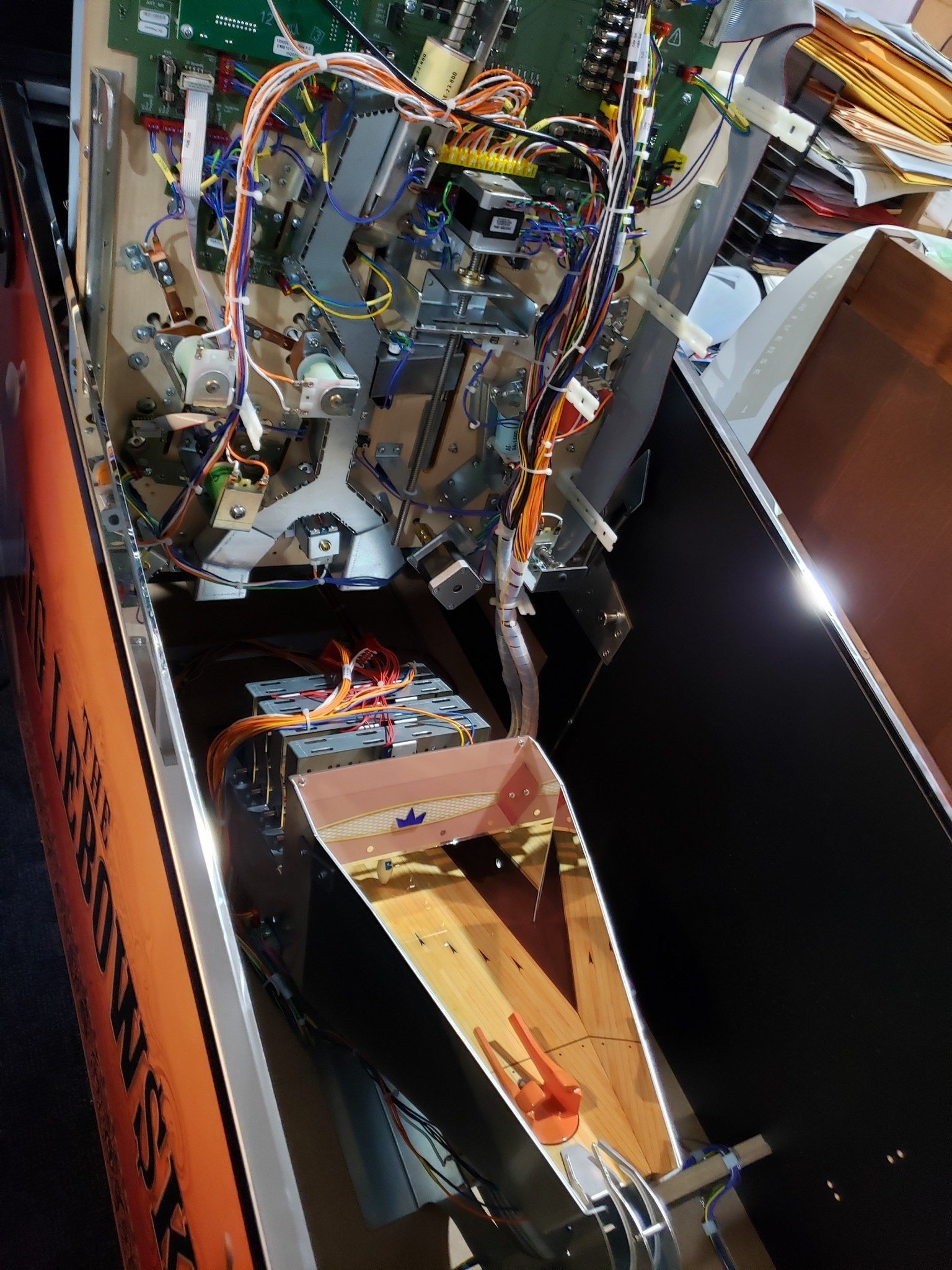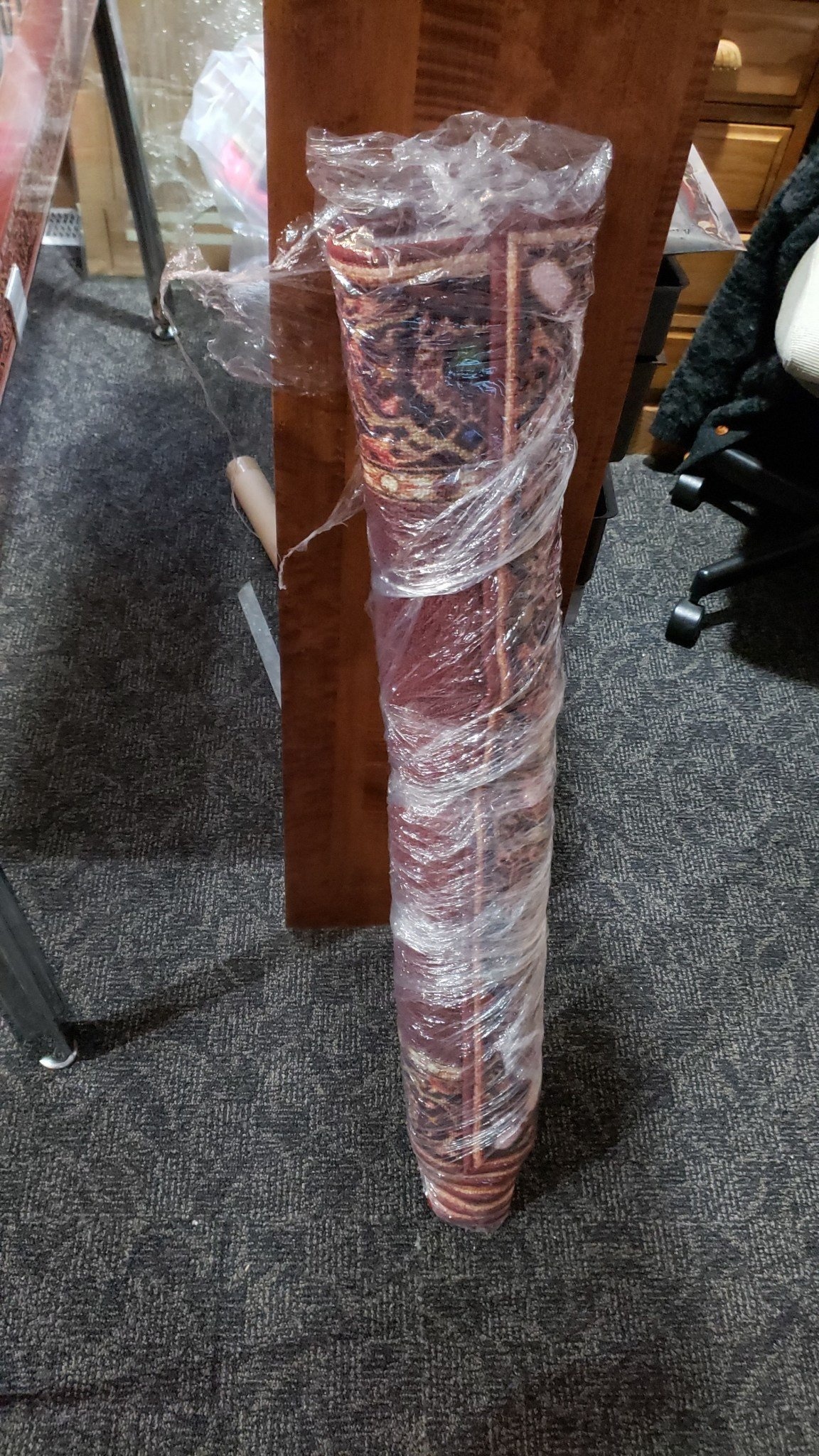 Early reports are sounding like the games are working properly, which is good news…we'll see if that holds going forward. We'll keep you updated on the Dutch Pinball situation as we learn more.
---
5. Flip N Out: Jurassic Park Stream with Chuck Ernst and Keith Elwin
Our friends Ken and Bill hosted a Jurassic Park stream on the Flip N Out Pinball Twitch channel and were joined by Chuck Ernst (Lead Motion Graphics on Jurassic Park) in studio and Keith Elwin (Designer) last week!
Check out the video here!
---
Streamer Appreciation Giveaway
Pin Stadium Lights and This Week in Pinball have teamed up to offer a special giveaway to Affiliate Twitch pinball streamers over the next two weeks!
As you know, one of our missions at TWIP is to help grow pinball in anyway we can. As a special thank for all of you to the Affiliate Twitch streamers out there who spend countless hours sharing pinball with the world, TWIP is running a contest for the next two weeks starting TODAY and ending on Monday, September 2nd. Enter for a chance to win one of THREE sets of Pin Stadium X-Streams (total value of $750) generously donated by Pin Stadium!!
How to enter:
Click Here and download this TWIP logo then display it on your streams from now until September 2nd.
Send an email to TWIP with a link to your stream with the logo displayed on your layout.
Winners will win a set of Pin Stadium X-Streams donated by Pin Stadium (a $250 value).
Note: We ask that winner display their logo on their stream when they are in use. You must be a Twitch Pinball streamer with Affiliate status to be able to enter.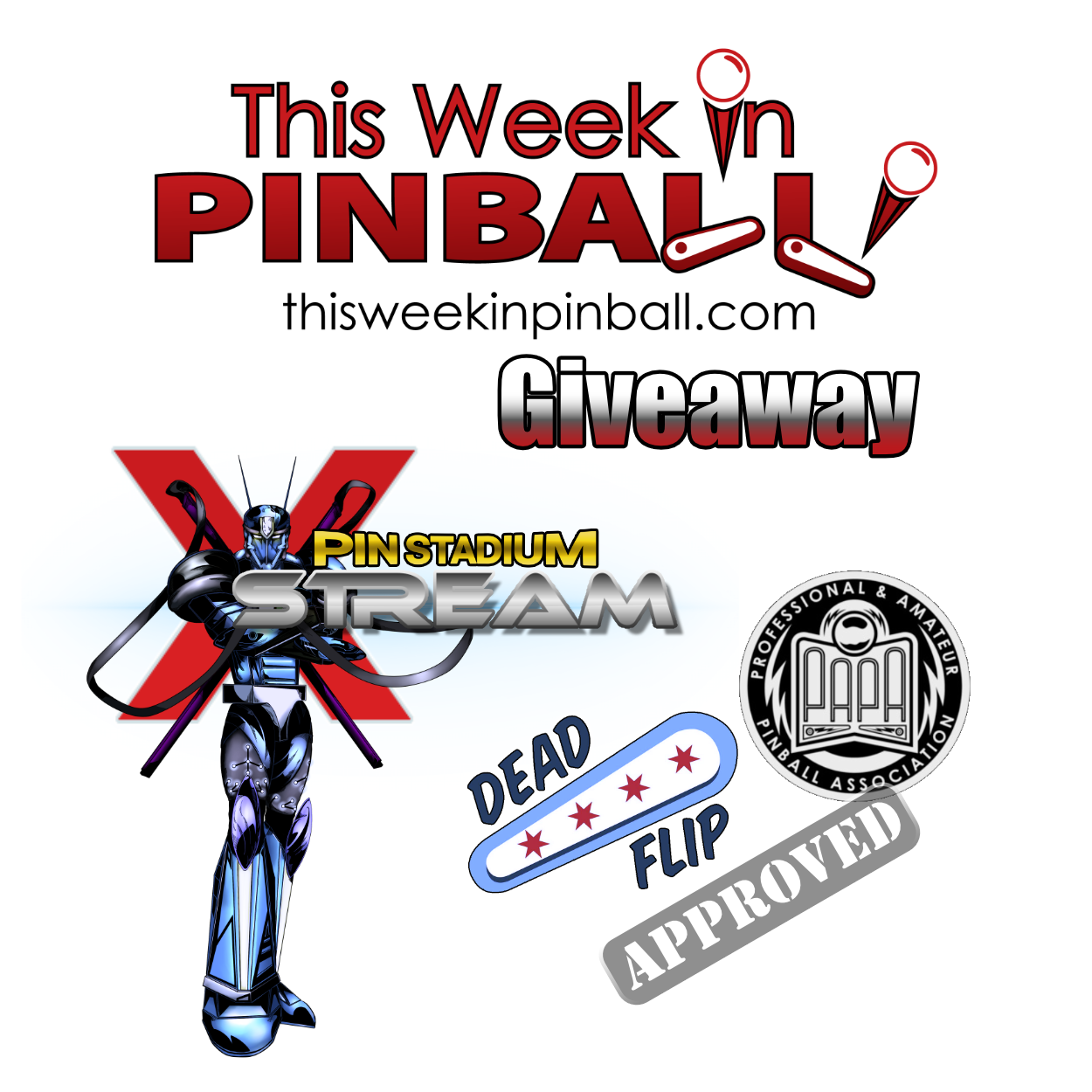 Other Manufacturers
More

Team Pinball: The Mafia

Circus Maximus: Kingpin, Python's Pinball Circus

Homepin: Thunderbirds

Suncoast Pinball: Cosmic Carnival

Great Lakes Pinball: Exposé

Haggis Pinball: Wraith, Celts

Pinball Brothers: Queen?, Barry Oursler's Original Theme?, Playboy?

Dutch Pinball: Bride of Pinbot 2.0, Bride of Pinbot 3.0 (on hold), The Big Lebowski (production/legal issues)

Silver Castle Pinball: Timeshock

Phénix Pinball: Goblin Contest

Pinball Adventures: Punny Factory, Sushi-Mania, Ninja Mania, First Class, Canada Eh!

Disclaimer: Any articles, interviews, or mentions of pinball manufacturers or pinball products is NOT an endorsement.